All the news for Thursday 23 May 2013

Black Sticks pipped by Korea in final test



Jacob Smith in action, courtesy www.photosport.co.nz

The Black Sticks Men battled hard but were defeated 2-1 by Korea in the sixth and final test of the series in a wet weather clash at Papatoetoe Sports Centre tonight.

After trailing 1-0 at halftime, the Kiwis drew level through a stunning Stephen Jenness goal but surrendered the lead again soon after and could not equalise.

The Blacks Sticks looked impressive for much of the game and played with solid structure defensively, however it didn't translate into goals at the other end.

Shea McAleese captained the side while Andy Hayward earned his 150th international test cap.

Head coach Colin Batch said there were areas of his side's game that were pleasing but it was disappointing to come away with a loss.

"Again I thought we made progress but we are disappointed with the result. We created chances and were dangerous but on the counter attack we were left exposed," he said.

"We had good structure in the midfield and defensively which was a positive. I think we need to look at our attacking structure and how to evolve that into a really potent force."

The Black Sticks dominated large patches of the first half, with veteran Phil Burrows once again providing much needed structure and vigour up front. Isaac Staples and Jared Panchia also created several good chances, but the Kiwis couldn't find the back of the net.

With Blair Tarrant and Alex Shaw combining well on the defensive flanks, things were looking good before a penalty corner against the run of play put the Black Sticks in trouble just four minutes out from halftime.

Despite a good initial save from New Zealand goalkeeper Hamish McGregor, Nam Young Lee pounced on the loose ball and eased it into goal to put Korea ahead 1-0.

The Black Sticks kept their structure throughout the second half and steadily built the pressure on the Koreans. Capital's Stephen Jenness delivered the equalising goal in the 62nd minute with a brilliant reverse shot from the top of the circle.

But Korea were swift to respond and scored through Hyun Woo Nam just one minute later from a penalty corner.

The Kiwis pulled McGregor out of goal in the final minutes to add an extra runner to the field but couldn't pull one back.

Earlier in the evening the Junior Black Sticks Women mounted an impressive 2-1 come from behind win over the Korea Under-21 Women.

After falling behind 1-0 at halftime, Rachel McCann and Kim Tanner both scored second half goals to seal the result.

While the Black Sticks Men's series is now complete, the Junior Black Sticks still have two games to play against their Korean counterparts at 11am on Friday and 9:30am Saturday.

RESULTS

Black Sticks 1: (Stephen Jenness)
Korea 2: (Nam Young Lee, Hyun Woo Nam)
Halftime: Korea 1-0

Junior Black Sticks Women 2: (Rachel McCann, Kim Tanner)
Korea U21 Women 1: (So Ri Nam)
Halftime: Korea 1-0

Hockey New Zealand Media release


---

Another loss for NZ

By David Leggat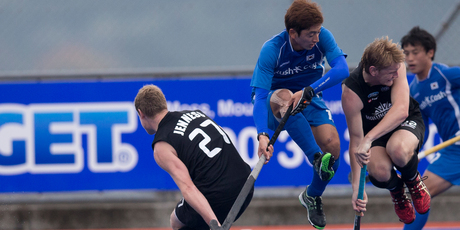 The eighth-ranked Koreans grabbed a late winner from a penalty corner to beat New Zealand 2-1, and they leave with four wins and two draws. Photo / Brett Phibbs

Another one-goal loss, another frustrating night for New Zealand to wrap up their six-test series against Korea in Papatoetoe tonight.

The eighth-ranked Koreans grabbed a late winner from a penalty corner to beat New Zealand 2-1, and they leave with four wins and two draws.

There wasn't much between the teams in the series, but the Koreans were more adept at taking their opportunities.

Both their goals came from penalty corners tonight, by Nam Yong Lee and Hyun Woo Nam, with world No 6 New Zealand's coming from striker Stephen Jenness midway through the second half.

"We're not quite there," said captain for the night, experienced midfielder Shea McAleese.

"We come in and out of the game a little too much and they've been able to dominate too many phases of the game for my liking."

One positive out of the series was that all 23 players got plenty of game time in the final leadup to selection for the World League 3 tournament in Rotterdam next month. The squad of 18 will be named in the next few days.

"The biggest thing we need to learn is just how to win and what we need to do to win," McAleese said.

"You can't have silly mistakes that cost you goals and at the other end we need to be really clinical in the circle.

"In the middle of the field we're really competitive, but we're letting ourselves down just a little at either end of the field."

The New Zealand Herald


---

Black Sticks men suffer fourth straight loss



ANOTHER LOSS: Shea McAleese in action against South Korea. Photosport

The New Zealand men's hockey team have gone out with a whimper, losing the sixth and final test against South Korea 2-1 in Auckland and the series 4-0.

It was world No 6 New Zealand's fourth consecutive loss to the team ranked two places below them, with the first two matches having been drawn.

After trailing 1-0 at halftime, the Kiwis drew level through a Stephen Jenness goal but surrendered the lead again soon after and could not equalise.

The Blacks Sticks played with reasonable structure defensively but couldn't translate that into goals at the other end.

Head coach Colin Batch told what has become a familiar tale this week, saying there were areas of his side's game that were pleasing but it was disappointing to record another loss.

"Again I thought we made progress but we are disappointed with the result. We created chances and were dangerous but on the counter attack we were left exposed," he said.

"We had good structure in the midfield and defensively which was a positive. I think we need to look at our attacking structure and how to evolve that into a really potent force."

With Blair Tarrant and Alex Shaw combining well on the defensive flanks, things were looking good before a penalty corner against the run of play put the Black Sticks in trouble just four minutes out from halftime.

Despite a good initial save from New Zealand goalkeeper Hamish McGregor, Nam Young Lee pounced on the loose ball and eased it into goal to put Korea ahead 1-0.

The Black Sticks kept their structure throughout the second half and steadily built the pressure on the Koreans. Jenness delivered the equalising goal in the 62nd minute with a brilliant reverse shot from the top of the circle.

But Korea were swift to respond and scored through Hyun Woo Nam just one minute later from a penalty corner.

Stuff


---

National hockey camp to be held from 29th May

LAHORE: Pakistan hockey team's training camp will get underway from the 29th of May at Abbottabad to prepare for the World hockey league.

Pakistan hockey team's coach Hanif Khan told Geo News that the camp will be held in two stages. In the first stage the players will train in Abbottabad from 29th May to 13th June and after some rest the players will again get together on 18th June in Karachi.

The World hockey league starts from 29th June in Malaysia. The top three teams of the event will qualify for the Worlds Cup.

The PHF has invited following probable players for the training camp:-

PLAYERS:

Imran Shah, Imran Butt, Muhammad Imran, M. Rizwan Senior, Fareed Ahmed, Rashid Mehmood, Muhammad Waqas, Shafqat Rasool, Abdul Haseem Khan, Muhammad Ateeq, Waseem Ahmed, Muhammad Kashif Ali, Shakeel Abbasi, Muhammad Irfan, M. Salman Hussain, Talal Khalid, Syed Sibtain Raza, Aamir Shehzad, Muhammad Imran Junior, Muzammil Ishaq Bhatti, Kashif Ali, Arslan Qadir, Muhammad Zubair, Zohaib Ashraf, Yasir Shabbir and Ayub Ali = 26.

OFFICIALS:

Mr. Akhtar Rasool Chaudhary/Manager & Head Coach, Mr. Abdul Hanif Khan/Coach, Mr. Ajmal Khan Lodhi/Coach, Mr. Arshad Hussain/Goalkeepers Coach, Mr. Adnan Zakir/Nutrionist, Mr. Faiz-ur-Rahman/Physiotherapist, Mr. Nadeem Khan Lodhi/Video-Analyst and Mr. Tahir Zaman/Consultant PHF.

The News International


---

Carib Magnolias move ahead in Trinity Division

Nigel Simon

Former national forward Gayle-Ann Nieves scored on either side of the half to lead Shandy Carib Magnolias to a come-from-behind 2-1 win over Defence Force and to the top of the table in the T&T Hockey Board Trinity Women Division at the National Hockey Centre, Tacarigua, on Monday night.

Both Defence Force and Magnolias began the day on ten points, level with Harvard Maritime Checkers and two behind leaders Notre Dame, meaning both had a chance to go top of the table with a win.

The "Teteron women" were the first to stake their claim for the outright table lead when former national captain Nicole Aming fired in the opener in the 25th minute.

But a minute before the interval, Nieves drew Magnolias level and 13 minutes into the second half she fired in what turned out to be the decisive item to push her team to 13 points from five matches, one ahead of the Dames, which has played a match more, while Defence Force stayed third with Checkers, with ten points from six and five matches played, respectively.

In the Trinity Men's Division, Paragon used goals from three different players to edge past Notre Dame and into third on the table.

Sean Olton fired the Dames ahead in the 14th minute but Jabari Perez tied up the score in the 25th for Paragon to go into the break level.

On the resumption, Paragon started the better of both clubs and went ahead for the first time in the 46th through Kayode De Peza while Gerron Frank added a third, eight minutes later.

With a minute left in the match, the Dames, winner of three of their previous five matches, got a lifeline when Akil Nancoo reduced the deficit to 3-2, but it was too little to late as Paragon held on for the three points to climb to 14 points from six matches, four adrift of Malvern which has a perfect 18 points from six matches, and one behind Queen's Park. The Dames slipped one spot to fifth with 12 points from seven matches.

Today, Trinity Division action continues with Fatima facing Petrotrin men from 8 pm while tomorrow two matches are on schedule in the Mixed Veterans Division from 7 pm.

In the opener, table leader Carib, with 12 points from five matches, faces Defence Force, one of three clubs on six clubs while Paragon and Petrotrin, both without a point meet from 8.45 pm.

T&THB results

Monday:
Trinity Women:
Magnolias 2 (Gayle-Ann Nieves 34th, 48th) vs Defence Force 1 (Nicole Aming 25th)

Tuesday:
Trinity Men:
Paragon 3 (Jabari Perez 25th, Kayode De Peza 46th, Gerron Frank 54th) vs Notre Dame 2 (Sean Olton 14th, Akil Nancoo 69th)

Upcoming matches:
Today:
Trinity Men:
Fatima vs Petrotrin, 7 pm

Tomorrow:
Mixed Veterans:
Carib vs Defence Force, 7 pm
Paragon vs Petrotrin, 8.45 pm

Saturday:
Venue: Dwight Yorke Stadium, Training Field
Men's Championship: Paradise vs Malvern, 8 am
Women's Championship: Paradise vs Malvern, 10 am
Trinity Men: Paradise vs Malvern, 11.30 am
Under-19 Girls: Paradise vs Malvern, 1 pm
Under-19 Boys: Paradise vs Malvern, 2.45 pm

Venue: National Hockey Centre, Tacarigua:
Under-19 Boys: QPCC vs Fatima, 11.30 am
Trinity Women: Petrotrin vs Notre Dame, 1 pm
Trinity Women: Ventures vs Defence Force, 2.30 pm
Men's Championship: Paragon vs QPCC, 4.15 pm
Women's Championship: Paragon vs Magnolias, 6 pm
Men's Championship: Notre Dame vs Fatima, 7.30 pm

Sunday:
Venue: National Hockey Centre, Tacarigua:
Trinity Men: QPCC vs Notre Dame, 1 pm
Trinity Women: Police vs Magnolias, 2.30 pm
Trinity Women: Checkers vs Paragon, 4.30 pm
Trinity Men: Paragon vs Defence Force, 6 pm
Trinity Men: Carib vs Police, 7.30 pm

The Trinidad Guardian


---

Gateway to meet Shabab Qatar in final



Players in action during a National Hockey League match.

Defending champions Gateway will take on Shabab Qatar in the final of the 6th Qatar National Hockey League at Rayyan Hockey stadium tomorrow.

Gateway defeated Wanderers Hockey Club in the last match of the league last Friday. In an exciting and hard fought match, Gateway won 3-1.

After a barren first half, which was dominated by Gateway, the champions opened the scoring in the 38th minute through Mohamed Adnan, their guest player from Pakistan.

Former Air India player Savio Nayak equalised in the 54th minute with his 15th goal of the league. Gateway, however, restored the lead in the 61st minute through Greek international Dimitirous.

Gateway star performer Muhamed Waseem increased the tally minutes later to make it 3-1. Wanderers will meet on MHC for the third place.

In an earlier match Shabab Qatar gave their junior and fringe players a full run and they easily overcame DHC-1 by 4-0. Ahmed Jazooly and Muhamed Samiullah scored a brace each. Both the DHC teams completed their engagements in the bottom half of the League with three points each.

In another match MHC trounced United Hockey Qatar 7-0 to stake a place on the podium. Mansoor (3), Azeem (1), Amanathullah (1) and Usman (2) were the scorers for MHC. They completed their league matches with 10 points from six matches, the same as Wanderers.

The finals of the junior tournament featuring students of MES, Birla Public school, Bhavans Public School and Pak Shamaa will take place simultaneously on the adjacent grounds.

United Hockey Qatar had the honour of winning the Haji Gulzaeb Memorial Fair Play Trophy by completing their engagements without any bookings or send offs in the entire tournament.

Gulf Times


---

Haryana women register second win in Sub-Junior National hockey

BHOPAL: Skipper Navpreet scored four goals to help Haryana women beat Hockey Maharashtra 11-1 and register their second consecutive win in the third Hockey India Sub-Junior Men & Women National Championship at the SAI Centre on Wednesday.

Apart from Navpreet (2nd minute, 14th, 53rd, 64th), the other goal-scorers for Haryana in the pool B match were Devika (5th, 45th), Sonika (6th), Manpreet (30th, 40th) and Asha (52nd) while Hockey Maharashtra scored through Alaknanda (43rs).

In the other pool B match, Jharkhand thrashed Andhra Pradesh 15-2. Betan Dung Dung and Pramila Soreng scored four goals each for Jharkhand.

In pool A, Odisha beat Karanataka 7-0. Odisha scored through Anjilina Minz (4th min), Rashmita Minz (5th, 14th), Manju Lakra (7th), Ashim Kanchan Barla (30th), Elima Minz (33rd) and Asmita Barla (35th).

In the men's competition, Odisha defeated Karnataka 6-2 in pool A. Odisha scored through Suman (2nd), Sudhir Kujur (5th, 6th, 54th), Ashwin Kujur (37th) and Tikie (17th). For Karnataka, Sanna Hamaumayya (18th) scored a goal while the other was an own goal.

In the other match of pool B, Punjab defeated Chandigarh 8-2. Punjab scored through Shubh Karman Singh (12th, 18th), Arvinder Singh (17th), Inderjit Singh (23rd), Kawaljit Singh (26th, 57th) and Harjot Singh (39th, 60th) while Harmeet Singh (51st, 52nd) scored for Chandigarh.

The Times of India


---

Tom Harris Celebrates 41st Year Running Cal Cup




Family heirlooms traditionally consist of faded pictures, foreign coins and vintage rings, treasured items with great sentiment.

Tom Harris is redefining the modern day heirloom because from generation to generation he has passed something along to his son, nephews and granddaughters that cannot be physically held or contained within the parameters of a box – a pure, raw passion for field hockey.

Tom, a dedicated field hockey enthusiast and creator of the Cal Cup Tournament, is entering his 41st year of heading the event. What began as a small tournament has grown into a selection process during Memorial Day weekend for the Men's U-17, U-20 and Senior National Team squad. The nation's best competitors in the country will be gathering on the campus of Moorpark College near Los Angeles in Southern California tomorrow in hopes of earning a spot on the U.S. Men's National Team. In fact it's the same try-out process that previously selected Tom's nephews Pat and Sean to represent Team USA  - yet another form of verification that the passion has been passed.

usafieldhockey.com caught up with Tom prior to the start of the event to get his thoughts on 2013 Cal Cup. 

USA Field Hockey: How did Cal Cup get its start?

TH: The tournament started with just six teams in 1972. We had one grass field and no real umpires. I didn't even know how to really put a schedule together but over the years it became like Sudoku, just like the type of puzzle I enjoy solving. With the help of passionate volunteers this event has really evolved – from the amount of divisions we've added to the number of participants. It's amazing to see how much we've grown from decade to decade.  

USA Field Hockey: How many are expected to attend this year? 

TH: We're looking at a number of roughly 2,000 players a number that has only risen with time.

USA Field Hockey: Field hockey seems to be enjoyed by most in your family. Do any other of your family members assist with Cal Cup?

TH: Besides my nephews Pat and Sean who play, a lot of my other family members are involved in this event. My brother looks after the main table and my wife does a lot of running around for Cal Cup too. My older son works the exhibitor's tent and his wife helps with registration. My granddaughters even chip in and help out during the tournament.

USA Field Hockey: What do you accredit to the success and longevity of Cal Cup?

TH: We have developed a nine-person committee that meets every month all year long. It's a composed of a very talented people. What started as a few buddies mapping out a small tournament grew to a real organizing committee. It's a major fundraiser for the sport.

USA Field Hockey: You only started playing field hockey in 1970, two years before the introduction of Cal Cup. Where does your love of field hockey come from?

TH: I used to play baseball and softball but field hockey is by far the most interesting sport. You're on the field running around and working as unit with your team. Field hockey has always been appealing to me. This sport has allowed me to meet so many wonderful people and travel around the world.

USA Field Hockey: This passion is an heirloom you have passed down to your nephews and National Team members Sean and Pat. What is one of your first field hockey memories with them?

TH: I still remember the day Patrick tried out for the National Team in San Diego when he was 12 years old. He might have been younger side but boy did he have the talent. That's one of my favorite memories.

USA Field Hockey: What is the one piece of advice you have for all of this year's Cal Cup participants to have a successful performance?

TH: Don't take the game too seriously. Some guys go out there and hit each other with sticks and act a little too rough. Well, that just gets you kicked out of the tournament. This is meant to bring great athletes together and meet new people while having a good time.

USA Field Hockey: You have played in every Cal Cup tournament since its commencement. Will you be putting on shin guards this year?

TH: You can count on it.

Be sure to stay tuned to usafieldhockey.com and @USAFieldHockey for the latest Cal Cup U-20 coverage!

USFHA media release


---

Sisters of the US Women's National Championship

For most, at the age of training wheels and tree forts, they become our first opponent – encompassing the true definition of backyard rivals.

Before there was even a score board to light up, a defender to dodge or reserve chip shot to save, siblings helped nurture and grow our ambitious spirit with playground games of tag and tether ball. As the years passed transitioning from our elementary days to elite field hockey players our siblings have always been a constant encourager and motivator inadvertently preparing us for relentless competition on the pitch. This year at the Women's National Championship four sets of sisters have earned their spot at the tournament bringing their will to win and their family name.

Emma and Meg Bozek (Cortlandt Manor, N.Y.), Kelsey and Katelyn Smither (Suffolk, Va.), Tara, Michelle and Carissa Vittese (Cherry Hill, N.J.), Meghan and Rachel Dawson (Berlin, N.J.)

usafieldhockey.com caught up with the four sets of sisters for a quick interview.

USA Field Hockey:  Describe your sister off of the pitch.

"Kelsey is caring, honest and passionate about everything she does. She is fun-loving, goofy and a great dancer. We jokingly say that even though we are six years a part, we are twins and practically the same person. Well, minus the dancing."  –  Katelyn Smither

USA Field Hockey:  What's your chemistry like together on the pitch?

"Chemistry is hard to come by on a hockey pitch.  It is ignited and intensified by friendship, love and a mutual respect.  And having chemistry is electric.  It's one of the greatest ways to play the sport. Carissa and I are great friends the kind that argue and make up in three minutes and only sisters, married couples and best friends understand that analogy. The chemistry between us reflects our relationship is empowering. I love having her on the field next to me and I trust her with my life. It's hard to earn that type of trust. I guess that's what 21 years together does."  – Michelle Vittese

USA Field Hockey:  What do you admire most about your sister as an athlete?

"As an athlete, I admire her work ethic the most. It reflects in all other things she does as well like her job, her new marriage, and as a sister, friend, and daughter. She will give you everything she has all the time, and she has high expectations for herself as well which just adds to the discipline she has overall. She wants to leave it all out on the field, every practice and every game."  –  Kelsey Smither

USA Field Hockey:  What's your favorite field hockey memory with your sister?

"Beating Garden City in state semi-finals my sophomore year and Meg's senior year. We won in overtime in a very dramatic finish. That might be the only time I've ever cried happy tears, lame, I know, but I'll never forget celebrating that win with her." –  Emma Bozek

USA Field Hockey: When did you and your sisters start playing field hockey?

"I have been playing field hockey since sixth grade. Michelle started when she was in fifth grade and Tara started when she was in fifth grade as well. So that would make it 10 years. We first got involved with field hockey through the sport my father played, roller hockey. I started playing roller at the age of six and I loved it more than anything, but there wasn't really roller hockey at school, so we started playing field hockey, which was close enough.  It was actually very easy to pick up from roller hockey, even though the rules and equipment are extremely different. My mother also wanted us to play field hockey because that is what she played growing up. I guess it runs in the family." –  Carissa Vittese

USA Field Hockey:  What's it like to compete at WNC with your sister?­­

"It is an honor to play at such a high level tournament with my sister, but also something that is very special for us because we so rarely get to compete with or even against each other on the hockey field because of our age difference. Of course, because we are on different teams, it will turn into a competition as everything we are around does. However, I'm so grateful I will get to see her compete and have the opportunity for selection throughout the summer in hopes of representing the US in the Junior World Cup." – Katelyn Smither

These siblings prove their biggest supporter isn't necessarily on the stands but right alongside them on the turf. For more WNC coverage checkout usafieldhockey.com and @USAFieldHockey for tournament updates, results and features.

USFHA media release


---

UNC's Loren Shealy wins SI's female College Athlete of the Year award

By Kelli Anderson, SI.com correspondent 




The phrase has been hollowed out by years of often cynical misapplication, but every once in a while a special collegian gives the term student-athlete unassailable substance. Meet SI's female College Athlete of the Year, North

Carolina sophomore Loren Shealy, an ace field hockey forward, top business administration student, Robertson Scholar and, for one lunch hour in late April, just one of the scores of UNC students who have stopped for a meal or conversation at the Pit, the oak-shaded sunken brick courtyard that serves as the village square of the Chapel Hill campus. Wearing Carolina-blue-and-white workout gear on her slight 5-foot-5 frame, her light-brown hair pulled back in a ponytail, Shealy looks much like dozens of other students on a dead-week study break. But she is different.

As the first UNC varsity athlete to earn a Robertson scholarship, the full-ride award given annually to 18 Duke and 18 Carolina students, the 20-year-old Shealy just finished a semester that may be unique in the annals of college sports. The Robertson, whose provisions include fully-funded summer "experiences," requires that scholars live for a semester on the campus of their school's biggest rival. That was no small detail for Shealy, a native North Carolinian who was raised by her dad, Tommy -- a 1984 Carolina grad who briefly played baseball for the Tar Heels -- to revile all things Blue Devil. "I've always known the phrase Go to hell, Duke," says Shealy, who grew up on a steady diet of Carolina men's basketball. "I didn't even look at Duke for college -- didn't apply, didn't contact the coach, nothing."

While Shealy insists that "a piece of Duke clothing will never touch my body," she enjoyed her semester "behind enemy lines," as she calls it -- especially the bigger dorm rooms, the smaller class sizes and Philosophy 101 taught by Alex Rosenberg. "I'm Christian, a Methodist, and he's clearly an atheist; that's how he makes his arguments," says Shealy. "But it's cool to hear the other side. He offered perspectives I wouldn't have otherwise thought about."

She was heavily outnumbered even in these smaller Duke classes, so she thought it wise to keep mum about her Tar Heels affiliation. Doing so wasn't nearly as difficult as the logistics of getting to spring workouts and her Business 520 class in Chapel Hill while living and taking three courses in Durham, 11 miles (and about 30 minutes, in traffic) away. "Looking at this semester back in December, I didn't know how I was going to do it," says Shealy, who made the round-trip commute five times per week in her Range Rover. "But it was doable. If you have a goal and you want to achieve it, you can do it."

Shealy first learned that lesson five years ago, after she made a grueling hike up 14,000-foot Mount Shasta in northern California. A good but unspectacular student at the time, she had vowed that if she made it to the top, she'd get straight A's and make the varsity field hockey team that fall as a sophomore at Charlotte Country Day. Nothing less than an A -- (and there's been only one of those, in AP English her junior year in high school) has appeared on her transcript since then. And she didn't just make the varsity. At a UNC camp after that first varsity season, Shealy, who had seen herself as a D-III player, dazzled North Carolina coach Karen Shelton with her hands, vision and maturity, and Shelton offered her a spot with the six-time national champions.

Shealy graduated early from high school and enrolled at Carolina in the spring of 2011. That fall she was the Tar Heels' rookie of the year, while last season she ranked second on the team in goals (16) and third in points (34) as Carolina reached the NCAA final for the fourth straight year. (It lost 3-2 to Princeton.) Shealy also won the Elite 89 award, given to the student-athlete with the highest cumulative grade point average participating at each of the NCAA championship sites.

But even better than being a 4.0 student and a fantastic athlete, Shealy "is the best person I've ever met," says teammate Charlotte Craddock, a sophomore forward from Wolverhampton, England. "She is successful in everything, and her organizational skills put the rest of us to shame, but she is also one of the nicest people, with one of the best senses of humor, I've ever known. She can convey so much with her incredible left eyebrow. You know you've said something stupid when you see that eyebrow shoot up." Adds Shelton, "Loren is a leader, she's unselfish, she's down-to-earth and she gets along with everybody."

Given Shealy's commitment to excellence, chances are that SI would be honoring her even if she had pursued a different sport as a high school freshman. "I love golf, and I thought I had real potential in it, but it was the same season as field hockey, which I had played for a few years," says Shealy, who also played basketball and ran track in high school. Her mom, Jan, thought she should stick with field hockey, a team sport, and get to know other people. "I cried," says Loren. "I didn't want to play field hockey." She joined the jayvee and was so dynamic that after the season, the varsity coach called a meeting with her parents to prepare them for college recruiting.

Shealy still plays golf and often beats her father, but she has come to love field hockey. Like golf, it demands precision and practice. "I really like that it's an incredibly technical sport," she says. "Hand skills, where to position yourself on the circle, tipping the ball -- all that takes practice. I like that you have to work at it."

But the thing she likes best about the game -- hat tip to Mom -- is the team aspect. "Achieving something by yourself is great," says Shealy, "but when you've done it with 25 other people after eight months of training, it's more rewarding."

Still, Shealy has had moments of individual glory: In a 4-2 win over Maryland in the ACC title game last November, she scored the first and last goals and made the all-tournament team. But forcing an opponent into mistakes and turnovers (pressing, in field hockey parlance) is where she lives. "Scoring is fun," she says, "but I love it when I'm chasing someone down and she makes a bad pass and now we're going to the goal and could score."

Shealy has never passed up a challenge. When her middle school music director lamented the orchestra's lack of cellos, Shealy set aside the violin she had played for five years and learned the cello. In track she ran two of the more brutal events, the mile and the 800 meters, finishing third in the latter in the private-school state meet as a junior. In field hockey she works on her weaknesses rather than her strengths. "I've had a lot of kids over the years who love to work on the things they're good at," says Shelton, "but Loren focuses on the things she's not good at to make herself better, to expand her repertoire."

Summer looms, and for Shealy that means more opportunities to seize. Last summer she spent six weeks in Vietnam teaching physics and tennis to children as part of the Coach for College program. As soon as she arrived back home, she drove 13 hours to Cleveland, Miss., where she joined other Robertson scholars in running a summer enrichment camp for under-privileged kids. This summer her Robertson-sponsored adventure will be interning at a San Francisco hedge fund. While Shealy says she hasn't thought much about next year's goals, one seems clear. "We've lost that NCAA final three years in a row now," she says.

Will Shealy find the time to work on her field hockey game amid the demands of a rigorous internship in the Financial District? You can bank on it.

Read more here: http://sportsillustrated.cnn.com/college-athlete-of-the-year/news/20130522/loren-shealy-college-athlete-of-the-year/

USFHA media release


---

4Goals Field Hockey Tournament to Award $10,000 to Champions

PROVIDENCE, Rhode Island –May 21, 2013 - The 4Goals Field Hockey grounds will be sprinkled with different jerseys hues, the color on everyone's mind is green. Which makes perfect sense considering the 2013 4Goals Cup is rewarding the tournament champions with a massive cash prize of $10,000.

Field hockey players from all over the world will gather at Brown University in Providence, R.I. for this exciting event July 27- July 28. A landmark amount of $10,000 will be presented to the champion of the 4Goals Cup in each of the open divisions for men, women, and mixed. The other divisions offered are the over-35 women's division, the collegiate women's division, U-21 Boys, U-19 Girls, and U-17 Boys.

4Goals, founded by two-time Olympian Marcia Pankratz, has provided high level playing opportunities in field hockey for numerous years.  This USA Field Hockey sanctioned event is a great chance for adults both men and women along with some of the best collegiate and high school players in the nation to test their competitive spirit and gamesmanship.

The tournament will be held on five different AstroTurf fields at Brown University, home of Brown's Division I  Field Hockey Team.

Please visit www.4Goals.net to see all of the exciting details and register your team!

USFHA media release


---

Page selected for USA Field Hockey Championship



Jordan Page is once again playing in USA Field Hockey's top tournament.

SYRACUSE, N.Y. - Syracuse field hockey rising junior midfielder Jordan Page will compete at the USA Field Hockey High Performance National Championship in Norfolk, Va. on May 23-29. The six-team tournament brings the top talent in the country together as the athletes compete for their region's team, but more importantly contend for a sport on the U.S. Women's National Team roster.

A native of Denver, Pa., Page will be playing for the Pennsylvania squad, coached by Drexel head coach Denise Zelenak.

Also competing at the tournament will be SU alum Shannon Taylor. The 2008 All-American for the Orange and 2012 Olympian will play for the New England-North team. She is currently an assistant coach at Massachusetts.

Page's Pennsylvania squad opens play on Thursday at 9 a.m. vs. New Jersey and plays one game per day in pool play through Tuesday. On Wednesday, May 29, the teams will be seeded for medal play.

Page is coming off a stellar sophomore campaign for head coach Ange Bradley's Orange in 2012. She was named All-BIG EAST Second Team and BIG EAST All-Tournament Team while helping lead SU to a 19-3 overall record, the BIG EAST regular season title, a No. 1 national ranking and the program's second-ever Final Four appearance. Page finished second on the Orange with 30 points on nine goals and a team-best 12 assists, while starting all 22 games.

Page competed at the High Performance National Championship in 2012, playing for the North squad. She recorded one goal while helping lead the team to a 2-1 record in pool play before losing two games in the medal round.

She was named a member of the U.S. Under-21 National Team last summer. She and Team USA competed in January at the Australian Youth Olympic Festival in Sydney, Australia. Page was previously a member of the U.S. U19 and U17 squads.

Syracuse University Athletics media release


---

Jillaroos selected for Japanese Junior World Cup warm-up

Hockey Australia has announced the Jillaroos squad for next month's tour to Japan. The U21 women's team will play four matches against Japan 'A' in preparation for the Junior World Cup at the end of July.

National Junior Coach Craig Victory has called upon the services of 11 of the squad that won gold at the Australian Youth Olympic Festival in Sydney at the start of the year. And recent Hockeyroos debutants Brooke Peris (NT) and Mariah Williams (NSW) will make the trip on the back of successful first senior appearances against Korea in Perth last month. 

With seven Jillaroos squad members named in the Hockeyroos' squad for the tour to Europe and the FIH Hockey World League the opportunity is there for a number of athletes to play their way into Victory's consideration ahead of the Junior World Cup.

Announcing the squad, Victory said, "Having the seven girls compete in Europe with the Hockeyroos is a huge win for the junior program and it allows us to look at all members of our squad in further international competition before the Junior World Cup. We think we've got good depth to our junior set-up and the trip to Japan gives them the chance to show what they can do on the world stage. Plus, those that compete for the Hockeyroos in Europe will return to our group having gained exceptional experience at the World League."

"We're grateful for the support of the Australian Junior Commonwealth Games Squad Program in helping make this trip possible and the outstanding support that Hockey Australia continues to receive from the State Institute and State Academies of Sport.  These programs are integral to delivering high quality coaching and a daily training environment for members of the National Junior Squad.  On this occasion, generously, the SIS/SAS network has also provided funding to ensure that their junior athletes have the best possible preparation and competition leading into the Junior World Cup."

The Jillaroos' opponents will be a Japan 'A' side comprising their junior squad plus a number of members of the senior Japanese team, which is currently ranked ninth in the world.

Victory added, "These will be four high quality games that allow us to work on our structure and important on-and-off-field elements."

Australia's women finished fifth at the last Junior World Cup four years ago in Boston, beating this year's hosts Germany in a playoff.

Jillaroos' squad for tour to Japan
12-21 June 2013
(Listed alphabetically by surname)
Murphy Allendorf (Mount Gravatt, QLD)
Lily Brazel (Newington, NSW)
Mathilda Carmichael (Willoughby, NSW)
Jacqui Day (Mountain Creek, QLD)
Elizabeth Duguid (Darwin, NT)
Naomi Evans (Holt, ACT)
Madison Fitzpatrick (Cabarita Beach, QLD)
Kate Gilmore (Red Hill, ACT)
Emily Grist (Uraidla, SA)
Nina Khoury (Newtown, NSW)
Georgina Morgan (Armidale, NSW)
Hayley Padget (Hurstbridge, VIC)
Brooke Peris (Darwin, NT)
Kathryn Slattery (Como, WA)
Audrey Smith (Wynnum, QLD)
Amelia Spence (Taroona, TAS)
Leah Welstead (Adelaide, SA)
Mariah Williams (Teralba, NSW)

Jillaroos' Fixtures in Gifu, Japan
15 June v Japan 'A'
16 June v Japan 'A'
18 June v Japan 'A'
19 June v Japan 'A'

Jillaroos' Junior World Cup Program
12-21 June: Tour to Japan
25 June: Final squad selection for JWC touring team
17 July – 6 August: European Tour (JWC warm-up matches against Germany, Korea and Netherlands) (Monchengladbach, Germany)
27 July – 4 August: Junior World Cup (Monchengladbach, Germany)

The in-depth program of activity leading up to the Junior World Cup is made possible by the financial support of Hockey Australia's partners and in particular the generous support of the Australian Junior Commonwealth Games Squad Program (AJCGS) via the Australian Commonwealth Games Association.

The AJCGS program is designed to;

• Assist junior athletes to gain international competition experience, so that they understand the conditions and environment that they will face as seniors.

• To assist those junior athletes who have the potential to be selected in future Australian Commonwealth Games teams.

While Glasgow is hosting the 2014 Commonwealth Games, the 2018 Commonwealth Games will be held on the Gold Coast, where recently both Australian Junior teams successfully qualified for the Junior World Cups. With continued hard work, it is anticipated that many of these talented young athletes will represent Australia in 2018.

Hockey Australia media release


---

Clare Hockey Club grows through Hookin2Hockey

Top tips for your club to learn from

If your club is looking to grow its junior membership, why not take a leaf out of the book of Clare Hockey Club, which successfully attracted double the number of youngsters it had hoped for using some very simple marketing and delivering a great Hookin2Hockey experience…

Lying 140km north of Adelaide is Clare, home to Clare Hockey Club, registered membership: 60. Last year, faced with a declining membership base and a desire to better engage with its local community the club signed up to Hookin2Hockey, Hockey Australia's leading national grassroots program for 5-12 year olds.

As Jayne Price from the club explains, Clare faced some familiar challenges in driving growth in hockey locally. "Being a very football and netball oriented district we previously found it difficult to attract children to hockey, particularly given it hasn't been offered on a large scale," says Jayne. "Clare Hockey Club initially became involved in the program in 2012 with the intention of attracting a minimum of 20 kids. But after opening the Hookin2Hockey program to the association we had an overwhelming response with around 40 participants registering."

Demonstrating one of the ways in which hockey clubs can use locally available external support to drive interest in their Hookin2Hockey program, Clare contacted its local Active After School representative, who helped spread the word among parents, children and schools. Using the personalised flyers that every club receives when they sign up to Hookin2Hockey, Clare HC advertised the sessions to local schools and placed an advertisement in the local paper, supporting posters that were put up around town.

Running immediately after school on a Wednesday afternoon alongside the older children's sessions, the decision to run a five week program has been one of the secrets of the club's success according to Jayne. "By offering a five week block we feel it helps maintain high attendance levels and keeps the children engaged. So far attendance has always been high, which is fantastic!" explains Jayne.

"The enthusiasm and excitement of the children participating in the club's program has been tremendous. The children loved the participant packs and seeing them learn new skills every session has been extremely rewarding."

Another of Jayne's top tips is to get the parents involved. Most of the parents of participating youngsters have stayed at the club during the Hookin2Hockey sessions with many assisting in a number of ways. And all the while building the sense of community around the club.

"As a club desperately struggling for numbers, the Hookin2Hockey program has been a great way of promoting hockey within the region and providing kids with an alternative to the mainstream sports in the area. We've had such a great response we're looking to run another block towards the end of the season. With very little preparatory work required, the ability for fees to be made directly online and the delivery of the packs, the program's been very easy to run," adds Jayne.

How Clare HC made Hookin2Hockey work for them:
• Ready-made, easy to administer program allowed club to offer local children chance to try something different to football and netball
• Used the free Jamie Dwyer signed shirt to raise over $700 at a silent auction
• Tapped into local support through Active After School rep to generate interest
• Distributed free, bespoke Hookin2Hockey flyers to schools in the area
• Took out advertising in the local newspaper
• Five-week blocks of Hookin2Hockey kept children engaged
• Used participant packs to inspire the children to keep coming back
• Engaged the parents of participants, gaining their assistance and building sense of community

Hockey Australia media release


---

Arthur McKay Scottish Cup Finals Preview - Edinburgh University



Samantha Judge

Edinburgh University will make their first appearance in the Women's Arthur McKay Scottish Cup Final on Saturday 25th May when they take on Milne Craig Clydesdale Western.

The university side have come on leaps and bounds since Scotland international and former Clydesdale Western striker Sam Judge took over as player-coach.

A fourth place finish in Aberdeen Asset Management National League Division 1 last season was a vast improvement on previous form in the league and in the 2012/13 season, the students ran Saturday's opponents close for the runners-up spot in Division 1, finishing third.

With the likes of international players Nikki Kidd, Sarah Robertson, Nicki Cochrane and Louise Campbell added to the squad this season, they have become a force within the women's game and have real talent to call upon within their ranks.



Sarah Robertson

In the build up to this weekend's final, player-coach Judge was keen to emphasise how much the club and players are looking forward to the occasion, "I think this is the first cup final for Edinburgh University, certainly since I've been a player in Scotland, so there's a great buzz and excitement about the club at the moment.

"The girls are absolutely looking forward to the final on Saturday and with it being the university's alumni weekend, it adds to the occasion. We'll have a great support at Peffermill too, which is fantastic."

The capital outfit reached Saturday's final courtesy of a dramatic 6-5 penalty shoot-out win over defending champions and favourites Grove Menzieshill, which has boosted the confidence of the players massively. They have also scored 21 goals in the process of reaching Saturday's finale.

Therefore, they fancy their chances against their opponents from Glasgow and the contests between them this season in the domestic league have been close fought affairs.

"We've played them twice this season and we were disappointed that we didn't win the drawn match, particularly after a good first half. The games against Western are always close encounters and fairly tight matches, but we're confident we can win", said Judge.

"The expectations this season have increased after a good first year where we finished fourth in the league, so I knew my second season as coach would be challenging. But the players have been great this season and have really knuckled down. We've played some good hockey, scoring lots of goals, and the players are really enjoying themselves."

For Judge, there also is the prospect of coming up against her former team-mates in a cup final to consider but her focus is firmly on delivering silverware to the university, "I'm sure there will be a few tackles flying in and there is always a bit of spice added when you're up against your former team.

"I still have friends at the club but in the lead up to the final and on the day itself, that's obviously put to one side and I'm determined to win the cup for Edinburgh University."

Edinburgh University

Laura Mann, Sam Judge, Bethan Mann, Kirsten McIntosh, Louise Fleming, Ruth Moffett, Carly Bisset, Jen Sturgess, Nikki Kidd, Lucy Lanigan, Sarah Robertson, Camilla Lyttle, Heather Lang, Louise Campbell, Nicki Cochrane (probable line-up)
Road to the Final:

Last 32: Edinburgh University A 0-3 Edinburgh University

Last 16: Milne Craig Clydesdale Western A 3-8 Edinburgh University

QF: Inverleith 2-8 Edinburgh University

SF: Grove Menzieshill 2-2 Edinburgh University (Edinburgh University win 6-5 on pens)

Scottish Hockey Union media release


---

Three thrillers on this weekend in Ghana

Three high profile matches, one on Friday evening and two on Saturday, are expected to heighten interest in hockey just a week after the Dwadifo Adanfo Greater League pushes off at the National Hockey Stadium in Accra.

Defending League champion, Golden Sticks, are expected to consolidate their lead at the summit just as Trustees, while Exchequers are tipped to recover from last week's loss to mount a strong challenge to the title.

Golden Sticks face off with a depleted Ghana Revenue Authority (formerly CEPS) male squad which affected their delivery during the gala and contributed to their loss against Trustees in the first matches last week.

GRA officials have blamed their shaky start in the league to delays by management to recruit players some of whom have been on the waiting list for sometime now.

But GRA said they were ready to put up one of their best performances yet, hoping to stop Golden Sticks on Friday. That match would be a prelude to two other crunch matches on Saturday.

Exchequers have an opportunity to pick their first three points against Reformers who have proven to be tough customers each time the two sides clash while later on the same day, all eyes would be on the Police team as they lock horns with Trustees at 5 p.m.

Trustees are certainly the favourite but if what the Police team exhibited during the gala is anything to go by then fans would watch a match that will be difficult to erase from their minds.

Benedict Sam, Titus Mills, Richard Adjei (Sisqo) and Gideon Abbey are some of the key players that would battle Salyia Nsalbini, Alfred Ntiamoah, Nene Gablah and Serlom Kemevor.

Other matches line up for Friday are Police women versus Reformers, GRA Ladies against Ark Ladies. And on Saturday, NDK clash with Citizens, Multistix against Veterans, Extinguishers of the Ghana Fire Service face Veterans Ladies and Legon versus Ark Boys.

The rest of the matches for Saturday are Tema Manhea play La while Real Ambassadors against Tema Youth.

GhanaWeb


---

Arlene Boyles recognised for long service at awards gala



Arlene Boyles winner of the Winifred Templeton Award

Arlene Boyles was the toast of Wednesday night's annual Ulster Hockey awards when her contribution to the game over a quarter of a century was recognised.

The Ireland, Ulster and Pegasus stalwart was honoured with the prestigious Winifred Templeton Award at the gala ceremony in the Ramada Hotel.

Boyles recently announced her retirement from the game and was described on Wednesday night as the "perfect ambassador" for the sport over the past 25 years.

Gareth Lennox was the other main award receipient on the night named as the Men's 'player of the year.'

He played a key role in steering Banbridge towards the Men's Premier League Keightly Cup, the final of the Irish Hockey League and the semi-finals of the Irish Senior Cup.

MC for the evening last night was sports presenter and hockey fan, Denise Watson.

One not to be beaten to a good story, the absence of Olympians Iain Lewers and Ireland's most capped player, Eugene Magee due to their respective busy schedules, did not stop the local presenter.

Instead she got the honest assessments from Lewers' and Magee's dads, who shared their bittersweet memories from the summer.

Colin Hutchinson, who officiated in the hockey event at London 2012, also shared what it meant for him to achieve his lifelong amition of umpiring at an Olympic Games.

Back to the awards, and Godfrey Irwin was a popular winner of the 'personality of the season.'

The veteran Cookstown player has come back after missing most of the previous season due to serious injury.

Playing in the EuroHockey League against Amsterdam he fractured his skull and perforated his eardrum and was off work for a number of months.

After a long road to recovery Irwin was brave to return to his sport never mind playing in the top flight.

The top goal scorer accolade went to Steven Dowds who scored 44 goals playing a vital role in Banbridge winning the Men's Premier League title. Second place was Greg Allen with 28 goals.

The Fair Play Award was presented to Cliftonville, who demonstrated fair play and had the best disciplinary record throughout the 2012-2013 season.

The evening finished with Banbridge being awarded the coveted 'Club of the Year' award for their exceptional success for both men's and women's hockey as well as the excellent development structures the club has in place and achieving accreditation through the Ulster Hockey ClubMark award.

The Newsletter