All the news for Thursday 28 June 2012

A winning start

Malaysia trashed Singapore 7-0 in their opening match of the Women's Junior Asia Cup in Bangkok this evening.

Norazlin Sumantri opened scoring in the second minute converting a penalty corner before doubling the advantage with a field goal in the 21st minute.

Goals by Norhashikin Halim ( 27th minute ) Hanis Nadiah Onn ( 32nd and 35th minutes) gave Malaysia a comfortable 5-0 lead at halftime.

Nuraslinda Said scored in the 59th minute to make it 6-0 before Raja Norsharina Raja Shabuddin completed the rout by scoring in the 64th minute.

Malaysian Hockey blogspot


---

Men's team announced for London 2012



Team GB Men's Hockey Team Announcement

The British Olympic Association (BOA) has announced today the 16 players who will represent Team GB in men's hockey at the London 2012 Olympic Games.

The men's hockey squad has risen consistently up the world rankings since the Olympic Games were awarded to London back in 2005. At the time, they were ranked 11th in the world. Since then the players have demonstrated huge progress to reach their current world ranking of fourth.

At the last Olympics in Beijing Team GB narrowly missed out on a place in the semi finals and finished the tournament in fifth position. At London 2012 they will have their sights firmly fixed on reaching the medal matches at the Riverbank Arena in the Olympic Park.

The selected athletes are: name (age; hometown; current club):

Nicholas [Nick] Catlin (23; Marlow, Bucks; Reading)
Jonathan [Jonty] Clarke (31; Southend-on-Sea, Essex; Reading)
Matthew [Matt] Daly (28; Surbiton, Greater London; Surbiton)
James Fair (31; Chester, Cheshire; Cannock)
Daniel [Dan] Fox (29; Godalming, Surrey; Hampstead & Westminster)
Ben Hawes (31; Lewes, East Sussex; Wimbledon)
Ashley Jackson (24; Tunbridge Wells, Kent; East Grinstead)
Glenn Kirkham (29; Chelmsford; East Grinstead)
Iain Lewers (28; Belfast, Northern Ireland; East Grinstead)
Iain Mackay (27; Braintree, Essex; Reading)
Harry Martin (19; Ipswich, Suffolk; Old Loughtonians)
Barry Middleton (28; Doncaster, South Yorkshire; East Grinstead)
Robert [Rob] Moore (31; Winchester, Hampshire; Surbiton)
Richard Smith (24; Portsmouth, Hampshire; Loughborough Students)
James Tindall (29; Virginia Water, Surrey; Surbiton)
Alastair Wilson (28; Sheffield, South Yorkshire; Beeston)

There is no shortage of international experience in the squad selected today, which contains 12 members of the England team which won European gold for the first time in 2009, beating Germany in the final.

Many of the squad were also involved as England won silver at the 2010 Champions Trophy and bronze at the 2011 EuroHockey Nations Championship. For seven of the squad, however, London 2012 will be their first taste of the Olympic Games.

Team GB have won Olympic gold in men's hockey three times; at the first two tournaments in 1908 and 1920, and most recently at the Seoul 1988 Games.

Doncaster-born Barry Middleton, 28, will captain the side. To date, he has made 96 appearances for Great Britain, making him the sixth-most capped player in the team's history.

The London Games will be the fifth Olympics in which Head Coach Jason Lee has been involved. He competed twice as a player, at Barcelona 1992 and Atlanta 1996, and has led the squad as Head Coach into the last two Olympic campaigns at Athens 2004 and Beijing 2008.

Team GB has been drawn in Pool A where they will face Australia, Spain, Pakistan, Argentina and South Africa. The top two ranked teams will progress to the semi-finals.

In preparation for the Games, the Team GB squad are scheduled to participate in a tri-nation event in Santander, Spain from July 14th-18th. There they will face their Spanish hosts – who won silver in Beijing – as well as eight-time Olympic champions India.

The addition of the men's hockey players brings the total number of athletes officially selected to compete for Team GB at London 2012 to 362 across 29 sport disciplines: archery, athletics – marathon, badminton, basketball, boxing, canoe slalom, canoe sprint, cycling, diving, equestrian – dressage, equestrian – eventing, fencing, football – women, handball, hockey, judo, modern pentathlon, rowing, sailing, shooting, swimming, synchronised swimming, table tennis, taekwondo, tennis, triathlon, water polo, weightlifting and wrestling.

Team GB Chef de Mission Andy Hunt said:
"I'm delighted to welcome such a talented and experienced group of men's hockey players to Team GB for the London 2012 Olympics. The consistent progress that the squad has achieved since the last Olympic Games is really impressive and they now have a fantastic opportunity to contend for a medal at the Riverbank Arena this summer.

"Under Jason Lee's leadership, the squad have developed a very fast, skilful and exciting brand of hockey, which has thrilled crowds and earned plaudits around the world over the last few years. We will continue to give Jason and his squad our full support in the vital final weeks prior to the Games to ensure they have every opportunity to perform to their full potential on the greatest sporting stage of all at the Olympics.

"I'm sure the players selected today will relish the opportunity to play in front of a vocal and supportive 16,000 strong home crowd at the Riverbank Arena, and the support could give Team GB that little bit of extra energy and inspiration needed to challenge for the medals."

Barry Middleton, captain, said:
"It is a great honour to have been selected in Team GB for my third Olympic Games. I am very proud that I will have the chance to experience a home Olympics with the amazing support of the British crowd. We have an amazing group of guys who have put themselves through so much pain in search of a dream we all share. We will be giving our all to achieve this dream while providing a lot of excitement at the same time. I look forward to stepping on the pitch in London and hearing that Great British crowd getting behind us."

Harry Martin said:
"It's such an honour to be a part of Team GB. Although it hasn't completely sunk in yet, competing at a home Olympics is a once in a lifetime chance and I am very excited. I owe a lot of thanks to everyone who has supported me, especially my family, friends and sponsors. It has been a privilege to be part of such a strong training squad with such a dedicated coaching team. Those of us that have been fortunate enough to be selected will do everything to make the rest proud."

Ashley Jackson said:
"I'm very happy to be selected for the Olympics. Ever since we played the Test Event in front of a home crowd it's been very exciting to imagine how great the home support will be this summer. It has been a long, long few years of training and many highs and lows during that period but I'm feeling very confident about our chances over the summer. We have a very talented group of players through 1 to 27 and it's a real shame that only 16 places are available."

Goalkeeper James Fair said:
"I am really proud to be selected for Team GB, especially at home in front of a British crowd. After having the disappointment of being a travelling reserve for Beijing I am hoping to put that behind me and perform to my best. The team have worked extremely hard over the past four years and selection has been really tight - hopefully we can do something special for the guys not picked."

Great Britain Hockey media release


---

Shocks in GB Olympic hockey selection

Great Britain have announced their 16 players for the London 2012 Olympic Games hockey tournament. Simon and Richard Mantell are both absent, as are Richard Alexander and Mark Pearn.

The full 16-player squad is:
Nick Catlin, Jonty Clarke, Matt Daly, James Fair, Dan Fox, Ben Hawes, Ashley Jackson, Glenn Kirkham, Iain Lewers,Iain Mackay, Harry Martin, Barry Middleton, Robert Moore, Richard Smith, James Tindall, Alastair Wilson.

Barry Middleton, captain, said:
"It is a great honour to have been selected in Team GB for my third Olympic Games. I am very proud that I will have the chance to experience a home Olympics with the amazing support of the British crowd. We have an amazing group of guys who have put themselves through so much pain in search of a dream we all share. We will be giving our all to achieve this dream while providing a lot of excitement at the same time. I look forward to stepping on the pitch in London and hearing that Great British crowd getting behind us."

Push


---

Team GB men's hockey squad named as injured Simon Mantell misses out

Injury has denied Reading forward Simon Mantell a place in Great Britain men's squad for next month's Olympics.

By Telegraph Sport



Heartbreak: Simon Mantell will miss out on London 2012 having been a part of Beijing 2008 Photo: GETTY IMAGES

The 28-year-old fractured the fifth metatarsal in his left foot at the London 2012 test event last month and had to have an operation to pin the bones.

Mantell, who came home from the 2010 World Cup after breaking a bone in his right foot, was confident of recovering in time but has lost his fitness race.

Simon's elder brother Richard has also missed out on selection, as has East Grinstead's Mark Pearn who came out of international retirement after six years in an attempt to play in London.

Old Loughtonians' 19-year-old Harry Martin has earned selection as the youngest player in the squad and will make his Olympic debut along with six others, while 12 members of the squad won gold at the 2009 European Championships for England.

"Although it hasn't completely sunk in yet, competing in a home Olympics is a once-in-a-lifetime chance and I am very excited," said Martin.

"I owe a lot of thanks to everyone who has supported me, especially my friends, family and sponsors.

"It has been a privilege to be part of such a strong training squad. Those of us that have been fortunate enough to be selected will do everything to make the rest proud."

East Grinstead's Barry Middleton, who will return to Holland to play for HGC next season, will captain the side as he looks to win 100 GB caps at London 2012.

"We have an amazing group of guys who have put themselves through so much pain in search of a dream we all share," said the Doncaster-born 28-year-old, who is sixth on the all-time GB appearance list with 96.

The 16-strong squad entirely comprises England players, although one of those is Iain Lewers who switched allegiance from Northern Ireland a couple of years ago to earn the opportunity.

Squad: J Fair (GK, Cannock), Clarke, Mackay, Catlin (all Reading), Daly, Moore, Tindall (all Surbiton), Fox (Hampstead & Westminster); Hawes (Wimbledon); Jackson, Kirkham, Lewers, Middleton (all East Grinstead); Martin (Old Loughtonians); Smith (Loughborough Students); Wilson (Beeston).

The Telegraph


---

Austin Smith: SA men need to find their feet quickly

PJ VAN ROOYEN in Dublin

The South African men's hockey team will need to find their rhythm as soon as possible, according to captain Austin Smith, as they kick off their European tour with a match against Ireland in the Celtic Cup on Thursday night.

The SA team last played at the Olympic qualifying tournament in Japan in May, which they won to secure the last remaining spot at this year's London Games.

"The fact that we haven't played together in 50 days is going to be difficult and the guys are going to have to really apply themselves," Smith said at the team's training camp in Dublin, Ireland, ahead of their first match in Lisburn, Northern Ireland.

They will meet a determined Irish side, who lost out on a spot at the London Olympics when they were narrowly beaten by South Korea in the final of their qualifying tournament.

Smith said the team would need to adjust quickly in order to recapture the form that saw them through to victory in Japan.

"Ireland are a quality team. They narrowly lost to Korea in their qualifier so it's a team that's been coming up the rankings," he said. "They are really ambitious and quite similar to South Africa and we have lots of traits that are quite alike. They all work hard and they will be technically sound, so it's not going to be an easy game at all."

Smith believed it would be vital to find the balance between winning their matches in Europe and working on aspects of their own game that needed attention ahead of the Olympics next month.

"We are looking to win but we also need to concentrate on our own game and get our own things right - things that we have been working towards ahead of London," Smith said.

"It doesn't matter who we are playing, we are going to be working on our own things, but obviously we will pay due attention to who we play and account for what they are doing. A lot of it will be a matter of trying to get right what we haven't done so well in the past."

Following the opening game against Ireland, SA take on Wales on Saturday and Scotland on Sunday.

Smith felt, based on world rankings, his team were favourites to win the Celtic Cup, but they would need to play well in order to beat the Irish on home soil as they aimed to go unbeaten throughout their tour of Ireland and Spain.

"I'd like to come here and remain unbeaten but if things don't go well in the first game," the skipper said. "We understand that's what happens when you haven't been together for a long time. I know they [Ireland] have been working hard over the summer, playing a lot of hockey, so it will be a tough one."

SA Press Association (SAPA)

SA Hockey Association media release


---

Irish Hockey Announce UCD 3 Nations Test Series (Men's Hockey)

Irish hockey are delighted to announce the UCD 3 Nations which will take place next week from the 3rd - 5th July in UCD. Ireland will play Belgium and South Africa both of whom are preparing for the London 2012 Olympics starting next month.

Commenting on the event High Performance Director Dave Passmore said "It's a great opportunity to have two teams compete in Dublin so close to the Games. This is testament to the quality and competitive nature of our own men's team and the high class opposition we now offer."

UCD were also clearly pleased at having the event on campus as Dr Martin Butler, UCD Vice-President for Students said, "UCD are delighted to host this prestigious event with two Olympic qualifying teams and Ireland playing in a pre-Olympics tournament. These will be the first International teams to benefit from UCD's new sport and fitness complex including a 50m Olympic standard pool."

Coach Paul Revington will not announce his squad of 18 for the UCD 3 Nations until after the Celtic Cup which is taking place in Lisnagarvey from this Thursday through to Sunday.

Match Schedule - UCD 3 Nations
Tuesday 3rd July Belgium v South Africa 19.15 (UCD)
Wednesday 4th July Ireland v South Africa 19.15 (UCD)
Thursday 5th July Ireland v Belgium 19.15 (UCD)

Tickets will be available to purchase at the gate (no pre sold tickets available)

Irish Hockey Association media release


---

Veteran Amin quits national hockey team

By AFTAR SINGH

KUALA LUMPUR: Penalty corner specialist Mohd Amin Rahim has quit the Malaysian national hockey team on a sad note.

The 32-year-old Kuala Lumpur-born defender said age has caught up with him and his services are no longer required.

"I was criticised for my performance in the Olympic qualifiers in Dublin in March.

"Failing to qualify for the London Olympics was the main reason for me to quit the national team.

"Expectations were high on us in Dublin and we let everyone down. We were heavily criticised for the failure," said Amin, who had featured 237 times for the national team since 1999.

Malaysia finished a disappointing third in the qualifier behind champions South Korea and hosts Ireland.

It was the third consecutive time that Malaysia had failed to qualify for the Olympics since Sydney 2000.

Amin said the Dublin debacle was the saddest moment of his hockey career.

"We have failed to qualify for the Olympics too many times. Some even blamed the defenders and said that I was the weakest link in the backline and made some errors in Dublin," said Amin, a father of two.

Amin said there was no point to continue playing for the national team if his services were no longer appreciated.

He added that there are young defenders in the national team who are good and could replace him.

The other national defenders are Mohd Razie Abdul Rahim, Baljit Singh Charun, Mohd Sukri Abdul Mutalib and Mohd Noor Faeez Ibrahim.

Amin said he wanted to quit after the Dublin failure but was told that his services were still needed for the Sultan Azlan Shah Cup in Ipoh in May.

"I was again criticised in the tournament for being flat-footed. And I felt that it was best for me to quit now," he said.

Amin made his international debut in the 1999 Brunei SEA Games but he only played regularly for the national team from 2002.

He, however, was the toast of the team, scoring six goals in the 2006 Melbourne Commonwealth Games to help Malaysia win the bronze medal.

He was also named as the best player in the four-nation Hamburg Masters in 2008, scoring four goals in guiding Malaysia to second place behind champions Germany.

Amin was also the hero of the team in the 2010 Asian Games in Guangzhou as he scored two goals from penalty corners to help Malaysia beat India 3-2 in the semi-finals.

Malaysia won their first ever silver in the Games after losing 2-0 to Pakistan in the final.

"Although I am retiring from the national team, I will continue to play in domestic tournaments," said Amin, who is a Tenaga Nasional employee.

The Star of Malaysia


---

MHL likely to clash with national team's programmes

By S. RAMAGURU

KUALA LUMPUR: The Malaysia Hockey League (MHL) will kick off on Sept 21 and end by Nov 4. The Malaysia Hockey Confederation (MHC) are not expected to make any major changes to the format this year although there are plans for a complete revamp in 2013.

This year's MHL is likely to see some clashes with the national team's programmes. Both the Project 2013 and the senior team have assignments in November and will not have the luxury of a centralised training stint as the players will be released to the clubs for the MHL.

MHC secretary-general Johari Abdul Aziz said that they are aware there could be some issues once the national team's programmes are drawn up.

"For now, we have no plans to change the dates for the MHL. The senior team's programmes are not drawn up yet. But we will need to discuss this further once they are in place," he said.

The senior team will play in the FIH Champions Challenge I from Nov 24-Dec 4 in Argentina. The Project 2013 squad have the Sultan of Johor Cup from Nov 8-18.

Centralised training for both the teams can only start after Hari Raya which is in late August. But the players also have the Razak Cup in Kuantan from Sept 1-9 which is a state-based tournament. After that, they will play for the clubs in the MHL.

That leaves them with little or no time for training with the respective national teams.

Johari said they may have to look at alternatives but for the moment they need to get the senior team coach appointed first.

He agreed that for the Project side to prepare themselves, one way to ensure they get to train together is to play them as a team in the MHL.

"That is an option as it will benefit the team in their preparation for the Sultan of Johor Cup.

"But that would also pose some problems for teams which have the bulk of the junior players in their ranks. The matter has to be discussed and the proposal put forward to the MHC executive board for a decision.

"It is just an option at this stage," he said.

The Star of Malaysia


---

Moving on

Embaraj's pursuing a successful career in coaching

by Ian Pereira



FLASHBACK: Embaraj in a wheelchair with his left leg in a plaster cast 20 years ago.

KUALA LUMPUR: WHILE most top sportsmen the world over are putting the finishing touches to their preparations for next month's London Olympic Games, former international fullback K. Embaraj is left to ponder the tragic accident 20 years ago today that left his Olympic dreams in shattered ruins.

The sadness this day brings to Embaraj is overwhelming.

He was an iron-cast certainty to defend Malaysia at the 1992 Games in Barcelona when just 13 unlucky days before his departure for the Games, he dropped a glass panel he was carrying on to his left foot severing a vital tendon and ending his Olympic hopes for all time.

Today, on June 28, 20 years ago, Embaraj's Barcelona Olympic dreams crashed together with the window glass panel in the neighbourhood of his Malacca home.

He was an Olympic select and the lynchpin of the team but the tragedy and the pain before Spain confined him to a wheelchair with his leg in a cast from knee down.

Australian Olympian Terry Walsh, then coach of the team, built play around Embaraj in the firm belief that the muscularly-built six-feet two-inch fullback was the only man capable of keeping the ball "outside" the 25 with his hefty clearances.

Walsh had then said he was banking on a fourth place finish, but Malaysia, minus Embaraj, finished ninth overall.

Embaraj, who turned 45 on June 3, has painfully accepted the passing of his best playing years and the golden opportunity with them.

In the 20 years, he has had three surgeries to mend his injured foot and made as many unsuccessful attempts to regain his place in the national team.

But the 20 years of inactivity from high-level training has taken its toll.

Now only memories and a dozen or more scars from the surgeon's knife remain testimony to an otherwise successful international hockey career cruelly cut short.

"I have learnt to accept my fate and make the best of life outside hockey," he said wishfully.

His disappointment was understandable as he wanted badly one Olympic effort to cap his eight-year international career that included two Asian Games, two Sea Games, a pre-Olympic tournament and a pre-World Cup qualifying effort.

Now with Malaysia having failed to qualify for three straight Olympics, including London next month, Embaraj reckons the future must lie with the youth.



The way he looks now

"We must get our fundamentals right building on their mind, body and heart. This will create in them a desire to excel. This must be our only hope," said Embaraj, whose name is actually spelt "Enbaraj".

Still a bachelor, Embaraj today coaches the UniKL team full time in the MHL and the Junior League, jobs he has been doing for the past four years.

In the MHL, they were quarterfinalists in the last three seasons and in the JHL, overall champions in 2010 and League champions last year and runners up this season.

Embaraj's premier success as a coach was reflected in Malaysia's 2-1 victory over Pakistan in the Junior Asia Cup fi nal in Malacca in May as most of the players were from the UniKL team.

His unkind cut ranks high on the list of tragedies that have struck down many a Malaysian top-flight sportsmen, including the fatal illness that claimed the life of the country's best-loved soccer son Mokhtar Dahari in July, 1991.

Malay Mail


---

Lean Indian hockey team plan abs celebration in London

NEW DELHI: David John had a rather unenviable task when he took over as physio of the Indian hockey team, a sweet-toothed squad with a number of lightweight vegetarians.

So the Australian, rather shrewdly, dropped the idea of a six-pack abs contest and was seen nodding approvingly as the Olympic-bound team, looking sharp and lean, posed for a group photo at a send-off ceremony in Delhi on Sunday.

"There is now a strong competition in the team to have the best physique so that going to the beach of France, they can show off their abs," John said, a mischievous smile on his face.

Captain Bharat Chetri said they would pose in England as well, provided the team succeed in their pursuit of winning India's first hockey medal in 32 years.

"Oh yes. There indeed is a competition within the team to build the best physique. If we manage to win a medal in London, we'd celebrate by flashing 16 six-pack abs," the goalkeeper said before leaving for Europe where the team will play practice matches in France and Spain.

"Honestly, David has made a real difference and took us to the top fitness level in the last 12 months," Chetri said.

John, who has worked with rugby players and cricketers in Australia and India, said the job was not easy.

"Diet was a problem with most of the players. We got seven vegetarians in the team and they were not eating enough protein to put on muscles and recover from training sessions quickly enough.

"It often lead to injuries but that has been addressed. We used a lot of whey protein which is a vegetarian substitute and protein shakes, four-five times a day.

"The players are now stronger and more resilient to injuries. This group of players are, I think, the fittest hockey players in the world."

To achieve that, John had to set some strict diet codes which he occasionally would relax.

"Everything in moderation. I told them 'I'm not saying you can't have it, but in moderation and ensure you are eating the better things more often'.

"The goalkeepers found it hardest because I have limited their carbohydrates. Certainly after the competition we ask them to have some of those nicer things.

"It's not about butter chicken but desserts. They were used to having those desserts but now realise it's not good for them."

Asked if he thought anyone still occasionally sneaked a chocolate bar or something, John quipped: "Only the coach ( Michael Nobbs)".

John conceded the current crop of Indian players are lighter than their European counterparts and said this was an issue that could not be solved overnight.

"You address those problems over four years, maybe by Brazil (2016 Olympics). That's not something you can do in 12 months. Not in an Olympic year calendar when there is very little opportunity to have a sustained training period.

"We had a six-week period post-qualifying tournament and the players improved their strength, all of them, by 100 percent. You need many more periods like this," he said.

The Times of India


---

Dhanraj Pillay at Go for Gold torch run



Hockey Olympian Dhanraj Pillay. Photo: R.M Rajarathinam

Four-time hockey Olympian, Dhanraj Pillay, was of the opinion that differences between two Indian tennis stalwarts, Leander Paes and Mahesh Bhupathi, will be pushed into the background once competitions commence at the London Olympics 2012. "The Leander Paes I know is a fighter and he will fight back. I am confident that once the matches start, all the controversies will be left behind and the players will focus on performance."

He was speaking at the Monnet 'Go for Gold' initiative, aimed at spreading the spirit of sportsmanship across India with 30 days remaining for the London Games to start. Pillay posed with a symbolic torch on Thursday, along with junior athletes' part of the torch relay from Kashmir to Kanyakumari. "The controversy over selection was avoidable. Both players have differences with each other; it is common knowledge, only this time it got highlighted."

Asked about Indian men hockey prospects at the London Games, he said: "A top six finish by India will make me very happy. Coach Michael Nobbs has done a good job in the time he has been associated with

Indian hockey. Three to four players were missed out when the Olympic squad was chosen, now is the need to support the national team. Pillay represented India men's squad at four consecutive Games, from 1992 Barcelona, 1996 Atlanta, 2000 Sydney and 2004 Athens.

Leander made his Olympic debut at 1992 Barcelona and has qualified for doubles at 2012 London. "Having taking part in four Olympics, I know the sacrifices Leander must have made, in terms of time away from his

family, to compete in five consecutive Games and is now heading for his sixth," said Pillay. "I have spent time with Leander and Bhupathi at four Olympics, from Barcelona to Athens, and know them as fierce competitors."

Monnet Ispat & Energy Limited (MIEL), one of the Indian boxing squad sponsors for London 2012, announced cash incentive of Rs 51 lakhs for gold, Rs 21 lakhs for silver and Rs 11 lakhs for a bronze medal won by any of the eight members on the national squad, seven male and one female.

Sandeep Jajodia, CMD of MIEL. Maharashtra State Youth Affairs & Sports Minister, Padmakar Valvi, State Education Minister Rajendra Darda and Shailendra Singh, Percept Limited MP were also present at the Go for Gold torch run.

The Hindu


---

First match is very important, says hockey ace Dhanraj Pillay

He has been there and done that four times -- from 1992 to 2004.

Hockey ace Dhanraj Pillay said that he would be happy if hockey team comes in the top six bracket in London.

Talking at 'Monnet Go for Gold', an initiative marking the 30-day countdown to the London Olympics, here on Wednesday, Pillay said: "I expect a top-six finish from the Indian team. Coach Michael Nobbs has been doing a very good job. There is no doubt three or four players have missed out but we need to be positive."

He said the first match (against Holland on July 30) will be crucial. Speaking from his experience, Pillay said: "Invariably, the first match has always cost us. In 1992, my first Olympics, we lost the first match 3-0 to Germany. In 1996, we lost 0-1 to Argentina. The first match is very important."

The 43-year-old former India captain said that the controversy marring the Indian tennis team selection for the quadrennial event should not have happened in the first place. "More has been written about the controversy. There have been differences between Leander Paes and Mahesh Bhupathi for a long time.

This could be Paes's last Olympics, his sixth. Having known them closely during my Olympics experiences, they are fighters and will keep aside their differences when they take the court."

Meanwhile, Monnet Ispat and Energy Ltd, sponsors of the Indian boxing team since 2010, has announced cash prize of Rs51 lakh for each boxing gold, Rs21 lakh for silver gold and Rs11 lakh for bronze at the Olympics. The event was part of the Monnet Go For Gold torch run from Kashmir to Kanyakumari, covering 6,486km across more than 50 cities. Also present were Maharashtra state ministers Rajendra Darda and Padmakar Valvi, and MP Vijay Darda.

DNA


---

Hockey star brings thrills and skills to young Kiwis

By Alexandra Venture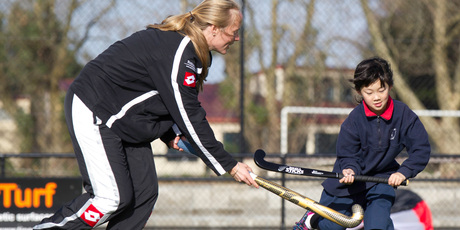 Black Sticks defender Lucy Talbot gives Joanna Lee, 6, from Papatoetoe Central School a few tips. Photo / Richard Robinson

A New Zealand hockey star passed on her skills to schoolchildren yesterday to mark a sponsorship deal to promote the game.

Hockey New Zealand's "Small Sticks" junior programme last year encouraged 1500 children aged between 4 and 13 to play.

Yesterday, it launched a partnership with New Zealand Post at Papatoetoe Sports Centre where local children got some tips from Black Sticks player Lucy Talbot.

About 60 children, most under 6, took part in the demonstration session.

"I didn't think there'd be so many kids here!" said Talbot. "It's awesome."

The programme will now be called ActivePost Small Sticks and the deal will be in place for at least the next two years.

Hockey New Zealand hopes the number of schoolchildren playing will increase to 20,000 next year and 100,000 within the next five years.

The programme includes a series of age-based modules focusing on basic skills as well as games.

Hockey New Zealand chief executive Hilary Poole said this would help children to learn as they played, teaching them to develop movement, balance and timing.

New Zealand's Post's head of sponsorship, Nicole Airey, said the partnership with Hockey New Zealand was a good match as hockey was a "perfect fit" with ActivePost's aim to get Kiwi kids involved in community sports.

The New Zealand Herald


---

Remote Indigenous Hockey Program Changing Lives




The Remote Indigenous Hockey Program is doing amazing things for young Australians. Please watch this inspiring documentary that shows how those involved are changing lives.....

REMOTE INDIGENOUS HOCKEY PROGRAM (Link to documentary)

http://www.youtube.com/user/RIHPHockey?feature=guide

In March last year the RUBIES became the first recognised indigenous hockey team to compete internationally.

They travelled to the legendary SINGAPORE 6's to test their skills in an international carnival hosted by the historic Singapore Cricket Club.

This documentary captures the journey of nine indigenous girls from their hometowns to Singapore.

The Rubies reinforce strong community support messages, relating to the importance of healthy activities and good nutrition, the importance of education to future choices and how the support of the team and the family can help you achieve the goals you set yourself in life.

Hockey Australia media release