All the news for Wednesday 5 June 2013

Belgium put four past England in second match



Phil Roper in action for NOW Pensions England - image taken at recent friendly against Scotland

In the second of England's three match series against Belgium the home side once again came out on top, this time with a 4-1 victory over their visitors. A goal in the first minute from Captain Barry Middleton put England ahead, but three goals at the end of the first half and one in the 70th minute from a clinical Belgian side gave them a comfortable victory.

Speaking after the game England Head Coach, Bobby Crutchley said, "We had exactly the same start today as yesterday and once again we were too passive across the first 35 minutes. I thought we played really well in the second half, but Belgium are along way ahead of us in terms of their clinical play, and that's really shown over these two fixtures. I am slightly frustrated because we've shown some really strong play at times, but we need to start to convert that play into goals which we have not done so far over here."

Sheffield Hallam's Phil Roper, making his step up from the Under 21 National Age Group, made his international debut. Beeston's Harry Martin flew home after the game to take his final university exam of the year and will rejoin the squad for Thursday's fixture.

The game started brightly for England with a goal from Captain Barry Middleton in the opening minute of play. A neat one-two with East Grinstead's Ashley Jackson saw Middleton receive the ball from 12 yards out, which he smashed home through the Belgian goalkeeper's legs to make it 1-0.

After a promising start, England found themselves on the back foot as Belgium step up the pressure searching for an equaliser. Beeston's George Pinner made a fantastic save in open play on the 11th minute from a reverse stick shot by Tom Boon.

With just ten minutes remaining in the first half Belgium turned on the style finding the target three times before the break to take the score to 3-1. England made some defensive errors and looked slightly unsettled which allowed Loick Luypaert, Florent Van Aubel and Tom Boon to capitalise and add their names to the score sheet.

In similar style to yesterday, England were much brighter in the second half. Reading's Darren Cheesman came close again, hitting the post in open play, but England could not find a way through. On the final whistle Belgium won a Penalty Corner; a clearance from Hampstead & Westminster's Dan Fox was stopped by Belgium before it left the circle and as it was played back in Xavier Reckinger got a stick to it and deflected it in to make it 4-1.

England's next game against Belgium takes place on Thursday at 10:00 UK time.

BELGIUM 4 (3)
Loick Luypaert 25 (PC)
Florent Van Aubel 28 (FG)
Tom Boon 35 (FG)
Xavier Reckinger 70 (PC)

ENGLAND 1 (1)
Barry Middleton 1 (FG)

Belgium v England Squad - Match 2

Started
Adam Dixon – Beeston – Midfielder/Defender
Dan Fox – Hampstead & Westminster – Defender
Michael Hoare – Beeston – Defender
Ashley Jackson – East Grinstead – Midfielder
Simon Mantell – Reading – Forward
Barry Middleton – Holcombe – Midfielder
George Pinner – Beeston – Goalkeeper
Oliver Willars – Beeston – Defender
Darren Cheesman – Reading – Forward
Mark Gleghorne – East Grinstead – Forward
Henry Weir – Loughborough Students – Defender

Substitutes used
Tom Carson – Reading – Forward
Nick Catlin – Reading – Midfielder/Forward
Ben Arnold – Beeston - Forward
Andy Bull – Loughborough Students – Defender
Phil Roper – Sheffield Hallam – Forward
Dan Shingles – Southgate – Midfielder

Did not play
James Bailey – Reading – Goalkeeper
David Condon – Loughborough Students – Midfielder
Harry Martin – Beeston – Midfielder

England Hockey Board Media release


---

Black Sticks draw warmup with England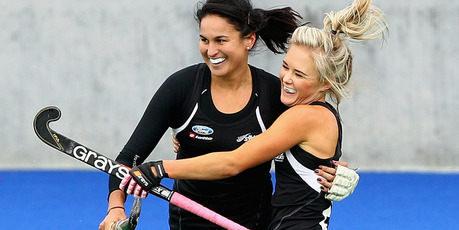 Kayla Sharland was on the scoresheet for New Zealand. Photo / Getty Images

The women's Black Sticks have drawn the first of three practice matches with England 4-4, ahead of the World League 3 tournament in Rotterdam this month.

The game, which doesn't count as a full international, was played in hot, sunny conditions at England's national sports centre in Bisham Abbey, Berkshire. New Zealand's goals came from an own goal, Kayla Sharland, Charlotte Harrison and Krystal Forgesson.

At the end of the warmup game, the teams had a penalty shootout, which New Zealand won. The second game of the three will being played early tomorrow.

The New Zealand Herald


---

SA coach Charlie Pereira expects exciting series against high-flying Malaysia

JONATHAN COOK in Potchefstroom



The world-class SA striker Lloyd 'Chuck' Norris-Jones is unavailable due to exams. Photo: STANISLAS BROCHIER

South Africa men's hockey team head coach Charlie Pereira is anticipating an exciting series when the lads in green and gold take on world number 13 Malaysia in four Test matches over the next week, starting at 5 pm Thursday at the University of North West Hockey Centre in Potchefstroom.

"Both sides play attacking hockey, which makes for a good series," Pereira said in a break between training sessions at UNW Tuesday. "All Asian sides like counter-attacking, are good at going forward and have very good elimination skills in one-on-ones, but we are good enough to beat Malaysia and this is the kind of competition we need."

Pereira said Malaysia have come a long way in the last six months under former SA coach Paul Revington. "But we are at home and will fight like mad, while the conditions [high altitude] will play in our favour, especially in the first Test."

One of Malaysia's outstanding recent successes was the silver medal at their own Sultan Azlan Shah Cup in Ipoh in mid-March, where Australia's world number two Kookaburras broke 15 000 hearts in a packed stadium with the winner four seconds from time.

Three major SA players in recent years are unavailable for the series. Defenders Lloyd Madsen (work commitments) and drag-flick king Justin Reid-Ross (one-year sabbatical from international hockey due to study commitments) as well as ace striker Lloyd "Chuck" Norris-Jones are the absentees.

" 'Chuck' scored a third of our goals in Brazil [World League tournament] but is writing UNISA exams during the series, so his unavailability is a blow," said Pereira. "But we are an amateur side [against full-time opponents] so we need 30 guys who know how to step up when needed and the beauty is that due to injury, work commitments or studies there are always opportunities opening up for new players."

The first three Tests are at the University of North West Hockey Centre in Potchefstroom. Thursday's first Test is at 5 pm, while Saturday and Sunday's second and third Tests are both at 3 pm. The fourth and final Test is at Randburg Hockey Stadium at 7 pm on Tuesday, June 11.

SOUTH AFRICA

Rassie Pieterse (Southern Gauteng), Jacque le Roux (Western Province), Gowan Jones (KZN Coastal Raiders), Austin Smith (WP, captain), Francois Pretorius (Northern Blues), Ashlin Freddy (WP), Rhett Halkett (WP, vice-captain), Ricky West (SG), Lance Louw (SG), Jethro Eustice (SG), Jonty Robinson (NB), Clint Panther (SG), Wade Paton (KCR), Tim Drummond (KCR), Nic Gonsalves (SG), Taylor Dart (SG), Julian Hykes (SG), Taine Paton (KCR), Craig Haley (WP), Matt Botha (WP), Pierre de Voux (WP), Miguel da Graca (SG).

SA Hockey Association media release


---

Pieterse: New coach good news for hockey



File picture of Rassie Pieterse in action for the SA men's hockey side. Picture: Duif du Toit

Johannesburg – South African men's hockey player Rassie Pieterse believes the appointment of Charlie Pereira as head coach has revitalised the national team.

Appointed in May, Pereira guided the SA men to the World League semi-finals with impressive showings against the likes of Chile, Brazil and Argentina earlier in the year, after taking charge on an interim basis, before getting the nod for the permanent role.

Pieterse said the newly-appointed coach had made a good start to his tenure with the national outfit, after former mentor Gregg Clark's contract ended at the completion of last season and he opted not to re-apply for the post.

"So far, I think the players are really enjoying Charlie. He's quite straightforward and he's very open," Pieterse said.

"If you have an issue or if you want to know where you stand with him, you can go see him.

"Charlie wants to bring something new to men's hockey. Structurally, he wants us to play more attacking hockey, so he wants to play a brand of hockey where we're going forward a lot.

"So far he's very different to what we had in the past, but it's quite relaxed and it's quite exciting."

A national training camp for 40 of the country's top players took place in Cape Town at the beginning of the year, before another 40-man squad assembled for a trial camp in Johannesburg last week.

The veteran goalkeeper said the two training camps had allowed Pereira to choose from a large pool of talent in the country.

"That was something that we lacked in the past," Pieterse said.

"We needed to get a big squad together and now for the first time, when we had a camp at the beginning of the year in Cape Town, we had more than 40 guys there.

"At last week's trial camp, we had the rest of the squad of 40 guys there, so they (coaching staff) could really have a good look at all the players."

With a number of senior players making themselves unavailable for the upcoming four-Test series against Malaysia, Pieterse believed while their experience would be missed, the new members of the squad had shown their willingness to hit the ground running.

"From an experience point of view, they bring a lot to the party, but these up-and-coming guys that they've brought into the team have done so seamlessly.

"Experience counts a lot, so it will be nice to have the older guys back, but the younger guys are definitely filling their shoes.

"It's quite exciting to give these guys an opportunity and they're showing their worth at the moment. It's not going to be easy for the other guys (senior players) just to walk back into the team."

The first three Tests against the Malaysians will be played in Potchefstroom starting Thursday, with the fourth and final match taking place in Johannesburg next week.

Independent Online


---

Scotland face Ireland and South Africa as European preparations get underway



Edinburgh University's Kirsten McIntosh is one of four new caps in the Scotland squad, photo credit: Duncan Gray

Scotland Senior Women begin their preparations for the EuroHockey Nations Championship in Belgium this summer with five international matches at Peffermill, Edinburgh from 10-18 June.

Gordon Shepherd's side will play a single match against Ireland (10 June) before taking on South Africa in four encounters in the capital (13/15/16/18 June).

"We haven't played together since February so our focus initially is to start building our performance levels in advance of the European Championships in August. It's a good time to play South Africa, particularly as they are preparing for the World League semi-finals, so they will present a good challenge for the squad. The games will be close and we know we can compete with the South Africans."

Shepherd has named a large squad of 27 players, who will be utilised at various points across the five matches. Four new caps have been selected to make their senior international debuts, including CALA Edinburgh's Amber McNeill, GHK's Maisie Morris and Edinburgh University pair Kirsten McIntosh and Louise Campbell.

"We've got an excellent squad together and a good mixture of experienced and young players. We introduced twelve young players into the training squad in January and now four have been given the opportunity to earn their first cap at senior international level. They've all performed well in training and they'll get a chance to play in front of a home crowd and their families", said Shepherd.

The Dundonian has also been able to name Great Britain defender and Olympic Bronze Medallist Emily Maguire, who returns to the international fold following a break after the London 2012 Olympic Games last summer.



Scotland and Great Britain defender Emily Maguire, photo credit: Ady Kerry

The Scots are also now in full-time training following the introduction of Athlete Performance Awards (APA) by sportscotland and this has provided a huge opportunity for Shepherd's squad.

"The players have fully embraced the opportunity to train full-time and there is a good atmosphere", said Shepherd. "The players can now have far more contact time on the pitch and not have to worry about balancing their work commitments. They also have more time to recover after training and matches. This is massively important as we build towards the Europeans in August."

Scotland Senior Women: Nicki Cochrane, Sam Judge, Kirsten McIntosh, Nikki Kidd, Sarah Robertson, Louise Campbell (all Edinburgh University), Catriona Ralph, Holly Cram, Susan McGilveray, Ali Howie, Nicola Skrastin, Amy Gibson, Morag McLellan (all Milne Craig Clydesdale Western), Ali Bell, Linda Clement, Ailsa Wyllie, Leigh Fawcett (all Grove Menzieshill), Vikki Bunce, Becky Ward (both Dundee Wanderers), Amber McNeill, Amy Brodie (both CALA Edinburgh), Kareena Marshall (Giffnock), Becky Merchant (Surbiton HC), Maisie Morris (GHK), Emily Maguire (Reading HC), Aileen Davis (Clifton HC), Nikki Lloyd (Sevenoaks HC).

Match Schedule:

10 June, 16.00, Scotland v Ireland, Peffermill Edinburgh

13 June, 16.00, Scotland v South Africa, Peffermill Edinburgh

15 June, 14.00, Scotland v South Africa, Peffermill Edinburgh

16 June, 15.00, Scotland v South Africa, Peffermill Edinburgh

18 June, 19.00, Scotland v South Africa, Peffermill Edinburgh

Scottish Hockey Union media release


---

Netherlands women confirm WL Semi Finals squad

Coach Caldas selects ten Olympic Gold medallists for Rotterdam



2012 Olympic Games (women), London (Photo: Grant Treeby)

Netherlands women's coach Max Caldas has announced the team that will compete in the upcoming Rabobank Hockey World League Semi Finals, which take place in Rotterdam later this month.

The 18 player squad contains no fewer than ten members of the Dutch side that won Gold at the London 2012 Olympic Games, including Eva de Goede, Ellen Hoog, Kim Lammers and influential penalty corner star and team captain Maartje Paumen.

As previously reported, the team will be without star attacker Naomi van As following the torn anterior cruciate ligament in her right knee that she sustained while representing her club side Laren in the Dutch play-offs.

The full squad listing can be found below. 

Netherlands women's selection
Rabobank Hockey World League Semi Finals
Frederique Derkx
Carlien Dirkse van den Heuvel
Margot van Geffen
Eva de Goede
Ellen Hoog
Kelly Jonker
Marloes Keetels
Kim Lammers
Caia van Maasakker
Valerie Magis
Kitty van Male
Larissa Meijer (GK)
Sabine Mol
Maartje Paumen
Malou Phenicnckx
Joyce Sombroek (GK)
Maria Verschoor
Xan de Waard

Max Caldas has also confirmed the training squad that will prepare for the TriFinance EuroHockey Championships which take place in Boom, Belgium in August. Xan de Waard, Maria Verschoor and Marloes Keetels have not been named in the group because they have been selected for The Netherlands team that will compete in the Junior World Cup, which runs from 27th July until 4th August in Monchengladbach, Germany.

Netherlands women's training group
TriFinance EuroHockey Championships
Ireen van den Assem
Willemijn Bos
Kiki Collot d'Escury
Maartje Cox (GK)
Frederique Derkx
Carlien Dirkse van den Heuvel
Roos Drost
Margot van Geffen
Eva de Goede
Ellen Hoog
Kelly Jonker
Kim Lammers
Caia van Maakakker
Valerie Magis
Kitte van Male
Larissa Meijer (GK)
Sabine Mol
Maartje Paumen (C)
Malou Pheninckx
Jacky Schoenaker
Joyce Sombroek (GK)
Daphne van der Velden
Marlies Verbruggen

Staff
Coach: Max Caldas
Assistant coach: Ageeth Boomgaardt
Trainer: Thomas Tichelman
Manager: Margriet Zegers
Physiotherapists: Johannes Veen, Bas van der Pol, Frank Backelandt
Physician: Conny van Bentum
Video operator: Lars Gillhaus

KNHB Media Release


---

Pakistan should qualify for World Cup through WHL: Shahnaz



Shahnaz reckoned it would be relatively easier for Pakistan to qualify for the World Cup in the WHL rather than qualifying for the same in the Asia Cup. -Photo by Sara Faruqi/Dawn.com

ISLAMABAD: Former Olympian Shahnaz Sheikh said on Monday it was very important for Pakistan to secure a place among top three in the World Hockey League (WHL) otherwise qualifying in the Asia Cup for the 2014 World Cup would be tough for the national team.

Shahnaz reckoned it would be relatively easier for Pakistan to qualify for the World Cup in the WHL rather than qualifying for the same in the Asia Cup.

"The competition for Pakistan in the Asia Cup would be difficult. It would be better if Pakistan prepare well for the WHL and qualify for the World Cup through triumphing in the league," he stressed.

Shahnaz said he spotted some problems in the national team's training camp and players preparing for the WHL.

"The Pakistan Hockey Federation (PHF) seems sluggish in taking timely decisions, an approach which leads to mistakes in future," he said.

"Our forwards are average and [therefore] their playing quality should improve in the camp for the WHL."

The PHF has organised national team's 15-day training camp in Abbottabad for the WHL to be held in Malaysia from June 29 to July 7. The camp will conclude on June 15.

Pakistan in the WHL are placed in pool 'B' alongside South Africa, England and Malaysia.

Shahnaz advised head coach Akthar Rasool to urge his players to focus on attacking hockey which he emphasised was the demand in modern field hockey.

"Nowadays hockey is played very fast giving players little time to react in the field," he said adding a comprehensive plan to counter opponents' game plan should be set by the coach and the PHF.

Shahnaz further said that the conversion rate of short-corners should be improved. "It is time our forwards develop excellence in using short-corners productively."

Dawn


---

PHF plans anti-corruption measures

By Fawad Hussain

KARACHI: Amidst the ongoing corruption and spot-fixing scandals in the recently concluded Indian Premier League, the world's hockey authorities have geared up to avoid the menace in the field game that is played globally and is one of the major Olympics sports.

The International Hockey Federation (FIH) reportedly dispatched awareness modules to its member units that describe match-fixing and cite examples of various athletes who fell prey to the menace that cost them dearly.

In a letter to all the national federations, the FIH urged to 'ensure that the fundamental character of hockey is protected' and stressed the need for education 'to understand the tactics and approaches of the fixers'.

'PHF ready to hold anti-corruption lessons'

Although the Pakistan Hockey Federation (PHF) is yet to receive any communiqué from the global body, Secretary Asif Bajwa welcomed the idea of spreading awareness among players.

"Hockey has never faced corruption scandals," Bajwa told The Express Tribune. "The game is clean but still it will be good to hold awareness programmes for players.

"After receiving the FIH advice we may hold anti-corruption seminars and lectures for all our national players. We will be happy to do that."

Meanwhile, a former Olympian said the country's hockey authorities should initiate the awareness programmes on their own without waiting for the FIH directive.

"It has become the need of the hour," said the former player.  "Hockey may have not suffered from any corruption scandals as yet but now priorities might change with the initiation of various new leagues involving too much money.

"There is no harm in taking precautions as our players are regularly playing foreign league events. It will be an intelligent move on the PHF's behalf if they take steps in this regard." Over a dozen Pakistan players participated in the Malaysian league recently while several greenshirts are also contracted with the Hockey India League.

Colts lose to Dutch counterparts

Pakistan colts suffered a shaky start to their tour of Europe as they were outclassed by Holland 4-1 in the opening match of the two-match series.

The hosts had a remarkable first-half in which they scored three goals without conceding any.

The greenshirts gave a better performance in the final session but failed to avoid defeat. Mohammad Taufeeq, who struck on the penalty corner, was the scorer for Pakistan.

The Express Tribune


---

Hockey India Unveils New Playing Kit of the Indian Men's and Women's National Hockey Team



Hockey India Unveils New Playing Kit of the Indian Men's and Women's National Hockey Team

New Delhi - Hockey India today unveiled a new look playing kit for the Indian men's and women's National Hockey team. The launch was marked with members of the Indian teams walking the ramp at an event organized at Hotel The Lalit in New Delhi. In addition to the new look design the Indian Jersey presented today features a moisture management fabric to ensure the players stay dry, and cool and assist them to perform at their optimum levels.

Fans can watch the men's and women's teams in action in their new kits during the FIH World League Semi-Finals to be played at Rotterdam, The Netherlands from 13-23 June 2013.

During the event, Hockey India wished good luck to both teams ahead of the World League tournament. The Indian Men's and Women's team have qualified for the Semi-Finals by winning the Round 2 tournament conducted in New Delhi early this year. Midfielder Sardar Singh is the Captain of the senior men's team while defender V R Raghunath is his Vice- Captain. The women's team is led by midfielder Ritu Rani and has Chanchan Devi as the Vice-Captain of the side.

Speaking on the occasion Dr. Narinder Batra, Secretary General, Hockey India said "It's indeed a proud moment for us that both the men's and women's teams are participating in the World League Semi – Finals. I wish good luck to all the players. I am confident that our teams are better prepared after qualifying for the semis early this year, both the men's & women's teams have has regular camps along with a two weeks preparatory tour in Europe".

Sardar Singh, Captain of the Indian Men Hockey team is also confident of a good show in Rotterdam. "All the boys are fit and we have had sufficient training camps as well as the foreign exposure. During our recent tour to The Netherlands, we have played against their best club teams as well as the national side which helped us in working on our weaknesses," he said.

Ritu too sounded optimistic of her team's chances. "We had three months of regular training camps including a foreign exposure trip and during this period we have worked a lot on our fitness and defence, so I am hopeful that we will deliver the best result this time" said the midfielder. Both Sardar and Ritu were felicitated with a reward of Rupees one lakh and fifty thousand each for winning AHF Player of the Year 2011 Awards. Mr. Rajeev Mehta, Associate Vice-President, Hockey India presented cheques of Rupees one lakh and fifty thousand each to Sardar Singh and Ritu Rani.

During this event, Hockey India also felicitated living legend and Golden Great Olympian Mr. Allan Schofield with a cheque of Rupees two lakh for winning the Gold Medal in the 1980 Olympics at Moscow. Mr. Allan Schofield who is currently in USA was unavailable for the event and was represented by his nephew.Dr. Sunil Bharati, Head-Corporate Affairs & Communications, Cairn India presented the cheque.

For winning Player of the Tournament during the Hero FIH World league Round 2 in Delhi, Ms Elena Norman, CEO, Hockey India presented a cheque of rupees One lakh each to Sardar Singh and Jaspreet Kaur.

Hockey India media release


---

Litmus test for hockey teams

The Indian men and women's hockey teams sashayed on the ramp in swanky at a swanky hotel in the capital, a bit edgy and nervous. But that was to be expected, as they are not in the showbiz trade. Nervousness on the turf, however, could cost them much more, given a packed schedule ahead of them.

Both teams will play the FIH Hockey World League semifinals in Rotterdam, the Netherlands, from June 13-23 and a 2014 World Cup spot is at stake. But the federation's high performance director from the Netherlands, Roelant Oltmans, sounded confident when he said that, "enough homework has been done". "Apart from collective efforts, to iron out the grey areas, emphasis has also been laid on individual training during the preparatory camp."

But on the goalkeeping front, the master tactician conceded that concerns remain. P Sreejesh is the only goalkeeper who can be relied upon. Others lack big-match temperament. "We need to work in that area," he said.

Oltmans, however, said the presence of three drag-flickers, including VR Raghunath and Sandeep Singh, had strengthened the team. He added: "It's a big advantage for the team."

In the men's section, India is clubbed with the Netherlands in Pool B, while Ireland and New Zealand are the other two teams in fray.  The Indian women's team pool comprises of New Zealand, Germany and Belgium. The top three teams will win a berth in the 2014 World Cup. In case India miss out, they will have to win the continental title later this year.

Hindustan Times


---

India needs to be consistent, Oltmans says

Indian Hockey's High Performance Director Roelant Oltmans on Tuesday said India needs to put up a "confident and consistent" performance to secure one of the three automatic World Cup berths up for grabs in the FIH World League Round 3.

"The men's competition is really very tough but the players should be confident about their own abilities. And if we can show that confidence in a consistent basis, there is no reason why we shouldn't qualify from here," Oltmans told reporters in Delhi.

"I can assure you that we will fight our hearts out to be among the 3 top teams," he added.

Three teams each will qualify directly for next year's World Cup from the two World League Round 3 (semifinal) events. They will be joined by five continental champions and the host nation.

"Our focus should be to qualify directly either through World League Round 3 or Asia Cup," Oltmans insisted.

Oltmans said the Rotterdam-bound Indian team is a fine mixture of youth and experience.

"In Akashdeep Singh and Mandeep Singh, we have some promising youngsters in our forward line while Shivendra (Singh) will lend experience to them," he said.

"We also have best penalty corner specialists in the world in Sandeep (Singh), V.R. Raghunath and Rupinderpal Singh."

The Hindu


---

Special class on fixing for hockey players after IPL scandal

NEW DELHI: The Indian hockey team management orgainsed a special session for the players in the just-concluded national camp in Bangalore to create awareness about corruption in the wake of the recent spot-fixing scandal in IPL 6.

India captain Sardar Singh informed that a special class was conducted by the team's coaching staff to educate the players not only about fixing but also about dope related issues.

"Chief coach Michael Nobbs and the SAI head in Bangalore took special classes on spot-fixing and doping about 10 days back. During the session, they told all the players to stay away from unknown people and inform the team management immediately is somebody approaches us with any offer," Sardar said on the eve of the men's and women's team's departure for the FIH World League Round 3 (Semifinals) to be held in Rotterdam from June 13-23.

Asked if hockey was vulnerable to corruption just like cricket, Sardar said: "With money coming up in hockey, there is always a possibility. Just like IPL, Hockey India League can also be a soft target because there is money.

"But for a player the main thing is how he or she handles such a situation."

Hockey India secretary general Narinder Batra said that as a precautionary measure, the federation has banned the entry of players' agents from the national camps and team hotels.

"We are taking all necessary measures. We are not a big body like BCCI but we are trying to put in place a system to check such incidents," Batra said.

"We have already banned players' agents from attending national camps and hotels. We have also asked all the players who are under HI's contract to submit their phone numbers to us which we will send to the police for monitoring," he added.

India's chief coach Micheal Nobbs too feels that with the influx of money in the game, hockey is susceptible to corruption.

"Any sport where money is involved could be a target for the bookies but I hope hockey is spared," Nobbs said.

"The International Hockey Federation (FIH) has put out a module and has an anti-corruption regulation which we follow like every other hockey playing nation. We regularly conduct sessions with the players on corruption and doping issues," the Australian added.

The Times of India


---

Hockey players' mobile phones will be under watch

NEW DELHI: Hockey India (HI) is incorporating a clause in its constitution authorising the police to monitor the mobile phone calls of India players as a precautionary measure to check undesirable activities like match fixing.

HI secretary general Narinder Batra said that the constitution will be amended to insert the clause and is likely to be taken up in the next executive board meeting of HI.

"We have stringent rules in our constitution to keep a close eye on match fixing. Now we want to bring in a clause that will also enable police to check the mobile phones of the players," said Batra.

Batra also informed reporters that HI has stringent laws in place to keep agents away from the players.

"Players agents are not allowed to stay in team hotels nor are they allowed to mingle with the team during any tournament," said Batra.

Batra said that in the midst of the spot-fixing scandal in the Indian Premier League (IPL), HI is also taking steps to educate the players to stay away from suspicious characters during matches.

During the national camp in Bangalore, chief coach Michael Nobbs and Sports Authority of India (SAI) head in Bangalore took a special class on match fixing and anti-doping.

HI is planning to keep stringent measures in place during the lucrative HIL from its second season.

India captain Sardar Singh said that with influx of money through HIL, the game is also becoming vulnerable to match fixing.

The Times of India


---

CCI asks Hockey India to split regulatory, commercial roles

NEW DELHI: Expressing its concern over possible transgression of lines between Hockey India's dual role as a regulator and an organiser, fair trade regulator CCI has asked it to put in place an effective internal control system to keep the two roles separate.

"...possible conflict of interest between 'regulatory' and 'organising of events' roles of Hockey India, has raised certain potential competition concerns in the mind of the Competition Commission of India," the watchdog said, although it has dismissed the complaints of alleged abuse of dominance and other charges against Hockey India for the time being.

The observations have been made by the CCI in its 64-page order on Hockey India, after an over 18-month long probe into complaints filed by India's former hockey team captain Dhanraj Pillay against the game's governing body in the country.

Drawing parallels with cricket governing body BCCI, against whom CCI has previously imposed a fine of Rs 52 crore for abuse of dominance in IPL, the fair trade watchdog said that the structure of Hockey India "being akin to BCCI, having dual role of regulator as well as organiser, the possibility of transgression of the lines shall always remain there".

The CCI said it did not find enough evidence against Hockey India (HI) in present case, but "as and when any new facts come to its notice, the Commission shall consider them in the light of responsibilities enjoined upon it by the Act and shall act accordingly".

"The CCI felt that it would be appropriate if HI were to put in place an effective internal control system to its own satisfaction, in good faith and after due diligence," it said.

Such system would need "to ensure that its regulatory powers are not used in any way in the process of considering and deciding on any matters relating to its commercial activities; and also set up a streamlined fair and transparent system of issuing NOCs to the players for participating in events organised by foreign teams/clubs," it added.

"HI's economic power is enormous as a regulator. Virtually, there is no other competitor of HI. The dependence of competitors on HI for sanctioning of the events, as also dependence of players, has been total...

"The CCI concluded that though these regulations are inherent and proportionate to the objectives of sports federation, the manner of application is always a concern given the duality of roles leaving scope for possible violations of the Competition Act," the order said.

Passing its order, CCI said "a regulator must necessarily follow the dictum that 'Caesar's wife must be above suspicion'.

"In this case, the Director General's report points out circumstantial evidence which, though not establishing violation of the Competition Act, further persuades the CCI about the inherent potential of violation, and the need for clear articulation and separation of the two roles of HI."

CCI further said that "the nature of the present system, with the possible conflict of interest between 'regulatory' and 'organising of events' roles of Hockey India, has raised certain potential competition concerns in the mind of CCI.

In its earlier order against BCCI, which has been challenged before the appellate authority, the CCI had said that BCCI's objective to promote and develop the game of cricket has been compromised due to its dual role of custodian of cricket and organiser of events, as its role overlap restricted the benefits of competition.

CCI had begun looking into the matter after a complaint was filed by Dhanraj Pillay and others, including other former players, against Hockey India in November 2011.

The case centred on the events leading to the organisation of World Series Hockey (WSH) League by Indian Hockey Federation in collaboration with Nimbus Sport.

HI was accused of imposing restrictive conditions on players for participation in "un-sanctioned prospective private professional leagues resulting in undue restrictions on mobility of players and on prospective private professional leagues leading to denial of entry to competing leagues".

HI is the country's national sports federation for the game of hockey and is affiliated to the Indian Olympic Association (IOA), Asian Hockey Federation (AHF) and International Hockey Federation (FIH).

In December 2010, IHF and Nimbus had announced the WSH league, designed and conducted on a franchisee model and the first tournament was scheduled to be organised from November 2011 to February 2012.

However, HI adopted regulations relating to unsanctioned events and accordingly modified its Code of Conduct (CoC) agreement with players to include the clauses related to disciplinary action such as disqualification from Indian National Team for any participation in unsanctioned events.

In this backdrop, HI along with FIH also announced that they intended to introduce their own league in India in 2013.

Subsequently, HI was accused of misusing its regulatory powers and promoting its own Hockey League at the exclusion of WSH and of engaging in practices resulting in denial of market access to rivals, in contravention of the Competition Act.

It was also alleged that HI was using its dominance in conducting international events in India to enter into the market of conducting a domestic event in India.

The CCI had subsequently ordered a probe into the matter by its Director General, which concluded in its report that FIH had indeed abused its dominance to maintain their control over hockey sports in India.

After taking into account the DG's report and the submissions made by the involved parties, CCI, however, ruled that there were not enough evidence available to prove charges against HI, although the scope remains for possible violations in future.

The Times of India


---

Punjab, Delhi keep punching in national hockey

Pune - Punjab, Delhi, Karnataka and Manipur maintained their winning run in the league rounds of the third Hockey India senior men's National championship here Tuesday.

In Group A, Hockey Punjab scored their third consecutive win defeating Association of Indian Universities 8-4 with veteran Deepak Thakur scoring five goals while Vikramjit Singh (2) and Ravi Pal (1) completed the tally.

For the Universities, Ramandeep Singh (1), Razin Kandulana (2) and Hardeep Singh (1) were the scorers.

Delhi scored their second straight win in the same group thrashing Hockey Gujarat 11-1 as Mohit scored a hat-trick . Punjab will now take on Delhi in their last league match to decide the quarterfinalist from Group A.

Hockey Karnataka continued their strong showing in Group C by registering their second win in in as many matches as they defeated Sports Authority of India 5-2. An own goal helped Karnataka besides strikes by Nikkin Thimmaiah (2), SK Uthappa and Aiyappa MB.

In Group E, Hockey Himachal Pradesh drew with Bengal Hockey Association 1-1 while in Group G, Manipur Hockey overwhelemed Hockey Kerala 10-3 to maintain a clean slate with two wins.

AT Avinash's hat-trick for Kerala went in vain as TH Kiran (2), K Roshan (2), Amarjit (1), Ksh Victo (2), Ksh Wangamba (1), Ojit (1) scored at regular intervals for Manipur even as an own goal swelled the winners' tally.

In Group G, Andhra Pradesh scored a 5-3 win over Hockey Uttarakhand for their second consecutive win to tie with Manipur in the league standings.

The results (league):

Group A Hockey Punjab 8 (Deepak Thakur 3,28,31,60,63min; Vikramjit Singh 24,49min; Ravi Pal 33min) bt Association of Indian Universities 4 (Ramandeep Singh 16min, Razin Kandulana 37,45min, Hardeep Singh 66min); Hockey Delhi 11 (Own Goal 3min, Mohit 5,14,16min; Parveen Kumar 20min; Parshant 26min; Kabir Sharma 27min; Kuldeep 28min: Pradeep Kumar 45min; Anil Kumar 55min; Rajbir Yadav 58min) beat Hockey Gujarat 1(Rohit Thakur 35min).

Group C: Hockey Karnataka: 5 (Nikkin Thimmaiah 13,43min, Own Goal 28min, Uthappa SK 42min; Aiyappa MB.70min) beat Sports Authority of India 2 (Pal Raju 37min; Sunil Yadav 51min).

Group E: Hockey Himachal Pradesh 1 (Gourav Kumar 43min) drew with Bengal Hockey Association 1 (MD Riyazuddin).

Group G: Manipur Hockey 10 (TH Kiran 11,47min; K Roshan 15, 62min; Own goal 16min; Amarjit 22min; Ksh Victo 38,41min; Ksh Wangamba 42min; TH Ojit 62min) beat Hockey Kerala: 3 (Avinash AT 29,50,64min); Hockey Andhra Pradesh 5 (Ramesh Samineni 12,16min; Arvind 46,70min; Sampathkumar Myalram 50min) beat Hockey Uttarakhand 3 (Own Goal 45min; Kailash Singh 51min; Arvind Singh 53min).

News Track India


---

Hockey team from Andaman & Nicobar Islands has no islanders

Mihir Vasavda



The A&N administration says it has no idea about the team

Hockey player Chandan Aind has never been to the Andaman and Nicobar (A&N) Islands, and has only a vague idea of where they are on a map. Yet, he — and a dozen equally clueless teammates — represented A&N in the national hockey championship under way in Pune.

The A&N team did very well too — they pulled off a shock victory over title contenders Haryana, and nearly made it to the quarters. It was a remarkable performance for a team that finished at the bottom a couple of years ago when they first played in the tournament.

The facts, however, are these: no player in the 18-man squad, and no member of the support staff who wore A&N jerseys, belongs to the union territory. Most 'A&N' players play for the Bangalore-based Madras Engineering Group (MEG); a few are from Ranchi. The team came to Pune from Bangalore, and returned after its matches were over.

Lucas Robert, director of sports and youth affairs, A&N, said no team was sent to Pune. "It's fraud. We have no information about this team," Robert told The Indian Express.

Apparently, Hockey A&N did not conduct selection trials. Sources suggested that MEG officials contacted Hockey A&N secretary general Abdul Razak directly and decided to form a team without local players.

"MEG players failed to break into the Karnataka and Army teams so this was their best chance. Participation certificates help people land jobs in the public sector, so they are keen to take part," an official explained.

Ramesh B, manager of the 'A&N' team, said: "A&N does not have good facilities and players. We brought players from MEG hoping that with some good performances, A&N's reputation will be enhanced in the hockey fraternity," he said.

Because the side is out of the tournament, it is likely to escape scrutiny. Several teams had objected to A&N having all its players from other states, but no one actually complained to Hockey India. Narinder Batra, secretary general of Hockey India, said, "I can act only after someone files a complaint. It is understandable if a team has two or three players from other states. But to make an entire team with outsiders defeats the purpose of having nationals."

Indian Express


---

Defending champions Perak sent reeling

By Jugjet Singh

DEFENDING champions Perak were humbled yesterday at the Bukit Serindit Stadium in Malacca, but the girls and boys are almost assured of playing in the Under-18 quarter-finals of the Malaysian Schools Sports Council (MSSM) hockey tournament.

This is because both the Perak teams are in Group A of their categories, which consists only three teams.

In the Boys' Under-18, Terengganu hammered Perak 5-1, while in the Girls' Under-18, Terengganu also beat Perak 1-0.

Terengganu boys will play Perlis while the Terengganu girls will play Kedah today, and wins will see them both top their age groups while Perak will be second in both groups.

RESULTS -- Boys' Under-18 Group A: Terengganu 5 Perak 1; Group B: Sabah 1 Kuala Lumpur 5, Putrajaya 1 Johor 11; Group C: Selangor 8 Kedah 0, Pahang 2 Penang 2.

Girls' Under-18 Group A: Terengganu 1 Perak 0; Group B: Sarawak 1 Malacca 0; Group C: Selangor 8 Perlis 1, Johor 1 Kuala Lumpur 1; Group D: Penang 4 Sabah 0, Negri 2 Pahang 1.

Boys' Under-12 Group A: Malacca 6 Perlis 0; Group B: Negri 4 Penang 2; Group C: Kelantan 5 Sabah 2, Sarawak 1 Johor 0; Group D: Perak 6 Kedah 0, Pahang 1 Selangor 1.

Girls' Under-12 Group A: Sabah 3 Selangor 0; Group B: Negri 0 Perak 1; Group C: Kedah 1 Kuala Lumpur 4, Malacca 3 Penang 3; Group D: Perlis 1 Johor 6, Terengganu 7 Sarawak 0.

TODAY -- Boys' Under-18 Group A: Perlis v Terengganu; Group B: Johor v Sabah, Putrajaya v Kuala Lumpur; Group C: Pahang v Kedah, Penang v Selangor; Group D: Negri v Sarawak, Kelantan v Malacca.

Under-12 Group A: Perlis v Kuala Lumpur; Group B: Terengganu v Negri Sembilan; Group C: Sarawak v Sabah, Johor v Kelantan; Group D: Pahang v Kedah, Selangor v Perak.

Girls' Under-18 Group A: Kedah v Terengganu; Group B: Kelantan v Sarawak; Group C: Kuala Lumpur v Selangor, Johor v Perlis; Group D: Negri v Sabah, Pahang v Penang.

Under-12 Group A: Kelantan v Sabah; Group B: Pahang v Negri Sembilan; Group C: Penang v Kedah, Malacca v Kuala Lumpur; Group D: Johor v Terengganu, Perlis v Sarawak.

New Straits Times


---

Terengganu stun defending champions

By PERCY D'CRUZ

MALACCA: Dark horses Terengganu scored a sensational 5-1 upset win over defending champions Perak in the boys' Under-18 category on the second day of the National Schools (MSSM) hockey championships at the Bukit Serendit Hockey Stadium.

Perak, who romped to an 8-1 win over Perlis on the opening day, trailed by a solitary goal in the first-half, courtesy of a penalty-corner goal by Muhd Fakhri Ardillah Saifullah in the 34th minute.

The second-half saw Terengganu firing a four-goal blast to send Perak reeling.

Luoqman Nul Hakim Ahmad Shukran (60th, 64th), Afifi Azaly Mustafa (43rd) and Khairul Helmy Md Nabi (64th) found the net for Terengganu while Abdul Ralif Nazim got Perak's consolation goal in the 66th minute.

Meanwhile, Selangor chalked up their second win in as many matches after blasting Kedah 8-0.

Selangor, who beat Pahang 4-0 on Monday, led 3-0 at half-time before netting five more goals after the break. The goals came Muhd Haikal Zamri (32nd, 40th, 54th), Ahmad Sarif Sulisdianto (32nd, 40th), Mohd Hassan Suherman (48th, 50th) and Faiq Razin Sariq Idris (68th).

The Star of Malaysia


---

Post-Collegiate HARROWines featuring Rachael Milne

As part of USA Field Hockey's Post- Collegiate HARROWines series, staff member Kait Mitchell catches up U.S. Senior National Indoor Team Captain Rachael Milne for a quick Q & A.

Harrow Cup Captain of the Boomers and Drexel University graduate, Rachael Milne has extensive leadership experience. As the U.S. Senior National Indoor Team Captain with accolades ranging from Rohrmax Tournament Champion in Austria, second place winner of the Pan American Indoor Cup and Drexel University All-American, Milne will be guiding her Harrow Cup team with undeniable presence and direction.

KM: Philly seems to be dear to your heart – having stayed there after college and starting a club team in the area. What's it like to have this landmark event in your backyard?

RB: I don't want to come off as pretentious but it seems logical to hold Harrow Cup here. It's a hockey hub and just so happens to be severely convenient for me.  This is a great city to hold a big tournament like this.

KM: Being the Indoor National Team captain makes you role model in the field hockey world. Have there been any new challenges you've faced in this different captain position?

RB: Personally I'm a bit rusty with my outdoor skills but am looking forward to the tournament and picking it back up. A team challenge was the selection process of the Boomers. My college wasn't always in the top 20, so I picked some people I didn't know in Division II.  I hope all of them are enjoying their experience, come out and make an impact. These challenges are balanced with new thoughts like it's amazing to think of my mentors when I was 17 or 18 years old and how intimidated I was. Now I'm approaching the other end of the spectrum. It's also nice no one is going to be working. No one is recruiting and we're just coaching ourselves and playing hockey.

KM: What's your team dynamic like?

RB: We're enthusiastic and just want to play. You could say we're bit of an aggressive team which works with our team name. We're out there laughing and joking. That weekend is about hanging out and playing hard. Win or lose we'll have a great time. 

KM: What will your team jerseys look like?

RB: Danny, our Harrow rep, made our uniforms for us. They are vibrant royal blue with florescent orange numbers. We will be seen.  The skirts are a little short but still traditional.

KM: What will you do with your earnings if your team wins the 2013 Harrow Cup?

RB: As greedy as this may sound, we would like to reward ourselves a bit and use the money for bills, travel costs and other miscellaneous life events. Field hockey isn't the cheapest sport. Some of us are running clubs, graduating or travelling a far distance to be here and are looking to just come out on the black on this. Emotionally speaking, we always come out on the black when we play.

KM: Why is post-collegiate play personally important to you?

RB: It provides inspiration for younger players. It's something other than playing in college. It changes the long-term vision of field hockey from the bottom up. That's powerful stuff. You can be 30, still play and you do it because it's healthy and your friends are there.

USFHA media release