All the news for Saturday 15 June 2013

Belgium burns Australia, Spain starts strong

All World League Men's teams with one game under their belt



(Photo: Frank Uijlenbroek)

Australia – Belgium 1-3 (0-2 halftime)

Belgium proved yet again that they are one of the fastest improving nations in world hockey by recording a superb 3-1 victory over reigning world champions Australia on day 2 of the Rabobank Hockey World League Semi Final tournament in Rotterdam, The Netherlands. It was a top class performance Belgium, with goals from Sebastien Dockier, Cedric Charlier and John-John Dohmen giving the Europeans a memorable win over the world's number 2 ranked team.

Belgium made the perfect start to their Hockey World League Round 3 campaign when Dockier produced a wonderful deflection inside the first 30 seconds of the match. It was a goal which rocked the Kookaburras, but it they were soon back on steady ground and began to mount wave after wave of positive attacking play. However, the Belgians dealt with the challenge impressively, and soon doubled their advantage when Cedric Charlier fired home from close range after being teed up by the outstanding Thomas Briels.

The Australians could easily  have been level ahead of the break were it not for some fine saves from Vincent Vanasch, who also watched a diving effort from five times FIH Player of the Year Jamie Dwyer go agonisingly wide of the target.

Australia were hugely impressive in the second half, but continued to struggle to find a breakthrough despite numerous penalty corner efforts. That was until the 63rd minute, when Russell Ford reduced the deficit from open play following some masterful work from Dwyer. However, The Belgians re-established their two goal advantage five minutes from full time, with John-John Dohmen producing a clinical finish to seal a memorable victory over the 2010 World Champions.

Spain – France 4-2 (3-0 halftime)

Spain had a relatively easy challenge on its first day of action at the Rabobank Hockey World League Semi-Final, dispatching France in a 4-2 decision. The French did their best to stage a comeback late in the game, but the bid fell short as the Spanish were simply too strong.

Spain made easy work of the French during a four minute span that saw them pour in three goals. David Alegre got things rolling in the 18th minute when he put the ball right between the legs of French goalkeeper Martin Zylbermann. Xavi Lleonart and Andres Mir followed up with back-to-back penalty corner goals to pull the Spanish out to the commanding 3-0 lead.

Viktor Lockwood cut into the lead for the French in the 51st minute, but before anyone could say 'Viva la France' the Spanish had erased his efforts when Roc Oliva found the back of the goal less than a minute later. The French had the last word five minutes later when Hugo Genestet gave the French hope by cutting the lead to 4-2 with 14 minutes left, but ultimately the French ran out of time and gas in their comeback bid and fell, 4-2.

Both teams have tall orders ahead of them tomorrow as the French will take on Belgium and Spain will meet Australia.

n the 51st minute, but before anyone could say 'Viva la France' the Spanish had erased his efforts when Roc Oliva found the back of the goal less than a minute later. The French had the last word five minutes later when Hugo Genestet gave the French hope by cutting the lead to 4-2 with 14 minutes left, but ultimately the French ran out of time and gas in their comeback bid and fell, 4-2.

Both teams have tall orders ahead of them tomorrow as the French will take on Belgium and Spain will meet Australia.

FIH site


---

Germany sink Black Sticks; India & Belgium tie

Germany lead charge in Pool B thanks to fine win over New Zealand



(Photo: Frank Uijlenbroek)

Follow us live on the FIH You Tube Page or on Twitter @FIH_Hockey.

Women Pool B

Germany 3-2 New Zealand (2-0 Halftime)

Germany women have moved to the top of Pool B courtesy of an impressive 3-2 victory over New Zealand on day 2 of the Rabobank Hockey World League Semi Final competition in Rotterdam, The Netherlands. Goals from Julia Müller, Eileen Hoffmann and Franzisca Hauke ensured that all three points went the way of the European side, who are now firmly in the driving seat to top the Pool.

The Germans made a terrific start to the match, quickly opening up a 2-0 lead inside the first 15 minutes thanks to strikes from team captain Julia Müller and Eileen Hoffman. Müller's goal came from a superbly executed eighth minute penalty corner conversion, while Hoffmann punished the Black Sticks' failure to clear their lines with a clinical finish seven minutes later.  The Europeans were well worth their two goal lead, and played the majority of the half with great confidence. That said, New Zealand were certainly not without their chances in the first period, with Gemma Flynn going close with a rasping shot into the pads of Germany goalkeeper Barbara Vogel.

The Black Sticks came agonisingly close to pulling a goal back at the start of the second half when the Germany defence buckled under pressure before Katie Glynn saw her goal-bound shot deflect wide of the target. Glynn missed two further goal-scoring opportunities later in the half, before New Zealand coach Mark Hager adopted drastic measures by replacing his goalkeeper with another outfield player. The tactic paid off almost immediately when Charlotte Harrison slammed home in the 66th minute, although Germany re-established their two goal advantage when Franzisca Hauke picked up an overhead pass before sending the ball into an open goal.

New Zealand grabbed another goal in the 70th minute from Kayla Sharland, but it was not enough to deny Germany all three points in the contest.

India – Belgium 1-1 (0-1 halftime)

Belgium and India earned their first points at the Rabobank Hockey World League Semi-Final after playing to a 1-1 draw. It was a meeting to two teams separated by a mere one World Ranking position and they played very much according to the ranking, as neither team could set itself apart.

Erica Coppey got things off on the right foot for the Belgians, scoring just four minutes into the game. After the goal, Belgium had many chances to double the lead, but India stood its ground and the determination of the Belgians started to wane. The longer the match wore on, the more confidence the Indians gained and they were rewarded for their persistence three minutes into the second half when Anupa Barla scored the equalizer.

Belgium had the opportunity to take the win several times, but was either unlucky or just too tentative in their game plan. Despite being the lower ranked team in the game, one couldn't help but get the feeling that Belgians were disappointed with their performance and the outcome.

Both teams will have the day off tomorrow before each plays the critical last game of the round robin on Sunday. A win for either team in that game could boost them up to at least second place in the standings, making the quarterfinal match-up a bit of a better prospect.

FIH site


---

Japan eyes strong pool finish; Dutch survive Korea scare

Women's Group A top spot up for grabs



Japan kept its focus today with a clear 6-0 win against Chile (Photo: Frank Uijlenbroek)

Korea – Netherlands 0-2 (0-0 halftime)

For the second straight game, top-ranked and defending Olympic champion Netherlands struggled to live up to expectations as they had their hands full against eighth-ranked Korea. After some tense moments, the host was able to earn their first win in a 2-0 decision.

The Dutch had to settle for a tie against Japan yesterday, 1-1, and today they struggled again to get their offense firing as they were held scoreless for 42 minutes. Offensively, it was a tentative performance from both teams. The Koreans sputtered anywhere from 25 meters in, while the Dutch rarely found themselves in any danger to challenge for a goal.

Ultimately, a costly Korean turnover with 28 minutes left in the game turned the tide in favor of the hosts. A slow pass was easily intercepted, paving the way for Kim Lammers to put in the easy 1-0 goal , which saved the day for the Netherlands. Kelly Jonker added the insurance goal with just over a minute to go in the game when the Dutch countered after a missed Korean penalty corner for a textbook goal. The late marker brought the final to 2-0.

The battle for first place in Group A is wide open as Korea, Japan, and the Netherlands all have a chance to win the closely-contested group. The Dutch and Japan have four points, while Korea has three. Chile is the only team out contention with two losses in two outings. The Netherlands has the best draw of the trio, facing Chile on Sunday, while Korea and Japan will meet the same day.

Japan – Chile 6-0 (2-0 halftime)

Japan earned its fourth point at the Rabobank Hockey World League Semi-Final and handed Chile its second loss after a decisive 6-0 victory. The win keeps Japan in the hunt to win Group A with a close field of three teams that can finish atop the group.

Japan plays Korea in its final group game, while the other game will feature the Dutch against Chile. The Chileans are the only team out of the race for first place in the group.

It was an interesting contrast of styles on display as the disciplined and technical style of the Japanese met the athletic, free-flow of Chile. Despite the final score, Chile's style worked quite well against the Japanese, but the difference was the experience of the Japan team.

Captain Rika Komazawa, a veteran with 228 caps, got Japan on the board just six minutes into the game when she easily stepped up and scored on the first penalty corner opportunity. Mazuki Arai took over the scoring duties for the rest of the half, putting in the 2-0 goal midway through the half and adding in a picture perfect, diving tip-in six minutes before the break to build a commanding 3-0 advantage.

Akane Shibata got things kicked off in the second half for Japan. She scored two goals less than two minutes apart to give Japan a huge 5-0 lead with 27 minutes left in regulation. Arai completed the hat trick and brought the final to 6-0 with a penalty corner goal to add the icing on the cake of her team's first win of the event.

FIH site


---

Kookaburras suffer opening match defeat

Belgium emerge as 3-1 winners

The Kookaburras' campaign for World Cup qualification got off to a difficult start in Rotterdam on Friday with a 3-1 defeat to Belgium in their opening match at the Rabobank Hockey World League.

An early goal from the high-flying Belgians put the Kookaburras on the back foot from the first minute and despite their superiority in possession, the Australian men found themselves 2-0 down at the break after Cedric Charlier added to Sebastien Dockier's opener.

Russell Ford's close range goal with seven minutes remaining looked to have given the Kookaburras a way back into the game but John-John Dohmen took the sting out of any such resurgence with a neat deflection to make it 3-1 moments later.

Kookaburras assistant coach Graham Reid said afterwards, "We just weren't on our game enough today and against a quality team like Belgium you aren't going to get away with that. We created enough chances in the first half and they came down our end twice and scored twice but we need more quality in the chances we create.

"From the first play we lost the ball and they came back at us. If you give away an early opportunity like that it makes it very difficult."

Things began awkwardly with the Australians initially greeted by the national anthem of New Zealand and it did not get much better with Dockier getting the faintest of touches on a driven pass into the Kookaburras' circle with just over 60 seconds on the clock.

Australia refused to let the goal panic them as they went about controlling the vast majority of the opening 35 minutes. Half chances notably fell to Jamie Dwyer and Glenn Simpson, from a penalty corner, but they could not find a way past Vincent Vanasch in the Belgian goal. And despite their superiority in possession, the Kookaburras found themselves 2-0 down at half time after Charlier's close range goal midway through the half. 

Chris Ciriello tested Vanasch with two penalty corner flicks in the second period but the goalkeeper was equal to the task on both occasions as Kookaburras players piled in for the rebounds.

When it came, Ford's goal was laid on for him perfectly by five-times World Player of the Year Jamie Dwyer, whose flat tomahawk pass from the baseline left Victorian Ford with the simplest of finishes. With a little over five minutes remaining the goal gave the Kookaburras hope of a comeback but John-John Dohmen extinguished such hopes with a well-timed run and deflection at the near post to make it 3-1.

Australia take on Spain in their second match at 7:30pm AEST on Saturday. The Spanish got their campaign up and running with a 4-2 victory over France. Australia versus Spain can be seen live on the Hockey Australia website at www.hockey.org.au.

AUSTRALIA (MEN) WORLD LEAGUE CAMPAIGN

KOOKABURRAS 1 (0)
Russell Ford 63 (F)

BELGIUM 3 (2)
Sebastien Dockier 1 (F)
Cedric Charlier 17 (F)
John-John Dohmen 65 (F)

Kookaburras Squad v Belgium, 14 June
(Listed alphabetically by surname)
Name (Hometown, State) Caps/Goals (updated)

Started
Kiel Brown (Perth, WA) 133/3
Chris Ciriello (Melbourne, VIC) 114/58
Tristan Clemons (GK) (Bunbury, WA) 8/0
Russell Ford (Eltham, VIC) 126/51
Matt Gohdes (Rockhampton, QLD) 75/20
Kieran Govers (Wollongong, NSW) 73/31
Fergus Kavanagh (Geraldton, WA) 164/14 (captain)
Mark Knowles (Rockhampton, QLD) 213/17
Simon Orchard (Maitland, NSW) 123/39
Glenn Simpson (Melbourne, VIC) 88/14
Matthew Swann (Mackay, QLD) 92/3

Used Sub
Joel Carroll (Darwin, NT) 85/2
Andrew Charter (GK) (Canberra, ACT) 44/0
Tim Deavin (Launceston, TAS) 72/3
Jamie Dwyer (Rockhampton, QLD) 297/186
Rob Hammond (Townsville, QLD) 228/27
Trent Mitton (Perth, WA) 43/14
Eddie Ockenden (Hobart, TAS) 182/49

Hockey Australia media release


---

Black Sticks Women drop 3-2 to Germany



Photo courtesy of photosport.co.nz

The Black Sticks Women have lost 3-2 to Germany in their second game at the World League Semi Final in Rotterdam today (NZ time).

After a lacklustre first half from the Kiwis, all the action came in the last four minutes when Charlotte Harrison and Kayla Sharland netted two goals and the Black Sticks desperately tried to equalise. Despite a frantic last effort attempt, they couldn't pull off the win they wanted and Germany now move to the top of Pool B's points table.

"We are disappointed with the way we started. We were on the back foot in the first 20 minutes and if you give a side like Germany that much space it is very hard to come back," says head coach Mark Hager.

"Germany is a team with good basic skills and unless you put them under real pressure, they won't make mistakes. There were times when we did have opportunities and we didn't convert, and that's something we will learn from," says Hager.

The Germans made a terrific start to the match, quickly opening up a 2-0 lead inside the first 15 minutes thanks to strikes from team captain Julia Müller and Eileen Hoffman. Müller's goal came from a superbly executed eighth minute penalty corner conversion, while Hoffmann punished the Black Sticks' failure to clear their lines with a clinical finish seven minutes later. Germany had ten shots on goal compared to New Zealand's three during the first half, and at times the Kiwis were found scrambling to clear the ball. 

Canterbury's Sian Fremaux came close to equalising through a reverse stick shot in front of the goal in the 10th minute and Gemma Flynn, who had an outstanding game, set up a good goal for Krystal Forgesson later on in the half, but it was not to be for the Kiwis.

Throughout the second half the score remained locked at 2-0. It was by far the better half for the Black Sticks, they put more pressure on the Germans and created better opportunities – Auckland striker Katie Glynn perhaps had the most chances to slot one home. The game changed dramatically in the last four minutes when Germany were carded and dropped to ten players and Hager made the call to replace goalkeeper Bianca Russell with an outfield player.

The tactic paid off almost immediately when Cassandra Reid crossed to Charlotte Harrison who slammed one home in the 66th minute, however, Germany re-established their two goal advantage when Franzisca Hauke picked up an overhead pass before sending the ball into an open goal.

"With one player off we thought it was a good time to double the advantage and take the goalie off [Bianca Russell]. It worked well, but then we had a lack of concentration and they got one back," says Hager.

In the final minute, Sharland, who was again instrumental in today's game, found herself unmarked at the top of the circle and made it count but it was not enough to deny Germany the victory.

Germany are now at the top of Pool B on six points, followed by the Black Sticks on three. Belgium and India drew 1-1 so have picked up one point each.

The Black Sticks Women play their next game against Belgium at midnight on Sunday (NZ time). It is LIVE and then replayed again at 6am on Sky Sport 2. The Black Sticks Men's game against the Irish is live on Sky Sport 3 at 7.30pm tonight.

The top three teams from the World League Semi-Final automatically qualify for the 2014 Hockey World Cup, although it is possible to earn qualification at the tournament with a lower ranking.  New Zealand will also have a chance to qualify at the Oceania Cup in Taranaki this October.

RESULTS

Germany 3 (Julia Müller, Eileen Hoffmann, Franzisca Hauke ) New Zealand 2 (Charlotte Harrison, Kayla Sharland) HT: 2-0

Hockey New Zealand Media release


---

Black Sticks women trumped by Germany



GOAL: Kayla Sharland managed to claw a point back for the Kiwis

The women's Black Sticks have lost 3-2 to Germany in the World League semifinal in Rotterdam.

The Germans made a fast start to the match, opening up a 2-0 lead inside the first 15 minutes thanks to strikes from team captain Julia Müller and Eileen Hoffman.

After a lacklustre first half from the Kiwis, all the action came in the last four minutes, ignited by Charlotte Harrison who got a goal back for New Zealand, only for Germany to restore their two-goal cushion seconds later when Franzisca Hauke sent the ball into an open goal.

Black Sticks co-cpatain Kayla Sharland returned fire and while her side tried to find the equaliser, could not find a third goal.

Black Sticks coach Mark Hager berated his side's poor start against one of the world's top sides.

"We are disappointed with the way we started. We were on the back foot in the first 20 minutes and if you give a side like Germany that much space it is very hard to come back," Hager said.

"Germany is a team with good basic skills and unless you put them under real pressure, they won't make mistakes. There were times when we did have opportunities and we didn't convert, and that's something we will learn from."

Canterbury's Sian Fremaux came close to equalising through a reverse stick shot in front of the goal in the 10thminute and Gemma Flynn, who had an outstanding game, set up a good goal for Krystal Forgesson later on in the half, but it was not to be for the Kiwis.

The game changed dramatically in the last four minutes when Germany were carded and dropped to ten players, with Hager gambling on replacing goalkeeper Bianca Russell with an extra outfield player.

The tactic paid off almost immediately when Cassandra Reid crossed to Charlotte Harrison who slammed one home in the 66th minute. However, Germany were able to exploit the situation soon after.

"With one player off we thought it was a good time to double the advantage and take the goalie off. It worked well, but then we had a lack of concentration and they got one back," Hager said.

The Black Sticks play their next game against Belgium at midnight on Sunday (NZT).

Germany 3 (Julia Müller, Eileen Hoffmann, Franzisca Hauke); New Zealand 2 (Charlotte Harrison, Kayla Sharland). HT: 2-0

Stuff


---

Black Sticks look to build on draw with Dutch

BRENDON EGAN

The New Zealand men's hockey team will look to build on an encouraging 3-all draw with the Netherlands, when they face Ireland in their next game of the World League semifinal tournament in Rotterdam tonight.

The Dutch, who won silver at last year's Olympic Games in London and are ranked third in the world, were heavily favoured ahead of yesterday's game, in front of their home crowd.

New Zealand got off to a terrible start to the game when Stephen Jenness was shown a yellow card and given five minutes in the sinbin after he tackled a Dutch attacker from behind.

The Netherlands dominated the first half, with 77 per cent of possession and better opportunities on attack, but were unable to translate it into goals.

It was the Black Sticks, who went into halftime with a 2-1 lead, courtesy of two excellent deflection goals from striker Hugo Inglis.

Inglis showed lightning quick reflexes with both his goals.

Jeroen Hertzberger opened the scoring for the Netherlands, after his team was awarded a penalty stroke when Black Sticks' captain Dean Couzins was adjudged to have stopped a goalbound shot with his shoulder.

They appeared to be in major trouble early in the second half, when Black Sticks' striker Jacob Smith scored 15 minutes into the half, after a great earlier run down the baseline from Shay Neal to give New Zealand a 3-1 lead.

Hertzberger grabbed his second goal, with 15 minutes left, firing in a penalty corner shot that gave New Zealand goalkeeper Hamish McGregor with no chance.

They were on level terms shortly after when Valentin Verga netted in a goalmouth scramble.

The Netherlands had 12 shots on goal, compared to just three from New Zealand but failed to take advantage of their chances in the goal circle.

The Black Sticks women started their World League semi-finals campaign with a 7-0 win over India.

This World League tournament has places up for grabs at the finals tournament in Argentina in December and spots at next year's World Cup on the line.

Stuff


---

Black Sticks lose 2-3 to Germany

By David Leggat

A lacklustre first half cost New Zealand dearly as they lost their second game at the World League semifinals 3-2 to Germany today.

World No 5 Germany were 2-0 up inside the first 15 minutes, with goals from captain Julia Muller and Eileen Hoffman, the first from a penalty corner, the second when the Black Sticks failed to clear their line.

Germany had far more scoring opportunities in the half but the second spell was better by third-ranked New Zealand.

However it was not until the last few minutes that they got on the board.

Germany were reduced to 10 players late on and coach Mark Hager replacd goalkeeper Biana Russell with an outfield player.

Four minutes from the end Cassandra Reid set up Charlotte Harrison for the first New Zealand goal.

Germany regained their two-goal advantage through Franzisca Hauke before captain Kayla Sharland got New Zealand's second in the final minute.

"We are disappointed with the way we started," Hager said.

''We were on the back foot in the first 20 minutes and if you give a side like Germany that much space it is very hard to come back."

He praised Germany's skills, noting that ''unless you put them under real pressure they won't make mistakes".

''There were times when we did have opportunities and we didn't convert, and that's something we will learn from," he added.

New Zealand, who had won their opening game 7-0 over India, play Belgium in their final pool game late on Sunday night.

Germany are now at the top of Pool B on six points, followed by the Black Sticks on three. Belgium and India, who drew 1-1 today, have one point each.

The New Zealand men's team play their second game against Ireland tonight, after starting with a 3-3 draw against the Netherlands yesterday.

The New Zealand Herald


---

Losses light Black Sticks' fire ahead of World League semis

By David Leggat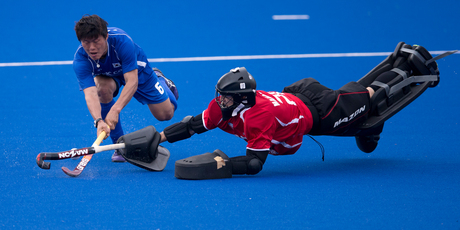 New Zealand Black Sticks goalkeeper Devon Manchester.

Should New Zealand go on to a successful World League semifinal tournament, mark a significant part of that down to two losses last week.

Striker Hugo Inglis, 22, who scored New Zealand's first two goals in their 3-3 draw against the Netherlands in Rotterdam yesterday, reckons those 4-1 and 3-1 defeats to world No7 Spain en route to Rotterdam were hugely beneficial.

"Crucial," the student said. "Spain are a really sharp team at the moment and it was probably better for us to lose because we recognised the areas we needed to improve.

"The guys did a heck of a lot of work when we got to Holland to get those things right. Holland are a similar team to Spain so it was good to see us put in a better performance."

The Black Sticks, ranked sixth, play 15th-ranked Ireland in their second pool game tonight. The Irish, on the back of a 4-4 draw with India yesterday, won't be easybeats, according to New Zealand coach Colin Batch.

"We want to keep improving, that's our focus for the Ireland game," he said.

The third-ranked Dutch dominated in terms of possession and scoring chances but New Zealand's defensive structures were strong and they compensated impressively for the loss through injury of seasoned midfield organiser Shea McAleese.

Auckland midfielder Arun Panchia was moved into McAleese's role, Blair Hilton was pushed further forward and the combined effect had Batch satisfied.

As for Inglis, who brought up his century of internationals in the pre-tournament home series against Korea, he's happy with his own form: "it was good to pick up a couple of goals, that builds a bit of confidence, but there's still a lot of work to be done in the next couple of games".

The disappointment at letting a 3-1 lead against the Netherlands slip had to be set aside.

"We're a team with a lot of new guys coming in, some for their first big tournament and to get that first one under the belt against the Olympic silver medallists from London is great. But you can't walk away without a bit of disappointment," Inglis admitted.

The women's Black Sticks played their second game early this morning against fifth-ranked Germany, having started their pool with a 7-0 beating of India on Thursday. Their coach Mark Hager is comfortable with a new rule introduced for the tournament surrounding the taking of penalty corners, with one qualification.

The International Hockey Federation has deemed that teams have 45 seconds to take the penalty corner, putting the onus on both defensive and attacking units to speed up.

"I think it's a good rule, where you make defence and attack hurry up so you're not getting a minute-and-a-half break," Hager said. "From that point of view it's a real plus. The hardest thing is not having an opportunity to practice them."

Teams were told only last week the rule would be enforced at the tournament, with umpires empowered to take action on dawdling. "For the first two or three games it's going to take a bit of getting used to," he added.

When, where

• The men's Black Sticks play Ireland at 7.30 (NZT) tonight then India at 3am on Monday; the women lost against Germany early this morning and finish their group against Belgium at midnight tomorrow. All games are live on Sky Sports.

• The top three teams in each eight-team tournament progress to the World League finals in December (Argentina for the women) and January (India for the men).

The New Zealand Herald


---

Women salvage point from Belgium

s2h team

After a pathetic display in the first half, Indian women came up with some purpose in the next to carve out a 1-1 draw against Belgium, whose male counterparts today tamed otherwise mighty looking

Australia 3-1. Belgium had everything on its side in the first half, even holding the ball 70 to 30 percent in their favour, but were not given that much elbow room by Ritu Rani's team in the next. Belgium thus paid penalty for not utilizing the first half dominance. With silly mistakes India conceded as many as five penalty corners in the first half compared a solitary one in the next session, but they were wayward in conversion, though Indian defence was not upto the mark.

Here, the Belgium girls got a goal awarded off the second penalty corner, but alert an alert Indian girls spotted a player stepping ahead of D before the ball pushed, and thus went for the Referral, which negated the field umpires' decision of goal. Again a PC was given, which was wasted by Belgium.

However, it's a beauty of goal by dimunitive Anupa Barla minutes after lemon time that led India to the ultimate draw. Anupa Barla, standing in front of the goalmouth knelt in time to trap dead a forehand that came to her from the D, and then guided the ball along the stick towards the goal, even as goalie went ahead and fell.

This goal stood till the last minutes. The last ten minutes were very tense, Belgium going for the press. But Indian defence with Deep Grace Ekka stood out, with neat clearances and long shots.

India, who lost to New Zealand 0-7 yesterday can now look forward to good outing in the remaining days.

Stick2Hockey.com


---

Indian women salvage 1-1 draw against Belgium in World League Round 3

ROTTERDAM: A lacklustre Indian women's hockey team eked out a 1-1 draw against Belgium to avoid a second consecutive defeat in the women's competition of the FIH World League Round 3 on Friday.

Anupa Barla saved the day for India with the equaliser in the 38th minute after Erica Coppey gave Belgium the lead in the fourth minute.

Undoubtedly it was yet another patchy performance from India, but it was a far better showing from the Ritu Rani-led side from their 0-7 drubbing at the hands of New Zealand in the opener.

It was expected to be a close encounter between India and Belgium, two teams ranked 12th and 13th in the world, but it was not, at least in the opening half.

The lower-ranked Belgian girls were by far the better side on display and completely dominated India in the opening 35 minutes.

The Indians looked disorgainsed and played catch-up hockey for most part of the opening period as Belgium mounted attack after attack on the opposition citadel.

It did not take Belgium long to take the lead, courtesy some sloppy defensive work by the Indian eves. The Belgians surged ahead in the fifth minute when Coppey neatly deflected home No. 27's cross from the left flank.

Belgium controlled the proceedings after as the game was mostly played in the Indian half.

India could have been down by two goals in the first half if not for a referral which went their way.

Coppey was again at the thick of things and scored from a goalmouth melee from Belgium second consecutive penalty corners in the 10th minute, but the goal was disallowed after India called for a referral for a possible small break.

Trailing 0-1, the Indians came out with purpose after the change of ends and looked far more oriented.

Against the run of the mil, the Indians managed to draw parity just three minutes into the second half through Anupa Barla, who deflected in a loose ball from close range.

Even though Belgium continued to control the proceedings in the second half, the Indians somehow managed to deny their opponents to garner their first points in the tournament.

The Belgians were also guilty of wasting numerous scoring chances that came their way in the second half.

India will take on Germany in their final Pool B match on Sunday while the Belgians will face New Zealand.

The Times of India


---

Green Machine take on the Black Sticks




Tomorrow (Saturday) sees Ireland up bright and early to take on New Zealand in the second game of their World League 3 Campaign.

Whilst the dust has barely settled on their thrilling 4-4 draw with India yesterday, Andrew Meredith must realign his troops on their rest day and ensure they are focussed on taking down the number 6 ranked Kiwis.

The Black Sticks held world number 3 side Holland to a 3-3 draw in their opening game, so both sides will be looking to go one better this time round.

The game starts at 8.30 am Irish time, with a great morning of sporting action in store as the Irish & British Lions take on the Warratahs at 11am in the fifth game of their tour. So whether you are a rugby fan, hockey fan or just a sporting enthusiast, get yourself up early and support the Irish men.

For those supporting the #GreenMachine there is LIVE streaming of every World League Game on the FIH's Youtube Channel.

Click here for coverage and highlights of the opening fixtures.

Irish Hockey Association media release


---

Indian Hockey team feel aftershocks

Mihir Vasavda



Sardar Singh

On the eve of India's opening match of the World League Round 3, captain Sardar Singh admitted that the team wasn't among the favourites in the tournament. He, however, assured that the boys will do everything in their capacity to change the notion in the eight-team tournament. Little would Sardar have imagined, though, that even a lowly Ireland would expose the chinks in the side's armour.

India were lucky to escape with a draw but the 4-4 scoreline will feel more like a defeat considering that Sardar's team botched the opportunity to bag three points. And to add insult to injury, goalkeeper PR Sreejesh has been declared a doubtful starter for the crucial Pool B match against hosts Holland on Saturday. Chief coach Michael Nobbs said Sreejesh's injury looked worse than what was initially believed but remained non-committal when asked weather he would be available for the Holland match.

India's best custodian collided with Ireland striker Andrew McConnell and had to be stretchered off after he lay motionless on the turf.

"He was a little sore last night. It was a muscle spasm," Nobbs said of Sreejesh's injury. With Sreejesh doubtful, India's goalkeeping reserves, or the lack of it, is likely to be exposed.

The second-choice goalie, 34-year-old P T Rao, had a decent outing at the Champions Trophy last December where he again stepped in for an injured Sreejesh. However, Rao's form has taken a dramatic fall since and with a fragile defence in front of him, his task will only get tougher.

The Indian defence was guilty of conceding not one but four soft goals, which ultimately cost them dear. If that wasn't enough to worry about, the midfield and forward line looked completely disjointed, failing to create enough pressure on Ireland. Nobbs clearly wasn't impressed with the 'reactive' game his boys played. "We played the first half as though we were just reacting to the other team rather than playing our game," he said. "We played well in the second half, more like we usually play. But we need to be more consistent and cut out soft goals through silly errors."

More than the draw, what seems to have hurt India is the manner in which they were treated by Ireland. A little bit of rustiness at the start of the tournament, being played in alien conditions at Rotterdam, is understandable.

But Ireland showed on Thursday how much the rest of the world has caught up with India (or the extent of India's decline, depending on how you look at it). A team that hasn't qualified for the Olympics even once almost shocked the eight-time gold medallists.

Returning with a point will come as little consolation to India. Ireland, the second-lowest ranked team in the tournament, are the weakest link in the group that also comprises hosts Holland and New Zealand. India will now need to come up with something special against the Dutch on Saturday to keep their hopes of finishing in the top two of the group and thus get a relatively easy opponent in the quarterfinal. India can take confidence from their recent encounters with Holland.

London inspiration

At the Olympics last year, Nobbs' men came back from two goals down to draw 2-2. They also defeated the Dutch in their two practice matches in Rotterdam in April. However, a full-strength Dutch team playing in front of the home crowd and in a match of such magnitude will pose a tougher challenge.

Holland, too, will be desperate for a win after they were held to a 3-3 draw in their opening tie by New Zealand, who have a habit of punching above their weight. Nobbs realises that the task that awaits them is anything but easy. "It will be tough, all the teams looked to have improved. The draw between New Zealand and Netherlands has thrown this group open," he said.

Belgium stun Australia

Belgium proved yet again that they are one of the fastest improving nations in world hockey by recording a superb 3-1 victory over reigning World champions Australia in Rotterdam on Friday. In another Pool A match, Spain beat France 4-2.

Indian Express


---

Patchy India need improved performance against Netherlands




Rotterdam, Netherlands:  Held to a draw by lower-ranked Ireland in their FIH World League Round 3 opener, the Indian men's hockey team will have to regroup quickly and come up with something special against formidable Netherlands in their next Pool B match here on Saturday.

Ranked four places ahead of their rivals, India (11) started as overwhelming favourites against Ireland (15), but it didn't really show in their game as they laboured to a 4-4 draw.

Defence has been India's perennial problem and it hurt them against the Irish on Thursday.

There was clear lack of co-ordination between Indian mid-fielders and the forwardline and they were also guilty of giving away the ball easily to their opponents.

But come tomorrow, the Indians cannot afford to commit the same mistakes against the Netherlands, who are ranked third in the world and are the current Olympic silver-medallists.

Going by the rankings and present status of both the teams, India, undoubtedly, will start underdogs in tomorrow's encounter.

After missing out on a point against Ireland, the Indians can hardly afford to relax as a loss against the Dutch can jeopardise their chance of sealing one of the three berths up for grabs in next year's World Cup.

Banking on home support, Netherlands too be would desperate for a win against India tomorrow after they played out a 3-3 draw against New Zealand yesterday.

Lanky drag-flicker Rupinderpal Singh was at his lethal best yesterday as he converted two penalty corners to salvage a draw for the Indians. He would be hoping to carry on his rich form in the coming matches of the tournament.

But vice-captain V R Raghunath turned out to be a dud against Ireland and committed soft errors in the backline which hurt India badly.

As usual, skipper Sardar Singh was the go-to man in the mid-field but he lacked support from other players.

Akashdeep Singh and the experienced Shivendra Singh were opportunistic upfront and managed to score a goal each but young Mandeep Singh, who featured briefly against Ireland, was a disappointment.

S V Sunil, as usual, was threatening with his long runs from the flanks but he will have to make use of these efforts more often instead of fizzling out after entering the circle.

Apart from performance, India's chief coach Michael Nobbs also has an injury concern ahead of tomorrow's game.

Goalkeeper P R Sreejesh, who played well in patches against Ireland, is uncertain for tomorrow's encounter after he was carried off the field following a collision with Ireland striker Andrew McConnell in the last six minutes of the match.

If Sreejesh, who suffered a head injury, is rendered unfit, P T Rao will take his place under the Indian goal.

All in all, India need a positive result against Netherlands tomorrow as they take on another tough opponent in New Zealand in their last pool match while the hosts will be up against Ireland.

NDTV Sports


---

Revington targets final

By Jugjet Singh

SIXTEEN players were named for the World League Semi-finals in Johor Baru on June 29-July 7, with chief coach Paul Revington setting his sights on playing in the final.

The top three from Johor Baru are assured of a spot in the Netherlands World Cup next year, and the South African is not willing to take any chances.

The other two players will be named on Friday, just before the team move to Johor Baru on June 24.

For warm-ups, Malaysia play Argentina on June 25 and Germany on June 26 before starting their journey in the World League Semi-finals in Group B with England, Pakistan and South Africa.

In Group A are Germany, Argentina, Japan and South Korea. All eight teams advance to the quarter-finals.

"Since the top three are assured of a spot in the World Cup, we will attempt to go one step higher by targeting to play in the final in Johor Baru," said South African Revington.

However, to achieve that target, Revington must work on his team's tendency to collapse in the last five minutes of a match.

In the recent South African Tour, Malaysia fared poorly as they lost three and drew one. Two of the matches were lost in the final minutes of the game.

"It is never a good habit to be considered a team who concede late goals -- and you have to work extremely hard to change such a reputation."

Revington said work is in progress to rectify the problem before the World League starts.

THE SQUAD -- Goalkeepers: S. Kumar, Roslan Jamaluddin; Defenders: Baljit Singh, Razie Rahim, Nabil Fiqri, Shahrun Nabil; Midfielders: Shukri Mutalib, Azlan Misron, Chua Boon Huat, Izwan Firdaus, Izad Hakimi; Strikers: Faizal Saari, Fitri Saari, Marhan Jalil, Tengku Ahmad Tajudin, Faiz Helmi.

New Straits Times


---

Three juniors selected to senior side for World League semi-finals

By S. RAMAGURU



A senior now: Junior Fitri Saari was among the 16 players named by the national team management at the National Hockey Stadium in Bukit Jalil yesterday

KUALA LUMPUR: Three national juniors have earned the right to play in the FIH World Hockey League semi-finals in Johor Baru from June 29-July 7.

The three – Fitri Saari, Faiz Helmi Jali and Mohd Izad Hakimi Jamaluddin – were among the 16 players named by the national team management at the National Hockey Stadium in Bukit Jalil yesterday.

Two more players – from the list of nine who are in the training squad – will be named on June 21.

The nine are Ahmad Kazamirul Nasruddin, Azreen Rizal Nasir, Jivan Mohan, Meor Mohd Azuan, Mohd Amin Rahim, Mohd Firhan Azhaari, Mohd Ramadhan Rosli, Mohd Azammi Adabi and Norhizzat Sumantri.

There were no surprises in the 16 players named yesterday as the team management opted for experience for the tournament, which acts as a qualifier for the 2014 World Cup.

National coach Paul Revington described the 16 players named as "clear cut".

"They are better and the choice was clear cut right from the start. There are still nine players in the squad and two will make the final squad," he said.

Fifteen of the players selected were from the team who went to South Africa for a four-match Test from June 2-12.

The only one who wasn't part of the South African tour is S. Kumar, who replaces Khairulnizam Ibrahim.

Malaysia lost three matches and drew one in the four-match Test.

"We have a fair bit of idea on the players who have been training here and also the nine players who will be considered for selection," said Revington.

"If they have trained hard, they need not worry about making the cut."

Revington also said that the proposed camp in Johor from June 17-20 had been cancelled and the team would continue training at Bukit Jalil.

"We have arranged for two matches in Johor Baru – against Argentina on June 25 and Germany the next day," he said.

In Johor Baru, Malaysia and South Africa are in the same group as Pakistan and England.

The other group comprises Germany, Argentina, South Korea and Japan.

The top four teams from the tournament will advance to the Finals in New Delhi next January while the top three will gain automatic berths to the 2014 World Cup.

The 16 players: S. Kumar, Roslan Jamaluddin, Chua Boon Huat, Mohd Radzie Rahim, Mohd Shahrun Nabil, Mohd Shukri Mutalib, C. Baljit Singh, Azlan Misron, Fitri Saari, Faizal Saari, Izwan Firdaus, Tengku Ahmad Tajuddin, Mohd Izad Hakimi Jamaluddin, Nabil Fiqri Mohd Nor, Faiz Helmi Jali, Mohd Mar han Jalil.

The Star of Malaysia


---

Revs names his squad

There were no surprises when national coach Paul Revington revealed at a Press Conference in Bukit Jalil the 16 of 18 players to carry the Malaysian challenge in the World League Round 3 Semi Finals in Johor Baru from June 29 to July 8.

Another two players will be named next Friday, three days before the team moves to Johor Baru on June 24.

Malaysia play Argentina on June 25 and Germany on June 26 in their last lap of preparation for the WLR3 where they are in Group B with England, Pakistan and South Africa.

In Group A are Germany, Argentina, Japan and South Korea.

Revington had a chat with Malaysian Hockey on his views with the team's indifferent performances in their matches against a province team from China and their recent tour of South Africa that ended with three matches loat and a draw.

Malaysian Hockey: What are your views on conceding late goals - a Malaysian malady that has returned to haunt us. Azlan Shah final was the first, but now in two matches in South Africa?

Revs : It is never a good habit to be considered a team who concedes late goals – and you have to work extremely hard to change such a reputation. We went a long way in Azlan Shah 2012 to change that by scoring two goals versus Korea in the last 4 minutes; managing a 2-1 win in the final minute versus NZ; scoring the equalizer versus Australia (pool game) in the final minute; and scoring the equalizer versus India in the final minute too. The game against Australia in the final we conceded 2 goals in the final 3 minutes of the first half and 1 goal in the final 15 seconds.

This was purely down to physical fitness and not having the physical endurance capacity (yet) to think and function clearly under pressure against the number 2 Team in world hockey. In South Africa we suffered from mental and physical stress in the closing phases of the 2 games in question – stress that we knew the Tour would create but were disappointed not to cope better with as individuals and as a Team. 

Malaysian Hockey: Who is the penalty corner specialist, that was with the team in South Africa. Who he worked on in relation to penalty corners. Will he be in Johor Baru?

Revs :  Adel Fuentes is his name. He is Argentinean but lives and works (for past 12 years) in the Netherlands. He worked with 5 flickers (Faizal; Razie; Kazamirul; Fitri Saari and Firhan) throughout the phase in South Africa. It would be ideal to have him work in Johor Baru and Arul will present a proposal to the MSN to try and achieve this.

Malaysian Hockey ; There was gaps/spaces between defense and attack in our team so why was this happening?

Revs: The South African Tour was designed to create physical stress for the athletes (playing at high altitude and multiple games in a row) and this proved to be a tough aspect of games to manage all the time (pushing up on attack; reverse pressing after ball loss) whilst in SA. Every one is aware of this issue and it will be rectified come the WL 3.

Malaysian Hockey : Why name 16 now and not 18, what areas are you unsure off?

Revs : I don't think we are necessarily unsure of various areas – more certain about 15 or 16 players and then keeping the door open as long as possible for all Squad players to fight for the remaining 2 or 3 places in the WL 3 Team in the coming week. Those players who did not tour SA will still have an opportunity to prove their worth in the coming week. 

The Squad of 16

Azlan Misron. Baljit Singh. Chua Boon Huat. Faisal Saari. Faiz Helmi. Izwan Tajuddin. S.Kumar. Mohd Shukri Mutalib. Izad Hakimi. Fitri Saari. Shahrun Nabil. Mohd Marhan Jalil. Mohd Razie Rahim. Mohd Nabil Fiqri Mohd Nor. Roslan Jamaluddin. Tengku Ahmad Tajuddin Tg Jalil.

Malaysian Hockey blogspot


---

Danson sets the scene for this summer's action

Written by Ross Bone – The Top of the D



Alex Danson in action for Great Britain against Argentina at the Champions Trophy 2012

With London 2012 fast becoming a distant memory, it's now time for England to look to the future. First on the horizon is the Investec World League Semi-Final in London, which runs from 22-30 June. I caught up with striker Alex Danson to find out how the new-look England squad is shaping up.

"It's a transitional phase for us so it's important to get to know the new squad members and understand what makes them tick. The young players who have come in are very exciting and talented, so there's a lot to look forward to."

Danson is undoubtedly keen to see the impact of the players who are just joining the central programme, but there is a note of sadness when we discuss the players who decided not to work towards Rio 2016: "The best thing about our squad leading up to the Olympics was we had so much strength in depth. Everyone brought their own unique skills and unique personality, so they'll all be missed in their own way. However, with those players stepping aside, there's a great chance for the new players to make their mark."

It's not just the players who have changed. With Danny Kerry taking the role of Performance Director, Jason Lee has succeeded him as head coach, making the transition from the men's squad to the women. Danson – England's No.15 – is impressed by what she has seen so far: "He's still getting to know us as we are him, but it's going well. He's very attack minded which as a striker I love, but what's great is he's already picked out what he believes our strengths are and has started to set our tactics out to make the most of them."

Fast, attacking hockey was one of Lee's hallmarks during his time in charge of the men, and it appears he's looking to put the same sort of stamp on the women's side. However, despite the obvious excitement, Danson is aware that there's a lot of work ahead, starting at the Investec World League which runs from 22-30 June.

"All our pool games are against good opposition. South Africa have a lot to offer and are a good side. Spain have plenty to prove and are a relentless attacking team whilst games against Australia are never easy. It'll be a tough tournament I have no doubt." She adds, "Obviously aside from our pool there are also teams like Argentina. They have some of the best players in the world like Luciana Aymar, Carla Rebecchi and Noel Barrionuevo. They're a fantastic side, but playing against those players is why I love international hockey. You always want to pit yourself against the best."

Knowing they're up against such high quality opposition would be daunting for most players. However, something the Olympic Bronze medallist is sure about is the advantage that the home support will give England: "How great is it for our young players to play their first international tournament at home?  There's so much to be said for looking into the crowd and seeing familiar faces. Whether they're friends, family, people from your club, volunteers, whoever, it all helps and makes a big difference, as we saw last summer at the Olympics."

When I ask what the target for the tournament is, the 28-year-old speaks with the calm, level head you might expect of a player approaching 200 international caps:  "We're right at the start of our journey and still learning how to play together, how to implement the new tactics etc, so it's difficult to predict how we'll do. We need to make the top four to get a place in the World Cup, so I'd still have to say that is the target. It's definitely going to be tough, though."

The tournament gives England another chance to show the world what a splendid venue it is for international hockey events and the FIH-All-Star player is in agreement on that point: "What I love about watching hockey in England is how inclusive it is. Whether you're four or 74 years old, you feel like you're part of it. You get to meet the players, there's lots of entertainment, you're close to the action and you get to see the best players in the world. It's definitely a great experience."

One suspects the experience will be even greater should Jason Lee's new-look England squad come out on top and qualify for the World Cup.

Ross runs a specialist hockey blog for fans, players and beginners alike. Follow him on Twitter @TheTopoftheD and read some of his feature interviews here.

England Hockey Board Media release


---

Scotland off to great start against South Africa



Scotland defender Emily Maguire gets the better of the ball. Credit: Duncan Gray

Scotland Women got their four match series against South Africa off to a fine start with a 3-2 win at Peffermill today.

Goals from Ali Howie, Morag McLellan and Nikki Kidd gave the home side the victory that puts them 1-0 up in the four match series. South Africa's all-time record goalscorer Pietie Coetzee added to her large tally with two penalty corner strikes.

Following the match, a delighted Scotland Head Coach Gordon Shepherd, said:

"I'm very happy with the performance and obviously the result. The performance was the main thing we were looking for today and it was a great win, a deserved win. We scored three goals, we probably should have scored a few more. We hit the post and we created great opportunities.

"I was delighted with the way the team started the first half and the second half. We played some fantastic hockey today. There were always going to be times when we were under pressure; South Africa are a very, very good side but I thought our defending for most of the game was very good. It's a great start to four internationals against them.

"The players are all happy and rightly so. They should celebrate their wins whoever they come against. There will be changes tomorrow so we need to make sure the players who come in are focussed. We need to make sure the players who didn't play today who play tomorrow have a good concentration level. They can be absolutely sure that South Africa will pick up their game so we need to be prepared."

South Africa started the match displaying their attacking intent and the home defence had to be on their toes as the visitors pressed deep into Scottish territory during the first ten minutes.

However, it was Scotland who had the first opportunity when captain Linda Clement found Nikki Lloyd in space inside the South African circle, only for the Sevenoaks striker to be denied a shot on goal by the close attention of two defenders.

The Scots didn't have to wait much longer for another opportunity and the national side took the lead in the 15th minute after excellent build-up play by Heather Elder. The midfielder found Ali Howie in space and the Milne Craig Clydesdale Western player's deflected shot spun past Vuyisanani Mangisa into the bottom left-hand corner to give her side a 1-0 lead.



Ali Howie was one of Scotland's three goalscorers against South Africa. Credit: Duncan Gray

South Africa were presented with a great chance to get back on level terms in the 23rd minute but Jade Mayne couldn't get enough of a connection on the pass from Pietie Coetzee to trouble Scottish goalkeeper Amy Gibson.

In the 30th minute, Vikki Bunce almost grabbed a second goal for Scotland but her shot from the right hand side of the circle narrowly missed the target.

Three minutes later, South Africa were awarded a penalty corner for a Scotland foot inside the circle, but Coetzee's subsequent penalty corner attempt was cleared easily by the defence.  A swift counter-attack led to Morag McLellan finding herself in space only a few yards out and the midfielder made no mistake with the finish to make it 2-0 with only a minute left before the half-time interval.

With the visiting side two goals down at half-time, Scotland looked to further press home their advantage following the break. Becky Ward almost found Ali Bell lurking with intent at the back post, before a surging run from Bunce into the opposition's circle was foiled just as she was about to pull the trigger. There were also opportunities for Clement and Lloyd to extend the lead to three goals.



Scotland captain Linda Clement launches a Scottish attack. Credit: Duncan Gray

However, South Africa showed their menace from penalty corners when Coetzee found the bottom left hand corner of Gibson's goal to pull one back for South Africa at 2-1 with a drag-flick in the 49th minute.

Gibson thwarted Coetzee with good excellent stops in the 52nd and 54th minute, while Mayne should have found the equaliser when she skewed her shot wide of target when clean through on goal.



Amy Gibson pulling off one of many saves from Pietie Coetzee. Credit: Duncan Gray

With ten minutes to go, Kidd came agonisingly close to putting Scotland 3-1 up as she cracked a shot off the left-hand upright but the Edinburgh University midfielder registered on the scoresheet two minutes later as swivelled inside the circle to unleash a cracking reverse stick strike into the net and give the senior women a 3-1 lead in the 62nd minute.

South Africa were then awarded two penalty corners within the last five minutes; the first strike from Tarryn Bright was blocked by Gibson and cleared by Ward but the second penalty corner from Coetzee was unstoppable as it flew into the bottom left hand corner of the net in the 68th minute to give a 3-2 scoreline.

The South Africans pressed for an equaliser but the Scots were more than up to the task and they closed out the game in the final two minutes to record a 3-2 win at full-time.

The two sides meet again tomorrow with a 2pm start at Peffermill.

Scotland Women: Amy Gibson, Nicki Cochrane, Vikki Bunce, Becky Ward, Linda Clement, Kareena Marshall, Becky Merchant, Nikki Kidd, Susan McGilveray, Ali Howie, Emily Maguire, Aileen Davies, Sarah Robertson, Heather Elder, Nikki Lloyd, Morag McLellan.

Scottish Hockey Union media release


---

Scotland win first Test

The Investec South Africa women's hockey were beaten 3-2 by Scotland in the first of the teams' four internationals in Edinburgh Friday night.

Ali Howie, Morag McLellan and Nikki Kidd got on the scoresheet for Scotland while Pietie Coetzee (2) scored for SA.

The Scots led 2-0 at half-time.

The second international is on Saturday, the third on Sunday and the fourth next Tuesday.

SA are using the matches as preparation for the Investec World League semi-finals, which start in London next weekend.

SA Hockey Association media release


---

South African attacking play Workshop

Scottish Hockey is offering coaches an exciting opportunity to hear from the South African Women's Head Coach during their Summer Series against Scotland.

These workshops will take place at Peffermill on Tuesday 18th June. The workshop is aimed at Level 2 or 3 coaches and those working towards these levels.  You will observe South Africa Senior Women playing Scotland and focus on 2 main areas.

6.30pm - Giles Bonnet, the South African Head Coach and his management team members will lead this session and provide an insight into how they will attack the final 3rd and progress to goal scoring.

7pm – Observe the game relating to these topics.

8.30 – 9pm. A review will be held in relation to the success of these areas.  A discussion will also be held in relation to vertical progression (a set play dynamic).

The cost for attending the workshop will be £15.  If interested, please contact This e-mail address is being protected from spambots. You need JavaScript enabled to view it to reserve your place.

Scottish Hockey Union media release


---

Scotland U15 girls to compete in Dutch club competition

The players selected in the Scotland U15 Girls squad will have the opportunity to test themselves against some of the best young players in Europe when they travel to Amstelveen in the Netherlands for an U15 tournament at the HIC club.

The Scots will play Dutch sides AthenA MC1 and Alecto, and German club Hamburg in Pool A, while Ulster face off against Dutch clubs in the form of IJsseloever, Ring Pass and THC Hurley in Pool B.

The tournament consists of pool games that last twenty minutes each way, before two cross-over games lasting fifteen minutes each to determine final positions.

Scotland U16 Girls Head Coach Bill Robson said, "We are taking an U15 group to this tournament as it presents a great development opportunity for these players who will step up to the U16 squad next year.

"They will have the chance to challenge themselves against some of the top Dutch and German sides, who have young players with great talent and potential, under tournament conditions. We also hope to play Ulster again and see if we can improve on last week's results in Northern Ireland."

Scotland U15 Girls: Alison Westwood (Hillhead & Kelvinside Academy), Amy Costello (CALA Edinburgh & Mary Erskine School), Bella Fisken (CALA Edinburgh & St George's School), Claire Hilton (CALA Edinburgh & George Watson's College), Hanna McKie (CALA Edinburgh & Mary Erskine School), Anna Logan (CALA Edinburgh & Loretto), Emily Cross (CALA Edinburgh & Mary Erskine School), Ella Watt (Inverleith & George Heriot's), Raina Dalrymple (Strathallan School), Charlotte Watson (Dundee Wanderers & St John's), Elanor Skinner (Glenalmond College), Katie Stott (Grove Menzieshill & Kilgraston), Milly Merry (Granite City Wanderers & Robert Gordon's College), Leia McKinnon (Borders Fjordhus Rievers & Earlston), Morven Cawthorn (Borders Fjordhus Rievers & Selkirk High School), Julie Lonergan (Clydesdale Western & St Ninian's), Maddie Cleat (Greenock & St Columba's), Mackenzie Brown (GHK & Kelvinside Academy).

Scottish Hockey Union media release


---

Canadian Senior Nationals Day Three

A clash of the titans as the U21s edge BC.




Game 9: Alberta vs. Guyana 2-0 (1-0)

In a game where both teams were looking for their first win of the tournament, Alberta was able to capitalize on a goal per half to defeat Guyana 2-0. Alberta stacked the middle of the field with the expertise of Brittany Seidler and Marian Dickinson, while Burgundy Biletski continued her outstanding play in net.

Alberta earned their first goal on a penalty corner from Carolyn Lee. Guyana continued with several rushes on their own, breaking into the circle on play set up by captain Chantelle Fernandes and center midfielder and Mississauga native Leigh Sandison. In addition, Guyana's keeper Alyssa Xavier made a difference in her first match of the tournament, as she flew in to Ontario only yesterday.

Only three minutes into the second half, Dickinson set up the speedy forward Amanda Kurianowicz for Alberta's second and final goal of the game. Guyana was able to work some offensive prowess on a few Alberta turnovers but Biletski was solid in goal. Near the final minutes of the game, Guyana was awarded a stroke after a shot on net hit a defender's body on a penalty corner. Biletski was more than up to the task, diving to her right to earn the shutout. Alberta finished the game with the 2-0 win and grabbed their first three points of the tournament.

Goal Scorers

ALB: Caroyln Lee (1), Amanda Kurianowicz (1)

Game 10: Canada U21 vs. British Columbia 2-1 (2-0)

The highly anticipated matchup between the Canadian Junior National side and the traditionally strong BC team was, as expected, a fast-paced and skilled game. Out of both rosters only three players are without international experience either at the senior or junior level, while 28 originally hail from BC.

Canada edged the BC side in possession for much of the first half despite either team really breaking into the circle. In the 16th minute, Canada's overload on the right side worked to their advantage as BC was outnumbered on their left allowing for Rachel Donohue to shoot and pick up her rebound and find Caashia Karringten for the 1-0 lead. In the 30th minute Canada earned a short corner that took a deflection off a BC defender. The ball trickled in front of an open net where Jess Buttinger was waiting to finish and give Canada the 2-0 advance.

The second half saw a bit more push from the BC side, as Dani Hennig and Shanlee Johnston were evident defensive anchors, also distributing long balls through to the forward line. BC managed to restructure offensively and defensively and transition the ball to catch the Canadian side on their heels. Despite the efforts, several of their crosses went through the circle untouched.

Canada continued to push for another as defender Sara McManus was finding lanes through the field to send Stephanie Norlander and Holly Stewart streaking into the circle. The BC defence line remained strong and worked their way to the other end where they were able to cut the lead on a penalty corner in the 69th minute. Hennig's low drag flick flew under the diving arm of Canada's Bea Francisco to cut the lead to one but time was on Canada's side and they finished with the 2-1 win.

Canada now takes the lead in the standings, undefeated with one tie, while BC will face the Ontario senior team tomorrow to try and secure a spot in the finals.

Goal Scorers

CAN: Caashia Karringten (1), Jess Buttinger (1)
BC: Dani Hennig (1)

Field Hockey Canada media release


---

Argentina and England to make Sultan of Johor debut

By S. RAMAGURU

PETALING JAYA: This year's Sultan of Johor Cup will see Argentina and England making their debut.

Australia, who played in the last two editions of the tournament in Johor Baru, have opted out this time.

The tournament, to be held at the Taman Daya Hockey Stadium from Sept 21-29, will also see India and Pakistan returning for a third time.

The organisers are waiting for one more team – either South Africa or European champions Belgium – to confirm their participation.

"The closing date for the entries is June 16. So, whoever reply first will be accepted.

"We intend to keep it as a six-nation meet. We are confident that one of the teams will confirm their entry by Sunday," said organising secretary Manjit Majid Abdullah.

Project 2013 team manager Mirnawan Nawawi, meanwhile, expects the teams competing this year to send their best players.

"We're looking forward to this year's meet as the teams will be better prepared and we'll have a good chance to gauge our strength," he said.

"All the teams competing have qualified for the Junior World Cup.

And their preparations will be aimed towards that tournament, which will be held in New Delhi in December."

The National Juniors, who have just returned from a tour of South Korea, will be heading for Europe next month.

They are expected to play between 10 and 13 matches, all matches are expected also to be against very tough opponents.

"So far, we have confirmed matches in Poland, England and Belgium. We are awaiting confirmation from Holland," said Mirnawan.

"We will play against Poland's senior team ... but the rest will be against junior sides.

"W're also excited to be playing against Belgium as they are the current European champions.

"The have slowly made a name for themselves against big teams like Germany, Holland and Spain."

The Project side will resume training from Monday at the National Hockey Stadium in Bukit Jalil.

The Star of Malaysia


---

Punjab retains junior title

MPHA beats Maharashtra to third



The Punjab players are an ecstatic lot as they pose with the trophy after the win over Odisha on Thursday. Photo: Rajeev Bhat

Punjab retained the National junior men's hockey championship on Thursday, defeating Odisha 2-1 in the final at the Motilal Nehru Sports Complex, Rai in Sonepat. Captain Gaganpreet Singh scored both goals for Punjab while Joseph Toppo reduced the margin.

It was a battle of equals between teams with contrasting styles. Physically superior Punjab was off the blocks early and played a tactical game. It made full use of the flanks to open gaps upfront.

The fact that a majority of its players are also trainees at the Surjeet Hockey Academy in Jalandhar only made the plans easier to execute.

"Our hard work at the grassroots is now paying off. It feels great to win back-to-back National titles," an ecstatic Punjab coach Avtar Singh said.

Odisha, on the other hand, was more reliant on skill and speed. Slow to start with, it suffered an early reverse when Punjab took advantage of its early push to get the opening goal in the 10th minute through a penalty corner.

Immensely fit and consistent, Odisha gradually pushed its way back into the game. Packing its defence on either side and led by Anand Lakra and Dipsan Tirkey, tried to choke Punjab's attack and succeeded. Moving in a pack, Odisha finally struck in the 24th minute when Toppo tapped in off a cross from Teophil Kujur on the left even as the Punjab defenders stayed rooted in a rare defensive lapse.

The deadlock was broken in the 63rd minute, when Punjab earned two consecutive penalty corners, the second one resulting in a hotly-contested penalty stroke. Gaganpreet's shot deflected off goalkeeper Subodh Tirkey's pads past the goalline.

That goal sapped Odisha's morale and though it earned a penalty corner in the final few seconds, it never looked like scoring again. The match had been all but over for the last seven minutes. "Our forwards had an off day today, but we still had our chances. I am satisfied with the performance of the boys though," Odisha coach R.K. Saini said.

In the playoff for third place, Madhya Pradesh Hockey Academy beat Maharashtra 5-4 in a hard-fought match. MPHA took a 4-2 lead before Maharashtra struck back to level scores. With the game looking to go into extra time, Arjun Sharma struck the winner for MPHA in the final seconds of the match.

The results: Final: Punjab 2 (Gaganpreet Singh 2) beat Odisha 1 (Joseph Toppo); third place: MPHA 5 (Mohammed Nizamuddin 2, Arjun Sharma 2, Arman Qureshi) beat Maharashtra 4 (Mithilesh Kumar 2, Ashutosh Lingesh, own goal).

The Hindu


---

Parvinder, Gaganpreet steer Punjab to finals

Amit Sampat

NAGPUR: Parvinder Singh and Gaganpreet Singh scored a brace apiece as defending champions Punjab outclassed Madhya Pradesh Hockey Academy (MPHA) 6-2 in the semifinals of the Junior Nationals Hockey tournament for boys currently in progress at Sonepat, Haryana.

While Parvinder struck a goal in either half, Gaganpreet sounded the board twice after the change of ends.

As early as in the 3rd minute of the play Simranjeet Singh drew the first blood for Punjab while Madhya Pradesh right out Manish Gurung brought parity in his solo effort in the 12th minute.

In a 21st minute goal mouth melee Parvinder sounded the board which again brought Punjab ahead with a 2-1 lead. Their joy, however, shortlived as Arjun Sharma of Madhya Pradesh restored parity three minutes later. Both the teams headed to the lemon break with a couple of goals in their kitty.

The change of ends, however, changed the fortunes in Punjab's favour. The holders not only tightened their defense but also poured in three quick goals to snatch the game away from Madhya Pradesh.

Seven minutes into the second half, Gaganpreet Singh in his solo effort from the left struck the third goal for Punjab.

Two minutes later, he was again in the thick of action and stretched the lead further with a replica of his first goal which gave the defending champions a handy 4-2 advantage.

In the 49th minute Varun Kumar made it 5-2 as three quick goals eventually sealed the fate of the match. Parvinder Singh duly completed his brace in the 61st minute as Punjab emerged victorious with a comfortable 4-goal (6-2) margin in the end.

The Times of India


---

Odisha down Maharashtra to enter final

Amit Sampat

NAGPUR: Odisha defeated Hockey Maharashtra in an exciting contest 2-1 to set the summit clash with defending champions Punjab in the Junior Nationals Hockey tournament for boys at Sonepat in Haryana.

Both the teams started defensively and kept their focus on restricting the opponents from scoring. The neck and neck battle in the first half witnessed a barren period of 35 minutes.

After the change of ends, the momentum switched from defense to offense and a more aggressive Odisha outfit made most of Maharashtra's defensive lapses to struck two goals within 15 minutes to take a handy lead.

Hockey Maharashtra looked disorganized and played catch-up hockey for most part of the second half as Odisha mounted attack after attack on the opposition citadel.

It did not take Odisha long to take the lead, courtesy some sloppy defensive work by the Maharashtra boys. Odisha surged ahead in the 41st minute when Joseph Toppo neatly deflected home Sunil Ekka's cross fed from the left flank.

Ekka was again at the thick of things when he deflected in a loose ball from close range to double the scores in the 55th minute.

Five minutes later and much against the run of play Hockey Maharashtra's Vinit Kamble in his superb solo effort opened the account for his team and reduced the margin (2-1).

Odisha controlled the proceedings thereafter as the game was mostly played in the Maharashtra half. And with the final whistle they managed to seal their final berth in style.

In the summit clash Odisha face an uphill task when they take on defending champions Punjab.

The Times of India


---

Henry snatches last gasp Paragon winner

Nigel Simon

Zene Henry scored with a minute left on the clock as Paragon edged past Harvard Maritime Checkers in their T&T Hockey Board Women's Championship Division "Big-Four" on a rainy Thursday night at the National Hockey Centre in Tacarigua. With reigning league champion Notre Dame beating Malvern 5-4 in its opener on Wednesday at the same venue, both Paragon and Checkers were eager for a winning start as well.

However, it was Paragon which took the lead via Henry as early as the fifth minute before Checkers drew level in the 17th, through an own-goal. Seven minutes before the interval, Paragon which trails the Dames on the league table in second spot at the end of the first round regained the lead through national forward, Kristin Thompson to take a 2-1 advantage into the break. Six minutes into the second-half, national defender Kwylan Jaggassar got Checkers on level terms for the second time in the match, and with the minutes ticking away it looked as though both teams would have to settle for a share of the points. But Henry struck with a minute to go, to earn her team full points and a share of the table lead going into today's match against the Dames from 6pm while Malvern comes up against Checkers from 2pm.

Defence Force slip past Paragon men in penalty shootout

Goalkeeper Carlos Stephens came up big for Defence Force as he pulled off two penalty-stroke saves to earn his team a 3-1 penalty-shootout win over defending champion Paragon in its Men's Championship Division "Big-Four" duel on Thursday night following a 3-3 draw. The "Army/Coast-Guard combination were quickly off the mark when national forward Shane Legerton scored after only three minutes but 20 minutes later Barry Clarke replied for Paragon, only for former Paragon player, Javon Woodward to give Paragon a 2-1 half-time lead with his 26th minute field goal.

Seven minutes after the restart Joel Bodking tied up the match for Paragon and in the 49th minute, he got his second of the match to give his team the lead for the first time at 3-2. That lead only lasted 10 minutes though as former national player, Neil Lashley leveled the match for Defence Force to send the match into a penalty-shootout competition where Stephens came up big for his team denying two of Paragon's first three attempts from national trio, Kiel Murray, Christopher Scipio and Alan Henderson while the other missed the target. Defence Force's veterans Nicholas Wren and Lashley also missed with their team's first two attempts before captain Mickel Pierre converted for a 1-0 lead after three attempts each.

Marcus James then scored for a 2-0 Defence Force lead before Cogie Butler finally converted for Paragon to give his team some hope. But, it was all in vain as national rifle shooter and former hockey stand-out Roger Daniel calmly scored his team's fifth attempt to seal a 3-1 triumph and two points to trail Petrotrin (three points) while Paragon has one point. Today, Defence Force will meet Petrotrin from 8 pm, with the latter seeking a second outright victory after edging Queen's Park 2-1  In the other match, the Parkites battle Paragon from 4 pm.

Thursday's Results

Women's Championship:
Paragon 3 (Zene Henry 5th, 69th, Kristin Thompson 28th) vs HM Checkers 2 (own goal 17th, Kwylan Jaggassar 41st)

Men's Championship
Defence Force 3 (Shane Legerton 2nd, Javon Woodward 26th, Neil Lashley 59th) vs Paragon 3 (Joel Bodkin 42nd, 49th, Barry Clarke 23rd)

Remaining Big-Four fixtures
Today:
Women: Malvern vs HM Checkers, 2 pm; Paragon vs Notre Dame, 6 pm
Men: QPCC vs Paragon; 4 pm; Defence Force vs Petrotrin, 8 pm

Tomorrow: Women:
Notre Dame vs HM Checkers, 1 pm; Malvern vs Paragon; 5 pm
Men: Petrotrin vs Paragon, 3 pm; QPCC vs Defence Force, 7 pm

The Trinidad Guardian


---

Western Jaquars tackle Mombasa Sports Club in their league opener

By Erick Ochieng

Western Jaguars open their Kenya Hockey Union (KHU) league season today against Mombasa Sports Club ( MSC) before taking on former national champions Kenya Police tomorrow at City Park Stadium in Nairobi.

It is Western Jaguar's hope that Saturday's match will materialise following postponement of their game against 2007 Africa club bronze medalist Kisumu Simba last weekend.

Kisumu Simba and defending champions Nairobi Simba will be resting this weekend as they wait for their turns next weekend.

According to Western Jaguars officials, the team is out to rake in all the six important points to get a boost in the season that is still large.

But Police are saying the visitors will have to fight it to the letter atleast to reap a point in the encounter.

"This is a must win for us, we don't know how well our opponents have prepared but we are sure on winning this one," Police top scorer Moses Cheplaiti told FeverPitch.

Good run

Cheplaiti has had a good run this year emerging both most valuable player and top scorer in the Top Eight, Nairobi Association and Vaisakhi tournaments that curtain raised the KHU league.

Just like the Jaguars, MSC have also travelled all the way to forage for six vital points with another match pitting them against Greensharks in the same category.

MSC will also be battling hard for another six points against Kenyatta University and United States International University-Africa (Usiu-A) in the women National League.

Usiu-A also has a date against Strathmore University in the men's Premier League.

Weekend's Fixture

On Saturday-Premier men: MSC  vs  Western Jaguars   2pm, USIU  Vs Strathmore university  6pm. National Women: USIU-A vs MSC 4pm.

On Sunday- Premier men: Kenya Police  vs Western Jaguars 11am, Greensharks vs MSC 1pm. National men: Multimedia vs NYS 3pm, Kenyatta University  vs Technical University 9am. National men: MSC vs Kenyatta University.

The Standard Online


---

Pakistani female hockey players to play in US

WASHINGTON - The US State Department will bring ten teenage female field hockey players and two coaches from Pakistan to play against their American counterparts as part of an international sports exchange from June 17 to 27, it was announced Friday.

According to the State Department, the Empowering Women and Girls through Sports Initiative aims to increase the number of women and girls involved in sports. This programme builds on the US global commitment to advance the rights of women and girls around the world.

The Pakistani players' time in the United States aligns with the 41st anniversary of Title IX, the landmark US law, which afforded opportunity and equality for American women in sports and education, the announcement said. The lessons of Title IX will help young athletes increase the number of women and girls who participate in all aspects of sports worldwide. These high school athletes will play field hockey with their American counterparts in Washington, where they will work with their peers on developing teamwork, health, and leadership skills. They will also travel to North Carolina to participate in field hockey clinics, activities on sports and disability rights, and community volunteerism at the University of North Carolina-Greensboro.

The Empowering Women and Girls through Sports Initiative is comprised of three pillars: Sports Envoys (American athletes who travel overseas); Sports Visitors (youth athletes and coaches who travel to the United States); and the cornerstone of the initiative, the U.S. Department of State and espnW Global Sports Mentoring Programme.

The Nation