All the news for Wednesday 19 June 2013

Dutch complete Semi-Final Quartet

Netherlands to meet New Zealand; Korea to play Germany



Maartje Paumen added two goals in the Netherland's 8-1 quarterfinal win (Photo: Frank Uijlenbroek)

Placement 5-8: India vs. Japan – 12:30
Placement 5-8: Belgium vs. Chile – 14:30
Semi-Final: Korea vs. Germany – 17:00
Semi-Final: Netherlands vs. New Zealand – 20:00

Follow us live on the FIH You Tube Page or on Twitter @FIH_Hockey.

Netherlands – India 8-1 (2-0 halftime)

The semi-final picture is complete at the Rabo Bank World Hockey League tournament in Rotterdam. World #1 and host Netherlands will meet New Zealand in the semi-final game after earning a clear 8-1 win over India in today's quarterfinal match-up. The other semi-final game will feature Korea against Germany.

It took awhile for the Dutch to get their offense firing in the first half, and when it did it was thanks to the talents of two of their top stars, Kim Lammers and Maartje Paumen. The duo are both shortlisted for the 2012 FIH Player of the Year award to be presented later this week and both showed why they made that list.

Lammers kicked the scoring off 21 minutes into the game when the Dutch had numbers in their favor on a trip down field allowing her to convert the chance into the 1-0 lead. Paumen doubled the lead with just over two minutes left in the half with a rifle of a shot into the upper right corner.

Ellen Hoog extended the lead to 3-0 when she scored a beautiful goal shooting ball into the far opposite corner nine minutes into the second half. India's Vandana Katariya got her team on the board four minutes later, but before the Indians could celebrate Valeria Magis had restored the three-goal advantage for the Netherlands.

The Dutch continued to roll when Eva De Goede scored the 5-0 goal on a trick penalty corner play that saw Paumen execute a fake before passing it off for the score. Sabine Mol and Paumen stuck again just two minutes apart in the late stages of the game and De Goede added her second of the game in the last minute on a penalty corner to bring the final to 8-1.

The Dutch win completes a sweep by the four highest-seeded teams at the event and leaves all the teams that went through the earlier Hockey World League rounds in the placement games. The semi-final meeting between the Netherlands and New Zealand will be a battle between the two highest ranked teams at the event with the Black Sticks holding the #3 spot in the FIH World Ranking.

Tomorrow the men start their quarterfinal day. The first game begins at 12:30 when Belgium and Ireland meet. The women's semi-finals day is Thursday with two placement games and the two semi-final meetings.

FIH site


---

A close call for Germany in WL quarterfinal

Semi-Final awaits Germans after 2-0 win against Chile



Despite a tepid performance against Chile, Germany can celebrate a berth in the semi-finals (Photo: Frank Uijlenbroek)

Follow us live on the FIH You Tube Page or on Twitter @FIH_Hockey.

Germany – Chile 2-0 (1-0 halftime)

Germany had its hands much fuller than expected in its quarterfinal meeting against 18th-ranked Chile. It wasn't until Marie Mavers put in a sliding penalty corner goal with three minutes left in the game that the Germans could breathe a sigh of relief and celebrate their 2-0 win and berth into the semi-final game.

It wasn't for lack of opportunity that Germany did not score any goals. They were awarded penalty corner after penalty corner which resulted in every kind of outcome – post, goalie save, shot wide, defensive save and everything in between. In short, the Germans had zero luck with their short corner.

Maike Stöckel opened the scoring with 14 minutes left in the first half. Many were surprised it took Germany that long to get their first goal of the game, but the biggest surprise was yet to come as Germany was held scoreless for nearly the rest of the game. Of course, Chile never really threatened to get the game-tying goal during the second half stalemate. A singular penalty corner was the only real chance with seven minutes and that was easily defended.

Germany can now put the quarterfinal performance behind them and look ahead to the semi-final game where they will meet the winner of the upcoming Korea vs. Belgium game.

FIH site


---

Korea edges Belgium in WL Quarterfinal, 2-1

Koreans will meet Germany in Semi-Final Duel



(Photo: Frank Uijlenbroek)

Follow us live on the FIH You Tube Page or on Twitter @FIH_Hockey.

Korea – Belgium 2-1 (2-1 halftime)

Korea played a solid game of hockey today against Belgium and was rewarded with a spot in Thursday's semi-final game against Germany at the Rabobank Hockey World League tournament. Korea went down early, but rebounded quickly to win the quarterfinal meeting, 2-1.

Thus far all the top-seeded teams have won their quarterfinal game in Rotterdam today. Korea, ranked #8 in the FIH World Ranking will take on fifth-ranked Germany, while #3 New Zealand awaits the outcome of the Netherlands v. India game.

Belgium wasted no time scoring the 1-0 goal, striking just over a minute into play. With nearly every player crowded in the D and the ball bouncing to and fro, Barbara Nelen was the lucky one to get her stick on the ball and score the early strike. It would be the last the Korean's would see of the Belgian offense as  the Korean comeback slowly set into motion.

Mi Hyun Park put the in 1-1 goal in the 14th minute for the Koreans. It was unclear whether the goal would be allowed, but following a video review, it was deemed valid and the Koreans were on the board. Five minutes later, Korea took the lead when Jong Eun Kim batted in the ball on another unorthodox goal. This one needed no review however, and it was an immediate celebration for the Koreans.

After the goal, the Koreans settled in and played a stable and conservative game, thwarting any hopes for the Belgian comeback. Belgium did have a few chances, but found it hard to break through the Korean game plan and really threaten for the equalizer.

The loss puts an end to Belgium's incredible run in the inaugural Hockey World League. The Belgian women were the only team of the 32 men's and women's teams to play in both Round 1 and Round 2 events. Belgium will face Chile in its initial placement game on Thursday.

FIH site


---

New Zealand first team into WL Semi-Final Game

3-1 win against Japan seals spot for Black Sticks



New Zealand can celebrate its spot in the Rotterdam World League Semi-Final game (Photo: Frank Uijlenbroek)

Follow us live on the FIH You Tube Page or on Twitter @FIH_Hockey.

New Zealand – Japan 3-1 (0-1 halftime)

New Zealand became the first team to earn a berth in the Semi-Finals at the Rabobank Hockey World League Semi-Finals with a too-close-for-comfort 3-1 win against Japan.

New Zealand entered the tournament as the second-highest seeded team, ranking third in the FIH World Ranking. But a second place finish in their preliminary round group pitted them against dangerous Japan in today's quarterfinal. The Japanese proved to be a tough opponent, playing hard for the entire 70 minutes, but ultimately, New Zealand's determination won out in the battle.

Japan wasted no time getting on the board when they scored in the first minutes of action with a little help from New Zealand, which scored the own goal. The deficit did little to slow New Zealand down, which dominated the first half action after falling behind. The Black Sticks had multiply penalty corner chances, but could not find the back of the goal until Krystal Forgesson put in a rebound on a short corner chance five minutes into the second half to end the frustration.

The game stayed deadlocked for another 15 minutes as New Zealand continued to apply steady pressure, but with no luck. Finally, Anita Punt gave New Zealand their first lead of the game in the 54th minute, firing in a short corner shot into the upper corner of the net – a truly unstoppable shot for Japanese goaltender Ryoko Oie.

Despite the excellent goaltender from Oie, Japan could do little as New Zealand continued to pound away at the Japan goal. Charlotte Harrison iced the win for the Kiwis with just under five minutes left in the game, putting the nail-in-the-coffin 3-1 goal to seal the spot in Thursday's Semi-Final.

FIH site


---

Black Sticks Women qualify for semi-finals



Krystal Forgesson Sharland celebrates with team mates Gemma Flynn and Anita Punt. Photo courtesy of photosport.co.nz.

The Black Sticks Women have successfully booked themselves a spot in the semi-final and are a step closer to World Cup qualification thanks to a 3-1 win over Japan last night (NZ time) at the World League in Rotterdam.

Japan were a tough opponent and New Zealand found themselves trailing 1-0 at half time in the do-or-die cross-over match. But persistence paid off and the goals came in the second half from Krystal Forgesson, Anita Punt and Charlotte Harrison who netted one each. The win means New Zealand has qualified for World League Four in December in Argentina.

The Black Sticks now play the Netherlands in the semi-final at 6am on Friday morning (NZ time).

"We knew Japan were going to be an organised, disciplined team - it was a tough game. Obviously disappointing to concede early on, but at the end of the day it is about getting through and we did that," says head coach Mark Hager.

"Because of the format of the tournament, today was the crunch game and the win has put us in the top four. It is only going to get tougher now. We are likely to be playing the Dutch at home - this is one of those big games that you train for, the Dutch at home will be a new experience for our younger players," says Hager.

In the first half, Japan were awarded an own goal in the second minute and the Black Sticks worked tirelessly to find the equaliser. The Kiwis had opportunities aplenty, including four penalty corners, but it was Japan's consistently clinical defence and a few unforced errors from the Kiwis that kept the scoreboard static.

In the first half, New Zealand held 70 per cent of possession and had eight shots on goal compared to Japan's sole attempt – with Gemma Flynn, Kayla Sharland and Harrison all coming close to scoring.

The Kiwis had their fair share of penalty corners – a total of eight throughout the game – but in the end there were only three that mattered.

In the second half, the fifth penalty corner of the game paid off when Forgesson, on a tight angle, took a cracking reverse stick shot and found the back of the net.

Punt then scored off New Zealand's sixth of the match in the 54th minute, flicking it high over the keepers head with absolute precision and putting the Black Sticks in the lead for the first time in the game.

With the end of the game in sight, the score stretched to 3-1 during the eighth penalty corner when Punt again flicked it high and the second deflection fell to Charlotte Harrison who swept it home. 

In the second half, Japan continued to play well above their ninth ranked position and created their fair share of chances. They had a one-on-one with Black Stick goalkeeper Bianca Russell which didn't go their way and then with seven minutes left on the clock a powerful drag flick was right on target but was blocked by Russell.

"Yeah, we knew it was going to be a hard game. We kept our composure and came back and finished how we wanted to. As a team, we are a new group and we still have a lot to learn but we are doing really well," said Punt in the post-match interview.

Hager noted Russell, Punt and Forgesson as stand out players of the match.

In earlier games, the Black Sticks Women have won 7-0 against India in the opener, lost 3-2 to Germany and won 4-2 against Belgium in the final pool game.

Next up, the Black Sticks Men play their do-or-die quarter-final against Spain at 12.30am on Thursday morning (NZ time).

The top three teams from the World League Semi-Final automatically qualify for the 2014 Hockey World Cup, although it is possible to earn qualification at the tournament with a lower ranking.  New Zealand will also have a chance to qualify at the Oceania Cup in Taranaki this October.

RESULTS
New Zealand 3 (Krystal Forgesson, Anita Punt, Charlotte Harrison), Japan 1 (Own goal) HT: 0-1 Japan 

Hockey New Zealand Media release


---

Black Sticks book World League semi-final spot



SPOT BOOKED: The Black Sticks have booked a spot in the World League semifinal and is a step closer to World Cup qualification. MURRAY WILSON/Fairfax NZ

The women's Black Sticks overcame a sluggish first half effort to beat Japan 3-1 and book a spot in the semifinals at the World League hockey tournament in Rotterdam overnight (NZT).

Japan were a difficult opponent and New Zealand found themselves trailing 1-0 at halftime in the do-or-die cross-over match.

Their persistence paid off and the goals came in the second half from Krystal Forgesson, Anita Punt and Charlotte Harrison.

The win also means New Zealand have qualified for the World League Final tournament in December in Argentina, and a top-three place in Rotterdam will get them to the 2014 World Cup.

New Zealand coach Mark Hager was pleased with the way his team fought back in the second half against a staunch Japanese side.

"We knew Japan were going to be an organised, disciplined team - it was a tough game," he said.

"Obviously disappointing to concede early on, but at the end of the day it is about getting through and we did that."

The Black Sticks now have a day off, before playing Netherlands in the semi-final. The Netherlands thumped India 8-1 in their cross-over game.

New Zealand will be eager for revenge against the Dutch who beat them in a shootout in the semifinals at last year's London Olympics.

Japan took a shock 1-0 lead, two minutes into the game, when Sam Charlton tried to clear the ball, but accidently deflected it into her own net.

New Zealand dominated the first half, with eight shots on goal - including four penalty corners - to Japan's one, but they could not find breach Japan's consistently clinical defence.

In the second half, the fifth penalty corner of the game paid off when Forgesson, on a tight angle, took a cracking reverse shot and found the back of the net.

Punt then scored off New Zealand's sixth penalty corner, in the 54th minute, flicking the ball high over the keeper's head to put the Black Sticks in the lead for the first time in the game.

With the end of the game in sight, the score stretched to 3-1 from the eighth penalty corner when Punt again flicked it high and the second deflection fell to Charlotte Harrison who swept it home.

Japan played well above their ninth-ranked position and created several promising opportunities.

They had a one-on-one with Black Stick goalkeeper Bianca Russell which didn't go their way and then with seven minutes left on the clock a powerful drag-flick was right on target but was blocked by the keeper.

Punt said the team were confident of getting themselves back into the game in the second half if they stuck to their structures and remained patient.

"Yeah, we knew it was going to be a hard game," she said.

"We kept our composure and came back and finished how we wanted to. As a team, we are a new group and we still have a lot to learn, but we are doing really well."

The Black Sticks Men play their do-or-die quarter-final against Spain at 12.30am tonight (NZT).

Stuff


---

Black Sticks make semifinals

By David Leggat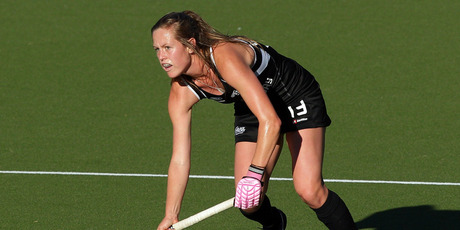 Sam Charlton. Photo / Getty Images

New Zealand had to fight hard to earn their place in the semifinals of the World League tournament in Rotterdam last night.

The Black Sticks, having conceded an own goal in the opening minute and trailed at halftime, won 3-1 to move into a semifinal against either hosts the Netherlands or India early on Friday (NZT).

World No 3 New Zealand were on the back foot early after Sam Charlton, at full stretch to block a cross from the right, deflected it into her own goal.

The Blacks Sticks dominated possession and territory for the rest of the first half but could not find the Japanese net.

Stout Japanese defence, combined with a failure to grab their opportunities cost New Zealand in that period.

The equaliser arrived four minutes after the restart, the first of three goals which came from penalty corners, of which New Zealand had eight to Japan's four.

When Kayla Sharland's drive was blocked, experienced attacker Krystal Forgesson reacted smartly and kept her head, turning to hit a firm reverse stick shot into the goal.

Japan had more of the territory in the second spell and had New Zealand's defence stretched several times.

An Anikawa Roberts fluffed pass out of defence was almost disastrous, while it took clever scrambling by Emily Naylor and Anita Punt to avert another gilt-edged Japanese chance.

New Zealand went ahead through the indefatigable Punt, who drove a penalty corner high over keeper Ryoko Oie 17 minutes from the end.

The win was sealed four minutes from the end by striker Charlotte Ferguson's fourth goal of the tournament.

She was positioned to force a loose ball into the net after Punt's penalty corner strike hit the crossbar and Forgesson's followup drive was blocked.

New Zealand had 18 shots on goal to Japan's seven.

Punt and Gemma Flynn were outstanding contributors pressing forward for New Zealand, while goalkeeper Bianca Russell made several crucial saves in the second spell, including one full length stop low to her right from Shihori Oikawa.

"We knew it was going to be hard," Punt said. ''We knew we had to keep fighting and eventually the goals would come.

"There's a lot we can work on. We were bit jittery and we didn't play our game so we still have a lot to learn. But we did really well so we're happy with that."

The New Zealand Herald


---

Black Sticks to face Dutch in semi

New Zealand will face hosts the Netherlands in their World League semifinal in Rotterdam early on Friday - a replay of their Olympic Games semifinal in London last year.

New Zealand lost that in a penalty shootout after the scores were locked 2-2.

The Black Sticks, ranked third, advanced to the last four with a 3-1 win over No 9 Japan, while the Olympic champions and world No 1 Dutch hammered 12th-ranked India 8-1 to progress.

The other semifinal will be between world No 5 Germany and No 8 Korea. The Germans beat Chile 2-0 today while the Koreans edged past Belgium 2-1.

The results mean the four top-seeded teams at the tournament made it to the semifinals.

The New Zealand Herald


---

Indian eves crash out of FIH World League semifinal race

ROTTERDAM: The Indian women's hockey team put up yet another disappointing show to crash out of the semifinal race with a 1-8 drubbing at the hands of top-ranked Netherlands in the FIH World League Round 3.

The Indian eves started the match on a bright note and dominated the early exchanges before fizzling out against the Dutch girls late Tuesday night.

It took the hosts 21 minutes to get off the blocks when the Dutch had numbers in their favour on a trip down field allowing Kim Lammers to convert a chance with a slap shot from close range.

Two minutes later from the break, captain Maartje Paumen doubled the Netherlands' lead by converting a penalty corner with a powerful flick to the upper right corner of the Indian goal.

Even though the Indian eves managed to sneak in a goal, the second half completely belonged to the Dutch girls who pumped in as many as six.

Ellen Hoog tripled Netherlands' lead when she scored a beautiful field goal shooting the ball into the far opposite corner nine minutes into the second half.

India managed to pull one back through Vandana Katariya in the 48th minute, but before they could celebrate Valeria Magis (49th) restored the three-goal advantage for the Netherlands.

Thereafter, the Dutch continued to roll with Eva De Goede scoring the hosts' fifth goal with a variation from a penalty corner.

Sabine Mol (63rd) and Paumen (65th) struck again just two minutes apart in the late stages of the game and De Goede added her second of the game in the last minute of the match from a penalty corner.

In the semifinals, Korea will take on Germany on Thursday while Netherlands will face New Zealand. India, meanwhile, will fight it out against Japan in the fifth to eight place classification matches.

The Times of India


---

History converges at Rotterdam today

K. Arumugam

It is not often a player's career milestone happens to be his country's feat, and then it converge on two nation's historical occasion.

This is the double delight when Queensland's prince Jamie Dwyer sets his feet on the Rotterdam turf today, when Australia meets India in the third quarterfinal of the ongoing Hockey World League Round 3, also called Semifinal League.

Jamie will be playing his 300th match -- only two other Australians are above capwise -- today at Rotterdam. At the same time, two hockey great nations, India and Australia, will also be celebrating their 100th encounter as per Hockey Australia statistics.

India and Australia met for the first time in 1935, and then till 1968 India had never lost to them.

But strikes one's mind is not this old piece of glory, but what happened in 2004.

India and Australia had a great game at Athens in the pool, but hardly a minute left for the hooter, Jamie did the unthinkable, from D to D, snatching the ball from Ignace Tirkey, he slammed the ball home, and the hooter came as if it waited for the great goal!

Many might naturally talk of the golden goal he struck in the extra time there to give Australia its only Olympic gold till date, but for the Indians his last second goal is unforgettably painful.

For a great player like Jamie Dwyer, history too comes easily, and in more than one ways.

Jamie, the youngster whom I met at Perth during Women's World Cup in 2002 was a shy player, called to a star hotel where FIH presented him the 'Young Player Award' along with another legend Luciana Aimar. Everyone knows he will grow further and further, but an era of likes of Teun de Nooijers and Stephen Veens, not many thought he will outgrow everyone of his contemporaries and become what he is today.

His national federation Hockey Australia is in a celebration mood, and brings out special arts which are displayed in their official website. Jamie, who sees himself not just a player on the entertaining turf, but also an entrepreneur what with his grand plan of JDH brands had already been making headlines on right quarters.

Jamie, a polite, through gentleman is everybody's delight, and is well versed with India.

He came briefly for now abandoned Premier Hockey League, first league in the hockey world to be telecast live, for one part in its last edition, and everybody understood what a player he is, and his game is different from others, especially the stick artists kind of which India is proud of. He combined elegance with winning habits. Jamie, as everyone witnessed during the last Hockey India League, where represented Punjab, is not just a forward, but an impact making all rounder. When the domestic team was struggling to score through penalty corners, he assumed the role on a few occasions and proved his worth. The bottomline is one plays for the team not vice versa. He is a team man, his team wins, his country wins, and he is therefore a celebrity, and whatever fame comes to him is well deserved, will elevate hockey's profile.

Congrats on this historic occasion.

Stick2Hockey.com


---

Ordinary India eye miracle vs Australia in FIH WL quarters

The Sardar Singh-led India, who dominated the match throughout, however paid the price for poor defending and conceded a goal four minutes from time against New Zealand to return winless from the group stage.

An error-prone India need nothing short of a miracle to secure a direct berth in next year's hockey World Cup as they take on formidable Australia in the quarterfinals of the men's competition of the FIH World Round 3, here tomorrow.

Six top teams -- three each -- will qualify directly for the 2014 World Cup to be held in Hague, The Netherlands from the two editions of FIH World League Round 3 -- the ongoing event in Rotterdam and then the next one to be held in Malaysia from June 29 to July 7.

But for India it is now looking extremely difficult to be among one of those six teams as in the last eight round world ranked second Australia await them, a side against whom the Indians hold a poor record in the recent past.

India, however, could take heart from the fact that they put up a much-improved performance to eke out a fighting 3-3 draw against higher-ranked New Zealand in their last match to finish third in Pool B with two points.

After two pretty ordinary outings against lower-ranked Ireland (4-4) and hosts Netherlands (0-2), the Indians displayed an attacking brand of hockey against the Black Sticks from the starting hooter last night.

Considered a perennial problem, the defence continued to hurt India in the tournament.

The Sardar Singh-led India, who dominated the match throughout, however paid the price for poor defending and conceded a goal four minutes from time against New Zealand to return winless from the group stage.

Against New Zealand, the 11th ranked Indians had far more possession, more penetration at the opposition striking circle and more shots at target in the fast-paced match.

But come tomorrow the Indian strikers will need to put up a much-better performance and cannot afford to let go scoring opportunities against the well-built Australians.

Daily News & Analysis

---

NZ know Spanish danger

By David Leggat

A couple of warmup games en route to the World League hockey semifinal tournament have suddenly assumed more significance for the New Zealand men ahead of their next game in Rotterdam.

The Black Sticks played world No7 Spain twice on their way to the event, losing 3-1 and 4-1 but picking up valuable experience against a nation they haven't faced much of late.

Just as well, as the countries meet in the must-win last eight clash early tomorrow (NZT).

To be guaranteed a place at the finals in Delhi in January, teams must finish in the top three in Rotterdam.

There was a 3-2 loss at North Harbour in December 2011, a single goal loss and 4-4 draw in a tournament in Germany in 2010, but precious little time has been spent on the field against the Spanish.

So No6-ranked New Zealand will rely on the progress made during the tournament - in which they finished second in their pool behind hosts the Netherlands - and a policy of focusing primarily on themselves rather than going into information overload on their opponents, which has been paying off.

"We'll talk about some of their strengths but what we've done well is [discuss] how we can improve," veteran captain and defender Dean Couzins said last night.

"And we have improved in three or four areas of our game nicely."

New Zealand know what to expect from Spain - Olympic silver medallists in Beijing five years ago - who have some skilled forwards and tend to put their faith in a small handful of attackers, and load up on the midfield, making counterattacking a tricky business.

The Black Sticks have scored 10 goals in their three pool games and have been pleased with work in that area.

In the other quarter-finals, Belgium (ranked ninth) play Ireland (15), Australia (2) face India (11) and the Netherlands (3) play France (17).

The New Zealand Herald


---

No more second-half surrenders: Rasool

By Fawad Hussain



"We have been working on the players with a plan and repeated fitness tests, which has been reassuring," says Pakistan head coach. PHOTO: ONLINE

KARACHI: As the Pakistan team prepares for the Hockey World League to be held in Johor Bahru from June 29 to July 7, head coach Akhtar Rasool is confident that the players' fitness will not be a factor in any potential losses in the event.

Ex-Olympians have often cited 'below-par fitness' as the reason for the string of failures plaguing the national hockey team. The observation comes after witnessing Pakistan playing well in the first session, but giving way to fatigue in the second-half which costs them victory.

However, Rasool said the concern has been removed to an extent, stating that his coaching panel has worked on the aspect closely and the players have now reached the required rate of fitness.

"I can say the team will be seen in complete rhythm throughout the tournament," Rasool told The Express Tribune.

"We have been working on the players' fitness with a plan. We continued with it in the Abbottabad camp and repeated fitness tests of players which have been reassuring."

The former captain was speaking on the sidelines of the second phase of the team's training camp that kicked off at the Hockey Club of Pakistan in Karachi yesterday.

Apart from the earlier announced probables, five players from the junior team, including Mohammad Tauseeq and Umar Bhutta also joined the camp. The training will continue till June 23, while the final squad will be named a day before the camp's conclusion.

Hosts Malaysia, Germany, England, and South Korea are the other teams targeting the top three positions to qualify for the 2014 World Cup in the Netherlands.

Meanwhile, the head coach expressed satisfaction over captain Mohammad Imran's performance, who also replaced the world's leading goal-scorer Sohail Abbas as drag-flick specialist for penalty-corners.

"Abbas has served the country many times and his services will always be remembered. But Imran is doing a decent job in his absence."

Waseem suffers injury scare

Seasoned campaigner Waseem Ahmed was the only absentee on the opening day.

According to Rasool, the former captain had a road accident on the way from Abbottabad.

"Unfortunately, Waseem has injured his shoulder. We still have around a couple of weeks until the start of the tournament. We expect that he will be fit before our departure."

The Express Tribune


---

Scotland and South Africa in ten goal thriller



Scotland's Ali Bell on the ball on the occasion of her 100th international cap. Credit Ayaz Ali.

Scotland Women rounded off their four match series against South Africa in Edinburgh with a thrilling 5-5 draw at Peffermill.

Pietie Coetzee was again the most dangerous player for the visitors, bagging a hat-trick to add to her world record goals tally, while Marcelle Keet and Dirkie Chamberlain also registered on the scoresheet for the away side.

Scotland's goals came from Holly Cram, Becky Merchant, Nikki Lloyd, captain Linda Clement and Ali Howie as the national side claimed a very credible draw and they could have won it right at the death as the ball cannoned off the left hand upright from a last minute penalty corner.

As a result, the Scots narrowly lost the series 2-1 but there are plenty of positives for Gordon Shepherd and his players to take away from these encounters against a side listed number eleven in the FIH World Rankings.

Scotland started the brighter side in the first five minutes and looked lively in midfield as the South Africans struggled to get themselves up to speed with the opening stages of the contest.

They were awarded a penalty corner in the sixth minute when the ball was played to Becky Merchant at the edge of the circle but her reverse stick shot on goal was considered dangerous play by the umpires.

South Africa eventually sprung into life in the 18th minute and Scotland goalkeeper Amy Gibson was on hand to prevent Pietie Coetzee from opening the scoring when she made a deft save to her left hand side.

Three minutes later, Holly Cram thought she had given the national side the lead after Vikki Bunce had forced Samani Mingisa into a good save from a penalty corner drag-flick, with the Milne Craig Clydesdale Western striker netting the re-bound, only for the umpires to chalk it off for an illegal use of the foot.

However, the Scotland forward didn't have to wait long to get on the scoresheet as she put the faintest of touches onto Ali Bell's through-pass to skilfully deflect the ball past Mangisa and give her side a 1-0 lead in the 25th minute.

Chances fell to South Africa's Lilian Du Plessis and Scotland's Nikki Lloyd before the visitors got back on level terms in the 33rd minute when Coetzee had the easy task of turning the ball home to make it 1-1 after Kelly Madsen found her at the back post with a neat pass.

As half-time approached, Sarah Robertson had a great chance to put the Scots back in front but Mangisa did well to force the Edinburgh University midfielder wide and block off her shot to keep the scores level as the half-time hooter sounded.

The second half was a ding-dong affair with the lead changing sides a number of times.

South Africa started the second half with five penalty corners in a row; Ali Howie did well to block Coetzee's first attempt with her stick, while the striker's second strike from the set-piece was illegally blocked.

Quanita Bobbs was next to try her luck from the penalty corner but the Scottish defence stood tall to clear the ball, before Coetzee saw another effort well blocked. The final attempt saw the visiting side try a training ground move but the attackers were not on the same wavelength and the threat fizzled out.

Having survived some intense pressure on the home defence, Scotland were awarded a penalty corner in the 43rd minute. Bunce worked the injection back to Morag McLellan, who found Merchant in front of goal and the defender scooped the ball past Mangisa for a 2-1 lead.

In the 45th minute, Coetzee was convinced she had scored from yet another penalty corner, only for the umpires to rule the strike out, but two minutes later the South African striker was not to be denied as she rattled home a drag-flick past Scottish replacement goalkeeper Nicki Cochrane to equalise at 2-2.

The lead only lasted three minutes as a brilliant counter-attack led to Howie bearing down on goal from the left touchline and her pass found Lloyd, who slid the ball past Magisa to make it 3-2 in the 50th minute.



Nikki Lloyd celebrates her goal for Scotland. Credit: Ayaz Ali

Scotland barely had the opportunity to savour their lead as Dirkie Chamberlain displayed a lovely turn and surge into the circle to strike the ball cleanly into the left hand corner of the net to put her side back on parity at 3-3 in the 53rd minute.

In the 60th minute, Susan McGilveray stung Mangisa's gloves with a strike from a penalty corner move before Merchant also went close with an opportunistic effort on goal.

Thereafter followed four goals in seven minutes; Coetzee beat Cochrane from the penalty spot to give South Africa a 4-3 lead in the 63rd minute before Marcelle Keet turned the ball high past the Scotland goalkeeper to make it 5-3 only a minute later.

With the Scots seemingly down and out, captain Linda Clement notched the fourth goal for her side in the 66th minute and then Howie popped up at the back post to grab a Scottish equaliser in the 67th minute and to square the scores up at five goals apiece.

There was still time for both sides to snatch a win at the death and Cochrane made a great save from Coetzee to deny the away side before the Scots came within an inch of a sixth goal right on full-time as a penalty corner strike came rattling off the woodwork to prevent them from securing a win that would have levelled the series at 2-2.

Scotland (Cram 25', Merchant 43', Lloyd 50', Clement 66', Howie 67') 5-5 South Africa (Coetzee 33', 47', 63', Chamberlain 53', Keet 64')

Scottish Hockey Union media release


---

Scotland U18 Girls win in Prague




Scotland's U18 girls were in action last weekend against the Czech Republic as part of their preparations for the EuroHockey U18 Championship II in Spain next month.

Head Coach Colin Clarke saw the trip as an opportunity for the squad to develop further and focus on the areas they'd been working on training and the girls stepped up the challenge, winning three out of three tests.

After adjusting to the heat and playing a morning training session in very humid conditions the girls were ready for the first game on Friday evening. Led out by captain Maisie Morris, the squad put in a strong early performance with Scotland very much the more attacking of the two teams.

The strong start paid off almost immediately and the girls went 1-0 up after only four minutes through a goal from Claire Hill. The squad were careful to remain focused and a short corner in the seventh minute led to a goal from Susan Graham, taking the score to 2-0.

Maintaining momentum Scotland continued to press and were rewarded in the 23rd minute with a goal from Emma McGregor, who was playing in only her third international game after a strong debut against Wales in April. As the second half started it was clear the Czechs were up for a fight and came back a much stronger team than that of the first half. Taking their opportunities they pushed forward and created several scoring opportunities, although the Scots remained strong in defence, a late goal from the Czechs resulted in a final score of 3-1.

Game two saw the girls play under the mid-day sun, with temperatures of over 30 degrees, on a pitch with no dugouts or shade, so although uncomfortable conditions the Scots adapted quickly with intensity levels remaining high and again appearing the stronger team at the off.

Not long into the game the Scots took the lead through a goal from Millie Brown, however, the Czechs continued to push forward and were rewarded with a goal just before half-time. Having worked hard in training prior to heading out to Prague, the girls' physical condition was pushed to the limit but they showed commitment and determination, winning the game 2-1 througha goal from Susan Graham who's initial strike at a short corner towards the end of the game was saved but was quick to make sure her rebound shot was on target.

Going into the final game Scotland were prepared for a tough challenge from the Czechs who would certainly not want to lose all three tests on home soil. This resulted in a very physical game, however, it wasn't long until Maisie Morris took the lead with only four minutes gone.

The rest of the game saw both teams working exceptionally hard in 31 degree conditions with scoring opportunities at both ends of the pitch and several key saves from the Scots keeper Rowan Sinclair. However, it was Scotland who broke the deadlock and the lead was extended in the 63rd minute through Millie Brown and then again almost immediately in the 65th through Claire Hill, ending the game 3-0 to Scotland.

Coach Colin Clarke noted that "The trip was a success as it enabled the girls to play and train in humid conditions against a competitive Czech side. We have areas to develop over the coming weeks but it was a positive step forward in preparation for the European Championships."

The girls now continue their preparations with several training sessions and warm up games against Scotland U21s before heading to Spain on 4th July for the EuroHockey Championship II in Santander.

Scottish Hockey Union media release


---

Duty comes first   

OUTCOME: Revington will not discuss his future until World League Semi-Finals is over

PAUL Revington has pledged to stay on until next week's World League Semi-Finals, and the national coach will only decide his future in Malaysia after the tournament.

It was a tense but fruitful meeting between Revington and representatives from the National Sports Council (NSC), who included director-general Datuk Zolkples Embong, and the Malaysian Hockey Confederation in Bukit Jalil yesterday.

Revington said: "I am happy with the outcome. I will be back on the pitch tomorrow. I will continue preparing my team for the World League. My priority now is this tournament. I will think about other things after that

"Anyway, I am happy with every one. It is settled but we will have a few more discussions. I am looking forward to meeting the trainees tomorrow."

The World League (Round 3) on June 29-July 7 in Johor Baru is a qualifying tournament for the World Cup in the Netherlands.

Malaysia are in Group B with Pakistan, South Africa and England while Group A comprises South Korea, Argentina and Japan. The top three teams from Johor Baru are assured of a spot in the World Cup.

Revington had handed in his resignation on Saturday, stating that "outside interference," and a threatening email had made his stay in Malaysia uncomfortable for the past six months.

Revington, however, retracted his letter on the next day. He is on a two-year contract, which expires on Sept 1, 2014.

MHC senior vice-president Datuk Nur Azmi Ahmad, national team manager George Koshy, assistant coach Arul Selvaraj, national junior coach K. Dharmaraj, manager Mirnawan Nawawi and 1MAS development programme director Lim Chiow Chuan were also at the 30-minute meeting.

Revington later had a brief meeting with Zolkples, Nur Azmi and Arul before he spoke to the media.

The issue was blown out of proportion after the MHC coaching committee made it public on Sunday when it was supposed to be addressed internally.

Zolkples reminded the concerned coaches to stop meddling in each other's responsibilities.

"This issue is not good for the national team and long-term development of the sport. It should not have happened.

"I have advised those concerned to focus only on their responsibilities and every one was sincere during the meeting. All have agreed. Revington has agreed to stay on until the World League. It is an important assignment and hopefully, we can qualify for the World Cup."

Nur Azmi is confident Revington will stay on after the World League.

"We will try our best to persuade him to stay on. I believe he will agree," he said.

With an eye on next year's World Cup, the team, under Revington, have done commendably in international tournaments.

Malaysia emerged a respectable fourth in the Champions Challenge I and third in the Asian Champions Trophy last year before finishing second to Australia in the Sultan Azlan Shah Cup.

The coach deployed mixed-and-match squads and tested different strategies in those tournaments.

Revington named 16 players for the World League last weekend and will include another two players on Friday, just before the team move to Johor Baru three days later.

He is confident his team can reach the final and qualify for the World Cup.

Meanwhile, the MHC coaching committee admitted that it had crossed certain boundaries unknowingly in regard to the Revington saga.

After taking into consideration the views of Revington and the initiative by Sports Minister Khairy Jamaluddin to resolve the issues, the committee decided to withdraw the recommendation to remove national junior coach Dharmaraj and 1MAS development programme director Chiow Chuan from their respective duties.

"We acted within our jurisdiction as provided for in the constitution and had no mala fide in coming up with the decisions made on Saturday," said committee chairman Manjit Abdullah in a statement yesterday.

"We acted within our limitations and on the facts presented, hence the decision to reject the resignation of the South African, appeal to him to stay on and recommend action on Dharmaraj and Chiow Chuan.

"In hindsight, we may have erred with regard to the terminology used, recommend to terminate the two officials, but should have been recommend for action to be initiated against the duo."

New Straits Times


---

Revington says he will decide on future after the World League

By AFTAR SINGH



The national players greet their coach Paul Revington during a training session in Bukit Jalil yesterday. — FAIHAN GHANI / The Star

KUALA LUMPUR: National hockey coach Paul Revington was in jovial mood after having a fruitful discussion with National Sports Council (NSC) director general Datuk Seri Zolkples Embong in Bukit Jalil yesterday.

The South African, who looked tense since he quit the national team last Saturday, finally smiled to the media and said he would be back at work with the national team tomorrow (today).

"I am very happy that everything has been settled. My priority now is to focus on the World League semi-finals competition, which begins next week," said Revington, who met the national players during training yesterday.

"I have not spoken to the players and will meet them tomorrow during training. I will have a few more meetings with the Malaysian Hockey Confederation (MHC) officials and will decide about my future after the World League semi-finals," said Revington, who was hired as the national coach last September.

Besides Revington and Zolkples, the other officials who attended the meeting yesterday was MHC deputy president Datuk Nur Azmi Ahmad, national assistant coach S. Arul Selvaraj, team manager George Koshy, Project 2013squad coach K. Dharmaraj, Project 2013 squad team manager Mirnawan Nawawi and 1MAS director Lim Chiow Chuan.

Last Saturday, Revington emailed his resignation to the MHC coaching committee chairman Manjit Majid Abdullah citing outside interference.

However, the committee rejected his resignation and asked him to continue training the national team.

The committee had recommended the removal of two officials – Lim Chiow Chuan, who is the 1MAS director and national juniors coach K. Dharmaraj.

Zolkples, who had a 30-minute meeting with the national senior and junior coaches and team managers yesterday, is glad that the problems among the coaches are over.

"I hope that such incident will not occur again as it is bad not only for hockey but also other sports in Malaysia," said Zolkples.

"I told the coaches to forget about the issue and to start focusing on their respective teams. The World League semi-finals are next week and Revington should concentrate on helping Malaysia do well in the tournament.

"I hope the episode will not affect the national team's spirit and focus," added Zolkples.

The Star of Malaysia


---

It's on with the job as players glad it is all over

KUALA LUMPUR: National hockey players are relieved and happy that their coach Paul Revington will continue training the team for the World League semi-finals, which begins on June 29, in Johor Baru.

National skipper Mohd Shahrun Nabil said that they were shocked when coach Revington quit last Saturday.

"We (the players) returned from a 10-day playing tour of South Africa last Wednesday and everything looks fine. Revington named 16 players last Friday and a day later we heard he has quit the team," said defender Nabil.

"We were disheartened as we could not believe he had quit the team just two weeks before the World League competition.

"It affected our training and preparation which is an important assignment for the team as the meet doubles up as a qualifier for next year's World Cup," said Nabil.

The 28-year-old Nabil, who has been the national captain since the Champions Challenge 1 in Argentina last November, said they were relieved that the South African would continue with the team.

"Revington is a good coach and we are happy to train under him. We are more confident under him and our game have also improved.

"The players are now in high spirits that he is back and we will give our best in Johor Baru to qualify for the World Cup," said Nabil.

Malaysia last featured in the World Cup when they hosted it in 2002.

For the World League semi-finals, Malaysia will open their Group B campaign against Pakistan on June 29. The other teams in the group are England and South Africa.

World No. 1 Germany are drawn in Group A with South Korea, Argentina and Japan.

The national team will leave for Johor Baru on June 24 and will play friendlies against Argentina (June 25) and Germany (June 26).

The Star of Malaysia


---

MHC: No action against Dharma and Lim

KUALA LUMPUR: The Malaysian Hockey Confederation (MHC) coaching committee will not take any action against Project 2013 squad coach K. Dharmaraj and 1MAS director Lim Chiow Chuan.

MHC coaching committee chairman Manjit Majid Abdullah said they would leave it to the wisdom of MHC president Tengku Abdullah Sultan Ahmad Shah to put the matter to rest.

"We have faith in the ability of Dharmaraj to carry on coaching the Project 2013 squad for the Junior World Cup in Chandigarh, India in December," said Manjit.

"The MHC coaching committee would like to thank the Youth and Sports Minister Khairy Jamaluddin for his assistance and effort in convincing Paul Revington to stay on as the national coach until the World League semi-finals.

"And we wish to remind all parties that the coaching committee acted within its jurisdiction as provided for in the MHC constitution and had no mala fide in coming up with the decisions made on Saturday," said Manjit.

The Star of Malaysia


---

Thumbs up for Dharma

STATEMENT BY THE MALAYSIAN HOCKEY CONFEDERATION COACHING COMMITTEE

In light of new developments with regards to the issue of the resignation of the National Senior Hockey Coach Paul Revington, the Malaysian Hockey Confederation Coaching Committee would like to thank the Youth & Sports Minister Yang Berhormat En Khairy Jamaluddin for his assistance and effort in convincing Paul Revington to stay on as the national Hockey Coach.

Firstly we wish to remind all parties that the Coaching Committee acted within its jurisdiction as provided for in the Malaysian Hockey Confederation Constitution and had no mala fide in coming up with the decisions made on Saturday.

The Coaching Committee acted within its limitations and on the facts presented, hence the decision to reject the resignation of Revington, appeal to him to stay on and recommend action on the two officials, namely K. Dharmaraj and Lim Chiow Chuan.

In the hindsight the Coaching Committee may have erred with regards to the terminology used, recommend to terminate the two officials, but should have been recommend for action to be initiated against the duo. The coaching Committee may have crossed certain boundaries unknowingly.

Thus the Coaching Committee, taking into consideration the views of Revington, and the initiative by YB En Khairy Jamaluddin, Youth & Sports Minister, to resolve the impasse, will now withdraw any recommendation against Mohd Dharmaraj Abdullah and Lim Chiow Chuan and will leave it to the wisdom of the MHC President HRH Tengku Abdullah Sultan Ahmad Shah to put this matter to rest.

In addition, the Coaching Committee is thankful to YB En Khairy for his hands on approach in convincing Revington to stay as Coach until the World League Semi Final Round 3 and is optimistic that all matters raised by Revington will get resolved as well.

And we reiterate our faith in the ability of Dharmaraj to carry on coaching the National Juniors Team for the Junior World Cup in New Delhi.

Thank You.

For and on behalf of MHC Coaching Committee

Manjit Majid Abdullah
Chairman
18th June 2013

Malaysian Hockey blogspot


---

7 Things we learnt from SA Hockey vs Malaysia

What we learnt from South Africa's 3-0 series victory over Malaysia

By Tyron Barnard




The South African men's hockey team recently completed a fine series victory over Malaysia without losing a game. In the 3-0 series victory there were some quality performances and some great crowd appreciation.

Here I present my list of things we learnt from the international test series.

Clinton Panther is the next big thing

The young South African midfielder dominated in the opening game and turned in a display of the finest quality. There is a lot of excitement that surrounds Clinton and we are excited to watch how he has developed in his 49 caps so far. The most exciting thing about watching Panther play is the ability he has to find space in the most condensed areas of play. At the one test I heard a member of the public state that he is willing to put money on Clinton making the FIH Team of the year in the future.  I would not be surprised if he is right.

Rassie Pieterse has immense quality

Although Rassie only played 2 games in the series, he also only conceded two goals. At the Randburg game there were a few fantastic saves early on, however there was a pivotal moment in the game later on. SA led 2-1 and after keeping out a Penalty Corner, Malaysia broke and had two incredible chances to score, Pieterse would have none of it, saving twice brilliantly. It was from the second save that SA broke and Julian Hykes cemented the victory. Rassie will be hugely important as South Africa take on the likes of Argentina, England and Germany in the World League Semi-Finals.

Austin Smith is world class

South African hockey is currently without the services of one of the most dangerous weapons in World hockey, Justin Reid-Ross. But in his absence our captain Austin Smith has taken on an extra level of responsibility and has taken it on like a duck to water. Austin was always a star midfielder and the driving force as South Africa moved defence to attack, but in the absence of Lloyd Madsen and JRR, he has moved into defence and anchored the team. His hat-trick in the second game was a site of pure beauty and he added another strike to level the third test at 3-3. On top of his on-field ability, Smith was incredible with his patience as he signed autographs and posed for photos with each fan who wanted a moment with the inspirational skipper. He was rewarded with the player of the series, deservingly so.

We just keep producing exciting prospects

Another series and another opportunity for Charlie Pereira to include some new faces in his squad. In Argentina we saw the likes of Matthew Guise-Brown get a first cap and in this series we saw Taylor Dart, Brandon Panther and the very impressive Matt Botha earn their first caps for the Lads. As SA continue their march towards the World Cup in 2014 and the Olympics in 2016, the continued inclusion of the members of the all conquering African Under 21 Qualifying side will be of paramount importance.

South Africa's love for hockey is growing

South Africans are getting behind hockey as a sport at a level that is constantly exceeding expectations. In the recent few weeks SA players have been featured on Ballz Radio, Supersport Blitz, SA fm, SABC and even starring on the back page of the Mercury and the Star newspapers. For the real defining sign that South Africans are getting more behind hockey, you need look no further than Randburg Astro on Tuesday night. The crowd for the final test match was arguably the biggest crowd in SA Hockey history as space was at a minimum as SA wrapped up the series with a 3-1 win.

Mugg & Bean are one of the most exciting sponsors ever

The sponsorship by Mugg and Bean of SA Hockey surely has set about changing the approach to sponsorship in SA Sport. The brand has not only put money in, they have increased their visibility and offered spectators a fantastic variation of the standard beer or coke environment at sporting events. Their presence on twitter and their embracing of fans has also been fantastic and I think this relationship will lead to great things in the future of SA Hockey

We miss our absentees

It is extremely challenging to coach the SA Hockey side as the lack of a professional structure in SA means that our pool of talent to draw from is not often exposed to the highest level of coaching and competition. Yes many of our players have moved overseas to play hockey on a professional basis, but many others keep their day jobs too. But what makes the job harder for Charlie and his coaching team, is the unavailability of certain stars. Justin Reid-Ross is on a year long sabbatical from SA hockey, Lloyd Madsen has been unavailable due to work commitments and Lloyd Norris-Jones was unavailable due to exams. LNJ was specifically noticed as missing in the Malaysia series as although SA scored 12 goals, only four of those came from the strikers. Lloyd who was outstanding in the Hockey India League and our top goalscorer in the World League Round 2 will be back for the Semi Finals, but was definitely missed in the Malaysia series.

Get behind the lads and support them on their quest to succeed in the World League Semi Finals. Follow them on twitter and let them know you are behind them!

Click here to view photos taken at the 3rd test and here for photos from the fourth test. Also check out All Things Jabu tomorrow as we will be running a competition with Mr Price Sport and SA Hockey!

All Things Jabu


---

Japan tour aids Junior World Cup prep

An update from the Jillaroos' tour to Japan

Australia's U21 women, the Jillaroos, have enjoyed mixed fortunes on their Junior World Cup preparation tour to the Japan this week as they prepare for the biggest event in the junior international calendar.

The tour comes ahead of the Junior World Cup in Germany at the end of July and has seen the Jillaroos pick up a win, a draw and a defeat in their first three matches against Tokai University and Sony HC Bravia. Their oppositions have featured a number of Japanese senior and U21 squad members while the Jillaroos lost Mariah Williams to a knee injury early in the tour.

Craig Victory's group is without seven of its number, all called-up to the senior Hockeyroos side for the FIH World League, which starts this weekend.

The tour began with a 2-2 draw against Tokai University in which Kate Gilmore (ACT) and Kathryn Slattery (WA) got their names on the score sheet before an improved performance against the same team saw the Jillaroos run out 5-2 winners. In a more controlling performance, the Jillaroos pressed well, moving the ball fluidly and ultimately reaped the rewards with five goals. Hayley Padget's (VIC) early opener gave the Jillaroos the impetus from the start with further strikes from Brooke Peris (NT) and Naomi Evans (ACT) either side of half time putting the Australians in the driving seat. A double from Kathryn Slattery in the 58th and 63rd minutes sandwiched the Japanese's first goal before a late penalty corner in the final minute from Tokai made it 5-2.

Game three saw the Jillaroos lose 2-0 but despite the score the Aussie youngsters created a number of good goal scoring opportunities, more than Sony HC Bravia. Ultimately though, they were made to pay for defensive lapses.

The team's fourth and final fixture takes place on Wednesday, 19 June.

Jillaroos' Junior World Cup Program
12-21 June: Tour to Japan
25 June: Final squad selection for JWC touring team
17 July – 6 August: European Tour (JWC warm-up matches against Germany, Korea and Netherlands) (Monchengladbach, Germany)
27 July – 4 August: Junior World Cup (Monchengladbach, Germany)

The in-depth program of activity leading up to the Junior World Cup is made possible by the financial support of Hockey Australia's partners and in particular the generous support of the Australian Junior Commonwealth Games Squad Program (AJCGS) via the Australian Commonwealth Games Association.

The AJCGS program is designed to;    

• Assist junior athletes to gain international competition experience, so that they understand the conditions and environment that they will face as seniors.

• To assist those junior athletes who have the potential to be selected in future Australian Commonwealth Games teams.

While Glasgow is hosting the 2014 Commonwealth Games, the 2018 Commonwealth Games will be held on the Gold Coast, where recently both Australian Junior teams successfully qualified for the Junior World Cups. With continued hard work, it is anticipated that many of these talented young athletes will represent Australia in 2018.

Hockey Australia media release


---

Gardiner sews up Big Four crown for Paragon

Nigel Simon



Paragon women's team hockey players are all smiles after whipping Malvern 3-1 on Sunday for their third win from as many matches and with it the T&T Hockey Board Women's Championship Division "Big-Four" crown at the National Hockey Centre, Tacarigua. Photo: Anthony Harris.

Keima Gardiner scored a goal in each half to lead Paragon to a 3-1 victory over Malvern and with it the T&T Hockey Board Women's Championship Division Big-Four title at the National Hockey Centre, Tacarigua, on Sunday night.

Paragon went into its final match with maximum six points, the same as Notre Dame who edged Harvard Maritime Checkers 1-0 in the earlier match and only needed to avoid an outright loss to claim the title.

Club captain Kristin Thompson scored as early as the fifth minute as Paragon showed they were not about to relax and play for the draw while Gardiner got her first in the 20th minute for a 2-0 cushion at the interval and 35 minutes away from the title.

National defender Teresa Lezama scored for the third straight match to pull the Malvernites back into the contest in the 47th minute, but with five minutes left in the match, Gardiner fired in her second to seal a 3-1 victory—her team's third win from as many matches—to snatch the Big-Four crown.

Earlier in the day, defending league champion Notre Dame got a 28th minute goal from national forward Blair Wynne to end in second spot with six points while Checkers were third with three and Malvern, bottom of the table without a point.

Defence Force men take third spot

Three different players were on target as Defence Force came from behind to beat Queen's Park 3-1 and secure third spot in the Men's Championship Division Big-Four competition which also ended on Sunday night.

The Parkites, beaten in their first two matches by Paragon and Petrotrin (first on penalty-flicks 4-2 after a 1-1 draw and then 2-1), took a ninth-minute lead through Nicholas Camacho which they held until Brian Burrows equalised for Defence Force in the 30th for a 1-1 score at the break.

Shane Legerton put the "Teteron men" ahead for the first time in the 45th and Mac Allister Estrada added a third in the 54th from which the Parkites never recovered.

The win improved Defence Force to five points, one behind Petrotrin and Paragon.

However, Petrotrin was declared men's champion despite losing 2-0 to Paragon in their final match.

The result meant, both Paragon and Petrotrin ended with six points and goal difference of plus-two, but due to Petrotrin's two outright wins, compared to one by Paragon, the Oilmen were declared champions.

Results

Women:

Notre Dame 1 (Blair Wynne 28th) vs HM Checkers 0

Paragon 3 (Keima Gardiner 20th, 65th, Kristin Thompson 5th) vs Malvern 1 (Teresa Lezama 47th)

Men:

Paragon 2 (Barry Clarke 8th, own goal 16th) vs Petrotrin 0

Defence Force 3 (Brian Burrows 30th, Shane Legerton 45th, Mac Allister Estrada 54th) vs QPCC 1 (Nicholas Camacho 9th)

Individual awards:

Men's Division Most Valuable Player: Akim Toussaint (Paragon)

Women's Division Most Valuable Player: Kristin Thompson (Paragon)

Final Standings

Women's Championship:

Teams P W L P/Win P/Loss F A Pts
Paragon 3 3 0 0 0 10 4 9
Notre Dame 3 2 1 0 0 7 8 6
HM Checkers 3 1 2 0 0 5 5 3
Malven 3 0 0 0 0 6 11 0

Men's Championship:

Teams P W L P/Win P/Loss F A Pts
Petrotrin 3 2 1 0 0 7 5 6
Paragon 3 1 0 1 1 6 4 6
Defence Force 3 1 1 1 0 8 9 5
QPCC 3 0 2 0 1 3 6 1

NB:

PenWin (penalty-flicks win) = 2 pts
PenLoss (penalty-flicks loss) = 1 pt

The Trinidad Guardian


---

Kenya Police back to the summit of table with win against Western Jaguars

By Elizabeth Mburugu and ERICK OCHIENG'

Former champions Kenya Police have returned to the summit of the table with a resounding 3-0 win against visiting Western Jaguars in the Kenya Hockey Union (KHU) men's Premier League played at City Park Stadium on Sunday evening.

Multimedia University was not left out in the winning spree as they thrashed National Youth Service (NYS) 6-0 courtesy of the latter's lousy defence.

Technical University of Kenya (TUK) teams also soared high hitting Kenyatta University 2-1 in the men's National League and edging Multimedia University 1-0 in the women National League to better their chances of grabbing the title this year.

VOLATILE ENCOUNTER

Police's Samuel Wokila found the back of the boards just three minutes into play with a superb field goal that left Western Jaguar's custodian Hope Kutwa clutching thin air in the volatile encounter of the two rivals.

Jaguars almost leveled five minutes later but their hopes were thwarted by the strong defence Police had mounted.

Marksman Moses Cheplaiti worsened things for Jaguar when he netted a brace in the 18th and 31st minutes to seal the match deal.

"We are a better side but Jaguars played well. We could have scored more than six goals, but their defence stopped us,'' Kenya Police head coach Kenneth Kaunda told FeverPitch.

The men in uniform started the game well by playing long balls and showing their dribbling prowess of attacking and counter attacking in the match they fully dominated.

On the other hand, Jaguars struggled throughout the match, losing on ball possession as a result of poor passes.

SECOND LOSS

This was Western Jaguars' second loss in a row. The Kakamega based club suffered a 2-1 defeat to Mombasa Sports Club (MSC) on Saturday in their first Premier League fixture at the same venue.

"We lost all our matches at the weekend. Losing two matches in a row is not good but this is due to the challenges we face as a club," a disappointed Jaguars captain Kevin Lugalia told FeverPitch.

"We don't train together as a team, the only time we get to be together is when we play league matches, and this affects our performance.''

Jaguars season opening match against neighbours Kisumu Simba was postponed the other weekend and will be played at a later date yet to be set by the KHU.

In another Premier League encounter MSC  held Greensharks to a barren draw.

The Mombasa-based club left Nairobi a happy lot boasting of four hard earned points and an unbeaten record.

"I am very happy, we have  recorded our first win in Nairobi,'' a jovial MSC captain George Olang said.

The Standard Online


---

Matuga hold regional hockey queens Kerugoya

By PHILIP ONYANGO

Matuga Girls High School from Mombasa region made their intentions of lifting this year's Kenya Secondary Schools girls hockey title clear by holding East Africa schools hockey champions Kerugoya Girls from Abadares to a 0-0 draw  as the National Secondary Schools Term Two A games got underway at Nakuru High School Tuesday.

Matuga were a delight to watch running rings round their opponents for the better part of the first half, with Lucy Komu and Taji Maule the main source of threat to Kerugoya. Kerugoya Girls, Unicef sponsored talent centre, upped their game in the second half when star player Affline Adhiambo, who plays for Strathmore University, Ruth Adhiambo and Jane Muragu, laying siege on their opposition's goalmouth.

"My girls have done a wonderful job. Holding the regional champions is as good as winning the trophy. The result has motivated us to up our game in our next matches," Matuga Principal Mwanahamisi Omar.

Daily Nation


---

Railway enter top tier of Women's Club Hockey for 2014




Irish women's club hockey has been boosted by the news that both entrants into European competition next year have been promoted to a higher tier.

The news comes as a result by strong performances by those involved in recent years. Railway secured bronze in this year's Champion's Trophy, to add to their third place finish in the same competition which they hosted in 2011. Pegasus was Ireland's 2012 entry into the Trophy, hosted the event and won the tournament.

A tier down from that, in the Champions Challenge I, Ireland again had strong results. UCD won this year's tournament in Catania, Hermes won the same event in 2012 in Wettingen. In 2011 Loreto won the Champions Challenge II in Lille.

EuroHockey calculated these ranking points over the past three years of competition to give a final ranking for Ireland's two entries into next year's tournaments.

The results mean that Railway Union, as IHL Champions, have been promoted to the top tier of Women's competition, the EuroHockey Club Champions Cup. The elite competition will feature Netherlands and Germany's top two clubs along with sides from Spain, England and Azerbaijan.#

The tournament will take place from 18th to 21st April 2014.

Railway Union manager Ruth-Ann Kilty is excited at the prospect of playing against Europe's elite next season:

"We are absolutely delighted to be included in the EuroHockey Champions Cup for 2014. It's a testament to Women's hockey in Ireland at the moment with so many teams striving to compete at the top level. We were thrilled to get Bronze this year, and look forward to competing at an even higher level next. We know we have a lot more to offer."

"The Railway girls have worked hard to achieve this position and I am in no doubt a lot of it is down to Mick McKinnon who gave us 6 years of his coaching expertise and without him we would not be in this position."

Loreto will compete in the Champions Trophy in 2014. They qualify as runners-up of the IHL, after Railway also won the Irish Senior Cup.

On the men's side, Ireland have unfortunately lost their place in the EHL competition for 2014, and now have one slot in the Trophy and one slot in the Champions Challenge I.

Monkstown, as 2013 IHL winners, will compete in the 2014 Trophy against teams from Scotland, Italy, Wales, Austria, the Ukraine and Azerbaijan.

Banbridge compete in the 2014 Challenge I against teams from Croatia, Gibraltar, Czech Republic, Belarus, Azerbaijan and Switzerland.

For more information on European Club Competition for 2014, click here

Irish Hockey Association media release


---

Athletes Bring Competitive Olympic Spirit to 2013 US National Futures Championship

From June 20-26 the Earth's latitude and longitude lines will shimmy and shift as 40 Olympic cities relocate to Virginia Beach, Va. for USA Field Hockey's National Futures Championship (NFC). An invitation has been extended to 680 Futures athletes from across the country to compete in the annual tournament hosted by Harrow Sports, where fun and pure enthusiasm for field hockey collide with a competitive Olympic spirit.

The National Futures Championship runs in conjunction with Olympic Day, an event that is celebrated by thousands of people, in more than 160 countries. Over 700 events will take place nationwide between June 21 and 30 with the objective to engage youth and promote the ideals of the Olympic movement. USA Field Hockey will celebrate Olympic Day with fun giveaways and Olympic athlete autograph sessions.

The Under-19 division kicks off the summer event from June 20-23 and Under-14 matches run June 21-24. Continuing the momentum the Under-21 and Futures Elite Championship both run from June 20-25 and Under-16 division concludes the National Futures Tournament from June 23-26.

"We're expecting our best Championship yet," said Caitie Tornes Manger of Futures and Olympic Development. "We received a lot of positive feedback when we created an Olympic-themed celebration and we're bringing that same energy to the 2013 venue. It's going to be a lot fun and our staff is truly excited for all of this year's participants."

Nearly every athlete on the 2008 and 2012 U.S. Women's Olympic Team rosters developed and grew through USA Field Hockey's Futures program. At the National Futures Championship, athletes will not only have the chance to continue along the Olympic Pipeline but will also have the opportunity to showcase their skills to a gamut of top college coaches from all divisions.

"Virtually every athlete that has played or is playing on the U.S. Women's National Team has competed in the National Futures Tournament," said 2012 Olympian Katie Reinprecht. "We remember the Virginia Beach heat, the competitive nature of the games, and most importantly, the incredible memories we made with our friends playing the sport we love."

Another highlight of the event is the Athlete Celebration Dinner which will take place at the National Training Center at 7 p.m. on June 22 for the Under-14 and Under-19 athletes and on June 24 for the Under-16 athletes. The evening will start with an Opening Ceremonies where all attendees will enjoy a fun photo booth, a delicious dinner and an evening filled with giveaways and entertainment.  Athletes will be decorating shirts, that will be provided by USA Field Hockey and Harrow Sports, to wear during the opening ceremonies to show their team spirit.

Tickets for the Athlete Celebration Dinner will be available at the USA Field Hockey Booth beginning June 21. Additional tickets will be available for purchase on the 21st only for the U-14 and U-19 dinner and on June 23 only for the U-16 dinner. Athletes will receive their tickets from their coaches prior to the dinner.

View this year's National Futures Championship schedule, results and rosters by clicking here

USFHA media release


---

Carson's delight as England see off Germany

England newcomer Tom Carson believes victory over the Olympic champions has set the side in good stead ahead of the World League Semi-Final.


Carson, who plays for Reading Hockey Club, continued his progress into the senior side after being selected to feature against Germany, who won gold at London 2012.

And, after featuring in the previous warm ups against Belgium, he certainly made a good impression, scoring twice on his debut despite England going down 5-2.

However Carson was involved in the second match too and, although he failed to score, he helped England level the mini series with a hard-fought 3-2 victory.

England now fly out to Malaysia on Wednesday to continue their preparation for the World League Semi-Final which runs from June 29–July 7 and Carson believes a win over the Olympic gold medalists is ideal preparation.

"We played well across both matches and we were just unlucky to concede at the wrong times in the first match," he said.

"We regrouped and we knew exactly what we needed to change in the second and I think the result shows that we did that well.

"It's a great confidence boost to get a victory over a side like Germany before we head out to Malaysia.

"I was really pleased to register my first couple of goals and it's always extra special to get one from a drag [flick]."

Yahoo Eurosport


---

Crista Cullen nominated for Women's Player of the Year



Crista Cullen celebrates her goal vs China - London Olympics 2012

Crista Cullen, one of the world's most celebrated defenders, veteran of two Olympic Games and named in the World All Stars team three times, has been nominated for the prestigious Women's Player of the Year award by the FIH.

Crista's bronze-medal winning performance during London 2012 and silver medal at the Champions Trophy in Rosario has put her alongside Luciana Aymer (ARG), Kim Lammers and Maartje Paumen (NED) and Kayla Sharland (NZL) in competition for the top prize.Crista Cullen


Although she announced her retirement earlier this year and has returned to Kenya to pursue a Marketing and Sales Manager role, the FIH shortlist has been made based on players' performances in the previous year which keeps her in the running.

This isn't the first time Crista has caught the attention of the FIH, having been shortlisted previously for the Junior award in 2008. Back then she lost to Maartje Paumen, and as she's running against her once again time will tell if Crista will beat her former rival to the award or if history will repeat itself. All we know is that we wish her the best of luck!

The men's player of the year was announced at the 2012 Champions Trophy in Melbourne, Australia. Winning that award was Moritz Fuerste from Germany, while his teammate Florian Fuchs took home the Young Player of the Year award.

England Hockey Board Media release


---

Sally Munday awarded MBE



Sally Munday talking at the Awards

We're delighted to announce that England Hockey's Chief Executive Sally Munday has been awarded an MBE for services to hockey in the Queen's Birthday Honours list announced on Friday.

Sally has been working with England Hockey since 1998 having also worked as Development Director and, prior to that, a Regional Development Manager.

Sally is flattered and grateful for the recognition but prefers sees it as more of an award for the progress of the sport in recent years. She commented:

"I'm obviously really delighted to receive this and I see it as recognition for the efforts of all our staff and volunteers who have worked so hard in helping hockey make the progress we have over the last decade."

Also recognised in the honours is the President of Thurrock Hockey Club Glenda Stephens, who receives the BEM for services to hockey and to the community in Thurrock – she receives our congratulations for the award and our gratitude for the work she has put in for the sport.

England Hockey Board Media release