All then news for Saturday 20 July 2013

Dutch men defeated by Belgium

Minor setback for Olympic Silver medallists in preparation for Euros



(Photo: Frank Uijlenbroek)

The Netherlands men's team suffered a minor setback in their preparations for the TriFinance EuroHockey Championships on Friday when they fell to a 3-0 defeat against Belgium. The team coached by Paul van Ass went down to goals from Jerome Dekeyser, Tanguy Cosyns and Tom Boon in a match that took place in Boom, a venue which will host the upcoming European Championships in August.

The Belgian victory came five days after suffering a heavy defeat at the hands of their near neighbours, with The Netherlands cruising to a 7-2 triumph last Sunday.

Belgium drew first blood with their first penalty corner of the game, with Dekeyser rattling home before Cosyns doubled the advantage five minutes before the break. Thy Olympic Silver medallists came close to reducing the deficit before the end of the half through Tim Jenniskens, but his neat deflection flew just wide of the target.

The Dutch won a penalty corner early in the second half but could not a shot on target following a mis-trap at the top of the circle. The result was put beyond doubt in the 63rd minute when Boon pounced on a penalty corner rebound to complete the match scoring.

Last Sunday, Belgium women were also winners against The Netherlands, recording a surprise 3-2 victory against the London 2012 Olympic champions. However, The Dutch girls hit back with a thumping 5-2 triumph two days later.

In other news coming from The Netherlands, Jeroen Hertzberger has been named as the best player in the men's Rabo Hoofdklasse Division for the 2012-13 Season.  The brilliant Rotterdam striker netted 26 times in 22 league matches, and was named as the winner of the Golden Stick ahead of Robbert Kemperman, Mark Knowles, Sander Baart and Sander de Wijn thanks to a vote from fans and members of the media. It is Hertzberger's second player of the year title, adding to the one he earned in 2008. 

FIH site


---

Fixtures shuffled at international hockey fest

JONATHAN COOK



The Somerset College girls' 2-1 semi-final win against Windhoek High School.Photos PHILIP GROBLER (PLATE PICTURES)

Friday's inclement weather has forced Cape Town Under-18 International Schools/Clubs Hockey Festival founder and MD Chris Brothers of TEAM Sports and tournament director Peter le Grange to juggle the fixtures.

"With Friday afternoon's scheduled playoffs following the morning's final Group-stage matches, we have reached the business end of the festival and with 30 matches scheduled for Friday it has been a juggling act of note to fit it all in and I must congratulate my crew as well as Peter plus the Western Province Hockey Union and its staff for the fantastic job they have done in getting everything back on track," Brothers said from Festival headquarters at Hartleyvale Hockey Stadium early Friday afternoon.

New venues and start times came into play as the Hartleyvale stadium pitch was waterlogged following the heavy rain that came and went - and back again - during a frenetic Friday morning.

At the top end of the Festival, the upshot is that the boys' semi-final between defending champs Wynberg and arch-rivals Rondebosch has been shifted to 12.30 pm at Wynberg on Saturday. Wynberg won choice of venue after Brothers tossed a coin in front of the respective schools' hockey staff.

The other boys' semi-final between Kennemer Lyceum of The Netherlands and head coach Neville Rothman's classy Paul Roos side went the way of the on-song Western Cape team to the tune of 4-2 at the Western Province Cricket Club hockey centre Friday.

Paul Roos will play the winners of Saturday's semi-final showdown between reigning champs Wynberg and the potent Rondebosch squad in Sunday's 4 pm boys' gold medal match at Hartleyvale stadium and it will take a very, very good schoolboy first team to beat the tight-knit Paul Roos unit.

In the girls' section, Chisipite School of Zimbabwe did enough against the inexperienced but highly promising Pretoria Girls' High School to qualify for the semi-finals. The Friday morning clash was the deciding match in Pool B, effectively a "quarter-final" with PGHS needing a win while the Zimbabweans needed a draw.

Despite anxious moments, a 0-0 draw it was at WPCC and Chisipite will meet Stellenberg in the semi-finals in a clash that has been re-scheduled from 2 pm at Hartleyvale Friday to 9 am Saturday on the stadium pitch.

The other girls' semi-final, between Somerset College and Windhoek High School, was able to be played Friday after a spell of glorious late-afternoon sunshine broke through the clouds in time for the 3.30 pm start at Hartleyvale stadium.

It was a fascinating tussle and while underdogs Windhoek had enough chances to upset the fancied Somerset line-up, on balance the Western Cape lasses deserved their 2-1 win.

SEMI-FINALS

Boys

Friday: Paul Roos 4 Kennemer Lyceum 2

Saturday: Wynberg vs Rondebosch (12.30 pm Wynberg)

Girls

Friday: Somerset College 2 Windhoek High School 1

Saturday: Stellenberg vs Chisipite School (9 am Hartleyvale stadium)

SUNDAY'S FINALS
(All at Hartleyvale stadium)

Girls: 2.30 pm

Boys: 4 pm

FRIDAY'S OTHER RESULTS

Boys

Group C: Outeniqua 2 Paarl Boys 0; Pinelands 3 Somerset College 1

Group D: Parel Vallei 2 Huguenot 1; Como Secondary 5 Pearson 3;

Girls

Group A: Stellenberg 5 Pinelands 0; Potchefstroom Gim 2 Outeniqua 0; New South Wales Bushrangers 2 Paarl Gim 1;

Group B: Parel Vallei 7 Pates Grammar 1; Chisipite 0 Pretoria Girls' High 0;

Group C: Windhoek HS 0 Bloemhof 0; Pearson 8 Como Secondary 0;

Group D: Paarl Gim 3 Windhoek Gim 0; Somerset College 9 Bellville 1;

CROSS-POOL PLAYOFFS

Boys

New South Wales Bushrangers 2 Paarl Gim 1; DF Malan 2 Potchefstroom Gim 0; Como Secondary 4 Pinelands 3; Windhoek Gim 6 Stellenberg 5; Outeniqua 1 Parel Vallei 0; Pearson 3 Paarl Boys 2

Girls

Parel Vallei 5 Potchefstroom Gim 2; Rhenish 1 Outeniqua 0; Pretoria Girls' High 2 NSW Bushrangers 0; Pinelands 2 Pates Grammar 0; Paarl Gim 2 Bloemhof 0; Bellville 3 Parson 0 St Cyprian's School vs Bancroft (tbc); Como Secondary vs Windhoek Gim (tbc)

* The playoffs and classification matches involving the other 34 teams will be played out on Sunday at Hartleyvale and the other venues.

NB: A report on Saturday's semi-final outcomes will be released on Saturday afternoon.

Cape Town Under-18 International Schools/Clubs Hockey Festival media release


---

SA U21 women's team named for Junior World Cup

The South Africa U21 team has been named for the Women's Junior World Cup, which takes place in Mönchengladbach, Germany from July 27 to August 4

SOUTH AFRICA U21 JUNIOR WORLD CUP TEAM

1 Phumelela Mbande, 2 Sherry King, Izelle Lategan (capt), 4 Nika Nel, 5 Tanya Britz, 6 Taryn Mallett (v capt), 7 Jacinta Jubb, 8 Bronwyn Kretzmann, 9 Liné Malan, 10 Tiffany Jones, 11 Lilian du Plessis, 12 Suléke Brand, 13 Erin Hunter, 14 Nicole Walraven, 16 Tarryn Glasby, 19 Toni Marks, 20 Nicole La Fleur, 21 Quanita Bobbs

SA Hockey Association media release


---

Germany star Müller takes six month break

Achilles operation rules double Olympic Gold medallist out of Euros



Max Mueller was voted Player of the Tournament at the Hockey World League Semi Final in Johor Bahru, Malaysia. (Photo: FIH / Frank Uijlenbroek)

Iconic Germany defender Max Müller has announced that he is taking a six month break from hockey. The double Olympic Gold medallist (Beijing 2008 / London 2012) and current Germany captain is due to undergo an operation on his Achilles tendon in the coming weeks, ruling him out of both the Hamburg Masters and TriFinance EuroHockey Championships.

The 26-year-old sports economics student from Nuremberg has been the rock at the heart of the Germany team for many years, earning a reputation not only as one of the best defenders in the game but also amongst the most respected. As well as playing a central role in Germany's Olympic successes at Beijing 2008 and London 2012, Müller also captained the team to glory at the European Championships in 2011, where Germany defeated The Netherlands 4-2 in the tournament final.

"Of course there is never a good time for a six month absence", said Müller, speaking to Hockey.de. "But now, with the European Championships, the league season and my wedding just around the corner, it is a really stupid point in time. But for me, the priority is that after that, I can continue!"

Max Müller recently captained Germany to success at the Hockey World League Semi Finals competition in Johor Bahru, Malaysia, where he was voted Player of the Tournament by members of the media present at the event.

Hockey.de


---

Police and Wazalendo lock horns

By AYUMBA AYODI

Kenya Police resume their campaign for the Kenya Hockey Union Premier League men's hockey title with a tough assignment against Wazalendo on Saturday at Nairobi's City Park Stadium.

Defending champions Nairobi Simba will also be in action against Karate Axiom, seeking to return to their winning ways after drawing their two previous league matches.

Fresh from winning this year's edition of the Phoenix Cup in Arusha, Tanzania a fortnight ago, Kenya Police, who are the 2011 champions will be out to maintain their unbeaten run and 12 points lead at the summit of the table.

Police take on Wazalendo with vivid memories from last season's opening match against the same opponents.

It's Wazalendo who handed them a 1-0 defeat that ruined their chances of retaining their league title last season. Police finished second in the league, losing the title to Nairobi Simba after trailing the Nairobi-based champions by five points at on the last day of the season.

Painful lesson

"For sure, that defeat (against Wazalendo) spoilt our chances of defending the title. We are going for revenge and victory will be ours this season," said Police skipper Richard Birir. "We have no injuries and that is a big boost, but we are not downplaying or rivals."

While Police top the table with 12 points, Wazalendo are placed second in the league on eight points drawn from two wins and a similar number of draws.

Wazalendo should draw inspiration from their two previous results where they humbled champions Nairobi Simba 1-0 before earning a walkover against Mvita, who failed to turn up for their league tie last weekend. Coach Fidelis Kimanzi reckoned that Police start as favourites by virtue of topping the league and their performance from previous matches where they haven't lost.

"We know they (Police) are professionals in their approach and could be going for revenge, but what motivates us are the three points on offer," Kimanzi said.

However, a game is a game and we have our own tactics that we will rely on to secure the three points. on offer."

Kimanzi said they will be full house with no injuries reported.

With two draws and one win, Nairobi Simba are placed fifth with five points while there opponents Karate Axiom are perched at the bottom of the 13-team  table without points from three outings.

Meanwhile, defending champions Telkom Orange are favourites against newcomers Mount Kenya University as they face-off in the women's national league today. Orange are coming from a 15-0 victory against Kenyatta University and are expected to post similar results against Mount Kenya.

Telkom are tops with nine points from three wins while Mount Kenya are second last in the nine-team table, having lost all their four matches.

Fixtures: Today: National women's league: Telkom Orange v  MKU (2pm, City Park); Men's national league: Bay v  JKUAT (4pm, Kisumu); Men's Premier: Kenya Police  v  Wazalendo (4pm); Nairobi Simba  v Karate (6pm, City Park). Tomorrow: Men's national: Daystar v UON (9am); MKU v Technical (11am); Thika Rovers  v Parklands (1pm); USIU  v Parkroad (3pm, City Park).

Daily Nation


---

Europe warm-up for World Cup

By Jugjet Singh

THE Malaysian National juniors will depart for Europe today to play nine Test matches in preparation for the Junior World Cup in New Delhi on Dec 6-15.

Team manager Mirnawan Nawawi said: "Two matches will be against Poland Under-23, and one against the Polish senior side.

"Then we will move to Belgium for another three matches with their Under-21 side.

"After that, we travel to England to play another three matches with their Under-21 side."

Belgium are the emerging power in Europe, as their senior side beat Australia in the final of the World League Semi-finals to secure their World Cup berth.

The International Hockey Federation (FIH) has yet to release the groupings for the Junior World Cup, but the 16 who will feature are Argentina, Australia, Belgium, Canada, England, Egypt, France, Germany, India, South Korea, the Netherlands, New Zealand, Pakistan, Russia, Spain and Malaysia.

For the tour, coach K. Dharmaraj will not have the services of five national players - Faiz Helmi, Izad Hakimi, Fitri Saari, Firhan Ashaari and Meor Azuan -- as they are preparing for the Asia Cup in Ipoh.

SQUAD: Hazrul Faiz, Hafizzuddin Othman, Kavin Kartik, Zulhairi Hashim, Nor Aqmal Gaffar, Aminuddin Zain, Azri Hassan, Haziq Samsul, Shazril Irwan, Joel Samuel van Huizen, Syamim Yusof, Rashid Baharom, Shahril Saabah, Azwar Rahman, Dangerous Lee, Faridzul Afiq, Redzhwan Jaafar, Azrul Hasbullah.

Manager: Mirnawan Nawawi; Coach: K. Dharmaraj; Assistant coaches: K. Gobinathan, Nor Azlan Bakar.

New Straits Times


---

For Pakistan, hopes for Hague dwindle

Hammadul Haq



A 24-year victory drought at Asia Cup has to be broken for Pakistan to book a place in Hague. PHOTO: AFP/FILE

Pakistan finished seventh at the recently concluded World Hockey League Tournament semi-final in Malaysia. The seventh place finish means that Pakistan has no hopes of qualifying for the World Cup Hockey Tournament next year in Hague through the World Hockey League. The sole qualification hope for Pakistan is by winning the Asia Cup Hockey Tournament to be held in August in Malaysia.

This will be a stern test as Pakistan will face competition from Asian powerhouses in the form of India, South Korea and Malaysia, who all interestingly are vying for a place in World Cup as they have failed to yet qualify through World Hockey League Tournament.

According to the new qualification format for the World Cup Hockey Tournament 2014, the 12 positions will be filled by the hosts (Netherlands), five continental champions (Africa, Americas, Asia, Europe and Oceania) and the top three teams from each of the two World Hockey League semi-finals held recently in Holland and Malaysia.

Only continental champions will be given a place in the World Cup so Pakistan has to win the Asia Cup in August. The five continental championships are taking place after the World Hockey League semi-finals, so if the continental champions happen to have already qualified, the teams finishing below the top three positions in the World Hockey League semi-finals will be given the ticket to Hague.

Pakistan have tasted success at the Asian level field hockey competitions in the recent past as the green shirts won the Asian Games hockey competition in 2010 and the Asian Champions Trophy in 2012. Despite this, they will be under pressure to perform well and win the Asia Cup in Malaysia. The three main areas of improvement for the green shirts are fitness levels, defence and penalty corner conversion rates.

During the World Hockey League semi-final tournament, the display of the Pakistani hockey team can be characterised as inconsistent. They displayed flashes of utter brilliance and made the hockey aficionados in the country remember the golden era of the game in Pakistan, but unfortunately these periods of brilliance were like an oasis in a desert of erratic hockey. The main reason for this inconsistent performance is the poor fitness levels of the players.

In addition, penalty corners account for majority of the goals in modern hockey so the penalty corner conversion rates can be the difference between two evenly matched teams. It was heartening to see the green shirts successfully trying indirect routines in Malaysia, which is a rarity especially under the helm of Pakistani coaches, but still Pakistan needs a prolific penalty corner drag flicker.

The lead drag flicker, Mohammad Imran, does not have as high a conversion rate as his European counterparts. Also, the alternative drag flick options in the form of Irfan, Tauseeq and Ateeq need more grooming and experience to deliver the goods on a world stage. I think the team management should consider recalling Imran Warsi who has been scoring highly in the Russian League but has unfortunately disappeared from the national squad in the last few years which is shocking as he was always tipped as the ideal replacement to Sohail Abbas.

Defence has been a chronic problem for the green shirts. The Pakistani defence line consists of 2-3 main defenders, so it has been a persistent problem that the mid-fielders and forwards need to be more active in their defensive duties and also work on improving their defensive skills.

Two more problems were apparent in the defence in Malaysia, firstly there was confusion over the first choice goalkeeper in the team and secondly, Pakistan conceded a lot of goals from penalty corners so the defensive structure for these routines needs to worked upon before flying to Malaysia for the Asia Cup.

Overall, I feel India start as the favourites to win the Asia Cup with close competition from burgeoning Malaysia and the ever green South Korea. Pakistan does have an outside chance in my view only if they play to their potential, otherwise, they might end up finishing even outside the top three positions in the tournament.

A 24-year victory drought at Asia Cup has to be broken for Pakistan to book a place in Hague.

The Express Tribune


---

Asian Challenge Hockey Cup : Women's training camp from July 24

Staff Report

ISLAMABAD: A national training camp of women probable players for the First Asian Women's Challenge Cup is starting at Naseer Bunda Hockey Stadium here from July 24. The Challenge Cup will be held in Bangkok from September 1 to 8. The Pakistan Hockey Federation (PHF) women's wing has directed probable players to report to camp commandant Parveen Sikandar Gill at Naseer Bunda Hockey Stadium on July 24.

Probables:

Rizwana Yasmin, Maria Saeed, Syeda Sadia, Ishrat Abbas, Nadia Kazim Ali, Sehrish Arshad, Asma Ashraf, Taskeen Kausar, Kanwal Ijaz, Marina Anwar, Zaib-un-Nisa, Aamna Mir, Shahida G. Raza, Zakia Nawaz, Fazeelat Rasheed, Ayesha Rafique, Maryam Mansha, Nimrah, Hina Kanwal, Iqra Javaid, Aqsa Mumtaz, Ambreen Arshad, Afshan Naureen, Maira Sabir, Shukria Rasheed, Hina Pervaiz, Bushra Nazeer, Sana Arshad, Madeeha Manzoor and Rozina Toti.

Officials: Parveen Sikandar Gill (camp commandant-team manager), Muhammad Usman (head coach), Mirza Abdul Waheed Baig (assistant coach), Gulshan Nasreen (assistant coach) and Muhammad Pervaiz (coordinator).

The Daily Times


---

Eight corporate houses in line to buy HIL's sixth team

Five teams -- Delhi Wizards, Ranchi Rhinos, Uttar Pradesh Wizards, Jaypee Punjab Warriors and Dabur Mumbai Magicians -- competed in this year's HIL, which was originally planned as a six-team affair, but the sixth outfit went unsold.




New Delhi:  The success of the inaugural Hockey India League seems to have caught the attention of the country's top corporate houses with eight of them expressing interest in owning the sixth franchise that will be added to the event next year.

According to a source in Hockey India, the success of the first edition of HIL has increased the interest among corporate houses for the sixth franchise, which will be based out of one of these five cities -- Bangalore, Chennai, Hyderabad, Bhopal and Bhuvneshwar.

"There were no takers for the sixth franchise in this year's HIL but the tournament's success has heightened the interest among corporates to buy the sixth team. Eight top corporate houses are in the running to buy the sixth franchise," the source told PTI.

"We are in talks with them and whoever comes on board at the earliest will become the owner of the sixth team. The choice of the city is entirely the owner's prerogative but they will have to select their home base out of the five cities which we have already earmarked," he added.

Five teams -- Delhi Wizards, Ranchi Rhinos, Uttar Pradesh Wizards, Jaypee Punjab Warriors and Dabur Mumbai Magicians -- competed in this year's HIL, which was originally planned as a six-team affair, but the sixth outfit went unsold.

It was also learnt that the organisers are planning to rope in a brand ambassador for each team from next year.

"From next year there will be a brand ambassador with each team. The brand ambassador will be a renowned figure from the field of entertainment or sports," the source said.

When contacted Hockey India secretary general and HIL chairman, Narinder Batra he confirmed that eight top business houses have expressed desire to buy the sixth franchise.

"The talks are in an advanced stage and anytime the deal might be finalised. We are hoping to announce the name of the sixth franchise owner in 10-15 days time," Batra said.

The second edition of the franchise-based league will be held from January 23 to February 23 next year.

Ranchi Rhinos, jointly owned by Bangalore-based Patel Group and Chinese Taipei-based Unixcel Group, won the inaugural HIL earlier this year.

Hockey India has already appointed Australian Todd Faulds as its Director Competitions for HIL II.

Faulds worked as a Competitions Manager for the FIH Champions Trophy Men 2012 in Melbourne, International Super Series 2012 in Perth and was also involved in Australian Youth Olympic Festival this year as Competitions Director.

NDTV Sports


---

Destination Hockey in Mohali

New stadium and the tricity's first blue and pink turf gives players a boost

Indervir Grewal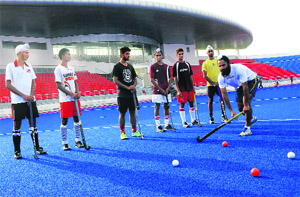 Former India captain Rajpal Singh trains players at the newly-constructed hockey stadium in Phase IX, Mohali, on Friday. — Tribune photo: Vicky Gharu

Chandigarh - After five years, since its inception, of feeling like 'nomads', the Punjab Sports Department Hockey Academy in Mohali, has finally found a permanent place for practice at the newly-constructed hockey stadium in Mohali Phase 9.

Though the stadium isn't ready yet—it is near completion according to the sports department officials—and needs a few finishing touches before it is officially inaugurated, the blue synthetic turf has already been laid.

This boys' academy, which is now based in Sri Guru Gobind Singh School, Ratwara Sahib, started training at the stadium 10 days ago to test the turf before it is approved by an official of the International Hockey Federation and is ready for outsiders.

And for the players and the two coaches—Gurdeep Singh Grewal and Manmohan Singh Khattra—after having had tough five years, hopping from ground to ground and without regular access to the synthetic turf, the stadium, which has taken over a year and a half to build, has come as a blessing.

"Since 2007, when the academy was started, we have been training at different grounds, without regular access to the turf. The first year, we used to practice near Anees School in Sector 69, where the academy was based. In the morning we used to practice at a park near the school and in the evening at the hockey stadium in sector 42, but that was not everyday," said Gurdeep.

Gurdeep added that because there are three academies of the Chandigarh Sports Department practicing at the sector 42 stadium, there was always the problem of an available time-slot.

"Last year we practiced at the Panjab University grounds, and got access to the turf only on Thursdays for match practice," said Gurdeep, who has been the coach at the academy since its beginning, when most of his trainees were under the age of 14. "It was a big problem—to not get regular training sessions and practice matches on the turf affects the performance. More importantly this period (from 14 to 18 years) is the time to instill the basics into the player."

Though both the coaches are more concerned over the growth of their trainees than winning tournaments, their team has been winning tournaments regularly. "The team won the School State under-14 tournament in 2008-09 and finished second in the same in 2012-2013. They also won the SN Vohra under-14 hockey tournament in 2009," said Khattra, who joined as coach in 2011.

The Tribune


---

IHF to organise Federation Cup from July 23

NEW DELHI: The Indian Hockey Federation (IHF) will organise the Federation Cup at the Shivaji Stadium from July 23 to 28, the body announced today.

"India's premier hockey tournament, Federation Cup, will be held in Delhi from 23 July to 28 July at the Shivaji Stadium, New Delhi," IHF said in a release.

The tournament is being organised by the Hockey Association of Haryana in association with Delhi and District Hockey Association under the aegis of the

The Times of India


---

Bharat Ratna: Vishy, Sachin or Dhyan Chand?



Sports Ministry recommends Dhyan Chand for Bharat Ratna

The Sports Ministry has recommended hockey legend Major Dhyan Chand for India's highest civilian honour -- the Bharat Ratna. Though the clamour for this highest honour was for cricketing great Sachin Tendulkar, the ministry, after considering the representations from supporters of both the greats, decided on the hockey legend, as it believed an active sportsperson always has a chance of bagging the title in the future.

Though it remains to be seen if the authorities concerned give their consent to conferring the prestigious award to a sportsperson, Deccan Chronicle gives you an insight of the able contenders for Bharat Ratna, if any from sports.

Dhyan Chand: The greatness of a sportsperson comes to the fore when a great from another sport praises him highly. Australian batting great Sir Don Bradman commented after watching Dhyan Chand in action during Indian hockey team tour of Australia in 1935, "He scores goals like runs in cricket." Even Adolf Hitler, one of the most hated men in history, couldn't help but get charmed by the fabulous play of Dhyan Chand, a Major in the British Indian Army, during the 1936 Berlin Olympics and offered him German citizenship and a promotion to the rank of a Colonel. Dhyan Chand refused the offer.

The charismatic play of Dhyan Chand, who scored over 1000 goals from 1926 to 1948, was rated nothing but a magic on the hockey field. Such was the aura of Dhyan Chand's play that during the 1936 Olympics, crowds moved from other venues to the hockey field to watch the 'The Wizard' at play. Next day, a German newspaper carried a banner headlined: 'The Olympic complex now has a magic show too.' Hence, for obvious reasons, Dhyan Chand is credited single-handedly for popularising hockey and contributing to the India's aura as champions of the game during the pre-Independence era. Dhyan Chand inspired generations to take up hockey and continues to do so even after 34 years after his death.

Sachin Tendulkar: When Sachin Tendulkar first burst onto the international scene, it was highly debated as to how long would the little genius continue to unravel one masterful knock after another as talent losing to fame, arrogance was widely speculated. But Sachin has put to rest all doubts, as even after 24 years of his debut, he continues to play professional cricket. Over the last two decades or more, Sachin has carried the hopes and expectations of over billion population on his shoulders and he continues to strive for excellence even as he nears the twilight of his career.This interesting piece of information is worth noting: Players with whom Sachin played during his debut series have retired long since, players who made debut during Sachin's rise as Indian cricketer have called it a day, and players who are playing alongside Sachin now in Test cricket were not even born when Sachin made his debut. Such has been the hallmark of the genius.And the Little Master has made his willow do all the talking; piling up runs in thousands and cracking centuries of centuries in international cricket. Probably no other cricketer than Sachin drew so much passion from fans to the game. Sachin's dismissal used to put off fans from watching the match any longer, while Sachin's tons used to bring festive spirit among the cricket lovers.

Parents named their children Sachin after the most loved cricketer of India. If it had not been Sachin, cricket wouldn't probably have been the same as it is now.Viswanathan Anand: Like Indian cricketing great Sachin Tendulkar, Viswanathan Anand, the undisputed World Champion in chess, started making his genius felt at a young age. He became the youngest Indian to win the title of International Master at the age of 15 in 1984. In 1988, at the age of 18, he became India's first Grandmaster by winning Shakti Finance International chess tournament held in Coimbatore. He was awarded Padma Shri at the age of 18.What Dhyan Chand is to hockey and Sachin is to cricket, Anand is to chess. Anand's contribution to the game is immense as his achievements inspired generations to take chess as a professional sport rather than a mere hobby. Anand's rise in this sport changed everything as chess had no Indian role models to look up to previously. If someone is to be credited for bringing laurels to India in indoor sports such as chess, it has to be Viswanathan Anand and no one else.  In terms of titles, he has achieved everything that the game has to offer.

The Asian Age


---

Dhyan Chand deserves honour more

The sports ministry's decision to recommend hockey wizard late Dhyan Chand's name over Sachin Tendulkar for the Bharat Ratna has initiated a debate. Should Tendulkar have been recommended for the nation's highest civilian award ahead of the late hockey genius? However, the ministry said on Friday that it had to send the name of only one sportsperson to the Prime Minister's Office and Dhyan Chand, the three-time Olympic gold medalist who passed away in 1979, was the right choice. "We had to name just one sportsperson. With all due respect to Tendulkar, Dhyan Chand is a legend in Indian sports. And it was logical to recommend Dhyan Chand for the Bharat Ratna since we have named every other trophy after him," said PK Deb, Secretary-Sports.

Dhyan Chand, the most prominent member of the victorious squads in the 1928, 1932 and 1936 Olympics, is widely regarded as the greatest hockey player ever.

Hindustan Times conducted a poll and also spoke to a few former India cricketers, who all backed the choice of Dhyan Chand. "There is no question of a comparison. Dhyan Chand deserves it. There is no competition here. Tendulkar deserves it too and will receive it one day. This is definitely a big honour for Dhyan Chand," former India wicketkepeer Kiran More said.

Former India all-rounder Madan Lal endorsed More's views. "Sachin can wait for it. Dhyan Chand had done a lot of good for the country. He got a lot of laurels. He deserves it over for Sachin. Nobody should be complaining. Sachin still has time, there are a lot of things he can do for the country. If Sachin does more for the people, he'll also get it one day."

Former India opener Anshuman Gaekwad too felt Dhyan Chand was the deserving candidate. "Normally this award is given after a consensus, so Sachin doesn't come into picture. At the moment, Dhyan Chand deserves it. The days when he played hockey for India were difficult times. There were no facilities or money," he said.

Hindustan Times


---

Hope many will prefer hockey stick to cricket bat

Dhyan Chand's nomination for Bharat Ratna leaves hockey fraternity ecstatic.

Chander Shekhar Luthra  & Joe Williams

The meeting between sports minister Jitendra Singh and sports secretary Pradeep K Deb on Wednesday could well be a momentous one, for they made a unanimous decision to nominate hockey legend Major Dhyan Chand for Bharat Ratna over Sachin Tendulkar.

The minister, reportedly, had only two names to consider, and an instant decision was made to honour Dhyan Chand, who helped India win three Olympic gold medals: 1928 Amsterdam, 1932 Los Angeles and 1936 Berlin.

Ever since the hockey legend passed away in 1979, sports personalities have been asking for Dhyan Chand to be bestowed with the highest civilian award for his contribution to hockey.

Should the President of India approve the sports ministry's recommendation, Dhyan Chand would become the first sportsperson to win this prestigious award. The home ministry is the final authority to vet and recommend the name before sending it to the prime minister who, in turn, will send his recommendation to the President.

A six-member delegation — led by Dhyan Chand's son Ashok Kumar, grandson Gaurav Singh and Bishan Singh Bedi — met sports minister Jitendra Singh on July 12. Ashok Kumar, himself a former hockey captain, said, "The sports minister assured our delegation that he would personally hand over the letter to the prime minister, recommending my father's name for the Bharat Ratna. My father was a simple man who toiled hard for hockey, never expecting any rewards in return."

Meanwhile, former hockey greats have welcomed the decision. "It's a befitting honour to a person who contributed so much to hockey. It is his name which comes first when anyone talks of Indian hockey. Dhyan Chand is Indian hockey and Indian hockey is Dhyan Chand," said Aslam Sher Khan, the former Olympian and member of the 1975 World Cup  winning team.

Another former Olympian and India captain Vasudevan Baskaran said. "I used to meet this hockey magician quite often during my university hockey camp in Patiala. This step will certainly boost the morale of the youngsters and encourage them to take up this game. Sachin Tendulkar is a master in his own way, but I'm sure he can wait as he has age on his side."

Ace India drag-flicker Sandeep Singh, said, "It is one of the best news any hockey player can hope to hear. Hopefully, many will prefer the hockey stick over the cricket bat." Sandeep was seconded by former skipper Viren Rasquinha. "It was overdue and one hopes this award will have a positive impact on the youngsters," he said.

DNA


---

Call for Assistant Coaches for the National Indoor Program

Deadline to apply is August 1, 2013




Field Hockey Canada (FHC) is the national governing body for the development and growth of Field Hockey in Canada. Among its responsibilities, the association selects and prepares Canada's teams for participation in international competitions including Continental Championships, World Championships, and major multi-sport games.

We are looking for committed, driven individuals to add to our team of professional international coaches. If you have a passion for the sport, have good knowledge of the indoor game and would like to gain unparalleled international experience, this position is for you.

The Senior Men's/Women's Assistant Indoor National Coach will be responsible for assisting and supporting the National Indoor Team programs and accountable to the National Indoor Senior Coach. The successful candidate must have a proven ability and a track record in the technical application of a high performance training and competition program.

Positions: Assistant Indoor National Coach: Men's /Women's National Team

Status: Part-time Contract Position (2)

Location: Toronto, Ontario, Canada

Application Deadline: August 1st, 2013

Date: August 15th 2013 – April 30, 2014

Contract Fee: Honorarium

Key Responsibilities:
Support and Collaborate with the National Indoor Coach in the preparation of the National Team
Develop and conduct technical and tactical practice plans
Devise plans to monitor team training logs and track player progress.
Collaborate with the National Indoor Coach in the preparation of player feedback, distributing selection criteria and team selection for tours
Conduct team runs, practice warm up/cool down sessions
Videotaping of team sessions/matches and the preparation video analysis feedback for head coach and athletes (Some game analysis training will be provided)
Collaborate with the National Indoor Coach on team support requirements, including tour organization and preparation, injury status of athletes, sports medicine, and training and fitness support
Provision of administrative support, including support for athletes, facility bookings and management, communication with athletes, general management for competitive trips, oversight and support of athlete training reports, and other duties as required.
Qualifications & Experience:
Must have a recognized certification from a Coaching or National Association comparable to Canadian competition trained/certified, instructional trained/certified (NCCP Level 2 Certified), or be certified as a FIH High Performance Coach
Previous experience coaching provincial/national teams
Excellent understanding of the sport of Field Hockey in Canada, and the current International environment
Ability to communicate effectively in both oral and written form in English is essential, and in French is an asset
Skills & Attributes:
Passionate about the sport of Field Hockey
A relationship builder with a demonstrated ability to work with athletes, coaches, administrators and support staff
An excellent facilitator with a strong consultative leadership style
Exemplary leadership skills
Responsible and accountable
Excellent communication and administration skills.
Applications for the Position

FHC hires on the basis of merit. It is committed to the principle of equity in employment.

All qualified candidates are encouraged to apply, however, Canadians and permanent residents will be given priority.

Applications for the position must be received no later than 5pm (EST) Thursday, August 1, 2013. This application deadline may be extended at the discretion of the Association.

We thank all candidates in advance. We will, however, contact only those selected for an interview.

Please forward your resume and three references to:

Louis Mendonca: This e-mail address is being protected from spambots. You need JavaScript enabled to view it

Field Hockey Canada media release