All the news for Tuesday 23 July 2013

Australia defeat Germany in U21 test match

Host nation announce squad


Australia celebrated a 3-2 victory over Germany in preparation for Women's ERGO Hockey Junior World Cup Mönchengladbach 2013.

The Jillarroos started off well with Brooke Peris and Murphy Allendorf scoring in the first half. As soon as the second half had started, Amelia Spence extended the Australian lead to 3-0.

Germany tried to fight back but the Jillaroos kept them out of their circle. In the last ten minutes of the match Germany's Sarah Sprink scored from two penalty corners to make it 3-2.

In their next test match Australia will face Korea on Tuesday morning while Germany are planning two more practicing matches against Argentina and the USA. 

Australia have been drawn in Pool C at ERGO Hockey Junior World Cup together with India, New Zealand and Russia. Germany will be playing in Pool D including England, Belgium and Spain.
TEAM GERMANY
| | | |
| --- | --- | --- |
| Kubalski, Nathalie (GK) | 1993 | Düsseldorfer HC |
| Schneider, Lisa (GK) | 1993 | Mannheimer HC |
| Fröhlich, Dinah | 1992 | Eintracht Braunschweig |
| Gonnermann, Jana | 1994 | Berliner HC |
| Grote, Rebecca (C) | 1992 | Rot-Weiss Köln |
| Knüpfer, Sabine | 1993 | Club an der Alster |
| Korth, Anissa | 1993 | Mannheimer HC |
| Krauß, Marilena | 1992 | Rüsselsheimer RK |
| Lhotak, Pia | 1994 | Uhlenhorst Mülheim |
| May, Lara | 1993 | Rüsselsheimer RK |
| Möllenberg, Darja | 1992 | Uhlenhorst Mülheim |
| Oldhafer, Pia-Sophie | 1992 | Eintracht Braunschweig |
| Pieper, Cécile | 1994 | Mannheimer HC |
| Schröder, Anne | 1994 | Rüsselsheimer RK |
| Sprink, Sarah | 1993 | Schwarz-Weiß Neuss |
| Stapenhorst, Charlotte | 1995 | TuS Lichterfelde |
| Stöckel, Lea | 1994 | Rot-Weiss Köln |
| Willig, Sophia | 1992 | Mannheimer HC |
---

"It's a dream for all of us to play there"

FIH.ch talks to Rebecca Grote, team captain for Germany's U21 women



Rebecca Grote, German U21 team captain (Photo: FIH)

Rebecca Grote is captain of the German U21 team at Women's ERGO Hockey Junior World Cup Mönchengladbach 2013. The 20-year-old striker from Rot-Weiss Köln talks to FIH.ch about playing the World Cup on home soil and the huge expectations related with hosting the tournament.

FIH.ch: Hi Rebecca, many thanks for talking to us. So, how is the German team doing? How satisfied are you with your preparation so far?
Rebecca Grote: "I am satisfied with our preparation. My team is doing a great job and we are working very hard. There are ups and downs but we are on a good path."

FIH.ch: The ERGO Hockey Junior World Cup will be played in Mönchengladbach's Hockeypark. What do you think of this massive stadium?
Grote: "It is a great honour for us to play in such a huge stadium. We all watched the Men's World Cup 2006 and connect great emotions with this pitch. It is a dream for all of us to play there."

FIH.ch: Will it be an advantage to play on home soil?
Grote: "On the one hand it is an advantage because we feel comfortable in the surrounding. We know the food, the language, etc. and many people can support us. On the other hand playing in your own country brings a certain pressure because the expectations are very high."

FIH.ch: Do you expect many spectators to come?
Grote: "In general we would not expect as many spectators as the senior women's and men's teams but the entire German Hockey Federation promoted the World Cup a lot and we hope that people will come from all over the country and cheer for us. Mönchengladbach is located perfectly, so people from other European countries have the chance to come and watch."

FIH.ch: Media interest increases every day. Is this something you and your team-mates need to get used to? How do you like it?
Grote: "Our focus is on the World Cup, of course we enjoy the interest in the tournament and us as a team, but it does not effect us in our preparation."

FIH.ch: Germany will be facing Belgium, Spain and England in Pool D. What do you think of this Pool?
Grote: "We knew from the beginning that no matter what the pool would look like, our priority is on our game. We have played these teams multiple times and know our and their strengths and weaknesses."

FIH.ch: Germany finished 6th in Boston 2009. What do you want to achieve in Mönchengladbach?
Grote: "Our goal is to finish better than previously. Of course we will go game by game throughout the tournament, but our long-term goal is reaching the semi-finals. And then, everything is open."

FIH.ch: What are the strengths of this German team?
Grote: "Our team has a variety of different players with high quality on each position. All these different characters sum up into a creative team which is willing to give it all for the same dream."

FIH.ch: How does it feel to be team captain of host nation Germany?
Grote: "It is a great honour for me to have the support of the staff and team that I can lead them during the home championship. Hopefully I can be a great help on and off the field. But in the end it is the work of each and every one of us that matters to reach our common goal!"

FIH site


---

Argentina announce squad for ERGO Hockey Junior World Cup

18 Leoncitas are on their way to Monchengladbach


Argentina named 18 players who will participate in Women's ERGO Hockey Junior World Cup Mönchengladbach 2013. The group contains four players who have already made their debut in the Las Leonas squad. Jimena Cedrés, Florencia Habif, Agustina Albertario and Roberta Werthein are all part of the Leoncitas.

In Mönchengladbach Argentina have been drawn in Pool B together with Canada, South Africa and China.

TEAM ARGENTINA
01-Monserrat, Sofia (Bs. As.)
02-Brondello, Antonella (Cordoba)
03-Gómez Fantasía, Julia (Bs. As.)
04-Habif, Agustina (Bs. As.)
05-Cabut, Victoria (Bs. As.)
06-Habif, Florencia (Bs. As.)
07-Fernandez Ladra, Magdalena (Bs. As.)
08-Metidieri, Agustina (Bs. As.)
09-Cedrés, Jimena (Bs. As.)
10-Correa, Mercedes (Bs. As.)
11-Sanguinetti, Lucia (Bs. As.)
12- Villarroya, Sofia (Litoral)
13- Werthein, Roberta (Bs. As.)
14-Albertario, Agustina (Bs. As.)
15- Granatto, Maria Jose (Bs. As.)
16- Romang, Pilar (Bs. As.)
17-Molina, Luciana (Mendoza)
18-Ravetta, Lara (Bs. As.)

CAH media release

FIH site


---

Van Hattum replaces Keil in Dutch U21 team

18-year-old striker from Oranje Zwart is injured

Juliëtte van Hattum will replace Sian Keil in the Dutch team for Women's ERGO Hockey Junior World Cup Mönchengladbach 2013. The 18-year-old striker broke her wrist in a test match against South Africa last Tuesday.

Keil's recovery will take approximately four weeks. The 18-year-old is playing club hockey for Oranje Zwart. Keil will now be replaced by Hurley's van Hattum who is giving her comeback after suffering a broken foot last season. 

The Netherlands are defending World Champion. In Monchengladbach, they will face Ghana, USA and Korea in Pool A.

Hockey.nl


---

Ghana Female hockey team at Royalhouse Chapel for prayers

In what has become a ritual each time the national U-21 female hockey team is about to embark on a major assignment, the team and its technical handlers were at their adopted church, the Royalhouse Chapel (Ahenfie), yesterday to seek the face of God as they leave today for Monchengladbach, Germany, for the Female Junior Hockey World Cup.

The team was also at the church to show appreciation to God for qualifying for the tournament after an earlier visit prior to the qualifiers in South Africa earlier this year.

An associate reverend, Johnny Appiah Korang, made series of prophetic statements for a good tournament and prayed against injuries and any misfortune that may affect the team.

He said for the team to have come back 'to show appreciation to God' for qualification meant that "the Lord was ready to move them a step higher.'

Ghana and South Africa are the two representatives from the continent and Ghana becomes the third African country to participate in the female Junior World Cup after Zimbabwe in 1989 and 2005.

Sixteen countries from six different continents under the International Hockey Federation (FIH) are pooled in four categories of four countries each and only the top two teams will progress to the next stage of the competition.

Ghana, The Netherlands, Korea Republic and the USA are in Pool A; Argentina, Canada, China and South Africa are in Pool B; Australia, India, New Zealand and Russia are in Pool C while Belgium, England, Spain and Germany are in Pool D.

Ghana opens the account against 2009 champions, The Netherlands, on Saturday, at 10 am GMT.

GhanaWeb


---

T&T umpire for Junior World Cup hockey

T&T's Ayanna Mc Clean has been appointed to umpire at the International Hockey Federation's Junior World Cup tournament scheduled for Monchengladbach, Germany, from Saturday to August 4.

The former national hockey player is set to arrive in Germany today for the pre-tournament briefing and fitness test.

She has also accepted the appointment for the Pan Am Cup tournament in Mendoza, Argentina, from September 21-28. The winner of the Pan Am Cup qualifies for the 2014 Women's World Cup in The Hague.

Mc Clean's appointments follows being nominated for the World Umpiring Development Programme, a lead up to the World Cup and Olympic Games.

The Ventures Hockey Club member has also been appointed to carry the whistle as a neutral umpire at the South American Hockey Championships in Santiago, Chile, from March 6-16, 2014.

The Trinidad Guardian


---

England U18 win 3-0 in the heat

ENGLAND Under-18 Boys battled through sweltering 30-degree heat to notch up a great 3-0 victory over holders Belgium in their opening match of the EuroHockey Youth Championships in Vienna on Monday.

With England having been drawn in a strong group which includes hosts Austria as well as Holland and Belgium, the first match was vitally important if they are to reach the team's first objective of qualifying for the semi-finals.

The victory required intensity of effort, focus and some individual quality in front of both goals. In the first half neither team was able to create many clear cut chances but it was England who struck first in the 14th minute with a slipped corner goal from Jonty Griffiths.

Belgium responded with territory and possession, but England created good opportunities on the counter attack. The Belgian threat from penalty corners was handled well by the England's defenders and goalkeeper Dan Darby who blocked three attempts in the first half.

England extended their lead in the 32nd minute when James Albery received the ball at the junction of the baseline and the circle and created a metre of space for himself before drilling the ball through the goalkeeper's legs into the goal.

A 2-0 lead at half time was never going to be comfortable, and in the first 20 minutes England found they had their backs to the wall as they were reduced to 10 men on three occasions but found depth to resist Belgian pressure.

Four more Belgian corners were defended and most threats at goal were parried by brave defending or good goalkeeping.

A third goal came in the 56th minute when, from a long corner, Chris Proctor linked with James Albery who parried into space on the reverse and struck the ball past the Belgian goalkeeper.

England resisted a late surge from Belgium to claim a convincing win that gives them a great opportunity to progress to the semi-finals if they can win one of their next two games against Austria or Holland.

Coach Jody Paul said afterwards: "I'm delighted with the fortitude and intensity of the players but also we knew we could've done more to retain possession in the second half and relieve the pressure that was building."

A rest day tomorrow will help the team prepare for Wednesday's match against hosts Austria.

England Hockey Board Media release


---

Germans too strong for Scotland U18 Boys in Vienna

Scotland U18 Boys endured a difficult start to their EuroHockey U18 Championship campaign with a 9-0 reverse at the hands of Germany in Vienna today.

Two goals from Nils Grunenwald, plus strikes from Moritz Trompertz , Leon Willemsen, Constantin Staib, and a penalty stroke courtesy of Paul-Phillipp Kaufmann gave the Germans an unassailable 7-0 lead at half-time.

A Scotland own goal and a Ferdinand Weinke finish from open play finished off the scoring at 9-0.

The Scots will face France next tomorrow afternoon at 14.00 BST.

Please visit the EuroHockey website for fixtures, results and pool standings.

Scottish Hockey Union media release


---

Rest for Ashley Jackson

By Graham Wilson



The double Olympian has been blighted by a long-term ankle injury

ASHLEY JACKSON sacrificed his European Championship chance of a medal so that England would qualify for the World Cup.

The double Olympian had surgery on a long-term ankle injury after helping his team secure third position in the World League in Malaysia, which ensured England's place in Holland next year.

He knew he could do one or the other and once he had made the decision he accepted he had no chance of making the Euros in Boon, Belgium, which starts for England against Poland on August 18. Jackson is one of five changes to the squad that goes out to the Hamburg Masters tomorrow to play against Olympic gold medallists Germany, silver medallists Holland and Ireland.

Ali Brogdon, Iain Lewers, Phil Roper and David Condon come in along with goalkeeper Paddy Smith, who is set for his first cap.

Daily Express


---

Indians not structured in defence, says Oltmans

BANGALORE: That Indian defenders are reckless is nothing new. So is the truth that they can drive a coach up the wall. Rudimentary errors and soft goals in the past two years had often got former chief hockey coach Michael Nobbs' goat.

Pointing to the defenders' tendency to collapse under pressure, he either read them the riot act or alternatively brought in a few seniors to restore sanity.

But a long-term solution was nowhere in sight. On Monday, camp in-charge Roelant Oltmans praised the players for their "100 percent" commitment on the field but repeated what other coaches had said in the past about the rearguard: the way Indians defended sometimes made him angry.

"We're not structured enough in our defending. We don't use the stick the right way that can lead to penalty corners. We run into defenders in our 25 (yards). When they do it during our exercises, I immediately stop the game and talk to them about it," he told reporters.

Blaming it on the structure, or the lack of it, Oltmans said it was impossible for a team to attack without an organised defence.

"Communication on the field is important. Defence is a team effort - you can't blame any one person. Everybody is a defender when the opponent is in possession; we have 11 defenders, not 3 or 4."

The Times of India


---

Indian hockey team to get psychologist

BANGALORE: The Indian hockey team will get a sports psychologist after the Asia Cup. Camp in-charge Roelant Oltmans said they were keen on finding a specialist who would work with a team as a staff member rather than for a short term.

"It would be good to bring someone in but not in these seven weeks. We don't have time for it now. It's part of the long-term plan and we need to find someone who's willing to be with the team on a permanent basis. Not someone who flies in, delivers a session and goes away. He needs to be part of the staff," he said.

New hockey turf soon: SAI South Centre will get a new turf in six months time, it is learnt. The assurance came after hockey Oltmans urged SAI to change the turf.

A requisition sent by the South Centre, after former chief coach Michael Nobbs highlighted the problem of a slippery pitch two years ago, has been approved and tenders will soon be floated for a new turf soon.

Last year, the camp was shifted out of the city after Nobbs felt it would be too dangerous for his boys to practice there.

Meanwhile, Gurvinder Singh Chandi, who sustained an ankle ligament injury during the Hockey India League, has been ruled out of the Asia Cup.

The Times of India


---

Indian hockey needs a good man manager: Dhanraj Pillay

Sudheendra Tripathi

MUMBAI: Former India skipper Dhanraj Pillay strongly believes that Indian hockey needs a person who can manage players well. "Foreign coaches have never really understood how to handle Indian players," Pillay said.

"We need a person who can understand the psyche of Indian players and accordingly utilize them. Unfortunately, foreign coaches, right from Gerhard Rach to Jose Brasa and Michael Nobbs, have failed miserably," he added.

Michael Nobbs, who managed the Indian team for two years, recently was sacked after the team's series of dismal performances over the last 12 months.

Pillay, who has had a illustrious 16-year career, felt if he is given an opportunity to coach the Indian hockey team, he will not only clear up the mess, he will also deliver results within a year.

"If I am given charge of the Indian team, I will deliver results within a year. I have known players. They respect me and know what I am capable of. Moreover, I am of the firm belief that coaches don't make players. In fact, a coach is known by his bunch of players. If the players perform well, the success is attributed to the coach. And I am confident of getting the best out of my players," Pillay, who successfully coached Air India to the national title recently, said.

Pillay insisted the Indian government is wasting a lot of money on foreign coaches. "What have we achieved in so many years. Indian coaches are capable enough we don't need a foreign coach. Citing the example of India's high performance director, Roelant Oltmans, Pillay said: "Oltmans was the coach of the Uttar Pradesh Wizards in the Hockey India League. Despite having a fine bunch of players, he failed to deliver. It is not about foreign coaches. It is strictly about who can handle Indian players well and get the best out of them," he said.

He also had a special mention for former India coach Joaquim Carvalho. "In my playing days, it was loosely said, that I am player who needs to be handled well and it was also said that only Joaquim could handle me. In hindsight, I think Joaquim handled me really brilliantly," Pillay said.

The Times of India


---

Make me coach, I can deliver results in one year: Pillay

NEW DELHI: Former captain Dhanraj Pillay has expressed his desire to be the coach of the Indian hockey team and claims that if given a free hand he can deliver results within a year.

Pillay is not in favour of a foreign coach for Indian hockey and insists that there is no dearth of good coach in the country.

"Indian hockey does not need a foreign coach. We have been spending a lot of money on foreign coaches but from Gerhard Rach (in 2004 Athens) to Micheal Nobbs (2012 London Olympics), the outcome is the same. Indian hockey is back to square one and we are now struggling to qualify for the World Cup," Pillay said.

"India has no dearth of talent as far as good coaches are concerned. Give me the charge and I promise to deliver results in one year provided I am given a free hand," said the legendary striker who is the coach of Air India, the current national champion side.

"There are instances in the past when coach of the national championship winning side was given the charge of senior men's team. There are many examples like Cedric D'souza, Vasudevan Bhaskaran, Rajinder Singh or Harendra Singh. Then why not me?"

The chief coach's post of the Indian hockey team is presently lying vacant after the unceremonious exit of Micheal Nobbs recently.

But Hockey India has already made it clear that they are looking for a foreign coach for the national side.

Pillay, however, said that only an Indian coach can understand Indian players well.

"About 50 to 60 per cent hockey players in India are not highly qualified. They don't understand the english of foreign coaches and have to depend on interpreters. Foreign coaches also bring their own support staff along with them," he said.

"We taught world how to play hockey and now our hockey depends on foreign experts. Indian players are matured enough and they don't need to learn the game. Indian hockey needs an expert who can encourage them to do well as a unit," he said.

Pillay is not very appreciative about Indian hockey's High Performance director Roelant Oltmans with whom he has worked in the inaugural Hockey India League.

"If Oltmans is such a capable coach, why did he fail to win the title for UP Wizards in HIL where he himself chose his team," he said.

He is also not too optimistic about India's chances in the Asia Cup which they need to win to qualify for the next year's World Cup.

"It is going to be really tough. India need a miracle to win the title," Pillay concluded.

The Times of India


---

MbPT defeat Air India 'B' to clinch MHAL title

MUMBAI: Mumbai Port Trust defeated Air India 'B' 6-3 in a Senior Division final of the Mumbai Hockey Association Ltd (MHAL)-conducted league at the MHAL Mahindra Stadium, Churchgate, on Monday.

The winners walked home with a trophy and cash award of Rs 50,000, while the runners up settled for a trophy and a cash award of Rs 30,000.

For Port Trust, Amir Khan scored a brace while Shridhar K , Ashutosh L, Ashish & Digvijay Naik scored one goal each. Air India stalwart Davinder Kumar found the target twice while Jarryd Nunes further reduced the margin.

The Times of India


---

Head coach, captain upbeat about Pakistan's Asia Cup chances



Head coach Akhtar Rasool. -Photo by Sara Faruqi/Dawn.com

LAHORE, July 22: Except for Haseem Khan all other 24 probables attended the first day of the national training camp that commenced here at the National Hockey Stadium on Monday.

The camp is being held as part of the preparations for next month's Asia Cup, to be staged in Malaysia, which Pakistan must win in order to qualify for the 2014 World Cup.

Under head coach Akhtar Rasool Pakistan lost the first opportunity of qualifying for the 2014 World Cup after finishing a pathetic seventh in the eight-nation World Hockey League (WHL) early this month in Malaysia.

On Monday, camp commandant Akhtar Rasool told reporters that Haseem had informed him about his absence from the training camp. The coach however hoped Haseem would join the camp on Tuesday.

Undoubtedly, Akhtar acknowledged, the Asia Cup was a challenge for him and he would leave no stone unturned in preparing his charges for the all-important competition.

"Although the contest at the Asia Cup will be tough in the presence of opponent teams like India and South Korea besides hosts Malaysia, I hope my boys will not repeat the mistakes they committed in the WHL quarter-final against South Korea," the head coach remarked. "And I feel my team is quite capable to win the Asia Cup as they are highly motivated to meet the challenge."

Akhtar insisted discipline was his top priority and since assuming the charge he had not spared any player in case of any code of conduct violation.

Meanwhile, national team captain Mohammad Imran also sounded confident and hoped that his team would make the World Cup by winning the Asia Cup.

"Though the results in the WHL were disappointing, still I feel my boys fought well in three pool matches. But one bad game [the quarter-final] against a team which had lost all their pool matches caused Pakistan's downfall in the League," the skipper lamented.

Commenting on the Asia Cup, Imran said during the current camp the players would work hard to remove the errors they committed in the WHL, noting the green shirts now had no room to relax as they would be making the final bid to qualify for the 2014 World Cup in Malaysia next month.

Dawn


---

National hockey Training camp commences at nhs

LAHORE - National hockey training camp to prepare the national hockey team for the Asia Cup started here at the National Hockey Stadium (NHS) on Monday which was attended by 24 players.

"As many as 24 players attended the training camp while Heseem Khan has not yet informed the camp management regarding his absence," said chief coach and team manager Akhtar Rasool Chaudhary after the training session. Asia Cup will be played from August 24 to September 1 at Ipoh, Malaysia.

"It is a very important event for us and also the last chance to qualify for the next year's hockey World Cup being played in Holland. We are under immense pressure to revive the sagging fortunate of the team which finished at number seven in the eighth team Hockey League semi-finals in Malaysia," he said.

He said the players attended two training sessions on the opening day of the camp and efforts were made to bring them in right frame of mind after a disastrous hockey league event in which the team failed to rise owing to various factors mainly lack of finishing touch and physical fitness."

"We need to infuse new confidence in the players to help them to overcome the sour memories of the hockey league and there is always a room to improve and we are focusing on that important aspect," said Akhtar.

He said the team management would be jointly working to utilize the Asia Cup a last ditch effort to help Pakistan qualify for the World Cup. "It is a do-or-die event for us and there is no looking back for us and we are in a very difficult situation of lifting the performance of the team to atone for its previous dismal show," he added.

The chief coach said Pakistan had to play spirited Malaysia and South Korea in the Hockey League besides locking horns with arch-rivals India and in the given circumstances, the tournament becomes extremely tough and only brilliance and collective efforts would leading the green shirts to their ultimate objective of qualifying for the World Cup. "The team management will be coming up with different strategies and plans to elevate the mental and physical fitness of the players in order to get best out of them during the event," he said.

"Our main aim is to give the players a mind set in which they are without any pressure and are eager to deliver in the right direction and that is why we are arranging special motivation sessions for them to help them regain their lost confidence," he concluded.

The Nation


---

Down Under stint for women

By Jugjet Singh

THE Malaysian women's hockey team are currently in Australia for a five-match series, as they gear up to play in the semi-finals of the Asia Cup in Kuala Lumpur on Sept 21-29.

The Asia Cup champions get direct entry into the Women's World Cup, and only South Korea have qualified, while China are fourth reserves and Japan fifth reserves after the World League semi-finals.

Malaysia are in a tough group in the Asia Cup and   play Hong Kong, India and  defending champions China.

The other group consists of South Korea, Japan, Kazakhstan and Taiwan.

"China are the strongest side in our group, but we have a good chance of beating Hong Kong and India to  play in the semi-finals.

"We have always ended fifth in the Asia Cup in recent editions, and it is time to move higher," said women's coach Nasihin Nubli.

The women will be in Australia for 10 days, and play all their matches against the WAIS state side.

"After that, we only have one more friendly lined up against a Korean university side, and even though the preparations are not enough, I believe we will make an impact at home (Bukit Jalil)," said Nasihin.

New Straits Times


---

Hockey 9s to Hockey World Champions Argentina

International Super Series Hockey 9s launched in Perth, WA

World Champions Argentina will join Australia's Hockeyroos and Kookaburras at the top of the bill for hockey's family friendly four day extravaganza, the International Super Series Hockey 9s, in Perth this October.

The women's World Champs were one of five top teams announced as tickets went on sale today.

From 17-20 October, Perth Hockey Stadium will play host to some of the world's top hockey superstars with Australia's very own Kookaburras and Hockeyroos joined for the first time by Argentina's women's team, and the men's teams of Pakistan and Malaysia.

Speaking at the event launch, which coincided with one year to go until the start of the 2014 Commonwealth Games in Glasgow, Hockey Australia's Interim Chief Executive Greg Hill said, "This is an incredible line-up for what is fast becoming a must-see fixture in the calendar. The International Super Series Hockey 9s has really captured the imagination of players and fans alike and we're looking forward to a great atmosphere once again.

"This field represents three of the top 15 men's teams in the world and with the Hockeyroos and Las Leonas both ranked in the top six, I am thrilled that, once again, Hockey Australia is bringing some of the world's biggest hockey stars to Perth."

Outlining a commitment to maintaining the event's appeal to a broad audience, Hill added, "We're determined to keep the event affordable for everyone and I'm pleased to say that we've actually reduced ticket prices this year. A family of five will be able to enjoy a great day at the hockey for just $50."

Supplementing the world class action on the pitch, this year's International Super Series Hockey 9s will provide something for every member of the family, including a Fans' Fun Zone where younger visitors will be able to pick up a Hookin2Hockey stick and give the sport a go. There will also be plenty of opportunities to meet the stars of the show, Australia's Olympic hockey heroes, and the chance to pose for a photo with the World Cup trophy ahead of the Kookaburras' defence of their world title next year.

The innovative nature of the International Super Series Hockey 9s means that many of hockey's most exhilarating elements are brought to the fore in its modified format:
Nine players per side, instead of 11, makes for a faster, more open match
Larger goals promise goals galore
20 minute halves provide the action in short, sharp, exciting bursts
Fewer rules make easier for fans to follow
Thanks to a partnership between the Western Australian State Government through its events agency Eventscorp and Hockey Australia, Perth Hockey Stadium will once again host the event, which is now in its third year.

Eventscorp's Executive Director Gwyn Dolphin said the International Super Series Hockey 9s was an exciting addition to Western Australia's diverse events calendar and it would help further promote hockey throughout the State.

"This form of the game is very popular with spectators in WA and we are again in for a series of very exciting and competitive matches as the Hockeyroos and Kookaburras, who are currently ranked world number two and six respectively, take on some of the world's best players from Argentina, Malaysia and Pakistan," he said.

"The tournament will also provide great media exposure for Western Australia nationally and internationally."

Hockey Australia is also grateful to the Australian Sports Commission for its belief in the tournament's concept dating back to 2011 and its underpinning financial support, as well as the Australian National Preventative Health Agency (ANPHA) for its partnership activities around the event as part of the Be The Influence campaign.

The International Super Series will signal the start of a busy few months for Australia's national hockey teams. Following the tournament the Kookaburras and Hockeyroos will compete against New Zealand, Papua New Guinea and Samoa at the Oceania Cup (30 October – 3 November). The Hockeyroos head to Argentina for the World League Finals in November (30 November – 8 December) before the Kookaburras compete for the men's World League crown in India in the New Year (10-18 January).

Tickets for the event go on sale at 12:00pm AWST today, Tuesday 23 July, with prices starting at $5 for juniors and concessions, and $15 for adults. Find out more about the International Super Series Hockey 9s at www.hockey.org.au.

Hockey Australia media release


---

Thornton names 2013-14 U.S. Men's Indoor Team

U.S. Men's Indoor National Team head coach, Andrew Thornton conducted two open try-outs in late May and mid-June to select the 2013-14 U.S. Men's Indoor National Squad. The first try-out was held on the west coast at Moorpark College in Moorpark, Cali. and the second try-out was held on the east coast at The Training Center in Spring City, Pa.

After a thorough evaluation, Thornton has selected 29-players to the U.S. Men's Indoor Squad that will begin preparations for the Pan American Indoor Cup, which serves as a qualifying event for the 2015 Indoor World Cup. In preparation for the upcoming international events, Thornton will establish both an east coast and west coast training camp.

The following athletes have been selected to the 2013-14 U.S. Men's Indoor National Squad: Michael Barminski (Ventura, Cali.), Kevin Barber (Camarillo, Cali.), Nate Coolidge (Sandwich, Mass.), Ajai Dhadwal (Agoura Hills, Cali.), Nick Gendreau (Ventura, Cali.), Alex Grassi (Brookeville, Md.), Austin Groenveld (Jenkintown, Pa.), Patrick Harris (Moorpark, Cali.), Sean Harris (Moorpark, Cali.), William Holt (Camarillo, Cali.), JaJa Kentwell (Spring City, Pa.), Thomas Krauss (New York, N.Y.), Jesse Larson (College Park, Md.), Tom McCarthy (Hartford, Conn.), Johnny Orozco (Ventura, Cali.), Chris Pothier (Boston, Mass.), Spencer Reed (Ventura, Cali.), Nicholas Richardson (Kents Hill, Mass.), Mortiz Runzi (Boston, Mass.), Sebastian Scheurer (Greenwich, Conn.), Robert Schilling (Long Beach, Cali.), Josh Schindler (Ventura, Cal.), Kevin Segeren (Twin Falls, Idaho), Trevor Shattuck (Lutherville, Md.), Andrew Sheridan (New York, N.Y.), Tom Staddon, Tyler Sundeen (Simi Valley, Cali.), Jason Wellings (San Deigo, Cali.), Aki Kaeppeler (Ventura, Cali.)

USFHA media release


---

Hand Over Heart An Umpires Journey to Officiating her First Game as a US Citizen

When the National Anthem rings through the sound system at a field hockey match, we remove our hats, rest our palm near our hearts or hold a teammates' hand while we soak in a moment that reminds us we are much bigger than just ourselves. Fifty blue stars, 13 red and white strips pull together our nation as one.

For umpire Paula Childs in this precise moment at the 2013 Futures Elite Championship when the speakers began to play the familiar patriotic melody something special happened. For the first time Childs, born in South Africa, was able to stand on the field as an official U.S. Citizen.

USA Field Hockey: What did this moment, listening to the national anthem on the pitch for the first time as a U.S. Citizen, signify to you?
PC: I was assigned the first game at the Futures Elite Championship and I walked onto the pitch in the same manner as I always have. However, as I stood there, I realized that this would be the very first time that I listened to the Star Spangled Banner as a citizen of this country! As I said this out loud to my partner and friend, she motioned for me to put my arm across my chest. I felt a tremendous sense of pride as I stood singing the words to the national anthem of the country that I now call my own.

USA Field Hockey: When did you get your dual citizenship and how long of a process was it?
PC: I became a United States Citizen on Friday, June 14 before heading to Virginia Beach. The entire citizenship process began last summer as I studied for the Citizenship test. I have been a permanent resident of this country for quite a number of years now, so I thought of the ceremony as merely a formal culmination to my citizenship process. What I did not consider was the incredible emotion that took over me as I sat in a federal court room with 45 other naturalized citizens listening to an inspirational judge explaining my rights and responsibilities as a United States Citizen.

USA Field Hockey: Who inspired you to pick up a field hockey stick?
PC: Having grown up in South Africa, hockey was a large part of my upbringing. I spent a lot of my childhood on the sidelines of a hockey pitch watching my mother play. She was my inspiration to play, coach and umpire.

USA Field Hockey: What are your aspirations as a USA Field Hockey umpire?
PC: In all my endeavors in life I always strive to learn from experiences, to absorb situations and be the best that I can be. Through umpiring, I am exposed to new experiences in every match. I take on challenges and I always look to seize every opportunity that comes my way. I have umpired university games as well as a variety of different tournaments throughout the country and I embrace them all.

USA Field Hockey: What is the most rewarding part of officiating and what is the hardest?
PC: Umpiring is not only about blowing a whistle on the field. It encompasses many other facets like professionalism in my demeanor, respect to all and a genuine love of the game. I approach every game with those basic philosophies with the intent of having a positive impact on that game. However, having the ability to apply the rules of the game in an appropriate, fair and consistent manner can prove challenging at times while trying to be able to encourage the natural flow of the game.

USA Field Hockey: What words of encouragement do you have to offer to those aspiring to become an umpire?
PC: Your role is an important one, so be knowledgeable, fair, respectful and passionate.

USFHA media release


---

Field Hockey in Prince Edward Island

Abbey MacLellan, PAHF Local Correspondent




On the East Coast of Canada, there is a small island called Prince Edward Island. PEI is known for its potatoes, seafood, and Anne of Green Gables. Although, something you may not know, is that field hockey on the island is growing rapidly. Every year, more and more athletes are picking up field hockey sticks and giving it a try.

In Prince Edward Island, there is a junior high and high school league during the fall, and a successful summer and winter program. Lately, there has been a boom in popularity of the sport among teenage athletes with over 250 students, 10 school teams and a lot of players keeping up their skills year round with the winter/summer programs.

June 15-16 this year, many field hockey players from across the Maritimes were given the opportunity to receive a clinic from Gene Muller. Gene is the General Manager of Field Hockey Canada High Performance and in the past, has coached multiple countries' national teams. The players learned many new techniques such as advanced ball and stick positioning, different hits, etc. Clinics have been few and far between for years, but with more island players, more opportunities are happening for field hockey athletes.

Island field hockey players have a lot to look forward to this summer. July 12-14 will be an exciting weekend here in PEI as they are hosting the U-18 Eastern Regional Tournament with teams from New Brunswick, Nova Scotia and PEI. This year, PEI is also fortunate enough to send two teams to national competitions this coming summer. An U-18 team will be representing PEI in Vancouver, British Columbia, and an U-16 team will be competing in Brampton, Ontario. Last year, was the first in a long time (more than 5 years) for PEI to send a young team to a national tournament. They came 6th out of 9that the U18 tournament in Calgary, Alberta, in July 2012.

Field Hockey PEI's President and General Manager of the University of Prince Edward Island field hockey team; Barb Carmichael was asked about field hockey growth in PEI. Her thoughts were: "True field hockey in PEI is growing very quickly once again. It has been an up and down road over the last 40 years. In the 1980's and 90's field hockey was very strong in PEI. Our Senior Provincial Team placed 4th at Senior Nationals in 1983, two players from that team went on to be National and Olympic players (Donna Phillips and Kathryn MacDougall). The Canada Games team placed 6th in 1993, and even though the sport was slowly dying, our Canada Games Team placed 5th in 2005 (the highest placing of any Island team at those games). Our field hockey pride and joy lately, has been Katie Baker as she has played/captained the National Women's Team until 2012."

She reassures that "Although our sport was on the down slide after 1999 and being dropped from Canada Games in 2009 (which PEI was hosting) we survived!  We survived because we had a small group of players and former players that were determined to be at the top once again.  One thing is for sure; we are growing and climbing up that curve!"

Field Hockey Canada media release


---

Innovation in sports is a good thing, but…

Ernst Baart

I do admire the officials at the reigns of our hockey sport. Their innovation in different areas is one way to guarantee the attractiveness of the sport and to prevent it from becoming obsolete. However another quality  should also be the ability to not be afraid and turn back on decisions that have proven to be not so much an added value to the game. The most prolific example here would be the "own goal" rule of course…

Apparantly no one in the world understands how a shot from outside the circle, ending up in the goal, is not counted. Well I'm sorry, the rule wasn't that hard to understand: "a ball had to be touched by an attacker inside the D (or circle) in order to be a valid goal". If people think this is too complicated I feel sorry for them… But since some other more wel known ball-sports allow scoring from anywhere on the pitch that seemed to be a problem for spectators. So we could have changed the rules so any shot from anywhere on the pitch entering the goal should be counted and the sole purpose for the D would be the area for the keeper to use his whole body to play the ball and the area where faults would be sanctioned with a penalty corner. The "D" from our hockey game would be very similar to the "box" from football for example in that case. This would be a valid choice… I still would not like it, but it would make sense.

However since the material our ball is made off and the speed at which it travels this would make our game a whole lot more dangerous, so they came up with some rule change in between. The ball still had to be touched within the circle, but now when a defender is the only one to have touched the ball within the D before the ball enters the goal it now counts a a goal scored where before this would have been a long corner. OK, I'll admit the rule where any touch within the D is a goal is more simple than it has to be the attacker who touches the ball within the D. But seriously… is this going to make our sport more spectator friendly? Hardly… It will make it more dangerous again. That's for sure… Please listen to your players/coaches and change this rule back to what it was before…

Speed & size of the ball

The only real issue for spectators from outside our sport or even those who do know hockey is the combination of the higher speed of the game and the visibility of the smaller ball. That is what makes our sport somewhat harder to follow on TV or from the stands. So let's address these issues instead…


Two rule chages where tried out at the London Olympics to make it a more spectator friendly sport with regards to the issues stated above. They turned to the game of tennis where the speed of the ball and its size where also issues for TV and grand stand spectators at times… So they tried out two tennis-recipes for curing this :
change the colour of the ball from white to yellow;
change the colour of the pitch to blue.
Allthough a great idea, if only for marketing because the blue & pink smurf turf really stood out in the Olympic Park in London, the proof of the pudding is always in the eating. Spectators on the stands around the pitch, as well as those behind the TV or any other screen, soon came to the conclusion this blue colour may have worked for tennis ( a dry surface) but in combination with the water needed on the pitch was not the best of ideas. The blue colour, the sun and the water on the pitch resulted in a glare even worse than on the traditional green pitches. The yellow ball however was an improvement. Still very small and very, very fast sometimes but clearly more visible than the white balls before.

So allthough I'm a little bit dissapointed the yellow ball still has not taken off as the improved successor of the white ball, I was happy to see the organisation for the World Cup as well as other major international tournaments abandonned the idea of a blue pitch. Most of them returning to the usual green, so unfortunately not testing other options. The World Cup scheduled for 2014 announced a darker shade of green which makes sense to me. Then, out of the blue -no pun intended- I heard the choice has been made for a blue pitch once again in Rio for the Olympics in 2016… Why? We've tried it… It was no improvement…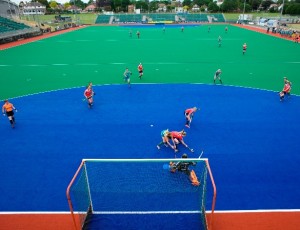 Investec World League League

Another recent test of the colour of the pitch was held at the recent World League for women in the UK. The test there was changing the colour of the D only. So the pitch was a regular green, but the circles were blue. I did think it was a good idea, at least worth a test to have a more distinctive circle or D. However the conditions in which it was tested were far from ideal. Anyone with some experience in these matters could have told you it is a bad idea to replace only a part of the pitch with some new turf. The new patches of turf will always be different regarding ball handling from the older existing turf and the idea behind an artificial turf is having the exact same ideal conditions of play all over the pitch. You'll never have that if you replace only a certain part of the existing pitch, which is what they did for this World League tournament in the UK. So unfortunately this could not be a valid test for this idea. Next time the opportunity is there they should replace the entire pitch when trying out different colours for the D only.

I do think testing different colours for the pitch could be worthwhile, but the true innovation would be a pitch similar to today's waterbased pitches without water. That would be a major breakthrough that would also be beneficial for promoting the artificial turf and our sport in regions of the world where water is very costly… maybe the blue colour could work without any water on the pitch, but forget about it as long as we need the waterbased pitch to play modern hockey.

Some (very) good changes

However we did see some recent rule changes that have proven to be a plus for our sport or have the potential of proving their worth. The best example of great rule changes since the abolishment of the off-side rule and the rule allowing for continuous changes has got to be the self-pass. The innovation rich EHL came up with this one and it has been embraced by all in our sport at every level of the game. It doesn't make it easier to follow for referees nor for the spectators, quite the contrary. But it has been a wonderful addition to our game, making it more fair (intentional faults are not rewarded anymore) and more competitive. I think all agree here…

The latest test already seen in action shows some promise as well: allowing the raising of the stick above the shoulder to play the ball. They're testing it in the EHL and have been testing it in the Wolrd League as well. Unfortunately the test seems not be prolonged to the European Championship this summer.

Again a rule that was a little bit hard to follow sometimes for spectators from outside our sport. So allowing the stick above the shoulder would simplify the game for them and add something extra and spectacular for the players as well. Of course the interpretation by the referee for what would be dangerous remains… But think about those beautiful goals smashed in that had to be disallowed because of the old sticks rule.  I truly hope this one makes it into the regular hockey rules soon !

Another change in the making is the up and coming Hockey 5′s… The FIH will be testing this new format of our game with 5 against 5 on the next Youth Olympics and has conducted tests in Asia recently as well. Changing the rules for indoor hockey last week by dropping a player and so aligning this variation of our game to the Hockey 5′s outside seems to indicate a keen interest in developping this new format. However I can't really tell if I like it just yet… I do think it could be an interesting addition to our sport but I can't really decide if it would be beneficial to our regular game of hockey or if there's a risk of it would taking it's place in the Olympics maybe? Did the game of volleyball suffer from the rise of beachvolley?

I do think there should be room for different kind of variations in our sport, such as indoor hockey or beach hockey. However, I'm not sure about this one yet…

http://baart.net/innovation-in-sports-is-a-good-thing-but/

Baart.Net


---

Join the team at Hockey Australia

Hockey Australia is currently seeking to fill the role of Competitions Manager

Do you have what it takes to help run some of the biggest tournaments in hockey? Hockey Australia is looking to recruit a Competitions Manager to join its team. Think you could do the job?

For more information on the role and application details please click on the link below.

Hockey Australia - Competitions Manager

Hockey Australia media release