All the news for Thursday 5 September 2013

Juniors hope to qualify

Rashneel Kumar

FIJI Hockey Federation is working round-the-clock to prepare its junior team to qualify for the 2nd Youth Olympic Games in Nanjing, China next year.

The national side will be playing in the qualification tournament featuring Pacific Island teams early next year where they will hope to qualify for the Youth Games.

Federation president Doctor Robin Mitchell said the country hosting the qualification tournament would automatically qualify either men's or women's team.

Fiji has applied to host the tournament but the Oceania Hockey Federation is giving Vanuatu the chance to host the event.

"The qualifications tournament application for hosting closed on August 15. Fiji applied to host, Vanuatu didn't apply to host but Oceania thought it was appropriate that if they build their new artificial turf on time then they would be given the first preference," Mitchell said.

Vanuatu raised the funds and with the help of international sporting bodies, it has been working hard on meeting the deadline for hosting, which is in November.

"If Port Vila hasn't completed the turf by November then Suva will host it in January or February next year."

Mitchell said federation development officer Tai Smith had started work on preparing the players for the qualifying tournament.

He said they were eyeing secondary school players born between January 1, 1996 and December 31, 1999.

"We are having first trial play-off of under-18s in the October long weekend. During that period, we expect to have international hockey coach from either Germany or Holland working with Fiji Hockey until December.

"In December, the U18 squad will be playing against Australian Country."

Meanwhile, in another milestone, local umpire Epeli Tukuca has been invited by the International Hockey Federation to officiate at the Youth Olympic Games in August, 2014.

The Fiji Times


---

Early bird Hockey 9s club bookings end this Friday

Deadline for clubs to take advantage of up to 50% savings runs until Friday 6 September

Hockey clubs across the country have until Friday to take advantage of the fantastic booking offer for this year's International Super Series Hockey 9s. The offer entitles members to $5 off general admission tickets on any day of the tournament if booked through their hockey club or association.

With the recent announcement of the fixtures schedule and the news that Canada and Malaysia complete a four team women's competition for the first time - lining up alongside the Hockeyroos and World Champions Argentina - the deadline for hockey clubs to save up to 50% on tickets has been extended until Friday 6 September. 

With the Kookaburras leading a stellar line up in the men's tournament, which features Pakistan, Argentina and Malaysia, Perth Hockey Stadium will be transformed into a spectacular carnival of international hockey from 17-20 October 2013.  

And don't forget! Saturday 19 October is Ausdrill Pink Ladies Day. We'd encourage everyone attending on the day to wear something pink in support of the fight against breast cancer. Tickets for the special Audrill Pink Ladies Day function are also on sale now.

International Super Series Hockey 9s, 17-20 October 2013
SAVE 50% on junior and concession General Admission day tickets, Thursday 17th – Sunday 20th October ($5 each per day instead of $10)
SAVE 25% on adult General Admission tickets, Thursday 17th  – Saturday 19th October ($15 each per day instead of $20)
SAVE 20% on adult General Admission tickets, Finals Day, Sunday 20th October ($20 each per day instead of $25)
Don't miss out! How to take advantage…

Clubs in Western Australia
Appoint a club rep/contact person to be responsible for collecting ticketing orders in your club/association
Get your rep to download the Sign Up Sheet and Booking Form
Display the Sign Up Sheet in your club, email your members and generally spread the word
Collect money from members
Rep to complete the booking form with the details of all tickets ordered by your club/association's members
Rep submits the booking form (including payment details) to Sue Cook ( This e-mail address is being protected from spambots. You need JavaScript enabled to view it ) at Hockey WA by Friday 6 September
Clubs in all other states than WA
Appoint a club rep/contact person to be responsible for collecting ticketing orders in your club/association
Get your rep to download the Sign Up Sheet and Booking Form
Display the Sign Up Sheet in your club, email your members and generally spread the word
Collect money from members
Rep to complete the booking form with the details of all tickets ordered by your club/association's members
Rep submits the booking form (including payment details) to Carmel Langan ( This e-mail address is being protected from spambots. You need JavaScript enabled to view it ) at Hockey Australia by Friday 6 September
Plan your trip with the help of the fixture list below.

International Super Series Hockey 9s Fixtures
17-20 October 2013, Perth Hockey Stadium, Perth, WA

Thursday 17 October
5:30pm AWST / 8:30pm AEDT – Argentina (w) v Canada (w)
6:25pm AWST / 9:25pm AEDT – Hockeyroos (w) v Malaysia (w)
7:20pm AWST / 10:20pm AEDT – Kookaburras (m) v Argentina (m)
8:15pm AWST / 11:15pm AEDT – Pakistan (m) v Malaysia (m)

Friday 18 October
5:30pm AWST / 8:30pm AEDT – Argentina (w) v Malaysia (w)
6:25pm AWST / 9:25pm AEDT – Kookaburras (m) v Malaysia (m)
7:20pm AWST / 10:20pm AEDT – Hockeyroos (w) v Canada (w)
8:15pm AWST / 11:15pm AEDT – Pakistan (m) v Argentina (m)

Saturday 19 October – Ausdrill Pink Ladies Day
12:15pm AWST / 3:15pm AEDT – Canada (w) v Malaysia (w)
1:10pm AWST / 4:10pm AEDT – Hockeyroos (w) v Argentina (w)
2:05pm AWST / 5:050pm AEDT – Pakistan (m) v Kookaburras (m)
3:00pm AWST / 6:00pm AEDT – Argentina (m) v Malaysia (m)

Sunday 20 October
10:30am AWST / 1:30pm AEDT – Men's 3rd v 4th 
11:40am AWST / 2:40pm AEDT – Women's 3rd v 4th
12:50pm AWST / 3:50pm AEDT – Women's Final
2:00pm AWST / 5:00pm AEDT – Men's Final

Hockey Australia media release

---

Hockey umpire pitches for video referrals

Wriddhaayan Bhattacharyya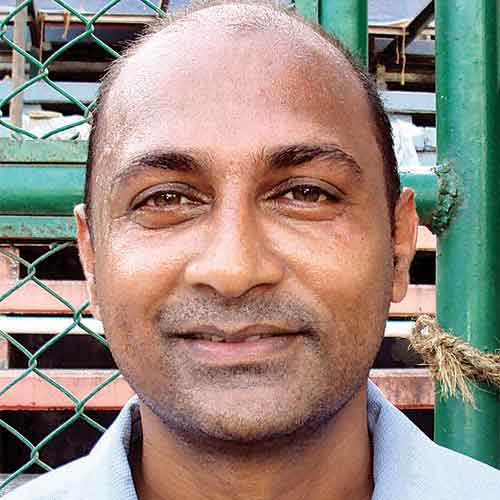 The penalty corner awarded to South Korea in the dying moments of the Asia Cup final worked against India and invited criticism in Indian hockey circles.

International umpire Jawed Shaikh pointed out how the situation could have been avoided.

"There should have been a video referral. All FIH tournaments and European clubs install cameras for replays," he said on the sidelines of a MHAL Super League match on Wednesday.

Belonging to the FIH World Development Panel of Umpires, Shaikh was present at the tournament. Though he claimed not knowing the reason behind not installing cameras, he believed it "could be due to fund shortage".

On Murray Grime, the Australian umpire who awarded the penalty corner to Korea two minutes before the hooter, Shaikh said: "He is one of the most experienced customers around. There can be a bad day at office. People make mistakes. He has been there for more than 20 years. I don't know what he saw at that particular moment."

DNA


---

Mumbai Magicians set to cast spell on city hockey

The grass has suddenly turned green at the Mumbai Hockey Association, as things begin to brighten up at an association that has hitherto struggled to organise tournaments on time.

Ashwin Ferro



Mumbai Magicians celebrate a goal during the Hockey India League

A few days ago, MHA conducted the final of last year's Super League tournament. On Monday, this season's Super League got underway, and a day later the Bombay City Civil court ruled in their favour and against the state government that was planning to evict them from their Churchgate premises.

Now, in one of its brightest developments in recent times, yesterday MHA have entered into a partnership with Hockey Indian League franchise Mumbai Magicians.

MHA secretary Ram Singh Rathod explained: "Mumbai Magicians are keen to not just enhance their brand value through this partnership, but more importantly, they want work in conjunction with us to to develop the game.

The franchise's name will henceforth be attached to our events even as we work together to organise new tournaments for youth of the city and state. At the moment, we are planning an inter-college tournament involving institutes from Maharashtra, Gujarat and Goa. There will be more such new initiatives announced in due course."

Though the exact finances of the deal are unclear, sources informed MiD DAY that MM have made a part payment of Rs 5 lakhs and will subsequently invest a lot more across the next year.

MM COO Satya T said the partnership was more  strategic rather than sponsorship-oriented. "Being the Mumbai franchise at the HIL, we wanted to build on our brand presence and what better place to do it than on our homeground?

Developing junior hockey is definitely one of our prime objectives and we are also planning an academy to help youngsters hone their skills. This is a long-term association. In India cricket is a religion, so our idea is to make hockey a tradition," said Satya.

Mid Day


---

Mumbai Magicians to sponsor Super League

Sudheendra Tripathi

MUMBAI: The last few days have been extremely rewarding for the Mumbai Hockey Association Ltd (MHAL). A couple of days ago, a city court ruled in favour of the association and set aside the eviction order passed by the state government and on Wednesday, the Mumbai Magicians, a franchise which is part of the Hockey India League, announced a long-term tie-up with the MHAL.

For starters, Mumbai Magicians will be the official sponsor of the MHAL-conducted Super League hockey tournament which is underway at the MHAL's Churchgate-based Mahindra Stadium.

"We are a Mumbai-based franchise and we wanted to get associated with hockey. It is a popular sport in the country. There's no better way to do it than get involved with people who share our sentiments and are as passionate about hockey," Chief Operating Officer, Mumbai Magicians, Satya Tadimeti said and added: "It is not a one-off association with the MHAL. We are looking at long term plans and hopefully we will be able to drive the sport forward with our alliance."

It is reliably learnt that in the first joint venture with MHAL, the Magicians will shell out Rs 5 lakh, but have promised a more handsome sum when the association conducts the prestigious Bombay Gold Cup sometime in October. Other than financial support, Magicians in alliance with MHAL are also looking to set up an academy to unearth local talent.

"This is just the beginning," secretary, MHAL, Ram Singh Rathore said. "We have some grand plans for the future and hopefully we will be able to revive the sport in this city. We are really looking forward to this alliance," Rathore added.

Customs ride on Jadhav's brace to score a 5-2 win over RCF

Jayesh Jadhav's twin strikes, in the second half, were the highlight of Mumbai Customs' 5-2 wins against Rashtriya Chemicals & Fertilizers (RCF) in the Super League match at the MHAL Stadium, Churchgate, on Wednesday evening. The scores were level 1-1 at the end of the first half.

Besides Jadhav's brace, Customs got their other three goals through an own goal by RCF's Imran Khan and from two field efforts by Alden D'Souza and BK Muthanna. RCF reduced the margin through two penalty corner conversions from Sankalp Raghav and Rahul Devkar.

This was the first win for Custom in two matches. They were beaten 2-1 by Central Railway in the league opener. For RCF this was their first match.

Results

Mumbai Customs 5 (Imran Khan-og 2nd min, Jayesh Jadhav-fg 39th min & 61st min, Alden D'Souza-fg 57th min, BK Muthanna-fg 64th min) beat RCF 2 (Sankalp Raghav-pc 17th min, Rahul Devkar-pc 48th min).

The Times of India


---

Cash awards for hockey players

Principal Correspondent

Hockey India (HI) on Wednesday announced cash awards for three players who played well in the Indian team's silver winning performance in the recent Asia Cup tournament in Ipoh, Malaysia.

HI will give Rs. 1 lakh each to seasoned defender and drag-flicker V.R. Raghunath, who was chosen the 'Outstanding Player of the tournament,' and custodian P.R. Sreejesh, who was adjudged the 'Goalkeeper of the tournament.'

Besides, forward Ramandeep Singh will also be given Rs. 1 lakh for scoring a goal on his debut against Oman.

Meanwhile, Indian hockey team captain Sardar Singh has signed for Euro Hockey League champion club Blomendaal following the retirement of legendary player Teun de Nooijer. Sardar is expected to join the Dutch side later this month.
---

Hockey India puts individuals above team

Subhash Rajta, Indervir Grewal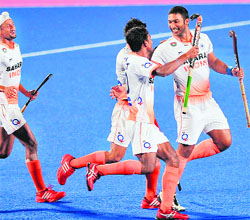 VR Raghunath (right) is one of the three who will be given a cash award of Rs 1 lakh each by Hockey India. File photo

Chandigarh - Hockey India and Roelant Oltmans, India's interim coach, are apparently not on the same page. While the coach has repeatedly downplayed individual exploits and highlighted team effort right through the Asia Cup, the game's governing body took a completely contradictory stand when it announced a cash award of Rs 1 lakh each to three players from the silver-medal winning team.

"For me there is only one hero and that's my team. We don't have individuals, we are a team and we work as a team. We compete as a team and try to give our best performance as a team," Oltmans had said this after India blanked Korea 2-0 in their league match.

But taking an altogether different approach, Hockey India has announced rewards for three individuals — V R Raghunath for being the most outstanding player of the tournament, vice-captain and custodian P R Sreejesh for being the goalkeeper of the tournament Award and Ramandeep Singh for "scoring a goal on debut against Oman".

While one could understand the logic behind giving the award to the first two, awarding Ramandeep Singh, a young forward, for "scoring a goal on debut against Oman" is simply bizarre.

No wonder players are dumbstruck with the development.

"I just can't believe this could happen, this must be perhaps the first time when individuals have been given cash awards. Isn't hockey a team game?" asked Deepak Thakur, a former India player.

The former forward felt it defied logic and had the potential to create a rift in the team. "Even if some individuals performed exceptionally well, the efforts put in by others can't be demeaned. I don't think the team could have made the finals on the back of a few individual showings," he said.

A senior player, currently out-of-favour, who did not wish to be identified, echoed Thakur's sentiments. "It makes Oltmans' statement lauding team spirit count for nothing. Could he ever say again it's not about individuals but the entire team? I feel Hockey India has set a very wrong precedent here," he said.

This will stick out even more considering individual awards in the domestic circuit are often shared by the team. "Whenever an individual award comes our way while playing for Indian Oil, we make it a point that it's shared," said Thakur.

So Hockey India, perhaps with the best intentions, seems to have scored a self goal here.

The Tribune


---

Success at Wicket, Flick it, Try it

Dundee Wanderers Hockey Club, Dundee Eagles Rugby Club and Dundee High School FP cricket Club held a joint 'Funday' on Sunday 1st September at Dalnacraig grounds, Arbroath, Dundee.

Despite the windy weather, there was a good turnout of approximately 300 people, with over 100 kids signing up at the registration tents. 

There was plenty on offer from formal sports opportunities in cricket, hockey and rugby, to lots of fun competitions including, beat the goaly, an assault course and fastest bowler.

Additionally, there were local business there to advertise their services and Bouncy Betty did a roaring trade with the bouncy castles, the 'Impossible Bike', a candy floss stall and other fun fairground games.

The organisers of Wicket, flick it, try it would like to say a huge thank you to the sponsors of the event, namely John Clark MINI Tayside as without their contribution, the day could not have gone ahead.  They also had a large number of local support incluidng Wave 102, Help for Kids, Heal Physiotherapy, Aitkens Wines, McGills Electrical, Scott Brothers butchers and Mark Walker Architects. There was also sporting equipment on sale through Monarch Hockey, PSL and Clubsport.

A special mention must go to all of the volunteers over the course of the day, without their help the clubs could not have had so much on offer.  A special thanks also goes to Siobhan Cowie who travelled down from Aberdeen and stood in the goal all afternoon, showing the youngsters what it takes to keep the ball out of the net! 

The clubs really hope that everyone had an enjoyable day and they look forward to seeing everyone coming along to join in, young or old!

Scottish Hockey Union media release