All the news for Friday 4 October 2013

Chance for fringe players

MALAYSIA will send a mixed men's side to the International Super Series Hockey 9s in Perth on Oct 17-20.

Defender Ahmad Kazamirul, midfielder Harwinder Singh, goalkeeper Khairulnizam Ibrahim and defender Amin Rahim will be among the motley-crew for the tournament.

None of them played any part in major tournaments this year, but have been given another chance to prove themselves after their performances in the recent Razak Cup in Kuantan.

Some of the regular national players added to the squad are striker Tengku Ahmad Tajudin, No 2 goalkeeper Roslan Jamaluddin, midfielder Shahrun Nabil and defenders Baljit Singh and Razie Rahim.

Malaysia will also send a women's side, who will compete against World No 2 Argentina, Australia and Canada.

The men's tournament will see Paul Revington's side pitting their skills against World No 2 Australia, Pakistan and Argentina.

Australia has been at the forefront of promoting hockey 9s which will have nine instead of 11 players, for a faster and more open field.

The tournament's modified format will also have a larger goal-mouth, and 20 minute halves to provide the action in short, sharp, exciting bursts.

New Straits Times


---

Four to get their feet wet

KUALA LUMPUR: Four players who have not featured in any major international tournaments this year have been included in the national team for the International Super Series Hockey 9s in Perth from Oct 17-20.

The four – Penalty corner specialist Mohd Amin Rahim, goalkeeper Khairulnizam Ibrahim, defender Ahmad Kazamirul Nasruddin and midfielder Harwinder Singh – were picked based on their fine performances in the Razak Cup tournament in Kuantan last month.

The squad will be strengthened with the inclusion of four national players – forward Tengku Ahmad Tajudin, midfielder and skipper Mohd Shahrun Nabil and defenders Baljit Singh Charun and Mohd Razie Abdul Rahim.

Malaysia, coached by Paul Revington, will pit their skills against world champions Australia, Pakistan and Argentina.

The 9s in Perth is part of the Malaysian team's preparation for the third edition of the Asian Champions Trophy in Kakamighara, Japan, from Nov 1-9.

Malaysia will also send a women's team for the 9s in Perth and they will compete against world No. 2 Argentina, Australia and Canada.

THE MEN'S SQUAD

Goalkeepers: Roslan Jamaluddin, Khairulnizam Ibrahim.

Defenders: Azlan Misron, Ahmad Kazamirul Nasruddin, Baljit Singh Charun, Mohd Sukri Abdul Mutalib, Mohd Amin Rahim, Mohd Razie Abdul Rahim.

Midfielders: Azreen Rizal Nasir, Harvinder Singh, Mohd Shahrun Nabil Abdullah, Mohd Azammi Adabi, Mohd Marhan Mohd Rosli.

Forwards: Amir Farid Ahmad Fuzi, Izwan Firdaus Ahmad Tajuddin, Mohd Ramadan Rosli, Nabil Fiqri Mohd Noor, Norhizzat Sumantri, Tengku Ahmad Tajudin Abdul Jali.

The Star of Malaysia


---

Faeez AKA Petak pulls out of national team




Former national juniors skipper Mohd Noor Faeez Ibrahim has opted to withdraw from the national squad to concentrate on his studies.

The 22 year old was recalled to the national training squad by coach Paul Revington after being left out for the last five months.

Though he was named into the training squad of 30 by Revington on September 20, Faeez failed to turn up for the training camp that commenced on September 30.

He however held a discussion with Revington on Tuesday and was scheduled to hold another discussion with regards to his timetable at the university but opted to withdraw today, informing Revington of his decision via email.

It is however ironic that Faeez took some two weeks to come to such a decision when he could have stated his stand and allow another player to be called up as replacement.

"Faeez sent me an email to say that he will not be able to join that national training squad as he wants to concentrate on his studies," said Revington.

"The decision was entirely his and although I was uite prepared to listen and make minor adjustments to fit him in, I suppose he has the reasons for withdrawing from the squad.

"Honestly I would have loved to have a talent like him in the squad but since he has decided otherwise, I will respect his decision."

With drawing from the current training squad means that Faeez will in all probability has lost his chance of making the grade for the World Cup training squad.

Revington has left out five players from the current national juniors squad to allow them to concentrate on the Junior World Cup in New Delhi that will be held from December 6-15.

The current training squad comprises of some players that were recalled and other fringe players like Faeez who had the talent to push for a place in the World Cup training squad of 30 to be named in January.

The national team is scheduled to play in the Super 9's in Perth (October 17-20), the AHF Champions Trophy (in Japan from 1-9 November) and a Test Series in Korea this December.

With no major domestic tournaments over the next three months, the doors of the national team are likely to be closed on Faeez to convince Revington of another chance.

Malaysian Hockey blogspot


---

Juniors playing at senior level ahead of WC is a concern: Gregg Clark

Rutvick Mehta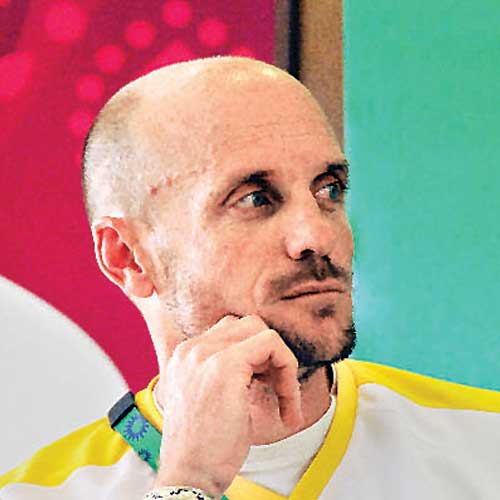 Gregg Clark

After Indian junior hockey team's triumph at Sultan of Johor Cup recently, coach Gregg Clark tells Rutvick Mehta that team focus is solely on preparation for Junior World Cup.

Winning the Sultan of Johor Cup must have been a great moment. What kind of preparations did you mark out for the boys?
For those that played in the final last year, that experience would have stood them in good stead for this year's final. We had specific targets for the match and had identified specific aspects which we wanted to get right. Fortunately for us, the boys executed the game plan very well and it showed in the result.

You've placed a lot of emphasis on consistency, both individually and collectively as a team, which is showing in the performances. How have you made it click?
Yes, I believe it is the hallmark of a good team, as well as a good player. Being able to produce close to your best everytime you take to the field makes one a formidable player and if a team is made up of a number of these players, it makes a formidable team. We have put an emphasis on trying to be our best at every single training, the natural consequence should be that we can produce close to our best every time we walk on to the pitch...training or competition.

It's been almost six months since you took over as coach of the junior team. What kind of talent do you see at the grassroots level? Could you also give your thoughts on the kind of facilities being provided to budding hockey players?
Unfortunately, I have been too busy with the junior team's preparations to travel the country scouting and checking facilities. I did attend junior and senior nationals. The depth of talent in India is undoubted, although I do think that the number of quality astro turf facilities needs to be improved/increased so that more players/teams are exposed to astro turf as the skill-set required for astro hockey is really different from that of grass hockey.

The likes of Manpreet Singh, Mandeep Singh and Ramandeep Singh – to name a few – have played a huge role in the team's success. You thoughts on them, and any other players you think that have made an impact?
I really thought that each and every player who participated at the Johor Cup contributed excellently to the team's success. Yes, we have some players with big reputations, but the players know that for us to be successful, each and every player needs to contribute to their full potential.

About six or seven of the junior boys also play in the senior team and participate in all their tournaments and camps. Does that concern you, because there's the all-important World Cup in December
Yes, it is a concern, but their focus for the next couple of months will be solely on the JWC process.

There's been a lot of debate around hockey circles about foreign coaches coming to India and trying to instill the European/Australian style of  hockey on our boys. When you took over as the coach, you spoke about retaining the natural flair of Indian hockey. Do you think that's the key as far as coaching in India is concerned?
I do, but that may not be the same for all foreign coaches. I think there are aspects of the Indian style of play that other international teams wish they could reproduce. I am trying to harness these aspects, whilst trying to eradicate aspects that other teams might perceive as 'traditional weaknesses' of Indian teams.

Many former Indian national players want an Indian to coach the teams, especially after our senior men's indifferent performances lately and with Michael Nobbs's departure. Your thoughts on this...
I can understand their opinion. India has a proud hockey history. It is not for me to say who is right and who is wrong in this regard. I have been asked to do a job, and I am going to do it to the best of my ability. I am glad that it is perceived by some that I am making a positive contribution.

Lastly, the Junior World Cup is just a couple of months away. What are your plans going into the big tournament? And, can India realistically expect a medal from our junior boys?
The plans are to try and continue to improve each and every day between now and the start of the JWC. If the team plays to its potential, then I think we can be very competitive in the competition.

DNA


---

Hockey juniors join Pakistan training camp

KARACHI: As many as 18 national junior players joined the senior probables yesterday at the training camp for the upcoming assignments in Australia and Japan.

The Pakistan Hockey Federation team management included all the members of the junior team that recently participated in the Sultan of Johor Cup junior event in Malaysia.

According to camp commandant Tahir Zaman, all the junior players reported to the camp that started in Lahore last week.

"The camp is underway in full swing and three sessions are being held daily," Zaman told The Express Tribune.

Pakistan will feature in the Nine-a-side International Super Series in Perth, Australia from October 17-25 besides playing a few Tests against the home side and Argentina.

The greenshirts will then defend their Asian Champions Trophy in Kakamigahara, Japan starting November 1. The final squad will be named next week.

The Express Tribune


---

Can Edinburgh Uni upset champions Kelburne?

Aberdeen Asset Management Men's National League Division 1

Champions Kelburne travel to Peffermill on Saturday to face Edinburgh University, and with both teams having won their fixtures the previous weekend, confidence in both camps will be high.  However, Graham Moodie's charges will need to be on their game if they are to upset the form guide and defeat the title holders.

Hillhead and Grange will look to get their seasons back on track at the Glasgow National Hockey Centre on Saturday, with the capital outfit yet to register a win to date and Hillhead losing to Kelburne last Friday evening.   When the two sides last met, Grange were comfortable 3-1 winners in Edinburgh.

AAM Gordonians, buoyed by their first win of the season against Dundee Wanderers, travel south to Auchenhowie to face Western Wildcats, who are yet to drop a point this season.  The Wildcats scraped past the Aberdeen side in a seven goal thriller at the tail end of last season.

In Dundee, league leaders Grove Menzieshill host city rivals Dundee Wanderers in a local derby.  Chris Anderson's men may justifiably carry the favourites tag given their undefeated start to the season, however, Wanderers have shown their potential to cause an upset after an impressive win against Grange recently.

Inverleith's push for their first win of the season will be put to the test by visitors and undefeated PSL Team Sport Clydesdale.  A defeat to city rivals Edinburgh University last Saturday placed Inverleith at the foot of the table with a single point.  John McKnight's squad, by contrast sit comfortably in mid table with games in hand after a creditable draw with league leaders Grove Menzieshill at Titwood last weekend.

Aberdeen Asset Management Women's National League Division 1

CALA Edinburgh host league leaders Grove Menzieshill this Saturday.  CALA will be looking to get back to the kind of form which saw them finish in the top half of the table last season, while the league champions will be keen to maintain their impressive defensive record, having not conceded a single goal this season and racking up four wins from four games.

Mid table Kelburne will travel to Peffermill on Saturday looking to tarnish Edinburgh University's 100% start to their league campaign.  With as many wins as losses this season Kelburne are yet to build up any momentum, while the students have hit the ground running, scoring seventeen goals in only two matches.

Western Wildcats welcome Grange EL to Auchenhowie, with both sides looking to claim their first wins of the season.  Western are precariously placed at the bottom of the table after four matches, but will be hopeful of a points return on their home patch.  Grange are a point better off than their opponents and will be aware of the significance of this fixture for both sides.

Last season's Division 2 champions Watsonians face G.H.K. in Edinburgh.  The Glasgow side have a point advantage over their opponents having secured a valuable away win against Grange EL earlier in the season.  Watsonians have experienced a more difficult start to their campaign, with heavy defeats against Milne Craig Clydesdale Western, Grove Menzieshill and Edinburgh University.  They did, however, pick up their first point of the season last week against fellow strugglers Grange EL.

The final match of the weekend sees Milne Craig Clydesdale Western and Dundee Wanderers face off at Titwood.  Both teams have started the season emphatically and will be keen to maintain their 100% record in what promises to be a fiercely competitive match.  There is no doubt that both sides know their way to goal, so the match may hinge on the team which is most resolute in defence.

Please visit the competitions section for all results and league tables

Scottish Hockey Union media release


---

A weekend packed full of double-headers

Aberdeen Asset Management Men's National League Division 2

With 14 teams in the league this weekend is jammed packed with hockey action, with many teams playing twice.

At the top of the table Watsonians welcome second place Aberdeen GSFP who will be hoping to break the Tipperlinn outfit's 100% win record; it's going to be a real thriller.

After their first loss of the season, Glasgow University will be wanting to get the ball rolling and put some points on the table when they host bottom FMGM Monarchs, who are yet to win a match.

CALA Edinburgh are going out fighting this weekend, playing two matches and targeting secure their first win. On Saturday they play host to Falkirk GHG and on Sunday they are away to Uddingston. No easy tasks.

University of St Andrews are chief host this weekend welcoming both Uddingston and Granite City Wanderers.

Stepps will be on a high after their goal flood last weekend but they go away to Alpha Data Carnegie who are finding a good form and wanting to push up the table.

Granite City Wanderers face Erskine Stewart Melville on Saturday then the former pupils host Glasgow University Sunday. Falkirk play at home against Alpha Data Carnegie on Sunday.

Aberdeen Asset Management Men's National League Division 3

At the top of the division 2020 Renewables Greenock are yet to lose a match and they play host to mid table ADTI Aberdeen University. Both sides play again on Sunday with the students travelling to Harris Academy, while Greenock areaway to Stirling Wanderers.

After a nail biting match against Stirling Wanderers last weekend Ayr host fifth position Giffnock on Saturday and travel to Waverley Inveresk Trinity the following day.

Harris Academy FP, who have drawn three and lost one, are travelling north to face Highland aiming to solidify their second position on Saturday.

The remaining Saturday games see University of Dundee host Stirling Wanderers, Perthshire welcome Chapman Motherwell and Waverly Inveresk Trinity go away to ninth position University of Strathclyde.

Sunday sees many teams play their second match of the weekend with Giffnock hosting University of Dundee, Chapman Motherwell play fourth place Highland and University of Strathclyde face Perthshire.

Regional League Central division 1

Currently sitting first place in the league, Grange II will  fancy their chances of three points against last place University of Stirling who would like to get their first win under their belts but this will be a tough match for the young team.

Despite their 6-1 lost against PSL Team Sport Clydesdale last weekend, Inverleith have moved up to sixth and will host Hillhead II. The Titwood side travel east to play Edinburgh University III. Edinburgh University II play Stepps at home and Grange III welcome Kelburne II.

Regional League Central Division 2

Glasgow University II finally get their season underway hosting Uddingston II, who have dropped down to fifth. Third place Rottenrow Blue Sox will want to keep the goals flying in after their 6-1 win last weekendwhen they face GHK.

Top of the division Anchor are away to Livingston & West Lothian who may struggle for that first win of the season.

Alpha Data Carnegie II play East Kilbride, Erskine Stewart Melville face CALA Edinburgh II, it's a midday push back  as Clydeside take on PSL Team Sport Clydesale III and Watsonians II welcome Falkirk GHG II.

Regional League North Division

It's three wins out of three for AAM Gordonians III who top the table and they face a local derby against Granite City Wanderers II. Aberdeen GSFP III will want to redeem themselves after last week's 8-0 loss and face ADTI Aberdeen University II which is their first game of the season. Aberdeen GSFP II host third place Grove Menzieshill II.

Please visit the competitions section for all results and league tables

Scottish Hockey Union media release


---

AAM Merlins Gordonians top the table

Aberdeen Asset Management Women's National League Division 2

AAM Merlins Gordonians currently top the table and they welcome third place Erskine Stewart Melville to the Granite City in a vital clash. Haddington are yet to win and will be hoping to get some points on the table when they face Borders Fjorhus Reivers.

Having played just one match so far, ending in a draw, Glasgow University are away to Inverleith and will be aiming for their first win. Granite City Wanderers are at home to University of Dundee.

Aberdeen Asset Management Women's National League Division 3

After winning their first match of the season Stirling University will hope they can keep that form up as they face fourth place Waverley Inveresk Trinity. It is the first game of the season for the university teams this weekend, with University of Strathclyde welcoming Bon Accord MBC and ADTI Aberdeen University welcoming Aberdeen Ladies.

Championship League West division

After last weekend's break Kelburne II will be hoping to redeem their drop to fifth position as they face table toppers Glasgow Accies. The Windy Edge outfit will pitch up again on the Sunday to play away to Milne Craig Clydesdale Western II.

Struggling Giffnock will play Milne Craig Clydesdale Western III while Milne Craig Clydesdale Western II are at home to Stirling Wanderers.

Championship League East Division

Edinburgh University II top the league and face a home match against CALA Edinburgh II. Watsonians A take on Grove Menzieshill A, then on Sunday, Grove Menzieshill will pick up their sticks again to face Grange EL II.

Please visit the competitions section for all results and league tables

Scottish Hockey Union media release


---

Scotland stars visit Aberlady Primary School




Aberlady's P6/P7 class were treated to a visit by Scotland players, defender Leigh Fawcett and goal keeper Nicki Cochrane, to answer questions on what it's like to be an international athlete, as well as giving the children a chance to see some of the equipment used.

The class provided the girls with a set of inquisitive questions, ranging from how much training they do, to their favourite hockey moment and who inspired them, as well as a few less hockey related questions, including their favourite book and pop group. Nicki and Leigh were great with the children explaining all about the game, including details of nutrition and hydration and the training they do to be world class athletes...as well as telling them Bastille and One Direction were their favourite pop groups!




The pupils were very responsive and continued to ask questions for as long as possible, before being shown a selection of clips from when Scotland won the bronze medal in last year's Champions Challenge, demonstrating the speed and skill of international games, as well as an introduction to running penalties and short corners.

When it came to looking at the equipment, the pupils were all desperate to try on some of the goalie kit that Nicki would use in a game, as well as looking at Leigh's face mask, gloves and sticks; they were all fascinated with it and there were even compliments on how little it smelled!




Before the girls had to leave, there was just enough time to sign autographs and pose for photos, as well as answer a few more last minute questions to round off a very successful day. Many thanks go to Aberlady Primary School for hosting us and to Leigh and Nicki for taking the time to inspire the next generation of players.

Scottish Hockey Union media release


---

Glasgow 2014 to offer priority to unsuccessful ticket applicants in exclusive on sale window

Organisers of the Glasgow 2014 Commonwealth Games are creating a special opportunity for sports fans who did not secure any Games tickets in the application phase to buy tickets in an exclusive on sale window.

Before tickets go on general public sale, there will be an exclusive opportunity for all existing ticketing applicants to purchase any remaining public tickets. All tickets will be immediately available for sale on a first-come, first-served basis on the official Glasgow 2014 Ticketing website

The on sale period will run from Monday 21 October to Saturday 26 October, with the first two days – Monday 21st and Tuesday 22nd – dedicated exclusively to those who received no tickets from their application.

From Wednesday 23 October applicants who received some of their requested tickets in the application period will also be able to access the Ticketing website. On Friday 25 and Saturday 26. October everyone who applied for tickets will have an exclusive second chance to top-up their ticket account before all remaining tickets go on general public sale.

All those who participated in the application process will be informed by email or letter within the next few days of this exciting opportunity – and how and when the exclusive on sale period is available to them.

A bumper 2.3million requests were made for up to one million tickets in the application phase of the Glasgow 2014 Ticketing Programme. This overwhelming demand for tickets confirms Glasgow 2014 as one of the most popular events in Scotland's history with 17 sports on offer across 11 days of elite competition, ensuring 4500 Commonwealth athletes competing for Gold and glory in Glasgow will do so in packed stadia.

Ty Speer, Deputy Chief Executive of Glasgow 2014 said:

"I'm delighted we're now able to offer this exclusive on sale period to those who have already demonstrated their commitment and enthusiasm for Glasgow 2014 through their applications for tickets.

"There is still a wealth of opportunities to experience world-class competition across a wide range of sports. For everyone who wants to be part of the UK's next big sporting festival this is the best opportunity to secure tickets.

"Over the next few days we will be contacting everyone individually to let them know about this exclusive opportunity and what it means for them as well as thank them for their incredible support of Glasgow 2014 so far."

How it works: A summary of the exclusive on sale process October 21-26

Monday 21 October and Tuesday 22 October:

Glasgow 2014's Official Ticketing website opens exclusively for previous ticketing applicants who received no tickets in the application phase. Signing-in using their unique Customer Reference number, they will have first opportunity to purchase any remaining tickets for sessions with availability.  During this phase, tickets will be available to buy on a first-come, first –served basis.

Wednesday 23 October and Thursday 24 October:

Glasgow 2014's Official Ticketing website open on a first-come first-served basis for previous ticketing applicants who received no tickets in the application phase AND those who received some tickets in the application phase. Signing-in using their unique Customer Reference number both groups of customers have access to purchase any remaining tickets for sessions with availability.  During this phase, tickets will be available to buy on a first-come, first served basis.

Friday 25 October and Saturday 26 October:

All existing Glasgow 2014 ticket applicants have an exclusive opportunity to buy any remaining available tickets prior to general public sale. Tickets will be available to buy on a first-come, first-served basis.

Tickets start from just £15 for adults. Half-price concessions are available for under-16s and over-60s and the price of a ticket also includes access to public transport in the local area on the day of your event.

As part of their ticket application every person will be given the opportunity to include a donation of £1, £3 or £5 to UNICEF, the world's leading children's organisation. The money raised will go towards helping improve the lives of babies and children in Scotland and in Commonwealth countries across the world through the many transformative projects UNICEF delivers every day.

Further details on the general public sale of remaining Glasgow 2014 tickets will be released soon.

Scottish Hockey Union media release


---

NOW: Pensions helps develop men's hockey



NOW: Pensions Domestic League Launch

NOW: Pensions, the Principal Partner of Great Britain and England Men's hockey, announced its continued support for the men's domestic league at the launch party in London yesterday evening (2 October).

This is the first full season that NOW: Pensions, one of the UK's leading workplace pensions provider, is sponsoring the league. To mark the start of the 2013/14 season, the sponsor hosted a launch event at Devonshire Square, London, with players from the NOW: Pensions Men's Premier League playing in an exhibition Rush Hockey match and demonstrating their skills in the NOW: Hockey Speed cage.

Rush Hockey is a modified format of the game which NOW: Pensions is supporting to help England Hockey develop the sport at the grassroots. Accompanied with the exciting speed cage, the event in the heart of London's financial district helped bring the sport to a new audience.

The event also coincided with the first year anniversary of pensions auto-enrolment in the UK, which lies at the core of NOW: Pensions' business, and provided the backdrop for new initiatives which NOW: Pensions is introducing into the domestic league.

The NOW: Hockey Challenge seeks to develop the sport through the NOW: Pensions principles of Smarter, Simpler, Better. For the new domestic season, NOW: Pensions is helping to develop tools for hockey clubs to make their hockey life easier, both on and off the pitch. This will include a toolkit for clubs such as pitchside banners and marketing materials to help clubs both look 'smart' and promote the game in local communities.

NOW: Pensions will also offer coaching materials from England Coach Bobby Crutchley, team building exercises, physical conditioning and nutrition advice to help provide 'simple' tools for hockey clubs around the country.

Finally, to help provide inspiration to become 'better' local clubs will be given the opportunity to watch firsthand how the England squad trains.

Meanwhile the NOW: Hockey Bus will be supporting fans by providing free coach travel to the Domestic League Finals in Reading for the club which tops the Premier League at the end of the regular season. Both initiatives are designed to reward clubs and encourage fans to support their team. More details about these initiatives will be released later in the season.

Morten Nilsson, CEO of NOW: Pensions, commented: "This is just the start of our efforts to help England Hockey develop the sport, not only at the elite level, but also the domestic game and grassroots.

"We're already supporting Rush Hockey and have developed a speed cage to bring the sport closer to the public. Hopefully the initiatives announced today will be a real help to clubs in the domestic league which we can expand as our partnership with men's hockey continues.

"We've been delighted with our partnership with England Hockey and would like to wish every club competing in the NOW: Pensions Men's Domestic League the best of luck for the coming season."

England and East Grinstead midfielder Ashley Jackson said: "The very fact that we are having a launch event for the league here in the heart of London is important. This wouldn't be possible without the support of NOW: Pensions and really helps to raise the profile of the sport.

"All of the players are really looking forward to an exciting tournament ahead and we look forward to the league finals in Reading at the close of the season."

Philip Kimberley, Chairman of England Hockey, commented: "We're delighted to be in partnership with NOW: Pensions and to have their support for the Men's Hockey League. We are really excited about what we can achieve together, especially given the increased interest there has been in hockey recently.

"It's great to see so many clubs represented here tonight and to introduce them to their sponsors. NOW: Pensions have some great ideas for this year's league and I can't wait to see who makes it to Finals Weekend."

NOW: Pensions signed a four-year deal with England Hockey in April 2013 to support the elite squad, domestic game and grassroots on the Road to Rio 2016 and beyond.

To support the game and follow the latest news follow @NOWhockey on twitter or use #NOWhockey.

England Hockey Board Media release


---

Foreign teams here for Malvern six-a-side

Malvern Sports Club will host its annual six-a-side hockey festival at the T&T National Hockey Centre, Tacarigua, tomorrow and Sunday featuring a number of local and international teams from 9 am.

Overall, more than US$3,600 in prizes will be on offer to the tournament winners and top individual performers over the two days of competition.

The winner of the men and women Open will each collect US$1,000 while second gets US$500, and third, US$300.

The men's tournament will feature seven teams (Queen's Park CC, Notre Dame, Defence Force, Paragon, Malvern, Guyana Cricket Club and Barbadians ABC) placed in two groups, one comprising four teams, the other three.

Following the completion of their round-robin series, the top two clubs in each group advance to the cross-over semifinals followed by the third and first placed matches.

The team that ends, third in the group with three teams will meet the fourth placed from the other in a playoff for seventh, with the winning meeting the third placed team from the group with four teams for fifth spot.

Among the women competitors, host Malvern will compete against Shandy Carib Magnolias, Harvard Maritime Checkers, Notre Dame and Paragon in a round-robin series on Saturday from 9.35 am at the end of which the top four teams will contest a semifinal on Sunday, followed by third place and finals matches.

In the boys' competition which starts at 9 am, Notre Dame, Malvern and Queen's Park will do battle in two rounds of round-robin matches followed by the top two teams contesting a final.

The girls competition will also begin at 9 am and feature three clubs in host Malvern, Carib Magnolias and Ventures playing each other twice before the top two meet in a final.

There will a Bouncy Castle and Face Painting for the children while food and drinks will also be on sale.

Malvern will also host its first bar-b-que at Tacarigua under the theme "Tongs on Fire" featuring a variety of fish, chicken, beef, pork ribs and other dishes.

The Trinidad Guardian


---

Second-ranked UConn faces challenge in No. 9 BC



The Terps' only game this weekend is a big one, as they travel to No. 3 North Carolina. Maryland Athletics

Two of the nation's top teams meet this weekend. Top-ranked Maryland travels down to No. 3 North Carolina who had been ranked atop the polls before losing in penalty strokes in last weekend.

While that game could very well be the game of the weekend, there are other key games to watch this weekend.

No. 1 Maryland

A week ago, it looked like Maryland's game this Saturday would be between the nation's two best teams. Instead, it's now a meeting of two of the nation's top-three teams as the top-ranked Terps head to third-ranked North Carolina for the only regular-season meeting between these two power house ACC teams.

Maryland, which has won its first 10 games of the season, could find itself in a high-scoring affair on Saturday. So far this season, the Terps are averaging 5.2 goals per game (led by Anna Dessoye and Jill Witmer with seven each) and the Tar Heels scoring 4.78 goals per game (led by Nina Notman's six). Maryland goalkeeper Natalie Hunter has only given up nine goals in nine starts (10 games) so far this season and has turned away 33 shots.

No. 2 Connecticut

Besides being the only other team to jump North Carolina in the latest poll, the Huskies are also the only other undefeated team currently in the top 20. This weekend, UConn goes to play at Providence in a Big East matchup on Saturday and then travels to No. 9 Boston College on Sunday.

In four of the past six games, Sarah Mansfield has kept UConn's opponents from scoring a goal. In all, Mansfield – Uconn's all-time leader in wins – has a .809 save percentage (38 saves, nine goals allowed) while playing all 651 minutes the Huskies have played.

No. 3 North Carolina

The Tar Heels will have had a week to get ready for top-ranked Maryland's visit for Saturday's game. They have been off since suffering their first loss of the season last Friday to Duke, which was also their first loss since a 1-0 overtime loss to Syracuse on Sept. 1, 2012. But the last time North Carolina had two losses before the NCAA tournament came in 2010 when it lost both games to Maryland. North Carolina will have a quick turnaround after the Maryland game as it hosts California on Sunday.

North Carolina has outscored its opponents 43-9 through its 8-1 start to the season. The Tar Heels have come out strong in the first half, holding a 29-4 advantage in first-half goals against their opponents.

No. 4 Virginia

The Cavaliers face two of the nation's best teams on the road this weekend, starting with a trip to No. 5 Syracuse on Saturday. After that, it's a trip to No. 12 Albany on Sunday – a team that has lived outside of the top 10 for most of the year. Virginia made a similar weekend trip to the Northeast last season, sweeping a pair of games from Boston College and Boston University.

Senior forward Elly Buckley, a native of Australia, leads the nation with 17 goals and 40 total points. She will face a big challenge on Sunday when she faces Albany goalie Maxi Primus, who through the end of September, led the nation in goals-against average (.88).

No. 5 Syracuse

Syracuse responded from its first loss of the season by posting consecutive wins against a pair of top-10 teams in Stanford and Princeton. The Orange look to continue that roll as they take on Virginia on Saturday and then Monmouth on Sunday. Saturday's game will be the first time Syracuse will host a conference game as a member of the ACC.

Three players — Leonie Geyer, Emma Russell and Alyssa Manly — are all tied with the team lead with six goals. Geyer has the team lead with 17 points thanks to her seven assists, one more than Russell has.

No. 6 Stanford

Stanford shifts its focus to conference play this weekend as it takes on two NorPac opponents. The Cardinal (7-2, 1-0 NorPac) opens its weekend at home on Friday against Pacific, and will travel to UC Davis on Sunday. Stanford went 1-1 last weekend in New York, falling to No. 5 Syracuse 3-1 and defeating No. 11 Albany 2-1. The Cardinal found itself in a bit of unusual territory as it was outshot and managed less than 10 shots in each game.

Kelsey Harbin leads Stanford in points (11), goals (four) and is tied with Shannon Herold with three assists apiece. Harbin has recorded at least one point in three of the past four matches. The Cardinal has received offensive contributions from a variety of players with 10 scoring at least one goal and 13 recording at least one point.

No. 7 Duke

Coming off of three consecutive wins, Duke continues a four-game homestand this weekend. The Blue Devils will play host to non-conference opponent California on Friday before taking on ACC foe and 14th-ranked Wake Forest on Sunday. Duke and the Golden Bears will square off for just the fifth time in program history, with the Blue Devils holding a 4-0 advantage in the series, including a 2-1 win last season. Duke is 17-9 historically when facing Wake Forest at home, but the Demon Deacons come away with a 3-2 win in double overtime in last season's meeting at Wake Forest.

Twelve different Duke players have tallied a point through 10 games this fall. Ten different Blue Devils have registered a goal, led by senior Emmie Le Marchand and freshman Heather Morris with six each. Le Marchand paces the squad 17 points and junior midfielder Abby Beltrani has totaled a career-best seven assists to rank sixth in the ACC in assists per game

No. 8 Penn State

It has been a tale of two seasons for Penn State. After starting the season with losses in four of its first five games, the Nittany Lions have run off six consecutive victories. In that time, they have knocked off then-No. 3 Princeton and then-No. 16 Delaware. They will try to pick up another win against a ranked team when it hosts No. 10 Northwestern on Saturday in its lone game of the weekend. Last season, the Wildcats picked up an overtime victory against Penn State.

Taylor Herald and Ashtin Klingler lead the team with seven goals each, though Herald has the edge in points thanks to her three assists. Kylie Licata has started all 10 games in goal for the Nittany Lions, and has a 1.6 goals-against average.

No. 9 Boston College

The Eagles get the middle two of four consecutive games on the road this weekend, getting New Hampshire on Friday and UConn on Sunday. So far this season, Boston College has only played four of its 10 games on the road and has gone 3-1 with the loss coming at then-No. 14 Massachusetts.

Leah Settipane has been busy in goal for the Eagles, facing 77 shots. She has turned away 59 of them which is good for a .766 saves percentage. Emma Plasteras and Emily McCory each have a team-high seven goals. 

No. 10 Northwestern

The Wildcats have moved up into the top 10 for the first time this season after defeating No. 14 Iowa and No. 19 Michigan last weekend. Saturday's game against Pnn State will be the fifth consecutive game against a ranked opponent for the Wildcats with the only loss in that stretch coming against Virginia. That streak will end on Sunday when Northwestern travels to Kent State.

In nearly 860 minutes of play, Northwestern goalie Maddy Carpenter has a 1.14 goals-against average and a .714 saves percentage. On the attack, Nikki Parsley leads the team with eight goals and 18 points.

NCAA


---

First ever ALL-BOYS INDOOR hockey tournament
All Boys Indoor Hockey Tournament Dec 13-15, 2013 - Colorado Springs, CO

For far too many years there has been no focus upon boys participation in our sport in the US. Here is the BEST field hockey experience for boys of all ages this year. Be a part of history.

All Boys Indoor Hockey Tournament
Dec 13-15, 2013 - Colorado Springs, CO

- Newly released rules are to be used (5 a-side format)
- Age appropriate brackets from 8 years and up
- Register as a team or individual
- Free clinics and training Fri evening and Sat morning
- Skilled players begin play Sat morning
- Meet Olympians and National coaches
- Players stay on site, bring a sleeping bag, toiletries and towel
- Tournament hotel available for families/non-players
- Friday night Banquet (free for players, fee for non-players, everyone welcome)
- Free T-shirt, socks and tournament ball for every player
- Awards for top placing teams

Tournament Venue:
Big House Sports (5 miles from Tournament Hotel) 2660 Vickers Dr, Colorado Springs, CO 80918
Sport Court surface, 3-6 courts will be used at any given time.

Tournament Hotel:
Quality Inn & Suites-Garden of the Gods 555 W. Garden of the Gods Colorado Springs, CO 80907 719-593-9119 qualityinnandsuitescs.com
Ask for the "All Boys Hockey Tournament" rate before Dec 6th

Tournament Rates (plus tax) include free breakfast:
$64/Night - Standard King
$64/Night – 2 EX Long Double beds
$93/Night - 2 room Suite, 2 EX Long Double beds, 2 full baths, pullout sofa sleeper with Microwave and Micro Fridge
$93/Night – 2 room Suite, 2 Queen beds, 2 full baths, pullout sofa sleeper with Microwave and Micro Fridge

Airports:
Colorado Springs Airport (COS) (15 miles from Tournament Hotel)

Denver International Airport (DEN) (80 miles from Tournament Hotel)

Places of Inerest:
Dita Field Hockey North America (3 blocks from Tournament Hotel)
612 Elkton Dr
Colorado Springs, CO 80907
Fieldhockey.net

While in town, bring the family skiing, visit dozens of local attractions, go shopping or relax at a spa. See the list of activities in the hotel guide below.

All age groupings remain open at this time. REGISTER TODAY as a team or individual.

A MINIMUM OF 3 AGE APPROPRIATE GROUPINGS:

Young Players eight and up, intermediate, and high school and older. If you already have an indoor team, come have fun. Individual players will be placed together onto appropriate teams.

Players will be sorted into the most appropriate skills and age levels. Even players who have little or no indoor hockey experience will be given intensive coaching, preparing them to participate at 1 pm by Saturday. Saturday afternoon and evening games will take place on three sport court surfaces. The tournament will finish on Sunday by 4 pm.

An early bird individual registration fee of $ 75 USD is offered until October 1, 2013. Individual registration fee of $95 USD is charged after October 1.

USA Field Hockey membership required for US citizens.

In conjunction, Dita is hosting additional activities at the same venue, including: An Adult Mixed Indoor Tournament and a fun play area for ages 3-7 on Saturday afternoon.

for more information CONTACT:
This e-mail address is being protected from spambots. You need JavaScript enabled to view it
Tournament Director, Scotty Gregg - This e-mail address is being protected from spambots. You need JavaScript enabled to view it
Team Coordinator, Paul Lewis - This e-mail address is being protected from spambots. You need JavaScript enabled to view it
Umpire Wrangler, Garrett Best - This e-mail address is being protected from spambots. You need JavaScript enabled to view it
Event Manager, Miki Best - This e-mail address is being protected from spambots. You need JavaScript enabled to view it

FIRST EVER:
ALL-BOYS INDOOR HOCKEY TOURNAMENT
Dec 13 -15, 2013, Colorado Springs OTC

All Age Groups Encouraged to Participate. BoysPlayIndoor

REGISTRATION FORM for ALL-BOYS TOURNAMENT

Email to This e-mail address is being protected from spambots. You need JavaScript enabled to view it
or Mail form to:
Dita Field Hockey
612 Elkton Dr
Colorado Springs, CO 80907

Smart Indoor Players Look to DitaGenius.com for What They Need

Indoorhockey.net