All the news for Wednesday 4 December 2013

Dazzling Dutch defeat Korea to win Pool A

Argentina Hockey World League Final: Netherlands & England winners on Day 3



(Photo: Frank Uijlenbroek)

The Netherlands have topped Pool A at the Argentina Hockey World League Final in Tucuman thanks to a 3-1 win over Korea. Meanwhile, England sealed second place in the Pool by beating Germany by the same score-line.

Korea and Germany finished the pool phase with one point apiece, with Korea taking third place ahead of the European champions courtesy of a superior goal difference.

More information about the matches can be found below.

Match 9: Dazzling Dutch defeat Korea to top Pool A

Two open play goals from Lidewij Welten either side of a penalty corner from Kitty van Male helped the Europeans maintain their 100% winning streak at the Argentina Hockey World League Final in San Miguel de Tucuman. 

Reigning Olympic champions the Netherlands have finished top of Pool A courtesy of a superb 3-1 victory over Korea. Two open play goals from Lidewij Welten either side of a penalty corner from Kitty van Male helped the Europeans maintain their 100% winning streak at the Argentina Hockey World League Final in San Miguel de Tucuman. 

The Netherlands were simply sensational in the first twenty minutes of the match, overwhelming their Asian opponents with some truly devastating attacking hockey.

The Europeans carved out a 2-0 lead inside the opening five minutes, with Lidewij Welten drilling a strike through the legs of Korea keeper Jang Soo Ji before Kitty van Male slammed home a penalty corner rebound to leave the Asian giants shell-shocked.

Welten claimed her second of the game with a perfectly angled deflection in the 16th minute, a score-line which more than reflected the one-sided nature of the contest. The Dutch could easily have gone into half time with five or six goals on the score-board, while Netherlands keeper Joyce Sombroek was rarely tested.

Korea made a much brighter start to the second half and began to put the Dutch defence under serious pressure. Korea attacker Cheon Eunbi forced Sombroek into action with a backhand strike, but The Netherlands remained in firm control and could easily have added to their tally with a blocked penalty corner effort from Oranje captain Maartje Paumen and two fine efforts from the lively Ellen Hoog. 

Korea pulled a goal back seven minutes from the end when Cheon Eun Bi brilliantly controlled a raised pass before dispatching her shot into the bottom right corner. The Koreans rallied hard in the dying stages, but a Dutch win was never in serious doubt.  

Match 10: Danson double sinks Germany

England recovered from a goal down to claim a win for the second time in the tournament, claiming a 3-1 win against European rivals Germany. Striker Alex Danson scored twice to help her team seal second place in Pool A.

Both teams got their names on the score-sheet in an evenly contest first half. Germany were the first to strike, with Eileen Hoffmann touching home a 17th minute opener following a loose pass from captain Kate Richardson-Walsh, who was playing her 200th international match for England.

England needed less than a minute to find an equaliser, with Alex Danson striking a first time effort past Germany keeper Barbara Vogel after wonderful interception from Hannah Macleod.

England started the second period with real purpose, and took the lead in the 41st minute when a powerful Nic White shot was guided into the goal by Sophie Bray.

Yellow cards in quick succession for Sally Walton and Helen Richardson-Walsh saw England temporarily reduced to nine players and resulted in a shift in momentum, with Germany making good use of the extra players to push their opponents onto the back foot.  However, Kate Richardson-Walsh kept her troops calm and battled through a tricky spell before the team returned to full strength.

Pia Oldhafer and Hoffmann both went close to levelling the scores in the latter stages, but England sealed the win in the final minute thanks to a wonderful solo effort from Danson.

Kate Richardson-Walsh was not the only player to reach a personal milestone in this match, with Germany captain Julia Müller also reaching the 200 caps mark for Germany. Kate Richardson-Walsh has also played 108 times for Great Britain, taking her combined total to 308.  

FIH site


---

Hockeyroos finish top of Pool B

Hosts Argentina victorious but finish second on goal difference



(Photo: Frank Uijlenbroek)

POOL B: Australia's Hockeyroos and Argentina's Las Leonas were both convincing winners in their Pool B matches on Tuesday evening, defeating New Zealand and China respectively. Australia's 5-1 win over New Zealand proved to be enough for them to finish top of Pool B ahead of Argentina thanks to a superior goal-difference.

More information about the matches can be found below.

Match 11: Hockeyroos too strong for Black Sticks

Australia's Hockeyroos emerged triumphant in a typically feisty Oceania derby match, powering to an impressive 5-1 triumph over New Zealand at the Hockey World League Final in San Miguel de Tucuman.

The result means that New Zealand have finished 4th in Pool B, and will play Pool A winners the Netherlands in Thursday's quarter-finals.  Australia moved temporarily to the top of Pool B, but will have to wait until the conclusion of the Argentina versus China match before knowing whether they finish in first or second place.

New Zealand shot-stopper Sally Rutherford was the busier of the two goalkeepers in the early stages of a mesmerising first half, making three solid saves before the pressure eventually told when Georgie Parker forced home from close range.

New Zealand hit back almost immediately when Anita Punt sent a penalty corner drag-flick into a crowded goal-mouth, with Petrea Webster being credited with a touch for the leveller.

Ashley Nelson restored Australia's lead in the 22nd minute, and a fine goal it was too. A cross into the circle from the left took a huge deflection, only for Nelson to show incredible reactions to guide the chest-high ball into the bottom left corner.

Kayla Sharland almost levelled the scores with a brilliant tomahawk strike following a saved penalty corner effort, but Teneal Attard produced a miraculous overhead stick save to deny a certain goal.

The second half started in much the same vain as the first period, with the play racing from one end of the field to the other at break-neck speed. However, a fierce strike from Kellie White in the 42nd minute took the score to 3-1 and giving the Australians some breathing space.

The scoring was completed by a Jodie Schultz penalty corner drag-flick and a second for White, who cracked a stunning backhand shot into the top right corner to round off a memorable evening for the Hockeyroos. 

Match 12: Argentina defeat China to take second

Las Leonas have secured a second place finish in Pool B thanks to a 3-1 victory over China.  The result means that Las Leonas will face Korea, third place finishers in Pool A, in Thursday's quarter-finals.

Argentina, who were watched by yet another sell-out crowd here in Tucuman, were hugely impressive in the opening stages of the game. However, it was China who made the first dent on the score-board when a high-speed counter attack was finished off by a superb back-hand strike from Wu Mengrong in the 13th minute.

Las Leonas needed just four minutes to find an equaliser, with Agustina Albertarrio levelling the scores from open play. Luciana Aymar was the creator, producing a moment of magic to beat a defender along the back-line before providing a perfect pass for the 20-year-old to fire home.

A minute after the equaliser, Argentina's Carla Rebecchi had a goal ruled out for dangerous play, although Las Leonas did not have to wait too long for a second thanks to a smart deflection from Rosario Luchetti.

Argentina - and Aymar in particular - produced some sensational hockey in the second half, and added a third goal through a Delfina Merino penalty corner conversion. The final score-line of 3-1 could easily have been bigger, but China certainly gave a good showing of themselves against the reigning world champions.

Argentina's Florencia Habif reached a personal milestone in the match, who at the tender age of 20 was playing her 50th senior international game.

FIH site


---

Argentina Hockey World League Final - Quarter-final line-up confirmed

Business end of the tournament begins on Thursday



(Photo: Frank Uijlenbroek)

After three action-packed days of competition, the Pool phase of the Argentina Hockey World League Final has drawn to an end.

The line-up for Thursday's quarter-finals has been confirmed, with four mouth-watering games set to take place in San Miguel de Tucuman.

In the morning session, Pool A winners the Netherlands will play New Zealand, who finished fourth in Pool B, at 0900 (UTC / GMT -3).

The 1130 match will feature Pool B winners Australia in action against Germany, the fourth place finisher in Pool A.

The evening session will begin at 1830 when Pool A runners up England face China, the third placed team from Pool B.

Pool B runners up Argentina will take on Korea, the third placed finishers in Pool A, at 2100.

Remember, we will be live streaming every match from the tournament on the FIH You Tube channel, so don't forget to tune in! To see match highlights and behind the scenes footage from the Argentina Hockey World League Final, please visit the FIH You Tube channel by clicking here.

FIH site


---

Danson brace helps England beat Germany



Lily Owsley in action for England against Germany at the Argentina World League Final

England dug deep today as they recorded a gutsy 3-1 victory over Germany in the Argentina World League Final. England star Alex Danson scored twice alongside Sophie Bray to secure the three points and a second place finish in Pool A.

GERMANY 1 (1)
Eileen Hoffmann 17 (FG)

ENGLAND 3 (1)
Alex Danson 17, 70 (FG, FG)
Sophie Bray 41 (PC)

Earlier in the day the Netherlands recorded their third consecutive win of the tournament beating Korea 3-1. England will now play China in their Quarter Final match on Thursday at 21:30 (UK time) after they finished 3rd in Pool B.

England Captain Kate Richardson-Walsh received flowers before the match to mark her 200th appearance for England (308th combined England & Great Britain).

Speaking after the game England Head Coach Jason Lee said, "I think it was a very gutsy performance from the girls today and some of the girls who have struggled a bit across the first two games really stepped up their efforts today which was really pleasing for me to see. Germany have had the edge over us this year so it was nice to get our own back a little bit today. "

The first half was an even affair between the two sides, with few chances being created in the opening stages. Germany broke the deadlock in the 17th minute as Eileen Hoffmann dived in towards goal to redirect a shot past Maddie Hinch. The lead didn't last long, as in the same minute Hannah Macleod pinched the ball from the German defence and found Alex Danson in the circle, who skilfully found the back of the net with her first touch to make it 1-1. Despite efforts from both sides they remained tied at half-time.

England came out from the break the stronger of the two and were rewarded with a series of penalties corners early on. The third one saw Vogel make the initial save from Kate Richardson-Walsh's attempt, but Nicola White picked up the rebound and fired a shot back into the danger area which forward Sophie Bray got a reverse stick touch on to make it 2-1.

A scrappy period of play ensued with England coming off worst from the resulting cards. Laura Unsworth, Sally Walton and Helen Richardson-Walsh all received yellow cards over a six minute period, and with Richardson-Walsh and Walton forced to watch from the sidelines at the same time England did well to hold on to the lead.

With the rain lashing down it became a real battle in the closing stages as both sides had chances but couldn't convert. In the final minute of the game some great determination from Danson saw her seal the victory with a solo effort as she beat two German defenders along the back line and managed to lift the ball over an approaching Vogel in goal to make it 3-1.

Following the game, Captain Kate Richardson-Walsh added her thoughts on the performance and achieving 200 England caps, "It felt like a typical English day out there today, with the rain lashing down and the pitch playing quite slow we really had to work hard for the result. 200 England caps is not something I ever imagined I would achieve when I started playing back in 1999 and to seal it with a win today in a game like that is really special. We always say we never lose on a milestone and I feel really proud to have got the three points."

When asked about Kate Richardson-Walsh's achievements, Lee added, "I was the women's assistant coach when Kate first started playing international hockey back in 1999 and for her to still be playing to such a high standard is exceptionally impressive. She does a great job for hockey in our country and is a great role model for the sport both on and off the pitch."

Tomorrow is a rest day for the teams as they prepare for their Quarter Final battles on Thursday. England will play China at 21:30 (UK time). The match will be streamed live on the FIH YouTube Channel

Argentina Hockey World League Final - pool standings

Pool A - Team      Pts
Netherlands   9
England         6
Korea            1
Germany       1

Pool B – Team     Pts
Australia      4
Argentina     4
China           3
New Zealand 0

Argentina Hockey World League Final - results

Tuesday 3 December
Pool A    12:00   NED – KOR           3-1
Pool A    14:30   GER – ENG           3-1

England Women's Squad v Germany
Name - Current Club - Position
Started
Giselle Ansley - Surbiton - Defender
Ashleigh Ball - Slough - Midfielder
Maddie Hinch - Holcombe - Goalkeeper
Hannah Macleod - Leicester - Forward
Georgie Twigg – Surbiton - Midfielder
Helen Richardson-Walsh  - Reading - Midfielder
Laura Unsworth - Holcombe - Defender
Kate Richardson-Walsh – Reading - Defender
Sally Walton - Wakefield - Defender
Hollie Webb - Surbiton - Defender
Nicola White - Leicester - Forward

Substitutes used
Alex Danson - Reading - Forward
Susie Townsend - Reading - Midfielder
Sam Quek - Reading - Defender
Susie Gilbert – Reading - Midfielder
Sophie Bray - MOP (NED) - Forward
Lily Owsley - University of Birmingham - Forward

Did not play
Kirsty Mackay - Bowdon Hightown - Goalkeeper

England Hockey Board Media release


---

Alex Danson double helps England triumph over Germany

By Graham Wilson



Alex Danson scored twice to help England beat Germany [GETTY]

ALEX DANSON scored two goals as England claimed a 3-1 win over European champions Germany in their final pool game of the Argentina World League Final on Tuesday.

England went behind to a 17th-minute goal but Danson's first-time strike from a Hannah Macleod interception levelled the scores within seconds.

England took the lead in the 41st minute when a powerful Nic White shot was guided into goal by Sophie Bray.

England lost two players to the sin-bin but their defence held firm for Danson to work her magic again in the dying minutes with a fine dribble and chip finish.

England go forward to the quarter-finals in the cross-overs on Thursday as runners-up, with Olympic champions Holland topping the group.

Daily Express


---

Dog interrupts Germany-England field hockey game

The pup tried to roll over too.

By Chris Chase

A dog invaded the pitch during a field hockey game between Germany and England, leading to questions about whether the pup was affiliated with the Germans (Shepards) or English (Bulldogs).

The dog somehow made its way down onto the field during the pool game at the Argentina Hockey World League Final, sprinting down the sideline, then laying down in the middle of the pitch. After attempting to roll over, the dog was approached by the referee and eventually carried off to a round of applause.

USA Today

See the FIH YouTube channel for footage of the incident

---

Hockeyroos crush Kiwis

Big victory over New Zealand sets up crunch quarter-final with Germany




Hockeyroos Head Coach Adam Commens says "the tournament begins now" after Australia's women sealed a commanding 5-1 win over rivals New Zealand to set up a crunch quarter-final clash with European Champions Germany at the World League Finals in Argentina (11:30am local time Thursday / 1:30am AEDT Friday).

The result means the Australian women finish top of their pool after Argentina, who needed to win by eight goals to top the group, could only beat China 3-1.

Kellie White's superb individual tomahawk strike into the top corner of the net - her second goal of the game - was the stand-out strike in five for the Hockeyroos for whom Georgie Parker, Ashleigh Nelson and Jodie Schulz were also on target.

Commens said afterwards that the outcome was as much down to the defensive qualities of his side as their attacking prowess.

"It was a good performance and one of our better performances on the pitch in a while," he said. "We were unlucky not to be further ahead at half time but in the second half we were more clinical in their circle. I thought we executed our defensive duties well; New Zealand is one of the better counter-attacking sides in world hockey and we prevented them from exhibiting that threat too often.

Speaking about the Hockeyroos' approach to their play, Commens added, "We've worked hard on how we want to attack and where we want to end up in the circle. We want to create opportunities based on good defence and finishing on the counter."

Looking ahead to Thursday's quarter-final before the outcome of the Argentina v China match was known, the coach explained that Australia won't be changing anything in how they approach the match.

"Anything can happen in a one-off match like the quarter-final. We're not fussed with who we play; we know both teams [Germany and Korea] well. We have a routine in place and our aim is to be consistent in every match. We've had three quality performances so far in the tournament and a fourth will put us in a good position to reach the semi-finals."

South Australian Georgie Parker gave the Hockeyroos the lead in the 11th minute after an opening period in which Australia might already have scored had Kiwi goalkeeper Sally Rutherford not pulled off a double save in the second minute, or been equal to a bobbling penalty corner in the sixth.

Finding the ball deflected to her in open space after good work by Emily Smith inside the left baseline, Parker's simple conversion from one metre out gave the Hockeyroos a 1-0 lead.

The advantage lasted just two minutes however as Petrea Webster responded almost immediately with critical touch at New Zealand's first penalty corner to level the score. But Western Australian Ashleigh Nelson restored the Hockeyroos' lead in the 22nd minute as she reacted quickly to a chest-high deflection from Eddie Bone's cross to divert the ball down and into the goal. 

Kellie White's thunderous low strike shortly after half time put the Hockeyroos 3-1 up. After taking a moment to control a pass, White turned and fired into the goal. And Queenslander Jodie Schulz made it 4-1 with a pinpoint flick into the corner from a 54th minute penalty corner.

The Hockeyroos threatened more from a brace of penalty corners but New Zealand stood firm until White danced past two Black Sticks defenders before unleashing a superb tomahawk strike that left the goalkeeper with no chance. It was White's 20th goal for the Hockeyroos.

The Hockeyroo's quarter-final against Germany will take place at 1:30am AEDT Friday morning / 10:30pm AEST Thursday night (11:30am local time Thursday morning).

FIH World League Finals, Women
Pool B
Tucumán, Argentina

HOCKEYROOS   5 (2)
Georgie Parker 11 (F)
Ashleigh Nelson 22 (F)
Kellie White 42,66 (F,F)
Jodie Schulz 54 (PC)

NEW ZEALAND  1 (1)
Petrea Webster 13 (PC)

Hockeyroos squad v New Zealand
(listed alphabetically by surname)
Name (Hometown) Caps/goals
Started
Edwina Bone (Evatt, ACT) 19/1
Madonna Blyth (Brisbane, QLD) 264/64
Casey Eastham (Albion Park, NSW) 183/44
Anna Flanagan (Canberra, ACT) 103/17
Rachael Lynch (Melbourne, VIC) 91/0
Karri McMahon (Berri, SA) 20/2
Claire Messent (Melbourne, VIC) 70/20
Georgie Parker (Adelaide, SA) 45/9
Jodie Schulz (Wamuran, QLD) 86/43
Emily Smith (Crookwell, NSW) 66/25
Kellie White (Crookwell, NSW) 56/20

Used Substitute
Teneal Attard (Mackay, QLD) 183/10
Jane Claxton (Adelaide, SA)20/2
Kate Jenner (Tamworth, NSW) 75/1
Kirstin Johnson (Mackay, QLD) 27/2
Ashleigh Nelson (Wagin, WA) 128/59
Brooke Peris (Darwin, NT) 14/4

Unused Substitute
Ashlee Wells (Moe, VIC) 21/0

Pool Standings
Pool A
1. Netherlands 9 pts (3 matches)
2. England 6 pts (3 matches)
3. Korea 1 pt (3 matches)
4. Germany 1 pt (3 matches)

Pool B
1. Australia 7 pts (3 matches)
2. Argentina 7 pts (3 matches)
3. China 3 pts (3 matches)
4. New Zealand 0 pts (3 matches)

Hockey Australia media release


---

Black Sticks Women to face Dutch in quarter final



Anita Punt in action against Australia in today's game. Photo: Matias Noé Correa Arce.

The Black Sticks Women will now face Olympic champions the Netherlands in the quarter finals of the World League Final in Tucuman, Argentina after going down 5-1 to Australia in their final pool game today.

"It is a disappointing performance – our basic skills were not good enough and we were outplayed by Australia in most aspects of the game. In our defensive circle play, we mistrapped too many balls which gave Australia easy opportunities," said head coach Mark Hager.

"Obviously, we are now in a tricky position where it will be a very tough challenge for us against the Dutch in the quarter final," says Hager.

New Zealand have created good opportunities to score throughout this tournament, and this game was no different with Anita Punt, Sophie Cocks, Olivia Merry and Kayla Sharland all with their chances but just unable to get it through the tough Australian defence.

Australia, who have now won all three pool games, were the first to get one on the board when Georgie Parker knocked home an easy goal from close range. In classic trans-Tasman style, the Black Sticks responded two minutes later when Punt drag flicked it low to the left and Petrea Webster managed to deflect it in.

Although New Zealand had moments where they were tight on defence, the Australians continued to put the pressure on and it paid off when Ashleigh Nelson received a pass in front of the goal and she connected and tapped it home.

The Black Sticks seemed more in control in the opening stages of the second half, but the Australians picked up the pace and their slick passing and skill work resulted in a field goal and penalty corner from Kellie White and a Jodie Schulz penalty corner conversion.  In total, Australia had eleven shots on goal compared to the Black Sticks seven attempts.

New Zealand continued to work hard in the final ten minutes, with Cocks almost claiming one back when she received a pass from Punt and was perfectly positioned on the goal post to tap it in, but she couldn't quite connect and it went over the baseline.

It was a physical, fast paced and open game, with both sides putting bodies on the line and a number of green cards being issued by the umpires.

The Black Sticks will now play the Netherlands who are top of the table in Pool A in a must win quarter-final at 1am on Friday 6 December (NZ time). The game will be LIVE on Sky Sport 4.  In other games today, the Netherlands beat Korea 3-1, England beat Germany 3-1 and Argentina are still to play China to determine the final placings in Pool B.

Full time: 1-5 to Australia
Half time: 1-2 to Australia
NZ goal scorers: Petrea Webster (13th)
Australia goal scorers: Georgie Parker (11th), Ashleigh Nelson (22nd), Kellie White x2 (42nd, 66th), Jodie Schulz (54th)

Hockey New Zealand Media release


---

Black Sticks humbled by Australia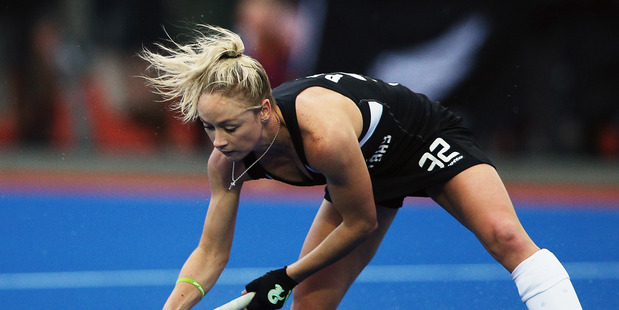 Anita Punt. Photo / Getty Images.

The New Zealand women's hockey team will face Olympic champions the Netherlands in the quarter-finals of the World League Final in Tucuman, Argentina, after going down 5-1 to Australia in their final pool game this morning.

"It is a disappointing performance - our basic skills were not good enough and we were outplayed by Australia in most aspects of the game. In our defensive circle play, we miss-trapped too many balls which gave Australia easy opportunities,'' said head coach Mark Hager.

"Obviously, we are now in a tricky position where it will be a very tough challenge for us against the Dutch in the quarter final.''

New Zealand have created good opportunities to score throughout this tournament, and this game was no different, with Anita Punt, Sophie Cocks, Olivia Merry and Kayla Sharland all with their chances but just unable to get it through the tough Australian defence.

Australia, who have won all three of their pool games, were the first to get one on the board when Georgie Parker knocked home an easy goal from close range.

In classic trans-Tasman style, the Black Sticks responded two minutes later when Punt drag flicked it low to the left and Petrea Webster deflected it in.

Although New Zealand had moments where they were tight on defence, the Australians continued to put the pressure on and it paid off when Ashleigh Nelson received a pass in front of the goal and she tapped it home.

The Black Sticks seemed more in control in the opening stages of the second half, but the Australians picked up the pace and their slick passing and skill work resulted in a field goal and penalty corner from Kellie White and a Jodie Schulz penalty corner conversion. In total, Australia had 11 shots on goal compared with the Black Sticks' seven.

The Black Sticks will now play the Netherlands who are top of the table in Pool A in a must win quarter-final at 1am on Friday NZT. In other games today, the Netherlands beat Korea 3-1, England beat Germany 3-1 and Argentina are still to play China to determine the final placings in Pool B.

The New Zealand Herald


---

Australia too classy for Black Sticks

BRENDON EGAN

The Black Sticks' women face the daunting prospect of the Netherlands in the quarterfinals of the World League hockey tournament after a 5-1 thumping by Australia today.

New Zealand, who lost their opening two pool games, needed a victory over their trans-Tasman rivals to avoid finishing bottom of the group.

Australia took a 2-1 lead into halftime and scored a crucial strike early into the second half through Kellie White to give them a two goal buffer.

The Hockeyroos have made a promising start to the World League final tournament thrashing China and drawing against hosts Argentina in their first two games.

They went ahead after 10 minutes after the ball fell perfectly to Georgie Parker right in front of the goal, who tapped it in.

New Zealand replied straight back through their first penalty corner of the game when midfielder Petrea Webster got a faint touch on Anita Punt's drag flick.

Australia capitalised when New Zealand's Pippa Hayward was off the turf with a green card, building a 2-1 advantage, with Ashleigh Nelson netting from a deflection.

They guaranteed the win when Jodie Schulz struck with a pinpoint strike from a penalty corner in the 55th minute to blow it out to 4-1.

White added to New Zealand woes late in the contest with a powerful reverse stick effort for her second goal of the game.

Australia's win followed on from last month's success at the Oceania Cup tournament in Stratford, where they beat the Black Sticks in the final in a shootout.

New Zealand now have a mountain to climb to move onto the top four stage of the tournament with Olympic gold medallists, the Netherlands, awaiting in Friday's quarterfinal.

The Netherlands have looked the team to beat at the World League final tournament so far, winning all three of their group games, while racking up 12 goals.

The Black Sticks are fielding a weakened squad at the World League finals with experienced campaigners Katie Glynn and Stacy Michelsen both recovering from knee injuries and 225-cap defender Emily Naylor remaining back in New Zealand.

Stuff


---

Malaysia go down to Germany in warm-up

By Jugjet Singh

MALAYSIA lost 2-0 to Junior World Cup defending champions Germany in a friendly match leading up to the Junior World Cup at the Dyan Chand Stadium in New Delhi yesterday.

The match was played in good weather, but the temperament of the team let them down in penalty corners and defence.

"It was a good warm-up but the players must now understand that they need to keep it simple and forget the fancy stuff when in the semi-circle.

"We had three penalty corners in the match, but poor coordination among the battery, saw it go to waste," lamented team manager Mirnawan Nawawi.

Malaysia open accounts against New Zealand on Friday, and can't afford to make the same mistakes like they did against Germany.

"The weather is good, and not as cold as December used to be in New Delhi and that is a good sign as we play our opening match on Friday at 4pm India time."

Malaysia are in Group D and the other teams they must beat to make the quarter-finals are South Africa and England.

Meanwhile, a record 32 teams registered for the Junior Hockey League, the largest number since its inception in 1995. Last year, there were 26.

Perlis have entered two teams, Negri Sembilan two, Kuala Lumpur four, Malacca one, Perak four, Kedah one, Selangor four, Penang three, Pahang two, Terengganu one, Kelantan one and six from Johor.

The teams: Tunku Besar Tampin, Datuk Taha Gemencheh, Bukit Jalil Sports School, UniKL Youngsters, KLHC Juniors, KL Sports School Juniors, Malacca High School, Sekolah Tuanku Abdul Rahman Ipoh, Anderson Juniors, Anderson, Larut Matang & Selama, Persatuan Hoki Kota Star, Olak-PKT, Petaling Jaya MC, MSN Selangor, Permatang Juniors, Nur Insafi, 1Mas Penang, MSSSPP-USM, SSTMI Juniors, SSTMI Thunderbolts, SMK Dato Bentara Luar Batu Pahat, SM Sains Johor, SMK Dato Penggawa Barat Pontian, Politeknik Johor baru, SMK Syed Hassan Perlis, Matri Perlis, SMK Padang Midin, Felda-Akademi Hoki Pahang, MSP Junior Pahang, Bakat MSSSK/PHK.

New Straits Times


---

England U21 men's squad announced for Hero Hockey Junior World Cup



U21 Men Celebrate

Ahead of the Hero Hockey Junior World Cup in India, which starts on Friday 6 December, England U21 men's head coach Jon Bleby has named a squad of 18 athletes.

Two members of the squad are already among the ranks of the senior England international squad; Captain Andy Bull (East Grinstead) and Phil Roper (Wimbledon) have both earned caps for their country and will no doubt bring invaluable experience to the line-up.

Loughborough University leads the way for club representatives with four athletes named in the squad; Rob Farrington, Daniel Faulkner, Harry Gibson and Jonty Griffiths. There are also call ups for three from Sheffield Hallam and two each from Surbiton, Beeston, University of Birmingham and East Grinstead.

The Surbiton pairing named in the squad are brothers, Jonny and James Gall. James joins his older brother Jonny in the selected 18 after being called up to the U21 squad following strong performances for England U18s earlier this year.

Head Coach, Bleby, will be hoping to build on England's result at the last Junior Hockey World Cup where they finished 16th under the charge of David Ralph, now a senior England assistant coach alongside Bleby. That squad had some familiar names in it, including Nick Catlin and Ben Arnold.

Speaking of the challenge ahead, Bleby said, "Preparation for the World Cup has gone well. Back in August we came out on top in a three match series against Malaysia up at Wakefield in the NOW: Pensions Nations Plate. Following that, we had several training games against Germany and France as well as the Sultan of Johor Cup in September, which took place in Malaysia and was great preparation for the athletes to play in the type of climate we will experience in India."

England have been drawn against South Africa, New Zealand and Malaysia in their pool and it is sure to be a tough group, however the squad are looking forward to the challenge. Bleby added, "We've set goals as a group and are focussing on performing to the maximum of our capabilities. We're looking to perform with consistently high standards throughout the tournament and build on the experiences we've had this year."

Hero Hockey Junior World Cup England U21 men's squad

Name - Club

James Albery - Cambridge City
Nick Bandurak - Cannock
Andy Bull (C) - East Grinstead
Brendan Creed - Sheffield Hallam
Arjan Drayton-Chana - Sheffield Hallam
Rob Farrington - Loughborough Students
Daniel Faulkner - Loughborough Students
Sam French - University of Birmingham
James Gall - Surbiton
Jonny Gall - Surbiton
Harry Gibson (GK) - Loughborough Students
David Goodfield - Sheffield Hallam
Jonty Griffiths - Loughborough Students
Tom Pinnegar (GK) - University of Birmingham
Chris Proctor - Beeston
Phil Roper - Wimbledon
Joe Sharp - Beeston
Luke Taylor - East Grinstead

Travelling reserves
Will Byas (University of Birmingham)
Tom Morris (University of Birmingham)

England Hockey Board Media release


---

Rajinder Singh goes down memory lane

"With the trophy kept on the table, there was a discussion as to who will win it. After the Argentine captain lifted it, I told Gagan, 'Do not touch it, you must take it home'," Rajinder Singh remembers having instructed forward Gagan Ajit Singh at a press conference featuring the coaches and captains of the finalists, India and Argentina, of the 2001 junior World Cup in Hobart (Australia).

Gagan obeyed and India thrashed a formidable Argentine team 6-1 in the final for its first ever junior world title.

Call it superstition or the desire to be different; the Indian team coached by Rajinder Singh had the talent and the killer instinct to make it happen. Meticulous planning, good preparation and adequate exposure led the side to corner glory Down Under.

Step-by-step planning

"We went step-by-step. There were long camps and a number of tournaments which provided exposure to the boys. The players and coaches worked together. The selection, well supported by the federation, was done on merit. We tested each player and picked the match winners among several talented youngsters," said Rajinder Singh.

"If it was the forwardline, we had Gagan, Deepak (Thakur), Prabhjot (Singh). In midfield, we had Arjun (Halappa) and Vikram (Pillay). For short-corner conversion and defence, we had Jugraj (Singh). Likewise, we had the best players in every department."

Gagan went on the flashback mode too. "We had been playing together for a long time, so we had established good combination. We had won the junior Asia Cup, some of us had played in the senior team and finally we had a long camp in Sydney."

Important factor

The dashing forward of yesteryear said the time to build a team was the most important factor. "This is not an individual game, so understanding among various players is crucial. Thankfully, we had spent some time to achieve that. As a result, we beat teams like the Netherlands and Germany and lost narrowly to Australia," said Gagan.

Gagan said on its home turf the current Indian team should rise to the occasion in the junior World Cup, starting here on Friday.

"I have not seen the team. But I wish them luck," said Rajinder Singh.

The Hindu


---

Beating Holland in opening game is key: Manpreet Singh

Chander Shekhar Luthra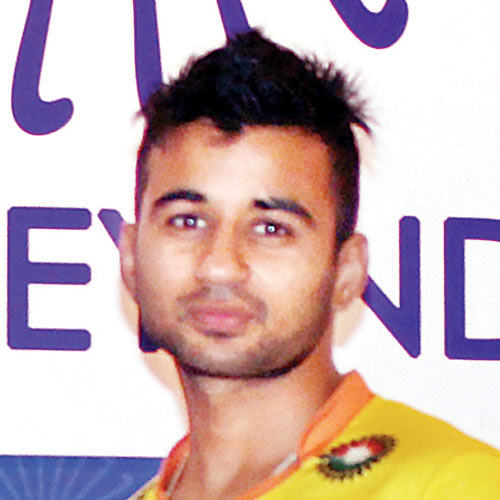 For the junior Indian hockey team, winning the tournament opener against Holland on December 6 is like winning the Junior Hockey World Cup. They are focussed enough to ensure that the opportunity does not slip out of their hands during their ongoing preparations at the Major Dhyan Chand National Stadium here.

Skipper Manpreet Singh doesn't keep repeating it to his teammates that "it's just one match at a time" and thinking too far could well mean the loss of focus for all.

"We are absolutely clear in our minds that it's just one game at a time. We're only thinking about Holland at this point of time. One win and everything else will fall in place for us," Manpreet told dna on the sideline of team's practice session.

The Indian juniors have a tough task ahead as the top 16 teams from across the world will lock horns for the top honours during December 6-15 tournament here. Manpreet led this team to glory at the Sultan Johor Cup tournament earlier this year and acknowledged that this squad was shaping up for the future under the watchful eyes of coach Gregg Clark.

"We were given a chance by Hockey India to take part in the recent Asian Champions Trophy. This was a great opportunity for all those 13 juniors to play against other senior teams of Asia. I'm sure that this has given us exposure as well as confidence to do well in the junior World Cup in front of our home crowd," said the Indian captain.

"Germany and Holland are two strong teams. That's why winning against Holland is the key to do well in the tournament," says Manpreet, who is already part of the Indian senior squad.

The Indian skipper admitted that penalty corner conversion is his team's weakness but promised to fill that up with swift counter-attacks. "Our strongest point is counter-attack. Also, defence is an area that will not allow any opponents to get in. Though, penalty corner is obviously our weakness but our coaches and support staff are working overtime to overcome this flaw," Manpreet added.

Manpreet named star forward Ramandeep Singh as the most talented alongside Malak, Harjit and Talwinder Singh. "They are the rising stars of India. With the kind of training and exposure being given, they will only get better and serve Indian hockey in the years to come."

About his assessment on India's chances in the tourney, Manpreet said: "I see India playing the semis. Beyond that, it will be our luck."

DNA


---

Kiwis want top 3 finish

By S. Ramaguru



New Zealand's Kane Russell (front) is one of the senior members of the Junior World Cup squad who are aiming for a top 3 finish in the hockey tournament which begins in New Delhi on Friday. They are placed in Group D with Malaysia, South Africa and England. - Filepic

NEW DELHI: New Zealand want at least a top three finish in the 10th edition of the Junior World Cup hockey tournament, which begins at the Major Dhyan Chand National Stadium on Friday.

And the Kiwis, who finished fourth in the last edition of the tournament in 2009, intend to get their Group D campaign against Malaysia off with a win. The other teams in the group are England and South Africa.

"We have avoided some of the higher ranked teams in the group stage, so I think we have a good chance to progress to the last eight – that is definitely our aim," said New Zealand coach Grant Edwards.

"We haven't played against England or South Africa, but we have a strong track record against Malaysia. We beat them twice during the Sultan of Johor Cup last year."

Edwards said that they had been training hard as a team at the training camp in North Harbour.

"The players are in good shape and we are extremely fortunate to have played Australia in our preparations for the Finals," he said.

The Kiwis have also named three players who have featured for the senior team in their squad of 18.

The three are Kane Russell, George Muir and Jared Panchia.

The Star of Malaysia


---

Burras rising star Jayshaan Randhawa makes a sort of history

Tazeen Qureshy




When the Burras, as the Junior Australian team is branded, begin their World Cup journey in a couple of days, 20-year old Jayshaan Randhawa, 'jay' to his friends, will surely attract some attention.

A native of Melbourne, this mid-fielder is the first Indian origin player to represent Australian team, albeit colts level, though a lot many Anglo-Indians sparkled on the Australian hockey horizon, including its Delhi Junior World Cup coach and former Olympian Paul Gaudoin.

Thus, the youngster of Doncaster Club makes history even before bully off in Delhi.

Jayshaan has further historicity attached to him. He has a rather interesting family history.

Jay's grandfather Harbans Randhawa hails from Malaysia and has played hockey for Johor State Sikhs. Now in India for Junior World Cup, Jay will be playing for the Burras.

And he will have his family - three younger sisters, grandfather, grandmother, mother and father-cheering loudly for him in the stands.

Jayshaan in fact hold aloft the unique Sikh tradition of sporting hockey whichever country they chose to settle.

A valuable addition to the Sikh pantheon of hockey, Jayshaan is yet to graduate to Senior side, but Sikh blood might help him scale that too.

Hear it from his mother's voice, which vouchsafe passion of Sikhs for hockey.

Says his mother Alison, "Jay's grand father Harbans Randhawa is from Malaysia and has played for them. Jay is a Sikh, so hockey is in his blood. World Cup is an important tournament. We are all proud of him."

In fact, not just grandpa, Jay has other reasons for playing hockey. "As a child, Jay was nursed by a lady whose sons played hockey. So, he wanted to play as well. He started playing since he was five."

So, did this Burra faced any trouble finding a spot in the team keeping in mind his origin?




"Not at all. He works hard and plays well. If you play well, you are selected. That's all," Alison leaves no room for any doubt.

There is still an interesting thing about Jay. Apart from representing the senior Australian team, Jay also aims to become a doctor, precisely a surgeon.

In fact, he is currently studying science in Melbourne and will soon take up medicine.

So, finally doctor or hockey?

"Well, he wants both," his mother laughs off, and has the last laugh of the chat.

When he completes his medical course in a couple of years, Jayshaan will emulate another doctor who played great hockey, Australian team's current national coach Ric Charlesworth.

About Jayshaan Randhawa:
Nickname: Jay
D.O.B: 28/10/1993
Birth Place: Melbourne
Position: Midfielder
Occupation: student
Hobbies: Golf and music
Achievements:
2010 Youth Olympic Gold
2012 Sultan of Johor Cup 3rd
2012 Junior Oceania Cup 1st
With additional input from K. Arumugam
Jayshaan photo courtesy: Mitchell Eastman and Sukhdev Pandher, both from Perth, WA.

Stick2Hockey.com


---

Time to deliver

The Junior World Cup that gets underway will hopefully provide cheer for Malaysian hockey that has been few in coming.

Besides the silver medal finish at the 2010 Asian Games and the juniors triumph at the 2012 Junior Asia Cup, there has been several near misses for the various hockey teams and one has to go way back to 1998 for a triumph that Malaysians can be proud off.

This particular junior world cup squad was formed four years ago and some 200 odd players have been tried out by coach Muhammad Dharma Abdullah, ably assisted by his assistants Nor Azlan Bakar and K. Gobinathan.

No stone was left untured, in terms of providing the team with extensive exposure and it was duly rewarded with a top spot finish at the Junior Asia Cup in Malacca in may 2012.

Hence the team should go into the Junior World Cup with their heads held high, as they are Asian Champions, a feat achieved by defeating the likes of India, Pakistan and South Korea, by no means an easy feat.

Former Malaysian skipper S. Kuhan who never got a chance to play in the Junior World Cup following his team's failure in the Junior Asia Cup in Singapore in 1996, said that it was vital for the players to play with confidence.

"While it is okay to respect your opponents, one must never fear them at all," said Kuhan.

"What the players need to do is remain focused on the task at hand and be confident when stepping onto the pitch.

"There is no such thing as an opponent that cannot be beaten as I have seen this bunch of players in action several times and I do believe they can finish amongst the top six in Delhi."

Malaysia will take on New Zealand in their opening match this Friday and going but what the Kiwis are saying, they are confident of upstaging Malaysia.

The team is in good shape and the players have been training extremely hard to prepare for this tournament," said Kiwi coach Grant Edwards.

"We haven't played England or South Africa but we have a strong track record against Malaysia, who we played a lot in the last couple of years, and we beat them twice in 2012 during the Sultan of Johor Cup."

Thus the Malaysian players will have the perfect motivation to upstage the team from the southern hemisphere and start the title challenge with three points in the opening day.

MalaysianHockey.com.my


---

Keep it simple boys, tells coach

By S. Ramaguru



The Malaysian junior World Cup players are put through their paces during training before the tournament starts this Friday in New Delhi. Malaysia play against New Zealand in their opening Group D match.

NEW DELHI: The National Juniors have been told to stop show-boating and keep it simple.

The Malaysians, who are here for the Junior World Cup, played a friendly against Germany on Tuesday and lost 2-0.

The tournament proper begins on Friday.

Team manager Mirnawan Nawawi described the friendly as "a good practice game because the Germans pushed hard".

"The players have to take these matches seriously and put into practice what they have been taught. The fancy dribblings and poor clearances must stop," he warned.

"Overall, we gave everyone a chance to play in the friendly and, in that sense, it was a good workout."

Mirnawan, however, was critical of the penalty corner set piece moves.

"We had three attempts and failed. They were not well executed and that's not good. I want the players to make better attempts and make scoring a habit," he said of the flicks taken by Mohd Shahril Saabah.

The other penalty corner flicker in the team is Zulhairi Hashim.

"There were also some shortcomings in the way we defended against Germany. We want to use this friendly to show the players the errors of their ways and rectify their mistakes before we play New Zealand (in the opening match) on Friday," said Mirnawan.

After the match ended, the Malaysians spent 20 minutes sharpening their penalty corner moves.

The Malaysians will hold two training sessions on Wednesday and Mirnawan has also asked Pakistan for a friendly in the evening.

"It'll be good for the players to have another go and test the pitch. But we've had a good workout over the last couple of days and are ready for the first match," he said.

"The players just have to follow orders and not get carried away with individual play. By keeping it simple, the players can enjoy the match and perform better."

The weather has been kind to the team the last few days too. Malaysia's first match, against New Zealand on Friday, is at 4pm (6.30pm Malaysian time) and it's not as cold as expected, for now.

Besides the Kiwis, the other teams in Malaysia's Group D are South Africa and England.

The Star of Malaysia


---

Special cargo Kartik..




THE Malaysian juniors left for New Delhi Sunday, with the airlines carrying special cargo in two-time Junior World Cup player Kavin Kartik (pic).

The cargo is overweight, but worth every ounce on the artificial pitch, as portly Kevin's passes are accurate, and deadly to open wide the opponents back-line.

He is only the second Malaysian to play twice in the Under-21 tournament which will be held from Dec 6-15.

The first Malaysian was M. Davendran who played in Vancouver in 1985, and Ipoh in 1989.

"It was a wonderful experience for me, as I was only 17 when I was selected to play in the Malaysia-Singapore joint World Cup.

"The coach back then was K. Rajan, and I played against England, Spain, Egypt and Poland; and it was not an easy feat to finish 12th among 20 teams.

"But after the tournament, I put on too much of weight and was almost sidelined from the training pool, but I fought back, lost some weight and an proud to represent country again," said Kavin, who hails from Tampin, Negri Sem bilan.

Tampin, even back in the 'dark ages' of 1975, had produced a gem in N. Palanisamy who helped Malaysia finish fourth in the senior World Cup in Kuala Lumpur.

And present No 1 senior goalkeeper S. Kumar also hails from Tampin, and to name one of the other famous son is Dr Bryan Jeyhan Siva.

"No doubt, I would prefer Kevin to lose more weight, but his body has not responded to all the vigorous training that I have put him under for the last one year.

"He is not lazy, and took the challenge to lose weight by following the training schedule religiously, but his body structure is such that it became almost an impossible task even to lose a few kilos.

"But even with his present structure, he is my first choice because he is a strong defender, and also makes accurate passes, which tears apart the opponents defense," said coach K. Dharmaraj.

Malaysia went early to acclimatise, and also play a friendly against one of the tournament Germany on Tuesday, before opening their Junior World Cup accounts against New Zealand on Dec 6, followed by South Africa (Dec 8) and England (Dec 9).

Jugjet's World of Field Hockey


---

Foreign coaches need to grasp culture: Tahir Zaman

Biswajyoti Brahma

NEW DELHI: Hockey legend Tahir Zaman may not be against foreign coaches in the subcontinent. But he has a simple way of explaining why they can't be successful.

Zaman, coach of the Pakistan men's team and consultant of the team for the junior World Cup, said these coaches, though highly qualified, fail because the culture in India and Pakistan is quite different from the part of the world they come from.

"When a boy picks up a hockey stick in Europe he's not under much pressure. There's no expectation from him. But for most of those who play the game here, it's a matter of 'rozi roti', it's all about their future," he said.

"It's difficult to understand these facts of life if you don't belong to this part of the world."

He said though a local coach would be able to understand the players here better, the problem is that they are not as qualified as their European counterparts. "Coaches here should update their knowledge. You can't be one-dimensional as a coach. You have to be flexible. We are not on a par with Europeans and we have to admit that," he added.

Zaman, however, sounded positive when asked about the future of the game in the subcontinent. The upcoming junior World Cup could be a key moment in the revival of hockey in the region, he felt.

"I see a spark in the players from India and Pakistan. This could be an important tournament. The future is bright. Four or five years down the line, we would be back as top-4 or top-5 teams. The whole world wants to see us there."

The Times of India


---

Aiming for a top-3 finish in junior hockey: Pakistan captain

NEW DELHI: Pakistan captain Umar Bhutta said that the former champions are determined to finish among top-three in the Junior World Cup Hockey that will be played at the Major Dhyan Chand National Stadium from Friday.

Pakistan, who were champions in the inaugural edition in 1979, are in tough Pool A with record five-time champions Germany, Belgium and Egypt.

Bhutta, who has played in the 2012 London Games, said Pool A is the toughest in the tournament.

"Our pool is the toughest among all the four Pools. Besides us, our pool has Germany and Belgium which will prove to be a tough fight for all the four teams," said Bhutta after a training session here Tuesday.

He said Pakistan are an experienced side since nine players in the squad have already made their international debut with the senior team.

"We have a very competitive team with nine players from the senior team and which helps us create the required balance. We are hoping to finish at the top three in the tournament," he said.

Coach Anjum Saeed said the players are technically sound.

"This team is technically very strong and we are aware that they have to keep their cool during the pool matches. It will help us move ahead on the table. The players are determined to win the pool matches and go ahead in the tournament," he said.

Anjum also sought to clear the controversy on the age of some of the players.

"The entire team assures you that the controversy around the age of some players is baseless and I think we all are smart enough to understand that these allegations have no base. The boys are completely focusing on their first game and are not giving any thoughts to such issues," he said.

The Times of India


---

Pakistan's Team for the Junior World Cup has Four Players from the Dar Academy

By Ijaz Chaudhry

The 10th Junior Hockey World Cup starting from the 6th of December holds great importance for Pakistan.

After the failure to qualify for the 2014 Senior World Cup, only an encouraging result in Delhi would bring any hope for revival of the game in the country.

Then in the junior World Cup itself, Pakistan hasn't won any medal since 1993.

Dar hockey academy's boys have been gaining regular selection in Pakistan's age group sides since 2009. For the last one year, the academy players have also started winning national senior caps.

The Pakistan's senior side which recently toured Australia and later visited Japan (for the Asian Champions Trophy) had as many as four boys from the academy.

So it was no surprise to see the names of four colts of Dar academy in the Pakistan side for the Junior World Cup: Khalid Bhatti, Faisal Qadir, Arsalan Qadir and Aleem BIlal.

Khalid Bhatti achieved a first for the Lahore based academy- winning selection for Pakistan's senior side- in 2012. The brothers Faisal and Arsalan Qadir, hailing from the Southern Punjab city of Dera Ghazi Khan, also earned national senior colours recently during the last month tour of Australia and Japan.

Aleem Bilal is the only one in the quartet who is yet to earn a full international cap.

Apart from Arsalan Qadir, the other three are all deep defenders. Arsalan is a striker with wonderful scoring skills.

Winning selection in the national sides is indeed a great accomplishment for the Dar HA but more important is to see the lads help Pakistan regain its lost standing in hockey- the main objective for establishing the academy.

http://www.darhockeyacademy.com/

Ijaz Chaudhry writes on hockey and other sports. For more about him and his work, visit http://www.sportscorrespondent.info/

Fieldhockey.com


---

Argentina's primary aim is semis, says coach Geneyro

NEW DELHI: Argentina come into the Junior Hockey World Cup as the Pan American champions and will be eyeing a second world title after 2005 but for coach Carlos Geneyro the primary aim is to reach the semi-finals of mega-event to be held here from December 6-15.

"This is my second visit to India post 2010 and the team is in good spirits and all geared up. We realise that the standards set for the competition this year is very high and we have practiced and strategised in that manner," he said after the team's practice session at the Major Dhyan Chand National Stadium today.

"The aim as of now is to be in semifinals and hoping to give the audience a good show," Geneyro said.

"While every match will be tough but we will also give a tough competition to our opponents. We have a very strong captain in Gonzalo Peillat as he had the opportunity to play in the National team of 2012 Summer Olympics," he added.

Argentina are placed in a tough Pool C along side mighty Australia, Spain and France but captain Gonzalo Peillat said they are up for the challenge.

"We had a very rigorous practice session today and it feels good. While we understand that the standard of competition is very high this year but we ready are to take them on," Peillat said.

"Our first match is against Australia and we realise that they are a strong team but we are ready for them and even the other two teams Spain and France who are in our pool."

The Times of India


---

Korea looking forward to game against India

NEW DELHI: Korea coach Kim Young Kyu today said that his team was looking forward to play against hosts India in their Pool C league match in the upcoming Hockey Junior World Cup starting here on Friday.

The Korean team, which today went through a systematic training session at the Major Dhyan Chand National Stadium, is all set to play its inaugural match against Canada on the opening day of the tournament, followed by The Netherlands (Dec 7) and India (Dec 10).

"We played the Indian team in the recently concluded Asian Champions Trophy and Sultan of Johor Cup and they showcased that they are a very competitive team and not to be taken lightly," said the coach.

"While the Korean team is a fresh squad with an average experience of 3-4 games each, the players are highly talented and can give a tough time to any team on any given day. We are looking forward to our game with India as I believe that match will decide our way forward in the tournament," he added.

Korea earned a berth in the Junior World Cup by finishing fourth at the 2012 Junior Asia Cup in Malacca, Malaysia. The team was impressive in the early stages of that competition and finished second in Pool A, but its title ambitions were ended when Pakistan cruised to a 6-1 win in the tournament semi-finals.

They were denied a bronze medal when India defeated them 2-1 thanks to a golden goal.

Korea finished at the bottom of the standings at the recent Sultan of Johor Cup in Malaysia, but they are expected to be back at their best here.

Seo Inwoo will be the one to watch out for during the tournament. He has made regular appearances for the Korea senior side and could well be the one to inspire his team in the competition.

The Times of India


---

Technology taking hockey to another level

Biswajyoti Brahma

NEW DELHI: If you believe playing hockey is all about skills, well think again. With the evolution of technology, the game has reached a level where it can be compared - as far as planning is concerned - to chess.

The hockey support staff has become like those invaluable 'seconds' in the chequered board game, planning every possible move beforehand to outsmart the rivals.

The use of video analysis has reached such a level that teams no longer play according to their main strategy for the entire duration of practice matches before big events.

Indian hockey team and its coaches have also woken to the fact that every move of theirs is closely monitored and scrutinised. "In practice matches, we use different strategies.

We don't use the strategy we are going to use in the tournament for the entire duration of the practice matches. We use them at some point of time and for a limited period of time," Indian junior hockey team's coach Baljeet Singh Saini said. "These days video analysis is a very important factor. In that sense you can't expose yourself."

We have butterflies in stomach but not under pressure, says coach Saini

India may be playing the important tournament at home but that won't put pressure on the home players, said coach Saini. "We have got a lot of exposure before the event. This team has been together for the last two years.

It's like the school exams. Events like these tell you where you stand as a team. Looking back at the tournaments we have played, I can assure you that we are confident," said Saini.

"You have butterflies in the stomach before the start of the match. You are excited and a bit anxious. But once you get into the ground and touch the ball you don't know whether you are playing in India or abroad. You get into the zone. What happens in the stands does not matter much. You are just focusing on the ball," added the coach.

Captain Manpreet Singh said the team was not under pressure since they have played some senior tournaments together before the junior World Cup.

Saini said that the team was on track. "We have participated in senior tournaments to prepare for the World Cup. We did well in Johar Baru where we won the title. We finished fifth in the in Asian Champions Trophy, but as coaches we are quite satisfied with the performance there.

"We are on track. Our preparations have been good. We have studied the grey areas and have worked on it."

The Times of India


---

Govt considering Bharat Ratna for Dhyan Chand: Jitendra

SANGRUR (Punjab): Sports minister Jitendra Singh said that the government was mulling over conferring the Bharat Ratna on hockey wizard Dhyan Chand for his contribution to the game and sports in general in the country.

Jitendra was talking to reporters after laying the foundation stone of Rs 6.87 crore synthetic track at War Heroes Stadium on Tuesday.

He said the government was also making efforts to sort out the impasse between the International Olympic Committee and the Indian Olympic Association so that the country's athletes can take part in next year's Olympics under the national flag.

Speaking about Punjab government's desire to work for inclusion of Kabaddi in Olympics, Jitendra said the government was prepared to extend every help in this direction.

Local MP Vijay Inder Singla said that an amount of Rs 1.60 crore has been disbursed as grants from his MPLAD fund to provide various youth clubs and local bodies with gym kits and help in the construction of stadiums.

The Times of India


---

Record 32 teams for MJHL

A record number of 32 teams have confirmed participation for the 20014 edition of the MHC-Milo-NSC Junior Hockey League that will get underway in January.

The MJHL was introduced in 1995 and the number of teams participating steadily increased over the years with 26 teams participating this year.

Malaysian Hockey Confederation Competitions Committee Chairman and Vice President M. Gobinathan was elated with the increase in the numbers although it might pose a problem with regards to finishing the MJHL within the three month period.

"This is extremely good and it is great to see that clubs and schools are playing a major role in providing exposure to the youngsters by participating in the MJHL," said Gobinathan.

"We will look into the format and groupings with cutting down travelling cost as the main factor as we have teams from all over the country.

"My only disappointment is that no team from East Malaysia has entered although Sabah did field a team a coule of years back."

Perlis has entered two teams, with Negri Sembilan 2, Kuala Lumpur 4, Malacca 1, Perak 4, Kedah 1, Selangor 4, Penang 3, Pahang 2, Terengganu 1, Kelantan 1 and a record number of 6 teams from Johor.

The teams:

SMK Tunku Besar Tampin, SMK Dato Mohd Taha Gemencheh, Bukit Jalil Sports School, UniKL Youngsters, KLHC Juniors, KL Sports School Juniors-MSSSWP, Malacca High School, Sekolah Tuanku Abdul Rahman Ipoh, Anderson Juniors, Anderson, MSSD Larut Matang & Selama, Persatuan Hoki Kota Star, Olak-PKT, Petaling Jaya MC, MSN Selangor, Permatang Juniors, Nur Insafi, 1MAS Penang, MSSSPP-USM, SSTMI Juniors, SSTMI Thunderbolts, SMK Dato Bentara Luar Batu Pahat, SM Sains Johor, SMK Dato Penggawa Barat Pontian, Politeknik Johor baru, SMK Syed Hassan Perlis, Matri Perlis, SMK Padang Midin, Felda-Akademi Hoki Pahang, MSP Junior Pahang, Bakat MSSSK/PHK

MalaysianHockey.com.my


---

Sukhwinder Singh shows field hockey is for men, too

by Nancy Haggerty



Horace Greeley coach Sukhwinder Singh moves the ball for Rye 1 during a recent game against the New York Islanders. / Nancy Haggerty/The Journal News

Wind whipped an empty lawn bag 8 feet high not far from the statue of the Columbia lion, which, mouth agape, seemed appropriately frozen.

Field hockey warmups — an overstated term, given the 5-degree wind chill — were underway at Columbia University's Baker Field on a recent Sunday morning.

Soon, Rye 1 would fall 3-2.

Rye, though, wasn't the skorts-clad high school girl Garnets but rather shorts-with-knee-socks-wearing men.

Field hockey is largely a female sport in the U.S., but the Columbia-based North East Field Hockey Association includes seven male and eight female teams.

From the various accented shouts during Rye 1's loss to the New York Islanders, it seemed like the teams might have been recruited 18 miles south at the United Nations.

In fact, Rye's two men's squads include players from 12 countries. Add three more with Rye's women's squad.

Among Rye 1's men is Horace Greeley coach Sukhwinder Singh, who played professionally in his native India.

The 37-year-old lives in Mount Kisco and works at a Mobil station when not coaching Greeley's varsity and an independent youth developmental program.

His coaching commitment is large, but that's a relative term.

From 1995 into 1998, Singh practiced six days a week, six hours a day, 10 months a year as a pro. Pros in India are government employees, so July and August — when it was deemed too hot to play — Singh and his teammates were assigned other jobs.

Now he plays amateur largely once a week, September through November and March into June, with defending four-time NEFHA league and three-time NEFHA playoff champion Rye 1.

"I can play in 100 degrees, not 10 degrees," Singh said, defrosting in his car after his one-assist game.

Field hockey vies with cricket for India's top sport. Singh started playing in his hometown of Sarih when he was 6 years old. After two years of high school, he was recruited as a midfielder to play for Division I DAV College. Taking high school, then college courses, he played there four years, then for D-I Guru Nanak Dev University.

Selection to an All-India team from among 32 colleges and then to the junior national camp followed.

A forward with his pro team, Punjab and Sind Bank, he played with five Olympians and believes he had a good chance of making the national team.

But playing in California's 1998 Cal Cup, Singh decided to move to the U.S. He met his wife, Jaswinder, here that year, marrying her the next.

Still, Singh sends money to Sarih to help kids play, explaining, "Here everyone can get a stick, ball and shoes. There it's difficult to get money."

But Singh, who coached Greeley's JV for a year before his current five-year varsity stint, also wants to expand the game in Chappaqua.

Enlisting help from parents and other coaches, he began a fifth/sixth-grade, then a third/fourth-grade, once-a-week fall girls program he helps coach. This winter, kids from the district's seventh/eighth-grade modified program will play in a Brewster indoor league, as will his daughter, Manveer K. Sandhu, who is 13.

"We're definitely building the program," said Singh, whose young varsity made it to the second round of sectionals this fall with him espousing a, "I instruct them, they instruct me" philosophy that allows kids to voice ideas.

He points to his own children (he also has a 10-year-old son, Shan Singh Sandhu) when explaining that he doesn't regret giving up his chance to possibly play for India.

"The better future is here for kids than back home," Singh said.

His own future, of course, remains tied to the game that brought him here.

"Field hockey, for me, it's everything," he said. "To come to this country, it's all from field hockey. I love it."

Lohud.com


---

Haz names provisional squads for Youth Olympic qualifiers

FORTUNE MBELE

THE Hockey Association of Zimbabwe (Haz) has named the Under-17 provisional squads for the Youth Olympic qualifiers to be held in Zambia in February next year.

The boys and girls teams were selected after friendly matches that were played at Arundel High School at the weekend against Zambia. The girls played four matches against their Zambian counterparts losing two matches and playing two draws while the boys lost all their three matches.

In the first match played by the girls, Zimbabwe Select "A" lost 3-9 to Zambia with the second being a 4-4 draw by Zim Possibles. Zim Probables then lost 1-4 before Zimbabwe played another 4-4 draw.

The boys' first match was a 0-7 drubbing of the Zim Select 'A' followed by a 1-4 loss by Zim Select "B" with Zim Possibles also embarrassingly falling 2-8 to Zambia.

After the matches, 28 boys and 21 girls were selected into the provisional squads.

Haz vice-president Humphrey Chigwedere yesterday said plans were underway to have the squads assemble again after the Christmas holidays for friendly matches against strong competition before the qualifiers to be played on dates yet to be announced in February next year.

"These are part of preparations for the upcoming Youth Olympic qualifiers early next year in Zambia. Overall; it shows that the Zambians came in as "underdogs", but they dominated play. There is a lot of work to be done by the Zimbabweans if we are to make a mark at the qualifiers next year in Zambia. The Zambians put up a very good performance despite their limited numbers," Chigwedere said.

The boys' team is coached by Prince Mwale, who took over from Edson Banda who resigned two months ago and their manager is Craig Hepburn while the girls team is coached by Jooks Lowe and Anthony Five and their manager is Sarah Bennet.

Provisional squads

Boys: Tafara Simon, Gift Chamunorwa, Bryn Lowe, Dan Barnes, Forbes Motsi, Happious Njitimani, Newton Mashanyare, Mlungisi Mpofu, Phillip Machaya, Stephano Martin Bellini, Takunda Chipuma, Xolani Makhetwa, Moses Kapanga, Aaron Sithole, Dominic Ashely, Jonathan Campbell, Tatenda Kanyangarara, Batsirai Ncube, Peter Trusthum, Alroy Fourie, Blair Finnaughty, Brandon Watson, Esau Mufandaedza, Heemal Kala, Kieth Bruce, Misheck Zvizhinji, Alex Makuvise and Tariro Mbedzi
Girls: Kudzi Mushongahande, Nikki Hiripis, Aimee Nativel, Steph Campbell, Carla Van Oudtshoorn, Zarah Finnigan, Chelsea Dollar, Farai Kawande, Grace Mazarura, Julie Precious, Sophie Teede, Kelly Piplock, Tina Elijah, Kendal Revolta, Ally Shumba, Julliet Mazorodze, Jennifer Gwasira, Estelle Stambolie and Tyla Walters

Newsday


---

Former hockey Olympians to gather in Karachi

ISLAMABAD: Former hockey Olympians and their supporters will gather in Karachi this week to consider their future plan regarding the recently concluded 'bogus' Pakistan Hockey Federation (PHF) elections. When the PHF's one-sided elections were over, there were rumours that the Olympians and their supporters had become weak owing to rifts among them. But former captain Samiullah, who is the front leader of the Olympians and international players' struggle against the PHF, denied any rift and claimed that they remained united. "We are strong and committed. We cannot be divided by the so-called election, which was not election but selection," he said. Samiullah said that their group would gather in Karachi any time this week and decide the future strategy. "We are already seeking justice through judicial system to save the prestige of the national game," he said.

He said the PHF officials were spreading rumours, but the group of Olympians remained committed to saving hockey through all legal methods. Samiullah said the PHF officials were trying to hoodwink people by saying that their doors were open for everyone. He said that Akhtar Rasool had been a good hockey player, but as an administrator he had a very poor record. "Akhtar has remained attached with the PHF in various capacities, as selector, as coach, as chief coach and manager, but he could not revive hockey and instead the team's performance always declined," he said.

The Daily Times