All the news for Thursday 19 January 2012

Black Sticks Women vs Argentina, Four Nations Tournament, Cordoba, Argentina

The first game of the Four Nations tournament in Cordoba has not gone the Black Sticks way after defensive gaps opened up in the second half taking a half time draw to a 7-3 loss at full time.

It was thanks to a successful reverse stick shot at goal from Midland's Cat Finlayson and a second goal to Auckland's Krystal Forgesson which kept the world number two ranked team to a draw when they left the turf at half time.

"Argentina hurt us big time on the counter attack in the second half. We were unable to hold on to the ball for long periods, we didn't defend well and we weren't able to stop their penalty corners from finding the back of the net," says Black Sticks coach Mark Hager.

Argentina made the most of the second half, scoring five more goals, when co-captain and defensive stalwart Kayla Sharland was rotated off the field. Finlayson made it a double, scoring New Zealand's only goal of the second half when the ball was hit across the face of the goal and she tapped it in.

"Although we haven't had international competition in the last three months, we can't use that as an excuse. We still have to be more consistent throughout the seventy minutes and really dig in and be more competitive when it matters," says Hager.

The team face Korea tomorrow at 11.30am (NZ time) before they play Great Britain on Sunday at 9am (NZ time). They then go to Rosario for the 2012 FIH Champions Trophy where they will play their first game of the tournament against Argentina at midday 29 January (NZ time).

Hawke's Bay are the principal partner of the Black Sticks Men and Women.

RESULT:
Full time: 7-3 (Argentina win)
Half time: 2-2
NZ goal scorers: Cat Finlayson x2, Krystal Forgesson

Hockey New Zealand Media release


---

Argentina blitz Black Sticks

FRED WOODCOCK

A second half goal blitz propelled favourites Argentina to a commanding 7-3 win over the Black Sticks women in the opening match of the Four Nations hockey tournament in Cordoba, Argentina, today.

Having not played at international level since October, New Zealand went into the match against the world's second-ranked side lacking match fitness and that played a part in the second half as the hosts banged in five goals.

The sixth-ranked Black Sticks competed well throughout the first half and goals to Midlands striker Cathryn Finlayson and Auckland forward Krystal Forgesson saw the teams head into the halftime break level at 2-2.

Finlayson provided the only New Zealand highlight of the second 35 minutes when she notched her second goal, but the hosts were rampant in front of a big, parochial crowd as they fine tune for the Champions Trophy later this month.

Fatigue - the match did not start till 10pm local time - helped contribute to a string of turnovers in the second stanza, and New Zealand's discipline also let them down, but they were keen not to use the lack of match fitness as an excuse.

The Black Sticks face a quick turnaround - they play eighth-ranked South Korea tomorrow (11.30am NZ time) and will probably need to win if they want a shot at redemption against Argentina in the tournament decider on Monday (NZ time). On the bright side, they reported no injuries from today's match.

The tournament, which also features Great Britain, is a warm-up for the Champions Trophy, also being played in Argentina and which starts on January 29.

Ominously, New Zealand play Argentina in the opening match of that tournament, but by then they'll have had six warm-up matches under their belt.

Stuff


---

Straight into Argentina furnace for Black Sticks

FRED WOODCOCK

It's out of the ice box and into the fire in more ways than one for the Black Sticks women's hockey team.

Having not played at international level since October, and coming out of a wet North Island 'summer', New Zealand head into the white hot cauldron of Cordoba to play the world No 2-ranked hosts, and comparatively match-fit, Argentina in their opening Four Nations match this afternoon (NZT).

The tournament, which also features South Korea and Great Britain, is a warm-up for the Champions Trophy, also being played in Argentina, later this month. But there will be nothing warm about the temperatures in South America, or the atmosphere expected to greet the sixth-ranked Kiwis. It'll be hot on both counts.

Temperatures were in the high-30s yesterday and with a crowd of up to 8000 expected to cheer on the hosts, New Zealand will be up against it after a layoff from international competition.

"We're going in behind the eight-ball, but we've spoken about it as a group and we won't be using that as an excuse," coach Mark Hager said from Cordoba.

"We're going to have to get up to match tempo pretty quickly, but that's the beauty of this tournament. We've got four matches and then two further warmup games before the Champions Trophy."

With big crowds expected, Hager said the Four Nations would be a nice lead-in to the Champions Trophy, providing some of the younger players with valuable experience.

Inexperienced Canterbury goalkeeper Amelia Gibson and Auckland striker/midfielder Julia King are in Argentina for the Four Nations only and, along with the likes of Midlands' Samantha Charlton, should see plenty of time in the field as Hager gives players exposure at the top level.

The coach is realistic about expectations of both tournaments. The Black Sticks finished third at last year's Champions Trophy and loom as outside medal chances for the Olympics, but as Hager points out they are coming in cold and are still only ranked sixth in the world.

"We punched above our weight but there are still five teams ranked above us. We just need to build nicely and try to regain that momentum from last year.

"As a coach it's always about results but I'm realistic. Right now it's about playing well and building for the Champions Trophy."

New Zealand have had a couple of days to acclimatise, though the late start (10pm local time) for the Argentina match should help ease them into conditions, which Hager said were a welcome change from a wet summer back home.

After Argentina, New Zealand also play eighth-ranked South Korea tomorrow and fourth-ranked Great Britain on Sunday, before Monday's playoff for final positions.

The Champions Trophy in Rosario starts on January 29. They will also open that with matches against the hosts and South Korea, before facing Germany in their third pool match.

Stuff


---

Trophy warm up for Olympics, say Black Sticks

By Michael Brown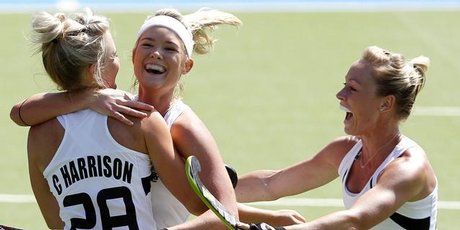 Charlotte Harrison (left), Samantha Harrison and Anita Punt. Photo / AP

The New Zealand women's hockey team would love to replicate the bronze medal they won at last year's tournament when the Champions Trophy begins in Argentina next week, but they don't want to do anything that compromises their buildup to the London Olympics.

The Black Sticks surprised everyone with their third-placed finish at last year's Champions Trophy in Amsterdam and will have forced other countries to take them more seriously.

It will make their task of securing a top-three finish in Rosario more difficult but their real focus is on London in July and August.

Coach Mark Hager has a plan that will see some players rested for certain matches at the Champions Trophy and others played to help them get valuable experience at the top level.

It has come at a perfect time, even though it's in the middle of the New Zealand off-season and other teams are more battle-hardened, because it will give them a chance to see where they are compared with their opposition.

"We are not yet 100 per cent but we are looking at the bigger picture," Hager said. "This is part of building up to London but we are keen to do well here and carry the momentum through from the last Champions Trophy. It will be a good gauge against the top teams in this tournament.

"We would like to emulate last year's medal, if possible, but know it's going to be a difficult task with teams watching us very closely now and with a point to prove after what happened last year.

"This will be an interesting one because we haven't really had expectations on us before. We have flown under the radar but this tournament will tell us. It's going to tell us whether we are tracking in the right direction again or opposition teams identify our weaknesses and exploit it. If we do well, it's a matter of making sure we don't become complacent and still work hard."

The team haven't played a test since October's Oceania Cup but had two blocks of two weeks' training in December and January. They will compete in a Four Nations tournament starting in Cordoba tomorrow also involving Argentina (ranked No 2), Great Britain (4) and Korea (8) to help them get match fit. They will also meet Argentina and Korea in the Champions Trophy, along with the third-ranked Germans in a difficult pool. Quarter-finals will be played, which differs from the men's Champions Trophy played at North Harbour late last year when only the top four teams progressed, meaning it's still possible to do well even if they lose all three pool games.

The Black Sticks have retained most of last year's squad, although Ella Gunson is injured and Anna Thorpe yesterday announced her retirement from international hockey along with fringe player Jan Burrows because she wasn't able to commit to the Olympic programme. The squad go into camp at the end of March and train virtually fulltime ahead of London.

COMING UP
Four Nations (Cordoba)

* Thursday (2pm NZT) - NZ vs Argentina
* Friday (11.30am) - NZ vs Korea
* Sunday (9am) - NZ vs Great Britain
* Monday (9am) - 3rd and 4th playoff
* Monday (11.30am) - Final

Champions Trophy

* Jan 29 (12pm) NZ vs Argentina
* Jan 30 (9.30am) - NZ vs Korea
* Feb 1 (9.30am) - NZ vs Germany
* Feb 3-6 - Playoffs.

The New Zealand Herald


---

Great Britain women beat Korea in Cordoba



Crista Cullen in action for Great Britain women

Great Britain women got off to a winning start at the Cordoba Four Nations tournament on Wednesday evening, recording a deserved 3-1 win over Korea.

Victory was assured thanks to goals from Leicester pair Crista Cullen and Rebecca Herbert, and newly crowned Hockey Writers' Club Player of the Year Alex Danson of Reading.  

The tournament, which is being played as a preparatory event ahead of the Champions Trophy in Rosario beginning a week on Saturday, features Great Britain, Korea, hosts Argentina and New Zealand, the Commonwealth silver medallists.

Great Britain showed good patience to recover from an early Korean goal – a third minute penalty from drag flick taker Eun Ji Cho – through their own penalty corner specialist, Leicester defender Cullen.    Shortly after Cullen's strike Slough's Nicola White played her part deep in British territory as she saved a goal-bound effort on her own goal line, knocking the ball into the air before clearing.



Rebecca Herbert in action for Great Britain

Five minutes into the second half Great Britain took the lead from another Leicester player as Channel Islander Rebecca Herbert unleashed a reverse stick shot to put Great Britain 2-1 up.  And Hampshire born Reading forward Danson, who was also named Reading Sports Personality of the Year this week, made it 3-1 midway through the second half with a deft deflection that rolled across the line.

Despite playing the last five minutes with ten players following a yellow card for Canterbury's Natalie Seymour Great Britain remained firmly in control to wrap up victory.

Afterwards, Head Coach Danny Kerry expressed his pleasure at how Great Britain started the tournament and singled out Helen Richardson, Reading's FIH All Star, for particular praise: "The first half was very stretched and although we had the better of the chances I thought 1-1 was a fair reflection of the game at that stage.  In the second half we took really good control of the game and created good opportunities.  I'm pleased with the result.  I thought Helen Richardson was outstanding in the middle of the park in the second half."

Great Britain's next fixture is against hosts and world number two side Argentina on Thursday night.  

Great Britain Hockey media release


---

Heartbreaking 1-0 loss for USA in final match against Australia

Ashley Meunier




CHULA VISTA, CA – The No. 7 world ranked Australian Team finished the series with a narrow 1-0 win over Team USA this afternoon at the Olympic Training Center in Chula Vista, CA. With the win, Australia improves to a 2-0-2 record overall.

"Australia was a great side to start our 2012 series," said Team Captain Lauren Crandall. "Australia was strong competition, and a challenge for our style of play. The series was an overall success because it pointed out the things we need to work on and the improvements we need to make to be successful in London this summer."

Team USA created solid scoring opportunities from the start and applied consistent pressure throughout the first half. Despite outshooting the Aussies, USA was unable to convert their shots into goals. With only seconds remaining before the end of the first half, Australia's Megan Rivers netted the only goal of the match, putting one past goalkeeper Jackie Kintzer (Robesonia, Pa).

"This was our first series of the year and it is was tough with us training through it," said Head Coach Lee Bodimeade. "I am disappointed with the outcome. Being a little off of our game at critical moments cost us."

Australia's goal in the 35th minute proved to be an advantage as the team was out quick in the second half, applying pressure and challenging USA's goal. Team USA had an outstanding defensive performance holding Australia scoreless in the second half. Unfortunately, one goal was all the Aussies needed to come away with the victory today.

Team USA's defense was solid and consistent throughout the series, giving up only five goals in total in four matches against the No. 7 world ranked team. Although it was not the way Team USA had hoped to finish the series, Bodimeade commented "our defense was something we did really well. We wanted to make sure we addressed it after the Great Britain series. We are happy with that end of the field but still have some work to do."

Team USA will continue their Olympic preparations in Chula Vista, CA over the next month before traveling to Spain for a Four Nations series against Spain, Great Britain and Belgium in late February. Team USA will face Australia again, this time on their home turf in April.

What's ahead? "We're going back to training, continuing our physiology, building on basic skills and continuing to develop our concepts and style of play," said Crandall.

"We have a tour in Spain, where we will play Great Britain again and that will be a good opportunity for us to continue to develop. We have players that need more exposure and players that are coming off of injury so the upcoming series will be pretty important for us as we prepare for London."

USFHA media release


---

Hockeyroos clinch USA series 2-0 after victory in the final match

The Hockeyroos have begun their 2012 London Olympic Games campaign with a 2-0 series win against the USA in San Diego today.

Game 4 of the series saw the Hockeyroos defeat the USA 1-0. Similarly to game 3, the Hockeyroos begun sluggishly. It took 20 minutes into the game before the Hockeyroos settled and begun playing attacking hockey, pressuring the USA defence with 10 circle penetrations and 6 shots on goal. The Hockeyroos secured the breakthrough only seconds before half time through a well-executed shot on goal by Megan Rivers from the far post.

After holding a 1-0 lead at half time, the Hockeyroos came out firing in the second half playing an exciting brand of hockey and shutting out the USA forwards who could only manage 2 shots on goal for the half. In response, the Hockeyroos' dominance forced 15 circle penetrations which resulted in 13 shots on goal. The Hockeyroos couldn't manage to hit the scoreboard again with big chances from Casey Eastham and Emily Hurtz being brilliantly saved by the USA goalkeeper.

Hockeyroos Head Coach Adam Commens said it was a good performance by the team in the final match to win the series.

Goal Scorers Tally
1 - Megan Rivers
1 - Kellie White
1 - Georgia Nanscawen
1 - Claire Messent
1 - Emily Smith

The Hockeyroos now depart the USA en route to Argentina where they play two matches against the Netherlands, and one match against Germany and Japan starting on the 22nd of February.

Hockeyroos 1 defeat USA 0 (Half Time 1-0)

Remaining Match Fixture: Argentina Tour

| | | |
| --- | --- | --- |
| January 22 | Hockeyroos vs Netherlands | Buenos Aires, Argentina |
| January 23 | Hockeyroos vs Netherlands | Buenos Aires, Argentina |
| January 25 | Hockeyroos vs Germany | Rosario, Argentina |
| January 26 | Hockeyroos vs Japan | Rosario, Argentina |
Hockey Australia media release


---

Hockeyroos draw 1-1 with USA in Game 3

The Hockeyroos continued their Olympic Preparations on Wednesday, attaining a 1-1 draw with the USA in game 3 of their four match test series in San Diego, USA.

A sluggish start to the match by the Hockeyroos gave the USA an opportunity to open the scoring through a well-executed play. The 5th minute goal by Michelle Cesan gave the USA team the perfect start. However, the Hockeyroos managed to regroup quickly and begun asserting their dominance on the game. An even first half saw both teams manage 7 circle penetrations, with the Hockeyroos producing more shots on goal than the USA, 8 to 5 respectively.

With scores at 0 – 1 at half time and at risk of tying the series, the Hockeyroos needed to improve their ball handling skills and intensity in the second half. Young stars Georgia Nanscawen and Kellie White asserted themselves on the game whilst Claire Messent and Madonna Blyth continued their good form enabling the Hockeyroos to claw their way back into the match with a great field goal by Kellie White in the 62nd minute. The second half was all the Hockeyroos, managing 13 circle penetrations to 4 and 11 shots on goal against only 1 by the USA.

The Hockeyroos now lead the series 1-0 after three matches. The final match will be played today. The Hockeyroos will be looking to improve their conversion rate in the final game and win the series 2-0.

Hockeyroos 1 draw USA 1 (Half Time 0-1)

Hockey Australia media release


---

Japan played test series against China

Japan finished with one win, one draw and two defeats



Japan beat China in match three (Photo: FIH / Adrian Boehm)

In preparation for the FIH Champions Trophy in Rosario Japan went on a China tour to to play four friendly matches against China in Changzhou. Japan were able to defeat China 1-0 in game three played on January 10th. China won match two (1-0) and match four (2-0) played on January 8th and 12th. The first encounter on January 6th finished with a 2-2 draw.

Source: Japan Hockey Association

FIH site


---

Indian women clinch the Azerbaijan series in style

s2h team




Playing good hockey in spells was sufficient for coach CR Kumar's girls to clinch the 4-match Azerbaijan Test series, being played at the Major Dhyan Chand National Stadium.

Indian girls, who seemed struggle most part of the match against the better organized rivals today, came good in a few spells that proved turning point in deciding the rubber.

India needed a draw or win to wrap up the series today in the third test, and they made it style, winning again today 3-0.

India had already won both the test gone by before today.

Agile and alert Sushila Chanu set the Indian scoring in the third minute and three minutes before the hooter, the best goal of the match was struck by player-maker Ritu Rani.

In between, three minutes before lemon time, Anuradha Devi too entered her name on the score board.

Ritu Rani got a loose ball on the top of the circle, wasted no time to send in a power-packed forehand, the ball crashing on the right edge of the net. The goal came much against the run of play, and gave the impression the winners had a easy walk today.

The visitors lacked in scoring power and it told on the outcome, instead.

Both the sides struggled to negotiate penalty corners

India need to thank hardworking defenders, recalled star Subhadra Pradhan and ever-green Joydeep Kaur, for emerging winners today. For, its the Azerbaijan girls who nearly held the sway in the whole of match, and the defence stood to the task.

Assisted by Asusnta Lakra in the centre, the defender duo dished out heartwarming display to thwart the moves of well-oiled frontline of the visitors.

On one of the penalty corner drills, its Joydeep who made a goaline save, her reflex and energy are joy to behold.

Stick2Hockey.com


---

Indian women seal series

Y. B. Sarangi



STRIKE! India's Sushila Chanu scored the opening goal against Azerbaijan in the women's hockey Test match in New Delhi on Wednesday. Photo: S. Subramanium

India defeated Azerbaijan 3-0 to record its third consecutive win in the four-match women's hockey Test series at the National Stadium here on Wednesday.

In the third Test, dominated by lacklustre action, the home team scored through Sushila Chanu (3rd minute), Anuradha Devi (32nd) and Ritu Rani (67th) to claim the series without much toil.

Azerbaijan's poor defence helped India take an early lead. Sushila's cross from the right found Lyudmila Chegurko's stick, before entering the touring side's post.

Azerbaijan's search for the equaliser resulted in several decent moves. However, the visiting forward line, led by Gyeonga Kim, Taejeong Han and Myungsoon Mammadova, failed to convert these chances. The European outfit could not even capitalise on the five penalty corners that came its way.

Subhadra, Mukta shine

Ace defender Subhadra Pradhan impressed with some fine tackling and clearance. Mukta Barla also contributed in keeping the Indian post safe.

Anuradha struck home off a rebound, from Vandana Kataria's reverse hit, to make it 2-0 at half-time.

Saba Anjum and Ritu combined well on the left to threaten the Azerbaijan defenders. However, Saba shot wide on one of the best attempts from the Indian side in the second period.

Ritu completed the tally with an excellent field goal. Her hit from the top of the circle disturbed the net in the final minutes of the match.

The home players faltered in the basics like passing and stopping. Besides, they frittered away five penalty corners.

"The positive side (of the performance) was that we succeeded in scoring field goals. But, we lacked in penalty corner conversion. When you focus on one thing, the other aspect gets neglected," said Indian coach C.R. Kumar.

The result: India 3 (Sushila Chanu, Anuradha Devi, Ritu Rani) bt Azerbaijan 0.

The Hindu


---

Indian girls blank Azerbaijan 3-0 to clinch 'Test' series

Ritu Sejwal

NEW DELHI: Sushila Chanu set the momentum for India's 3-0 win in the third hockey 'Test' against Azerbaijan at the National stadium on Wednesday.

With just three minutes into the clash, Chanu caught the goalkeeper Saadat Nuriyeva by surprise when her shot found space between the goalkeeper's legs.

The Azerbaijani women responded quickly and earned their first penalty corner 13 minutes later but failed to beat the strong Indian defence. A few minutes later, Azerbaijan defenders denied the Indians when Chanu took a crisp shot at the goal. The Indian forwards tried to make up for that by earning a penalty corner (20th minute) but failed to make an impression.

With the first coming to a frantic end, Anuradha Devi gave the home team the much needed cushion in the 32nd minute when she calmly collected a rebound from Vandana Kataria's shot and slammed home in a jiffy.

The second half saw both teams struggle trying to convert score through penalty corners. Just when one thought that the 2-0 scoreline had been sealed, Ritu Rani decided to get into the scorers' book in the 67th minute to make it 3-0 for India.

India earned four penalty corners but failed to convert any. "It's a positive sign. We focused more on the field goals. Jaspreet and Rani are injured so our penalty conversion rate has dropped. But we are happy with our performance and the fitness level," said coach C R Kumar, who had stressed on field goals at the beginning of the 'Test' series.

Kumar though, was not happy about the girls losing ball possession at important points. "Our players made a lot of unforced errors. That builds pressure and pulls the team down. They (Azerbaijan) were not rushing but they were just crowding and closing down very fast. We tried to shake them away and score," he said.

India are now 3-0 up in the series with the last game to be played on Thursday.

This series is a warm-up exercise for the Indians who will play South Africa, Poland, Ukraine, Italy and Canada in the Olympic qualifiers from February 18-26.

"We will be up against teams that play in the European style. Playing with Azerbaijan has raised the tempo of the team and we have tried a lot of different combinations," Kumar added.

The Times of India


---

Indian women thrash Azerbaijan 3-0 in third hockey Test

NEW DELHI: Indian women on Wednesday registered a 3-0 victory over a hapless Azerbaijan in the third match to keep their slate clean in the four-Test hockey series at the Major Dhyan Chand National stadium.

Leading 2-0, India played a slow-paced game but it was still enough to thwart the Azerbaijan challenge and take a 3-0 lead, with just one match to go.

India created a lot of opportunities in both the halves and scored through Sushila Chanu (3rd minute), Anuradha Devi (22nd) and Ritu Rani (67th).

Sushila put India ahead when her hit from the right flank got deflected by rival player Lyudmila Chegurko's stick before finding the target.

After conceding the initiative early, Azerbaijan pressed hard for the equaliser and even earned three penalty corners, only to squander them all.

India too squandered a set piece in the 20th minute with Joydeep Kaur's shot being foiled by the defence.

However, Anuradha made up for the lapse and found the cage after Vandana Kataria's reverse hit rebounded off in the late moments of the first half put India 2-0 up.

Azerbaijan made quite a few forays at India's goal post in the second half and had their chances but they failed to penetrate India's defence. They even earned two more penalty corners but failed to make them count.

India continued to dominate the proceeding in the second half and earned four more penalty corners but their variations didn't pay off.

Three minutes from the hooter, India put the final nail in their rival's coffin when Ritu dribbled past a couple of Azerbaijan players and slammed one to the left of the post from closed range.

India coach CR Kumar was satisfied with the three field goals but rued the number of unforced errors which his wards committed in the field.

"Our focus was on field goals and we scored three of them, so I am happy with it. But we are committing too many unforced errors on the field and we have to rectify these problems," Kumar said.

"We have not been able to convert the penalty corners. They are covering the goal post and we had to try out new variations. A couple of players are also batting fitness issues, Jaspreet is not fit to play and Rani Rampaul too is injured, so that is a problem," he added.

Asked if he is happy with the fitness level of the players, Kumar said: "I am satisfied with the fitness level, which is 60-70 per cent right now and I am confident in the remaining days we will achieve 100 per cent, we are aiming perfection."

The Times of India


---

The bittersweet tale of Azerbaijan hockey

Harpreet Kaur Lamba

Think Azerbaijan, and the mind instantly travels to the country's famous medieval structures and mosques. Next up could be the beautiful, hand-woven carpets, or the nation's ability to produce chess and wrestling players with élan.

A women's hockey team from the 'land of the fires' is perhaps exotic, but the country, believe it or not, has a 40-year culture in field hockey. And a lively bunch of 26 are currently in town for a four-match series against India, ahead of their Olympic qualifiers event in Japan.

As a nation, Azerbaijan was always mired down as part of the Soviet Union, before they achieved independence in 1991.

"That changed a lot of things," said Azerbaijan team manager Rashad Alizada, in whose family has been involved with the sport for the last two decades.

"As a nation, we were always fascinated with judo, wrestling and boxing. But the people have slowly begun to appreciate team games too," said Rashad.

A look at the Azerbaijan team list throws up an interesting picture. Of the 26 members here, eight are born in Korea and now married to local citizens and holders of Azerbaijan passports. And even though the country has faced major problems over the issue — the squad were initially refused visas by the British authorities on their first ever trip to a European championship in 2007 — Rashad claims that all was within the law.

"All the girls are married to Azerbaijan citizens, making them lawful citizens, and I do not think it should be a problem for anyone," he said.

The buzz though has it the marriages were only conducted on paper, and the girls returned to Korea as soon as the tournament was over.

Success continued to elude the Azerbaijanis — who were coached by former Pakistan international Tahir Zaman for three years — for want of talented players and lack of opportunities on the big stage.

Another intriguing incident surfaced during the 2008 women's Olympic qualifiers in Azerbaijan. There was a lot of upheaval when urine samples of two Spanish players were found positive, while senior players from Ukraine landed in hospital after drinking water given by the organisers, hours before their match against the hosts.

Azerbaijan authorities lodged an appeal with the Court of Arbitration for Sport, asking to remove Spain from the Beijing Games, and let them compete instead.

Said a member of the Spanish federation when contacted, "We, in turn, moved to the court in Lausanne against the Azerbaijan federation.

"When tested, the results revealed that it was not possible for a human body to contain/consume such huge quantity of drugs, without killing them immediately. Azerbaijan's appeal was thus rejected."

The negative stories notwithstanding, the nation is now slowly turning into a hockey hub for its neighbouring countries. Baku now boasts of modern facilities and training grounds, besides a host of coaches from Korea.

"We as a nation are progressing in hockey, and have the most modern facilities.

"In fact, we are now at a stage where we are helping neighbouring nations like Russia and Georgia to progress in hockey."

"People can discuss about the negative aspects, but we have done everything in our capacity to help hockey grow. And we are hopeful that the future would be bright," Rashad said.

The Asian Age


---

India seeks to improve its performance

Principal Correspondent

Michael Nobbs' stress on fitness and attack has come to the fore in India's ongoing five-match hockey Test series against South Africa.

India notched up two consecutive wins in contrasting style. Wednesday's rest day was the ideal time for chief coach Nobbs to formulate new strategies based on what he saw in the first two matches.

The Indian players, showing their improved fitness and agility, played attacking hockey in the first match to blank the visiting team 4-0. In the second, against a far better South African side, the host managed a narrow 2-1 victory.

"We changed nine players (for the second match). We never played with such combinations. We committed a lot of unforced errors," said Nobbs, who admitted the performance of the side must become better.

Sandeep's showing

The most notable factor in the second win was drag-flicker Sandeep Singh's showing upfront. A shaky defender, Sandeep was tried as an attacker in Australia and again in the current series.

"This will make him versatile," said Nobbs, raving about Sandeep's mastery in penalty corner conversions.

Two youngsters have also impressed everyone in the series so far. Defender Harbir Singh and forward S.K. Uthappa have given a good account of their abilities to win accolades from Nobbs.

While many players have been given a chance to prove their worth in the first two engagements, several others, including some experienced and promising players, are waiting for their turn in the rest of the series.

Even though only 18 will be selected for the Olympic qualifier, the rest need not feel disheartened. Nobbs, with his eyes set on long-term goals, has already made his plans clear about forming a large pool of players with four or five of them fighting for one slot.

The Hindu


---

Last chance for coach to firm up squad

Navneet Singh

Chak De!: India's Binita Topo tackles an Azerbaijan defender on Tuesday during the final of the Shastri Hockey tournament. Thursday is a crucial day for the women probables, who are in the Capital for the national camp and hockey series against Azerbaijan. They have one last chance to prove themselves and win a place in the national squad that will compete in the London Olympic Games qualification tournament in February.

The hosts have some work to do as they struggled to a 3-0 verdict in the third test at the National Stadium on Wednesday.

Coach CR Kumar fielded a full-strength side against Azerbaijan, a team ranked 15th in the world, three rungs below India, yet the players found the going tough. The coach defended his wards by saying that the aim was to gain experience against a team that plays the European style of hockey. "In the three matches, the girls may have not been too impressive, but they have got valuable practice," he said.

"There is nothing much to worry about at the moment. The current level of fitness is reasonably good and the players are skillful," he said.

In 21 attempts at the rival goal, India earned four penalty corners, but managed to convert just one. Sushila Chanu opened the account in the 3rd minute and was followed by Anuradha Devi (32nd) and Ritu Rani (67th).

Kumar is unlikely to experiment much today as this is his last opportunity to pick the final 18 girls. Leading 2-0 in the five-test series, the men play the third match against South Africa.

Hindustan Times


---

Fit-again Walmiki itching to play

NEW DELHI: Returning from injury after a gap of one-and-a-half-months, Yuvraj Walmiki is fit, eager and confident of a good show in the third 'Test' against South Africa at the National stadium on Thursday.

"I haven't played since the last 45 days but now my fitness is up to the mark," Yuvraj said.

The 21-year-old striker was forced to stay out of the hockey field due to a hip injury which he picked during India's preparatory camp for the Olympic qualifiers in Bangalore. "I started training a week back, and I'm not feeling any rustiness. David John (team's physiologist) said I am fit to play. I am just itching to play and hope the result will be in our favour," Yuvraj said.

So how did he spend the time away from the hockey field? "Every night I watch the videos of our earlier matches. I have been watching the videos of the ongoing series too," he said.

The Indian men lead 2-0 in the five-'Test' series against the South Africans.

The Times of India


---

Fit-again Yuvraj to play third hockey Test against South Africa

NEW DELHI: Promising striker Yuvraj Walmiki is all set to return to India's playing eleven in the third hockey Test against South Africa on Thursday after remaining in the sidelines for nearly one-and-a-half month due to a hip injury.

Yuvraj, considered as the new rising star of Indian hockey, picked up the injury last month during the first of India's preparatory camp for the Olympic qualifiers in Bangalore.

But after four weeks of rehabilitation, the Mumbai lad now can't wait to get back to playing ways and is confident of his performance in Thursday's game.

"I am eagerly looking forward to tomorrow's match. I haven't played hockey for the last 45 days, which is very frustrating. So, I am just eager to play tomorrow," Yuvraj told reporters on the eve of the match.

"The physio (Srikant Iyengar) and medical staff did a helped me a lot during my rehabilitation period.

"It's now a week that I have started practising and (exercise physiologist) David John also said that I can play tomorrow," said the striker, who shot into limelight in his debut tournament when he converted a penalty against Pakistan in the finals of the Asian Champions Trophy in China, which India won.

Asked whether he was nervous of aggravating his just-recovered hip, Yuvraj said, "I am not at all nervous, I am just confident. I hope to come up with a good performance tomorrow."

India's chief coach Michael Nobbs too hinted at Yuvraj's comeback and said he will again field a new look playing XI on Thursday to test his combinations ahead of the Olympic qualifiers to be held here from February 18-26.

"It's (changes) going to happen tomorrow as well. As I said earlier, I am going to give opportunities to everyone to show their talent in the first three games against a quality side like South Africa," Nobbs said.

"In the final two games we will play such combinations which we are looking to field in the qualifiers," he added.

He said even though India ended on the winning side in the first two Tests, the home team has a lot of work to do ahead of the qualifiers.

"In the first game the defence was ok, but in the second game not just the defence we made mistakes in every department. But I was expecting this."

Asked whether he will have the final say in the selection of the team for the Olympic qualifiers," Nobbs said, "The selection will be based on a host of criteria.

"We will analyse players performances, medical reports, fitness reports. Then I will make my assessment and the selectors will make theirs. Everyone's opinion is important because we want to field the best 18 players in the qualifiers."

He also said that just like the first two Tests, he will continue to rotate the captaincy among senior players in the remaining two games of the series.

India lead the five-match series 2-0 after defeating South Africa 4-0 and 2-1 in the first two matches.

The Times of India


---

Amended match schedule for Olympic Qualifiers

Adjustments made to tournaments in Dublin and Antwerp

There have been some small amendments to the match schedules for the forthcoming Olympic Qualifying tournaments that will take place in Dublin, Ireland (Men, 10-18 March 2012) and Antwerp, Belgium (Women, 17-25 March 2012).

To see the updated match schedule for the tournament in Dublin, please click here.

To see the updated match schedule for the tournament in Antwerp, please click here.

Any further changes to match schedules for the Olympic Qualifiers will be announced here on the FIH website.

FIH site


---

China skipper tips South Korea

By Ajitpal Singh



Tengku Ahmad Tajudin (left) vies with China's Song Yi in their friendly on Tuesday.

THE national hockey team are confident of qualifying for the London Olympics but China captain Song Yi brushed it off stating that South Korea will win the qualifiers in Dublin.

"South Korea are better and besides, they have the experience playing in priority tournaments. They may have a new coach but I think they will be a well-oiled side in Dublin," said Song Yi after his team were beaten 3-1 by Malaysia in the fifth and final friendly at the National Hockey Stadium in Bukit Jalil yesterday.

Malaysia, who won the series 3-2, yesterday scored through Amin Rahim (eight minute), Razie Rahim (24th) and Fitri Saari (51th), all from penalty corner set-pieces, while China replied through Sun Luo (11th).

Others teams competing in Dublin in March for the one qualifying spot are Ireland, Russia, Ukraine and Chile.

Midfielder Shukri Mutalib disagreed with Song Yi and said that Malaysia had an even chance of making it to London.

"I've played in two previous Olympic qualifiers and I believe this team have a better chance as we are technically better, more skilful and are fit.  "We are training hard and of course, if we don't make it, we would be disappointed. We need to improve our penetration rate in the semi-circle and understanding in defence," said Shukri, who has earned 145 caps.

National coach Tai Beng Hai said the team were on the right path but needed to tighten up in a few areas.  "My players did better after the opening two matches. I have identified areas where we need tightening up," said Beng Hai, who added that the players' fitness has improved.

The team travel to Perth on Jan 28 where they will play Australia (four matches) and the Netherlands (two matches).

New Straits Times


---

Mohd Sukri: Malaysia capable of rising to the occasion in Olympic qualifier

By AFTAR SINGH



Crossing sticks: Malaysia's Mohd Shahrun Nabil (left) attempts to dribble past China's Liu Xianting during their friendly yesterday.

KUALA LUMPUR: Don't write us off, yet. That's the message national hockey midfielder Mohd Sukri Abdul Mutalib has for those who doubt Malaysia's chances of qualifying for the London Olympics.

Sukri said this in response to former Malaysian Hockey Federation (MHF) president Sultan Azlan Shah's comment that the national team were not good enough to qualify for the London Olympics.

The midfielder, who has 147 caps, was in upbeat mood after helping Malaysia beat China 3-1 in the fifth and final friendly at the National Hockey Stadium in Bukit Jalil yesterday.

Malaysia lost the first two friendlies 2-1 and 4-1 before bouncing back to win the next three 4-2, 2-0 and 3-1.

Malaysia scored all their three goals in yesterday's friendly from penalty corners through Mohd Amin Rahim (eighth minute), Mohd Razie Rahim (24th) and Mohd Fitri Saari (51st).

China's lone reply came through a Sun Luo penalty corner.

The national hockey team, who failed to qualify for the last two Olympics in Athens (2004) and Beijing (2008), will compete in the Olympic qualifier in Dublin, Ireland, from March 10-18.

The 26-year-old Sukri, who will be playing in his third consecutive Olympic qualifiers, said: "I have faith in my team-mates and I am confident we will rise to the occasion in the qualifier."

Sukri was only 18 when he played in his first Olympic qualifier in Madrid in 2004.

"The national team now is better than the two I played for in the last two qualifiers in Madrid (2004) and Japan (2008)," he said.

"We have a tactically good team with skilful forwards like Tengku Ahmad (Tajuddin) and Faizal (Saari) to get the goals in the qualifier."

The other teams in the fray in Dublin are South Korea, Ireland, Chile, Ukraine and Russia.

Only the winner of the qualifier will feature in the London Olympics.

Sukri admitted that they needed to be more clinical in their finishing, judging by the number of wasted chances in the friendlies against China.

"The defence needs to be tightened up. I believe we will be ready to give our best in Dublin and be third time lucky to qualify for the London Olympics," he said.

The Star of Malaysia


---

Freddie is back

Fredrick Tham, the psychologist nicknamed "psycho" is back in action to help the national hockey team prepare mentally in their bid to qualify for the London Olympics.

Fred was the Director of the Penang Sports Council and quit the job to take up a posting as the Deputy Director in his home state in Sarawak early this month.

And straight away the National Sports Council has made the attempt, successfully one might add, to get Fred to work his magic on the national team who are in the midst of preparing for Olympic Qualifiers in Dublin from the 10th to 18 March.

That is not all for Fred is willing to help national badminton ace Lee Chong Wei in his quest for badminton gold in London.

"I have been asked to help prepare the psychological aspects of the hockey team for the qualifiers," said Fred when met at the National Hockey Stadium in Bukit Jalil at the sidelines of the Malaysia and China friendly.

"The last time I worked with the hockey team was the World Cup Qualifiers at Invercargil in 2009.

"I know most of the players and will do my very best to help the team make it to the Olympics."

On Chong Wei, the psychologist who worked with the world number one until the World Championships in Paris said that it all depends on the Badminton Association of Malaysia.

"Really the question should be directed at BAM as I am here to serve Malaysian sports," said Fred who flew in to attend the Chong Wei book launch.

"If they ( BAM and NSC ) feel that my services can help Chong Wei then surely I will be honored to help."

In addition to Chong Wei, Fred is also willing to look into helping doubles pair Koo Kien Keat and Tan Boon Heong regain their confidence following a slump of late.

Malaysian Hockey blogspot


---

Boys of steel

That's why they were able to beat the Chinese seniors 6-2, says Dharmaraj

Vijhay Vick



DHARMARAJ: Project 2013 team on their final push

BUKIT JALIL: K. Dharmaraj believes the Project 2013 boys are made of sterner stuff than their senior counterparts.

That was why they succeeded where the senior team failed miserably — in beating the Chinese senior squad 6-2 in a friendly last Friday.

"These boys are fearless. They have great respect for other teams but they are not intimidated," he said.

"They knew that the match was for exposure and I'm glad they played well."

The Project 2013 squad was given a one-match friendly while the senior boys played China five times.

Dharmaraj's boys just ended a three-match friendly against the Navy Dolphins.

They handed Dolphins a thrashing in each match, winning the final match 9-1 yesterday.

"Honestly, I can't remember the scoreline for the other matches. I know they were big margins.

"Those friendlies benefitted the Navy team more than us," said Dharmaraj.

The Project 2013 boys are gearing up for the Junior Asian Cup in May. The tournament also serves as the qualifier for the Junior World Cup next year.

Malay Mail


---

Thunderbolts, UniKL look for impressive starts

By Ajitpal Singh

TUNKU Mahkota Ismail Sports School (SSTMI)-Thunderbolts and Universiti Kuala Lumpur (UniKL) are both aiming for impressive starts to their respective campaigns in the National Junior Hockey League.

SSTMI, last season's overall champions, have an easy task as they play their junior team while UniKL are up against Petaling Jaya City Council (MBPJ) in Division One today.

SSTMI coach Wan Roslan Wan Abdul Rahman said his team would be going for goals. "We need big victories against minnows in order to have a chance at winning the league title as goal difference may play a crucial role in deciding the champions," said Wan Roslan yesterday.

SSTMI, formerly known as Bandar Penawar Sports School (BPSS), and defending league champions Universiti Kuala Lumpur (UniKL) are the two favourites in the competition.

"We have experience on our side as we retained 13 of our core players from last season's squad. UniKL, I believe, will be our main rivals," added Wan Roslan.

UniKL, however, are wary of MBPJ, who are traditionally strong in the competition and manager Amir Azhar Ibrahim has warned his players to treat their opponents with respect.

"MBPJ have made a lot of changes to their squad and I see them as a strong contender. We need to be cautious," said Amir.

Other teams in Division One are Bukit Jalil Sports School (BJSS), BJSS Juniors, Anderson, Tunku Besar Tampin and MSSPP-USM.

FIXTURES — Today — Division One: SSTMI-Thunderbolts v SSTMI Jnrs (Taman Daya Hockey Stadium), BJSS v BJSS Jnrs (Education Ministry Pitch, Pantai), UNIKL v MBPJ (KL Hockey Stadium).

Division Two — Group A: Kedah HA v KHA-MSN Kedah (Alor Star Stadium; 3.30pm), Polimas Kedah v Nur Insafi (Alor Star Stadium, Anderson Jnrs v Kelantan HA-MSSK (Sultan Azlan Shah Stadium).

Group B: Tunas Pahang v MSP-Yayasan Pahang (Sukpa Stadium; 4pm), Malacca High School v Batu Pahat-Johor HA (Malacca Stadium; 4pm).

New Straits Times


---

SSTMI-Thunderbolt eye the double in the junior league

KUALA LUMPUR: Defending overall champions Tunku Mahkota Ismail Sports School (SSTMI)-Thunderbolt will be without two key players but that has not stopped them from setting a lofty target in the Malaysian Junior Hockey League (MJHL), which begins today.

SSTMI-Thunderbolt, previously known as Bandar Penawar Sports School (BPSS), are eyeing a double – league and overall titles – this season despite not having the services of national trainees Mohd Firhan Ashaari and Mohd Fitri Saari.

Forward Firhan and midfielder Fitri are training with the national team in preparation for the Olympic qualifiers in Dublin in March and the national team management have decided not to released them to play in the Under-19 league.

SSTMI-Thunderbolt coach Wan Roslan Wan Abdul Rahman said that they were not too concerned about not having Firhan and Fitri for the league.

"We still have a solid team as we have retained 13 players from last year's squad," said teacher Wan Roslan, who has been coaching the sports school since 2004.

"We also have Project 2013 players like Mohd Shahril (Saabah) and midfielder Shahzril (Irwan Nazli) to replace Firhan and Fitri."

Shahril was the top scorer for the sports school last year, netting 14 goals – six field and eight penalty corners.

"My players are in high spirits after winning the Division One title in the Malaysia Hockey League (MHL) last October," said Wan Roslan. "I am confident we have the strength to bag the double this year."

The sports school made their debut in the league in 1998 and won their first title – Division One league crown in 2010. Last year, they won the overall title and finished runners-up to Universiti Kuala Lumpur (UniKL) in Division One.

Wan Roslan picked UniKL and former double champions Bukit Jalil Sports School (BJSS) as the biggest hurdles to their hopes of winning the double.

SSTMI-Thunderbolt will open their campaign against SSTMI at the Taman Daya Stadium in Johor Baru today while UniKL take on former champions Petaling Jaya City Council (MBPJ) at the Kuala Lumpur Hockey Stadium.

UniKL team manager Amir Azhar Ibrahim said that they too are eyeing a double this year and "we'll need a good start against MBPJ to boost our confidence".

"MBPJ have made a lot of changes and are stronger this year. We have to be cautious," said Amir.

A record 26 teams will feature in the MJHL . Nine teams will be in Division One while the rest will be divided into two groups in Division Two.

The other teams in Division One are BJSS Juniors, Anderson, Tunku Besar Tampin and MSSPP-USM.

This year's league is expected to be more competitive with an 80% increase in total prize money from RM80,500 to RM145,500.

The Star of Malaysia


---

Shepherd aims for return to top eight

EUROPEAN INDOOR NATION CHAMPIONSHIPS 11 - SLAGELSE - 20-22 JANUARY 2012

Scotland women`s indoor squad travel to Slagelse this weekend to take on Switzerland, France and hosts Denmark in the pool competition of the European Nations Championships II, and coach Gordon Shepherd is determined to make a quick return to Europe`s elite top eight.

"My targets are to develop players and see how some new players deal with the pressures of international hockey,  but we will be looking to finish in the top two and achieve promotion."

Shepherd has not selected indoor specialists, instead he has gone for established outdoor internationalists like Kat Cameron, Kareena Marshall, Nikki Kidd and Leigh Fawcett and aspiring young talent in the shape of Amy Brodie, Susan McGilveray and Nikki Lloyd.

Nonetheless, Shepherd has had a good record with his charges; after promotion to Europe`s first division in 2004, Scotland came fourth twice in 2006 and again in 2008, but were unfortunately relegated two years ago.   Consequently, the Scots are seeded to top their pool and to gain an immediate return to the top flight, if they can finish in the top two of the subsequent promotion pool.

"I know nothing of the opposition in our group, as it`s been years since we played any of these teams, but we will prepare thoroughly for each game, and take it a game at a time," Shepherd said.

"We have a very fit and fast squad, so fitness won`t be an issue, but we also have a good short corner routine as well as the ability to score from open play."

The lack of match practice could be an issue, as the squad`s only competitive outing was at the Grove Menzieshill tournament at the end of last year.  There the Scots won all their pool matches, including seeing off the United States (3-2) and Wales (5-0), but lost the final to Scottish club champions VWS Dundee Wanderers on a penalty shoot-out after a 4-4 draw in normal time.

"We learned the areas we still need to work on from the Menzieshill tournament, we dominated every game we played in and created plenty of open play chances but didn`t take them," Shepherd remarked.

Scotland open their campaign on Friday with fixtures against Denmark and Switzerland; Shepherd will only be satisfied with six points.

Scottish Hockey Union media release


---

Menzieshill on course for six point lead

Stuart Neave, Inverleith`s coach, will be hoping that city rivals Grange can do them a favour by taking something from their encounter with leaders Grove Menzieshill in Saturday`s top fixture in the Scottish Subway indoor national league at Forthbank.

Third placed Grange have the goal scoring talent in Gary Cameron, Cammie Fraser and Phil Sully, they have the experience of coach David Knipe and the advantage of a strong squad to run the bench.   Earlier in the season Matt Connor put Grange in front, but then fell 4-1 behind to a Josh Cairns hat-trick and another strike from Gavin Byers, although a penalty corner conversion from Cameron made the score more respectable by the finish.

"It is always difficult to beat Menzieshill indoors, made even more difficult by the fact that the majority of their squad have been playing at a very high level with Scotland over the past month," said a cautious David Knipe.

"To win we need to score more penalty corners and work harder defensively than we have been doing."

Menzieshill have three games in Saturday`s card, the others are against fellow-Taysiders VWS Dundee Wanderers and Glynhill Hotel Kelburne, and although Bruce Cuthill`s charges are favourites to grab the full points, earlier score-lines of 3-1 and 7-6 respectively were far from convincing.  Although a double from Gavin Byers and the other from Michael Ross finally overcame a plucky Wanderers` resistance, Menzieshill spent almost all the second half trying to outwit goalkeeper Kevin Farnan.

Certainly the Taysiders were always in command against Kelburne, and were 7-3 up at one point in the second half, but this time Cuthill`s defence allowed Willie Marshall (2) and Michael Bremner to bring the gap back to a single goal at the final hooter.

But, if results go to form, Menzieshill could open up a six point gap over Inverleith by the end of the day.

Inverleith have only two games against Western Wildcats and CALA Edinburgh to contend with, perhaps not an issue for coach Stuart Neave as his squad rattled in 17 goals without reply against the pair before the festive break, the set piece expertise of Adam MacKenzie along with Derek Salmond and Chris Grassick doing most of the damage.  Goal difference between Inverleith and Menzieshill could come into play if the former win the rematch in a few weeks time, and the Taysiders have only a two goal advantage.

Newly promoted CALA Edinburgh are becoming increasingly detached at the bottom with only one point to show for their efforts, and they are unlikely to increase that tally against Grange and Inverleith.  That will allow the pack above, Greaves Clydesdale, Dundee Wanderers and Kelburne, to put further space between them and CALA.

Scottish Hockey Union media release


---

National U-21 Hockey Championship enters semifinal stage

Staff Report

LAHORE: Pakistan WAPDA, Sui Southern Gas Company (SSGC), National Bank of Pakistan (NBP) and Punjab Colour qualified for the semifinals of the National Under-21 Hockey Championship at the National Stadium here on Wednesday.

WAPDA eliminated Punjab White 3-1 before ending up the first half with firm 3-0 lead.

NBP scored narrow 2-0 win over PHF Academy before finishing the first half 1-0. In a match having on impact on the seedings of the teams, Pakistan Army outplayed Pakistan Railways 3-1 before being 1-1 at half time.

In another match, Punjab Colour beat SSGC 2-0 as the first half failed to produce any goal.

Thursday is the rest day and the semifinals will be played on January 20. WAPDA will meet SSGC and NBP will take on Punjab Colour.

The Daily Times


---

Australian Great Frank Murray Back in Charge




Former Kookaburra and recent Hockeyroos Head Coach, Frank Murray, has been appointed by the UWA Hockey Club as the 2012 Men's AHG League coach.

Murray who is a Life Member of University, retired on a high as Hockeyroos coach following the teams gold medal win at the 2010 Commonwealth Games ending 6 years in charge and having brought many successes to both the women's and men's programs.

Murrays return to coach University first grade is a great surprise to the hockey community but nothing new at the club with him having previously coached the students on 7 previous occasions in 1974-1978, 1980 and 2003.

"Being invited back into coaching by University in 2003 reignited my enthusiasm for the game which led to my acceptance to coach the Hockeyroos in 2004. 2011 was a year off to ponder the future and what I enjoyed doing the most. Hockey has been one great love in my life and I decided that I wanted to stay involved and give back what I could at club level"

"There's a new generation of players at University following the clubs remarkable success over the last 10 years that has delivered 4 premierships and I'd like to help develop the talent and see the club through its current transition" Murray said.  

One achievement to elude Murray in his coaching career is a first grade premiership having finished second on a frustrating 4 occasions.

Hockey Australia would like to wish Frank all the best in his new role

Hockey Australia media release


---

Want to be a politician without doing politics: Pargat

The Shiromani Akali Dal (SAD) candidate from Jalandhar Cantt constituency, soft spoken Olympian and former Indian hockey team captain, Pargat Singh wants to become a politician without indulging in any 'politics'.

Pargat says he wants to function like a member of a hockey team, where, according to him, the entire team sticks together in victory and defeat, and says in politics too he wants to share the 'power and responsibility' both with masses if he wins the election. Pargat says he does not want to get involved in the 'intricacies' that come with politics.

His opponent from here is Congress party candidate Jagbir Brar, who won 2007 election on SAD ticket, before becoming a founder member of People's Party Punjab (PPP), but is now a Congress candidate.

Pargat's reluctance to behave like any other politician is clearly evident during his public meetings. While his supporters target Brar in the meetings by accusing the former Akali leader of breaching their trust for defecting, the former Olympian steers clear of his opponent and instead emphasises on bringing a positive change to the system and society at large.

Pargat stresses that having been part of the system, (he had resigned from the post of Director Sports just before getting the SAD ticket) he understands it well and knows how he can do good to people. "As a sports person I realised that if we channelise the youth's energy towards the right direction we can do wonders in our society," he says. "If a politician has the power he has the responsibility too and I would like to share the both with my people if voted to victory," Pargat adds.

The former hockey captain also states that society needs to rid itself of corruption and people should be made to have confidence in the system. "Society has lost trust in itself and system got deteriorated and we all need to be united to revoke this trust again", he says.

On the other hand his opponent Brar, who is quite aggressive in his speeches, has been harping on some of the promises which he claims to have fulfilled during his term as an MLA including abolition of octroi in cantonment, laying sewerage in various parts of the constituency and providing drinking water facilities in the villages.

Jalandhar Cantt has more then 1.5 lakhs voters and after delimitation 60 new villages have been included.

Indian Express