All the news for Sunday 22 January 2012

Investec SA Hockey Women win vital 4th test against Spain

JONATHAN COOK in Randburg

A Tarryn Bright strike in the 25th minute gave the Investec South Africa women's hockey team a 1-0 lead against Spain at half-time in the crucial fourth Test of the five-Test Investec International Series at Randburg Astro Saturday before Pietie Coetzee and a wonderful deflection from Dirkie Chamberlain ensured a 3-0 win.

It was world record goalscorer Coetzee's 229th successful strike in 232 Test matches and the win gives SA an unbeatable 2-1 lead in the series, which will put pressure on Spain in Sunday's 2 pm fifth and final Test at the same venue.

Spain controlled the game in the early minutes, two opportunities not converted; though SA earned a penalty corner in the 14th minute but Coetzee's drag-flick was gloved away by in-form goalkeeper Maria Lopex de Eguilaz.

In the 20th SA earned their second PC but the keeper read the move. Spain, so good on the counter, then raced away down the right through Beatriz Perez who ran 30 metres before firing into the side-netting.

With 10 left the game split wide open when a move practised on the training pitch worked a charm; Coetzee's pass to Bright saw the 2011 SA Player of the Year crash her shot home off the far post (1-0).

SA enjoyed their best spell and the keeper twice saved from Coetzee before Spain's second PC also garnered no return. With two minutes left the dangerous Spanish right wing Raquel Huertas made inroads on the right-hand baseline and central defender Kate Woods did well to clear.

SA went two goals up two minutes after the half-time whistle when Coetzee's free-hit was superbly deflected past the keeper by fellow striker Dirkie Chamberlain (2-0).

Investec SA captain Marsha Marescia was again in stunning form, be it on attack or defence, but Spain were not done yet and the ever-present Carlota Petchame's rasping shot was well saved by Rix.  SA defender Lenise Marais, in her 150th Test, made a vital stop and clearance before Spain's keeper did the same at the other end.

With 18 left, Coetzee gave SA a three-goal cushion after withstanding intense pressure from the Spanish defence before slotting past the keeper (3-0). South Africa's third and fourth set-piece attempts came to nothing but Spain had 10 PC's in the match from drag-flicker Lola Riera that simply could not get past Rix or her corner defenders.

The SA men meet India in the final Test in Delhi at 1.30 pm SA time Sunday. India lead the five-Test series 3-1.

SA Hockey Association media release


---

Proteas, Naas at SA Hockey Women vs Spain match



Umpire Annelize Rostron, Spain captain Julia Memendez, SA skipper Marsha Marescia and umpire Lesley Pieterse look on as Springbok rugby legend Naas Botha tosses the coin before the fourth Test of the five-Test Investec International Series at Randburg Astro Saturday. Photo: George Brink

The Investec South Africa women's hockey team have been boosted by the news that the Proteas cricket team and Springbok rugby legend Naas Botha will be attending the crucial 2.30 pm fourth Test of the five-Test Investec International Series against Spain at Randburg Astro today.



Proteas bowling coach and former world's fastest bowler Alan "Wit Blitz" Donald greets fans. Photo George Brink

The match has been delayed to 2.30 pm due to a transport glitch that affected the Spainish team's preparations for this vital match that sees the teams locked at 1-1 in the series with the first Test drawn

The fifth women's Test takes place at 2 pm at Randburg Sunday, while the SA men will be doing battle with India in the fifth and final Test in Delhi at 1.30 pm SA time.

India lead the series 3-1 after their nailbiting 4-3 win over SA Friday.

SA Hockey Association media release


---

In for a Penny, in for a pound, Investec SA's new find

JONATHAN COOK



Captain Marsha Marescia congratulates Lauren Penny on her debut goal. Photo Reg Caldecott

In what can only be described as a fairy-tale, England-based striker Lauren Penny has come from nowhere to make a strong case for inclusion in the Investec South Africa women's hockey team's quest for gold at the Olympic Qualifier tournament in Delhi next month.

Penny (25) was born in Port Elizabeth and raised primarily in Cape Town, where she matriculated at Pinelands. She played for Western Province through the age-groups but missed out on possible SA U18 selection through injury.

She went to London for a gap year but is still there six years later, working as a sales manager for a company involved in the fitness industry. Hockey remained a calling and 33 Investec England Premier League goals in the couple of seasons for Slough, including seven in her last three club matches, caught the attention of the doyen of hockey  journalists, Patrick Rowley, who suggested that if England didn't wake up the sharpshooter might be snapped up by South Africa.

Investec SA head coach Giles Bonnet wasted no time in offering Penny a place at the national camp early this month. She clearly impressed and Bonnet included the striker in the Investec International Series against Spain currently taking place at Randburg Astro. The upshot was a goal on debut in last Sunday's 1-1 first Test draw.

"Initially it was tricky trying to fit it in around work commitments but I am grateful to all involved who have made this opportunity happen. I have always dreamt of playing for South Africa and for this to become a reality has been one of the best things that has ever happened to me," Penny told Saturday Independent this week.

"I always knew deep down how much I wanted to play for SA but once I had settled in the UK, I lost hope, so it was been a big shock. Any striker loves to score goals but to score on debut was amazing, it was such a great experience and I hope I can contribute towards the team's success in the future.

"Everyone in the team has been very welcoming and even at the selection camp during tough times so many girls went out of their way to encourage me. Although it was daunting at first, I soon focused on the hockey and have loved every minute of the whole experience. "

If she made the team she would be away for the whole of January and a compromise was reached with her employers. Penny immediately jetted back to London and work after her memorable debut last Sunday.  She missed the second and third Tests but flew back to Johannesburg Friday for Saturday's 2 pm fourth Test at Randburg – a crucial match with the series level at 1-1. She will also play in Sunday's fifth Test, also at 2 pm.

"I love being part of the team and now that I have given enough notice, I am available for everything past February. I will be flying back to London on Sunday again but will be back next weekend for the Investec Tri-Nations games against Belgium and Ireland. "

SA Hockey Association media release


---

Promotion Hopes Alive for England Women



Denise Marston-Smith in action against Lithuania

ENGLAND's promotion hopes are very much alive after another pair of good performances on day two of the EuroHockey Indoor Nations Championships in Slagelse, Denmark, on Saturday.

England beat Lithuania 3-2 in their first match on Saturday, but then lost out 3-1 to France in their second match.

However, those results mean that England only need to draw or win their final match against Switzerland on Sunday in order to secure promotion to the top flight of the European Indoor Championships.

England led 2-0 at half time in their clash with Lithuania. Captain Denise Marston-Smith gave them the lead with a penalty corner after five minutes, and Katie Long doubled the lead from open play the very next minute.

Lithuania created some good chances of their own, and England had goalkeeper Maddie Hinch to thank for pulling off a couple of good saves from penalty corners.

England continued to threaten, and their captain Simona Grubliauskaite cleared the ball off the line from a penalty corner which would've given England a three-nil lead.

However, on 21 minutes England suffered a set-back when Abi Harper sprained her ankle, and Lithuania struck twice in quick succession almost immediately play resumed, Ina Kenstaviciute scoring twice to pull level.

However, Long struck again on 27 minutes to give England victory.



Katie Long in action against Lithuania

Against France, England struggled to take control in the first half as Peggy Bergere scored twice on 13 and 15 minutes to give her side the lead. England had been looking for a foul but the umpire played advantage and France pounced to turnover and score their opening goal.

However, England dominated the second half, and Denise Marston-Smith was unlucky to hit the bar from a penalty corner which could've swung favour England's way.

But against the run of play, France made it three-nil with Emilie Begue scoring on 28 minutes following a cruel deflection off Takara Haines.

However, England scored a crucial 37th minute goal from a penalty corner, Sam Quek grabbing the goal.

That strike meant that England only need to draw Sunday's clash with Switzerland to be assured of promotion – but of course, the team will want to win their final match.

England Hockey Board Media release


---

Cruel last gasp goal

EUROPEAN INDOOR NATIONS CHAMPIONSHIPS (WOMEN) - SLAGELSE (DENMARK) - 20 -22 JANUARY 2012

SCOTLAND  3  FRANCE  4

No luck for the Scots in the women`s European Indoor Nations Championships, needing only a draw to qualify for the promotion pool and drawing 3-3 with France with only 10 seconds to go, Gordon Shepherd`s charges conceded a controversial penalty corner and lost 4-3, and are now consigned to the relegation group.   Pressure was put on the Scots when Switzerland trounced hosts Denmark 6-1 in an earlier game, requiring the Scots to get at least a point from the French game or lose second spot to the Swiss on goal difference.

Scotland`s cause was made more difficult when the French went into an early two goal lead.  The Scots retaliated, Amy Brodie won a penalty corner and the same player scored with a low shot.  Brodie was also involved in the equaliser, at another set piece she slipped the ball left for Nikki Kidd to score with a powerful flick.    But just on the interval the French made it 3-2 after their play was left unmarked in the circle.

Although the game descended into a midfield stalemate, there were isolated chances, Amy Gibson made a brilliant diving save to frustrate the French while at the other end Kareena Marshall`s snap shot went wide of the target.   The equaliser came in 32 minutes, Nicky Lloyd and Kareena Marshall combined to open up the French defence and the former found the net with a low shot at the far post. 

In the final seconds the Scots seemed to be dealing with the ball in their circle, but then conceded the fatal penalty corner for a cruel defeat.

The Scots are now up against Slovakia, Russia and Denmark in the relegation pool, but with the advantage of the three points gained in Friday`s 5-4 victory over the Danes.

Scottish Hockey Union media release


---

Survival achieved by Scots

EUROPEAN INDOOR NATIONS CHAMPIONSHIPS (WOMEN) - SLAGELSE (DENMARK) - 20 -22 JANUARY 2012

SCOTLAND  3  SLOVAKIA  2

Two goals from Susan McGilveray was the catalyst in Scotland`s fighting 3-2 win over Slovakia in the relegation pool match at the European Indoor Nations Championships in Slagelse.   This result ensures the Scots survival, they top the pool with six points with rivals Denmark and Slovakia, both on three points, due to play each other tomorrow, and both are unable to reach the Scots total.

McGilveray put her side ahead in only three minutes, Becky Ward progressed up the boards, she passed the ball on to Kareena Marshall whose cross was finished off by the Milne Craig Western player.   Marshall then performed miracles at the other end, she produced a brilliant goal-line save to thwart a Slovakian penalty corner attempt.  However, the equaliser was only delayed as Slovakia drew level with a direct strike past Amy Gibson from another set piece.

Good work up the left by Kidd created the opening in 12 minutes, leaving Nikki Lloyd with the simple task of putting the ball past the Slovak keeper for 2-1.  But just on the interval, Slovakia equalised for the second time with another penalty corner goal.

The second half was a feisty affair with some robust tackles from the Eastern Europeans, yet it was the Scots who created the chances through Kidd, Lloyd, Amy Brodie and Morag McLellan, but to no effect.  That is until five minutes from the end, Ward intercepted a Slovakian pass, drove up the court only to be fouled.  The VWS Dundee Wanderers player had the presence of mind to take a quick free hit, passed the ball on to McGilveray who beat the keeper at the near post for the winner.

The Scots play bottom side Russia tomorrow, and should win, but it will not affect Gordon Shepherd`s charges survival.

Scottish Hockey Union media release


---

Germany defeat Chile 6-1

Julia Müller scores three times

Germany prepare in Santiago de Chile for the FIH Champions Trophy in Rosario. They beat Chile 6-1 in the first of three test matches.

Germany started off very well thanks to Julia Müller who converted two penalty corners. The 3-0 was scored by Maike Stöckel who deflected a pass coming from Katharina Otte. One minute later Chile stroke back. After Fanny Rinne's 4-1 the Germans took control of the match. Müller made her third goal from a penalty stroke while Celine Wilde converted the rebound of a penalty corner.

Germany took 27 players down to Chile. The squad for Rosario will be announced after the trial in Chile. Kristina Reynolds, Mandy Haase, Louisa Steindor, Kristina Hillmann, Nina Hasselmann, Lydia Haase, Katharina Otte, Fanny Rinne, Lisa Hahn, Lena Andersch, Marie Mävers, Maike Stöckel, Janne Müller-Wieland, Celine Wilde, Anke Brockmann and Julia Müller played in match one. Match two takes place on Saturday night.

If German key player Natascha Keller is in the squad, she will play her 400th international match. The 34 years old striker has played 399 caps so far, including 36 indoor matches. No German hockey player has ever played more international matches than her.

0-1 Julia Müller (PC, 6')
0-2 Julia Müller (PC, 20')
0-3 Maike Stöckel (38')
1-3 Denise Infante (PC, 39')
1-4 Fanny Rinne (43')
1-5 Julia Müller (PS, 52')
1-6 Celine Wilde (PC, 60')

PC: CHI 3 (1) / GER 6 (3)

DHB media release


---

Great Britain victorious over New Zealand

Great Britain's women have topped the table in Cordoba



Alex Danson

Great Britain's women have topped the table in Cordoba with a 2-0 victory over New Zealand.  First half goals from the Kate Walsh and Alex Danson were enough to seal the win and leave Great Britain with a clean sweep in the tournament so far.

Beth Storry was back in goal, replacing Canterbury's Abi Walker, whilst Storry's Reading teammate Helen Richardson was rested with Slough's Nicola White coming back into the team. In energy zapping 35 degree heat Great Britain looked the better team against a struggling New Zealand side who had found themselves at the bottom of the tournament standings after their first two games.

It took Great Britain just 11 minutes to take the lead through Captain Kate Walsh who fired in her first goal of the tournament with a trademark drag flick from a penalty corner.  Great Britain continued to press throughout the first half winning five penalty corners in total.

Great Britain's second goal came from one of these penalty corners.  On the 20th minute Reading's Alex Danson scored her second goal of the tournament as she reacted first to a rebound from a drag flick by Leicester's Crista Cullen.

As the teams came out for the second half it was clear that the heat and humidity had started to take effect on some of the players.  The final score remained 2-0 as Great Britain held on to their first half advantage.

Great Britain Hockey media release


---

Black Sticks Women look like team of old

Black Sticks Women vs Great Britain, Four Nations Tournament, Cordoba, Argentina

Black Sticks Women's coach Mark Hager feels his team put in their best performance at the Four Nations tournament today despite going down 2-0 to Great Britain.

In their third match of the tournament in Cordoba Argentina, the Kiwis really challenged the British who have been the form team after wins over Korea and Argentina before today's match.

Hager was very pleased with the team's defensive effort but felt they lacked accuracy at the attacking end.

"Defensively we were a lot better today and we looked like the team of old."

Great Britain scored both their goals in the first half of the match from penalty corners.

Hager was impressed with the play of some of the younger members of the team as well as experienced striker Krystal Forgesson (Auckland) who was threatening up front.

He will be looking for further improvement as the Black Sticks face Korea at 9am tomorrow (NZ time) in the play-off for third and fourth, having previously lost to Argentina 7-3 and Korea 6-4 in the tournament.

The Black Sticks start their Champions Trophy campaign against the home side Argentina at midday on Sunday 29 January (NZ time).

Hawke's Bay is the principal partner of the Black Sticks Men and Women.

RESULT:
Full time: 2-0 (Great Britain win)
Half time: 2-0

Hockey New Zealand Media release


---

Black Sticks must work harder after third loss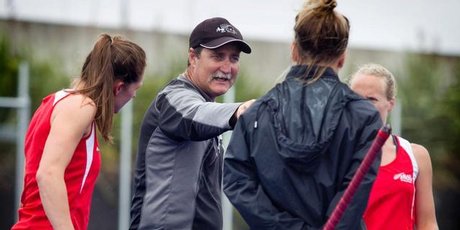 Mark Hager coach of the Black Sticks. Photo / Natalie Slade

The Black Sticks women's team have lost their third consecutive build-up game to next week's Champions Trophy in Argentina and coach Mark Hager has concluded they aren't working hard enough.

The 2-0 defeat by Great Britain in the Four Nations challenge in Cordoba, Argentina, overnight (Sat/Sun NZT), follows New Zealand's 7-3 thrashing by Argentina and a 6-4 loss to South Korea.

While the Black Sticks could still achieve a placing - they will play-off for third and fourth against South Korea tomorrow morning - their performances ahead of a Champions Trophy tournament in which they finished third last year are concerning.

"We're just not working hard enough at the moment," Hager said. "The 'one per centers' aren't coming off at the moment. I know we haven't had luck coming our way but you make your own luck and we're not working for it."

The British team have been the form outfit of the tournament, with victories over South Korea and Argentina heading into the match against New Zealand and they scored both of their goals from penalty corners.

While Hager said his side were better defensively, the performance wouldn't have given him much confidence ahead of their first Champions Trophy match against Argentina in Rosario on Sunday.

He told the Herald on Sunday before the Great Britain game that he felt other nations had moved ahead of New Zealand, who are ranked sixth in the world.

"We had a great year [in 2011] but at the moment it feels like other teams have moved on and we have plateaued a bit," Hager said. "It has certainly been a huge wake-up call and, to their credit, the girls have been quite harsh on themselves. They are hurting, too."

He added: "There is a lack of cohesion and understanding. We are scoring goals which is a plus but defensively we have capitulated in both second halves. It is disappointing and well below the standards we have set for ourselves."

Mitigating factors included rustiness and a rotation of players in the opening games but Hager wouldn't offer excuses.

"Plain and simple, we've been poor on defence: poor basic skills, inability to tackle and lack of patience which has led to diving in and conceding needless penalty corners."

The New Zealand Herald


---

Improving Black Sticks lose 2-0 to Great Britain

New Zealand's leaky defence improved but they still suffered a third straight defeat at the women's four nations tournament in Cordoba.

The Black Sticks went down 2-0 to Great Britain to ensure they will contest the third-place playoff tomorrow morning (NZT) against Korea in Cordoba.

Alex Danson and Kate Walsh scored the goals in the first half, with the New Zealanders tightening up after the break.

The result follows heavy losses to Argentina, 7-3, and Korea, 6-4.

All four teams are using the tournament as a buildup for the Champions Trophy tournament starting next week in Rosario.

Stuff


---

Difficult task to select best 18 for qualifiers: Nobbs

NEW DELHI: India's hockey coach Michael Nobbs has a problem of plenty after impressive debuts by youngsters in the ongoing Test series against South Africa and he says it would be difficult to select the best 18 for next month's Olympic qualifiers.

As many as four players -- Harbir Singh, SK Uthappa, Kothajit Singh, Chinglesana Singh Kangujam -- made their debut in the series against South Africa and Nobbs said these young players deserve an India cap.

"In this series, we tested everybody, we deliberately designed it to see who can take a grip of the opportunities and win their position and some players did," Nobbs said.

"We have probably the best option now and there are around 25-26 players who can play for India.

"Uthappa was brilliant, Kothajit was good too, these are some of the players who have put themselves in the mix to be selected and it would be difficult to pick the best 18 Indian players for the Olympic qualifiers now," he added.

With the youngsters making the most of the opportunity, it would be interesting to see what happens when injured players such as Rajpal Singh make a comeback and Nobbs agrees it would take a lot of hard work for them to earn back their place in the side.

"Rajpal will need to put a lot of hard work to replace someone who is ahead of him right now. In hockey, we have a saying that never lend your stick to someone because you might not get it back. He has time to do it," Nobbs said.

With the series already in India's pocket after the 4-3 victory last night, Nobbs said he will experiment in the fifth and final Test tomorrow.

"We have already won the series, so I will have the latitude to experiment and try out some new combinations. Danish Mujtaba, Manpreet Singh and Rupinder Pal Singh will play tomorrow," Nobbs said.

With little less than a month left for the Olympic qualifiers, Nobbs said defence is one area which India need to work on before the tournament kicks off on February 18.

"We are allowing our defence to be penetrated and I think, this is one area, where we have a fair bit of work to do in the next four weeks," he said.

Asked if he was satisfied with the performance of the players in the Test series, Nobbs said a lot of combinations have come up and he has to figure out the options for the qualifiers.

"We played a lot of combinations and we have a good base now, we are looking at the patterns. Manjeet Kullu, Harbir, Ignace - all are good options. We are looking forward and heading in the right direction," he said.

Nobbs said the series against South Africa was a tough one and a good preparation for the qualifiers.

"This was a tough series and a good drill for us. South Africa is a very good team, they are placed just below us. If we can beat them, I think we can beat teams like Canada, France, Poland, Italy and the United States, whom we are playing in the qualifiers," he said.

India, the highest-ranked team in the tournament at 10th, have been grouped with Canada, France, Poland, Italy and the United States in the men's section of the first of the six Olympic Qualification tournaments.

The Times of India


---

'It won't be a cakewalk'

Interview Allan Schofield The 1980 Olympic gold medallist says India need to be on their toes in the qualifiers next month Allan Schofield thought his life was made when he landed himself a job with the Indian Navy after completing his studies at St Cathedral High School in Bangalore. Little did he imagine that one day he would have a role in the glorious chapters of Indian hockey.

Going through his daily office chores at Mumbai in 1975, Schofield was asked to guard the posts during an inter-club football match. Noticing he had genuine goalkeeping talent, Services inducted him to their national football team. Within months, again by accident, Schofield was asked to be the goalkeeper during a hockey match. He embraced it in quick time before earning a call-up to the Indian national team in 1976.

A part of the star-studded squad that lost the 1978 Bangkok Asian Games final to arch-rivals Pakistan, Schofield entered the hall of fame two years later when the national team captured their eighth Olympic gold medal at the Moscow Games. He was the second goalkeeper in the team, with Bir Bahadur Chhetri being the main custodian.

An MBA graduate settled in Canada, the 52-year-old Schofield, on a Christmas visit to his home town Bangalore, spoke to Deccan Herald about the pride of being an Olympic champion, the current state of affairs and his views to improve Indian hockey.

Excerpts...

How does it feel to be part of the golden generation of Indian hockey?

It makes you feel extremely proud. Those days we played for the nation and with great passion; money was just secondary which we needed to sustain ourselves. When the national anthem was played with the gold hanging around your neck, the feeling was something special. You just forget about everything else in the world. Olympics, by far, is the greatest sporting event in the world and to finish as champions in your respective field is magical. It is extremely sad and depressing to see the current state of affairs.

What factors do you think were vital to the immense success we achieved in the past?

We knew the game in and out, whereas the Europeans were just learning it. We were masters in dribbling, in fact we were complete wizards. Skill, technique, etc we just outdid the Europeans in every department of the game. Pick any position and we had specialists who could do wonders with the ball and on a consistent basis.

What do you think is the reason for our downfall?

A combination of factors. Every game evolves over time and we need to keep pace with the advancements. The biggest problem with us was that we thought we were invincible.

We just stuck to tradition and failed to embrace the changes. By the time we realised our faults, the Europeans and Australians had raced miles ahead. The brilliant part about the Europeans and Australians is that they adapt very quickly, unlike us. Also, administratively a lot of things have gone wrong. Structural planning and execution is very important for success in sports, which is far more competitive than it was during my time. The Australians start their Olympic preparations soon after one ends. We've just started last year. Do you think we can compete with them? You saw what happened in the Commonwealth Games.

Your suggestions for the betterment of Indian hockey...

First and foremost, develop the game at the grassroot level. I hail from Bangalore and it pains me to see there are hardly any school-level programmes. Where are the academies? You see the same bunch competing in inter-school tournaments. Get a proper junior-level programme and make sure they graduate to the senior squad in a phased manner.

We also need a coach who can understand the Indian culture which is so diverse. A sardarji's style of play is so different from a South Indian's, whose mannerisms are way different from a Mumbaikar. The coach should have the skills to bind the squad into a cohesive unit and I personally feel only an Indian can do it, not a foreigner.

Personally, another thing I would like to be implemented is a proper retirement plan for the players. Agreed the government does take care of many senior players, but there is nothing that helps a player from the age of 35-50. Not many are academically brilliant and they tend to get into depression. There are so many former players who are finding it difficult to make ends meet.

How did you feel when we failed to qualify for the Olympics last time?

Miserable and devastated. An Olympic Games without the Indian hockey team, it was an unimaginable situation. Those days, one of the reasons why we were extremely motivated to win was to show the developed world that we too could be champions.

As you are aware, India was considered third world then and looked down upon in many streams. Success was a way of shutting them up and make them take notice of our talent on the global stage. Now although we have advanced economically and excelled in other sports, hockey has taken a plunge. What an irony!

How do you rate our Olympic qualification chances this time around?

It won't be as easy as many think it would be. Teams like Canada and Italy would be dreaming of beating India and they definitely will go all out as they have nothing to lose.

It will be tough but if we play to our potential we can cross the hurdle. The national game has taken a severe beating in the last two decades and it can't afford to take another one. I'm sure the players are aware of the magnitude of the task at their hands and I'm confident they'll do it.

Deccan Herald


---

Hockey India prunes women probables list to 32 from 48

NEW DELHI: The Hockey India on Saturday pruned the list of the women probables for the Olympic qualifier tournament to 32, leaving out 16 players from the first list.

The qualifying tournament will be held from February 18 and the participating teams include South Africa, Italy, Canada, Ukraine and Poland.

The selectors - Olympians Col. Balbir Singh, BP Govinda, Syed Ali and Rekha Bhide alongwith the government observers Harbinder Singh and Dilip Tirkey - watched the recently concluded four-match Test series against Azerbaijan before pruning down the list of 48 probables to 32.

India blanked Azerbaijan in the Test series. "This reduced group of players will continue in the coaching camp for the preparations of the Olympic qualifiers. The final list of 18 players and standbyes will be announced early next month," a Hockey India release said.

Probables:

Goalkeepers: Yogita Bali, Savita, Rajani Etimarpu and Sukhmani Virk.

Defenders: Jaspreet Kaur, Joydeep Kaur, Subhadra Pradhan Pinki Devi and Preeti Sunila Kiro.

Midfielders: P Sushila Chanu, Asunta Lakra, Kirandeep Kaur, Deepika, Ritu Rani, Mukta Parva Barla, M N Ponnamma, Namita Toppo, Anju Dhiman, Reena Rathor and Kiran Dahiya.

Forwards: Poonam Rani, Vandana Kataria, Rani, Soundarya Yendala, Anuradha Devi, Rosaline Dung Dung, Jaspreet Kaur, Anupa Barla, Lily Chanu, Deep Grace Ekka, Apoorva Viswakarma and Lilima Minz.

The Times of India


---

Glittering new Mumbai stadium unveiled for WSH

INR 100 Million invested to transform venue into world class facility

Mumbai: Mumbai, the city which has produced many a hockey great, will now have a refurbished arena in which future hockey stars will be born. The Mumbai stadium will now be fully equipped to host an International tournament.

In preparation for the first edition of the path breaking World Series Hockey event, the Mumbai Hockey Association has completed the up gradation process for the stadium which will play host to the Mumbai franchise in the biggest hockey tournament in the world.

The renovation included the laying of a new top-of-the-line turf that is also being used for the 2012 London Olympics; installation of brand new floodlights capable of providing lighting at three different intensities i.e. 600, 800 and 1200 Lux for domestic, national and international matches respectively; a cutting edge electronic scoreboard along with the addition of a fresh manual scoreboard; the addition of a stand for video recording by coaches; a modern players dugout; a technical table for officials; and contemporary dressing rooms for the players among other facilities.

Gurbux Singh, Secretary of Mumbai Hockey Association, said, "The support provided by WSH was the motivation in getting the MHA stadium ready in time. It will be a privilege to host a tournament as big as WSH and we are keenly looking forward to the home matches that the Mumbai team will play here."

Yannick Colaco, COO of Nimbus Sport, said, "The primary aim of WSH is the reinvigoration of the sport of hockey in India. Ensuring that stadium infrastructure is up to the standard maintained for global hockey events is one of the focus areas in working towards this objective. I'm delighted to see the excellent world class facilities at the MHA Stadium I am sure it will provide a great experience for players and fans alike in the inaugural season of WSH"

Adrian D'Souza, Captain of the Mumbai team said, "I have fond memories of playing at the MHA stadium. It is an absolute honour to lead my home team at this superbly renovated facility in WSH and I am sure the passionate Mumbai fans will have a delightful in-stadium experience"

Joachim Carvalho, WSH Technical Committee member and former coach of India said, "The upgraded MHA stadium is a symbol of pride for everyone involved with Mumbai hockey. With its state of the art artificial surface (Poligrass Olympia 2008) and floodlights, the venue is truly representative of a bold new era for Indian hockey that will be ushered in with the launch of WSH next month."

Stick2Hockey.com


---

Menzieshill six points clear

Little has changed at the top of the Scottish Subway indoor national league, Grove Menzieshill are still in pole position but their lead has increased to six points as a result of three back to back victories over Tayside rivals VWS Dundee Wanderers, Glynhill Kelburne and finally Grange.

In the opening match Menzieshill saw off Tayside rivals VWS Dundee Wanderers 12-1, Chris Wilson notched a nap hand while Ross McPherson scored a double.  Wilson was again the catalyst in the 12-7 victory over Glynhill Kelburne in the second match, this time with a double hat-trick while Josh Cairns, who plays outdoors for the Paisley side, scored four.  For Kelburne, Willie Marshall scored five and Iain Scholefield got a further two.

In the game of the day, leaders Menzieshill defeated third placed Grange 8-5 to keep their perfect record.   Cammie Fraser gave Grange an early lead in two minutes, but then the Taysiders raced into a 4-1 lead through two goals from Gavin Byers and others from Josh Cairns and Gavin Tomlinson.   Just before the interval Fraser Sands pulled one back for Grange, but on the stroke of half-time Cairns scored again to put the Dundonians 5-2 ahead at the break.

It was honours even in the second half, for Grange Sands got his hat-trick and Gary Cameron got the other while Cairns scored another two and Andrew Thornton were on target for the league leaders.

In their first game Inverleith found themselves tied at 3-3 with Western Wildcats, but took the second half fairly easily to finish 8-4 winners at the end.  Adam MacKenzie`s early penalty corner strike was quickly cancelled out by Scott McCartney.  The Edinburgh side marched into a 3-1 lead through Derek Salmond and Stephen Dick but again back came the Wildcats with a double from Dougie Simpson.  The second half belonged to Inverleith with a succession of goals from Dick, Phil Hall, John Harris and another two for MacKenzie for his hat-trick of set pieces.   Simpson also notched a hat-trick with a goal in the final minute.

Next up were CALA Edinburgh who fell 12-5 to the champions.  Although Mike Rae got a couple for CALA, four goals each for Graham Moodie and MacKenzie along with a hat-trick by Stephen Dick was too much for the bottom side in the table.

Grange defeated CALA in their opening fixture 15-0, a result partly caused by CALA`s squad of only six players.  Fraser Sands topped the scoring with four and there were three each for Duncan Batchelor and George Lambert.  The Edinburgh side also saw off Western Wildcats 8-5, Sands again was on target with three, Phil Sully got two and the others came from Cammie Fraser, Gary Cameron, and Lampard.   The Wildcats` scorers were Steven Percy (2), Scott McCartney (2) and Simpson.

Glynhill Kelburne progressed up the table with a 7-5 victory over Greaves Clydesdale, courtesy mainly of a nap hand from Willie Marshall, Alan Forsyth getting the other two.  For Clydesdale there was a hat-trick for Ciaran Crawford.

Despite earlier defeats at the hands of Grange and Inverleith, the Wildcats finished the day with a 6-5 win over Kelburne, the mainstay was four goals from Steven Percy while Marshall notched the same total for the Paisley outfit.

Wanderers moved away from the lower reaches with a narrow 5-4 win over Clydesdale, veteran Paul Dailly was on target with three, the others came from James Weyers and Euan Borland, while Ben Peterson scored twice for the Titwood side.

Scottish Hockey Union media release


---

Britain head Azlan Shah Cup challenge

KUALA LUMPUR: The Sultan Azlan Shah Cup in Ipoh from May 24-June 3 will be a seven-team affair led by world No. 4 ranked Britain.

The other five invited teams are also in the top 10 while hosts Malaysia are the lowest ranked at number 13.

Britain are followed by sixth-ranked South Korea, New Zealand (7th), Pakistan (8), Argentina, (9) and India (10).

The tournament will serve as a warm-up for the London Olympic Games starting on July 27.

The teams will also benefit from playing on the new blue turf, which is similar to the one at the Olympics.

Britain, New Zealand, Pakistan and Argentina have already booked their Olympic berths while India, South Korea and Malaysia will be playing in the qualifiers.

The Indians are favoured to advance from the New Delhi qualifier next month. The Koreans and Malaysians play in the Dublin qualifier in March and are seeded to meet in the final. Only the winner will make it to the Olympics.

Malaysian Hockey Confedera-tion (MHC) secretary Maninderjit Singh said they are glad that the teams for the Sultan Azlan Shah Cup have been finalised.

"The tournament will be the perfect preparation for the teams going to London. I am sure they will send their best players," he said.

World champions Australia, who are regulars in the tournament, are unable to make it this time.

Holland, Germany and Spain, who make up the top 10, are also unavailable.

The Star of Malaysia


---

SSTMI teams record a double over BJSS




The two teams from SSTMI recorded identical wins over their counterparts from Bukit Jalil in the MHC-MILO-NSC Junior Hockey League matches at the Taman Daya Hockey Stadium in Johor Baru this evening.

SSTMI Thunderbolts defeated BJSS 5-1 and on the adjacent pitch the scoreline was the same for SSTMI who defeated BJSS Juniors, thus putting a dent early on the aspirations of the city teams in the chase for honours in Division One.

And in Seremban, Petaling Jaya City Council went on a goal scoring spree, trashing Tunku Besar Secondary School Tampin 7-0.

SSTMI-Thunderbolt took the lead in the 5th minute when Mohd Aminuddin Mohd Zain converted a penalty corner.Two minutes later they went 2-0 up with Muhd Sufi Ismat Md Rohulamin finding the back of the net.

But BJSS hit back in the 13th minute through Rafizul Ezry Mustafa to reduce the deficit and it remained until halftime.

Two goals by Muhd Shahril Saabah (49th and 69th minutes) and Aminuddin ( 66th minute) gave SSTMI Thunderbolts a comprehensive win, their second big scorelin win after their opening win over SSTMI which they won 7-1.

"We are on track for the double with the two wins. But we are letting in soft goals and we need to improve on this aspect in training," said SSTMI Thunderbolt coach Wan Mohd Roslan Wan Abdul Rahman.

In the other match SSTMI were in a commanding form as they took a 5-0 lead at halftime.

The goals by SSTMI were scored by M. Saravanan (2nd minute), Zulaniq Adib Abdul Razak (14th minute), Azhad Akmal Mohd Fahmi (17th minute), Muhd Firdaus Omar (30th minute) and Danial Asyraf Abdul Ghani (34th minute).

BJSS Juniors got a consolation nine minutes from time through Muhammad Husaini Abu Bakar.

PJCC opened scoring in the 5th minute through Mohd Faiz Haiqal Mat Rosdid. And five minutes later Muhd Farhan Daniel Zulzairin made it 2-0.

It was raining goals after PJCC settled down well to adapt to the bumpy conditions and netted another five goals through Ganeisha Tamil Chelvam (19th minute), Mohd Fitri Hidayat Abd Latif (32nd minute), Nazirul Mubin Zebidi (37th minute), Muhd Syawal Mohd Zakaria (56th minute) and Faiz (70th minute).

Meanwhile in Division Two A the match between PHK-MSS Kelantan and NS Project Team was called off due to heavy rain at the Sultan Azlan Shah stadium in Ipoh.

In the Division Two B matches, SMK Padang Midin defeated SMK Dato Taha Gemencheh 4-2 in a match played at Kuala Terengganu. At the National Stadium in Bukit Jali, Olak- PKT defeated Malacca High School 3-1.

And at the KLHA Stadium in Pantai, MPBP came from a goal down to defeat KL Sports School 2-1.

KL Sports School took the lead in the 41st minute through Muhd Nur Faiz Mahmad Rosli. But MPBP hit back in the 50th minute through Herwan Syah Osman.

Safeed Roslan scored the winner for the Johor team in the 56th minute.

"It was a good win for us considering we only had three days of training and it was evident in our performance against MHS where we lost narrowly in our first match," said MPBP coach Zam Zam Mohd Ali.

Unofficial MJHL site


---

BJSS teams fall from grace



Thunderbolts' Shahril Saabah (left) scored two goals in their match against SSBJ in their Division One match of the Milo-Junior Hockey League yesterday. Thunderbolts won 5-1.

BUKIT Jalil Sports School (BJSS) seniors and juniors hit a bad patch yesterday when they were both hammered 5-1 in Division One of the Milo-Junior Hockey League.

Defending overall champions Thunderbolts hit five goals past BJSS seniors, while Tengku Mahkota Ismail (SSTMI) also scored five goals against BJSS juniors -- and both the matches were played at the Taman Daya Stadium in Johor Baru.

Thunderbolts, who had beaten SSTMI 7-1, have been the most impressive team thus far in the early stages of the JHL.

In another Division One match, Petaling Jaya Municipal Council (MBPJ) whitewashed Tunku Besar Secondary School (TBSS) of Tampin 7-0.

"Although we have had impressive wins (12 goals in two matches), we still have much work to do as we let in a goal each in both  matches.

"However, our target to win the double  is still in sight, and with one week to prepare for the next match, we should be ready to seal the lapses in defence," said Thunderbolts coach Wan Roslan.

Thunderbolts and UniKL are the frontrunners for the JHL titles this season, as MBPJ have lost one match, while BJSS seniors also look shaky.

Thunderbolts took the lead in the fifth minute when Aminuddin Zain converted a penalty corner and two minutes later, they went 2-0 up with Sufi Ismat getting the final touch.

But BJSS injected some hope into their match in the 13th minute through Rafizul Ezry and the score remained until halftime.

However, two goals from Shahril Saabah (49th, 69th) and Aminuddin (66th) gave Thunderbolts a convincing win.

RESULTS -- Division One: Thunderbolt 5 SSBJ 1, SSTMI 5 SSBJ Jr 1, TBSS 0 MBPJ 7.

Division Two (A): PHK-MSSK v PH Negri Sembilan (rained off).

Division Two (B): KLSS 1 MPBP 2, Padang Midin 4 Datuk Taha 2, Olak-PKT 3 Malacca HS 1.

New Straits Times


---

Rain continues to wreak havoc in Division Two

By S. RAMAGURU

KUALA LUMPUR: Defending overall champions Thunderbolt took over as Division One leaders in the MHC-Milo-NSC Junior Hockey League after dispatching Bukit Jalil Sports School (BJSS) 5-1 at the Taman Daya Hockey Stadium in Johor Baru.

It was their second win and they lead the standings on goal difference from Universiti Kuala Lumpur (UniKL).

Thunderbolt led 2-1 at half time, thanks to goals by Mohd Aminuddin Mohd Zain (fifth minute) and Mohd Sufi Ismat Md Rohulamin (seventh). Former champions BJSS replied through Rafizul Ezry Mustafa in the 13th minute.

Mohd Shahril Saabah then notched a brace in the 49th and 69th minutes before Aminuddin scored his second – and Thunderbolt's fifth – in the 66th.

It was their second big win after their thumping 7-1 opener against their juniors, SSTMI, on Thursday.

SSTMI Juniors made it a double joy for school teams from Bandar Penawar with a similar 5-1 triumph over BJSS Juniors at the second stadium in Taman Daya.

M. Saravanan (2nd minute), Zulaniq Adib Abdul Razak (14th), Azhad Akmal Mohd Fahmi (17th), Muhd Firdaus Omar (30th) and Danial Asyraf Abdul Ghani (34th) were the scorers for SSTMI while Mohd Husaini Abu Bakar struck the consolation goal for BJSS nine minutes from time.

Petaling Jaya Municipal Council (MBPJ) bounced back from their opening day defeat to trounce Tunku Besar Secondary School 7-0 at the Seremban Two Hockey Stadium yesterday.

MBPJ, who lost 2-1 to UniKL on Thursday, had no problems overcoming last year's Division Two champions. Mohd Faiz Haiqal starred for MBPJ with two goals (fifth and 70th minutes) while Mohd Farhan Danial (10th), T. Ganeisha (19th), Mohd Fitri Hidayat (32nd), Nazirul Mubin (37th) and Mohd Syawal Zakaria (56th) were the other scorers.

MBPJ coach Paul Raj was pleased to see his boys playing to instructions and making good use of their chances.

"We needed the three points because our target is a top-four finish," said Paul.

"I believe we will need at least 18 points to make sure of a place in the knockout stage."

Rain again played havoc with the fixtures with at least three matches starting late and the one between MSS Kelantan and Project Negri being postponed after just two minutes of action.

This is the third Division Two tie to be affected as two matches were rained off on Friday.

The Star of Malaysia