All the news for Saturday 13 April 2013
Black Sticks set up final showdown with Korea



Photo courtesy www.photosport.co.nz

The Black Sticks will meet Korea in tomorrow's Four Nations final after soundly defeating USA 5-0 at the ITM Hockey Centre in Whangarei today.

After a first half dominated by defence on both sides of the ball, New Zealand took total control in the second period and poured on four well-worked goals.

Sian Fremaux was the sole scorer in the first half before Anita Punt, Krystal Forgesson, Kayla Sharland and Petrea Webster added their names to the scoresheet.

The victory was extra satisfying for 21-year-old Sam Charlton, who captained the side in her 50th international test for New Zealand.

Black Sticks head coach Mark Hager said he was impressed with his side's cohesiveness in the second half.

"Overall today was a much better team performance. We moved the ball very well in the second half and created the chances we needed to win," Hager said.

"We're now looking forward to a fast-paced rematch against Korea in tomorrow's final."

Earlier in the day Korea booked their place in the final after upsetting Olympic silver medallists Argentina 4-3.

At one point Korea stretched their lead out as far as 4-1 before Argentina struck back in the second half through some slick attacking moves, but couldn't muster an equaliser.

Today's results see Argentina play USA in the 3rd vs 4th placing game at 1:00pm tomorrow afternoon while the Black Sticks battle Korea in the final at 3:30pm.

Both games will be live streamed on the Hockey New Zealand website.

RESULTS:

Korea 4 (Da Rae Kim, Seul Ki Cheon, Mi Hyun Park, Hye Lyoung Han)
Argentina 3 (Delfina Merino, Daniella Lucia Sruoga, Maria Noel Barrionuevo)
Halftime: Korea 2-1

New Zealand 5 (Anita Punt, Krystal Forgesson, Kayla Sharland, Sian Fremaux, Petrea Webster)
USA 0
Halftime: NZ 1-0

Hockey New Zealand Media release


---
Black Sticks reach Four Nations final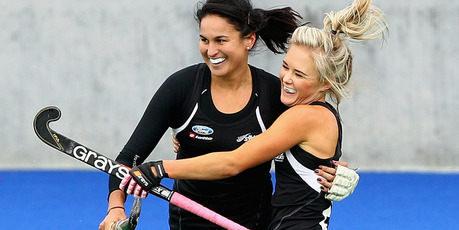 Kayla Sharland was on the scoresheet as New Zealand downed USA 5-0 today. Photo / Getty Images
Kayla Sharland marked her return to the Black Sticks in style as New Zealand booked a spot in the Four Nations final with a 5-0 victory over the United States in Whangarei today.
Sharland scored one goal and saved another as the Black Sticks used a strong second half performance to earn their second win of the tournament. Korea awaits the Black Sticks in tomorrow's final (3.30pm) and New Zealand will be looking to exact revenge after losing Wednesday's tournament opener to the Koreans 4-3.
In a fast paced first half New Zealand took the lead when Sian Fremaux scored a fortuitous goal shortly before halftime just minutes after the United States were denied a definite goal by returning New Zealand skipper Sharland. Sharland, playing in her first game for New Zealand since the London Olympics, calmly flicked a waste high shot over her own goal while standing as the last line of defence.
Back to back diving saves by New Zealand goalie Bianca Russell denied the US on consecutive penalty corner attempts midway through second half before yet again the Black Sticks went straight down the other end to score, this time in more speculator fashion.
Sharland slotted a reverse shot past the US goalie following a slick one two pass with Katie Glynn.
From there the floodgates opened as Anita Punt made it 3-0 five minutes later with a drag flick goal from a penalty corner while Krystal Forgesson picked netted the fourth following goalmouth scramble. Petrea Webster then scored New Zealand's fifth just before fulltime to give the Black Sticks some much needed momentum heading into tomorrow's final.
Korea earlier booked a spot in the final by recording their second win after holding off a late fight back by Argentina to win 4-3.
The New Zealand Herald
---
U.S. Women's National Team to battle Argentina for third place at Four Nations

New Zealand defeats Team USA to advance to the final with Korea
WHANGAREI, New Zealand – April 12, 2013 - The U.S. Women's National Team is set to play Argentina in the third place match Saturday, April 13 at 9:00 p.m. ET after falling this evening to host New Zealand, 5-0, while New Zealand and Korea will meet in the final of the first Four Nations tournament in Whangarei, New Zealand.  
"Our relatively inexperienced group can still learn a lot from a game like tonight's," said head coach Craig Parnham. "We had a pretty strong first half performance with a couple of good scoring opportunities. The second half lacked the unite player and therefore we lost a bit of our structure. New Zealand is a strong team and they were able to capitalize on the opportunities that were given to them."
"It was disappointing that we didn't get the result we wanted today," midfielder Katelyn Falgowski said. "But we came over here for experience and today was another great opportunity for growth. We will take the strengths out of today, learn from our weaknesses and attack strong tomorrow."
The U.S. had a solid first half performance with several scoring opportunities and several extended periods of pressuring New Zealand's defense. Both teams were defending and attacking well and it was an evenly matched game at the end of the first half with New Zealand up by one goal.
However in the second half, New Zealand took control and recorded four goals before the final whistle blew. Five goal scorers contributed to New Zealand's shutout victory of the U.S. tonight.
Korea locked-in their spot in the final after defeating Argentina 4-3 earlier this evening. Korea had a 2-1 lead at the end of the first half and at one point stretched their lead to 4-1.
The U.S. opened the Four Nations tournament against Argentina on Wednesday, April 10, falling to the No. 2 world ranked team, 3-0. Next up was Korea, and the U.S. had an impressive result, defeating the No. 8 team, 2-1. 
Both playoff matches will be streamed live on Hockey New Zealand's website. The U.S. will take on Argentina first at 9:00 p.m. ET followed by the Korea and New Zealand match at 11:30 p.m. ET.
USFHA media release
---
Electric Ireland Irish Hockey Trophy Finals
This Saturday sees the last Irish Hockey Association Cup finals of the season take place in UCD. The Irish Hockey Trophy has been running since 2008 and interestingly has yet to see a Leinster winner in either the men's or women's competition. Once again this year will be no different. Connacht side Greenfields take on Ulster side Lisnagarvey in the women's final, with Ulster's Portadown taking on South East's Kilkenny in the men's.
Electric Ireland Women's Irish Hockey Trophy

Greenfields v Lisnagarvey - 13.15
Greenfields have reached their third final in four years, a tremendous achievement by all accounts. Their route to the final saw victories over YMCA, NICS and Belfast Harlequins. They will hope to retain the trophy they won last year and become the first club to win back to back titles. They secured the Connacht Senior League last Sunday with a win in their last league match and earned qualification for the first time into next season's Irish Hockey League. Their key players this season have been their keeper Sinead Collins and the experienced Clodagh Grealy who anchors a very strong defensive line, Neasa McGettigan and Liz Tighe have been to the fore in midfield and Mary Healy has been in fine form in front of goal.
Lisnagarvey recorded victories over Ballymena, Avoca, NUIG and UL on their way to the final, scoring seven and conceding only twice. They have travelled to Dublin, Galway and Limerick along the way so will be looking forward to a hotly contested final. This is the first time these two sides have ever met so they will know little about each other before Saturday.
Men's Irish Hockey Trophy

Portadown v Kilkenny - 15.30
Portadown will be raring to go on Saturday having had a difficult route to the final. They were 4-2 down against Queens in the quarter final with four minutes to go, so it's safe to say they were delighted with their 4-3 win over Ulster Senior One champions Raphoe in the semi-final.  Throughout the season the squad have played attacking hockey yielding 106 goals in 25 games played. Jamie Wright, Neil Gilmore and Stephen Johnston have almost 80 goals between them but the squad has strength in depth. Portadown have a play-off to get into the Ulster Premier League so will be hoping to continue their winning ways come Saturday.
Kilkenny have had an equally exciting path to the final. The beat Suttonians at home and on the road recorded victories over Rathgar Chiefs and Campbellians. Last week's victory over Campbellians was a great day for the club, with the ladies winning the Irish Hockey Challenge in Belfield just as the men shaded the tie in Belfast by the narrowest of margins. 26 players have represented Kilkenny this year so it has truly been a team effort. Mention must go to David Quinn who is missing the final due to other commitments. His pace and power will be something Kilkenny will miss, but they will be hoping to rely on every squad member to perform to their ability come Saturday.
Best of luck to all four teams!
Irish Hockey Association media release
---
KLHC and TNB labour to a win, as Terengganu bounce back
KL Hockey Club lived dangerously before snatching a comeback 3-2 win over Sapura in the TNB Malaysian Hockey League Premier Division at the National Hockey Stadium.
And on the adjacent pitch, Terengganu HT exacted sweet revenge over UniKL following their 3-1 defeat last win to triumph 4-1 in the reverse fixture today.
In the final match of the day, Tenaga Nasional Berhad had to dig deep into their reserves as they edged Nur Insafi Warriors 1-0 to stay in the second spot of the standings.
UniKL almost drew the first blood in the second minute through Rashid Baharom whose shot from the right sailed inches past the far post. And that was a wake up call for the east coast side.
Terengganu were awarded a penalty corner in the 4th minute but failed to get a shot on target. But that did not deter them and they were all over the UniKL side who opted to play low defence.
And UniKL paid the price in the 20th minute with Tengku Ahmad Tajuddin Ab Jalil breaking on the left to pass to Alif Nazaruddin  A. Nadhri to tap in from close range to put Terengganu 1-0 ahead.
Four minutes later Sufi Ismat Md Rohul Amin made it 2-0 after he was left alone on the far post and had the simplest of tasks to slot home with UniKL keeper Saiful Azhar Mohd Affandi strandard.
Fitri Saari scored a gem of a goal in the 41st minute for a comfortable 3-0 lead and Terengganu were now playing with renewed confidence and had UniKL backppedalling.
S. Selvarajoo pulled a goal back for UniKL in the 53rd minute but the normally effective Mohd Noor Faeez Ibrahim failed to make use of the two penalty corners awarded in the 58th, 63rd and 68th minutes.
"We gave them too much respect and paid the price for it. We let in soft goals and failed to make use of the chances that we created. It was a poor display by our standards and it was a disappointing outing," said UniKL coach Arul Selvaraj.
KLHC had beaten Sapura with a similiar scoreline last week in Kuantan and were rather lucky that they walked away with all three points to stay on the top of the standings.
"It was a lucky escape for us and credit to Sapura who played really well. We were a bit soft in defene and need to do better. But I admire the fighting qualities displayed by my players as they never gave up," said KLHC manager George Koshy.
"We need to ensure that we collect three points on Sunday as well and remain focussed."
Sapura were the early aggressors and deservingly took the lead in the 9th minute through Dangerous Lee. But KLHC were undeterred and found the equaliser four minutes before halftime as Akhtar Ali struck to amke it 1-1 going into halftime.
Sapura surged infront in the 40th minute when Khasif Ali converted a penalty corner, for Sapura's second and taking his tally to nine goals in the MHL.
The lead however lasted only eight minutes as KLHC's ace penalty corner striker Muhammad Imran made it all square before stepping up to score from another peanlty corner in the 52nd minute to give KLHC the lead for the first time in the match.
In the final match of the day, TNB took the lead in the 6th minute when Faisal Saari scored. But it was a case of going for self glory that cost TNB a bigger win with Faisal the chief culprit as he muffed chance after chance, including penalty corners in the 28th and 51st minutes.
Nur Insafi also created chances but they were not sharp in the semi circle and that cost them a share of the spoils.
Unofficial MHL site
---
KLHC just pull through

By JUGJET SINGH
KUALA Lumpur Hockey Club (KLHC) did just enough to beat Sapura 3-2 in the Premier Division of the Malaysia Hockey League at the National Hockey Stadium yesterday.
The double champions started their second round campaign the same way they ended the first round -- beating Sapura with the same score of last week in Kuantan.
At the adjacent pitch, UniKl fell 4-1 to Terengganu, having defeated them 3-1 last weekend.
Sapura took the lead in the ninth minute through Dangerous Lee but KLHC equalised four minutes before halftime when Akhtar Ali got it right.
However, Sapura were back in front in the 40th minute when Khasif Ali converted a penalty corner, taking his tally to nine goals in the MHL.
The lead, however, lasted only eight minutes as KLHC's Muhammad Imran made it 2-2 before stepping up to score from another penalty corner in the 52nd minute to give KLHC full points.
As for UniKL, they paid the price for sloppy defending in the 20th minute when Tengku Ahmad Tajuddin's hard work and deft pass allowed Alif Nazaruddin to tap in from close range.
Four minutes later, Sufi Ismat made it 2-0 after he was left alone on the far post to score.
Fitri Saari then scored a beauty in the 41st minute for a comfortable 3-0 lead before S. Selvarajoo pulled a goal back for UniKL in the 53rd minute. Fitri Saari made the final score 4-1 with a 70th minute penalty corner conversion.
"We gave them too much respect and paid the price for it. We let in soft goals and failed to make use of the chances that we created. It was a poor display by our standards and it was a disappointing outing," said UniKL coach Arul Selvaraj.
"It was a lucky escape for us and credit to Sapura who played really well. We were a bit soft in defence and need to do better. But I admire the fighting qualities displayed by my players as they never gave up," said KLHC manager George Koshy.
RESULTS -- Premier Division: KLHC 3 Sapura 2, UniKL 1 Terengganu 4, Nur Insafi 0 Tenaga 1.
Today -- Premier Division: Maybank v Tenaga Nasional (National Stadium II, 6pm).
Division One: Sunday 2030 v TNB Thunderbolts (National Stadium I, 6pm), UniTen v Bukit Jalil SS (National Stadium II, 8pm), SSTMI v UiTm (Taman Daya, 6pm).
New Straits Times
---
Crunch time for Fiji's business house hockey competition

Rashneel Kumar
THE weekly business house hockey league is gaining momentum as it enters the final rounds of competition.
Top teams continue their dominance in the MH-sponsored meet but the newcomers are proving worthy opponents in the competition held every Thursdays at the National Hockey Centre in Laucala.
Fiji Hockey development officer and business house coordinator Tai Smith said organisations that were not part of the competition were missing a lot.
She said the competition this year proved to be one of the most exciting.
"It is a shame that most business houses did not participate in these activities as it does so much for team bonding and furthermore keep the staff fit and healthy," Smith added.
On turf, giants FMF and Chow proved to be the powerhouse teams in the last round.
Chow drew 1-1 with Team UN to top Pool One on countback on goals scored.
"Robin Mitchell Jr played an outstanding game in defense for the Chow team whilst FMF chief executive officer Ram Bajekal rallied his troops upfront," Smith said.
"Team UN was without some of their top players."
In the other match, Fiji TV fought hard but lost to FMF 0-2.
Celtrock booked a place in the Bowl semis after holding on to ANZ 1-1.
The semi-finals will be held on April 25.
The Fiji TImes
---
Sophie Devine stuck between cricket, hockey

JONATHAN MILLMOW
IN DEMAND: Sophie Devine. Getty Images
Sophie Devine has become a fulltime cricket professional but still can't bring herself to say goodbye to hockey.
Devine is one of four White Ferns to be given an annual contract by New Zealand Cricket, worth $37,500. The others are captain Suzie Bates, Sara McGlashan and Wellington left-armer Sian Ruck.
The quartet are not necessarily New Zealand's top four players but they have been receptive to an offer to train, play, coach and promote women's cricket on a fulltime basis for the next 12 months.
Devine was on the job yesterday, teaching little ones at Cannons Creek School in Porirua how to bat and bowl. But the real question was not whether she stumbled across any future stars but what did all this mean for her international hockey ambitions.
She had wanted to play for the Black Sticks at the 2016 Rio Olympics and a natural stepping stone was next year's Commonwealth Games in Glasgow. Devine said she had advised Black Sticks coach Mark Hager of her decision and the feedback was her move would be detrimental to her future selection prospects but not fatal.
"It was a really tough decision," said Devine.
"I'm definitely not closing the door on hockey internationally, but this opportunity was too good to miss.
"To have the financial security and the ability to still train is a new situation for female athletes in any sport in New Zealand."
Devine, 23, still plans to play for Wellington in the national hockey league in August.
"Hockey have been supportive of my decision. He (Hager) wished me the best.
"This contract is only for one year so this time next year who knows what might happen. A lot can change in a year, we'll just have to wait and see what happens."
With regard to her cricket, Devine believes there is lots of scope for her to improve with bat and ball given she can basically focus 24/7 on her game. Already she is one of  cricket's biggest names - her ability to clear the boundary and bowl at brisk pace a rarity in the women's game.
Devine is currently hampered by a split tendon in her foot but hopes to have surgery on it in the next couple of weeks. Playing professionally could mean just that, with Devine excited at being a hired gun in Australia or further afield if her commitments with Wellington and New Zealand permit.
Stuff