All the news for Wednesday 17 April 2013

Scoring greats get Glynn to aim high

By David Leggat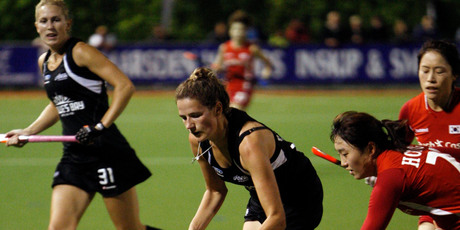 In Whangarei New Zealand got better with each outing. Photo / John Stone

Whenever Katie Glynn needs a tip or two, New Zealand's alltime leading goalscorer doesn't have far to go.

The Auckland striker, with 60 goals from her 108 appearances for the Black Sticks, has the ear of national team coach Mark Hager and his assistant, Greg Nicol.

Hager is an alltime great of the game, and one of its finest goalscorers, while South African double Olympian Nicol bagged an impressive 244 goals in 200 appearances. Between them it's fair to say they know the tricks of the striker's trade.

Glynn, who made her debut in 2009, is one of the leadership quartet in the squad this week, with Anita Punt, Kayla Sharland and Stacey Michelsen, and all vastly experienced in terms of national appearances.

The world No 3 Black Sticks set out tonight to follow their victory in the opening Four Nations tournament at Whangarei last week.

The second round of the Four Nations begins against world No 2 Argentina tonight, with the No 10-ranked United States playing eighth-ranked Korea in the other game.

"Last year we won the first round but lost the second and a big focus is to back it up this time," Glynn said yesterday. "We have pretty high expectations of ourselves."

In Whangarei, after opening with a 4-3 loss to the eighth-ranked Koreans, New Zealand got better with each outing, culminating in a 3-0 dusting of the same opponents in the final.

There had been missed opportunities on their trip to Argentina in February, but Glynn feels improvements are being made. Not conceding a goal in the last two games in Whangarei was also satisfying. The 23-year-old had a dose of the flu shortly before last week's tournament and admitted her form was patchy. So she has a point to prove this week.

"Goalscoring is pretty important to me. It's my job on the field to put away those chances. I'm reasonably happy with my form but there's still a lot of areas I need to work on. I'm lucky I've got Mark and Greg so I can feed off them as much as I can."

Then there's the Hockey New Zealand database of every goal she has scored for the Black Sticks. "Athletes in any sport go through highs and lows and there's always ways to pull yourself out. It is cool to go back and see things you've done well in the past."

Argentina are expected to be formidable this week, with the world's seven-time player of the year, Luciana Aymar, in their squad and the group better attuned to New Zealand conditions.

New Zealand squad

Katie Glynn, Julia King (Auckland), Sam Charlton, Gemma Flynn, Rose Keddell, Sally Rutherford (Midlands), Charlotte Harrison, Stacey Michelsen (Northland), Michaela Curtis, Emily Naylor, Kayla Sharland (Central), Amelia Gibson, Bridget Blackwood, Pippa Hayward, Olivia Merry, Cassandra Reid (Canterbury), Anita Punt, Aniwaka Roberts (Capital).

Schedule

Today: Korea v US, 5pm; New Zealand v Argentina, 7pm, Gallagher Hockey Centre, Hamilton
Tomorrow: Argentina v Korea, 5pm; New Zealand v US, 7pm, Hamilton
Saturday: Argentina v US, 1pm; New Zealand v Korea, 3pm, Tauranga
Sunday: Playoffs, 1pm and 3.30pm, Tauranga

The New Zealand Herald


---

ActivePost Small Sticks get close to their heroes




Ten ActivePost Small Sticks from Ruakaka Primary School got the chance to warm-down after the Black Sticks game on Saturday night.

Ruakaka Primary is one of the schools within Northland running the ActivePost Small Sticks programme. The programme is 'game based' which makes it a fun and engaging way for children aged 4-13 to learn basic movement and co-ordination skills.

It's extremely popular with children, parents and teachers – last year approximately 20,000 children completed Small Sticks courses in 84 schools throughout New Zealand. 

This is the first year that Northland Hockey has run ActivePost Small Sticks and already there are 10 schools and more than 2,100 children signed up.

The Black Sticks have invited 10 Waikato Small Sticks to warm down with them after Wednesday's game against Argentina in Hamilton.

Tauranga children will also get the chance after the game against Korea on Saturday.

For more information on Small Sticks – CLICK HERE

To find out about ActivePost – CLICK HERE

Hockey New Zealand Media release


---

Four players to debut for Hockeyroos

The Hockeyroos will welcome four new faces for their senior international debuts in next week's test series against Korea at Perth Hockey Stadium.

Edwina Bone (ACT), Jane Claxton (SA), Brooke Peris (NT) and Mariah Williams (NSW) have all been called up by coach Adam Commens for the four match series which starts next Wednesday and will be streamed live online on the Hockey Australia website.

The Hockeyroos are also boosted by the return of captain Madonna Blyth, who missed the team's tour to South Africa earlier this year after taking two months off following the 2012 AHL. The two-time Olympian returned to training in January and will lead the side against Korea.

Speaking about the selection of 20 year old Claxton, coach Adam Commens said: "Jane has been one of the leaders in the juniors and has confidently made the step up into the senior program. She performed excellently at last year's AHL and has put in outstanding performances for the juniors to thoroughly earn her selection to play against Korea. "

With Emily Hurtz in Europe and Casey Eastham and Jordyn Holzberger sidelined through injuries, the door has opened for Darwin-born Brooke Peris and Mariah Williams from Teralba. Explaining the situation, Commens said: "Both Brooke and Mariah have done well in the juniors and with three of our forward line unavailable it presents us with the opportunity to give them a taste of playing senior international hockey in front of a home crowd.

"Edwina Bone has been in our development squad for the past two years and has been on the fringes of senior selection previously. With Jodie Schulz, Jade Warrender and Jayde Taylor recovering from injuries we will give her the opportunity to step up for this series."

For two athletes, the series is likely to see them reach milestone appearances for the Hockeyroos. Victorian Claire Messant is just one appearance short of 50 matches for her country while Emily Smith, who was named in the Under 21 Jillaroos training squad for the Junior World Cup yesterday, goes into the Korean series with 47 caps.

In total, seven members of the Under 21 squad have been named in the squad. In addition to Smith,  Jane Claxton, Anna Flanagan (ACT), Karri McMahon (SA), Georgia Nanscawen (VIC), Brooke Peris and Mariah Williams were all called up for the Jillaroos.

The series represents the latest stage in the Hockeyroos' preparation for the World League tournament in London in June, a competition that brings with it the prize of qualification for the 2014 World Cup. For their part, Korea are also preparing for the World League and sitting just two places behind sixth position Australia in the world rankings, they are likely to pose a significant challenge to the up-and-coming Hockeyroos.

Following the conclusion of the Hockeyroos' series against Korea four matches between the Hockeyroos and the Jillaroos squad preparing for the Junior World Cup will take place in Perth. The games will provide an opportunity for all members of the development squad to play for the Hockeyroos against a full strength Jillaroos side containing its senior athletes.

As Commens explained: "It will be a great opportunity to see all of our top talent together."

Watch every match between Australia and Korea live streamed via the Hockey Australia website at www.hockey.org.au and join the conversation on Twitter using the hashtag #AUSvKOR.

Hockeyroos Squad v Korea, 24-28 April
(Listed alphabetically by surname)
Athlete (State) Caps/Goals

Teneal Attard (QLD) 170/10
Madonna Blyth (QLD) 244/57
Edwina Bone (ACT) 0/0
Jane Claxton (SA) 0/0
Jade Close (NSW) 68/12
Toni Cronk (NSW) 126/0
Anna Flanagan (ACT) 81/13
Kate Jenner (NSW) 61/1
Kirstin Johnson (QLD) 5/1
Bianca Joyce* (SA) 29/1
Rachael Lynch (VIC) 76/0
Karri McMahon (SA) 7/0
Claire Messent (VIC) 49/11
Georgia Nanscawen (VIC) 95/17
Ashleigh Nelson (WA) 107/40
Georgie Parker (SA) 24/2
Brooke Peris (NT) 0/0
Emily Smith (NSW) 47/15
Ashlee Wells (VIC) 14/0
Kellie White (NSW) 37/3
Mariah Williams (NSW) 0/0

*(nee Greenshields)
Hockeyroos Squad v Jillaroos, Home Series, 30 April - 4 May

Teneal ATTARD (QLD), Madonna BLYTH (QLD), Edwina BONE (ACT), Kary CHAU (VIC), Jade CLOSE (NSW), Toni CRONK (NSW), Jill DWYER (QLD), Casey EASTHAM (NSW), Holly EVANS (SA), Kate JENNER (NSW), Kirstin JOHNSON (QLD), Bianca JOYCE (SA), Rachael LYNCH (VIC), Claire MESSENT (VIC), Ashleigh NELSON (WA), Kandice OLIVIERI (QLD), Georgie PARKER (SA), Rebecca REUTER (QLD), Danielle SCHUBACH (VIC), Ashlee WELLS (VIC), Kellie WHITE (NSW)

Jillaroos Squad v Hockeyroos, Home Series, 30 April - 4 May

Murphy ALLENDORF (QLD), Jocelyn BARTRAM (NSW), Lily BRAZEL (NSW), Mathilda CARMICHAEL (NSW), Jane CLAXTON (SA), Jacqui DAY (QLD), Elizabeth DUGUID (NT), Madison FITZPATRICK (QLD), Anna FLANAGAN (ACT), Kate GILMORE (ACT), Emily GRIST (SA), Jordyn HOLZBERGER (QLD), Nina KHOURY (NSW), Karri MCMAHON (SA), Georgina MORGAN (NSW), Georgia NANSCAWEN (VIC), Hayley PADGET (VIC), Brooke PERIS (NT), Kathryn SLATTERY (WA), Audrey SMITH (QLD), Emily SMITH (NSW), Amelia SPENCE (TAS), Jade WARRENDER (NSW), Leah WELSTEAD (SA), Mariah WILLIAMS (NSW)

Hockey Australia media release


---

Meredith names squad for World League 3 Preparation

Irish Hockey Men's Coach Andrew Meredith has named a 30 man squad in preparation for the FIH World League 3 competition in June in Rotterdam. Meredith on this occasion will be without the services of experienced players John Jermyn through work & marriage commitments and Mitch Darling who is only unavailable for World League 3 where the Green Machine will aim to finish in qualification places for the World Cup.

Ireland will travel to Rotterdam, Holland from 13th - 23rd June 2013 for their World League Semi-Finals where they are pooled into a group of four teams initially with three of Australia, Netherlands, New Zealand, Spain, India or two other yet to be determined qualifiers i.e. the winner of the upcoming World League 2 tournament in France and the highest ranked second place team from the French or Russia World League 2 competition.
WL3 Rotterdam Squad
Club
1
Bell
Jonathan
Lisnagarvey
2
Brown
Peter
Banbridge
3
Bruton
Jonny
YMCA
4
Buser
Daniel
Lisnagarvey
5
Cargo
Chris
Reading
6
Carson
David
Monkstown
7
Caruth
Peter
Braxgata
8
Cockram
Tim
Lisnagarvey
9
Cole
Stephen
Monkstown
10
Dowds
Stephen
Banbridge
11
Fitzgerald
David
Monkstown
12
Gleghorne
Paul
Instonians
13
Good
Kyle
Monkstown
14
Gormley
Ronan
Krefeld
15
Harte
Conor
SCHC
16
Harte
David
Kampong
17
Hughes
Ian
Cookstown
18
Jackson
John
Braxgata
19
Lorimer
James
Lisnagarvey
20
Loughrey
Stuart
Bath Buccaneers
21
Magee
Eugene
Krefeld
22
Maguire
Phelie
Hurley
23
McCabe
Geoff
Santander
24
McCandless
Bruce
Banbridge
25
McConnell
Andy
Hurley
26
O'Donoghue
Shane
UCD
27
Rollins
Matthew
Cookstown
28
Sothern
Alan
Pembroke
29
Watkins
Gareth
Monkstown
30
Watt
Michael
SCHC
Andrew Meredith has also added some additional players to his Intensive Training Centre squad for regional sessions in Belfast & Dublin in preparation for the European Nations in August 2013 having spent considerable time running the rule over players in the first 3 rounds of the Irish Hockey League. Meredith will announce the squad for the Europeans Nations following the completion of the World League 3 tournament
| | | | |
| --- | --- | --- | --- |
| 1 | Bell | Jonathan | Lisnagarvey |
| 2 | Bell | Matthew | Banbridge |
| 3 | Brown | Peter | Banbridge |
| 4 | Buser | Daniel | Lisnagarvey |
| 5 | Carlisle | Drew | Banbridge |
| 6 | Cockram | Tim | Lisnagarvey |
| 7 | Corry | James | Instonians |
| 8 | Dowds | Stephen | Banbridge |
| 9 | Edgar | William | Annadale |
| 10 | Gleghorne | Paul | Instonians |
| 11 | Hughes | Ian | Cookstown |
| 12 | Lorimer | James | Lisnagarvey |
| 13 | Magee | Owen | Banbridge |
| 14 | McCandless | Bruce | Banbridge |
| 15 | McKee | Jonny | Banbridge |
| 16 | Purcell | Peter | Annadale |
| 17 | Robson | Matthew | Annadale |
| 18 | Rollins | Matthew | Cookstown |
| 19 | Bruton | Jonny | YMCA |
| 20 | Carroll | Kenny | Railways |
| 21 | Carson | David | Monkstown |
| 22 | Cole | Lee | Monkstown |
| 23 | Cole | Stephen | Monkstown |
| 24 | Darling | Mitch | Three Rock Rovers |
| 25 | Fitzgerald | David | Monkstown |
| 26 | Flannery | Ronan | Pembroke |
| 27 | Good | Kyle | Monkstown |
| 28 | Ingram | Mark | Pembroke |
| 29 | O'Donoghue | Shane | UCD |
| 30 | Shimmins | Kirk | Pembroke |
| 31 | Sothern | Alan | Pembroke |
| 32 | Walker | Iain | YMCA |
| 33 | Watkins | Gareth | Monkstown |
| 34 | Caruth | Peter | Braxgata |
| 35 | Jackson | John | Braxgata |
| 36 | Magee | Eugene | Krefeld |
| 37 | McCabe | Geoff | Santander |
| 38 | Watt | Michael | SCHC |
| 39 | Gormley | Ronan | Krefeld |
| 40 | Harte | Conor | SCHC |
| 41 | Lynch | Jason | Krefeld |
Speaking to hockey.ie, Green Machine coach Meredith said "The original intention was to select 28 athletes who would be involved in the preparation for the WL3 World Cup qualifier in June, but due to long term injuries to Tim Cockram and Conor Harte, we have expanded the group to 30. The final selection for Rotterdam will come from this playing group."

Meredith continued "Thereafter, a new squad will be selected for the European Nations in Antwerp in August, which will put in contention the athletes that have been selected to participate in the de-centralised Intensive Training Centre (ITC) program. I am very excited about the young talent that is currently on show in the IHL, and look forward to begin working closely with these athletes and tracking their development, while assisting them in reaching their potential as world class competitors."

Meredith was keen to express exactly where the focus was for the Green Machine in the coming months "Clearly the prime objective for the group this summer, is to qualify for the World Cup. Therefore our major focus is on World League 3 which we believe clearly presents the best and most realistic opportunity for qualification. The unavailability of both the experienced players John Jermyn and Mitch Darling is unfortunate, but also presents an enormous opportunity for other players involved in the selection"

Irish Hockey Association media release


---

EHL Final Four: Match Schedule confirmed

The Euro Hockey League is pleased to announce the match schedule for the forthcoming EHL Final Four event. The competition, which also features the final of the women's EuroHockey Club Champions Cup, takes place at HC Bloemendaal (NED) on 18-19 May 2013.

The Semi Finals of the Euro Hockey League will take place on Saturday 18th, with Rot-Weiss Koln of Germany and Belgium's KHC Dragons going head-to-head at 1200 (UTC/GMT +1). Rot-Weiss and Dragons have met on one previous occasion in EHL competition, with the Belgian outfit eliminating Christopher Zeller's men in Round 2 of the 2010-11 season.

Host club HC Bloemendaal take on fellow Dutch outfit Amsterdam H&BC in the second Semi Final, which starts at 14.30.  Bloemendaal legend Teun de Nooijer is aiming for one last moment of European glory before he hangs up his stick at the end of this season, but Amsterdam will be determined to ruin the party and seal their place in the EHL Final. It promises to be a truly fascinating game. 

Sunday will feature three key matches as the European club season reaches its climax. The first match of the day - EHL's Bronze medal match - takes place at 1015. That game is followed at 1245 by the Final of the EuroHockey Club Champions Cup, which sees HC's Hertogenbosch and Laren MHC meet in an all-Dutch encounter. The final of the Euro Hockey League takes place at 1515, with the winner getting the chance to lift one the most sought after piece of silverware in men's club hockey - the Alain Danet Trophy.

The complete match schedule for the weekend can be found below.

Tickets for this event are currently selling like hot-cakes and it is certain to be a sell-out. With that in mind, if you want to be there for this momentous event, we strongly recommend that you act fast! To purchase tickets, please visit the Tickets section of the EHL website. 

For those of you who cannot attend this superb event, do not despair! As always, the Euro Hockey League will be providing full coverage of the event, with live streaming and complete tournament information being available on www.ehlhockey.tv and through our Smartphone App.  Our social media coverage will also be extensive, allowing fans to interact through Facebook, Instagram and Twitter. We hope you enjoy the coverage.

What: EHL Final Four (Men) and EuroHockey Club Champions Cup Final (Women)
Where: HC Bloemendaal (NED)
When: 18-19 May 2013

Match Schedule (all times are local - UTC/GMT +1)
Saturday 18 May 2013
12.00: EHL Semi Final 1
KTHC Rot-Weiss Koln (GER) v KHC Dragons (BEL)

14.30: EHL Semi Final 2
HC Bloemendaal (NED) v Amsterdam H&BC (NED)

Sunday 19 May 2013
10.15: EHL 3rd/4th Place Match

12.45: EuroHockey CCC Final (Women)
HC 's Hertogenbosch (NED) v Laren MHC (NED)

15.15: Euro Hockey League Final

Note: This match schedule may be subject to amendment or variation by the Tournament Director due to the requirements of television.

Euro Hockey League media release


---

Looking for players with speed: Nobbs



A file of India's hockey coach Michael Nobbs.

India's scheduled tour of the Netherlands, should it gain approval, will be ideal preparation for the FIH World League Round 3 competition, believes the national men's coach Michael Nobbs.

The Australian was speaking during the national camp at the Sports Authority of India here on Tuesday, where trials were held to select the team for the tour.

"We're using the Dutch tour to fine-tune things and find the best team for the FIH World League Round 3 competition (June 13-22, Rotterdam)," Nobbs said.

"We've got the Asia Cup afterwards (August 24-September 1), so that's two chances to qualify for the World Cup."

The door was not shut on the likes of Sandeep Singh, who has been recalled to the camp, Nobbs said.

"Age is not a barrier. It's a question of whether they can reinvent themselves before the junior players take their place."

The selectiors' eye, however, was on players with speed, Nobbs clarified.

"The biggest change in hockey is the play-on rule: the self-pass rule from free hits. That has sped the game up astronomically; the umpires can't even cope. The old things like playing good position are still important but if you don't have speed you're history," he said.

The Dutch tour, comprising three matches against the national team and four against club sides, was organised by the High Performance Manager Roelant Oltmans, Nobbs revealed.

"We had nowhere else to turn. Nobody would play us because they had their own programs. Roelant obviously has contacts in Holland," he said.

Birendra Lakra, who is appearing for examinations, and Gurwinder Singh Chandi, who is recovering from injury, will not be considered for the tour. Nobbs also stated that a short goalkeeping camp, led by an overseas coach, was one of his priorities.

"If we are hindered from success anywhere, it is in that area," he said.

The Hindu


---

Field Hockey Canada Athletes Pay Tribute to Terry Fox

National team members run to honour Terry's inspiring journey

Connor Meakin

On April 12, 1980 Terry Fox dipped his artificial leg in the Atlantic and started The Marathon of Hope. His goal was to raise funds and awareness for cancer research by doing something extraordinary: a cross-Canada run on one leg.

This past Friday April 12, the anniversary of The Marathon of Hope, a handful of FHC athletes celebrated Terry's inspiring journey by running through Vancouver.

This is no officially sanctioned event, merely a movement started by a passionate community of Canadians. One runner in every province and territory runs a marathon on April 12, bearing Terry's flag. Members of each local community are then encouraged to join in for portions of the marathon.

Linda Wong spearheaded the Vancouver contingent, and was joined by our athletes for the first 10km of her Marathon of Hope Tribute Run.

Both mens and womens athletes took part in the Vancouver segment to pay tribute to a truly amazing and inspiring Canadian.

Lucky for you, the cameras were rolling and managed to capture our athletes participation. You'll notice familiar faces: Kate Gillis, Antoni Kindler, Scott Tupper, Mark Pearson, and Philip Wright. Enjoy the video on the FHC site and some great pictures from a what was truly a powerful experience for all the athletes involved.

Terry's legacy forever lives on!

FHC athletes are excited to get involved in more community and socially minded events this coming summer and beyond. If you'd like FHC athletes at your event, please send a Tweet to @FieldHockeyCan.

Field Hockey Canada media release


---

Princeton Field hockey star hits the links after surgery

By John Wolfe

It has been a busy year for Sydney Kirby, who kicked off her fall semester by helping the U.S. Under-21 National Field Hockey Team lock up a bronze medal and Junior World Cup qualification at the Junior Pan American Games in Mexico. She returned to Princeton in time for the majority of the Tigers' near-perfect NCAA championship season, where she earned second-team all-Ivy honors as the team's third-leading goal scorer — despite her five-game absence.

On Nov. 3, the sophomore earned an Ivy League title when her team completed its conference season undefeated, and two weeks later she was hoisting a national championship trophy in Virginia after Princeton's 3-2 upset of then-No. 1 North Carolina. In December she underwent hip surgery, and in March she began the latest chapter in her Princeton athletic career: varsity golf.

When Kirby's doctors told her that December's surgery would sideline her from the spring field hockey season, she saw the news as an opportunity to return to organized golf.

"I figured I might as well make the best of the situation," she said. "I grew up playing competitive golf, so playing on the golf team is something I'd wanted to do for a long time. I talked to my field hockey coach [Kristen Holmes-Winn], then the golf coach [Nicki Cutler], and they were willing to give me a shot."

Kirby, who captured a state championship and all-state honors during her high school golf days in Ohio, dusted off her old clubs and brought them to Princeton for the spring semester. She began practicing with the team in Dillon Gymnasium before impressing Coach Cutler with an individual round at Springdale Golf Club to secure her official roster spot.

Kirby's plans strayed from their original course when her hip completed a full recovery faster than her doctors had anticipated. She returned to the active field hockey lineup while retaining her place on the golf team, making for a relatively hectic spring calendar. She manages to squeeze in a few classes between her morning field hockey workouts and her afternoon practices on the links.

"With issues like weather and daylight, golf can't really have a fixed practice time," she explained. "And since you don't need 25 people to practice together at once, a lot of golf practices are worked around each player's schedules; it's different every day."

Kirby has gotten to know her new teammates primarily through their weekend practice rounds, noting that the chemistry on the seven-woman golf roster feels a little different from the 24-deep field hockey squad.

"The two teams are incredibly different but function very effectively in their own ways," she said. "Even though we [golfers] are a team, it's such an individual sport. There's very little someone can do to help lift up another teammate if they're struggling. On the other hand, field hockey is the definition of a team sport."

In addition to juggling the rigorous new time commitment and adapting to the more individualistic nature of the sport, Kirby has had to take on a different kind of team role than she is used to playing. A starter on the field hockey team, she is often left behind when the golf team travels. In contrast to her intense and vocal leadership style on the hockey field, the rookie tries to bring a sense of calm to her more experienced teammates when she golfs.

"Since I'm so new to golf, I'd probably say my attitude contributes more to the team than my skill," she said. "I generally go about that by having a more relaxed demeanor and having a good time. My philosophy is that if you play with a level head and you're enjoying the game, then you'll shoot lower scores."

While her accelerated recovery has ironically brought Kirby a greater workload than she was initially seeking, she says the positives of competing on two teams at once outweigh the negatives.

"I really appreciate this opportunity, and I'm lucky to have been able to play both sports this spring," she said.

She paused a moment, looked back on the year she's had thus far, and added with a laugh, "Even though I have zero time."

The Daily Princetonian