All the news for Saturday 20 April 2013

Black Sticks secure win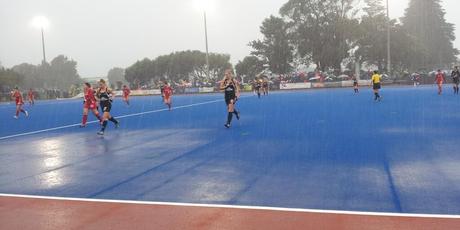 Players run from the field in heavy rain. Photo / @BlackSticks

The Black Sticks women have secured a spot in the finals against Argentina after a 5-1 win against Korea in the Four Nations.

The match resumed after it was earlier suspended due to torrential rain the weather.

The Black Sticks' Katie Glynn scored four goals and Olivia Merry scored one.

Earlier, the Black Sticks tweeted "Play has stopped due to rain. Players run off the field!" and "Play has been suspended at Blake Park for an hour."

The game was subjected to a torrential downpour which led to play between the Kiwis and Korea being called off.

Korea led 1-0 at the time and would have been awarded the match if the weather failed to clear.

Earlier, the umpires had to be evacuated from their apartment due to the flooding.

The Black Sticks match started at 3pm.

It will be the third time in ten days that the Black Sticks and Korea will have met, having recorded a win apiece so far.

Black Sticks midfielder Anita Punt says they have seen their game plan works, now they just have to execute it.

"Hopefully we'll just get out combinations working well and use our speed, go round the outside.

"We rank number three in the world so hopefully we can pull out the win."

Punt says they will use the same game plan they took into the final of the first stage, which they won. "We know a bit more about them and our strategy worked in the last game.

"So we're just going to go out there, put everything out there, and prove to them that we'll keep beating them."

The New Zealand Herald


---

Argentina's golden girl sees more victories

Luciana Aymar, the world's finest player, isn't ready to lay down her stick just yet



Luciana Aymar, who led the Argentine team at the London Olympics, said it was hard losing the women's hockey final. Photo / AP

Lionel Messi comes from Rosario. So does Luciana Aymar.

The world's finest soccer player and finest women's hockey player. Not a bad double for the country's third biggest city, 300km northwest of Buenos Aires.

Occasionally you'll hear an argument putting up Cristiano Ronaldo's claims as a superior player to Messi, but those are diminishing these days. You don't hear any arguments about the brilliant Aymar's top billing.

Being rated world player of the year seven times since 2000 tells its own story. Indeed Aymar beat the incredible Barcelona striker to Argentine sports personality of the year award in 2010.

Aymar is in Tauranga today and tomorrow with the Argentine team, playing a Four Nations tournament with Korea, the United States and New Zealand. Her country's most-capped international, she's won just about every honour there is in the game since making her debut 15 years ago. The one gaping hole is an Olympic gold medal. Argentina were beaten in the final in London last year by the Netherlands. It hurt, and it was her birthday.

"It was difficult for us," she said. "We had a great team but it's a game where many teams are strong. We played the final against a team who are one of the best in the world."

The Olympics began on a personal high for Aymar, carrying Argentina's flag in the opening ceremony. It said something about the status of women's hockey in the country, and her standing within both the game and the country.

"That was very emotional for me. The most important sport in Argentina is football, but it was important that hockey was the sport that carried the flag and it was a privilege."

Hockey is the most popular women's sport in the country; Aymar is the player the teenagers aspire to follow. Her speed, dribbling skills, ability to slalom her way through defences, eye for a passing angle and allround gifts have earned her nicknames of La Maga (The Magician) and Le Maradona del Hockey, which doesn't need translation. That came at a young age, due to her eye-catching skills.

"I quite liked that," she said. "It was a real honour because obviously he's one of the biggest figures in sport in Argentina."

Aymar, who possessed a highly-driven, competitive personality, has had to change her game to get the best out of herself in recent times.

"I still feel good enough to play [for Argentina] but I have to change the way I play to continue playing at the level expected of me."

Which segues nicely into what the future holds. The Rio Olympics perhaps in three years' time and a final bid for that elusive gold?

A laugh, then "Nooo. Maybe this year, maybe next. I take it day by day and see how I feel."

That said, she remains highly motivated. Those seven crowns might provide a feeling of full accomplishment, but Aymar fancies one more.

"That's very special for me and a real honour. But I still feel each year I want to improve and learn so I can win another one. I'm quite motivated to be the best in the world again. I love hockey, love the training, and have the same emotions to play in the national team as when I was 16 years old."

An occasional model and television personality, once she's finished playing Aymar won't be lost to the game. She wants to put back into the sport which has given her so much through coaching.

•Argentina should beat the US in the early game today at 1pm to advance to tomorrow's final. NZ play Korea at 3pm, a draw being enough to get the hosts into the showdown.

Luciana Aymar

Age: 35

Position: Midfield-striker

Caps: 333

Olympic medals: 4, two silver, two bronze from 2000-12

World Cup: 2 gold medals 2003, 2010

Champions Trophy: 5 gold medals, 2001, 2008-10, 2012

World Player of the Year: 7 times

The New Zealand Herald


---

Fiji snatches win in hockey tussle

Emoni Narawa

A STRONG second half performance fired the Fiji High Performance Hockey team to a 2-1 victory over the Australian Masters on Thursday night.

Fiji trailed 0-1 at the break before Leevan Dutta and Adrian Smith struck to put Fiji ahead before the final whistle.

Dutta levelled the scores from a penalty stroke and Smith netted the winner from a penalty corner.

The national men's team, led by skipper Hector Smith Jr, played with much composure despite trailing the visitors at the break.

Their recent outing at the World Hockey League in India helped the national reps stand up to the test.

Fiji Hockey development officer Tai Smith said the game was an even contest.

She said Fiji was taken to the wire by the visitors who proved to have more experience.

"It was a very entertaining game, very physical indeed," she said. "Fiji was down by one goal at halftime, but we managed to bounce back in the second half with goals to Leevan and Adrian."

She said they hoped the Australian Masters returned in the future to provide Fiji's hockey players with competitive games.

"At this stage, we are not sure whether they will come back or not. But we are hoping that they will return for more games," Smith added.

The Australian Masters played the Western Masters last night.

The Fiji TImes

---

Heavy price for a win




KL Hockey Club may have collected the three points in their march towards the TNB Malaysian Hockey League when they defeated Nur Insafi Warriors 7-1 at the USM Stadium in Penang.

But the win came at a cost for Australian international Timothy Deavin picked up a green and yellow card, thus ruling him out of the crucial match against Maybank where a win would give KLHC the league title with two matches to spare.

The Aussie is a key figure for KLHC and he was on the receiving end of a green card in the 28th minute before being sent to the sin bin in the 43rd minute, thus earning him a one match suspension for having accumulated ten demerit points as he was already on four points before the start of the day.

The defending champions took the lead in the 3rd minute through Mohd Razie Rahim who converted a penalty corner. And they were 2-0 up when Muhd Azwar Abdul Rahman found the back of the net in the 17th minute.

Nur Insafi however reduced the deficit in the very nest minute as a result of an own goal but KLHC stepped up the tempo by netting the third in the 24th minute through Akhtar Ali.

Chua Boon Huat then further extended KLHC's lead to 4-1 by finishing off a penalty corner rebound in the 55th minute. But KLHC were far from satisfied as they scored another three goals through Muhammad Imran ( 62nd minute), Muhammad Umar Bhutta ( 63rd minute) and Waseem Ahmad ( 66th minute) for an emphatic win.

Official MHL site


---

Maybank held by UniKL




UniKL came within minutes of putting a big dent on the hopes of Maybank to win the TNB Malaysian Hockey League title. But the Tigers are fast earning the tage of escape artists as they managed to find the equaliser and in the end it was points shared as the two teams played out to a 2-2 draw at the USM Stadium in Penang.

It was a heated match, as Maybank were furious with the umpiring decisions, though really there was nothing wrong with what umpires Norhisham Shaari and M. thayalan did. The only time the decision was questionable was Thayalan awarded Maybank a penalty stroke in the 64th minute as Shakeel Abbasi was adjudged to have been unfairly brought down by the UniKL keeper.

However Thayalan changed his decison after consulting Norhisham and it was the right thing to do as the UniKL keeper had played the ball with his stick and the Pakistani fell over dramatically.

That incident led to Maybank players harassing the umpires every decision and it was a wonder that Muhammad Waqas was allowed to remain on the pitch after he scored the equaliser and showed the middle finger to umpire Thayalan. But that escaped the eyes of the match officials.

In reality Maybank have only themselves to blame for dropping two points in their pursuit for the league title as they played well below their ability and allowed the pressure get to them.

The Tigers took the lead in the 31st minute through Waqas but uniKL scored in the 49th minute through Mohd Noor Faeez Ibrahim to make it all square. And Faeez scored again in the 66th minute to put UniKL 2-1 ahead as Maybank players started losing their heads.

Waqas scored the equaliser in very next minute and escaped punishment as the match ended tamely with no further incidents.

Official MHL site


---

Khasif destroys TNB




Sapura put a huge dent in the hopes of Tenaga Nasioanl Berhad to finish as league runners up when they defeated the Charity Shield winner 3-2 at the USM Stadium in Penang this evening.

While Sapura were naturally elated as the win helps them to consolidate their fourth spot, for TNB it meant that whatever mathematical chance they had of catching league leaders KL Hockey Club was now thrown out of the window and even the chances of catching up with Maybank looks highly remote as the Tigers have a match in hand and three points lead.

TNB have only themselves to blame as they could only net one goal from the six penalty corners they were awarded while Sapura got two goals from the five awarded.




It was a hattrick from Pakistani import Khasif Ali that gave Sapura all three points and on a personal note he moves up to the top of the goal scoring chart as his tally now stands at 12 while TNB's Faisal Saari only got one goal in the match and has 11.

Faisal gave TNB the lead in the 18th minute from a penalty corner but Sapura were on level terms as Khasif netted in the 25th minute.

Sapura then took the lead in the 42nd minute when Khasif once again beat S.Kumar in the TNB goal. But barely a minute later TNB levelled with Mohd Firhan Ashaari scoring a field goal.

A penalty corner attempt by Khasif in the 62nd minute hot Mohd Madzli Ikmar on the foot and the Pakistani stepped up to convert the penalty stroke to give Sapura all three points.

Sapura were still smarting from their defeat against UniKL while TNB

Official MHL site


---

KLHC tighten grip on title

By Fadhli Ishak

KUALA Lumpur Hockey Club (KLHC) tightened their grip on the Malaysian Hockey League Premier Division title with a 7-1 drubbing of Nur Insafi while their rivals, Maybank and Tenaga Nasional, both dropped points at Universiti Sains MAlaysia (USM), Penang yesterday.

KLHC took only two minutes to get on the scoresheet through a Mohd Razie Rahim penalty corner and added to their tally through a Muhd Azwar Abdul Rahman field goal in the 17th minute.

Nur Insafi pulled one back when they forced a KLHC own goal just a minute later but were to enter the break, trailing 1-3 after Akhtar Ali found the back of the net for KLHC in the 24th minute.

The second-half saw KLHC pushing forward with goals from Chua Boon Huat (55th minute), Muhammad Imran (62nd minute), Muhammad Umar Bhutta (63rd minute) and Waseem Ahmad (66th minute) to seal the match.

Australian international Timothy Deavin will, however, be suspended for KLHC's crucial clash against Maybank tomorrow after picking up a green and yellow card during the game.

KLHC coach K. Dharmaraj said he was happy with the performance of his charges yesterday.

"It was quite an open game and I am very happy that our boys took their chances well today (yesterday)," said Dharmaraj.

Meanwhile, Maybank's title hopes took a big dent when they could only draw 2-2 with UniKL at USM, Penang yesterday.

Maybank, who edged Nur Insafi 4-3 at the National Stadium last week, started well when Pakistani Mohd Waqas Sharif put them ahead in the 31st minute.

Mohd Noor Faeez Ibrahim put UniKL level in the 49th minute.

Maybank were denied a penalty stroke shortly after and UniKL came back strongly after the incident with Mohd Noor Faeez scoring his second goal of the match in the 66th minute.

Maybank were, however, spared defeat when Muhammad Waqas also notched his second of the match a minute later to force a 2-2 draw.

Tenaga Nasional's distant hopes of catching league leaders KLHC ended when they lost 3-2 to Sapura, also at USM Penang.

TODAY -- Premier Division: Sapura v Terengganu.

Division One: Sunday 2030 v UiTM (National Stadium II, 6pm).

(All matches at Universiti Sains Malaysia, Penang unless otherwise stated)

New Straits Times


---

Title almost in the bag after KLHC wallop bottom side Nur Insafi

By RONNIE OH

GEORGE TOWN: Kuala Lumpur Hockey Club (KLHC) took a giant step towards retaining their Malaysia Hockey League Premier Division crown with an effortless 7-1 win over bottom side Nur Insafi at the USM Hockey Stadium yesterday.

Before KLHC took to the field, there were already good news for them as second-placed Maybank suffered a major setback in their title chase after a 2-2 draw with Universiti Kuala Lumpur (UniKL). KLHC now have a six-point lead with three matches remaining.

KLHC then took to the field and were simply too hot for Nur Insafi to handle. Parading all their six imports - Pakistanis Mohamed Imran, Akhtar Ali, Muhammad Umar Bhutta, Waseem Ahmad and Fareed Ahmad and Australian ace Timorthy Deavin, KLHC took only three minutes to take the lead through skipper Mohd Razie Abdul Rahim.

Muhd Azwar Abdul Rahman (17th minute), Akhtar (24th), Chua Boon Huat (55th), Mohamed Imran (62nd), Muhammad Umar (63rd) and Waseem (66th) contributed the other goals.

Team manager George Koshy was pleased with the high-scoring win but warned his team against complacency.

"I believe Maybank will continue to push until the title is out of reach for them. That means we still have to work very hard to retain the title," said Koshy.

For Maybank, they were well on the road to victory when striker Muhammad Waqas gave them the lead in the 31st minute. UniKL, however, fought back to equalise through a penalty corner conversion by Mohd Noor Faeez Ibrahim in the 49th minute.

Mohd Noor then surprisingly gave UniKL a 2-1 lead in the 66th minute through another well-taken penalty corner. Luckily, Muhammad Waqas managed to salvage a point for Maybank with the equaliser a minute later.

Although Maybank coach Wallace Tan was disappointed with the result, he was pleased to see his team fight back for a draw.

"As long as there is still a chance for us to prevent KLHC from ending the title race, we will give it our best shot," said Wallace.

The Star of Malaysia


---

Peshawar stun Nowshera in Hockey C'ship

LAHORE - Peshawar Whites stunned Nowshera by 4-0 in a one-sided affair on the second day of the Khyber Pakhtunkhwa Inter-District Men's Hockey Championship being played here at Lala Ayub Hockey Stadium on Friday. Khyber Pakhtunkhwa Hockey Association vice president Haji Nawaz Khan was the chief guest on this occasion. The match was started on fast tempo and Peshawar Whites took the lead in the very fourth minute through full-back Zahid Khan on the penalty corner conversion. Irfan slammed the second goal in the 13th minute to make it 2-0.  It was the second session when Peshawar Whites put in more pressure and succeeded in scoring two more goals through inside left M Sami in the 52nd minute on the field attempt and Saeed Ullah, outside left, in the 64th minute through field attempt.

The Nation


---

English Men's Masters Finals - this Sunday at Cannock

The Men's Masters Finals take place at Cannock on Sunday with twelve teams on show going for national glory.

Masters hockey continues to flourish in England and these competitions are now a highlight of the calendar for senior players. This season, a Trophy and Shield competition has been introduced with more relaxed player eligibility regulations compared to the Cup to make it easier for teams and players to participate.

Over 40's Trophy Final

The day starts with the Masters Over 40's Trophy Final between Banbury & Purley Walcountians. Banbury have been big supporters of national competitions with their first XI having won the Men's Trophy on three occasions in recent years, and the strength of the club at all levels is highlighted by their Girls U16 side competing in the national finals at that age group last weekend. For Purley Walcountians this is their first national final. However their 1st XI did appear in the National Inter League Tournament at the National Hockey Stadium in the late 90s as South champions but did not qualify for the national league.

Over 40's Shield Final

Next up is the Over 40's Shield Final where Stratford take on Cheltenham based Lansdown. Interestingly, both sides are in this competition having lost to the teams participating in the Trophy final with Stratford losing to Banbury, and Lansdown to Purley Walcountians. For both of these teams, this is their first ever national final at any level.

Men's Over 50's Plate Final

Southampton take on City of Peterborough in the Men's Over 50's Plate Final. For Southampton, this is the second time they've reached the final of this competition having come runners up in 2005. They also reached the Semi Final of the Cup three years ago before losing out to Canterbury, who are on show in the Cup Final. This is only the second year that City of Peterborough have entered a team at this age group, although they were winners of the Over 40's Plate in 2011.

Men's Over 50's Cup

In the Men's Over 50's Cup, Canterbury carry on their fantastic record in this competition by reaching the final. In 2010, they won the cup by beating Richmond on penalty strokes, and have also reached the semi final in each of the past five seasons. They take on a Barford Tigers side who make their debut in the final at this age group, although they did win the Over 40's Cup in 2009. Their previous best in this competition was a semi final place in 2011.

Over 40's Plate Final

Bournemouth return to Cannock for the second time in as many years as they look to put the disappointment of losing out in last season's Over 40's Plate Final behind them where they lost out Stourport. For Harrogate, this is the first time they have entered a national competition at this age group and they go in with confidence having won the Yorkshire Masters Cup twice in the past three seasons.

Men's Over 40's Cup Final

The day finishes with the Men's Over 40's Cup Final with Robinsons taking on hosts Cannock. Like Bournemouth, Robinsons return to Cannock for the second year in a row and will hope for better fortune this year having lost out to Reading in last season's final. This is the first time Cannock have reached the final of this competition having been semi finalists last season before losing to eventual winners Reading.

We welcome all supporters to Cannock for the Men's Masters Finals. Entry to the venue is free and parking is available at £5 per car. The schedule for the day is below.

Schedule

10:00 – Banbury v Purley Walcountians (Mens Masters Over 40's Trophy Final) – Pitch 2
11:00 – Stratford v Lansdown (Men's Masters Over 40's Shield Final) – Pitch 1
13:00 – Southampton v City of Peterborough (Men's Masters Over 50's Plate Final) – Pitch 1
14:00 – Barford Tigers v Canterbury (Men's Masters Over 50's Cup Final) – Pitch 2
15:00 – Harrogate v Bournemouth (Men's Masters Over 40's Plate Final) – Pitch 1
16:00 – Robinsons v Cannock (Men's Masters Over 40's Cup Final) – Pitch 2

England Hockey Board Media release


---

Wakefield and Canterbury take Under 16 club titles

In the Boy's, Canterbury dominated from start to finish to win the competition for the first time, despite making many appearances in the finals. After beating Cambridge City in their opening game, they then went onto narrowly beat Surbiton in their closest game of the weekend. That meant that in order to make the final, they just needed to avoid defeat against Preston, which they did in style winning 4-0.

Elsewhere in Pool A, Surbiton came runners up by beating Cambridge City in their last game, Preston finished third. In Pool B, there was a great finale with Belper finishing top of the group by scoring two late goals against Southgate. Had Southgate held onto their lead, they would have finished in the top two but instead, they finished bottom which meant Isca's win against Oxford put them into second and a place in the play off for third place against Surbiton.

Into the final, Canterbury put in what must have been their best display of the season to brush aside 2012 runners up Belper 8-1. They had Elliot Cutts on fine scoring form as he scored a hat trick, with Sam Barrett scoring a brace. In the play off for third place, Isca came from a goal down to defeat Surbiton thanks to two goals from Nick Fennell.

In the Girl's competition, Wakefield made it a remarkable six consecutive championships by winning a thrilling final on penalty strokes against a very good Beeston side. Both Wakefield and Beeston dominated their groups winning all three of their pool matches to set up the final against each other. Old Loughtonians edged out Team Bath Buccaneers to gain second place in Pool C on goal difference after the sides had drawn 2-2 on the first day.

In Pool D, it was 2012 runners up Kirkby Lonsdale who took second place ahead of Ipswich, with Banbury finishing in fourth place.

In the play off for third place, Old Loughtonians came out strongest against Kirkby Lonsdale and won 3-1, with Lucy Price scoring twice. The last game of the weekend got the finale it deserved with hosts Wakefield taking on Beeston in the final in front of a large noisy crowd. The game was a close affair and with neither team managing to find the net, the match went to penalty strokes. After the first barrage of five, the scores were tied at 4-4 taking the tie into sudden death. The teams scored a further two goals each and when captain Rachel Dent scored Wakefields seventh, it was left to keeper Becky Hague to be the hero as she pulled off a great save to send the Wakefield players and supporters into raptures.

England Hockey Board Media release


---

Gordonians and Hillhead battling to avoid play-offs

The fight to avoid the Aberdeen Asset Management National League Division 1/2 play-offs will be determined this weekend.

The scenario is fairly simple; a win or draw for AAM Gordonians away to Western Wildcats (13.30, Auchenhowie) would ensure they are guaranteed a place in the top division next season.

However, should the Aberdonians slip up tomorrow, second from bottom Hillhead will take on Inverleith on Sunday knowing that a win by three clear goals would make them safe and they would avoid the play-off with the Division 2 runners-up.

Meanwhile, there is a fixture card on both Saturday and Sunday in Aberdeen Asset Management National League Division 2.

Aberdeen GSFP are the division's form side having won their last six games and home wins over St.Andrew's University and local rivals Granite City Wanderers would vastly improve their chances of pushing for the second place play-off spot.

Likewise, both Falkirk GHG and McWhinney Uddingston will look to press home their case for second place with games against St. Andrew's University (Sun, 13.30, St.Mungo's High School) and Stepps (Sat, 12.30, Millerston).

Leaders Dundee Wanderers are in control at the top of the division and a win away to relegation threatened CALA Edinburgh on Sunday (14.00, Meggetland) will push them one step closer to the title. The Edinburgh side face a vital game at home to Glasgow University on Saturday (15.30, Meggetland).

Finally, Highland and Alpha Data Carnegie battle it out at Bught Park (15.15) on Sunday.

In Aberdeen Asset Management National League Division 3, the sides below leaders and title favourites Erskine Stewart's Melville are jostling for the second place promotion spot with only four points separating the teams in second to sixth position.

Second place Harris Academy FP face a tricky trip to Midland rivals Perthshire at Kilgraston School (13.00) on Sunday. The two sides played out an entertaining 5-5 draw earlier in the season but three points will be both teams' objective as they look to strengthen their promotion push.

Third place FMGM Monarchs host fourth place Ayr (13.00, Riverside Park) on Sunday with the home side hoping for a similar winning outcome for a second time this season following their 4-2 away win earlier in the campaign.

Aberdeen University can also stay in the promotion hunt if they can overcome Giffnock (13.30, Williamwood School).

In the bottom half of the table, Strathclyde University host Stirling Wanderers on Saturday before travelling north to face Stirling University on Sunday (Gannochy Sports Centre).

2020 Renewables Greenock take on Chapman Motherwell tomorrow (14.00, Inverclyde Sports Centre), while Waverley Inveresk Trinity travel to Stirling Wanderers on Sunday.

On Saturday, the Men's Arthur McKay Scottish Plate semi-finals will be hosted at Peffermill.

Erskine Stewart's Melville face Aberdeen GSFP in the first semi-final (12.00) while Granite City Wanderers will hope to cause an upset when they take on Division 1 opposition in the form of Hillhead in the second last four match (16.00)

On Sunday, places in the Men's District and Reserve Cup & Plate finals are up for grabs.

At Forthbank, Grove Menzieshill II will tackle PSL Team Sport Clydesdale II (10.00), while Inverleith II face AAM Gordonians II (14.00) in the District Cup semi-finals.

In the District Plate semi-finals, Hillhead II are up against Fidra Lions (12.00) and there is a local derby between Granite City Wanderers and Aberdeen GSFP (16.00).

The Men's Reserve Cup and Plate semi-finals are at Peffermill.

At 10.00, Edinburgh Uni III play Dundee Wanderers III in the first cup semi-final and Grange Development are pitched against Western Wildcats III (12.00) in the other semi-final.

In the Plate semi-finals, Granite City Wanderers III and Watsonians III go head-to-head (14.00) before Grove Menzieshill III v AMN Hillhead III do battle (16.00).

Scottish Hockey Union media release


---

Action packed weekend ahead for women's game

The semi-finals of the Women's Arthur McKay Scottish Cup and Plate competitions take place at Peffermill this weekend with some familiar names competing for a place in the finals on Saturday 25 May.

East meets West when CALA Edinburgh and Milne Craig Clydesdale Western clash in the first semi-final (12.00). This should be a close contest if the proceedings mirror the two results from Aberdeen Asset Management National League Division 1; CALA took the spoils in 2-1 home victory last November, with their Glasgow rivals winning the return fixture 1-0 last weekend.

In the second semi-final (14.00), Edinburgh University are tasked with trying to halt the Grove Menzieshill juggernaut as the Dundonians target a league and cup double this season. Charlotte Jones' side narrowly won the league contest 2-1 back in November last year so they won't find it easy against the students. However, they will start as favourites to make it through to next month's final.

In the Women's Arthur McKay Scottish Plate semi-finals, Aberdeen Asset Management National League Division 2 side Erskine Stewart's Melville have the challenge of overcoming local rivals Grange EL A (10.00), while Division 2 leaders Watsonians will take on Championship side Glasgow Accies in the other last four contest (14.00).

On Sunday, league competitions take precedence again with Aberdeen Asset Management National League Division 2 fixtures scheduled.

Leaders Watsonians can open up a four point gap over second place GHK Ladies if they can notch a win away to Borders Fjordhus Rievers (14.00, Tweedbank).

At the bottom there is a huge relegation crunch match as Haddington Ladies travel to face Glasgow University (12.00). A win for the East Lothian side would take them four points clear of their opponents.

Third place Erskine Stewart's Melville play Highland in the day's other fixture (13.15, Bught Park).

With the title and promotion places already determined in Aberdeen Asset Management National League Division 3, the sides below the top two are now playing for final league positions.

Aberdeen University will welcome Stirling Wanderers and Stirling University to Aberdeen Sports Village on Saturday and Sunday, while Bon Accord also have two home games this weekend; champions AAM Merlins Gordonians come calling on Saturday (12.00, Cults Academy), while Stirling Wanderers are the visitors on Sunday (12.00, Cults Academy).

Also on Sunday, AAM Merlins Gordonians are away to St. Andrews University (12.00, St.Andrews University), while Aberdeen Ladies welcome Strathclyde University (12.00, Hillhead Sports Centre).

Finally, the Women's District Cup and Plate semi-finals will take place at Aberdeen Sports Village on Sunday.

Last year's beaten finalists Orkney will be aiming to reach the final for the third year running when they play East Kilbride A (10.00), while Shetland face Milne Craig Clydesdale Western IV in the second semi-final (12.00).

In the District Plate semi-finals, Grange EL B play Perthshire (14.00) and Kinross take on Hillhead II (16.00).

Scottish Hockey Union media release


---

Smith maps out Electric Ireland Women's Schedule

Electric Ireland Senior Women's Coach Darren Smith has mapped out the schedule for his Green Army as they prepare for the European Championships in Belgium in August and further out the Olympics in Rio in 2016. Smith has had a productive few weeks recently taking in the Electric Ireland Irish Senior Cup Final weekend and each round of the Irish Hockey League so far as he monitors and analyses the players available for the National Team. Smith has also utilised the games in the Irish Hockey League to meet with a number of IHL Club Coaches and to stress the close link between the IHL and the development of the Green Army Squad.

Smith will name a list of trialists following conclusion of this year's Irish Hockey League Finals for an International Trial that will take place from 24th - 26th May. Following this trial, a National Squad of approximately 24 players will be selected along with a group of athletes to train in a development squad in preparation for the European Championships in Belgium from 17th-25th August. The squad will warm up for the European Championships with test matches against South Africa, Scotland, Germany, Wales and Canada before they face Netherlands, Belgium & Belarus in Pool A at Boom in August.

Following the European Championships in mid-September, a 2013-2014 National & Development Squad will be named with the aim of allowing the National Coach to evaluate and move players in or out of both squad based on their analysed performances.

The Electric Ireland Irish Senior Women's Ireland's Summer Test series prior to the European Championships is as follows:

11th June 2013: Electric Ireland Irish Senior Women vs Scotland (Edinburgh)

12th June 2013: Electric Ireland Irish Senior Women vs South Africa (Edinburgh)

22nd June 2013: Electric Ireland Irish Senior Women vs Canada (Dublin)

23rd June 2013: Electric Ireland Irish Senior Women vs Canada (Dublin)

25th June 2013: Electric Ireland Irish Senior Women vs Canada (Dublin)

1st July 2013: Electric Ireland Irish Senior Women vs Wales (Belfast)

2nd July 2013: Electric Ireland Irish Senior Women vs Scotland (Belfast)

4th July 2013: Electric Ireland Irish Senior Women vs Scotland (Belfast)

5th July 2013: Electric Ireland Irish Senior Women vs Scotland (Belfast)

8th July 2013: Electric Ireland Irish Senior Women vs Germany (Dusseldorf)

9th July 2013: Electric Ireland Irish Senior Women vs Germany (Dusseldorf)

Speaking to hockey.ie, Electric Ireland Senior Women's Coach Darren Smith said "I've enjoyed watching the IHL over the past month. Seeing the top Ireland clubs matching up has seen some high quality hockey, I'm looking forward to seeing how it concludes because there is multiple potential winners. The other aspect which has been beneficial is creating a link with each IHL club, starting information sharing and talking hockey. I want this to continue."

Smith continued "I'm at Queens University in Belfast to take in the triple header on Saturday to get a chance to see Ballymoney, Lurgan and Pegasus against Quins, UCD and Loreto. This weekend's games are pivotal to the IHL so we will see a bit of pressure. This summer will be very important as we set our sights toward Rio 2016, plenty of tests, training and time together."

Irish Hockey Association media release


---

Officials confirmed for EHL Final Four



Christian Blasch (GER). Euro Hockey League / Frank Uijlenbroek

As usual, the Euro Hockey League not only features the best players but also many of the world's finest tournament officials, a trend that will continue at the forthcoming EHL Final Four event in Bloemendaal.

London Olympic umpires Hamish Jamson (ENG), Christian Blasch (GER) and Colin Hutchinson (IRL) will be joined by Francisco Vasquez Lopez of Spain and Scotland's Martin Madden, who officiated at KO16 Bloemendaal. The management of the umpires has been left in the extremely capable hands of Philip Schellekens, the Dutchman who had the same role at the London 2012 Games.

The officials for the final of the women's EuroHockey Club Champions Cup have also been confirmed. Yolende Breda (NED) takes the role of Umpires Manager, with Russia's Elena Eskina – who was also an official at London 2012 – and Michelle Meister of Germany taking charge of the all-Dutch contest between Den Bosch and Laren. 

The entire event will be overseen by experienced Tournament Director David Ellcock (ENG) with support coming from Technical Officer Wiert Doyer (NED), another well respected world level official who was Tournament Director at Round 1.2 East Grinstead.  A Full list of tournament officials for the EHL Final Four weekendercan be found below.

Tournament Director: David Ellcock (ENG)
Technical Officer: Wiert Doyer (NED)
Judge: John Taylor (WAL)

Umpires Managers
Men: Philip Schellekens (NED)
Women: Yolande Brada (NED)

Umpires
Men: Hamish Jamson (ENG), Christian Blasch (GER), Francisco Vasquez Lopez (ESP), Colin Hutchinson (IRL), Martin Madden (SCO)
Women: Elena Eskina (RUS), Michelle Meister (GER)

Video Umpire
Men: Andrew Kennedy (ENG)

Euro Hockey League media release


---

Hockey Australia begins search for CEO

Business acumen & exceptional leadership skills required

Hockey Australia has announced that they are looking for suitable candidates to fill the role of Chief Executive Officer. This unique opportunity involves stakeholder management, business acumen and exceptional leadership skills. More details can be found below.

Hockey Australia, in partnership with the State Hockey Associations, leads the sport from community participation to the elite level throughout Australia. You will be responsible for ensuring the future success of two of Australia's most successful national teams – the Kookaburras and Hockeyroos – and the development and growth of the sport at all levels.

The CEO, who reports to the elected Board, must drive the organisation to remain the widely acknowledged and respected, innovative world leader of Hockey that it is today. Your oversight of the high performance unit delivering its programs, your strengthening of stakeholder relationships (particularly with the Australian Sports Commission and State Hockey Associations), the re-signing of major sponsors and acquisition of new partners will determine your long term success as CEO. Other key tasks are to retain the excellent team of employees and maintain the existing inclusive, consultative culture that underpins the turnaround in performance of the National body.

A commercially astute, Senior Executive who has a track record of delivering outstanding results in a dynamic, fast paced environment is required. It is highly desirable that you demonstrate the capability to work effectively with high performance managers in an elite sport environment. Proven experience in managing complex, multi-layered stakeholder relationships, as well as a sound understanding of the governance and political nuances involved in a high-profile sporting organisation is essential. You will be rewarded not only financially, but also through the immense career and personal development that will flow from delivering successful change on both the local and world stages.

Complete information about the role including how to apply for the position can be found at the following link:

http://www.sportspeople.com.au/sp/position/PositionDisplay.asp?ID=23577

Hockey Australia media release