All the news for Wednesday 30 May 2012

Olympic contenders seek winning formula

IPOH: Olympic hockey contenders are struggling to find that elusive winning formula at the Sultan Azlan Shah Cup, their last chance to tune up ahead of the London Games. Other than unbeaten New Zealand, the six London-bound sides in the annual Malaysian tournament have been inconsistent at best, but coaches expressed confidence that they can work out the kinks and find their best line-ups. Britain, India, Pakistan, South Korea, New Zealand and Argentina have all qualified for the Olympic hockey competition, which begins in July, while hosts Malaysia have not.

But the play of the Olympic hopefuls has been a litany of missed chances, botched penalty corners and failure to execute game plans as they have sought to accustom themselves to the blue surface that will be also be used in London. "It is about learning to win matches and playing what you have been taught," said India's Australian coach Michael Nobbs. Nobbs had ripped into his team last week after they were crushed by 5-1 by the Kiwis on opening day last week, calling his defence "awful". The Indians are now joint second in the standings here along with Argentina, both having earned six points in four matches. "It is important that we put in practice what we have learned in training. Otherwise we face an uphill task against the bigger teams. In the Olympics you do not have the luxury of experimenting," he said.

India, who dominated Olympic hockey from the 1920s through 1950s, are making a return to the Olympics after missing the Beijing Games in 2008, and Nobbs is targeting a top-six showing. "We have not been playing to our ability in the four matches thus far and our form has been patchy to say the least," he said. Asian champions Pakistan also have been unpredictable in their matches, which included a 4-0 defeat at the hands of South Korea on Monday that triggered calls for the return of players such as Shakeel Abbasi and Rehan Butt. The pair were not selected for London since they were the subject of a disciplinary inquiry by the Pakistan Hockey Federation after playing in the World Series in India earlier this year. On Tuesday Abbasi and Butt were both fined Rs. 1 million, while six others were fined Rs. 250,000 each for their participation in the event.

Pakistan coach Khawaja Muhammad Junaid said the results in the Malaysian city of Ipoh should not be used to predict Olympic chances, adding there was time to iron out the team's problems. "We are experimenting, and when this happens at times the results become the topic of debate. Let us not look too much into the results but rather the performances of the players here," he said. "Why go back in time when we need to look forward. I believe that we are heading in the right direction." Jason Lee, the coach of Britain, the highest-ranked team in the field in Malaysia at world number four, also said teams should not be judged too harshly. "We are also using (Malaysia) to select our bat players and test our combinations. Thus the form will be affected depending on whom we play. I believe that this is a good testing ground for all six teams," he said. Britain is now joint third in the tournament with four points from three matches. No games were scheduled on Tuesday. Three more days of preliminary-round play remain before the finals on Sunday.

The Daily Times


---

Time Lady Luck sided Malaysia

COMING GOOD: Hosts looking to upset big names to prove they are still world class

By Jugjet Singh



Fitri Saari is showing signs that he will be the next Malaysian player to watch.

MALAYSIA'S world ranking does not reflect their true strength, as the unlucky 13th came about after a string of misfortunes and near-misses on the world stage.

Defeats in the Invercargill World Cup Qualifier to New Zealand (2-1) and against Pakistan (2-0) in the Asian Games sealed the senior team's fate.

And it was further compounded when they failed at the Dublin Olympic Qualifier as Malaysia handed the final ticket to South Korea on a 3-2 defeat.

New Zealand advanced to the World Cup, Pakistan to the Olympics and South Korea also to the Olympics -- courtesy of Malaysia's "well known hospitality" on the artificial pitch.

As a result, Malaysia will be stuck at unlucky 13th, as only teams who play in the World Cup, Olympics and Champions Trophy can break into the top-10 ranking.

In the ongoing Azlan Shah Cup, Malaysia yet again showed they have the stomach to challenge the best, but it is of no use.

The tournament does not offer International Hockey Federation (FIH) rankings as it is an Invitational which has survived 21 editions.

Britain, fourth, are followed by sixth-ranked South Korea, New Zealand (7th), Pakistan (8th), Argentina, (9th) and India (10th) as all of them have qualified for the Olympics and are assured of no lower than 12th after the tournament ends on July 27.

That is why the 1-1 draw against South Korea and the come-from-behind 3-3 draw against Britain should not be taken lightly but as a positive sign that Malaysia are on the rise.

The 3-2 defeat to India on Monday was also riddled with a tale of near-misses as Faizal Saari was on one of his "off" days.

The 20-year-old, who helped Malaysia win the Junior Asia Cup by scoring six goals, has placed more established strikers like Tengku Ahmad Tajuddin, Marhan Jalil and Hafifi Hafiz in the shade.

And his brother Fitri is also showing signs that he will be the next Malaysian player to watch.

Malaysia still have matches against Pakistan, New Zealand and Argentina with nine points at stake and must continue playing like they did against India.

The unlucky 13th might just turn out to be their lucky number in the Azlan Shah Cup if the three remaining opponents believe too much in rankings.

New Straits Times


---

Faizal just wants to have fun

And the only way he knows how is by scoring goals

by Vijhay Vick



FAIZAL: Scored three goals

IPOH: National forward Faizal Saari wants the team to shift their attention to their remaining matches in the ongoing Sultan Azlan Shah Cup.

Malaysia failed to defeat India despite their pre-match confidence. Tai Beng Hai's charges have three more games — against Pakistan, New Zealand and Argentina — in which to produce at least one win to avoid finishing bottom of the standings.

The match against the Pakistan offers Malaysia another chance to get three points and Faizal knows even that will be a tall order.

"We were disappointed not to have beaten India. We played well but they surprised us with back-to-back goals. I'm glad we responded well to that. But let's forget that match and concentrate on getting three points against Pakistan.

"It's not going to be easy but this team has matured since the Olympic qualifier debacle in Dublin a couple of months ago and the inclusion of some new blood has done us good," said Faizal.

The 21-year-old has been constantly hitting the back of the net at the Sultan Azlan Shah Cup, only failing to score against India as Muhammad Amin Rahim and Faizal's younger brother Fitri took over the goalscoring responsibility.

Having scored three goals in the opening two matches against South Korea and much-fancied Britain, Faizal wants to keep up his goalscoring form.

He was also the joint topscorer in the Junior Asia Cup a fortnight ago as his six goals in five matches saw Malaysia crowned champions for the first time.

"It was a proud moment, both winning the trophy and being the topscorer but how I perform with the national team will always be the talking point. I hope I can keep on scoring," he added.

Despite Malaysia being the only non-Olympic bound team in Ipoh, the players' performances have raised eyebrows. A win against Pakistan is not beyond them.

Pakistan opened their campaign with a 4-2 win over Argentina before suffering defeats to New Zealand and South Korea.

Malay Mail


---

Malaysia just want to avoid getting the wooden spoon

By AFTAR SINGH



Dangerman: Pakistan's penalty corner specialist Sohail Abbas is the player Malaysia must keep a close watch on during their Sultan Azlan Shah Cup encounter Wednesday.

IPOH: A porous defence was the cause of Malaysia's defeat to India on Monday.

The national team conceded two goals in the first 11 minutes of the match in their 3-2 loss.

Skipper and defender Mohd Shukri Abdul Mutalib admitted that they lost the match because of poor defending.

"We gave away the first goal in the ninth minute because junior player Norhizzat (Sumantri), who is making his debut with the national team, failed to clear the ball quickly.

"India scored their second goal two minutes later because none of the defenders ran to stop a direct hit from India's Shivendra Singh off a penalty corner," said the Sungkai-born Shukri, who has 153 international caps.

Besides Shukri and Norhizzat, the other defenders are Mohd Amin Rahim, Mohd Razie Abdul Rahim, Baljit Singh Charun and Mohd Noor Faeez Ibrahim.

The 26-year-old Shukri, who was named the national team captain for the first time, said they also failed to score from the chances they created in the first half.

"We failed to capitalise on the five penalty corners we earned in the match and only managed to score one goal through Mohd Amin Rahim," said Shukri.

Malaysia have two points from three matches and are lying at the bottom of the standings. They drew the first two matches 1-1 against South Korea and 3-3 against Britain.

Shukri said their hopes of qualifying for the final are virtually over although they have three more matches to play.

Malaysia will face Pakistan today before taking on New Zealand tomorrow and Argentina on Saturday.

Shukri said they faced a tough task against Pakistan, who have talented players with good dribbling skills.

"They definitely will be going all out to beat us to stay in hunt for a place in the final. We need to play a tight marking game against them. We also cannot afford to give away penalty corners as Pakistan have Sohail Abbas, who is regarded as the best penalty corner flicker in the world," said Shukri.

Malaysia lost to Pakistan the last time they met at the inaugural Asian Champions Trophy in Ordos, China, last September.

Shukri said they need to beat Pakistan to avoid finishing last in the tournament.

"The pressure will be on us and I hope my team-mates will rise to the occasion to register our first win in the tournament," said Shukri.

Malaysia finished last in the seven-nation tournament last year.

The Star of Malaysia


---

Off-form Sohail wants to get it right against Malaysia

IPOH: Pakistan's penalty corner specialist Sohail Abbas is the top scorer in world field hockey, having scored 329 goals. However, in the ongoing Sultan Azlan Shah Cup, the veteran defender seems to have lost his touch.

Skipper Sohail, who will turn 35 on June 9, has scored only one penalty corner goal in three matches.

That was in the first match against Argentina, which Pakistan won 4-2.

Against South Korea on Monday, Pakistan earned four penalty corners and Sohail failed to score from the three he took.

Sohail said he was disappointed over his failure to score in the last two matches.

"It happens in tournaments but I hope to get it right in the next match against Malaysia," said Sohail.

Pakistan coach Khwaja Muhammad Junaid said they cannot rely solely on Sohail for penalty corners in the Olympics.

"We need to have two other reliable players to take the penalty corners. We have Muhammad Irfan and Muhammad Tousiq, who I believe, will be ready for the Olympics," said Khwaja.

Pakistan, who have won the Azlan Shah Cup three times, are struggling in the tournament as they are here without seven experienced players.

They have one win in three matches. They lost to New Zealand 3-1 and were outplayed by South Korea 4-0.

Pakistan suspended the seven key players for featuring in the controversial World Series League in India last month. The League was not approved by the International Hockey Federation (FIH).

The seven are former national skipper Shakeel Abbasi, Rehan Butt, Waseem Ahmed, Zeeshan Ashraf, Tariq Aziz, Imran Warsi and Adnan Maqsood.

Pakistan, four-time world and three-time Olympic champions, have seen their hockey standard going downwards over the years. They ended in their worst-ever position – eighth – at the 2008 Beijing Olympics.

They finished 12th and last in the 2010 World Cup in New Delhi but, surprisingly won the Asian Games gold medal in China the same year to win an automatic berth to the London Olympics in July.

Khawaja said they might play in the Olympics without the seven players.

"It will be tough without them but we must have faith in the juniors," said Khawaja.

The Star of Malaysia


---

No more action for Britain's Tindall after twisting ankle

IPOH: Britain's James Tindall became the second player to be ruled out of the Sultan Azlan Shah Cup hockey tournament.

The 29-year-old Tindall, who has 187 international caps, twisted his ankle in the match against India on Sunday.

Hilton Blair of New Zealand was ruled out on the eve of the tournament after having to undergo appendicitis surgery at a private hospital here on May 23.

New Zealand called up Shay Neal to replace Blair.

Britain's coach Jason Lee said it was unfortunate that the experienced Tindall suffered the injury.

"He is definitely out of the tournament and we will play the remaining matches with just 17 players. We will miss his services but it will not affect our performance as we have other capable players to replace him," said Lee.

Top seeded Britain, have four points from one win, a draw and a defeat.

Britain drew 3-3 with Malaysia in their opening match before defeating India 3-2. They were stunned 3-2 by Argentina.

Lee, however, was annoyed with his players' performance in the match against Argentina.

"We did not play to our true form and also did not create chances in the first-half. We are the highest ranked team in the tournament and our mission here is to reach the final," said Lee.

Britain will take on table-toppers New Zealand today.

New Zealand, ranked seventh in the world, are in top form having won their first three matches convincingly.

The Kiwis outplayed India 5-1 and Argentina 5-2 before defeating Pakistan 3-1. They have scored 13 goals and conceded only four.

Lee said the Kiwis are playing well and will pose a threat to their quest of reaching the final.

"We hope to bounce back from our defeat to Argentina to get the better of the Kiwis," said Lee.
---

Shivendra doubtful for Argentina match

IPOH: Striker Shivendra Singh may miss Wednesday's game against Argentina with a hamstring niggle. The injury couldn't have come at a worse time as India can ill-afford any slip-up in their crucial match against the Pan American champions if they want to keep themselves in contention for a berth in the final of the Sultan Azlan Shah Cup hockey tournament at Ipoh.

India carved out a 3-2 victory over hosts Malaysia on Monday to take their points tally to six from four matches, the same as that of Argentina, who will go into Wednesday's match with two impressive performances in the last outings, including a shock 3-2 win over favourites Great Britain. The wins have brought both the teams back in contention for a medal.

A victory over Argentina and against Pakistan in the last league fixture on Thursday could take India to the final but it won't be an easy road ahead for Michael Nobbs' players. "Shivendra has a minor hamstring injury and it may take a couple of days to fix. He may not play if it doesn't improve sufficiently. He will be subject to another fitness test tomorrow to see whether he is fit to play," Nobbs said. "We played him against Malaysia until we had three goals up and then he was rested. He scored a goal yesterday and set up another so he is an important part of the forwardline."

Nobbs said he had told his players that they were again in control of their destiny and must make the best out of the two remaining league outings. "The tournament is wide open. Big victories in our two remaining games could even get us a place in the final," said Nobbs.

But that is easier said than done. "With Shivendra doubtful and without Gurvinder Chandi, it limits our potency in front of goals. The game will be tough as Argentina have been getting better each game and like us it seems match practice at this level is crucial to their Olympic preparations," he added.

The Times of India


---

Koreans exposed Greenshirts' weaknesses: Manzoor

LAHORE: Former Olympian Manzoor Junior reckons that South Korea's 4-0 humbling of Pakistan has laid to bare the green-shirts' weaknesses ahead of the Olympics.

"The South Koreans have exposed the weaknesses of the side which is preparing to compete in the Olympics which are now just two months away," Manzoor told reporters here on Tuesday.

"So far, Pakistan have conceded nine goals in three games which is a clear indication of how fragile our defensive line is.

"After the opening victory against Argentina [4-2], the team should prepared for greater tests and what has panned out since is alarming."

Pakistan lost to New Zealand 3-1 in their second game of the tournament on Sunday.

Manzoor added that even the inclusion of Shakeel Abbasi and Rehan Butt in the national side would be of no help.

"The presence of Shakeel and Rehan will not improve the team performance as both of them are past their prime," he said.

Manzoor is of the view that Pakistan's former Dutch coach Michel van den Heuvel saved his skin by creating situations that forced the PHF to sideline him and eventually it will be Akhtar Rasool who will face the consequences despite having had very little time in-charge of the team.

"Although Akhtar, his assistant Khawaja Junaid and goalkeeping coach Shahid Ali Khan have been working with the national team for several days, no one can bring immediate changes in such a shot period of time that they have had at the helm," he said.

Manzoor also said that the decision to appoint Sohail Abbas as the skipper was a wrong one as he too is a spent force.

Meanwhile, national junior team coach Danish Kaleem expressed his disappointment over the humiliating defeat citing the newly-introduced blue turf as the reason for the team's lacklustre performances.

Dawn


---

Black Sticks women upset China in Beijing

The New Zealand women's hockey team have started their series against China with a last-gasp 2-1 victory in Beijing.

Striker Katie Glynn deflected in the winning goal with less than three minutes on the clock, after the teams had gone to the halftime break locked at 1-1.

Black Sticks coach Mark Hager said it was a gutsy victory against the Chinese, who are ranked one place higher than the sixth-ranked Kiwis.

"It was a hard fought game but we were inconsistent and pretty patchy. We need a complete 70-minute effort in the next match," said Hager.

The home side opened the scoring in the 10th minute from a penalty corner before the Kiwis responded a minute later.

Speedster Anita Punt broke through the midfield and in a superb solo effort smashed a reverse shot into the goal.

Glynn's goal came from a great shot from captain Kayla Sharland which Glynn deflected in to give the Kiwis the late victory.

Hager was particularly impressed with the efforts of Sharland and Punt overnight (NZT).

The Black Sticks face China again tonight (NZT) in the second of three tests.

Stuff


---

Gutsy win for Black Sticks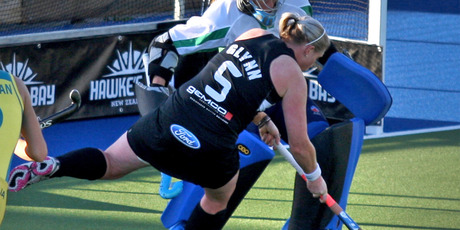 Katie Glynn scored the winner for the Black Sticks. Photo / Natalie Slade

The New Zealand women's hockey side started their series against China with a 2-1 victory in Beijing last night.

The match was level 1-1 before striker Katie Glynn deflected in the winning goal with less than three minutes on the clock.

Black Sticks coach Mark Hager said it was a gutsy victory against the Chinese, who are ranked one place higher in the world than the sixth-ranked Kiwis.

"It was a hard-fought game but we were inconsistent and pretty patchy,'' Hager said. "We need a complete 70-minute effort in the next match.''

The home side opened the scoring in the 10th minute from a penalty corner before the Kiwis responded a minute later when speedster Anita Punt broke through the midfield and effort smashed a reverse shot into the goal.

Glynn's deflected in a strong shot from captain Kayla Sharland which gave the Black Sticks the late victory.

They face China again tonight (NZT) in the second of the three-test series.

New Zealand 2 (Anita Punt, Katie Glynn) China 1. HT: 1-1

The New Zealand Herald


---

Hockeyroos Set To Face Great Britain

The Hockeyroos are in London preparing to face Great Britain in the first of two test matches tomorrow and are keen to impress with Olympic selection looming.

A squad of 20 players will also compete in the London Investec Cup between June 5-10 and play a further two test matches against Germany.

The Olympic team will be announced shortly after the athletes arrive home from Europe in mid-June.

Head Coach Adam Commens said selection over the last 12 months had been difficult and competition for spots in the Olympic team was fierce.

"This tour will give us the chance to see how players perform under selection pressure against some of the top nations in the world,'' he said.

At the London Cup, in their pool, Australia will face world number one the Netherlands and Ireland, while Germany, Great Britain and South Africa are on the other side of the draw.

SQUAD SELECTED:

Teneal Attard(QLD), Madonna Blyth(QLD), Fiona Boyce(WA), Jade Close(NSW), Toni Cronk(NSW), Casey Eastham(NSW), Anna Flanagan(ACT), Jordyn Holzberger(QLD), Kate Jenner(NSW), Kobie McGurk(WA), Jacklyn McRae(NSW), Claire Messent(VIC), Hope Munro(WA), Georgia Nanscawen(VIC), Ashleigh Nelson(WA), Megan Rivers(NSW), Jodie Schulz(QLD), Emily Smith(NSW), Jayde Taylor(WA), Ashlee Wells(VIC).

Hockey Australia media release


---

Scots set for Spanish tests in Terressa

Scotland Senior Men begin their preparations for participation in September's FIH World League I with three international matches against Olympic contenders Spain from 2-5 June.

Two new caps are included in the squad; Callum Duke (Edinburgh University) and Ian Moodie (Western Wildcats), whilst National League Division 1 champions Glynhill Hotel Kelburne provide a third of the eighteen player party selected, including Player of the Year Alan Forsyth and Young Player of the Year Michael Bremner. Ex-Buddies Gordon McIntyre and Kenny Bain also feature. Niall Stott remains with Great Britain as selection for the London 2012 Olympic Games approaches.

Discussing the matches this weekend, Eugene Connolly, Scotland Manager, said:

"Our long term aim is to start building a squad to achieve success in the European competitions next summer and the Commonwealth Games in 2014. With the loss of GB players, such as Niall Stott, and retirals of other players, the squad lack experience so new faces are needed and playing top teams such as Spain will aid their knowledge and experience."

"The new caps are Callum Duke and Ian Moodie. Duke has had a good season with Edinburgh University and is now fit after some injury issues in recent years. He is now worth a place in midfield, whilst Moodie has done well in junior sides and with Western Wildcats, as well as having a pedigree."

For hosts Spain, the matches this weekend provide vital game time as they prepare for participation at the London 2012 Olympic Games. The Spaniards will face hosts Great Britain, Australia, Pakistan, Argentina and South Africa in the preliminary pool matches in London.

The trip to Terressa also marks the first of two international weekends in June for the Scots, with the squad due in Stirling to play England A at Forthbank on weekend of 9th/10th June. With Scotland travelling to Portugal in September for the inaugural FIH World League I, the forthcoming internationals will provide Scotland's coaching and management team with plenty of food for thought:

"Our target for this weekend is really to compete, as Spain are a settled side with top players and are preparing for London so we are well behind them in terms of practice. Also with a new coach, a great deal can be learnt by both players and management about his style, tactics and organisation", said Connolly.

"This week allows players to show if they are ready to step up to international level and to add to the depth of the pool of players available. There are opportunities for young players and it is now up to them to take their chance."

Scotland Senior Men: Jamie Cachia (Sheffield HC), Allan Dick (Holcolme HC), Michael Bremner, Iain Scholefield, William Marshall, Chris Nelson, Alan Forsyth, Gareth Hall (all Glynhill Hotel Kelburne), Wei Adams (AMN Hillhead), Dan Coultas (Durham University), Gordon McIntyre (Beeston), Chris Grassick (Inverleith), Callum Duke (Edinburgh University), Kenny Bain (THC Hurley), Fergus Dunn (Surbiton), Gavin Byers (Grove Menzieshill), Ian Moodie (Western Wildcats), Russell Anderson (Brooklands).

Scottish Hockey Union media release


---

Ghana To Host World Series League Round 1

After successfully hosting continental tournaments since the construction of the National Hockey Stadium, Ghana has been offered another opportunity to host the continent in an International Hockey Federation (FIH) World Hockey Series Round 1 tournament. The newly introduced World Hockey Series Round 1 tournament which is a 4 round tournament to be played until 2014 is designed to ease the ranking of teams and give more playing opportunities to hockey playing nations. Also, it serves as a qualifier for the Commonwealth Games and Olympic Games from 2014 based on the ranking.

The continental tournament is scheduled to take place from September 7-9, 2012 at the National Hockey Stadium in Accra. The competing nations include; Ghana, Egypt, Nigeria and Zimbabwe in both men and women categories.

This is yet another opportunity for our Senior National teams (men& women) to exhibit their prowess and battle it out with 3 nations to qualify for Round 2 of the tournament. Also to showcase Ghana's sporting infrastructure, hospitality and rich culture on the world map and once again, putting to good use the modern facility built with the tax payers' money.

Much as the government of Ghana is supporting this event, we wish to invite corporate Ghana, individuals and sports loving people to massively support this worthy cause for a successful tournament. We are very hopeful that the teams are going to make the sport and Ghana proud by playing their hearts out and qualifying to the next round of the tournament. We hope that when the time comes the good people of Ghana will rally behind team Ghana to collectively win the tournament.

The National Under 21 teams (men & women) have started preparations towards the Junior Africa Cup scheduled for October 2012 in South Africa. The tournament is a qualifier for the Junior World Cup in India, 2013.

GhanaWeb


---

Pakistan fines WSH players

The Pakistan Hockey Federation received instructions regarding Sanctioned and Unsanctioned events being staged all over the world in hockey playing countries, which were ultimately circulated to all affiliated units for strict compliance in Pakistan. Following Pakistani players have contractual obligations with M/s. NIMBUS who organised World Hockey Series in India, which was declared by the FIH as "Unsanctioned":-

M/s. Rehan Butt, Waseem Ahmed, Zeeshan Ashraf, Shakeel Abbasi, Imran Warsi, Adnan Maqsood, Tariq Aziz and Mudassar Ali Khan.

It was very alarming for the PHF and PHF immediately informed FIH about these players. Over and above, PHF forwarded this case to PHF Disciplinary Committee to probe and investigate into the matter and forward recommendations for President PHF. In the meantime, PHF issue Show Cause Notices to all the players who took part in the unsanctioned event. The replies to the Show Cause Notices are still awaited.

PHF Discipline Committee called all the players on 7th May 2012. The players appeared before the Committee are Rehan Butt, Waseem Ahmed, Zeeshan Ashraf, Shakeel Abbasi and Tariq Aziz. Imran Warsi, Adnan Maqsood and Mudassar Ali Khan did not appear before the Committee for unknown reasons.

The Committee demanded from the players their original contract/documents with the NIMBUS and record of first payment received. All of them provided the required record except Imran Warsi being out of country.

The recommendations of the PHF Discipline Committee have been received and President PHF has approved the recommendations as under:-

1. M/s. Shakeel Abbasi and Rehan Butt have been fined one million rupees (US$10 711 / GB£ 6 825 / €8 521) each as they preferred money over the PHF and national cause, as both of them were earmarked for the national team, which is preparing to take part in the London Olympics. They not only violated PHF Constitution/FIH Bye-Laws but have brought embarrassment to the nation.

2. Rest of the players who participated has been fined Rs. 2.5 lakhs (UD$2 677 / GB£1 706 / €2 130) each.

3. If the players do not pay the fine imposed will be banned to participate for a period of one year in national/international hockey activities.

According to PHF Constitution, the players have the right to appeal to President PHF within seven days from date of issue of this letter

PHF MEDIA DEPARTMENT


---

PHF imposes monetary fines on 'rebel' players

KARACHI: The Pakistan Hockey Federation (PHF) has imposed fines on eight players who participated in the World Hockey Series (WSH) in India, DawnNews reported.

A four member committe formed by the PHF for the inquiry into the WSH led by Wasay Jalil has imposed monetary fines on the 'rebel' players.

Shakeel Abbasi and Rehan Butt have been fined Rs 1 million each while Mudassir Ali Khan, Tariq Aziz, Adnan Maqsood, Imran Warsi, Waseem Ahmed and Zeeshan Ashraf will have to pay Rs .25 million each.

They can appeal within the next seven days.

The players who have been fined were involved in the Indian revel league which was not approved by the International Hockey Federation (FIH).

Previously, it was indicated by the PHF that the players maybe banned for a year and as a result, miss out on playing at the Olympics but with this recent development, there are chances that they might play for Pakistan in London.

Dawn


---

PHF slaps heavy fines on Abbasi, Butt for playing in World Series Hockey

ISLAMABAD: The Pakistan Hockey Federation has fined Olympian Shakeel Abbasi and forward Rehan Butt $10,100 each for participating in the World Series Hockey (WSH) in India.

Six other Pakistan players - Waseem Ahmed, Zeeshan Ashraf, Imran Warsi, Adnan Maqsood, Tariq Aziz and Mudassar Ali Khan - were fined 250,000 rupees ($2,700).

The PHF said in a statement on Tuesday that the World Series Hockey was an unsanctioned event and the players could not participate in it.

The players were warned to pay the fines or they will be banned from national and international events for one year. They have seven days to appeal.

The Times of India