All the news for Thursday 16 May 2013

Black Sticks play out absorbing stalemate



Goal scorer Andy Hayward gets congratulated. Photo courtesy www.photosport.co.nz

An entertaining 70 minutes of hockey between the Black Sticks Men and Korea has ended with a 1-1 draw in the second test at Rangitoto College today.

After being rested in the first test, drag flick expert Andy Hayward made an immediate impact for the Black Sticks after sending a 13th minute penalty corner low and inside the left post to give New Zealand the early advantage.

The Koreans were quick to respond though, levelling the score 10 minutes later through a Nam Yong Lee field goal.

Both sides played well on both sides of the ball throughout the second half but couldn't deliver a deciding goal.

Head coach Colin Batch said he was impressed with the high level today's game was played at and that the progression from game one was significant.

"We made a big step forward today, we matched them and created a lot of opportunities. We're learning fast and that's the really pleasing part," Batch said.

"With the ball we grew in stature and that was a focus for us. We threw the ball away too often in the first test.

"There were some good performances from individuals who stepped up and we want to continue that growth throughout the series."

The Black Sticks are back in action on Saturday when the third test heads south of Auckland to Counties at 3pm. Arun Panchia will play his 100th international game if he gets out onto the turf.

Earlier in the day the Korea U21 Women's side defeated the New Zealand 'A' Women 4-2 in a curtain raiser for the Black Sticks clash.

Capital forward Kat O'Kallaghan scored the first goal of the game to put New Zealand in front but the Kiwis faded and conceded three unanswered goals. Jordy Grant scored late in the second half but it was too late to affect the final result.

To find out more on the Korea series, CLICK HERE

RESULTS

Black Sticks 1: (Andy Hayward)
Korea 1: (Nam Yong Lee)
Halftime: 1-1

New Zealand 'A' Women: 2
Korea U21 Women: 4
Halftime: 1-1

Hockey New Zealand Media release


---

Black Sticks draw with Korea again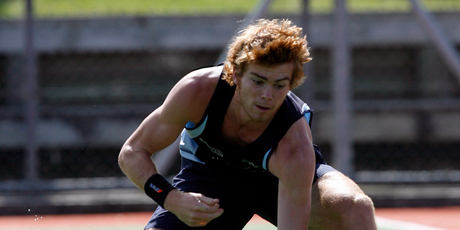 Andy Hayward of the the Black Sticks. Photo / Dean Purcell.

New Zealand and Korea finished all square for the second time in three days in their second hockey international at Rangitoto College today.

The game ended 1-1, the same scoreline as on Tuesday.

New Zealand went ahead through a strong penalty corner shot from Andy Hayward, low to the right of Korean keeper Myung Ho Lee after 13 minutes.

Attacker Nam Yong Lee equalized for Korea 12 minutes before halftime.

New Zealand shaded Korea overall and produced a more cohesive performance than in the series opener, creating several scoring chances.

The third game in the six-match series is at Pukekohe on Saturday.

In the curtain raiser Korea's under 21 women beat New Zealand A women's team 4-2.

The New Zealand Herald


---

Black Sticks draw with Korea on North Shore



CLOSE ENCOUNTER: Black Stick Isaac Staples and Korea's Moon Kyu Kang in action on the North Shore today. MICHAEL BRADLEY/Fairfax NZ

The Black Sticks Men have played out a 1-1 draw with Korea this afternoon.

After being rested in the first of six tests two days ago, drag-flicker Andy Hayward scored a 13th minute penalty corner which would eventually earn the draw on Auckland's North Shore.

The Koreans were quick to respond, levelling 10 minutes later through a Nam Yong Lee field goal.

New Zealand coach Colin Batch said he was pleased with the performance of a side needing to pick itself up, describing it as "a big step forward". He inherited the national men's team after a poor Olympic campaign at London 2012.

"We matched them and created a lot of opportunities. We're learning fast and that's the really pleasing part," he said.

"With the ball we grew in stature and that was a focus for us. We threw the ball away too often in the first test.

"There were some good performances from individuals who stepped up and we want to continue that growth throughout the series."

The Black Sticks are back in action on Saturday for the third test.

Stuff


---

National Development Squad add to action




The Black Sticks Men aren't the only New Zealand team taking on Korea over the next 10 days, our junior women are also testing themselves against the Korean Under-21s.

A 'New Zealand-A' team will play two games and the newly named Junior Black Sticks Women's Squad will play five games.

"This is a great opportunity for our juniors to play an international game. They don't get that often, so it's great for their development," says national assistant coach Greg Nicol.

The team is made up of National Development Squad players, Under-21 players and a handful of Black Sticks.

The Koreans have won two Junior World Cups, and Nicol says they have a strong history of producing successful junior teams.

"This series is a good marker for our players to see where they are at and what improvement is required ahead of this year's Junior World Cup."

The Women's Junior World Cup is being held on the 27th July in Germany and a team will be named in the last week in May. You can help support the Junior Black Sticks by purchasing a 2013/2014 Black Sticks Calendar - $25 including postage and packaging. CLICK HERE

There are 10 players in the Women's National Development Squad and players attend most National Squad training sessions. Nicol says the close alignment with both programmes makes it an easier transition for development players to make the national side.

Below is the match schedule and the team/squad lists. All games are free to attend, other than the game on Sunday 19 May.
| | | | |
| --- | --- | --- | --- |
| Korea U21 vs NZ Development | Thursday 16 May, Midday | Rangitoto College, Mairangi Bay | |
| Korea U21 vs NZ Development | Friday 17 May, Midday | Rangitoto College, Mairangi Bay | |
| Korea U21 vs NZ Under-21 | Sunday 19 May, 1pm | Counties Manukau, Beresford Street, Pukekohe | |
| Korea U21 vs NZ Under-21 | Monday 20 May, Midday | Auckland Grammar School, Normanby Road, Mt Eden | |
| Korea U21 vs NZ Under-21 | Wednesday 22 May, 4.30pm | Papatoetoe Sports Centre, Sutton Crescent | |
| Korea U21 vs NZ Under-21 | Friday 24 May, 11am | Papatoetoe Sports Centre, Sutton Crescent | |
| Korea U21 vs NZ Under-21 | Saturday 25 May, 9.30am | North Harbour Hockey, Paul Mathews Drive | |
Hockey New Zealand Media release


---

EHL Final4 Profile: Rot-Weiss Köln




The all-stars of Rot-Weiss Köln have qualified for EHL Final Four for the first time in their history, and will be looking to make the most of their opportunity here in Bloemendaal this weekend.

Köln have one of the strongest squads in the competition, with numerous stars of German hockey past and present ready for action. Olympic Gold medallists Tibor Weissenborn, Benni Wess and sensational forward Christopher Zeller were star performers during KO16 Amsterdam, helping the team battle to narrow wins over Belgium's Royal Leopold HC and fellow Germans HTC Uhlenhorst Mülheim. Another player to watch is Marco Miltkau, the former UHC Hamburg striker who has scored six times this season to sit second in the EHL Top Scorers table.

Köln come into EHL Final Four in magnificent form, having produced stunning away victories at current German league leaders Harvestehude and triple Euro Hockey League champions UHC Hamburg. 

EHL 2012-13 - RESULTS SO FAR ...
R1 (Pool H) vs Glynhill Hotel Kelburne (SCO) - Won 8-1 
R1 (Pool H) vs AHTC Wien (AUT) - Won 12-1
KO16 vs Royal Leopold (BEL) - Won 3-2
KO8 vs HTC Uhlenhorst Mülheim (GER) - Won 3-2 (AET)

In-form Rot-Weiss Köln face KHC Dragons of Belgium in the Semi Finals of the Euro Hockey League. The two teams go head-to-head at Bloemendaal on Saturday 18th May, with the winner facing either HC Bloemendaal (NED) or Amsterdam H&BC (NED) in the tournament Final, which takes place on Sunday 19th May. Tickets for the event can be purchased in the Tickets section of www.ehlhockey.tv, the official website of the Euro Hockey League.

Euro Hockey League media release


---

Irish clubs in Europe




Both Railway Union and UCD head off to Antwerp and Sicily respectively this week in the quest for European glory to add to their silverware this season. Railway won the Irish Senior Cup and Jacqui Potter earlier this year and added to their trophy cabinet by clinching the Irish Hockey League only two weekends ago. UCD finished the domestic season as Leinster League Champions but a number of injuries to key players, added to the impressive form of other teams, meant they ended the season disappointed not to win an Irish competition.

Irish hockey talked to both teams on the eve of their departures.

RAILWAY UNION

Railway travel to Belgium and compete in the Eurohockey Women's Club Champions Trophy. After winning last year's IHL Competition they were set to compete in this year's Club Champions Cup, the women's equivalent of the IHL. However, this failed to come to fruition, as coach Mick Mckinnon explains:

"The EHF re-structured the tournament after the qualifying period meaning that we are still in tier 2 of Europe. Will be a harder tournament than it has for the past 2 years as the EHF have re-jigged the structure meaning we get the English and Spanish number 2 seeds, as well as the current Belgian champions. It's disappointing but the tournament has some top teams so it's an exciting challenge for us."

"Our key game is likely to be our opener against the Spanish. We also play tough teams from Ukraine (MSC Sumchanka) and Belarus (HC Victorya Smolevichi)."

Mckinnon is looking forward to the trip and has a full squad to pick from:

"The squad is shaping up nicely. Emer Lucey is still recovering from the injury she sustained in the first minute of the IHL final, but trained a bit last night and should be good to go."

"There is a baggage handling strike at airport so we may be playing with borrowed gear!"

For more details of the teams and schedule click here.

UCD

UCD travel to Italy and compete in the Eurohockey Women's Club Champions Challenge I. Despite being a tier down from the Champions Trophy, the tournament welcomes top sides to compete, including Scottish side Grove Menzieshill and last year's Belgian Champions Royal Wellington. Indeed, the latter side contains several Belgian internationals that competed in the London Olympics, including Jill Boon and Gaille Valcke. UCD's third pool game against Wellington will most likely be their toughest test, but player/manager Hannah De Burgh Whyte is confident the squad can do well:

"Thankfully after some injuries at the latter end of the season we are able to select from a full squad which means the likes of Nicola Gray, Niamh Atcheler , Sarah Greene and Brenda Flannery return to action and will no doubt bolster our defensive line."

"This will allow players like Jeamie Deacon and Leah Ewart to move forward into the midfield line and have an impact in attack."

"We will need everyone on top form to do well in the tournament, and hope that our strong forward line continues to convert their chances."

International trio Nikki Evans, Anna O'Flanagan and Chloe Watkins scored 14 goals between them in this year's IHL, and O'Flanagan topped the Leinster league charts this season with 25 goals, 9 ahead of her nearest rival and team-mate Evans. Coach Johnny Harte will certainly hope their fine form in front of goal continues on the European stage.

For more details of the teams and schedule click here.

Congratulations must also go to Irish Umpire Alison Keogh who will travel to Sicily for the Club Champions Challenge I, and to Linda Ingram, who will travel to Sicily as a Tournament Judge.

Everyone in Irish Hockey wishes all involved the very best of luck.

Irish Hockey Association media release


---

U.P. to face Karnataka

Ashwin Achal



GOOD SHOW: Punjab's Balwinder Sngh (right) scores against Jharkhand in the senior National hockey championship in Bangalore on Wednesday. Photo: G.P. Sampath Kumar

Though Mumbai had scored 21 goals against Manipur in its final league fixture, its team management demanded more.

On Wednesday, the team management proved right. Twenty-one goals were not enough. On the last day of league matches in the senior National hockey championship, Uttar Pradesh needed to defeat Manipur by a 13-goal margin to enter the final at Mumbai's cost.

The Central-Zone champion posted a 19-2 win, and advanced because of its superior goal-difference.

Uttar Pradesh will now face Karnataka in the final of the Rangaswamy Cup on Thursday, while Mumbai will take on Punjab in the third-place playoff match. The results: Uttar Pradesh 19 (Imran Khan 5, Prem Kumar 5, Diwakar Ram 3, Abhishek Singh 3, Pramod Kumar 2, Farogh Alvi) bt Manipur 2 (P. Priyokumar, S. Bidyakumar); Punjab 6 (Sanjeev Kumar 2, Satwinder Singh 2, Balwinder Singh 2) bt Jharkhand 0.

League standings (goal difference in brackets): 1. Karnataka 11 points (+6), 2. Uttar Pradesh 10 pts (+26), 3. Mumbai 10 pts (+21), 4. Punjab 9 pts (+9), 5. Jharkhand 3 pts (-19), 6. Manipur 3 pts (-46).

The Hindu


---

UP maul Manipur to storm into final

BANGALORE: Uttar Pradesh mauled minnows Manipur 19-2 on Wednesday to set up a title clash with hosts Karnataka at the National Hockey Championship for the 64th Rangaswamy Cup.

At the KSHA stadium on Wednesday, Imran Khan was the annihilator as the striker pumped in six goals, including a hat-trick , as UP marched into their third final since the Nationals began in 1928. They had the finals in 1956 and 1960, but were defeated by Services on both occasions.

Besides Imran, the other notable scorers for UP were Prem Kumar (five) and Abhishek Singh, who scored four including a hat-trick .

UP, who needed to win the their last league match with a minimum margin of 13 goals to edge out West Zone champs Mumbai on goal difference, went on the rampage against Manipur, slamming home as many as 14 goals before the breather. They added five more in the next session.

The Times of India


---

Murray treble salvages draw for Paragon

Nigel Simon

Kiel Murray scored a hat-trick to earn Paragon a 5-5 draw with Defence Force in the battle of second placed teams in the T&T Hockey Board Men's Championships Division at the National Hockey Centre, Tacarigua on Saturday night. Going into the match, both teams trailed three-time reigning champion, Petrotrin (15 points), by three points and were desperate for a win to keep pace with the front-runner.

Paragon was first to score when Murray netted in the tenth minute but from the resulting restart, former national player Neil Lashley drew the "Teteron Men" level.

The early goal rush continued in the 12th minute when another of Paragon's national players' Cogie Butler restored his team's lead at 2-1 only for his national team-mate, midfielder Marcus James to reply for Defence Force a minute later followed by Anthony Morales go-ahead item in the 18th to put the latter ahead for the first time at 3-2.

With defence seemingly a secondary matter for both teams, Murray fired in his second of the match in the 24th for Paragon to get back on even terms at 3-3, however, Defence Force went into the half-time interval, 4-3 ahead thanks to Shane Legerton's 32nd field goal. Within four minutes of the resumption, Butler scored  to level the score at 4-4 and with half-an-hour left the it was still anybody's guess as to who would take all three points.

In the 45th minute, Defence Force made another claim via Morales' second strike of the match, for a 5-4 advantage, but eight minutes later, Murray registered his third item of the match to complete his hat-trick and level the score for the fifth and final time in the match to earn his team a share of the points. The drawn result left both teams on 13 points, but while Defence Force has played six matches, Paragon and leaders Petrotrin have played five.

Also at Tacarigua, former league champions, Queen's Park moved into fourth on the eight-team table with nine points from four matches after a 2-0 shut-out of Malvern, with Nicholas Camacho (38th) and Guyana's Jerazano Bell (52nd) on target. Over at the Dwight Yorke Stadium, Training Field in Bacolet, Corona Fatima came from behind twice to earn a 2-2 draw against Paradise, securing both teams their first points of the season.

In the Women's Championship Division, Shandy Carib Magnolias and Paragon picked up contrasting victories. Over at Bacolet, former T&T standout, Stacey Siu Butt converted a 56th minute penalty stroke past national goalkeeper Jeanelle Carrington to hand Magnolias a 1-0 win over Paradise, its second win from three matches to join Harvard Maritime Checkers on six points.

Paragon moved into second spot with seven points from three matches, two adrift of unbeaten leaders and reigning champions, Notre Dame after clobbering Ventures, 8-1 led by two goals each from Pauline Joseph, Kristin Thompson and Zene Henry, and one apiece by Keima Gardener and Danielle Thompson. Samantha Kissoon got Ventures' consolation item seven minutes from full-time.

In the Trinity Men's Division, Paradise slammed Fatima 5-1 to join Paragon on ten points, two behind the trio of Queen's Park, Malvern and Notre Dame, who are yet to drop points.

However, in the Trinity Women's title race, the Dames (12 points) enjoys a two-points lead over Defence Force, Magnolias and Checkers. On Saturday, Defence Force trounced Petrotrin 5-0  while the Dames whipped the "Teteron Women", 4-2 a day later.

Carib (12 points) opened a three points gap at  the top of the Mixed Veterans standings after it won by default from Notre Dame while Queen's park moved into second after spanking Petrotrin 6-2 led by a double from Gary Griffith. Fatima dropped into a two-way tie with Queen's Park on seven points each after it was held 2-2 by Paradise in the Under-19 Boys competition, and Magnolias improved to maximum nine points, three more than Notre Dame, Paragon and Malvern in the Under-19 Girls after its 5-0 demolition of Paradise.

Results
Friday
Mixed Veterans
QPCC 6 (Azad Ali 3rd, Gary Griffith 5th, 6th, Raphael Govia 29th,  Wendell Newallo 50th, Andre Atall 34th) vs Petrotrin 2 (K. Issac 20th, 24th).

Carib 3 vs Notre Dame 0 - By default.

Saturday
Men's Championship
Fatima 2 (Colin Young 34th, Ishmael Campbell 42nd) vs Paradise 2 (Vernel Rivers 14th, Duane John 23rd).
QPCC 2 (Nicholas Camacho 38th, Jerry Bell 52nd) vs Malvern 0.
Paragon 5 (Kiel Murray 10th, 24th, 53rd, Cogie Butler 12th, 39th) vs Defence Force 5 (Anthony Morales 18th, 45th, Neil Lashley 10th, Marcus James 13th, Shane Legerton 32nd).

Women's Championship
SC Magnolais 1 (Stacey Siu Butt 56th) vs Paradise 0.
Paragon 8 (Pauline Joseph 11th, 26th, Kristin Thompson 17th, 46th, Zene Henry 35th, 69th, Keima Gardener 50th, Danielle Thompson 66th) vs Ventures 1 Samantha Kissoon 63rd).

Trinity Men
Paradise 5 (Jarel Thompson 2, Omari Brathwaite, Desmond Archer, Karl Stephens) vs Fatima 1 (Shane Newallo).

Trinity Women
Defence Force 5 (Summer Hector 20th, 23rd, 25th, Wynette Campbell 35th, Joanne Scipio 64th) vs Petrotrin 0.

U-19 Boys
Paradise 2 (Nave Roach, Omari Brathwaite) vs Fatima 2 (Jordan Vieira 2).
QPCC 3 (Zachary Clarke 35th, 65th, Gervais Dos Santos 8th) vs Carib 0.

U-19 Girls
Magnolias 5 (Brianna Govia 2, Kaitlyn Olton 2, Saarah Olton) vs Paradise 0
Paragon 4 (Ginneil Pope 14th, Gabrielle Thompson 35th, Lisa Smith 39th, Zene Henry 62nd, Felicia King 70th) vs Notre Dame 1 (Tamia Roach 46th).

Sunday
Trinity Women
Notre Dame 4 (Shantell Garcia 13th, 23rd, Teneil Garcia 11th, Carol Whiteman 69th) vs Defence Force 2 (Wynette Campbell 4th, 47th).

The Trinidad Guardian


---

Firhan has knack for scoring crucial goals




Youngster Firhan Ashaari has a knack for scoring match winning goals. And he will be hoping to repeat such feat when his team tenaga Nasional Berhad lines up against defending champions KL Hockey Club in the TNB Cup final this Sunday.

Firhan scored a goal seven seconds from time to help Malaysia win bronze in the inaugural AHF Champions Trophy in Ordos China two years ago. Then in March last year he scored the equaliser for SSTMI in the come from behind win over UniKL Young Guns for the Milo Cup in the Malaysian Junior Hockey League.

His heroics did not end there for in July, this time donning the jersey of his home state Terengganu, Firhan popped up with a winner in the 84th minute against Penang in the semi finals of the Malaysia Games in Kuantan.

"I always believe that the game is there for it to be won and thus never give up until the final whistle. It all boils down to determination and hard work and really its no personal glory but all boils down to team work," said the 19 year old Firhan who is expected to play a key role in Malaysia's quest at the Junior World Cup in New Delhi this December.

"I have had my ups and downs in hockey and it has been a learning process for me. Playing for TNB is a great opportunity and we need to win the final to show our appreciation to our employers TNB.

"It wll not be easy against the KLHC defence as they have several good defenders in Mohd Razie Rahim, Ahmad Kazamirul and Muhammad Imran. Thus chances will be few and its important to take whatever chances that come our way.

"No doubt KLHC are the favourites but we are determined to be on the top this time around and I believe our performance is on the upward trend and we are peaking at the right time."

Firhan made his national team debut at the Sultan Azlan Sjhah Cup last year and earned six caps. But an indifferent performance during the MHL last year meant that he failed to catch the eye of national coach Paul Revington and was thus left out of the national team that played in the Champions Challenge, AHF Champions Trophy and the 2013 Azlan shah Cup.

But sterling performances in the ongoing MHL has given hope to Firhan who was in the squad of 26 named by Revington last Monday and he hopes to cement his place in the national team.

"Having worked hard to get into the training team, I intend to double my efforts to break into the final 18 for the World League semis as well as the Asia Cup," said the determined Firhan.

"It will take a lot of hard work to dislodge the experienced forwards in the team but I need to rebouble my efforts if I want to be a permenant fixture in the national set-up.

"But first I need to win the Cup this Sunday and that will motivate me to do well in the national camp that starts next week."

Official MHL site


---

Deadly Firhan a major threat

FAVOURITES KL Hockey Club will have to keep an eye on Firhan Ashaari in Sunday's TNB Cup final as the Tenaga Nasional Berhad (TNB) forward has a knack of scoring late winners.

Firhan popped a goal seven seconds from time to earn Malaysia third place in the 2011 Asian Champions Trophy in China and then scored a late equaliser for SSTMI-Thunderbolt in a come-from-behind win over UniKL Young Guns in the Milo Cup final last March.

"I never give up until the final whistle. It boils down to determination and hard work," said Firhan, also a member of the national junior team, yesterday.

"It, however, will not be easy against KLHC as they have several experienced defenders in Razie Rahim, Ahmad Kazamirul and Muhammad Imran.

"No doubt, KLHC are the favourites but we are determined to win the title. I believe our performance is on the upward trend and we are peaking at the right time."

His performance throughout the season has earned him a spot in the national training squad for the World League and the Asia Cup.

"Having worked hard to get into the training squad, I intend to double my efforts to break into the final-18 for both tournaments.

"It will take a lot of hard work to dislodge the experienced forwards in the team. I will need to double my efforts to make the squad," he said.

New Straits Times


---

Firhan hopes to provide killer blow in final



Leaving it late: Mohd Firhan Ashaari has a knack for scoring match-winning goals.

KUALA LUMPUR: Youngster Mohd Firhan Ashaari has a knack for scoring match-winning goals. And he's hoping to do just that for Tenaga Nasional when they face defending champions Kuala Lumpur Hockey Club (KLHC) in the final for the overall title of the Premier League.

The Terengganu-born forward scored a goal seven seconds from time to help Malaysia win the bronze medal in the inaugural AHF Champions Trophy in Ordos, China, two years ago.

In March last year, he scored the equaliser for Tunku Mahkota Ismail Sports School (SSTMI) in their come-from-behind win over Universiti Kuala Lumpur (UniKL) in the final for the Milo Cup in the Malaysian Junior Hockey League (MJHL).

He also scored an 84th-minute winning goal for Terengganu against Penang in the semi-finals of the Sukma (Malaysia Games) in Kuantan last July.

"I never give up hope until the final whistle is blown," said the 19-year-old Firhan, who will also feature in the Junior World Cup in New Delhi in December.

"I've helped teams win matches in dying seconds and I'll continue to do so.

"It's just the way I play ... it all boils down to determination and hard work ... not personal glory.

"I've had my ups and downs in hockey ... it has been a learning process.

"It's great playing for Tenaga and we need to win the final to show our appreciation to our employers, TNB.

"It won't be easy against KLHC as they have several good defenders in Mohd Razie Rahim, Ahmad Kazamirul and Pakistani Muhammad Imran.

"We won't get too many chances but we must capitalise on the ones that come our way.

"KLHC are the favourites but we're determined to win this time ... I believe our performance is on the upward trend and we're peaking at the right time.

"I'll only be happy if we can beat KLHC in the final to lift the overall title," added Firhan, who has scored 10 goals in the MHL.

The Star of Malaysia


---

Jamaluddin siblings square off in showdown

By AFTAR SINGH

KUALA LUMPUR: The Jamaluddin brothers of Roslan and Mohd Hakimi Izad are delighted to have been called up to join the national training squad.

But, before they get down to business with the team, goalkeeper Roslan and defender Izad will be trying to outdo one another in the final for the overall title of the Premier League on Sunday.

The 34-year-old Roslan will feature for favourites and defending champions Kuala Lumpur Hockey Club (KLHC) while Izad will man the fort for former champions Tenaga Nasional.

Roslan is the national number two goalkeeper and vastly experienced.

He will be featuring in the final of the Premier League for the eighth time since 2004.

Izad, who is 14 years younger, will only be playing in the final for the second time. He was in the Tenaga team who were beaten 3-0 by KLHC in last year's final.

Izad, who is the youngest among nine siblings, admitted that it would be "nice to train and play alongside Roslan in the national team".

"But when it comes to the Premier League overall final, there'll be no love lost between us," said Izad.

"I grew up watching my brother play for the national team. He inspired me to take up hockey.

"Although he is my brother, my team-mates and I will still go out to end KLHC's unbeaten run and domination in the league.

"Nothing is impossible. We too have experienced players and the ability to get the better of KLHC.

"We gave them a good fight in the Charity Shield match, which ended 3-3 in regulation time. And we defeated them on penalty shootout to lift the Shield.

"I think the final could well be decided on penalties too!"

Roslan, who has five children, was clearly delighted to see Izad earning a call-up to the 26-man national training squad, saying that his brother has clearly shown improvement in his game.

"But I'm going to give my best in the Premier League final and help KLHC win a third consecutive overall title," said Roslan, who has been capped 190 times.

"As defending champions, the pressure will be on us to retain the title.

"But we have enough depth in every department to beat Tenaga again."

The Star of Malaysia


---

Two Modenas bikes to be won




Not only will the fans who make their way to the National Hockey Stadium this Sunday for the TNB Cup and President's Cup final be able to witness top level hockey, but they will also stand a chance to walk away with two Modenas Passion motorcycles donated by Edaran modenas Sdn Bhd.

The two bikes, valued at RM5,000 each were presented to the Malaysian Hockey Confederation by Modenas Chief Executive officer Benedict Ho Kok Keong and on hand to receive them was MHC Competition Committee M. Gobinathan. Also present were MHC Senior Vice President S. Shamala, Vice President Manjit Majid Abdullah, MHC Treasurer Dato Anarul Aini Mohd Perai and MHC General Secretary Johari Abdul Aziz.

A total of 2,000 tickets will be given away at the gates for those who attend matches and the lucky draw will be heldat the end of the TNB Cup final between KL Hockey Club and Tenaga Nasional Berhad.

Prior to that the President's Cup final will be played between TNB Thunderbolts against Uitm.

"We are really fortunate that Modenas has graciously consented to sponsor the two motorcycles and we hope that fans turn up at the stadium, not just for the chance to win the bikes, but also to see for themselves the best of Malaysian hockey on display," said Gobinathan.

Official MHL site


---

Hockey players may train in Abbottabad

Abdul Mohi Shah

ISLAMABAD: Pakistan Hockey Federation (PHF) plans to establish a national hockey camp in Abbottabad to train probable players for the World Cup pre-final engagements in Johar, Malaysia, from June 29-July 7.

The proposed camp is expected to start a month ahead of the start of the qualifier which attracts some leading teams from around the world to vie for four available places for the final round.

The key question PHF is facing these days is whether to stay with the old coaching combination of Akhtar Rasool and Hanif Khan or to introduce fresh faces.

FIH high performance coach Tahir Zaman is the front runner for the post if at all the PHF decides in favour of making changes.

Germany, England, Korea, hosts Malaysia, Argentina and South Africa along with Pakistan will be seen in action in Malaysia.

"We will take another few days before deciding on the coaching assignments. We will do that well in time before the start of the camp. In all probability, the national camp will get under way in Abbottabad from May 29," a PHF official said.

Akhtar contested the Punjab Assembly election and lost, so he is available for the coaching job. "We have to look at different aspects before finalising coaches' name for the important event."

While all the other leading teams are busy preparing for the important occasion, there is no clue as to what combination of coaches and players will be there to represent Pakistan.

"Majority of the players are busy playing either European League or the Malaysian League. Since they are playing the league we feel they will be in good knick for the international event."

The official said he hoped that all Pakistan players would be back in the country by the time the camp began.

Top four of the eight teams competing in Johar will qualify to play the final to be held later in the year in Europe.

Being the hosts, Malaysia have always proved a tough team to beat. Germany, England, Korea and even Argentina could pose challenge to Pakistan in their quest to finish among the top four teams.

"I think one month time would be enough for already tuned-up players to prepare for this important event," he said.

The News International


---

Olympic field hockey player Claire Laubach announces retirement

2012 Olympian, Laubach, retires after eight years on U.S. National Team




COLORADO SPRINGS, Colo. – 2012 Olympian Claire Laubach (Centreville, Va.), who shares a story of perseverance and hard work that is nothing short of inspiring, is closing the chapter of an incredible field hockey career that includes three NCAA Division I National Championship titles and a Pan American gold medal. After eight years and 167 international competitions with the U.S. Women's National Team, Laubach made the bittersweet decision to, in her own words, "pass the torch."

As Laubach reflected on her career and time spent on the U.S. National Team, one of the most notable memories was the Pan American gold medal victory over the No. 1 world ranked team Argentina back in October 2011. The historic victory was not only a first for the U.S., but secured Laubach and Team USA a spot in the London Olympic Games.

"0:44. 0:43. 0:42. 0:00. My peripheral on the clock as it counted down our victory against Argentina to win gold at the Pan American Games is the single best memory of hard-earned team tears of my life," said Laubach. "As crazy as it may seem, the little things with my teammates are just as memorable. Like Dina Rizzo telling a cab driver in Spain that he was "going-o the wrong-o way-o" or dancing at Amy Tran's wedding. I wouldn't trade that stuff for anything. Winning the Pan Ams and hearing the National Anthem at London 2012, yes, absolutely major milestones but the moments in between making my dreams come true ended up being the best part."

Those moments and that victory didn't come without heartache and tremendous commitment to never give up on her dreams. The Centreville High School and Wake Forest University grad's career came to a screeching halt after being cut from the 2008 U.S. Women's Olympic Field Hockey Team roster. And on September 2, 2008, Laubach received more gut-wrenching news that she had been cut from the National Team and demoted to the Development Squad. But instead of calling it quits, Laubach earned a skilled that eventually made her an international threat, a leading goal scorer on U.S. penalty corners and landed her a spot on the 2012 U.S. Olympic Team roster.

"Claire's story and ability to overcome obstacles and bumps in the road is inspiring for any athlete dealing with adversity," said Steve Locke, Executive Director for USA Field Hockey. "As a go-to player on penalty corners for the last several years, her drag flicking skills and patience in the backfield will be unquestionably be missed. I congratulate Claire for defying the odds and never giving up on her Olympic dream and thank her for her commitment, sacrifices and the example she has set for all future USA Field Hockey players." 

Laubach graduated from Wake Forest University in 2005 with a bachelor's degree in Studio Art. During her tenure anchoring the Deacon defense, Laubach broke records, racked up accolades and earned three consecutive NCAA Division I National Championship titles.

Now, without a heavy training and competition schedule in the books, Laubach has already changed uniforms and shifted focus to another passion - cooking.

"I enrolled in the Art Institute of Philadelphia Culinary School and will graduate in two years," said Laubach. "The uniform is different but I need a lot less sunscreen."

Laubach's five to 10 year plan?

"Hang out with Tom Colicchio and Padima Lakshmi on Top Chef. Never stop dreaming, right? I'm going to keep a hand in hockey, coaching camps and playing where I can."

And her forever plan?

"Stay grateful for my time on this team," said Laubach. "Thank you, really. Go States."

USFHA media release


---

Hockey fever ahead

PETRA FINER- SOUTH TARANAKI STAR



Stratford District Council community development manager Kate Whareaitu and Mayor Neil Volzke are delighted that the town will host the 2013 Oceania Hockey Cup. PETRA FINER

Taranaki's own hamlet will shine bright when Stratford hosts an international hockey event later this year.

The 2013 Oceania Cup will see Trans-Tasman teams, including the New Zealand Black Sticks, take each other on this October.

Taranaki was awarded the competition after intense bidding was helped by the local support the region can offer.

Stratford Mayor Neil Volzke is delighted that the town's recently

upgraded hockey turf will be the focal point of the event.

With several teams set to descend on the township, he is confident the town will enjoy a financial injection.

"I'm sure that directly the motels, accommodation people and restaurants and those sorts of businesses will all profit."

Plenty of other stores were likely to see a surge in shoppers as well as fringe towns, he said.

Hockey NZ chief executive Hilary Poole said the sports body was delighted to have won the hosting rights.

"Trans-Tasman competitions always attract a lot of interest and the support we have had from the Taranaki community has been fantastic," she said.

Both the women's and men's Black Sticks teams will play Australia during the three-test series.

Other Pacific nations have been invited but the draw will not be finalised until June.

Oceania Hockey chairwoman Pam Elgar said that the popularity of hockey has grown in Fiji, Samoa, Papa New Guinea and Vanuatu, meaning the group need hosts that could provide a quality experience for a potentially larger tournament.

"Oceania Hockey has traditionally rotated this tournament between Hockey New Zealand and Hockey Australia," she said.

"The competitive bid process provided Oceania Hockey Federation [with a] great choice between two quality bids.

"We are looking forward to seeing Stratford deliver a fantastic tournament and experience for all."

Both Kiwi teams are aiming to qualify for the 2014 World Cup. They need to finish in the top three at Rotterdam's World League Round 3 in June or win the Oceania cup.

Hockey New Zealand has built partnerships with the Stratford District Council, Sport Taranaki, TSB Community Trust, Taranaki Electrical Trust and Venture Taranaki. The organisation will also work closely with the Taranaki Hockey Association to clinch the event.

The Oceania Cup is held every two years. In 2011 it was hosted in Hobart and before that it was in Invercargill.

This year, for the first time, Oceania Hockey had a competitive bid process to decide which country it would be hosted in.

A televised event, the cup will take place from October 28 until November 3.

South Taranaki Star / Stuff


---

Glasgow 2014 Ticketing information released

In advance of tickets going on sale on 19 August, Glasgow 2014 has released key information to help the people of Glasgow, Scotland and the Commonwealth prepare to apply for tickets for the XX Commonwealth Games.

In addition to key pricing information, an outline calendar of events has been released.

Everyone can be part of the Games. Around 1 million tickets will be up for grabs and tickets for all sports start at just £15 for adults (inclusive of public transport in Glasgow too), with half-price tickets available for all sports for Under 16s and Over 60s. We aim to be the friendliest of family-friendly Games: the first Commonwealth Games to offer dedicated children's tickets.

The first phase of ticket sales will be open from 19 August to 16 September.

Applying for tickets is simple – and being able to pay by cheque as well as card, and by post as well as online, keeps it accessible. They'll also ensure all customers receive e-mail ticket summaries before payment is taken.

Like all previous Commonwealth Games, Glasgow 2014 will run a fair and simple application process, giving everyone the opportunity to apply for the tickets they want, over a four week period, irrespective of working hours or time-zones across the Commonwealth.

Prices have been designed to ensure as many people as possible can experience the Games. Over two-thirds of tickets are £25 and under.

Further information and full schedule details will be released in June, with the full Ticketing Guide and Application Form published on One Year to Go - 23 July 2013. Everyone can register account for further ticketing updates now on the Glasgow 2014 website

Scottish Hockey Union media release