All the news for Tuesday 18 June 2013

Belgium tops Group A; Aussies finish second

Dwyer scores five goals in 7-1 victory against France



Belgium is the king of Group A (Photo: Frank Uijlenbroek)

Follow us live on the FIH You Tube Page or on Twitter @FIH_Hockey.

Quarterfinal Games:
Belgium v. Ireland – 12:30
New Zealand v. Spain – 14:30
Australia v. India – 17:00
Netherlands v. France – 20:00

GROUP A
Belgium – Spain 1-1 (1-0 halftime)

Belgium needed just one point from today's game against Spain to earn first place in Group A at the Rabobank Hockey World League Semi-Final, and they got just that with a nail-biting 1-1 draw against Spain.

The win means that Belgium finishes on top of its preliminary round group and will face either India or Ireland in Wednesday's quarterfinal. The draw gives Spain a third-place finish in the group.

The first half was a lot of back-and-forth with very little offense. It wasn't until Spain scored an own goal with two minutes left in the half that the scoreline changed. That goal would ultimately be what gave Belgium the first-place finish in the group.

Spain came out stronger in the second half and was finally rewarded when David Alegre put in a blooper goal that bounced off goaltender Vincent Vanash's foot. The goal pulled Spain even with Belgium and made for a tense last 12 minutes as Spain jumped on the momentum and gave the Belgians some worrying chances.

In the end, Belgium hung on for the draw and can now look ahead to being the top seed on quarterfinal Wednesday.

Australia – France 7-1 (3-1 halftime)

Jamie Dwyer scored an amazing five goals today in a decisive 7-1 win over France in their last game of the round robin at the Rabobank Hockey World League Semi-Final in Rotterdam. The lowest-seeded French had no chance against Australia, which has spent much of the group phase of the tournament atoning for a Day 1 loss against Belgium.

That loss against Belgium could still come back to haunt the Aussies, despite their strong showing in the last two games. Both Belgium and Australia have six points, but Belgium still has one game left in the group phase and needs just one point against Spain to claim first in the group and get the ideal quarterfinal draw in the cross over.

France's position is much clearer as the last-ranked team in Group A with zero points in three games, they will play the top-finisher from Group B in Wednesday's quarterfinal.

In terms of game action, there wasn't much to say beyond Jamie Dywer's one-man show. He already had a hat trick wrapped up within the first 24 minutes, giving the Aussies the strong 3-0 lead. The French cut into the lead with a penalty corner goal four minutes before the break to make it a respectable 3-1 score at the half.

But Australia quickly erased any doubt in the second half when, once again, Dywer found the back of the goal – this time in the 41st minute. Teammates Kieran Govers and Matthew Swann followed up and added some variety to the scoresheet with another pair goal goals coming five minutes apart.

Dwyer added the icing on the cake with his fifth goal in the 55th minute to bring the final to 7-1. Impressively all five of Dwyer's markers were field goals – a rare feat to add to the oddity of scoring five goals in one game.

FIH site


---

Dutch earn Group B bragging rights; New Zealand takes second

Burrows celebrates 300th cap in draw vs. India



Nwe Zealand could take first place in Group B (Photo: Grant Treeby)

Follow us live on the FIH You Tube Page or on Twitter @FIH_Hockey.

Quarterfinal Games:
Belgium v. Ireland – 12:30
New Zealand v. Spain – 14:30
Australia v. India – 17:00
Netherlands v. France – 20:00

GROUP B

India – New Zealand 3-3 (0-1 halftime)

It was clear that the final day of Group B action at the Rabobank Hockey World League Semi-Final would be a dog fight with the four teams all separated by only three points. New Zealand and India kicked off the grand finale with a hard fought 3-3 draw.

It looked early on like it would be a high-scoring affair when New Zealand's Marcus Child fired in the 1-0 goal just six minutes into the game. But after the initial strike goals were at a premium as the teams had nothing to show for their back-and-forth efforts. New Zealand was the better team of the half, but India stayed tough on defense and allowed just the one goal.

The second half was an entirely different story from the first as the goals started flowing on both sides of the field. India came out of the break fired up and immediately mounted a 2-1 lead with a field goal and penalty corner coming just a minute apart.

New Zealand reacted quickly and equalized the game at two when Stephen Jenness scored one of the best goals of the tournament with a diving deflection. But the stalemate lasted only two minutes when India's Kothajit Singh took advantage of confusion in front of the New Zealand net to score the go-ahead 3-2 goal.

With seven minutes to go, New Zealand was given the golden chance to tie the game, but Dean Couzins penalty stroke was stopped by Indian goalie Sreejesh. But New Zealand quickly atoned for the missed chance when Blair Hilton scored the 3-3 goal two minutes later.

The Blair goal would stand through the last five minutes of play as the game ended in the 3-3 draw. Before the match Phil Burrows was honored for playing in his 300th international game with New Zealand.

Netherlands – Ireland 5-0 (2-0 halftime)

The Dutch took first place in Group B at the Rabobank Hockey World League with a 5-0 win over Ireland. The win means that the host nation will take on France, which finished in fourth place in Group A, in Wednesday's quarterfinal. At the other end of the spectrum, the loss pushed the Irish into last place in Group B and they will meet Group A winner, Belgium.

It was a must-win game for both teams with Group B being a closely contested group throughout the week. A win for either side meant a major turn of fortune for the men's quarterfinal games. But in the end, there were no Cinderella finishes as #3 Netherlands dispatched #15 Ireland with relative ease.

The Dutch got things rolling 12 minutes into action when Rogier Hofman fed a beautiful baseline pass to Jelle Galema who was waiting at point blank range for the 1-0 marker. Oliver Polkamp fed a drop pass to Constantyn Jonker who doubled the lead with nine minutes left in the half as the Dutch were in full control of the match.

The Dutch played a game of cat-and-mouse in the second half and were content to simply hold the Irish at bay rather than go for the goals. It wasn't until the late stages that they turned on the offense a little. Jeroen Hertzberger when he dribbled the ball the distance for the 3-0 goal and two minutes later Hofman added his first goal of the game and the icing on the cake came from Hertzberger when he scored with time expired on a penalty corner to bring the final to 5-0.

Ireland's Ronan Gormley was honored before the match for becoming the most-capped player ever for the men's Irish National Team by reaching 169 games. He is also the player to captain the most games with 108.

FIH site


---

Dutch inflict heavy defeat on Green Machine

A disappointing performance by the Irish Senior Men against quality opposition in a balmy Rotterdam this evening saw them fall to a heavy 5-0 defeat at the hands of hosts Holland.

It was always going to be a tough game against the current World Champions, but once again Irish defensive errors and incisive Dutch finishing proved the difference between the two sides.

The attacking trio of Hofman, Hertzberger and Jonker provided the magic for the Dutch, who were far superior throughout. The result leaves Andrew Meredith with plenty to ponder ahead of their quarter-final game on Wednesday.

It was a bittersweet occasion for Irish Captain Ronan Gormley, who made his 169th appearance for Ireland and in doing so, broke Eugene Magee's record as the record Irish Caps holder. Holland made a bright start and could have gone ahead in the opening minutes as Verga won their first corner of the game, Hertzberger's flick charged down by McConnell.

A second corner in the 7th minute was again charged down well, with Harte clearing off the line from the resulting cross. The Dutch pressure was relentless and three minutes later their inevitable first goal came after great work along the baseline from Hofman. His cross was unfortunately tipped in off Stuart Loughrey right in front of goal.

Ireland struggled to get into their opponent's half, with Verga roofing a reverse effort over the bar and Gleghorne in the Irish back-line having to make some last-ditch interceptions to avoid going further behind.  In one of Ireland's few first-half circle entries Michael Watt deflected a Cockram cross goal wards, but found the towering Jaap Stockman in the way.

Polkamp and Hofman ran the show going forward for the Dutch, both showing some World-class touches with a frightening turn of pace to match. In the 26th minute the former's blistering base-line run and pull-back found Jonker who coolly turned and slotted into an empty goal.

Harte made four world class saves before the break, as Holland again showed some classy one touch interchanges. At half time it was Netherlands 2 Ireland 0.

Ireland started the second half with more purpose and endeavour, Bruton and Caruth both going close with reverse efforts.

Stockman made further saves from a Watt first time punt and a Cockram penalty corner effort. In the 16th minute Caruth was found unmarked at the top of the circle after a sweetly threaded through ball, but his first time sweep was skewed wide.

The Dutch piled on the misery of missed chances as they doubled their tally with two field goals in quick succession. Hertzberger intercepted an Irish pass into the middle, and his determination and stick work allowed him time to get his feet around the ball and slot past the oncoming Harte.

Two minutes later a Harte rebound feel kindly to Hofman who unleashed an unstoppable reverse stick ripper from the top of the circle.  Harte made a wonder save from Jonker in the 67th minute, somehow managing to tip a Jonker stike onto the cross bar.

A Dutch penalty corner on the final hooter left them with the chance to make it 5 without reply, and Hertzberger stepped up to slot a drag flick low to Harte's right. To make the final score Netherlands 5 Ireland 0

The result means Ireland finish fourth in their pool, setting up a quarter final clash with Pool A winners Belgium, who have been impressive throughout the tournament thus far. Meredith's Green Machine will need to be on top form to overcome an emerging Belgian side that beat Australia in the opening stages.

World League 3, Rotterdam, Holland

Ireland 0

Netherlands 5 (R Hofman 2, J Hertzberger 2, C Jonker)

Ireland Starting XI: D. Harte, J. Jackson, R. Gormley, C. Cargo, A. Sothern, P. Caruth, A. McConnell, T. Cockram, P. Maguire, P. Gleghornre, C Harte

Irish Hockey Association media release


---

Black Sticks draw in Burrows' 300th

By David Leggat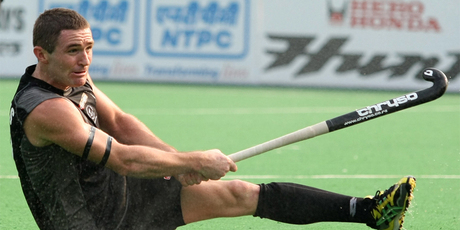 Phil Burrows became the first New Zealander to reach 300 caps. Photo / Brett Phibbs

New Zealand rounded off their pool play with a 3-3 draw against India at the World League semifinal tournament in Rotterdam today.

The world No 6 Black Sticks will now play world No 7 Spain in their must-win quarter-final early on Thursday morning to stay alive in the tournament from which the top three teams are guaranteed places at January's final in Delhi.

New Zealand finished second in pool B behind hosts the Netherlands, who ensured top spot, and a playoff against lowly France by beating Ireland 5-0 in the final group game this morning.

New Zealand needed a Blair Hilton goal with a fierce reverse stick shot four minutes from the end to get the Black Sticks a share of the points against India.

The game was attacker Phil Burrows' 300th international, the first New Zealander to reach the milestone.

"Today was pretty special for me," Burrows said.

"The guys all dug deep and fought hard.

"It was a bit of a shame I couldn't' get a goal today, but at the end of the day we achieved what we needed to."

Marcus Child had given New Zealand a halftime lead, but the 11th-ranked Indians took the lead with a brace of goals soon after the restart - from Mandeep Singh from open play and VR Ragunath from a low flick at a penalty corner.

Stephen Jenness got the Black Sticks level before Kothajit Singh Khadangbam regained the initiative for India.

New Zealand captain Dean Couzins had a penalty stroke saved before Hilton's late goal.

"It was a fluctuating game and India tried to stretch us with their speed but we did our best to restrict that for most of the game," coach Colin Batch said.

''Our biggest growth continues to be on attack and at this tournament all our strikers have really stepped up."

The draw followed a 3-3 draw against the Netherlands and a 4-2 win over Ireland.

The women's Black Sticks, ranked third, play ninth-ranked Japan in their quarter-final early tomorrow.

The New Zealand Herald


---

Black Sticks progress with draw

The New Zealand men's hockey team couldn't quite celebrate Phil Burrows' 300th international cap with a win as they were held to a 3-3 draw by India in their final pool game at the World League semifinal tournament in Rotterdam today (NZT).

Striker Burrows became the first New Zealand player to amass 300 test caps and while the Black Sticks didn't ice the occasion with a win, they did enough to progress through pool play undefeated with one win and two draws.

The result guarantees the Black Sticks either first or second place in pool B with today's Netherlands-Ireland match deciding whether the Kiwis will play France or Spain in Thursday's cross-over quarterfinal.

Coach Colin Batch said it was pleasing to see how his side responded in the second half after twice surrendering the lead.

"We played very well towards the end of the second half and showed what we're capable of. We created a lot of good chances and were able to convert them into goals," Batch said.

"It was a fluctuating game and India tried to stretch us with their speed but we did our best to restrict that for most of the game. Our biggest growth continues to be on attack and at this tournament all our strikers have really stepped up."

Burrows once again played a strong game and narrowly missed out on a goal of his own.

"Today was pretty special for me. The guys all dug deep and fought hard, there will be a few sore bodies around," he said.

"It was a bit of a shame I couldn't get a goal today, I was sifting around for one late in the second half but at the end of the day we achieved what we needed to."

The Black Sticks were on the scoreboard early with Nick Haig hitting a powerful ball into the circle for Marcus Child to deflect in past the goalkeeper.

India responded with heightened intensity on the ball but New Zealand's defence held firm and repelled everything that came at it. Both sides had one penalty corner each in the first half but failed to convert.

Momentum built in India's favour after the break and the pressure eventually told with Mandeep Singh open in front of goal to level the score at 1-1.

VR Ragunath handed India the lead just minutes later with a well-worked low flick onto the right post from a penalty corner.

The see-sawing contest continued midway through the second half when Stephen Jenness crashed a mid-air cross from Hugo Inglis into the goal before India once more seized the lead through Kothajit Singh Khadangbam.

The Black Sticks lifted in the final 10 minutes as they pushed for an equalising goal. Cory Bennett's penalty corner shot was deflected and Dean Couzins failed to convert a penalty stroke before Blair Hilton smashed a vicious reverse shot into the top of the goal to level the score with four minutes remaining.

Unless Ireland defeat the Netherlands by a large margin, the Black Sticks will play Spain in the early hours of Thursday morning (NZT) in their cross-over quarterfinal.

The women's Black Sticks play apan in their quarterfinal at 10.30pm today (NZT).

The top three men's and women's teams from the World League semifinal tournament automatically qualify for next year's World Cup, although it is possible to earn qualification at the tournament with a lower ranking.

New Zealand can still qualify in other ways as well, with the next opportunity coming at the Oceania Cup in Taranaki in October.

Result:

New Zealand 3 (Marcus Child, Stephen Jenness, Blair Hilton) India 3 (Mandeep Singh, VR Ragunath, Kothajit Singh Khadangbam). Halftime: 1-0.

Stuff


---

India play out 3-3 draw against New Zealand in last pool match

ROTTERDAM: India paid the price of poor defending as they conceded a goal four minutes from time to play out a 3-3 draw in a thrilling match in their last pool fixture of the FIH World League Round 3 match on Monday.

India, who dominated the match throughout, fought back in a remarkable fashion from a goal down in the first half and took the lead twice only to be denied a win in their last Pool B match by poor defending.

India scored through Mandeep Singh (46th), V R Raghunath (47th) and Kothajit Singh (53rd) while Marcus Child (6th), Stephen Jenness (51st) and Blair Hilton (66th) found the target for New Zealand who are the higher-ranked side at number sixth.

It was, however, the 11th ranked Indians who had far more possession, more penetration at the opposition striking circle and more shots at target in the fast-paced and entertaining match though they were let down by poor defence in the end.

The Indian defence manned by Raghunath, Rupinderpal Singh and Sandeep Singh were found wanting in New Zealand counter attacks as the Balck Sticks scored twice in such fashion.

With today's draw, their second in the tournament after their 4-4 result against Ireland in the campaign opener, India ended their pool engagements with two points from three matches.

The Sardar Singh-led side now face the prospect of playing Pool A winners Belgium or runners-up Australia in the knock-out phase which begins on Wednesday.

All the eight teams -- four each in the two pools -- will still play in the quarterfinal phase as the preliminary matches are only meant to decide who plays whom in the knock-out stage. The last-place team of one pool plays the topper of the other pool and so on.

India put early pressure with some fine moves from both the flanks and earned a penalty corner as early as the third minute but failed to convert it as Rupinderpal Singh's drag-flick was palmed away by New Zealand goalkeeper Devon Manchester.

It was, however, New Zealand who took the lead in the sixth minute with Marcus Child making a fine deflection of a sharp hit by Phil Burrows.

New Zealand got their first penalty corner in the 19th minute and Mandeep Singh made a fine save on the goal-line after goalkeeper Sreejesh was beaten.

India pressed for the equaliser in frantic pace and they dominated the first session from then on but still could not get a clear chance though they had far more penetration inside the opposition striking circle.

Shivendra Singh, Manpreet Singh, Nithin Thimmaiah and S V Sunil worked in tandem in search of the equaliser but New Zealand defence withstood the pressure to go into the breather 1-0 ahead.

India came out with all guns blazing after resumption and the incessant pressure paid off as they got the eqauliser in the 47th minute through Mandeep Singh.

The spadework for the equaliser came from hard-working and livewire S V Sunil who got the better of Alex Shaw on the right flank and essayed a high cross past the New Zealand goalkeeper for promising youngster Mandeep to connect it with a diving shot.

Interestingly, India got the equaliser when they were one man down as Dharamvir Singh was out for two minute after getting a yellow card.

The equaliser boosted their confidence and India went ahead in the next minute with Raghunath scoring from the their second penalty corner. Sardar Singh made the penalty corner push and Sandeep Singh sold a dummy for Raghunath to sound the New Zealand board with a fine low drag flick.

New Zealand responded fast as they restored parity in the 51st minute from a counter attack. Hugo Inglis made a fine run from the centre, got the better of an Indian defender and sent a high pass for Stephen Jenness to slam it home.

Not to be taken aback by the equaliser, the Indians continued with the same vigour and won the lead again with Kothajit Singh finding the target after a goal-mouth melee in the 53rd minute.

Sreejesh kept the Indian lead intact with a brilliant effort as he saved a penalty stroke awarded to New Zealand after Sandeep Singh had pushed an opponent from behind inside the striking circle. But, New Zealand captain Dean Couzins' low shot was saved by Sreejesh with his outstretched right leg.

India, however, paid the price of poor defending as they conceded the lead with four minutes remaining as Blair Hilton fired a powerful reverse flick past Sreejesh to deny the Sardar Singh-led side a victory.

The Times of India


---

India will meet Australia in the Quarters

s2h team

Despite playing their best match, and having struck lead twice, India had to share six goals and thus post second draw in three matches at Rotterdam in the Hockey World League semifinal phase.

Unless Ireland defeat Netherlands in the last pool match, India will engage second in the other pool Australia, in the Quarterfinal to be played on Tuesday.

Ire-Netherlands match was yet to commence when this report was filed.

India came up with three good goals, first by Mandeep Singh -- which is also his first in the outing -- that helped cancel out first half New Zealand goal struck by Marcus Child in the sixth minute. Then Raghu came up with a stunner, after Sandeep Singh played dummy, the stopper passing the ball to distant Raghu than adjoining Sandeep in the penalty corner drill.

This Raghu's goal from India's second and last penalty corner gave India lead (2-1) in the 47th min. This lead did not survive long as New Zealand pressed hard, and got the dividends when four minutes later Stephen Jennes scored an acrobatic goal off a long pass from midfield.

Young Kothajit it was who again put India on top with an opportunistic goal in a melee.

This lead survived another 13 minutes.

Four minutes before the hooter, after Mandeep Singh and Nitin Thimmaiah -- both have made their presence felt today at last -- missed the target after their wonderful ball control and speed, New Zealand stunned Sreejesh with Blair Hilton striking.

Both teams played spirited high-end hockey in the second half, which saw five goals, and deservedly the match was drawn.

However, it was Couzins who missed a stroke, his strike hitting the left post, that turned out to be the turning point of the match.

Stick2Hockey.com


---

Kookaburras face India for World Cup place

100th meeting between the two countries to settle World Cup qualification contest

The Kookaburras will face historical rivals India in the winner-takes-all quarter-final at the Rabobank Hockey World League in Rotterdam.

In what will be the 100th competitive meeting between the two countries, an Australian victory would guarantee the Kookaburras have the opportunity to defend their World Cup title in The Hague in 2014. However, an Indian victory would mean the Kookaburras would need to qualify for the World Cup via the Oceania Cup later in the year. 

The Kookaburras finished second in Pool A following their 7-1 demolition of France on Monday while India finished third in Pool B as they drew 3-3 with New Zealand.

The match between the Kookaburras and India will take place at 1:00am AEST on Thursday morning (11:00pm AWST, Wednesday).

Hockey Australia media release


---

Seventh heaven as Kookaburras leave France in Dwyer straights

Kookaburras win 7-1 in final Pool A clash

Jamie Dwyer underlined his credentials as one of Australian sport's greatest athletes with a superb five goal haul as the Kookaburras beat France 7-1 at the Hockey World League in Rotterdam on Monday. Coming in his 299th appearance, Dwyer's heroics only served to highlight the remarkable milestone the Queenslander is predicted to reach on Wednesday as he becomes only the third Australian man to play 300 times for the Kookaburras.

Against Pool A outsiders France, the Kookaburras were always expected to perform and in truth the score could have been greater had it not been for a combination of key French interventions and missed opportunities.

Dwyer completed his hat-trick inside the opening 24 minutes with three very different goals; a shot on the turn, a deft lob over the goalkeeper and a neat deflection, adding two more after the break.

Wollongong's Kieran Govers emphatically fired Australia's fifth goal into the roof of the net, with Matthew Swann also on target with an excellent individual tomahawk effort inside the near post.

The result, coupled with Belgium's 1-1 draw with Spain, means that the Kookaburras finish second in Pool A and will play India, the third placed team in Pool B, in the crunch quarter-final for a place at the 2014 World Cup. That match is scheduled for 1:00am AEST on Thursday.

Kookaburras' Assistant Coach Graham Reid was happy with the result but admitted the focus would very quickly turn to Wednesday's quarter final. "It was a reasonable result," he said. "We created a lot of opportunities, many more than we actually scored. But we're already moving forward, looking at the next game and preparing for our quarter-final opposition. We won't spend too much time looking at the France game.

"There were some good signs there today but also a couple of disappointing things in defence. We'd like zero goals against in every game."

The Kookaburras began brightly with Russell Ford coming close in the opening minute and France twice clearing from in front of goal from Chris Ciriello's penalty corners. Dwyer's opener when it came was a clear demonstration of clinical timing as the 34-year-old allowed the ball to bounce before hitting his shot on the turn with his back to goal. And he showed off yet more of the technique that has seen him voted as the world's best player five times as he lifted the ball over the advancing French goalkeeper in the 14th minute after being set up by Trent Mitton.

While Australia enjoyed the best of the possession throughout, both Kookaburras goalkeepers - Tristan Clemons in the first half and Andrew Charter in the second period – had to look lively on occasion. Clemons' two penalty corner saves midway through the first half kept France at bay before Dwyer's hat-trick-scoring deflection from Ciriello's flick. But, having threatened earlier, from another penalty corner France scored in the final minute of the first half to spoil Australian hopes of a clean sheet.

Another deflection, this time from Mark Knowles' cross from the left, handed Dwyer his fourth to make it 4-1 in the 41st minute and just two minutes later it was 5-1 as Govers fired home a penalty corner rebound into the roof of the net.

A rare Matthew Swann goal made it 6-1 with 22 minutes remaining. Showing excellent strength to hold off his opponent, Swann, from Mackay (QLD), forced his way into the circle before unleashing a pin-point low tomahawk shot inside the left post before Dwyer rounded off with his fifth for 7-1.

Tim Deavin and captain Eddie Ockenden both had opportunities to extend the lead but France's defence kept them out. And at the other end, with two minutes remaining, having had little to do since coming on as a half time substitute, goalkeeper Andrew Charter stepped up to save a late penalty stroke with his right foot.

Dwyer said afterwards, "I'm very happy. To hit five is nice. I haven't done that too many times. As a team we can improve and we'll need to play better if we want to make the final." When asked how he could better his performance next time, the Kookaburra replied tongue-in-cheek, "score six".

AUSTRALIA (MEN) WORLD LEAGUE CAMPAIGN

KOOKABURRAS     7 (3)
Jamie Dwyer 9,14,24,41,55 (F,F,F,F,F)                    
Kieran Govers 43 (PC)                   
Matthew Swann 48 F)                   

FRANCE      1 (1)
Lucas Sevestre 32 (PC) 

Hockey Australia media release


---

Jamie Dwyer to play 300th game for Kookaburras

Dwyer becomes only third Australian man to reach the milestone

BY Gené Stephan

Jamie Dwyer could have been revered around the globe as another Cristiano Ronaldo or Lionel Messi had he chosen soccer over hockey.

But hockey chose him.

"Hockey is a family sport that people play because they love it and not because of the fame or fortune," the Olympic and World Cup gold medalist said.

The 34-year-old Queenslander has five times been honoured as the best player in the world, ranking him not only as one of the best players of his generation, but also one of the greatest to have ever played the game.


As he prepares for his 300th game at the new FIH Hockey World League in Rotterdam on Wednesday his focus will be no different to what it was 12 years ago when he first forced his way into a star-studded Australian team as a 22-year-old.

He has always been relentless in his quest to become a better player, and in doing so, contribute to the Kookaburras' international success.

Tutelage from Olympic gold medal-winning coaches Ric Charlesworth and Barry Dancer, coupled with extended playing stints in Europe and India, has enabled him to evolve from an impact striker to a midfield playmaker capable of dictating and controlling a game.

As lethal as Dwyer has been at scoring goals, it has been his individuality and elusiveness in general play, that has set him apart from the rest.

"Every generation has some very special players and the only other one I would rank alongside him is Teun de Nooijer of Holland and possibly Christopher Zeller from Germany," Charlesworth said.

"Jamie has a mercurial capacity to do something special and unusual and he does it far too often for it to be a fluke.

"The mark of a really great player is to endure and continue to be competitive – and to have that competitive instinct in the game - you can tick every box for him."

However, it was under Dancer, the man who ended Australia's 48-year Olympic hoodoo with gold in men's hockey (Charlesworth won two with the women) in Athens in 2004, that Dwyer won the first of five FIH World Player of the Year awards.

"You have to rate Jamie as world hockey has – he is an outstanding athlete, superb technically, has a competitive mentality and a strong team ethic – all the qualities you search for in a player," Dancer said.


Dancer, who retired as national coach after backing up with Olympic bronze in Beijing in 2008, said Dwyer has continued to develop as a player after stints in the Netherlands and Spain and this year in the new Hockey India League where he played under him with the Punjab Warriors.

"Jamie has shown it is possible to become a full-time hockey player and has mentored other Australian players who have looked at doing the same," Dancer added.

"It is extremely valuable to build a team when you have a strong leader like Jamie - I was blessed to have a number of those players in the team that won gold in Athens."

Unlike De Nooijer, a close friend and Bloemendaal team-mate in the Dutch National League, Dwyer is not yet thinking of retirement.

"I just want to keep on winning medals and keep on getting better - there's so much more that I, and the team, can achieve," Dwyer said.

"Setting aside my Olympic and World Cup gold medals – my proudest achievements has been that I have made the most of my potential and tried to get the best out of my body."

He said a lot of retired players admit they probably never trained hard enough or paid enough attention to developing their skills.


"The one thing I can do is look in the mirror and say I've really given it everything to become the best player possible," Dwyer said.

"At the end of the day when I finish with the game, whenever that may be, I can feel proud of that."

He said the day his body prevents him from playing at the level he'd like to will be when he calls it quits – and at the moment, his body is as good as it has ever been.

This week in the Netherlands is very important for Dwyer and the Kookaburras in their quest to qualify for next year's World Cup where they will defend the title won under Charlesworth in New Delhi in 2010.

The top three teams in the eight-nation semifinal gain automatic World Cup qualification for The Hague.

Since scoring the golden goal which won Australia's only men's Olympic gold in 2004, Dwyer has become the nation's most successful striker with 186 goals – surpassing former greats Mark Hager (179), Jay Stacy (160) and Stephen Davies (140). Among the current crop of Australian players Glenn Turner (65), Des Abbott (61) and Chris Ciriello (59) are his nearest rivals.

Own a piece of hockey history. We're auctioning six specially commissioned limited edition framed artworks celebrating Jamie Dwyer's 300th game. Auction one (pieces one to three) runs from Tuesday 18 June until 7pm AEST on Sunday 23 June. To view the pieces and bid, visit the auction page here.

Hockey Australia media release


---

2012 Women's Player of the Year Shortlist Published

Award to be handed out at World League in Rotterdam




The FIH will announce the 2012 Women's Player of the Year and Young Player of the Year as part of the festivities at the Rabobank Hockey World League later this week.

Five players for each category have been shortlisted for the prestigious award. For the Women's Player of the Year, the five finalists are:

Luciana Aymar – ARG

Crista Cullen -  GBR

Kim Lammers - NED

Maartje Paumen – NED

Kayla Sharland – NZL

On the Junior side, the five finalists are:

Erica Coppey – BEL, 1991

Cheon Eun Bi - KOR, 1992

Anna Flanagan – AUS, 1992

Florencia Habif – ARG, 1993

Stacey Michelsen – NZL,1991

The men's player of the year was announced already at the 2012 Champions Trophy in Melbourne, Australia. Winning that award was Moritz Fuerste from Germany. His teammate Florian Fuchs took home the Young Player of the Year award. The women's 2012 announcement is just now being made due to the fact the Hockey World League Semi-Finals are the first major event since the London Olympic Games to present the award to the winners.

FIH site


---

Anna Flanagan shortlisted for World Young Player of the Year

21-year-old from Canberra on shortlist of five

Young Hockeyroos defender Anna Flanagan has been shortlisted for the FIH World Young Player of the Year Award, the winner of which will be announced by the International Hockey Federation at 4:30am AEST on Thursday (8:30pm local time on Wednesday at the Rabobank World Hockey League).

The 21-year-old penalty corner specialist from Canberra is fast becoming one of the rising stars of world hockey. After debuting early in 2010, Flanagan earned a place in the squad for the 2010 Commonwealth Games and went on to win gold in Delhi . Since then, she has gone from strength to strength, becoming a Hockeyroos regular. As a member of the Hockeyroos in 2012, Flanagan played her part in ensuring that Australia finished fifth at the Olympics, two places higher than their world ranking at the time. She scored twice in London.

The other players on the five person shortlist are Erica Coppey (BEL), Cheon Eun Bi (KOR), Florencia Habif (ARG) and Stacey Michelsen (NZL).

Flanagan's Hockeyroos teammate Casey Eastham is a previous winner of the Young Player award, picking up the accolade in 2009, while Australian Angie Skirving was the first recipient of the award in 2001.

Flanagan is currently with the Hockeyroos squad in London, preparing for the Investec World League, which gets underway on Saturday. Australia's opponents in the tournament's pool phase are England, South Africa and Spain. The Hockeyroos open with a match against Spain at 1:30am AEST on Sunday.

Anna has been blogging for the Hockey Australia website from the team's European tour. Read her blog online here.

Previous Australian winners of world awards:

Women's World Young Player of the Year
Casey Eastham (2009)
Angie Skirving (2001)
Men's World Young Player of the Year
Matthew Swann (2011)
Eddie Ockenden (2008)
Mark Knowles (2007)
Grant Schubert (2003)
Jamie Dwyer (2002)

Women's World Player of the Year
Alyson Annan (1998, 2000)

Men's World Player of the Year
Jamie Dwyer (2011, 2010, 2009, 2007, 2004)
Jay Stacy (1999)

Hockey Australia media release


---

Sharland, Michelsen up for top awards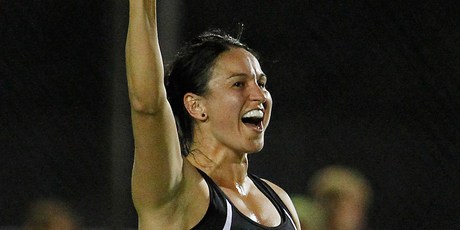 Kayla Sharland. Photo / Christine Cornege

New Zealand women's hockey duo Kayla Sharland and Stacey Michelsen have been shortlisted for top International Hockey Federation awards.

Black Sticks' co-captain Sharland has been nominated for FIH 2012 Women's Player of the Year while Michelsen is up for Young Player of the Year.

Michelsen won the Young Player of the Year in 2011 - the first New Zealander to have ever won either of these prestigious awards.

Luciana Aymar has been the Women's Player of the Year seven times, with Maartje Paumen winning it in 2011.

The FIH will announce the winner of each award later this week.

Women's Player of the Year 2012 nominees
Luciana Aymar - Argentina
Crista Cullen - Great Britain
Kim Lammers - Netherlands
Maartje Paumen - Netherlands
Kayla Sharland - New Zealand

Young Player of the Year nominees
Erica Coppey - Belgium
Cheon Eun Bi - Korea
Anna Flanagan - Australia
Florencia Habif - Argentina
Stacey Michelsen - New Zealand

The New Zealand Herald


---

Blue Ds innovation trialled at Investec Hockey World League



England play Australia in a training game on the new Blue Ds at Chiswick

England Hockey is today announcing that modifications have been made to the competition pitch for the Investec Hockey World League Semi-Final. Following the need to relocate the event from Germany to England at short notice, some renovation work was scheduled to the field of play at the University of Westminster in preparation for the tournament. England Hockey, in agreement with the International Hockey Federation (FIH), commissioned this remedial work in order to meet the expectations of an event of this stature and to deliver consistent playing characteristics.

The innovative outcome of this work is that, at the Investec World League Semi-Final starting in London on Saturday 22 June, blue goal-scoring areas, known as the 'D's, will be introduced in contrast to the remainder of the green pitch. It is anticipated this will help spectators and TV audiences distinguish this important area of the pitch as they enjoy this exciting and fast-moving sport.

The move is the first of its kind and provides a tangible connection with hockey's hugely successful Olympic campaign which saw record numbers of spectators watching hockey and 30,000 new players being inspired to take up the sport in England.

The Olympic pitch at London 2012, or the 'Smurf Turf' as it became widely known, was removed shortly after the conclusion of The Games. But sections of that pitch have now been transferred to the University of Westminster Sports Ground in Chiswick, whose pitch required repairs ahead of the tournament. The pitch repairs and alterations were carried out by FIH Preferred Pitch Supplier Sports Technology International.

Sally Munday, England Hockey's CEO, added, "the principle of a different coloured scoring area has worked well in other sports and different coloured Ds have been used in indoor hockey for a number of years now. With renovation work required at the ground we embraced the opportunity to be involved in this initiative and we hope that spectators and TV viewers alike will welcome the new look."

Kelly Fairweather, CEO of the FIH, stated, "FIH supports England Hockey in finding a solution to provide an appropriate pitch surface for this event and is keen to assess the feedback from players and spectators about the potential for this innovative pitch design."

Kate Walsh, England Women's Captain, gave a player's perspective. "It was good to have a match on the new surface yesterday. The players seemed to adjust pretty quickly to the different colours. I think it will create further interest for what promises to be a really exciting event, and we hope plenty of supporters will come down and see it for themselves."

The Investec World League begins on Saturday 22 June at the University of Westminster Grounds at Chiswick. Tickets are still available to see this World Cup qualification tournament and witness this Blue D innovation at first hand. Visit englandhockey.co.uk/investecworldleague or call 08444 99 32 22.

England Hockey Board Media release


---

Jason Lee will lay on entertainment

By Graham Wilson



Jason Lee wants England women to be exciting to watch

JASON LEE can develop England's women into one of the most attacking teams in the world – and he has brought in penalty-corner star Ashley Jackson to do it.

Lee takes his new squad into the Investec World League Semi-Finals at Chiswick on Saturday with the same mindset that saw his GB men's team take fourth place at the London 2012 Olympics. He is promising goals when England open up in their pool against South Africa, before Australia on Sunday and Spain on Tuesday.

England need a top-three finish to qualify for the World Cup in Holland next year, and they want to entertain the fans along the way. "I played in plenty of internationals where it was dire to play in, let alone watch," said Lee.

"I'd like to think that all the teams I have coached have been exciting to watch. We may concede some, but we always go for scoring more at the other end."

Lee has lost corner striker Crista Cullen to retirement and asked the men's expert Jackson to help coach the women.

"We don't have Crista anymore but we have brought in Ashley and he has made a big difference," said Lee.

Daily Express


---

Training camp for Hockey World League from today

LAHORE - A short training camp of Pakistan probables in preparation for Hockey World League will open at Hockey Club of Pakistan (HCP) Stadium here from Tuesday.

Hockey World Cup League will be held at Johar Bahru (Malaysia) from June 29 to July 7. In all, 28 probables have been invited to the training camp from which an 18-member Pakistan hockey squad will be picked. Eight top teams from Asia and Europe and drawn in two pools are taking part in the nine-day competition and top three teams will qualify for next year's Hockey World Cup being staged in the Netherlands.

"This is an important event and we would be focussing all areas of the game with emphasis on the shortcomings of the team", Pakistan team coach Olympian Hanif Khan said on the eve of start of the camp. Players would be assembling today evening and training starts from Tuesday morning, Hanif Khan said.

Pakistan is drawn in pool 'B' with England, South Africa and host Malaysia while Germany, Korea, Argentina and Team X is drawn in pool 'A'.

Camp trainees are: Imran Shah, Imran Butt, M Imran, M Rizwan Senior, Fareed Ahmed, Rashid Mehmood, M Waqas, Shafqat Rasool, Abdul Haseem Khan, M Ateeq, Waseem Ahmad, M Kashif Ali, Shakeel Abbasi, M Irfan, M Salman Hussain, Talal Khalid, Syed Sibtain Raza, Aamir Shehzad, M Imran Junior, Muzammil Ishaq Bhatti, Kashif Ali, Arslan Qadir, M Zubair, Zohaib Ashraf, Ayub Ali, Yasir Shabbir, Waqas Akbar and Syed Abbas Haider Bilgrami.

The Nation


---

Situation resolved

MINISTER STEPS IN: Khairy ensures Revington stays until the World League Semi-finals ends

By JUGJET SINGH




SPORTS Minister Khairy Jamaluddin took less than 20 minutes to defuse a tense situation that has been festering for six months, and came out smiling with news that Paul Revington had agreed to stay on as coach until the World League Semi-finals in Johor Baru.

The World Cup Qualifier will be held from June 29-July 7, with the top-three teams assured of a spot in the Netherlands next year.

However, Revington threw in his resignation on Saturday, stating that "outside interference," and a threatening email had made his stay in Malaysia uncomfortable for the past six months.

Revington, after about a year into the job, received the email from 1Mas project director Lim Chiow Chuan on March 23, while he claimed that Juniors coach K. Dharmaraj have been interfering in his job scope.

Dharmaraj and Chiow Chuan have been proposed to be removed by the Malaysian Hockey Confederation (MHC) coaching committee and their fate will be decided when the management committee meets on June 30 in Johor Baru.

Revington came out of the meeting at the Sports Ministry in Putra Jaya with a "no comment" wave, and walked away.

But the hands-on minister did not disappoint: "Revington gave his views in brief, and after I promised him that I will personally look into the grievances (which has been swept under the carpet for six months), he agreed to stay on until the World League is over," said Khairy.

And with the short-term goal achieved, Khairy will work for the long term benefit of the sport.

"It was a relief when Revington agreed, because it would have been difficult to arrange for a calibre coach on such short notice.

"But with the short-term goal accomplished, I want to meet with MHC president Tengku Abdullah (Sultan Ahmad Shah) and see how we can work out a plan to keep Revington with us for the long term as well," said Khairy.

Revington, under the National Sports Council payroll, had brought up the issues which were bothering him, to many quarters, but no concrete solutions were found, and finally the South African just gave up and was ready to go home.

Today, Revington will meet with his employer, the NSC.

New Straits Times

---

South African to stay on as coach after a meeting with Khairy

By S. RAMAGURU and ERIC SAMUEL



Assistant coach Arul Selvaraj (in yellow) and National Sports Institute physiotherapist Behrad Honer (right) handling the training session in the absence of Paul Revington (inset) at the Bukit Jalil Stadium yesterday. Revington, who resigned after citing outside interference, has agreed to remain as coach for now. — M. AZHAR ARIF / The Star

PUTRAJAYA: South African Paul Revington will stay on as national hockey coach for now – until the World Hockey League semi-finals in Johor Baru.

This turn of events came about after Youth and Sports Minister Khairy Jamaluddin, Paul Revington and National Sports Council's international preparation director Ariffin Ghani had a 30-minute meeting.

Khairy said after the meeting that Revington will stay on for the World Hockey League semi-finals in Johor Baru from June 29- July 7.

"I had a fruitful 30-minute meeting with him (Revington) and I can confirm that he has agreed to stay for the moment to handle the team for the World Hockey League.

"I have also given him an assurance that I will personally look into the issues that he had highlighted and take it up with the Malaysian Hockey Confederation (MHC) president Tengku Abdullah Sultan Ahmad Shah.

"Revington had his say on the issues and has made it clear what he expects in order to stay. But like I said the issues will be dealt with when we meet the MHC soon," he said.

Revington did not want to comment.

Khairy said that he was pleased to hear that the players back the South African and want him to stay.

"It is crucial to have the backing of the players. So let us not talk about the long-term plan just yet. There are matters to be resolved first. It is important for us to focus on the preparations for the World Hockey League," he added.

The minister did not want to go into the details of the conversation with Revington or to say what are the issues which had been highlighted by the coach.

"I am confident that we can work things out. We have to leave it at that for now at least until I meet the MHC," he said.

On Saturday, Revington stunned the hockey fraternity when he e-mailed his resignation to the MHC coaching committee chairman Manjit Majid Abdullah.

The committee had rejected the resignation but at the same time made several decisions which had become contentious.

The committee had recommended that two officials to be removed from their posts and at the same time appointed Sarjit Singh as interim coach.

The two officials concerned are Lim Chiow Chuan, who is the 1MAS director, and national juniors coach K. Dharmaraj.

The coaching committee had also said that Revington's resignation was also due to outside interference in team matters.

The national hockey team started their final phase of training yesterday with A. Arulselvaraj handling the sessions.

The MHC and NSC are expected to hold a meeting on Thursday with Revington to discuss the issue further.

NSC director general Datuk Zolkples Embong, who is in Kangar, Perlis, confirmed that the meeting is set for Thursday.

MHC president Tengku Abdullah is also expected to attend the meeting.

The Star of Malaysia


---

Revington stays for now

by Haresh Deol



Paul Revington

PETALING JAYA - NATIONAL coach Paul Revington will remain with the team as they prepare for the World League tournament from June 29 to July 7 in Johor Baru. It is believed Revington had turned his back on the national team due to a clash with Mas development programme coach Lim Chiow Chuan.

However, the bigger question is who was responsible for the unsavoury episode?

That's a question even Sports Minister Khairy Jamaluddin declined to answer. But Khairy had vowed to speak to officials who were aware of the situation faced by Revington since March, but did nothing about it.

"I think he is still on (with the team) based on our conversation but Revington needs some support and cover from all parties," said Khairy, after meeting Revington at Wisma KBS in Putrajaya yesterday.

"I've read the emails and I've heard plenty of stories as well. I don't want the national team to suffer, so let Revington and the team concentrate on the World League first."

KJ wants solution soon

On Saturday, Revington had sent an email to Malaysian Hockey Confederation (MHC) coaching committee chairman Manjit Majid Abdullah about wanting to quit the team. The coaching committee met on the same day and recommended to sack Chiow Chuan and junior coach K. Dharmaraj, whom the committee believed had a hand in Revington decision to quit.

This came about after claims of interference with the national team and that Chow Chuan had sent a "threatening" email to Revington, as revealed by Mailsport on May 21.

Several top MHC officials were said to have met Revington on Sunday but senior vice-president Shamala Subramaniam, who is also deputy chairman of the team management committee, was clueless. Several other MHC officials were also in the dark about the Revington saga.

The National Sports Council (NSC) were informed of Revington's predicament in March. However, it is unclear if action was taken by NSC, which is the ministry's funding arm.

Revington, Chiow Chuan and Dharmaraj are employees of the NSC.

"Revington insisted that Chiow Chuan and Dharmaraj should not be penalised as they are good coaches. It's just that they can't work together.

"In the meantime, I need to speak to some people and find out why this matter was not addressed earlier. I hope we can reach an amicable solution soon," said Khairy.

Malay Mail


---

England win Masters Home Nations with Ireland second overall

by Helen Johnston




Strong performances from the England Over 40s and Over 45s against Ireland in the last day of the tournament was enough for them to retain the cups for the respective age categories.  While England retained the Over 50s title it was a more complex affair as they were beaten by England Over 55s in the morning so that they only regained the cup on goal difference, with the Irish Over 50s having the same number of points.

In the Over 40s section Ireland were playing England for the title as both teams entered the match on full points, though England had a better goal difference.  In an evenly balanced game, England ran out 4-1 winners by virtue of their clinical finishing.  Former England and GB forward Sally Gibson (who played for England in the World Cup hosted in Dublin in 1994) scored all four of England's goals and was the stand out player of the O40s competition.  Ireland never gave up and got a well deserved late goal.  Noreen Dockery came off the bench and, making a strong supporting run from defence, connected with a baseline pull back from Julie Bell, to deflect the ball into the net.  In the earlier game Scotland beat Wales 4-1 so that the final placings were: 1st England (9pts); 2nd Ireland (6pts); 3rd Scotland (3pts); 4th Wales (0pts).  Gillian Garrett was awarded the Irish Over 40s player of the tournament.

In the Over 45s group Ireland took on winners England looking for a good performance.  Despite Ireland having the better of the opening exchanges they conceded from a deflected own goal 6 minutes into the game.  Ireland kept searching for the equaliser but half way through the second half England were awarded a disputed penalty stroke which they duly converted.  Ireland were unable to convert their chances and the final result was 2-0 to England.  In the other game in this group Wales beat Scotland 1-0.  Final placings for the O45s were: 1st England (9pts); 2nd Wales (4pts); 3rd Ireland (2pts); 4th Scotland (1pt).  Tracey Skoyles was awarded the Irish O45s player of the tournament.

In an exciting last day of the Over 50/55s tournament England Over 55s beat England O50s 1-0 in the first match.  This meant that if Scotland beat Wales in the second match they could potentially win the tournament but Wales held them to a 2-2 draw.  Ireland Over 50s played England Over 55s in the third match - a win for England Over 55s would make them outright winners, while a win for Ireland would put them in contention (if Wales took points off England Over 50s in the last match).  Ireland controlled much of the first half and were rewarded when Cathy Walsh scored from a penalty corner strike.  England 55s attacked right from the push back and less than a minute later were on level terms.  They increased their lead from a penalty corner 2 minutes later, just before half time.  After the restart Ireland were awarded a penalty stroke following an illegal stop at a penalty corner, which Maura O'Neill converted to level things up again.  Both teams pushed for the winning goal, Ireland having the better of the exchanges as England Over 55s tired in their second match of the day.  Ireland got the eventual winner 4 minutes from time when Dee Wallace scored from a penalty corner, tapping in at the back post following good work by Siobhan Forde.  In the last game of the day England Over 50s beat Wales Over 50s 5-0 to win the Over 50/55s tournament on goal difference.  The final placings were: 1st England O50s (7pts, +8); 2nd Ireland O50s (7pts, +2); 3rd Scotland (6pts, +2); 4th England O55s (6pts, -1); 5th Wales (1pt).  Orla Galvin was the Irish O50s player of the tournament.  Tara Browne was awarded the Irish Masters (all age groups) Goalkeeper of the Tournament.

The next event for Irish Women's Masters is the European Open (men and women) taking place in Lisnagarvey Hockey Club from 13th to 17th August 2013.

Irish Hockey Association media release


---

Mixed fortunes for Irish Masters teams on Day 2

by Helen Johnston

The Masters teams experienced mixed fortunes on Day Two of the Home Nations Tournament taking place in Pembroke and Railway hockey clubs.  The Irish O40s had a convincing 3-0 win over Scotland while both the Irish O45s and O50s drew with Scotland and the Irish 50s lost to England.

Playing at 10.00am in Pembroke the Irish O40s dominated the Scottish O40s throughout the game. Half way through the 1st half Hazel Agar put them ahead when she picked up the ball and snapped home a quick shot.  They increased their lead before half time when Captain Gillian Garrett scored from a penalty corner strike.  They consolidated their lead further when Julie Bell pounced on a corner rebound and Ash Schutte deflected her shot over the keeper.  Final score 3-0 to Ireland.  In the other match in this group England beat Wales 8-0.  Ireland face England on Sunday at 11.00am in Pembroke, needing a result to win the tournament while England, with a better goal difference, only need a draw.

The Irish O45s had another draw, this time against Scotland.  Although Ireland dominated, the first half remained goalless.  Ireland went ahead early in the second half when Belfast Harlequins' Clare Bell found the net.  But Ireland were unable to build on the lead and Scotland equalised from a penalty corner half way through the half.  Final score 1-1.  England beat Wales 3-1 in the other match in the O45s category.  Ireland O45s play England on Sunday in Pembroke at 2pm.

The Irish O50s played 2 matches in Railway - the English O50s at 10.30 and the Scottish O50s at 3.30pm.  After their good performance against Wales on Friday the Irish team were confident that they could unsettle England, but found that the good basic skills of the English thwarted their game plan.  If it had not been for a series of outstanding saves from goalkeeper Helen Roche the score could have been higher than the 4-0 final result.  Ireland conceded too many corners, England scoring two of these in the first half and one in the second half, consolidating their win with a strong strike towards the end of the game.

In the second match against Scotland O50s, Scotland had the ball in the net first from a high but dangerously deflected corner shot which was not given.  Soon afterwards Cathy Walsh scored from an Irish corner following a switch move - which was queried but deemed legitimate.  Scotland equalised half way through the second half from a penalty corner.  Ireland went ahead soon afterwards from the goal of the game when a superb turn by Ballyclare's Dee Wallace and cross into the circle found Cork CofI's Dymphna Hill who deflected the ball high into the net.  But the second game of the day was starting to take its toll with tired legs and Ireland were unable to hold the lead for the remaining 7 minutes.  Scotland equalised with a penalty corner switch and were awarded a stroke for a foot on the line 2 minutes from time.  The Scottish stroke taker flicked it high over the bar and so the result remained 2-2.  In the other games in the O50s section Scotland beat England O55s 3-1 and the England O55s beat Wales 3-2. 
Ireland O50s play England O55s at 12.15 (earlier than previously advertised) in Railway on Sunday.

Irish Hockey Association media release


---

Canada U21 Wins Senior Nationals

Edging BC in a shootout to take home gold.




Congratulations to Canada U21 for taking home the gold at Senior Nationals! The final was tightly contested between two teams made up of players with current or past international experience. BC and CAN U21 battled to a 1-1 deadlock at fulltime. Extra time also did not solve anything, so the teams duelled in a shootout.

Youth prevailed, as the U21s beat BC  3-2 in the shootout. Bronze goes to Ontario after a 7-2 victory over Ontario U23.

Thanks to the organizing committee, the officials, volunteers, tech team, coaches, and players for an amazing tournament!

Final Standings:
1. CAN U21
2. BC
3. Ontario
4. Ontario U23
5. Alberta
6. Guyana

Top Goal Scorers:

1. STAIRS Brienne: ON Sr – 9
2. SANDHU Poonam: BC – 8
3. GARDINER Stephanie: BC – 6
3. KEGLOWITSCH Sarah: CAN U21 – 6
5. KARRINGTEN Caashia: CAN U21 – 5
5. ROGANOWICZ Katelynn: ON Sr – 5

Field Hockey Canada media release


---

US funds Exchange Program for Pakistan female hockey athletes




LAHORE - A group of 10 female Pakistani hockey players and two female coaches will leave for Washington this week to participate in the US State Department's Empowering Women and Girls through Sports Initiative Program from June 17-27 which aimed to increase the number of women and girls involved in sports.

"These high school athletes will play field hockey with their American counterparts in Washington DC where they will work with their peers on developing teamwork, health, and leadership skills," said Robert Raines, Deputy Cultural Affairs Officer at the US Embassy.

"They will also travel to North Carolina to participate in field hockey clinics, activities on sports and disability rights, and community volunteerism at the University of North Carolina-Greensboro," he said.

The selection of these female hockey players was made by the Pakistan Hockey Federation (PHF) that included girls from across the country with an emphasis on recruiting girls from rural areas with little access to such opportunities. This international sports exchange program builds on the US global commitment to advance the rights of women and girls around the world.

The US Embassy in Islamabad has sent several young female soccer and basketball players to the US in previous years. Their time in the United States will coincide with the 41st anniversary of Title IX, the landmark US law which afforded opportunity and equality for American women in sports and education. The lessons of Title IX will help young athletes increase the number of women and girls who participate in all aspects of sports worldwide.

The Nation


---

India, Argentina to explore cooperation in hockey, other fields

New Delhi - After football, hockey could be another field for possible cooperation in training between Argentina and India, External Affairs Minister Salman Khurshid said Monday after talks with visiting Argentinian Foreign Minister Hector Timerman here.

Addressing a joint media conference after the talks, Khurshid said both countries have vast scope for cooperation in sport and youth affairs.

"Argentine football players (Diego) Maradona and (Lionel) Messi had visited India in recent times and are household names in India. Their visits have stimulated interest in soccer in India. Hockey is another sport which is common to our two countries and we could look for cooperation in training and exchanges of coaches," he said.

Khurshid said both sides have also exchanged views on regional developments and multilateral issues.

"They have shared understanding on the need for taking common approaches for international peace and security. Argentina is currently holding non-permanent membership of UNSC and India wishes to work closely with Argentina on the reform of the UN and other multilateral financial institutions.

"Our two sides also agreed to be in regular contact in the context of G-20 to defend the interests of developing countries," he said.

He welcomed Timerman on his first ever bilateral visit to India for the 4th round of India-Argentina Joint Commission meeting.

Khurshid said the Joint Commission meeting focused on several areas of bilateral relations including trade and economy; science and technology, agriculture, pharmaceuticals, market access issues, defence, energy and space. The two sides also exchanged views on regional developments and multilateral issues.

Both sides also reiterated their interest to expand the scope of trade and investments. The bilateral trade at $1.83 billion, is short of the trade target of $3 billion set up by the two sides in October 2009 during the visit of the Argentine president, he said.

Khurshid said the joint commission agreed to tackle trade barriers such as regulatory frame works, market access issues, high tariffs, visa and work permits. The two sides further reiterated their determination to strengthen on going cooperation in agriculture, pharmaceuticals, textiles, energy and mining

NDTV Sports


---

A daughter's tribute to her father : Charismatic Zakir Hussain Syed

By Ambreen Ali




ISLAMABAD: Of all the energies that make for a world worth living, none is so artfully constructive as those very few beautiful souls that bring momentum to the inertia of lives. The man larger than life, Zakir Hussain Syed, said good-bye to the world on the gloomiest evening of 21st March, 2013. Leaving the house for his evening walk as well dressed and fit as he ever was, little did he know, or anybody else for that matter, that the countdown had begun for a legendary era to changeover.

It's a loss that could not make sense. Life is strange, it brings about the speed bumps without forewarning , in such a way that time comes to halt. Tributes pour in, appreciations are showered, but no words can fathom the legacy. Pen fails to accompany the ocean of thoughts and memories. Things keep going, time never stops. But the ache surging in the heart of his beloved ones, the sporting community appreciative of his contributions and all those who he kept under his wings shall last.

For a fervor to exist, for any sort of esthetics or direction in life to exist, a psychological condition is the raw material. He possessed those rare characters that made him lead a quintessential life. Starting off his career as teacher, he had it in him to be a mentor. For all that he did for others; he never expected anything in return. He carried a sense of humour that could light up any situation. Polite, humble and friendly, he could never hurt. He is decorated with President's Medal for Pride of Performance, ICC Lifetime Service Award for Asia and ICC Life time Service Award- Global. Zakir had a heart that ached for others. His quest to help the helpless grew every day. People in his village Kotli Ameer Ali shall remember him for establishing a dispensary and an Imam Bargah. He donated ten acres of his agricultural land-a 'goldmine' in the words of few- so as to provide the drug addicted youth of locality a platform to indulge in healthier activities. The Sports Complex, nowhere near completion, has been handed over to the District Government by the Pakistan Sports Board. His dream is in shatters. With him buried at just five minutes walking distance from the incomplete structure, his soul is restless.

A quote says a man dies three deaths: first when the soul leaves the body, second when another grave is put over his, and third when his name is called out the last time in the world. Your soul departed, dear daddy, but your name will shine forever!

The Daily Times