All the news for Thursday 20 June 2013

Belgium and New Zealand to meet in semi-final game

Belgium dominates Ireland, 6-3; New Zealand nips Spain 1-0



Belgium shot their way into the semi-final thanks to a six-goal performance against Ireland (Photo: Grant Treeby)

Friday's Line-up
Placement: Ireland vs. Spain – 12:30
Placement: India vs. France – 14:30
Semi-Final: Belgium vs. New Zealand – 17:00
Semi-Final: Australia vs. Netherlands – 20:00

Follow us live on the FIH You Tube Page or on Twitter @FIH_Hockey.

Belgium – Ireland 6-3 (2-1 halftime)

Belgium became the first men's team at the Rabobank Hockey World League tournament to qualify for the semi-final game after they out-powered Ireland in a goal-filled 6-3 victory.

Belgium out-played Ireland in the first half but only took away a slim one-goal lead at the break. The scoring started with two Dutch goals coming less than a minute apart Loick Luypaert scored on a drag flick penalty corner and Thomas Briels followed up with a field goal on the ensuing trip downfield.

The Irish had luck on their side when they were able to cut the lead in half at the break when Chris Cargo scored in the last minute on a penalty corner play that left the Belgians with little to show for their strong first-half performance.

It was Belgium's turn to be lucky as they climbed ahead 3-1 five minutes into the second half when a ball that was fired into the D bounced off Irish captain Ronan Gormley for the own goal. But the Irish quickly recovered from the shock, scoring their second penalty corner goal of the game when John Jackson fired in a top-shelf shot.

After the initial flurry, the goals started rolling in on both sides. With three goals coming in a seven-minute span. Belgium emerged from the offensive showdown on top with a 6-3 lead thanks to goals from Sebastien Dockier and Tom Boon. Boon's goal was one of the best of the tournament as his sprawling dive on a breakawaywas just enough for him to get his stick on the ball for the marker.

Belgium will face the winner of the New Zealand vs. Spain game in Friday's semi-final game. Meanwhile, Ireland will look to finish as high as possible to try to keep their World Cup hopes alive. Their next test in that quest is the loser of the New Zealand vs. Spain.

New Zealand – Spain 1-0 (1-0 halftime)

New Zealand earned a berth in Friday's Semi-Final game at the Rabobank Hockey World League tournament in Rotterdam by the slimmest of margins with a 1-0 win against Spain.

New Zealand dominated the game early on and was rewarded when Hugo Inglis was fed a picture perfect pass on a breakaway and scored the 1-0 goal. But after the early success there was complete silence from both sides of the field as the win stayed tantalizingly out of reach for the Spaniards and the loss stayed too close for comfort for the Black Sticks.

Spain rallied late in the game with at least four penalty corner chances in the last 15 minutes. It even looked like they might get a last-gasp chance after time expired when a potential penalty corner went to video review, but that was denied along with Spain's bid to finish in the top-four of the event.

New Zealand will take on Belgium in the critical semi-final round. The winner of that game will be guaranteed a spot in the World Cup.

FIH site


---

Semi-Final showdown between Netherlands and Australia

The two hockey giants easily win quarterfinal games



It was a great day for Australia's Jamie Dwyer - he celebrated 300 caps and hist team made it to the semi-finals (Photo: Grant Treeby)

Friday's Line-up
Placement: Ireland vs. Spain – 12:30
Placement: India vs. France – 14:30
Semi-Final: Belgium vs. New Zealand – 17:00
Semi-Final: Australia vs. Netherlands – 20:00

Follow us live on the FIH You Tube Page or on Twitter @FIH_Hockey.

Netherlands – France 8-4 (3-2 halftime)

The Netherlands made their home fans happy at the Rabobank Hockey World League tournament in Rotterdam after cruising through the semi-final round with a 8-4 win against France. The Dutch will take on Australia in what is sure to be an epic semi-final meeting on Friday.

It was a festival of goals for the teams, especially in the last 10 minutes of the game, where the goals were flowing freely with five scored in an eight-minute span.

Jereon Hertzberger got the party started early 2:30 into the game with a penalty stroke goal slammed into the lower left corner. Just over five minutes later Constantijn Jonker doubled the lead with his tip in on a Billy Bakker shot.

France staged a mini-comeback and opened the eyes of the crowd and Dutch team when they scored two straight goals to pull even. Matthieu Durchon fired in a penalty corner in the 21st minute and three minutes later teammate Viktor Lockwood followed suit to make things interesting.

But Hertzberger was there to restore order for the Netherlands when he did what he does best, firing in a penalty corner goal in the last minute of the half. Valentin Verga picked up in the second half right where the Dutch left off, increasing the lead to 4-2 in the first two minutes of action.

Hertzberger mixed things up mid-half when he completed the hat trick, only this time putting in a field goal from the slot and increasing the lead to three goals. The teams exchanged two quick goals in the last 10 minutes. Hugo Genestet tried to get France into the game with an odd-angle goal, but two minutes later the Dutch struck again on a penalty corner, this one scored by Rogier Hofman.

Robert Kempermann and Quirijn Caspers put the icing on the cake with two late goals in the last three minutes. In total, the last 10 minutes of the game saw an amazing five goals scored, including an own goal that favored the French and helped the scoreline look somewhat respectable at 8-4 as the final.

Of the four semi-final teams in Rotterdam, Belgium is the only squad that went through an earlier round of the Hockey World League. The Belgians won the Round 2 tournament in France to earn their spot here in Rotterdam. The other three semi-finalists, New Zealand, Netherlands and Australia were all automatically seeded into the Rotterdam event based on their placement in World Ranking.

Australia – India 5-1 (4-1halftime)

Australia earned a spot in the semi-final game at the Rabobank Hockey World League tournament in Rotterdam after a feisty 5-1 win against India. Australia will play the winner of the Netherlands vs. France game in the semi-finals.

It was a momentous game today between Australia and India. First, it was the quarterfinal meeting between the two hockey giants with a lot riding on a top-four finish in Rotterdam. Second, it was hockey legend Jamie Dwyer's 300th appearance for Australia and adding the icing to the cake, it was the 100th meeting between the India and Australia. In the end,

Once all the pre-game festivities were over it was time for the teams to get down to business. Things started out tame enough. Australia took a 1-0 lead when Glen Simpson scored a penalty corner two minutes into the game. Things started to heat up as the clock reached double digits with elbows, knees and everything in between flying.

But the real fun and game started in the 20th minute when the teams combined for an amazing four goals in a two-minute span. Australia's Matt Ghodes and India's Chinlensana Singh exchanged two quick goals. But before India even had a chance to celebrate the 2-1 score, a long pass intended for Jamie Dwyer bounced off Sardar Singh for the own goal. Less than 30 seconds later Russell Ford added the 4-1 goal to the mix.

After the flurry, thing settled down into a more manageable rhythm. The score stayed a 4-1 until the 39th minute when Matthew Swann added to the Australian tally with another penalty corner goal for his team.

For India, it was a disappointment to be ousted in the quarterfinal after their last major campaign at the 2012 Champions Trophy finished in a top-four finish. However, there is a silver lining for the Indians, they will host the Hockey World League Round 4 tournament in Delhi this winter and will have a chance to earn a stronger finish there.

FIH site


---

Kookaburras win crunch quarter final

Victory over India seals semi final place and likely World Cup spot

A clinical first half display helped the Kookaburras seal a semi-final berth at the Hockey World League and a place at the 2014 World Cup in The Hague thanks to a 5-1 victory over India in Rotterdam.

Before the match – the 100th between the two teams - much of the attention had been on Jamie Dwyer, who made his 300th appearance for Australia, but the Kookaburras demonstrated early on that their focus was firmly on securing the crucial victory. Glenn Simpson's second minute opener put the Kookaburras in the driving seat before Matt Gohdes's strike midway through the first half set in motion an incredible four minute period that saw India half the deficit before Australia stretched their lead, firstly to 3-1 and then to 4-1 as Russell Ford added to an Indian own goal.

Good use of the video referral system early in the second half presented Australia with a penalty corner at which Matthew Swann reacted quickest to a rebound off the goalkeeper's helmet to make it 5-1; his third goal in seven matches.

Head Coach Ric Charlesworth admitted afterwards that he was relieved at the outcome. "My first feeling is one of relief," said the Kookaburras' coach. "There was a lot at stake today. After a first half like that, in the second half you just have to keep grinding it out.

"We want to win the tournament. We always came here to win but the problem in my opinion was that the biggest part of the tournament was in the middle, the quarter finals [because of the opportunity to qualify for the World Cup]. Now that's out of the way I want us to be in the main game on Sunday."

Speaking about his captain for the day, Jamie Dwyer, Charlesworth said, "He has been the outstanding player of this era for Australia and one of the best in the world. I'm delighted the boys put in that performance today for him."

Like Australia's Socceroos the night before, the Kookaburras knew that victory would see them through to next year's World Cup. And no sooner had the game begun than Australia won their first penalty corner. From the set play, Chris Ciriello's vision found Glenn Simpson in space and he made no mistake, flicking home from the middle of the circle.

The Kookaburras were then handed a numerical advantage as India lost Dharamvir Singh to a ten minute suspension, followed shortly by green card suspensions for Harbir Singh Sandhu and Trent Mitton. However, both sides were at full complement by the time Australia doubled their lead in the 20th minute. Having demonstrated his defensive qualities in charging down India's only penalty corner of the match, Matt Gohdes made an even bigger impact at the other end minutes later as he netted to make it 2-0.

The strike sparked a frenzied period that saw four goals scored in less than three minutes. Chinglensana Singh Kangujam halved the deficit almost immediately as he capitalised on a mistake in the Kookaburras' defence but no sooner had India hauled themselves back into the match than Australia's two goal cushion was restored through an own goal that looped up off a defender and over the goalkeeper. And less than a minute later Russell Ford made it 4-1 as he finished off a flowing attacking move, sliding his shot inside the back post.

Eddie Ockenden's good use of the video referral system won the Kookaburras a penalty corner four minutes into the second half and when Chris Ciriello's powerful flick rebounded back off the goalkeeper's helmet Matthew Swann reacted quickest to divert the ball home for 5-1. Having scored just twice in his first 88 appearances for the Kookaburras, the Queenslander has now found the back of the net three times in his last seven games.

The Kookaburras had further chances, notably two crosses in front of the Indian goal that Dwyer came within millimetres of converting, a two late penalty corners but the job was already done.

Australia will now face the winner of the quarter-final between the Netherlands and France in the semi-final, anticipated to be the Olympic silver medallists the Netherlands. That match gets underway at 1:00am AEST on Saturday.

In celebration of Jamie Dwyer's 300th appearance for the Kookaburras, a limited edition series of commemorative artwork is being auctioned on the Hockey Australia website. See if for yourself and bid for a very special piece of hockey memorabilia here.

Next round draw
Friday, 21 June - 8:30pm AEST - 5th-8th place: Ireland v Spain
Friday, 21 June – 10:30pm AEST – 5th – 8th place: India v France or the Netherlands
Saturday, 22 June – 1:00am AEST – semi-final 1: Belgium v New Zealand
Saturday, 22 June – 4:00am AEST – semi-final 2: Australia v Netherlands or France

KOOKABURRAS 5 (4)
Glenn Simpson 2 (PC)
Matt Gohdes 20 (F)
Own Goal 21 (OG)
Russell Ford 22 (F)
Matthew Swann 39 (PC)

INDIA 1 (1)
Chinglensana Singh Kangujam 21 (F)

Kookaburras Squad v India, 20 June
(Listed alphabetically by surname)
Name (Hometown, State) Caps/Goals (updated)

Started
Joel Carroll (Darwin, NT) 88/2
Andrew Charter (GK) (Canberra, ACT) 47/0
Chris Ciriello (Melbourne, VIC) 117/59
Tim Deavin (Launceston, TAS) 75/3
Jamie Dwyer (Rockhampton, QLD) 300/191
Matt Gohdes (Rockhampton, QLD) 78/21
Kieran Govers (Wollongong, NSW) 76/33
Mark Knowles (Rockhampton, QLD) 216/17
Eddie Ockenden (Hobart, TAS) 185/49
Simon Orchard (Maitland, NSW) 126/39
Glenn Simpson (Melbourne, VIC) 91/15

Used Sub
Kiel Brown (Perth, WA) 136/4
Russell Ford (Eltham, VIC) 129/53
Rob Hammond (Townsville, QLD) 231/28
Fergus Kavanagh (Geraldton, WA) 167/14
Trent Mitton (Perth, WA) 46/14
Matthew Swann (Mackay, QLD) 95/5

Unused Sub
Tristan Clemons (GK) (Bunbury, WA) 11/0

Hockey Australia media release


---

Ireland dealt World Cup blow by Belgium

A tough day at the office for the Irish Senior Men saw them fall 6-3 to a talented young Belgian side in Rotterdam this morning.

Two goals in two first half minutes before a Chris Cargo reply saw them go in at the break 2-1 down and fighting hard, but six goals in twenty minutes of the second period left Andrew Meredith's side beaten by the better team on the day.

The result means Belgium progress to the semi-finals and in doing so are guaranteed a place in next year's World Cup.

Ireland now face either New Zealand or Spain on Friday to determine their final classification game at the weekend, with a 5th place finish their best possible outcome.

Proceedings started tentatively, with both sides attempting to get a foot hold in the game. However, a Luypaert drag flick in the 9th minute was followed up less than sixty seconds later with a strong infield run and pass by Gougnard. His pass played in Briels who calmly dinked the ball over Davey Harte, leaving it 2-0 to Belgium after ten minutes.

Ireland struggled to cope with a classy Belgian side who pressed high and caused turnovers from the Irish men coming out of defence.

Some headway was finally made 8 minutes before the end of the half when a line ball from Loughrey on the right found Gormley who cut infield but found Belgian keeper Vanasch in the way of his reverse stick effort, Ireland's first shot of the game.

A minute later Belgium countered and a mazy base-line run from Charlier allowed a slip to Dohmen on the P-spot, forcing Harte to make a great save. The follow up found Reckinger in space on the right of the circle but his crash ball to the back post somehow stayed out.

In the 30th minute a Loughrey reverse effort was saved by Vanasch, with the Green Machine finally gaining some headway in the game. They were rewarded for their efforts three minutes from time with a penalty corner after a Gleghorne slap found a Belgian foot in the circle. Harte's initial flick was saved and a high ball meant Ireland had a second bite. This time a Harte dummy slip found Cockram to drag, and injector Cargo pounced on the rebound to volley home with style.

The goal was exactly what Ireland needed to get back in the game and the teams headed to the break with the score at Ireland 1 Belgium 2.

After halving the deficit the Green Machine conceded a soft goal four minutes into the restart when they fell foul to the recent own goal introduction. A crash ball from Luypaert on the left was deflected in by Ronan Gormley in front of goal, leaving Harte rooted to the ground.

John Jackson stepped up minutes later to roof a slip drag, reducing Belgium's slender lead to one. It was an emphatic finish by the Mossley man, bringing Ireland right back into the game.

A penalty corner rebound in the 9th minute was well saved by Harte, as Belgium once again squeezed the life out of the Irish back four. Another crash ball from the left by Dockier on 15 minutes found Boon in front of his marker, his deflection via Jonathan Bell nut-megging Davey Harte to make it 4-2.

Belgium made it five in the 19th minute of the half when Shane O'Donoghue was dispossessed by Dohmen on the half way line. His deftly threaded through ball cut the seams of the Irish centre halves allowing Boon to dive and expertly clip the ball over the oncoming Harte and leaving the Green Machine with a long way back.

Credit to Ireland who never gave up and fought hard to make some headway going forward. They were rewarded for their efforts with 13 minutes to go when patient build up play found Cockram on the left, whose sweeping cross allowed Gleghorne to deflect home and make it 5-3.

The goals kept coming and the ninth of the game came only two minutes later when Ireland failed to clear their lines after a penalty corner save from Harte. Dockier was given acres of space in front of goal to slot home and make it game over with ten to go.

An Irish penalty corner effort on the final hooter smashed the left-hand upright, leaving the final score Ireland 3 Belgium 6.

Speaking to hockey.ie after the game coach Andrew Meredith said "Belgium are a very good side who have just had their 19th consecutive game unbeaten. We knew it would be difficult, and that today for us a group, it was all about the performance. I thought that after the initial difficult phase in the first 15-20 minutes, we worked hard and got ourselves back into the contest, and probably played some of our better hockey. The 2nd half was patchy, and our lapses were punished. We executed our set pieces much better today, both offensively, and defensively, but to concede 2 own goals was very, very disappointing.

Meredith continued "The critical moment was conceding the 3rd goal, and unfortunately it is another example of why the own goal experimentation is an unnecessary intrusion into our game, particularly after we changed the rules to try and stop balls being crashed into the circle. In our case, the 3rd goal came against the run of play in our most positive phase of the Tournament. How is that a reward for trying to play positive hockey, particularly when the camera positions are poor for video referrals at this tournament? We are no longer in control of the qualification process, and must now regroup as quickly as possible, take the positive steps we made forward, and look to give our best performance to date in the next game.

Ireland will now regroup to face the loser of the New Zealand Spain game on Friday at 11.30 am Irish time.

World League 3, Rotterdam, Holland

Ireland 3 (C Cargo, J Jackson, P Gleghorne)

Belgium 6 (S Dockier 2, L Luypaert, own goal, T Boon, T Briels)

Ireland Starting XI: D. Harte, Jackson, Gormley (C), Cargo, Sothern, Caruth, McConnell, Cockram, Maguire, Gleghorne, C. Harte

Irish Hockey Association media release


---

Black Sticks edge Spain, roll on to semis



Hugo Inglis celebrates the winning goal. Photo: www.photosport.co.nz

An enormous team effort has led the Black Sticks Men to a 1-0 win over Spain and sees them progress to the finals at the World League Semi-Final in Rotterdam.

A first half goal from Hugo Inglis was enough to put the still undefeated Kiwi men into the semi-finals where they will play Belgium on Saturday morning at 3am (NZ time) for a shot at the final.

The win guarantees the Black Sticks a top four finish at the tournament which not only means they qualify for World League Round 4, but are also in good shape to qualify for the 2014 Hockey World Cup.

Today's game was a complete team effort with the Black Sticks outdone on the stat sheet but coming out on top thanks to superior tactics, especially on defence.

Head coach Colin Batch was thrilled to win through to the semi-finals and said his side showed impressive composure throughout the game as a unit.

"It was an advantage to get a goal early and again we proved that defence is a cornerstone of our performance under pressure," Batch said.

"Full credit to every player out there today, it was an enormous team effort. All players performed well and did an exceptional job towards the end."

Batch, former head coach of Belgium, is looking forward to what will be a tough game against a red-hot team he helped build.

"It's a bit strange to be playing against them but that's the way it goes. Belgium are playing great hockey but I'm confident we have the skills to match them."

The Black Sticks played the better first half against Spain and looked dangerous in possession, although shots on goal were rare for both sides.

Inglis opened the scoring in the 14th minute with a full length diving deflection crashing into the top right corner to put New Zealand up 1-0.

Spain sent a scare through the Kiwi camp just out from halftime after an error at the back by Cory Bennett led to a penalty corner. Goalkeeper Devon Manchester positioned himself perfectly with the shot just missing the left post.

The second half showcased some exciting hockey while neither side could convert on their chances in the attacking circle.

New Zealand's defence was outstanding late in the game and at fulltime the Black Sticks had drawn a clean sheet on all four of Spain's penalty corner attempts.

The men were cheered on today by the Black Sticks Women, who play Netherlands in their semi-final at 6am tomorrow morning (NZ time). Both the men's and women's semi-finals are live on SKY Sport.

The top three men's and women's teams from the World League Semi-Final automatically qualify for the 2014 Hockey World Cup, although it is possible to earn qualification at the tournament with a lower ranking. New Zealand can still qualify in other ways as well, with the next opportunity coming at the Oceania Cup in Taranaki this October.

RESULT:

Black Sticks 1: (Hugo Inglis)
Spain 0
Halftime: Black Sticks 1-0

Hockey New Zealand Media release


---

Inglis strike enough for Black Sticks

By David Leggat

The New Zealand men's hockey team are through to the last four at the World League semifinal tournament in Rotterdam after a 1-0 win over Spain today.

The key moment came midway through the first half, from a brave, full length dive and stab into the Spanish net from close range by striker Hugo Inglis. The Black Sticks produced a stout-hearted display during which they came second in most areas of the statistics sheet, except the only one that really counted.

''It was an enormous team effort," coach Colin Batch said. ''All the players performed well and did an exceptional job towards the end."

The Black Sticks will now play Belgium, formerly coached by Batch, early on Saturday morning (NZT) for a place in the final. Belgium topped their pool and are unbeaten in the tournament.

The win for the world's sixth-ranked team over the seventh also kept New Zealand unbeaten in Rotterdam, and came off back-to-back defeats to Spain in warmup games en route to the tournament.

Spain had eight shots on goal to three by the Black Sticks, had 26 circle penetrations to 17 and 66 per cent of possession to 34 per cent in the opposition half, and the only four penalty corners of the match.

"It was an advantage to get a goal early and again we proved that defence is a cornerstone of our performance under pressure," Batch said.

New Zealand weren't without their chances, both Jacob Smith and Stephen Jenness going close in the second spell.

The result puts New Zealand into the finals in Delhi early next year and leaves them one win away from securing a spot at next June's World Cup in The Hague, with the top three finishers guaranteed a place in that tournament.

Ninth-ranked Belgium beat Ireland 6-3 to take their place in the semifinals, while world No 2 Australia, with a 5-1 win over India, will play Netherlands.

The world No 3 team beat France 8-4 to take their place in the last four.

The New Zealand Herald


---

India lose 1-5 to Australia, crash out of FIH World League Round 3

ROTTERDAM: India's hopes of securing a direct berth in next year's World Cup went up in smoke after they were handed a humiliating 1-5 defeat by Australia in the quarterfinal of the men's competition of the FIH World League Round 3, on Wednesday.

Six top teams -- three each -- will qualify directly for the 2014 World Cup to be held in Hague, The Netherlands from the two editions of FIH World League Round 3 -- the ongoing event in Rotterdam and then the next one to be held in Malaysia from June 29 to July 7.

An error-prone India needed a miracle to topple Australia in what was the 100th international fixture between the two sides. But it was not be as the Kookaburras dished out a clinical performance to make short work of the Sardar Singh-led side.

The Australians took the stuffing out of India in the first 35 minutes by scoring as many four goals -- Glenn Simpson (2nd minute), Matt Gohdes (20th, Russell Ford (22nd) including an own goal by Indian defender Sandeep Singh while their fifth goal was scored by Matthew Swann in the 39th minute.

Chinglensana Singh scored the consolation goal for India in the 21st minute.

Ranked second in the world, the Australians started the match as favourites against the 11th ranked Indians and they played according to their reputation by dominating the share of possession throughout the match.

The Indians played catch-up hockey in the entire 70 minutes and did not look convincing at all in all departments of the game.

To add to it, India's perennial problem, a fragile defensive line continued to hurt them badly.

Australia were on the offensive from the onset and it took them just two minutes to break the deadlock when Simpson scored from their first penalty corner after Christopher Ciriello perfectly laid the ball for him.

India got a chance to equalise in the 15th minute when they earned a penalty corner but Sandeep Singh cut a sorry figure with the resultant effort.

The Kookaburras looked menacing and utilised the scoring chances that came their way.

Gohdes doubled Australia's lead in the 20th minute with a field goal from top of the circle.

India, however, pulled one back in the subsequent attack when Chinglensana scored with a fierce hit, courtesy some sloppy defending from the Australians inside the circle.

But Sandeep helped Australia regain their lead by scoring an own goal and then Ford made the scoreline 4-1 when his shot slammed the back of the Indian net after he was set up Kieran Govers.

Australia continued on the same vein in the second half and kept up the pressure on the Indians with frequent raids.

The Kookaburras increased their lead to 5-1 just four minutes into the second period when Swann tapped home a rebound from their second penalty corner.

The Indians, thereafter, tried hard to force a comeback with a few promising raids but the Australian defence stood tall to deny their opponents.

Australia got back-to-back penalty corners to increase their lead in the dying minutes of the match but the Indian defence did enough to deny their opponents any more goals.

India will now play the loser of the last quarterfinal between Netherlands and France in the 5-8 classification matches on Friday.

Belgium will face New Zealand in the first semifinal, while Australia will be up against the winner of the last quarterfinal between hosts Netherlands and France.

The Times of India


---

Black Sticks men into semi-final

The Black Sticks men's hockey team have joined the women's side in reaching the semifinals of the World League tournament in Rotterdam.

A 14th-minute, diving strike from Hugo Inglis saw the New Zealand side beat Spain 1-0 and remain unbeaten at the tournament.

They will now meet Belgium on Saturday morning (NZT) for a place in the final.

The top-four finish the Black Sticks have now earned also qualifies them for the World League Round Four tournament - the convoluted tournament's final round.

A top-three finish over the next few days in the Netherlands will also earn the Kiwis automatical qualification to the World Cup next year in The Hague.

This morning's match was always likely to be a tight one with New Zealand ranked sixth in the world and Spain seventh, and the Black Sticks were perhaps lucky to get past a gritty Spanish side this morning.

The Spanish had more ball and more chances, but the New Zealand defence held, often keeping the Spanish out with the final tackle.

Keeper Devon Manchester made a handful of top-quality saves to keep his clean sheet.

Coach Colin Batch said getting on the board in the first 15 minutes was the perfect start and allowed the team to focus, again, on defence.

"It was an advantage to get a goal early, and again we proved that defence is a cornerstone of our performance under pressure," Batch said.

"Full credit to every player out there today, it was an enormous team effort. All players performed well and did an exceptional job towards the end."

Batch is the former Belgium head coach and was fizzing about having a crack at a team he helped build.

"It's a bit strange to be playing against them but that's the way it goes," he said.

"Belgium are playing great hockey but I'm confident we have the skills to match them."

Belgium, ranked ninth in the world, beat Ireland 6-3 in their match this morning and like New Zealand are unbeaten.

Australia will play hosts the Netherlands in the other semifinal after beating India 5-1 and the Dutch beat France 8-3.

The Black Sticks women play the Netherlands in their semifinal tomorrow at 6am (NZ time) and the men's semifinal on Saturday morning at 3am (NZ time) will be shown live on Sky TV.

Black Sticks 1: (Hugo Inglis) Spain 0

Halftime: Black Sticks 1-0

Stuff


---

Dutch semi 'new challenge' for Black Sticks

BRENDON EGAN



SEMI-FINAL TIME: Pippa Haywood in action against Japan in their quarter-final win. Photosport

New Zealand women's hockey coach Mark Hager admits his side won't be thinking about revenge when they face the Netherlands in the semi-final of their World League tournament in Rotterdam tomorrow morning (NZT).

The Black Sticks overcame a plucky Japanese side 3-1 in their crossover quarter-final game yesterday, to set up a tantalising rematch with the Dutch, who are the top ranked women's side in the world.

When the two sides last met at the London Olympics, the Netherlands prevailed in a semi-final shootout thriller, after the game was tied 2-all after extra-time.

Hager was downplaying the redemption factor leading into the semi-final clash, and said his side would be treating it as a fresh challenge.

"I don't ever get revenge for a loss, particularly at the Olympic Games. It's in the past, you can't really get that sort of revenge. You're not going to win a medal, even if we beat them," he said.

"We're looking at it as a new game. We've got a new list, they've got a new list. It's about making sure we do everything properly and give ourselves the best opportunity to come away with a victory."

The Netherlands thumped India 8-1 in their crossover quarter-final yesterday, and Hager acknowledged his side would have to be at the top of their game to beat the Dutch on their home turf.

"They've got 10 or 11 gold medalist Olympians still. They've got Maartje Paumen, their dragflicker. She's a quality corner specialist. We've got to be making sure we don't concede too many corners and give her too many opportunities, or she will punish you."

The win means New Zealand have qualified for the World League Final tournament in December in Argentina. A top-three place in Rotterdam will get them to next year's World Cup.

Japan, who are ranked ninth in the world, took a shock 1-0 lead, two minutes into yesterday's game, when Sam Charlton tried to clear the ball, but deflected it into her own net. New Zealand made most of the play in the first half, with eight shots on goal - including four penalty corners - to Japan's one, but they could not find breach Japan's staunch defence.

In the second half, their fifth penalty corner of the game paid off when Krystal Forgesson, on a tight angle, took a cracking reverse shot, and found the back of the net.

Anita Punt then scored off New Zealand's sixth penalty corner, in the 54th minute, flicking the ball high over the keeper's head to put the Black Sticks in the lead for the first time in the game.

With the end of the game in sight, the score stretched to 3-1 from the eighth penalty corner when Punt again flicked it high and the second deflection fell to Charlotte Harrison, who swept it home.

Hager always expected Japan to be a tough side to wear down, and said it was a matter of being patient and taking advantage of their penalty corner attempts, and other chances in front of goal.

"Apart from the own goal, we conceded in the first minute or so, we dominated the game. We just weren't clinical in the attacking third in the first half," Hager said.

"The biggest difference in the second half was, we put away our penalty corners. If you do that, you give yourself a really good chance."

Stuff


---

Black Sticks to take on Olympic victors

By David Leggat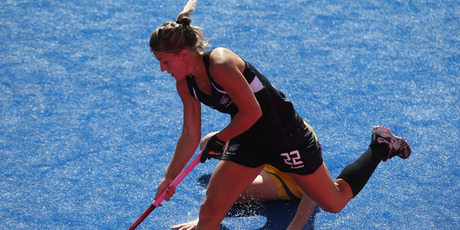 Gemma Flynn. Photo / Getty Images

History is about to repeat, albeit in a different setting, for New Zealand when they play Olympic champions the Netherlands for a place in the World League hockey final in Rotterdam tomorrow morning.

The last time the women played the Dutch was in the Olympic semifinal in London last August. A thriller ended in tears for the Black Sticks as a 2-2 draw - and having had chances to win in regulation time - was lost 3-1 in a penalty shootout.

Recent history is against the world No3 side, but they're hoping a Dutch team with some new faces from their Olympic campaign might enhance their prospects.

If New Zealand beat the Netherlands, they will have made it into next June's World Cup, with the world No1 side as hosts.

"This is one of those big games that you train for, the Dutch at home will be a new experience for our younger players," New Zealand coach Mark Hager said.

New Zealand progressed to the last four with a 3-1 win over plucky Japan yesterday, all the goals coming from second half penalty corners.

One of the star turns, midfielder Gemma Flynn, is confident New Zealand are tracking in the right direction.

"We're definitely making progress, improving with each game and now it's crunch time, the business end of the tournament," Flynn said.

She is sure New Zealand will be competitive, and the hurt felt at their Olympic semifinal will still be there for the survivors of that match.

"In this tournament they probably haven't been as strong as at the Olympics, they're trying a few new players out," Flynn said.

"Their style is pretty attacking," - the Dutch have scored 21 goals in their four games to New Zealand's 13 - "and they're very skilful so it's not going to be easy. However we're always up for the challenge."

The other semifinal is between world No5 Germany and eighth-ranked Korea. The New Zealand men's team were playing against Spain for a place in the semifinals early today.

Against the odds

* Black Sticks record against the Netherlands:
* Since 2010, the teams have met six times. The Netherlands have won five times - including the 3-1 penalty shootout after their Olympic semifinal in London last year was locked at 2-2 - with one drawn.
* In those games the Netherlands have scored 19 goals and conceded six. Four of those six goals were scored by striker Krystal Forgesson.
* If New Zealand win, they are sure of a place in next year's World Cup, to be played in The Hague. The Netherlands qualify automatically as hosts.

The New Zealand Herald


---

Still hopes alive for India for WC berth, and how

s2h team

India is yet to score a win in four matches at Rotterdam, still if the purpose of going there is to qualify for the next year's world cup, there is hope for India to realise the objective.

After getting smashed by Australia 5-1 -- really a respectable score -- today in the quarterfinal, India is pushed to second rung, that is to play for 5-8th position. India will meet France first and then if it wins -- which is a surety -- it will be just a match away from qualifying for the The Haque.

Because, three teams are to qualify for the next World Cup from Rotterdam. This is in addition to Hosts of The Hague WC, and other continental champions.

This way Netherlands automatically qualifies for the WC being the hosts and then either Australia / New Zealand will be Oceania Champions. Thus, two out of four semifinalists having booked or will book with time, other teams to make it to Hague will be next three. Thus, Belgium has booked and the fifth placed team will also do the same, though the picture will be clear only after Oceania tournament will be staged.

Therefore, India has to be careful, forget the last week, and look afresh for the task on hand. Defeating France and then either Spain or Ireland should not be a problem for India, even what their form so far at Rotterdam is any indication.

India struck an equalizer four minutes from the hooter to effect a draw against Ireland, which is tired side now after the QF rout, and then had a decent second half performance against Netherlands which could not score in that spell, and then the worst spell was its inability to keep the 3-2 lead for four more minutes (again another 66th mins goal), but for that a win was surely with India.

Yes, performance is rusty, but if you forget the score and look on the performance, there is lot of improvement, the way India backpassed, and held the ball in many spells against mighty Australia gives hope it will do better in the second stage of the tournament.

India should here finish fifth, and then look for Asia Cup win. So, the last word on the WC berth is yet to come.

Stick2Hockey.com

Today is the owner of Stick2Hockey, Mr. K Arumugam's birthday. We wish him many happy returns of the day and every success with his 1000 Hockey Legs project in the forth coming year.


---

Paumen named 2012 FIH Player of the Year

Flanagan earns Young Player of the Year honors



Maartje Paumen accepts the 2012 FIH PLayer of the Year trophy from FIH President Leandro Negre (Photo: Frank Uijlenbroek )

As part of the Rabobank Hockey World League Semi-Final festivities, the FIH today announced that the 2012 Women's Player of the Year is Dutch standout Maartje Paumen. It is the second consecutive year that the midfielder has won the award.

Paumen was a member of the 2012 Olympic gold medal winning team with the Netherlands and scored three goals during the Olympics Games, including one in the final against Argentina. She also took the bronze medal at the 2012 Champions Trophy, where she scored four goals.

Paumen is the captain of the Dutch team and is the heart and soul of the current World #1 squad in the FIH World Ranking. With her club team Den Bosch, she won the 2013 EuroHockey Club Champions Cup (EHCCC).

Paumen beat out an extremely competitive field for the honor of Player of the Year. Making the Short List were (in alphabetical order):

Luciana Aymar – ARG. The seven-time Player of the Year winner had another strong year in 2012. She scored three goals at the London Olympics, where Argentina took home the silver medal. She was also on the gold medal winning team for Argentina at the 2012 Champions Trophy in Rosario.

Crista Cullen – GBR. Cullen scored four penalty corner goals at the London Olympics and was the top scorer at the 2012 Champions Trophy in Rosario. She was a key for Great Britain's bronze medal run on home soil at the London Olympics.

Kim Lammers – NED – Lammers missed out on the gold medal with the 2008 Beijing Olympic Netherlands team, but made up for it by striking gold in London. At the 2012 Olympics, she was one of only two players to score four field goals in London. Lammers also scored four field goals at the 2012 Champions Trophy.

Kayla Sharland – NZL. One of the most respected players on the New Zealand team, Sharland paced the New Zealand side at the 2012 Olympics with four goals. She was also a leader for the team at the 2012 Champions Trophy.

Young Player of the Year

The FIH also announced that the winner of the Women's Young Player of the Year award (Under-21) is Australia's Anna Flanagan. Flanagan, born in 1992, is such a poised fixture for the Hockeyroos that it is often easy to forget her young age.

Flanagan is a key player for Australia and was her team's leading scorer at the 2012 London Olympic Games with two goals, where her team finished in fifth place. Flanagan was also a main figure in Australia's bid to earn its way back to the Champions Trophy level. At the Champions Challenge 1 in Dublin, she was largely responsible for her team's promotion, scoring three goals there.

The other players that made the Short List for the 2012 Young Player of the Year award were:

Erica Coppey BEL 1991

Cheon Eun Bi KOR 1992

Florencia Habif ARG 1993

Stacey Michelsen NZL 1991

It was the goal of the FIH to present the Player of the Year awards to the winners in person, which is the reason for the delay in the announcement. Anna Flanagan will be presented her award at the upcoming Hockey World League Semi-Final in London.

Hockey Australia media release


---

Anna Flanagan wins World Young Player of the Year

21-year-old from Canberra named best young player in 2012

Australian Anna Flanagan has been named hockey's World Young Player of the Year. The Canberra-born Hockeyroos defender becomes the third Australian woman to win the award, following in the footsteps of current teammate Casey Eastham, who won in 2009, and Angie Skirving, the inaugural winner of the Young Player award in 2001.

Flanagan, who is currently with the Hockeyroos squad in London preparing for the Investec World League, which gets underway on Saturday, said: "I am very honoured to be named World Young Player of the Year. I want to thank my coaches Adam Commens and Jason Duff for their support and the ongoing challenges to which they ask me to rise. I would not be here without my teammates who help and inspire me, and I am so grateful that I get to play this amazing game with them whilst representing my country."

The FIH World Young Player of the Year is awarded to the best international player aged 21 or younger. Flanagan wins the award on the back of her performances in 2012, which included scoring twice at the Olympic Games where she helped the Hockeyroos to fifth place, two places higher than their world ranking of the time.

After debuting early in 2010, Flanagan earned selection to the Hockeyroos squad for the 2010 Commonwealth Games and went on to win gold in Delhi. Since then she has gone from strength to strength becoming a Hockeyroos regular and competing at the Olympic Games, Champions Trophy, Champions Challenge and Oceania Cup.

Flanagan was voted ahead of Erica Coppey (Belgium), Cheon Eun Bi (Korea), Florencia Habif (Argentina) and Stacey Michelsen (New Zealand). Dutchwoman Maartje Paumen was named World Player of the Year.

The Hockeyroos' Investec World League campaign commences against Spain at 1:30am AEST on Sunday. Pool phase matches against England (2:00am AEST, Monday) and South Africa (2:30am AEST, Wednesday) follow prior to a quarter final that could see the Hockeyroos qualify for next year's World Cup.

Anna has been blogging for the Hockey Australia website from the team's European tour. Read her blog online here.

Previous Australian winners of world awards:

Women's World Young Player of the Year
Casey Eastham (2009)
Angie Skirving (2001)
Men's World Young Player of the Year
Matthew Swann (2011)
Eddie Ockenden (2008)
Mark Knowles (2007)
Grant Schubert (2003)
Jamie Dwyer (2002)

Women's World Player of the Year
Alyson Annan (1998, 2000)

Men's World Player of the Year
Jamie Dwyer (2011, 2010, 2009, 2007, 2004)
Jay Stacy (1999)

Hockey Australia media release


---

Hockeyroos name final 18 for Investec World League

Jordyn Holzberger and Emily Hurtz are unfortunate pair to miss out

Hockey Australia has submitted its final 18-athlete Hockeyroos squad for the Investec Hockey World League in London. The newest tournament in the international hockey calendar, the Hockey World League is Australia's first opportunity to qualify for the 2014 World Cup in The Hague.

A 20-strong group has been preparing for the tournament with a European tour encompassing a warm-up fixture against Belgium and unofficial practice matches against the Netherlands, Germany, England and China. But with competition regulations requiring teams to nominate a squad of 18, Queenslander Jordyn Holzberger and Emily Hurtz of NSW are the unfortunate pair missing out on selection.

The Hockeyroos' campaign begins in the early hours of Sunday morning, at 1:30am Eastern time, when they take on Spain in their opening match. Their second game, against England, takes place at 2:00am Eastern time on Monday before the pool phase wraps up on Wednesday with a match against South Africa (2:30am Eastern time).

Every Hockeyroos match will be streamed live via YouTube. You can also find the streaming at www.hockey.org.au. Highlights of the matches will also be available.

Each of the Hockeyroos' pool phase matches will be shown delayed on Fox Sports as follows.

Sunday, 23 June – Hockeyroos v Spain – 8:00am AEST – Fox Sports 2
Monday, 24 June – Hockeyroos v England – 5:00am AEST – Fox Sports 3
Wednesday, 26 June – Hockeyroos v South Africa – 11:30am AEST – Fox Sports 2

Hockey Australia media release


---

Investec SA hockey women win Scotland series 2-1 in Edinburgh

JONATHAN COOK



Pietie Coetzee 10 goals in Scotland series. Photo: LUKE WALKER

A TOTAL of 27 goals in Edinburgh over the last seven days suggests that the forwards and set-piece specialists had success aplenty in the four-Test series between Scotland and the Investec South Africa women's hockey team.

SA won the series 2-1 after Scotland had won the first Test 3-2, followed by the South Africans winning the second and third Test matches 4-1 and 5-2. Tuesday night's final international at the University of Edinburgh's Peffermill Sports Facility saw the encounter end in a 5-5 draw.

The world number 19 Scots, who were surprisingly knocked out of the World League in round two, punch considerably above their weight and gave world number 11 South Africa a right run for their money as the girls in green and gold made final preparations ahead of the Investec World League semi-finals tournament that begins in London on Saturday and ends the following Sunday, June 30.

In their opening match, SA meet world number four England at 8 pm (SA time) Saturday. The South Africans meet world number two Argentina in a practice match at 5.30 pm (SA time) Thursday.

For striker and set-piece ace Pietie Coetzee there was much to smile about during the Scotland series; the talismanic South African netting 10 goals in the four matches.

In the feverish fourth Test, Scotland led three times in the match with SA fighting back on each occasion. After restoring parity at 3-3 in the second half thanks to a low shot from striker Dirkie Chamberlain, SA then took a 5-3 lead in the last 10 minutes through Coetzee's hat-trick goal and a Chamberlain strike that roofed the net, but this time it was the Scots' turn to claw back for the 5-5 final scoreline.

RESULTS
First match: Scotland 3 (Ali Howie, Morag McLellan and Nikki Kidd) South Africa 2 (Pietie Coetzee 2); second match SA 4 (Coetzee 3, Lilian du Plessis) Scotland 1 (Nicola Skrastin); third match SA 5 (Coetzee 2, Kelly Madsen, Tarryn Bright and Du Plessis) Scotland 2 (Kidd and Holly Cram); fourth match: SA 5 (Coetzee 3, Dirkie Chamberlain 2) Scotland 5 (Becky Merchant, Nikki Lloyd). SA won the series 2-1.

SA Hockey Association media release


---

Scotland Men welcome England second string for double header



Gavin Byers v wales. Credit: Ayaz Ali

Following two wins from two matches against Wales last weekend, Scotland Men welcome England 'A' to Peffermill on 22 & 23 June for another double header as the squad continues its build-up to the EuroHockey Nations Championship II in August.

Reflecting on the performances against Wales, Scotland Team Manager Eugene Connolly said, "Saturday's game was close and a bit scrappy, but the second match on Sunday produced a much better performance from the players and we were comfortable winners. We also managed to blood six new caps during last weekend, which adds to the strength and depth of the squad."

Glynhill Hotel Kelburne pair William Marshall and Chris Nelson have recovered from injury to take their places in Head Coach Derek Forsyth's squad, while first choice goalkeepers Jamie Cachia and Allan Dick also return to the fold.

Last week's debutants Fraser Hirst, Paul Martin and Chris Duncan will also get another opportunity to stake a claim for selection in the series coming up against Czech Republic and Spain in July.

"England 'A' have a number of good players with it being now the recognised route to the full senior side down south, so we will need to be up to the mark this weekend. It will be a step up in performance level and the players will need to adapt to the opposition", said Connolly.

"We also have Czech Republic and Spain coming up in July so the matches against England 'A' are, from our point of view, the last opportunity to assess the fringe players and determine whether they are to be considered for the internationals next month. Ideally, we want to go on both trips with the squad we will take, barring injury of course, to the European championships in Vienna this August."

Scotland Men: Paul Martin (Grove Menzieshill), Gary Cameron (Grange), Jamie Cachia (Sheffield Hallam), Graham Moodie (Edinburgh University), Chris Duncan (Inverleith), Russell Anderson (Brooklands), Ian Moodie (Western Wildcats), Chris Nelson (Glynhill Hotel Kelburne), Kenny Bain (THC Hurley), William Marshall (Glynhill Hotel Kelburne), Ian Scholefield (Qui Vive), Wei Adams (Royal Penguins), Callum Duke (Edinburgh University), Allan Dick (Holcombe), Ross Stott (Grove Menzieshill), Fraser Hirst (Clydesdale HC), Chris Grassick (Surbiton), Gavin Byers (Grove Menzieshill), Nick Parkes (Surbiton), Derek Salmond (Inverleith),Gordon McIntyre (Beeston).

Match Schedule:

22 June, 16.30, Scotland v England 'A', Peffermill, Edinburgh
23 June, 11.00, Scotladn v England 'A', Peffermill, Edinburgh

Scottish Hockey Union media release


---

Ireland welcomes Canada to Dublin

This weekend sees the Electric Ireland Senior Women's side take on visitors Canada at the National Hockey Stadium in UCD.

For Coach Darren Smith, it will be his first taste of international hockey on home turf, and he will hope his team can get him off to a good start.

The Green Army take on Canada on Saturday, Sunday and again on Tuesday evening.

Smith has a squad of 27 to choose from, welcoming back the likes of Lizzie Colvin and Nikki Evans, who sat out against Scotland last week.

The series also a first cap for UCD's Emily Beatty and a possible 50th for Nicci Daly.

Saturday looks set to be a momentous and historic occasion as Nikki Symmons will play her 200th Test for Ireland, an amazing achievement for the Loreto player.

She is currently Ireland's most capped female player, and will be delighted to achieve her 200th cap in front of a home crowd.

Smith welcomes the series of matches in the upcoming weeks:

"I am very much looking forward to the series against Canada and then playing Wales and Scotland at Mossley Hockey Club next week."

"It will give us a chance to see our players back in action and playing more international hockey. The more we can get into this environment the better the team will gel."

"I thought we made an ok start against Scotland last week with some promising hockey but we do need to defend better coming into the remainder of the summer."

"Nikki Symmons making her 200th test appearance for Ireland is a fantastic achievement. Not only for her longevity but also for the quality she brings to our team. At the other end of experience after a strong season it will be great to see Emily Beatty become the newest member of the Green Army. A quick, skilful and high energy player she is exciting to watch."

Meanwhile, new National Coach Ian Rutledge will experience his first Series as Head Women's Coach. The former New Zealand women's coach is looking forward to the tests ahead, including games against Scotland and Wales:

"The Tour of Ireland symbolizes the first steps for our program on the Road to Rio."

The tour will also provide the Canadian WNT their first hit out since WL1 in November 2012 and will allow our team the first opportunity to audit our systems on and off the field."

We will also be using the tour to benchmark our game against seasoned opponents in preparation for the two events this year - the Junior World Cup in July and the Pan Am Games in September."

The Canadians have an average age of almost 22, Thea Culley the most capped on 91 Senior Tests. There are four new caps in the squad; Kathleen Leahy, Karli Johansen, Kaelan Watson and Holly Stewart. Ten of the players will also play in the Junior World Cup in July this year.

Fixtures:

22-Jun-13 14:30 Ireland v Canada
23-Jun-13 14:30 Ireland v Canada
25-Jun-13 19:30 Ireland v Canada
28-Jun-13 15:00 Wales v Canada
29-Jun-13 17:00 Wales v Canada

Canada Squad:

1 WILLIAMS, KAITLYN
2 LOGUSH, LAUREN
3 GILLIS, KATE
4 WATSON, KAELAN
5 ROMEO, CAROLINA
6 STEWART, HOLLY
7 DICKINSON, MARIAN
8 BARNETT, JESSICA
9 HENNIG, DANIELLE
10 LEAHY, KATHLEEN
11 DONOHOE, RACHEL
12 CULLEY, THEA
13 HAUGHN, HANNAH
14 JOHANSEN, KARLI
15 RAYE, ABIGAIL
16 SOURISSEAU, NATALIE
17 MCMANUS, SARA
18 LANCASTER, ANGELA
21 GARDINER, STEPHANIE
22 SECCO, MADDIE
23 BRIENNE, STAIRS

Electric Ireland Irish Women's Squad 2013:

1. Niamh Atcheler (UCD)
2. Emily Beatty (UCD)
3. Naomi Carroll (Catholic Institute)
4. Lizzie Colvin (Loreto)
5. Nicci Daly (Loreto)
6. Kate Dillon (Railway Union)
7. Deirdre Duke (UCD)
8. Nikki Evans (UCD)
9. Brenda Flannery (UCD)
10. Megan Frazer (Ballymoney)
11. Emma Gray (Hermes)
12. Nicola Gray (UCD)
13. Michelle Harvey (Pegasus)
14. Lisa Jacob (Hermes)
15. Shirley McCay (Old Alex)
16. Ali Meeke (Loreto)
17. Katie Mullan (UCD)
18. Audrey O'Flynn (Hermes)
19. Anna O'Flanagan (UCD)
20. Grace O'Flanagan (Railway Union)
21. Gillian Pinder (Hermes)
22. Niamh Small (Loreto)
23. Pamela Smithwick (Old Alex)
24. Emma Smyth (Railway Union)
25. Alex Speers, (Railway Union)
26. Nikki Symmons (Loreto)
27. Chloe Watkins (UCD)

Irish Hockey Association media release


---

I am working on my keeping: Imran Butt

By Fawad Hussain



I've worked a lot with our coaches since the Azlan Shah Cup and my target is to block the maximum number of moves to avoid a repeat of the Azlan Shah Cup, says Butt. PHOTO: AFP

KARACHI: Pakistan hockey has produced great goal-keepers in the past with Shahid Ali Khan and Ahmed Alam's names standing out.

Currently, Imran Butt and Imran Shah are the team's preferred options but both remain a long way away from being counted in the same bracket.

The Greenshirts' defence has been vulnerable and is pale in comparison to powerhouses like Australia and the Netherlands. At the six-nation Azlan Shah Cup in Malaysia where Pakistan finished last, the team conceded 20 goals in just six matches, while scoring 11. However, Butt, 25 who is more likely to be preferred in the upcoming Hockey World League (HWL), was hopeful of improving the numbers.

"There is no doubt that a goal-keeper has a lot of responsibility," the 25-year old told The Express Tribune. "The rule changes that favour goal-scoring have added a burden on us. I've worked a lot with our coaches since the Azlan Shah Cup and my target is to block the maximum number of moves to avoid a repeat of the Azlan Shah Cup. I've worked with Alam and now Arshad Hussain is trying to bring an improvement. Tahir Zaman, who is a highly qualified FIH coach, is also working with us along modern techniques."

Butt, younger brother of former captain Rehan Butt, said the return of senior players will also help in improving the team's weak area.

"The management included youngsters by resting the senior players in Azlan Shah Cup. Their return will improve our defence and also minimise attacks from the opposition. No goal-keeper can block all moves and is likely to concede at least half of the attempts made."

'One major title is all I dream of'

The goal-keeper, playing hockey since the age of 13, said an Olympic or World Cup medal was his target as an international player.

"My dream is to stand on top of the podium and receive a medal," said Butt, adding that he drew inspiration from former goal-keeper Salman Akbar. "Pakistan hockey has earned a lot of achievements in the past but we need another big laurel to boost the national game."

The Express Tribune


---

Paul Revington is glad to be back to train the Malaysian team

Reports by AFTAR SINGH



All is well: Coach Paul Revington conducting his first training session after returning to the national team at the National Hockey Stadium in Bukit Jalil Wednesday. —BRIAN MOH / The Star

KUALA LUMPUR: The excitement at the National Hockey Stadium in Bukit Jalil yesterday morning was palpable as coach Paul Revington returned to train the national hockey team.

The national team are preparing for the World League semi-finals, which will be held at the Taman Daya Stadium in Johor Baru from June 29-July 7.

The 40-year-old Revington, who was hired as national coach last September, said that it was "enjoyable" to be back to train the national team since he quit last Saturday.

"The players were shocked when I quit the national team. Some of them could not believe it. But they were glad to see me return to training today (yesterday)," said the South African, who quit due to outside interference.

Revington, whose contract expires in September next year, shocked the entire nation when he e-mailed his resignation to Malaysian Hockey Confederation (MHC) coaching committee chairman Manjit Majid Abdullah last Saturday.

But the committee rejected his resignation.

Revington said that the meeting with Youth and Sports Minister Khairy Jamaluddin on Monday and National Sports Council (NSC) director general Datuk Zolkples Embong on Tuesday was fruitful.

MHC president Tengku Abdullah Sultan Ahmad Shah will meet Revington today.

"Almost 85% of the problems have been settled. But a meeting with the MHC president will be good to resolve the matter," said Revington, who added that he would decide on his future after the World League semi-finals.

What was surprising about Revington's resignation was his timing, having named 16 players for the World League semi-finals just a day earlier.

Revington will name two more players tomorrow and the team will leave for Johor Baru to train at the Taman Daya Stadium on Monday.

Malaysia will play two friendlies against Argentina and Germany on June 25 and June 26 respectively before opening their Group B campaign against Pakistan on June 29.

Their other group matches are against South Africa (June 30) and England (July 2).

Group A comprises world No. 1 Germany, South Korea, Argentina and Japan.

The World League semi-finals offers the teams a chance to qualify for next year's World Cup in The Hague, Holland.

Malaysia last featured in the World Cup in Kuala Lumpur in 2002.

The Star of Malaysia


---

Heavy task on Faizal's shoulders



Our hope: Faizal Saari (left) will be the man Malaysia will look to for goals in the World League semi-finals in Johor Baru from June 29-July 7.

KUALA LUMPUR: Diminutive forward Faizal Saari will have to shoulder the responsibility of getting the goals in the World League semi-finals at the Taman Daya Stadium in Johor Baru from June 29-July 7.

The 23-year-old Tenaga Nasional player is a two-time top scorer in the Malaysia Hockey League (MHL) – last year (20 goals) and in 2011 (19 goals).

And it will be up to him to deliver the goals – field and penalty corner – to help Malaysia qualify for next year's World Cup in The Hague, Holland.

Eight teams, divided into two groups, will feature in the tournament and top three teams will qualify for the World Cup.

It won't be easy for Malaysia though they are ranked 13th in the world.

Malaysia, who last qualified on merit for the World Cup in Utrecht, Holland in 1998, are in Group B of the World League semi-finals with world No. 4 England, Pakistan (No. 5) and South Africa (No. 12).

World No. 1 Germany are in Group A with South Korea (No. 8), Argentina (No. 10) and Japan (No.16).

Faizal, of Terengganu, admitted that it would be a daunting task for them to finish in the top three and earn an automatic spot in the World Cup.

"We have to play well in all three matches to finish top two in the group so that we'll face an easier opponent in the quarter-finals," said the skilful Faizal, who scored 17 goals in the MHL, which ended last month.

"Although all the other three teams in our group are ranked higher than us, we will go all out to get the better of them,"

Malaysia will open the campaign against Pakistan on June 29. The last time these two teams met – in the Sultan Azlan Shah Cup in Ipoh in March – they drew 2-2.

The national team played four Test matches against South Africa last month in Ransburg, with Malaysia drawing one – 4-4 – and losing three – 2-1, 3-2, 3-1.

The Star of Malaysia


---

St Cecilia cut right to the chase

By FRANCIS MUREITHI

Enterprising St Cecilia Girls Misikhu emphasised their seriousness of reclaiming the 2013 Kenyan National Secondary Schools games girls hockey title when they walloped Gategi Girls from Northern 3-0 at Nakuru Boys High School on Wednesday.

St Cecilia, representing Nzoia region are coming back in the games after serving a one-year suspension for fielding an ineligible player in 2011.

"Those who had written us off after staying out of the national games for one year should now be prepared for a tough battle ahead because we have come to Nakuru with one mission: To reclaim the title and prove the pundits wrong," said their utility player Linda Achieng'.

The saints first won the title on their first national appearance in 2001. They lost the title the following year before securing back-to-back wins in 2003 and 2004.

The have only Kibwezi Girls between them and a semi final-berth as the eye a title they lost won in 2009.

Against Gategi, St Cecilia went into the offensive right from the word go with the attacking duo of Mary Namaya and Linda Achieng raiding their opponents goal area with good stick work and brilliant runs.

In the fourth minute Mary Namaya, who was a constant threat to the Gategi defence, collected a loose ball at the centre of the pitch and made a brilliant run before side stepping into her opponents to fire from inside the box and give her side the match opener.

Pride of Nzoia region

Inspired by this goal the pride of Nzoia region stepped up pressure for more goals and as Gategi Girls defence came under pressure burly striker Linda Achieng, who was undoubtedly the girl of the match, fired the second goal following a goalmouth melee in the 13th minute.

The swift Namaya completed her double in the 67th minute and St Cecilia's third after Gategi's valiant defence cracked.

"We hope to maintain our good run and if we maintain the same tempo we are surely going to the East African Games in Kampala Uganda in August," said Namaya.

In another match, Afraha High School representing Nakuru region proved that they are no a pushover in the championships when they thrashed Kibwezi Girls 2–0.

Afraha High opened the scoring of this fast-paced match in the 29th minute.

Daily Nation


---

Mangu post hockey boys mixed results

By FRANCIS MUREITHI



St Patrick Iten's Edwin Chirchir (right) controls the ball past Nairobi School's Keith Bahati in a hockey match during the Kenyan National Secondary School Games at Nakuru High School on June 19, 2013. Photo/SULEIMAN MBATIAH NATION MEDIA GROUP

Mangu High School may be an academic giant but the 2013 National Secondary Schools Term 2A Games are proving to be a tough examination for them going my their limp performance in the boys hockey championships at Nakuru Boys High School.

According to the records, Mangu have only won the national secondary schools hockey title once in 2010 since the inception off the games in 1982 and their chances of second title hangs in the balance.

In their opening match on Tuesday, Mangu representing Aberdare region, were made to fight every inch of the way before drawing one all with Nakuru region representatives St Patrick's Iten.

Unlike Mangu, the Saints have won the national title three times in 1985, 1988 and 1990.

On Wednesday, Mangu lost their second outing, 1-0 to St Charles Lwanga from Mombasa in a pulsating match that saw both boys give out their best.

The saints had lost their opening match 2-1 to Nairobi School and any slipped up would have halted their chances of reaching their first national secondary school hockey finals.

"Mangu is a known giant inside and outside the pitch and by defeating them this has made me happy today," said Victor Onyango, scorer of the only goal of the match. He dedicated the goal to his mother Grace Odhiambo.

Crestfallen Mangu custodian David Sumba blamed his strikers for wasting a dozen scoring chances particularly in the first half.

"Our strikers Tony Korir, Alphonse Musila and Alphonse Musyoka just had a bad day in the office and if they had used the chances they created then St Charles Lwanga would be mourning by now," said Sumba, a form three student.

Sumba, who has so far conceded two goals in the championships, said he was not a worried man as the bulk of the players in this year's championships are in form two.

"We're building a formidable team for the future," he said.

Daily Nation


---

Bombay HC directs Hockey India to restore VP's name

Rosy Sequeira

MUMBAI: Bombay high court on Wednesday directed Hockey India, the apex body governing men and women's hockey, to restore the name of its vice-president and former India skipper Rekha Bhide on its website.

A division bench of Justice VM Kanade and Justice Rekha Sondurbaldota heard Bhide's petition challenging the May 29, 2013 inquiry report recommending action against her for alleged religious discrimination.

The inquiry was initiated on a complaint by an umpire Firoz Shaikh alleging that she humiliated and discriminated against him only because he is a Muslim.

The inquiry report stated that it found merit in Shaikh's complaint "and in order to avoid and strictly discourage any discrimination and dislike on the ground of race, creed, caste or religion" recommended her removal from her posts as VP of Hockey India and president, Hockey Maharashtra .

It also recommended that she be banned her for a year from "taking active part in any Hockey India activities." The report was submitted to the Working Board which confirmed the inquiry report.

Bhide's advocate S M Gorwadkar submitted that under the rules the Working Board's order has to be ratified by the Executive Board.

The Times of India