All the news for Saturday 10 August 2013

Scots fall short of semi-final place after Wales draw



Defender William Marshall considers the implications of Scotland's draw against Wales at full time. Credit: Herbert Kratky

Scotland Senior Men fell short of a semi-final place in the EuroHockey Nations Championship II after a 1-1 draw with Wales in Vienna today.

An equalising goal from Gavin Byers on the stroke of full-time was not enough for the Scots, who needed to win by three clear goals after France's 4-2 win over Azerbaijan earlier in the day, to qualify for the semi-finals.

Subsequently, the national side finished third in Pool A and will now contest the relegation pool for the remainder of the tournament.



Scotland midfielder Chris Grassick in action against Wales in Vienna. Credit: Herbert Kratky

It was Wales who opened the scoring as early as the third minute when Michael Shaw dispatched a penalty corner past Scotland goalkeeper Jamie Cachia to make it 1-0.

The remainder of the first half saw the national side pile pressure on the Welsh defence with the majority of possession and territory. However, Wales' rearguard remained resolute, much to the frustration of the Scottish attack, as the half was played out with the Welsh in front by a single goal at the interval.



Scotland captain Iain Scholefield contests the ball against Wales. Credit: Herbert Kratky

With Scotland requiring four goals in the second half to make the semi-finals, it was always going to be a tall order.

Unfortunately for Scotland Head Coach Derek Forsyth and his charges, the breakthrough didn't come until the very last minute when Grove Menzieshill midfielder Gavin Byers made it 1-1 in the 70th minute.

Scotland will now carry 1 point along with Wales to the relegation pool this weekend.

Please visit the EuroHockey website for a run down on fixtures, results and pool standings.

EuroHockey Nations Championship II: Scotland (Byers 70') 1-1 Wales (Shaw 3')

Scotland Men: Jamie Cachia (Sheffield Hallam), Graham Moodie (Edinburgh University), Paul Martin (Grove Menzieshill), Alan Forsyth (Surbiton), Russell Anderson (Brooklands), Ian Moodie (Western Wildcats), Chris Nelson (Glynhill Hotel Kelburne), Kenny Bain (THC Hurley), William Marshall (Glynhill Hotel Kelburne), Iain Scholefield (Qui Vive), Wei Adams (Royal Penguins), Callum Duke (Edinburgh University), Ross Stott (Grove Menzieshill), Chris Grassick (Surbiton), Gavin Byers (Grove Menzieshill), Nick Parkes (Surbiton), David Forsyth (Qui Vive).

Scottish Hockey Union media release


---

Men's Pan American Cup - Change of Schedule

Uruguay and Trinidad and Tobago delayed in travel

Ali Lee, PAHF




BRAMPTON, Ont. – The Men's Pan American Cup, hosted in Brampton, Canada, will experience a change in schedule for the opening pool play matches. The opening match that pits Argentina against Mexico, as well as the Canadian home opener against Brazil will go on as planned on Saturday; however travel logistics have hindered two of the competing teams.

Both Uruguay and Trinidad and Tobago faced traveling hurdles that have required the Pan American Hockey Federation to alter the competition schedule, pushing games to Monday and moving Tuesday's competitions to Wednesday.

Prior to taking off from Montevideo, the Uruguay squad was delayed as severe storms resulted in their plane being struck by lightning. In addition, the Trinidad and Tobago contingency also faced a roadblock obtaining their visas.

To accommodate the delayed teams, both Uruguay and Trinidad and Tobago's opening matches have been moved to Monday, while the remainder of the scheduled has been moved down a day. The semifinals and final matches will all be played as originally scheduled.

All 20 games will also be broadcast live online via the Pan American Hockey Federation website at panamhockey.org

Field Hockey Canada media release


---

Brampton Canada Pan American Cup August 10-17, 2013 (Men)-Standings in previous editions

By B.G.JOSHI (Dhar, Indore-India)
World Ranking
Team
2000
Havana,Cuba
2004
London,Ontario,Canada
2009
Santiago,Chile
Pool A
10
Argentina
3
1
3
27
USA
5
7
2
34
Mexico
7
6
6
47
Uruguay
Not qualified
9
8
Pool B
14
Canada
2
2
1
25
Chile
4
3
4
30
Trinidad-Tobago
Not qualified
4
5
32
Brazil
Not qualified
10
7
Cuba (WR: 40)-Champions of 2000 not qualified for 2013 edition.

Fieldhockey.com exclusive


---

No. 3 jersey to be retired as mark of respect to Chua

By S. RAMAGURU

KUALA LUMPUR: The national hockey team's No. 3 jersey may "be retired" as a mark of respect for the late Chua Boon Huat.

Boon Huat, who was involved in a fatal car crash on Aug 1, had always worn the jersey with the No. 3 – which also happens to be his birth date.

If the Malaysian Hockey Confederation (MHC) agree to "retire" the jersey, then the number will cease to be worn at the Asia Cup, which will start in Ipoh on Aug 24.

Boon Huat was 33 when he died and had been a regular member of the team since making his debut in 1998 as a 17-year-old.

In 2009, the Malacca-born player found himself out of favour with the national team but he soon rebounded and earned a spot in the first 11 when Paul Revington took over last year.

Boon Huat, who last international outing was the FIH World Hockey League semi-final in Johor Baru last month, had 337 caps – the most among the national players.

National coach Revington liked the idea of retiring the No. 3 jersey worn by Boon Huat.

"Retiring or 'resting' the No. 3 jersey ... would be a very good gesture. This is up to the MHC to decide. He is the most capped Malaysian player, so he certainly would have earned this honour," he said, adding that the show must go on and rallied his men to go for a win in Ipoh as a tribute to their late team-mate.

The MHC council are set to decide on whether to retire the No. 3 jersey when they meet on Aug 18.

The Asia Cup in Ipoh is also a qualifier for the World Cup in The Hague, Holland, next year.

Besides Malaysia, the top teams from Asian – India, Pakistan, South Korea and Japan – are also eyeing the single spot available from the continental championship.

For the Asia Cup, Malaysia are in Group A with Pakistan, Japan and Taiwan while Group B comprises India, South Korea, Japan and Oman

The Star of Malaysia


---

Auckland in dual push for podium

By David Leggat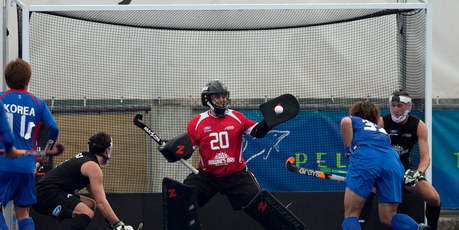 New Zealand Black Sticks goalkeeper Devon Manchester saves a goal. Photo / Brett Phibbs

Auckland's men put their title on the line while the province's women aim to go one better than last year when the national league starts today.

The men needed an extra-time goal to beat Southern 2-1 in their Challenge Shield final last year, while Canterbury capped an unbeaten tournament by beating Auckland 3-1 in the women's K Cup final.

The men first, where Auckland have made changes from last year but, with five players in the national squad and two in the development group, should be formidable.

New Zealand goalkeeper Devon Manchester, national skipper Dean Couzins, brothers Arun and Jared Panchia, and Marcus and Simon Child and guest player, England international Simon Egerton, should ensure Auckland won't easily lose their grip on the title.

International attackers Katie Glynn, Krystal Forgesson and Samantha Harrison seem certain to keep the Auckland women in the goals.

They have a new coach, former Indian international goalkeeper Jude Menezes, and Glynn likes what she's seen in training.

''We've got quite a new group this year, a few are going into their first national league and it's got a really different feel to it from last year," Glynn said.

''I think we've got a really good mix of players. I don't know how the other teams are tracking but from what I've seen I'm pretty happy and think we can play some pretty good hockey."

There have been disruptions to preparation for all women's teams in the Ford-sponsored competition with, first, the Black Sticks in the Netherlands on World League duty, followed by the Junior Black Sticks who have just returned from Germany this week.

The recent introduction of Region of Origin rules, obliging players to return and play for their original province, has been extended to include development players. Glynn approves of the change.

''It definitely evens out the competition. The standard of the tournament has improved. You don't just have three teams dominating and the rest struggling."

North Harbour men will be led by veteran Dave Kosoof in his 15th and final season and will be aiming to at least match their third-place finish last year.

The former Black Sticks striker has been a part of Harbour's four NHL titles since 2000 and acknowledged it will be tough signing off.

''But it's just become too hard keeping up with these young fellas at training," he said.

The province's women have international keeper Bianca Russell as a formidable last line and lively Black Sticks midfielder Petrea Webster.

Of the other sides, look for Southern in the Challenge Shield, sprinkled with talented young internationals and bolstered by Australian striker Eddie Ockenden; and Canterbury seem sure to put up a solid defence of their women's crown.

After the first two rounds this weekend dotted around the country, from next Saturday the remaining five rounds plus semifinals and finals are compressed into a nine-day period, all at North Harbour.

Three successive days' play in that period will test teams' fitness and depth.

The New Zealand Herald


---

Auckland Men, Canterbury Women dominate



Photo: www.photosport.co.nz

The Auckland Men and Canterbury Women stamped their authority with big wins in the opening round of the Ford National Hockey League today.

International guest player Simon Egerton (England) led Auckland to victory over Northland with a stunning hat-trick while Joe Crookes scored a double. Jignesh Keshor, Michael Ritchie and Jared Panchia also made it onto the scoresheet for the Fury.

Meanwhile the Capital Men recorded a solid 5-2 win over Central, scoring five unanswered goals before the Mavericks hit back with two late consolation goals.

Midlands Men defeated North Harbour 3-1 thanks to a Matt Rees-Gibbs brace while Southern Dogs completed the opening men's round with a tight 2-1 result over Canterbury.

On the women's side of the draw, defending champions Canterbury opened their 2013 campaign by soundly defeating Southern Storm 5-0.

The Blackwood sisters combined for three goals with Bridget scoring two and Georgie adding another. Anna Wetherall and Rachael McCann also found the back of the net.

A double from Katrina O'Callaghan lead Capital Women past Central Mysticks 4-1, and Midlands surged past North Harbour 3-1.

In the final women's game of Round 1, Black Stick Katie Glynn scored a hat-trick to help Auckland edge Northland 4-3 in a game that was much closer on the scoreboard than the stats sheet.

Round 2 will be played across the country tomorrow before Round 3 gets underway at North Harbour Hockey Stadium on August 17th.

FORD NHL RESULTS
ROUND 1 – SATURDAY 10 AUGUST

MEN
Southern Dogs v Canterbury Cavaliers (Timaru)
Southern 2: (Jeremy Morris 2)
Canterbury 1: (William Davidson)

Central Mavericks v Trust House Capital (Levin)
Central 2: (Regan Hughes, Joe Reardon)
Capital 5: (Blair Hilton, Benedict van Woerkom, Matt L'Hullier, Stephen Jenness, Jacob Smith)

Auckland Fury v Marsden Cove Northland (Auckland)
Auckland 8: (Simon Egerton 3, Joe Crookes 2, Jignesh Keshor, Michael Ritchie, Jared Panchia)
Northland 0

North Harbour v Bayleys Midlands (North Harbour)
North Harbour 1: (Dylan Nixon)
Midlands 3: (Ronald Brouwer, Matt Rees-Gibbs 2)

WOMEN
Southern Storm v Canterbury Cats (Timaru)
Southern 0:
Canterbury 5: (Anna Wetherall, Bridget Blackwood 2, Georgie Blackwood, Rachael McCann)

Central Mysticks v Trust House Capital (Levin)
Central 1: (Elizabeth Redwood)
Capital 4: (Aniwaka Roberts, Katarina O'Callaghan 2, Kelsey Smith)

Auckland Fury v Mark Cromie Holden Northland (Auckland)
Auckland 4: (Katie Glynn 3, Jan Rowsell)
Northland 3: (Naomi Evans 2, Jenna Cartwright)

North Harbour v Bayleys Midlands (North Harbour)
North Harbour 1: (Petrea Webster)
Midlands 3: (Shiloh Gloyn, SuArn Kwek, Renee Ashton)

Hockey New Zealand Media release


---

Rs 50000 by the ministry a pittance: WC medalists

Hindol Basu

SHAHBAD: After winning a historic bronze medal at the Junior Women's Hockey World Cup in Monchengladbach, Germany the Indian team has come back home. The team was felicitated at a function in the national capital but financially they haven't made much for their incredible performance.

Breaking it down to numbers, the Haryana government has given 6 players from its state Rs 5 lakh each. The sport's parent body in the country Hockey India has given Rs 1 lakh for each member of the team and the Union sports ministry has come out with Rs 50,000 for the players of the team.

Compare it with the under-19 cricket world cup triumph in Australia, exactly a year back where each member of the team got richer by more than Rs 20 lakh with the BCCI doling out ample amount of moolah and the Union sports ministry giving Rs 5 lakh from their side.

Putting things into perspective, a hockey stick that is used at the international level costs around Rs 20,000. Then the specially made astroturf shoes that these girls use cost Rs 10,000. The shin-pad Rs 8000.

For the goalkeeper the monetary difficulties are even more. The goalkeeping pads, gloves and the helmet costs nearly Rs 80,000. In total, just the equipment cost goes beyond Rs 50,000 for the players and after that there are dietary recommendations that they have to maintain.

Six players of the winning Indian team hail from Shahbad including the Most Valuable Player of the World Cup Rani Rampal and are coached by Baldev Singh at the Shahbad Hockey Academy, who believes that the amount given by the ministry is a 'pittance'.

"The sports ministry has given Rs 50,000, which is a pittance. Our kits cost much more. If the sports minister comes here and sees the condition of the girls, I'll give him Rs 2 lakh," says an angry Baldev Singh.

"They should atleast have some level of conscience. What they are giving to the girls who need financial backing and what they dole out to people who do not need it," he adds.

Even Rani, is aggrieved at the treatment meted out to them, especially by the sports ministry.

"This is not enough. It's the first time that an Indian women's team has won a medal at the World Cup. This is a big thing. The sports ministry has to think about it. They should have a conscience. How can one play professionally at this level without financial backing," she laments.

"Hockey is our national game. The Under-19 Cricket World Cup winners got substantial amount of money. The amount they got for winning one tournament, we can't get in our whole life," adds Rani. Another player of the winning team, Navtoj Kaur echoes Rani's sentiments.

"Rs 50000 is not enough. We got a medal after such a long time. It's important to maintain the level of motivation. If the minister comes here he'll know what's the background of the kids here. Even Hockey India has given more. We didn't expect so less from the sports minister," rues the 17-year-old.

Navneet Kaur, a member of the team is hopeful of getting a job. "We want the Haryana government to give us a job. No one asks for Hockey. We have got a medal still no one has come out. Girls don't have any employment opportunities. Just the Railways. It's very difficult. I hope the government takes cognizance of this," she reflects.

The Times of India


---

Hockey player Bigan Soy gets Rs 5 lakh from Jharkhand

RANCHI: The Jharkhand government Friday handed over a Rs 5 lakh cheque to hockey player Bigan Soy, who was part of the Indian hockey team which won the bronze in the junior world cup in Germany.

Soy, a resident of Bandgaon village of West Singhbhum district, expressed happiness at her performance. She appealed to the state to improve the sport's infrastructure at district level.

The Times of India


---

Two Fijian hockey clubs return

Zanzeer Singh

TWO clubs will mark their return to the Lautoka Hockey Association competition at Nadovu Park today.

Blue Star and Wanderers are making a comeback after one year.

Lautoka Hockey Association president Martin Coffin said they would hold their normal 11-a-side tournament.

He said they were looking for sponsors to keep the sport alive in the Sugar City.

"It is good to see the clubs coming back to play in our competitions," Coffin said.

"We want to increase the numbers.

"We are getting the school students involved.

"Blue Star is the lone women's team. So they will play against a selection side."

Champions, Mates will defend the Challenge Cup against Falcons.

Matches will start at midday.

The Fiji Times


---

A tedious, ugly aspect of hockey

GEORGE BRINK

In watching almost every game of World Hockey League Round 3 thanks to the new FIH streaming channel on YouTube it struck me that probably over 80% of all penalty corners awarded are given for what is technically not an offence.

I am talking of the ball hitting the foot in the circle. I find it a particularly ugly side of hockey where players get into the circle and deliberately try and play the ball onto the foot of a defender to get awarded a penalty corner. No real effort is made to try and score or pass to a team mate who is in a better position to score.

Let us look at the Rules of Hockey and the Guidance relating to the ball hitting the foot.

9.11 Field players must not stop, kick, propel, pick up, throw or carry the ball with any part of their body.
It is not always an offence if the ball hits the foot, hand or body of a field player. The player only commits an offence if they voluntarily use their hand, foot or body to play the ball or if they position themselves with the intention of stopping the ball in this way.
It is not an offence if the ball hits the hand holding the stick but would otherwise have hit the stick.

So if we follow the guidance we note it is not always an offence if the ball hits the foot (but it seems that when video referral is used it is always an offence if the ball hits the foot!). We also note that it is ONLY an offence if the player voluntarily uses their foot or position themselves with the intention of stopping the ball in this way, both of which must be considered as deliberate actions which if occurring in the circle should normally result in a penalty stroke being awarded.

So the question remains, why are over 80% of penalty corners being awarded for what is technically not an offence if we take into account the Guidance issued on the Rule.

I have heard people argue that we should follow the Rule more than the guidance. Then look at the wording of the Rule as applied to the ball hitting the foot. Has the ball been stopped, kicked or propelled (assuming there are no hockey-playing Ronaldos who can pick it up or carry it with their feet)? No, the ball has usually been played onto the foot and been "deflected" by varying degrees, none of which come into the three categories stated in the Rule.

So why is the way it is currently played so ugly? If the umpire spots the ball hitting the foot a penalty corner gets awarded and the 45-second shot clock comes into play (thank heavens the time spent on preparing for a corner is now being limited!), but if the umpire doesn't spot it immediately there is frequently a video referral which stops the game for 30 seconds while the players try and persuade the umpire they want a team referral and then the 80 to 90 seconds it takes for the referral to happen plus the 45-second shot clock once the penalty corner is awarded, in other words a stoppage in excess of two minutes for play that is technically not an offence! Kind of defeats the object of letting the game flow, don't you think?

So how do we get around this problem? I don't think we can immediately go to not penalising the offence at all, unless it is deliberate, as the Guidance to the Rule suggests we should. I think players are too hardwired to believe that any contact with the foot is an absolute no-go and they deserve a free-hit or penalty corner immediately.

My suggestion is that any accidental contact with the foot inside the circle be penalised with a free-hit from the dotted line, in line with and perpendicular to the baseline where the contact occurred (or take it to the dotted line at the top of the circle). No 45-second shot clock, no arguing with umpires, no waiting around for a video referral. The game flows.

Does this give defenders carte blanche to now play football in the D? Not at all, as they would be deliberately using their feet in the circle, which has the potential to be penalised with a stroke.

As attackers do not generally get a huge advantage out of a hit from the dotted line, I have the feeling we would be seeing a lot more skill in the D as attackers genuinely try to beat defenders - or a lot more passing the ball to a player in a better position to score and not being too bothered if the umpires miss the slight accidental foot in the circle.

Talking Hockey


---

The south coast's Creston College win KZN SPAR aQuellé Schoolgirls' regionals

JONATHAN COOK



Creston College captain Donna Small slices through Kokstad College in the final of the Southern School Regionals of the KZN SPAR aQuellé Schoolgirls' Hockey Tournament at Creston College on the south coast. Photo: SOPHIE THOMPSON

KwaZulu-Natal south coast school Creston College did it again in winning the Ugu/Sisonke regional section of the 2013 KZN SPAR aQuellé Schoolgirls' Hockey Tournament.

The defending champions, Creston College took on the 2011 champions Kokstad College in a hard-fought game where star player and captain Donna Small secured their place when she netted the only goal in the regional finals with a handful of minutes remaining on the clock.

Kokstad dominated the game but were unable to turn the possession into goals. Small, who scored a hat-trick earlier in the day, fired in a pass from the top of the circle that was stopped by the Kokstad goalkeeper, Amephi Gqoboka, but Creston's captain did the basics right, following up the shot and slapping in the ball, giving her team a 1-0 advantage.

"It was a superb day of hockey," said tournament director Les Galloway. "All 10 teams enjoyed themselves immensely. Well done to all the teams that participated, you all played fantastically. And to Creston College, congratulations and we look forward to seeing you at the finals."

No less than 10 teams from around the Ugu and Sisonke regions took to the fields in scorching-hot conditions, where they competed in two pools, each playing 20-minute games going one way. After the pool matches, the teams played cross-pool games.

Second in their pool, Port Shepstone High School were involved in two penalty shootouts that decided their fate. The first against Kokstad, in the first semi-final, saw the game end with a goalless draw.

After the five allocated penalties, the teams were level at 3-3, thus going into a sudden-death shootout. Port Shepstone weren't able to convert their next opportunity, with Kokstad pouncing on theirs, securing their place in the finals.

The second penalty shootout for Port Shepstone was at the end of the third/fourth place playoff against Suid-Natal. Suid-Natal got their nose ahead and finished the day in third spot.

Voted as Most Promising Umpire for the region, Creston College's Dύnne Marx will get the opportunity to shine with the whistle when she joins her team at the finals at St Mary's' in Kloof in July.

Creston College join Ferrum High School in the finals, with eight more regionals being played in this the third year of the tournament.

The regionals are played in Newcastle (Northern KZN), Richards Bay (Northern KZN Coastal), Port Shepstone (Sisonke and Ugu), Durban (South, Central, North and Pinetown/Kloof), Pietermaritzburg (Central and North) and Wartburg (Umvoti).

The tournament has a Facebook page, SPAR aQuellé School Girls' Hockey Tournament, and a Twitter account, @SPARGirlsHockey.

SOUTHERN KZN SCHOOLS/UGU SISONKE FINAL PLACINGS
1 Creston College, 2 Kokstad College, 3 Suid-Natal, 4 Port Shepstone, 5 King Edward High School, 6 Southcity Christian Schools, 7 St Patrick's College, 8 Ixopo High School, 9 Scottburgh High School, 10 Bergview College.

Talking Hockey

---

Olympic medallist predicts bright future for international hockey in Wakefield

by Nick Rigg

Former Great Britain captain and Olympic medallist Norman Hughes has predicted a bright future for international hockey in Wakefield.

Hughes, who is now a coach at Wakefield Hockey Club, was present at his club's College Grove base last weekend to see England men take on the Netherlands in the three-match NOW: Pensions Nations Cup series.

The Netherlands, who won the bronze medal at last year's Olympic Games, edged the series 1-0 thanks to a 2-1 victory in the first match and thrilling 3-3 and 4-4 draws on Saturday and Sunday respectively.

Huge crowds gathered at the Eastmoor Road club for the matches and Hughes says the series went so well that England Hockey officials hinted a return to use the city's top hockey facilities in the not-too-distant future.

"It all went really well, we had a crowd of around 800 on the Saturday and 700 on the Sunday and they were treated to some very close games with lots of excitement," he said.

"We had people enjoying top international hockey at our facility from Wakefield, across Yorkshire and as far afield as Cumbria and even further afield.

"We had great feedback from officials and from both teams which was fantastic to hear and they hinted that they could return to use the facilities next year.

"That would be fantastic for Wakefield as a city to see more top-class hockey and also for the hotels and other establishments that will host the players and supporters."

Next year is going to be a big year for the sport with the World Cup in Holland and Commonwealth Games in Scotland taking place, giving Wakefield the chance to host training camps and warm-up matches for England or other international teams.

Wakefield Hockey Club will be well prepared, with last weekend's international matches following on from other high-profile events over the last 12 months.

After installing a new international and Olympic-standard pitch, the 'smurf turf', and upgrading its existing pitch, Wakefield hosted the China women's team before London 2012 and went on to host the EH National Men's Cup Final in May.

"We can't complain at what we've been able to host over the last year," said Hughes.

"We've also got to thanks to the volunteers over the weekend because there were 40 of them and we couldn't have done it without them."

As well as getting the chance to host England's latest three-match series, their first on home soil since the Olympics, College Grove's facilities received a further boost with England Hockey leaving their Olympic dugouts and technical delegates area as a legacy.

England U21s also went up against their Malaysia counterparts as warm-up matches for the senior side, with the matches proving just as eventful with a penalty shoot-out deciding the series in England's favour.

Speaking after the game England senior captain and player of the series Barry Middleton said: "I've been really pleased with our level of play here this week.

"We had a couple of bad results in Hamburg and I think some doubts had crept into the team, so it's great to get these scores against a side as strong as the Netherlands."

The series acted as preparation for England's participation in the TriFinance EuroHockey Championship in Belgium later this month.

Wakefield Express