All then news for Friday 16 August 2013

Arch-rivals Argentina and Canada will meet in Pan American Cup Final

2013 Pan American Cup, Men – Brampton - Semi-finals

Yan Huckendubler, PAHF



(Photo: DETAILS_GROUP)

Argentina out-powered Trinidad & Tobago in the second half of their semi-final to finish with a comfortable win (8-0); Canada had to fight to the very end to keep a narrow one-goal lead over the USA. The two continental arch-rivals Argentina and Canada will meet in the Final of the Pan American Cup on Saturday.

Match 16 – Semi-final - Canada vs. USA: 1-0 (half-time: 1-0)

This match between Canada and the USA was a rematch of the Final of the 2009 Pan American Cup in Chile, when the Canadians narrowly edged the American 2-1 after overtime.

The Americans started at full speed, challenging Dave Carter in the Canadian goal twice in the opening minute of play and forcing a penalty-corner, but the Canadian goal-keeper was on the ball with a diving stick save.  USA kept their momentum going for the opening 7 minutes, then Mark Pearson forced a penalty-corner for Canada, but Scott Tupper's low flick was well guarded by Sean Harris on the post.

The tone of the match was clearly given, with fast attacking hockey from both teams. Canada opened the scoring in the 10th minute by rooky Sukhpal Panesar, receiving a cross from the left, pivoting away from his guard and hammering a bullet out of reach of Chris Rea in the USA goal.

The high tempo of play continued relentlessly, much to the entertainment of the crowd. There was not much build-up in midfield, and balls were travelling quickly to high attackers at both ends of the pitch, with neither team managing to take control of the proceedings.

Matthew Guest had a strong attempt after powering his way into the circle, then Iain Smythe, then Scott Tupper on penalty-corner but the Americans weathered the storm and suddenly surged forward in the final minutes of the period, besieging the Canadian circle and earning two penalty-corners in the final minute of play. Scott Tupper managed a fantastic high stick save on Pat Harris' flick and the break was reached with the one-goal lead for Canada, but the clear feeling that the match could go either way.

Second period started with the same scenario of both teams going wildly at each other without holding back anything. Play was entertaining for the spectators, but messy at times with unforced errors and passes going astray on both sides. With time passing and neither team able to make a meaningful move on the scoreboard, emotions started to boil up, both on the pitch, in the stands and on the team benches.

The USA forced a penalty-corner in the 50th minute but could not capitalize, then were hindered by a yellow card. Clock was slowly ticking down, although probably too slowly for the nervous home fans realizing that a one-goal lead could evaporate quickly in this kind of match.  Canada however was not trying to protect their lead and kept pushing for the break. It never came but a yellow card to Dave Jameson allowed a late surge from the Americans who had replaced their goalkeeper with an extra attacker. Under intense pressure and despite their tiring legs, the Canadians managed to hold the fort until the end.

Canada will play against their arch-rivals Argentina in the Final on Sunday; the USA will play for Bronze against Trinidad & Tobago.

For more information and pictures of CAN vs. USA, click here.

Match 15 – Semi-final - Argentina vs. Trinidad & Tobago: 8-0 (half-time: 2-0)

First semi-final of 2013 Pan American Cup was played under bright summer sun in Brampton, with Trinidad & Tobago starting cautiously to avoid exposing their circle to the powerful Argentinean armada (with 4 of their strikers in the top 5 goal scorers of the tournament!). First chance was however for Trinidad & Tobago on a penalty-corner earned by Mickell Pierre, but Kwan Browne's powerful attempt was well handled by Juan Vivaldi, facing his first serious challenge in this competition.  

Both teams did not bother much about patient built-up in midfield and the ball was flowing quickly from one end to the other, with frequent long aerial balls. Argentina were denied on their first two penalty-corners by Andrey Rocke in the Trinidadian goal, and seemed to struggle at time to find their rhythm in front of skillful opponents, well organized in defense around Kwan Browne.

Argentina were denied again on penalty-corner by Andrey Rocke, and Trinidad & Tobago had a golden chance on their swift counter-attack but Christopher Scipio's diving deflection in front of the Argentinean keeper went just wide. Argentina were finally successful on their fifth penalty-corner in the 29th minute, powered out of reach of the goal-keeper by Gonzalo Peillat. Peillat immediately doubled his tally on another penalty-corner, and Argentina were suddenly seating on a two-goal lead going into the half-time break.

Argentina scored early in second period after a lengthy sequence of pin-ball in front of Andrey Rocke, finally tapped in by Argentinean captain Lucas Rey. Then Lucas Vila inherited a ball alone on the penalty-stroke point and made no mistake to add another goal. With the gap widening, Trinidad & Tobago seemed to realize that they would not come back and their tempo declined a notch. They had a chance on penalty-corner but Kwan Browne's low attempt did not have the same intensity as earlier in the match.

With the Trinidadian defense starting to fade under the pressure, Argentina ran away with the score, adding 6 goals to finish on the impressive mark of 8-0. They missed the final of the 2009 Pan American Cup after losing in semi-final against Canada, but will walk into Saturday's final in Brampton without having been challenged much, except by Trinidad & Tobago in the first half of this semi-final.

For more information and pictures of ARG vs. TTO, click here.

Schedule for Saturday August 17:
9h00 (7-8): Brazil vs. Uruguay
11h30 (5-6): Mexico vs. Chile
16h30 (3-4): Trinidad & Tobago vs. USA
19h00 (Final): Argentina vs. Canada

Pan American Hockey Federation


---

Chile and Mexico will play for 5th place at Pan American Cup

2013 Pan American Cup, Men – Brampton - Cross-over 5-8

Yan Huckendubler, PAHF



Photo: HG2

Mexico recovered from a 0-2 deficit to edge Brazil (3-2) with a late penalty-corner and a hat-trick from Francisco Aguilar; Chile overcame their disappointment of missing the semi-finals and had no problem pushing aside Uruguay (14-0). Brazil and Uruguay will play for 7th-8th.

Match 14 – Cross-over 5-8 - Chile vs. Uruguay: 14-0 (half-time: 0-5)

Chile were bitterly disappointed to be relegated to the second-tier cross-overs after their promising start in this competition against Canada (2-2) and it took them a while to inject some tempo in this match. All the action was nevertheless around the Uruguayan circle, and Martin Rodriguez was first on the score sheet for Chile in the 6th minute following a penetration on the left of the circle and a shot in a narrow angle.

Uruguay had trouble seriously challenging Chile, and Vicente Martin, then Jaime Zarhi added penalty-corners before the 20th minute mark, putting the outcome of the game out of doubt early. Chile added two more goals before half-time without exerting themselves too much, reaching the break with an unassailable 5-0 lead.

Uruguay had a few sporadic reactions in second period, even forcing Chilean goal-keeper Alfredo Mella to go and meet an attacker one-on-one at the top of the circle, but they could not prevent Chile from scoring 9 more goals to finish on the commanding score of 14-0.

With the win, Chile will play against Mexico for 5th-6th place, while Uruguay will face Brazil to avoid the wooden spoon.

For more information and pictures of CHI vs. URU, click here.

Match 13 – Cross-over 5-8 - Mexico vs. Brazil: 3-2 (half-time: 0-2)

First match of the day was an entertaining affair, with both teams in an attacking mood in the beautiful sunny summer morning. The young Mexicans seemed slightly tired from their hard fought battle the day before against the USA and did not show their usual speed in the opening stages of the game, and Brazil were first on the scoreboard in the 20th minute by Matheus Borges on the follow-up of a penalty-corner initially stopped by Gerardo Orozco in the Mexican goal.

Matheus Borges added a second penalty-corner in the 28th minute. Mexico had a late surge but Brazil were comfortably in the driving seat going into the break (2-0).

After a strong half-time talk, Mexico started second period much faster and Francisco Aguilar brought them back within one goal in the 48th minute on penalty-corner. Their momentum was however slowed down by two, then three, yellow cards, certainly not something that you want when the players remaining on the pitch already have tired legs… Brazil took advantage of their numerical superiority to regain control of play, but they were denied multiple time by Gerardo Orozco in the Mexican goal, giving the chance to Francisco Aguilar to tie the score with five minutes to go in the match, setting up the stage for a wild end of match.

Brazil had a chance on penalty-corner, but Francisco Aguilar scored a late penalty-corner (his 3rd of the match) to complete the Mexican come-back, pushing them in the match for 5th place on Saturday. Brazil were dejected to have dropped a 2-goal lead and miss their pre-tournament objective to finish in the top six in this competition.

For more information and pictures of MEX vs. BRA, click here.

Pan American Hockey Federation


---

U.S. – Canada rivalry produces fierce battle in Pan American Cup semifinal

The U.S. Men's National Team will play for a bronze medal on Saturday, August 17

BRAMPTON, Ontario – The cordial United States-Canada field hockey rivalry has been around for years and when the two teams meet it is always a fierce, competitive battle. Tonight the U.S. Men's National Team played with enthusiasm and energy for the entire seventy minutes in the semifinal match against host Canada at the Pan American Cup in Brampton, Ontario. Under the lights at the Cassie Campbell Community Centre, Canada vied the U.S. to a 1-0 victory in front of a roaring home crowd.

"We had an amazing game of hockey tonight against Canada in front of their home crowd," said head coach Chris Clements. "Our young team played outstanding for a full 70 minutes. Our game plan was spot on. We created opportunities and we denied Canada opportunities. One moment was the difference in the match tonight but I could not be more proud of the team and their performance. They left everything out there on the field."

The U.S. drew a penalty corner in the first ninety seconds of play but Patrick Harris's (Moorpark, Cali.) drag flick was stick saved by Canada's goalkeeper. A lively first half swung from end to end with the U.S. seeing more scoring opportunities in the opening minutes than Canada.

In the 10th minute, Canada's Sukhi Panesar scored with a reverse stick shot from the top of the circle. The U.S. had numerous chances to score the equalizer, including back-to-back penalty corners late in the first half. The opportunities came frequently, but the U.S. men were unable to convert any into a goal.

"It is always a competitive rivalry playing Canada," said veteran U.S. midfielder Ian Scally. "We felt this time around we had a little bit of an upper hand. With that said we could not find the back of the net and Canada did early. It was tough to break them after that."

The U.S. continued to create opportunities in the second half and exerted their entire selves until the final whistle blew. However, Panesar's lone goal scored in the tenth minute was enough to send Canada into the finals on Saturday against Argentina.

The U.S. finished second in pool play by defeating Uruguay, 12-0, and Mexico, 3-2, to advance to the semifinal. The U.S. will now play for a bronze medal on Saturday, August 17 against Trinidad and Tobago. Trinidad and Tobago also finished second in their pool, defeating Brazil, 2-5 in their Pan Am Cup opener and Chile 5-1. Trinidad and Tobago fell to Argentina, 8-0, in the semifinal. 

"We have one day of rest and we can do some things in order to be prepared physically for our final match against Trinidad and Tobago," said Scally. "They are a totally different team than Canada. They have a different style of play and it is going to be a monster of a match. We have to adjust our game plan and come 100% ready if we want to win that game and be on the podium which is exactly what we want to do and what we came here to do. We are still in a position to achieve our goals."

"We are going take the positives from tonight and put this match behind us," said Clements. "We will be looking to secure a medal in our final match against Trinidad and Tobago."

Field Hockey Canada media release


---

Hockey men suffer Argentina beating

T&T's men's hockey team will play the United States for the bronze medals tomorrow from 4.30 pm at the fouth Pan American Cup, in Brampton, Toronto, Canada.

T&T went under to world 10th ranked Argentina 8-0 in the first of two semifinals yesterday.

In the second semifinal, hosts Canada edged the USA 1-0 with a tenth minute item from Sukhi Panesar.

The South Americans led T&T 2-0 at the half via two penalty-corner conversions from Gonzalo Peillat in the 29th and 34th minutes.

However, in the second-half, the Argentines stepped up the pace and added items through Lucas Rey (39th), Lucas Vila (45th), Guillermo Schickendantz (52nd), Juan Aguilleiro (52nd), Leandro Tolini (55th) and Peillat, who completed his hat-trick in the 63rd minute.

Argentina and Canada meet in tomorrow's final from 7 pm.

The winner of the tournament qualifies for next year's Men's World Cup in The Hague, Holland.

Yesterday Pan Am Hockey Cup results:

Fifith to eight semifinals:

Mexico 3 (Francisco Aguilar 46th, 64th, 67th) vs Brazil 2 (Matheus Borges 20th, 28th)

Chile 14 (Vincente Martin 19th, 37th, 50th, Martin Rodriguez 6th, 33rd, 46th, Alexis Berczely 28th, 61st, Thomas Krussig 65th, 70th, Jaime Zarhi 20th, Nicolas Renz 42nd, Raimundo Valenzuela 50th, Sven Richter 56th) vs Uruguay 0

Main Draw semifinals:

Argentina 8 (Gonzalo Peillat 29th, 34th, 63rd, Lucas Rey 39th, Lucas Vila 45th, Guillermo Schickendantz 52nd, Juan Aguilleiro 52nd, Leandro Tolini 55th) vs T&T 0

Canada 1 (Sukhi Panesar 10th) vs USA 0

The Trinidad Guardian


---

Ireland All Set for European Hockey Championships This Saturday.




Ireland's two national Hockey Teams will compete in Europe's top competition, TriFinance EuroHockey Championships,  kicking off in Belgium this Saturday, August 17th , going head to head with some of the world's best hockey nations.

In this winner takes all competition the Gold medallists will secure a spot in the 2014 World Cup while the remainder of nations will be pursuing important world ranking points.  Ireland's Electric Ireland women (ranked 15) kick off proceedings this Saturday against the World Number 1's Netherlands in Pool A before facing Belarus (21) and Belgium (13). Ireland's men (15)  kick off a day later, Sunday 18th also against the Dutch (3) before facing Poland (20) and England (4) later in the week.

Full squads and fixtures below:
Men's Team - Ireland GreenMachine
Player / Club / Caps
1.Jonny BELL (Lisnagarvey) 23; 2.Peter BROWN (Banbridge) 11; 3.Chris CARGO (Reading) 77 ; 4.Peter CARUTH (Braxgata) 73; 5.Stephen COLE (Monkstown) 7; 6.Mitch DARLING (Three Rock Rovers) 101; 7. David FITZGERALD (Monkstown) GK 17; 8.Kyle GOOD (Monkstown) 15; 9.Ronan GORMELY (Krefeld) 172; 10.Conor HARTE (SCHC) 118; 11. David HARTE (Kampong) (GK) 116; 12.John JACKSON (Braxgata) Captain. 127; 13. Stuart LOUGHREY (Cannock) 40; 14.Eugene MAGEE (Banbridge) 168; 15.Bruce McCANDLESS (Banbridge) 50; 16.Shane O'DONOGHUE (UCD) 34; 17. Kirk SHIMMINS (Pembroke Wanderers) 3; 18.Michael WATT (SCHC) 132

Women's Team - Ireland GreenArmy
Electric Ireland Irish Senior Women's team
Player / Club / Caps
1. Niamh ATCHELER (UCD) 45; 2. Naomi CARROLL (Catholic Institute) 10;  3. Cliodhna SARGENT (Cork Harlequins) 126;  4. Nicci DALY (Loreto) 55;  5. Megan FRAZER (Ballymoney) 38; 6. Emma GRAY (Hermes) 70; 7. Nicola GRAY (UCD) 28;  8. Lisa JACOB (Hermes) 131; 9. Shirley MCCAY(Old Alex) 152;  10. Anna O'FLANAGAN (UCD) 47;  11. Grace O'FLANGAN (Railway Union) 4; 12. Audrey O'FLYNN (Hermes) 94; 13. Gillian PINDER (Hermes) 11;  14. Niamh SMALL (Loreto) 77;  15. Emma SMYTH (Railway Union) - Vice Captain 90;  16. Alex SPEERS (Railway Union) - Captain 151;  17. Nikki SYMMONS (Loreto) 202; 18. Chloe WATKINS (UCD) 76.

Pool B IRELAND Fixtures (MEN)
Sunday 18th August   Ireland v Netherlands 18.00 (Local Time)
Monday 19th August  Ireland v Poland 16.00 (Local Time)
Wednesday 21st August  Ireland v England 11.30 (Local Time)

Pool A: Germany (1);  Spain (6); Belgium (9) & Czech Republic (21)

Pool A IRELAND Fixtures (WOMEN)
Saturday 17th August 2013 Ireland v Holland (18:00 local time)
Sunday 18th August 2013  Ireland v Belarus (16:00 local time)
Tuesday 20th August 2013 Ireland v Belgium (18:00 local time)

Pool B: England (4); Germany (5); Spain (14)  & Scotland (19).

Full Schedule http://www.trifinanceeurohockey2013.be/index.php?websitestructid=98

Irish Hockey Association media release


---

TriFinance EuroHockey Championships Preview: England Men



Barry Middleton in acton for England

Before the TriFinance EuroHockey Championships start this weekend, we review how our Men have matched up against their opposing teams in the past.

For the Championships England's men find themselves in Pool B, placed amongst the Netherlands, Ireland and Poland. Ranked No. 3 for the tournament, England's men are right behind the Netherlands at 2 and ahead of Ireland and Poland at 6 and 7.

England's men make their tournament debut against Poland at 0900 on Sunday 18 August, who they haven't played against since 2006. While a few of the players on England's current squad will have never faced the Polish side, at least some should remember having scored against them in the past with goals from Barry Middleton and Simon Mantell contributing to the 16 wins against Poland's three. With these two still on form, this should be a strong opening game for England, but Poland are a nutoriously tough side to play.

A day later the men face the number three side in the world, the Netherlands, in the last match of the day at 19:00. The Netherlands are England's most recent opponents in the tournament having played them earlier this month in a series of test matches at the NOW: Pensions Nations Cup in Wakefield, two of which were brought to a draw and one a narrow 2-1 defeat. With 24 goals over the last four matches and and average of five goals per game going even further back, this promises to be an exciting game for spectators.

On Wednesday 21 August England go up against Ireland in the last of their Pool games at 10:30. Recently playing each other at the ERGO Hamburg Masters in July, England walked away with a 3-2 win thanks to goals from Tom Carson and Nick Catlin contributing to the scoreline. As both are in the squad going into the Championships they'll know what they need to do to get that coveted final win.

After the final Pool games come the play-offs and deciders, determining who will go on to try for a medal and who will have to play for the highest placement. We won't know who's up against who until the final Pool game is over, so we'll run through the teams in Pool A to see how matches against them would shape up.

The German men's side is ranked No. 1 in the tournament, though England have put up a few good fights in the past year with two wins and two losses since last December. Another potentially high scoring match-up and likely another great game to watch, but England will have to bring their A-game if they're to take the win against Germany - their last game ended 1-6 in the German's favour.

Spain is the next highest ranked side in Europe in Pool A and one behind England at No. 4, and with three years between their last game against England and these Championships there will be a lot of uncertainty if they have to face off against each other. Spain have historically been strong competition for England, with a ratio of nearly 2:1 wins to losses over all the games they've ever played and no losses in over three years. However, with never more than two goals between winning and losing since 2010 England will only have to dig a little deeper if they're to take a win.

Up next is Championship hosts Belgium, ranked No. 5 and playing to a home crowd. Two months ago England lost three test matches against Belgium in Antwerp, and these will be fresh in the memory for both of the squads if they have to play against each other next week. Belgium will also be high in confidence after their recent World League Semi Final victory in Rotterdam.

Lowest ranked of the tournament and last in the list is the Czech Republic at No. 8, who England have only played twice in the last 15 years. With two historic wins under their belts England would go into a match against the Czech side the favourites, but as the sides will have changed a lot in the six years since they last played each other anything could happen.

England captain Barry Middleton is no stranger to the European Champions having competed in five already, and he is looking forward to the challenge ahead, "This is a young squad, but they have delivered everything that's been asked of them so far and there is a really good level of positivity around the camp. As a player, the EuroHockey Championships is one event that everyone looks forward to and it will be great to test ourselves against Europe's best."

England Men's coach Bobby Crutchley also added his comments on some of the opposition at the tournament, "If Belgium, Germany and the Netherlands all play at the top of their games it will be very difficult for us to medal, but we also know that there is a lot of potential in this side. First and foremost we will look to our group matches where we are not taking anything for granted. The games against Poland and Ireland will be tough; Ireland have shown how strong they are when they pushed us close in Hamburg and it will be a nervous first game against Poland who we know the least about going into the tournament."

Speaking about the squad's preparations for the event and their aim for the tournament, Crutchley said, "The Dutch games last week were encouraging for us and it was great to push such a quality side so close. Having said that, matches before major tournaments don't always indicate what will happen on the day as different sides prepare in different ways. To predict how we will do overall is very difficult, especially given the inexperience of this side and the inconsistent results we've had recently."

What are your thoughts on our predictions for the England men in the TriFinance EuroHockey Championships next week? Do you agree with Bobby that it will be hard to medal, or do you think this squad will fight their way all the way to the top? Let us know your thoughts and predictions on Twitter, with the hastag #EHC2013

England Hockey Board Media release


---

TriFinance EuroHockey Championships Preview: England Women



Sam Quek in action for England at Investec World League

In the lead up to the TriFinance EuroHockey Championships in Belgium, we take a look at how our Women's team has fared against their upcoming opponents in their previous matches.

England's women have been drawn in Pool B for the TriFinance EuroHockey Championships, along with Germany, Spain and Scotland. While England is the highest ranked team in the pool at No. 2, Germany isn't far behind at 3 with Spain and Scotland bringing up the rear at 6 and 7 respectively.

England's women recently went up against Spain in Chiswick, bringing the game to an uncharacteristic draw after having beaten them in their previous three matches going back to 2009 and only having lost four times out of all 36 games played. However, with rarely more than one goal between winning and losing in recent matches, we can expect the Spanish team to put up a good fight when they play England in the first match of the tournament at 09:00 on Saturday 17 August.

Up next we face Germany on Sunday at 1300, and with an almost perfectly matched win/loss record (25/26) it could be anyone's game. England has scored slightly more goals over all of those matches, so with any luck they'll be able to even the tables completely before the weekend is over. Having said that, Germany will be high in confidence after their recent victory against the Netherlands at the World League Semi Final back in June.

On Tuesday at 13:00 England go up against the other home nation team, Scotland. The women's teams haven't played against each other in the international scene for seven years, last playing to a win in Rome in 2006. With big team changes over the past few years, the stats can only tell us so much about how this game will go, although of the 16 goals conceded by Scotland since 2005 four of those were scored by long-standing squad members Kate Walsh and Helen Richardson, both of whom will be hoping to increase that tally when this match comes around.

After the Pool matches, the teams will go on to play different teams from Pool A dependant on how they scored after three games. As we can't know who will play who until the last Pool game is over on Tuesday, we'll just run through all the potential opponents from Pool A.

Up first is the Netherlands, the highest ranked in their Pool and the whole championship at No. 1. A formidable side, the Netherlands have beaten England in their last three out of four games, with a draw in Rosario in 2010. Their last game together was in February, and while any upcoming match will undoubtedly be a challenge, with England's new squad featuring both experienced and relatively new players nothing is set in stone.

Next in Pool A's ranking is Championship hosts Belgium, coming in at No. 4. Since 1995 Belgium has conceded 18 goals to England, but with two wins and two draws they've proved they're not to be underestimated. Both draws came earlier this month in test matches - in preparation for these very Championships, so it seems England will have to work hard to earn a win against the home team if they face them next week.

England's nearby neighbours Ireland follow close behind Belgium at No. 5 in the rankings. Much like Scotland, Ireland and England also haven't faced each other in several years, so once again we'll go by the performance of long-standing squad members. Only 10 goals have slipped by Ireland in their last few meetings, but as five of those have been by players still in the England squad, we have high hopes that their winning streak will continue if they find themselves playing against Ireland.

Last but not least in the teams is Belarus, lowest ranked in the Championships at No. 8. England has never faced Belarus before, so they'll be treading into unknown waters if they have to play against them. Belarus was the first team to win a World League competition (beating both Italy and Scotland to do so), so they're certainly a team to be reckoned with.

England captain Kate Walsh will lead her team out next Saturday for her seventh European Championships, and after reaching her 300th combined international cap last weekend she will be one of the most experienced players there. Commenting on the tournament and her recent achievements, she said, "It's really exciting to be heading out to Belgium with this squad. We have some great talent in the line-up and this tournament will give us a chance to test ourselves against the best sides in Europe. I feel really lucky and honoured to have made my 300th international appearance, but my focus is very much on making sure we have the best possible preparation before next week and that we go into the tournament ready."

England Head Coach Jason Lee added, "Since April it's been a steep learning curve for some of the new girls coming into the squad, but they have coped with everything incredibly well and I'm excited to go out to Belgium and see what we can do. As long as we perform to our best ability and play the hockey we have been doing in training then we should be very competitive in the tournament."

So, this is what we think about the TriFinance EuroHockey Championships and how England will do, but we want to know what you think as well. Do you think England will storm straight through to the finals without a single loss, or maybe you think another team will too much of a challenge? Take to Twitter with the hashtag #EHC2013 to let us know your predictions and forecasts for the action next week, and don't forget you can watch all of the games LIVE via the BBC.

England Hockey Board Media release


---

Future stars: Lily Owsley



Lily Owsley in action at the Investec World League

There's a wave of new talent flooding into England's Men's and Women's teams, and leading the charge is 18-year-old forward Lily Owsley. Ross Bone caught up with her at the Investec World League to find out what it takes to make the step up to international level.

If you speak to most sports fans, their childhood dream is to represent their country. After making her England debut against South Africa in the Investec World League Semi-Finals in July, Lily Owsley is already living that dream.

A student at Clifton College, Owsley caught the eye throughout the competition, with England captain Kate Walsh telling Hockey that she "came in and right from the start showed she was a really confident, skilful player – definitely one for the future".

Electing to pursue her ambitions of playing hockey at the highest level has meant that Owsley has had to turn her back on a promising athletics career – she can apparently run 800m in 2.09.95, not far off the qualification time for the IAAF World Championships – but track and field's loss has very much been hockey's gain.

Speaking with her in between matches at the Investec World League at Chiswick, it's pretty obvious that she sets high standards for herself but is adapting to the international set-up just fine…

How did it feel making your debut in front of a big, passionate home crowd?
It was amazing. You can't really ask for more – getting your first cap, winning the match and doing it in front of a home crowd. It was brilliant.

Were you nervous, or just focused on doing what [Coach] Jason Lee had instructed you to do?
A bit of both, really. I can't pretend I wasn't terrified, because I was! It's my first senior tournament, so I didn't know what to expect. Once I got out there, the crowd was so supportive, which really helped. I was trying to be focused and concentrate on helping the team rather than worrying about myself.

Were you happy with your performance?
It was definitely a shock to the system. I'd like to think I contributed, but I have so much more to work on and I need to keep improving. I'm nowhere near the level I need to be performing at.

How do you feel the team has been performing?
The standard of competition at the semifinal stage is really tough… South Africa was hard because we weren't sure what to expect. Ultimately, in a tournament, you need to win games so we have to be happy that we managed to edge past them.

How're you settling into the squad?
There's such a good team dynamic. The senior players are so supportive and everyone gels together really easily. I'm really enjoying it.

How hard has it been juggling your A-levels with being an international hockey player?
It was a really intense period. When I wasn't playing hockey I was studying and vice versa, so there wasn't much time to relax! There were a few times when I got home from a long day's training, exhausted, knowing I had an exam the next day and I had to knuckle down. I did the best I could under the circumstances – I don't want to say it went well until I get the results!

There are quite a few intelligent girls in the squad, so did anyone help you with your revision?
I have Susie Gilbert to credit for my biology A-level! She was my tutor when we were in Germany. One of the questions she taught me came up in the exam, so hopefully I nailed that section!

Who has been the biggest influence on your hockey career so far?
I'd probably say my school coach, Tim Lang. He's worked with me for five years as part of the school side but also individually as well. He's a really good player himself so he's been helping me with things I need to develop. My two best friends have been there the whole time too – they come to watch, help me with my revision and help me to relax when I need a break.

What would you say your biggest asset as a player is?
I'd probably say speed on the ball and eliminating players. Once I've developed into a better player I should be able to use those skills in the right areas to benefit the team.

How're you finding Jason Lee as a coach?
He's a great coach. He's new to the set-up, which I think helps as it's a clean slate for everyone. He's going to be in my ear because there are a lot of things I need to improve on. I don't have any hard feelings though; I think it's fantastic to be pushed by such a great coach.

What would you like to achieve in hockey?
I'd like to have a positive impact on the team, and play well regularly in the senior squad. Obviously the ultimate aim is to go to Rio – that would be absolutely fantastic.

There is a bit of an age gap between you and some of the squad. How does that go down in terms of, say, musical taste?
They never judge me, fortunately! It is quite funny sometimes because I often don't know the singers they are talking about, but everyone gets on so well it can be quite fun. I'm trying to get them to listen to more Eminem though.

So you don't have a problem with Alex Danson and her listening to endless S Club 7?
I was in the car with her the other day when she had it on; everyone loves a bit of S Club! I've seen them live, so I can't really say anything to Alex!

You can find more interviews from Ross Bone at www.thetopofthed.com

England Hockey Board Media release


---

Glimmer of hope yet for Malaysia

By Jugjet Singh

THE International Hockey Federation (FIH) confirmed yesterday that if Argentina win gold in the ongoing Pan-American Cup, the South Americans will also take South Korea into the World Cup. Which is good news for Malaysia too.

Malaysian Hockey Confederation (MHC) vice-president Manjit Majid Abdullah said: "FIH CEO Kelly Fairweather confirmed in a conversation with me that if Argentina win gold in the Pan-American, South Korea will qualify for the World Cup.

"After that, it is Spain's turn followed by Malaysia's".

This came about after South Korea finished fourth in the recent World League in Johor Baru while Spain were fifth in the World League in the Netherlands.

Malaysia also finished fifth in Johor, but as Spain are higher ranked than Malaysia, they will get the first bite at the pie.

"Argentina are on fire in the Pan-American now, and should win the gold with ease.

"After that, the Euro Championships start (Aug 17-25), we will know if Spain make the grade from there.

"Spain can even finish fifth in Euro and still qualify as in that continental championship, Belgium, Germany, England and Netherlands have qualified for the World Cup."

And if Spain qualify by reaching the semi-finals before Aug 24, Malaysia need not break a sweat in the Asia Cup on Aug 24-Sept 1 in Ipoh, as their place is cemented by the Oceania Cup on Oct 30-Nov 3.

New Zealand and Australia, both of whom have qualified for the World Cup, will only be playing for ranking against each other in the Oceania Cup.

"So Argentina need to start the ball rolling with a win, and before the start of the Asia Cup, we will know if Malaysia have also qualified for the World Cup," said Manjit.

In the World League in Johor Baru, the top three finishers -- Germany, Argentina and England -- qualified for the World Cup.

And in the World League in the Netherlands, Belgium, Australia and New Zealand made the grade.

In the Pan American Cup, Argentina hammered Mexico 13-0, United States 8-0 and Uruguay 29-0 in Group A to sail into the semi-finals.

They will play Trinidad and Tobago, who in Group B had beaten Brazil 5-2, Chile 5-1, and lost to Canada 3-1.

Canada and United States square off in the other semi-final.

But the best route for Malaysia, who last played in the 2012 Kuala Lumpur World Cup, is to win the Asia Cup gold in Ipoh on Aug 24-Sept 1 and make the grade with flying colours.

New Straits Times


---

Akbar recalled for goal-keeping duties in Asia Cup

By Fawad Hussain



The national squad has been tasked with winning the Asia Cup as anything less would be tantamount to their disqualification from the World Cup next year. PHOTO: AFP

KARACHI: Sidelined for almost two years on the basis of 'poor fitness' and 'under-performance', experienced goal-keeper Salman Akbar made his way back to the national team for the upcoming Asia Cup.

The Pakistan Hockey Federation's (PHF) team management yesterday named the 18-player squad for the continental event to be played from August 24 in Ipoh, Malaysia.

The tournament that will also see India, Korea and Malaysia in action is a must-win tournament for the green-shirts to book their place in the next year's World Cup.

National coach Tahir Zaman said the team management worked hard to select the best available lot of players for the crucial task. Mohammad Imran has been retained as captain for the squad that saw three changes in the team that participated in the Hockey World League (HWL). The green-shirts finished seventh in the eight-nation tournament, missing an opportunity to qualify for the World Cup.

Goal-keeper Imran Shah and Mohammad Ateeq were dropped after they failed to impress the coaches while Mohammad Rizwan Senior, who fractured his thumb during the training camp, will also miss the event.

Apart from Akbar, seasoned campaigner Waseem Ahmed also returned to the squad after missing the HWL due to an accident.

Coach hopes for solid defence under Akbar

Zaman hoped Akbar's return will bring a significant improvement in the team's defence.

"Defence is the department we have been struggling with," Zaman told The Express Tribune. "Salman is an experienced goal-keeper and has been playing in the Dutch League for a while.

"We made a thorough assessment on his fitness and performance before selecting him. He proved he is better than his compatriots and still has sharp reflexes."

The former Olympian played down the impression that the team management was solely banking on senior players for the important event.

"We have also picked fresh players from junior teams like Dilbar Hussain and Ali Shah so it's a mix of youth and experience," he said.

Pakistan squad

Mohammad Imran (captain), Waseem Ahmad, Rizwan Junior, Salman Akbar, Imran Butt, Muhammad Irfan, Muhammad Tauseeq, Rashid Mahmood, Shafqat Rasool, Shakeel Abbasi, Dilbar Hussain, Umar Bhutta, Fareed Ahmad, Amir Shahzad, Abdul Haseem Khan, Waqas Sharif, Muhammad Zubair, Ali Shan

The Express Tribune


---

Salman Akbar recalled for Asia Cup



Salman Akbar starred in Pakistan's 2009 Asian Games win. -File photo by AFP

KARACHI: Pakistan on Thursday recalled goalkeeper Salman Akbar for next week's Asia Cup hockey tournament in Malaysia, which represents their last chance to qualify for the 2014 World Cup.

Akbar, 31, starred in Pakistan's Asian Games win in Guangzhou two years ago but was discarded last year.

The ninth Asia Cup will be Pakistan's last opportunity to earn a place in the World Cup to be held in May-June next year at The Hague in the Netherlands.

Pakistan have been world champions four times and three times Olympic gold medal-winners. But they have fallen as low as world number eight in international rankings after finishing in 12th position in the last World Cup in India three years ago.

They finished seventh in last year's London Olympics and fell to seventh in the World Hockey League in Malaysia last month, an event from which the top three teams qualified for the 2014 World Cup.

The ninth Asia Cup will be held from August 24-September 1 at Ipoh in Malaysia. Eight times Olympic champions India, South Korea and the hosts are also hoping to qualify for the World Cup.

Pakistan, led by full-back Mohammad Imran, are in Pool A along with Malaysia, Japan and China.

India, South Korea, Oman and Bangladesh form Pool B. The top two teams from each pool will qualify for the semi-finals.

Pakistan won the inaugural three editions in 1982, 1985 and 1989 but have not been victorious since then. They were runners-up to South Korea in the last edition in Kuantan, Malaysia in 2009.

Squad: Mohammad Imran (captain), Imran Butt, Mohammad Irfan, Mohammad Rizwan Junior, Mohammad Tauseeq, Waseem Ahmed, Salman Akbar, Rashid Mahmood, Fareed Ahmed, Aamir Shahzad, Waqas Sharif, Shafqat Rasool, Abdul Haseem Khan, Shakil Abassi, Ali Shan, Mohammad Umar Bhutta, Mohammad Dilber, Mohammad Zubair

Dawn


---

PHF recalls Salman Akbar for Asia Cup Hockey

LAHORE - The Pakistan Hockey Federation (PHF) Thursday recalled goalkeeper Salman Akbar for next week's Asia Cup Hockey Tournament in Malaysia, which represents their last chance to qualify for the 2014 World Cup.

Akbar, 31, starred in Pakistan's Asian Games win in Guangzhou two years ago but was discarded last year. The 9th Asia Cup will be Pakistan's last opportunity to earn a place in the World Cup to be held in May-June next year at The Hague in the Netherlands. The ninth Asia Cup will be held from August 24 to September 1 at Ipoh in Malaysia. Eight times Olympic champions India, South Korea and the hosts are also hoping to qualify for the World Cup. Pakistan, led by full-back M Imran, are in Pool A along with Malaysia, Japan and China. India, South Korea, Oman and Bangladesh form Pool B. The top two teams from each pool will qualify for the semi-finals.

Pakistan have four times been world champions and three times Olympic gold medal winners but they have fallen as low as world number eight in international rankings after finishing in 12th position in the last World Cup in India three years ago. They finished seventh in last year's London Olympics and fell to seventh in the World Hockey League in Malaysia last month, an event from which the top three teams qualified for the 2014 World Cup.

Pakistan won the inaugural three editions in 1982, 1985 and 1989 but have not been victorious since then. They were runners-up to South Korea in the last edition in Kuantan, Malaysia in 2009.

Pakistan squad:
M Imran (capt), Imran Butt, M Irfan, M Rizwan Junior, M Tauseeq, Waseem Ahmed, Salman Akbar, Rashid Mahmood, Fareed Ahmed, Aamir Shahzad, Waqas Sharif, Shafqat Rasool, Abdul Haseem Khan, Shakil Abassi, Ali Shan, M Umar Bhutta, M Dilber and M Zubair.

The Nation


---

'There will be no let up in practice'

Uthra Ganesan



Roelant Oltmans. File photo: K. Murali Kumar.

Roelant Oltmans is a hard taskmaster but not above having a few laughs after a tough training session. It's another matter that the boys tend to get all serious in his presence.

The Dutchman, acting as the interim Indian coach for the men's Asia Cup in Ipoh (Malaysia) later this month, insisted he was satisfied with the preparation of the team for the crucial tournament. He was, however, cautious about a title triumph, crucial for India to book a place at the 2014 World Cup.

"The only thing in our hands is to ensure that the boys prepare in a way that they are able to perform to the best of their abilities, and I am confident that they are prepared," Oltmans told The Hindu before the team's departure.

Raw forward line

A spate of injuries to key players has forced the team management to name a raw forward line. Oltmans, though, has no plans to go soft. "There will be no let up in practice. I am not afraid of injuries. In fact, it is more dangerous if they don't go all out because then the concentration levels will drop and chances of injuries increase," he said.

The team also has the services of Dave Staniforth, the new goalkeeping coach. "He has only been here for about a week and there is not much he or anyone can do in such a short period. We have been working on specific things like penalty corner defences and shootouts. What is good is that we actually don't need to work too much in goal-keeping, it's one of our strengths," Oltmans said.

Forced to take charge after Michael Nobbs was sacked last month, Oltmans wasn't too concerned about the extra responsibility.

Mental aspects

While he was happy with the skills and attitude of the 18-member squad, Oltmans admitted that the mental aspects needed conditioning. "There are some areas that need improvement, may be in tactics. They are young and learning. They will make mistakes. Everyone makes mistakes. I still do. The important thing is to not give up on the effort," he said.

Even though India has a relatively easier pool — clubbed with Oman, Bangladesh and Korea — the inevitable India versus Pakistan question comes up. Interestingly, Oltmans is perhaps the only coach in modern hockey to have worked with both these teams.

"It's lovely to watch them play. The two teams are completely skill-based, even though sometimes you do tear your hair when you see them tactically. I can't say when and where we will play Pakistan but whenever we do, we will be prepared," he said.

The Hindu


---

Mixed Fortunes for Our Men's Masters

Scotland have four mens sides in the European Masters tournament being held this week at Lisnagarvey, Belfast.

Mixed fortunes for the teams has been the story of the first two days in Belfast and there have been several cases of "what might have been" as Scotland dominated opponents but then failed to put the game beyond reach.

The O40s dominated parts of their opening game against England and could have led at half-time but a better performance from the English in the second half saw them turn the tables and emerge 2-0 winners.

The O45s had a similar tale against Ireland, on top for large parts of the game but ending the wrong side of a 2-1 scoreline.  Things got a bit tougher for them in their second game against Germany, last year's runners up at the Canterbury World Cup. The Germans were simply a class above the Scots and an them off the park with a 9-0 win. It could have double that but for the heroics of Alistair McLean between the posts.

The O50s ran their Irish hosts ragged for much of the game but only a late equaliser from Mike Watts salvaged a point. Despite considerable heroics from the team in their game against England, they ended up losing 3-2 in a game spoiled by poor umpiring with a number of big decisions going against the unlucky Scots.

The O55s played out a 0-0 friendly against USA O50s to get them in the swing of things but they rather came unstuck against England, leaking three goals in the first half of their game to leave them something of a challenge to which they responded well, but ended up 4-1 down.   A better performance against hosts Ireland, however, saw them run out 4-1 winners with some clinical finishing backed up by a solid back and midfield four.

Games continue over the next three days with the winners of each section only likely to emerge Saturday, although England look strongly placed in all sections.

Scottish Hockey Union media release


---

Scotland's Women's Masters Beat England

Scotland's Women's Masters managed to do what our footballers couldn't yesterday and beat the auld enemy 2-0 at the Europeans Masters in Belfast.

Under the guidance of player-coach Sharon Duncan, our Womens' Masters team followed her instructions of "Keep it simple, keep it compact, keep the shape" and came out the victors.

England fielded a strong team, led by Lisa Prince and Sally Gibson (both ex-olympians) - all being experienced and capable of interchanging and altering shape at any time, showing versatility and flexibility.

Sharon Duncan led by example and her players followed giving cooperation, effort and commitment at 110%. It could be argued that England perhaps had the territorial and possession advantage but were denied any real opportunities by a determined defensive team ably led by Sue Mitchell in goal.

The first goal came in the 31st minute when Sharon Duncan took the ball to the base line, weaving by two or three players, then cut it inside where Gail Nelson put it confidently into the goal.

In a tactical dream the second goal came four minutes after the interval. Ali Ramsay pushed the ball from her own half towards the circle, where it was picked up by Norma Brownie who slipped it off the challenging keeper at the top of the circle passed the far post.

The ladies take on Australia today but are aware of tomorrow's first/second playoff. This will most likely be against England who currently lie second with two points to the others one.

Scottish Hockey Union media release


---

I deserve a movie like Milkha Singh: Former India hockey captain Sandeep Singh

Rutvick Mehta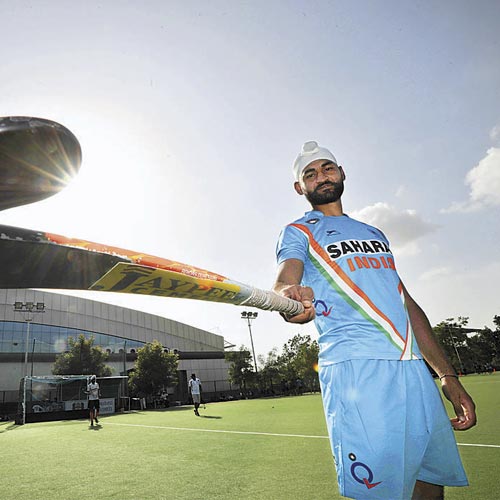 Sandeep Singh

Former India hockey captain Sandeep Singh tells Rutvick Mehta about how he is working on making a comeback and his difficult times. Excerpts:

You have been in and out of the team, but being left out of even the 48 probables for the Asia Cup must be a tough pill to swallow. The latest snub must be very demotivating...
Being in and out of the team is not a big thing. Sometimes you get injured. But when you're fit and still out of the team, that's when it hurts the most. I just saw Bhaag Milkha Bhaag and it struck me that despite his (Milkha Singh's) family being killed in Pakistan, he chose to be super fit. It hurt his heart. I have gone through something very similar when I was on a wheelchair in 2006 (he was accidentally shot during a train journey).

But my pain was both external and internal. From a super fit guy in the national team, I went straight to being confined to bed. I couldn't move my legs, couldn't even get up and go to the toilet, couldn't even wash myself in the loo. I've come out of such a phase. That was the most difficult time of my life. If I could overcome that, play for India again, perform at the highest level and win matches for my country, these times seem less painful than that. I hope – and I'm confident – that I'll be back.

Does the 2006 incident still haunt you?
It's my wish that a movie is made on my life and my accident, and I'm working towards it. Movies are being made on Milkha Singh and Mary Kom. My life story is no less than what they went through. I want to show my real life story to all youngsters who don't know me and the kind of hardships I have gone through. I want them to be inspired by it. I'm also thinking of publishing a book in the future. I keep writing about the happenings in my life when I'm alone.

You seemed shaken and hurt after you were dropped from the probables camp. You chose to be completely cut-off from the outside world...
Look, if I keep crying about the fact that I'm out of the team, if I keep thinking that I was the most experienced player in the side and they still kicked me out and that I've had enough of hockey, then I can never make a comeback. The day you think you're satisfied with your life or your performance, you're finished. I keep telling myself that I'm not satisfied with my life and that I want more pain and more hard-work. I want to keep playing for my family, my state, my country and for all of my teammates and fans who feel Sandeep Singh should be back.

You've been dropped many times before and even when it looked like your career was finished, you've come out of it. How does your mind work during such times? Who do you turn to for support?
It's simple – if you don't try, you will never fail. Unless you're out of the team, you'll never know who your true supporters are. Everyone backs you and praises you when you're in the team but the day your bad times begin, you'll come to know how much you mean to your friends and family. The day I was dropped, I knew which of my friends and well-wishers support me from their hearts.

You had said after your latest comeback in June that Harbhajan Singh's advice helped you. Has he stood by you even now?
Yes, I always spoke to him when I was in the team. Even now when I'm out, we speak often and he always tells me, 'No matter what happens in your life – be it during your ups or downs – always listen to your family and friends for they will never leave you when you're alone.'

At 27, are you confident of maintaining the level of fitness required for another comeback?
Of course. I'm doing my police training now. I wake up at 4.45 am, do the police physical education drills and parade, and then attend various classes that go on till about 7 pm. I then have my own personal fitness sessions and also some hockey sessions. So, I'm working twice as hard.

The selectors felt that your defence had become very poor. Do you agree?
I have spoken to (Roelant) Oltmans about this. Every selector or former coach will have his own thinking. I'm not blaming them. During our Holland tour, Oltmans told me a lot of things which I'm good at and which I need to work on. I was doing those things and will continue to do so. I want to train with Oltmans again.

How was your experience with Michael Nobbs?
He is a good coach. Sometimes he was confused about how to go about training before different tournaments. But he also never got any major tournaments as a chief coach to groom the players and the team. It is the federation's and Sports Authority of India's prerogative to appoint coaches, but I think he should have enough experience to handle a team.

Finally, a selector said that you have had your day. Do you realistically see yourself donning the India jersey again?
That wish is there in my heart every moment of the day. The time has not yet come when I can say I'm satisfied with what I've achieved. These words, told to me by a former Indian coach, are always in my mind: 'Whenever you're satisfied, you're finished. Har time kuch na kuch paane ki chaah rakhni chahiye (one should always be eager to achieve something).'

DNA


---

Doing the hockey-strokey

Tuba Raqshan




For Adam Sinclair, international hockey champion, the game was a way of life, and as a student, sports was top priority. "I was more passionate about sports than studies," laughs Adam. The results are there to see. The Coimbatore-based lad went on to represent the country abroad, including the 2004 Summer Olympics at Athens.

Hailing from an Anglo-Indian family, Adam's grandfather, Alfred Sinclair, played for the Southern Railways team in his day. "He coached my cousins and me — we were a motley bunch. He was an inspiration. I played for the school and college team, both in hockey and athletics."

One of the proudest moments though was when he played for India for the first time. It was for the junior team, playing against France in Poland. He recalls how they got the Indian team jerseys two days before the match. "It was a very emotional moment. You work hard all your life for this moment. I was very proud to wear the national colours. I remember scoring two goals. I was really very happy," he says.

Happy and proud though he was, it was also the time that he was caught in the midst of a controversy, being accused by Dhanraj Pillai of using his clout to become a part of the national team for the 2004 Athens Olympics. "I come from a simple Anglo-Indian background," he says somewhat defensively. "I don't have political pull. I knew I needed to work hard. People may talk, I don't really bother — as my family and I know the truth." He acknowledges the fact that the Tamil Nadu Hockey Association promoted him as they saw potential. "I've played many matches and scored many goals — what more can I prove?" he says.

Adam feels allegations of this nature could ruin a sportsperson's career. "When statements and accusations are made in the media without any proof, it is really harsh. You work hard to attain a certain level, and so accusations like this are painful. I think people shouldn't make statements without proof. I honestly feel that if I were from a powerful family, nobody would have dared to make such comments. Sportspersons need support — from someone powerful who will speak on their behalf," he muses.

Returning to those dark days, Adam reveals that his wife and family supported him through it all. "A lot of changes happened after I got married. I was at my lowest then and my wife, Vyshali Nair, motivated me. She is a special person. Nobody else came out openly in my support."

The couple met online, he recalls, lighting up at the thought. He was very pleased to discover that she followed hockey. "I was playing across the country and my picture used to come on the cover of those Classmate notebooks. We became good friends and eventually got married. So you can say that I met her through hockey," he says bashfully.

Off the field, Adam is a "big fishing freak. I really enjoy professional fishing. Every time I get a day or two off, I go angling. That's the only thing I have the time for. I also listen to a lot of music. I'm a big fan of heavy metal. Guns n' Roses is an absolute favourite. Even before I head out to matches, I listen to music. I also love collecting watches, especially antiques," he reveals. Another 'ongoing project' of his is restoring an old Bullet bike, something he has just begun to do. "I have three bikes to work on," says Adam, in parting.

This and that


Thank you: My coach, Mr Badru, from Stanes School was the person who convinced my dad to allow me to play hockey. My dad wanted me to stick with athletics as injuries were high in hockey. But Mr Badru told him that I had talent. He was also the one who taught me a lot about hockey and I am what I am only because of him.
First reaction: My parents were very excited to see their son playing for the country. It was something great for them. They were particularly happy to see my pictures in the newspapers and television.
Need for support: Cricket is well-organised in the country. But when it comes to hockey and football, there is a lot of raw talent and nobody to guide those who have it. Most of them eventually fade away. I think that the sports authorities should have a counselling department, which is a common feature in most countries. For sport is not just about physical fitness, it is also about mental strength.
---

Rest in peace VickI Geoffroy – you will be missed!




By Jawwad Qamar

The hockey world lost a true friend and a beautiful soul with the passing of Victoria Geoffroy on the morning of August 7th in New York from cancer at the age of 50. Vicki's steady and calm demeanor that commanded the defense on the field was contrasted by her sincere smile, quick wit and firecracker personality off the field.

"She was that unselfish player that a coach dreams of, ready to sacrifice her body to break up the play, give up her position so someone else can get on the field and generous with her time to grow the game," said Alexander Rooks, Chairman, Rye FHC. "The Rye Hockey Club was privileged to have Vicki as a member during the ladies' inaugural season when she was an integral part of building the team's foundation. She is forever in our hearts and our memories as an amazing teammate, organizer and friend."

A memorial service was held for Vicki on Saturday, August 10th in Brooklyn, New York, and the burial took place on Wednesday, August 14 in Trinidad & Tobago.

In addition to playing for Rye, Victoria was a coach with the Spirit Eagles Elite Field Hockey Academy in New Jersey, and also an Assistant Coach for the Fieldston High School Girls Junior Varsity Field Hockey team in the Riverdale, New York. In the past she also coached for the Impact FHC (2009-2010), and served as the VP of Youth Development for North East Field Hockey Association (NEFHA) of New York and the Tri-State area (2000-2002).

Having played field hockey since 1979 in Port of Spain, Trinidad & Tobago, Victoria had many personal achievements in sports. She played soccer for Rossi Potential T&T from 1976 to 1991 and field hockey with the Trinidad & Tobago National Squad from 1982 to 1984. When she and her family moved to the United States in 1991, she was instrumental in forming Malvern USA FHC and joined the NEFHA League. She served as Secretary of Malvern USA FHC through 2010.

"Vicki was one of my pillars of strength when we introduced Malvern USA to the NEFHA League," said Jeff Grosvenor of Tampa Bay Field Hockey and former president of NEFHA.  "She moved mountains to grow both the club and the sport."

Besides field hockey, Victoria also played soccer in the Bronx Irish Women's League. In her professional life, Victoria was a Property Manager since 1991, and currently a Manager for Pinnacle Management's Satellite Brooklyn office. She resided in Brooklyn with her husband, Karl, and their two children, Che and Chenelle. In her spare time she enjoyed cooking, gardening, and playing with their four dogs.

"The Passing of Vicki is a huge loss to the Hockey Community at large. She was, and always will be a True Role Model and inspiration to all young players and coaches. She had a passion about life that was unmatched. I will be always honored to call her a close personal friend," stated Bobby Issar, Director, Spirit Eagles Field Hockey and President, American Field Hockey Foundation (AFHF).

The AFHF will set up a Scholarship and a Youth tournament in memory of Vicki's passion for the game and the youngsters. Donations can be send to:

AFHF
PO Box 126
Milltown, NJ 08850
Attn: VIcki Geoffroy Scholarship Fund

Another friend, Nigel Traverso, Director, BAHF, also paid tribute: "Vicki has been a very big supporter of BAHF and our events and the hockey community has lost a great friend and a sister. BAHF will be adding Vicki's name to the Big Apple Memorial Trophy and hope to honor her at the event next year."

Fieldhockey.com exclusive

---

Field Hockey Stick Distributor Fly High Sports Group, LLC Launches RAGE Field Hockey USA



Rage premium Field Hockey Sticks distributed by Fly High Sports group operating as the RAGE brand in the USA

LOS ALTOS, CALIFORNIA, USA - Fly High Sports Group LLC, the newly announced official US distributor and brand partner of RAGE Field Hockey USA (manufacturer of top tier field hockey sticks and accessories), is proud to present the launch of www.RageFieldHockey.com and RAGE Field Hockey USA.

Fly High Sports Group LLC, the newly announced official US distributor and brand partner of RAGE Field Hockey USA (manufacturer of top tier field hockey sticks and accessories), is proud to present the launch of www.RageFieldHockey.com and RAGE Field Hockey USA.

RAGE premium field hockey sticks and accessories are widely distributed throughout Europe, Asia, and Australia. RAGE premium field hockey sticks are highly coveted and used by the international field hockey community of teams, players and top stars such as Jesse Watson, defender on the Canadian National Team. RAGE Hockey was founded by one of the pioneering families in the international field hockey stick industry, bringing over 50 years experience in the market to the RAGE brand. This legacy ensures that RAGE equipment is made with the same high quality manufacturing standards as many of the top brands in the field hockey industry. And now these fine sticks will be readily available via www.RageFieldHockey.com to teams, clubs and individuals in the US!

RAGE Hockey and Fly High Sports Group have joined forces to bring a superior premium field hockey equipment line to the US marketplace. This partnership makes Fly High Sports Group one of the largest US field hockey equipment distributors based west of the Mississippi.

RageFieldHockey.com is now the official site for the US-based sales of RAGE field hockey equipment, catering to the specific needs of the US field hockey community. Site users may purchase RAGE field hockey sticks and equipment, with the additional benefit of access to a digital library of practical field hockey-focused content such as videos-based demos, tutorials, and reference information to help users choose the perfect field hockey gear for each player.

In order to make RAGE premium equipment accessible to a larger US player base, RageFieldHockey.com provides school and club discounts, as well as wholesale account sales. Customers will have access to special discounted pricing for fundraising and bulk sale opportunities directly from the website, www.RageFieldHockey.com.

About RAGE Hockey
RAGE Hockey's mission is simple – engineer radical products for the dynamic player. RAGE invests heavily in R&D and embraces the newest technology, resulting in first-to-market products that exhibit cutting edge design and superior quality.
The benefits for each player are peak performance and durability.

About Fly High Sports Group, LLC
Fly High Sports Group is a field hockey equipment distributor serving retail, wholesale, school and club level accounts The founders and team at Fly High Sports Group are field hockey veterans, coaches, players, club owners, and umpires.
Our staff brings expertise and customization to the experience of identifying and purchasing the best from RAGE's premiere selection of field hockey sticks and equipment – meeting the needs of each individual player, every time.

Press release courtesy of Online PR Media: http://bit.ly/1cQoeF1

Anthony Gourley
Fly High Sports Group LLC
408-439-5952

EIN Presswire