All the news for Monday 19 August 2013

German women surprise England, Dutch teams have to work hard but prevail

Day 2 in Boom still saw results go mostly to plan



The German women surprised England to take a 2-1 win (Photo: EHF / Frank Uijlenbroek)

On the second day of pool play at the TriFinance EuroHockey Championships in Boom, the men's matches saw England defeat Poland and the Netherlands slip past Ireland. In the women's competition, Spain fought down Scotland, Germany surprised England for a 2-1 win, Ireland went past Belarus by the narrowest of margins and the Dutch women had to work hard for three points against the Belgian home team.

England - Poland 5-2 (1-0)

In today's first clash, Poland gave England a run for their money. Despite the seemingly clear result, the match was an open affair, and the scoreline remained close throughout until England pulled away with a quick double hit late in the match.

After an early goal from Adam Dixon, England had maintained their lead into the second half, but Tomas Gorny equalised for Poland. Two English goals in as many minutes followed, courtesy of David Condon, but Poland stayed within striking distance until late hits from Ally Brogdon and Tom Carson eventually sealed the Polish side's fate.

Spain - Scotland 2-1 (2-1)

Well recovered from yesterday's disappointing 0-3 loss to England, Spain fought down Scotland today to hold on to their hopes of reaching the semi-finals.

Maria Gomez' first goal of the encounter was a blitz effort, with the ball finding the back of the net after barely 20 seconds. The Iberians' joy was short-lived however as Nikki Kidd converted a penalty corner a few minutes later to catch up. Gomez stepped up again to re-establish the lead late in the first half, and while the rest of the match saw a handful of opportunities at either end, neither team could make it count. The narrow win keeps Spain's hopes of reaching the semi-finals alive, while Scotland's second loss in as many days confirms them as relegation pool participants.

Germany - England 2-1 (1-1)

Two goals from Marie Mävers helped Germany to a crucial win over england today that makes them prime semi-final candidates.

In the first half, Marie Mävers finished off a lovely run down the right side of the field by Lena Jacobi with a deft hit into the boards, but Giselle Ansley levelled the scores with seconds on the clock. After the break, it was Mävers again who found the net for Germany with a penalty corner deflection in the 51st minute. England seemingly equalized again later, but the goal was called back after the video referral showed Ashleigh Ball's touch in the crowded circle to be on the stick's back side.

Ireland - Belarus 3-2 (1-0)

A win by the narrowest of margins against the fiercely fighting Belarussian side keeps Ireland in the race for the semi-finals.

Team captain Alex Speers led the way with two goals, with Lisa Jacob contributing the third, while Volha Shyntar and Nastassia Syrayezhka were on target for Belarus. Belarus put down a good effort, but at the end of the day couldn't contain the Irish girls.

Netherlands - Ireland 2-1 (1-1)

The Dutch men struggled much more than expected against the determined Irish side today, and it was only a late goal from Robbert Kemperman that kept them from potential embarrassment against a side ranked 12 places below them in the world.

A penalty corner dragflick from Shane O'Donoghue midway through the first half put the Irish ahead, but Mink van der Weerden matched like for like just before the break. In the second half it was a battle between equal opponents, with David Harte in the Irish goal working hard to keep the scores level. Eventually however, a fantastic reverse stick cracker from Kemperman did the damage, and as the clock ticked down, the Irish could not get their foot back in the door.

Belgium - Netherlands 0-2 (0-2)

A pair of goals in the 10th and 11th minute from Carlien Dirkse van den Heuvel and Roos Drost sealed the deal for the world number one against a strong performance from the young Belgian team.

The Dutch team were the stronger contender overall, but the Red Panthers were able to create a few good chances and gave Holland their money's worth at today's clash. The final whistle confirmed a 2-0 victory for the Netherlands that puts them in the semi-finals before the last round of pool matches, while Belgium have the chance of making history by breaking into the top four of European hockey for the first time ever with a suitable result against Ireland.

To follow the TriFinance EuroHockey Championships in more detail, please visit www.trifinanceeurohockey2013.be or www.eurohockey.org.

FIH site


---

Brave Harte gives Dutch a scare

IRELAND'S men gave Holland a real fright in Antwerp before going down narrowly.

The underdogs held the lead for 14 minutes in the first half and only went behind with less than six minutes left.

Shane O'Donoghue showed that the world No 3-ranked side were not invincible when he scored from a 16th-minute penalty corner.

The Dutch responded in kind shortly before the break, Mink van der Weerden hitting the net behind David Harte.

But Harte kept the Irish in the hunt as he repeatedly thwarted Valentin Verga.

In the end Robert Kemperman decided the issue with a well-placed reverse stick shot past the 'keeper's left foot.

The Irish tired slightly in the closing stages, with captain John Jackson forced off after taking a Varga shot in the ribs.

But the skipper insisted that the pain of losing was worse than anything caused by the ball and he expects to be back at full throttle in today's must-win game against Poland.

Ireland – D Harte, B McCandless, R O'Gormley, C Harte, J Jackson , C Cargo, P Brown, E Magee, S O'Donoghue, M Watt, K Good. Subs: J Bell, S Cole, P Caruth, K Shimmins, M Darling, S Loughrey .

Irish Independent


---

Ireland 1-2 Netherlands - European Championships Men



Ireland's goal scorer, Shane O'Donoghue

Ireland's men lost their opening game against the Dutch 2-1 in the European Hockey Championships taking place in Boom, Belgium this evening.

Ireland's men proved their ability once again to mix with the world's best hockey nations in a fine performance against The Netherlands today.

The match was a pacey affair from the off with the Dutch making use of their pace down the flanks but it was the Green Machine that netted the first goal when Chris Cargo secured Ireland the first penalty corner of the match. Shane O'Donoghue stepped up and made no mistake firing home a low drag to the keeper's right making it unstoppable and giving his side a 1-0 lead.

The match ensued with end to end action both sides keen to attack. Ireland were forced into defending two penalty corners in quick succession the second of which yielded a Dutch equaliser thanks to Van Der Weerden's drag flick and the half closed out with the sides one a piece.

Ireland opened the second half with a set piece in the 44th with a switch back to Cargo but the goal effort went wide. The Dutch looked certain to take the lead in the 50th but Jonker missed a golden opportunity leaving the sides still level pegging.  The Netherlands broke the deadlock with just 5 minutes to go when Kemperman slammed home his famous reverse stick shot after Harte had initially saved Van Den Horst's effort.

Ireland stayed well in the match chasing the equaliser to the end but the close encounter closed out Ireland 1-2 Netherlands.

Coach Andrew Meredith commented after the match "This was a very positive first up performance against one of the world's top teams. I thought we showed tremendous character both as a team and individually all over the pitch."

"For the majority of the game we were very disciplined in the application of our game plan with fatigue becoming a factor towards the last phase of the game, which unfortunately resulted in conceding the late second goal. I was extremely pleased with the younger players' performance and the leadership and organisation skills showed by the senior members of the group. Despite the result the tournament objectives remain the same and we must now turn our complete focus towards the upcoming difficult and must win game against Poland."

Ireland will play Poland tomorrow at 3pm.

IRELAND 1 (1) Shane O'Donoghue PC 20m
NETHERLANDS 2 (1) Mink Van Der Weerden PC 31m; Robbert Kemperman

Starting XI: D Harte; J Jackson; R Gormley; M Watt; C Cargo; E Magee; B McCandless; K Good; C Harte; P Brown; S O'Donoghue
Reserves: J Bell; S Cole; P Caruth; K Shimmins; M Darling; S Loughrey; D Fitzgerald

Irish Hockey Association media release


---

Ireland 3-2 Belarus (European Hockey Championships) Women

Ireland's (Women) Hockey Team secured a 3-2 victory over Belarus in a must win game at the European Hockey Championships today in Boom, Belgium.

The Electric Ireland team got off to an early start when skipper Speers slotted home after O'Flanagan laid off a beautiful pass from McCay timing to perfection to set up Speers to blast the ball home for a 1-0 lead.

Ireland had chances a plenty in the first half to extend their lead including penalty corners and some open play attacks but the conversions were shy in coming forward and Ireland headed for the break with just a one goal lead.

Belarus were first out the traps for the second 35 when Stsifukina found space in the Irish 25 for a shot on goal but her effort went wide of the post leaving Ireland's lead intact. Ireland were back defending minutes later when Belarus lined up for a short corner but the on target shot was too high giving Ireland the hit out. But on the 45 minute mark  Belarus converted when Shyntar flicked up at close range to level the sides.

Ireland managed to restore their lead taking advantage of Belarus having a player sin binned when a goal mouth scramble gave Speers the chance to secure her brace slotting home for a 2-1 lead.  Ireland improved their situation once again in the 63rd minute when a long range pass from Daly picked out a lone standing Lisa Jacob who wrong footed the keeper and slotted home to make it 3-1.

Just minutes later Belarus closed in once again with a penalty corner chance which Ireland defended well but the ensuing goal mouth scramble gave Syrayezhka the chance for a reverse stick flick at close range to make it 3-2.With only four minutes on the clock Ireland stayed calm working the clock down to ensure a 3-2 victory over Belarus.

Speaking after the game Coach Darren Smith was unsurprisingly happy with the three points " It was great to get the three points we worked hard although we were a bit tentative at times and if you take that approach against Belarus you end up in a bit of a scrap. But we are pleased overall and it was a relief to secure the three points."

Commenting on the upcoming match against Belgium Smith said "Tuesday will be a fantastic match with a full house in a fantastic stadium. We are looking forward to the game and putting Belgium under pressure."

Ireland will now have a rest day before their final pool stage match against hosts Belgium on Tuesday where they will be in pursuit of a semi-final spot.

IRELAND 3 (1) Alex Speers x 2 OP 8m & 50m; Lisa Jacob 65m op
BELARUS 2 (0) V Shyntar 45m OP;  N Syrayezhka 66m OP

Ireland Starting XI: E Gray; A Speers; S McCay; M Frazer; L Jacob; N Symmons; A O'Flynn; C Watkins; N Atcheler; A O'Flanagan; G Pinder
Reserves: C Sargent; E Smyth; N Small; N Carroll; N Daly; N Gray.

Irish Hockey Association media release


---

England men's team begin EuroHockey with win



Ben Arnold, Nick Catlin and Alastair Brogdon set-up for a Penalty Corner at the TriFinance EuroHockey Championships

England's men followed up on the women's performance yesterday with a 5-2 victory over Poland in their first game at the 2013 TriFinance EuroHockey Championships. In the end it was a comfortable win for England, with some good finishing in the final quarter, but it took Bobby Crutchley's side a bit of time to settle.

The solitary first half goal came from Beeston's Adam Dixon to give England a narrow lead going into the break. Poland then drew level through Tomasz Gorny inside five minutes of the second half, but two goals from East Grinstead's latest signing, David Condon and powerful strikes from Wimbledon's Alastair Brogdon and Reading's Tom Carson sealed the 5-2 victory for England.

Condon's two goals were his first in a senior shirt and following the game he gave his view on the performance and his goals. "Not only were they my first goals, but I feel like they came at a game-changing moment, so it's fantastic to get my name on the sheet. It was a harder game than we expected and our first-half performance wasn't quite up to where we want it to be."

Looking ahead to their game against the Dutch tomorrow he added, "We gave the Netherlands a good run for their money [in Wakefield at the NOW: Pensions Nations Cup]. We know it's going to be a massive challenge, we'll have to match them in every department to even stand a chance. But I think we're ready."

Adding his thoughts on the game, England Head Coach Bobby Crutchley said, "I think the score line probably flattered us. Poland gave us a lot of problems today and I was pretty frustrated at times with our performance, but that is often how first games of the tournament go. I'm glad that we got the win in the end and that we were able to convert more of our chances in the closing stages of the match now we look ahead to the Netherlands tomorrow."

Click here for the full match report.

ENGLAND 5 (1)
Adam Dixon 14 (FG)
David Condon 44, 45 (FG, FG) 
Alastair Brogdon 63 (FG) 
Tom Carson 66 (PC) 

POLAND 2 (0)
Tomasz Gorny 40 (FG)
Michal Nowakowski 55 (PC)

England's next match is tomorrow at 19:00 (UK time) against the Netherlands. The TriFinance EuroHockey Championships are being shown LIVE on the BBC Red Button, online and on iplayer.

For more information about the TriFinance EuroHockey Championships please visit the official website www.trifinanceeurohockey2013.be

England Hockey Board Media release


---

England women lose 2-1 to Germany on Day Two



Alex Danson in action for England against Germany at the EuroHockey Championships 2013

England fell to a second day defeat at the hands of Germany in their penultimate Pool B match at the TriFinance EuroHockey Championships in Belgium. With the scores level at 1-1 as the sides went in for the break there was everything to play for. Unfortunately, it was Germany who ultimately capitalised, scoring the only goal of the second half. Despite England's best efforts in the closing stages they could not get past Germany's defence.

Before the game Reading's Helen Richardson received flowers for her 150th England appearance.

Germany went ahead in the 29th minute through Marie Mavers who clipped the ball in past Maddie Hinch in England's goal to make it 1-0, but England fought back through Surbiton's new signing Giselle Ansley on the stroke of half-time as she hit a rifling shot high into the roof of the net to bring the scores back level going into the break. In the 51st minute Mavers added her second of the game to give Germany the lead back. England threw everything they had at Germany and might have expected to take the lead with a string of penalty corners, but Germany's defence could not be broken and the final score remained 2-1.

Speaking after the game, England Head Coach Jason Lee, saw plenty of positives to take out of the match, "I'm obviously disappointed with the result, but I think our performance was really strong and I imagine it was a really good game to watch from a neutral's perspective. We like to play hockey that everyone will enjoy watching and I think we did that today. I thought Germany defended really well and although we created some good chances, things just didn't quite come off for us."

Looking ahead, he added, "I think it actually puts us in quite a favourable position for the rest of the tournament; we've got a little bit of pent up frustration to take into the remaining games. Overall I'm very pleased with how the girls played out there today, there was a lot of fight, our approach was right, and it could have gone either way. Germany just took their chances better. "

Click here to read the full match report.

GERMANY 2 (1)
Marie Mavers 29, 51 (FG, PC)

ENGLAND 1 (1)
Giselle Ansley 35 (FG)

England's next game is on Tuesday at 13:00 (UK time) against Scotland. Watch it live on the BBC Red Button and Eurosport.

Meanwhile England's men will be in action tomorrow at 19:00 (UK time) against the Netherlands. Watch it live on the BBC Red Button and Eurosport.

England Hockey Board Media release


---
Mixed fortunes for England

By Mike Haymonds
There were mixed fortunes for England's men's and women's teams at the TriFinance EuroHockey Championships in Boom, Belgium, where the men beat Poland 5-2 while the women lost 2-1 to Germany.
David Condon scored his first senior international goals in England's men's 5-2 win over Poland.
Condon's brace within as many minutes early in the second half put his side on the way to victory after Poland had equalised a 14th minute strike by Adam Dixon four minutes earlier.
Poland pulled a goal back but late scores by Alastair Brogdon and  Tom Carson clinched a deserved win.
England's coach Bobby Crutchley said: "I think the scoreline flattered us. Poland gave us a lot of problems.
"I was pretty frustrated at times but that is often how first games of the tournament go"
England meet Netherlands tomorrow (Mon).
England's women lost their second Pool B game 2-1 to Germany after beating Spain 3-0 on Saturday.
Goals by Marie Mavers in each half trumped the equaliser from Giselle Ansley on the stroke of half-time.
A fiercely contested game ended with a flurry of video referrals with a last-minute 'goal' by Ashleigh Ball ruled out for use of the back of the stick.
England need a win in their final pool game with Scotland on Tuesday to clinch a semi-final place.
Daily Express
---

Scotland left frustrated by Spanish defeat



Midfielder Nikki Kidd's penalty corner strike wasn't enough for Scotland against Spain today. Credit: Frank Uijlenbroek

Two goals from Spanish striker Maria Gomez consigned Scotland to a 2-1 defeat in the second pool match of the EuroHockey Nations Championship in Belgium today. Scotland's goal came from a Nikki Kidd penalty corner in the first half.

As a result, Scotland will most probably contest the relegation pool when it gets underway on Thursday, with two wins the likely objective for Scotland Head Coach Gordon Shepherd and his side if they want to retain their place in the top championship division.

Scotland got off to the worst possible start when they found themselves behind within the first sixty seconds of the match.

Carlote Petchame's pass from the left hand touchline found Maria Gomez inside the circle and the Spanish striker's first time reverse stick shot flew past Scotland goalkeeper Amy Gibson into the the bottom right hand corner of the net to leave the Scots trailing 1-0.



Maria Gomez celebrates giving Spain an early lead. Credit: Frank Uijlenbroek

Gibson had to be alert to stop Spain from increasing their advantage in the sixth minute when she dived low to her right to prevent a penalty corner drag-flick finding the top left hand corner of the goal.

Gordon Shepherd's side eventually found a rhythm and Sam Judge worked Maria Lopez in the Spanish goal with two quickfire attempts in the eighth minute of the match.

Scotland were then awarded a penalty corner in the ninth minute and Nikki Kidd made no mistake from the set-piece as she unleashed an unstoppable drag-flick drive into the left hand corner of the net to put her side back on level terms at 1-1.

A period of Scottish dominance followed thereafter, with Judge, Nicki Skrastin and Ali Bell all having opportunities in front of goal.

It was therefore a moment of deep frustration for the Scots when Spain regained the lead against the run of play in the 27th minute.

Maria Romagosa found space on the right touchline to fire in a dangerous cross, which Gibson got a touch on to clear the initial danger. However, the ball fell to Petchame just inside the circle and she combined again with Gomez for the striker to execute a close range tap-in for her and Spain's second goal.



Vikki Bunce propels another attack for Scotland against Spain. Credit: Frank Uijlenbroek

The second half was a cagey tight affair and the first real attempt on goal didn't come until the 45th minute when Judge skewed a great chance to find her side an equaliser wide of the post.

The Scottish defence was alert to clear a Spanish penalty corner attempt in the 51st minute, while Gibson made another great save to prevent Gomez getting a hat-trick with a reverse stick glance two minutes later.

Judge went close again with another snap-shot on goal, Ali Howie was denied by a double save from Lopez, while Becky Merchant kept Scotland in the match with a goal-line clearance.

With time running out, Shepherd took off Gibson to put on an extra outfield player and it almost paid off as Susan McGilveray's deflected shot cannoned off the post right on full-time.

However, it was not to be as Spain celebrated their win at the full-time hooter, leaving Scotland with a tough challenge ahead for the remainder of the competion. The Scots will play England in their final Pool B match on Tuesday 20 August (14.00), which is live on BBC Red Button and the BBC Sport website.



Scotland's Cat Ralph cuts a disappointed figure at the full-time hooter. Credit: Frank Uijlenbroek

For fixtures, results and pool standings, please visit the EuroHockey Nations Championship website.

Scotland Senior Women: Amy Gibson (Clydesdale Western), Nicola Cochrane (Edinburgh University), Vikki Bunce (Dundee Wanderers), Morag McLellan (Clydesdale Western), Alison Bell (Grove Menzieshill), Catriona Ralph (Clydesdale Western), Samantha Judge (Edinburgh University), Holly Cram (Clydesdale Western), Linda Clement (Captain, Grove Menzieshill), Kareena Marshall (Western Wildcats), Leigh Fawcett (Grove Menzieshill), Rebecca Merchant (Edinburgh University), Nikki Kidd (Edinburgh University), Susan McGilveray (Clydesdale Western), Nicola Lloyd (Sevenoaks), Alison Howie (Clydesdale Western), Nicola Skrastin (Clydesdale Western), Emily Maguire (Reading).



Scotland Senior Women line-up for the national anthem before their game against Spain. Credit: Frank Uijlenbroek

Scottish Hockey Union media release


---

Canterbury women regain winning form



Photo: www.photosport.co.nz

The Canterbury Cats were back in winning form in Round 5 of the Ford National Hockey League, with a hard fought 3-1 win over Midlands at North Harbour Hockey Stadium.

It was a tight encounter for much of the game with Georgie Blackwood (Canterbury) and Renee Ashton (Midlands) trading first half goals.

Canterbury broke free late in the second half however, with goals to Olivia Merry and Cass Reid guiding the Cats to their fourth win from five games at the tournament.

Canterbury's Pippa Hayward said the win was pleasing going into tomorrow's rest day.

"I think it's the best performance we've had so far. To put two goals together in quick succession was ideal," Hayward said.

"We need to make sure we have a really good recovery on our rest day and look at some video ahead of what will be a tough game against Harbour on Wednesday."

Earlier in the day, Jessica MacAlister scored right on fulltime for Northland to snatch a 3-2 win over Southern, with Carli Michelsen and Charlotte Harrison also finding the goal.

Auckland consolidated top spot on the points table after a 4-1 result over the Central Mysticks, thanks to fine performances from Krystal Forgesson and Katie Glynn.

In the day's final women's game, North Harbour edged Capital 2-1 with goals from Petrea Webster and Michelle Borren.

To start the day for the men, Capital thumped Northland 7-1, helped by a hat-trick of penalty corner drag flicks from Matt L'Hullier and a double from Jacob Smith.

Northland opened the scoring through Belgian import Gauthier Boccard, but the game was one way traffic after that with Capital delivering seven unanswered goals.

After yesterday's draining loss to North Harbour, Auckland battled to a 2-1 victory over Central. The game was tied at 1-1 for much of the second half before Simon Egerton broke the deadlock with a game winning field goal.

North Harbour were impressive in their second straight penalty shoot-out victory against the Southern Dogs.

Joseph Bartholomew scored a double for Harbour, and Hugo Inglis did the same for Southern to see the score locked at 3-3 at fulltime. In the penalty shoot-out Harbour goalkeeper Richard Joyce reigned supreme, helping his side seal a 3-1 win.

In the day's final match, Canterbury powered to a 4-2 win over Midlands to stay at the top of the men's points table.

Tomorrow is a rest day for teams (although Southern play Auckland in a replay of Round 3 at 1pm), with Round 6 beginning at 11.30am.

CLICK HERE for full results, points tables and goal scorers

FORD NHL ROUND 5 RESULTS
MONDAY 19 AUGUST

MEN

TRUST HOUSE CAPITAL 7: (Matt L'Hullier 3, Jacob Smith 2, Alex Shaw, Own Goal)
MARSDEN COVE NORTHLAND 1: (Gauthier Boccard)

AUCKLAND FURY 2: (Michael Ritchie) 2: (Michael Ritchie, Simon Egerton)
CENTRAL MAVERICKS 1: (Steven Crossett)

NORTH HARBOUR 3: (Joseph Bartholomew 2, George Muir)
SOUTHERN DOGS 3: (Chris Ashton, Hugo Inglis 2)
North Harbour won penalty shoot-out 3-1

BAYLEYS MIDLANDS 2: (Own Goal 2)
CANTERBURY CAVALIERS 4: (Willie Hayde, William Davidson, Teun Rohof, Cam Hayde)

WOMEN

CANTERBURY CATS 3: (Georgie Blackwood, Olivia Merry, Cass Reid)
BAYLEYS MIDLANDS 1: (Renee Ashton)

MARK CROMIE HOLDEN NORTHLAND 3: (Carli Michelsen, Charlotte Harrison, Jessica MacAlister)
SOUTHERN STORM 2: (Emma Spratt, Phillipa Symes)

AUCKLAND FURY 4: (Krystal Forgesson, Shareena Nana, Rhianne Woolf, Katie Glynn)
CENTRAL MYSTICKS 1: (Kristy Anderson)

NORTH HARBOUR 2: (Michelle Borren, Petrea Webster)
TRUST HOUSE CAPITAL 1: (Jenna Anderson)

Hockey New Zealand Media release


---

Harbour fire up to beat Aucklanders

By David Leggat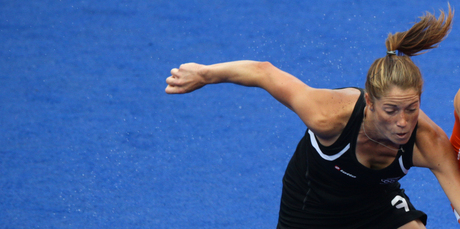 'We're pretty satisfied,' Black Sticks attacker Krystal Forgesson said last night. Photo / Brett Phibbs

The identity of the opposition played a part in North Harbour rediscovering top form in the National Hockey League yesterday.

Auckland manage to draw something extra out of their crosstown rivals, according to veteran former international Dave Kosoof, and so it proved yesterday at North Harbour where the hosts toppled the defending champions 5-3 to shove themselves up into the Challenge Shield semifinal reckoning.

Three penalty corner drag flick goals from Joseph Bartholomew and two more from veteran Jan Peterson ensured a well-merited win. Dwayne Rowsell, Sam Miskimmin and an own goal kept Auckland in the hunt.

Auckland's women had a weekend to be chuffed about.

They toppled defending champions Canterbury 4-2 on Saturday, in a repeat of last year's final, then squeezed past Capital 3-2 yesterday to sit one point clear at the top of the K Cup table.

"We're pretty satisfied," Black Sticks attacker Krystal Forgesson said last night. "We knew we were playing the top two teams and had to step up."

Forgesson was pleased with the improved intensity over the weekend.

"We needed to be a little more aggressive, win the 50-50 balls and put pressure on their key players," she said.

North Harbour's women enjoyed themselves too, with wins over Southern - rooted to the foot of the table and still goalless after four games - and a 6-1 romp against Central yesterday.

The fifth round of games is at North Harbour today while Auckland's washed-out game against Southern from Saturday will be played tomorrow, the scheduled rest day.

The New Zealand Herald