All the news for Tuesday 26 November 2013

Nine more Aussies in HIL

24 Kookaburras to take part in Hockey India League 2014

Nine more Kookaburras have been picked up by the six franchises of the Hockey India League (HIL) in the closed bid for the second season of the sport's showpiece league. In all, it brings the number of Kookaburras competing in the Hockey India League to 24.

Trent Mitton (Perth, WA), Kiel Brown (Toowoomba, QLD), Jason Wilson (Kingscliff, QLD), Russell Ford (Eltham VIC), Glenn Simpson (Eltham, VIC), Aran Zalewski (Margaret River, WA), Tristan White (Wollongong, NSW), Tristan Clemons (Bunbury, WA) and Jake Whetton (Brisbane, QLD) went for a total of USD $317,000 (AUS $346,000) in the weekend's bidding.

Mitton claimed the largest bid of the Australians with Mumbai Magicians paying USD $59,000 (AUS $63,375) for the forward, almost three times his base price.

New franchise Kalinga Lancers were the busiest, picking up an entire roster including Brown, Ford, Clemons, Simpson and Zalewski.

Kookaburras Assistant Coach Graham Reid, who teamed up with Ric Charlesworth at the Mumbai Magicians in 2013, said, "For the Australian athletes it's good that they can be part of something like the Hockey India League. Playing in the HIL allows them to make a bit of money which in turn helps them to commit more fully to the Kookaburras program without the need to take on other work. We have a busy year ahead with the World Cup in May and June, and the Commonwealth Games beginning in July."

West Australian Fergus Kavanagh was a winner with the Ranchi Rhinos in the league's inaugural season with the Rhinos only adding one player to their 2014 roster.

Newly appointed India coach, Australian Terry Walsh, will coach the Kalinga Lancers, while former Kookaburras coach Barry Dancer will lead the Jaypee Punjab Warriors.

The second season gets underway on 23 January 2014, shortly after the conclusion of the men's World League Finals in Delhi, and will run until 23 February.

In January and February 2013, the Hockey India League attracted 41 million viewers in India and was telecast in 146 countries around the world.  

NEW KOOKABURRAS TO THE HOCKEY INDIA LEAGUE 2014
# = ranked by value in the closed bids process
4. Trent Mitton - Australia - Midfielder/Forward - Base Price $20,000 - Sold for $59000 - Bought by Mumbai Magicians
6. Kiel Brown - Australia - Defender/Midfielder - Base Price $25000 - Sold for $55000 - Bought by Kalinga Lancers
12. Jason Wilson - Australia - Forward - Base Price $20000 - Sold for $41000 - Bought by Delhi Waveriders
18. Russell Ford - Australia - Forward - Base Price $20000 - Sold for $35000 - Bought by Kalinga Lancers
19. Glenn Simpson - Australia - Midfielder - Base Price $15000 - Sold for $33000 - Bought by Kalinga Lancers
22. Aran Zalewski - Australia - Defender - Base Price $10000 - Sold for $28000 - Bought by Kalinga Lancers
23. Tristan White - Australia - Defender/Midfielder - Base Price $15000 - Sold for $27000 - Bought by Delhi Waveriders
27. Tristan Clemons - Australia - Goalkeeper - Base Price $15000 - Sold for $20000 - Bought by Kalinga Lancers
29. Jake Whetton - Australia - Forward - Base Price $15000 - Sold for $19000 - Bought by Punjab Warriors

AUSTRALIANS IN THE HOCKEY INDIA LEAGUE 2014
Dubur Mumbai Magicians
Glenn Turner (Goulburn, NSW)
Matthew Butturini (Burringbar, NSW)
Joel Carroll (Darwin, NT)
Matthew Swann (Mackay, QLD)
Trent Mitton (Perth, WA)
Tim Deavin (Launceston, TAS)

Delhi Waveriders
Matt Gohdes (Rockhampton, QLD)
Tristan White (Wollongong, NSW)
Jason Wilson (Kingscliff, QLD)

Jaypee Punjab Warriors
Jamie Dwyer (Rockhampton, QLD)
Kieran Govers (Wollongong, NSW)
Rob Hammond (Townsville, QLD)
Simon Orchard (Maitland, NSW)
Chris Ciriello (Melbourne, VIC)
Mark Knowles (Rockhampton, QLD)
Jake Whetton (Brisbane, QLD)

Kalinga Lancers
Kiel Brown (Toowoomba, QLD)
Russel Ford (Eltham, VIC)
Tristan Clemons (Bunbury, WA)
Glenn Simpson (Eltham, VIC)
Aran Zalewski (Margaret River, WA)

Ranchi Rhinos
Fergus Kavanagh (Geraldton, WA)

Uttar Pradesh Wizards
George Bazeley (Melbourne, VIC)
Eddie Ockenden (Hobart, Tasmania)
Luke Doerner* (Altona, VIC) *retired from international hockey in October 2012

>> Visit the Hockey India League site at league.hockeyindia.org

>> Read the full list of players in each franchise here.

Hockey Australia media release


---

Archibald leads charge in Hockey India League



Photo: www.photosport.co.nz

Veteran midfielder Ryan Archibald is looking forward to a stint in the Hero Hockey India League after being picked up by the Kalinga Lancers over the weekend.

Archibald, who has 274 international caps, last appeared for the Black Sticks at the 2012 London Olympics. This year he has played club hockey and also for national champions Auckland in the Ford National Hockey League.

The 33-year-old fetched the second highest bid in this year's Hockey India League player auction, offered more than NZ$86,000 for the six week tournament.

Archibald said he was confident he would be picked up in the auction but after setting his reserve price at NZ$30,000, was surprised the bids went so high.

"I was pretty sure I'd get picked up bit it was a bit unknown in terms of the dollar amount. It's definitely higher than expected but I'm pretty happy with it that's for sure," he said.

"I spoke to some of the guys from last year like Simon Child, Dean Couzins and Andy Hayward, who really enjoyed their experience so it'll be a good chance to have a different experience.

"I've been playing plenty of hockey still so there are no issues about performing over there, I'm just looking forward to having some fun."

North Harbour's Steve Edwards was the only other New Zealander picked up in this year's auction, snapped up by the Delhi Wave Riders for NZ$30,000.

Archibald and Edwards join fellow Kiwis Simon Child (Delhi Wave Riders) and Nick Wilson (Ranchi Rhinos) who are still signed to multi-year deals after being picked in the inaugural Hockey India League auction.

It was also announced this morning that Hockey New Zealand Umpire Development Manager Craig Gribble has been appointed as Umpires Manager.

Gribble has umpired and officiated at the Commonwealth Games 2010, two Champions Trophy tournaments in 2011 and 2012, two Olympic qualification tournaments and the London Olympic Games in 2012 and FIH World League Semi-Finals in Rotterdam 2013.

"I am looking forward to being part of the Hero Hockey India League where I can work with the appointed umpire and officiating panels and also help to develop the local Indian umpires," Gribble said.

"It will be a wonderful opportunity for the umpire group to develop and apply their craft to such an exciting brand of hockey."

Hockey New Zealand Media release


---

Captains' auctioned off to play in Hero India League

By Graham Wilson



Adam Dixon has been auctioned off to play in the India League [GETTY]

THEIR clubs may have had differing fortunes but Beeston captain Adam Dixon and Reading Olympian Simon Mantell are in the money.

Dixon's Nottingham side fell to their first defeat of the league season as Wimbledon surprised them 3-2 at Highfields, while a last-gasp strike from Jonty Clarke gave Reading a 5-4 win at Canterbury.

But Dixon and Mantell, along with GB captain Barry Middleton, have been auctioned off to play in the Hero India League in January to join East Grinstead's Ashley Jackson. Dixon, who went for £25,300, and Mantell (£16,000) will play for the Mumbai Magicians while Holcombe's Middleton (£32,700) will play with Jackson for the Ranchi Rhinos.

Double Olympian Glenn Kirkham has retired from the international game after 223 caps for GB and England.

Daily Express


---

A close call for Glynhill Kelburne as the extend they lead

Weekend round up

Aberdeen Asset Management Men's Division 1

Glynhill Kelburne managed to extend their gap at the top by six points with a nail bitingly close match with second place Hillhead, only 2-1 to the table toppers. It was an evenly matched game with both sides having an even amount of chances; it was 1-1 at half time but the champions showed why they are champions and slotted in a messy goal to take away the victory.

A lot of movement in the middle of the table as Inverleith move up to seventh with a 4-1 win over Edinburgh University. Both teams have had a good run of form of recent but the 'purple robes' came out on top, they have only dropped one point from their last three matches.

PSL Team Sport Clydesdale move down the table to the sixth, further away from that playoff position as they lost out to Grove Menzieshill 3-1. However it was a positive win for the Dundee based side, securing those three points helps them move up to fourth and level on points with Grange.

Bottom sides AAM Gordonians and Dundee Wanderers fought it out his weekend with Gordonains coming out on top with a 2-1 win, leaving Wanderers still on bottom spot.

Aberdeen Asset Management Men's Division 2

Despite losing one of their matches at the weekend Aberdeen GSFP move up to third. On Saturday they missed out on any points by one goal. They lost 3-2 to Granite City Wanderers despite it being 0-0 at half time and Wanderers being a player down for 10 minutes. But they redeemed themselves on Sunday with a 3-2 win at home over Erskine Stewart Melville FP.

Top side Uddingston stay top after a 4-0 win over bottom side FMGM Monarchs. The contrast between these two teams couldn't be greater with Monarchs only having one point on the table, whereas Uddingston have only dropped one point from the season so far.

CALA Edinburgh won 2-1 as they travelled away to Alpha Data Carnegie, elsewhere all the other matches were postponed.

Aberdeen Asset Management Men's Division 3

2020 Renewables make it 10 wins so far this season as they made the long journey up north to face Highland. It was a tough match for the league leaders but they won 2-0 in a tough match against the northerners.

Second place Perthshire won away from home 3-1 over bottom side ADTI Aberdeen University. Whilst third place Harris Academy FP had a strong win over fifth place Waverly Inveresk Trinity, 8-2. Harris Academy are a tough team at home and have yet to lose a match on home soil.

Fourth place University of Dundee secured their sixth win of the season with a 2-1 win over struggling Ayr. Despite the recent score lines, Ayr have found form at home securing four points from their last two home matches.

Regional Leagues

Central Division 1

Only two games were played this weekend due to postponements from bad weather pitches. Bottom side Western Wildcats II will be pleased with their second win of the season in a very congested bottom half of the table with the bottom three all on equal points. They won 4-2 away from home against InverleIth II.

Edinburgh University III moved up to ninth after drawing with their fellow club mates, whilst their seconds move up to fourth from the 1-1 draw.

Central Division 2

Another win for league leaders Rottenrow Blue Sox, they had a tough match against fourth place East Kilbride, winning 4-2.

Second place Uddingston II had a comfortable win over bottom side Livingston & West Lothian 5-0. With just one point above the bottom side, Alpha Data Carnegie II lost away from home 6-1 to mid-table team Watsonians II.

Despite a 3-1 win over CALA Edinburgh II, Clydeside dropped to fifth. The battle for fourth spot will be a close one with only one point in it.

No rest for East Kilbride as they played again on Sunday and had a 3-1 win over CALA Edinburgh II.

North Division

A bottom of the table battle ended up in a 2-2 draw, a point a piece for AAM Gordonians III and ADTI Aberdeen University II.

Second place Grove Menzieshill II went on a goal spree with a 9-1 win over Aberdeen GSFP III., whilst AAM Gordonians II top the table with another win of 3-0 over Aberdeen GDFP II.

Scottish Hockey Union media release


---

Edinburgh University on goal spree

Weekend Round Up

Aberdeen Asset Management Women's Division 1

Edinburgh University went on a goal spree this weekend with a 10-0 win over seventh place GHK, five more goals scored by the students than the last time these two met. The third place team played again on Sunday and managed a 1-1 draw with second place Milne Craig Clydesdale Western, closing the gap between the two teams by three points.

Grove Menzieshill added another win to their tally, making it 14 wins out of 14 games. They travelled away and beat Western Wild cats 6-1. These ladies are unstoppable and confirming there stance as being the toughest team in the league for anyone to get points off.

Glynhill Kelburne remain fifth position after a 3-0 win over bottom side Grange EL, who are only on three points at the end of the table. Fourth place Dundee Wanderers won 4-0 over CALA Edinburgh.

Struggling Watsonians gave second place Milne Craig Clydesdale Western a run for their money at the weekend with a close 3-2 win to the Clydesdale ladies.

Aberdeen Asset Management Women's Division 2

A mid table battle saw Erskine Stewart Melville FP take the three points off Border Fjordhus Reivers with a 1-0 win.

Third place Inverleith won 2-0 away from home over seventh place Granite City Wanderers and AAM Merlin Gordonians won 5-2 over Glasgow University.

The rest of the matches were postponed due to weather.

Aberdeen Asset Management Women's Division 3

Only one match played this weekend, with top team University of St Andrews winning 2-0 over second place Waverly Inveresk Trinity. The students have yet to lose a match this season.

Championship Leagues

Division 1

All matches postponed due to weather.

Division 2

Edinburgh University III hosted Stirling Wanderers and was the only matched played, Wanderers secured a 3-0 win taking them top of the league.

Scottish Hockey Union media release


---

Pakistan Hockey Federation: Old hearts, new beat

By Fawad Hussain



Pakistan Hockey Federation's new president Akhtar Rasool has vowed to resurrect and revitalise the domestic hockey set-up. PHOTO: FILE/EXPRESS

KARACHI: The Pakistan Hockey Federation's (PHF) transfer of power has been dubbed as a 'retention' of the same set-up that governed during the last term.       

On Monday, Olympian Akhtar Rasool formally took over as the PHF's president while another Olympian Rana Mujahid claimed the post of Secretary General following elections at the 50th PHF Congress meeting in Islamabad.

Both were elected unopposed after no individual contested against them.

The former was the head coach and manager of the national team and resigned from the post after Pakistan's failure to qualify for World Cup 2014. The latter was associated with the junior team in the same capacity and was later appointed as interim secretary following Asif Bajwa's resignation in the aftermath of the disaster.

Rasool and Mujahid were a part of the previous regime of the PHF that was led by Qasim Zia (president) and Bajwa (secretary).

'Grassroot, domestic hockey main target'

In an interview with The Express Tribune, Rasool expressed his resolve to work for the betterment of Pakistan's hockey by firing on all cylinders.

"We have come with new spirits," said the 59-year old former captain.

The Olympian said the new set-up will make a comprehensive plan and will make all-out efforts to lift the game in the country.

"Improvement in our domestic hockey is badly needed. This is the area which begs our main focus."

"We will be holding 10 national tournaments annually that will help in unearthing new talent. I will also request the federal and provincial governments to retain the old sports quota (seven to 10%) in colleges. We need educated players, which has become a must nowadays."

He added that bringing international hockey back to Pakistan will also be on the agenda of his federation.

"We have already invited over a dozen of countries to visit Pakistan. The government has ensured the best security for visiting teams and we are hopeful of good news soon."

'Past tenure as president wasn't a failure'

It may be recalled that Rasool also served in the same capacity back in 1997. The tenure was far from satisfying as it was the first time that Pakistan failed to qualify for the Champions Trophy.

"The team had performed well also. I wasn't given much time but now I have a complete tenure and I am confident of delivering for the country now."

Rasool, who is associated with ruling party PML-N, negated the impression of political interference in his election.

He also invited the 'protesting' former Olympians to come on board and assist the new set-up.

The Express Tribune


---

New PHF office-bearers vow to revive hockey

ISLAMABAD - Pakistan Hockey Federation (PHF) newly-elected secretary Rana Mujahid Monday said revival of hockey was his top priority and he would give top priority to domestic hockey.

Addressing a press conference along with newly-elected PHF president Akhtar Rasool here, Rana said: "We have decided to organise at least 10 All-Pakistan Hockey Tournaments to promote hockey across the country while we will also hold Inter-department League and Inter-region Championships."

"We have decided to pay allowances to our officials, technical officials and umpires in national currency instead of dollars while on aboard tours, we will pay to players in dollars for accommodation and other expenses," he added.

"We have taken the decision to establish a committee for the selection of players. The committee will be formed in December and only coach will be responsible for players' performances, instead of selection committee and the team management while we will only appoint only that person as a coach who will be able to achieve the desired results," the secretary added.

"We have extended invitations to 14 countries including Malaysia to play in Pakistan and we are quite hopeful that international hockey will soon be revived in the country," Rana concluded.

While sharing his views, Akhtar Rasool said: "Hockey is our national game and we will take all stakeholders on board for its revival and do whatever we can to take Pakistan hockey back to the same heights. Hockey can't get back to its feet until grassroots level events will not be held on regular basis."

Expressing her views, newly-elected secretary of PHF Women Wing Tanzeela Cheema demanded of the PHF to stop interfering in women affairs. "Give us free hand and provide coach of our liking, so that we may work on making women hockey team a force to reckon with."

She strongly objected to the proposal of Rs 15 million grants for women wing ad termed it very meager and demanded considerable raise. The president and secretary promised to look into this matter.

The Nation


---

Newly elected officials to run financial affairs in 'transparent manner'

PHF Congress endorses Akhtar Rasool as new president

By Abdul Jabbar Faisal

ISLAMABAD: The Pakistan Hockey Federation (PHF) Congress on Monday unanimously edorsed former Olympian Akhtar Rasool and Rana Mujhaid as the national federation's new president and secretary general respectively for the next term of four years. The PHF Congress meeting, which was held at a local hotel here, was attended by over 100 representatives of different hockey associations and departments affiliated with the national federation. It may be mentioned here that Akhtar had resigned from his post of head coach after the national team after Pakistan failed to qualify for the next year's World Cup. After the World Cup qualification failure in late August this year, then PHF secretary Muhammad Asif Bajwa stepped down and was replaced by Rana Mujahid. A number of prominent former Olympians like Islahuddin Siddiqui, Shahnaz Sheikh, Samiullah Khan along with others had questioned the fairness and validity of the PHF elections.

After the meeting, secretary general Rana Mujahid told reporters that former Olymian Shahid Ali Khan was elected as finance secretary. "Nawabzada Laskari, Wasa Jalil, Mohammad Saeed Khan and Suriya Allahdin were elected as vice presidents while Anjum Saeed as associate secretary," he added. Mujahid said that they would put in their best efforts to revive the national game with the support of government. "We will be staging as many as 10 national events annually for improving the standard of the game and to provide maximum opportunities to budding players to excel at national and international levels. Departmental and regional tournaments will also be held for improving the game," he stated.

Mujahid said the PHF had invited 14 countries including Malaysia to visit Pakistan. "I hope the PHF will get positive response soon and international teams will visit Pakistan." He said the national selection committee would be reformed next year 2014 till then the ongoing selection process would be followed. Spekaing on the occasion, Akhtar vowed to take former Olympians along for the betterment of hockey in Pakistan. "We must move forward with a clear strategy instead of keep digging into the past. I have great respect for former Olympians and I am even ready to go to their doorstep to listen to their grievances." He said he would run the financial affairs of the federation in a transparent manner. "Hockey is our national game and the Prime Minister is sports lover and we request him to increase funds for hockey," concluded Akhtar.

The Daily Times


---

Akhtar Rasool eyes local for coaching task

Muhammad Asif Khan

KARACHI: The newly elected president of the Pakistan Hockey Federation (PHF), Akhtar Rasool has vowed to take former Olympians along for the betterment of the state of Hockey in Pakistan. "We must move forward with a clear strategy instead of keep digging into the past. I have great respect for former Olympians and I am even ready to go to their doorstep to listen to their grievances", said Akhtar Rasool while talking to this correspondent for News One TV.

Akhtar Rasool and Rana Mujhahid were elected unopposed as president and secretary respectively of the PHF for a term of four years.

"Elections were conducted in free and fair manner and the chief election commissioner provided everyone with an equal opportunity to contest", claimed Akhtar Rasool, who recently held the post of team's head coach.

On a question, Akhtar Rasool stated that Pakistan was not short of experienced and qualified former players therefore the coaching task would be handed over to one of the former Olympians. "We have top quality coaches with FIH certification, hence I would go for a local coach for the national side", said Akhtar Rasool who led Pakistan to victory in the 1982 World Cup.

"Along with the top team, the grass-root level needs utmost attention. The revival of hockey at school and club levels is a must and the PHF will take appropriate measures to achieve this goal", concluded Akhtar Rasool.

Fieldhockey.com


---

Perak face Terengganu in semi-finals

THE Perak boys qualified for the semi-finals from Group A of the MHC-Milo-NSC Under-14 Hockey tournament in Kuala Terengganu even though they were held to a 1-1 draw by Penang.

And the Silver State, who finished second in Group A, will meet Group B champions Terengganu in the last four today.

Defending champions Kuala Lumpur also made the cut when they beat Sabah 3-1 to top Group A, and will play Group B runners-up Malacca in the semi-finals.

"This has been an energy-sapping tournament as my players had little rest between matches and with the semi-finals tomorrow followed by the finals and bronze matches the next day, I am only afraid about how fast my players can recover after holding Penang in a gruelling match," said Perak team manager Shahri Mohamed Zain.

Perak also made the semi-finals last year, but were knocked out: "I believe we have the players this year to play in the final and better our record," said Shahri.

Perak's only other blemish in the tournament so far was a 3-1 defeat to Sabah.

RESULTS -- Boys' Group A: Perlis 6 Sarawak 1, Perak 1 Penang 1, Kuala Lumpur 3 Sabah 1.

Group B: Malacca 3 Pahang 2, Negri 0 Selangor 2.

Girls' Group A: Terengganu 0 Kuala Lumpur 4, Malacca 1 Terengganu 0.

Group B: Kelantan 4 Johor 3, Kedah 1 Penang 2, Selangor 0 Negri 4.

TODAY -- Boys' semi-finals: Kuala Lumpur v Malacca; Terengganu v Perak.

Girls' semi-finals: Kuala Lumpur v Selangor; Malacca v Penang.

New Straits Times


---

Defending champs KL storm into semis

by S. Ramaguru

KUALA LUMPUR: Defending champions Kuala Lumpur easily defeated Sabah 3-1 to reach the boys' semi-finals in the MHC-Milo-NSC National Under-14 hockey championships in Kuala Terengganu  on Monday.

The win lifted KL to the top of Group A.

Perak joined KL in the last four after a 1-1 draw with Penang. Out-of-contention Penang stunned Perak by taking the lead through a field goal by Mohamed Alif Farhan. Perak, however, fought back and managed to equalise through a field goal by Mohamed Alif Ikhemal in the 28th minute.

KL, the Group A winners, will play Malacca in today's semi-finals while Perak will take on Terengganu, the Group B winners.

Malacca were made to toil by Pahang before registering a 3-2 win. Both Malacca and Pahang were in contention for a last four berth. A draw would have sufficed for Malacca but they managed to come back from a 2-1 deficit to snatch a win with two late strikes.

Malacca grabbed the lead after only four minutes through a field goal by Mohamed Mohibuddin. But Pahang came back strongly in the second half to grab a 2-1 lead with goals by Mohamed Idris (40th) and Mohamed Ridhwan (54th). Malacca then secured full points, thanks to a brace by Mohamed Nur Ashraf in the 61st and 65th minutes.

In the girls' category, KL and Malacca qualified for the semi-finals from Group A.

KL ended hosts Terengganu's dream of making the last four with a 4-0 win while Malacca were lucky to snatch a 1-1 draw with Sarawak.

The Star of Malaysia


---

2013 NCAA National Champions Crowned

No mathematical formula could have predicted the final match ups for the respected 2013 National Championship games. This past Sunday the title matches were played in blistering cold temperatures where one could even argue the playing conditions as an advantage for the northeast competitors. Through the 2013 fall season story lines were erased, the will to win stunned and heart prevailed more than any possible preparation tactic.

Division I

The University of Connecticut defeated the Duke Blue Devils 2-0 yesterday afternoon to capture their third National Championship in program history. The Huskies capped off a tremendous season on the highest of note with a record of 21-4 and being crowned the 2013 Division I National Champions. Duke finishes their impressive season 17-7 as Head Coach Pam Bustin marked her first trip to the title game in her coaching career.

In the opening minutes, Duke was awarded early corner attempts but through UConn's stonewall defense and extreme efforts by goalie, Sarah Mansfield the Huskies were able to fend off the Blue Devils pressure.

UConn capitalized on two first half goals to secure a 2-0 lead over Duke in the first half. The Huskies scored on their second corner of the match when Chloe Hunnable gathered a rebound in front of the cage. Connecticut struck again with five minutes remaining in the first half of the contest on another corner opportunity. UConn's McKenzie Townsend extended the teams lead when she redirected a shot in front of the net.

Division II

Shippensburg met Long Island in the Division II National Championship game this past Sunday, as both teams were vying for their programs first title. Shippensburg struck first, which seemed enough but Long Island answered with about five minutes remaining on the clock to take the game into overtime.

During the extended overtime period, Shippensburg was awarded a stroke after a Long Island defensive foot blocked a shot en route to the goal line. The stroke propelled Shippensburg to their national title and handed Long Island their first loss of the 2013 season.

Division III

The Bowdoin Polar Bears from Brunswick, Me. stood victorious in very familiar weather conditions on Sunday, winning the 2013 NCAA Division III title. Bowdoin beat Salisbury 1-0 in the championship match0up. The Polar Bears claimed their fourth title in seven years giving coach Nicky Pearson, a ranking of second amongst Division II coaches as she holds an impressive four NCAA Titles. 

USA Field Hockey would like to congratulate all the field hockey programs across the U.S. for a great 2013 season!    

USFHA media release


---

Field Hockey Claims Third National Championship

By Mike Enright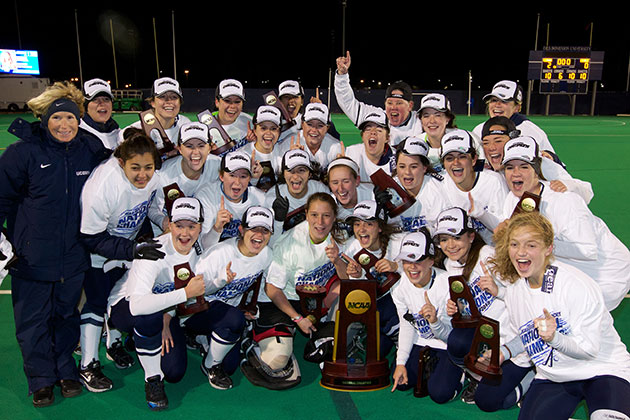 The Field Hockey team poses with the 2013 NCAA National Championship trophy, after beating Duke 2-0 on Nov. 24. (UConn Athletic Communications Photo)

The University of Connecticut field hockey team defeated Duke by a score of 2-0 to earn the program's third National Championship at Old Dominion University in Norfolk, Va. on Sunday afternoon. The Huskies, led by Hall of Fame head coach Nancy Stevens, cap a sensational season on the highest possible note with a record of 21-4, while Duke finishes its season at 17-7.

The 2013 national championship in field hockey is the 16th NCAA title in UConn history and the 17th overall national championship. The other NCAA Championships are in: field hockey (1981, 1985), men's basketball (1999, 2004, 2011), women's basketball (1995, 2000, 2002, 2003, 2004, 2009, 2010, 2013), and men's soccer (1981, 2000). The 1948 UConn men's soccer team were named the national champions by the National Soccer Coaches Association of America before there was an NCAA tournament in men's soccer.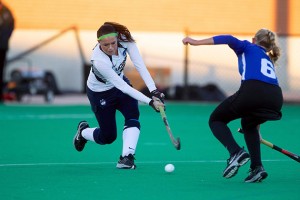 Junior forward Chloe Hunnable. (Keith Lucas for UConn)

Duke earned the game's early corner attempts, but Sarah Mansfield '14 (CLAS) (Cornwall, England) denied three shots off the corners and the Husky defense played relentlessly to keep the game scoreless.

UConn used two first-half goals to open up a 2-0 lead over the Blue Devils, with both goals resulting from penalty corners. The Huskies capitalized on their second corner of the afternoon to record their first tally. Roisin Upton '16 (ED) (Limerick, Ireland) launched a shot that Duke keeper, Lauren Blazing, turned aside, but the rebound squirted to an open Hunnable in front of the cage. The junior popped in her 23rd goal of the season to break onto the scoreboard at 23:05.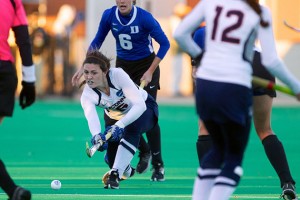 Sophomore back Roisin Upton. (Keith Lucas for UConn)

Connecticut struck again with 5:36 remaining in the first half. Anne Jeute '14 (CLAS) (Meerbusch, Germany) resulted in another UConn corner, as time wound down before the intermission. Hunnable received the ball on the corner and ripped a hard low shot to the lower right corner of the goal. Mckenzie Townsend '16 (CLAS) (Harpursville, N.Y.) positioned herself perfectly in front of the goal with her stick on the turf to redirect the shot up and over Blazing for a 2-0 UConn lead.

Connecticut nearly increased its lead in the second half, as Chloe Hunnable '15 (CLAS) (Halstead, England) continued her hot play on the offensive end. Hunnable nearly tipped a Chrissy Davidson '15 (CLAS) (West Lawn, Pa.) free hit into the back of the cage, but her redirect went just wide. Moments later, Hunnable let rip a shot that clanged off the crossbar and out of play.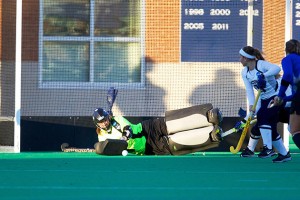 Senior goaltender Sarah Mansfield. (Keith Lucas for UConn)

Duke called a timeout with 8:54 to play, in the hopes of solving Sarah Mansfield, but could not find the key to the senior goaltender. Mansfield finished with five stops for Connecticut while her counterpart, Lauren Blazing, recorded three saves in the net for Duke. The shutout marked Mansfield's 30th career shutout, which tops the UConn record books and caps an impressive career in net for the Huskies.

Marie Elena Bolles '14 (NUR) (Phoenixville, Pa.), Hunnable, Upton, Davidson, and Mansfield were all named to the NCAA All-Tournament Team for their exceptional performances in UConn's NCAA run.

Uconn Today


---

Field hockey caps UConn's wild, wonderful weekend

By Kevin Duffy

Nancy Stevens is going to  Botswana. Or Tanzania, maybe. She's got to go somewhere to celebrate, right?

First know this about Stevens, UConn's longtime field hockey coach: She became the Division I all-time wins leader in October when she notched victory No. 562. And prior to this weekend -- this crazy, epic three-day stretch for UConn athletics -- Stevens had zero national championships in eight Final Four appearances.

Also know this: She's an eight-year veteran of African Horseback Safaris, which explains why the NCAA's newest national champ would prefer Botswana over, say, the cliche trip to Disney World.

"I'm a bit of an adrenaline junkie," Stevens said Monday, about 24 hours after her Huskies beat Duke 2-0 for the NCAA title. "This past May, we were charged by a leopard coming off an impala kill. It's awesome. There's nothing like it.

"And being charged by a massive African elephant, it's terrifying. Not the ones you'd see in a circus. Those are Asian. The African elephant is massive. When they charge you, you have to just get out. You have to turn and gallop."

Stevens adds with a laugh, "I've been fortunate enough to survive the experience."

Stevens' passion for African Horseback Safaris -- they're purely photographic, with no hunting involved -- can be traced back to the UConn athletic program. Only recently did she learn of Horseback Safaris, but wildlife and horseback riding have always been part of her life. Formerly the field hockey coach at Northwestern, Stevens came to Connecticut in part because of the school's club polo team, among the tops in the country. She played back in Chicago, and when she arrived at UConn in 1990, she often trained with the team on Horsebarn Hill.

"Connecticut has five national titles in club women's polo," Stevens said.

The school has an extensive record of success in most sports. It has multiple Hall of Fame coaches. And in case you haven't heard, it just had a pretty ridiculous few days.

"President (Susan) Herbst called to congratulate us after the game, and I told her `what a weekend across the board," Stevens said. "We have 700 student-athletes on campus and they're pretty close-knit. Between men's soccer and the amazing comeback the football team had Saturday, all of the student-athletes keep up with each other."

The field hockey title sealed it: This must've been one of the best weekends in the athletic department's history. Athletic director Warde Manuel was at Madison Square Garden Friday night for a thrilling back-and-forth duel between UConn -- well, Shabazz Napier -- and Indiana. It ended 59-58 in the Huskies' favor, the team's sixth win in eight games decided by four points or less under Kevin Ollie. Manuel made the trip to Philly to watch the football team bury itself in a typical 21-0 hole and reel off 28 unanswered on Temple. It was linebacker Yawin Smallwood, eligible for next spring's NFL draft, who delivered the game-winning score.

No, Smallwood won't leave Storrs after a 0-12 season, the seldom-attained gold standard in futility. Yes, T.J. Weist could finally fire up the cigars he bought when he was named interim coach in late September.

"We've been waiting to do that a long time and it was a little something special," Weist told reporters on a Sunday conference call.

UConn men's soccer, perennially a national contender, reached the Elite Eight Sunday in similarly wild fashion. Penalty kicks were needed to knock off University of Maryland Baltimore County.

As is usually the case, Sunday's victory for UConn women's basketball victory was the inverse of penalty kicks.

After recording the second triple-double in program history earlier in the week, Stefanie Dolson went for 16 points and 15 boards as the Huskies squeezed by Boston University 96-38. Dolson was named Player of the Week in The American. So, too, were Smallwood and Napier.

Yet nothing tops UConn field hockey, an unseeded group that required overtime in the first round against Boston College and a shootout in the semifinal versus North Carolina before delivering Stevens her first title as a head coach. As Duke coach Pam Bustin told ESPN, "this was long overdue." Stevens had won it all as a player, captaining West Chester University (Pa.) to the title in 1975. She even won two as a lacrosse assistant at Penn State in '78 and '79. But a national championship had always eluded field hockey's winningest coach.

Imagine: Eight national semifinals with no rings.

"OK, there are always two sides," Stevens said. "One is that most coaches go into coaching because they are teachers and educators. There are a lot of things besides getting a trophy that are really important -- empowering young women, helping them set goals. I really believe that.

"On the other side of it," she continued, "there's my professional career, which is important as well. I'm thrilled to have reached the pinnacle of my career as a field hockey coach for this season. It's this season, and it's only based on this season, but for that it's gratifying."

For it, Stevens deserves a relaxing week off. Or a return trip to the Okavango Delta, the vast flood plain where she was once thrown from her horse and nearly trampled by six others.

Whichever she prefers.

CT Post


---

Balbir Singh fan page




Honoring Balbir Singh Senior, my father who is A LIVING LEGEND from World hockey (Triple Gold Olympian, 1948 - London, 1952 -Helsinki, 1956 - Melbourne). I'm proud of creating A Fan Page for him with a link - https://www.facebook.com/Balbirsinghsenior

I'm convinced it will give you immense pleasure reading about his unparalleled records and achievements in Olympics. Please like, comment and share the fan page with your friends and promote. You can be instrumental in not letting the legends go unnoticed.

A real sports person thrives on due recognition!!

THANKS !!!!

Warm regards,

Sushbir Bhomia
Daughter of Balbir Singh Senior
Wikipedia Link: http://bit.ly/1g1btq7