All the news for Sunday 1 December 2013

England & Netherlands show class in Pool A

Argentina Hockey World League Final: Korea & Germany suffer heavy defeats in first session



(Photo: Frank Uijlenbroek)

POOL A: England and the Netherlands both made impressive starts in their quests to claim the Hockey World League title in San Miguel de Tucuman, Argentina, powering to huge wins over Korea and Germany respectively.

England recovered from a two goal deficit to defeat Korea 6-2, while the Netherlands claimed a stunning 6-0 win over European champions Germany. More information on the matches can be found below.

Match 1: England fight back to crush Korea

England recovered from a shocking start to claim all three points in the opening match of the Argentina Hockey World League Final in San Miguel de Tucuman, battling to a 6-2 victory over Pool A rivals Korea.

A large crowd turned out to watch the first game of the day, and they were given a real treat as Korea stormed into an early two goal lead against their higher-ranked opponents. Park Ki Ju was on hand to touch home a slick penalty corner routine in the 17th minute, with Park Seung doubling the advantage three minutes later with a predatory strike.

England were not themselves in the early stages, but grew in stature as the match progressed. Livewire striker Alex Danson reduced the deficit three minutes before the break with a glorious strike from the top of the circle, giving England great confidence ahead of a second half that they dominated from start to finish.

A penalty corner from Lily Owsley tied the scores shortly after half time, with Georgie Twigg slamming home a penalty stroke six minutes later to give England a 3-2 lead. Sophie Bray got in on the action with a 50th minute penalty corner, before Kate Richardson-Walsh scored two late PCs to give England a resounding and deserved victory.

Match 2: Germany hit for six by Dazzling Dutch

Reigning Olympic champions the Netherlands have made clear their Hockey World League title ambitions by recording a staggering 6-0 win over European champions Germany. The dazzling Dutch produced some scintillating hockey to overpower their opponents, gaining a measure of revenge for the defeat they suffered at the hands of their European rivals in the HWL Round 3 event on home soil in Rotterdam.

Early in the match, the Netherlands were denied on numerous occasions by a string of high quality saves from Germany keeper Victoria Wiederman, but the inevitable opener arrived when Dutch captain Maartje Paumen drilled home a second phase penalty corner in the 22nd minute.

It proved to be the only goal of the half, but the second period proved to be far more profitable for the Beijing 2008 and London 2012 Olympic champions. Lidewij Welten fired home a second in the 39th minute before Maria Verschoor added a third when she took full advantage of a defensive error.

Germany were up against the ropes, and the Netherlands were in no mood for mercy. Frederique Derkx and Malou Pheninckx took the score to 5-0 with open play efforts before Ellen Hoog finished off a glorious passing move with a brilliant backhand strike to complete the match scoring. 

FIH site


---

China take charge of Pool B in Tucuman

Argentina Hockey World League Final: Asian giants defeat New Zealand; Leonas & Hockeyroos cannot be separated



(Photo: Frank Uijlenbroek)

POOL B: China are the surprise leaders of Pool B at the end of the first day of action at the Argentina Hockey World League Final courtesy of a fine 2-0 triumph against New Zealand.

That match was followed by a thrilling contest between host nation Argentina and Australia's Hockeyroos, with a sell-out crowd of 6000 enjoying a 1-1 draw which was played at an electrifying pace.

More information about the matches can be found below. 

Match 3: China gun down Black Sticks

China got their Hockey World League title challenge off to the perfect start with a 2-0 victory over Pool B rivals New Zealand on day 1 in San Miguel de Tucuman, Argentina.

Goals from Cui Quixia and Huang Ting gave the Asian giants a hard-earned victory, with goal-keeper Li Dongxiao being the star of the show thanks to a string of magnificent saves.

The Black Sticks came into this match as marginal favourites due to their superior placing in the FIH World Rankings, but it was China who drew first blood when Cui Quixia fired home from close range following a penalty corner save from New Zealand shot-stopper Sally Rutherford.

New Zealand had numerous chances to level the scores ahead of the half time break, but they could find no way past China goal-keeper Li Dongxiao, who was in sparkling form throughout the contest. 

Despite the Black Sticks dominance, it was China who had a clear chance to double their advantage when a video referral lead to a penalty stroke. However, Wang Mengyu's weak effort was read perfectly by Rutherford, who palmed the ball away to safety.

New Zealand worked hard to create more goal-scoring in the second half, but China's defence held firm and limited the Kiwis to half chances before the decisive moment arrived with ten minutes of the match remaining. A speculative pass into the New Zealand circle was slammed home by Huang Ting, wrapping up all three points for China.

Match 4: Las Leonas held by Hockeyroos

Argentina and Australia played out a pulsating, high paced 1-1 draw in the final match of Day 1 at the Argentina Hockey World League Final in Tucuman.

Ahead of the match, which was watched by a noisy sell-out crowd of 6000 fans, Las Leonas attacker Carla Rebecchi was given a special presentation from FIH President Leandro Negre in recognition of her 200th international appearance.

The opening stages of the match were almost completely dominated by the home favourites, as Luciana Aymar and co. delighted the fans with their trademark brand of attacking hockey. The Hockeyroos were impressive in defence, but it came as no surprise when Las Leonas took the lead thanks to a close range deflection from Delfina Merino.

Australia weathered the storm and grew in stature as the match progressed, and deservedly drew level in the 31st minute when a fierce strike into the circle clipped the stick of Ana Rodriguez and flew into the goal.

Both teams had great chances to score in the second half, with Leonas legend Aymar going the closest when she forced a miraculous diving save from Australia's Rachael Lynch. However, the scores remained locked at 1-1, give both sides a deserved share of the spoils.

FIH site


---

'Resilient' England take 6-2 victory over Korea



Goal scorer Alex Danson in action for England against Korea in their opening pool game at the Argentina World League Final

England were put through their paces by Korea in their opening game at the Argentina World League Final in Tucuman, but a strong second half performance saw them come through with what proved to be a comfortable 6-2 victory and secure three points in Pool A.

ENGLAND 6 (1)
Alex Danson 32 (FG)
Lily Owsley 39, 50 (PC, FG) 
Georgie Twigg 45 (PS) 
Kate Walsh 63, 70 (PC, PC) 

KOREA 2 (2)
Ki Ju Park 17 (PC)
Seung A Park 20 (FG)

Speaking after the game England Head Coach Jason Lee said, "It wasn't a great start of course going 2-0 down, but we managed to change a few things around and in the end I thought we quite comfortably won and could have scored even more. I'm also glad we scored quite a few goals because it's such a tight pool of top class teams and I think goal difference could play a big part in deciding positions."

He added, "We're not used to playing Korea, especially having just had the summer with the Europeans, we've got quite used to playing a certain style. I thought it was a really good test for us today and the girls showed great resilience to come through with a 6-2 victory in the end."

England made their fans watch on nervously back home as Korea took a 2-0 lead through Ki Ju Park and Seung A Park inside 20 minutes; however they were to be the only goals of the match for the world number eight side.

England took their time to settle in, but as they got used to the heat they started to press the game and dominate possession. It was England stalwart and ever reliable Alex Danson who made the breakthrough three minutes before the break - a rifling shot from the top of the circle giving England a much needed lifeline as the sides went in at half-time.

The second half was a far more straightforward affair as England turned on the style adding five more goals to their tally. First up, Lily Owsley finished well under pressure from an England penalty corner in the 39th minute to pull the score back level at 2-2. Six minutes later Surbiton's Georgie Twigg remained ever calm under pressure to convert a penalty stroke and give her side the lead for the first time in the game.

From here England were in full control, scoring three more times in the remaining 20 minutes. Owsley added her second of the game when she got in behind Korea's goalkeeper, Sin Hye Lee and she made no mistake as the cross ball found her stick. England Captain Kate Richardson-Walsh has suffered with a slight ankle injury in the run up to this tournament, but she looked as fit as ever as she stepped up to convert two penalty corners with pin point accuracy in the 63rd and 70th minutes.

England goalkeeper Maddie Hinch gave her thoughts on England's performance following the game. "In the end I think it was a real gritty performance from us. To go 2-0 down was disappointing, but we never panicked and to put in a second half performance like that I thought was outstanding and it bodes well for the rest of the tournament. Jason spoke to us at half-time, but I think we'd already started to tidy things up by then. There were just parts of our game that were a bit slack, we seemed to be second to the ball. We know that we like to set the tempo in these games and play with determination, and with five goals in the second 35 minutes I think we did exactly that."

In the other Pool A match of the morning the Netherlands made light work of European Champions Germany with a 6-0 victory to go top of the pool ahead of their clash against England tomorrow at 12:00 (UK time).

Looking ahead to their match against Olympic Champions, the Netherlands, Lee said, "Although we took the victory last time we played them [in the semi-final at the European Championships] it was of course through a penalty shoot out having drawn over the 70 minutes. The pitch here plays much slower and both sides have the heat to contend with. I think a lot will depend on our recovery today and for Holland they play after us and will have even less time to recover before the 9am (12:00 UK time) push back tomorrow morning."

Argentina Hockey World League Final pool standings
Team  Pts
Netherlands 3
England  3
Korea  0
Germany 0

Argentina Hockey World League Final match schedule & results

Date/Match # Info Time (UK) Teams  Result
Saturday 30 November
1  Pool A 12:00  ENG – KOR 6-2
2  Pool A 14:30  NED – GER 6-0

England Women's Squad v Korea
Name - Current Club - Position

Started
Ashleigh Ball - Slough - Midfielder
Alex Danson - Reading - Forward
Maddie Hinch - Holcombe - Goalkeeper
Hannah Macleod - Leicester - Forward
Sam Quek - Reading - Defender
Helen Richardson-Walsh  - Reading - Midfielder
Laura Unsworth - Holcombe - Defender
Kate Richardson-Walsh – Reading - Defender
Sally Walton - Wakefield - Defender
Hollie Webb - Surbiton - Defender
Nicola White - Leicester - Forward

Substitutes used
Susie Townsend - Reading - Midfielder
Georgie Twigg – Surbiton - Midfielder
Susie Gilbert – Reading - Midfielder
Lily Owsley - University of Birmingham - Forward
Sophie Bray - MOP (NED) - Forward
Giselle Ansley - Surbiton - Defender

Did not play
Kirsty Mackay - Bowdon Hightown - Goalkeeper

England Hockey Board Media release


---

England begin World League Final with win

Women's head coach Jason Lee played down England's slow start after they came from behind to begin their Argentina Hockey World League Final campaign with a 6-2 defeat of Korea.

Trailing 2-0 after 20 minutes, England hit back with two goals both before and after half-time to take the lead with Kate Walsh's late double completing the turnaround.

Walsh netted in the 63rd and 70th minutes while Lily Owsley bagged a double herself and Alex Danson and Georgie Twigg one each as England got their campaign up and running.

England face the Netherlands next, the Olympic champions defeating European gold medallists Germany 6-0 in their first game, with Lee concentrating on the positives against Korea.

"It wasn't a great start of course going 2-0 down but we managed to change a few things around and in the end I thought we quite comfortably won and could have scored even more," he said.

"I'm also glad we scored quite a few goals because it's such a tight pool of top-class teams and I think goal difference could play a big part in deciding positions.

"We're not used to playing Korea, especially having just had the summer with the Europeans; we've got quite used to playing a certain style.

"I thought it was a really good test for us and the girls showed great resilience to come through with a 6-2 victory in the end."

Yahoo Eurosport


---

'Roos hold World Champs

Hockeyroos draw 1-1 with Argentina in World League opener



Hockeyroos' 'keeper Rachael Lynch displayed good form. (Photo: Frank Uijlenbroek)

The Hockeyroos drew 1-1 with hosts Argentina in their opening match at the World League Finals in Tucuman on Sunday morning (Saturday evening in Argentina). After 70 minutes of the thrilling end-to-end attacking spectacle nothing could separate the two sides although that was a much to do with the performances of both defences.

The Hockeyroos fell behind in the 14th minute to Delfina Merino's near post deflection but as their confidence grew throughout the first half, Australia's women found themselves deservedly level at 1-1 thanks to an own goal just before the break. Anna Rodriguez was the unfortunate defender that turned Casey Eastham's cross beyond her goalkeeper under pressure from Kellie White.

A string of top saves from both goalkeepers went a long way to keeping the score down with Hockeyroos' 'keeper Rachael Lynch displaying good form on a number of occasions, particularly in the second half.

Afterwards, Hockeyroos Head Coach Adam Commens called it "a really good start" to the tournament, which features the best eight teams in women's hockey. 'To draw 1-1 with Argentina at home is a really good start. It was a very intense game and it was clear that both sides wanted to play attacking hockey.

"I thought we began nervously and Argentina were a bit unlucky not to score in the first ten minutes but then we got into a much better rhythm and created some good chances of our own.

"Argentina are a really skilful side but I thought we handled Luciana Aymar and Carla Rebecchi well. They're always going to create a few chances but in the second half we were better at stopping their counter attacks before they reached our defensive circle. Most of their shots were easily saved, although there was one fantastic save from Rachael Lynch. Overall, we were defensively solid."

The result means that China, who beat New Zealand 2-0 earlier in the day, go top of Pool B, two points clear of Australia and Argentina. In the other pool, Olympic gold medallists Netherlands and European silver medallists England lead the way after recording wins over Germany and Korea, 6-0 and 6-2 respectively.

Looking ahead, Commens added, "Our destiny is in our own hands and if we have two good games against China and New Zealand then we're in with a chance of winning our pool. We're getting a lot of support from the crowd here and from fans in the street and I'm sure that support will continue in the next couple of days.

Roared on by a capacity 6000-strong crowd, a lightning quick start from Argentina forced the Hockeyroos onto the back foot early on. Carla Rebecchi threatened a goal in the opening two minutes but her effort ran wide before Australia survived a penalty corner.

The Hockeyroos looked to have weathered the worst of the early storm as Kellie White caused panic in the Argentina circle, forcing Belen Succi into a good save with a tomahawk strike in the 11th minute. But moments later the hosts took the lead through Delfina Merino, whose near post deflection from a cross from the right found its way past Rachael Lynch in goal.

At the other end, Brooke Peris was thwarted at close range by Succi after Emily Smith won possession deep in Argentinian territory and two Australian penalty corners – one each from Jodie Schulz and Anna Flanagan – were well saved.

As the half progressed the Hockeyroos grew in confidence, pressing Argentina higher and forcing the equaliser. Casey Eastham's cross from the right was aimed towards Kellie White at the near post but Argentina's Anna Rodriguez got to it first, only to see the ball deflect off her stick and under the goalkeeper to hand Australia a deserved leveller.

Argentina enjoyed the best of the second half chances but could find no way past the Hockeyroos defence with Jodie Schulz and Rachael Lynch in particular blocking well. One save in particular from Lynch, diving low to her left to glove away a shot from seven-times World Player of the Year Luciana Aymar, was certainly worth seeing again.

Late in the match both teams won penalty corners with Casey Eastham involved at either end. Her deflection over the bar wasn't enough to snatch the Hockeyroos a late victory before, at the other end, her charging intervention helped keep out Argentina's last penalty corner. The Hockeyroos survived a late video referral from Argentina after the replays were inconclusive as to whether the ball had hit an Australian foot inside the circle.

The Hockeyroos' second pool phase match comes tomorrow, Monday, at 8:30am AEDT / 5:30am AWST against China, who beat New Zealand in their opening World League Finals encounter.

Visit the FIH's new World League Finals events page with live match sheet info, videos, stats and more.

FIH World League Finals, Women
Tucumán, Argentina

ARGENTINA 1 (1)
Delfina Merino 14 (F)

HOCKEYROOS 1 (1)
Own Goal 31 (OG)

Hockeyroos squad v Argentina
(listed alphabetically by surname)
Name (Hometown) Caps/goals
Started
Teneal Attard (Mackay, QLD) 182/10
Madonna Blyth (Brisbane, QLD) 262/64
Edwina Bone (Evatt, ACT) 17/1
Casey Eastham (Albion Park, NSW) 181/44
Anna Flanagan (Canberra, ACT) 101/17
Rachael Lynch (Melbourne, VIC) 90/0
Karri McMahon (Berri, SA) 18/2
Ashleigh Nelson (Wagin, WA) 126/58
Georgie Parker (Adelaide, SA) 43/8
Jodie Schulz (Wamuran, QLD) 84/41
Emily Smith (Crookwell, NSW) 64/23

Used Substitute
Jane Claxton (Adelaide, SA)18/2
Kate Jenner (Tamworth, NSW) 73/1
Kirstin Johnson (Mackay, QLD) 25/2
Claire Messent (Melbourne, VIC) 68/19
Brooke Peris (Darwin, NT) 12/4
Kellie White (Crookwell, NSW) 54/17

Unused Substitute
Ashlee Wells (Moe, VIC) 20/0

Pool Standings – at end if day one
Pool A
1. Netherlands 3 pts (1 match)
2. England 3 pts (1 match)
3. Korea 0 pts (1 match)
4. Germany 0 pts (1 match)

Pool B
1. China 3 pts (1 match)
2. Argentina 1 pt (1 match)
3. Australia 1 pt (1 match)
4. New Zealand 0 pts (1 match)

Remaining Hockeyroos World League Fixtures
2-Dec-13 - 08:30am (AEDT) - 18:30 Sun - Pool B: Hockeyroos v China
4-Dec-13 - 08:30am (AEDT) - 18:30 Sun - Pool B: Hockeyroos v New Zealand
5-Dec-13 - TBC - World League: Quarter Final
7-Dec-13 - TBC - World League: Semi Finals/crossover
8-Dec-13 - TBC - World League: Medal/Classification matches

Hockey Australia media release


---

Black Sticks Women lose opener 0-2 against China



Photo credit: Matias Noé Correa Arce

The Black Sticks Women are disappointed to have lost their opening game 0-2 against China today at the World League Final in Tucuman, Argentina.

When it came to the statistics the New Zealanders looked good – ten shots on goal compared to China's three, five penalty corners and double the amount of circle penetrations – but it was little consolation for the Kiwis when they left the field at full time.

"I thought we were disappointing in the attacking third, we created enough opportunities to win the game but did not convert these," said head coach Mark Hager.

"Our basic skills also let us down and needs to improve as we move on in the tournament. Now we just need to refocus on the next challenge ahead which is our game tomorrow against Argentina," says Hager.

Both sides had their fair share of penalty corners in the first half, but only Cui Qiuxia made the most of it when she tapped it passed goalkeeper Sally Rutherford in the sixth minute. China looked sure to double their lead when they were awarded a penalty stroke following a video referral from China, but Rutherford brilliantly saved it and the score remained 1-0.

The Black Sticks picked up the pace in the last ten minutes of the first half with outstanding Chinese goalkeeper Li Dongxiao called into action numerous times as the Black Sticks continued to attack. The Kiwi's best opportunities included a reverse stick shot on goal from Kayla Sharland from a penalty corner breakdown and a clear shot on goal from Anita Punt.

The second half was the better for New Zealand, creating more opportunities and putting increased pressure on the Chinese defence.  China's second goal of the game came with ten minutes left to go after a penalty corner miss-trap ended in Huang Ting slotting it home.

New Zealand played with real urgency as the clock ticked down with 19-year-old Sophie Cocks almost getting one back when she tried to squeeze it passed Dongxiao during a goalmouth scramble, and Gemma Flynn also creating opportunities.

The stand out players were Anita Punt and captain Kayla Sharland.

New Zealand now face Argentina at 1pm tomorrow (NZ time) before taking on Australia in their final pool game at 10.30am on Wednesday. All games are LIVE on Sky Sport.  In Pool A, England beat Korea 6-2, Netherlands beat Germany 6-0. Hosts Argentina were still  to play Australia in Pool B, in front of a sell-out home crowd.

Full time: 0-2 to China
Half time: 0-1 to China
China goal scorers: Cui Qiuxia (6th), Huang Ting (61st)

Hockey New Zealand Media release


---

Black Sticks make grim start to World Finals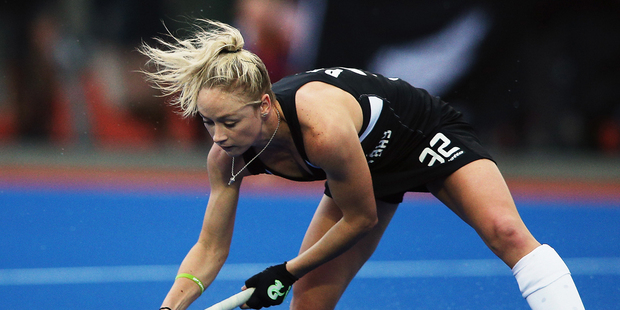 Anita Punt. Photo / Getty Images.

New Zealand's World Finals campaign got off to a grim start when they were beaten 2-0 by China in Tucuman, Argentina today.

The world No 3 Black Sticks had five penalty corner opportunities but couldn't capitalise and many more shooting chances than the Chinese.

China, ranked No 7, got an early lead, with a close range tap in by Cui Quixia from a penalty corner and sealed the win in the second half after poor marking left Huang Ting with an open chance.

Their goalkeeper Li Dongxiao had a strong game, while New Zealand counterpart Sally Rutherford also save a penalty stroke from Wang Mengyu.

The Black Sticks, without experienced trio Katie Glynn, Stacey Michelsen and Emily Naylor, play world No 2 Argentina on Monday and end their pool play against Australia on Wednesday.

The New Zealand Herald


---

Women's Black Sticks learn tough lesson

Guy Heveldt

The New Zealand women's hockey team has learnt a tough lesson on how to deal with a host of their experienced players in their opening match of the World League finals in Argentina.

They have fallen 2-nil to lesser-ranked China.

The Black Sticks are without the likes of Stacey Michelsen, Emily Naylor and Katie Glynn.

Coach Mark Hager says it's a brutal eye opener for the youngsters.

"They're learning quickly and they're learning probably that if you're not decisive on the pitch or you're very good with your basic skill level, then you're going to get punished."

New Zealand was beaten by the Asian side ranked three places below them, despite being on the better side of most of the statistics.

Hager is calling for more from the younger players in the squad.

The Black Sticks failed to convert any of their 10 shots and 18 circle penetrations to fall to the defeat.

Hager says it was a one-player effort from their team.

"We need a few more people to step up in our group and take a bit more ownership out on the field, because we were relying a little bit too much on our people like Kayla to do it for us."

Hager stayed and watched the hosts' first half of their 1-all draw against Australia and says both sides were a step above what they produced today.

The Black Sticks next face the hosts tomorrow before taking on Australia later in the week.

Yahoo Sports, New Zealand


---

Black Sticks go down to China in Argentina

FRED WOODCOCK

The New Zealand women's hockey team has made a disappointing start to the World League final tournament in Argentina, losing 2-0 to China today.

The Black Sticks dominated all statistics other than the one that really counted and have been left to lick a fair few wounds ahead of their second match, against the hosts on Tuesday.

China, who at No 7 in the world are ranked three spots below the Kiwis, pounced early with a goal in the seventh minute from a penalty corner.

They clung to the one-goal lead until nine minutes from fulltime when they nailed the Black Sticks' coffin closed with a goal from another penalty corner.

Despite New Zealand dominating the shots at goal (10-3), circle penetrations (18-9), possession (55 per cent to 45) and having five penalty corners of their own, the scoreline could actually have read worse for the Black Sticks.

Kiwi goalkeeper Sally Rutherford saved a penalty stroke in the first half and China botched an open goal late in the match.

New Zealand had their chances but lacked China's clinical finishing touch.

Qiuxia Cui found herself in the right spot to pounce in the seventh minute after Rutherford had initially saved a penalty corner shot from Na Wang, while a mistrapped penalty corner with nine minutes remaining worked out well for China with the ball making its way to an unmarked Huang Ting to finish.

In other results, England hammered South Korea 6-2 and the Netherlands swept aside Germany 6-0.

Australia meet world No 1 Argentina, New Zealand's next opponent in pool B, later today.

Stuff


---

Sharland demands youngsters step up

BRENDON EGAN

Black Sticks' women's hockey captain Kayla Sharland is calling on the senior members of the side to lead the way at the World League final tournament in Argentina, which begins today.

The Black Sticks will be without the services of three of their most experienced players. Co-captain Emily Naylor, a 225-cap defender, has remained behind in New Zealand to be a bridesmaid at the wedding of former international Stacey Carr. Centurions Katie Glynn and Stacey Michelsen also remain sidelined as they continue their rehabilitation from knee injuries.

In the absence of the star trio, Sharland said it was pivotal several members of the squad who had been around for the past few years took on greater responsibility. The World League final, which features the top eight nations, will be the most high-profile tournament many of the younger players in the side have competed in.

"That's pretty important for those players to step up. We need people to step up in big tournaments and big games. They can't go hiding," Sharland said.

"They all have to step up to the level as well and we've got to lead the way, especially the ones who have been around a while and played in big tournaments."

New Zealand open against seventh-ranked China today in Tucuman and the side will know they need to bank a win, with the tougher challenges of Argentina and Australia awaiting later in the week.

Sharland said the Chinese team were tough to plan for, given they often mixed up their squad at major tournaments and New Zealand did not play them very often. They boast a world-class drag flicker in Wang Mengyu and Sharland admitted her team had to limit China's penalty corner opportunities.

"They'll work pretty hard and be quite physical. If we can use our speed and get in behind them and make them run, I think it will be good for us and create a few opportunities."

The Black Sticks women have had an inconsistent 2013 campaign, winning the four nations in Whangarei in April, but turning in a disappointing fourth place effort at the World League three tournament in the Netherlands. They also endured the frustration of a shootout loss to Australia in the final of the Oceania Cup.

Sharland said the team were determined to finish off the year on a positive note leading into a bumper 2014 season, which includes the World Cup, Commonwealth Games and Champions Trophy tournaments.

New Zealand will look to finish as high as they can in pool play, with the teams then crossing over against the other group in the quarter-final round.

"Our goal is to get a medal. The quarter-final is pretty crucial for us. That's the one that can put us forward into the next tier."

Retaining possession and making the most of goal-scoring opportunities has been a major emphasis for the Black Sticks leading into the World League final tournament. Sharland said they were getting enough chances in the attacking third, but needed to be more clinical in front of goal.

Stuff


---

Another milestone for Pat Rowley

Dil Bahra



Happy birthday Pat from all of us!

Veteran hockey writer Patrick John Phillip ROWLEY turns 80 this Sunday (1.12.2013). One of the most senior hockey writers in the world, Pat has been involved in hockey since he first played for Hounslow in 1948 and reported for the Middlesex Chronicle, his local newspaper, on the London 1948 Olympic Games. At the London 2012 Olympic Games, he achieved a unique double after covering his second London Olympics – 64 years after his first.



Pat and his wife Liz cut his cake

Pat, who first joined the Guardian newspaper in 1950 as a tea boy, worked his way up to become the paper's hockey correspondent for over 40 years. As well as reporting for the Guardian, Sunday Times and Sunday Express, The Telegraph and the Observer, Pat was also a presenter of sports program at the London Broadcasting Centre (LBC) for a while.

Pat has been the PR and Promotions director for the International Hockey Federation for a number of years. He was the founder member and Editor of the FIH Newsletter in 1969 and editor of World Hockey from June 1969 to April 1991. He was awarded FIH order of merit in 1987.

Pat has reported on every Olympics since 1948 and has reported all twelve World Cups to date. Last year during the London Olympic Games, Pat was among a handful of journalists worldwide honoured by the International Sports Press Association for having reported on more than ten summer Olympics. He was presented with a replica Olympic torch by Olympian and I.O.C. member Kip Keino.



Pat with fellow Hockey Writers Club members Neil Mallet and Dil Bahra

Pat is a past Chairman of the Hockey Writers Club, past Chairman of the AIPS Hockey Commission and a past co-opted member of the FIH Media and Communication Committee.

He is also the author of 'The Book of Hockey' published in 1964.

Pat, a qualified Hockey Association Coach, still coaches disabled hockey players and is a trustee at the National Hockey Museum.

A leading and well-respected personality worldwide in hockey press circles, his knowledge on the game is well known and respected and called upon on daily basis.

National Hockey Museum


---

Bowdon battle into top four spot



Bowdon's Tina Cullen (R)

BOWDON Hightown forced their way into the top four of the Investec Women's Hockey Premier Division when they battled to a 1-0 win over Leicester.

The only goal of the game came after ten minutes with Tina Cullen (pictured) found the target from open play. Leicester, who narrowly lost the play-off final last year, drop to fifth.

Canterbury still lead the division after beating University of Birmingham 2-1 with Nikki Kidd and Jen Wilson scoring their goals.

Despite having to do without a string of international players on duty with the England team in Argentina, Reading still had the strength in depth to take an 8-1 victory over Olton and West Warwickshire. Leah Wilkinson was at the fore, scoring a hat-trick.

Clifton looked like closing the gap on the top four after taking a two-goal lead over Beeston. But Sophie Robinson came to the rescue for Beeston, scoring twice in the second half to secure a draw.

Surbiton reinforced third place in the table with a 3-2 victory over Sutton Coldfield. Jenna Woolven scored a goal in each half, taking her tally for the season to eight.

Holcombe still lead the Investec Conference East after Shelley Russell scored a brace in their 4-1 win over Harleston Magpies. They are six points clear at the top.

Buckingham made the most of Slough's 0-0 draw against Gloucester by beating Barnes 3-1 and going top of the Investec Conference West. Zoe Shipperley scored all three.

Wakefield went top of the Investec Conference North after a 5-0 win over Yorkshire rivals Doncaster. The game was still goalless at half time but Tessa Cramer-Biermann's 39th minute strike sparked the visitors into action.

Investec Women's Hockey League (Saturday, November 30 2013):

Investec Women's Premier Division: Beeston 2, Clifton 2; Bowdon 1, Leicester 0; Reading 8, Olton & West Warwicks 1; Surbiton 3, Sutton Coldfield 2; University of Birmingham 1, Canterbury 2.

Investec Women's Conference East: East Grinstead 3, Ipswich 1; Holcombe 4, Harleston Magpies 1; Horsham 3, Chelmsford 3; Old Loughtonians 1, Wimbledon 2; St Albans 1, Sevenoaks 0.

Investec Women's Conference North: Ben Rhydding 1, Whitley Bay and Tynemouth 1; Brooklands Poynton 2, University of Durham 2; Doncaster 0, Wakefield 5; Kendal 2, Boots 3; Loughborough Students 1, Stourport 1.

Investec Women's Conference West: Buckingham 3, Barnes 1; Gloucester City 0, Slough 0; Isca 1, Bristol Firebrands 1; Swansea City 5, Exe 0; Trojans 1, Oxford Hawks 0.

England Hockey Board Media release


---

Jon Bleby: There is a great buzz for hockey back home

Tazeen Qureshy

They are the first team to land. The England colts have already arrived in Delhi for taking up the Junior Men's World Cup challenge. They lost no time and straightway got in to the business mould; had a practice session on Friday at National Stadium, the venue of the World Cup. Coach Jon Bleby had a brief chit-chat with www.stick2hockey.com about their preparation, the Indian team and their chances in the upcoming mega event.

How is your preparation for the World Cup?
"Our team has a got a good build-up and played in all conditions. The preparation is great. We have played test matches against formidable Germany, The Netherlands. They are very good teams. We hope to play up to our potential here in Delhi.

What are your chances of winning?
Our aim is to be as high as we can be in the table. We will try reaching quarter-finals. Once we qualify it, anything can happen after that.

Any changes in your side?
Not much really but we are replacing only one player.

What do you think about the Indian team?
India is a great side. Last time we had lost the match 1-3 against them at the Johor Cup. We really played well, still India could maintain tempo, and win the contest this way in Malaysia. We actually think we played well, still lost. Therefore, We have a huge respect for them. They are a huge challenge to any team here.

Which area do you focus considering your good preparation.
Quite probably penalty corners. We got ten of them against India at Johor Cup, but could not make use of them. This is one area we focus, and then working our

Which countries do you feel could be tough in this tournament?
If we manage to beat Germany, Holland and India, we have good chances.

How is the atmosphere for hockey in England?
There is a great buzz about the game. A new stadium is coming up. Government is providing good support for it.

Stick2Hockey.com


---

England team bolstered by two senior players

by S. Ramaguru



One for the album. The national junior hockey team pose for a group shot. They have been drawn together with England, South Africa and New Zealand for the Junior World Cup starting in New Delhi on Friday. - Filepic

KUALA LUMPUR: England have included two senior players in their team for the Junior World Cup Finals, which begin in New Delhi on Dec 6.

The team of 18 players was named earlier this week by head coach Jon Bleby.

The two seniors are skipper Andy Bull and Phil Roper. Both are expected to be the core players in the team.

Two brothers – Jonny and James Gall – also made the final team.

England, who finished 16th in the last Finals, are in the same group as Malaysia, New Zealand and South Africa.

Said Bleby: "Preparations for the Finals have gone well. In August, we came out on top in a three-match series against Malaysia. After that, we had several training games against Germany and France as well as competing in the Sultan of Johor Cup in September. That was a great run-up as we played in the type of climate we will experience in India.

"We are in a tough group and we expect strong opposition from the other teams.

"We've set goals as a group and are focusing on performing to the maximum of our capabilities. We're looking to perform at a high level consistently throughout the tournament and build on the experiences we've had this year."

Bleby added that hosts India will be one of the title favourites.

"India are definitely one of the favourites. We have got a huge amount of respect for them. It would be a great challenge for our team to beat them. If you manage to beat strong teams like Germany, Holland and India, you have a great chance in the tournament," said Bleby.

England will play India in a practice match at the National Stadium in New Delhi on Monday and Bleby said it would be an "interesting and close" game.

"India are obviously a great team. We played against them in Sultan of Johor Cup in our first game. We lost 1-3. India went on to win the tournament. We are looking ahead to the friendly against them," he said.

The Star of Malaysia


---

Not a cut too deep for Rashid

by S. Ramaguru



Rashid Baharom bounced back from being cut from the Junior Asia Cup hockey team last year to make the team for the Junior World Cup that will be held from Dec 6-15 in New Delhi. - Filepic

KUALA LUMPUR: He missed the cut to the Malaysian team that won the Junior Asia Cup in 2012. It was really painful and made Rashid Baharom determined not to miss any more cuts.

The Penang-born player finally made it this time, making the final squad to the Junior World Cup in New Delhi from Dec 6-15. Rashid is also a member of the senior training team.

Rashid said he was disappointed at being left out of the team for the Junior Asia Cup, which was held in Malacca and won by Malaysia.

"I lost my place to Dedy Aryadi. But that only increased my resolve to make the team to New Delhi. It made me train harder. And now I hope to ensure that I get as much playing time as possible in the team," said the 21-year-old forward who plays for Universiti Kuala Lumpur (UniKL) in both the Malaysia Hockey League (MHL) and the Malaysia Junior Hockey League (MJHL).

"I always had it in the back of my mind that one day I will represent the nation in hockey and this selection to the Junior World Cup further fuels my hunger to make it to the senior side," he added.

Rashid started his hockey career at Sekolah Rendah Hashim Awam in Kepala Batas. He later moved to the Bukit Jalil Sports School until Form 4 before trekking up north again to finish his secondary education at SMK Mutiara Impian.

He was a member of all the three Sultan of Johor Cup teams. Malaysia won the title in the inaugural meet in 2011 and were runners-up in this year's competition.

Rashid believes Malaysia will do well in the Junior World Cup.

"It is vital that we make the last eight and that is our main focus at the moment. It will not be easy as New Zealand and England are formidable sides and we also cannot under-estimate South Africa. The Sultan of Johor Cup has shown us that the teams at junior level are very unpredictable.

"But the experience will help us to get through the first round," said Rashid.

He added that the players in the team would go all out in all the matches.

"We want to do well and as such we must be on our toes in all the matches. We have a top six target and that is the aim of the team," he said.

The Malaysians will leave for New Delhi on Sunday. They will play a friendly with Germany on Tuesday.

The Star of Malaysia


---

Meor aims to end his junior rank on a high note

There is no doubt that Meor Mohamed Azuan has a bright future in the national hockey team. His high work rate and never-say-die attitude have seen him win over many admirers and – not surprisingly – a place in the senior training squad as well.

Meor, a midfielder with the National Juniors, is looking forward to the Junior World Cup in New Delhi next month.

The 20-year-old plans to leave the junior ranks with a bang – by ensuring Malaysia achieve their target of a top-six finish in India.

Meor said that playing in the domestic leagues (junior and senior) with Universiti Kuala Lumpur (UniKL) had helped him improve his game tremendously.

It was his performance in the Malaysian Hockey League (MHL) which prompted national coach Paul Revington to name him in the training squad.

Although he did not make the final squads of the World League Round 3 and Asia Cup, Meor began to make a mark in the National Juniors squad.

"Playing in the MHL has boosted my confidence and I'm thankful to UniKL for selecting me to their senior team. It is only natural that I want to be a national player in the near future. I see my selection to the senior training squad a chance to improve my game and also learn from the more experienced players," said the soft-spoken Meor.

"Making the team for the Junior World Cup is like a dream come true. I hope to repay the selectors' faith in me with a good performance in New Delhi. I want to finish the junior ranks with a memorable outing.

"It will be tough in Delhi, but we have a team capable of beating the world's best if we play to our potential."

National Juniors team manager Mirnawan Nawawi admitted that it was Meor's high work rate that caught his eyes.

"Meor is an exceptional player, a late bloomer ... but one with a bright future," said Mirnawan.

"I was truly impressed with his high work rate and never-say-die attitude. Although he only joined the team in September, he played as if he has been with the team all along. He will go far if he maintains his form."

The Juniors will hold one more training session on Saturday before leaving for New Delhi on Sunday morning.

They have a friendly against Germany on Dec 3 before the tournament starts on Dec 6.

MalaysianHockey.com.my


---

Johari apologises for JHL mess...



MHC president Tengku Abdullah Sultan Ahmad Shah speaking to the media after the appointment of Johari Aziz (right) as the MHC secretary general in April 10 last year.

ENTRIES for the Junior Hockey League (JHL) closed yesterday, but there was nobody at the Malaysian Hockey Confederation (MHC) office in Bukit Jalil to accept the forms, as well as the entry fee.

The MHC office was locked, and team managers who turned up to submit last-minute entries were fuming at the MHC administrative bungle.

And MHC secretary Johari Aziz, when contacted said it was due to miscommunication among his staff.

"I admit that the booboo was an oversight, due to miscommunication and I apologise to the team managers who turned up to submit their entries at our Bukit Jalil office.

"However, we will rectify the situation and not penalise teams which submit entries at a later date. Monday, I will sort out the problem," said Johari.

Old La Sallians Association of Klang (Olak) team manager Joseph de Silva was one of those who knocked at the MHC office door yesterday with no reply forthcoming.

"Olak just finished their selection on Friday, and after finalising the team, I went to the MHC office at 11am to submit the entries and also make the payment as it was the last day.

"Imagine my shock, when the office was locked on a day when MHC had set as the closing date for entries," said Joseph.

For the record, Olak has never missed a single season playing in the JHL since its inception in 1995.

"While waiting outside the office, I also met Datuk Taha team manager Roslan (Mohamed) who has also come to submit the entry, and he was also shocked on why the MHC office was closed on the last day of filing entries," said Joseph.

Jugjet's World of Field Hockey