All the news for Thursday 12 December 2013

SA fight back but Argentina draw first blood in five-Test series in KZN

Argentina beat the South Africa men's hockey team 4-2 in the first Test after leading 2-0 at half-time at Riverside Sports Club in Durban North Wednesday.

The second Test in this five-Test series in KZN is at 4 pm Thursday at Kearsney College.

Argentina scored through a Pedro Ibarra penalty corner in the fifth minute and field goals by Facundo Callioni (26th), Lucas Vila (36th) and Juan Martin Lopez (67th) while SA scored through field goals from Craig Haley (38th) and Taine Paton (40th).

REMAINING FIXTURES
2nd Test - Thursday (Kearsney 4pm); 3rd Test - Saturday (Queensmead 3pm); 4th Test – Monday, December 16 (Queensmead 3pm); 5th Test – Tuesday, December 17 (UKZN Pietermaritzburg 6pm).

SA Hockey Association media release


---

Stephen looks at quarter finalists

Former Malaysian coach, Stephen van Huizen gives his take on the quarter finalists.

Belgium vs France

Belgium starts as favourites after topping their group that included past winners Germany n Pakistan. Their structure and composure on the ball and they style of play has been very effective and they are one of the strong contenders for the title. Belgium must be doing something right in their development program as in recent years the results of their senior and junior team have been very impressive and their players have very good basics and individual skills and strength on the ball and set pieces to trouble even the so called favourites teams.

However France have impressed in their group beating Argentina one of the favourites with a very determined performance. They are a surprise team in the tournament and have so much flair and creativity with no 8 in the forward outstanding and NO 7 a good and temperamental player who can change the game for them. They are also very good in defence especially as they are strong in their reverse tackles and stealing the ball. If they can play a discipline game and not be affected by the umpiring and physical play of the opponents (like in the previous game vs Australia) they can pull off an upset but Belgium remains the favourite for this tie.

Malaysia vs Korea

Malaysia has played well in their pool matches and deserves to top the group with their fighting display, individual skills, discipline and fast breaks. The four senior players Faiz, Fitri, Izad and Firhan formed the core of the team and have played well and showed great leadership to guide and lift the other players. Both the GKs have played well when fielded and whoever fielded will have to be on their toes especially against the PC flicks( Korea 3 ).

We have to respect the Korean team who fought back against India to win their place in the QF but we should not fear them because if we can play like the first 15 mins in the second half vs England where we were very composed and created opportunities we have a good chance to win the tie and move on.

Discipline and work rate as well as controlling the tempo against the Koreans is important. Also we have to be very alert in the defensive 25 and not giving away any penalty corners.  Likewise we have to make our PC count and if necessary use a set piece to breach the Korean PC defence.

Australia vs Germany

The tie of the quarter finals - one was not expected when the draw was out as Germany lost their opening match to Belgium and ended runners up in the group

The loss to Belgium have made Germany a very dangerous side as the team seemed to take the wake up call and were very focussed as they went about their task to qualify for the quarter finals. Their methodical and clinical finishing from set pieces and chances created make them a very dangerous side.

Australia topped their group and have created many chances in all their group matches with their physical, pressing and attacking play that had their opponents making errors and losing possession. However their opponents who were confident and compose on the ball were always able to create chances against them and Germany has the ability to do this so the tie could go either way.

The Australian physical game pushes the rules to the limit and in the last game the umpires send off a few of them for their "professional" breaking down the play.

Holland vs New Zealand

Holland will be favourites in this tie as they finish comfortably in their group. They will always create goalscoring opportunities with their good understanding and interchanging and passing. They are very good in their set pieces especially in PC attack. However as shown against India and Korea, teams who are disciplined and have good defensive structure and individual skills will be able to create chances especially on the counter and as reflected in the scores of  3-2 in both the matches above. Korea pushed them close to the end and they were lucky to pull through

New Zealand after a bad start against Malaysia showed their fighting qualities especially coming back from 2-0 down at half time against England to draw 2 all and keep their quarter finals hope alive. That they went on to win the last game 1 nil vs S Africa and showed how much they want it. Kane Russell remains their main player and team given a second chance always prove dangerours.

However on paper and overall qualities of the players in the Holland team the Dutch remain favourite in this tie,

MalaysianHockey.com.my


---

Quarterfinals promises exciting fare

Y. B. Sarangi



Towering presence: FIH President Leandro Negre poses in front of Major Dhyan Chand's statue with the Junior World Cup trophy Photo: Meeta Ahlawat

Several coaches assembled in the 10th edition of the junior World Cup hockey tournament here have concurred that it is difficult to find consistency in under-21 teams. So far, the Netherlands looks be the most consistent team and holds a lot of promise as the quarterfinals are set to be played at the National Stadium here on Thursday.

The Dutch side, pitted against New Zealand, enjoys a huge edge because of its depth and preparedness. It began its journey well, beating tough outfits like India (3-2) and Korea (3-2) before crushing Canada (7-0) to finish at the summit of Pool C.

Its solid midfield and lightening fast forwards, led by the prolific Milan van Baal, have tormented the rivals and will hope to continue with their good work.

Peaking at right time

The junior Black Sticks, however, peaked at the right time to sneak through to the knockouts by surprising South Africa (1-0) in its final pool encounter. The team, having an able striker in Kane Russell, will explore opportunities to upset the Dutchmen. Belgium won everyone's heart with its superb 3-1 win against defending champion Germany, followed by a 5-0 thrashing of Egypt after a goalless first half. The rising European side, however, could not maintain the winning momentum and managed a 2-2 draw against Pakistan.

"It will be a totally different game and we are gearing up for that," said Belgium coach Philippe Goldberg ahead of his team's last-eight clash with France.

France's progress has surprised a lot. The team, featuring several players from its senior side, defeated two traditional opponents, Spain and Argentina, to earn a place in the quarters. France's resistance against Belgium should make it a fascinating contest.

The last-eight date of Malaysia and Korea has ensured at least one Asian side's presence in the semifinals. Malaysia, which remained unbeaten in the pool stage, has played with fine control and good understanding among its players.

Korea would take a lot of confidence from its 3-3 draw against India and will be keen on doing something special. Compact defender and penalty corner expert Seungju You, who is the top scorer with seven goals, will play a crucial role in Korea's plans.

The Australia-Germany tussle will generate the maximum interest. The dashing Aussies started by decimating Argentina 5-2, but had to work hard to earn wins against Spain and France. The Aussies will be hoping to be at their best against the formidable Germans.

Germany has been on its toes after early shock from Belgium and looks serious in its intent. "The team is under pressure to perform but the boys are working to better themselves," said German coach Andre Henning.

Meanwhile, India will play Argentina in a classification match on Thursday.

The Hindu


---

Belgium, France new faces in Junior World Cup quarters

By S. Ramaguru



France (in blue) playing against Australia in their group match of the Junior World Cup. France had qualified for only three previous editions – finishing seventh (1979), eighth (1985) and 10th (2001).

NEW DELHI: European champions Belgium and France have never cleared the first round, let alone make it to the last four of the Junior World Cup.

But on Thursday, one of them is set to make history in the 10th edition of the tournament at the Major Dhyan Chand National Stadium.

France had qualified for only three previous editions – finishing seventh (1979), eighth (1985) and 10th (2001).

Belgium had played four times – finishing 11th (1986, 2005, 2009) and 12th (1997).

Belgium have, in recent years, come up with a formidable side and their performance here is testimony of their growing stature at the world level.

Belgium coach Philippe Goldberg, though satisfied with their performance thus far, is hoping they can go a step further.

"I'm quite satisfied with my team's performance. We are now among the top eight in the tournament. We started slow but the team came back in the second half of the match against Pakistan to earn a draw," he said.

"Now, our focus is on the quarter-finals, which is a first for us. It will be a totally different game and we are anticipating a tough time against the French.

"Like us, they too are playing at this stage for the first time. Belgium hockey has, in the last few years, transformed itself considerably because the federation have invested a lot in the game and the players. It is now up to us to finish as high as possible."

The other quarter-finalists are all the usual suspects, although Malaysia are in the last eight for the first time since the 16-team format was introduced in 2001.

Five-time champions Germany, Australia, Holland and South Korea have been at this stage before.

New Zealand are in the last eight for only the second time.

The Kiwis, who finished fourth in 2009, face a tough test against the Dutch, who have been the most impressive outfit here.

Dutch coach Sjoerd Marijne is delighted with his team's performance and progress.

"We played very well and were focused on each game ... and it gave us some very good results. Most of our players have played with senior team before, which has really helped," he said.

"We are trying to improve our performance in every match. We are looking forward to our next match against New Zealand. They will be just as determined to win. But we are confident of a good result."

The plum tie of the quarter-final stage must be the game between Australia and Germany. It will be a battle between two former champions and two of the best teams at the Junior World Cup.

Germany lost to Belgium in the group stage but rebounded strongly to check into the last eight.

This is a match that will pit one of the best attacking sides against a defensive-minded team with all-round strength.

The stage is set for an intriguing set of quarter-final matches. So, let the action begin.

The Star of Malaysia


---

Malaysia face tenacious S. Korea in Junior World Cup

By S. Ramaguru



Malaysian hockey junior Mohd Firhan Ashaari (left) in a file photo. He has scored three goals so far at the Junior World Cup. He and others in the forwardline must be clinical if Malaysia are to beat South Korea in the quarter-finals.

NEW DELHI: Malaysia may have won all their three Group D matches but, on Thursday, they face a daunting task against South Korea in the quarter-finals of the Junior World Cup at the Major Dhyan Chand National Stadium.

The Koreans have not beaten Malaysia at the junior level for the last three years, having lost in all four clashes – three Sultan of Johor Cups (2011-2013) and once in the Junior Asia Cup (2012).

But, this time, it's a different ball game. As Malaysian coach K. Dharmaraj pointed out, the Koreans have come up with a totally different team altogether.

"From their team list, I can see that some of them have not played against us. Instead, they have trained and turned out for their senior team. This is definitely a different team compared to the one who played in the Sultan of Johor Cup," he said.

"Only four of their players have no senior-level experience. That shows how seriously they have prepared for – and are taking – this tournament."

The Koreans are energetic, play a fast attacking game and do not stop running. Their never-say-die attitude is a plus point for them. Another interesting fact is that they always defend in numbers.

Malaysia reached the quarter-finals by winning all their group matches while South Korea checked in with an outstanding display of attacking hockey in their last group match – coming from 1-3 down to draw 3-3 with India.

Even when they lost to group champions Holland, they played a very good game.

The Koreans oozed confidence in each match and most coaches agreed that they are a team to watch out for.

"We are prepared for all eventualities ... even a shootout. Past records count for nothing at this stage," said Dharmaraj.

"We know what is at stake ... making the last four will take us past the target set by MHC (Malaysian Hockey Confederation).

"The knockout stage is a different ball game ... a single mistake can be fatal. We want to win. That's all that matters."

To win, the Malaysian forwardline of Mohd Syamim Yusof, Mohd Firhan Ashaari, Mohd Shahril Saabah and Rashid Bahrom must be clinical.

Firhan (three goals) and Rashid (two) have been on target but all the strikers have been guilty of profligacy as well.

Malaysia also cannot afford to make any mistakes at the back and give away penalty corners.

Look at what happened to India. South Korea punished them with their penalty corner executions.

Two Koreans players – penalty corner specialist You Seung-ju and Seo In-woo – stand out. Between them, they have scored 11 goals.

The biggest danger will come from tournament top scorer Seung-ju. He has scored seven goals from his drag flicks. Not only is he fast and powerful, he is also very accurate with his flick placements.

In-woo, meanwhile, has scored four goals thus far.

South Korean coach Kim Young-kyu acknowledged that his team have been playing well, with the game against their best so far.

"The team's performance has been very good and they've played a very matured game. Against India in the first half, we were under pressure and made some mistakes. But my boys came back strongly in the second half," said Young-kyu.

"I'm very happy with their fightback ... it augurs well for the team.

"We respect Malaysia ... they are a great side and can play good hockey.

"We need to be patient against Malaysia and not give them too much room as they can score from open play as well as from penalty corners.

"It will be an interesting match but we have something planned ... the match against India has given our players a tremendous boost."

Malaysia have made the semi-finals twice – in 1979 and 1982 – and the Koreans once, in 1989.

This will definitely be a close match. Well, at least Asia will be assured of at least one team in the semi-finals.

The Star of Malaysia


---

Ready for Korean test

By JUGJET SINGH

PINT-SIZED Faiz Helmi Jali epitomises the Malaysian team's performance in the Junior World Cup in New Delhi.

The 21-year-old Johor player stands at only 156cm and weighs 50kg but was named man-of-the match twice -- against New Zealand and then England.

Coach K. Dharmaraj's boys have surprised the gallery with three straight wins, and will now cross swords with a rejuvenated South Korean side in the quarter-finals today.

Faiz, who has tasted gold as sweeper in the Junior Asia Cup in Malacca, has also played for the senior side in the Champions Challenge in Argentina, and then in the World League Semi-finals in Johor Baru where Malaysia qualified for the senior World Cup next year.

He is now a key defender, and size does not matter, as he is more than ready to tackle players a foot taller than him.

"What I lack in height, I make up for with speed. I'm not afraid because I love to play hockey, and love the feeling when at the end of the day, the scoreboard flashes that Malaysia have won," said Faiz.

All the other 17 players have also done the nation proud, with skipper Fitri Saari on a special mission.

"We have come this far with hard work and my mates and I are not about to let go a chance to play for a medal," said Fitri, who has also seen action with the senior side.

Malaysia whipped South Korea 5-1 recently in the Sultan of Johor Cup, but this is not the same team in New Delhi.

"When I saw the Korean team list for the World Cup, I was surprised because I could not recognise five of their players. There has been a massive change from the Sultan of Johor Cup side.

"That is why we can't be overly confident with the past result, as that would lead to a downfall for sure," said team manager Mirnawan Nawawi.

"Korea's main strength is their penalty corner conversions, where they scored three out of the four they won against India. The defenders have been drilled for the last two days on this matter and I believe we are ready to make an impact tomorrow (today)," added Mirnawan.

If Malaysia overcome the last-eight hurdle, they will face either European champions Belgium, or France, the surprise package of the tournament, in the semi-finals.

Malaysia's achievement thus far has been super, as established powerhouses England, Spain, Pakistan, Argentina and India fell by the wayside and will be playing in the bottom half classification matches today.

New Straits Times


---

Bring on the Koreans

It will be a daunting task for Malaysia to overcome Korea in the quarterfinals of the Junior World Cup at the Dhyan Chand Hockey Stadium in New Delhi.

Korea booked their place with an outstanding display of attacking hockey to come from two goals down to hold overwhelming favourites India 3-3 on Tuesday night.

The Koreans oozed confidence, even though they went two goals down in that crucial match, staring at an early exit.

But if there is anything going the Malaysian way, then it has to be the fact that Malaysia has never lost to the Koreans for the last three years. And that surely will give a tremendous  psychological boost for Malaysia.

But these to coach K. Dharmaraj are merely statistics as the Junior World Cup is a different stage

"II have prepared the team foir all eventualities and even to the extent of a shoot out, cos I feel it might go all the way," said Dharmaraj.

"Knock out stages is a different ball game altogether for one mistake can be the difference between winning or losing, and in this case moving into the semis or being relegated to the lower placing.

"The players know what is at stake and really there is no pressure on them at all for we coaches are responsible for the results.

"A fast and bruising match is anticipated and I am reminding the players to keep their composure as our opponents are known for their robust approach."

Malaysia needs the likes of Mohd Syamim Yusof, Firhan Ashaari, Shahril Saabah and Rashid Bahrom to be more clinical within the semi circle or at least create penalty corners when within the semi circle.

Faiz Helmi Jali and Izad Hakimi Jamaluddin have been outstanding in defence with skipper Fitri saari making darting runs to take on the opponents defence with darting runs from the midfield.

Korea has an ace in penalty corner specialist You Seung Ju who blasted a hattrick to send India packing.

They play a fast attacking game, full of energy and never stop running, no matter how hopeless the case may look.

"We respect Malaysia as they are a great side and have shown that they can play good hockey and get the results," said Korean coach Kim Jong Yi.

"We need to be patient against Malaysia and not given them much room as they can score both from open play and also from penalty corners.

"It will be an interesting match but we have something planned and the match against India has given our players a tremendous morale booster."

MalaysianHockey.com.my


---

Izzad confident

While other players were rather apprehensive about who they would rather play in the last eight, Izad Hakimi Jamaluddin had no qualms about wanting to play India.

But the defender did not see his wish granted as India are out of the quarterfinals following their 3-3 draw against Korea on Tuesday night that put paid to the hopes of the host nation.

And Izad and his team mates will surely fancy their chances against Korea, whom they have never lost to for the past three years.

Still the younger brother of national keeper Roslan Jamaluddin is treating the match against Korea with caution.

"Korea has improved tremendously and we need to be on our toes all the time as they have good fighting spirit," said Izad who is one of Malaysia's most consistent performers in the tournament.

"They run for every ball, defending and attacking in numbers and we need to be extra careful and not give away penalty corners as they can punish us."

Izad had his reason as to why he wants to play India.

"They defeated us in the Sultan of Johor Cup and I want to avenge that defeat. What better way then to put them out of the tournament right infront of their own fans," said Izad.

"But looks like the wish will not come true now."

MalaysianHockey.com.my


---

Time India learnt its lessons

Y. B. Sarangi

After India's disappointing exit even before the quarterfinals of the junior World Cup hockey tournament in front of the home crowd, one is compelled to reflect on the times when Bob Davidzon was pursuing the International Olympic Committee (IOC) and International Hockey Federation (FIH)-backed 'Promoting Indian Hockey.'

It was a unique programme aimed at the wholesome development of Indian hockey, including attention to key areas such as better forward planning, cohesion of national and international tournaments and initiatives at grassroots level, etc.

Quiet death

The FIH changed hands, the National federation was in a state of flux amidst controversial circumstances and the bureaucratic teeth of the Government worked overtime as the ambitious project died a quiet death.

According to a veteran hockey observer, "To the FIH, after the commercial success of the 2010 World Cup in Delhi, India suddenly looked greener than the newly-laid pitch of the iconic Major Dhyan Chand National Stadium. And priorities changed."

Technical advisor Ric Charlesworth's unceremonious exit in 2008 had set a bad precedent. Foreign coaches came and went and Indian hockey remained static. "The right way to use the foreign expertise is to prepare the Indian coaches for future," said twice Olympic champion Dutch player Jacques Brinkman.

Indian juniors' disappointing show in the World Cup has again underlined the fact that developing grassroots was the key to success.

In a fast changing world, 'Promoting Indian Hockey' again looks relevant after six years and commands the urgency to put into use within a more contemporary framework.

India coach Gregg Clark, a quiet and methodical man, was heartbroken with the poor execution of skills and intelligence by his players.

After a tough game against the Netherlands, won by a narrow 3-2 margin, the Indian team never learnt its lessons.

Canada, which conceded seven goals each against Korea and the Netherlands, flexed its muscles before losing 3-2 to India. And Korea came back from 1-3 down to level the scores and advance to the quarterfinals on better goal difference.

The Indians continued to struggle with their rhythm, fumbled with basic skills and could not handle pressure. The defence failed to hold up and the forward line did not deliver. Apprehension of the outcome weighed heavy on their minds than the primary necessity of sticking to fundamentals.

Belgium is growing as the next big thing in hockey, both at senior and junior levels, because of the system in place and patience shown by the authorities concerned for 13 long years. France too is catching up because of its systematic approach.  Experts believe it is time India, an eight-time Olympic champion, learnt its lessons.

The Hindu


---

There is nothing positive at the moment: Oltmans

Uthra Ganesan



Roelant Oltmans.

India's elimination before the quarterfinals at the hockey junior World Cup on Tuesday has expectedly disappointed High Performance Director Roelant Oltmans and the Dutchman made his displeasure clear after the draw against Korea.

"My expectation was that they will at least reach the top eight. Yes I am very disappointed," Oltmans admitted. "Players need a lot of skills and some luck, but they also need cleverness. Without mind, body is nothing," he told The Hindu at the National Stadium.

His disappointment was evident from the fact that Oltmans, who always accompanies the team before and after any game, walked out of an unmarked side gate with a friend instead. His being upset was understandable, given that he had to intervene with the training after India scraped through against Canada.

Asked about the positives from the three games so far, Oltmans was blunt in his appraisal. "If you ask me, at this moment, there is nothing positive," he said. "But I still see a number of very talented players here, which is the most important thing. This is a huge learning experience, maybe too huge for them," he said.

Tricky part

Oltmans agreed that while talent and skills can be improved, cleverness was the tricky part. "We will try to bring that in as well, hopefully," he said.

With coaches Gregg Clark, Baljeet Saini and goalkeeping coach Dave Staniforth having contracts only till the end of the junior World Cup, the Dutch coaching legend also hinted at a change in coaching personnel. He, however, tried to downplay the players' errors.

"These boys are 18-19 years old and they can make mistakes of judgment. But when young boys are playing, those who have more experience need to take full responsibility of the team," Oltmans said, criticising the senior members in the side.

Players like captain Manpreet Singh, Ramandeep Singh and Kothajit Singh have been regulars in the national side for a while and were expected to take charge here but faltered.

"We did not finish the game properly (against Korea). I think we scored a beautiful fourth goal, which was disallowed. In the end, it is all down to a couple of minutes. Manpreet got the green card and they got two goals in those two minutes. That's what happens in top tournaments — the difference is very small but sometimes these small things make a huge difference, which we saw against Korea," he said.
No drastic changes

Oltmans, however, ruled out any drastic changes in the structure. "We started in a certain direction and the worst thing you can do is to change it completely after one disappointment. We are ranked 11th and let me tell you, we are not the only team in the world training hard to improve," he said.

The Hindu


---

Lack of mental strength pulled India down in Junior Hockey World Cup

Biswajyoti Brahma

NEW DELHI: They had the best possible preparation under some of the world's top coaches and support staff. The venue was home. And yet, India's junior hockey team failed to reach the quarterfinals of the World Cup.

The reasons for the early exit are both technical and mental. Technical because they failed to do the right things at the right time, like when they were leading 3-1 10 minutes into the second half against South Korea on Tuesday, they should have stayed back and slowed down the game. But they decided to carry on attacking, giving the Koreans more chances to counter-attack.

When Korea drew level with 10 minutes to go, the Indians panicked, quite like the way they did against Canada who had taken an early lead (in the 3rd minute) in the previous match. The outcome: India gave away the match to Korea they had almost won.

"Yes, definitely (India gave away the match); when we were 3-1 up, definitely. I don't think Korea played that well. We gave them a lot of soft balls. The tournament was lost in those 15 minutes when we should have controlled the game more," coach Gregg Clark admitted after the loss.

"Whenever India's national team plays anywhere in the world, there's pressure. The boys must have felt immense pressure against Korea as it was a must-win match."

But were several other aspects that led to India's poor show. The deep defence was not solid, with the coach virtually experimenting with a new goalkeeper Sushant Tirkey in the key third match after fielding Harjot Singh in the first two games.

The strikers, including talented Mandeep Singh, were profligate. The midfielders led by captain Manpreet Singh earned them many opportunities, but most of them were wasted.

If the chances had been taken, India would have won both the matches against Canada and Korea by handsome margins. "Technical skill of finishing comes with the mental ability to keep your mind calm at the moment. That's certainly something we can work on," Clark said.

There were other obvious issues - they needed to be more focused, required to trap the ball better and had to use the resources better.

In a match when India desperately needed to win to advance, their best penalty corner specialist Gurjinder Singh was not there when they took their first two penalty corners.

Amit Rohidas was not effective, yet India could not get the services of their third penalty corner specialist Sukhmanjit Singh.

"Considering Sukhmanjit's strength, I think Korea did not offer an opportunity to use him against them," was Clark's take on Sukhmanjit.

The Times of India


---

India look to redeem pride against Argentina in 9-12 play-offs

NEW DELHI: Their dreams shattered after crashing out of the Hero Junior Men's Hockey World Cup, India would look to redeem some pride and finish inside the top 10 bracket when they take on Argentina in the 9th-12th classification match at the Major Dhyan Chand Stadium, on Thursday.

India crashed out of the quarterfinal race of the ongoing World Cup after being held to a 3-3 draw by Korea in their must-win Pool C match last night.

The draw meant both India and Korea finished their pool engagement with four points apiece and it was not enough for the home team to march forward as they needed nothing less than a win.

The draw, however, was more than enough for the Koreans to progress to the knock-out stage as they had a better goal difference than the hosts.

Korea finished second, while The Netherlands topped the pool with three wins from as many games. The Dutch thrashed lowly Canada 7-0 in their last league encounter yesterday.

The Indians only had themselves to blame for the current scenario as they allowed Korea to come from 1-3 down to draw the match in the last 12 minutes of the match.

Fully aware that only a win would guarantee them a place in the knockout stage, India started on a positive note against the nimble-footed Koreans yesterday and despite trailing 1-0 at the initial stages, the hosts fought back to lead 3-1 till the last minutes of the game.

But as it had been the story in the tournament for India, moments of lapse in concentration from the Indian defence allowed Korea to claw back and drew parity. Thereafter, the Korean backline defended in numbers to shut the door on the Indians.

And come tomorrow it will be a test of character for the Manpreet Singh-led side to get their act together and rejuvenate themselves to face Argentina in the play-offs of the tournament, which they fancied to finish on the podium before home crowd.

The Times of India


---

Looking to secure 9th position: Manpreet

NEW DELHI: Keen to redeem some pride and finish inside the top 10 bracket, India team on Wednesday sweated it out during the practice session and worked on the strategies ahead of their 9th-12th classification match of the Hero Junior Men's Hockey World Cup against Argentina.

India skipper Manpreet Singh insisted that his team was looking to secure 9th position in the tournament.

"The team is putting in best possible efforts for the match tomorrow against Argentina. No doubt, the players are little disappointed about the loss against Korea yesterday, but we are looking forward to secure the 9th position in the tournament and have kept our hopes high," said Manpreet after the team's practice session here at Major Dhyan Chand National Stadium.

"We are focusing on a review of the previous matches so that we do not repeat the mistakes made," he added.

India crashed out of the quarterfinal race of the ongoing World Cup after being held to a 3-3 draw by Korea in their must-win Pool C match last night.

Talking about yesterday's performance, Manpreet said, "We tried our best against Korea and had put forward fast attacks till the end, but ended up losing with a hard luck. Moreover, I was given a green card which turned the table round in the game. Any small or big change during the game affects the players and creates a huge impact on the overall match.

"Few of our players like Talwinder Singh, Amit Rohidas and Imran Khan played extremely well. The Korean players were very strong at their defense part, which was one of the major reasons for their victory."

The skipper, however, felt that the team structure need not be changed.

"As far as the team structure is concerned, I believe that we have a perfect team to compete against any opponent and I don't feel that any kind of changes are required in the team structure," Manpreet said.

If India win against Argentina tomorrow, they will take on the winner of the match between Pakistan and South Africa in the 9th-10th place play-off match on Saturday.

Argentina also practised hard ahead of tomorrow's match against India and their coach Carlos Geneyro said his team was prepared to challenge the hosts.

"We tried our best to finish in the last eight but things didn't turn out according to our plans. It's disappointing but the team is ready to fight it out against India tomorrow," Geneyro said.

"India is the home team and will get support from the spectators but we are focused and will go for a win," he added.

The coach said his team was unlucky not to have got enough penalty corners during the three matches in the league stage.

"There aren't any problem areas. It's just that we didn't get many penalty corner opportunities, which we could have converted. But it's part of the game and we were just unlucky," he pointed out.

While captain Gonzalo Peillat felt that some of the umpiring decisions did not go Argentina's way.

"We are not happy with some umpiring decisions in the league matches where video referrals were not given but we can't do much about it. We were unlucky," said Peillat.

He expressed confidence of doing well against India. "Team is confident of a win against the home side and they want to finish with top rankings in the tournament. There is no pressure on the boys and they are hopeful of a good contest against Indian team tomorrow," Peillat, who also competed for the national team in the men's tournament at the 2012 Summer Olympics, said.

The Times of India


---

India hope to finish 9th in Hockey Junior World Cup

After failing to qualify for the quarterfinals, the Indian team now hopes to finish ninth in the ongoing Hockey Junior World Cup.

The host country will be playing for the 9-12 classification matches after finishing third in their pool and will take on Argentina on Thursday.

"The team is putting in the best possible efforts for the match tomorrow (Thursday) against Argentina. No doubt, the players are little disappointed about the draw against Korea yesterday (Tuesday) but we are looking forward to securing ninth position in the tournament and have kept our hopes high. We are focusing on reviewing the previous matches so we don't repeat mistakes," India captain Manpreet Singh said at the Major Dhyan Chand National Stadium here Wednesday.

India needed to win against South Korea Tuesday but only managed a 3-3 draw, despite leading 3-1 till the 58th minute. Korea progressed on a better goal difference.

"We tried our best against Korea and went for fast attacks till the end but ended up losing. Moreover, I was given a green card which turned the tables in the game. Any small or big change during the game affects the players and creates a huge impact on the overall match," added Manpreet.

"Few of our players -- Talwinder Singh, Amit Rohidas and Imran Khan -- played extremely well. The Koreans were very strong in their defence which was one of the major reasons of the draw. As far as the team structure is concerned, I believe that we have a perfect team to compete against any opponent and I don't feel that any kind of change is required."

DNA


---

After early exit, where is Indian hockey headed?

Chander Shekhar Luthra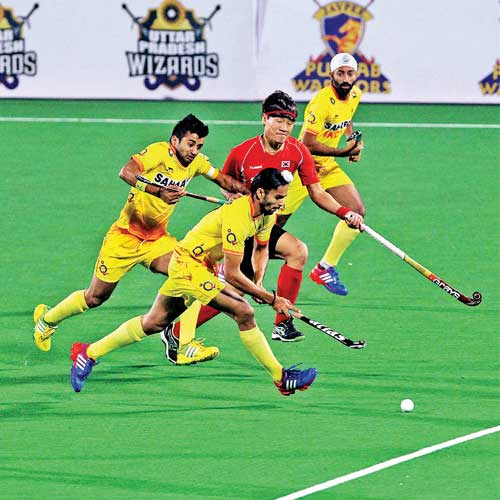 Korea dealt India the knock-out punch on Tuesday.

It is the same old story.

As India conceded a second goal to Korea in the 58th minute of the game on Tuesday, a Hockey India official held his head and yelled at them... "Not again man". "This is where we have lacked all these years. We were comfortably 3-1 ahead and now we are struggling. Instead of slowing down the game to frustrate Koreans, we're playing their game of speed. Can't our coaches and players understand this simple thing?" The senior official expressed his agony in one breath.

What India couldn't do after taking lead, Koreans did better after levelling the score. They slowed down the game, frustrated an experienced Indian forward line with ball possession that ultimately resulted in hosts' failing to qualify for the quarterfinal stage.

This has happened when India had undoubtedly the most experienced side in all the 16 teams participating here.

By Wednesday morning, HI secretary general Narinder Batra owned full responsibility for the team's exit. "Kindly do not put any blame on the team, the coaching team and the high performance, and I as head of all operations in Hockey India take full responsibility and apologise to the nation, all hockey lovers for letting them down," Batra said.

But the big question is that when eight of the players are playing in the senior team and some of them are dubbed as future stars, will just owning up responsibility help Indian hockey? The answer is a simple and straight "no".

Despite being trained by foreign coaches for over last four years, Indian hockey has not shown any improvement. From José Brasa to Michael Nobbs to now Dutch legend Roelant Oltmans, Indian hockey is still struggling to match the class of Europeans. It is time Hockey India reviews its big future plans and revives this National Game.

Playing Today: Live on Ten Sports
Netherlands vs New Zealand, 11am; Egypt vs England, 11.30am; Belgium vs France, 1.15pm; Spain vs Canada, 2pm; Malaysia vs Korea 3.30pm; Pakistan vs South Africa 4.30pm; Australia vs Germany, 5.45pm; Argentina vs India, 8pm

DNA


---

'Pakistan hockey teams only good for last positions'

ISLAMABAD, Dec 11: Former Olympians expressed their disgust over Pakistan's humiliating ouster from the Junior World Cup in New Delhi and said the national teams were only good enough to bag last positions in international events.

Talking to reporters after Belgium held Pakistan to a 2-2 draw in their last pool match in New Delhi, Naveed Alam said the national players had not adapted to the changes in modern hockey as their skills were now totally exposed.

"The physical fitness of our players is really a matter of concern as in second half of the game, the players looked so much exhausted," he added.

Another former olympian, Shehnaz Sheikh reiterated his call for change at the helm of Pakistan Hockey Federation as a first step on the long road towards revival of the national game.

He also lamented the Pakistan juniors' pathetic display in New Delhi where they scrapped through 3-2 against lowly Egypt and then were whipped 6-1 by defending champions Germany.

"I would rather say Pakistan showed consistency but only in being condemned to playing for the last positions," he said.

Pakistan failed to reach the quarter-finals after 2-2 draw against Belgium and would now play for positions outside the first eight.

"I believe that lack of physical fitness and team work resulted in sorry state of affairs for the team," he said, adding, there was no aggression and spark in the players which was mandatory in modern hockey.

Shehnaz said he would not call it a junior team as 10 senior players were playing in it.

"If a team having 10 senior players cannot beat junior opponents, how can you expect them to play against senior international teams," he emphasized.

The former olympian said the recent change of hockey management had also caused confusion among the players which was another reason of the debacle.

The last four years had been the black years for Pakistan hockey as same old faces were running the affairs of the game with no output, Shehnaz added.

He appealed to the patron-in-chief of hockey to look into the affairs of Pakistan hockey and fix its chronic problems.

Dawn


---

Young Canadians "Make a Difference" in Delhi

300kg of hockey sticks and equipment donated to local children

It is now a tradition for the Canadian Junior Team that when they go on tour or play in a competition abroad, they bring bags of collected sticks, jerseys and equipment to donate to a local program that supports youth hockey development.

For the last few months, on top of training and fundraising for their trip to India, the Canadian team organized coaching clinics for junior players in their clubs and communities and participants brought a stick or other piece of hockey equipment in lieu of payment. In total 150 sticks, 20 full sets of goal-keeper gear, 100 balls and a few complete sets of uniforms were collected. Altogether, more than 300kg of equipment traveled with the team to India in addition to their own playing kits and luggage for the competition!

On Dec. 11, during their rest day of the Junior World Cup, the Canadian players spent a couple of hours at Shivaji Stadium in Delhi, meeting a large group from Bua Sa Hockey Village India, a German based charity that promotes education and sport for children in rural Rajasthan.

The Canadian players distributed the equipment, then organized drills and mini-games, which quickly became very competitive with the local boys and girls wanting to display they skills.

"It is amazing what our communities have been doing", said Team Manager Alvin Bissett, instigator of the projects. "It helps our young athletes realize how privileged we are in Canada, and it gives them an opportunity to give back and possibly make a difference in the lives of these local kids".

Andrea Thumshirn, a German hockey player who started the Bua Sa Foundation in 2009, was very appreciative of the Canadian "Make a Difference" initiative.

"For two years I have been running a hockey academy for under-privileged children in Rajasthan," said Thumshirn. "The Canadian team brought busloads of hockey equipment all the way from Canada. They are donating it to us so that we can open more hockey villages in Rajasthan. The kids will have big, big eyes open and a great future."

"The main reason we came to India this week was for the Junior World Cup but at the same time it means a lot to us to give back to the community, both here in India and back at home," said Canadian defender and co-captain Gordie Johnston. "What Alvin has done here is truly inspirational. Every year he values giving back to the community and this is one of his initiatives that he has brought on multiple tours. The amount of work he puts in to giving back is truly admirable."

For the children, the session with the Canadian players was the cherry on the cake of an exceptional 3-day road trip, during which they also attended a full day of Junior World Cup matches at Major Dhyan Chand Stadium, met some players of the German team and were even invited for a meal at the German Embassy in Delhi alongside the players' families.

Information on Hockey Village India can be found at http://www.hockeyvillageindia.com.

FIH site


---

Irish Hockey Announce U21 Tournament Set for Mossley.

Irish Hockey are delighted to confirm today that there will be a four nations U21 men's International tournament taking place in Mossley, Ulster in February 2014.

Ireland will go head to head with Germany, Scotland and England from Tuesday 11th to Saturday 15th  February (match schedule to be confirmed) at the grounds in Mossley. Funding for the tournament has been secured by Irish and Ulster Hockey from both Sport Northern Ireland and Newtownabbey Borough Council.

Mayor of Newtownabbey, Alderman Fraser Agnew commented "I am delighted to see such a prestigious event coming to the Borough.  Newtownabbey has a longstanding reputation for high profile sport and events of this kind will help to strengthen this reputation.  Newtownabbey Borough Council's Sport Development section has a long and successful partnership with Ulster hockey and Mossley Hockey Club and we're looking forward to the legacy this international event will bring to the Borough and ulster hockey."

Sport Northern Ireland's Chief Executive Antoinette McKeown, welcomed the forthcoming event saying; "I am delighted that Sport Northern Ireland is supporting this event through the International Sports Events programme, and we look forward to welcoming the visiting teams including top nations Germany and England.  Hosting this event will enable our U21 International squad to participate in an international event, gaining valuable international match practice as they prepare for future international competition, and which will assist their development at elite level. The quality of the participating teams will ensure a competitive and exciting event for athletes and spectators alike."

Commenting on the announcement of the event Irish Hockey CEO Mike Heskin recognised the opportunity that both Sport Northern Ireland and Newtownabbey Borough Council have afforded to the sport with this funding "This tournament would not be taking place without the funding received by both Sport Northern Ireland and Newtownabbey Borough Council and for that we are grateful for their support.   Both Ulster Hockey and ourselves are delighted that we can bring this quality of competition to the fine grounds of Mossley Hockey Club and showcase some of our young stars while providing them with top quality opposition."

Angela Platt from Ulster Hockey was also keen to express her gratitude "We are extremely grateful to Sport Northern Ireland for their funding which makes this quality international event possible.  Sport Northern Ireland's financial support enables us to enhance the development of our U21 International Players through exposure to competition against some of the top nations in European Hockey.  This event also gives us an opportunity to showcase Men's International Hockey within Ulster and enables the public to see some of the very best players from these four nations in action.  Our delivery Partners, Newtownabbey Borough Council and Mossley Hockey Club, have also been crucial in our successful funding submission to make this event happen and we continue to work on building these partnerships for the future.  We look forward to welcoming these nations to Ulster in February and look forward to some top quality hockey."

Ireland's U21 boys coach Jonny Caren was very excited about the upcoming event "I am extremely delighted to have this opportunity to have a four nations tournament against some of Europe's top teams being hosted here in Belfast, in preparation for our European B Division tournament in Portugal this summer. This current squad of players has huge potential over the coming yearsI personally am excited to be working with the Under21 program in preparing them both for competition and hopefully a future on the senior international hockey stage working towards Rio in 2016."

The Irish U21 training squad will come together in January for a training weekend, the squad has been selected on the basis of performances on last year's U21 interpros, and club matches. The final selection for the team will be made post the 2014 U21 Interpros taking place over the 8th & 9th February. 

#, NAME, CLUB, PROVINCE
1, Ben Cosgrove, Grove Menzieshill, ULSTER
2, Ben McMillan, Mossley, ULSTER
3, David Cole, Monkstown, LEINSTER
4, David Watkins, UCD, LEINSTER
5, Gary Wilkinson, UCC, MUNSTER
6, Gavin Adams, Beeston, ULSTER
7, arry Spain, Pembroke, LEINSTER
8, James Cox, Annadale, ULSTER
9, Jeremy Duncan, UCD, LEINSTER
10, Johnny McKee, Banbridge, LSTER
11, Josh Moffett, Banbridge, ULSTER
12, Kirk Shimmins, UCD, LEINSTER
13, Lee Cole, Monkstown, LEINSTER
14, Mark Ingram, Pembroke, LEINSTER
15, Mark Loughrey, Pembroke, LEINSTER
16, Mark Willis, Leeds, ULSTER
17, Matthew Bell, Banbridge, ULSTER
18, Matthew Rollins, Cookstown, ULSTER
19, Michael Robson, Annadale, ULSTER
20, Neal Glassy, Mossley, ULSTER
21, Neil Gilmour, Portadown, ULSTER
22, Nick Burns, UCD, MUNSTER
23, Owen Magee, Banbridge, ULSTER
24, Peter Brown, UCD, ULSTER
25, Ravin Nair, UCD, LEINSTER
26, Ross Canning, UCD, LEINSTER
27, Shane Madeley, Three Rock Rovers, LEINSTER

Irish Hockey Association media release


---

Midlands Stallions & Highland Scorpions on collision course for PSI promotion

JONATHAN COOK in Cape Town



Midlands Stallions on the attack and in control against East London Jaguars at the Good Hope Centre in Cape Town Wednesday on Day 5 of the 7th Nolands PSI Nationals. Photo: ACTION PHOTOGRAPHY

It was predicted by the faithful, but newcomers to the tournament had to see it to believe it … and so it proved.

The hockey on display in Wednesday's opening round of the 7th Nolands Pro Series Indoor (PSI) Nationals U16 and U18 sections was of a remarkable standard - and built on the performances of the U13s and U14s on days one to four.

After such an action-packed day on the courts at the Good Hope Centre (GHC), Cape Peninsula University of Technology (CPUT), Bishops and the University of Cape Town (UCT) it was always going to be difficult to single out one great effort from the next, but a rampaging start at the GHC from PSI debutants Midlands Stallions in the Boys' U16B section is definitely worth a mention ... and there was no hiding the quiet smile of franchise owner and coach Brandon Swart.

It was a stellar performance from the young Stallions as Nolands PSI Day 5 took it to another level.

After a shaky start, the Stallions ran over the Cape Sunbirds 9-3, pummelled the Pretoria Pitbulls 5-1 and stampeded over the East London Jaguars 13-1 on a memorable day for the Maritzburg lads. Assistant coach Paul Gonlag on the Stallions' bench handled the rolling substitutions with practised care and the boys from the KZN capital are in fine fettle for another big day on Thursday.

However, the Stallions are not alone in the quest for promotion from the U16B section. Coach Jacques Grobler's Highland Scorpions from the Boland are stinging opponents left, right and centre.

The deadly Scorpions poisoned the West Coast Stingrays 4-1 in their tournament opener, did for the Johannesburg Gryphons C combination 11-0 and repeated the medicine against the Cape Sunbirds to the tune of 9-3.

Scorpions coach Jacques Grobler dismissed the Stallions' challenge. "I have already identified a number of weaknesses in their side and the Scorpions will punish the Stallions when the time comes."

Jacques is the son of Wynberg Boys' High head coach Anton Grobler, who mentored the top school first team in South Africa in 2013.

The U16B section is a round-robin affair (no-semi-finals), so on Wednesday's evidence both the Stallions and Scorpions should reach the final after the r-r phase is complete. But, the psychological advantage could well be won on Friday, the day before Saturday's gold medal showdown that will determine who gets promoted to the 2014 Nolands PSI Nationals Boys' U16A section.

Clearly there is a considerable degree of heat between these two ambitious teams, but the Scorpions should be warned that the analytical coaching talent that is Stallions mentor Brandon Swart is not to be underestimated..

UCT Court Two is the place to be come 10.30 am Friday when the Scorpions and Stallions go head-to-head in the r-r phase - it's the final before the final.



Midlands Stallions in control against East London Jaguars at the Good Hope Centre in Cape Town Wednesday on Day 5 of the 7th Nolands PSI Nationals. Photo: ACTION PHOTOGRAPHY

Meanwhile, a truly jaw-dropping spectacle was the Boys' U16A section encounter between the super-slick Durban Panthers and canny coach Jason Voight's amazing East Rand Quaggas combination at CPUT. The Quaggas outlasted the East Coast lads 7-6 in the final analysis.

Minimum individual frill, maximum ball speed and off-the-ball movement. The result? A stunning spectacle of junior indoor hockey at its best, where the teams traded goal-for-goal like boxers going toe-to-toe: al la Muhammad Ali and Joe Frazier when they traded punches in the Thrilla in Manilla slugfest way back in the seventies.

Mike Wiggett, the Panthers coach, must also take a bow for putting together such a potent Panthers combination, a group who understand the priceless value of team performance being bigger than the individual's.

The Girls' U16A Section had some very close results, like the nine-goal thriller won by the PE Vipers A team against Peninsula Sharks; Girls' U18A was cut-and-thrust stuff, too, with close, relatively low-scoring outcomes; Boys U18 and Girls' U18B had some lopsided results interspersed with the tightest of contests, a la the nine-goal extravaganza won by the Johannesburg Gryphons boys' U18A side against West Coast Barracudas in Pool 2.

Check out this clip from the 7th Nolands PSI Nationals Senior Opening Day at Ratanga Junction Tuesday with guest of honour and staunch hockey fan Robin Petersen, the Proteas cricket star.

http://www.youtube.com/watch?v=1ZmlFPFE_Fc

The sheer numbers at PSI Nationals 2013 are bewildering and an organiser's nightmare, yet somehow tireless PSI Event Manager Andy Stofberg and his army of worker bees get things done. "Only" 142 teams, nearly 1 400 players and an incredible 626 matches in eight days.

For the record (once again, because it's worth remembering), the teams taking part include new franchises the Pretoria Pitbulls, the Bloem Bears (Bloemfontein), the Midlands Stallions (KZN, Pietermaritzburg), and the Southern Cape Sables, as well as regulars the Boland Foxes, Highland Scorpions (Boland), Cape Town Seals, Peninsula Sharks, Cape Sunbirds, Durban Panthers, Durban Tigers, East London Jaguars, East Rand Quaggas, Namibia Hawks, Namibia Eagles, PE Vipers (Port Elizabeth), Johannesburg Gryphons, West Coast Barracudas and the West Coast Stingrays.

The PSI Nationals U13 and U14 boys' and girls' competitions, which took place from last Saturday to Tuesday, had 77 teams and more than 750 participants playing 336 games of indoor hockey in four days, while the PSI Nationals U16 and U18 boys' and girls' competitions, which includes 65 teams and more than 630 participants playing 290 indoor matches, saw the on-court action take off  on Wednesday - with the gold medal finals day on Saturday morning.

There is also a Men's and Women's Princess PSI Tournament taking place, featuring international players like star striker Dale Isaac, that has been running on selected evenings at Good Hope Centre with the finals being played on Saturday, December 14 at 10am as curtain-raisers to the marquee age-group gold medal showdowns. The U18 boys' and girls' championship finals are played directly after, at 10.45am, with the final prize-giving at 11.45am at the GHC.

Everything you require regarding the 7th Nolands Pro Series Indoor (PSI) Nationals - from results to logs to fixtures and much, much more - can be found at www.psihockey.co.za -- and with videos and images part of the picture, it's well worth a look.

PSI media release


---

U-21 hockey: Firdaus leads Malacca to victory

By Ashreena Pillai



Muhammad Firdaus Omar (left) scored two goals for Malacca to help them beat Kelantan 3-0 in the MHC Under-21 hockey tournament.

KUALA LUMPUR: Defending champions Malacca beat Kelantan 3-0 in their opening Group A match of the MHC Under-21 hockey tournament at the National Hockey Stadium in Bukit Jalil on Wednesday.

However, it was hardly convincing stuff from the 2011 winners (there was no competition in 2012) who began the match on the back burner with Kelantan dictating play in the first 10 minutes.

However, a penalty corner by Muhammad Firdaus Omar in the 15th minute put Malacca in the lead and galvanised his team into action.

Firdaus scored again 11 minutes later through a field goal.

Kelantan did themselevs no favour when they scored an own goal at the stroke of half-time to put Malacca 3-0 up.

However, it was a forgettable second half as Malacca seemed to have lost the edge, missing a couple of penalty corners and good chances to kill off the match.

Malacca may have got the three points, but the side will have to stay awake and improve their game if they are to defend the title.

"It wasn't the best of performances. We didn't play a good game. We seemed to be so over-confident in the second half that we just failed to convert any chances," said the visibly unimpressed Malacca coach Azrul Effendy Bistaman.

Malacca, who played their match at 4pm, had only arrived in KL at noon and Azrul believes this could have been a contributing factor to his side's below par performance.

"We only arrived at noon today so I don't know if we were lethargic or tired from travelling. But we'll assess the issue and try to nip it in the bud.

"We'll do our recovery after this and get ourselves prepared for Terengganu tomorrow. They're always a strong team and we expect it to be a tough match," he said.   

The Star of Malaysia


---

Game changing technology coming to USA Field Hockey recruiting events

Starting this Winter, at USA Field Hockey's Disney Showcase, college coaches from across the country will be able to take their recruiting efforts to the next level using Front Rush's Coach Packet app.

Coach Packet will allow collegiate field hockey programs attending tournaments to set their schedule using an iPad so they won't have to the day of the event. At the tournament, Coach Packet is available offline so coaches can evaluate and rate athletes, create notes and follow the schedule accordingly. After the event, every game will be made available through Coach Packet's video feature.

This total package of scheduling, off-line access and video will benefit collegiate programs, small and large. Programs that can't afford to send coaches across the country to recruit can now watch video of the event in the comfort of their own offices. Coaches that are planning to offer scholarships can now re-evaluate full game footage of said athlete to make sure they didn't miss anything.

Collegiate coaches are leveraging Coach Packet to push their respective disciplines forward and take recruiting to an entirely new level. Coach Packet is making recruiting more effective by increasing the number of athletes that can be seen, decreasing the amount of money that coaches need to spend to recruit, and making the evolution process more accurate and more efficient.

"It's going to be fun working with USA Field Hockey to change the way collegiate field hockey coaches recruit," said Front Rush co-founder Brad Downs.

"Coach Packet will provide a one-of-a-kind immersive experience that will further set our tournaments apart," said USA Field Hockey's Chief Operating Officer Simon Hoskins. "This program will provide a groundbreaking connection between recruitable athletes and recruiting coaches through USA Field Hockey events. We're eager to provide Coach Packet as a tool to our community of coaches."

Coach Packet will be available at the following events:

Disney Field Hockey Showcase

U12 & U14 National Indoor Tournament

U19 National Indoor Tournament

U16 National Indoor Tournament

National Futures Championship

U14 National Club Championship

U16 National Club Championship

U19 National Club Championship

National Hockey Festival

USFHA media release


---

Uddingston remain top ahead of the winter break

Weekend round up

Aberdeen Asset Management Men's National League Division 2

As we go into the Christmas break Uddingston remain top, this weekend they added to their outstanding goal difference of 96 with a 6-1 win over University of St Andrews.

Stepps produced a solid 6-2 win over Alpha Data Carnegie to help them move up to fifth in the table.

Seventh place Erskine Stewart Melville FP beat eighth place Granite City wanderers 5-1 to maintain the distance between them.

Falkirk GHG move up to third with a 4-1 win against CALA Edinburgh at home.

Aberdeen Asset Management Men's National League Division 3

Only two games played in the league over the weekend, with wins for both away teams. Ayr travelled to Giffnock and secured their second win in a row of 5-3.

Early pushback saw University of Strathclyde travel east to Waverly Inveresk Trinity seeing them stretch ahead of the sixth place team, winning 4-2.

Regional League – Central Division 1

Thomsons Cycles Kelburne II move up to third after an impressive 14-0 win over bottom side University of Stirling.

Top side Grange II made the journey west to beat Hillhead II 4-2, making it twelve out of twelve wins so far this season. A thrilling match at Peffermill as Edinburgh University II drew 3-3 with ninth place Western Wildcats II.

Mid table side Grange III secured their sixth win of the season over Stepps II winning 2-0, seeing them move up to sixth in the division before the winter break.

Second place side PSL Team Sport Clydesdale II put in a convincing performance away from home to win 5-2 over Inverleith II.

Central Division 2

Rottenrow Blue Sox remain top of the division ahead of the Christmas break, as they won 8-0 over Erskine Stewart Melville FP II.

At the other end of the table bottom side Livingston & West Lothian were beaten 5-1 by Watsonians II who have a good form of recent weeks having won their last four matches.

Fourth place Clydeside snatched a win off struggling Alpha Data Carnegie II with a 2-1 win, which sees them in fourth spot with a game in hand.

Second place Uddingston II won 3-2 in a close match over PSL Team Sport Clydesdale III, whilst Anchor beat CALA Edinburgh II 4-1 to remain third. Elsewhere East Kilbride beat mid table team GHK 4-3.

Scottish Hockey Union media release


---

England men's squad named for Hero Hockey World League Final

Ahead of the Hero Hockey World League Finals in New Delhi, India, England Head Coach Bobby Crutchley has named his squad of 18 athletes who will compete in the tournament from 10-18 January.

The squad sees four changes from the one that finished fourth at the EuroHockey Championships this Summer. East Grinstead duo Ashley Jackson & Mark Gleghorne are back in the final 18 after injuries kept them out of Crutchley's European squad. Jackson has successfully recovered from ankle surgery and Gleghorne from the foot injury he sustained against Argentina in the World League Semi Final in July.

The two other names coming into the squad are Patrick Smith and Tim Whiteman. Smith replaces James Bailey as the reserve goalkeeper, while Bailey focuses on the European indoor season. The tournament will see Whiteman (Beeston) make his international debut, if he plays.

The three other names omitted from this squad, who played out in Belgium are Ben Arnold, Dan Shingles and Richard Smith. Smith will be out for the whole 2014 season as he undergoes surgery on his knee.

Crutchley commented, "We are really looking forward to testing ourselves against the World's best. The squad have been training very well in the past few months and working hard at their individual development. Like many of the teams we are short of match practice and it will be a good marker to see where we are, going into 2014."

England Captain Barry Middleton added, "We've had a few months of solid training and we're determined to put in strong performances in what will no doubt be a tough tournament."

England have been drawn in Pool A at the World League Final and will face Olympic and European Champions Germany, world number seven side New Zealand and host nation India.

England's first match is against hosts India on 10 January at 14:30 (UK time). All matches will be streamed live on the FIH YouTube Channel. For more information about the World League Final, visit www.fih.ch

World number one side Germany have been in great form this year, winning the World League Semi Final in Malaysia (where England finished third) and then going on to win EuroHockey 2013 in August. India will also be strong contenders at home and will be looking to impress their new coach, Terry Walsh.

New Zealand and India faced each other in the pool stages of their World League Semi-Final in Rotterdam. There was nothing to separate the two as they played out a 3-3 draw, however New Zealand went onto finish fourth, while India could only manage sixth in the final standings.

The other pool will see Belgium, Argentina, the Netherlands and Australia fight it out. Belgium have been one of the in-form teams this year and proved their capabilities at both the World League Semi Final, where they beat Australia in the final to take gold and then at the EuroHockey Championships where they took the silver. With World Champions Australia ranked second in the world and the Netherlands just one place behind them it's sure to be a fascinating contest.

Alongside the Hero Hockey World League Final, England will also be taking a squad out to Vienna to compete in the EuroHockey Indoor Championships from 17-19 January. Head Coach for England Indoor, Andy Halliday, will name his squad shortly.

About the Hero Hockey World League Final

The tournament will see eight of the world's finest teams in action and is the culmination of a journey which began back in August 2012 when the first rounds of the competition were played.

The event features two pools of four followed by quarter-finals, semi-finals, classification and medal matches. Pool A will feature reigning Olympic and European Champions Germany alongside New Zealand, England and hosts nation India, while current World Champions Australia face the Netherlands, Belgium and Argentina in Pool B.

The Round-Robin pool phase will take place over three competition days between 10 and 13 January. Following the Round Robin, the teams will move into the crossover quarter-final phase, with the pool winners meeting the bottom team from the opposite pool. The #2 and #3 finishers will also face-off in the knock out quarter-final. From there, the winners move into semi-finals and the medal games, with the losing teams playing for placement.

England Men's Squad for the Hero Hockey World League Finals

Alastair Brogdon – Wimbledon - Forward
Tom Carson – Reading – Forward
Nick Catlin – Reading – Midfield/Forward
David Condon – East Grinstead – Midfield
Adam Dixon – Beeston – Midfield/Defender
Dan Fox – Hampstead & Westminster – Defender
Mark Gleghorne – East Grinstead – Forward
Michael Hoare – Wimbledon – Defender
Ashley Jackson – East Grinstead – Midfield
Iain Lewers – East Grinstead – Defender
Simon Mantell – Reading – Forward
Harry Martin – Beeston – Midfield
Barry Middleton – Holcombe – Midfield/Forward
George Pinner – Beeston – Goalkeeper
Patrick Smith – Cannock – Goalkeeper
Henry Weir – Wimbledon – Midfield/Defender
Tim Whiteman – Beeston – Midfield/Defender
Ollie Willars – Beeston – Defender

England Hockey Board Media release


---

Pure fitness over total hockey? Six steps to England women's success at 2014 World Cup in the Netherlands

By Rod Gilmour



Leaping for joy: England players celebrate bronze in Argentina at the weekend Photo: AP

Following England women's bronze at the World Hockey League in Argentina, Telegraph Sport looks at areas that could play a key role in England's bid for World Cup success in The Hague next June

England pride over fitness first

The central contract system means that both men's and women's squads – who train full-time at Bisham Abbey – are now two of the most feared sides in world hockey thanks to an enviable fitness regime, as well as regular physio and psychology staff at their disposal. It aided them at London 2012 when Great Britain recovered from a draining defeat to Argentina in the semi-finals to win bronze. Last week, England recouped their high-energy levels by turning around a 3-0 defeat to Australia to come away with another third-place finish to beat hosts Argentina.

Skill factor lacking under central contracts?

The Netherlands, favourites for the 2014 World Cup, are without doubt the most skilful outfit with the stick, an art they have largely maintained for the last 40 years. It has won Oranje countless tournaments – six World Cups since 1974 – despite not being renowned as the fittest sides over the decades.

For England, the centralised system means squad members are locked out from playing abroad. But Susannah Townsend and Rebecca Herbert are proof that creative skills can be gleaned on foreign soil. In recent years, the pair have played in Belgium and Holland respectively and are now back on the central programme. Both are wiser and technically better for it. It suggests that training solidly at Bisham might not be the answer to global success.

Unearthing problems from deep

One question mark over England centres on their 'outletting', manoeuvring the ball from defence into attack. At times in Argentina, they were too one-dimensional, guilty of early chucks down the line and being sucked into carrying the ball too much. England observers also believe a more balanced approach is needed: patient in attack, while building interchanges in the final third.

Maximising the best players

England are in transition phase. Coach Jason Lee, who led the men's side for a decade, is still early into his tenure too, and trying to find the best patterns for his squad. Sam Quek and Lily Owsley, recently shortlisted as an FIH young talent of the year, are regarded as two of England's most promising players and Lee will have to find a way of unlocking their potential over the next 12 months. If England harbours World Cup glory, Lee will also have to find a way of keeping top-scorer Alex Danson – a marked player in the world game – higher up the pitch. The Reading player, below, is often seen tracking back to help out her defensive players, instead of being a presence up front.

Does the National League matter?

A third of the current England squad currently play outside of the Premier Division. Some observers believe that this curtails English hockey's bid to become the best league in the world. Others deem it irrelevant. England goalkeeper Maddie Hinch is a case in point. Hinch plays for Holcombe in the Conference East, which produced the fewest goals of the three leagues last season. Yet, Hinch was awarded best goalkeeper of the tournament in Argentina – the third time she has won an international award this year.

Consistent medal performers

Bronze at London 2012, European silver last summer (their best finish in a European Championship since 1991), bronze at the World Hockey League. If Lee can find the creative model for his players over the coming months, then reaching the World Cup final for the first time in their history should be a major target before the next 2018 edition is held on home soil at the Lee Valley Hockey Centre in London.

The Telegraph


---

The road to Wembley starts this weekend



Emily Maguire Indoor Hockey

The road to Wembley starts this weekend, with the first round of fixtures in the Maxinutrition Hockey 5s Premier Divisions. The Men's and Women's Divisions both feature 9 teams, and all of them will be battling to get through to Maxinutrition Hockey 5s Finals at Wembley on Sunday 2nd February.

'The Maxinutrition Hockey 5s' is the new name ecompassing England Hockey's indoor competitions, which were formerly known as the Maxifuel Super Sixes. There are four rounds of matches held this weekend (14-15 December), as well as 4-5 January 2014, with the teams who finish in the top four qualifying for semi-finals, held a week after the Premier Division's last matches. The two winning teams from this event will qualify for the Maxinutrition Hockey 5s Finals at Wembley Arena.

The Women's Premier Division is held at Bromsgrove School, and there has been a late change of venue for the first weekend of the Men's Premier Division which will now be held at Cocks Moor Woods Leisure Centre in Birmingham. The second weekend will go ahead as scheduled at the home of the FA, St Georges Park.

Reading are the current Women's champions and they'll be fielding a strong squad on the first stage of their title defence. They've named their five players, all of whom helped England to the bronze medal in last weekend's World League – Kate & Helen Richardson-Walsh, Sam Quek, Susie Gilbert and Alex Danson. However, Susie Townsend has opted to play for Bowdon Hightown, as well as Sally Walton. This is in line with tournament regulations, where clubs can field a maximum of two players who play outdoors for different teams. Other registrations of note see England keeper Maddie Hinch in goal for Slough and her teammate Sophie Bray in the colours of East Grinstead, who have been promoted to the top flight for the first time. Another international on show (though from cricket rather than hockey) is Susie Rowe, who's playing for Canterbury.

East Grinstead have dominated the men's game and have won every final since the move to Wembley in 2011. Their experienced squad includes two sets of brothers – Ashley & Wes Jackson along with Niall & Ross Stott – and they again have the Czech Republic's Fillip Neusser in goal to boost their hopes of a sixth successive title. Beeston, who EG have beaten in the last two finals, rely on their usual outdoor squad to provide a challenge indoors. Perennial challengers Reading welcome back former international keeper Nick Brothers, who has retired from the top flight international game.

Full squad lists for the weekend are available here (or will be available here from Thursday)

Elsewhere the delayed 2012-13 Division Two leagues were completed last weekend with Cannock and Team Bath Buccaneers promoted in the Men's and Buckingham and Chelmsford in the Women's. The Division One schedules for post-Christmas are now complete, with Division Two North & South awaiting final regional qualifiers.

If you want to read more about the Maxinutrition Hockey 5s Indoor Championships, see the links below for full league details:

Women's Maxinutrition Hockey 5s
Men's Maxinutrition Hockey 5s

England Hockey Board Media release


---
East Grinstead Men target record sixth win
East Grinstead's Joe Naughalty
EAST Grinstead will be looking to secure a sixth consecutive indoor title when the Maxinutrition Hockey 5s Men's Championship gets underway this weekend.
They were comfortable winners in the Maxifuel Super Sixes Championship last year, beating Reading 7-1 in the final at Wembley.
The men's Premier Division fixtures for this weekend are now taking place at Cocks Moor Woods Leisure Centre, Alcester Road South, Kings Heath, Birmingham, B14 6ER.
"It's going to be an exciting first weekend, and the new format will be great for every body – players and spectators alike," said East Grinstead manager Matt Jones.
"We've won five in a row, and eight in total. I think if we win again this time it will be an all-time record, which will be great.
"We want to build on the success we've had in recent years, and re-affirm our position as one of the leading clubs in the country and in Europe."
This year the format has changed to five-player teams, and the other sides will be gunning for East Grinstead and hoping to end their dominance.
"Moving from six players to five throws up challenges, but it doesn't present too many problems," added Jones. "Play will be a little bit more open, and we will see goalkeepers coming on and off a lot more."
East Grinstead's experienced squad includes two sets of brothers – Ashley and Wes Jackson and Niall and Ross Stott. They again have Czech Republic international Fillip Neusser in goal to boost their hopes of a sixth successive title.
Beeston, who East Grinstead have beaten in the last two finals, rely on their usual outdoor squad to provide a challenge indoors. And perennial challengers Reading, welcome back former international keeper Nick Brothers, who has retired from the top flight international game.
East Grinstead face in-form Beeston in their opening match at 14:30 on Saturday, with Beeston having also opened the day's proceedings with a clash against Holcombe side at 10:30.
And East Grinstead close proceedings on day one with a clash against Reading at 18:30 in a repeat of last year's final.
Last year's campaign ended in disaster for Beeston as they were beaten 12-4 by Reading in the semi-final. They can make amends for that early on as they kick off the day's action against Holcombe at 10.30.
Holcombe will be up for the fight though and have made a strong start to their outdoor campaign. They have lost only one game in 11 so far and lead the Conference East. They will play Bowdon in their other game at 15.30.
Last year's other semi-finalists, Canterbury, have a difficult double-header of Reading and Loughborough Students to contend with.
Indoor specialist Doncaster also play Loughborough Students and will hope to get the better of Sevenoaks in their other match.
Fixtures for Saturday, December 14 2013:
Beeston v Holcombe 10:30
Bowdon v Sevenoaks 11:30
Doncaster v Loughborough Students 12:30
Canterbury v Reading 13:30
East Grinstead v Beeston 14:30
Holcombe v Bowdon 15:30
Sevenoaks v Doncaster 16:30
Loughborough Students v Canterbury 17:30
Reading v East Grinstead 18:30
Fixtures for Sunday, December 15 2013:
Bowdon v Doncaster 09:00
Canterbury v East Grinstead 10:00
Holcombe v Sevenoaks 11:00
Loughborough Students v Reading 12:00
Beeston v Bowdon 13:00
Doncaster v Canterbury 14:00
East Grinstead v Holcombe 15:00
Sevenoaks v Loughborough Students 16:00
Reading v Beeston 17:00
England Hockey Board Media release
---

Champs Reading prepare to defend women's indoor title



Reading Women, Supersixes winners 2012-13

WOMEN'S indoor hockey returns to Bromsgrove School this weekend with the Maxinutrition Hockey 5s Championship Premier Division.

Reading (pictured) were finally crowned champions of the Maxifuel Super Sixes last year after having to settle for second place in the two previous years.

They will be hoping to defend their title in the new format competition this year but face a difficult set of fixtures on the opening day at Bromsgrove School with Leicester and Bowdon Hightown awaiting them.

Reading are in fine form in the outdoor competition, currently second in the Investec Premier Division but Leicester and Bowdon Hightown are also competing for top four spots.

Reading field a strong squad on the first stage of their title defence, including five players who helped England to the bronze medal in last weekend's World League - Kate and Helen Richardson- Walsh, Sam Quek, Susie Gilbert and Alex Danson.

However Susie Townsend has opted to play for Bowdon Hightown as does Sally Walton. This is in line with tournament regulations where clubs can field a maximum of two players who play outdoors for different teams.

Other registrations of note see England keeper Maddie Hinch in goal for Slough and her team-mate Sophie Bray in the colours of East Grinstead who have been promoted to the top flight for the first time. Another international on show - but from cricket not hockey - is Susie Rowe who is playing for Canterbury.

Bowdon Hightown have the honour of opening this year's competition, taking on East Grinstead at 10:30. The action carries on all day with games starting every hour until Leicester versus Reading at 18:30.

Sunday's programme begins at 9am, with another nine games throughout the day which ends with Leicester versus Bowdon Hightown.

Last year's losing finalists, Sutton Coldfield, have a tough start to their campaign with games against Canterbury and Slough on Saturday.

Canterbury lead the outdoor Investec Women's Hockey Premier Division and have only lost one game thus far. They will be hoping that they can continue their imperious performances indoors.

Olton and West Warwickshire have had a disappointing outdoor campaign, failing to score a single point from 11 games. They will be hoping to put that to the back of their minds when they take on Slough and East Grinstead on Saturday.

Fixtures for Saturday, December 14 2013:
Bowdon Hightown v East Grinstead 10:30
Olton and West Warwickshire v Slough 11:30
Canterbury v Sutton Coldfield 12:30
Harleston Magpies v Leicester 13:30
Reading v Bowdon Hightown 14:30
East Grinstead v Olton and West Warwickshire 15:30
Slough v Canterbury 16:30
Sutton Coldfield v Harleston Magpies 17:30
Leicester v Reading 18:30

Fixtures for Sunday, December 15 2013:
Olton & West Warwicks v Canterbury 09:00
Harleston Magpies v Reading 10:00
East Grinstead v Slough 11:00
Sutton Coldfield v Leicester 12:00
Bowdon Hightown v Olton & West Warwicks 13:00
Canterbury v Harleston Magpies 14:00
Reading v East Grinstead 15:00
Slough v Sutton Coldfield 16:00

England Hockey Board Media release


---

Secret Umpire: hockey's aerial ball leaves me bemused

Secret Umpire's first column provoked wealth of feedback from hockey players and officials. Here, the official signs off for the year raising the issue of the aerial ball rule

By The Secret Umpire



Juggling act: Consistency is what players are really after with aerial pass, says Secret Umpire Photo: AP

Little did I realise that my humble musings would generate such fevered debate last month. Some have questioned the purpose of my thoughts, some the validity and I am sure they will continue to do so.

The great Nottingham Forest and Derby County boss Brian Clough always used to say that "If God had wanted us to play football in the clouds, he'd have put grass up there".

In hockey, the aerial ball from the scoop pass is now part and parcel of the game at all levels.

Yet every season I am bemused by the lack of understanding and differing interpretation with regards to the rules from both players and fellow umpires.

Let me give my own view, one that has received little or no debate from players or coaches in the past few seasons.

A player calling for the ball when it is in the air does not entitle you to receive it; after all, you are not inside your 22 on a rugby pitch calling for a mark.

Early communication from me over who needs to retreat five metres will always assist the situation.

And if on the balance of percentages one looks at the amount of ball that actually ends up with the attacker then you will see it is rare.

As the rule 9.10 states: "If it is not clear which player is the initial receiver, the player of the team which raised the ball must allow the opponent to receive it."

Consistency is, I think, what players are really after here.

In my experience players will accept decisions if they are the same for both teams and the two umpires on the pitch work together, not apart, and are seen to be doing so by players, coaches and spectators.

I thoroughly enjoy umpiring at whatever level it happens to be. For me it is about giving something back to a game I have been involved in since I could walk.

The ability to be able to facilitate hockey, to allow players to show and develop skills is something that gives me great satisfaction.

I have been fortunate enough to have excellent support from coaches and assessors along the way, as well as the odd 'wise' word from more experienced colleagues. Believe it or not, from some players too. Although not all.

What will 2014 bring... perhaps time to consider the green, yellow and red card issue? Do leave your wishlist below...

Secret Umpire appears monthly

The Telegraph


---

Celebrating the Life of Wendy Anderson

Wendy J. Anderson, 58, of East Dennis died December 3rd after a 10-year battle with cancer. She is survived by her parents, Phyllis and Walter Anderson of East Dennis, sister Judy Anderson of Belmont, sister Allyson Anderson-Sterling and brother-in-law Rick Sterling of Mansfield, nieces Sara and Amy Sterling of Mansfield, and brother Stephen Anderson of Sandwich and his family. Wendy was a member of the US Women's National Squad and played in the 1983 World Cup Games.

USFHA media release

Cape Cod Time Obituary

Wendy J. Anderson, 58

EAST DENNIS — Wendy J. Anderson, 58, of East Dennis, died Tuesday, Dec. 3, 2013, at Cape Cod Hospital in Hyannis after a 10-year battle with cancer.

Wendy was an accomplished athlete and coach. She was a 1974 graduate of Hingham High School and of Springfield College in 1978. Wendy was a seven-year member of the U.S. Field Hockey training squad and played for the U.S. Team in 16 international matches including the World Cup Games in Malaysia in 1983. She was selected as an alternate for the U.S. Olympic Team in 1980, which was boycotted in Moscow.

She then turned her dynamism and love of sports to coaching. She was very active in the U.S. Futures Program and other training camps to develop new talent for the U.S. and Olympic Field Hockey teams. Wendy was among the first athletes inducted into the newly formed Hingham High School Athletic Hall of Fame in 1999.

After leaving Springfield, Wendy coached field hockey at Yale, Harvard, Boston University, Bentley College, Northeastern University and finally at Brown University in Providence, R.I. During her successful 13-year tenure as head coach from 1983 to 1997, Wendy led the program to three Ivy-League titles and to Brown's first ever ECAC Championship in 1989. She was also head lacrosse coach at Brown from 1988-92. She was a driving force at Brown in the advocacy of Title IX, a portion of the 1972 Education Amendments to the Civil Rights Act of 1964, to ensure equal availability and funding of women's athletics.

After Brown, Wendy tried her hand at various other interests including National Park Ranger at Olympic National Park in Washington, assistant zoo keeper at Roger Williams Park Zoo, and an EMT at Roger Williams Medical Center.

As her cancer advanced, Wendy's boundless energy and love for animals and nature thrived. She RV'd across the country with her dog, Annie, and visited 55 of 59 National Parks. Scaling Half Dome at Yosemite was just one of the many highlights of her treks.

Wendy is survived by her parents, Walter and Phyllis (LeShane) Anderson of East Dennis; two sisters, Judy Anderson of Belmont, and Allyson Anderson-Sterling and her husband, Rick of Mansfield; two nieces, Sara and Amy Sterling of Mansfield; and a brother, Stephen Anderson of Sandwich and his family.

Family and friends are invited to celebrate Wendy's life from 2 to 5 p.m. on Saturday, Jan. 4, 2014, in the Hallett Funeral Home, 273 Station Ave., South Yarmouth.

As an expression of sympathy, memorial contributions may be made to the National Park Foundation, 1201 Eye St., NW, Suite 550B, Washington, DC 20005; or to the Adenoid Cystic Carcinoma Research Foundation, P.O. Box 442, Needham, MA 02494.

Cape Cod Times