All the news for Tuesday 24 December 2013

SA hockey looks ahead to World Cup 2014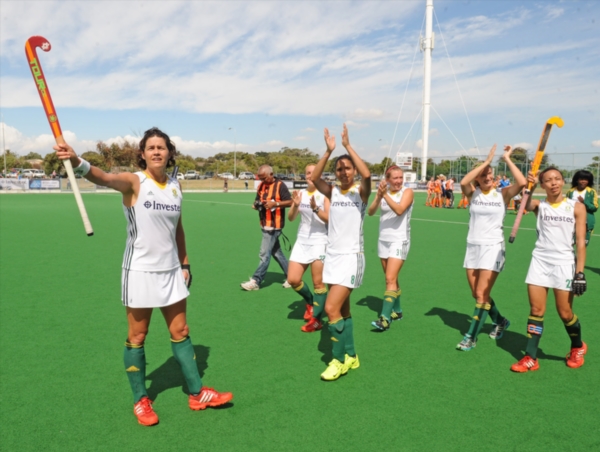 SA players acknowledge the crowd during the Investec Women's International Hockey Challenge Final match between South Africa and Netherlands from Hartleyvale Hockey Stadium on February 10, 2013 in Cape Town, South Africa.Photo by Peter Heeger / Gallo Images

Both national hockey teams enjoyed a largely successful year, according to SA Hockey Association (Saha) chief executive Marissa Langeni, as the country prepares for the Commonwealth Games, as well as the hockey World Cup next year.

"Both teams are looking forward to the Champions Challenge tournament, which is a precursor to the World Cup, as well as the Commonwealth Games in Glasgow," Langeni said.

Despite ups and downs on the local front, which concluded with a 5-0 series defeat for the men's team by Argentina recently, Langeni said strides had been made on the financial front in getting South Africa up to a competitive level.

"Finance will always be a concern for most national confederations. It's not at the optimum that we want it to be," Langeni said.

"However, we continue to be a force to be reckoned with."

The women's team began the year with a 4-0 series defeat to Belgium but later in January went on to qualify for the semi-finals of the World League series, coming through the World League second round to advance to the penultimate round.

A disappointing semi-final tournament in London ended with South Africa finishing seventh out of eight teams, and failing to progress to the final of the World League series.

A similar fate awaited the men, who also came through the second round of the League format.

The South Africans trounced Chile 6-1 in their final fixture of the World League Round 2 tournament in Brazil in March, booking their place at the World League semi-finals.

But their success was short-lived, after finishing last at the World League semis, having claimed a single point in their three pool games.

Ahead of their semi-final disappointment, South Africa's preparation for next year's Hockey World Cup in the Netherlands received a boost, with the national men's team securing a corporate sponsor for the first time in years.

A deal was signed with Mugg and Bean to fund the national side for the next two years. May saw the appointment of Charlie Pereira as head coach of the men's side.

Pereira succeeded Gregg Clark, whose contract ended at the end of last season.

November saw a hugely successful month for both senior national teams, as the men and women won their respective Africa Cup of Nations tournaments and will be the continent's sole representatives at next year's World Cup.

"It was a difficult qualification route. It was quite a difficult set of circumstances," Langeni added.

"Fortunately the tournament went our way. We now look forward to 2014 and not having to worry about our participation.

"The next big thing outside of the World Cup is the Commonwealth Games."

Meanwhile, the under-21 men's side finished 12th overall in the Junior World Cup in Delhi, having won a single group match, before losing out to Pakistan in the final fixtures for classification spots.

Rounding off a successful year for the SA Hockey Federation was their nomination for a third consecutive Federation of the Year award at the South African Sports Awards, but hockey narrowly lost out to Swimming SA.

The Citizen


---

It's a red, white and blue Christmas!




The vibrant red, white and blue Union Jack design of two new state-of-the art hockey pitches have been unveiled at Lee Valley Hockey and Tennis Centre on Queen Elizabeth Olympic Park.

The transformation of the venue, formerly known as Eton Manor and used for the wheelchair tennis event during the London 2012 Paralympic Games, is being undertaken by the London Legacy Development Corporation in preparation for its official opening in spring 2014.

When it opens in spring 2014, Lee Valley Hockey and Tennis Centre will play host to some of hockey's top international tournaments. England Hockey recently won the bid to host the Women's World Cup in 2018 and with the EuroHockey Championships already secured for August 2015, there is now an exciting calendar of major international hockey events to look forward to as the sport continues to go from strength to strength.

Sally Munday, England Hockey Chief Executive, said: "We're really excited to have a fantastic venue for major competitions on Queen Elizabeth Olympic Park. The fact that it is such an eye-catching design will help stimulate fans' pride in the nation when they come to watch our matches. Like the Riverbank Arena during the Games, we're sure that we will now have a venue which will generate a great atmosphere for spectators, and also a stadium at which hockey players will aspire to play."




Lee Valley Hockey and Tennis Centre will host community, club and elite programmes providing opportunities for everyone to get involved with both hockey and tennis and utilise the same premier facilities which will be used by the best players in the world. The venue will boast four indoor and six outdoor tennis courts as well as two of the best hockey pitches in the country and will host major hockey and tennis tournaments including:


Investec London Cup (hockey) 2014
NEC Wheelchair Tennis Masters 2014, 2015, 1016
European Hockey Championships 2015
Women's Champion Trophy (hockey) 2016
Men's World League Round 3 (hockey) 2017
Women's Hockey World Cup 2018

England Hockey Board Media release


---

The hockey world rallies around Beeston's Scanlon

BOA names Barry Middleton as Olympic Athlete of the Year

By Graham Wilson



Beeston in European action Beeston in European action. [GETTY]

THE hockey fraternity has rallied round to give Beeston's Martin Scanlon a morale-boosting Christmas present.

Scanlon is undergoing a second bout of chemotherapy for Hodgkins Lymphoma and his team-mate Sam Ward, the country's top scorer, has led the way in fund-raising for Leukaemia and Lymphoma Research by pledging £50 for each national league goal he scores in the Score4Scan fund. With club support, that has risen to £120 a goal.

Overall donations have just hit the £5,000 mark at the same time as Scanlon's last bout of treatment before the Christmas break, with money coming in from clubs across the country including Preston, Reading, Teddington, Sevenoaks and Bowden from umpires and Oakham School where Scanlon works as a hockey coach.

Scanlon, former Loughborough Student and England Under-21 player, was out for a year having treatment, and returned to first team action this season, only for his condition to come back again in late October. His last game was against his goalkeeper brother Ian, who plays in goal for Premier Division rivals Hampstead and Westminster.

Champions Beeston beat them 6-3 and Martin said: "Unfortunately, I didn't manage to score against him but Sam scored a very expensive hat-trick."

Martin talks of his disease frankly and openly. "It all started happening back in 2012. I knew something was wrong. I could not breathe. The legs were fine but I was gasping for air. I had night sweats, itchy skin and cough.

"When the cancer was diagnosed I was relieved more than anything just to know what was happening to me."

The cancer affects the age groups of 18 to 25 and 40 to 50 and Scanlon turned to Lance Armstrong's book which records his fight against testicular cancer.

"However you look at what has happened since with him, the book inspired millions of people and it inspired me," said Martin. "This sort of thing always plays on your mind. I was just enjoying being back playing when the cancer returned."

Martin was losing his hair through the chemo, which he then shaved off himself and donated £10 to the fund for doing that.

He added: "Three weeks after finishing my second cycle of chemo I will have another scan. If it is all clear I would most likely have my own stem cells put back into me to rebuild my immune system.

"However, if the cancer is not in full remission I will have another cycle of five days' treatment and almost certainly need to have stem cells from a matching donor. Hopefully, my brother will be a match.

"On the day I was re-diagnosed I did at least receive some good news. I was invited to an England trial game against the U21s. Fortunately, there was still a Scanlon representative playing, in the form of my brother."

Martin said: "A big thank you to all who donated. I couldn't have asked for a better Xmas present than breaking £5,000."

The British Olympic Association has named Great Britain captain Barry Middleton their 2013 Olympic Athlete of the Year for hockey. Middleton was instrumental in England's 5-0 victory over Japan to reach the World League semi-finals and secure a place at the 2014 Hockey World Cup.

Daily Express


---

NBP, SSGC record wins at National Hockey

LAHORE: The National Bank of Pakistan (NBP) and the Sui Southern Gas Company (SSGC) registered victories in the National Hockey Championship at the Johar Stadium on Monday.

In the first match, Olympian Mohammad Tousiq's brace helped the NBP overwhelm Navy 4-2 after the bankers led 2-1 at half-time. It was NBP's second win in the tournament following their win against Army in the opener.

While Akhtar Ali opened scoring for the NBP in the 16th minute, Tousiq scored his first goal in the 30th minute capitalising on a short-corner and the second through a field attempt in the 40th. NBP's fourth was an own goal gifted by a Navy defender to the bankers in the 55th minute.

Ali Sher scored both the goals (34th and 56th) for Navy.

Earlier, Navy had played a 3-3 draw in their first match of the event.

Meanwhile, the SSGC overpowered Police 4-1.

Adnan (16th), Sharjeel (37th), Shakeel Abbasi (60th) and Zeeshan Bukhari (68th) scored for the winners. Atif registered the solitary goal for Police, who tasted their second consecutive defeat.

On Sunday, the HEC and the Port Qasim Authority (PQA) played a 2-2 draw. Adeel Zaman in the 55th minute scored the equaliser for the HEC. Earlier, Zeeshan Akram gave the HEC 1-0 an early lead in the second minute. Qasim Atif (26th) and Sohail (33rd) found the net for the PQA.

In another match played on Sunday, Kashif Ali's two goals helped PIA outclass PTV 5-0. Kashif struck in 16th and 51st minutes while Ihsanullah (40th), Azfar Yaqoob (58th) and Nohaiz Zahid Malik (60th) contributed one goal apiece for PIA.

Wapda trounced the SSGC 4-2 in another match. Jaffar (14th), Aleem Bilal (31st) and Zubair Riaz (55th, 61st) scored for Wapda. Mohammad Toufeeq (29th) and Mohammad Rizwan (48th) reduced the margin of defeat for the SSGC.

Tuesday's matches: HEC v Wapda; PIA v Army

Dawn


---

Air India ground Punjab Police

Ludhiana - Air India, Mumbai quelled a strong resistance from Punjab Police, Jalandhar, before emerging victorious (9-8) in the men's section of the All-India Sahibzada Ajit Singh Hockey Tournament at the Punjab Agricultural University.

After the match was tied at 4-4, penalty shoot out decided the fate of the winning team. Air India drew the first blood in the eighth minute through a field goal scored by Joga Singh.

Nine minutes later, they conceded a goal when Satvinder Singh of Punjab Police stunned Air India custodian to make it 1-1. The Mumbai outfit surged ahead in the 30th minute as Barinder Lakra found the target, much to the chagrin of Punjab cops (2-1).

They failed to maintain the lead time as Punjab Police restored parity (2-2) in the 36th minute as skipper Rajpal Singh sounded the board. Air India went into the lead once again through a field goal scored by Aggan Usag in the 48th minute. Punjab Police, down but not out, went all out for the equaliser. Air India wilted bty conceding two goals in quick succession (54th and 58th minutes).

Varun converted a penalty corner, while Rajpal scored a field goal to put Punjab team into the lead (4-3). Punjab cops enjoyed the lead as they managed to keep their opponents at a bay till the last minute. Just a few seconds before the long whistle, Air India forced a penalty corner off which Parmodh Tirkey scored the equaliser (4-4).

The Tribune


---

Skipper Sardara Singh has dreams of returns Indian Hockey's golden days

Manveer Saini

CHANDIGARH: The Captain of Indian Hockey Team and renowned mid fielder Sardara Singh has said that the day is not far when Hockey Sport would regain its glory in India and the country would again be prominent in Hockey.

Sardara Singh said this while practicing with the junior Hockey players in Namdhari Guru Hari Singh College, Jiwan Nagar at Sirsa.

While lauding the role of State Government in the promotion of hockey in Haryana, Sardara Singh said that the State Government has laid more than half a dozen Astroturf in the State. IH captain said that he was happy that the State Government has also given approval for laying Astroturf at the hockey ground in College at Jiwan Nagar where he had learnt hockey skills in his childhood. A sum of about Rs. 5.5 crore would be spent on the construction of this ground where world class facilities would be made available to the players and this would help in producing more hockey players from this area, he added.

Sardara Singh, who ranks among top five players in the world, has so far played 185 international matches. Out of these, 35 matches were played under his captaincy in which the Indian Team registered victory in 27 matches.

Mr. Sardara Singh has also urged the youth completing 18 years of age to get enrolled their name in the voters list so that they could contribute in strengthening the democratic set up of the Country.

The Times of India


---

False report of Sardar Singh's proposed marriage

On Sunday the Indian news paper The Tribune carried a story about Sardar Singh's supposed marriage to English Junior player Ashpal Bhogal after next years World Cup. In good faith the story was also copied on these pages.

I have received notification both from Ashpal and her father, Bobby Bhogal, that this story is completely false. The story has been removed from Fieldhockey.com and I apologise to all parties concerned for any distress carrying the story may have caused.