All the news for Sunday 20 September 2020

Irish Senior Cup: Lisnagarvey and UCD are winners on finals day

By Nigel Ringland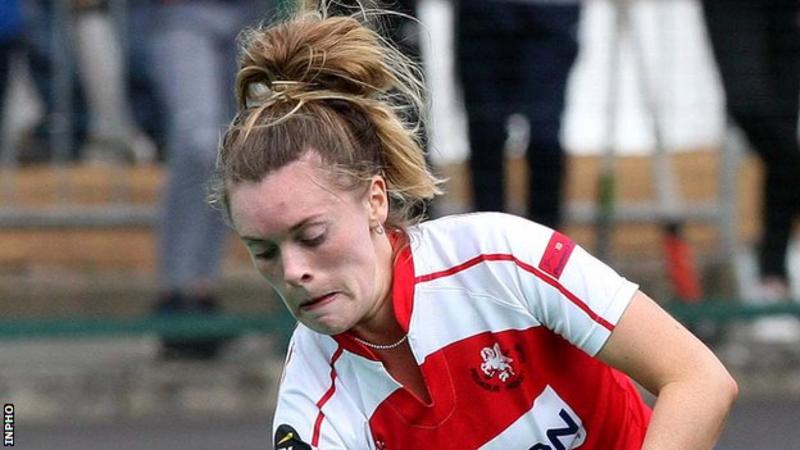 Ruth Maguire was on target for Pegasus

Lisnagarvey ended a 15-year drought by beating UCD 3-2 to win the rescheduled men's Irish Senior Cup final.

Two-one down going into the final quarter, Ben Nelson scored the equaliser with his second of the game before Andy Williamson got the winner.

However, UCD did not leave Comber Road empty handed after their women's team defeated Pegasus 3-1 in their final.

Both games were due to have been played at the end of March, but were cancelled because of the Covid-19 lockdown.

Lisnagarvey were given a shock by UCD but eventually came through in the final quarter to claim the Irish Senior Cup for the 24th time in their history, but the first since 2005.

It was a frantic start to the game with two goals inside the opening couple of minutes.

Garvey took the lead when Nelson converted from close range but almost immediately UCD went straight up the pitch and equalised when Andrew Meates tapped in at the back post.

To the shock of most of the home spectators, the students took the lead in the second quarter when Sam Byrne followed up to score after Guy Sarratt had hit the post.

The Ulster side dominated possession after the interval but could not break down a resolute UCD defence and it took a moment of skill to turn the game back their way.

With 12 minutes remaining, Troy Chambers turned his way past three defenders, the ball finding its way to the stick of Nelson who popped it into the net.

Minutes later, and with Garvey in total charge, Daniel Nelson's cross from the right was controlled and finished by Williamson.

There was still time for drama at the end with UCD awarded a penalty corner, but Sarratt's effort was brilliantly turned onto the post by the diving stick of James Milliken.

It preserved the win for Lisnagarvey, who begin the defence of their Irish Hockey League title next week.

UCD lift women's trophy

UCD were deserved winners of the women's Irish Senior Cup. They caught Pegasus cold in the first quarter with a high press on the Pegasus defence that forced a number of turnovers and led to chances that the students took advantage off.

Irish international Hannah McLoughlin was prominent in everything UCD were doing well and she opened the scoring in the fourth minute with a drag flick from a penalty corner that eluded Pegasus goalkeeper Megan Todd.

UCD doubled their advantage soon after with a sweeping move that eventually saw the persistence of Michelle Carey pay off as she survived two attempted challenges in the Pegasus circle before batting the ball out of mid-air into the goal.

The claims of Pegasus that the ball had rebounded off her body before she applied the finishing touch fell on deaf ears.

It could have been worse for Pegasus before the interval with Todd having to make a couple of saves as her team-mates struggled to gain a foothold in the game.

The Ulster side were much brighter after the break with a Ruth Maguire fine solo run and shot denied by UCD keeper Clodagh Cassin.

However Maguire would eventually open Pegasus' account when she converted Shirley McCay's pass from a well-designed penalty corner routine.

In the final quarter McCay was denied by Cassin from another penalty corner and that was the last chance for Pegasus with UCD making the game safe five minutes from time when Katherine Egan swept home their third goal from a counter attack.

Disappointment for Pegasus who remain without an Irish Senior Cup win since 2011.

BBC Sport


---

Irish Senior Cup, Men's, Match Report. Lisnagarvey v UCD.




Hosts Lisnagarvey have won the Men's Irish Senior Cup for the 2019/20 season in an exciting 3-2 win over a strong UCD's Men's team. The Lisnagarvey club have previously won the prestigious Irish Senior Cup a total of 23 times, and will now add their names to it for a 24th time since the Cup came into existence in 1894.

The game started at an incredible pace with Lisnagarvey's Ben Nelson securing the opening goal of the game within the first 90 seconds. However, UCD's Andrew Meates secured the equaliser before the clock had reach two and half minutes. UCD pressed hard and were awarded a Penalty Corner at 8minutes. The insertion from David Nolan provided Guy Sarratt with a shot on Lisnagarvey's James Milliken, who saved it well with the rebound from Nolan going wide. UCD created a number of opportunities for themselves in the opening quarter, however the Lisnagarvey defence kept the score level as first quarter ended.

UCD took the lead in the second quarter with a goal from Sam Byrne. An aerial pass from Meates coming in close to the goal saw Sarratt attempt to knock it in, hitting the post, and Byrnes finishing the job on the rebound to give UCD the lead. A Green Card for Lisnagarvey's Chambers saw UCD take advantage of their brief spell with an extra player. Attacking again, Sarratt crossed to Murphy for a shot on Milliken, resulting in a Penalty Corner for UCD. An early break in the Lisnagarvey line resulted in a repeated Penalty Corner with one less defender in place, however Sarratt's shot was well saved by James Milliken again. Despite UCD dominating play in the second quarter, Lisnagarvey finished the first half with a run from Daniel Nelson creating an opportunity for Harry Morris. The shot went wide with the half-time score remaining Lisnagarvey 1 – 2 UCD.

Lisnagarvey found their rhythm in the second half. A Penalty Corner shot from James Corry going just wide, followed shortly afterwards by another attack from McNelis and Chambers in the UCD circle. UCD manage to clear their lines, however Lorimer, Lynch and Bell ensured play remained in the UCD half. Despite the level of pressure from the hosts UCD defended well with possession swapping regularly between the two teams.

Sarratt secured a brief reprieve for UCD with a run into Lisnagarvey's half, however this was quickly intercepted and Lisnagarvey were back again posing a threat to UCD's circle. A pass from Bell to Aughey into the circle was resulted in a free out for UCD. Empey lost control of the ball giving Lisnagarvey possession again. A long drive from Lorimer in UCD's circle was saved but not put out of danger. UCD defended well but Lisnagarvey kept possession for another shot by Lorimer, this time kicked clear by UCD Keeper Max Maguire.

A Green Card for Lorimer gave UCD a short respite. Their two minute 11 to 10 man advantage saw Alex Flynn and Peter Lynch both create opportunities to increase their lead, however these were kept out by Lisnagarvey defence. A final shot coming from UCD's Ewan Ramsey was cleared by James Milliken, keeping the score Lisnagarvey 1 – 2 UCD at the close of the third quarter.

A Yellow Card for Lisnagarvey's Andrew Edgar with 13 minutes to go did nothing to help UCD increase their lead. Nelson and Chambers managed to bring the ball into the UCD circle, with Nelson eventually securing the equaliser despite Lisnagarvey being a man down. Lisnagarvey continued to push, and an infringement on Nelson in the UCD circle saw a Penalty Corner awarded to the hosts, although the ensuing shot was blocked.

Andrew Williamson secured the final goal for Lisnagarvey, breaking into the UCD circle and coming within feet of the goal to push it in. UCD continued to work hard for the remainder of the game to secure an equaliser, with a Penalty Corner in the final two minutes the biggest opportunity to do so. The insertion from Nolan provided Sarratt with a chance to drag flick towards the goal, however Milliken tipped the ball to bounce it off the post, maintaining the Lisnagarvey lead.

The game remained exciting to the final whistle. With 30 seconds left on the clock, Nelson broke through the UCD circle and was met by UCD's Andrew Tutty who's interaction with Nelson secured him a Yellow Card, and a Penalty Corner for Lisnagarvey. In what must have been an attempt to run out the clock Lisnagarvey played the ball towards the back corner and another Penalty Corner is awarded in the short burst of play that followed. The Penalty Corner was awarded in the final second of the game with the win now secured for the hosts. The final play of the game saw Lorimer hit the post and the rebound sent wide for the final score of Lisnagarvey 3 – 2 UCD.

Lisnagarvey 3 (B Nelson (2), A Williamson) UCD 2 (A Meates, S Byrne).

Lisnagarvey: J Lorimer, J Lynch, J Bell, M McNellis, J Corry, R Getty, A Williamson, B Nelson, H Morris, D Nelson, M Aughey, M Morris, C Chambers, A Edgar, M Milliken, M Connor, P Hunter, J Milliken, T Chambers, P Watson, J Ritchie.

UCD: M Maguire, J Pullen, A Flynn, A Keane, C Empey, A Tutty, A Meates, D Nolan, J Henry, M Samuel, P Lynch, G Sarratt, C Murphy, E Ramsay, J Guilfoyle, S Wells, S Byrne, I De Boe Agnew

Irish Hockey Association media release


---

Irish Senior Cup, Women's, Match Report. UCD v Pegasus.




UCD Ladies Hockey have won the women's Irish Senior Cup for the third time in four years as the Clubs at last got the chance to finish off the 2019/2020 Senior Cup fixtures.

UCD took an early lead with two goals in the opening quarter. A Penalty Corner in the first five minutes saw KJ Marshall insert for UCD and Hannah McLoughlin put the open goal on the scoreboard. UCD's Michelle Carey showed off some impressive skills shortly afterwards to make it 2-0 to UCD. With a number of Pegasus defenders in the circle trying to keep her out, Carey lifted the ball onto her stick in mid-air, juggling it as she moved before hitting it in past Pegasus keeper Todd.

UCD were the dominant team in the opening quarter, although Pegasus were not without opportunity. UCD's Cassin kept her cool to prevent the first real opportunity for Pegasus getting them on the scoreboard. While a side-line shot across the goal from outside the circle for Shirley McCay went wide without a Pegasus player there to receive it.

Pegasus came out fighting in the second quarter, with a number of early entries into the UCD circle, although kept out of the goal each time. UCD's Patton had an opportunity on the Pegasus goal. While it was kept out by Todd, a Penalty Corner was awarded shortly after. Similar to their first Penalty Corner, Marshall inserted, and McLoughlin took a shot, however Todd was able to save the ball, and Curran's attempt with the rebound went wide. Pegasus' Lucy McKee followed this shortly after with a quick charge down the pitch to challenge UCD, which ultimately was defended. However, an interception from UCD passes saw Beggs with the opportunity to take a shot, not quite producing a goal for the Pegasus side but did succeed in securing a Penalty Corner for them. The insertion from Beggs provided McCay with a shot, deflected from the goal by defence and resulting in a second Penalty Corner. A similar insertion and shot routine followed, although Pegasus lost control of the ball and the half-time score remained UCD 2 – 0 Pegasus.

Pegasus retained the energy they brought to the second quarter for the remainder of the game. Although UCD secured a Penalty Corner early in the second half, this was saved by Todd and rebound was well defended. UCD were able to apply pressure early on in this quarter, however Pegasus seemed to spend much more time in the UCD half of the pitch throughout. A Penalty Corner for Pegasus same Maguire insert to Harvey, with McCay able to find Maguire again, unmarked, to bring Pegasus back into the game; UCD 2 – Pegasus 1.  

Pegasus returned for the final quarter of the match applying serious pressure on UCD in search of an equaliser. The first chance of the quarter coming from Beggs in the UCD circle, although it was well defended by UCD. A Penalty Corner to Pegasus provided McCay with another shot on the UCD goal, however keeper Clodagh Cassin again ensured UCD kept their lead. The pressure from Pegasus was clear when on two occasions UCD opted for long shots down the pitch. Both times failed to see them make any progress towards the Pegasus goal as the UCD players remained in their own half in order to face the attacking Pegasus players. Despite the dominant presence of the Pegasus players in the UCD half of the pitch, Pegasus struggled to stay in the UCD circle when attacking.  

With just over seven minutes left on the clock, UCD managed to push back into Pegasus' half of the pitch. A lovely run from Carey, passed to Young, who was able to provide Katherine Egan with a shot brought UCD to a 3 – 1 lead over Pegasus with just five minutes on the clock. The reaction from Pegasus saw them move to 11 outfield players. While they continued to press throughout the final minutes of the game, UCD remained strong and Pegasus were unable to change the score before the final whistle.

UCD 3 (H McLoughlin, M Carey, K Egan) Pegasus 1 (Maguire).

UCD: L Gunning, C Cassin, A Elliott, S Thomas, N Carey, K Egan, M Carey, S Kelly, H Mcloughlin, C Cope, G Keane, O Patton, S Patton, S Young, E Young, E Curran, N  Heisterkamp, KJ Marshal.

Pegasus: E Armstrong, C Harvey, R Maguire, T Doherty, E Montgomery, M Dougan, N McIvor, M Harvey, L McKee, O Berry, A Speers, S McCay, K McDonald, K Gourley, S Thompson, C Beggs, A Robinson, M Todd.

Irish Hockey Association media release


---

UCD's muscle memory makes light of disrupted preseason to land ISC once again



UCD's Hannah McLoughlin celebrates her goal. Pic: Adrian Boehm

UCD showed plenty of muscle memory to continue their incredible run in the women's Irish Senior Cup with a third title in four years, beating Pegasus 3-1 at Comber Road.

Picture-perfect goals from Hannah McLoughlin and Michelle Carey set them up with a 2-0 lead. Ruth Maguire pulled one back in the third quarter for Pegs but the students killed off the tie in the last ten minutes when Katherine Egan battered in the third from an excellent counter.

It took just four minutes for the students to hit the front with McLoughlin – a strong contender for player of the game in the UCD midfield engine room – dragging a corner into the bottom left corner.  

Last week, their forward line was rendered inert but the return of a quartet of players allowed Carey to move further up the field and it soon paid dividends.

In a tight spot on the baseline, she used some of the tricks picked up on the camogie fields of Coaliste Iosagain where she enjoyed plenty of schools success to chip the ball waist-high and then volleyed home.

A couple more corners went close to adding to the tally as Pegasus got off to a sluggish start but roared back into it after half-time. Maguire's determination led to a first shot on target for Clodagh Cassin to deal with and the midfielder was the scorer in the 44th minute from a clever corner move from the injector spot with Shirley McCay applying the disguise pass.

Pegs threw everything forward but the tie was settled from a blistering counter, Carey providing the slide-rule pass for Sarah Young who picked out Egan to smash in.

In these strange times, captain Ellen Curran got to lift the famous trophy on her own with her team mates at a distance, crowning one of the "strangest" but most cherished successes of her career.  

Her appearance was a big boon for UCD; she picked up an injury in the week lockdown took hold and had only returned to running last week. While her minutes were limited, it added a talismanic presence.

"It has been so long since we even played that semi-final against Loreto last October. We are so grateful to be here today in the circumstances, particularly with Dublin going into level 3 on Friday and we wondered would it be off again."

Indeed, formal word only came through to their team management at 9pm that UCD were allowed make the trip with the college set to go into stricter restrictions than the rest of Dublin.

Their side had three special "guests" play in the final with Suzie Kelly and sisters Orla and Sarah allowed back for a testimonial. They had indicated their plans to move on following graduation but this cup still uses last term's registrations, and it made for the perfect farewell.

That trio had only training once with the team during EYHL preseason – last Thursday night – and so it was a little bit of a surprise that they gelled so quickly.



Megan Todd saves from KJ Marshall. Pic: Adrian Boehm

But coach Miles Warren said they were the perfect people to fit in: "The three girls who came back have played massive minutes for us in the last two years so they arrived at training on Thursday and slotted in seamlessly.  

"They are such lovely girls that, socially, it made the dynamic in the group so happy and everyone was so glad to see them. We came in with little pressure because we felt our preparation wasn't ideal and it was about enjoying the day which they did!

"We played a phenomenal first half, scored the two goals and could have maybe snuck another, then it all changed in the second half.  

"We played into their strengths and they applied a lot of pressure so the girls had to show massive bravery to defend the lead. When we went 2-1, we responded with a brilliant goal from deep in our 25 up the pitch. A fantastic way to kill the game and so happy to win it!"

As for Orla Patton, she signs off on a wonderful time with UCD, winning three Irish Senior Cup medals – like sister Sarah and Kelly – had the tears rolling when her team mates made a special presentation in the aftermath.

"I have been the granny of the team for a year at least!" she joked. "With post-grad studies, I was able to stay a bit longer so I have done six seasons – not quite an all-time record but it's quite long.  



Ellen Curran lifts the Irish Senior Cup. Pic: Adrian Boehm

"The girls are so great and I hope they go on to continue the legacy! With it being last years' squad and there being a lot of turnover in UCD, I was delighted to be asked back and I thought it would be a great way to finish off

"It might be my most successful period in my hockey career but we will see! I couldn't have asked for better and I will cherish this one!"

Women's Irish Senior Cup final

Pegasus 1 (R Maguire) UCD 3 (H McLoughlin, M Carey, K Egan)

UCD: C Cassin, S Kelly, O Patton, KJ Marshall, S Patton, E Curran, H McLoughlin, A Elliott, M Carey, K Egan, S Young

Subs: C Cope, E Young, N Heisterkamp, G Keane, S Thomas, L Gunning, N Carey

Pegasus: M Todd, K McDonald, M Harvey, S McCay, S Quinn, R Maguire, C Beggs, N McIvor, L McKee, A Speers, T Doherty

Subs: E Montgomery, O Berry, K Gourley, C Harvey, M Dougan, A Robinson, E Armstrong

Umpires: K Collins, A Keogh

The Hook


---

ROUND-UP: England Women's Hockey League



Hampstead and Westminster on the attack against Beeston. Credit Andrew Smith.

Two goals from GB under-23's Lottie Ross helped last season's champions Surbiton to a 3-0 victory over Buckingham on the opening day of the new Women's Hockey League Premier Division.

Crowned champions for the seventh consecutive time last season, Surbiton took the lead through Eloise Stenner from a penalty corner in the 33rd minute.

Ross, making her return to Surbiton after a stint with Beeston and the University of Nottingham, bagged her first goal 11 minutes later and sealed victory with just one minute left on the clock.

Two promoted clubs clashed as Division One South champions Wimbledon showed their firepower with a 4-0 defeat of Division One North champions Swansea.



East Grinstead celebrate Sophie Bray's rebound goal. Credit: Peter Smith.

The home side were two goals up at the break with Fiona Burnet taking an early chance on five minutes. Georgie Blackwood doubled Wimbledon's advantage just before the half-hour mark.

After the restart, Suzy Petty made it three before Anna Reynolds converted a penalty stroke on her Wimbledon debut. But the result was marred somewhat with Wimbledon's Eliza Brett being taken to hospital with a head injury.

Last season's runners-up East Grinstead have made comparatively few changes to their squad over the summer, and it was familiar faces Tess Howard and Sophie Bray who scored their goals as they beat Clifton Robinsons 2-1 away from home.

Howard struck in the 15th minute and Bray added a second just after the hour mark.

Kathryn Lane pulled one back for Clifton just four minutes later but East Grinstead held on for all three points.

Finishing just two points behind East Grinstead last season, Hampstead & Westminster were 2-0 winners at Beeston with second half goals from Holly Hunt and Lucy Hyams steering them to victory.

Holcombe hosted Loughborough Students in the day's final game and it was a closely-fought match with Izzy Petter's 14th minute field proving enough to give the Students victory.

RESULTS:

Women's Hockey League (Sat, 19 September 2020):

Premier Division: Beeston 0, Hampstead & Westminster 2; Clifton Robinsons 1, East Grinstead 2; Holcombe 0, Loughborough Students 1; Surbiton 3, Buckingham 0; Wimbledon 4, Swansea 0.

England Hockey Board Media release


---

Familiar faces in Hawke's Bay men's and women's club hockey finals this weekend

By: Louise Gould



Napier Tech's attacking pace and precision in front of goal was too much for Akina Rovers Horsefield. Photo / Ian Cooper

It'll be a case of deja vu in the Hawke's Bay division one women's hockey final after Napier Tech Academy and Havelock North Hockey Club secured semifinal victories.

And there will also be a sense of familarity between the two sides in the men's final next Saturday, after two Bay Independent men's teams qualified.

In the women's competition, it will be the third time in three seasons that Napier Tech and Havelock will face off in the final.

Havelock will be hoping it's their time to shine, after Napier Tech won both previous titles.

Napier's attacking pace and precision in front of goal was too much for Akina Rovers Horsefield, giving them a comfortable 4-0 win at Park Island on Saturday.

The Napier side have scored 59 goals this season, but only conceded seven.

Tech coach Holly Varcoe said her side kept to the game plan throughout the 60-minute match against Akina.

"The girls did exactly what they needed to," she said. "They beat us last time and everything that we did wrong, we fixed. I'm super proud of the girls."

Havelock claimed their place in the final with a 4-2 win over Bay Independent Ferns.

After a 2-1 loss to Bay Ferns with a depleted squad two weeks ago, it was a crucial victory for Havelock.

Havelock defender Sarah Boyd said her team were prepared for a close match.

"They were never far behind us; it was a pretty even game throughout. It was nerve-racking as we tried to hold onto our lead."



Two Bay Independent Club men's teams will face off in a unique final this weekend. Photo / Ian Cooper

In the men's division one semifinals, both Bay Independent teams were victorious.

Bay 1 faced Akina Rovers Waapu on the Big Save turf, winning the match 3-0.

The winning side took a three-goal lead early in the game, holding out with strong defensive work to make the final.

Bay 2 fought a physical game against Taupō Hockey, claiming a close 6-4 win over the visitors.

Taupō took the lead early on, scoring two goals in the first quarter. But hard work from Bay brought the score level and they surpassed Taupō.

New Zealand international Shea McAleese and New Zealand age-group representative Sean Findlay showed their scoring prowess in front of goal, confirming their team's place in next Saturday's final.

Bay 1 player-coach Graeme Findlay, father of Sean, said it was a "gutsy battle" by the team.

"Taupō going two up early put a lot of pressure on us. But we showed composure, held onto the ball and managed to put it away when we needed to," he said.

Both men's and women's finals will take place at Park Island on September 26. Start times are yet to be announced

The New Zealand Herald


---

Hockey coach Graham Reid: Olympics aren't won 2-3 months beforehand but 12 to 18 months in advance

Jonathan Selvaraj



Graham Reid feels that internal matches might be a good substitute for international competition. Hockey India

After a seven month hiatus, international hockey is set to resume on September 22 when the men's and women's teams of Belgium and Germany face off in the Hockey Pro League. However, any return to competition appears a long way off for India's hockey teams. Indian men's team coach Graham Reid only sighs when asked when his team could get international competition. "I'm sick of trying to predict what will happen in the next week or two," he says.

Lack of international competition a major challenge

India is expected to return to the Pro League only in April next year, another seven months from now, but Reid wants his side to be ready for all possibilities. "I think we need to be prepared. We might have a nice schedule planned but that could disappear. We need to be prepared for very limited competition even next year. I hope that's not what we will face. But that might be the case," he says.

While the Indian teams have returned to training at the SAI Bangalore campus after a gap of nearly six months, the lack of any immediate competition is a looming challenge. "New Zealand is already having internal competition, Japan is training with social distancing. The pro league is happening between Belgium and Germany next week. I don't think they can play without practice. These teams have the advantage that they are already playing matches," says Sjoerd Marijne, coach of the Indian women's team.

Are more internal matches the solution?

Matches are important, says Marijne, if only to ascertain the level at which his team is playing. "If you ask me at what level the girls are at this point, it would be difficult to say because you can train a lot of things but you can't compare without matches. We were scheduled to travel to Netherlands for a tour next month and depending how we did there, I could tell you where we have to improve and how far we have progressed, but that's not about to happen," says Marijne.

Reid believes the solution could be playing a lot more internal matches. "If all else fails, we have the numbers to create an environment to play weekly matches and make internal tournaments. The number of players we have access to will decide what that tournament looks like. Hopefully, we can get some junior players as well. What I want us to focus on is in creating an internal competition," he says.

Playing internal matches might be a stopgap, but Marijne admits they might not serve the same purpose as international games. "In training matches, there are no consequences for failure. In international matches, there are consequences and that's the big difference. The other difference is that when you are playing a team like Germany, you are playing against a different system and style. You are forced to learn different things. When you play against each other, you already know how your opponents will react," he says.

Reid drawing on past experience

But Reid believes this doesn't always have to be the case. He explains using the example of the Australian team's preparation for the 2014 World Cup. Reid was working with the side then, and when budget concerns meant that the squad couldn't travel overseas, they had no option but to play internal games.

"As part of a study, we mapped out the GPS data during these internal competition games. Later, we did the same at the World Cup. When we compared the GPS data from the World Cup to the one at the internal competition games, we found the level at which the team was playing was something like 1.5 times the ones at the World Cup. What that shows is that it's possible to create an internal environment which can replicate world class standards," Reid says.

It isn't just an Australian example. Reid says he had the side play internal games last year as well between the Olympic qualifiers against Russia in November and then their first match of the 2020 Pro League, against Holland in January (which the side won 5-2).

"We saw much higher numbers in our internal games then as well. That was quite pleasing. Historically, it's been the case that internal games don't really matter. That's what I'm trying to impress on the guys that internal games are really important, not just from a matter of Olympic selection but for lifting our competition standards," he says.



Indian captain Manpreet Singh was among six players who tested positive for coronavirus after returning from home. Hockey India

But while internal matches might be a workaround measure, what the teams certainly cannot compromise on is in continuous training. The teams have already suffered a break of six months since their last camp and both Reid and Marijne are clear that any further stoppages would be problematic.

Following the end of the current camp at the end of the month, the teams have a two-week break followed by a camp from October 17 to November 28, and then another camp from December 21 to January 30. Both Reid and Marijne say they hope the camps can be extended so that all three of them can be run without any break.

Players going back home a big concern

"It's very nice for the guys to go home but that means another two weeks coming back, and then there's a risk of catching infections. Better that we give them a week here and then link the next camp together. I don't want them to go home. One reason is they throw away two weeks coming into quarantine. And they can't have as much physical activity and that sets them back by a couple of months," says Reid.

Reid, of course, is speaking from recent experience, considering the difficulty in getting the hockey teams together for the current camp. The restart was not short of complications, with six players, including captain Manpreet Singh, testing positive for the coronavirus. That early setback though seems to have been overcome with the infected players having recovered and rejoined training.

"Every one of them is almost back with the normal group. At this stage, they are about two weeks behind the rest of the team from a fitness perspective, but we will merge the groups together soon," he says. "If we have four sessions in a week for the rest of the team, I'll give them (the players who have recovered from coronavirus) only 2 sessions. It's just that we are being conservative with their recovery. They are chomping at the bit and we have to hold them back. They have to be eased back. It's a bit conservative for their liking. They are telling me, "come on coach. Put us in coach," he says.

While things have returned to some sort of a groove, Reid wants to ensure they stay that way. "I've said Olympics aren't won 2-3 months beforehand but 12 to 18 beforehand. We need to keep the players together here. I think it's much safer inside the campus than outside," he says.

ESPN 


---

Indoor hockey league starts next month

By Jugjet Singh



Malaysia defeated the Philippines 16-0 in an indoor hockey match at the 2017 KL Sea Games. BERNAMA PIC

KUALA LUMPUR: The Malaysia Indoor Hockey League (MIHL) will make its debut on Oct 24 at the Universiti Pendidikan Sultan Idris (UPSI) in Tanjung Malim, international.

The tournament will run for five weeks.

Malaysia Hockey Confederation (MHC) indoor committee revealed the tournament will be used to form national indoor hockey teams.

The men's competition has attracted 14 teams while 10 teams will battle for the women's crown.

"We will use the tournament to form the men and women's national teams. There will be three international indoor tournaments, including the World Cup qualifiers, next year," MHC indoor committee chairman Shurizan Mansor in Bukit Jalil here today.

The committee also revealed that men's national field coach Arul Selvaraj has verbally agreed to release his players for the weekend matches.

"As for the women national players, coach Nasihin Nubli has just been appointed on Friday.

"However, we are positive that he will also accommodate our request," said Shurizan.

Indoor hockey came to life in Malaysia after it became part of the Sea Games for the first time at the 2017 KL edition.

Malaysia dominated the event at last year's Philippines Sea Games.

"For the last two Sea Games editions, field players and ad-hoc coaches were used, but we still managed to win gold medals.

"But our long-term plan is to have exclusive indoor players. We will also request for permanent coaches from the parent body," Shurizan added.

At the Asian level, the men's national team were bronze medallists (behind champions Iran and runners-up Kazakhstan) while the women finished fourth (behind Kazakhstan, Thailand and Uzbekistan) in last year's Indoor Asia Cup in Chonburi, Thailand.

"Even with little training and matches, Malaysia still gave a good challenge in the Asia Cup. And with Vietnam possibly hosting indoor hockey in next year's Sea Games, we need to be ready to defend our gold medals," Shurizan added.

New Straits Times


---

Three cheers for Balbir Singh Junior, a hockey player not many know about

Balbir Singh (Jr) was born on May 2, 1932, at Sansarpur (Jalandhar), which is known as the nursery of hockey players in India. He took to playing hockey from the early age of six

Wg Cdr DPS Bajwa (retd)



Balbir Singh Junior, a player par excellence.(Sourced)

Hockey legend late Balbir Singh (Senior) who brought laurels to the country is a much admired figure in India. However, not many remember his contemporary Balbir Singh (Junior), an outstanding hockey player of the same era and a very media shy person.

Balbir Singh (Jr) was born on May 2, 1932, at Sansarpur (Jalandhar), which is known as the nursery of hockey players in India. As was customary, he took to playing hockey from the early age of six and later became a player of national fame.

While studying at Lyallpur Khalsa College in Jalandhar in 1951, he was selected to play for the Indian hockey team touring Afghanistan and was also a part of the Punjab state hockey team for the Nationals at Madras in 1951 as well as at Calcutta in 1952. Besides playing against Pakistan at Lahore during this period, his team also won the Dhyan Chand Hockey Tournament at Delhi in 1953-54.

As he completed his graduation from DAV College in Jalandhar, the name of Balbir Singh (Jr) is inscribed on the roll of honour boards there as well as Lyallpur Khalsa College.

He was the captain of the Punjab University team. They won an inter-university tournament at Sagar under his captaincy. His other team-mates were Balkishan, Prithipal, Charles Stephen, and Kulwant Arora, who went on to become Olympians later. At Sagar, a representative of the East Bengal League met and wooed him with an attractive package.

Controversy arose when he played for Calcutta League and the Punjab Hockey Association objected on the grounds that he had not sought their permission and stopped him from playing. Balbir Singh (Jr) then met Ashwini Kumar, (president of the association), who was then the commandant of the Police Training School at Phillaur, for clearance to play.

However, Ashwini Kumar instructed him to join the Punjab police team, which at that time was playing the Gold Cup Tournament at Bombay.

When Balbir Singh (Jr) pleaded that the Calcutta League would suspend him if he did so, Ashwini Kumar retorted: "You deserve that."

Ashwini Kumar offered him a job as sub-inspector if he chose to join Punjab police, but Balbir Singh (Jr) chose not to accept because he felt there was lot of friction in the Punjab police team amongst some prominent players.

He then returned to Calcutta and Bengal state selected him to play for them as centre forward in the National Games at Bangalore. By then his friend Sarpal Singh had joined Indian Railways, and on his recommendation Balbir Singh (Jr) joined the engineering wing of Indian Railways as an apprentice permanent way inspector (PWI). He represented the Indian Railways Hockey team on tours to various European countries such as the erstwhile Czechoslovakia, Spain, Switzerland and Italy as well as three test matches at Amsterdam in the Netherlands, and won most of the matches.

During the National Tournament at Jalandhar in 1956, he played so well that people say he even overshadowed Balbir Singh (Sr) of Punjab Police.

This player was instrumental in the success of the Indian Railways team, which won the National Hockey Championship for three consecutive years in 1957-1959. He was one of the 18 players selected for Olympics at Melbourne.

His career took a turn in 1962, when he joined the Army as an emergency commissioned officer. He played for the Services hockey team at the National Hockey Tournaments at Delhi. While in the Army he played test matches against the visiting Kenyan Team.

Balbir Singh (Jr) retired as a Major in 1984 and is now settled in Chandigarh. Post-retirement, he was an active golfer at the Chandigarh Golf Club. Now an octogenarian and a few health issues notwithstanding, he is basking in the glory of his career as a sportsman of national fame as well as a Defence officer, though he did not seek any limelight.

Hindustan Times