All the news for Tuesday 14 January 2020

Chinglensana, Sumit back in squad for Pro League opener

Midfielders Chinglesana Singh and Sumit alongside striker Gurjant Singh were picked for the Indian men's hockey team's Pro League opener against Netherlands

Uthra Ganesan



Experienced midfielder Chinglensana Singh was sidelined due to an ankle injury he suffered during the National Men's Senior Championship 2019.   -  Special Arrangement

Experienced Chinglensana Singh returned to the Indian team after almost a year while youngster Sumit too made the cut for the 20-member Indian men's hockey team that would take on World No. 3 Netherlands for the FIH Hockey Pro League 2020 season-opener later this week.

India would play on January 18 and 19 in Bhubaneswar in the first of its four home fixtures of the competition.

While Chinglensana suffered an ankle fracture during the final of the 9th National Championships in February last year in February – even though he led Railways to a title triumph – Sumit had suffered a wrist injury during the FIH Men's Series Finals in June 2019, which India won.

"We have chosen a relatively experienced team. While Varun will be back in training this week, he wasn't able to be considered for selection. But we will get a chance to see Chinglensana and Sumit coming back from long injury lay-offs. Both have been training well and are physically fit. It will be important to start strong and sharp in the Pro League with our first three ties being against the top-three teams in the world. We will be focussing on getting our structures right as preparation for our Olympic campaign," chief coach Graham Reid said.

Also coming back after a long hiatus was striker Gurjant Singh, part of the 2016 Junior World Cup side but failing to cement his place in the senior side, after impressing the team management during the national camps.

However, defender and drag-flicker Varun Kumar failed to get back to full fitness in time after suffering a nerve injury during the Olympic Qualifiers in November last.

India last played Netherlands in the quarterfinals of the 2018 World Cup, losing 1-2 to the eventual runners-up. India would then take on Belgium (February 8-9) and Australia (February 21-22) before leaving for their away fixtures.

Indian team for the FIH Pro League:
P.R. Sreejesh, Krishan Bahadur Pathak, Harmanpreet Singh (Vice Captain), Gurinder Singh, Amit Rohidas, Surender Kumar, Birendra Lakra, Rupinder Pal Singh, Manpreet Singh (Captain), Vivek Sagar Prasad, Chinglensana Singh, Nilakanta Sharma, Sumit, Gurjant Singh, S.V. Sunil, Lalit Kumar Upadhyay, Mandeep Singh, Akashdeep Singh, Gursahibjit Singh, Kothajit Singh Khadangbam.

Sportstar


---

GB Squads Selected For Opening 2020 FIH Pro League Matches




Great Britain's opening 2020 FIH Pro League squads have been selected, with 22 members in each team set to travel to play Australia (1-2 February) and New Zealand (8-9 February).

Rupert Shipperley is in line to make his GB debut having been called up for the first time, having impressed while training with the squad before and after Christmas.

He joins fellow Welsh international Jacob Draper – who has recently been handed a full-time place in the men's programme – in the squad and will wear the number 8 shirt.

Ashley Jackson, Mark Gleghorne, Liam Ansell, Luke Taylor and Chris Griffiths also return having not featured in the FIH Olympic Qualifier against Malaysia in November.

Mark Hager has selected all 18 players who saw GB's women book their place at Tokyo 2020 by overcoming Chile at the end of last year, while also welcoming back Sarah Jones after a period of illness.

Grace Balsdon, Esme Burge and Ellie Rayer also return while Sarah Evans, Emily Defroand and Amy Tennant miss out through injury.

This will be the first time both teams experience the new format of the FIH Pro League, playing two double headers away from home this season before hosting Australia and New Zealand in London during the 2021 campaign.

Hampstead & Westminster's Shipperley is no stranger to international hockey, having played 70 times for Wales since his debut back in 2014. He also captained them to an impressive sixth-placed finish during the 2019 EuroHockey Championships.

And now he cannot wait to pull on a Great Britain shirt for the first time and step out alongside the rest of the squad in just a few weeks.

"I was absolutely buzzing when I found out," he said. "It's been something I've been working towards for a long time so to finally get an opportunity to play is really exciting.

"I'm really looking forward to it. Obviously it's a really big moment. It will be nice to play with some of these players instead of against them in an international game."

GB men's head coach Danny Kerry said: "I'm very excited to get going in 2020 FIH Pro League with the slightly new format, which will also give us good information for Tokyo where we have some double headers.

"Australia is a fantastic fixture. They are rightly one of the leading teams in the world at the moment and it's always a fantastic game so we're looking forward to that. New Zealand have also got more of their older and more experienced players back so I'm expecting them to be stronger than our previous matches.

"He's been around the group for a little while now. He's very athletic, has good technical skills and a fantastic work rate and we want to expose him against some of the leading sides to see if he's got what it takes."

Hager added: "It's a really exciting time. We've got good versatility in our squad. It's exciting to be able to start and get underway.

"It will be an interesting concept playing the back-to-back games, which we had a little bit of experience of with the FIH Olympic Qualifier.

"This is an opportunity for us to start well with some good challenges – Australia played in the Grand Final last year and New Zealand have got a few players who have come back which will be interesting."

GB women to take on Australia (1-2 Feb) & New Zealand (8-9 Feb)
1) Maddie Hinch (GK) (ENG)
4) Laura Unsworth (ENG)
6) Anna Toman (ENG)
7) Hannah Martin (ENG)
9) Susannah Townsend (ENG)
10) Sarah Robertson (SCO)
13) Ellie Rayer (ENG)
14) Tess Howard (ENG)
17) Sarah Jones (WAL)
18) Giselle Ansley (ENG)
20) Hollie Pearne-Webb (C) (ENG)
22) Lizzie Neal (ENG)
24) Shona McCallin (ENG)
25) Sabbie Heesh (GK) (ENG)
26) Lily Owsley (ENG)
27) Jo Hunter (ENG)
29) Esme Burge (ENG)
31) Grace Balsdon (ENG)
32) Amy Costello (SCO)
33) Izzy Petter (ENG)
34) Charlotte Watson (SCO)
35) Leah Wilkinson (WAL)

GB men to take on Australia (1-2 Feb) & New Zealand (8-9 Feb)
1) George Pinner (GK) (ENG)
2) Harry Gibson (GK) (ENG)
3) Luke Taylor (ENG)
5) David Ames (ENG)
7) Alan Forsyth (SCO)
8) Rupert Shipperley (WAL)
9) Harry Martin (ENG)
10) Chris Griffiths (ENG)
11) Ian Sloan (ENG)
14) Mark Gleghorne (ENG)
15) Phil Roper (ENG)
16) Adam Dixon (C) (ENG)
17) Ashley Jackson (ENG)
21) Liam Ansell (ENG)
22) David Condon (ENG)
25) Jack Waller (ENG)
26) James Gall (ENG)
27) Liam Sanford (ENG)
29) Tom Sorsby (ENG)
31) Will Calnan (ENG)
32) Zach Wallace (ENG)
33) Jacob Draper (WAL)

Great Britain will host four weekends of high octane FIH Pro League action once again this summer so don't miss out on your chance to be part of #ThePride and watch the action, support your country and have a great day out watching the best international hockey has to offer.

For more information, please click here.

Great Britain Hockey media release


---

Uncapped Welshman Rupert Shipperley named in squad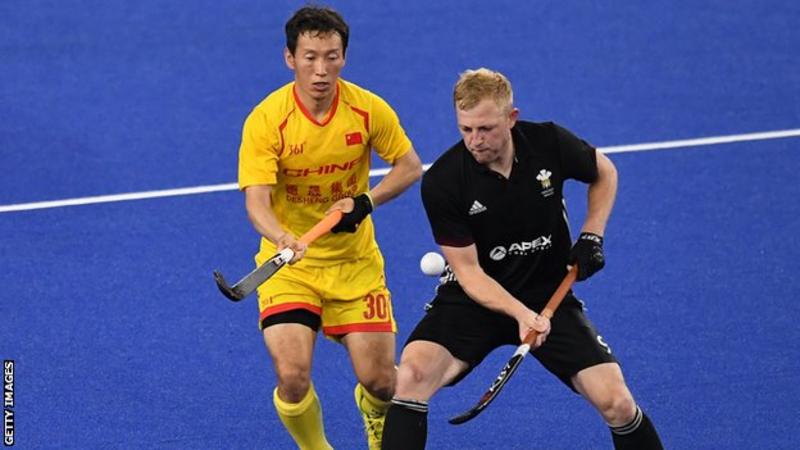 Rupert Shipperley plays club hockey for Hampstead & Westminster

Great Britain have named uncapped Welshman Rupert Shipperley in the men's squad for the FIH Pro League fixtures with Australia and New Zealand.

Shipperley is in line to make his GB debut and joins fellow Welsh international Jacob Draper.

In the women's team, all 18 players who saw GB book their place at Tokyo 2020 have been selected.

Grace Balsdon, Esme Burge and Ellie Rayer return but Sarah Evans, Emily Defroand and Amy Tennant are injured.

Shipperley is no stranger to international hockey, having played 70 times for Wales since his debut back in 2014.

"I was absolutely buzzing when I found out," he said. "It's been something I've been working towards for a long time so to finally get an opportunity to play is really exciting.

"I'm really looking forward to it. Obviously it's a really big moment. It will be nice to play with some of these players instead of against them in an international game."

Also in the men's team are Ashley Jackson, Mark Gleghorne, Liam Ansell, Luke Taylor and Chris Griffiths, who return having not featured in the FIH Olympic Qualifier against Malaysia in November.

Alex Danson-Bennett is back training but is not considered for the women's team this trip.

Danson-Bennett returned to the Great Britain hockey set-up 18 months after suffering a head injury that she says "tested her to her limits".

This will be the first time both teams experience the new format of the FIH Pro League, playing two double headers away from home this season before hosting Australia and New Zealand in London in 2021.

GB women to take on Australia (1-2 Feb) & New Zealand (8-9 Feb): Maddie Hinch. Laura Unsworth, Anna Toman, Hannah Martin,, Susannah Townsend, Sarah Robertson, Ellie Rayer, Tess Howard, Sarah Jones, Giselle Ansley, Hollie Pearne-Webb, Lizzie Neal, Shona McCallin, Sabbie Heesh, Lily Owsley, Jo Hunter, Esme Burge, Grace Balsdon, Amy Costello, Izzy Petter, Charlotte Watson, Leah Wilkinson

GB men to take on Australia (1-2 Feb) & New Zealand (8-9 Feb): George Pinner, Harry Gibson, Luke Taylor, David Ames, Alan Forsyth, Rupert Shipperley, Harry Martin, Chris Griffiths, Ian Sloan, Mark Gleghorne, Phil Roper, Adam Dixon, Ashley Jackson, Liam Ansell, David Condon, Jack Waller, James Gall, Liam Sanford, Tom Sorsby, Will Calnan, Zach Wallace, Jacob Draper

BBC Sport


---

Players aplenty on brink of milestones



Matthew Swann is on the verge of 200 caps for Australia

Further adding to the excitement of the new FIH Pro League season kicking off, a host of Hockeyroos and Kookaburras are nearing significant individual milestones.

In all, 10 players are in line to celebrate major appearance milestones during the upcoming four Pro League double headers at the Sydney Olympic Park Hockey Centre, although Kookaburras forward Blake Govers (97 matches) is an exemption from that list as he continues his recovery from a torn adductor.

The impending milestone of most immediate note is defender Jeremy Hayward. Having made his debut in March 2014 against China, the Kookaburras' number 32 is set to make his 150th appearance on the opening match day against Belgium on 25 January.

Then on match day two against Belgium midfielder Matt Swann is in line to reach the 200 game milestone. Swann's match tally to date has included two Olympic Games and Commonwealth Games, and three World Cups following his Kookaburras debut in October 2009.

Currently sitting on 197 appearances is Hockeyroos defender Edwina Bone and Kookaburras midfielder Jake Whetton. If they play both matches against Belgium, their 200th appearances will likely come up in the opening match day against Great Britain on Saturday 1 February.

That match may also be a milestone match for Karri McMahon, who will reach 150 Hockeyroos appearances providing she plays both times against Belgium.

Tom Craig is three matches off making his 100th Kookaburras appearance and there is no doubt the Kookaburras forward, who heralds from Sydney's lower north shore, would not only love to celebrate it celebrate it in front of family and friends in his home city, but also score in a Kookaburras win.

The other three players with milestones pending that could be reached during the Pro League matches in Sydney are Jocelyn Bartram and Tom Wickham, who currently have 48 international caps, while four more appearances would see Rosie Malone reach 50 matches for the Hockeyroos.

Meanwhile, Kookaburras co-captain Eddie Ockenden is eight matches away from eclipsing Jamie Dwyer's all time record of 365 Kookaburras appearances. If Ockenden, who was named the 2019 Kookaburras Player of the Year, plays every Pro League match to start the season, he will set the record in the home Pro League encounter against reigning Olympic gold medallists Argentina in Perth on Saturday 7 March.

Kalindi Commerford currently sits on 45 matches and providing she plays all four matches in Sydney, she would make her 50th Hockeyroos appearance in the opening match day against Argentina.

The Kookaburras and Hockeyroos' double headers in Sydney are against Belgium on 25/26 January followed by Great Britain on 1/2 February.

Tickets for all of the FIH Pro League matches in Sydney and Perth are available now through Ticketek.

Kookaburras and Hockeyroos – upcoming milestones
Eddie Ockenden 358 appearances
Matthew Swann 198
Edwina Bone 197
Jake Whetton 197
Jeremy Hayward 149
Karri McMahon 147
Tom Craig 97
Blake Govers 97
Jocelyn Bartram 48
Tom Wickham 48
Rosie Malone 46
Kalindi Commerford 45

Hockey Australia media release


---

Australia A team to play matches against Belgium A in Sydney




An Australia A team comprising a number of Kookaburras together with selected players from the National Development Squad (NDS) will take on Belgium A in four matches in Sydney beginning on Tuesday 21 January 2020.

To be coached by former Kookaburra and current Victorian Institute of Sport (VIS) Head of Men's Hockey Jay Stacy, the 14 players picked from the NDS will be joined by players from the Kookaburras squad who are not selected for the FIH Pro League matches against Belgium.

The team will come together for four matches against a corresponding Belgian team who are sending 36 players (comprising their senior national squad the Red Lions and 13 from their development squad) to Australia ahead of the Pro League matches on 25/26 January.

"These matches are a great and rare opportunity for the development players selected to test themselves against quality European competition," said Kookaburras Head Coach Colin Batch.

"For the Kookaburras players who do not get selected for the Pro League matches, it provides them with some valuable game time in the early part of what is going to be a massive year."

Of the NDS players selected, Jack Hayes and Ben Staines both played in the recent Open Division Final of the Australian Indoor Hockey Festival in Wollongong, while all of the players featured prominently for their respective teams in the inaugural Sultana Bran Hockey One season.

"The depth of Australian hockey at the moment – we have a number of players who can fill 18 spots and it's very competitive and very healthy for the squad moving forward," said Stacy.

"I'm sure the Kookaburras players coming into this squad will be really determined to show their wares and show the selectors for the following weekend and the rest of the Pro League that they are ready to go and are in good form."

"For the guys in the Development Squad, it is great experience for them to get a close up look and see what skills and attributes these Kookaburras players have in their game in order to make the next step."

While these will be key objectives for the players going into the matches, Stacy reiterated the team's ultimate aim is what every team goes into a match to achieve.

"My expectations are that we're going into it to win four matches," said Stacy.

"But we also want to make it an enjoyable experience. It is an early start to what is a long year for the athletes, so we've got to be conscious of that and about going too hard too early for the year.

"These important opportunities don't come around at the senior level all that often, so we want to give them the opportunity to perform well against really good opposition in a pressure situation.

"These development players are knocking on the door for post Tokyo 2020 and they want to be putting their hand up for the first squad that is selected post Tokyo."

Stacy, who took charge of an Australia A team back in 2012 in the lead up to the London Olympics, is excited about the opportunity to be part of the concept again.

"I have been involved with VIS and the Development Program for 10 years so it's exciting to be given the opportunity to coach this group and hopefully together with (Assistant Coaches) Andrew (McDonald) and Ben (Bishop) we can impart some of our knowledge," said Stacy.

"We don't get these chances very often as players or as coaches. To have the opportunity to lead a full coaching staff at international level, put together a game plan and try and win some matches is a nice challenge. I'm also really excited to work with the best up and coming athletes in the country."

The team will assemble in Sydney on Saturday ahead of the first match on Tuesday at Sutherland Hockey Club. The remaining three matches will be played at the Sydney Olympic Park Hockey Centre.

The general public is welcome to attend the matches free of charge, however for the matches on 25/26 January, patrons will need to vacate the stadium at the conclusion as the venue goes into lockdown prior to gates opening for the FIH Pro League matches.
Australia A Team – National Development Squad players
| | | | |
| --- | --- | --- | --- |
| Name | Date of Birth | Hometown, State | Hockey One Team |
| Kiran Arunasalam | 1-Jun-1995 | Melbourne, VIC | HC Melbourne |
| Hayden Beltz | 8-Sep-1997 | Hobart, TAS | Tassie Tigers |
| Lachlan Busiko | 13-Jan-1998 | Naracoorte, SA | Adelaide Fire |
| James Day | 26-Jun-1994 | Canberra, ACT | Canberra Chill |
| Jack Hayes | 30-Mar-1994 | Albion Park, NSW | NSW Pride |
| Max Hendry | 16-Jan-1998 | Melbourne, VIC | HC Melbourne |
| Dylan Martin | 12-Jan-1998 | Wagga Wagga, NSW | NSW Pride |
| Hugh Pembroke | 10-Jul-1994 | Burbank, QLD | Brisbane Blaze |
| Jayshaan Randhawa | 28-Oct-1993 | Melbourne, VIC | HC Melbourne |
| Joel Rintala | 24-Jul-1996 | Townsville, QLD | Brisbane Blaze |
| Jake Sherren | 10-Dec-1993 | Melbourne, VIC | HC Melbourne |
| Ben Staines | 13-Jul-1997 | Canberra, ACT | Canberra Chill |
| Ash Thomas (gk) | 21-Jul-1995 | Baulkam Hills, NSW | NSW Pride |
| Blake Wotherspoon | 20-Feb-1997 | Murwillumbah, QLD | Brisbane Blaze |
Coaching Staff
Head Coach – Jay Stacy
Assistant Coach – Andrew McDonald
Assistant Coach – Ben Bishop

Australia A v Belgium A – Match Details
Tuesday 21 January 2020
Sutherland Hockey Club
Start Time: 5.30pm AEDT

Thursday 23 January 2020
Sydney Olympic Park Hockey Centre
Start Time: 7pm AEDT

Saturday 25 January 2020
Sydney Olympic Park Hockey Centre
Start Time: 11am AEDT

Sunday 26 January 2020
Sydney Olympic Park Hockey Centre
Start Time: 10am AEDT

Hockey Australia media release


---

Niskayuna's Hanks earns spot on U.S. field hockey team

'Incredible honor' for 2014 Niskayuna High School graduate

Jim Schiltz



Carrie Hanks, center, competes at the 2016 Junior Women's World Cup. Photographer: USA Field Hockey/Mark Palczewski

With diligence and sweat, field hockey dreams can come true.

Just ask Niskayuna High School graduate Carrie Hanks, who late last week was selected to the 2020 United States Women's National Team after years of climbing the program's ladder.

Hanks had previously been a member of several outdoor national junior teams and had spent time with the senior development team. The University of Maryland graduate's field hockey resume also includes stints with national indoor junior and senior teams.

"It's an insane feeling," Hanks said in a phone interview Monday from England, where the 23-year-old is studying at Nottingham Trent University. "I am so grateful to have gotten to this point. It is an incredible honor to be moving along with this team. This is what people think of when they think of Team USA."

Hanks was named to the national senior team after a tryout Jan. 6-8 at Spooky Nook Sports in Lancaster, Pennsylvania.

"There were 50 or 60 of us, and it was intense," Hanks said. "They were expecting a high level. They were looking for personal traits and playing traits."

Hanks is a 2014 Niskayuna High School graduate, a school where her older sisters Megan and Jenn also played field hockey. Carrie Hanks said she has received numerous congratulatory emails since learning that she made the nation's senior team from USWNT head coach Caroline Nelson-Nichols.

"I have talked to a lot of my former coaches, and I can tell they're so excited for me," Hanks said. "I made sure to tell them, 'You are part of this.'"

Hanks said her objective heading into the team tryout was to maintain a position with the national program, be it with Team USA or the senior development squad.

"Of course, I wanted to make the national team," Hanks said. "When I got the email and saw congratulations — oh my gosh. It's something I've wanted for so long."

Hanks was a star midfielder while at Niskayuna — her parents Susie and Paul still reside there — but began to play defense in her early years with the national field hockey program, and continued in that role at Maryland.

Hanks started every game of her four-year career at Maryland, and helped the Terrapins reach the NCAA Division I championship game while earning All-American status as a senior.

"I've got quite a bit of experience in the backfield," Hanks said. "But I will play wherever they see fit."

Hanks is a member of the Nottingham Trent University field hockey team, and also competes for the Beeston Hockey Club located in Nottingham.

"The university and my club team have been so supportive," Hanks said. "My club coach [Colin Clarke] said, 'My goal is to send you back ready to make that national team.'"

Team USA will be competing against teams from several other countries in the FIH Hockey Pro League for the next several months. Team USA begins play a week from Friday with a match against The Netherlands at University of North Carolina.

"The athletes have worked incredibly hard through the recent trials to secure an opportunity to represent Team USA in the upcoming FIH Hockey Pro League season," Nelson-Nichols said in a press release announcing the team roster. "Our staff is excited to work with this talented group."

"At this point, my goal for the next six months is to give them [Team USA] all of my energy," Hanks said.

Hanks graduated from Maryland in May 2018 with a journalism major and a Spanish minor, and headed to England later that summer. She has earned a master's in international relations from Nottingham Trent University, and is currently working on another in international development.

The Daily Gazette


---

2020 U.S. Women's National Development Team Revealed




LANCASTER, Pa. – Following a thorough trial to begin the year, the U.S. Women's National Team High Performance Staff has announced the 2020 U.S. Women's National Development Team.

"The Development Team plays an important role in the Olympic Development Pathway with four of the newly named U.S. Women's National Team athletes having represented the Development Team in 2019," said Phil Edwards, USA Field Hockey's Senior Manager of Coaching and Performance. "The team named today includes a nice mix of returning Development Team players and those from the 2019 U-21 [USWNT] team along with some new faces. We look forward to continuing to support them along their field hockey journey."

The 23 athletes selected to the 2020 U.S. Women's National Development Team were named following their performances at the USWNT Trial from January 6 to 8 at Spooky Nook Sports in Lancaster, Pa. This pool of athletes consisted of 2019 U.S. Women's National Team members, athletes selected from the 2019 Young Women's National Championship and players recommended by their respective collegiate coaches.

The U.S. Women's National Development Team accounts for the transitional phase between the U-21 USWNT and the senior USWNT. Several of the trial attendees recently completed their final college season and are no longer permitted to be on the junior team due to age restrictions.

Congratulations to the following athletes who have been named to the 2020 U.S. Women's National Development Team:

Carter Ayars (Wilmington, Del.), Kendall Ballard (Charlottesville, Va.), Hollyn Barr (Louisville, Ky.), Taylor Blood (Hampton Falls, N.H.), Kelsey Briddell (Wilton, N.Y.), Cori Conley (Oak Park, Ill.), Kelsey Farkas (Ardmore, Pa.), Rachel Gaines (Boone, N.C.), Fusine Govaert (Rye, N.Y.), Erin Huffman (Annville, Pa.), Kellie Joyce (Providence, R.I.), Natalie Konerth (Huntington, Md.), Carrera Lucas (Brookelandville, Md.), Kelly Marks (Elverson, Pa.), Corey Mayer (Huntingdon Valley, Pa.), Megan Miller (Palmyra, Pa.), Jenny Rizzo (Hershey, Pa.), Leah Settipane (Wilmington, Del.), Erin Shanahan (Pasadena, Md.), Kasey Tapman (Pasadena, Md.), Christie Van de Kamp (Midlothian, Va.), Emma Way (Mechanicsburg, Pa.), Jillian Wolgemuth (Mount Joy, Pa.)

Five athletes were unable to participate in the trial due to injury. Madeleine Bacskai (Berwyn, Pa.), Katrina Carter (Berkeley, Calif.), Alexa Hoover (Collegeville, Pa.), Mikayla Michals (Needham, Mass,) and Cassie Sumfest (Lewisburg, Pa.) will all receive a trial at the next training camp.

The team is currently scheduled for two training camps in the coming months. The first will be held February 28 to March 2 in Berkeley, Calif., and second is set from March 27 to 29 in Chapel Hill and Durham, N.C. The team will then tour Scotland in their first international competition of the year from April 16 to 22.

USFHA media release


---

Women's Irish Under-23 and 21 squads and program outlined for 2020



Hannah McLoughlin – in action against Italy last summer – is included in the national development squad. Pic: Adrian Boehm

The Irish women's Under-23 and 21 development panels and program of camps for 2020 have been laid out, providing a continued pathway for players to feed into the senior squad.

It comes at a key time with the potential for a new wave of players to come into the Green Army panel with the conclusion of the Olympic cycle in Tokyo later this year.

The national development squad has been introduced as part of the HookedforLife review and aims to help address the gap created by recent developments in the game which has seen athletes reaching senior level at an older age.

The introduction of the squad last year for the first time allows athletes to continue development after the Under-21 age group for two further years and they will compete in matches at Under-23 level.

This will culminate in a five or six nations tournament in June in Dublin and then a six nations in Cardiff in August featuring England, Germany, Russia, Scotland and Wales.

Selection is based on an athlete's potential to play at senior level within four years. Players will be supported in two to three strength and conditioning sessions per week with mid-week regional sessions starting in March at Abbotstown.

The Under-21 squad provides a longer term, development opportunities for players aged 18 to 20 and it is expected that some players will move into the development squad from here once they have been assessed within match play.

David Passmore will oversee the programme; he explained the thinking behind it: "This development is an important one for the women's game in Ireland and will allow us to develop a number of players who have been in the Under-21 program further with a view to them reaching the senior squad after the Tokyo cycle.

"A number of the group are currently training with the seniors which allows them to understand the intensity of training required. The program has been carefully planned with Sean Dancer who has taken a great interest in the up and coming talent since his arrival last May"

"The group of younger players that have move up from Under-18s, along with some players who have developed while at college in England, means the group has a good mix and we enjoyed a great training camp at Abbotstown last week. Our aim will be to have a crop of talented players vying for senior squad places once the Tokyo cycle is over."

The men's development squad plans will be finalised in the coming weeks. Both programs will not receive central Hockey Ireland funding; they remain funded by the panels themselves whether by sponsorship, private donations, fundraising or contributions from the players.

National Development Squad: Roisin Begley (Catholic Institute), Nadia Benallal (Beeston, England), Michelle Carey (UCD), Niamh Carey (UCD), Sophia Cole (Railway Union), Amy Elliott (UCD), Katie Fearon (Railway Union), Christina Hamill (Loreto), Hannah Humphreys (GK, UCC), Jane Kilpatrick (Loughborough Uni), Sarah MacAuley (Muckross), Zara Malseed (Ards), Erica Markey (Trinity), Jess McMaster (Queens University), Ellie McLoughlin (GK, Muckross), Hannah McLoughlin (UCD), Caoimhe Perdue (UCC), Ellen Reid (Banbridge), Caitlin Sherin (Loreto), Sarah Torrans (Loreto)

Others in consideration for the Development Squad: Abbie Russell (UCD), Tori Hastings (Queens), Katherine Egan (UCD), Yasmin Pratt (Monmouth Uni, USA)

Under-21 squad: Olivia Berry (Pegasus), Gemma Ferguson (GK, Ulster Elks), Laura Foley (Catholic Institute), Anna Horan (Catholic Institute), Jade Lamont (GK, Nottingham Trent University, England), Katie Jane Marshall (UCD), Katie McKee (Beeston, England),  Emily McStea (Queens University), Lisa Mulcahy (Loreto), Siofra Murdoch (Harvard, USA), Laura Noble (Pembroke), Siofra O'Brien (Loreto), Millie Regan (GK, East Grinstead)

2020 Program:

April 9-13: Training & Matches against Great Britain Elite Development Program, Warwick, England

June 5-14: Warm Weather Training Camp and Matches v USA Development and U21s, USA

June 20-27: 5-6 Nations Under-23 Tournament, UCD, Dublin

August 8-15: EHF U23 6 Nations, Cardiff, Wales (ENG / GER / IRL / RUS / SCO / WAL)

The Hook


---

Scotland Men's O40s Masters squad announced

Scotland O40s Masters men has announced its squads for the 2020 Home Nations tournament and the World Cup.

Both tournaments offer a great showcase and experience for Masters' hockey as Scotland take to the pitch to compete.

The Home Nations will be held at the Peffermill in Edinburgh on the 15th – 17th May where Scotland will play Wales, Ireland and England over the weekend.

The World Cup will be played in Nottingham from 8th – 17th August. The schedule for the tournament is still to be announced and currently has a strong set of 15 teams from around the world due to take part.

Selection committee member Alan Wall said, "After a disappointing performance in the Euros last year we are keen to build on the potential we showed in the home nations in Wales where we came second.

"We have a number of players moving up from the O35s who will add new energy and ability to the squad coupled with a few older faces coming back this season, which gives us an exciting team to challenge ourselves against the top nations in the world."

Home Nations squad

Doug Swanson     Dunfermline Carnegie
Magnus Ferrier     Dunfermline Carnegie
Kevin Cummings     Falkirk
Douglas Nicol     Falkirk
Graham Dunlop     Clydesdale
Owen Hadden     Giffnock
Chris Smith     Highland
Andrew Maclaine     Hillhead
Alan Wall     Inverleith
Stuart Robin     Kelburne
Stephen Olliver     Kendal HC
Steven Moir     Harris
James Hollington     Watsonian
Chris Miller     Watsonian
Rob Stewart     Watsonian
Jerome Moodley     Watsonian
Michael Clement     Watsonian
Stuart Carrick     Winchmore Hill & Enfield

World Cup squad

Doug Swanson     Dunfermline Carnegie
Magnus Ferrier     Dunfermline Carnegie
Kevin Cummings     Falkirk
Douglas Nicol     Falkirk
Aidan Brock     Tulse Hill & Dulwich
Owen Hadden     Giffnock
Chris Smith     Highland
Andrew Maclaine     Hillhead
Alan Wall     Inverleith
Stuart Robin     Kelburne
Stephen Olliver     Kendal HC
Steven Moir     Harris
James Hollington     Watsonian
Chris Miller     Watsonian
Rob Stewart     Watsonian
Jerome Moodley     Watsonian
Michael Clement     Watsonian
Stuart Carrick     Winchmore Hill & Enfield

Scottish Hockey Union media release


---

East Grinstead aim for indoor double at Jaffa Super 6s

By The Hockey Paper



The Jaffa Super 6s finals will take place at the Copper Box PIC: Gary Bowden

There will be chances for players to step into the shoes of British hockey's top goalscorers when the Jaffa Super 6s take place on February 2.

Alan Forsyth sliced through opposition defences to score a remarkable 31 goals from Surbiton's 62 in all as Mark Pearn's side qualified top of the men's Premier Division as they bid to regain the title from rival East Grinstead's hands at the Copper Box Finals.

However goal-hungry Forsyth will be missing in action as will a host of other players, with GB men and women playing away in Australia when the indoor finals take place on the same weekend in early February.

Forsyth netted 14 over the weekend, as Surbiton won 13-2 against Canterbury and Bowdon 14-4 on Sunday.

East Grinstead finished second in the table to cement their place in the final four, ahead of Holcombe and Wimbledon.

Meanwhile, the women's game will still see the Premier Division's in-form goalscorers on track to meet head-to-head in the final.

Sally Walton accrued 21 goals to finish as top scorer for Bowdon Hightown, with Sophie Bray (14) and Chloe Brown (11) scoring 25 between them as East Grinstead, the defending champions, topped the Pool stages.

As a club, East Grinstead will be gunning for their third men's and women's double in five years at the Copper Box finals.

Jaffa Super 6s Finals

When: Sunday February 2
Where: Copper Box Arena, London
Women's semi-finals: East Grinstead v Buckingham, Bowdon Hightown v Sutton Coldfield
Men's semi-finals: Surbiton v Wimbledon, East Grinstead v Holcombe

Tickets available at englandhockey.seetickets.com



The Hockey Paper


---

Surbiton top English indoor league's regular season as club provide glut of players to GB sides




Surbiton's men topped the English indoor league's regular season table in impressive style, winning seven of their eight ties.

Alan Forsyth netted a monster 31 goals along the way, including 23 from play, to power their success.

Having secured two wins last Saturday, the table toppers went into Sunday full of confidence and produced two excellent performances, winning 13-2 against Canterbury before beating Bowdon 14-4 later in the day.

Forsyth netted 16 times over the weekend to top the competition goal scoring charts and help Surbiton book their place in the Finals at the Copper Box Arena on February 2.

The Scottish striker, however, will not be available for the big day as she will be with the Great Britain side who are touring the southern hemisphere for the Pro League, taking on Australia on February 1 and 2 before meeting New Zealand on February 8 and 9.

He is among a healthy Surbiton contingent which includes Harry Gibson, Luke Taylor, James Gall, Tom Sorsby and Zach Wallace.

It means they could be vulnerable in the indoor playoffs without some of their key men. East Grinstead finished second in the table to cement their place in the final four.They secured three wins from their four games over the weekend to finish three points behind Surbiton at the top of the table.

On Saturday, the Sussex side won 4-3 against Reading and 7-3 versus Bowdon before picking up a 4-1 win against Sevenoaks on Sunday.

Holcombe and Wimbledon were the final side to secure their place in the finals weekend.

Surbiton's women finished in eighth place in their indoor campaign and so will now go back to focusing on their outdoor season. They also have a big contingent in the GB Pro League line-up with Hannah Martin, Giselle Ansley, Hollie Pearne-Webb, Sabbie Heesh and Jo Hunter heading down under.

Looking at his panel, GB coach Mark Hager said: "It's a really exciting time. We've got good versatility in our squad. It's exciting to be able to start and get underway.

"It will be an interesting concept playing the back-to-back games, which we had a little bit of experience of with the FIH Olympic Qualifier.

"This is an opportunity for us to start well with some good challenges – Australia played in the Grand Final last year and New Zealand have got a few players who have come back which will be interesting."

Euro Hockey League media release


---

Sophie Bray and Sally Walton set for Super 6s indoor showdown

Rod Gilmour



The Super 6s Finals will be staged at the Copper Box Credit: GARRY BOWDEN

English hockey's two most potent goalscorers in the indoor and outdoor versions of the game are on course to meet in the final of the Jaffa Super 6s Finals next month.

With 21 goals, Bowdon Hightown's Sally Walton finished top scorer after two weekends of indoor play at the Super 6s Championships in Telford, while Sophie Bray's 14 strikes helped East Grinstead to top the final standings ahead of the London finals on February 2.

The pair could not be more different in how they play the shortened, fast-paced version of the game. Eighteen of Walton's goals came via penalty corners and strokes, while Bray, the leading outdoor scorer in the Investec Women's Premier Division, netted all hers from open play.

"Sally is lethal and her penalty corner success rate is phenomenal," admitted Mary Booth, East Grinstead's coach. "She would be in there if we still had an England indoor team. She gets the ball away quickly and is very astute. Sophie is creative, inventive and does things other people just don't do on a hockey pitch."

While defending champions East Grinstead secured a Finals' berth on Saturday - also helped by Chloe Brown's nine corner-routine goals - the make-up of the final four went down to the last game on Sunday.

Bowdon's 4-3 victory over East Grinstead, their only defeat from eight, was key in Tina Cullen's side finishing second, while Sutton Coldfield, in third, also reached the finals following a debut season in the top flight.

But it was the final match of the weekend which provided the most drama, with Slough needing victory and Buckingham just a draw to seal fourth place. In the end, two third-quarter goals saw Buckingham take a crucial 2-1 lead but a late Slough goal two minutes from time set up a nervy finale as Zak Jones' side held on for the point.

"The four teams deserve to be there but you never know on the day," added Booth. "You can't write off any team, but hopefully we will get to the final and if we get a game against Bowdon, it won't give goals like last year. It's cat and mouse and will come down to a mistake."

Matching the men

East Grinstead's stranglehold on the indoor scene has been evident since the West Sussex's first men's title in 1987. They have won 12 men's titles in the last 15 years and now the women are aiming to add to the club's bulging silverware. The club will be vying for their third indoor men's and women's double in five years at the early February finals following the rapid progression made by Booth's side since joining the Premier Division elite in 2015. "Our intention is that we will defend our title as we would love to emulate the boys who have done that year in, year out," said Booth.

Leicester stave off relegation

A solid indoor outfit, Leicester were forced into a gritty final day battle for Women's Premier Division survival. The 2012 champions eventually came to the fore and secured three wins from four on Sunday's final day to secure their place in the top flight, including back-to-back wins against the relegated teams, outdoor specialists Surbiton and Clifton, who lost all their eight matches. Wimbledon and Repton won promotion from Division 1.

How to win at indoors

"It takes us to come out of the blocks and not be intimidated by good players in the opposition," says Mary Booth, East Grinstead coach. "Although you respect their abilities you have to take it out of your hands. It's about getting the mindset right and taking control. You may need some luck at some point but you can't just live on that. It's about getting the tactics right and playing in different ways."

Repton go close in schools' double

Repton won the Investec Super 6s under-18 girls' schools final at Bromsgrove School on Saturday, with a 3-0 victory over St George's College thanks to goals from Joanna Boehringer, Sian Emslie and Georgia Brown. St George's captain Issy Carey had inspired her team to finish top of the pool stages ahead of the final and ended as the tournament's top scorer, with 11 goals. Repton's win set the school up for their outdoor assault when they will be bidding for a fifth successive girls' title. In the under-16 indoor final, Cranleigh retained their title with a 2-1 shoot-out win over rivals Repton for the second year running.

Jaffa Super 6s Finals When: Sunday February 2 Where: Copper Box Arena, London Women's semi-finals: East Grinstead v Buckingham, Bowdon Hightown v Sutton Coldfield Men's semi-finals: Surbiton v Wimbledon, East Grinstead v Holcombe Tickets available at englandhockey.seetickets.com

The Telegraph


---

Kieran Govers takes it to social media

By Jugjet Singh



UniKL's Tengku Ahmad Tajuddin Tengku Abdul Jalil gets medical attention for a cracked jaw he suffered during the match against HockAdemy on Sunday. PIC COURTESY OF UNIKL

OLYMPIAN Kieran Govers survived a nasty hit behind his left ear, but his outburst on Facebook might just give him a second 'concussion'.

The Australian took to social media to vent his frustration after his Universiti Kuala Lumpur (UniKL) teammate Tengku Ahmad Tajuddin Tengku Abdul Jalil suffered a similar fate, but @Zidane was not so lucky as he broke his jaw.

Govers absorbed a direct ball-hit from a reverse stick clearance in the Charity Shield of the Malaysia Hockey League (MHL) against Terengganu Hockey Team (THT). UniKL won the match 3-2.

Tengku Ahmad Tajuddin's jaw cracked when the ball, also off a clearance, hit him on the chin while playing against HockAdemy on Sunday.

Govers, a two-time World Cup gold medallist, might now be penalised for breaking the MHL code of conduct for venting his frustration on Facebook.

"Malaysian Hockey Confederation (MHC) we need to (have a) chat.

"Two head blows in two games. Luckily, I escaped with minor injuries, but unfortunately 'big man' Zidane (Tengku Ahmad Tajuddin) didn't.

"You (MHC) have to look into the safety of players. The level of skill some of these players have been below the standard needed to play in the MHL.

"Last night, the code of conduct was (also) broken by an opposition off-field staff member, which no doubt made this situation happen, to your best Malaysian international player as well.

"One concussion and one broken jaw," Govers posted on Facebook.

The MHC promptly called him up for a chat, as requested.

MHC competitions committee chairman Datuk Seri Anil Jeet Singh said: "My committee had a chat with Govers on the matter today (yesterday) and we will make an announcement soon."

UniKL did not make a formal protest, but the competitions committee found allegations against a certain HockAdemy official 'disturbing'.

"We are concerned about Govers' allegation that a certain HockAdemy field staff 'made this situation happen' and that is why we called him up to investigate further," said Anil Jeet.

UniKL coach Arul Selvaraj watched the video several times, and could not come to a concrete conclusion.

"As a former player (Malaysian international), I could not conclude whether the clearance (by Ali Rizwan) was deliberate or accidental.

"So I will leave it at that. UniKL will not file any protest as we are more concerned about Tengku Ahmad Tajuddin's jaw operation on Thursday," said Arul.

New Straits Times


---

A knockout blow for UniKL's new striker

By AFTAR SINGH



Sidelined: Tengku Ahmad bleeding from his mouth due to a broken jaw after being a hit by the ball in the Malaysia Hockey League match against Hockey Academy.

KUALA LUMPUR: National forward Tengku Ahmad Tajuddin Tengku Abdul Jalil joined Universiti Kuala Lumpur (UniKL) for the Malaysia Hockey League (MHL) this year, bringing promise of a league and overall double for the team.

He lasted all of 85 minutes.

The 33-year-old has been ruled out of the league for the rest of the season with a broken jaw.

The seasoned campaigner suffered the injury off a ball hit by Pakistan's Ali Rizwan in the 25th minute of the match against Hockey Academy (Hockademy) of Kuala Lumpur at the National Hockey Stadium in Bukit Jalil on Sunday. He had also played in the 3-2 Charity Shield win over Terengganu on Friday.

Tengku Ahmad was rushed to hospital where he has been admitted. An X-ray showed that he broke his jaw and he is expected to undergo surgery tomorrow or the day after.UniKL coach Arul Selvaraj was sad that they had to lose the services of the hardworking forward.

"Tengku Ahmad joined us this season and we were looking forward to his presence, adding more bite to the forwardline, " said Arul.

"But the injury he suffered is quite bad and I am not sure how long it will take him to recover.

"The early signs are that he will miss the entire league (which ends on Feb 22). Tengku Ahmad might also have to forget about the national training for the Sultan Azlan Shah Cup from April 11-18, " said Arul.

Arul said he was not sure whether the Pakistani player took the hit at Tengku Ahmad intentionally "but we have lost a formidable player and this is not good for the team."

"We have to look at the video to see what really happened. This is not the first time my player got hit in the match.

"In the Charity Shield match against Terengganu (at the same venue) our Australian player Kieran Govers also got a hit on his head off a high ball hit.

"Thank God Govers did not suffer any serious injury. I rested him in the match against Hockademy on Sunday and he is expected to return for the match against UiTM (Universiti Teknologi Mara) on Wednesday, " said Arul.

"I hope match officials will look into the matter as we don't want to lose more players from the rising ball hits, " said Arul.

UniKL still beat Hockademy 3-1 despite Tengku Ahmad's injury and the absence of their main Irish goalkeeper David Harte, who will arrive tomorrow.

The Star of Malaysia


---

Conversions not enough, Tigers coach wants more corners

KUALA LUMPUR: Maybank have a 100% penalty corner conversion rate in the Malaysia Hockey League (MHL). The Tigers received a penalty corner in each of their first two matches against Hockey Academy (Hockademy) of Kuala Lumpur and Universiti Teknologi Mara (UiTM) and converted in both matches to win by identical 4-1 margins.

Yet, coach Azrul Effendy Bistamam is not too happy. He believes his teams should be earning more than one penalty corner in each match.

"My forwards need to earn more penalty corners so we can convert more goals from the corners, " said Azrul.

National junior player Mohd Nur Asyraf Ishak and former international Hafifihafiz Hanafi converted the penalty corners for Maybank.

Azrul said that although they had scored six field goals, he was also not pleased with their field goal rate.

"We did well to penetrate into our opponents' semi circles but we could not turn them into goals. My forwards need to be sharper once in the semi-circle.

"We face two easy opponents in the first two matches but we will face our real challenge against Tenaga Nasional who have 13 national players (at the National Hockey Stadium in Bukit Jalil on Wednesday), " said Azrul.

"It will be a real test of character for my players to play against a team who are soild in every department.

"We have never beaten them in the last few years in matches and it will a real challenge to stop them as they have two top national goalkeepers in S. Kumar and Mohd Hairi (Abdul Rahman).

"My players must be on their toes and cannot make a mistake in defence as they also have a good strike force.

"I will be more than happy if we can snatch a point from them, " said Azrul.

Last season, the Tigers were humiliated (7-1) and (7-2) in the home and away matches by Tenaga.

The Star of Malaysia


---

MHC high five for 5s competition

By Jugjet Singh

WITH Hockey 5s set to have their own World Cup in 2023, the Malaysian Hockey Confederation (MHC) are now doing their part to popularise the event in the country.

Played on a smaller field with different rules, Hockey 5s is an cross-breed between field hockey and indoor hockey, which the International Hockey Federation (FIH) are earnestly promoting.

In 2018, Malaysia grabbed attention at the Youth Olympics in Buenos Aires by surprisingly winning the Hockey 5s title by beating India 4-2 in the final.

"Malaysia won the men's 2018 Youth Olympic gold medal, so we are going to build on it," said MHC high performance and Hockey 5s committee chairman Hasnizam Hassan.

"For starters, the Terengganu HA have agreed to stage an international Hockey 5s tournament in August.

"We have also decided that every HA must have a Hockey 5s committee. They must also conduct seminars and a carnival event in conjunction with the National Sports Month.

"MHC will work closely with the Education Ministry to popularise the event in schools as the playing field is much smaller than field hockey.

"A two-day seminar will be held at the end of next month at the National Hockey Stadium in Bukit Jalil for coaches as well as umpires from every state to familiarise them with rules and regulations."

Hockey 5s, a small-sided outdoor game, was introduced by FIH in 2014.

Hockey 5s was created for the 2014 Youth Olympic Games in Nanjing, China and since then, the event has been growing in popularity internationally.

New Straits Times


---

Scottish Women's indoor league section sees Wanderers finish on top

High-flying Dundee Wanderers have completed the league part of women`s indoor National league 1 with a perfect record after seeing off Grove Menzieshill and Inverleith.

Clydesdale Western are in second spot, three points behind, while Inverleith and Watsonians occupy third and fourth place respectively.

Dundee Wanderers opened the day with a fairly comfortable 4-0 win over city rivals Grove Menzieshill. Penalty corner conversions by Emily Dark and Amy Snelle gave the champions a two goal advantage at the interval.

Grove Menzieshill failed to reduce the deficit in the second half, instead Wanderers went further ahead through open play goals from Ruth Blaikie and Dark again.

The second match of the day between Hillhead and Edinburgh University ended in a 2-2 draw, a scoreline that may have pleased the former more than the students. A penalty corner conversion by Rachel Osborne gave the Glasgow side the ideal start in only two minutes, but by the interval Edinburgh had their noses in front through Eve Pearson and Jenny Walls.

However, five minutes after the break Norma Sinclair levelled for Hillhead, and there was no further scoring. However, the point lifted Edinburgh University into fourth place ahead of capital rivals Watsonians.

Yet Watsonians looked strong when they held second-placed Clydesdale Western to a goalless first half.

The goal glut failed to survive long in the second period, within two minutes Jen Eadie had put Clydesdale ahead at a penalty corner. Thereafter the goals flowed, all from open play, with Marjery Justice, two from Millie Steiger and Eadie again doing the damage.

Wanderers then confirmed their pole position in the league part of the competition after a 9-5 victory over third-placed Inverleith.

Early in the first half goals were exchanged; Wanderers` Ruth Blaikie and Emily Dark were on target while Katie Swanson and Sarah Jamieson replied for the Edinburgh side.

But the champions moved into a commanding 5-2 lead, Milly Skidmore and Amy Snelle before the break and then Vikki Bunce in the second half.

Inverleith did not seem eager to quietly surrender and brought the score back to 5-4 with another strike from Jamieson followed by a spot conversion from Sarah McKay.

The potential comeback was frustrated by a further goal from Skidmore for 6-4. There followed a flurry of goals in the final three minutes, for Wanderers Heather Howie and a double from Dark for her hat-trick was countered to some extent by another penalty from McKay.

In the foot of the table clash Grove Menzieshill finally recorded their first victory of the season by beating Grange 6-2.

That scoreline was not so obvious from the first half, Emma Petrie and Victoria White scored for Grange while a double from Sam Sangster replied for Grove Menzieshill.

But then Grove Menzieshill marched away with the second half, Ellie and Katie Stott, Lucy Smith and Holly Duval were all on target.

Watsonians held on to fourth spot with a 4-1 win over Hillhead in their second outing, Susan Hamilton scored twice.

Clydesdale retained second spot, three points behind Wanderers, with a convincing 9-1 win over Edinburgh University who stay in fifth place.

In the goal avalanche Marjery Justice, Jen Eadie and Millie Steiger all got two goals apiece, while Mairi McGregor scored the students` consolation.

After their earlier reversal Inverleith retained third spot after seeing off Grange 8-1, the match was a personal triumph for Sarah Jamieson who scored a double hat-trick, Stella Hunger and Sophie Hinds getting the others. Kirsten Turnbull was Grange`s only scorer.

Grove Menzieshill`s encounter with Hillhead was a tight encounter to the end, but the Taysiders emerged 3-2 winners in the end.

Lucy Smith, Sam Sangster at a penalty corner and Molly Godfrey were Grove Menzieshill`s scorers while Wendy Andrews scored both Hillhead`s goals.

Scottish Hockey Union media release


---

Strathallan and Perthshire are U18 Indoor champions




This season's Scottish Hockey U18 Indoor Cup Finals at Bells Sports Centre in Perth produced some thrilling matches and two memorable finals. It was a double success for Midland District with Strathallan retaining the Girls Cup, and Perthshire coming out on top in the Boys' event.

U18 Girls Indoor Cup

The six girls' teams who had qualified from their District tournaments met on Saturday, 11 January. Strathallan won Pool A with two good wins against Robert Gordon's College (5-1) and Hutchesons' Grammar School (6-1). The girls from the Granite City then edged out their Glaswegian opponents for 2nd place on goal difference after a 3-3 draw with a second-half hatrick from Eilidh Seedhouse.

In Pool B, Perthshire finished top after two good wins against George Watson's College (4-3) and Galashiels Academy (6-4), including four goals from captain Iona Fleming. Watson's sealed the runners-up spot with a 4-2 win against the borderers. The action then paused for the girls to watch Scotland's men grab a last-second equaliser in their superb 5-5 draw with Canada.

In the semi-finals, Robert Gordon's produced a brilliant performance to beat Perthshire 4-1, while Strathallan beat Watson's 5-1. Hutchies beat Gala 4-0 to claim 5th place, before Watson's beat Perthshire 2-1 to claim 3rd place with goals from Neve Wood and Faith Joubert.

Robert Gordon's got off to a flier in the final, leading 3-1 after 10 minutes before Strathallan came roaring back with two goals from captain Lisa Biermann. Steph Craig then scored two late goals for Strathallan to seal a 5-3 victory. It was hard luck on a talented Robert Gordon's team, but a well-earned success for Audrey Sime's Perthshire team.



11 January 2020 at Bells Sports Centre, Perth. Scottish Hockey U18 Indoor Girls Cup.

U18 Boys Indoor Cup

The boys' competition on Sunday 12 January was equally competitive. Watsonians won Pool A after a hard-fought 2-1 win against Grove Menzieshill and a 2-2 draw with Western Wildcats. Conall Milligan and Euan Burgess scored in both matches for the maroons. The Dundonians grabbed 2nd spot after a 4-2 win against Western Wildcats, including a Keir Robb double.

In Pool B, Perthshire won both matches to finish top. Captain Alex Wilson scored a hatrick in a 9-2 win against Uddingston. Then a last-minute winner gave them a 4-3 win against Stewart's Melville College (SMC), for whom Iain Hare scored twice. SMC's 4-2 win against Uddingston gave them runners-up spot.

In an exciting semi-final, Stewart's Melville were 3-1 down at half time in the Edinburgh derby against Watsonians before coming back to win 4-3. And Perthshire continued their impressive form to beat Grove Menzieshill 8-1, including four from Alex Wilson.

Watsonians edged out Grove Menzieshill 4-2 to claim third place, while five goals from Cameron Moran helped Western Wildcats beat Uddingston 11-4 to finish 5th.

The final was a high-quality match, with Ollie Wilson's double helping Perthshire to a 3-1 half-time lead. Callum Grant's 21st minute goal for SMC made it an exciting finish, but Perthshire held on to win 3-2 and claim the trophy. The Perth boys have achieved the 'double' after winning the U18 Boys outdoor cup in November.

Thank you to all the players, coaches, umpires, technical officials and supporters who made it such a great weekend of youth hockey.



12 January 2020 at Bells Sports Centre, Perth. Scottish Hockey U18 Indoor Boys Cup.

Final positions – Girls:
1. Strathallan
2. Robert Gordon's College
3. George Watson's College
4. Perthshire
5. Hutchesons' Grammar School
6. Galashiels Academy

Final position – Boys:
1. Perthshire
2. Stewart's Melville College
3. Watsonians
4. Grove Menzieshill
5. Western Wildcats
6. Uddingston

Scottish Hockey Union media release


---

'Honoured but still a long, long way to go' - Manpreet Singh on receiving Sportstar Aces Award

India hockey team captain Manpreet Singh was adjudicated as the Sportsman of the Year in non-cricket team sports at the 2nd Sportstar Aces awards on Monday.

Uthra Ganesan



Manpreet Singh (in picture) says the award is an 'added motivation to go out there and prove we deserve all this love and appreciation'.   -  Getty Images

Manpreet Singh is a typical Punjabi, in a good way. He is confident, bold, in-your-face, intelligent and unafraid to take risks regardless of the situation or the opposition. The captain of the Indian men's hockey team is one of the most recognisable faces in the sport today and is proud of it.

Unlike women's hockey in India, where players come in young, peak early and then quit well before they hit their 30s, those in the men's team tend to peak in their late 20s. By those standards, Manpreet, at 27, is an overachiever. Having made his national team debut while still in his teens, Manpreet was already an Olympian when he captained at the 2013 Junior World Cup. He had more than 100 caps before he even cemented his place as one of the best midfielders in the world and a true-blue successor to Sardar Singh. And when he did step into the shoes of his idol, he took over as the boss of the midfield like he was born to it.

"Honoured but there is still a long, long way to go. We had a disaster at 2012 Olympics in London, disappointed at Rio when we were actually capable of so much more. Third time is said to be a charm but more than luck, we are focussed on getting ourselves up to the level where we can prove that we deserve to be there, at the top," Manpreet, adjudicated as the Sportsman of the Year in non-cricket team sports at the 2nd Sportstar Aces awards here on Monday, said.

The graduation from junior to senior turned the team's prankster into a serious professional. Playing alongside his hero, German legend Moritz Fuerste, in the Hockey India League helped him hone both his technical and inter-personal skills. Captaincy and the Arjuna Award has now added further sense of responsibility to the youngster.

"People expect a lot from us. This award is proof of the fact that Indian hockey remains close to people's hearts. It is also now an added motivation to go out there and prove we deserve all this love and appreciation," he said.

Sportstar


---

Deep Grace Ekka: 'Absolutely amazing' to get an award from Sportstar

India women's hockey team's Deep Grace Ekka describes receiving the award from Sportstar as a huge achievement and an honour.

Uthra Ganesan



File photo: Deep Grace Ekka says it is 'absolutely amazing' to receive an award from Sportstar.   -  AFP

Deep Grace Ekka could not have become anything else. The strong and stocky defender of the Indian women's hockey team belongs to a district – Sundergarh – in a state – Odisha – that knows of little else other than play hockey. Most of those who go on to play for the country from Sundergarh – and there are innumerable – become defenders.

While some credit it to the sheer bloody-mindedness to be the best coupled with a lack of flamboyance, it has equally to do with the idols they grow up wanting to emulate. And none gets bigger in Odisha than Dilip Tirkey, admired worldwide as a legend of Indian hockey and Odisha sports with over 400 international caps.

"This is a huge achievement for me and an honour. Sportstar has been one of the very few publications that not only continues to give enough importance and coverage to all sports but also perhaps the only one that has managed to continue doing so for so many years. Our seniors used to tell us about how prestigious it was to get something published about you in Sportstar, so to get an award here is absolutely amazing," Ekka, who was named Sportswoman of the Year in non-cricket team sports at the 2nd Sportstar Aces awards on Monday, said.

At 25, Ekka is already a veteran of more than 200 caps and part of a new generation of quietly confident Indian women hockey stars who are neither desperate for the spotlight nor shy away from it. Often called the biggest prankster in the dressing room and bossing over her team-mates off the field, Ekka remains a complete team player on it. "Even if I save a 1000 goals, the team has to score one at the other end for a win. And once you have that one goal, then everyone has to defend like crazy to ensure the opposition doesn't score. One player can do nothing in a team game and if I have been appreciated, because the team has performed well, it is because of every one of the 16 girls in the dressing room in any tournament," she declared.

She also doesn't look too far back till Tirkey for an icon-- she has one among her contemporaries on the men's side, Birendra Lakra. But the way forwards, she knows, won't be easy. Having qualified for the 2020 Olympics, she insisted that the entire team was only looking at improving the 12th place finish four years back. "We were better than that and we know it. We only need to prove it to the world now and we will," she signed off.

Sportstar


---

Yesterday in history: SA hockey legend, Marsha Cox is born

She was nominated for the Federation of International Hockey's XI in 2007, 2009 and 2010.

Thabisile Mgwali



Marsha Marescia Cox. Photo: Facebook.

On 13 January 1983 South African hockey legend, Marsha Marescia Cox was born in Durban, KwaZulu Natal.

Marsha is one of the world's most capped hockey players, with more than 330 caps and her debut for the South African team was in 2001 against the United States of
Marsha captained the national side from 2006 and represented the South African national hockey team at the 2004 Athens, 2008 Beijing, and 2012 London Olympic Games as well as 2002 Perth, 2006 Madrid, and Rosario 2010 Hockey World Cups.

She was nominated for the Federation of International Hockey's XI in 2007, 2009 and 2010.

In August 2015, Marsha announced her retired from professional international hockey after 14 years making hockey her career.

Currently she plays club hockey in the Netherlands for the Rotterdam Hockey Club, and in South Africa for the Greenside Pirates.

Information sourced from: South African History Online.

The  Roodepoort Northsider

A belated Happy Birthday, Marsha


---

Oguk, Kenya's hockey legend of 1988 Olympics, was rare talent

By DONNA ATOLA and VICTOR OTIENO           



Kenya men's hockey team player Charles Oguk at Jomo Kenyatta International Airport after arriving from Egypt in this undated photograph. PHOTO | ONDARI OGEGA |  NATION MEDIA GROUP

Several old pictures of Charles Oguk dressed in either police uniform, or in Kenya's national hockey team colours hang on the wall in his sitting room in Ratta, Seme Sub-county in Kisumu.

Together with several certificates, silver and bronze medals, the items are dear to the family of the former policeman and Olympian who breathed his last on January 5.

It reminds them of the former Kenyan international's great days on the turf and in service.

According to his family, the prolific, well-built, dark defender, died after a short illness at Ahero Medical Center. His friends had rushed him to the health facility after he became unwell. He was 55.

"On Thursday, we talked with him and he was alright, then on Friday, we got suspicious when his phone went unanswered.

"After checking, we found out that he had been admitted at Ahero Medical Center. He died on Sunday night at around 2am," said his wife Penine Adhiambo.

The cause of death of former Simba Union Hockey Club and Kenya Police player is yet to be determined as a postmortem has not been conducted on his body.



Kenya men's hockey team player Charles Oguk (centre) with members of the women's team moments after they arrived from the 1995 All-Africa Games in Zimbabwe. PHOTO | ONDARI OGEGA |

At the time of his demise, Oguk was based at Ahero Police Station in Nyando, Kisumu County. He was in his 32nd year of service. His rank was a corporal.

At his Ratta home in Seme, friends and relatives continue to troop in to condone with the family of a man many consider one of the finest hockey players Kenya has ever produced.

His name appears in six of team Kenya's starting line-ups at the 1988 Summer Olympics.

The father of six – four boys and two girls - turned out as a defender and midfielder in the competition where Kenya finished 12th.

It was the last time Kenya men's national hockey team featured in Olympic Games.

According to Oketch Ngore, Oguk's long time friend and teammate at Simba Club and in the national team, the deceased's journey to greatness in hockey begun right from childhood.

"Hockey was the main game played where we were living (Anderson Estate in Kisumu). Every evening, together with other children, we would watch how senior players were playing and then try out later among ourselves," said Ngore, a former centre forward, who donned Simba Union's Club colours for 15 years.

It is at Kisumu Boys High School when Oguk was doing his O-Levels that he started rising to stardom. Because he turned out for the school in most hockey tournaments and was a hard nut to crack in defense, he was nicknamed "Power".

Oguk's outstanding performance saw him appointed the school's captain between 1983 and 1984, a time he was already playing for Simba Club.

"He displayed powerful dribbles that made opponents to fear him a lot. As a right half, he was the engine of the team, almost every move started from him, and he could not allow an opponent player to beat him," Ngore, former centre forward recalled.

Having curved a niche for himself in the local hockey, Kenya Police, then one of the top teams in the country came calling.

The no-nonsense defender joined the law enforcers in 1988 and help the team rule the domestic league until 1994, when he retired from playing.

Apart from the 1988 Summer Olympics, other international events that the father of six turned out for the national team are – the fourth All African Games held in Nairobi, in 1987, where Kenya finished first.



Kenya's Charles Oguk shakes shakes hands with dignitaries during Indira Gandhi International Gold Cup Hockey Tournament in India. PHOTO | ONDARI OGEGA |

Other events are the 1991 fifth All African Games in Egypt, where Kenya won a silver medal, the sixth All African Games in Zimbabwe in 1995.

Oguk was also part of the team that represented Kenya in the second to seventh Indira Gadhi International Gold Cup Hockey Tournament in India.

His wife Adhiambo, 53, described him as a loving and caring husband who was a great sportsman who gave his club and county his best.

Former Butali Warriors coach Dennis Owoka, who played against Oguk in the Forces Hockey team (now disbanded), said: "He was the captain in my first match for the national team in a 1999 regional tournament held in Uganda. He kept encouraging us to fight for the country, insisting that we must believe in ourselves and be discipline, if we are to succeed," said Owoka.

Kenya's hockey legend Parmindar Saini "Kake" who played alongside Oguk in the 1988 Summer Olympics stated: "He was an aggressive player who made big contribution to Simba Club's success and the national team. He will be buried on January 25.

Daily Nation