All the news for Wednesday 1 April 2020

FIH hoping to salvage Hockey Pro League with July matches

By The Hockey Paper



International hockey could be played if global health situation improves PIC: Worldportpics

The FIH is keeping a flame to this year's Pro League by exploring the possibility of extending the global tournament into July and August, The Hockey Paper understands.

At present all Pro League matches are postponed until May 17 due to the coronavirus pandemic, with several European leg matches still to be played.

England Hockey announced this week that all national hockey would be suspended until the end of June due to continuing social restrictions, but its missive didn't include international hockey.

Great Britain have several match weekends during this timeframe, including a final double header weekend against Germany in mid-June.

England Hockey didn't respond to a request by The Hockey Paper but, according to the FIH, all matches planned "in the current schedule are on hold until further notice".

The FIH told THP that the world body and national federations are also considering July and the beginning of August to play Pro League matches "if the health situation improves".

England Hockey's suspension extension from April 15 to end of June means that there is "insufficient time to complete the 2019-20 season" and will make a full recommendation to its board in April.

If the global health pandemic does improve, the conclusion of the National Club Championships knockout competitions could be the first national games to be completed at Lee Valley before the start of the new season.



The Hockey Paper


---

Bell calls for 2019/20 season to be completed on the field as "finished" call creates debate

John Flack spoke to a number of different club coaches, managers and officials about their thoughts on the season being "finished" and how they hope the key decisions play out in the next few weeks



Lisnagarvey's Jonny Bell. Pic: Adrian Boehm

Lisnagarvey and Ireland player Jonny Bell insists Hockey Ireland have acted prematurely in ending the local and national league seasons.​

The sport's governing body, after consulting the provincial branches, took the decision last week and will now explore alternative ways of deciding the various issues, including promotion and relegation and European places.​

So, while the competitions, including the top-flight EY Hockey League, haven't been declared null and void, it's understood the current placings will be used to determine the various finishing positions.​​

That is likely to be based on some form of mathematical or statistical formula, perhaps based on a percentage of points won to games played although other alternatives are not, in theory, off the table.​​

When the leagues were deemed to be finished, Garvey were five points clear at the top of the Irish Hockey League standings with two games in hand but Bell would prefer the regulation season title to be decided on the pitch, not by committee.​

He said: "Obviously there is a mass hysteria at the minute with the coronavirus pandemic, and rightly so.

"It's a very concerning situation but I didn't think there was a need to make a call so soon.

"Okay, it's March now, the [new] season doesn't need to kick off until November like the women's last year, so that gives us the chance to complete the leagues properly. ​​

"We were just getting to the business end of the season, the grand finale if you like, the run-in that everybody gets excited about – the clubs, sponsors the players – and we should be giving it every chance to be completed.

"Ultimately we have seven games left which is more than other teams but those could be played in three weeks with a double-header weekend, midweek games and then the play-offs in followed by the Irish Senior Cup semi-finals and finals."

​​Banbridge coach Gordon Cracknell agrees with Bell that the decision to call time on the IHL and other leagues across the island was made with too much haste.

​​He said: "The call was made too soon, in my opinion, and a further suspension should have been introduced and then, we could have at least tried to finish this season's league.

​"I think the idea of awaiting a possible resumption date would have been worth exploring as part of a graduated response but now it's a recipe for controversy and discord."​

Greg Thompson, coach of current EYHL women's champions Pegasus, was also disappointed with the governing body's stance. ​

He added: "While recognising these are very tough decisions to make, personally, I don't think relegation and promotion should be decided in a boardroom, given the time and effort that goes into preparing for a season."​

Belfast Harlequins ladies, who could well be relegated from the national league when the decisions are announced next month, are more philosophical in their stance.​

Team manager Roisin Walsh stated: "While the Hockey Ireland statement is confusing because it doesn't give any answers, our view is that there is no point in speculating and it's safe to say the 'solution' will not please everyone." ​

Going down into the provincial leagues, Instonians official Tom Reid would prefer to see the season that has deemed to be 'finished' be declared null and void, which could still happen in theory.​

"The season should not be decided by the use of a statistical model. [My option would be that] the 19/20 season is null and void [and let's start again] in August/September.

"Agree (it's) difficult re EYHL 1 re places in Europe but don't let that impact on all the other teams/clubs in Ireland."​

Like Instonians, Cookstown were still in with a mathematical chance of securing a play-off place for promotion into EYHL before the season was scrapped. Here are the views of co-coach Michael Haycock.​



Pegasus coach Greg Thompson. Pic: Adrian Boehm

"Obviously, in the circumstances, the well-being of anyone affected by the pandemic, rather than hockey, is at the forefront of our thoughts." he said.​

"However, like all other clubs, we'll await the decision by the Competitions Working Group with interest.

​"It's a very difficult job that they've been left with, but I'm sure they'll take everything into account when coming to their decision about next season's standings.​

"Obviously, we were determined to get back to the top table of Irish club hockey after a year away and results show that.​

"We had just gone top in the Ulster Premier League, having finally caught up on matches we had missed. ​

"We were looking forward to a semi-final against UCD in the Irish Senior Cup and it was balanced on a knife-edge in our EYHL 2 pool as well, with any two of Cork Harlequins, Clontarf and ourselves poised to go through.​

"How you make sense of all that is anyone's guess. There are bound to be winners and losers in it all. My hope is that there will be an opportunity for a conversation between the Working Group and the clubs as that might help find a way forward."

Let me throw in my two cents worth. I can't for the life of me see why we can't, at the very least, stage 'this' season's various all-Ireland knock-out competitions as a preseason event.​

And, as Jonny Bell states, surely we can find some way of finishing the EYHL seasons for men and women.

The top-flight events require a different, less contrived solution, as places in Europe are at stake.​

From what I am told, though, whatever measures are used to calculate to finishing positions, they will be applied uniformly from EYHL right down to the bottom leagues across the island.​To conclude, here's another idea.

The Irish Senior Cup, Irish Hockey Trophy and Challenge are all in their closing stages.​Why not have a bumper weekend or even two, say in August all things being equal, to play those competitions to a finish and factor in a few of 'this' season's EYHL games at the same venue(s), probably in Dublin.​

That way you'd be guaranteed a big crowd, so charge a few euro admission. ​

I'll go further and suggest the proceeds could be split between a contribution to our health service workers across the island and the Junior Age Group programmes to offset the huge financial outlay that the parents of our Under 16s and 18s are being asked to make to self-fund their children who play in the various national teams.

The Hook


---

From Annadale to Germany - the three Robson brothers enjoying international honours

By Padraig Coyle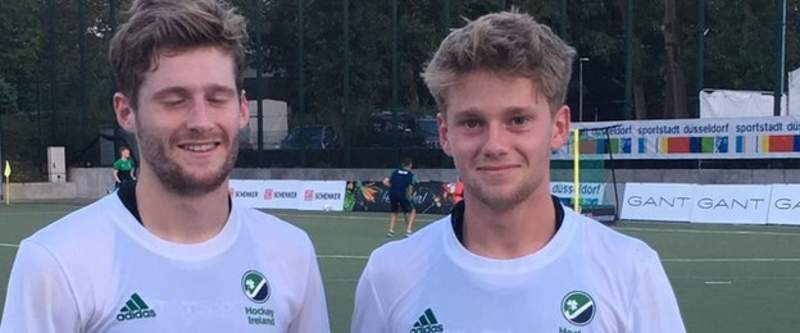 Michael and Callum Robinson are both full Ireland internationals

We have a sporting heirloom in our home. It is at least 100 years old.

My wife's grandfather played hockey for his native Wales. We have one of his representative caps - soft black velvet, gold braided and tassled, with an ornate embroidered badge.

It's stowed away, carefully wrapped in worn tissue paper, a cherished part of the family's history.

If Hockey Ireland was to hand over a cap each time one of the sons of our neighbours, the Robson family, made an appearance in an Ireland jersey, they would seriously have to consider building an extension to their home.

To date the eldest, 24 year-old Michael, has been awarded 111 senior caps. Younger brothers, 22 year-old Callum and 20 year-old Tom, are also making steady progress through the international ranks.

Following in their brother's footsteps

With more than 70 outings between them through the Ireland underage system, they are focused on following in their older brother's footsteps.

While the current crisis has put all sporting activity on hold, their collective ambition to emulate Michael is not even slightly diminished.

"I've been been involved with the Ireland set-up for a while," says Callum, who has made three senior appearances. "I want to be picked for more tournaments and competitions and to win a few more caps."

In Michael's opinion, time is on their side.

"I guess that a top hockey player's career today can run between the age of 18 and 33," he says.

Former Annadale players Michael and Callum have been playing in Germany's Feldhockey Bundesliga with Crefelder Hockey und Tennis Club, based in the industrial town of Krefeld, 20 kilometres from Düsseldorf in North Rhine-Westphalia.

"I'm in my third season there," explains Queen's University accountancy undergraduate Michael, who is taking time out to experience the professional game.

"Two of my colleagues in the Irish team were there already. One of them got in touch to ask if I would be interested in playing in Germany. I was delighted. I spoke to the club and everything has gone well."

"This is my first year at the club," says Callum, a physiotherapy student at Ulster University, who could equally have focused his considerable talents on cricket, golf or tennis.

"Michael had put in a good word for me. I was lucky that they wanted me as well. Tennis was my main sport until I was 11 or 12 but hockey at Sullivan Upper slowly took over.

"I found it hard being by myself in tennis and I couldn't cope with any mistakes that I made and that it was all my fault. With hockey it's nice to have the support of your teammates around you." 


Tom, who is studying economics at Queen's, is also giving thought to a career move from Annadale.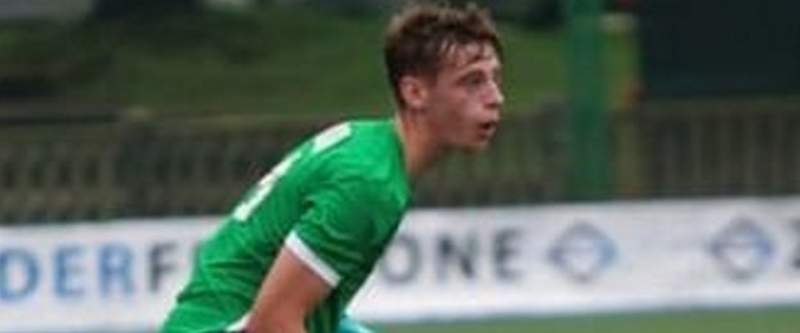 Tom Robson hopes to follow in his two older brothers' footsteps

"Considering how good Queen's and Jordanstown have been in allowing Michael and Callum to take time out to play in Germany, I would hope they would treat me in a similar way," he says.

"Everything we need is there," says Callum. "We have a house and car. We can use the pitch whenever we want. It's an ideal situation to be in. You couldn't really ask for more."

"We train three nights a week, have two to three gym sessions, as well as pitch work," continues Michael. "Due to the travel distances involved, we play double headers every Saturday and Sunday. We travel long distances by train. It's five hours to Nuremberg. All the games are live streamed."

And how are they getting on with speaking German?

"Not very well," laughs Michael. "We did have language classes for a while, but these fell by the wayside. Everyone speaks English. However, we do understand the hockey tactics called out in German."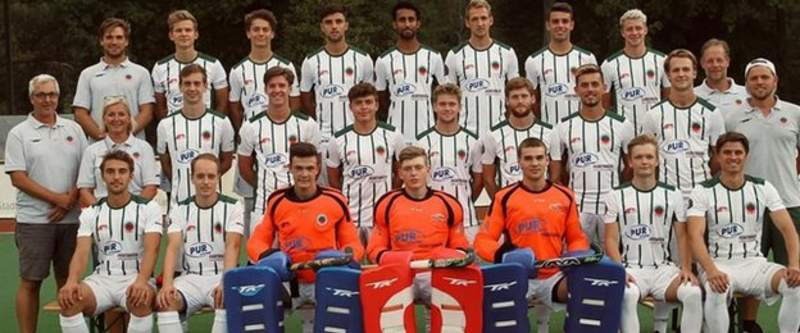 Michael and Callum with their Crefeld teammates

While most of the Crefeld squad is German, the Robson boys share the company of three other Irish players, a Welshman and an American. Michael acknowledges the benefit that playing European club hockey is bringing to the game in Ireland and Britain.

"When I was growing up, watching Ireland and aspiring to play for them, very few players would have gone away. As I was breaking through in 2018, Ireland was beginning to get global recognition for producing good players. The trend of more people going to play at top clubs in Europe began to grow.

"A few years abroad will give you a different experience of hockey in another culture. You can bring that back to the Irish League and make it stronger."

Standard in Germany 'higher than in Ireland'

Callum agrees: "The standard in Germany is much higher than in Ireland. It has taken me a while to adapt. I'm really enjoying it now. Hockey has a following there. It's maybe the fourth or fifth most popular sport."

The German Feldhockey Bundesliga consists of 12 clubs playing in two pools of six. As the campaign shut down, Crefelder were fourth overall.

As the Coronavirus crisis unfolded, Callum and Michael gathered up their gear as quickly as possible and rejoined Tom at the Holywood home of their parents, Janet and Peter.

It was their father, himself a keen sportsman, who started coaching them as soon as they were old enough and big enough to hold a tennis racquet, golf club, cricket bat or hockey stick.

While Tom accepts the necessity of restrictions during the epidemic, he reflects on how strange it is to see all the playing facilities closed.

"You can't even get out to run with a stick and hit a ball about. It's needed, of course, but I miss the social aspect. Your week is based around hockey, teammates and friends, the game on a Saturday."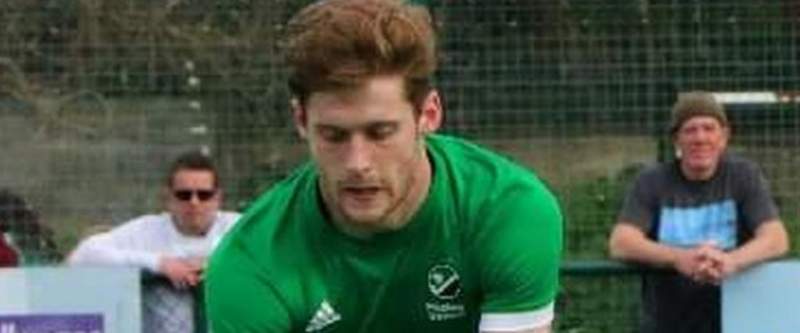 Michael Robson was part of the Ireland squad that just missed out on qualifying for the Olympics

However, in the face of adversity, the Robson siblings have each other to help in their quest to remain fit and focused. Necessity has brought technology face-to-face with the Flintstones

"About 20 players attend regular Zoom sessions," explains Callum. "Our fitness trainer Matthias in Germany sends a link to the WhatsApp group 10 minutes before the session begins. Everyone signs in from their living room or wherever they want."

"It's really tough and a good workout," says Michael. "He gives instructions on what he wants. He can see what everyone is doing. And you can't be late for these. No excuses. "

'Creating a DIY gym'

Meanwhile, Tom explains how they have been inventive in creating their own DIY gym: "We've got the back garden and some home-made equipment. Callum went to the Glenlyon forest nearby and got a big, broken log and carried it home. He carved handles into it and we use it like a bench.

"We've evolved a fitness programme for weights and running, doing 5k runs or mixing it up with shorter sprints. We exercise twice a day and make full use of our once-a-day outing."

And while they hope this self-motivating regime will keep them in shape, Callum isn't convinced that it will have them ready for a return to the professional game any time soon.

"The word from the German board is that we might be able to play in June, but it changes every day," he admits. "It could be a bit of a shock when we get back. We could be very tired."

Michael is more positive. "Our coach says that it will be the same for the other teams. Most won't be doing very much and we could have a head-start over them".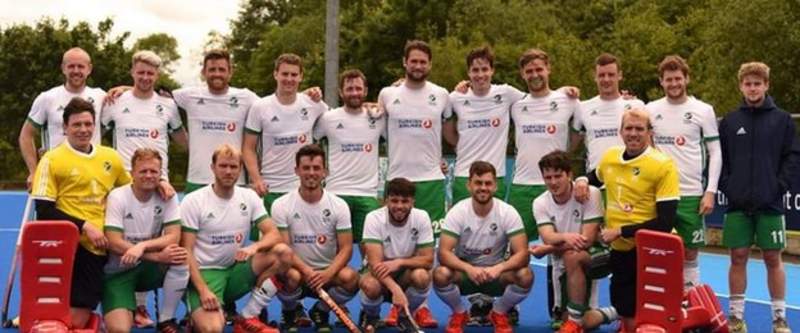 Michael and Callum with their Ireland teammates

Claiming a European Championship bronze medal, raising the Burney and McCullough Cups and fifth place at the European U-18s have all been occasions for joint celebration in the Robson household. However, the mention of missing out on Olympic Games qualification dampens the mood noticeably.

Michael was in the Ireland squad that competed in Rio in 2016 and was quietly contemplating the Tokyo Games until the calamity of that sudden-death shoot-out defeat against Canada at the end of October.

A controversial umpire's decision in the last second of normal time will forever remain a bone of contention throughout the sport. Is Michael over the disappointment?

"No." It's followed by a long pause.

"The most disappointing thing about it is that we had been two goals up. We have to look to our own performance."

Ireland Olympic qualifier 'hard to watch'

Tom is more vocal. "I was watching it in the living room here at home. I felt very powerless. Umpiring is very subjective but that was the wrong decision and very hard to watch."

That is all history now and there is the future to consider. When hockey returns, Ireland fans can be comforted by the fact that an ample supply of talent and commitment is available and ready to continue the search for global success.

As these three competitive young sportsmen head for their back garden, to embark on another session of weights and exercise accompanied by lots of brotherly banter, Tom, the youngest, tries, but fails, to have the final word on which of them is the best player.

"I'd have to go for myself," comes his mischievous reply.

"Yeah, right!" is the raucous response from his two big brothers.

BBC Sport


---

Life on Tour as a USWNT Athlete

By KELSEY BING, U.S. WOMEN'S NATIONAL TEAM GOALKEEPER




Life on tour is sharing a room with a different teammate. It is playing in front of 5,000 people. It is packing snacks because you are a picky eater. It is playing gin rummy until you're tired or hoping you have enough single dollars to compete in the next round of Left, Right, Center. It is trying new foods because you also like to say you are adventurous. It is fighting jet lag with different coffee shops. It is exploring a new country.

I made the transition to the national team in December 2018, and, due to my university's academic structure, I joined the team full-time in March 2019. It was an exciting time because the FIH Hockey Pro League was in full swing, and the team was gearing up for a month long trip to Europe. I was stoked. The opportunity to represent my country, hang out with my teammates and explore Europe had me telling all my classmates back at school that I was on a study abroad quarter for field hockey.

Although a tour with the U.S. Women's National Team is a little different than a college's study abroad experience, what I think is so special about traveling with USA Field Hockey is that you explore each country's hockey culture. For our trip to Europe in April 2019, we spent the majority of the time based out of Haarlem, The Netherlands. Haarlem is a quaint town marked with zigzagging brick roads, rounded canals, and bicyclist streaming past seemingly out of nowhere. Since we were in Europe for so long, we fell into a routine that often looked like:

    8:45 a.m.         Hydration Testing
    9:00 a.m.         Breakfast
    10:30 a.m.       Meeting
    11:30 a.m.       Lunch
    2:00 p.m.         Training
    6:30 p.m.         Dinner

Now, I will spare the details of hydration testing, but I am usually clearly hydrated, so that is never a big focus of my day. We then all head to team breakfast. No phones allowed. I am mostly a morning person, so breakfast for me is a great time to connect with my teammates. However, a lot of the team has more of a focus on coffee than connection in the early minutes of the morning. But, by the end of the meal, we are all usually chatting and planning escapades during our free time.

Meetings can range from watching film to talking about our structure to focusing on team culture. Usually, we watch film to debrief our previous games or to scout upcoming opponents. As a goalkeeper, I am fortunate enough to always stay for the auxiliary penalty corner meetings. I like to view this hour as "hockey class" for the day. Notebooks and pens required. Loose leaf paper permissible but can yield an exposing call-out during the middle of a meeting. Hockey is a lot more nuanced than I ever realized before joining the national team, and these meetings are always a great time to hammer out the details to be prepared for our next game or to improve any small detail.

We then head back to the dining room where we have our next no-technology meal. After lunch, I would probably spend the small break resting a little before practice. Most of the team fills this period with books, television, or schoolwork – a good opportunity to have a little me-time – but there is always a room full of my teammates chatting about whatever the latest drama could be.

We usually have a two hour practice. The practices are always intense, but the level varies based on whether we are playing a game the next day or within the next week. One of the things I like about tours is seeing another country's hockey culture, and practicing is always a great insight into that. In The Netherlands, they have hockey clubs that also function as social clubs. People hang out, grab meals, play hockey, or watch a game. In China, the Chinese hockey team has their own facility with a hotel next to it and multiple fields. However, millions of kids still streamed into the facility to watch our game. In Belgium, they have pitches directly in the middle of the city. A band seemed to find its way directly behind our goal to chant loud songs no matter what side of the pitch we were playing on. In Great Britain, we played at a hockey club that also is a tennis club, a unique blend of the two sports. It also happened to be the same pitch that the 2018 World Cup was played on. Each country has a unique culture that emerges through its pitches. Some are different colors, some are located deep within cities, some have massive stadiums around it, but they all seem to weave together by a unified hockey culture.

Once training is over and if I am not too tired, I like to spend my last little bit of free time exploring whatever city we are in. During longer tours, we also have regeneration days, which are designated off days for recovery. Since the days' focus is recovery, we cannot spend the entire day sight-seeing. After all, we are technically on a business trip for hockey, but we usually have an hour or two to do something active. I love to take this opportunity to explore.

A lot of time this adventure manifests in trying out new coffee shops around our hotel, taking a walk in the surrounding area, finding stores to shop, or looking for nearby cultural sites. The variability depends more on how exhausted we are from training, and how much we need to rest for upcoming games. However, if you want coffee, you can almost certainly find a group to go.

After free time, we have our no-phone team dinner, but one of the most fun parts of the day comes after dinner. There is always a group who plays a game of cards. Nicole sometimes even brings her Left, Right, Center game, but the team has to be careful playing as we like to wager real dollar bills. And a few games yield a few happy winners but a few too many sore losers. Shocking that the national team is so competitive about all types of games…

In all seriousness, I always enjoy these quiet evenings of playing games. The games are always a nice way to connect with a smaller group of the team and is also entirely unique to tours. At home, after practice, we all go back to our own respective homes with the same people. During tours we are all together and mixed up. We get an opportunity to hang out with different people and try different activities. Touring is a time when the team improves our connectivity while playing hockey in a different culture. It is an experience hard to encapsulate in words, but touring seems to be the dominant memory from my time so far with the national team. My camera roll is flooded with pictures of a sea of red tulips in Lisse, The Netherlands, and the pastel multicolor stadium seats of the pitch in Monchengladbach, Germany, and a few too many chai lattes with frothy white foam balancing on top of the milky brown tea. Touring is always an adventure that the team experiences together. 

USFHA media release


---

Former GB hockey star suffers mild traumatic brain injury

By The Hockey Paper



Whiteman suffered injury in last match of 2018/19 season PIC: Tim Whiteman/Twitter

Former Great Britain player Tim Whiteman says he is on the road to recovery one year after suffering a mild traumatic brain injury while playing hockey.

Whiteman received a blow to his left eye when the ball deflected up his stick in the final match of last season playing for boyhood club Harleston Magpies as the club returned to the national league.

Whiteman, who won 54 international caps and is player/coach at Harleston, returned to work the following week before post-concussion syndrome took hold.

"The first few months were hell," he revealed in a social media post.




"I seemed to make little to no progress, spending 23 hours a day in the house."

In strikingly similar detail to the injuries sustained by Alex Danson, Nicola White and Shona McCallin, Whiteman says that his confidence and self-esteem "took a hit" while he experienced constant fatigue and issues with light and noise.

He said it took three months before improvements were made and he was able to return to work as a politics and history teacher after six months, albeit slowly.

    Incredibly enjoyable season with the @Magpies_Hockey men. Delighted the group's commitment and hard work has been rewarded with national league next season. Thanks to super manager Kevin Ridley and the wider club for their support #magpiesfamily #gomagpies pic.twitter.com/iph17gRMsm

    — Tim Whiteman (@tjfwhiteman) March 24, 2019

At Christmas, his confidence began to return but admitted that he still needed to spend two hours per day "with my eyes closed or sitting in silence listening to podcasts".

Whiteman, who made his England debut in 2014 and played in that year's World Cup, believes he will now make a full recovery and has set himself a challenge of exercising and pushing his heart rate up.

The Hockey Paper wishes him well in his continued recovery.



The Hockey Paper


---

Tom joins the team to make hockey a hit in Ghana




In these very uncertain times it is sometimes good to take stock and reflect upon what is good and positive in the world. The United Nations inspired International Day of Sport for Peace and Development takes place on 6 April and as part of the celebrations day, FIH is highlighting projects and initiatives from around the world that are showcasing the power of hockey to change society for the better.

As part of the celebrations surrounding the International Day of Peace and Development, we are highlighting projects and initiatives from around the world that are helping change society for the better.

Today's story features a collaboration between European hockey powerhouse Belgium and the aspirational hockey nation of Ghana. Through strategic development and vision, hockey coaching and competitive opportunities are being opened up to young people in Ghana, meaning the youngsters gain the health benefits of regular sport. In addition, regular coaching and playing offers an opportunity for talented players to progress. It also offers aspiring local coaches the chance to make a career in coaching hockey.

The Royal Belgium Hockey Association (Hockey Belgium) and the Ghana Hockey Association are working with the Tom Boon Hockey Camp, the business enterprise of one of Belgium's international hockey stars – goal scoring dynamo Tom Boon. Through the collaboraiton, it is hoped that hockey coaching and equipment will be delivered to numerous underprivileged communities in Africa.

Working with the Ghana Hockey Association, Hockey Belgium and the Tom Boon Hockey Camp ran their first coaching clinic and handed over more than 400 hockey sticks that had been collected over the course of the Belgium hockey team's 2019 FIH Pro League campaign.

But this was not just a one-off charity activity. The three organisation partners are determined to make the project long-term and sustainable. To that end a coaching workshop was held with 25 Ghana-based coaches in attendance. These coaches, who are players, former players and teachers, having gone through the coach training, will now be delivering hockey coaching as part of a five-year development strategy called 'New Heights', with the ambition of raising Ghana's hockey to the next level.

A coaching camp running along side the coaching course saw more than 170 boys and girls from 5-15 years of age take part in a range of coaching and competitive opportunities.

The project was initiated by Derick Lee, a professional hockey coach who originates from Ghana. He led the coaching course and was joined by three coaches from the Tom Boon Academy. The star striker himself was unable to join the session because of playing commitment but he will be visiting the project over the coming years.

Speaking on behalf of the Tom Boon Academy, managing director Matthieu De Mot, said: "Our goal is to help the Ghana Hockey Association carry out their development plan over the next five years. We will try to help and support based on identified needs.

"The first step will be mostly bringing equipment from Belgium. We have received a lot of sticks and balls from the Belgian Hockey Federation and from members of our clubs here in Brussels. We are convinced that we can do more. In the next steps, we would love to return to Accra for new workshops with local coaches, training with kids and organise a hockey camp mixing player from Ghana and Belgium."

As a country, Ghana is relatively well-off when compared to many of its continental neighbours. However, as a hockey playing nation, it is a country that struggles with a lack of facilities, equipment and competitive opportunity. There is one artificial surface in Accra where the men's and women's national teams train, plus a number of clubs and teams. For players who live a long way from the city, hockey opportunities are far and few.

One of the aims of the Ghana Hockey Association, says De Mot, is to bring a clearer, national structure to coaching and playing. But first it is about equipping people to play the sport. "The biggest needs are hockey sticks and balls, and protective equipment, which will be distributed by the national hockey association in different regions.

"We consider our visit to Ghana as a first step of a longer term collaboration. We were very happy to share our knowledge and experience and to discover this beautiful country. The national hockey association is obviously very motivated and dynamic in developing our sport, which is something we deeply respect."

#IDSDP2020

FIH site


---

Hockey India donates Rs 25 lakh to PM Cares Fund to join fight against COVID-19 pandemic

New Delhi: Hockey India on Wednesday pledged to donate Rs 25 lakh towards the PM Cares Fund for the country's fight against the COVID-19 pandemic.

The decision was taken by the HI Executive Board after Prime Minister Narendra Modi announced a special emergency fund for the nation to fight the coronavirus outbreak.

"In these difficult times, it is the absolute need of the hour to come together as a nation to help fight the crisis and fulfil our duties as responsible citizens. It was a unanimous decision taken by the Hockey India Executive Board to contribute Rs 25.00 lakh towards the PM Cares Fund," HI president Mohd Mushtaque Ahmad said in a release.

"Hockey has always received tremendous love and support from the people of this country and we want to do whatever little we can to help our countrymen and women emerge out of this pandemic as victors," he added.

The coronavirus outbreak has infected over 8,00,000 people and caused more than 42,000 deaths worldwide.

In India, more than 1300 people have been infected while 35 have succumbed to the illness.

"Hockey India has always stepped up for any noble cause and in these difficult times when the world is grappling with the Covid-19 pandemic which has impacted millions of lives world over, we wanted to extend our support in fighting this crisis" HI secretary general Rajinder Singh said.

"The Government of India is doing everything they can and we urge all Indian citizens to act responsibly and stay home, stay safe during this lockdown. We can fight this global crisis together," he added.

Firstpost