All the news for Tuesday 7 April 2020

Hockey celebrates International Day of Sport for Development and Peace 2020

Collaboration is key to development




FIH has spent the past five days celebrating hockey's place in promoting peace and development via a range of projects and initiatives. The stories, from across the five hockey-playing continents, are part of the recognition and celebration of the United Nations International Day of Sport for Development and Peace, which takes place today (Monday 6 April).

With the health of the global community under threat from the virus Covid-19, never has the message of unity and support been more pertinent. The stories we have highlighted here are just five examples from hundreds of activities that are being run by the hockey family with the end goal of making communities healthier, happier and better places to be.

Our five days of stories began in Europe where the Royal Belgium Hockey Association (Hockey Belgium) and the Ghana Hockey Association are working with the Tom Boon Hockey Camp, the business enterprise of one of Belgium's international hockey stars – goal scoring dynamo Tom Boon. Through the collaboration, hockey coaching and equipment is being delivered to numerous underprivileged communities in Africa.




As a result of the work so far, 400 sticks have been delivered to youngsters in Ghana; 25 coaches have received training on delivering coaching sessions; and more than 170 boys and girls have benefited from coaching courses. The aim is to make the coaching courses sustainable, with local coaches doing much of the delivery in the future.

South Africa was the focus of the second story as the national association (SAHA) strives to develop hockey to communities across the country. The message going out to schools and clubs is a simple one: hockey can be played anywhere there is a flat surface.

Under a national initiative that involves SAHA, clubs and schools, schools will get resource packs and equipment, teachers will be trained in basic hockey coaching and qualified hockey coaches will be running sessions. Hockey will be largely delivered as an adapted game – small-sided games on any type of surface – thus allowing the sport to be played far more widely.




Under the strategy, South Africa will have a whole new cohort of hockey enthusiasts. 375 new schools will be targeted for coaching and equipment; 7,500 youngsters will benefit from coaching, 750 teachers will be involved in the delivery of the nationwide programme and 2,440 modified sticks and balls will be distributed.

The geographical area covered by PAHF is as diverse as the hockey community served by the continental federation. There are the developed hockey national associations of Argentina, USA and Canada. There are the aspirational communities of Chile, Uruguay, Mexico and Trinidad and Tobago and there are the national associations that are just starting out on their journey into hockey growth and development, such as the island nation of Haiti.

Since 2015, Haiti has had a national hockey association and, with the support of PAHF and latterly, the Olympic Solidarity Programme, a coaching development initiative has been raising playing and coaching standards in the country.




Shiv Jagday, who formerly coached both USA and Canada national teams, is leading the project. He has visited the Caribbean community on three separate occasions to lead coaching courses, the most recent of which was in February of this year.

Afghanistan is not just damaged by wars and terrorism, it also ranks as one of the poorest nations in the world. Despite this, it continues to play a range of sports at international level, with its national hockey association aspiring to make Afghanistan a competitive hockey-playing nation. The men currently rank 70th in the world, while the women's team is still very much in its infancy and is yet to get a world ranking.




It is not just at elite level that hockey is making in-roads in Afghanistan: it is also being played in pockets across the country and participants are finding that regular hockey training and competing in local matches is beneficial to both their physical and mental health. The demands of the game are both cathartic in a society where stress levels are extremely high and it also offers the chance for social networking.

The Asian Hockey Federation has been working with the national hockey association since 2003 to promote and develop hockey. Equipment donation and coaching courses have opened up opportunities to male and female aspiring hockey players, and at the same time, spread some sport-inspired light and healing into this damaged country.

The final continental story comes from Oceania and demonstrates the power of sport to instil life-skills such as self-confidence and leadership.

The BDO Aspire Learn Well, Live Well, Lead Well indigenous hockey programme is a collaboration between Cairns Hockey and the Australian Federal Government NIAA, with support from Hockey Australia and the Oceania continental federation.




While the programme itself is on-going and hugely successful, the icing on the cake for seven of its course members was a trip to the FIH Pro League match between Australia and Argentina and the chance to meet some of the men's and women's national teams.

The five days of celebrating sport as a means of promoting peace and development culminated in a message from the FIH Hockey Academy, which is dedicated to hockey development across the globe.

Much of the development work across the international community is driven by the FIH Hockey Academy. Working in collaboration with national associations, continental federations, local organisers and a number of other stakeholders, the FIH Hockey Academy seeks to develop hockey and to provide development via hockey. To explain that important distinction and to talk about the work of the academy, we spoke to FIH Academy director Mike Joyce.

A message from the FIH Hockey Academy

"At the International Hockey Federation we believe in the power of sport to change the world. The greatest thing about sport development and sport for development is essentially that it is about helping other people.

Everything we do in development we do in partnership with our national associations and continental federations. It is focused on hockey development, including education, participation and infrastructure or hockey for development – things like gender equality, social inclusion, youth and education.

When we are designing our education and development programmes we are always mindful of two principles. Firstly, the needs and dreams of our stakeholders and secondly to make sure the projects are sustainable.

In terms of sustainability, we look for strong stakeholder partnerships making sure everyone has clear roles and responsibilities; multiple sources of funding; capacity of infrastructure at the market we are entering; smart goals; good marking and communication; and importantly, easily measurable targets that we can report back at the end of the project.

A model example is the Tap West Africa project. UK Sport, England Hockey, the African Hockey Federation, the Ghana Hockey Association all collaborated in this project. There were clear outcomes for participation, performance and education. This took place not just in Ghana but in West Africa as a whole.

If you visit the FIH Academy Facebook page, you can see the documentary about the project - it's called the Sound of Hope and is a fantastic example of what the hockey community can do when it works together.

While the current global pandemic is restricting the delivery of many stakeholder development hockey activities it is clear the hockey family will not sit still. If it is home skills challenges or webinars you are looking for, you will have no problem. To support this online hockey whirl, the FIH, in partnership with the continental federations, just launched a series of online workshops and courses through the FIH Academy.

The first, an online FIH Academy Level One Coaching Course, starts today (Monday 6 April) with candidates across the globe. To find out more, head to the FIH.academy

Today, it is the International Day of Sport Development and Peace. We, in the global hockey community, are massively proud to support this United Nation's initiative."

#IDSDP2020

FIH site


---

What women's hockey team is doing during the lockdown

The team along with its head coach Sjoerd Marijne is spending their time at Sports Authority of India (SAI) center in Bengaluru.



Indian women's hockey team chief coach Sjoerd Marijne along with captain women's hockey team Rani Rampal (Image: TOI sports)

As India continues its fight against the COVID-19 pandemic with a nationwide 21-day lockdown, people's movement have got restricted.

The situation is no different for the Indian women hockey team. The team along with its head coach Sjoerd Marijne is spending their time at Sports Authority of India (SAI) center in Bengaluru.

With severe restrictions in place and social distancing being the norm to avoid the spread of the infection the regular training sessions have also got affected.
"We are not allowed to train on the gym and in the gym," said Marijne.

"We do individual meetings, individual running, and strength and conditioning exercises and bodyweight training, Besides, they are doing a lot of analysing. They are watching videos of other countrieswith our analysing software," added the Dutchman.

The head coach also has to deal with player's psychological issues as well. For that he has chalked out group sessions where the team sits together and watches motivational documentaries.

Marijne understands that the lockdown will take heavy mental toll on the players and they would need a break once the situation eases out.

As the disease spread in India, Marijne had decided to fly back to Netherlands but then decided to stay back and spend time with his team.

"I am glad I did that. I could not have afforded to be stuck in the Netherlands away from the team or so many weeks due to the travel ban," said Marijne.

The team has already qualified for the Olympics and Marijne after having talks with SAI and Hockey India has sketched plans for next 15 months.

The Bridge


---

Supporting mental and psychosocial well-being need of the hour

The sporting world has come to a standstill in the aftermath of the coronavirus outbreak, and there are growing concerns regarding the mental health of athletes.

Santadeep Dey



"Athletes have a very tight schedule and now suddenly, there's this huge change. Coping with a particular change that has been imposed on us, long term, can be difficult to deal with," says consultant psychologist of the Indian women's hockey team Priyanka Prabhakar.   -  Hockey India Twitter

A survey conducted by the Indian Psychiatry Society reveals "the number of people suffering from mental illness in the country has shot up by a significant 20 per cent within just one week of the coronavirus (COVID-19) outbreak."

Like everything else, the sporting world has come to a standstill, and there are growing concerns regarding the mental health of athletes.

Consultant psychologist of the Indian women's hockey team Priyanka Prabhakar believes self-isolation has instilled fear and uncertainty in many. "Athletes have a very tight schedule and now suddenly, there's this huge change. Coping with a particular change that has been imposed on us, long term, can be difficult to deal with."

Somya Awasthi, co-founder, Credo Psychological Services, says the biggest challenge for an athlete is disrupted training and fitness regime. The athletes, now at home, may also have their diet-plans affected to a large extent. She says: "Maybe they are trying to do things with whatever little is available at home, but you know it's not the same as being in a national camp. Also, they are not having the equipment they were privy to before.

"Sports is their life. And once they're not able to identify with it, it might cause a feeling of self-doubt or guilt that they're not doing enough. With events like the Olympics postponed, there is an added task for them to keep the steam going."

Somya adds that in difficult times like these, a very powerful tool to keep yourself mentally fit is guided imagery. "In guided imagery, you take out 10 minutes, sit and just imagine details of a skill that you would normally like to perform. We use it to improve mistakes when athletes are injured and enhance their attention. So it's basically doing what is the right thing to do on the field. But here you are just seated and going through all of it in your head. You need to time it and be realistic. It needs to have perspective and emotions to feel like being in the physical state on the ground."

Priyanka assures "acceptance of the issue" at hand is key. "I think, first of all, you need to acknowledge the reality and gravity of the situation to reduce anxiety. A lot of coaches are providing online training, handing sportspersons a schedule they can follow. I think it's also very important to socially connect with people – both virtually and at home. You can call acquaintances once in a while. Physical fitness, of course, will be a concern for some athletes but they have to make do with limited equipments."

It is uncertain, as to when normalcy will be restored. Can prolonged social-distancing induce long-term imbalances? There is a chance, especially in younger athletes with limited exposure, concur Priyanka and Somya, but it is highly unlikely.

"Sports personalities, in general, are mostly extremely resilient and gritty. But then again, there will be individual differences. They have had experiences of being injured, or maybe, having to lose a crucial game. They are subject to a gruelling routine that has been drilled into them. And they will get through that... most of them. Also, the kind of support they're getting, at this point of time, will have a very big impact on how they stage their comeback," Somya said.

Sportstar


---

Browne changes focus as COVID-19 delays English season

By Nigel Simon

Former T&T international hockey standout, England-based Kwandwane Browne like many professional sportsmen worldwide have been trying their best to keep fit and focus as the world continues to grapple with the coronavirus (COVID-19) virus pandemic.

The 42-year-old Browne is a legend of the sport on two continents, Europe and Pan American and is well known as both a player and coach.

He currently coaches one of the top teams in England, Hampstead and Westminster, and is also part of the England and Great Britain men's Olympic coaching staff having retired from the "Calypso Stickmen" in 2019 after the last Pan American Games, the 18th edition in Lima, Peru, having featured in more than 325 matches for the national, indoor and outdoor.

Before the suspension of the hockey season at the club level in England as well as with their national team, Browne was enjoying a relatively productive and busy season on both levels with the men beating Malaysia 5-2 and 4-1 last November to qualify for Tokyo after disappointing results in recent tournaments.

However, further to the British Government and Public Health England's guidance around major sports events and international travel restrictions, regrettably FIH Hockey Pro League games against China, India, and Argentina as well a planned South Africa training tour was cancelled while remaining matches against USA and Spain May 23/24 and Germany on June 13/14 will be made no later than April 15.

Besides, Great Britain's away matches against the Netherlands on April 28 and 29 have been postponed.

He said that things have been at a standstill with regards to hockey and sport in general in Europe as the rest of the world.

He said, "In England, we stopped the season three weeks ago, and our Great Britain senior men's hockey team was supposed to go to South Africa on March 15 for some warm weather training in preparation for the Tokyo Olympic Games.

"But due to the COVID-19 virus, the training camp had to be cancelled while as we all know now the Tokyo Olympic Games which was to begin in late-July will now occur in 2021.

"So with those developments, the national programmes and England Hockey Leagues were all stopped at that time due to the coronavirus (COVID-19) worldwide pandemic.

Fortunately for Browne who has won the T&T Hockey Board "Player of the Year" award nine times along with six Pan American Elite Team membership, the England Hockey League Premier Division was able to finish the Premier League regular-season schedule of 18 matches.

He added, "My club Hampstead & Westminster, ended in the second spot with 41 points, six behind Surbiton to qualify for the semifinals before the tournament was suspended.

Browne said that while the Premier Division has reached the semifinal stage, the same cannot be said for some of the conference leagues who are yet to complete their regular seasons.

Browne who has several other tasks as a coach with St Lawrence College and Hampstead and Westminster said the clubs are still awaiting the final decision on what will happen with the rest of the season.

"We are not sure whether it will continue once the pandemic is brought under control or if it will be cancelled because, on completion of the league format, the playoffs were expected to follow.

"But all competitions have been suspended and there are a few things still to be decided in terms of promotion and relegation playoffs, and they haven't made a decision on that as yet."

"The promotion and relegation of teams in England are not that straight forward, especially because the teams in the north has one more round of matches left to play to complete the regular season with the top two clubs Durham and Bowdon, in a virtual top-of-the-table-clash to determine the regular-season winners.

He said, "Also, the league also needs to determine the top two teams to represent England in the European Hockey League (EHL). For me, it's still relatively quite busy. I'm doing a lot of meetings online, and doing a lot more at home and cleaning up my hard-drives which are filled with hockey stuff as you could imagine while club-wise I am also trying to stay in touch with the players as much as I can. Due to the lockdown, we can't do much hockey work, and it's a time for me to make sure that everyone and their families are safe with regards to the coronavirus pandemic."

He added, "Generally at home, it's me and my two boys and my mom who came over from the USA to help me look after them when I am away with Great Britain hockey teams, so it's just four of us and we are pretty lucky in that there are lots of private fields close to where we live so we can get a chance to go outside at times, do some running if we want too, while the boys also have quite a bit of entertainment at home as well as school work which has them busy.

"The days are going by quickly as well and for me, it provides a great opportunity to do some work with friends and family, as we are still not sure when the season is going to start back.

Browne, a London Metropolitan University (LMU) graduate also noted that another former T&T stand-out Dillet Gilkes who coaches Conference East club St Albans is also in good spirits and doing a good job on the coaching season at the club which features T&T internationals, Marcano brothers, Tariq and Teague.

"Teague is the joint top scorer in the Conference East with 18 goals and his team their club is just outside the playoff picture with one match left to play," ended Browne.

The Trinidad Guardian


---

Former Kenya coach staying put in the Netherlands

By AGNES MAKHANDIA



Multi Media University's Frank Masimba (left) vies for the ball with Kenyatta University's Dan Donald Arogo during their Kenya Hockey Union men's Super League match at City Park on February 29, 2020. PHOTO | SILA KIPLAGAT |  NATION MEDIA GROUP

Former Kenya women's hockey team assistant coach Moses Kagochi is frustrated that his services at Venlose club in the Netherlands will not be fully utilised

The raging coronavirus pandemic has seen sporting events around the world stopped including the second leg hockey league in the Netherlands.

Kagochi has a one-year coaching contract with Venlose men's and women's hockey clubs that ends in June.

"The country has put in all stay at home measures to apply until April 28. This means that sports facilities, establishments serving food and drink, childcare centres and other venues are closed and so we wait and see how this will pan out after the said date," said Kogachi

"But should the measures continue that means I will have one month to the end of my contract and who knows what will happen after that," Kagochi added.

Kagochi was assistant to Tom Olal in the Kenya women's team that finished fourth in a five-nation African qualifier for the Tokyo 2020 Olympic Games in South Africa.

South Africa qualified to represent Africa in the 2020 Tokyo Games that were pushed back by a year due to the coronavirus disease.

Former international Jackline Mwangi is the new Kenya coach with Barbara Simiyu and Glenis Namasake her assistants.

Netherlands with a population of 17,134,872 has 16,627 recorded coronavirus cases, 1,651 deaths and 250 recovered as of Sunday.

Kagochi, who is attached to Kenyatta University men's hockey team that competes in the Super League, left the country in February for the second leg that bullied off in March and was set to end in June.

The Dutch Hockey League side was relegated from the top tier league last season.

The club occupies second position on the standing with 28 points from 12 matches behind leaders Heren that have 30 points from same number of matches.

The 45-year-old Kagochi said he wanted to fly back immediately the coronavirus broke but he didn't get a flight.

"My wife — Irene encouraged me to stay and keep safe. but I worry about home," said the International Hockey Federation instructor.

Daily Nation


---

Playing hockey in Europe is not a bed of roses

Barasa is the hope of the men's national hockey team, having played in all the five Olympic qualifying games in South Africa in August last year.



JKUAT Lesley Bonyo challenges Strathmore Gilly Okumu

The allure of playing overseas in the hockey circles comes with desire and excitement leaving players optimistic that such opportunities will be stepping stones to a successful career.

Opportunities to play hockey outside Africa are always hard to come by, but when they do, players tend to grab them wholeheartedly with the hope that it will shape their destiny.

Being a hockey giant in the East African region has given Kenya the privilege of having homegrown players traversing Europe. Many believe it's a chance for players to hone their skills with athletes returning as refined articles.

Fast-rising and highly-rated Wazalendo forward Dunstone Baraza is the latest Kenyan player to set foot in Germany as he played for VfB Stuttgart in a month-long experience in September last year.

Barasa is the hope of the men's national hockey team, having played in all the five Olympic qualifying games in South Africa in August last year.

In an interview, the tricky forward said: "Playing abroad is all about the passion of the game. We play because we love the game. Besides, it's all about the opportunity given to you. Once you get the chance, you can't miss to grab it and to sum it all, it's about the appreciation of the talent."

Barasa was in the company of Willis Okeyo while the trio of Blazers' creative lynchpin Lilian Aura, overlapping defender Flavia Mudiva and Wing wizard Maureen Okumu also made the cut. National women's team captain Gilly Okumu, as well as Okeyo, were making a return to Germany. They played in May too.

"I found out playing overseas is intense. The pace and ball speed of the game was a little bit higher than in Kenya. I also found out most players were skilful too and the weather was colder than in Kenya and so I had to go for the late evening and morning runs to adjust to the weather conditions. In Kenya, we play under sunny and warm temperatures. Perhaps the weather challenge is one of the reasons why Kenya players struggle to stay long in Europe," remarked the dazzling forward.

The enigmatic striker further highlighted the mandatory requirements that will make one competitive.

"You should have a vision, sharpness in the game, speed, skill, good decision making and endurance for you to be counted upon regularly. All players are skilful and have experience because they play for many years. Consistency is never a problem for them and a foreigner needs to be on top of his or her game to catch up with the rest."

According to Barasa, European countries will never scout for raw talent. They tend to look for the players who not only understand the game but also have the skills to deliver when required.

"To be honest, they want a polished player who virtually has everything. It is only positioning and structure of the game that you will be taught. However, you have to be averse with positioning when expecting the ball in the D; how strikers should position to avoid scrambling for the same ball and how to maintain your passing lines. They helped me understand the game better in terms of decision making and positioning," Barasa hinted.

Butali midfielder, Barnabas Odhiambo termed his six-year experience in Italy as a dream come true. "The privilege to play against the best in another country or continent is an unforgettable experience despite the numerous challenges," he added.

The three-time title winner with Butali was scouted during the African Club Championship in 2007 on home soil. By then, he was playing for Greensharks.

He joined Club Superba in the second tier the same year until 2013. "Italy were hard-hit during the world financial meltdown and it took them very long to recover from 2009 till 2013 as many foreign players left with standards dropping. It wasn't easy for many clubs," recounts Odhiambo.

"Their standard at the time was definitely above African hockey, but compared to the rest of Europe, it was quite low, attracting not many top players from Europe at the time," he said.

Odhiambo, who doubles up as Nakuru hockey Super League men's coach, observed the difference between Italy and Kenya.

"Their facilities like hockey stadiums are of international standards and are supported by their municipalities. The astroturf grounds are numerous and spread throughout the country for easy accessibility. Italy has developed academy teams from age 12 and they are very organised. The fanbase is amazing and when you step on the field, you feel like leaving your heart there."

The former Wazalendo player said foreigners are always offered short term deals of one to three months due to the difference in seasons and the cost.

"For them, a short term deal is cheaper because they are self-sponsored. Winter season is quite long and they play indoor hockey from mid-November to early March while the summer holidays are long with no sports activities from mid-May to late July. Players should not be over-ambitious since it's hard to play out for a longer time."

The offers are quite low in terms of salaries as small as Sh50,000 per month and for six months only. Accommodation is provided but no food. That is why guys opt to further their studies here in Kenya and concentrate on their careers to secure their future. Those who aspire to play in foreign leagues must be ready for low-income earners. Host clubs expect more from foreign players in terms of input on the field and overall performance since they are paid.

"We were only three players on salary. The rest were local unpaid players but paid their subscription fee to the club. So it was obvious that we had to do more in terms of energy dispensed on the pitch and professionalism."

Zack Aura, Bryan Musasia, Willis Ochieng and Margaret Rotich also went to Italy at the same time. It is only Aura and Odhiambo who stayed longer, according to the interviewee. Others found the going tough and returned home shortly, a clear manifestation of how tricky it is to survive in a foreign land.

Hockey basics in Kenya are usually taught from high school or even university while in top nations, they are taught from academy teams. By the time they hit 18, the basics are well engrained and they start working on more technical stuff.

"Skills for me gives a player an upper hand and helps one have fun while playing. Definitely, when you enjoy playing, you are able to give your best effortlessly. Hockey as a game evolves quite fast, year after year with new strategies, systems of play and tactics keep changing hence the need for quick learners to keep up with the game from the technical bench to players."

Individual discipline entails taking responsibility for some roles like personal training when called upon, good dieting, hydrating, staying clean from doping and following instructions. Observation of all these will make your stay smooth, according to the hockey stars.

For Rakel Otieno, age is never a factor as she has defied odds in her mid-forties. Former Kenya international has played in the USA for 15 years. The 45-year-old, who is still an active player in the Masters league reckons that playing abroad is all about cash even though playing for passion cannot be overlooked.

"Of course, it's all about money and at the same time exposure and if all goes well, living a better life in the future. There are clubs that provide housing, air ticket, a car and health insurance. It all depends on how one negotiates a contract and the power to negotiate lies in the level of play. The player must be top-notch. Hockey does not pay like soccer anywhere in the world except in the Netherlands and of course, Division I will play best. Germany is also known to play well and maybe Spain. The country has to have a competitive league like Spain to attract players globally," observed Otieno, who is on the verge of history by being the first Kenyan woman player to play at a global level when she will represent the USA this September in the Masters' World Cup.

She said, "Playing for passion means playing the sport you love and never expecting material or financial reward to be the motivation. The motivating factor should always be to inspire someone else to improve and be better. Playing for passion overseas should include upholding the culture of your own nation and letting the world know your roots and not running away from it. When they hear anything good about your country, they think of you," the Tunza sports chief executive officer, implored.

Rakel observed that adjusting to the culture shock, food, weather, language and nostalgia while away from home and family, can be daunting yet the player is expected to perform each and every day at a high level.

"There is also the problem of racism, which unlike North America is more pronounced in Europe. It is very tough to adjust to a racist environment having come from a country where you never had to remember that you are black with less privileges."

The marauding right-back intimated that a tough mentality is necessary to fight racism. Prejudice is common in the USA.

"The USA is not that blatant when it comes to racism but more of prejudice. I have encountered prejudice tendencies in common places such as the clothing store or restaurant but I ignore it. The hockey community was amazing from when I came to the USA and even though I seemed less privileged and "needy" I was never subjected to prejudice and instead protected from it. How you present yourself will make people be on your side or against you."

"Believe in yourself and who you are. Know your rights as a human being then as a guest in that country. Keep off aggression but stand up for yourself. Do not bend low to anyone but be respectful. Racist respect those who respect themselves," she said.

Rakel further averted that game intelligence is high in the US because players understand why they make decisions. "Players stick to plans and instructions even at the adult level. If things don't work, they establish the cause. This makes players play for each other rather than play for themselves. Finger-pointing is the norm in Kenya. The clubs that are successful like Blazers and Butali are the closest thing to the mindset of USA club teams.

"The game is a fun moment in the US. Win or lose, people gather and become a family and celebrate until the next time. There are unity and brotherhood in the leagues and the blame game syndrome is unheard of."

In her opinion, she recommended late teen to early twenties as the best age to move and play abroad. "At 19-23, it perfectly suits many clubs who prefer young foreigners. They can push their body and have less injury. But this is assuming the player has at least 4 years experience playing competitively, ( Meaning they were already playing league at 17) and at least one international experience."

All in all, playing overseas entails mental toughness, readiness, culture adjustment, high skill level and determination to prevail as a constant fixture in the team.

The Star, Kenya


---

USA to England and Back

By CARRIE HANKS, U.S. WOMEN'S NATIONAL TEAM DEFENDER




Wearing the USA jersey has significant meaning to each and every player who has the privilege to put it on. The players who came before worked tirelessly to honor it. The current players, both veteran and new, look to the jersey and to each other while standing on the baseline ready to take on fitness development, on Winning Wednesdays full of competition, during the national anthem on game day as they look to perform. Younger players watch the games, practice skills and dream of one day putting on that jersey. I was one of those younger players. However, from early on in my development, my awareness of field hockey broadened to see how big the sport is across the globe. As my interest and passion for the sport grew, so did my desire to watch top competition and skill. YouTube offered an enormous number of skills videos and international game footage. The streaming of the men's EuroHockey League allowed me to watch top-level competition whenever those tournaments rolled around – and also left me sitting in amazement of the skill (and composure) the players possessed. This is when I started hoping and thinking of the incredible experience I could have if I could play abroad at some stage.

The opportunities with Junior High Performance teams and Indoor U.S. National Teams continued to push my development and passion for the game, accompanying my high school club and college play. At the end of my final NCAA season at the University of Maryland, I knew it could not be the end of my playing career. I had been named to the U.S. Women's National Development Team and knew it would take continued commitment to my development as a player in order to vie for a spot on the national team. I wanted to continue training and competing at a high level. The start of the spring semester brought just that opportunity to my attention. Coaches involved with an English hockey club and university had asked my coach at Maryland, Missy Meharg, if there were any graduating seniors who would be interested in playing abroad and completing a postgraduate program at the university, and sure enough, she did. A series of emails and Skype conversations later, I had confidently made my decision – I would travel to England that coming August to play for Beeston Hockey Club, and to study and play for Nottingham Trent University. Looking forward to the coming year served as another challenge to take on and work toward, in addition to the work with the Development Team that spring.

I arrived in Nottingham excited to get on the pitch and get training. In playoffs the previous season, Beeston Hockey Club Ladies' 1s had secured promotion to the Premier Division for England Club Hockey. Each game would be a battle, some teams with current or former Great Britain players competing, and all certainly with experienced, skilled players. One of the biggest differences from playing in the NCAA was the variety in players' ages on teams. There could be a teenager playing next to a player in her thirties. The environment created in the established club system in England, as well as other countries, keeps players competing past the university age. The accumulation of playing experience really is apparent when these players take the field because of the composure and game sense that has been honed over the years with the skills to match.

The club promotion also meant my family (and a few dedicated friends from home) could watch my home matches at Beeston on the BeeTV stream.

Both of my coaches in Nottingham were attuned to what my personal goals for development were, in addition to what coaches within the USA system were looking for in players. Key aspects of my learning and development in England centered around keeping my play simple. My club coach over there liked to present it as: the best players in my position (as a defender or screen) don't make mistakes. He wasn't trying to pressure me with an unrealistic standard – quite the opposite, really. Instead, it was for simplification. Obviously, no player is perfect, but it helped to put me in the playing mindset to know what my options were before I even received the ball, and to focus on simply executing the skill to distribute. Over time in training and time off the pitch, these characteristics began to become more consistent in my game play. Individual time on HUDL (the platform for sharing and viewing game video footage) complemented team tactical video sessions with the club. I enjoyed the experience so much that when asked by my coaches whether I would consider returning to Nottingham for a second year, I said yes. In August 2019, I went back for round two, pursuing a second postgraduate program, and fundamentally, even more time guaranteed training, competing and working toward that fundamental motivation: Team USA. It didn't turn out to be the fall and first half of the season I expected. I had a concussion that forced me away from the game I was passionate about. But the team support was so great and helpful and I looked to still contribute to team progress where possible.

For me, the time living, studying and playing in England brought on significant development for myself as a player and as a person. Adapting to the new environment (though not needing to completely learn a new language) included changes in terminology used while playing and everyday life, in addition to new customs and experiences. The people on my new teams played an important role in my adjustment to their systems of play, and it was key for me to contribute, as well. With a pretty decent amount of playing experience, I took it upon myself to confidently voice my thoughts and questions - in the training environment, particularly. When I returned for a second season with these two teams, I took on leadership roles.

Returning to the USA environment for the U.S. Women's National Team Trials in early January of this year certainly changed the outlook for my next six months. Instead of returning to England to play and contribute to my teams over there, I would have the privilege of training and going straight into the 2020 FIH Hockey Pro League as a member of the U.S. Women's National Team. It was the overarching purpose that I had when going over to England. I had achieved a major goal of mine, but it now signified just the start of another journey, to wear that USA jersey.

USFHA media release


---

Erin McCrudden hired as assistant field hockey coach

Former USA National Team member joins Brown coaching staff

By Peri Sheinin



Erin McCrudden will be working as an assistant coach for the field hockey team, alongside Head Coach Jill Reeve and fellow Assistant Coach Jillian Coppola. Courtesy of Brown Athletics

The field hockey team has added former University of Louisville star and USA National Team member Erin McCrudden to its coaching staff, the team announced March 27. McCrudden will be working as an assistant coach alongside Head Coach Jill Reeve and fellow Assistant Coach Jillian Coppola.

Although her first season with the Bears was canceled due to the COVID-19 pandemic, McCrudden said she eagerly awaits the opportunity to develop relationships with the players and share her insight.

"I am very excited to join the staff at Brown and work alongside both Jill (Reeve) and Jillian (Coppola) while seeking their mentorship to grow as a coach," McCrudden said. "I felt an instant connection with the immediate staff … along with an eager group of student athletes."

McCrudden began playing competitive field hockey in Putnam Valley, New York, before entering high school, where she played varsity basketball and lacrosse in addition to field hockey. At Louisville, McCrudden excelled on and off the field. In her senior year, she was named an All-American and received All-Atlantic Coast Conference second team honors. McCrudden notched 18 assists in her final season with the Cardinals — the second most in the nation in 2016 and the second most single-season assists in program history.

In the classroom, McCrudden earned a bachelor's degree in health and human performance. She was named to the Athletic Director's Honor Roll four times and was a two-time member of the ACC Honor Roll and the National Field Hockey Coaches Association National Academic Squad.

Less than a week after graduating from Louisville, McCrudden played in her first international contest as a member of the USA National Team. In total, McCrudden competed at the international level more than a dozen times for Team USA.

"Erin brings a lot of skill and we are very excited to have her on staff," said captain Kelly Raymond '21.

In addition to the impressive technical experience McCrudden brings to the University, the new coach also emphasizes the importance of mental toughness and personal growth on the field.

"The mind is a powerful thing, use it well," she said. "Be grateful for what you have but do not be afraid to demand what you deserve. Find joy in the journey even in the toughest parts."

McCrudden will primarily assist the team in player development. Although she will be unable to join the team in person this season, McCrudden has already worked to have a positive impact on her players. Through digital assignments and tactical analysis, McCrudden has found creative ways to engage the team while its players are spread all over the world.

"Her experience and expertise will be a great addition to our program," said Amanda Cooper '22. "Brown field hockey is ready to go."

Brown Daily Herald


---

Academics a top priority for Madibaz student-athletes in South Africa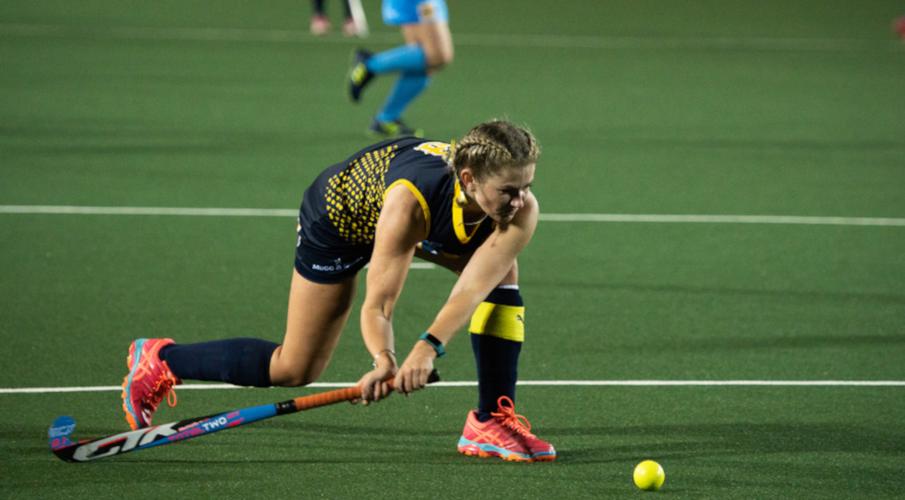 Hannah Knott-Craig © ASEM Engage

Student-athletes should make their studies a priority and maintain good fitness levels while staying safe, say Madibaz Sport managers and coaches.

This is the immediate objective for Nelson Mandela University staff and students as they continue to comply with government and university regulations during the national 21-day lockdown because of the coronavirus outbreak.

The lockdown is due to end on 16 April and the managers want student-athletes to be ready for what is hopefully a return to normal life.

Madibaz Sport hockey manager Cheslyn Gie said the situation would have a big impact on the students, but that their academic programme should be the main priority.

"When they return they will have to catch up on all the lost time with regards to lectures and tests," he said. "Our primary goal will be to assist them with their studies first, so our hockey will be a secondary concern.

"I am also hoping that all our students return in good health."

As per national and provincial guidelines, Gie said the start of the hockey season had been postponed and they would await further direction from the national body.

Supersport


---

Strong values playing with Scottish hockey's masters

By The Hockey Paper



Judith Martin, pictured front right, with the Scotland over-55s

Three years ago Judith Martin's family were called to her hospital bedside and told to prepare their goodbyes. The 60-year-old had suffered multiple organ failure as a result of acute sepsis and was severely ill.

Yet, Judith pulled through and went on to make a miraculous full recovery. But that wasn't enough for the Ayrshire woman.

Over the summer she won a silver medal in the Masters European Cup in Germany. "The hockey is really what kept me going during my recovery," says mum-of-three Judith. "Winning that medal was a dream come true."

Judith has played hockey since she was a schoolgirl, and now competes for the Scottish Masters over-55s team, which narrowly lost out to England, who scored twice in the final seven minutes to take gold.

Yet, Judith was awarded the match pennant and finished with three goals. "There was the realisation we had achieved something no other Scottish women's hockey team had ever done in the past – reaching the final of a major tournament," she adds.

Judith who works for pensions and trusts firm Acma, said: "I can't quite believe this all happened, as three years ago I was fighting for my life. In my recovery phase I was encouraged to set targets for the future and I remember sitting there with other people and they were saying things like 'I want to be able to get the messages in by myself.'

"I had slightly different targets – I wanted to cycle from Land's End to John O'Groats, do the Glasgow Half Marathon and do an Iron Man competition! I managed two of those, and changed the third after watching my Masters team-mates play the Home Nations tournament in Edinburgh. It was hell being on the sidelines, spectating was not for me. I wanted back on the pitch."

Wearing her nation's shirt clearly holds strong values for Judith – and the 2021 World Cup in South Africa is now the next hurdle.

This originally featured in a previous Hockey Paper edition. Don't miss out. Subscribe in print or in digital format.



The Hockey Paper


---

Indoor hockey ace Nur Aisyah wants to do it outdoors, too

By AFTAR SINGH

KUALA LUMPUR: Defender Nur Aisyah Yaacob is a talented hockey player and was the top scorer with eight penalty corner goals as Malaysia won their first-ever women's indoor hockey gold at the Philippines SEA Games in December.

Strangely enough, she has yet to get a call-up for the national field hockey team in four years.

The 23-year-old, who is pursuing a degree in mechanical engineering at the Universiti Tenaga Nasional (Uniten), is now hoping she gets the call this time around.

The Malaysian Hockey Confederation (MHC) are expected to name the national coach by the end of this month and the new coach will be calling up players for the national assignment this year.

The Melaka-born Nur Aisyah last played for Malaysia in field hockey in the World League Second Round in New Delhi in 2015.

Nur Aisyah, who helped KPS-Uniten win the Vivian Soars (overall) Cup in the Malaysia Hockey League (MHL) in February, said she was really eager for a call-up to national field hockey training.

"I was 18 when I represented Malaysia in the World League Second Round in New Delhi but after the tournament, I have been left out.

"I was lucky to be called up for SEA Games indoor hockey last October and in just two months, I worked hard in training to feature in the Games.

"I think I did well to marshall the defence and also scored eight penalty corner goals to help Malaysia win the gold, " said Nur Aisyah, who also steered Malaysia to win the five-nation Tuanku Zara invitational international indoor hockey tournament in Kuala Kangsar last November. She netted seven goals in that tournament.

The national women's team had been scheduled to feature in the Asian Champions Trophy in Donghae City, South Korea, in June but the tournament has been postponed to a later date, which may be good news for Nur Aisyah.

She will complete her studies in July and wants to focus on her national hockey career.

"I have played for the national team in field hockey and I would love to be in national training.

"I have featured for Uniten for the last five seasons in the MHL and also helped them win the overall cup with three goals to my name, " said Nur Aisyah.

The Star of Malaysia