All the news for Wednesday 5 August 2020

Goodbye Oltmans, hello Arul

By Jugjet Singh



Arul Selvaraj is the new national hockey coach. - NSTP/File pic

THE day after Roelant Oltmans sent his resignation letter to the press, the Malaysian Hockey Confederation (MHC) named Arul Selvaraj as the new national team chief coach.

Arul, a former international, was supposed to report as an assistant coach on Aug 15 but has now been promoted to chief coach with no date change.

The experienced coach, who guided Universiti Kuala Lumpur (UniKL) to a treble in the Malaysia Hockey League (MHL) this year, certainly has what it takes to lead the national team to success.

Arul was assistant to former coach Paul Revington when the national team qualified for the 2014 World Cup in The Hague.

However, five months before the tournament, both men resigned.

Arul also assisted Revington when he was coaching South Africa and Ireland.

However, the position of technical director is still vacant.

It's just waiting for Revington to make an appearance from behind a smoke-screen.

"Arul does not know that he has been promoted as he is still sleeping in Dublin.

"He will arrive soon and after completing the compulsory quarantine period, he will manage the national team.

"We now have a local 'dream team' to coach our players.

"As for Revington, I cannot confirm anything now. We will be holding a coaching committee meeting next week to decide on the technical director's position," said MHC president Datuk Seri Subahan Kamal yesterday.

Arul will be assisted by Amin Rahim and Nasihin Nubli.

Oltmans did not waste any time securing a new job as he has taken up a coaching position at Kampong HC in the Netherlands.

The Kampong deal was secured before he sent in his resignation letter to the MHC on July 31.

In a release to the press in the Netherlands, he said: "I am pleased that in this uncertain time, I have been given the opportunity to work at the largest association in the Netherlands.

"It is a team with many top players. We share the ambition to not only achieve results in the short term, but also to look further into how Kampong can remain successful in the longer term.

"I look forward to working with them," said the Dutchman in a statement.

Subahan did not hold it against Oltmans for his 'extra move' on the chessboard.

"To be fair, we have been having discussions for weeks, and he was adamant that there will not be any international tournaments for this year as Covid-19 is making a comeback in many countries.

"He was also sure that the Asian Champions Trophy in Bangladesh in November will not be held.

"For me, it is up to the Asian Hockey Federation to make this stand, but Oltmans was sure and that's one reason he wanted out.

"We are not angry that he has found a job in the Netherlands. It does not affect us much.

"But if he had found a new job, for instance in India, Pakistan, Japan or South Korea, then it would have been a conflict of interest.

"His contract had a clause which allowed both parties (Oltmans and MHC) to call it a day by giving a one-month notice, and he did just that.

"He has paid the one-month due on salary, and he is free to go back home," he said.

Oltmans cited Covid-19 and being away from his family during this uncertain period as the main reasons.

On Arul and his local coaches, Subahan said they will have a free hand to select their players.

"The coaching set-up will have a free hand to select their players without fear or favour.

"They are answerable to the coaching committee, so they must get the best for the country," said Subahan, adding that those who were dropped by Oltmans will also get a fair chance to make a comeback.

New Straits Times


---

The Glorious Green Shirts! 1984 Olympic gold medallist Nasir Ali reflects on triumph of Los Angeles



Photo credit: Pakistan Hockey Federation/submitted

As we continue our series of feature stories marking the original event dates of Tokyo 2020, we speak to Nasir Ali, a key player with the Pakistan team that won gold at the Los Angeles 1984 Olympic Games. The defender – who represented the Green Shirts from 1981 to 1988, making 150 international appearances – looks back at what was Pakistan's third Olympic title, his memories of playing alongside the great Hassan Sardar and the impact that winning Olympic gold has had on his life. 

Hi Nasir, thank you so much for talking to us. You were part of the Pakistan team that won gold at the Los Angeles 1984 Olympic Games. What are your memories of that competition?

Nasir Ali: "The most exciting thing for any player who plays internationally is to be a part of the Olympics. Being able to represent my country at the Olympics was a big deal for me. The sense of pride and honour you feel is inexplicable.  We were all so overwhelmed. We were a team of 16, 14 of which were participating in the Olympics for the very first time. The captain and vice-captain had played in 1976 Olympics. I still remember that before leaving for US, during all our training sessions, our coaches would motivate us, and every day we would stare at the posters plastered on the walls of our rooms that said: "WE ARE GONNA BRING THE GOLD MEDAL HOME." We had little experience, but we were fighters who had strong determination and perseverance."

What were your favourite moments in Los Angeles, and which result on the way to the gold medal made you think "we really can win this"?

Nasir Ali: "In our pool, we did not lose a single match. It was either a win or a draw. The first match, against New Zealand, was a draw, second against Canada was a win, third was a draw with Holland, fourth against Kenya was a win before a draw against Great Britain in the fifth match. After the match with Great Britain in the morning, we were very sad and demotivated – we felt we had lost our chance because it left Holland needing a 5-0 win against Kenya to qualify for the semi-final, which we thought they would do.

"We were there in the stadium to buck up the Kenya's team. We were yelling and praying for their win. When the game ended 3-0 to Holland, we qualified for the semi-finals [ahead of the Dutch] on the basis of goal average. At this point, our morale became really high and we felt hopeful that we could actually win this. But, our [semi-final] match was against Australia, the strongest team in the competition. When we won 1-0, at that point we just knew it and nothing could stand in our way. We were mentally at peace and confident that the gold medal was going to be ours. We were very motivated and positive.

"The final was against Germany, and we won 2-1. When our team was called to the victory stand and our National Anthem was playing, with my country's flag being raised, it was the proudest moment. We were all crying tears of joy and running in the ground and thanking the crowd who were cheering for us. It is my sweetest and fondest memory from 1984 Olympics."




Hassan Sardar was at his brilliant best in Los Angeles, scoring ten goals including both in the semi-final and final. How important a player was he for Pakistan, both during this competition and throughout his career

Nasir Ali: "There are two kinds of players. Those who work very hard to get to the top and spend their whole life trying to perfect their skills, and those who are God-gifted with talent. They already have it in them. Hassan Sardar was a player unlike any other. He was phenomenal throughout his career and always exceeded the expectations. The team was always under tremendous pressure and incomplete without him. His mere presence in the ground would uplift our spirits. It takes the efforts of the entire team to win any match, and because of his outstanding goals in the semi-final and final, we won the gold medal."

How did your life change after winning gold in Los Angeles?

Nasir Ali: "When you become a gold medallist, fame and a nation's love follows. I received respect and admiration at every event that I attended. The words 'Olympic gold medallist' were added before my name was announced, which made me very proud."




Finally, what does being an Olympian mean to you?

Nasir Ali: "Once you win the Olympics, you become the nation's pride. The youth looks up to you and want to become like you. They feel motivated and want to follow in your footsteps. You receive love, admiration and respect of the nation, and that is priceless. Once you become an Olympian, you have a big responsibility on your shoulders and have to work even harder than before. You make sure your performance is up to the mark so that you don't let down your people."

------------------------------------------------
Olympic hockey through the ages

A look back at over 100 years of hockey at the Olympic Games 

Beijing 2008: A memorable event in China's capital city saw Spain's men, under the guidance of legendary Dutch coach Maurits Hendriks, defeat reigning champions Australia in the semi-finals, with Edi Tubau scoring twice before Santi Freixa grabbed a late winner as the Europeans overcame a two-goal deficit to win 3-2. However, in the final against Germany, they met their match. Christopher Zeller's 16th minute penalty corner drag-flick was enough for a 1-0 win and a third Olympic gold medal for the Germans. In the women's competition, home favourites China powered their way into the gold medal match, but it was to be the Netherlands' year, with Naomi van As and Maartje Goderie both on target as the Dutch women claimed their first Olympic title since 1984 with a 2-0 victory.

Tomorrow: London 2012

--------------------------------------------

On this day – 5 August 1984: A crucial contest took place in the women's competition at Los Angeles 1984, as the Netherlands moved a step closer to a first Olympic title with a comprehensive 6-2 triumph over West Germany, who would finish the round-robin competition as silver medallists. Fieke Boekhorst and Sophie von Weiler both scored twice, with Marjolein Eijsvogel and Marieke van Doorn also contributing to the score-line.

To find out more about purchasing tickets for next year's Tokyo Olympics, please click here.

FIH site


---

Highly Decorated Asad Malik Was An Ideal Inside Forward

By Ijaz Chaudhry



1968 Olympics- Stamp- Asad Malik's action photo of final's winning gold

Pakistan`s hockey great Asad Malik, who died in an unfortunate road traffic accident this Monday, debuted for Pakistan in 1961 and remained almost a regular selection till 1972. During his illustrious career, the inside left won a gold and two silvers at the Olympics, a World Cup winner medal, two golds and silver at the Asian Games.   Captained Pakistan at the 1972 Olympics when he was also the flag bearer of his country`s contingent.

Small statured Asad was a complete inside forward.  Making inroads into the opposition defence, combining with the team mates, creating chances for others, scoring goals himself as well as falling back to assist the defence.

Asad was born in 1941 in Sheikhupura, the district adjoining the metropolitan city of Lahore. The town was a big hockey centre with the game widely played in schools and there were also a number of active clubs.   Government High School Sheikhupura had a very strong hockey tradition.  Under Asad`s captaincy, the school won the coveted Lahore zone school championships; highly competitive event of the time.  He came into the limelight and there was no looking back.  Soon, he was selected for the Sheikhupura district team which was trained by Sheikh Ramzan under whose tutelage a number of players from this district went on to win Pakistan selection.  It was the mighty Lahore Zone team, selected from a number of big hockey nurseries including Lahore, Sheikhupura and Sialkot, which participated in the national championships.  In 1959, young Asad was in the Lahore zone team.

The 18 year old made an instant impression and was called to the Pakistan camp for the 1960 Olympics.  He failed to make the cut for the final selection but only a year later Asad was wearing the coveted green shirt as a member of the Pakistan team which toured Malaysia, Singapore and Sri Lanka in 1961. Next year, Asad appeared in his maiden title tournament, Asian Games 1962 where Pakistan retained the title defeating India 2-0.  After the departure of legendary Naseer Bunda, Asad Malik became Pakistan`s first choice inside left.  He had big shoes to fill as Bunda was acknowledged as one of the finest forwards in the world.  Asad made his mark in the very first venture as side`s number one inside left. In 1963, Pakistan made a long tour of Europe. The major assignment was the Pre Olympics tournament in Lyons, French. The team also played matches in Holland, Germany, Belgium, Spain and Britain. Asad shone throughout. The biggest compliment came when a German newspaper compared him with legendary Hungarian footballer Ferenc Puskas, one of game`s all-time greats, for Asad`s vision and the ability to build attacks

In 1964, the big event of the Olympics was waiting. By now, Asad Malik had been joined by his first cousin Saeed Anwar in the Pakistan team. Latter is regarded as Pakistan`s greatest ever right half. At the Tokyo Olympics, Pakistan were the favourites to retain the title but lost to India in the final 0-1 despite creating a number of goal scoring chances.   The penalty corner experts M.H.Atif and Munir Dar shared 11 of the 20 Pakistani goals. Asad scored two of the nine goals netted by the forwards. Story was repeated at the 1966 Asian Games. Pakistan lost the title, again going down to India by a solitary goal in the final.  Asad had a good tournament and with five goals, he was team`s second top scorer.

Dethroned of the only two titles of that period, Pakistan Hockey Federation made earnest efforts to regain the glory. By the time, the 1968 Olympics arrived; the team had been moulded into a strong outfit with a number of talented new faces. Asad was now among the senior members.

Pakistan regained the lost gold in an imperious manner, winning all the nine matches. Asad, who scored a total of five goals in the tourney, had the honour of netting the gold medal winning goal in the 2-1 victory over Australia in the final.  Great right winger Khalid Mahmood sent an excellent pass to unmarked Asad who side stepped a defender and  flicked it over the Australian goal keeper  all in the flash of an eye.  Accolades came Asad`s way. He was in the World XI announced at the conclusion of the Olympics.  Then he had the honour of his action photograph of that goal in the final immortalized on a Pakistani postage stamp.   Next year, he was conferred Pride of Performance by the Pakistan government.

1968 Olympics was Asad Malik`s finest hour.

The 1970 Asian Games were again held in Bangkok where Pakistan had lost the title in 1966. Again, Asad, now the vice-captain, made a meaningful contribution towards his team regaining this title as well. Pakistan defeated the defending champions India 1-0 in the final. Asad was Pakistan`s joint second top scorer with three goals; named in the Asian XI as well.

Pakistan had conceived the idea of the World Cup and the inaugural edition was held in the Spanish cities of Barcelona and Terrassa in 1971. Pakistan made it to the semis after some difficulty but won the semifinal and final against India and hosts Spain respectively. Once again, Asad was selected in the World XI.

Thus Pakistan completed the grand slam winning Olympics, World Cup and Asian Games. Asad played a stellar role manifested by his selection in the three tournament elevens.

1972 Olympics saw Asad captaining the national team with his first cousin Saeed Anwar as the vice-captain. Pakistan lost the final to the hosts erstwhile West Germany in a bitter encounter. The Pakistani team misbehaved during the victory ceremony and the players were banned from the international hockey initially for life, later reduced to one year. That was Asad`s last international outing: 121 appearances and 41 goals.  

In early 60s, he had joined PIA, the strongest side on the domestic circuit. After his playing days, Asad remained in charge of the PIA hockey team for a very long period and guided them to no less than 13 national titles plus a few junior national junior championships. PIA and PIA colts provided the highest number of players to the national squads. He retired from the PIA as the General Manager Sports.   Also performed national duty a couple of times. As many as seven players from the Pakistan junior team, which toured Europe in 1980 with Asad as the manager, were later members of Pakistan`s gold medal winning team of the 1984 Olympics. 

All his contemporary players opined, ``Asad was a thorough gentleman and always avoided confrontation on and off the field. On the field, he was all hard work and full involvement in the game; indefatigable and ran from pole to pole throughout. `` 

Asad Malik earned a permanent place in his country`s sports lore by scoring the classic gold medal winning goal at the 1968 Olympics. The postage stamp is a good reminder.

Pakistan has produced a number of outstanding left inners. Scribe prepared an all-time Pakistan XI quite some time back and the choice of the left in was the most difficult to make. At least four of those considered, Aziz Malik (1948-55), Naseer Bunda (1954-62), Shahnaz Sheikh (1969-78) who played as left in only from 1974 onwards, and Shahbaz Ahmad (1986-2002) were considered throughout their careers among world`s leading forwards and for a considerable period `the best`.  Then little Hanif Khan (1976-85) was also outstanding.

Asad might not have the wizardry or the fan following of the others.  He was twice named in the World XI for his contribution to Pakistan winning the two most prestigious titles, Olympics and World Cup. This fact alone makes him deserving for a place among the pantheon of great left inners of Pakistan.

Ijaz Chaudhry writes on hockey & other sports. For more about him and his work, visit: www.sportscorrespondent.info  

Fieldhockey.com


---

India's Olympic journey




If not for the dreaded Covid-19 the Tokyo Olympics would have been in full swing, marking 100 years since India's official participation in the Games of the Modern Olympics.

Now the sporting world waits and watches to see if the delayed Olympics will be staged 12 months from now in Tokyo. The International Olympic Committee (IOC) has already hinted if there is a further delay, Tokyo will have to be skipped and the cycle will go straight to Los Angeles in 2024.

The road from Antwerp, Belgium in 1920 to today has been a rocky one for the Indian Olympic movement, full of potholes, barriers and diversions with the rare smooth stretch.

India is one of the few nations in the world neither to boycott an Olympic Games nor be banned on political grounds.

And though it has in recent years blossomed into a multi-sports nation, after 70-plus years of independence the road to becoming a sporting superpower is still a long way ahead.

Just eight team gold from a single sport (hockey) and one measly individual gold won by shooter Abhinav Bindra is a dire report card.

Corruption, nepotism, favouritism and many such ills among India's sports officialdom; lack of proper diet, training and facilities—though these can no longer be cited as an excuse–and a flawed sporting culture, all are mitigating factors.

The journey began at Antwerp a century back with a five-member contingent in athletics and two wrestlers.

But before we look at that first 'official' contingent, we must look back at one of Indian sports' long-standing mysteries. Who is the first and still only Indian medal winner in athletics?

It was at the chaotic 1900 Paris Olympics that an athlete born in Calcutta (now Kolkata),   Norman Gilbert Pritchard won silver in both the 200 m. and 200m. hurdles. In the latter he set a world record in the second heat which was eclipsed in the final.

Pritchard was born of English parents on 23 June 1875 and spent his entire youth in Calcutta. He had spent the summer of 1900 competing in meets in England and was one of the world's leading sprinters. His two medals at Paris thus were not unexpected.

It would be some years before the formation of National Sports Federations and athletes entered on their own accord. Crucially the IOC granted his medals to India in the official records and they have stayed there ever since.




But it was Antwerp 1920 where the Indian Olympic story really began. And it was Dorabji Tata, son of the legendary Jamsetji who took on the mantle of the Indian Olympic movement. It was as the first president of the Deccan Gymkhana in Poona (now Pune) where the idea for Tata's Olympic dream was born. Impressed by the raw athletics talent, he decided to send a team to Antwerp for which selections trials were hastily held in Poona and Bombay in April 1920.  Tata was appointed president of the All India Olympic Association in 1924 which then became the Indian Olympic Association in 1927.

The Antwerp contingent consisted of Purna Chandra Bannerjee from Calcutta for the 100 and 400m, Sadashiv V. Datar of Satara and H.D. Kaikadi of Hubli (now Hubbali) for the Marathon and P.D. Chaugule of Belgaum (now Belgavi) for the 10,000 m. and Marathon. The two wrestlers were Dulkar Randhir Shinde (featherweight) and Kumar Navale (middleweight), both from Maharashtra. Shinde came agonizingly close to a medal, losing in the semifinal and finishing fourth.

For the 1924 Olympics in Paris India selected a sportswoman for the first time, Nora Margaret Polley (nee Fischer). She was born in India in 1894 and competed in tennis in both the women's singles, losing in the third round and mixed doubles with Sydney Jacob, losing in the second round.

It would be 76 years before an Indian woman medaled at the Olympics, weightlifter Karnam Malleswari with bronze in the 69kg class at Sydney in 2000.



A rare picture of Indian Olympic hockey team 1936. Photo from K. Arumugam collection

The 1928 Amsterdam Olympics saw two major landmarks. This was the first time the contingent was selected by the IOA formed just a year earlier (though 1920 and 1924 were also official contingents) and it was the first time India were sending a hockey team who brought India its first official medal, a goal to begin a golden chapter in the golden saga that would last till the 1960's.

Amsterdam also marked the arrival on the world stage of Dhyan Chand Singh Bais, the immortal 'Wizard' of hockey. Dhyan Chand won three consecutive gold for India from 1928 to 1936 as did goal-keeper Richard James Allen.

After winning gold for six straight Olympics from 1928 to 1956 (1940 and 1944 were cancelled due to World War II), India were shocked by Pakistan in the 1960 Rome final but regained their title four years later at Tokyo. Since then apart from the devalued gold at Moscow 1980, it has been a steep decline.

The first individual medal after independence was a bronze won by Khashaba Dadasaheb Jadhav in wrestling (bantamweight, 57 kg) at Helsinki in 1952.

From 1956 to 1992 India went without an individual medal until tennis star Leander Paes bagged the singles bronze at Atlanta 1996.



A newspaper write up shows the political mood in India in the run up to the 1936 Olympics

Col. Rajyavardhan Singh Rathore's silver in double trap at Athens in 2004 went one step further than Paes and Malleswari and then Bindra's gold brought great joy to the nation in 2008.

That gold was accompanied by bronze medals by boxer Vijender Singh (middleweight) and wrestler Sushil Kumar (freestyle 66kg). Sushil went one better four years later with silver in London in the same weight class, making him independent India's only two-time individual medalist.

India's best medal haul at London in 2012, six in all though another gold proved elusive. Vijay Kumar (25 m. rapid fire pistol) and Sushil won silver while Saina Nehwal (women's badminton), MC Mary Kom (women's flyweight boxing), Gagan Narang (10m. air rifle) and Yogeshwar Dutt (freestyle 60 kg wrestling) all bagged bronze.

The 2016 Rio Games saw just two medals, silver in badminton by PV Sindhu and bronze for woman wrestler Sakshi Malik (freestyle 58 kg).

India have also been competing at the Winter Olympics intermittently since Innsbruck, Austria in 1964 though none of our sportspersons have come close to a medal.

Just 9 gold, 7 silver (including Pritchard's two) and 12 bronze medals is slim pickings for a rising giant nation like India. One can only hope Tokyo 2021—if it comes off—will bring some cheer to Indian fans who like the rest of the world are being starved of sports right now.

GULU EZEKIEL:  Ezekiel has been a sports journalist since 1980. He is co-author of Great Indian Olympians. He has authored many best seller books on cricket.  

Stick2Hockey.com


---

Frazer hails "friend for life" Boyles' vital influence



Megan Frazer. Pic: Adrian Boehm

Megan Frazer says "friend for life" Arlene Boyles will be hugely missed around the Irish women's camp following her decision to step back from the managerial role this month.

From their earliest interactions at club level, Frazer knew there was something different about Boyles, giving her some formative lessons on the field.

"Playing against her when I was a kid, you were always nervous!" Frazer told Declan Hughes on Dublin City FM's On The Ball hockey slot.

"She would knock you over, take the ball and clear it and then bend down and pick you up again! From that, we knew she was always someone who would have your back. It is a big loss to us!"

The Derry woman has been using much of lockdown to full effect to put long-term knee injury horrors behind her, the break from the international carousel offering a rare bit of downtime to fully rehab.

Recovering from those cruciate issues has seen her spend a lot of time alone in gyms and on the sidelines but she says Boyles was key as a mentor and motivator in the dark times.

"She was just always there for everything you needed – something managerial, something hockey, as a friend. We probably under-estimate how much we turned to her for things and it will be a big gap when we get back and she is not there. 

"Especially around the Olympic qualifiers when I was ruled out due to injury, that was a hard time for me and she played a big role in helping me to get through. 

"She was a player herself and knew what I was going through, knew when we were going through a bad spell with our playing and that it was not the end of the world. 

"She was someone to bounce ideas off and to talk to, not the head coach where you sometimes have to look strong and feel like everything is alright to get selected. You could be more open and show your nerves, your fears or whatever. She will be a great loss and definitely raised the standard of what we expect from ourselves on and off the pitch through her own play."



Arlene Boyles shares a joke with Cliodhna Sargent. Pic: Adrian Boehm

The Irish women returned to regional training in the last fortnight and Frazer is feeling bullish about her fitness after a long layoff, saying she was able to use her time well.

"As terrible as the whole situation was, for me, it was about taking full advantage in every way I could. I have completed full rehab programmes and started back into regional sessions this week. 

"It is nice to go in for a full session with the girls. Usually, I would be – because of injury – trying to catch up all the time because everyone was so well conditioned. Hockey match-play was really intense [pre lockdown] and I was trying to manage my load. That is something I am not having to worry about and can compete in the sessions.

"Whenever the lockdown happened, we were quite quick to get on the ball and ahead of things. Up north, we were smuggling gym equipment out to have things to work with at home and get off on the right foot to keep up with our S&C programmes. 

"The big thing, though, was going from being around the team and the girls, training together so much, to completely individual training alone. For me, it wasn't that big of a jump, coming back from my knee injury. I am used to it but it was pretty different!"

The Hook


---

Fausette believes Guyana will medal at Pan Am Junior Hockey Championship

Calvin Chapman



Shakeem Fausette (on the ball) in action for Saints Hockey Club against GCC

Saints Hockey Club (SHC) midfielder, Shakeem Fausette, during a recent interview, shared that he is very confident that if the Pan American Junior hockey championships hits off as scheduled in Chile next April, then Guyana will leave with at least a bronze medal.

The seventeen-year-old lad, who has been playing the sport for almost six years now, explained that he is confident because of the experience he sees within the junior squad. Fausette explained that many of the players, including him have been regular fixtures with their senior club sides and the National senior training squad, which will help the Guyana Hockey Board (GHB) put forward a strong outfit.

The aspiring Lawyer, who currently attends Nations' Sixth Form, gave much praise to SHC and National men's coach, Robert Fernandes. Fausette posited that he owes everything to the level III certified coach for encouraging to get involved with the sport and hailed his coaching philosophies as nothing short of "phenomenal."

While Fausette managed to win the GHB under-16 indoor tourney last year with SHC after banging in a leading 12 goals, he was disappointed to finish third behind the winners and perennially favourites GCC and the ever improving Old Fort in the GHB outdoor development league.

Many persons often say that sport helps them to be more relaxed when it comes to academics but for Fausette who has strict parents, Hockey is his motivation to do well in school because only then will he be able to get on the field and so far, he has been excelling with eight passes at the C.S.E.C. examinations.

Before the Covid-19 lockdown last March in Guyana, Fausette was a part of the National training squad for the now postponed South America Championships that were scheduled to be hosted in Peru but he is not being deterred and staying fit at home with exercises so he can be at a decent level whenever training resumes.

Fausette is 100% supportive of resuming training due to the fact that the FIH (International Hockey Federation) has sent out return to play guidelines to the respective affiliate federations and he noted that those guidelines coupled with individual responsibility will be vital when training resumes.

Although being a SHC player, the youngster singled-out Meshach Sargeant of GCC who trains with the national team alongside him as his favourite team-mate, "Although we haven't played together on national duty, we have really good chemistry and form some good plays during training".

Source: www.kaieteurnewsonline.com

Pan American Hockey Federation media release


---

Kenyan Golden hockey oldies: Resilient super women who are not ready to drop hockey sticks yet

By Elizabeth Mburugu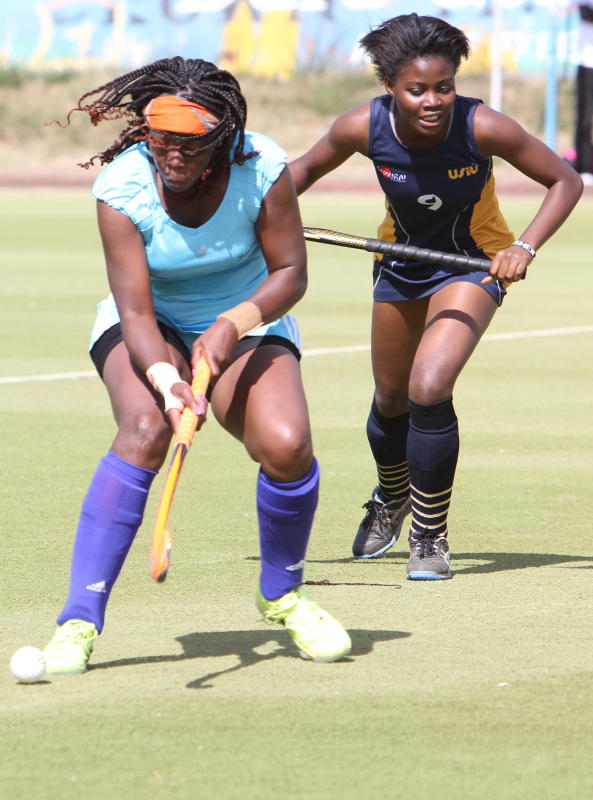 Sliders Anita Agunda(l) with the ball as USIU Sheila Ndaroh give chase when they played Kenyan Premier Ladies at Citypark yesterday, on 08/10/2016 PHOTO; JENIPHER WACHIE

They mastered the art of balancing family life, working and playing

Chemtai, Ataro and Juma are among the legends of the game and still going strong.

SEE ALSO: Hockey star Oburu raring to swing his way to golf glory

They wear many hats; they are mothers, mentors, coaches, career women, role models and decorated hockey players.

Talented and passionate about hockey, they have commanded respect for the long years they have devoted to the sport.

Certainly, history has a place for these brilliant ladies who have given the best years of their lives to hockey.

From the swift girl of the 1990s Hellen Chemtai to no-nonsense goalkeeper Josephine Ataro, consistent defender Terry Juma to the younger Anita Agunda these girls have indeed proved that age is just a number.

With a playing career spanning 28 years, Chemtai or Chemo as she is popularly known in the sporting circles is one of the a few Kenyan athletes who have succeeded in multiple sports.

Though she ruled athletics for years, she maintains that hockey was her first love. The mother of four who captained the women national junior and senior hockey teams to various international assignments admits that her journey was not easy.

"I had high and low moments in equal measure. It takes more than talent to last longer in any sport, you must be disciplined, dedicated, passionate and above all one needs to answer the critical why question. Understanding why I was playing inspired me to keep pushing even when circumstances presented me with reasons to quit," Chemtai said.

Ataro who stands out as Kenya's longest serving goalkeeper who has since transitioned into coaching concurs with Chemtai saying that it is what has kept him in the game for over two decades.

"Passion, discipline, hard work and willingness to learn is what has kept me in the game more than other players. I loved hockey so much that I took criticism as a challenge, sometimes I wouldn't even sleep a night before and after a crucial match because I always wanted to play better than I did in the previous game," Ataro said.

Right from her high school days at Pangani Girls Chemtai loved hockey despite featuring in other sports like athletics and volleyball.

"I was a very fast runner and did well in sprints as well as long jump, but hockey was my first choice. It was special, just like family where the coaches and senior players did more than train the younger ones, they mentored and cared for us."

After competing in several schools competition, Chemtai impressed and would later join Inter-Capitale Kenya's pioneer women's hockey club while still a student.

In 1992, her prowess earned her the captain's armband of the women's junior team for the World Championships held in Spain.

"I played my heart out, until today it remains my best moment I was voted the most promising player," she adds.

Chemtai who fondly refers to younger players as her daughters says that over the years she has witnessed many players fade away.

"Current players are not as passionate as my generation was, we played for passion there was pride in donning national team colours and monetary gain was just but a bonus that never determined our efforts." 

She also competed in athletics locally and internationally, she says that it was a big challenge as Athletics Kenya was not committed to supporting sprinters.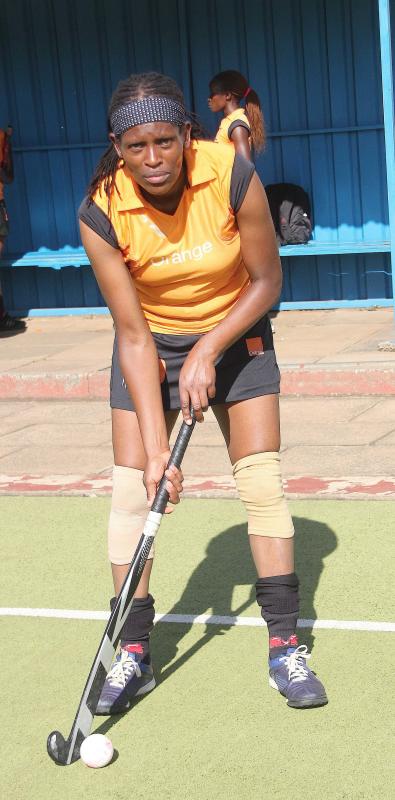 Telkom orange player Hellen Chemutai when they played Women League with Strathmore at Citypark. ON 01/11/14 PHOTO: JENIPHER WACHIE

"I'm glad that times have changed and sprinters are now being given a chance to compete because in the past and during my time the officials believed that Kenyans could not excel in short distance races and usually scrapped them off opting to field middle and long distance runners in major events."

She terms the events prior to the 2003 All Africa Games held in Abuja, Nigeria as devastating having been dropped from the squad after qualifying in 100m, 200m, long jump and triple jump.

"I had trained very hard and qualified only to be dropped and told that I will not travel because I was not going to win. I was heartbroken, I couldn't leave the house I lobbied thanks the then Minister of Sports Najib Balala who supported me and ensured that I was reinstated in the team even though it was a night before travel date which affected my performance because I felt defeated and had no strength to train," Chemtai said.

Chemtai represented Kenya in many international competitions before retiring in 2014. She says that being dropped from the national team for being 'too old' was the lowest moment of her hockey career.

"I think age should not be an issue as long as a player can deliver, I was left out of the squad but even at 42 years I was better than some of the younger players."

She has also won four league titles and two Africa Cup of Club Championships trophies with Blazers formerly Telkom. She suffered a knee injury in 2018 and has been out of action and set to return after the league resumes. She is proud of her son Douglas Nyerere who is currently in Netherlands.

"My firstborn son is a dance instructor; I'm very happy and proud of Douglas because by playing in Netherlands he is living my dream. I had a chance to play professionally in Australia but didn't because he was a month old and I had to give up that chance and so he has achieved what I desired to but couldn't."

She concludes that having been in sports for close to three decades the benefits are many and encourages upcoming players to set their priorities right and not focus much on money.

"Sports has made me what I'm today, there are very many benefits because one is protected from bad influence and also the discipline one learns goes a long way in shaping their lives. Passion should come first there is more to sports that monetary gain."

Away from hockey, Chemtai is an expert in the field of Humana Resource.

Ataro who started playing hockey at Nyamira Girls says that for one to excel they must be ready to learn.

"I was a player ready to learn but I must say that it was because of the high level of discipline I had. I loved goalkeeper and it is the position I trained for since my first day, but unlike nowadays back in the day there were no goalkeeping coaches and so I had to do much of the learning on my own. I accepted corrections and learned something new from each game I never looked at the incentives but loved hockey and wanted to grow and become a better player," she added.

Ataro who is now Blazers coach says she is saddened when talented players fizzle out because they lack passion for the game and look at what they will gain instead of what they can to offer.

"Current players have so much at their disposal because they are more exposed than us. Technology has made it easy for one to learn new skills from YouTube, live international matches but is sad that some of them only play for two years or five for those who hold on longer and disappear."

For Juma despite not playing hockey in secondary school she has served Kenya for many years and is still on Blazers first 11.

She made history in 2017 when together with his son Robert Masibo of Kenya Police represented Kenya in the hockey Africa Cup of Nations cum 2018 World Cup Qualifiers held in Ismailia, Egypt.

Juma echoes Chemtai and Ataro's sentiments saying that it is not possible to play for over 20 years without discipline.

Others that have defied age to excel in sports are Blazers team manager Rose Mbulo, Jacqueline Mwangi who was recently appointed women's national team coach, Dorsillah Agunda and Anita.

Mbulo has served the national team for decades before an injury ended her playing career before she could venture into management. Mwangi who played at Pangani Girls took a break from hockey when she secured a football scholarship to study in the US in 1998.

She, however, rekindled her love for hockey in 2007 when she returned to Kenya and has since been one of the best forwards in the country leading Blazers to continental and league titles.

The mother of three troubles defenders and has won most league top scorers awards. Agunda sisters Dorsillah and Anita have been on top of their game for both national team and club Sliders.

Onyango was also a regular in the national team and also played for Sliders before taking up a coaching job with Amira Sailors in 2018.

The Standard Digital


---

The Hockey Museum's 'Through The Ages' webinar gives glimpse into our sport's rich history



Photo credit: Hockey Museum

On Thursday 30 July, hockey lovers from around the world tuned into a special webinar hosted by The Hockey Museum, in partnership with the FIH World Hockey membership scheme.

Fans from all five continents – including viewers in Honduras, Panama, Ghana and Uganda as well as hockey powerhouse nations such as Argentina, India and Pakistan – were present for the Hockey Through The Ages webinar, which saw Mike Smith, The Hockey Museum's Curator and Founding Trustee, in conversation with Simon Mason, the FIH broadcast commentator who played in goal for Great Britain at the Atlanta 1996, Sydney 2000 and Athens 2004 Olympic Games.

The 90-minute exchange provided fascinating insight into the birth and growth of The Hockey Museum, as well as giving viewers the chance to see a selection of the many artefacts that are currently being housed at the museum's base in Woking, England. Here are some of the webinar's highlights.

'Wow' moments




The presentation had plenty of these, from the London 1908 Olympic gold medal won by England's Gerald Logan to rare archive footage of hockey being played and everything in between. One particular highlight was a photo of Scotland's Ivan Laing scoring the first ever hockey goal in Olympic history, against Germany at London 1908, and the remarkable story of his selection. Laing, a notable rugby player, was standing on a railway platform when he was spotted by Scotland's travelling hockey players, making their way to London for the Olympics. They convinced him to travel with them to London, where he would immortalise himself in hockey's history by scoring the opening goal of the London 1908 hockey competition. The Hockey Museum believes it was the only international hockey competition in which Laing – who lost his life in World War I – played.

Archiving




Mike talked about how he and his superb team of staff and volunteers are doing everything in their power to give hockey's history a future. As well as showing physical artefacts such as the 1889 Rules of Hockey or the differing examples playing equipment to show their evolution, there was also discussion about the museum's huge data project to document more than 29,000 international matches played since 1895. The Hockey Museum is building on the foundations of their preservation work by engaging with new audiences in this increasingly digital world. This webinar is one of many ways in which the museum is sharing the stories and information that they have, and with a growing social media presence (Twitter, Facebook) there will be much more of this sort of thing to come in the years ahead.

Personalities




The sport has been blessed with numerous outstanding players down the years. Mike and Simon discussed at length the impact of India's triple Olympic gold medallist Major Dhyan Chand and English women's sporting pioneer Marjorie Pollard OBE, as well more recent on-field innovators such as Pakistan great Hassan Sardar, Argentina superstar Luciana Aymar and Netherlands' legend Teun de Nooijer.

World class recognition




Thanks to their fantastic preservation efforts, The Hockey Museum has been given well deserved recognition both nationally and internationally. In 2018 it was given 'Accredited Museum' status, which is described by Mike Smith as being "the gold standard for museums in the UK" and "an amazing accolade to the people who are involved with our museum, and the professional work they put in to gain that award". Also in 2018, The Hockey Museum was given the FIH President's Award in recognition of its hugely important work in preserving, protecting and nurturing the sport's history for future generations. 

Re-watch and donate!

If you missed Thursday's live show, don't panic – we recorded it! The Hockey Through The Ages webinar presentation has been posted on the FIH Academy YouTube Channel, and can be seen by clicking here.

Another great video featuring the The Hockey Museum can be found on the Olympic Channel by clicking here.

If you would like to make a financial donation to help support The Hockey Museum's ongoing work to preserve and archive the sport's rich history, or have memorabilia, artefacts or historical documents that might be of interest to their collection, please visit https://www.hockeymuseum.net to find out more.

--------------------------------------
Olympic hockey through the ages

A look back at over 100 years of hockey at the Olympic Games

Athens 2004: This was the year that Australia men finally ended their long, long wait for Olympic gold. Jamie Dwyer – who was exceptional throughout the competition and would later be named FIH Player of the Year for 2004 – scored a dramatic 'golden goal' penalty corner in extra time, giving the Kookaburras a 2-1 win over the Netherlands. Germany women claimed the women's gold, with Anke Kühn and Franzi Gude on target to defeat hot favourites the Netherlands 2-1.

Tomorrow: Beijing 2008

----------------------------------
On this day – 4 August 1992: It was women's semi-final day at Barcelona 1992, where Germany faced Great Britain and Korea took on a Spain team destined to win the gold medal. Germany were forced to battle all the way by GB before emerge 2-1 winners thanks to goals from Nadine Ernsting-Krienke and Heike Lätzsch, while an extra-time goal from Carmen Barea put the host nation into the gold medal match, giving the Spaniards a 2-1 triumph after regular time finished at 1-1.

To find out more about purchasing tickets for next year's Tokyo Olympics, please click here.

FIH site


---

England Hockey 'out of touch with modern-day Britain' say clubs in letter

By Rod Gilmour




England Hockey's diversity and inclusion working group is expected to meet in the coming weeks for the first time in a bid to make inroads on its promise last year to create a long-term strategy within the administration.

This week, the national governing body received its second letter in under a month highlighting racism issues and concerns over hockey's lack of diversity.

In the latest, a collective of nine clubs wrote of an "endemic race issue" in an "elitist sport". The letter states that hockey is "dominated at the top level in particular by those lucky enough to come through the private school system".

This follows an open letter last month – first reported by The Hockey Paper – from a group of black, Asian and minority ethnic players. Fifteen signatories felt "disenfranchised and disengaged" due to the lack of diversity within the sport's administration.

The letter signed by clubs features Barford Tigers, Kingswinford, Leicester Panthers, Nottingham Sikh Union, Plashet, Ramgarhia Derby, Ramgarhia Leeds, Sikh Union Coventry and Tower Hamlets.

The letter accused England Hockey of "bias" against BAME players while Gurmej Singh Pawar, Barford Tigers' chairman, wrote that it is "out of touch with modern-day Britain".

Last year, research undertaken by UK Sport and Sport England found that BAME people accounted for just 5.2 per cent of board members across 130 publicly funded organisations. England Hockey has no BAME members on its board.

"There doesn't seem to be any overt structured attempt by England Hockey to tackle racism and discrimination in the sport," Pawar wrote. "They seem to be light years behind other sports on this. I don't know whether that is because they think it doesn't exist, or they simply believe that it's not their duty to do something about it. Either way, enough is enough and things need to change.

"Young people who have dreams of playing for their country at the Olympics are potentially missing out because of racial stereotypes and biases. Further to that, if you are not white, middle class and/or come through the private or grammar school system, your chances of playing for GB Hockey in a major tournament are greatly diminished.

"It makes you wonder what talent England Hockey have missed out on or are currently missing out on because they are not doing enough to include a wider cross-section of society."

Navraj Degun, a former England junior player, revealed to The Guardian of his negative experiences on being selected for an England Under-18 tour of Belgium a decade ago.

"It sounds positive, but the journey there and staying there was horrible," he told the newspaper. "People joking around with me that I have a 'bomb on my head', referring to my turban, or to be careful of 'what is in my backpack' is never really nice. You laugh at the time, but deep down you feel like s***."

Nick Pink, who took over as EH chief executive a day after GB teams had qualified for Tokyo 2020 last November, has personally contacted Pawar since the letter was sent. Pink had also spoken to Tendo Kimuli, who stood up to racism after charting abuse on the pitch.

Last week UK Sport chief Sally Munday, the former EH chief executuve, accepted that she should have done more to increase ethnic diversity on the field of play and at administration level.

She told the BBC: "When I look back at my time at England Hockey there are lots of things that I am incredibly proud of – but I believe I could have done more to increase diversity of black, Asian and ethnic backgrounds."

The Telegraph reported that EH will review its talent identification programme and "how young people access the sport". "One of the key objectives of the external group is to share and ascertain the facts around diversity and inclusion within our sport, so we can create a strategy based on first-hand evidence as opposed to perception or assumption," a spokesperson said.

EH says it has a "robust process" in the way it reported incidents of racism and abuse.

However, one disprepute report from a national league club highlighting two incidents of racism last season took months to conclude.




The Hockey Paper


---

English hockey has an issue of 'endemic racism'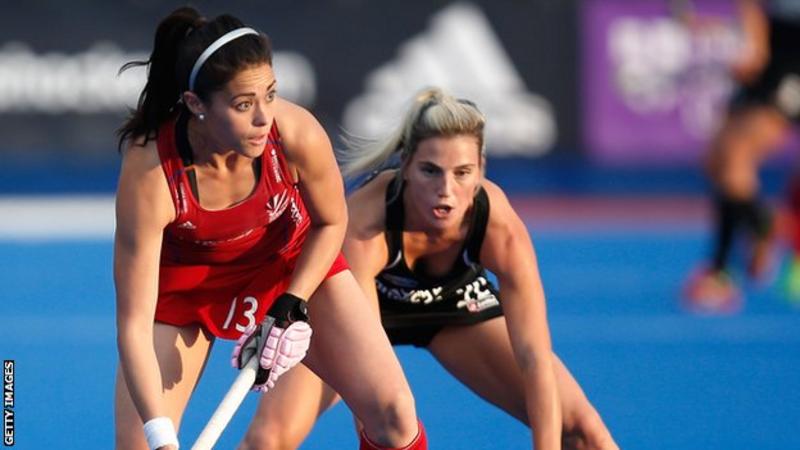 Sam Quek, who is from an ethnic minority background, was the only BAME athlete in the central Great Britain programme for the Rio Olympics cycle

Hockey in England has an issue with "endemic racism" and not enough is being done by the governing body to tackle it, according to several clubs.

Eight clubs have signed a letter accusing England Hockey of presiding over a system that is "biased" against ethnic minority players.

"It is out of touch with modern-day Britain," wrote Barford Tigers Hockey Club chairman Gurmej Singh Pawar.

England Hockey said it wants the sport to be "a force for good in diversity".

The governing body said it set up a diversity and inclusion working group last year "with the aim of creating a long-term strategy", adding it has since created an external advisory group "utilising the skills and experience of people from a range of backgrounds" within the sport.

"As with all matters of diversity and inclusion, our commitment is to having a long-term, sustainable positive impact on our sport and its people," it added.

The eight clubs say England Hockey has not given "direct positive support" to encourage young people from inner cities and non-white middle-class backgrounds to play the sport.

Last week, UK Sport chief Sally Munday told BBC Sport she accepted she "could have done more to increase diversity" during her decade as England Hockey chief executive between 2009 and 2019.

England Hockey's recent national survey showed only 6% of those playing at hockey clubs came from ethnic minorities.

The governing body is also accused of "lacking understanding" and being "too far behind" in tackling inequality.

England Hockey said it has "a robust process" to deal with reported incidents of racism.

"We have endured decades of tackling verbal and physical abuse both on and off the pitch," wrote Pawar.

"We sometimes underestimate that we may ourselves have become accustomed to this behaviour, as it is "just the way things are".

"Nonetheless, we can no longer stand by and do nothing."

The letter has been signed by Barford Tigers, Kingswinford, Leicester Panthers, Nottingham Sikh Union, Plashet, Ramgarhia Derby, Ramgarhia Leeds, Sikh Union Coventry and Tower Hamlets.

BBC Sport