All the news for Thursday 6 August 2020

New Africa hockey calendar released

By BRIAN YONGA



Kenya women hockey team players celebrate their win against Ghana during Hockey World League match played at City Park Stadium on September 6, 2014. PHOTO | CHRIS OMOLLO | NATION MEDIA GROUP

The Africa Hockey Federation has released a revised coronavirus interrupted calendar of events.

In the new programme, Kenya will now host the North-East Africa Region qualifiers for the 2021 Africa Cup of Nations from January 18 to 24 next year at the Sikh Union grounds.

The North-East Region event was initially scheduled for May 11 to 17 this year, but was put on hold by AFHF because of Covid-19. Kenya lost their automatic berth to qualify for the continental showpiece after falling in the world rankings.

Kenya's men's team are scheduled to face Burundi, Libya, Sudan, Tanzania, Uganda and Seychelles in the North-East qualifiers. The top two nations will proceed to next year's Cup of Nations.

The women's team will battle favourites Egypt, Burundi, Libya, Seychelles, Sudan, Tanzania and Uganda for the two qualification slots.

Kenya Hockey Union Secretary General Wycliffe Ongori welcomed the development, noting that players were eager to get back to action.

"Sporting action around the world is resuming and hockey has not been left behind. Of course we will ensure that we stage a world class event and also follow all health protocols to protect everyone involved," he said on Wednesday.

"We have been waiting for these dates and now preparations can continue because we want to deliver a great event," he added.

Also rescheduled is the North-West Region event that will now bully off from February 15 to 21 in Accra. It will feature Algeria, Burkina Faso, Cameroon, Nigeria, Sierra Leone and Togo.

Daily Nation


---

Saari brothers hope to get back in squad

By Malik Muhamad



Fitri (left) and Faizal Saari.

THE Saari brothers, Faizal and Fitri were disappointed when they were not short-listed by former national hockey coach Roelant Oltmans for the ongoing centralised training.

However, with the Dutchman's resignation, followed by the appointment of Arul Selvaraj as his replacement, former captain Fitri hopes he and his brother will earn a call up soon.

"I still have the desire to don national colours. However, Faizal and I will need the green light from our employer, the National Sports Council, to attend training if we are considered in the future," said Fitri.

"I will be ready to rejoin the team any time as my dream is to help Malaysia achieve success in the sport."

Fitri has been attached with NSC's National Football Development Programme department since June.

On Arul's appointment, Fitri added: "Arul is the right man for the job. He has the experience.

"I know this for the fact as he had handled the national team during the 2014 Asia Cup," he added.

New Straits Times


---

Danny Newcombe succeeds Zak Jones as Wales men's hockey coach

Hockey Wales have appointed Danny Newcombe as Wales men's head coach.

He was assistant to former head coach Zak Jones, who left to become Great Britain men's assistant coach.

Newcombe, who has been part of Wales' coaching set-up for nine years, will take up his new role in September for an interim period of 12 months.

"I am very aware that I have some big shoes to fill. However, I am excited to continue the great progress we have made under Zak's leadership," he said.

BBC Sport


---

Government to promote Pakistan's national game: PM 

ISLAMABAD -Prime Minister Imran Khan on Wednesday said that the government would take every possible step for promotion of hockey in the country.

The PM said this during a meeting with former captain of national hockey team and Olympian Islahuddin, the PM office said.

The meeting focused on ways to promote the national game in the country, where the PM assured of his all-out support for the betterment and development of hockey across the country.

The Nation


---

'Everything depends on technique,' Rupinder Pal Singh deconstructs the art of drag-flicks

How players generate power for drag-flicks? What's the technique to find the desired angle? Does the grip change while trying variations? Rupinder Pal Singh explains all this and more about the art of drag-flicking.

Ujwal Singh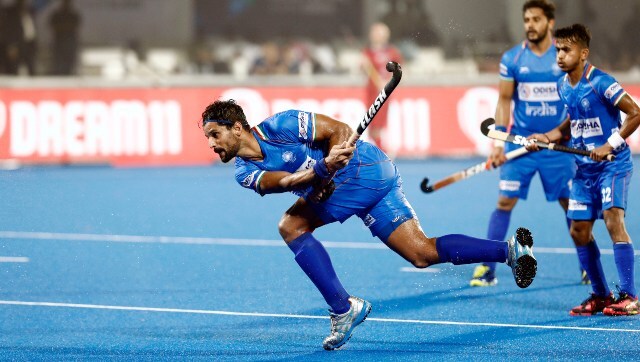 Even over two decades after drag-flicking was introduced in hockey, the technique remains the most thrilling part of the sport. The joy of a well coordinated penalty corner culminating in a lighting drag-flick in the back of the net, going past a horde of defenders always gets you to jump out of your seat.

It's no surprise that the most popular players in modern hockey have all been the masters of the high-voltage goal scoring method which is drag-flicking: from the great Sohail Abbas,  Floris Jan Bovelander to India's very own Sandeep Singh. The skill of drag-flicking is as much about team effort as it is about individual brilliance. A flicker is highly dependent on the pusher and stopper for a perfect drag.

Individually, the drag-flicker has to maintain a fine balance between the technique and fitness to execute the move perfectly over and over again. A strong back and core is as important as the swiftness of the approach to the ball, the co-ordination between the ball and hockey stick, the drag and release.

For the latest edition of Firstpost Masterclass, we spoke to India hockey star Rupinder Pal Singh as he deconstructed the skill of drag-flicking which has had such a massive influence on modern hockey. One of the senior-most players of the Indian team, the hockey player from Punjab has played 215 matches for India since making his debut in 2010 and has scored 108 goals. Rupinder is considered as one of the best drag-flickers going around.

Your senior India debut came in 2010 but when did you start playing hockey and why this sport only?

I was eight or nine years old when I played at the Baba Shershah Wali Hockey Academy in Ferozepur established by Hardeep Singh Dhillon, who was a DIG in Punjab Police at that time. Then I started playing in Faridkot and later I got selected for Chandigarh Hockey Academy when I was 11 or 12. My professional career began from there. I stayed there for six years and my schooling also happened there. Then in 2006, I was called up for U-18 junior camp in Bombay (Mumbai) for the first time. I played for the junior team for three years.

Jugraj Singh was appointed as drag-flick coach for the junior team in 2007, till then I had not started taking drag-flicks. He only got me into drag-flicking in 2007. I played with the junior team till 2009 but for the next year, I was not part of that team, I played hockey at the domestic level. In 2010, I got a recall for the national camp for the Azlan Shah tournament. At that time Jose Brasa was the national coach and then I got selected for the national team.

As you said, you only began taking interest in drag-flicking in 2007, so what was it about drag-flicking that got you interested in it?

Actually there was a junior's camp in 2004 in Chandigarh. Clarence Lobo was the coach of the junior team then, Sandeep Singh was also present in the camp. They asked me to try drag-flicking. I did it for a while but my back started aching and I stopped it. I didn't like it. At the same time or maybe next year, there was a senior camp also in Chandigarh. All the big players were there including Jugraj Singh. It was quite inspiring to watch him taking drag-flicks from distance but I still didn't take it up. In 2006, when I was called up to junior camp, I was again asked but I kept avoiding. Eventually in 2007 when Jugraj came in as a coach, he pushed me hard and with regular training, the perfection came and I got better at it.

I used to work hard on all other aspects but drag-flicking is not easy at a young age because your whole body is involved in it and none of your muscles are developed at the age of 13 or 14, but you need to work on those muscles otherwise there will be injuries. But at that time, my back was paining sometimes, I had pain in my groin at times, hence I was trying to avoid it. But by 2007 my body had developed a bit and Jugraj was getting us trained in the gym, there was a special training and that helped me a lot.



Rupinder Pal Singh credits former India player Jugraj Singh (R) for getting him into drag-flicking. Image: Twitter/@rupinderbob3

Once in an interview, Sandeep Singh said he used to make 400-500 flicks a day during the initial days of his career. What was it like for you when you began taking the flicks?

I never counted my flicks but during our training in the early days, we would just spend an hour and a half over penalty corners. When you start it's important that you work on the basics because good drag-flicking is a result of technique. You don't need big muscles or biceps, everything depends on technique, and the more you work on your basics, the better you get at it.

So what constitutes the basics of drag-flicking?

Footwork is very important. How you approach the ball and the connection of the ball and stick, to get the ball over the shaft and later the release, the ball should be dragged properly. When you release the ball, there should be a proper jerk in your hip. The movement of the body. It involves a lot.

What would you describe as a perfect drag-flick?

There's a feel you get when the stick meets the ball. Even if I am not looking at the goal post, that feel gives you an idea about the force of the flick and angle. It's largely about the technique. A perfect drag flick is also about not missing the target ever…and of course if you score then it's doubly perfect.

Penalty corners include different roles and players - pusher, stopper and flicker. Can you explain the training process for penalty corners?

When I train on the basics I do individual training sessions. Like we have not been playing for the last few months, so when I go back, I will need to work alone on my basics. So that your muscles are ready for drag-flicking because if I start taking drag-flicks straight away then I will have back, hamstring and groin issues. When I have the rhythm then I will train with the pusher and stopper because in the end, it's about co-ordination of all the elements, at the speed at which the ball is pushed and how it is stopped.

Executing a drag-flick involves a lot of twisting in the pelvic region and core. Can you take us through that process? Does it also impact the angle of the flick?

The angle of your shot is a result of the hand co-ordination between the stick and the ball. It's about how much angle you want to give and when you want to release the ball. The role of the hip is that as much power you bring in the hip, the power of the jerk will decide the force of the flick. For pelvic and core you need to do extra training, for rotation also. If you work in the gym on your rotation and pelvic then obviously you would be able to get more power into your jerk. Personally, I take my first step from behind the ball, you must have noticed that Sandeep and others take a step from ahead of the ball, but I take from the behind with my left foot and then I move ahead.

What's the role of the feet in executing drag-flicks? Should the front leg be bent at the knee to provide a stable base?

Everyone has his own style of approaching the ball. I come from four-five steps back, others come from two steps behind. This doesn't matter much, what matters the most is after taking the ball on hockey stick what is your technique, footwork, how you move the ball, how straight you stay and how much you drag the ball. The more you drag the ball, the tougher it gets for the goalkeeper to judge the flick. If I drag the ball for one metre then goalkeeper would have more time to react but if I do it for 1.5 metres then it will be tougher for him to judge. How many steps you take before approaching the ball is not so important.



Pakistan's Sohail Abbas holds the record for scoring 348 goals is considered the 'King of drag-flick'. Image: Twitter/@MazherArshad

How do you transfer body weight, put force behind the ball?

When your hip jerks the force automatically gets transferred into the ball…If I have to hit right down then I will drag the ball according to that, footwork will be accordingly and then my body will get into the position for the angle accordingly because I have trained for it, so I know where I have to move the ball and where I have to give the jerk.

Does the grip change when you are trying a variation, if you have to hit an aerial or grounded flick?

Grip doesn't change for that, only the angle of the stick would change a little. If I have to make an aerial flick then I will keep the angle of the stick a little upwards but for grounded shots, the shaft will stay straight and the angle would not be upwards.

Dodging is an important part of drag-flicking. A lot of flickers look left and shoot right. How do you do that?

You will need to move the ball accordingly…players give angle while releasing the ball so that it becomes tough to judge, what I do is that if I have to hit the ball towards right down then I drag the ball towards left a little and then while giving jerk I change the angle to right. Similarly, if I am targeting left down then I pull the ball towards the right and then provide the jerk with angle changing towards left.

What variations have you tried and does the grip change while trying them?

My body language stays the same as if I am trying to hit straight because if my body language changes then they (opponent) would know what I am trying to do because they also come after doing a lot of analysis. So I try to pretend I am trying to hit straight, the grip also doesn't change.

Do you study goalkeepers also, as in which way (left or right) do they usually go?

In our meeting what we generally study is what their (opponent's) first rusher is doing. Does he make a straight run or is he trying to block and then which side the goalkeeper generally moves and where the goalkeeper keeps his hand. Because some of them prefer keeping it up and use their legs for low shots but some keep it down. So we try to analyse everything…and accordingly, decide our angle. If a goalkeeper prefers the right side then we try keeping our shots to left.

What's the head position like while taking drag-flicks? When exactly should you look up and where should your head be?

What I feel is that you need to watch the ball till the time you don't execute your flick. Sometimes you end up looking upwards when the ball is on the stick, what happens with this is that you end up getting up early and the ball would miss the target because the angle would become very high. It's natural because if you look up early, your shaft will rise and your angle would be high. The best is to focus on the ball. In fact, always keep looking at the ball even when you execute the shot and that way your focus would stay on it.

What muscle groups are involved in drag-flicking and what exercises do you do?

Firstly your core, hip rotation, back, groin, hamstring. All muscles are involved in drag-flicking and all of them need to be strong. If one of them is weak then others would be impacted. If your back is weak then you won't be able to do anything, if your hamstring is weak then there will be more pressure on the back. So from back to knee to your hamstring, all three need to be strong. You need to balance your work and there needs to be proper recovery.

How important is a good height and strong physique for a drag-flicker or can a player with shorter height relative to other players also do well?

Drag-flick can be done by anyone. For me personally, my height gives me an advantage as well as disadvantage. The advantage is that I can cover a lot of area but I am also vulnerable to injuries. I need to bend a lot and work very hard on my muscles. Shorter players have a better balance so they suffer lesser injuries and there are players with shorter heights who are good drag-flickers.

Should we keep the ball while dragging under the center of gravity or ahead of it. Does this matter?

The Important thing is that the ball should neither be very far from you nor very close. It's about co-ordination and balance. It should remain in front of you.

Is visualisation a part of your preparation and how do you use the technique?

When we have an upcoming match we watch videos of our opponents and then we do our visualisation. Later a day before the match we try to execute what we have visualised, what we have planned. That training would later lead to the results.

It's only natural for athletes to have some bad time. In a match where you miss a couple of drag-flicks, how do you clam yourself so that you successfully convert the next drag-flick?

This happens a lot of time and then it's very important to go back to the basics then. Everybody makes a mistake. Sports is like this, even though you train regularly you still end up making mistakes, you can never be perfect. It's important to keep working on the basics, stay in the present and not think of what had happened. Automatically that will impact you mentally, so stay in the present and try your best to work on your angle and execution.



Rupinder Pal Singh executing a drag-flick in one of the training sessions with the national team. Image: Hockey India

A lot of times, drag-flickers are asked to perform under intense pressure, especially in dying moments. Can you explain about the thought process under such high-pressure situations and how you control the mind and soak in the pressure?

I enjoy the pressure of taking drag-flicks in dying minutes of a match. The most important thing is to stay confident, as in how confident are you of converting the chance. A lot of times even when you are confident, you still end up missing the target. Recently against Australia, we were losing 4-2 and then I made it 4-3 from a penalty corner and then we again got a penalty corner but I missed the target. I was confident but it didn't happen, I learnt from it. So you need to be confident, not overconfident but you need to believe that you can do it. The Important thing is for how long you have been preparing. If you have thought before the match about what you want to do then there's a good chance of executing it. You get information from coaches about which angles to choose and then my job is to work on the target and not worry about the result. Luck also plays a major role at times.

Who has been your biggest idol, what is the biggest learning that you have got in the context of drag-flicking in your career?

The main job of a drag-flicker is to create opportunities. My inspiration has always been Jugraj Singh, my style is very similar to his as I trained two years under him. I may not have become drag-flicker had I not trained under him. The more you train the better you get. It's not that we are perfect, we still make mistakes. It's the thing about sports, no matter how much you train, it will always be less. You will always make mistakes.

Why do you think the conversion rate of drag-flicking has gone down in modern-day hockey?

The defence has become very brave in modern day hockey. With the first rusher, post man and the second rusher, now it's like there are three people covering one angle, so it becomes impossible to find the target on left of the goalkeeper. To find that target you need the ball to be pushed at a proper pace and then it has to be stopped perfectly and then if you manage to beat the first rusher, you can score on the left. So now it's like there are three defenders on the left and the goalkeeper on the right, you just can't find the gap. What I have been hearing since three-four years is that your conversion rate needs to be around 33 percent, if you have that rate of conversion then it's very good. So since my comeback from injury, in these last two years, our team's conversion rate has been very good, about 50 percent. Harman (Harmanpreet Singh), Amit Rohidas are doing very well, so together our combination is very good.

With the conversion rate going down, do you see drag-flick becoming less and less popular with time?

Anything can happen but as you said it's a very important component of hockey, so it wouldn't suddenly lose its popularity. As the defence improves, more variations are coming in, attackers are improving their variations. It goes both ways. In the end, drag-flicking comes later, you first need to be a good player on the field. It won't work if you are a good drag-flicker but not a good player. There is a need to maintain a balance.

Editor's note: Professional sport is as much a scientific pursuit as it is a recreational wonder. What appears routinely mundane is a result of the hours spent honing the craft and deciphering the body mechanics till it becomes a monotonous muscle memory. In Firstpost Masterclass, our latest weekly series, we look at precisely these aspects that make sport a far more intriguing act than we know.

Firstpost


---

Rajkumar Pal: Feet on the ground despite flying start



PROUD MOMENT: Chief Coach Graham Reid presents India Jersey to Rajkumar. Pic: Hockey India

There couldn't have been a tougher baptism by fire for young Rajkumar Pal. He was given his first senior India cap against World Cup champions Belgium, of all teams, in the FIH Pro League in February. The 21-year-old put in a sprightly performance in a 2-1 win and did an encore against the Red Lions in the second match although India lost 2-3. Rajkumar carried his good form into the next double-leg encounter against the formidable Australians. He capped the verve and energy he displayed in the match by scoring twice.

Way to go, Rajkumar, coach Graham Reid of Australia may well have exclaimed. Never mind if it was in a lost cause. Rajkumar is shaping to be a midfielder that the Indian team needs to augment the efforts of a promising forward line and the kind of support captain Manpreet Singh needs.

His performance drew praise from Reid who said:

"Rajkumar is a very promising young player and very hard working. He possesses extraordinary skills and can play with a lot of speed in the front. When he was given an opportunity in the Hockey Pro League, I believe he stood up to the occasion and did well.

Explosive his start in international hockey may have been, but the youngster who hails from Karampur village in UP's Ghazipur district shows no signs of making the mistake of getting ahead of himself.

On the pitch, he exuded the temperament of a senior player. Confidence, composure and calm marked his play. It suggested a maturity beyond years.

Looking at his background and history, you can't help discerning the play of circumstances in Rajkumar's progress on the pitch.

He had virtually decided to give up playing hockey in 2011 after his father Kalpanath died in a road accident.



Raj Kumar Pal in an intense play

"Hockey was my passion but I was willing to give it up," the youngster said from home where he is spending time after the the players a six-week break from the camp in Bengaluru.

"My mother Manraji needed help at home and times were difficult so I took the decision to quit playing hockey." But as time proved a healer, his mother insisted that he pursue the sport and it dawned on Rajkumar that sitting at home in despondency would do him no good.

So he picked up his stick and began doing what he does best. Sports Authority of India (SAI), Lucknow, was where he honed his skills and his tryst with hockey began a new chapter.

It was the second time he beat the odds and stuck to the game. He wasn't serious about taking to it even though his older brothers Jokhan and Raju played hockey.

Rajkumar reminisces:  "I didn't think it a good idea to play the game with two in the family already doing so. I thought of doing something else. However, with my brothers' sticks lying around the place, I tried my hand at hockey and took a liking to it."

The crisis caused by his father's demise put back Rajkumar's hockey progress by a year. But he was soon on track, absorbing the nuances at SAI, Lucknow. His copious talent saw him excel at age group nationals. In 2013 he represented SAI at the U-14 national championships in Vadodara where he caught the eye.



Rajkumar (left) in the big league Mandeep (centre) and Amit Rohidas

Eventually, Air India then took him under their wings in 2017 and fielded him at the Senior National Championships.

In a prelude to his senior debut, Rajkumar donned the sky blue colours in a U-23 tournament in Antwerp, Belgium, and scored a goal on debut. After an excellent performance in the Junior India team he helped win a bronze medal in Antwerp his first step toward senior India selection were taken in Gwalior.

At the 2019 National Championships he impressed Hockey India's coaching panel and earned a summon to the camp at SAI, Bengaluru. He had to wait until 2020 for his senior debut and he cannot forget the feeling.

"I had goose pimples when listening to the national anthem," he said in a flashback to the encounter against Belgium at the Kalinga Stadium in Bhubaneswar.

"I can't put the feeling in words."

Fear, if any, was quickly dispelled by the courageous youngster.

"I had the support and confidence of my teammates, Lalit Upadhyay in particular who is from Varanasi not far from my village and often offered me advice and guidance at the camp. "Captain Manpreet Singh was always supportive and I was alive to his promptings on the pitch," he said referring to the match India won.



Raj Kumar Pal in action. Pic: Hockey India

Against Australia, Rajkumar, far from overawed, was zipping up and down the pitch. He took the match to the camp of his vaunted opponents known for attacking and defending in numbers.

"I followed coach's instructions and defended stoutly but pounced on the slightest opportunity to attack," Rajkumar revealed. The dividends were soon to come. Rajkumar picked up a rebound off a penalty corner hit by Rupinderpal Singh, finishing in deft, subtle fashion by reverse hitting into the net.

The second was power personified. He picked up a free hit and brought the Aussie citadel down by unleashing a pile-driver after moving a few steps into the striking circle.

India lost 3-4 but Rajkumar was a heartening positive from the match.

Surely enough, he carried his sparkle into the second match against the Aussies which went into a shootout which India won.

"I owe it to my coach and teammates who told me not to feel afraid before the match," Rajkumar said.

Introspective, he was quick to spot the difference between domestic hockey and the international game.

"There's at least a 50 percent difference between the two versions," he said. Rajkumar also knows that playing top teams like Belgium and Australia needs a special approach. "There's plenty of body use and that must be countered effectively," he said. "But there's also room and scope for skill, especially of the 3-D variety," said the fast-learning youngster, four international matches old and a keen fan of former India captain Sardara Singh.

And he attempts to follow Reid's tactics and strategy to a T.

"Be it calling for the ball, creating space when in possession or thwarting an opponent's offensive, I attempt to do my best," he said. "I know my role is controlling play between the 23 metre lines and I try to use my strengths to make that possible, especially speed for which I train hard," said the fan of MS Dhoni the superstar cricketer.

Rajkumar is in the final year of a B.A. degree where the medium of instruction is Hindi. He doesn't yet speak fluent English but he says he's improving, thanks to lessons twice a week by Reid's wife. Language becomes crucial in the heat of battle on the pitch and has a crucial bearing on the referral system for umpiring decisions.

"That's where my teammates come to my aid, players like Lalitji (Upadhyay) and captain Manpreet Singh," he explains.

The pandemic Covid-19 and its ramifications has put a pause on sport and perhaps Rajkumar's progress but he intends regaining momentum with hard training.

"Running and gym training is a must daily," he said. "After all, I want to keep improving as a player and my immediate aims are to be selected to the Olympic team and win a medal next year in Tokyo."

Faster, higher, stronger, the Olympic motto, seems much the mantra Rajkumar chants in his quest for success.

Stick2Hockey.com


---

Vickram Kanth wants to mentor young; getting ready with multi-coaching stints



Vickram Kanth in 2012. Pic:  K. Arumugam

Former Indian star Vickram Kanth is a learner. The trait in him often comes to dominate his persona. Even as he continues to actively pursue at the domestic level, he enjoys watching youngsters with an eye on their game.

"Whenever I find an opportunity to guide young players I do it. I enjoy playing mentor, correcting young players and teach them the right technique we learnt in the due course of our international career. The intention is to ensure these youngsters don't repeat the same mistakes we did which was corrected only when we moved into the national program," opines former defender Vickram Kanth.

He always wanted to learn coaching in a proper way instead of just making use of his experience alone. He took Hockey India Coaching Education Pathway, launched March last year, seriously.

"Coaching was always on my mind, even after my International career ended, I enjoyed spending time with young players. But when Hockey India launched the program, I felt it was something I wanted to do. As the name (Hockey India Coaching Education Pathway) suggests, it provided me a pathway into getting involved in the Coaching setup, go through the right process and understand the nuances of Coaching. It was new to me and I enjoyed it," says the Bengaluru-star, who has multi level courses conducted by HI and FIH.

"When I attended Level Basic and Level 1, I understood coaching is completely a different proposition. We were taught to think like coaches rather than a player especially when you are coaching a team. That was the first step for me. How to identify a player was another aspect that intrigued me while I pursued this basic level," recounted Kanth, who made his senior debut in 2007 at the Sultan Azlan Shah Cup where India won the Bronze Medal.

He had previously been part of the Junior India Team that came fourth at the 2005 Junior World Cup in Rotterdam and gold winning Junior Asia Cup (2004).



Former star Vickram Kanth with his coaching Certificate he recently acquired

"Moving on to Hockey India Level 2 Coaching Course, the course was more technical. It involved the intricacies of physical fitness, video analyses and Coaching a young team like U-12, U-14 while the FIH Level 1 & 2 covered deeper sessions of fitness, game analyses, injury prevention, rehab and so on and mainly focused on Coaching U-21 age group and above. With Hockey India making these FIH courses accessible for us in India is a big opportunity," he added.

Having successfully completed FIH Level 1 & Level 2, Vickram Kanth wants to put the lessons he learnt to test by coaching a Junior state team.

"To begin with, I am looking forward to coaching the junior state team for the nationals. I still enjoy playing competitive hockey and representing Indian Oil Corporation Ltd in domestic championships but having undertaken the Hockey India Coaching Education Pathway, it has certainly created a new path for me to consider in the future," he said.

Stick2Hockey.com


---

National Hockey Championship calendar announced for 2021




The dates and locations of Hockey Australia's various national outdoor championships for 2021 have been confirmed.

Notably, all 2021 events except for the Australian Men's and Women's Masters Championships, will be held at the same locations as those slated for 2020 that did not go ahead due to the COVID-19 pandemic.

Due to an existing agreement with Destination NSW, the Australian Men's and Women's Masters 2021 Championships will be held as a 'Mega Masters' event in Newcastle and surrounding areas.

The national outdoor hockey championship calendar commences in April with the Under 18 and Under 15 Championships taking place in Launceston (Tasmania) and Bathurst (NSW) respectively.

The Under 21 Championships follow the Moorebank Liverpool District Hockey Club (NSW) from 30 June, before the Country Championships are held from 7-14 August in Albany, Western Australia.

The first ever Mega Masters will run from 23 September until 9 October, with the National Under 13 Carnival in Hobart scheduled for the first week of October.

Considering the challenges faced by all sports because of the pandemic, Hockey Australia CEO Matt Favier believes this announcement of next year's national championships calendar provides a sense of optimism and anticipation for the wider hockey community in a time of uncertainty.

"Following successful discussions with our funding partners, councils, committees, Member Associations and event hosts, we are excited to confirm that all events (excluding Masters) in 2021 will be played in the same locations as was planned for 2020," said Favier.

"Ultimately these events are about enjoyment, competitiveness and everything that is great about our sport, so as disappointing as it has been not seeing them held this year, there is a genuine sense of excitement about what 2021 holds."




With the ongoing unknown of how Australia will be affected by COVID heading into 2021, Hockey Australia and the MAs will continue to monitor the situation and make further decisions if and at the appropriate time.

"The safety, health and wellbeing of all players, staff, officials and spectators remains Hockey Australia's top priority, so we will continue to follow government advice and direction, but we are largely enthused about all of these events recommencing in 2021."

"These dates and details are obviously subject to the situation with COVID, but this announcement demonstrates that as a sport, we are eager to begin planning and preparation for holding successful events next year with participants from across the country."

All up, Hockey Australia's national championships comprise over 4,500 competitors annually, not including umpires, officials, coaches and volunteers.

In consultation with all Member Associations and the HA Masters Committee, the decision was made back in late March to cancel all Australian 2020 Hockey Championship events.

CLICK HERE to view and download a copy of the full calendar of events.

Hockey Australia media release


---

January's Indoor Championships not going ahead




Details of the next national indoor hockey championships and carnivals are to be determined after Hockey Australia (HA), in conjunction with its Member Associations, agreed not to proceed with the scheduled Australian Indoor Hockey Championships in January 2021.

Closely monitoring the COVID situation and the impact of the pandemic on the sporting community around the country, the decision was reached following regular dialogue between Member Associations and the HA Indoor Advisory Group over recent months.

"Given the impact COVID-19 has had on extending the traditional outdoor 'winter season', there is a strong chance this will impact the usual timing of the traditional summer indoor seasons within each state and territory and their respective abilities to prepare and send competitive representative teams," said HA CEO Matt Favier.

"Importantly, the continual uncertainty and challenges faced by Member Associations needs to be carefully managed and considered.

"We are actively reviewing possible options of what a national indoor hockey event could look like and will continue to work with Member Associations to identify the right time to host the next edition of the Australian Indoor Hockey Festival."

"As has been for the majority of this year, Hockey Australia's focus remains on community competitions and supporting our 100,000 plus members in being able to return to play safely."

Hockey Australia media release


---

EYHL 1 and 2 line-ups confirmed with review set to take place "in coming months"




Hockey Ireland formally announced the make-up of the EY Hockey Leagues with a review set to take place "in the coming months" regarding the format and regulations in time of the 2021/22 season.

The governing body confirmed there would be no promotion and relegation from the top tier and there would be no change in format to the controversial second level of national competition.

There will, however, be a change in line-up in EYHL2 with entries being based on the mathematically determined finishing positions in the regional leagues.

In the women's competition, Galway will replace Greenfields as Connacht's second qualifier in the one change to the ten entries from last term.

For the men, Portrane will be invited ahead of Avoca, continuing a remarkable rise for the Fingal club from Leinster Division 5 to the national stage. Bandon replace Cork Harlequins as Munster's second seed, much to the latter's chagrin given they were leading their EYHL2 group when lockdown came.

It had initially been thought both the incumbents and those in the qualifier positions would be invited, boosting the women's competition to 11 teams and men's to 10, but that has not proven to be the case.

The lack of change or completion of a review, meanwhile, will be a cause of frustration for clubs and provincial branches who have called for a consultation since the 2019/20 season was called to a halt.

 In April, a group of eight women's clubs in EYHL2 and a selection of men's clubs called on the governing body to overhaul the second tier, moving to a "full-season" format.

Currently, the competition exists in addition to provincial leagues, giving squads up to 30 games before cup and indoor hockey is taken into account over a 27-week season.

Monkstown coach Simon Lowry says player welfare is being "totally disregarded" while Lurgan's Robbie McMinn described the lack of review as "ludicrous" on social media.

Provincial representatives from Leinster, Munster and Ulster all called for club concerns to be taken on board.

A circular from the Leinster branch said there was "overwhelming support" for change with over 90% backing the full season proposal in separate polls conducted in April and July which they communicated to Hockey Ireland.

"In the absence of a review and, as there is 'no time to introduce any changes' the EY2 league will be reconstituted in line with the existing rules," the Leinster statement read.

"We know that this will be disappointing for many and we share the concerns of clubs, players, coaches and parents regarding player welfare and number of games that those clubs involved in EY2 are required to commit to on an annual basis. We will continue to advocate on your behalf at national level so that these concerns are addressed."

Malcolm Coombes, from the Munster competitions committee, says the southern province requested a full review of the whole structure of national leagues over the course of the summer. 

"In preparation for a review we thought was coming down the tracks, we sent a survey to all our clubs to see if there was an appetite for change," he said. "Included was a question of whether they think EYHL2 should go to a full season league."

From their initial canvas, a majority of the Munster clubs are not in favour of the full-season proposal but Coombes added that they wanted clubs to know what they were playing before season's start what positions qualify for what in 2021/22.

Similarly, Ulster Hockey chairman Billy Pollock added that his branch made an urgent plea for clarity in both May and June over recommendations made by the Hockey Ireland Competitions Working Group to the governing body's board.

Nonetheless, the confirmation of invitations for next season means the branches can now get on with the business of organising their domestic leagues. 

Leinster, for example, usually finalise their divisions by May but had been waiting to see if several clubs were to be pulled from their leagues for national competition.

EYHL1 line-up

Men: Annadale, Banbridge, Corinthian, Glenanne, Lisnagarvey, Monkstown, Pembroke, Three Rock Rovers, UCD, YMCA

Women: Belfast Harlequins, Catholic Institute, Cork Harlequins, Loreto, Muckross, Old Alex, Pegasus, Pembroke, Railway Union, UCD

EYHL2 invitations

Men: Clontarf, Railway Union, Portrane (Leinster), Cork C of I, Bandon (Munster), Cookstown, Kilkeel, Instonians (Ulster)

Women: NUIG, Galway (Connacht), Corinthian, Monkstown, Trinity (Leinster), UCC, Cork C of I (Munster), Queen's, Ards, Lurgan (Ulster)

The Hook


---

Full letter from nine BAME clubs to England Hockey




Nine clubs have signed a letter sent to England Hockey highlighting issues on ethnicity in the sport. Here we print the letter in full and England Hockey's statement

The letter was written to EH's chief executive Nick Pink:

I recently wrote to you regarding the England Hockey "National Report for Player Survey 2020 – All Clubs" in particular highlighting the data that a mere 6% of those playing at hockey clubs from ethnic minorities.

I believe that there are 2 main reasons for this:

First, hockey has now become an elitist sport and is dominated at the top level in particular by those lucky enough to come through the private school system. Furthermore, this has favoured clubs in affluent catchment areas and well-funded Universities.

As a result, inner-city clubs and those from more socially deprived areas are finding it ever more difficult to attract and retain what talent they have. This is in part due to a lack of facilities and support from the governing body.

Seemingly young people from inner cities and non-White middle-class backgrounds no longer see hockey as a "sport for all" and in particular not for them. Similarly, there is no direct positive support from England Hockey to encourage these youngsters to participate in or get exposure to the sport. This is a great disadvantage to them and deprives Hockey of a huge source of potential untapped talent.

Second, as well as a class problem, there seems to be a race issue which is endemic within England Hockey. From the England team down to the club game and to junior levels I have spent a number of months speaking to people involved in the sport about this. The issue lies at many levels. Examples of such below:
Certain players from BAME backgrounds participating via the Player Pathway system, (from those going to developmental centres as teenagers through to The England set up), suffering both overt and casual racism from other players and, more worryingly, coaches and management. Issues of this nature include and are not limited to coaches involved with the senior squads. The main issue here is that very often players are too scared to come forward to report it in case of their selection chances being hindered or getting an unwanted reputation as being a "troublemaker". Some of the accounts that I have heard shook me to the core, particularly given that this has been happening over the past 15 years
Black and Asian players from the lowest junior levels, through seniors and even into veterans being stereotyped as those who are more likely to engage in foul play and are penalised more for the same offences vs their White counterparts. Similarly, we have heard evidence that coaches in The England Hockey system have demonstrated behaviours that indicate they also share a similar stereotype.
Black and Asian players from the lowest junior levels, through seniors, are stereotyped as those who "dribble too much" by coaches in the Player Pathway system regardless of whether they conform to that stereotype or not.
A number of Asian players have come forward and expressed how throughout the Pathway system that their fitness is always questioned over their White counterparts. Again, regardless of whether they are more or less fit that the bulk of the group.
Coaches in The England Hockey set up overtly express that players should not join or should leave, more ethnically diverse clubs as it could be a "detriment to their game". Contrary to this, they encourage them to join their more "favoured" clubs.


We believe there is strong evidence that England Hockey has presided over a system that has become  systematically  biased  against  those  from  less  privileged  backgrounds,  as  well  as ethnic minorities.

At a time when all sports bodies are asking themselves how they can be more inclusive and tackle systemic bias and racism we would like to see:
The formation of an independent body with the specific goal of tackling racism and stereotyping within the sport.
An independent investigation into allegations of racism that have taken place in the England junior and senior setups over the past two decades.
A body set up for investigating any future concerns about racism at the England Junior and  Senior  level  which  removes  the  barrier  of  concern  that  players  have  for deselection.
Coaches in The England Hockey set up to directly and actively engage with ethnically diverse clubs to help address their concerns with playing styles and fitness.
A pathway for umpires to engage with ethnically diverse clubs about their concerns about playing styles from these clubs.
Direct support for more clubs nationwide to attract players from socially deprived and BAME backgrounds.
More education of coaches and officials in The England Hockey set up about diversity and working towards eliminating racial biases, and engagement with more ethnically diverse clubs about what this education should include.
More education throughout the game about diversity and working towards eliminating racial  biases,  and  engagement  with  more  ethnically  diverse  clubs  about  what  this education should include.
In conclusion, we have endured decades of tackling verbal and physical abuse both on and off the pitch. We sometimes underestimate that we may ourselves have become accustomed to this behaviour, as it is "just the way things are". Nonetheless, we can no longer stand by and  do  nothing  whilst  England  Hockey  presides  over  a  system  which  is  out  of  touch  with modern-day  Britain  and  only  benefits  certain  members  of  society.  The  lack  of  mention  of BAME related policies, procedures and activities on England Hockey's own website, only goes to further obfuscate where England Hockey stands on the issues mentioned. Furthermore, it goes to reinforce our point that the governing body lacks understanding and is too far behind when it comes to tackling inequality.




This is something that cannot continue, and it is our responsibility to collectively ensure that hockey is a sport for all, and that equality exists at all levels.

We hope that you work with us to address these issues, and I look forward to hearing back from you.

Yours Sincerely

Gurmej Singh Pawar

Chairman of Barford Tigers Hockey Club

Co-Signed by

Kingswinford, Leicester Panthers, Nottingham Sikh Union, Plashet, Ramgarhia Derby, Ramgarhia Leeds, Sikh Union Coventry, Tower Hamlets

In response, England Hockey said:

"Our aspiration is for hockey to remain at the forefront of British team sports as a force for good in diversity and inclusion, with regards to race, gender, sexuality, disability and age. To that end, we as the governing body set up a Diversity & Inclusion working group last year, with the aim of creating a long-term strategy.

"The most recent step has been to create an external advisory group, utilising the skills and experience of people from a range of backgrounds within the sport, including the former Chairman of Mr Pawar's club Barford Tigers, and chaired by the Chairman of England Hockey. One of the key objectives of the external group is to share and ascertain the facts around diversity and inclusion within our sport, so we can create a strategy based on first-hand evidence as opposed to perception or assumption. Only by sharing experiences can we work to help maintain the best possible platform for everyone to enjoy the sport.

"With regards to specific incidents, we strongly urge anybody with concerns to contact us directly at This email address is being protected from spambots. You need JavaScript enabled to view it.. We have a robust process to deal with any concerns. The most complex/serious of those are dealt with by an independent panel.

"We believe that a collaborative approach between us as the governing body, clubs, counties and regions is key to making a sport as easy to access as possible. For a number of months we have been undertaking a review of how talented young people can access our game, with the aim of a talent development system which attracts and develops young people irrespective of their background, and inspires them to be the best they can be.

"As with all matters of Diversity & Inclusion, our commitment is to having a long term, sustainable positive impact on our sport and its people."



The Hockey Paper


---

Mthethwa to meet swimming, cricket and hockey bodies over poor transformation

Minister of Sports Arts and Culture, Nathi Mthethwa has met with the governing bodies of swimming, hockey, and cricket to discuss sub-standard transformation targets.

Nick Archibald



Minister Nathi Mthethwa singled out three sporting federations that have failed to meet their self-set 50% targets.

JOHANNESBURG - Minister of Sports Arts and Culture, Nathi Mthethwa has met with the governing bodies of swimming, hockey, and cricket to discuss sub-standard transformation targets.

In a media statement on Wednesday morning, the department said the three sporting codes would have to present to the minister reasons why penalties should not be imposed.

These penalties include:
The suspension or withdrawal of Government funding
The authority to bid or stage international tournaments locally may be revoked
The withdrawal of the right to award national colours
The withdrawal of the recognition of a national federation in terms of the National Sport and Recreation Act, 1998 (Act No 110 of 1998 as amended)
The department releases the Eminent Persons Group (EPG) Report annually.

The report for the 2018/2019 year was submitted to the Minister by the EPG, who appraised him on their findings, and thereafter the report was published in June 2020.

The department said Mthethwa has now had the opportunity to study the report and [make] his assessment on the state of transformation in the 19 codes of sport.

"Having made his assessment, he is now meeting with the individual federations for the EPG to present their report and to engage further on its findings," the statement said

"Federations should take the issue of transformation seriously as it is non-negotiable. As the Minister of this portfolio, I would be failing the people of South Africa and violating our constitution if I fail to act decisively against sport transformation delinquents," Mthethwa said. "For those federations that achieve less than 50% of self-set targets ... penalties may apply."

Mthethwa singled out three sporting federations that have failed to meet their self-set 50% targets. Hockey and swimming failed the EPG review as they did not "meet their self-set barometer targets", according to the report.

"Cricket was given conditional approval because, amongst other reasons, they fared poorly on African representation. However, they did achieve 70% of their self-set barometer targets, which is higher than the 50% required to avoid penalty imposition," the department said.

The three sporting federations have until the end of this week "to give a convincing motivation as to why the Minister should not consider enforcing transformation, as per the above penalties", the department said.

On another matter, the department said, "Minister Mthethwa informed Cricket South Africa (CSA) that he met with former cricket players who raised issues of systemic racism in the federation. In this meeting, he indicated that a day would have to be set aside to tackle this issue. Furthermore, CSA has expressed readiness and are looking forward to meeting with the Minister to proactively deal with this matter."

Eyewitness News

I have one question for the Minister. How many swimming pools, Cricket and Hockey pitches has the Government installed in Government schools in previously disadvantaged areas since 1994 when they came into power? The answer is shown by the supposedly lack of transformation in these sports.