All the news for Wednesday 9 June 2021

EuroHockey Championship 2021 Men - 9 June
Amsterdam, Netherlands

All times GMT +2)

4 Jun 2021     GER v WAL (Pool B)     8 - 1
4 Jun 2021     NED v FRA (Pool B)     3 - 0

5 Jun 2021     ENG v RUS (Pool A)   5 - 0
5 Jun 2021     BEL v ESP (Pool A)   4 - 2
5 Jun 2021     FRA v WAL (Pool B)   2 - 2

6 Jun 2021     GER v NED (Pool B)   2 - 2
6 Jun 2021     ESP v RUS (Pool A)   5 - 1
6 Jun 2021     ENG v BEL (Pool A)   2 - 1

8 Jun 2021     BEL v RUS (Pool A)   9 - 2
8 Jun 2021     FRA v GER (Pool B)   5 - 6
8 Jun 2021     ESP v ENG (Pool A   2 - 3
8 Jun 2021     NED v WAL (Pool B)   6 - 0

Pool Standings

Pool A
| Rank | Team | Played | Wins | Draws | Losses | Goals For | Goals Against | Goal Difference | Points |
| --- | --- | --- | --- | --- | --- | --- | --- | --- | --- |
| 1 | England | 3 | 3 | 0 | 0 | 10 | 3 | 7 | 9 |
| 2 | Belgium | 3 | 2 | 0 | 1 | 14 | 6 | 8 | 6 |
| 3 | Spain | 3 | 1 | 0 | 2 | 9 | 8 | 1 | 3 |
| 4 | Russia | 3 | 0 | 0 | 3 | 3 | 19 | -16 | 0 |
Pool B
| Rank | Team | Played | Wins | Draws | Losses | Goals For | Goals Against | Goal Difference | Points |
| --- | --- | --- | --- | --- | --- | --- | --- | --- | --- |
| 1 | Netherlands | 3 | 2 | 1 | 0 | 11 | 2 | 9 | 7 |
| 2 | Germany | 3 | 2 | 1 | 0 | 16 | 8 | 8 | 7 |
| 3 | Wales | 3 | 1 | 0 | 2 | 4 | 16 | -12 | 3 |
| 4 | France | 3 | 0 | 0 | 3 | 7 | 12 | -5 | 0 |
---

EuroHockey Championship 2021 Women - 9 June
Amsterdam, Netherlands

All times GMT +2)

5 Jun 2021     NED v IRL (Pool A)   4 - 0
5 Jun 2021     ESP v SCO (Pool A)   4 - 1

6 Jun 2021     ENG v ITA (Pool B)    4 - 0
6 Jun 2021     GER v BEL (Pool B)   1 - 1

7 Jun 2021     IRL v SCO (Pool A)   1 - 0
7 Jun 2021     BEL v ITA (Pool B)   4 - 0
7 Jun 2021     ENG v GER (Pool B)   0 - 2
7 Jun 2021     ESP v NED (Pool A   1 - 7

9 Jun 2021 12:30     IRL v ESP (Pool A)
9 Jun 2021 14:45     GER v ITA (Pool B)
9 Jun 2021 17:00     BEL v ENG (Pool B
9 Jun 2021 20:00     NED v SCO (Pool A)

Pool Standings

Pool A
| Rank | Team | Played | Wins | Draws | Losses | Goals For | Goals Against | Goal Difference | Points |
| --- | --- | --- | --- | --- | --- | --- | --- | --- | --- |
| 1 | Netherlands | 2 | 2 | 0 | 0 | 11 | 1 | 10 | 6 |
| 2 | Spain | 2 | 1 | 0 | 1 | 5 | 8 | -3 | 3 |
| 3 | Ireland | 2 | 1 | 0 | 1 | 1 | 4 | -3 | 3 |
| 4 | Scotland | 2 | 0 | 0 | 2 | 1 | 5 | -4 | 0 |
Pool B
| Rank | Team | Played | Wins | Draws | Losses | Goals For | Goals Against | Goal Difference | Points |
| --- | --- | --- | --- | --- | --- | --- | --- | --- | --- |
| 1 | Belgium | 2 | 1 | 1 | 0 | 5 | 1 | 4 | 4 |
| 2 | Germany | 2 | 1 | 1 | 0 | 3 | 1 | 2 | 4 |
| 3 | England | 2 | 1 | 0 | 1 | 4 | 2 | 2 | 3 |
| 4 | Italy | 2 | 0 | 0 | 2 | 0 | 8 | -8 | 0 |
---

England and The Netherlands top pools as goals fly in at men's EuroHockey Championships

By Neil Shefferd



England, playing in white, top Pool A at the men's EuroHockey Championships after defeating Spain ©Getty Images

England and The Netherlands topped their pools after a day that saw 33 goals scored in four matches at the men's EuroHockey Championships in Amsterdam.

England won Pool A after a last minute goal from Sam Ward, which in the process completed his hat-trick, helped them defeat Spain 3-2.

Ward scored twice from penalty corners in the first period to give England a two goal lead.

Spain fought back to level thanks to a penalty corner from Pau Quemada and a field goal from Xavi Lleonart.

A last minute strike from Ward, his third from a penalty corner, completed a dramatic win for England and preserved their unbeaten record at the tournament.

The other match in the pool saw Belgium go goal crazy as they demolished Russia 9-2.

Alexander Hendrickx scored a hat-trick from penalty corners while Florent Van Aubel, who got the scoring underway in the opening minute of the contest, netted a brace.

Nicolas de Kerpel, Antoine Kina, Tom Boon and Thomas Briels also netted for Belgium, while Artem Nadyrshin and Andrey Kuraev scored consolations for the Russians, who sit bottom of the pool.

Belgium finished second behind England with six points while Spain sit in third place with three points.

In Pool B, a see-saw encounter saw Germany recover from 2-0 and 5-2 down to beat France 6-5.

Martin Haner was the German hero scoring the winner in the last minute to complete a hat-trick from penalty corners.

Goals from Nicolas Dumont and Pieter Van Straaten helped the French take a 2-0 lead after four minutes, before Haner got the Germans level with two goals in as many minutes.

Charles Masson, a second from Van Straaten and Benjamin Marque gave France a 5-2 advantage in the second period.

A brace from Niklas Wellen, a goal from Florian Fuchs and Haner's dramatic winner turned around a remarkable contest that saw Germany finish second in the group with seven points.

Elsewhere in the pool, The Netherlands moved secured top spot thanks to their goal difference as they also finished on seven points after thumping Wales 6-0.

Mirco Pruijser, Jeroen Hertzberger and Jonas De Geus got the Dutch off to a flying start as they went 3-0 up inside the first ten minutes.

A second from Pruijser and further strikes from Robbert Kemperman and Billy Bakker rounded off the Dutch rout.

Wales sit third in the pool with three points with France bottom and yet to score a point after their agonising defeat to Germany.

The semi-finals are scheduled to take place on Thursday (June 10) and see England face Germany and Belgium up against The Netherlands.

Wales, Spain, Russia and France advanced to Pool C and will be playing for places at the next Hockey World Cup, scheduled to be held in India in January 2023.

Inside the Games


---

Netherlands, Germany, England and Belgium book Men's World Cup places

The Netherlands routed Wales 6-0, just the scoreline the hosts needed to top Pool B of the Men's EuroHockey Championships in Amstelveen on Tuesday.

The last Dutch goal came with only seconds remaining and it meant playing World Cup and defending champions Belgium in the semifinals.

The tennis-score win enabled The Netherlands to squeak past arch-rivals Germany, with whom they drew 2-2 on Sunday, and make it to the top of the pool.

Germany take on in-form England in the other semifinal.

The semifinalists were spotted in the pool's concluding fixtures and it also meant that the quartet qualified for the 2023 World Cup in Bhubaneswar-Rourkela, India.

Belgium swamped Russia 9-2 and England beat Spain 3-2 to seal last-four spots from Pool A. In Pool B, Germany pipped France 6-5 despite trailing 2-5 after 22 minutes.

The last direct entry to the World Cup will be confirmed after Spain join France, Wales and Russia in a plate round-robin pool.

Stick2Hockey.com


---

Ward's Hattrick Secures Semi-Final Berth As Men Top Pool A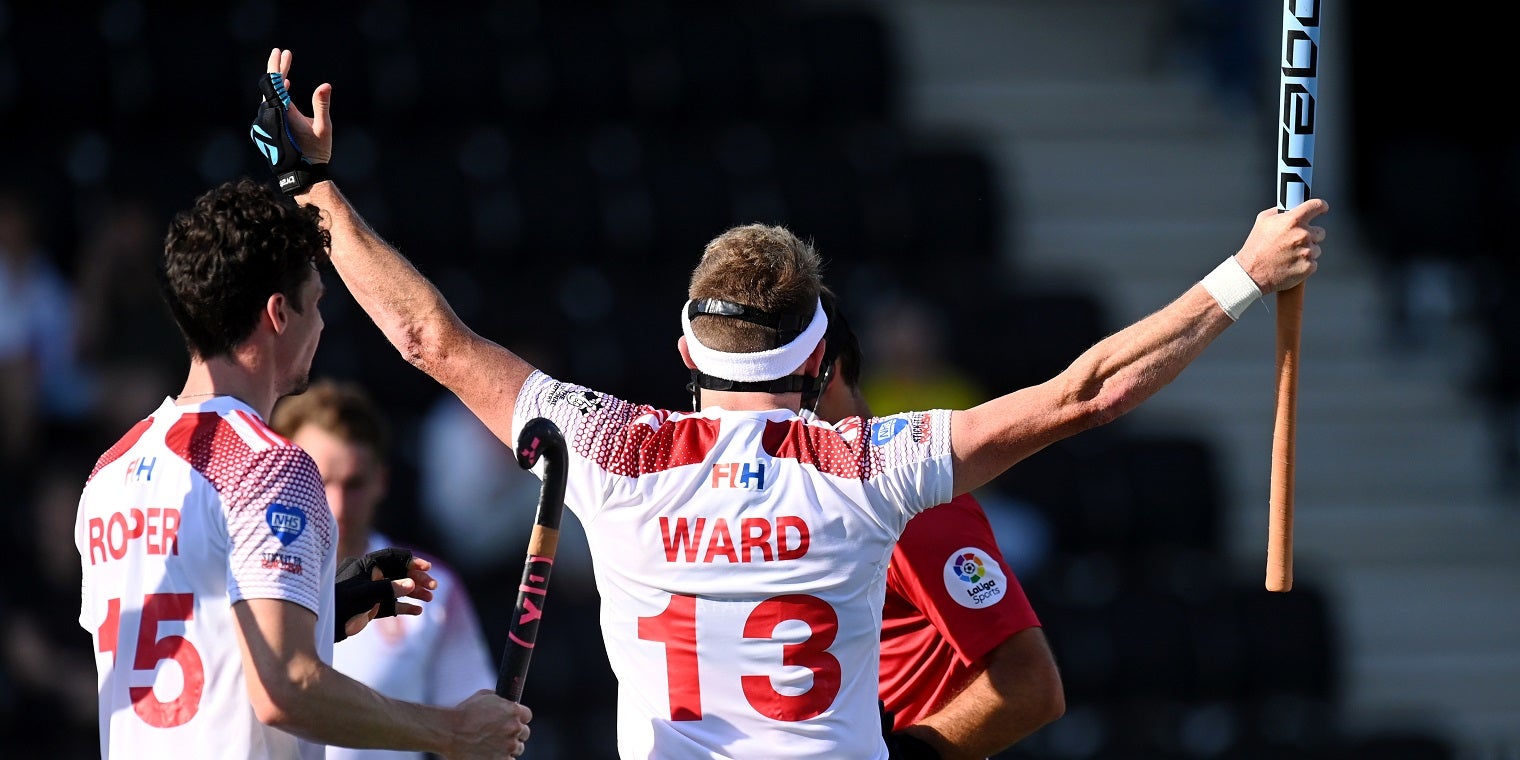 England's men secured their place in the EuroHockey Championships semi-finals with a gripping 3-2 victory over Spain.

With the stakes high going into the match, the early nerves were quickly settled as Sam Ward's brilliant first-quarter brace, both coming from sublime drag flicks, put England firmly in the driver's seat.

Spain ensured England's progression to the semi-finals wouldn't come without a fight, Pau Quemada's flick bringing one back before half-time to keep the game close.

Whilst England only needed a draw to progress, Spain required a two-goal victory and signalled their attacking intent by removing their goalkeeper for the final-quarter, the decision quickly paying off as Lleonart was credited with the equaliser little over ten minutes from time.

Having ground the clock down with resilient defensive work, the team pushed up-field in the dying minutes, Ward securing his hattrick with a third penalty corner goal with the final moment of the match to secure a 3-2 victory and advance to the semi-finals.

The result means that England, who remain unbeaten in the competition, finish top of Pool A and will discover their semi-final opponents - the match to take place on Thursday 10 June at 16:00 - after this evening's game between Wales and The Netherlands.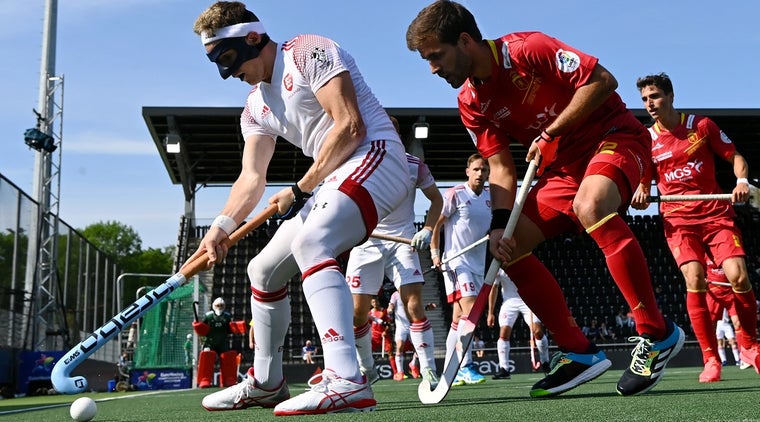 Sam Ward's hattrick proved crucial in England's victory over Spain. Credit: World Sport Pics

England were looking threatening from the start, Liam Ansell feeding Phil Roper, whose shot flew narrowly wide of the goal in what was the first big chance of the match.

With little over ten minutes on the clock the deadlock was broken, Ward rifling his drag flick into the backboard to propel England into the lead.

Ward was at it again just minutes later, stepping up for another penalty corner and repeating the feat with a second stunning drag flick to double the advantage.

Ollie Payne preserved the lead with a pair of phenomenal saves, the first a lightning-fast reaction to a deflection, the second a spectacular diving save to parry the ball over the crossbar as the young goalkeeper looked sharp early on.

There was nothing Payne could do about the next one, Quemada hurtling the ball into the far corner to convert one of their penalty corners and close the gap.

Zach Wallace tested Quico Cortes in the final minute of the half, his first attempt well saved by the Spanish 'keeper before the follow-up drifted narrowly wide.

The second-half continued in the same vein with both sides creating chances and testing the opposition's defensive resolve.

Ward looked to have played the perfect ball into Chris Griffiths to finish from close range, but a perfectly timed interception ensured the English forward wouldn't be given the chance to score.

Spain showed their attacking intent by withdrawing their goalkeeper for the entirety of the final quarter as the team sought the all-important goals to see them through.

It didn't take long for the move to pay off, Xavi Lleonart playing the ball into the circle where a wicked deflection off an English stick took the ball into the goal.

England were under intense pressure from the Spanish onslaught, incredible work on numerous occasions from Payne in goal and the defence in front of him to repel the litany of chances falling Spain's way.

With time running short, England made a late venture up the other end of the field and were rewarded with a penalty corner. With the previous two attempts being charged down, Ward bagged his hattrick with a third goal from a penalty corner, his thumping effort flying down the middle of the open net to guarantee victory and progression to the semi-finals, as well as confirming World Cup qualification.

The result means that England top Pool A and will discover their opponents after this evening's match between The Netherlands and Wales, with their semi-final match scheduled for Thursday 10 June at 16:00 – live on BT Sport.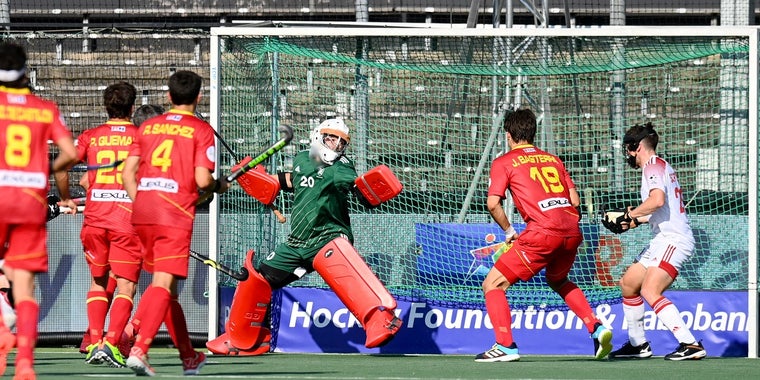 Ollie Payne works hard to repel the Spanish attack. Credit: World Sport Pics

After the match, David Ames commented:

"We're delighted. We were really good in the first-half, in the second-half we had to weather the storm and they took their keeper off which makes it harder. But collectively I thought we were awesome late on and managed to win the game.

"Ollie Payne has been incredible for us. He made some great saves today and has had an incredible couple of months. He's at the top of his game which is great for such a young guy and he's one we'll hold onto for the future as well.

"It's a good tournament to play in and we've really had to be on our game. We've been solid in the three group games and now we've got two massive matches at the weekend.

"It doesn't matter who we play, when you get to the semis of a European Championship it will be tough. I think we've got 4 of the world's top 5 teams here. We'll be ready."

England 3 (2)

Ward (12' PC, 14' PC, 60' PC)

Spain 2 (1)

Quemada (27' PC), Lleonart (49' FG)       

Starting XI: Ames, Martin, Griffiths, Ward, Roper, Dixon (C), Creed, Payne (C), Gall, Sorsby, Wallace

Subs (Used): Sloan, Goodfield, Ansell, Waller, Sanford, Calnan

Subs (Unused): Pinner (GK)

England Hockey Board Media release


---

England Top Pool A, Dutch End Welsh Semi-Final Hopes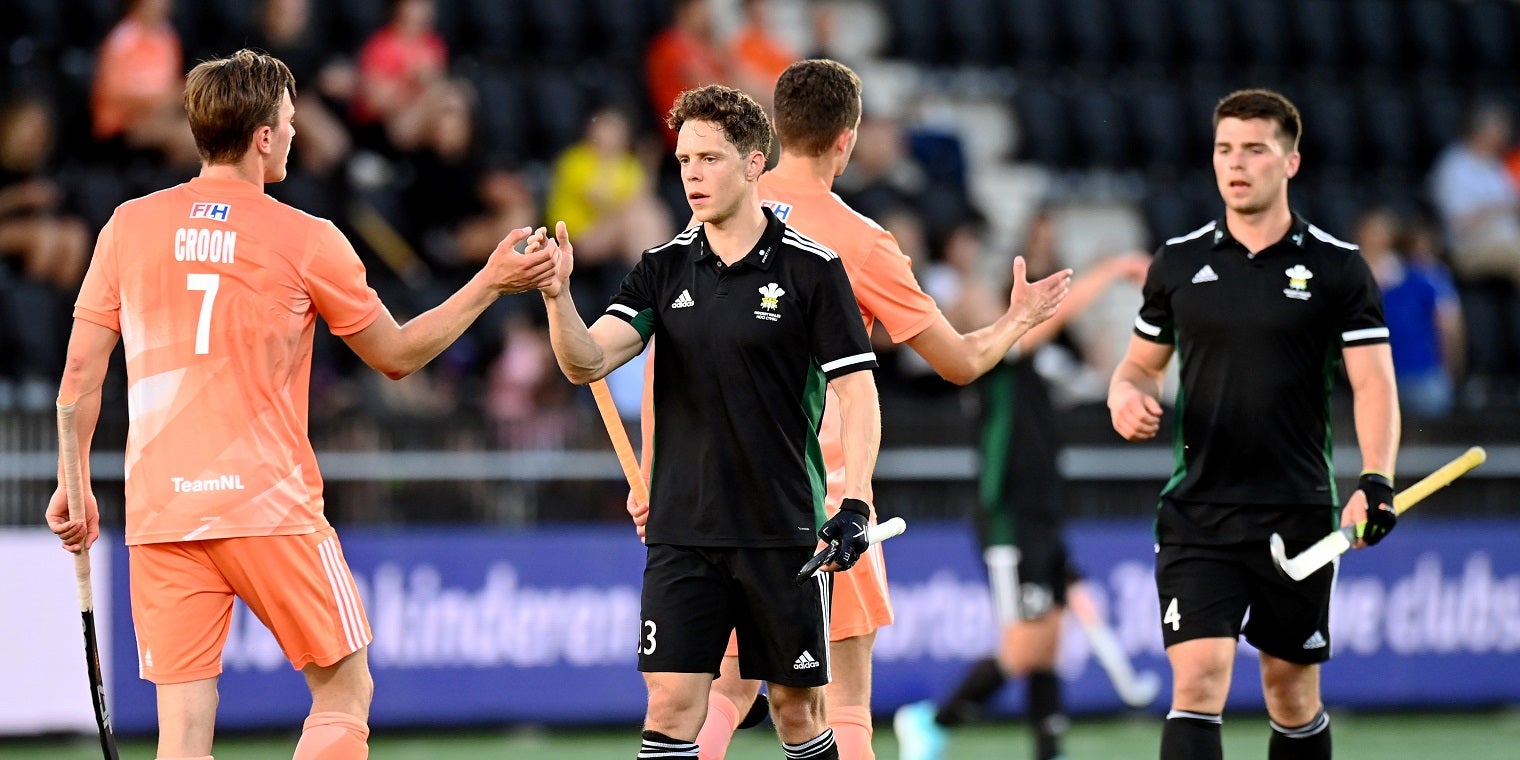 England's men secured a last-minute victory over Spain to finish top of Pool A, whilst Wales were denied a second-placed finish in the group stage with defeat to The Netherlands in a gripping day of EuroHockey Championships action.

Having clinched a victory over France in their previous match, Wales' hopes of progressing to the knockout stages were dashed by defeat to The Netherlands in their final group stage match.

A victory would have seen the team move above their opponents in the table and advance to the semi-finals, however, six unanswered goals consigned the team to defeat and a Pool C tie against Spain on Thursday.

The result means that England will face Germany after continuing their fine form earlier in the day, becoming the only men's team to have taken wins in all of their matches, with a 3-2 triumph over Spain.

Sam Ward scored a crucial hattrick from penalty corners, the third coming with the final touch of play, whilst the team put in an inspired defensive performance to earn the victory.



Sam Ward's hattrick sees England past Spain and into the semi-finals. Credit: World Sport Pics

England's men secured their place in the EuroHockey Championships semi-finals with a tense 3-2 victory over Spain.

Sam Ward's brilliant first-quarter brace gave them the perfect early platform in their must-not-lose final group stage match.

Spain kept it close throughout, Pau Quemada bringing one back on the stroke of half-time before Xavi Lleonart's equaliser set up a tense final ten minutes.

An inspirational defensive effort, coupled with some highlight-reel saves from Ollie Payne, kept the Spanish at bay as England were put under severe pressure.

Ward completed his hattrick with the final touch of the game to seal a hard-fought victory and book a semi-final fixture against Germany at 16:00 on Thursday 10 June, with the team finished top of Pool A.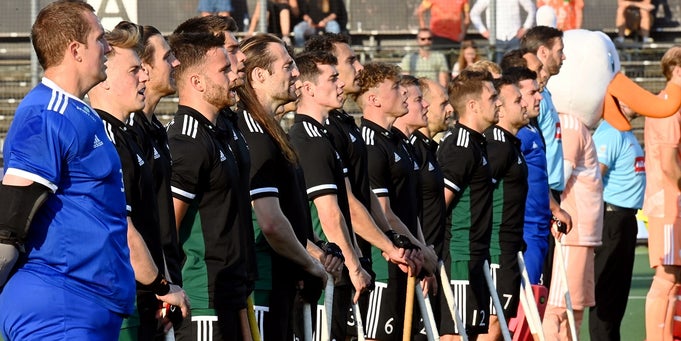 Wales' men put in a hard-fought performance but were unable to surpass The Netherlands. Credit: World Sport Pics

Wales' hopes of progressing to the semi-final stages were swiftly extinguished by a ruthless Dutch side.

Goalkeeper James Fortnam was immediately peppered by a Dutch barrage, with both teams conscious a victory would book a place in the semi-finals.

There was little the team could do as The Netherlands romped to an early lead with a dazzling attacking display, Mirco Pruijser, Jeroen Hertzberger and Jonas de Geus all getting on the scoresheet in the opening ten minutes of the match.

Wales were still trying to fight their way back into the match and did test their opponent's defence on several occasions, however the team's attempts to make an impact on the scoreboard were thwarted.

Pruijser bagged his second and Robbert Kemperman added to the scoreboard in the third-quarter as The Netherlands showed no signs of slowing down in this must-win match.

The class of The Netherlands ensured they would take a victory, a last-minute goal from Billy Bakker meaning they will finish top of Pool B, as they took a 6-0 win over a spirited Welsh side.

Wales are back in action on Thursday 10 June against Spain at 13:45 in Pool C.

Great Britain Hockey media release


---

Sam Ward's hat-trick against Spain sends England into semis

Sam Ward scored a hat-trick of penalty corners to send England into the EuroHockey Championships semi-finals with a 3-2 victory over Spain.

Ward opened the scoring in the 12th minute with his first goal of the tournament and doubled England's advantage just two minutes later.

Spain hit back through Pau Quemada and Xavi Lleonart before Ward ensured victory in the final moments.

England face Germany in Thursday's semi-final.

The win against Spain ensured England topped Pool A with three wins from three group games in Amsterdam.

"We're delighted," said England defender David Ames. "We've been solid in the three group games and now we've got two massive matches at the weekend.

"It doesn't matter who we play, when you get to the semis of a European Championship it will be tough."

Reaching the last four of the EuroHockey Championships also sealed England's qualification for next year's World Cup.

BBC Sport


---

Germany aim to quell comebacks




Germany men's plans for their semi-final against England? Precision preparation, obviously, coupled with a heavy dose of how to overcome a lack of penalty corner penetration and a worrying trend of shipping goals and being forced into herculean comebacks.

On the second point, perhaps they shouldn't be too concerned if they fall behind against England. The very thought of it will likely be a mindbender for Danny Kerry's players should that happen, despite England looking in fine fettle at these Euros. Yet, Germany know that a semi-final is not the place to do it for a third time.

"We showed it against the Netherlands and we showed it against France but we have to ask ourselves why it always happens," Germany's Niklas Wellen said. "In a semi-final, we cannot afford to trail by two or three goals and then come back."

Their second comeback in the Pool stages culminated in one of the classic EuroHockey matches, coming from 5-2 down after just 22 minutes to prevail over France 6-5 in the final seconds.

In their nine previous meetings, France had never scored more than two, while Les Bleus had also never recorded a win over their continental rivals.

"It's good to see we have the mentality to play to the last minute – it's a good feeling," added Wellen, with a salute to Martin Häner's last-gasp hat-trick shot.

Yet, Germany had 20 penalty corners against France. "It's good to see we are getting so many PCs," Wellen added, "but we will have to ask ourselves what we are doing wrong."

SIGN UP for The Hockey Paper's returning newsletter: Promotions, exclusives and our best coverage

The Hockey Paper


---

Green Army ready to take on "old enemy" with World Cup spot on line




Chloe Watkins said the make-up of Ireland's group meant she always "kind of felt it was going to come down to the final pool game against Spain" as the Green Army take on their most frequent recent rival.

The two sides' recent history has often been intertwined with Ireland edging out the Spanish in the 2018 World Cup semi-final in a shoot-out.

In so doing, they gained more than a modicum of revenge for a chastening 7-2 loss when the two sides met in the 2017 Europeans at this same Wagener Stadium venue where they will meet on Wednesday at 11.30am (Irish time).

Outside of those key meetings, Spain is Ireland's most frequent haunt for training camps with trips to Valencia, Jaen, Malaga and Granada in recent times.

In January, Ireland edged a five-game, uncapped series with two wins and two draws to their credit but all with precious little between the sides.

Like Ireland, they have established themselves in the world's top ten; they sit seventh, Ireland ranked eighth.

"The Spanish are the old enemy for us; they have been on a similar journey as ourselves over the years," Watkins added.

"They are an incredibly good team and it will be a really tough challenge. Again, it will be very different to Scotland and the Dutch. They are very skillful and it will take a lot of hard work to break them down but I think if we just do our homework and focus, we've had good results against them in the past. But it will take a big effort, make no doubt about it."

Her battle in the central exchanges with Gigi Oliva will be a pivotal one; Watkins has been lining out against the Spanish playmaker for the guts of 15 years since Under-16 level in a rivalry that has also traversed club contests in Spain and the Netherlands.

The age and cap profiles are also remarkably similar with many players at the apex of their careers, late 20s and closing in on the 200 cap mark. Ireland have 13 centurions, Spain have 12.

Victory for Ireland will bring a 2022 World Cup ticket along with assured entry to the top tier of the 2023 European Championships.

A draw, though, will not do as the Spanish nicked a consolation four minutes from full time against the Dutch in a 7-1 defeat which may prove vital; it leaves them ahead of Ireland on goal difference thanks to their earlier 4-1 defeat of Scotland.

For Spanish coach Adrian Lock – now in his ninth year as head coach – he says he does not expect the late goal to have too much of a material impact despite giving his side an extra buffer.

"That last goal doesn't change too much other than it can be a draw but our mindset for the game doesn't really change and we go to try and win it.

"We know Ireland pretty well, we know them individually like they know us. They are a team who has come a long way in the last few years in a similar way in which we have. It will be tough and the small details will tell in the scoreline."

Irish Hockey Association media release


---

Will it be Belgium or the Netherlands?

S2H Team

Will it be Belgium or the Netherlands who will be crowned Men's 2021 EuroHockey champions? Or will it be Germany who will claim a ninth title? But ignore the claims of England and Spain at your own peril.

Then again, there's the other important question. Who will book five direct tickets on offer at the championship to the 2023 World Cup in Bhubaneswar-Rourkela? The answer shouldn't be too difficult  – the aforementioned quintet – all former winners — are most likely to do so without too much ado unless France have other ideas.

A plate round-robin league follows the preliminary pools with the winner finishing overall fifth and gaining a passage to the World Cup.

Wales and Russia, even given the glorious uncertainties of sport, are long shots of making the trip to Odisha but one never knows – the fight for the fifth place will be intense and the memories of France outwitting Olympic champions Argentina at the 2018 World Cup is rife in the memory.

On the opening day, Germany pulverized Wales 8-1 and hosts the Netherlands, five-time winners, cruised to a 3-0 win over France in front of their home crowd to stay on course for semifinal berths from the four-nation pool.

Belgium, England, Spain – all having won the championship once before — and Russia comprise the other pool. One of Belgium, England and Spain will miss the bus to the semi-finals along with Russia who have an insurmountable mountain to climb.

There's more riding on the Euro championship. The Tokyo Olympics are approaching fast and, for the first time, the continental championship will be held in the year of the Olympics.

Belgium, the defending European champions, are also the World Cup and FIH Pro League winners. They finished with the silver medal at the 2016 Rio Olympics which eventually has deprived them of a "Super Grand Slam".

The Red Lions, should they retain their Euro title in Amstelveen, will travel to Tokyo to do what only Germany have done  – win an Olympic gold medal after winning the continental title, a feat performed three times.

The first European Nations Cup was held at Brussels 1970 with Germany clinching the title. They then won Olympic gold at Munich 1972. The Germans, four-time Olympic champions, repeated the feat by winning the Euro title at Paris 1991 and Moenchengladbach 2011, carrying the winning touch to the 1992 Barcelona and London 2012 Olympics.

FIH World No. 1 ranked Belgium, whose surge up the rankings in the last decade and a half, have an excellent chance of emulating Germany.

Stick2Hockey.com


---

Why does goalkeeper Krishan Pathak say he is not lone on the pitch.




"There might be only one Goalkeeper on the pitch, but he is definitely not alone. I keep speaking to the Defenders about their plans and ensure that I am in sync with them. If I can coordinate well with the Defenders, then we will definitely have a strong defence line and make sure that we don't concede any easy goal. We practice coordination during our training sessions as well".

Thus spake  the Indian men's team goalkeeper Krishan B Pathak (50 caps) on how he is always in sync with the plans made by the defenders during every match. .

While speaking about the Indian team's preparations for the Olympics, Pathak said that the team is carrying out high-intensity practice sessions at the moment.

"The Olympics is not very far away and therefore we are all putting in everything we have in every practice session. The Coaches have devised high-intensity practice sessions for us, and we are enjoying each of those sessions. We have been playing well as a group for a few years and we want to make sure that we play to our full potential at the quadrennial Games. It's going to be a big challenge for us, but we are definitely up for the challenge in Tokyo," said the Goalkeeper.

Pathak added that the Indian team will be aiming for nothing short of a Medal at the Olympics.

"We have played really well against the top teams in the last few years. We have shown our mettle in the FIH Hockey Pro League as well. All the players are very confident about their games and are very determined to make history for India. We have progressed well as a team and the time has come for us to apply our skills to the best of our abilities and execute our plans properly. We are aiming for nothing short of a Medal and we believe that we can win a Medal at the Olympics this year," said the 24-year-old.

Stick2Hockey.com


---

Phumelela Mbande on the Olympics and playing hockey

By Fatima Moosa




Last month, the South African Sports Confederation and Olympic Committee (SASCOC) announced the team that would be representing South Africa at the Olympics. The 2021 Olympics in Japan are scheduled to happen in less than three months. There are still many concerns and question marks around the games being held during a global pandemic.

But even those questions can't take away from the excitement vice-caption Phumelela Mbande felt when she was chosen for the hockey squad heading to Japan. We chatted to Mbande about her hockey journey and what the Olympics mean to her.

Just about an hour before the official announcement was made by SASCOC, Mbande found out that she made the Olympic squad. When the Games were postponed last year, the team regrouped in December to begin preparations anew. Mbande said from January, the squad was cut down in a series of selection camps building up to the big announcement.

While Mbande is most definitely excited about securing her place in the squad, she says the entire process has been lengthy and emotionally-draining. "The feeling has always been that even if you make it, there are other people who have been involved from the start. We've all gone through the same hectic process," said Mbande. It's bittersweet for Mbande to have been chosen knowing there are others who have not made the side.

The team is made up of 16 players with three travelling reserves.

Mbande is no stranger to pressure. As a goalkeeper for the national team and an auditor who juggled playing professional sport with studies, she understands pressure quite well. When she picked up the sport it was a compulsory sport at her primary school in KwaZulu Natal.

"I was sport-oriented so it wasn't too difficult for me to catch on to the concept of goalkeeping," Mbande said. She chose the position at first because there wasn't another goalkeeper but now it is the position which she has thrived in and earned her that Olympic spot. "Also it made sense because I get to be in the protective gear," Mbande said. She eventually fell in love with the sport and it helped build her confidence at school.

There were times Mbande was unsure if she would play the sport to its highest level, especially as she balanced sports and academics. At the end of 2016-2016, she took a break from professional hockey and thought she was done for good. But after completing her honours in accounting sciences, Mbande realised she still loved the sport and was ready to return at the end of 2016.

Like most women sports players in South Africa, Mbande juggles her career with being a professional hockey player. Mbande is a chartered accountant and external auditor. While there have been times where it's been difficult to manage, the support from her team and workplace has helped her a lot. Her workplace gives her leave when she needs to join the team and her coaches have been understanding when it's work-related.

"In 2017, I was writing my board exams and we were playing a tournament in South Africa. At times like that, I wouldn't be sleeping," she said. At another time, she was departing for a tournament and was on her laptop right until departure – working to submit something.

And it's definitely not an option that Mbande would choose one over the other. She loves her job as an accountant as much as she loves playing hockey and representing South Africa. It was also her hockey playing that allowed her to pay for her academic studies. "It's an opportunity I would never undo regardless of the stress and the panic I often go through," said Mbande.

Even as teams are getting ready to depart for the Games and preparations are underway, there are still questions about whether the Games will go ahead. Polls have shown that more than 80% of Japanese people oppose hosting the Olympics this year. Most of the athletes heading to the Games will likely be vaccinated either in their home country or in Japan. In South Africa, athletes will be vaccinated with surplus local doses which were about to expire. This is because an allocation from the International Olympic Committee hasn't arrived yet.

Mbande said her team is preparing for the Games regardless of what happens. "Whether they go on or not is not in our control. The last thing we want is to anticipate a postponement and then we actually have to go and then we'll look like a tjop because we hadn't prepared properly," she said.

However, the preparation process is completely different from the past. There aren't as many preparation matches before the Games especially with matches against teams who will also be playing in Japan.

"But taking everything into account, it's important that the Olympics go ahead. It's a beacon of hope. It is a story of fighting against all odds to make sure you are competing at the highest level. There will be many athletes at these Games who have had COVID but have still managed to come back and train and will play their best game," said Mbande.

She hopes that with the Games, it can be a way of looking to the future and hoping for a better time than the currency, doom-filled one.

Mbande is quite passionate about building that better future. She is the founding member of Players for Transformation (PFT). Mbande along with other players have been pushing for greater transformation in the sport. Transformation issues almost prevented the hockey team from going to the Games at all.

Even in her parting words, Mbande keeps that message strong – about dreaming and persevering.

"If you believe and dream, keep at it. Persevere. It will come right. It might not happen the next two years or even four years but your time will come if you stay in it," said Mbande.

The Daily Vox


---

Selection Camp sets up final push for Junior Pan American Cup

Twenty-Six Junior Athletes Fight for Eighteen Spots this week in Vancouver



Feature Photos: Blair Shier

Like many events, the Junior Pan American Games was postponed a year due to the ongoing COVID-19 pandemic. The original U21 event was scheduled for 2020 but will now take place in August 2021. The Canadian Men's Junior National Team is hosting a selection camp this week in Vancouver, BC, from June 7–12, with 26 players named are named to the camp roster. Only 18 will be selected to travel to Chile in two months' time.

The selection camp will be led by Head Coach Inderpal Sehmbi and Assistant Coach Geoff Matthews, who will look to build the best roster of U-22 athletes, to give Canada the best chance to qualify for the Junior World Cup.

The age restrictions shifted to recognize the postponement of the games. To be clear, anyone born in 1999 or later will be eligible to compete in the Junior Pan American Games but only those born in 2000 or later are eligible to compete in the Junior World Cup. The coaches will lead a selection camp in October to determine the JWC roster as necessary, but for now, the focus remains solely on the Junior Pan Ams.

Steph Jameson was announced as Field Hockey Canada's Men's NextGen Director in April. It has been 'all-systems go' since she started. Given the global circumstances over the last year, for Jameson, the chance to see the coaches and players in action at camp this week feels like a major step in the right direction.

"It's a really exciting opportunity for the athletes to get back to competitive hockey. It's important for all of them to be in the same spot at the same time," she said. "It's also crucial for the coaches to see all the athletes competing against each other and track the progress made over the last year."

For her, as a NextGen administrator, the goal is to put the best roster forward but also understand that the program's mission is to develop complete athletes, those ready to make the jump to the senior national team.

"The overarching goal of the NextGen program is to consistently move players through the system so when they arrive at the Men's National Team, they are fully prepared to not only play at that level but to compete and to thrive."
26 players were invited to camp. 18 will be selected for the Junior Pan American Cup roster. Photos/Blair Shier
Jameson said Sehmbi and Matthews create a professional training environment that sets the athletes up for success. The program is already paying dividends as several athletes are moving in and out of the senior training cohort as well.

"There's evidence of that fluidity and pipeline working right now. There are four NextGen athletes that are currently training full-time with the Men's National Team and are potentially up for Olympic selection as well."

Jameson is no stranger to international competition. She played in the 2000 Junior Pan Am Cup and the 2001 Junior World Cup. She went onto a 10-year, 168-cap senior international career with the Women's National Team. She said the introduction to proper training and the exposure to different styles at these junior international tournaments can be vital in inspiring a long career.

"Playing in the junior program was a really formative experience in my career. It taught me how to train and how to be responsible," she said. "Getting to play at the Junior Pan Am Championship was an eye-opening experience. Any chance our athletes get to play other top nations, it's an amazing opportunity. The junior program builds habits and opens-eyes."

The camp will take place at Rutledge Field, Tamanawis Field and UBC Wright Field this week. The 18-player roster will be announced next week via Field Hockey Canada Social Media and coverage of the Junior Pan American Games will start on August 16, 2021. Stay tuned for more!

SELECTION CAMP ROSTER
| FIRST NAME | LAST NAME | PSO | BIRTHYEAR |
| --- | --- | --- | --- |
| Kyle | Bishop | BC | 1999 |
| Fin | Boothroyd* | BC | 1999 |
| Avjot | Buttar | BC | 2001 |
| Sam | Cabral | BC | 1999 |
| Nicolas | Cain | BC | 2001 |
| Rowan | Childs | BC | 2001 |
| Sean | Davis | BC | 2000 |
| Bhavdeep | Dhaliwal | BC | 2001 |
| Roopkanwar | Dhillon | BC | 2000 |
| Aaron | Foong | BC | 2001 |
| Daniel | Goodwin | BC | 2001 |
| Brendan | Guraliuk* | BC | 2000 |
| Arjun | Hothi | BC | 2000 |
| Johnny | Jacoby | BC | 2001 |
| Manveer | Jhamat | BC | 2001 |
| Ethan | McTavish | BC | 2000 |
| Jamie | Wallace* | BC | 1999 |
| Nityanand | Rewankar | ONT | 2001 |
| Jagpreet | Singh** | ONT | 1999 |
| Alexander | Bird | QC | 2003 |
| Casey | Brennan-Raab | QC | 2001 |
| Zach | Coombs | QC | 2001 |
| Noah | Loomis | QC | 2000 |
| Flynn | McCulloch | QC | 2000 |
| Nicolas | Syrros | QC | 2003 |
| Chris | Tardif | QC | 2000 |
* Training with the Men's National Team
** Training with the Indoor National Team

Field Hockey Canada media release


---

Leo welcome Corradini as new head coach




Royal Leopold Club has announced the arrival of Agustin Corradini as their new Division Honor Men's coach for the next three seasons.

The former Argentina international and former Leo player from the 2012/13 joins the club with great ambitions with a club statement saying: "his knowledge of the club and players are undeniable assets to his integration into our championship.

′′The arrival of Agustín is great news for Leo and our DH team, who will benefit from their technical and tactical skills to meet the challenges of our championship with higher demands.

"His international experience at the highest level must allow us to shine both in the Belgian Championship and in the EHL," said Nicolas Leeuw, Co-President of the Royal Leopold Club Hockey Section.

"With a high-level coaching experience in clubs and with Argentina national teams, Agustín marks another step in the professionalization of Leo and the realization of its 2025 sports plan.

"As a complement to the coaching of the DH team, he will also be at the heart of accompanying our youth school in the training and follow-up of coaches and coaches under the responsibility of Tanguy Zimmer and Sébastien Mommens.".

Euro Hockey League media release


---

Hockey will miss the booming voice of William Fidelis

By K. Rajan



William Fidelis

FORMER national women's hockey squad coach, William Fidelis, who passed away on Monday, has left a remarkable legacy in the sport. The former Negri Sembilan player (1960s-70s) died at the age of 87.

He was one of hockey's famous trinity at St Paul's Institution (SPI) with the Van Huizen brothers, Lawrence and Peter. They churned out generations of talent from Seremban to represent the country at the highest level.

William, known for his booming voice from the stands, assisted Lawrence when Malaysia won the bronze medal at the Women's Intercontinental Cup in 1983.

William's five children played hockey for Negri. His sons, Derek, also played in the 1982 Asian Games in New Delhi while Gary played in the 1992 Barcelona Olympics.

Apart from coaching the SPI boys, he also trained the Convent Secondary School and Tunku Kursiah College girls.

Among his prodigies is one of Malaysia's most decorated women's hockey players — K. Maheswari.

Maheshwari said William was a disciplinarian, but off the pitch, he was a loving figure who imparted valuable life lessons.

"He might scold you for mistakes, but after five minutes he would be jovial. We took his scolding in good spirits as he only meant well for us.

"He remembered his players' birthdays. Once my father didn't allow me to attend a birthday party, coach Williams sent the cake to my house personally."

William worked at night as an operator with Telekom. After finishing his shift in the morning, he would head to Seremban padang to coach till 9am before heading home to cook for his children and clean the house.

He would then sleep till 3pm and head back to the field to train players before heading back to work in the evenings.

William's tactical acumen was evident in the 1991 Razak Cup in Terengganu when he coached unfancied Negri to victory over a Kuala Lumpur side represented by 16 national players,

Olympian and former national team coach Stephen Van Huizen said Fidelis was a wily tactician and his methods rubbed off on him.

Stephen added that William's discipline and focus on strong basics was the reason Seremban became a fountain for hockey talent.

New Straits Times