All the news for Sunday 17 February 2019

2019 FIH Pro League (Men) - 17 February
15 Feb 2019     ESP v NED (RR)    3  -  3 (Shoot out 3/5 - 1/4)    Estadio Betero, Valencia
15 Feb 2019    NZL v GER (RR)     1 - 2    Nga Puna Wai Hockey Stadium, Christchurch    
16 Feb 2019     AUS v GBR (RR)      2 - 0   Perth Hockey Stadium, Perth

Live streaming on https://fih.live (Geo blocked if there is TV coverage)

Unofficial Pool standings
| Rank | Team | Played | Wins | Win Draws | Loss Draws | Losses | Goals For | Goals Against | Goal Difference | Points | Percent |
| --- | --- | --- | --- | --- | --- | --- | --- | --- | --- | --- | --- |
| 1 | Belgium | 4 | 2 | 1 | 1 | 0 | 14 | 9 | 5 | 9 | 75.0 |
| 4 | Australia | 4 | 2 | 0 | 1 | 1 | 12 | 11 | 1 | 7 | 58.3 |
| 2 | Great Britain | 3 | 2 | 0 | 0 | 1 | 12 | 9 | 3 | 6 | 66.7 |
| 3 | Netherlands | 3 | 1 | 1 | 1 | 0 | 12 | 11 | 1 | 6 | 66.7 |
| 5 | Spain | 3 | 0 | 2 | 0 | 1 | 10 | 11 | -1 | 4 | 44.4 |
| 6 | New Zealand | 3 | 0 | 0 | 1 | 2 | 9 | 14 | -5 | 1 | 11.1 |
| 7 | Germany | 1 | 0 | 0 | 0 | 1 | 2 | 4 | -2 | 0 | 0.0 |
| 7 | Argentina | 1 | 0 | 0 | 0 | 1 | 2 | 4 | -2 | 0 | 0.0 |
The FIH inexplicably and confusingly use a system not used in any other sports League in the World, of making the Percentage more important than Points until the end of the League when they will revert to Points only. Fieldhockey.com prefers to use the conventional Points and so the Unofficial Pool Standings on this site are reflected in this manner.

FIH Match Centre

---
15 Feb 2019     NZL v GER (RR)     1 - 3     Nga Puna Wai Hockey Stadium, Christchurch
16 Feb 2019    AUS v GBR (RR)     3 - 0    Perth Hockey Stadium, Perth
16 Feb 2019    USA v NED (RR)     0 - 5     Wake Forest University, Winston-Salem
17 Feb 2019     NZL v CHN (RR)    2 - 0    Nga Puna Wai Hockey Stadium, Christchurch    

Live streaming on https://fih.live (Geo blocked if there is TV coverage)

Unofficial Pool standings
| Rank | Team | Played | Wins | Win Draws | Loss Draws | Losses | Goals For | Goals Against | Goal Difference | Points | Percent |
| --- | --- | --- | --- | --- | --- | --- | --- | --- | --- | --- | --- |
| 1 | Australia | 5 | 3 | 1 | 0 | 1 | 11 | 7 | 4 | 11 | 66.7 |
| 2 | Netherlands | 3 | 2 | 0 | 0 | 1 | 6 | 1 | 5 | 6 | 66.7 |
| 3 | New Zealand | 5 | 2 | 0 | 0 | 3 | 8 | 6 | 2 | 6 | 40.0 |
| 4 | Belgium | 3 | 2 | 0 | 0 | 1 | 3 | 3 | 0 | 6 | 73.3 |
| 5 | Argentina | 2 | 1 | 1 | 0 | 0 | 4 | 2 | 2 | 5 | 83.3 |
| 6 | Germany | 2 | 1 | 0 | 1 | 0 | 5 | 3 | 2 | 4 | 66.7 |
| 7 | United States | 2 | 0 | 0 | 1 | 1 | 2 | 7 | 5 | 1 | 16.7 |
| 8 | China | 2 | 0 | 0 | 0 | 2 | 3 | 6 | -3 | 0 | 0.0 |
| 9 | Great Britain | 2 | 0 | 0 | 0 | 2 | 1 | 8 | -7 | 0 | 0.0 |
The FIH inexplicably and confusingly use a system not used in any other sports League in the World, of making the Percentage more important than Points until the end of the League when they will revert to Points only. Fieldhockey.com prefers to use the conventional Points and so the Unofficial Pool Standings on this site are reflected in this manner.

FIH Match Centre

---

Vantage Black Sticks Women win their second match of the FIH Pro League




The Vantage Black Sticks have finished off their 3 games at Ngå Puna Wai stadium in style beating the China Women 2-0 in a tight match that was looking like going down to the wire until an Olivia Merry stroke sealed the result with 3 minutes to go. The win takes the Vantage Black Sticks Women onto 6 points in the FIH Pro League.

After some back and forth play at the start of the game China earned the first penalty corner when they found a Black Sticks foot in the circle. The following drag flick went wide of the goal to keep the score at 0-0. The Black Sticks then had a couple of chances on some cross balls into the circle, the China goalkeeper however was up to the task and put enough pressure on to keep the touch out of the goal. As the quarter wore on the Black Sticks started holding possession for longer and were looking to open up the Chinese defence through the wide channels. Late in the first quarter China had their second penalty corner when they found a Black Sticks foot in the circle again. This time the sweep for goal was run down by Kirsten Pearce and we finished the first quarter tied at 0-0.

China started the second quarter strongly looking to put the Vantage Black Sticks under a lot of pressure, however they suffered a setback when they were reduced to 10 players for 5 minutes. Despite this they continued to push hard and look to continue building the pressure on the black sticks. With 10 minutes to go the China side was reduced to 9 players which the Black Sticks looked to take advantage of as they constructed some great scoring opportunities. The Black Sticks earned the first penalty corner of the second quarter when China stick obstructed. The straight shot was run down, and the China team was able to clear their circle, following that China was back up to 11 players and had weathered the initial storm. China had a late break down the field which was shut down and cleared away by the Black Sticks team. The Black Sticks earned their second penalty corner off a fantastic break from Kelsey Smith was stopped by an illegal challenge. The first shot was powerful but went to the right side of the goal. At the half break we were still locked at 0-0.

The Vantage Black Sticks started the second half in the best way possible after Olivia Merry was left unmarked in the circle and put the ball past the Chinese goalkeeper which put the Black Sticks in the lead 1-0. A few minutes later they went close again after Stacey Michelsen found an open Kelsey Smith her shot went flying past the far post to keep China in the battle. Olivia Shannon then had another break away against but was forced to take the shot from a wide angle and this time the ball went past the other post. The Black Sticks then turned China over on the edge of the circle and had a great scoring opportunity. The China goalkeeper was up to the shot and kept the score at 1-0 as we entered the 4th quarter.

China looked to play positive hockey at the beginning of the fourth quarter and were rewards with 10 minutes to go with a penalty corner. After both teams had several opportunities China earned the next penalty corner. The shot was saved and the Vantage Black Sticks kept their lead intact. Sam Charlton then fed a fantastic ball to Stacey Michelsen who threw a ball down the line to Olivia Shannon as she drove along the baseline and earned the team a penalty corner. Off the subsequent corner they earned a stroke after the China player stopped the ball on the line with her body. Olivia Merry then stepped up for the stroke and put the ball in the back of the net. China kept their goal keeper off the field hoping to find a goal to get themselves back into the match. Unfortunately for China this wasn't the case and the Black Sticks Women came away with a 2-0 win.

Vantage Black Sticks Women 2 (Olivia Merry 32', 57')
China 0

Hockey New Zealand Media release


---

Hometown hero Olivia Merry propels Black Sticks to win over China



Olivia Merry, right, scored both of New Zealand's goals against China on Sunday. GETTY IMAGES

Olivia Merry has played the hometown hero role to perfection in the Black Sticks women's FIH Pro League win over China.

The Cantabrian scored both of her side's second-half goals in a gutsy 2-0 win at the Nga Puna Wai Hockey Stadium in Christchurch on Sunday evening.

It was their second win from five league matches after they fell to Germany at the same venue on Friday.



New Zealand's Kelsey Smith clashes with China's Qiuxia Cui on Sunday. GETTY IMAGES

Sunday's match was a back-and-forth affair which neither side was able to dominate for any meaningful length of time, but in which New Zealand proved more clinical.

There was very little action in either circle in the first quarter. China had all three of the shots in the 15 minutes.



Yi Chen of China controls the ball as Amy Robinson of New Zealand goes in for a tackle. GETTY IMAGES

The second quarter saw China down to nine players midway through with Wenyu Xu (yellow card) and Qiuxia Cui (green card) both off for infringements within three minutes of each other.

In an action-packed start to the second half, China had another player, Bingfeng Gu, yellow carded before Merry opened the scoring with a field goal, all inside the first 70 seconds.

New Zealand could well have gone two-up with four minutes to go in the third quarter when Merry won possession deep in China's territory, but China goalkeeper Jiao Ye made a great save to deny the Black Sticks.



New Zealand form a huddle prior to their FIH Pro League match against China on Sunday. GETTY IMAGES

China had their chances to equalise early in the fourth quarter, but lacked a decisive finish.

They pulled Ye out of their goal with seven minutes to go and carved out another good chance, but New Zealand went down the other end and earned a penalty corner with three minutes to go. The Black Sticks got the ball into the goal, but umpire Michelle Joubert had already called for a penalty stroke, which Merry scored, somehow finding a way through the legs of Ye.

AT A GLANCE

Black Sticks women 2 (Olivia Merry 32' 57') China 0. HT: 1-0

Stuff


---

Strong First Half by Netherlands Upends USWNT in FIH Pro League




Winston-Salem, N.C. – Looking for a win in their first home game of the FIH Pro League, the U.S. Women's National Team took on No. 1 The Netherlands in hopes to make a statement internationally. The rain held off just in time for the match, but the temperature dropped to just above freezing to ensure the match could still be played. The Netherlands came out strong, scoring five goals in the first half. The USWNT kept the Oranje scoreless in the second half but also did not find the back of the goal themselves.

The first quarter began with a fast break by The Netherlands who did not score thanks to the strong stick of Julia Young (Yorktown, Va.). Following their first attempt, The Netherlands broke in to the USA circle several more times, but goalkeeper Kealsie Robles (Yorktown, Va.) would turn them away. In the fourth minute of play, LidewijWelten created an opportunity by dribbling diagonally at the top of the circle, pulling beyond her defender and buries it into the corner to make the score 1-0 in favor of the Dutch. A few minutes later, the Oranje scored again, this time on a penalty corner. Laurien Leurink received the rebound off a USA defender's stick to ramp it up and above Robles, 2-0. The Netherlands earned another penalty corner and Frederique Matla converted on a drag to get them a three goal lead. USA fought back for the remaining minutes of the quarter, but the score stood at The Netherlands 3, USA 0.

USA looked to cut down the Dutch team's lead, however the Oranje had other plans. They scored again within the first two minutes on a backhanded shot from the top of the circle off the stick of MarloesKeetels. At the 22-minute mark, Kathleen Sharkey (Moosic, Pa.) worked the ball into the circle, finding Laura Hurff (Newark, Del.) who just missed with a shot to the right of the goal. Just three minutes later, Maria Veerschoor pulled Robles off the line on a breakaway and sent the ball right into Caitlin Van Sickle's (Wilmington, Del.) body, earning The Netherlands a penalty stroke. USA goalkeeper Jess Jecko (Sauquoit, N.Y.) substituted into the match to take the penalty stroke against shooter Matla, who converted to make it 5-0. With a minute remaining in the first half, a third penalty corner was called for the Oranje but the play went to video review to look at the height of the ball. USA was correct on the call as the ball hit above the knee and they kept their referral. The Dutch would get the ball right back, forcing Robles to come out of the goal to make the stop. The Oranje gathered the ball again, had an open net but the USA's defense was able to prevent any shots from getting off. Going into the halftime break, The Netherlands led by five goals over USA.

Working to keep the ball out of their defensive end, the game shifted to a midfield battle to start the second half. The Netherlands saw a handful of close chances to lengthen their lead throughout the quarter, but the USA defense continued to fight back with clears from Robles, Young and Ali Froede (Burke, Va.). In the thirty-eighth minute, Mackenzie Allessie (Mount Joy, Pa.) received a pass from Van Sickle and finessed her way right in front of The Netherlands' goalkeeper Anne Veenendaal who smothered the ball and swept it away. The third quarter finished scoreless, allowing the Oranje to keep their five goal lead.

The final frame opened with a reverse shot from The Netherlands hitting the left post and rebounded for a USA stick to clear it out. Three minutes following another scoring chance came for the Oranje, but a scramble in front of the cage finished with the umpires calling the ball coming out of the USA circle. Matla tested Robles in the 48th minute who turned the ball wide. Back-to-back penalty corners for The Netherlands with nine minutes in the match were not successful as the USA defense flanked by Robles were able to handle the pressure from the Oranje. USA's attack went on the run with seven minutes remaining. Hurff attempted to get it into the circle but was stopped by two Oranje defenders. With five minutes remaining, Verschoor got by USA's defense and misconnected on the shot. The second attempt by The Netherlands went to video review again looking for the height of the ball. Upon review, the Dutch were correct on the call and earned their fifth penalty corner, which was ultimately turned away by the USA. Instantly countering, a long pass found Danielle Grega (Kingston, Pa.) deep on the right side who broke into the circle but was unable to find an outcome. The scoreline did not change in the second half, leaving it at USA 0, The Netherlands 5.

Following the game, The Netherland's Matla earned Player of the Match for her goalscoring performance.

In today's contest, USWNT athletes Manley earned her 100th international cap for USA.




The U.S. Women's National Team will travel to California for a training block before heading down under for their next two FIH Pro League matches against No. 3 Australia on Wednesday, March 6 in Sydney and No. 6 New Zealand on Friday, March 8 in Auckland. #FIHProLeague

USFHA media release


---

Kookaburras and Hockeyroos victorious over Great Britain in Perth




A capacity crowd of 4000 was present at the Perth Hockey Stadium as the Australia men's and women's teams claimed important FIH Pro League victories over visitors Great Britain on Match Day 12.

Great Britain's men (FIH World Ranking: 7) arrived in Perth sitting at the top of the FIH Pro League standings with a 100 percent win record from their matches against Spain and New Zealand. They made a lively start in their clash with the Kookaburras (WR:2), with Sam Ward creating an early chance in an opening quarter that saw Australia edge ahead. Trent Mitton tapped into an open goal with two minutes of the first period remaining, with Eddie Ockenden providing a brilliant assist with a diving, one-handed pass to eliminate GB goalkeeper Harry Gibson.

GB had the better of the opening stages of the second quarter but were stopped in their tracks by a goal against the run of play, with Jacob Anderson scoring his third goal in two matches with a cracking volley after Jake Whetton's initial strike was blocked. Whetton almost made it three when he flashed a shot wide of the target after a flowing attack, with his side taking a 2-0 advantage into the half time break.

The score-line remained unchanged in the third quarter, although Alan Forsyth and Will Calnan both went close for Great Britain with backhand efforts, while Australia's Tom Wickham had a glorious chance in the fourth period to put his team out of sight but failed to force the ball into an open goal. It proved to be Australia's day, inflicting a first defeat on Great Britain to push th eKookaburras up to fourth in the FIH Pro League standings. To view the current standings, please click here.

"We had a rough start [to the FIH Pro League], especially the first weekend where we conceded a lot of goals", said Australia's Eddie Ockenden, who was named Player of the Match. "We conceded two against Germany, but I think in the last half of that game and in this match we haven't conceded a goal which is much better, and where we want to be."

Great Britain captain Adam Dixon said: "You are not going to get many chances against Australia so when you get them you need to take them. They have a game plan and they stick to it. They just wait for you to slip up and they take those opportunities. It happened early and we resolved it later on, but we couldn't quite do it at the other end of the pitch."

Australia's women (WR:3) were aiming to build on an excellent start to their FIH Pro League campaign that saw them come into today's match against Olympic champions Great Britain (WR:2) sitting second in the standings. GB, now coached by former Kookaburras striker Mark Hager, were looking to bounce back from last week's 5-1 defeat at the hands of New Zealand, a team coached by Hager for the best part of ten years.

Great Britain had the better of the chances in the first period, with Australia goalkeeper Rachael Lynch denying Ellie Rayer while Sarah Robertson and Giselle Ansley both failed to hit the target with good opportunities. The Hockeyroos had some good chances of their own and it was the hosts who took the lead at the end of the first period thanks to Kalindi Commerford, who made the perfect connection to a cross from the right to find the net from close range.

Australia were the dominant force in the second quarter and doubled their advantage in sensational style, with Mariah Williams drilling a bouncing ball past goalkeeper Nicola Cochrane and into the roof of the Great Britain net.

Australia's Paul Gaudoin was the happier of the two coaches going into the two remaining quarters, although Mark Hager stated in the half time broadcast interview that he felt his GB team were still very much in the contest. Hager's side certainly kept Lynch busy, with the shot-stopper being forced into numerous saves to deny the Olympic champions a goal in a third quarter dominated by the visiting team from Europe.

The Hockeyroos were outstanding in the early stages final quarter, with GB's replacement goalkeeper Amy Tennant doing enough to pressurise Rosie Malone into firing wide moments before the third Australian goal duly arrived. Savannah Fitzpatrick was the scorer of what proved to be the final strike of the game, although it was created thanks to a brilliant run from defence into attack by Kaitlin Nobbs. The 3-0 win sees Australia move up to second in the official FIH Pro League standings

"It was pretty amazing", said Player of the Match Mariah Williams, discussing what it what like to play in front of the home crowd. "There were a lot of supporters out there today. It's really great to have people come out to watch the Hockeyroos and the Kookaburras. It's really good to have some games in Australia."

On whether her side had made progress from the team's opening FIH Pro League match against New Zealand, Great Britain captain Hollie Pearne-Webb said: "The New Zealand game was the first match together as a new team, so this was out second game and there were massive steps forward. I think we can be happy with that, we made a lot of progress, but there are still areas we need to work on in the final third. [We are] feeling much more positive." 


The FIH Pro League continues later today (Saturday 16 February) when USA make their home debut against world champions the Netherlands at North Carolina's Wake Forest University in Winston-Salem. That match is followed by a meeting between New Zealand and China at the Nga Puna Wai Hockey Stadium in Christchurch.

FIH Pro League - Match Day 12 (Perth, Australia)

16 February 2019

Result: Men's Match 12

Australia 2, Great Britain 0
Player of the Match: Eddie Ockenden (AUS)

Result: Women's Match 11
Australia 3, Great Britain 0
Player of the Match: Mariah Williams (AUS)

#FIHProLeague

Official FIH Pro League Site

I don't know who is trying to fool who with those crowd numbers of 4000, but the crowd was certainly not capacity with many empty seats in the stands and wide open spaces on the grass seating. Be honest and stop trying to fool people into the "success" of the tournament format when the visuals on FIH Live show a completely different story. Even apparently "over-subscribed" events are still offering tickets for sale with Hockey Australia begging people to turn out in Tasmania and enticing people to buy tickets for Sydney with a free flights and accommodation competition.


---

Kookaburras Laughing After Back-To-Back Wins

Ben Somerford




The Kookaburras have defeated Great Britain 2-0 to claim back-to-back wins to get their FIH Pro League campaign on track at Perth Hockey Stadium on Saturday.

Local forward Trent Mitton and emerging youngster Jacob Anderson both scored in the first half to set up the victory.

Eddie Ockenden, who set up Mitton's opener after a slalom run on the wing, was named Player of the Match.

The result sees the Kookaburras move up the table to fourth, while it ends GB's 100 per cent start to the league.

Australia, who only managed one point from their opening two games a fortnight ago, will enjoy a week off before next taking on Spain in Sydney on Saturday 2 March.

Kookaburras coach Colin Batch said: "The first weekend set us back a bit. To win here against GB, who've had two good wins was great."

The Kookaburras were cheered on by a strong crowd with more than 4,600 fans in attendance in Perth.

Batch added: "It's one of the benefits of Pro League. It's great to be playing here in Perth and I think the fans appreciated the performance."

Australia spurned two early penalty corner chances before GB's Sam Ward fizzed a drag flick wide of Andrew Charter's post.

Ockenden produced some magic to set up the opening goal, with WA's Mitton converting from close range in the 13th minute.

Australia doubled their lead in the 23rd minute when Jake Whetton's shot was blocked but the rebound was pounced upon by Anderson, who made it three goals in two games.

Whetton shot wide shortly after as Australia took a two-goal lead into the main break.

Anderson tested GB keeper George Pinner in the third, while Will Calnan shot over with a tomahawk.

Alan Forsyth and Aaron Kleinschmidt traded opportunities for both sides in the final quarter as the Kookaburras claimed their second win of the FIH Pro League.

Australia 2 (Mitton 13', Anderson 23')
Great Britain 0

Hockey Australia media release


---

Great Britain's men suffer first FIH Pro League loss



Alan Forsyth

On a scorching day in Perth, Great Britain failed to find the hot form that had seen them record back to back wins in the FIH Pro League.

Despite creating numerous chances and enjoying the majority of possession, GB failed to break through a stubborn Australia defence.

Two first-half goals from the Kookaburras, Eddie Ockenden and Jacob Anderson getting on the scoresheet, were enough to secure a home victory.

Defeat to the side ranked number 2 in the world concludes GB's Oceania tour, they'll look to regroup ahead of their next match away to Argentina on Saturday 6 April.

Match report

In what was an evenly contested encounter, Trent Mitton was first on the scoresheet, tapping home after good work from Eddie Ockenden to pass Harry Gibson as Australia took the first period 1-0 despite GB enjoying 67% possession.

Jacob Anderson doubled the Kookaburras' lead mid-way through the second period after a spell of good attacking pressure for the hosts.

Great Britain had two penalty corners in the first half but struggled to find the clinical edge that had seen them score six goals in their previous two matches, going into the half-time break 2-0 down.

Alan Forsyth came close to making something happen for GB at the start of the second-half, firing a dangerous ball along the face of goal which just evaded his onrushing teammates.

Within the opening minutes of the final quarter beginning Australia were on the front foot and came close to extending their lead but failed to find the net from close range despite good build up play.

Immediately after, Forsyth struck a sweet reverse stick shot just over the crossbar as GB battled to find a comeback.

Resilient defending blocked Great Britain's hopes of getting back into the game with a low scoring game finishing 2-0 in favour of the Kookaburras.

Having picked up two victories in their opening matches, Great Britain's men suffered their first defeat of the FIH Pro League and now sit third in the table ahead of their next match against Argentina.

Australia 2
Mitton 13 (FG) Anderson 23 (FG)

Great Britain 0

Starting XI: Gibson, Creed, Sanford, Weir, Sloan, Dixon (c), Wallace, Ames, Forsyth, Ward, Roper

Subs used: Pinner, Willars, Griffiths, Morton, Waller, Calnan, Gall

Great Britain Hockey media release


---

Hockeyroos Continue Excellent FIH Pro League Start

Ben Somerford




The Hockeyroos' impressive start to the 2019 FIH Pro League has continued with a 3-0 victory over reigning Olympic champions Great Britain in front of more than 4,500 fans in Perth on Saturday night.

Kalindi Commerford, Mariah Williams and Savannah Fitzpatrick scored the goals as Australia moved on to 11 points from five games.

Williams, in just her fifth game back following 18 months out with injury, was named Player of the Match for the second time in the FIH Pro League.

Commerford and Williams struck inside the opening 23 minutes before Fitzpatrick sealed the win with 10 minutes to play.

Hockeyroos coach Paul Gaudoin said: "We're pleased with how they ground out the game. Great Britain are a tough team.

"I thought we played well for the whole 60 minutes. To hit some field goals again is pleasing.

"Creating them is one thing, finishing them is another. We were able to do that today."

Australia will enjoy a weekend off before next taking on USA in Sydney on Saturday 2 March.

Commerford opened the scoring on the stroke of quarter time, finding space at the back post to ghost in to shoot past GB keeper Nicola Cochrane.

Rachael Lynch saved well early in the second quarter from Lily Owsley, before Emily Chalker found space down the other end, allowing Rosie Malone to shoot but her effort was wide.

Chalker had another chance on goal before Williams made it 2-0 with a thunderous strike into the back of the net.

Returning co-captain Georgina Morgan's drag flick deflected marginally wide before half-time.

The British rallied in the third before Morgan came close again with a 48th minute shot from a short corner.

Moments later, Williams broke with pace to open up a chance for Malone who couldn't convert, but Australia would soon have a third.

Kaitlin Nobbs made a rare foray forward although her initial effort was blocked by Amy Tennant, allowing Fitzpatrick an open shot on goal which she capitalised on.

Australia 3 (Commerford 15', Williams 23', S. Fitzpatrick 50')
Great Britain 0

Hockey Australia media release


---

GB women defeated by Australia



Tessa Howard

A youthful Great Britain side slipped to a 3-0 defeat to the Hockeyroos in their second FIH Pro League match.

In what was a highly competitive match, the world number three ranked side showed their class with some fine saves and clinical finishing earning them a victory.

Despite bossing the opening quarter of the game, GB found themselves behind after Kalindi Commerford struck against the run of play.

A second first-half strike from Mariah Williams doubled Australia's lead in another entertaining FIH Pro League game.

Great Britain put up a valiant fight and matched the Hockeyroos for large parts of the game, but Savannah Fitzpatrick's final quarter strike confirmed a second defeat for GB.

GB will be hoping to record a first FIH Pro League victory in their next match when they face China on Saturday 23 February away from home.

Match report

Great Britain were quick out of the blocks and looked energetic on the ball with several early chances being created. However, Australia were also looking effective on the attack, forcing Nicki Cochrane into making two smart saves inside the first ten minutes of the game.

It was a strong opening quarter for GB as a series of shots came close to finding the back of the net. Sarah Robertson started by firing a firm strike narrowly wide before Sarah Evans' powerful drive was denied by a good save.

Hannah Martin then earned a penalty corner and Giselle Ansley, who scored in GB's opening match, struck just wide of the post.

Despite Great Britain enjoying the better of the opening quarter, the Hockeyroos took the lead with less than a minute remaining, Kalindi Commerford tucking the ball into the corner.

Great Britain continued to press forward, Tessa Howard playing a sublime eye of the needle pass through to Lily Owsley, but the attacker failed to find the net as she attempted to round the Hockeyroos' keeper in a 1 v 1 scenario.

In what was an entertaining battle, both sides were creating good opportunities, Emily Chalker shooting just wide mid-way through the second quarter.

Immediately after being correctly denied a penalty corner, Australia stole the ball and scored struck a field goal courtesy of Mariah Williams for a 2-0 lead going into half-time.

Great Britain looked good on the ball and continued to create opportunities but were struggling to deal the telling blow, Martin's reverse stick shot being well saved in the second-half.

Both teams continued to press forward, Amy Tennant making a solid save with the hand from a penalty corner to keep Great Britain in with a chance of pulling back the score.

There was nothing the GB 'keeper could do to deny Fitzpatrick from scoring the final blow in the fourth quarter as the Hockeyroos assured their victory.

With time running short, Jones unleashed a fierce shot on goal which was again met by a good save from the 'keeper.

The result means Great Britain are yet to pick up a win in the FIH Pro League and will be eager for improvement when they face China in their third match on February 23 away from home.

Australia 3
Commerford 15 (FG) Williams 23 (FG) Fitzpatrick 50 (FG)

Great Britain 0

Starting XI: Cochrane, Toman, Ansley, Pearne-Webb (c), Petty, Defroand, Evans, Martin, Rayer, Owsley, Sanders

Subs used: Tennant, Howard, Robertson, Jones, Hunter, Baldson, Neal

Great Britain Hockey media release


---

Great Britain go down in Australia double headers

by The Hockey Paper



Hockeyroos and Kookaburras left Perth fans happy PIC: Hockey Australia

Great Britain's Perth hoodoo continued on Saturday after Australia took double header honours.

Both men's and women's teams had never won at the Perth Hockey Stadium in GB colours and Australia duly carried on that tradition as the Kookaburras won 2-0 before the Hockeyroos prevailed 3-0 in front of over 4,500 supporters.

Both GB sides can count themselves unlucky given their ball possession and attacking intent, but the hosts were too clinical in the final third.

The impressive Trent Mitton opened the scoring for the Kookaburras in the 13th minute before Jacob Anderson, who also produced a fine performance, struck 10 minutes later.

Zach Wallace looked a lively presence for GB all afternoon, while Alan Forsyth went close on several occasions. It summed up GB's afternoon, plenty of openings with little to show for it.




In the women's clash, two first-half goals also did for GB as Kalindi Commerford and Mariah Williams, one of the stand out performers of the evening, handed Australia the initiative.

A Williams counter in the final quarter finished with Savannah Fitzpatrick firing low with 10 minutes left to leave GB bottom of the Pro League table heading to China next Saturday.

However GB are hopeful of kick starting their campaign with new coach Mark Hager joining the squad on their Oceania leg and a bid to stem the tide of goals at the back.

"There are massive steps from the last game and there are things to work on in the final third," said captain Hollie Pearne-Webb.

She added that there were already differences under Hager "so look out for us in the next few months."

GB men are next in action in April with an away trip to Argentina.

RESULTS:
Australia Hockeyroos 3 GB women 0
Australia Kookaburras 2 GB men 0

The Hockey Paper


---

Great Britain's hockey teams slip to double defeat by Australia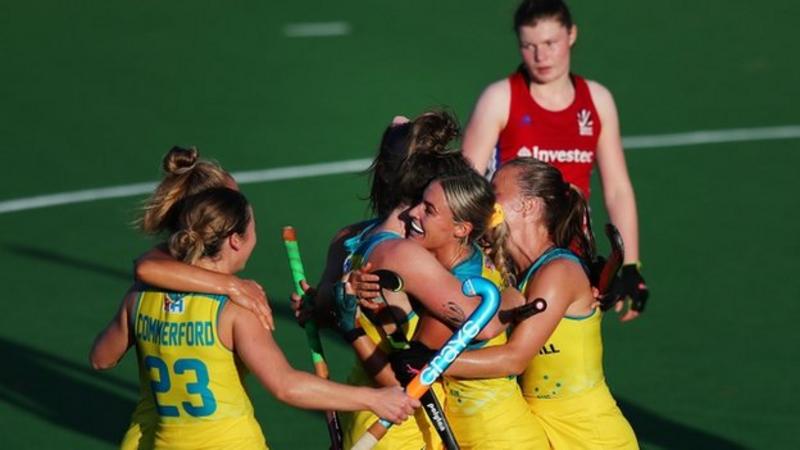 Australia celebrate the stunning strike by Mariah Williams

Great Britain suffered double defeat by Australia in the FIH Pro League as the men's and women's both lost in Perth.

GB's women, playing their second game under new coach Mark Hager, improved on their 5-1 thrashing by New Zealand earlier in the month.

But goals from Kalindi Commerford, Mariah Williams and Savannah Fitzpatrick earned a 3-0 win and kept GB bottom of the table.

GB's men lost 2-0 thanks to goals from Trent Mitton and Jacob Anderson.

The result ended a run of successive wins against Spain and New Zealand.

The women's team have had a unsettling few weeks after former New Zealand coach Hager's appointment was followed by the news that he is under investigation for allegations of bullying.

After the defeat by Australia, GB women's captain Holly Pearne-Webb said: "New Zealand was our first game together as a new team, but there was a lot of progress. We are feeling much more positive.

"We only found out a few weeks ago about Mark. I think we are going to do really well with him."

Earlier on Saturday, the GB's men's team failed to break through a stubborn Australia defence despite enjoying the majority of possession.

The visitors had two penalty corners in the first half but failed to take advantage and now sit third in the standings behind Belgium and the Netherlands before their next match against Argentina.

BBC Sport


---

Masters Indoor World Cup - Day 3
The Masters Indoor World Cup entered its final day on Saturday. Find all the results by clicking here

---

Masters Indoor World Cup Day 2 USA Continues to Fight Heading into Crossovers

HONG KONG - On day two of competition at the World Masters Hockey (MWH) Masters Indoor World Cup in Hong Kong, USA fought hard for their crossover placements. The U.S. O-40 Men's Masters Team

started strong with a 3-2 win over Hong Kong Dragons before dropping their second game 2-3 in the final 30 seconds to Hong Kong. Their final game of the opening day saw them tie England 2-2. The U.S. O-50 Men's Masters Team struggled to score in their first two games, falling to Germany 0-8 and Australia 0-6. They rebounded in their third contest, defeating Canada 4-0. Lastly, the U.S. O-40 Women's Masters beat The Netherlands 4-3 in their first game and tied Hong Kong 2-2 in their second.

U.S. O-40 Men's Masters Team

USA 2 - Canada 3

USA 0 - Germany 13

USA 2 - Australia 3

U.S. O-50 Men's Masters Team

USA 3 - England 5
On day two, the U.S. O-50 Men's Masters Team traveled to the Shek Kip Mei Sports Centre for their two match-ups. In the first game, they faced England, who had two wins and a loss on the first day. USA captain Roberto Sabella (Key Biscayne, Fla.) opened the scoring in the 7th minute off a beautiful goal assisted from Greg Pereira (Fulton, Md.). England went on to score a penalty corner at the 19th minute mark followed immediately by a brilliant field goal netted by Bob Khosla (Mesa, Ariz.) allowing USA to take a 2-1 lead at the end of the first half. In the second half, England managed a comeback with four goals but Sabella earned one back on a field goal in the 29th minute.

USA 2 - Switzerland 7
After a disappointing hard-fought first game, USA had to battle an experienced and skillful Switzerland team. The Swiss came onto the hard-court surface with a vengeance scoring the first goal in the first minute of the game. At the 13th minute, Switzerland scored on a penalty corner. Switzerland went on to score five more goals and USA added another two on field goals by Pereira (25:00) and Khosla (33:00).

U.S. O-40 Women's Masters Team

USA 2 - Germany 6

USA 0 - Australia 6

For more information regarding the WMH Masters Indoor World Cup, including the full schedule, results, rosters and more, check out the official event page by clicking here.

USFHA media release


---

2019 Test Matches THA vs SGP (W)
Bangkok

16 Feb     THA v SGP     1 - 0
17 Feb    THA v SGP     5 - 0

FIH Match Centre


---

Day 2 in Vienna ends in Euro defeat for Clydesdale Western




Back-to-back defeats in day two of women`s indoor European Club Trophy in Vienna has Clydesdale Western battling against relegation from the division. HF Lorenzoni Bra took victory in the first outing of the day before Swedish champions Partille held on for a victory in the second contest.

CLYDESDALE WESTERN 2-5 HF LORENZONI BRA (ITALY)

Clydesdale Western went down 5-2 to Italian champions HF Lorenzoni Bra in the final pool match at the women`s indoor European Club Trophy in Vienna.

The defeat left the Glasgow side bottom of their pool, but worse was that they have no points to carry forward to the relegation group.

For the third time in this tournament Western lost early goals and were chasing the game for the remainder. A brace of penalty corner strikes by Stefania Tosco and Rachel Huertas Soler inside a minute was a killer blow for the Scots.

Millie Steiger pulled one back for Western from open play but despite the Italians losing two players to the sin bin there was no addition to the tally by the interval.

In the second half Bra advanced to 5-1 through a double from Huertas Soler for her hat-trick and Francesca Fabro. Western then replaced their keeper with an additional outfield player and almost immediately Margery Justice scored at a penalty corner with four minutes left – her fifth of the tournament.

Unfortunately there was no further scoring and it is the Italians who take the five points into the relegation competition.

CLYDESDALE WESTERN 2-3 PARTILLIE (SWEDEN)

After going down 3-2 to Swedish champions Partille in the second relegation pool match, Clydesdale Western were defeated in the indoor European Club Trophy with one game still to play.

Western fell victim to an opening goal, Emilia Fantini put Partille ahead in nine minutes. But within two minutes Western were level with a penalty corner conversion from Jen Eadie, and that was the score at the interval.

Hopes rose when Margery Justice put the Scots 2-1 ahead from open play. Such aspirations were short lived with an equaliser from Fantini again.

The pivotal moment came in 33 minutes, Millie Steiger was sent to the sin bin and almost immediately Ella Sampers put the Swedes 3-2 ahead. Despite substituting their keeper Western were unable to alter the scoreline and the Swedes held on for the victory.

Scottish Hockey Union media release


---

Male Player of the Year 2018: Arthur Van Doren




Belgium's Arthur van Doren achieved the unique double in 2017 when he was crowned both the Rising Star of the Year and the Male Player of the Year. This year he joins hockey legends Teun de Nooijer and Jamie Dwyer as one of three players to win consecutive male Player of the Year awards.

Van Doren is unquestionably one of the finest defenders in the game at the moment. Add to that his willingness to join the attack, and you have the perfect all-rounder.

"I would always pick a team sport over an individual sport. I love the team vibe, the way you work to get to a goal together"
- Arthur Van Doren

Van Doren's rise has coincided with the fortunes of the Red Lions. A silver at both the Rio 2016 Olympic Games and the 2017 Rabobank European Championships, were followed by a gold at the 2018 Odisha Hockey Men's World Cup Bhubaneswar and a historic place at the top of the world rankings.

Hockey was nearly not blessed with Van Doren's skills. He is also a skilful tennis player and, aged 13, had to make a choice between the two sports. Luckily for Belgium, hockey won. The decision came down to his love of being part of a team. "I would always pick a team sport over an individual sport. I love the team vibe, the way you work to get to a goal together; and if you reach a goal, there is pretty much nothing better than that feeling."

On receiving the award for the second consecutive year, Van Doren said: "I am immensely proud! As a team we have enjoyed a very special year. I feel fortunate to play with such quality players. It is an award I share with them."

#HockeyStarsAwards

FIH site


---

Sultan Azlan Shah Cup 2019: Hockey India name 34 players for national camp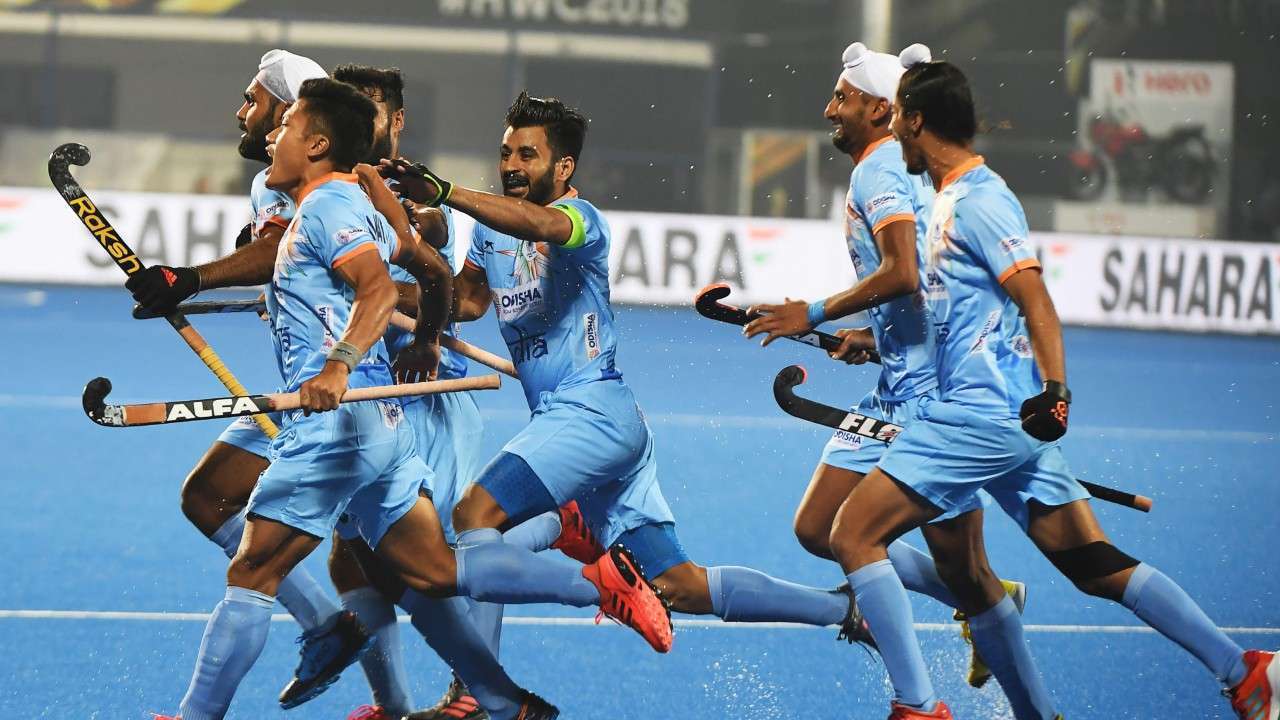 Indian hockey team, AFP File Photo

Hockey India on Saturday named 34 players for the senior men's national camp, beginning February 18 at the Sports Authority of India, Bengaluru, to prepare for the season's first tournament -- Sultan Azlan Shah Cup in Ipoh, Malaysia. The tournament starts on March 23.

Hockey India has retained all 18 players in the Indian team that took part at the World Cup last December, for the month-long camp that concludes on March 18.

The list also features Sultan of Johor Cup silver-medal winning India Colts Shilanand Lakra, Suman Beck, Mandeep Mor, Yashdeep Siwach, Vishal Antil and Gursahabjit Singh who had figured in the 34-member camp for the World Cup.

The youngsters have been credited for showing continued improvement and potential to match the standards at the senior level.

"The team for the 28th Sultan Azlan Shah Cup will be selected from this core group of 34 players after a selection trial is held in Bengaluru in the last week of February. I am happy to note that the junior players who have recently been inducted into the senior camp have shown significant improvement and that the depth in the group is strong," said David John, High-Performance Director, Hockey India.

List of campers:

Goalkeepers: P R Sreejesh, Suraj Karkera, Krishan Bahadur Pathak Defenders: Harmanpreet Singh, Gurinder Singh, Varun Kumar, Kothajit Singh Khadangbam, Surender Kumar, Amit Rohidas, Jarmanpreet Singh, Pardeep Singh, Suman Beck, Mandeep Mor, Birendra Lakra, Rupinder Pal SinghMidfielders: Manpreet Singh, Chinglensana Singh Kangujam, Sumit, Simranjit Singh, Nilakanta Sharma, Hardik Singh, Lalit Kumar Upadhyay, Vivek Sagar Prasad, Yashdeep Siwach, Vishal AntilForwards: Akashdeep Singh, Ramandeep Singh, Gurjant Singh, Mandeep Singh, Dilpreet Singh, Sumit Kumar, Gursahabjit Singh, Shilanand Lakra, S V Sunil.

Daily News & Analysis


---

Terengganu and Liaoning Club declared joint champs

KUALA LUMPUR: The final of Vivian May Soars (overall) Cup could not be played due to bad weather and unplayable pitch at the Tun Razak Hockey Stadium.

Terengganu Ladies team and Liaoning Club were declared as joint champions in the National Women's Hockey League.

Tournament director Jusvir Singh said that it started to rain heavily just before the final match was supposed to start at 5.30pm.

"We have declared both teams as joint champions and both the teams will receive RM20,000 each," said Jusvir.

Terengganu captain Siti Noor Amarina Ruhani said that it was unfortunate that the match could not be played due to bad weather.

"But we are pleased to have won both the league as well the overall Cup after failing to win a title last year.

"It feels good to win our second double – league and overall – as we won it in 2017," said Siti, who is also the national women's team captain.

In an earlier match, Police Blue Warriors beat PKS Universiti Tenaga Nasional (Uniten) 3-0 to finish third at the same venue.

Qasidah Najwa Muhd Halimi gave Police the lead in the 30th minute before Nadia Abdul Rahman doubled the score in the 37th minute off a penalty corner.

Three minutes later, Norbaini Hashim completed the rout with another penalty corner goal.

Police took home RM10,000 for their efforts.

National forward Nadiah Hanis Onn of PKS-Uniten was the top scorer in the league with 14 goals – eight field and six penalty corners.

The Star of Malaysia


---

Keeper Kumar hoping thigh pain is just minor injury

By Aftar Singh




KUALA LUMPUR: National goalkeeper S. Kumar (pic) is having a slight pain in his right thigh and is keeping his fingers crossed that it is just a minor injury.

The 39-year-old Tenaga employee said that he will go for a medical check up at National Sports Science (ISN) in Bukit Jalil tomorrow to know the extent of the injury.

"I will train with the Tenaga team tomorrow morning to see whether I can stretch my right leg," said Kumar, who picked up the injury in the Malaysia Hockey League (MHL) match against TNB Thunderbolt at the Tun Razak Hockey Stadium at Jalan Duta on Friday.

"I hope it is just a minor injury as I want to help Tenaga finish runners-up in the Premier Division.

"My services are also needed for the TNB Cup (overall), which starts on Feb 26."

Kumar, who played well in the World Cup in Bhubaneswar, India, last December, said that he picked up the injury while trying to kick a high ball in the second quarter of the match.

Kumar made his debut in the MHL in 1999 and played for Yayasan Negri Sembilan (YNS) for a year before he joined Tenaga Nasional in 2000.

Universiti Kuala Lumpur (UniKL) lead the standings with 25 points from nine matches while Tenaga are a point adrift from 10 matches.

Tenaga, who won the Tan Sri P. Alagendra Cup last month, have two tough matches remaining to play with Maybank today at the Tengku Abdullah Hockey Stadium in Bangi and they wrap up the fixtures against Terengganu on Feb 22.

Kumar added that they needed to collect full points against the Tigers to finish second in the Premier Division.

"I hope I can play against Maybank," said Kumar, who is the second Tenaga player to get injured.

Two weeks ago, national defender Syed Mohamed Syafiq Syed Cholan fractured his wrist in the MHL match.

The Star of Malaysia


---

ROUND-UP: Investec English Women's Hockey League



Buckingham's Lottie Porter being congratulated after scoring against Clifton Robinsons. Credit Peter Smith.

Buckingham boosted their play-off ambitions and stepped up to third in the Investec Women's Hockey League Premier Division after a narrow 1-0 win at Clifton Robinsons on Saturday.

Lottie Porter's second half goal from a penalty corner routine proved to be the only score of the match, and with Surbiton beating East Grinstead Buckingham moved up the table.

East Grinstead had got off to a good start at Sugden Road with Sophie Bray scoring after just four minutes.

But Surbiton pulled level with Georgie Twigg's 18th minute penalty stroke, and they went on to win with Olivia Chilton and Jenna Woolven scoring from open play on 24 and 28 minutes.

Leaders Holcombe were 3-0 winners over Beeston, who drop out of the top four on the back of the loss.

Dirkie Chamberlain gave Holcombe an early lead from a penalty corner after just two minutes, and after Hattie Jones had added a second from open play on 38 minutes, Chamberlain's second came on 56 minutes to seal the points.

The relegation scrap between bottom of the table Canterbury and visitors University of Birmingham ended in a 1-1 draw, with Catherine Ledesma's ninth-minute goal for University of Birmingham being cancelled out by Sarah Kerly's 51st minute shot.

Investec Conference West

Stourport secured their 11th straight league win of the season on Saturday, beating hosts and bottom club Exe 9-1 in the Investec Conference West.

Lorna Mackenzie secured a hat-trick and Cerys Preston scored twice for Stourport, while other goals came from Sarah Parkinson-Mills, Beth Merriman, Isabella Nott and Sophie Thompson.

Gloucester City also won away from home, putting four unanswered goals past hosts Oxford Hawks. Jennifer Lea, Frankie Mayes, Charlotte McShane and Emily Rogers scored their goals.

Elsewhere, Reading beat third-placed Swansea City to boost their position with Keelie Perham and Esme Swindells scoring.

Trojans were 3-1 winners at home against Isca, while Barnes beat Olton & West Warwicks 2-1.

Investec Conference North

Two goals from Alice Rolfe helped leaders Loughborough Students secure an emphatic 6-0 win at Leeds in the Investec Conference North.

Loughborough were 3-0 ahead at half time thanks to strikes from Beth Peers, Maria Andrews and Lucy Millington. Rolfe's two came after the break, with Charlotte Daly also adding one.

Leicester had Jodie Connelly to thank for the only goal of the match as they battled out a 1-0 win over Brooklands-Poynton, while the University of Durham were 4-1 winners over Sutton Coldfield.

Elsewhere Belper were 2-0 winners at Ben Rhydding, while Fylde beat visitors Timperley 1-0.

Investec Conference East

Hampstead & Westminster beat promotion rivals Cambridge City 4-1 in the Investec Conference East, with Amy Askew scoring twice while others came from Jasmine Clark and Lauren Turner.

That win leaves Hampstead & Westminster second after leap-frogging Cambridge City, while Wimbledon continue to lead after beating St Albans 4-0.

Goalless at half time, the Wimbledon v St Albans game sprang into life after the break with Millie Giglio, Libby Sherriff, Fiona Semple and Nicola Alexander-Lloyd all scoring goals.

Elsewhere Sevenoaks kept in the hunt for the title with a 3-0 win at Ipswich and Harleston Magpies won 4-1 over Bedford.

RESULTS:

Investec Women's Premier Division: Canterbury 1, University of Birmingham 1; Clifton Robinsons 0, Buckingham 1; Holcombe 3, Beeston 0; Surbiton 3, East Grinstead 1.

Investec Women's Conference West: Barnes 2, Olton & West Warwicks 1; Exe 1, Stourport 9; Oxford Hawks 0, Gloucester City 4; Swansea City 0-2 Reading, Trojans 3, Isca 1.

Investec Women's Conference North: Ben Rhydding 0, Belper 2; Fylde 1, Timperley 0; Leeds 0, Loughborough Students 6; Leicester 1, Brooklands-Poynton 0; University of Durham 4, Sutton Coldfield 1.

Investec Women's Conference East: Hampstead & Westminster 4, Cambridge City 1; Harleston Magpies 4, Bedford 1; Horsham 3, Southgate 2; Ipswich 0, Sevenoaks 3; Wimbledon 4, St Albans 0.

England Hockey Board Media release


---

Return to outdoor Scottish National League 1 brings some big results




Grange consolidated their position at the top of the men`s National League 1 with a 3-1 victory over Uddingston, but in the women`s competition Edinburgh University remain second after a 3-2 defeat at the hands of Western Wildcats.

A double of set piece strikes from Dan Coultas was the catalyst in Grange`s 3-1 win over Uddingston, a result that keeps the Edinburgh side at the top of National League 1.

The champions were two up at the interval, Coultas opened in ten minutes, then Duncan Riddell doubled the tally after several passes down the left flank opened up the Uddingston defence. In the second half Coultas struck again at a penalty corner while Chris Boyle snatched a consolation for Uddingston.

Grange`s lead at the top was extended to six points when Western Wildcats were held to a 1-1 draw by Edinburgh University at Peffermill.

After a goalless first half, Matt Taylor put the students ahead from the spot, but Rob Harwood levelled for Western Wildcats with a well-worked equaliser.

Third placed Grove Menzieshill also lost ground after being held to a 1-1 draw by Clydesdale. Chris Moon put the Taysiders ahead in the first half but Chris McFadden equalised at a penalty corner for a share of the points.

Hillhead consolidated their fourth position with a comfortable 4-0 victory over Kelburne. Graeme and Ewan Campbell put the Glasgow side two up at the interval. In the second half a long pass from Ross Jamieson found Jude Boslem and he dispatched the ball into the roof of the net from a narrow angle. The final goal came from a fierce reverse stick shot into the top corner from Fraser Ward.



Photo by Mark Pugh

Edinburgh University failed to grab pole position in women`s National League 1 after going down 3-2 to third placed Wildcats.

The scores were tied at 2-2 in the second half, Sophie Maunder and Ellie Hutcheson scored for the champions while Erin Stevens and Megan Cox replied for the Wildcats.

In the closing stages it was the Wildcats who clawed their way to victory with a strike from Kate Holmes.

Dundee Wanderers consolidated fourth spot after a 5-2 win over Watsonians on Tayside. The catalyst was a hat-trick from Vikki Bunce, while Charlotte Watson and Heather Elder got the others, and Holly Shepherd and Rhona Gowans scored for Watsonians.

In the lower reaches Hillhead moved up to eighth with a 3-2 win over neighbours GHK while GlasgowUniversity also moved up a place after seeing off bottom side Grange 3-0.

Scottish Hockey Union media release