All the news for Tuesday 20 August 2019

Belfius EuroHockey Championship (Men) 2019 - Day 6
Antwerp, Belgium

Fixtures (GMT +2)

20 Aug 2019 13:30     ESP v ENG (Pool A)
20 Aug 2019 15:45     IRL v GER (Pool B)
20 Aug 2019 18:00     NED v SCO (Pool B)
20 Aug 2019 20:30     BEL v WAL (Pool A)

Live streaming via http://www.eurohockeytv.org

Pool Standings

Pool A
| Rank | Team | Played | Wins | Draws | Losses | Goals For | Goals Against | Goal Difference | Points |
| --- | --- | --- | --- | --- | --- | --- | --- | --- | --- |
| 1 | Belgium | 2 | 2 | 0 | 0 | 7 | 0 | 7 | 6 |
| 2 | Spain | 2 | 1 | 0 | 1 | 5 | 6 | -1 | 3 |
| 3 | England | 2 | 0 | 1 | 1 | 2 | 4 | -2 | 1 |
| 4 | Wales | 2 | 0 | 1 | 1 | 3 | 7 | -4 | 1 |
Pool B
| Rank | Team | Played | Wins | Draws | Losses | Goals For | Goals Against | Goal Difference | Points |
| --- | --- | --- | --- | --- | --- | --- | --- | --- | --- |
| 1 | Netherlands | 2 | 2 | 0 | 0 | 8 | 3 | 5 | 6 |
| 2 | Germany | 2 | 1 | 0 | 1 | 11 | 3 | 8 | 3 |
| 3 | Ireland | 2 | 0 | 1 | 1 | 4 | 8 | -4 | 1 |
| 4 | Scotland | 2 | 0 | 1 | 1 | 3 | 12 | -9 | 1 |
---

Belfius EuroHockey Championship (Women) 2019 - Day 5
Antwerp, Belgium

Results

19 Aug 2019 13:30     GER v ENG (Pool B)     1 - 1
19 Aug 2019 15:45     IRL v BLR (Pool B)         11 - 0
19 Aug 2019 18:00     ESP v NED (Pool A)     1 - 1
19 Aug 2019 20:30     BEL v RUS (Pool A)         4 - 1

20 August is a rest day

Pool Standings

Pool A
| Rank | Team | Played | Wins | Draws | Losses | Goals For | Goals Against | Goal Difference | Points |
| --- | --- | --- | --- | --- | --- | --- | --- | --- | --- |
| 1 | Belgium | 2 | 1 | 1 | 0 | 5 | 2 | 3 | 4 |
| 2 | Spain | 2 | 1 | 1 | 0 | 2 | 1 | 1 | 4 |
| 3 | Netherlands | 2 | 0 | 2 | 0 | 2 | 2 | 0 | 2 |
| 4 | Russia | 2 | 0 | 0 | 2 | 1 | 5 | -4 | 0 |
Pool B
| Rank | Team | Played | Wins | Draws | Losses | Goals For | Goals Against | Goal Difference | Points |
| --- | --- | --- | --- | --- | --- | --- | --- | --- | --- |
| 1 | Germany | 2 | 1 | 1 | 0 | 14 | 1 | 13 | 4 |
| 2 | England | 2 | 1 | 1 | 0 | 3 | 2 | 1 | 4 |
| 3 | Ireland | 2 | 1 | 0 | 1 | 12 | 2 | 10 | 3 |
| 4 | Belarus | 2 | 0 | 0 | 2 | 0 | 24 | -24 | 0 |
---

Germany draw takes Women's team one step closer to semis




England's women's team moved one step closer to qualifying for the EuroHockey Championships semi-final with a valuable 1-1 draw against a strong German side.

Initially taking the lead with a sumptuous Lily Owsley strike, England were good value for their half-time lead having limited Germany to few opportunities whilst looking a threat on the offensive.

Germany enjoyed their brightest spell of the game in the third quarter and were able to produce an equaliser courtesy of Hannah Gablac who tapped in at the far post.

England held Die Danas at bay for the remainder of the match to ensure they got something from the game, taking their tally to four points after two games, meaning that victory against Belarus on Wednesday will guarantee a place in the final four.



 
Match report:

Germany started well, earning a penalty corner inside the opening five minutes and though this was well defended, they still had good field position which saw Kira Horn fire just wide of the target.

England were looking potent in attack too, Jo Hunter stretching the defence and earning a penalty corner where Giselle Ansley's well struck drag flick was well blocked by the left glove of Julia Sonntag.

Both sides looked evenly matched in a tight opening-half, but it was England who took the advantage going into the break. A weaving run from Jo Hunter on the right flank and precise pull back found Owsley with time and space to lift the ball into the roof of the net with a composed finish.

Mark Hager's side had contained a strong German outfit that had demolished Belarus 13-0 in their previous game and were good value for their 1-0 lead at half-time.

Germany got back into the match with a spell of good attacking pressure in the third-quarter and forced Maddie Hinch into making three saves inside two minutes as well as striking the post during a flurry of chances.

As the clock ticked down on the quarter, Germany ramped up the attacking intent even more as the ball was flashed across the face of goal and somehow evaded everyone.

With less than thirty seconds remaining in the quarter Die Danas got the goal they'd been seeking, Hannah Gablac getting the final touch on Anne Schroder's driven attempt on goal to set up a tense final fifteen minutes.

Shona McCallin made a superb stop on the post to deny Germany from another well worked penalty corner to keep her side in the game.

Hunter again looked lively in attack but couldn't quite stretch far enough to make clean contact with the ball as her sliding attempt fell kindly into the 'keeper's path as both sides failed to find a way through to claim victory.

England's final match of the group stages comes on Wednesday 21 August against Belarus at 9am BST knowing that victory will secure their place in the semi-finals.
 
Germany 1 (0)
Gablac (45', FG)
 
England 1 (1)
Owsley (24', FG)
 
England Starting XI: Hinch, Unsworth, Martin, Townsend, Petty, Ansley, Pearne-Webb, Owsley, Hunter, Balsdon, Petter
England Subs (Used): Evans, Toman, Rayer, Howard, Defroand
England Subs (Not used): Tennant

England Hockey Board Media release


---

England have to wait for qualification after Germany draw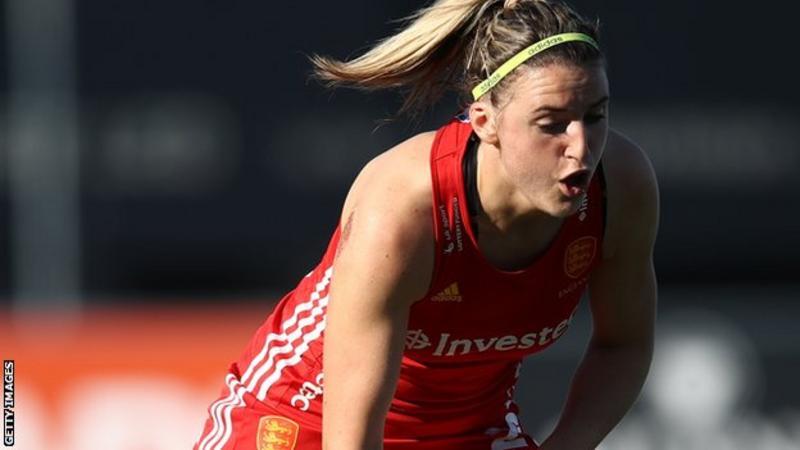 Lily Owsley, who won gold with Great Britain at the Rio 2016 Olympics, scored England's goal

England's women were held to a 1-1 draw by Germany in their second match at the EuroHockey Championships.

Mark Hager's side started strongest and Lily Owsley opened the the scoring in the second quarter in Antwerp, Belgium.

Germany improved after half-time and with seconds left in the third quarter, Hannah Gablac equalised.

England, who beat Ireland 2-1 in their opening match on Sunday, will qualify for the semi-finals if they defeat Belarus on Wednesday.

Owsley said: "It's a similar story, we go one up and then we always let sides back in. It happened against Ireland too. We have to learn how to close out those games."

Captain Hollie Pearne-Webb added: "We are disappointed with a the draw, which I am taking as a real positive. Especially the first half, we probably played well enough to get more chances. Overall, it's pleasing we took a step up from yesterday."

The winner of the tournament will secure qualification for the Tokyo 2020 Olympics.

If England win the event, it would mean Great Britain - who won gold at Rio 2016 - would be certain of defending the Olympic title in Tokyo.

If England do not win, Great Britain will play in a two-legged winner-takes-all Olympic qualifier in November.

BBC Sport


---

Ireland v Belarus, Women's Euro Hockey Champs Match Report



Roisin Upton. Photo Frank Uijlenbroek / World Sport Pics

The Green Army put in a strong performance this afternoon in Antwerp to give them a very comfortable win over Belarus in their second pool match of the Euro Hockey Championships. Asserting themselves from the whistle, the Irish Women secured a Penalty Corner in the opening minute. Despite it ultimately being kept out of the goal by Belarus's Navitskaya, it set the tone for the match with the Irish securing a total of 18 penalty corners throughout the match, compared to Belarus's 3.

"It was a good tough game", according to Head Coach Sean Dancer, "We started quite well in the first quarter, obviously really pleasing to take an early lead.

"I felt we became a little complacent in the second quarter and we let Belarus back in to the game – not from a score point of view, but from a playing point of view. But a really pleasing second half, we stepped it up and played some good hockey."

Ireland dominated the game with close to 54% of the total possession according to the TMS stats, building it to over 60% in the final quarter of the game.

Roisin Upton put Ireland on the scoreboard in the 4th minute when a penalty corner insertion from Hannah Matthews was deflected from Lizzie Colvin. While Anna O'Flanagan followed with the second goal shortly after. Similarly, an insertion from a penalty corner from Matthews to Colvin provided Chlow Watkins with an opportunity but the ball was saved and O'Flanagan's goal resulted from a scuffle for the ball on the rebound.

The second quarter saw a few chances for Ireland failing to convert to a goal with Belarus challenging more. Chloe Watkins and Katie Mullan worked well to keep Belarus out of the Irish circle at one point, while Roisin Upton was on hand to counter a shot into the Irish circle by Halinouskaya and send it back up the pitch. The half time score remaining Ireland 2 – 0 Belarus.

A flurry of goals marked the third quarter, with Ireland extending their lead to 8 – 0. Roisin Upton secured herself a hat trick by the end of the quarter, while Nikki Evans added two to the overall tally with her second coming from a saved penalty corner rebound.

Lizzie Colvin provided a lovely pass to Anna O'Flanagan in the final quarter. O'Flanagan was positioned perfectly to push the ball into the back of the goal while Belarus's Liavonava stood to the side with her focus on Colvin. Deirdre Duke and Roisin Upton brought the game to a close with a goal each from penalty corners.

The final score Ireland 11 – 0 Belarus. A positive day for the Irish Women in Antwerp. They face Germany on Wednesday at 11:15 Irish time in their final pool match. Meanwhile, the Irish Men will take on Germany tomorrow at 14:45 in their final pool match.

Women's Pool B:

Ireland 11 (R Upton 4, A O'Flanagan 2, N Evans 2, B Barr, D Duke, Z Wilson)
Belarus 0.

Ireland: A McFerran, K Mullan, S McCay, E Tice, C Watkins, L Colvin, N Daly, H Matthews, S Hawkshaw, A O'Flanagan, Z Wilson.
Subs: R Upton, N Evans, G Pinder, B Barr, E Murphy, D Duke, A Meeke

Belarus: H Zhylevich, K Mitskevich, U Kasabutskaya, M Halinouskaya, S Bahushevich, N Silitskaya, N Syrayezhka, M Nikitsina, K Syddykava, M Navitskaya
Subs: T Liavonava, N Shtsin, D Belavusava, X Efimencova, Y Kurhanskaya, V Skryba, V Sidarava

Irish Hockey Association media release


---

Corner precision sees Green Army march past Belarus



Roisin Upton dispatching a penalty corner. Pic: Frank Uijlenbroek / World Sport Pics

An incredible display of penalty corner conversion saw Ireland run up their biggest ever win in the top tier of the European Championships, smashing Belarus 11-0 in Antwerp.

In times gone by, games against lower-ranked opponents have been real dirges, with Ireland struggling by with the maximum of fuss. Belarus gave Ireland a horrible fright in a 3-2 scoreline in the ultimately doomed 2013 campaign; two years ago, a flat performance against the Czech Republic came close to relegating the team.

But this was a procession from the moment Róisín Upton clattered in the first of her four penalty corner goals.

In so doing, they took out their frustrations of missing out on a result against England a day earlier in the most positive of fashions.

There were a few scares in the first and second quarters which led to Sean Dancer having some stern half-time words. Upton started the run from in the fourth minute, dragging in what ended up being the first of nine goals out of a massive 18 corners.

Belarus had a golden chance for an instant riposte when Svetlana Bahushevich was unable to volley in from close range. Anna O'Flanagan popped in a second Irish corner before the end of the first quarter but there was some let up in the second stanza which irked coach Dancer.

"Against defensive teams, the longer they are in the game, the harder it becomes so it was great to start well," Dancer said. "To me, I want to get more flow and attack and it was good to score corner goals which we have been working on.

"We started the game well and 2-0 up at quarter-time. I really felt we got complacent in the second quarter. The second half we played good hockey again which was pleasing."

Indeed, within 15 seconds of the restart, Zoe Wilson was thumping in for 3-0, starting a run of six goals in 11 minutes. Upton got the next, Evans the next from open play, then more corner goals from Upton, Beth Barr and Evans.

O'Flanagan scored her second in the 47th minute before Belarus dropped down to nine players with two yellows. Deirdre Duke slammed in for double figures and Upton completed the rout.

It gives Ireland a shot to nothing against Germany – royalty at this level of competition – on Wednesday with a win earning them a first ever place in the continental championship semi-final, keeping alive fanciful hopes of winning the Olympic ticket on offer.



Irish fans in Antwerp. Pic: Frank Uijlenbroek / World Sport Pics

"It's a challenge the girls are really looking forward to," coach Sean Dancer said."England did a really good job blocking up the field on Germany [in their 1-1 draw], that shows there is a good way to get at Germany and we can hurt them from there. They will be tough but there is positive energy that we can put them under the pump."

The manner of the display has a distinctly ruthless Australian streak about, perhaps some of Dancer's Gold Coast upbringing has already rubbed off on the side.

"We have to play every game as hard as we can for every minute. That's a philosophy I want to instill in the team and will keep pushing."

And Upton backed that assessment, saying: "There was a talking to at half time, 'switch on, get back in the game, play to our standards'. Sean had a word about chasing the opportunity. You only get five game in this competition and not to waste any of them.

"Sean has come in and injected even more belief, even since the World Cup last year. We start to believe we can compete with the top teams and that is half the battle. But it's still a flip of a coin between the top four and the bottom four."

It was also positive for the side to see Evans among the goals having missed out on selection for the FIH Series. She said that setback spurred her to push harder for inclusion this time around.



Nikki Evans celebrates. Pic: Frank Uijlenbroek / World Sport Pics

"It's always disappointing to miss out but it was a good chance for me to reset and refocus. We have been training very hard with a new coach coming in, new principles and adapting to his style to add to our team. It has suited me and I am really enjoying it."

It was a busy day for the coach who is keen to leave nothing to chance to see Ireland build on the World Cup success. His day started with carting 72 bottles of water from the local supermarket to the Wilrijkse Plein venue, struggling with the trolley over the Antwerp cobbles.

And he doesn't feel anyone in the staff or team should be above mucking in like that.

"To me, it's part of the team ethic. I certainly don't have a hierarchy system. Being the coach doesn't mean you are above doing things like that. Each situation is unique but I am happy to have every member of staff actively involved."

The Irish men have the same equation; win against Germany on Tuesday (2.45pm, Irish time) and they will be in the semis.

Belfius EuroHockey Championship

Women's Pool B

Ireland 11 (R Upton 4, A O'Flanagan 2, N Evans 2, B Barr, D Duke, Z Wilson)
Belarus 0

Ireland: A McFerran, K Mullan, S McCay, L Tice, C Watkins, L Colvin, N Daly, H Matthews, S Hawkshaw, A O'Flanagan, Z Wilson
Subs: R Upton, N Evans, G Pinder, B Barr, D Duke, A Meeke, L Murphy

Belarus: M Navitskaya, H Zhylevich, K Mitskevich, U Kasabutskaya, K Papkova, M Halinouskaya, S Bahushevich, N Silitskaya, N Syrayezhka, M Nikitsina, K Syddykava
Subs: N Shtsin, D Belbusava, X Efimencova, Y Kurhanskaya, V Skryba, V Sidarava

Umpires: Y Makar (CRO), C Martin-Schmets (BEL)

The Hook


---

Ireland women keep hopes alive by routing Belarus 11-0

Ireland's women kept their EuroHockey Championship hopes alive by routing Belarus 11-0 in Antwerp.

Victory over Germany on Wednesday will secure last year's World Cup runners-up a place in the semi-finals.

The Irish could not afford to slip up after Sunday's 2-1 defeat by England but were never threatened.

Roisin Upton struck four goals with Nikki Evans and Anna O'Flanagan both notching two, while Zoe Wilson, Bethany Barr and Deirdre Duke also scored.
Zoe Wilson says Ireland women will be ready for crunch Germany game

The result means Belarus have shipped 24 goals in two games after their 13-0 demotion by Germany on Sunday.

Both Germany and England are unbeaten in Pool B after they drew 1-1 on Monday.

Belarus restricted Ireland to a 2-0 half-time lead but the roof totally fell in on the outclassed eastern Europeans in the closing half-hour as Ireland's penalty corner tally of 18 yielded nine goals.

"We knew we had a big performance in us today. We were disappointed with the result against England," said Upton.

"It's always tough against the Germans as they are a very structured side but we will back ourselves against them."

The winner of the championships, which conclude on 25 August, will secure qualification for the Tokyo 2020 Olympics.

BBC Sport


---

Ready Steady Tokyo Hockey (Men) - Day 4
Tokyo (JPN)

Results

20 Aug 2019 09:30     MAS v NZL (RR)     1 - 3
20 Aug 2019 11:45     IND v JPN (RR)     6 - 3

Fixtures (GMT +9)

21 Aug 2019 09:30     JPN v MAS (3 / 4)
21 Aug 2019 12:00     NZL v IND (Final)

Pool Standings
| Rank | Team | Played | Wins | Draws | Losses | Goals For | Goals Against | Goal Difference | Points |
| --- | --- | --- | --- | --- | --- | --- | --- | --- | --- |
| 1 | New Zealand | 3 | 3 | 0 | 0 | 9 | 5 | 4 | 9 |
| 2 | India | 3 | 2 | 0 | 1 | 13 | 5 | 8 | 6 |
| 3 | Japan | 3 | 1 | 0 | 2 | 9 | 11 | -2 | 3 |
| 4 | Malaysia | 3 | 0 | 0 | 3 | 2 | 12 | -10 | 0 |
---

Vantage Black Sticks top of table at Ready, Steady, Tokyo




The Vantage Black Sticks went 3 from 3 this afternoon in their final round robin game of the Ready, Steady, Tokyo test series against Malaysia with a 3-1 win.

The game opened with a scoreless first quarter against No.12-ranked Malaysia who were coming off of back-to-back losses against India (6-0) and Japan (3-1).

In the second quarter Malaysia's Najmi Jazlan found the back of the net off a penalty corner to give the Malaysian team a 1-0 lead over New Zealand.

Our Vantage Black Sticks didn't want to head into the sheds without having their turn at goal though. Just before the first half ended Jared Panchia got one in to even the game, 1-1.

In the 3rd quarter Nic Woods put New Zealand ahead, 2-1, for the first time in the game off a penalty corner in the 39th minute of play.

The game just got better from there for the Kiwi's. With just three minutes remaining on the clock, Hugo Inglis slotted in a late goal to put the Vantage Black Sticks comfortably ahead by 2 (3-1) to tally the win.

The victory gives the Vantage Black Sticks an unbeaten record in round robin play at the Ready, Steady, Tokyo Olympic test event with back-to-back-to-back wins in the tournament.

The men will now face the winner of the India vs Japan round robin game in the Gold Medal match tomorrow at 3:00 p.m. NZT.

Goals
Vantage Black Sticks: Jared Panchia ('30), Nic Woods ('39), Sam Lane ('57)
Malaysia: Najmi Jazlan ('21)

Hockey New Zealand Media release


---

OTE: Goals rain as Indian men reins in Japan

s2h Team

Indian men's hockey team entered the Final of Olympic Test event today after putting out a much needed high win which came against the hosts Japan 6-3 in the last pool match today. The win fetched India six points to stay behind topper and all win New Zealand.

Indian men's hockey team teams seemed to itching a good performance today after being defeated by New Zealand the other day. This is what one feels when India pumped in five goals against Japan in the first half. On Sunday, New Zealand surprised India with a 2-1 victory, the winner emerging in the dying seconds of the match. The Vantage Blacksticks thus climbed to top spot in the points table, leaving higher ranked India at second rung. The defeat has seemingly spurred India to perform better today when action resumed after a day's rest.

Its Manipur born Mumbai star Nilakanta Sharma who started torrent in the very third minute. Nilam Xess through a penalty corner increased the lead within next four minutes. Mandeep Singh then took over the onslaught. He struck, in flamboyant manner of course, a hattrick, goals coming in 9th, 29th and 30th minutes.

The hosts Japan, whose ladies narrowly lost to India in the opener, managed to extract a goal through Kentaro Fukuda (1-3) but Mandeep's late first half twin strikes kept India comfortable at half time (5-1).

The second half was conspicuous for Indian submission. Though Gurjant Singh struck once in the session, its Japan who retrieved enormous prestige with good fight. The spirited fight back paid dividends. Kenta Tanaka (36th minutes) and Kasuma Murata (52nd min) helped the hosts narrow down the score (6-3).

Earlier in the day, New Zealand held on to its good show, handing out Malaysia its third loss (1-3) in as many as matches. With two majestic wins and a narrow loss, India earned six points while NZ with three wins topped the pool. Malaysia is winless while Japan has got three points to finish third at the table.

Stick2Hockey.com


---

Mandeep Singh hat-trick secures 6-3 win for India in Olympic Test Event

Gursahibjit Singh, Nilakanta Sharma and Nilam Sanjeep Xess were the other goal-scorers for India.



Mandeep Singh's hat-trick led India's pursuit of a final berth in the Olympic Test Event.   -  Twitter @TheHockeyIndia

Striker Mandeep Singh struck a fine hat-trick to help the Indian men's hockey team beat hosts Japan 6-3 and book a summit clash berth in the Olympic Test Event here on Tuesday.

The Indian team bounced back from its 1-2 loss against New Zealand with an impressive display in its third match at the Oi Hockey Stadium here. India again faces New Zealand in the summit clash on Wednesday.

Mandeep found the target in the 9th, 29th and 30th minutes while Nilakanta Sharma (3rd), Nilam Sanjeep Xess (7th) and Gurjant Singh (41st) were the other scorers for India.

Kentaro Fukuda (25th), Kenta Tanaka (36th) and Kazuma Murata (52nd) scored the goals for Japan.

Nilakanta gave India an excellent start through a field goal in the third minute. Buoyed by the early lead, the Indian team put tremendous pressure on the Japan defence as Gurjant Singh took a shot on goal, but saw his effort going wide of the post.

However, a penalty corner was awarded to India in the seventh minute which was converted brilliantly by Nilam Sanjeep to help the team take a 2-0 lead.

India continued to take the aggressive approach and Mandeep found the back of the net with an excellent field goal in the ninth minute.

Japan tried to make inroads in the last few minutes of the first quarter as it won a penalty corner. Gurinder Singh positioned himself brilliantly and defended the shot on the goal line. India led 3-0 at the end of the first quarter.

India continued its attacking game in the second quarter with Jarmanpreet Singh taking a shot on goal, but putting it wide of the post. Captain Harmanpreet Singh had a shot on target, but the Japanese goalkeeper Takashi Yoshikawa pulled off a brilliant save.

Japan managed to open its account through a field goal through Kentaro Fukuda in the 25th minute, but Mandeep scored two field goals in quick succession to help India take a big 5-1 lead. The Indian vice-captain scored just before the half-time whistle in the 29th and 30th minute.

Japan started the third quarter on an aggressive note. It took a shot on goal, which was blocked out brilliantly by goalkeeper Krishan Pathak. However, the Japanese team kept putting pressure on the Indian defence and found a field goal through Kenta Tanaka in the 36th minute.

India did not let the momentum shift towards the Japanese side as forward Gurjant found the back of the net in the 41st minute to make it 6-2 which put the world number 5 side in a dominant position at the end of the third quarter.

Japan attacked the Indian defence in the the fourth quarter and scored its third goal through Kazuma Murata in the 52nd minute.

India was awarded a penalty corner with five minutes left on the clock, but the shot went wide off the post. India also saved a penalty corner in the dying minutes of the match.

The win put India in the second spot in the points table and it faces table topper New Zealand in the summit clash on Wednesday.

Sportstar


---

Ready Steady Tokyo Hockey (Women) - Day 4
Tokyo (JPN)

Fixtures (GMT +9)

20 Aug 2019 17:30     AUS v JPN (RR)
20 Aug 2019 19:45     CHN v IND (RR)

Pool Standings
| Rank | Team | Played | Wins | Draws | Losses | Goals For | Goals Against | Goal Difference | Points |
| --- | --- | --- | --- | --- | --- | --- | --- | --- | --- |
| 1 | India | 2 | 1 | 1 | 0 | 4 | 3 | 1 | 4 |
| 2 | China | 2 | 1 | 0 | 1 | 4 | 4 | 0 | 3 |
| 3 | Japan | 2 | 1 | 0 | 1 | 3 | 3 | 0 | 3 |
| 4 | Australia | 2 | 0 | 1 | 1 | 4 | 5 | -1 | 1 |
---

Women's hockey team take on Indian side

The women's hockey team of Sports Authority of India arrived here yesterday to play six practice matches against Bangladesh under-21 women's team as part of the home side's preparation for next month's Women's Junior AHF Cup in Singapore.

The first match between the two sides will be held today at the Maulana Bhasani Hockey Stadium while the rest of the matches will take place on August 22, 23, 25, 26 and 28 respectively.

Bangladesh Hockey Federation (BHF) formed the women's team recently and decided to send them to an international competition for the first time. As part of preparation and earning experience, the game's local governing body has also arranged the six-match preparation series.

"The visiting Indian side have been in training round-the-year and they have recently played against their Kenyan counterparts. So we have to emphasise on gathering experience rather than thinking of win or defeat against the experienced Indian side," Bangladesh Hockey's advisory coach Ajay Kumar Bansal told reporters at press conference yesterday. He was accompanied by assistant coach Hedayetullah Razib and Shahidullah Titu.

The Daily Star


---

Hockey India extends search for junior men's coach, again

Uthra Ganesan



Jude Felix. Photo Credit: The Hindu

Hockey India's search for a chief coach for the National junior men's team seems unending. Even as the 33 shortlisted probables continue to undergo training in Bengaluru, the federation has again extended the deadline to apply for the post, for the fourth time now, with August 30 the latest date for application.

The junior men's team is without a coach ever since Hockey India sacked Jude Felix from the post following a poor outing at the eight-nation tournament in Spain in June this year, where India finished 6th.

High Performance Director David John had been overseeing the juniors since then but is currently in Tokyo with the national women's side for the Olympic Test event.

The ongoing camp for the juniors is till August 31.

"We are still in the process of vetting and looking through the applications received so far.

"We do not want to hurry with the decision and want anyone who wants to apply a fair chance. It would be done soon," a Hockey India official assured.

Interestingly Harendra Singh, the former junior coach who led India to a World Cup triumph in 2016 before being ignored for a continuation, then promoted to the senior women's team followed by the men's team and then eventually dismissed, has applied again but sought parity with foreign coaches as part of his terms.

The decision first came to light after Hockey India advertised for the post soon after the tournament ended with July 5 as the last date for applying. It was then extended twice, to July 25 and August 16, before the latest extension. The tenure for the team's chief coach would be till December 31, 2021, after the completion of the Junior World Cup, with a six-month probation period. However, given the delay in appointing a new coach, time is clearly running out for the defending champion to prepare for the World Cup.

The Hindu


---

Dar Hockey Academy Trounce HGC 9-0

Ijaz Chaudhry

Pakistan's Dar Hockey Academy played its third match of the Holland tour against HGC at The Hague.

The city houses International Court of Justice where Pakistan and India recently contested the famous legal case pertaining to Kulbhushan Jadhav.

Mr Aizaz Khan, deputy head of mission Pakistan embassy in Holland, graced the occasion.

Also present was Dutch hockey legend Marc Delissen (Olympics & World Cup winner) and another distinguished Olympian and World Cupper Maarten van Grimbergen. Delissen's son Mick was playing in this match for the club his father captained.

HGC which houses six synthetic turfs had finished 3rd in Hoofdklasse (Dutch league's top tier). They fielded a team consisting of Men's first team and Boy's first team. Two had appeared for Holland's national age group teams.

The Lahore based academy remained in cruise control throughout.

Their attacks came in waves. A number of chances arrived; nine were translated into goals.

There were seven beautiful open play goals. The two penalty corner goals came throughwell planned indirect drills.

Murtaza Yaqoob, grandson of late Afzal Manna Olympic silver medallist 1964, and Farhan both had hat tricks

At least two goals deserve full description.

Adeel Latif in a mazy run beat three defenders before slipping the ball to Murtaza on his right. Murtaza's first time pass was deflected into the net by Farhan in a split second.

A memorable individual goal was scored by Abdul Rahman. He sprinted from the left side and dribbled past two defenders in a straight line before slamming it in.

Dar Hockey Academy: 9 HGC: 0
SCORERS: Murtaza Yaqoob 3, Farhan 3, Adeel Latif, Abdul Rehman, Ali Aziz

Ijaz Chaudhry writes on hockey & other sports. For more about him and his work, visit: www.sportscorrespondent.info  

Fieldhockey.com


---

Dronacharya awardee Bawa Patel overwhelmed and anxious ahead of trip to New Delhi

Nandakumar Marar



The first two trips to New Delhi for Bawa were spent through long discussions about hockey.   -  SPECIAL ARRANGEMENT

Merzban Patel's third trip of his life to New Delhi, for the August 29 National Sports Day awards ceremony, gives him the most anxiety. Two earlier visits to the national capital happened in 2001 and 2012. Patel, the coach who nurtured many hockey Olympians and World Cuppers from Mumbai, accompanied a young goalkeeper Adrian D'Souza 19 years ago for a trial conducted by Air India academy at the National stadium.

Bawa, as he is commonly known, travelled again in 2012 to watch Yuvraj Walmiki at the Olympics Qualifying tournament.

The second trip lasted eight days when Yuvraj was injured and in recovery phase with the India team.

In a reversal of sorts, Bawa, 68, will be the focus of attention on the third Delhi visit, when a roomful of people and other awardees will watch him receive the Dronacharya Lifetime Achievement Award.

Bawa admits he faced no such anxiety on his first two visits. On the first trip, he refused a room for himself and stayed with with two of his young wards at the National stadium accommodation during the 2001 academy trials.

"I chose to stay with Adrian [D' Souza] and two other kids from Bombay Republicans, because leaving them on their own to spent a night in a new city was not right," he remembered.

After being shortlisted for the academy, D'souza stayed back to train under coach A. K. Bansal.

The second Delhi visit in 2012 saw him and others share a room in the vicinity of the National Stadium, to watch the action as a hockey fan. Unfortunately, Yuvraj did not feature in the tournament as he was recovering from an injury.

"Yuvraj stayed with the national team. I remember Sandeep Singh's drag flick goals for India," Bawa said.

Bawa slipped under the radar during earlier visits. Now in 2019, an inspiring life story put the Mumbai hockey mentor in national focus. Questions swirling in his mind range from when will the official communication reach him, whether he should wear dentures and go clean shaven to Delhi and the hotel food effects on his chronic acidity.

"I am waiting for something in writing or a phone call before planning for the trip," he said, even as congratulatory messages poured in.

Bawa travelled from Mumbai to Delhi and back by train both times, resulting in long hours of hockey discussion.

"The academy trials gave us idea of goalkeeping drills. India played well in the Olympic qualifier."

The two boys from Mumbai went on to play for India. D'Souza made his Olympic debut in 2004 Athens Games. Yuvraj got into the 2014 World Cup squad at The Hague, making their mentor proud. Now is the time for them to applaud as Bawa gets ready for another visit to the capital.

Sportstar


---

Hockey to run two club fundraising masterclasses

Leinster Hockey to run key masterclass workshops on August 22 and September 9 on fundraising

Following the recent Roadshows around the province, Leinster Hockey have been going through the feedback received from clubs.  One area that stands out was the lack of awareness within clubs about how to access Government funds via the Sports Capital Grant which can be used not just for big ticket items like pitch replacement but also for
    new/replacement goals
    goal keeping equipment
    coaching equipment
    pitch fencing
In his presentation, Trevor Watkins advised clubs that in the last round of Sports Capital Grant funding hockey received €41k from a total of €8.5 million. When asked, club representatives had reservations about applying for grants for a number of different reasons including
    The club received a grant before, we can't apply again
    The application process is complicated
    Hockey never gets anything, why should we bother
The LHA Board believes that every club in Leinster should be applying for both central and local grants at every opportunity.
Similarly, many clubs confirmed that the bulk of income they receive is from their members fees with Committee's running some fundraising events for specific items.

Fundraising is a key element of the finance model for sporting bodies.  Sports clubs benefit from the generosity of volunteers and supporters but many have not reached their potential when it comes to raising funds philanthropically.  To address the above, the LHA Board has engaged the services of 2into3 to run two Masterclasses on
    Sports Capital Grant (22nd August); This Masterclass will assist and inform clubs regarding both the Capital & Equipment Grants offered by the Government and those given by Local Sports Partnerships throughout the province. [The Department of Transport, Tourism & Sport will soon announce the remaining allocations for the 2018 round of Sports Capital & Equipment Grants and the Government has allocated €40million for 2019.  It is expected that the new round will be opened to clubs in October/November]
    Fundraising Strategy (09th September):  Focusing on the fundraising landscape this Masterclass will lead clubs through the process of developing a fundraising strategy and give practical key steps to get your club ready to fund raise.  This collaboration will encourage more of our clubs to diversity existing funding models while also developing capacity to fund raise effectively.
The cost per person (per Masterclass) is €50.00 which is being subsidised by the Leinster Hockey Association.  Places are limited so we are urging clubs to book early.  To book on one/both of these Masterclasses – Click Here

The Hook


---

Olympic gold medallist Zakir Hussain passes away at 85




Olympian and former goalkeeper of the Pakistan national hockey team Zakir Hussain passed away on Monday at the age of 85.

Hussain's funeral prayers will be held in his home town Gulshen Anwar Masjid, Jinnah Colony, Wah Cantt.

The veteran player won a gold medal at the 1968 Summer Olympics in Mexico and a silver medal at the 1956 Summer Olympics in Melbourne.

President of Pakistan Hockey Federation (PHF) Brig (Retd) Khalid Sajjad Khokhar and Secretary PHF Muhammad Asif Bajwa have expressed deep grief on the death of legendary Olympian.

Dawn