All the news for Tuesday 19 June 2018

Canadian player Hannah Haughn reaches 150th cap milestone during the first of a two-game series against the FIH number one world ranked team.

By Tristan Urry



Hannah Haughn celebrated her 150th cap. Photo Tristan Urry

Amsterdam, Netherlands - Hannah Haughn, Canada's #13, reached her 150th cap during Monday's game against the Netherlands making her the eighth ever Canadian woman to reach such a milestone. Canada has not played the Netherlands since 1984 which made this moment all the more special for Haughn.

"It was a pretty surreal experience for us since the Canadian team has not played the Netherlands in over 20 years. To be able to have this milestone against such a strong and skilled team was incredible" said Haughn after the game.

Haughn also said that "it's really amazing that I've received these opportunities to play for Canada so often and it's kind of hard to put into words how it makes feel because I've got such a great group of girls behind me."

The Netherlands started off the first of this two-game series by scoring 8-0. "They're incredibly fast and attacking, they've got a really good corner unit and their passing combination plays are very clinical. They're not number one for nothing" Canada's # 1 goal keeper, Kaitlyn Williams said.

"It was exciting to see some of the successful things the Netherlands implements in habit are things we've been trying to implement into our games too. It's good to see how much it works work even though it was against us, hopefully, we can get the same kind of tactics working for our benefit in the next game" said Shanlee Johnston, Canada's # 25.

The second game of this series is Wednesday 4:00 pm at Wagener Stadium.

Field Hockey Canada Women's Team media release


---

Rani Rampal, Gurjit Kaur score braces as India women's team thrash Spain to level series 2-2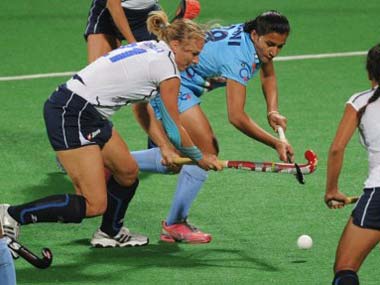 File image of Rani Rampal. AFP

Madrid: Skipper Rani Rampal and defender Gurjit Kaur struck a brace each as India women's hockey team thrashed Spain 4-1 in the fifth and final match to level the series 2-2.

India dominated the match in terms of possession and chances created as Rani (33', 37') provided the side a two-goal cushion at the Consejo Superior de Deportes hockey stadium.

The India skipper was backed by two well-converted penalty corners by Gurjit (44', 50') towards the closing stages of the match.

Spain's Lola Riera (58') scored the consolation goal for the hosts.

In the second minute, Indian forward Vandana Katariya got a sight on the Spanish goal but the 26-year-old's effort was saved by Spain's goalkeeper Maria Ruiz. India's aggressive start fetched them two penalty corners in the first five minutes, but Ruiz was called into action again, and she was upto the task.

India maintained pressure on the hosts in the second quarter and did not give away possession easily. The world No 10 team showed quality in the mid-field and made an attempt through young forward Lalremsiami but it was saved by Maria Ruiz.

Spain could not manage to get a grip on the match but did well to deny any clear goal-scoring opportunities to the visitors.

In the third quarter India utilised their possession to good effect as Rani was found in the striking circle with an accurate pass by midfielder Namita Toppo and the captain stroked home a delightful finish to give her team the lead in the 33rd minute.

Four minutes later, India's ace striker Rani was again presented with an opportunity to score at the end of a team-move, and the 23-year-old found the back of the net to increase India's lead to two goals.

Gurjit also registered her name on the score-sheet as she converted a penalty corner in the 44th minute to make the scores 3-0 in India's favour.

India dominated in the last quarter as well, winning two penalty corners in the opening five minutes. The first was saved by a Spanish defender and the second was stroked into the back of the net by Gurjit Kaur as she scored her second goal of the match. At 4-0, India looked comfortable in possession and made sure that they were not allowing the hosts to find space inside their half.

However, in the 58th minute, the world No 11 team hit India on the counter and won themselves a penalty corner, which was converted by Lola Riera, as the match ended 4-1 in India's favour.

Firstpost


---

A reality check for us: Sreejesh

Last edition of Champions Trophy begins on June 23



Ready for action: Having finished runner-up last time, India captain P.R. Sreejesh says India will look to triumph this time. Photo Credit: K_MURALI_KUMAR

India hockey team captain P.R. Sreejesh says the FIH Champions Trophy, which will feature all the top teams of the world, could provide a reality check ahead of the season-ending World Cup.

Having finished second best in the last edition, India would want to go one step ahead this time, but Sreejesh is looking at the event in a different way.

The 18-member team will take part in the last edition of the Champions Trophy, to be held from June 23 to July 1.

With hosts the Netherlands, Argentina, Pakistan, Belgium and defending champion Australia in the fray, the tournament will be a litmus test for India ahead of the World Cup, to be held in Bhubaneswar later this year.

"Though right now our immediate goal is to do well in this tournament, there is no doubt it will be a reality check for us to see where we stand among top teams, especially ahead of the World Cup," said Sreejesh ahead of the team's departure.

"It is the final edition of the Champions Trophy and I am sure every team will want to make it memorable. It will be a challenging tournament with back-to-back matches and winning those three points from each game will be the only thing on our minds."

India, which won a historic silver in the previous edition in London, will begin its campaign against Pakistan on June 23, but Sreejesh said it was just another game despite the hype around the high-profile encounter.

"For us, the match against Pakistan is just another game where we will be looking to win three points. In this tournament every single match is crucial if we want to see ourselves in the title round because the first two teams on top of the points table will play the final," said Sreejesh.

The Hindu


---

Pakistan Hockey Squad: Final 18 for Champions Trophy announced

The 37th edition of the Champions Trophy in Breda, Holland starting from June 23, will be the last.

Pakistan had sent 22 players on June 3 to Holland for the last phase of the training.

After assessing players' form and fitness, the management has dropped four players,
Mazhar Abbas (goal keeper), M.Rizwan Jr, Rana Sohail and Dilber.

Following 18 players form the final squad for the Champions Trophy.

M.Rizwan Sr (captain), Imran Butt,  Amjad Ali, M.Irfan Sr, Mubashir Ali, Aleem Bilal, Ammad Shakeel Butt, Touseeq Arshad, Rashid Mahmood, Tasawar Abbas,  Abu Bakar, M.Irfan Jr, Arslan Qadir,
Umar Bhutta,  Shafqat Rasool, Ali Shan, Azfar Yaqoob & Aijaz Ahmed.

Manager: Hasan Sardar, Head Coach: Roelant Oeltmans,
Assistant Coaches: M.Saqlain and Rehan Butt

PHF Media release


---

Shaw announces squad of 22 to travel to Germany




Following the latest series of games again Canada, Graham Shaw, Head Coach of Ireland women's hockey team has reduced his panel of players to 22 before his final World Cup selection.

This squad will travel to Germany to play in a 3 nations tournament against Germany and Canada and one additional game v Germany.

Included in the squad but not travelling due to ongoing rehab are Megan Frazer and Nicci Daly.

Speaking about his selection Shaw said: "Selection is always difficult and players are always going to be disappointed, especially in a World Cup year.

We will continue our preparation playing against Germany and Canada this week in a 3-nations. Each team will provide very different challenges with two very different styles. We are very much looking forward to spending time together where we can continue to learn and grow as a group of 22 players."

1. 21/6/18 17.00 (16.00 Irish Time) Germany v Ireland
2. 23/6/18 17.00 (16.00 Irish Time) Ireland v Canada

Ayeisha McFerran, Louisville
Grace O'Flanagan, Railway Union
Yvonne O'Byrne, Cork Harlequins
Elena Tice, UCD
Zoe Wilson, Belfast Harlequins
Roisin Upton, Cork Harlequins
Shirley McCay, Pegasus
Katie Mullan, UCD
Gill Pinder, Pembroke Wanderers
Chloe Watkins, Bloemendaal
Lizzie Colvin, Belfast Harlequins
Deirdre Duke, UCD
Naomi Carroll, Cork Harlequins
Ali Meeke, Loreto
Emily Beatty, Pembroke Wanderers
Anna O'Flanagan, Bloemendaal
Nicola Evans, UHC
Sarah Torrans, Loreto
Sinead Loughran, Monkstown
Hannah Matthews, Loreto

NOT TRAVELLING
   
Megan Frazer, Mannheim – continuing rehab on knee
Nicci Daly, Loreto – continuing rehab on foot

Irish Hockey Association media release


---

Shaw makes tough calls as World Cup panel reduced to 22



Graham Shaw reduced his panel from 27 to 22 today for the upcoming World Cup. Pic: Adrian Boehm

Graham Shaw has made the first tough cut to the Irish senior women's squad for next month's World Cup with Cliodhna Sargent the biggest name to miss out at this stage.

Sargent has been an almost ever-present since her debut in January 2007 up to the World League Round 2 in January last year, playing the tournament in Singapore a few weeks after finding out she was pregnant.

Following the birth of her son, she returned to action last November and the Irish squad earlier this year, including two games against Canada last weekend.

But she has not been able to force her way fully back into the line-up for the World Cup in London which begins on July 21 with coach Shaw confirming he will select his panel from his latest list of 22 players.

Sargent was one of five players to learn on Monday afternoon that they would not be going to the tournament, Ireland's first of its kind since 2002. Emma Buckley, Aisling Naughton, Rebecca Barry and Leah McGuire were the other players left out.

"It's not easy to let down people to let down people who have given up their lives to go to a World Cup but that's the nature of the job," Shaw said of the selection.

"It's not far away now and we will need to keep moving it up a notch now. It's all we talk about every day."

Ireland travel to Germany on Tuesday for a three nations tournament in Dusseldorf where they will meet hosts Germany on Thursday and then Canada on Saturday. They will play another challenge match on the trip against the Germans.

They go with 20 players of the 22, a largely experienced side with teenager Sarah Torrans the one new face to potentially break in.

There are two major doubts, though, with former skipper Megan Frazer suffering complications with her return from 20 months out from a cruciate knee injury.

She had played a couple of games at the European Cup with German club Mannheimer HC but has since had to have further keyhole surgery of which she and Shaw are awaiting a full diagnosis.

Nicci Daly is about 10 days from a return from a foot injury but the good news is Gillian Pinder and Shirley McCay look to have shaken off issues. Nonetheless, Shaw says it has been frustrating not to have a full squad available during this key preparatory phase.

"You want to have that full squad to select from, particularly when its your most experienced players and you know the impact they can make," he said after the Canada series.

"It has been a purpose of the last two years to build a bigger squad so that when we do get injuries, we can deal with it. It was pleasing to see some young girls step up and perform – they are on the right path.

"It's exciting to see two 19-year-olds [Sarah Torrans and Ellen Curran] come in and not look out of place so we have a few decisions ahead of us."

The final Irish panel for the World Cup will be named on June 26.

Ireland squad for Three Nations Invitational tournament (Dusseldorf, June 21-23): A McFerran (University of Louisville), G O'Flanagan (Railway Union), Y O'Byrne (Cork Harlequins), L Tice (UCD), H Matthews (Loreto), Z Wilson (Belfast Harlequins), R Upton (Cork Harlequins), S McCay (Pegasus), K Mullan (UCD), G Pinder (Pembroke), C Watkins (Bloemendaal), L Colvin (Belfast Harlequins), D Duke (UCD), N Carroll (Cork Harlequins), A Meeke (Loreto), E Beatty (Pembroke), A O'Flanagan (Bloemendaal), N Evans (UHC Hamburg), S Torrans (Loreto), S Loughran (Monkstown)

Not travelling due to injury: M Frazer (Mannheimer HC), N Daly (Loreto)

The Hook


---

Men's National Team hosts China and Pakistan in International Summer Series




North Vancouver's Taylor Curran was 13 years old when he and his childhood teammates first watched the Canadian Men's Field Hockey Team play on home soil against Chile. He described the experience as eye-opening, and 13 years later, Curran is hoping to open some eyes during the Men's National Team's upcoming home series with China and Pakistan A.

The games, taking place June 21-July 8, 2018, are split between Rutledge Field in West Vancouver, BC and Tamanawis Field in Surrey, BC. For Curran, the opportunities to play meaningful international matches on home soil come few and far between.




"I think we're all super excited to play at home in front of our community. We don't get this chance very often," he said. "I know some of my friends and family will be out as well as some of the kids I coach in West Van."

The Men's National Team has had an unpredictable 2018 so far with positive results at a 5-Nations event in Malaga, Spain and somewhat disappointing results at the 2018 Commonwealth Games. This summer home series offers the opportunity to improve and get valuable international competition for the Canadian men's side.

Curran said the team didn't play up to its standard at the Commonwealth Games and with the World Cup fast-approaching, these games will play a valuable role in the team's development.

"We have the luxury of having a bigger roster for events at home. We can try some younger guys in different spots and we can work on different tactics," he said. "We're getting closer and closer to the World Cup every day and the intensity and focus [are] there."

Paul Bundy, head coach of the Men's National Team, said hosting more international matches on home soil is a part of the program's overarching strategy leading towards the World Cup in the fall and Olympic qualification. For him, these games will be good indicators of the gaps they've closed since spring and where they can continue to improve.

"This gives us a really good opportunity to train as a collective and get competitive international matches," he said. "Rather than just training in our home environment and playing against each other, we can test where we are at against quality international sides."

Bundy echoed Curran's sentiments about engaging the community and young players with the sport. For him, these home matches can be of great value not only for the athletes competing, but also for the community as a whole.

"This sort of series reaches our primary goal of getting more international matches but also it's played in our backyard," he said. "It's an amazing opportunity to showcase our game and get the community behind us moving forward."

Curran said every player on the team has a story about when they first saw the Men's National Team play. Now the script has flipped, and he knows how valuable of an opportunity this series can be for future stars of the Canadian field hockey community.

"Kids in Canada can turn on the TV and watch other major sports anytime they want. They don't really have that chance with field hockey," Curran said. "I think it makes a huge difference to those kids who are 13, 14, 15 years old…Getting the chance to watch the international game can really engage them in the sport."

Canada kicks off the International Summer Series against Pakistan A on Thursday, June 21 at 7pm at Tamanawis Field in Surrey. Follow the action on our event page and social media accounts as the Men's National Team battles Pakistan and China over the next 20 days.

SERIES ROSTER
| PLAYER NAME | PROVINCE | CLUB | POSITION |
| --- | --- | --- | --- |
| ADRIEN D'ANDRADE | BC | Burnaby HC | DEF |
| BALRAJ PANESAR | BC | United Brothers | DEF |
| BRANDON PEREIRA | BC | United Brothers | DEF |
| GORDON JOHNSTON | BC | UBC HC | DEF |
| SCOTT TUPPER | BC | West Vancouver HC | DEF |
| FLOYD MASCHARENAS | BC | UBC HC | DEF |
| KEEGAN PEREIRA | ONT | Muilhium HC | FWD |
| MATTHEW SARMENTO | BC | KHC Leuven | FWD |
| IAIN SMYTHE | BC | Vancouver Hawks | FWD |
| JAMES KIRKPATRICK | BC | West Vancouver HC | FWD |
| DEVOHN NORONHA TEIXEIRA | ONT | Toronto Lion HC | FWD |
| OLIVER SCHOLFIELD | BC | Klipper THC | FWD |
| FIN BOOTHROYD | BC | UBC HC | FWD |
| FLORIS VAN SON | BC | FC Barcelona | FWD |
| ANTONI KINDLER | BC | West Vancouver HC | GK |
| DAVID CARTER | BC | United Brothers | GK |
| MARK PEARSON | BC | West Vancouver HC | MID |
| SUKHI PANESAR | BC | United Brothers | MID |
| TAYLOR CURRAN | BC | West Vancouver HC | MID |
| GABE HO-GARCIA | BC | Muilhium HC | MID |
| BRENDAN GURALIUK | BC | Vancouver Hawks | MID |
| JOHN SMYTHE | BC | Vancouver Hawks | MID/DEF |
| RICHARD HILDRETH | BC | East Grindstead HC | MID/FWD |
| BREDNEN BISSETT | BC | NMHC Nijmegen | MID/FWD |
| HARBIR SIDHU | BC | UVIC HC | MID/FWD |
| JAMIE WALLACE | BC | UBC HC | MID/FWD |
RESERVES
| | | | |
| --- | --- | --- | --- |
| IQWINDER GILL | BC | India HC | GK |
| THOMPSON HARRIS | BC | UBC HC | FWD |
| VIKRAMJEET SANDHU | BC | UBC HC | FWD |
| GAVIN BAINS | BC | India HC | DEF |
Field Hockey Canada media release


---

Grand Masters squads jet out to Barcelona World Cup



Ian O'Keeffe is one of the key players

Three Irish Grand Masters men's Squads are off to the World Cup in Barcelona next week with two Over-60s panels and one Over-65s involved.

The Over 60s World Cup squad, captained by Keith Jess, have a tough opener against Germany, but everyone is well prepared and ready for the challenge. Pembroke Wanderers' Richard Clarke will lead the attack and Avoca's ex-international Ian O'Keeffe will control the midfield.

The Tournament Trophy 60s Squad, captained by the charismatic Brendan Rice, is very strong and hope to do well in their first tournament together, but again Germany is a very tough start. Both 60s Squads are coached by the meticulous Denis Pritchard.

The Over 65s squad, under the experienced Coach Dwyne Hill, is captained by Frank Nawn and whilst they have the Dutch in their first game, they have a very busy midfield of Ramy Parker, Mick Jordan and Bill Sedgewick.

Ireland Grand Masters
Over 65s World Cup Squad: Crawford McKee (GK), Donald Fetherston, Stuart Switzer, John Keppel, Paul Tynan, Raymond Parker, Mick Jordan, Frank Nawn (Captain), Willie Sedgewick, Tom Carney, Maurice Martin, Joe Dunne, Tim Chillingworth, Brian Chadwick, Graham Chisholm, Cormac Kilty

Coach: Dwyne Hill
Manager: Crawford McKee
Physio: John Phelan

Pool match schedule
Thursday 21st June: Ireland O65 v Netherlands O65, 2.30pm
Saturday 23rd June: Ireland O65 v Japan O65, 12.30pm
Sunday 24th June: Ireland O65 v France O65, 11am
Tuesday 26th June: Ireland O65 v Spain O65, 9.30am

Over 60s World Cup squad: Tim Hogg (GK), Declan Ryan (GK), Alan Smith, Sean Curran, Eddie O'Malley, Keith Jess (Captain), David Hull, Billy Pollock, Stuart Egner, Alan Wheeler, Robert Haughton, Ian O'Keeffe, Richard Clarke, Martyn Cremin, George Blackwood, Andy Matthews, Roger West, Tim Myers

Coach: Denis Pritchard
Manager: Peter Chadwick
Physio: John Phelan

Pool match schedule
Thursday 21st June: Ireland O60 v Germany O60, 9.30am
Friday 22nd June: Ireland O60 v Singapore O60, 12.30pm
Sunday 24th June: Ireland O60 v Spain O60, 2.15pm

Over 60s Tournament Trophy squad: Nicky Jermyn, David Williamson (GK), David Woods, Peter Chadwick, Fergus Stapleton, Harrold de Jong, Mick Ryan, Henry Brown, Sean Patrick Brett, Brendan Rice (Captain), Tom Gelletlie, Charlie Taylor, Billy Dowie, Declan Goulding, David Kiernan (GK), Jolyon Miles

Coach: Denis Pritchard
Manager: Sean Curran
Physio: John Phelan

Pool match schedule
Thursday 21st June: Ireland O60 v Germany O60, 8pm
Saturday 23rd June: Ireland O60 v Scottish Thistles O60, 10.45am
Monday 25th June: Ireland O60 v Sixberians O60, 9am
Tuesday 26th June: Ireland O60 v Southern Cross O60, 5.45pm

The Hook


---

Canadian Men's Grand Masters Team to participate in their first WGM World Cup

Canadian Men's 60+ division looks to make a mark in their competition debut




In two days' time, the WGM Grand Masters World Cup will kick off in Barcelona, Spain as the Canadian Men's Grand Masters Team (60+ division) takes on South Africa. Led by coach and team manager Donald Paterson, 16 players are due to take the field from June 20-30, 2018.

    POOL MATCH SCHEDULE
    CANADA vs SOUTH AFRICA | June 21, 2018 | 1045
    CANADA vs AUSTRALIA | June 22, 2018 | 1415
    CANADA vs SCOTLAND | June 24, 2018 | 1415
    CANADA vs USA | June 26, 2018 | 900
    *All game times are listed in local time

Featuring players from four Canadian field hockey club teams, three provinces, and a member from the United States, the team prides itself on its ability to extend opportunities to older athletes. According to Paterson, they can now aim to do more than enjoy a game, but be a part of the World Cup action as well.

"There is no greater thrill of playing for your country whether you are 26 or 66," Paterson said. "Wearing the red and white of Canada is quite special. The team has worked very hard, put aside their decades-old habits and [adopted] the goal of representing Canada."

On-site training sessions for all Grand Masters teams will occur from June 18-20, with the Opening Ceremony taking place on Wednesday night. Pool round matches begin the next morning.

Canadian team member, Ian Baggott, who also serves as the chair of Field Hockey Canada's Board of Directors, states that the World Cup offers the opportunity for Canada to face 17 other nations, something that Canada hasn't done for over 20 years.

"The whole Canadian Grand Masters team is very 'fired-up'," Baggott said. "We have no idea what challenges this event may bring, but we will give it our best…albeit all 16 players have only had one 2-day event to play as a team. Such are the challenges of a widely dispersed community."

Patrick Oswald, originally a part of the squad named to play for the World Cup, now serves as the assistant coach to Paterson after injuring his ACL in January. He remains optimistic that the event will inspire others as Canada continues to grow the Grand Masters program.

He said, "The [Field Hockey Canada] audience is bound to be impressed, and for our current national and junior national squads, they will be very happy to learn that they can continue to represent Canada for decades to come. Their international careers need not end when they retire."

The 2018 WGM Grand Masters features 77 teams from 18 nations and marks Canada's first-ever appearance in the competition. Stay tuned to the tournament website and Field Hockey Canada's event page for tournament updates.

GRAND MASTERS WORLD CUP ROSTER

Ian Baggott
Ken Beckett (GK)
David Byrne
Andy Haigh
Ishrat Khan
Jim Jenkyns
Al McBeth
John McCulloch
Mark Northcote
Mohinder Pal
Gord Plottel (C)
Bill Purcell
Colin Schmutte
Tony Stewart
Kuldip Virdi
Alan Wightman

TOURING STAFF

Donald Paterson – Team Manager
Patrick Oswald – Assistant Coach
Sonia Virdi – Physiotherapist

Field Hockey Canada media release


---

Australia's FIH Pro League Host Venues Confirmed

Alexie Beovich

Hockey Australia (HA) are today delighted to confirm three of four host venues for the inaugural FIH Pro League to commence in January 2019.

Melbourne, Hobart and Sydney will all host matches in the FIH Pro League which pits the world's nine best men's and women's teams against each other on a home-and-away basis.

The majority of the early matches will be played in the southern hemisphere, meaning all Australian home matches will played in February and March, before the Hockeyroos and Kookaburras travel abroad, with the finals series due to be played in June.

HA Chief Executive Matt Favier said: "We're delighted to confirm the three Australian host venues for the inaugural edition of the FIH Pro League where the best in the world meet off in an exciting league format.

"There will be plenty on the line in every match and we expect the FIH Pro League concept to garner great support around the country, which is why we're spreading our fixtures out around Australia.

"It's exciting to have Hobart host international hockey for the first time since 2015, while we're thrilled to once again bring elite international hockey in Melbourne and Sydney."

Australia's FIH Pro League campaign will commence at Melbourne's State Netball and Hockey Centre where the Hockeyroos and Kookaburras will take on the Netherlands on Saturday 2 February, followed by Belgium.

Melbourne has a rich history with hockey events, having hosted the Men's Champions Trophy recently in both 2009 and 2012, along with the 2016 and 2017 International Festival of Hockey events.

Hockey Victoria CEO Andrew Skillern said: "We're delighted that Melbourne will play host to arguably the world's number one Hockey nation the Netherlands in Round One of the inaugural FIH Pro League.

"Melbourne is the home of world sport and Hockey is a world game. We will fill our stands and get right behind the Kookaburras and Hockeyroos as they build towards Tokyo 2020."

Hobart's Tasmanian Hockey Centre will host the next round of fixtures on Saturday-Sunday 9-10 February with the Hockeyroos against China and Germany and the Kookaburras to meet Pakistan and Germany.

The matches will mark the first international hockey in Tasmania since May 2015.

Hockey Tasmania chair Ken Read said: "This is a big coup for Tasmania. We will see the best Tasmanians playing for Australia. It will lift the profile of the sport here and give our youth access to role models."

Hockey Tasmania General Manager Bob Gregory added: "We would like to thank the State Government and Events Tasmania for their support that will allow us to host games of a global competition here in Tasmania."

Sydney's Olympic Park Hockey Centre will host the remaining three home matches, with the Hockeyroos to play USA and the Kookaburras to meet Spain on Saturday 2 March.

Australia will play Argentina and New Zealand in both genders in Sydney on Saturday-Sunday 16-17 March, before the Hockeyroos and Kookaburras head overseas for their remaining eight matches.

Sydney hosted last year's Oceania Cup where both the Hockeyroos and Kookaburras triumphed.

Hockey NSW CEO David Thompson said: "It is very exciting to be hosting some of the world's best hockey players here at Sydney Olympic Park next year. It will be an amazing opportunity for the Kookaburras and Hockeyroos to play in front of a packed-out home crowd and in a prime-time television spot.

"FIH Pro League will be the perfect curtain raiser for the 2019 hockey season and a great way to attract more young players to our sport. I'd also like to take this opportunity to acknowledge and thank Destination NSW for their assistance with getting this major international event to Sydney.

The FIH Pro League matches in Sydney are supported by the NSW Government via its tourism and major events agency, Destination NSW.

Australia will play Great Britain in both genders on Saturday 16 February at a venue yet to be announced.

FOX SPORTS, exclusively on Foxtel, will broadcast all 16 matches hosted by Australia's Kookaburras (men) and Hockeyroos (women) as part of the game-changing FIH Pro League.

Before then Australian fans will be able to tune in to FOX SPORTS' LIVE coverage of the Kookaburra's title defense of both the Rabobank Hockey Champions Trophy in Breda between 23 June and 1 July 2018 and the Odisha Hockey Men's World Cup Bhubaneswar 2018, taking place from 28 November until 16 December.

All Hockeyroos matches from the Vitality Hockey Women's World Cup London 2018 between 21 July and 5 August as well as November's Champions Trophy in Changzhou between 17-25 November will also be shown by the Australian broadcaster.

2019 FIH Pro League – Australia Home Fixtures:

Saturday 2 February – Kookaburras v Netherlands; Hockeyroos v Netherlands – State Netball and Hockey Centre, Melbourne
Sunday 3 February – Kookaburras v Belgium; Hockeyroos v Belgium – State Netball and Hockey Centre, Melbourne
Saturday 9 February – Kookaburras v Pakistan; Hockeyroos v China – Tasmanian Hockey Centre, Hobart
Sunday 10 February – Kookaburras v Germany; Hockeyroos v Germany – Tasmanian Hockey Centre, Hobart
Saturday 16 February – Kookaburras v Great Britain; Hockeyroos v Great Britain – TBC
Saturday 2 March – Kookaburras v Spain; Hockeyroos v USA – Sydney Olympic Park Hockey Centre, Sydney
Saturday 16 March – Kookaburras v Argentina; Hockeyroos v Argentina – Sydney Olympic Park Hockey Centre, Sydney
Sunday 17 March – Kookaburras v New Zealand; Hockeyroos v New Zealand – Sydney Olympic Park Hockey Centre, Sydney

Hockey Australia media release


---

Torras joins Racing one initial one-year deal



©: Frank Uijlenbroek/world Sport Pics

Royal Racing Club de Bruxelles have signed up Ignasi Torras from Atletic Terrassa with the Spanish players agreeing a one-year deal to move to the club with an option to renew.

He joins up with a strong panel who finished third in the Belgian league last season and have already added Victor Wegnez to their line-up.

They join the likes of Tom Boon, Cédric Charlier and Jérôme Truyens, though, like Atletic, they will not be involved in the EHL next season.

Boon, Charlier and Wegnez will both be involved in the Belgian side for the Champions Trophy, one which has been hit by injuries to Manu Stockbroekx and Nico de Kerpel. Nonetheless, it is a panel that features plenty of players who will take part in next year's EHL.

From Waterloo Ducks, Gauthier Boccard, John-John Dohmen, Simon Gougnard and Vincent Vanasch are all involved as are Dragons' Felix Denayer and Florent van Aubel and Oranje-Rood's Thomas Briels.

Euro Hockey League media release


---

O'Donoghue to return to Dragons den for 2018/19 season



Shane O'Donoghue in EHL action for Dragons against Atletic Terrassa. Pic: Frank Uijlenbroek/EHL

With a heavy heart, Shane O'Donoghue will leave Glenanne this summer to return to Belgian champions KHC Dragons after a superb season in Dublin, captaining his boyhood club to the EYHL regular season crown.

But, with the World Cup on the horizon and assistance in developing his working life, the offer to return to a professional contract with the club he won two Belgian titles with was one that was too good to turn down.

"It wasn't an easy decision to make to be honest and one which was made with a heavy heart when you consider the year we [Glenanne] had winning the EY league title," he told The Hook but does reckon he has left the club in good shape to challenge again.

"It was my first full season back at my boyhood club and I thoroughly enjoyed last season, playing with close mates.

"Moving to St Andrews was a fantastic move for the mens side of the club and there is a few players from oversees joining next season so I have no doubt that the club will do well again next season."

O'Donoghue confirmed he had been in discussions with a number of clubs from Belgium as well as some from the Netherlands and Germany but Dragons came with a "complete offer".

"Dragons managed to find internships with a global psychology company called Mentally Fit and hopefully some work with the Antwerp Giants basketball team so that, in essence, made my decision for me.

"It was a litle different to when I first joined Dragons in 2014, I had just finished my under graduate studies in UCD and I just wanted to play professional hockey for a couple years and improve my game two years out from Rio. Now, I am slightly more career focused.

"I enjoyed two incredible seasons, winning back to back Belgian titles as well as coaching back to back Under-19 Belgium national titles with Dragons. It is an amazing club who went above and beyond to make me, my girlfriend and my family feel at home for two years.

"I found myself playing some of my best hockey and being nominated for world FIH rising star was one of the fruits of that."

It will be a very different Dragons side from the one he left with nine players moving on this summer and a similar amount coming in.

"The side has changed a lot with some close friends and top international players like Loic and Arthur Van Doren moving on to new challenges in Holland. It will be a challenge for sure but one which I will relish and give my all.

"They have signed some top international players in Tobias Walter and of course Kirky [Shimmins]! With the World Cup scheduled at a rather awkward time of the season, the first half of the league in Belgium finishes at the end of October which fits in nicely with our final preparation before departure to India."

As for those preparations, like many others in the squad, he admitted his shock at Craig Fulton's departure, hailing his guidance as crucial in putting "ourselves on the hockey map and have become a force to be reckoned with".

"He had a vision and with the limited resources at our disposal, we achieved many great things during his tenure, bronze medal at the 2015 Europeans, playing in the Rio Olympics and most recently qualifying for the 2018 World Cup being the most notable ones. I wish him and his family all the very best in near future.



O'Donoghue in action for Glenanne during their tie with Cork C of I this term. Pic: Adrian Boehm

"We still have a world cup to prepare for and we as a team are confident that our High Performance Director Adam Grainger will find a suitable replacement as soon as possible.

"We have games at the end of June against the french down in Cork, then USA shortly after and then the Dusseldorf Masters to finish off our summer program.

"There is a large share of the current squad moving abroad to play professionally which I can only see having an extremely positive impact on our preparation and on our squad as a whole going into the World Cup and then into the Olympic qualifiers for Tokyo".

The Hook


---

A New Game Plan For Umpires

By Steve Horgan, USA Field Hockey's Director of Umpiring




In our fast-paced world of instant communication, social media, internet speeds and cell phone video, the game of field hockey is also moving at warp speed. The game has become so fast with skills from the players never imagined before. That the umpiring mechanics on positioning must change just to keep up with it. With the addition of video review at the top FIH Levels and now domestically at the NCAA level, umpires will need to learn different angles and sight lines in order to have the best chance of getting the calls correct. Thus, eliminating the frequency of reviews or questioning by players in crucial situations mainly inside the circle.

The teachings from years ago had umpires taking a path of running down the "alley" and curving into the circle just ahead of the play as it comes toward them. The first change is that there is no more "alley" as the rules have basically eliminated that aspect of the game. The second change is the need for umpires to take a more direct path toward the circle as the play enters the 25-yard area. The past teaching also instructed umpires to "anticipate" the play, but did not actually give the guidance on how to do this. The new thinking on anticipation is based not only on the actions of the players, but also angles and sight lines to be created by umpires. After analysis of the video review process at the top level, it was determined that the number of video reviews and umpire misjudgments was directly due to umpires moving into a "hot spot," or place to make a decision instead of being there comfortably to make that crucial decision. Even though this analysis was done with video review, it was determined that the same mistakes or misjudgments are made during games with no video review. When the video review or camera shows a decision, especially inside the circle, there have been way too many times that the umpire is not in the picture. Therefore, more than likely, they are not close enough or not at the right angle to make a clear judgement of the situation.

To make this new concept on umpire positioning work, there will be a number of "old school" ways of thinking that will need to change. First, the distance between umpires will increase as both will look more to protect their circle versus an over concentration on the midfield. The midfield cannot be lost in this concept. Umpires will be required to make some decisions from a little more distance than they are used to in the center of the field.

Second, with the speed of the game and the constant turnaround of play, umpires will need to stay in their circle longer before traveling up field behind the play. Instead of immediately heading out of the circle on an arc toward the sideline and up, a more direct straight path up field should be used, provided the space is open. If this space is occupied, then there is more of a chance of the ball returning inside the 25-yard area, which would mean more importance to stay closer to the circle than before. Going wide actually creates more distance from the play for umpires. So, a more direct path will actually keep the umpire closer to the play.

Third, as the play comes out from the opposite 25-yard area, umpires are being instructed to be about one-quarter of the field ahead. Thus, at or across the midfield line as the ball crosses the opposite 25-yard line and across the attacking 25-yard line as the ball crosses the midfield line. At USA Field Hockey, we have been teaching to stay ahead of the play as it comes toward you, knowing this may not always be possible. With this new concept there will be more consistency in being ahead and in the right position to make the crucial circle decisions.

Finally, the idea that the trail umpire "must" be down to the opposite 25-yard line area to "help" their partner is not going to fit this model. The trail umpire is primarily responsible for watching off the ball and can do so quite affectively from a little farther away, while protecting the coverage of their half of the field. No umpire is super human or fit enough to keep up with the ball or the way today's players transition from defense to attack. Therefore, umpires will need a bigger head start than ever before to be in their circle for the crucial decisions sooner.

With this innovative concept to umpiring, it will take some time for players, coaches and especially umpires to get used to. Umpires will be looking to create new sight lines from more inside the field than normal and will have to be fitter and more aware of the player's intentions to keep up with the speed of the game. This is not a concept of less movement or less need to be fit. Actually, if the umpire is in sync with the game and adhering to these concepts, it will create more movement, but less strenuous movement to achieve the goal of being in the right place, at the right time with less stress to make the correct decision.

USFHA media release


---

Under 16 squads show great performance against Ulster



15 June 2018 at the National Hockey Centre, Glasgow Green. Scotland under 16s v Ulster

This weekend saw a jam-packed schedule for both Under 16 Scotland squads who faced Irish rivals, Ulster. The boys travelled over to Belfast whilst the girls matches took place in the Glasgow National Hockey Centre, of which both teams showed incredibly strong play and supplied a fantastic weekend of hockey.

The girls had the first of their three matches on Friday with Ellie Mackenzie starting the game off quickly with an attempted shot on goal, however stopped with a great save from Ulster goalkeeper. Scotland attack were strong with Zara Mason getting a break, having a great solo run from the half way line, just falling short of other attackers going into the D. Lucy Smith took another strike on goal with the ball just going wide however, the final quarter saw all the action unravel as Ulster had a great deflection with Lucy Craig, scoring right into the roof of the net, leading the Irish side 1-0. With a final few minutes left on the scoreboard, Charlotte Simmers equalised for the Scotland Under 16 Girls with a post deflection, with the final score ending in 1-1.

Game two saw both defences play incredibly well, with no goals getting let in for the majority of the game. With attempts from both sides, but just falling short, the game went into half time with the score 0-0. The second half came with more intensity with the pressure growing to get goals. This came in the final quarter, with Charlotte Simmers scoring a cracking strike into goal bringing the Scotland Under 16 team into the lead and ending the game with a 1-0 win.

The final game on Sunday saw a battle between the two sides. By the end of the first quarter, Scotland had lots of chances but Ulster were battling hard. In the second quarter saw the Irish side win a short of which they scored from, gaining a 1-0 lead. Scotland gain two shorts in the second quarter, however both were saved by the Ulster goalkeeper. Before the whistle blew for half time, Captain Anna Hoolaghan gives a great strike in the D however, the Ulster keeper saves it incredibly well, leaving the score 1-0 to Ulster. It was all to play for in the second half and this was clear from the whistle with Corrie Hay setting up a great pass to captain Anna Hoolaghan striking right into the goal putting Scotland on the scoreboard and equalising the game. Right at the end of quarter three, Ulster fought back with a cracking goal bringing the score to 2-1 right before the final quarter. The last 5 minutes of the game saw the Scotland Under 16 girls battle hard with strong attacking, however Ulster managed to keep their cool up to the final whistle, winning against the Scotland side 2-1. A great weekend of hockey with both teams playing very well.



18 February 2018 at the National Hockey Centre, Glasgow Green. Scotland under 16 boys v UK Lions

The boys were against Ulster over in Belfast and had a fantastic weekend of hockey. Their first match was one of incredible success, winning the overall game 8-2. These goals came from Ben Carroll, Joel Davenport, Daniel Pearson, Scott Menzies, Charlie Jack, Iain McFadden and 2 goals from Alex Wilson. The second match for the Scotland Under 16 Boys came with an impressive 10-1 win. This was a great performance showing skills and incredible team work.  The final match was a very tight and competitive game ending in a 3-3 draw, however, they ended the game with a win on running penalties. This was a very pleasing result and ending the series in a 3-0 victory for the Scotland Under 16 Boys against Ulster.

Scottish Hockey Union media release


---

MHC Competitions Committee yet to welcome new members

By Jugjet Singh

KUALA LUMPUR: After writing a 'Thank You' note to eight competitions committee members on Feb 26, manager Brian Fernandez has yet to send out a 'Welcome' notice to new members until Monday.

The Malaysian Hockey Confederation (MHC) have been running their skeleton crew competitions committee since then, chaired by George Koshy and managed by Fernandez.

As a re-cap, the competitions committee had "retired" eight of their members about four months ago after their term expired, and are still looking for new blood for another term.

Manager Brian Fernandez had said back then, that he was instructed to write the "Thank You" emails to all their members by chairman Koshy.

The previous members, who served for a year, said they only attended one meeting on June 10 last year.

And now, the 'competitions committee' has recommended to do away with Division One in the Malaysia Hockey League (MHL) next season, leaving about 10 clubs in jeopardy.

The plan is to host only the Premier Division, and this has not gone down well with many states who run clubs as well.

A state secretary who declined to be named questioned the validity of the competitions committee's decision.

"Have they recruited new members from states to fill up seats vacated by the eight members? If not, who decided to remove Division One from the MHL?," questioned the secretary.

When contacted, Kooshy said: "After the new Competitions committee members are informed and they accept their appointment, I'm sure MHC will update the media.

"Any changes (to the MHL format) will only be known after it (the matter) has been deliberated by the competitions committee at their next meeting," said the chairman.

The competitions committee were tasked with revamping the sagging MHL and they decided to only host the Premier Division next year.

Eight teams have registered for the Premier Division and they are  University Kuala Lumpur (UniKL), Terengganu Hockey Team (THT), Maybank, Tenaga Nasional, TNB Thunderbolts, Nur Insafi, Penang Hockey Club and UiTM.

Last season, six teams competed in Premier Division while 13 teams in two groups in Division One.

But the MHC are only interested in about 10-12 teams to play in the Premier.

Among the Division One clubs which will be hit hard if MHC carry out their plan are Politeknik-KPT, PJCC Tigers, Pahang Juniors, Kedah HC, RMAF Rajawali, Selangor and Ipoh City Council -- to name a few.

Jugjet's World of Field Hockey