All the news for Wednesday 8 August 2018

2018 Test Matches : CAN v FRA (M) - 1st test
Burlington (USA)

CAN v FRA     0 - 2

FIH Match Centre


---

Men's National Team takes on France in four-game test series

Canada wraps up summer competition schedule with European flavour




In January, Men's National Team Head Coach, Paul Bundy set an ambitious 2018 touring and hosting schedule for the team. As the calendar flips to into August, Canada is wrapping up their spring/summer of competition with four games against France and will set their sights on the home stretch of 2018.

    August 7 – CANADA 0 FRANCE 2
    August 8 – CANADA VS FRANCE – 1500
    August 10 – CANADA VS FRANCE – 1600
    August 11 – CANADA VS FRANCE – 1600

According to Bundy, getting consistent access to competitive matches in Canada is one of the biggest struggles the team faces when preparing for major competitions. With that in mind, Bundy and the MNT staff set a competition schedule that would not only give them access to more games but also different styles of play prior to their World Cup Appearance in the fall.

"We just finished against Pakistan and China which exposed us to the Asian style of play, the counter attacks, the speed," he said. "Now we're going to see France where we'll see the European style of play. It means we'll have to work on our team defense a lot more this week."

The team is coming off the back of a 10-game home series against Pakistan and China that took place during July in West Vancouver and Surrey. The team went 8-1-1 and is hoping to continue their winning ways on the road in Vermont this week. Although the Men's National Team is hosting this event, because it's on foreign soil and away from home, Bundy said it has that tour feeling to it.

"It's interesting. It's a home environment but away from home," Bundy said. "It actually feels like we're playing away from home on a tour, even though we're the hosts. It's quite a unique experience."

The team kicked off 2018 with a successful training and competition tour in Spain. They followed that performance up with a disappointing, yet eye-opening, Commonwealth Games. Bundy said since the wakeup call at Commonwealth Games, the team has stepped up their training and preparation.

"The guys worked on their technical, tactical and physical skills and preparation really hard in May and June," he said. "These games in July and August are great to test out and see where we are at after a long training block."

LOOKING FORWARD

The training blocks, the competition environments, the physical preparation. These have all been scheduled meticulously by Bundy and his staff in lead up to the World Cup and Olympic qualification.

"The World Cup is the pinnacle of field hockey," Bundy said. "Going and performing at events like the World Cup and Olympics is why we play. To have it in India, a place that really values hockey makes it even more special."

Check out the EVENT PAGE for the France test series to keep up to dates with results, schedule and photos from the event.

TEAM ROSTER
| PLAYER NAME | PROVINCE | CLUB | POSITION |
| --- | --- | --- | --- |
| BALRAJ PANESAR | BC | United Brothers | DEF |
| BRANDON PEREIRA | BC | United Brothers | DEF |
| GORDON JOHNSTON | BC | UBC HC | DEF |
| SCOTT TUPPER | BC | West Vancouver HC | DEF |
| KEEGAN PEREIRA | ONT | Muilhium HC | FWD |
| MATTHEW SARMENTO | BC | KHC Leuven | FWD |
| IAIN SMYTHE | BC | Vancouver Hawks | FWD |
| JAMES KIRKPATRICK | BC | West Vancouver HC | FWD |
| DEVOHN NORONHA TEIXEIRA | ONT | Toronto Lion HC | FWD |
| OLIVER SCHOLFIELD | BC | Klipper THC | FWD |
| ANTONI KINDLER | BC | West Vancouver HC | GK |
| DAVID CARTER | BC | United Brothers | GK |
| MARK PEARSON | BC | West Vancouver HC | MID |
| SUKHI PANESAR | BC | United Brothers | MID |
| TAYLOR CURRAN | BC | West Vancouver HC | MID |
| GABE HO-GARCIA | BC | Muilhium HC | MID |
| JOHN SMYTHE | BC | Vancouver Hawks | MID/DEF |
| RICHARD HILDRETH | BC | East Grindstead HC | MID/FWD |
| BREDNEN BISSETT | BC | NMHC Nijmegen | MID/FWD |
| JAMIE WALLACE | BC | UBC HC | MID/FWD |
Field Hockey Canada media release


---

Netherlands women retain top ranking following World Cup win




Following their Vitality Hockey Women's World Cup London 2018 win last weekend, Netherlands remain the world's number one women's team in the FIH Hero World Rankings.

In taking their eighth World Cup title thanks to a 6-0 win against Ireland in the final, the Dutch retained top spot, a position they have held since October 2011. Netherlands have been on an impressive run as of late, having not lost a match since 29 July 2017.

It was Ireland however who made the biggest of gains as they moved from 16th up to eighth position after securing the silver medal following their historic run to the Vitality Hockey Women's World Cup final. Their previous highest ranking was 14th.

England (Great Britain) remain in second spot following their sixth place finish in London while Australia jumped up to third, leapfrogging reigning Pan American champions Argentina, who move to fourth and Commonwealth Games champions New Zealand who dropped to sixth. Germany meanwhile move up to fifth.

Spain took the bronze medals in London to achieve their highest ever finish in World Cup history. Their 3-1 victory against Australia has seen them move up to seventh in the rankings. Asian rivals India (9) and Korea (10) round out the top 10, while China (11) and the USA (12) drop further down the rankings.

The next women's FIH Hero World Rankings will be updated following the conclusion of the Hockey Series Open in September 2018.

For the latest FIH Hero World Rankings for women's teams, click here.

FIH site


---

Hockeyroos Rise Up To Third On FIH World Rankings

Ben Somerford




The Hockeyroos have risen up two spots to be third on the latest FIH Hero World Rankings released on Tuesday evening (AEST) following their impressive 2018 World Cup campaign.

Australia had entered the 2018 World Cup in London ranked fifth but went on a fine run reaching the semi-finals before ending fourth.

The Hockeyroos' World Cup fourth-place finish has seen them move above Argentina, who they knocked out in a shootout in the quarter-finals, and New Zealand, who finished third in Australia's pool.

Australia moves up to 1640 points, 30 ahead of Argentina (1610), with Germany (1551) and the Black Sticks (1475) behind them.

World Cup winners Netherlands remain number one, while runners-up Ireland rise from 16th to eighth.

The ranking represents the Hockeyroos' best since August 2016's Rankings update in light of the 2016 Rio Olympics campaign where Australia lost in the quarter-finals.

The next major Rankings update will occur following the Champions Trophy in November.

Hockey Australia media release


---

Irish Women up to 8th in the World




The Irish women's senior team has climbed 8 places in the FIH World Rankings on the back of their silver medal success at the FIH World Cup in London.

Prior to the tournament, Ireland, ranked 16th, was the second lowest ranked side at the event. Wins over USA (ranked 7th) and India (10th) in the group stages, followed by penalty shoot-out wins again over India and then Spain (11th), on their way to the final meant that Ireland are now ranked 8th in the world.

World Cup champions, the Netherlands, have tightened their grip on top spot with England remaining 2nd. Australia has now moved to 3rd at the expense of Argentina who drop a place to 4th. The other big movers were the Spanish, who climb to 7th after beating Australia in the bronze medal match. .

Irish Hockey Association media release


---

Ireland road to Tokyo benefits from eight place rise




The Irish women's hockey team have soared to eighth place in the world rankings, moving up eight places following their run to the World Cup final.

It is the highest they have ever been and means both the men's and women's sides are both in the top ten.

Such a ranking comes with a potentially big benefit down the line in their Olympic qualification process. They will be the highest ranked side going into the Hockey Series events taking place next spring. Two out of eight sides in each of the three Series tournaments will advance to the next round which is a direct qualifier for Tokyo.

Those ties will take place on a two-legged basis with both games being played in the one country. Ireland's current ranking would almost certainly see them play at home should they get to this stage, avoiding a costly trip to somewhere like Chile, Japan or South Africa for just two games.

Where they will play that possible match-up, though, remains a mystery. Hockey Ireland is no longer an anchor tenant at the National Hockey Stadium in Belfield as they did not contribute to the funding of its redevelopment this summer.

As a result, they have been renting various different venues around the island with no fixed base, something which Graham Shaw says is crucial to resolve.

He put this ahead of a straight-forward funding for his side's programme as the key concern, putting pressure on the powers that be to help in this regard.

The Department of Tourism, Transport and Sport, meanwhile, have said the additional €1.5 million funding for world and Olympic championship programmes that minister Shane Ross announced on Monday comes from a "windfall" for the department.

The reasons for this windfall will be explained some time next week but the monies will have to be spent in the 2018 calendar year.

It does not form part of the new 10-year National Sports Policy announced in late July. Some of the grant will go to "back-fund" the World Cup campaign due to additional expenses from the side's extended run in the competition.

Sport Ireland will confirm the breakdown of funding allocation in the coming weeks and which sports will benefit from this surprise bonus money.

Minister Ross made the announcement at the homecoming for the Irish women's side in Dublin airport, his opening gambit drawing some of the players to tears. However, once the caveats were finished, it was clear the finances could be spread more thinly than they might have hoped.

The Hook


---

Ireland women's hockey team up to eighth in world rankings after World Cup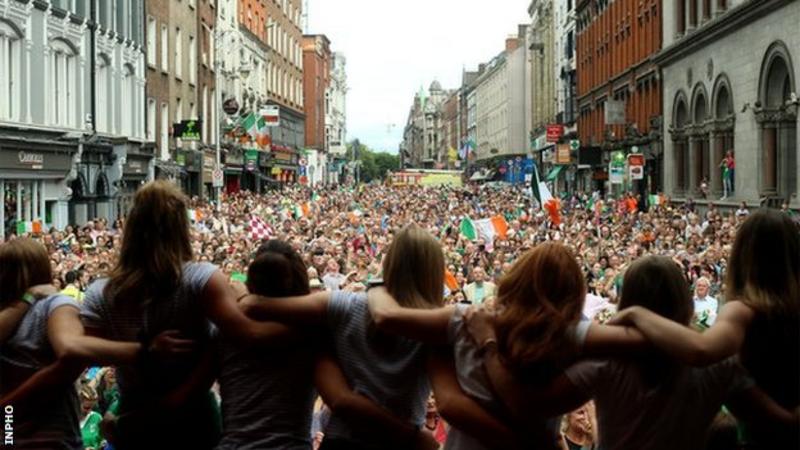 The Irish team received a warm welcome home in Dublin on Monday after their World Cup adventure

The Irish women's hockey team have rocketed up the world rankings to a best ever eighth position following their memorable World Cup campaign.

Ireland were in 16th place prior to the tournament and were the second lowest ranked team in London yet defied that status to reach the World Cup final.

The silver medallists will try to use their improved ranking to qualify for the Olympic Games for the first time.

They could now host play-off games at home to boost their Tokyo 2020 bid.

Ireland's previous highest ranking position was 14th.

The Netherlands, who beat Ireland 6-0 in Sunday's World Cup final, retain the number one ranking spot they have held since October 2011.

World Cup hosts England remain in second spot after their sixth-placed finish at the tournament.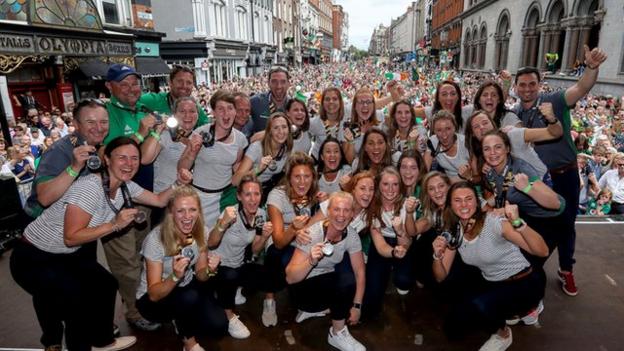 The Irish team won two penalty shootouts against India and Spain on their way to the World Cup final

BBC Sport


---

Black Sticks take a nosedive in world rankings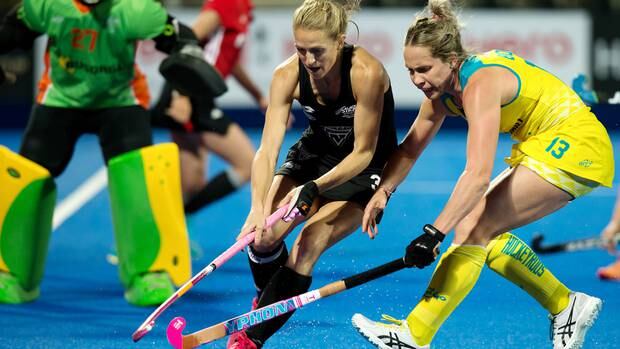 New Zealand's Stacey Michelsen in action during the World Cup. Photo / Photosport

New Zealand have paid dearly for their flop at the women's hockey World Cup in London.

The Black Sticks failed to make the quarter-finals and have dropped from fourth to sixth on the world rankings.

It continued a topsy turvy year for the women, who won the Commonwealth Games title for the first time on the Gold Coast in April.

The Black Sticks got themselves in a jam with their loss to 12th-ranked Japan in pool play.

The upshot was they had to play a crossover game against world No 3 Argentina just to make the last eight. They were beaten 2-0 and now that poor tournament has come home to bite them.

The big risers are the Irish, who came from nowhere to reach the final, where they were well beaten, 6-0 by world No 1 side the Netherlands. Ireland are now up to No 8 on the women's list.

The New Zealand men stay in ninth place on their rankings.

They have just completed tours to India and Japan as preparation for the men's World Cup in India later this year.

Their results were ordinary and they have plenty of work to do ahead of the cup.

Australia head the men's list from Argentina.

The New Zealand Herald


---

India has good defence, unable to convert chances to goals

By B.G.Joshi (in London)



Lidewij Welten(NED)-player of the tournament, Photo Avtar Bhurji (sportmediagroup.com.au)

Statistical review of London World Cup (women) indicates that Indian ladies stood first in defence.

They have defended 92 percent goal shots, however converted only 11 percent. In 36 matches 746 goal shots were created by all teams, most 141 by champions Netherlands. Ireland, Spain, Belgium and Italy have become formidable force by doing well in attack and defence. Here are statistical highlights:
How  they fared in London World Cup 2018

Team

Goal Shots(for)

Goal  Shots(against)

Obtained

GF

Strike rate

Conceded

GA

% success

 

 

 

 

 

 

in defence

Netherlands

141

35

25

23

3

87

Ireland

29

5

17

88

9

90

Spain

58

15

26

47

12

74

Australia

47

6

13

69

7

90

Germany

43

9

21

26

5

81

Argentina

76

11

14

29

6

79

England

69

5

7

29

4

86

India

46

5

11

36

3

92

Italy

27

5

28

69

15

78

Belgium

32

8

25

50

7

86

New Zealand

62

6

10

49

7

86

South Korea

22

1

5

51

11

78

Japan

37

7

19

41

10

76

USA

27

3

11

28

5

82

South Africa

11

3

27

68

11

84

China

21

2

10

45

11

76

Total

748

126

100

748

126

100

Top 4 in saving goals: 1-IND, 2-IRL, 3-AUS, 4-NED.

Top 4 in scoring goals: 1-ITA, 2-ESP, 3-NED, 4-BEL.

Fieldhockey.com


---

Spanish hockey hopes for funding boost after Women's World Cup history

By Richard Bright



Spain celebrate World Cup bronze after victory over Hockeyroos PIC: England Hockey

From "scraping through" Hockey World League 2 in Valencia in 2013 to World Cup bronze, Spanish coach Adrian Lock hopes that his side's brilliant success in London will bring in much-needed funding.

Spain played one their best games of recent memory to beat Australia 3-1 on Sunday to finish third and their best ever showing at the sport's showpiece.

"We talked about the opportunity we had to do something that nobody had done before, we wanted to write our own history," said Lock.

"It showed so much the passion and we took it to the Australians."

Lock, assisted by fellow Englishman Andrew Wilson, has been head coach to the Spanish Red Sticks since 2013, but has been with several of the team for a decade due to his work with the under-21 side.

"If you asked me three months ago if playing for bronze would have been a good result then we have said yes. We have never won a medal," added Lock.

"We've grown together as a team. I always thought it was in the offing to get this far. We sat down in 2013 as a squad and they decided as a team to qualify for the Olympics.

"We have got better in our mindset and training and that's what pays off in the big games."

Spain's sports council minister was in attendance at the Olympic Park on Sunday as Spain trumped their fourth place finish at their own World Cup in 2006.

"I'm hoping for funding and hopefully it will convince him to fund our sport and all of Spanish hockey," said a jubilant Lock.

In a football-obsessed nation, Spanish hockey has been helped along the way by Iberdrola, an energy company which supports women's sport and also sponsors Spain's domestic league.

"Companies are realising that women have a significantly more important place in society," added Lock.

Not least with Spanish hockey, which continues to be amateur. Lock said: "We try to get to together in small groups and train two to three times per week.

"They train as full-time athletes, but without being paid."

Lock has been based in Spain for 18 years. Asked whether he would return with aspirations of coaching the English team, Lock said: "I'm pretty happy in Spain. I feel like I'm part of Spanish hockey.

"I feel very English but I haven't been connected for a while, my passion is with my team."

The Hockey Paper


---

McCay to revisit retirement plans after silver medal



Shirley McCay salutes the crowd after the win over Spain. Pic: Frank Uijlenbroek/World Sport Pics

Ireland's most capped sportswoman Shirley McCay raised the possibility that she may no longer retire from international hockey following the Green Army's run to World Cup silver.

She had indicated last October that the competition would probably be her last but, when asked post-match, said she "can't say" for sure if she will step away after her 273rd cap.

For one thing, the 30-year-old from Drumquin will have to run the idea by coach Graham Shaw who is no doubt he wants her around for at least the road to Tokyo.

"First off, she will have to talk to me before she retires! She's been a true star, a real role model for all young female players in Ireland. Her journey can't end here and I will tell her that.

"We are 12 months away from an Olympic qualifier, 12 months of your career to achieve your ultimate dream.

"She has achieved one of them today with a silver medal. She's done a fantastic job for our sport and I am hopeful she can do a lot more in the next few years and then I will allow her to step away."

For McCay, it has been a 12-year journey, encompassing plenty of lows, missing out on three Olympics in agonising fashion.

As such, there is a temptation to depart on the highest stage imaginable but she says she will take her time over the decision.

"I can't say right now; this isn't about me, it's about the team and I am just so proud. I never thought this would happen so I need to go away and reflect and see. Maybe not, I can't say."

As for the final, McCay said it was a tough end but said the side can hold their heads high for their efforts against the Dutch juggernaut.

"We are disappointed that we conceded early. It was important to stay in the game early doors and give them a rattle but, hats off, they have been the best side in this tournament by a country mile and they showed that today. We gave a good account of ourselves and we have no regrets but class showed."

The win over Spain in the semi-final on Saturday, however, will be the indelible memory from a mad-cap two weeks in London.

"Yesterday was our final. We put a lot into that and knew we would be going away as medalists today which was amazing for us. Plenty of smiles at the end.

"We are used to the emotions of the lows rather than the highs. We are in the bubble; going home, we will have time to reflect and realise just what we have done for the sport and for the people in Ireland.

"We spoke at the start about it being important to raise the profile of hockey. We are not in the fortunate position where we can just showcase our ability. What we have done is so important to promote the game for sponsorship and funding. We are aware of the hype and we are just going to enjoy it."

The Hook


---

Shirley McCay: Ireland record holder tempted by Olympic qualification bid

Shirley McCay endured three Olympic qualifying 'heartaches' before Ireland's World Cup adventure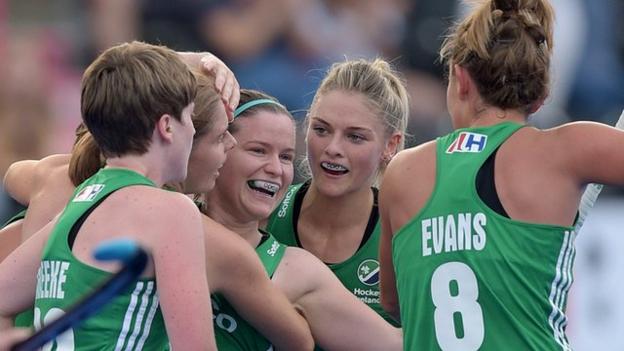 If McCay delays her retirement plans, she could become the first Irish hockey player - male or female - to reach the milestone of 300 caps

Ireland's most-capped sportswoman may shelve her retirement plans in the wake of her team's Hockey World Cup success.

Shirley McCay, 30, won her 273rd cap in Sunday's 6-0 World Cup final defeat by top seeds the Netherlands in London.

McCay had signalled her intent to retire but may now be tempted to stay on to help Ireland qualify for the 2020 Olympic Games.

"I suppose no-one could ever have imagined that the tournament would have gone this way," she said.

"I had mentioned that this might be my last, but I want to take a bit of time to go away and reflect on what we've done."

The Pegasus player has suffered more disappointment than any other Irish hockey player having been involved in three failed attempts to qualify for the Olympics.

"I've been involved in three Olympic qualification campaigns and I've had three heartaches. I had to go away and think whether I had another one in me or not."

When the dust settles on Ireland's memorable World Cup campaign, coach Graham Shaw is expected to try to persuade McCay to stay with the squad.

Her experience would be invaluable amongst a group well poised to mount a strong qualification campaign for Tokyo 2020.

"It is not too far away, but this has been very much about the team and I don't want to take away from that," she told BBC Radio Ulster.

"If I do go, I will be leaving them in a good place, but we will see.

"Undoubtedly the last six caps have been the best of my life, so I saved the best for last.

"We are on cloud nine, the welcome home yesterday [Monday] was phenomenal. The bubble burst to a certain extent when we came home, but the support has been fantastic."

BBC Sport


---

"Hockey ár lá" as spotlight finally shines on the sport



Picture: World_Sport_Pics, Rodrigo Jaramillo

Graham Shaw hopes the seismic publicity his Green Army troops created over the last two weeks in the Olympic Park can lay the base for "a changing moment" in hockey's history.

Their odyssey ended with a 6-0 loss in Sunday's final against a Dutch juggernaut in the final but not before becoming the people's champions.

The bandwagon brought Aisling Bea, Shane Horgan and Andrew Scott to town, taking their place in the sold out 10,600 crowd. The London-Irish community came out in full force along with planes and ferry loads of fans, scrambling overnight to pick up tickets.

A week before, just three journalists were in situ for the loss against England. Now, the local organisers were forming an overflow section for the glut of new arrivals.

Could they witness one last shock from a wild tournament, one in which the world number 11 Spain had just won bronze? Emphatically no. Lidewij Welten – the world's best player for 2017 – found an inch of space in the circle and clipped home for an early lead.

Three more followed before the half was out and another two in the opening minutes of the second half. Ireland held firm for the remaining 25 minutes but this Dutch side is one of the most dominant in any sporting arena in the world.

This was their eighth World Cup title, retaining it to add to the World League and European Championships won in 2017. They have not lost a game since the 2016 Olympic final shoot-out.

But Ireland departed the stage with their heads held high, the unpaid side topping a group with three professional outfits before knocking out the higher ranked India and Spain in heart-stopping shoot-outs.

"Don't judge us on today," Shaw said of the final. "That Dutch team are miles ahead of everybody in the world right now. Judge us on a silver medal in a worldwide competition. I don't know anyone in Ireland who can say that, a truly remarkable achievement."

They did it all with smiles on their faces, frequently describing it "as like Christmas" and asking for people to "pinch me" as their run got more and more surreal.

And they played a blinder with the media, ceding to every request as the coach and the team knew they would never have a better stage to promote the hockey gospel.

"Hopefully this will be a changing moment in our sport," he said. "Hopefully it a changing moment in these girls lives because they deserve it. We see people in our sport who are iconic in their country for what they have done. These girls now are absolute legends in my book. What an achievement! To come in second lowest ranked and to make a World Cup final is just an absolute dream come true."



Picture: World_Sport_Pics, Rodrigo Jaramillo

The knock-on effect is also tangible. They are assured of moving into the top ten in the world rankings, something that brings a big boost of a possible home Olympic qualifier in 12 months time.

More immediately for Shaw, he has already found out about one new convert with his daughter saying she wants to be a hockey player having never shown any interest before.

He also hopes that it will bring much greater funding, providing leverage to get the resources to allow the team spend more time together.

"We're second in the world and just played in a World Cup final. It's now or never. If people can't get behind the sport now and see what we can achieve and the rewards for the Irish community now, when?

"If we can put long-term strategies in place and a home in place, we can achieve more in future. There is enough talent in Ireland to win medals in this sport, there is no doubt in my mind. It's about giving them a platform to succeed.

"We're not the kind of people to stand still. There will be a lot of satisfaction in what we have achieved but we want to make the next step to the Olympic Games and compete there.

"The challenge lies in how often we can get the group together. That's the big problem we always face. When they're based all around Ireland, it's very, very difficult to get them together.

"Then when we do get them together, we're trying to rent pitches. We end up scattered around as a senior squad, 21s squad, 18s squad.

They're challenges we now need to overcome. Is it a big gap? No. We're well capable now of qualifying for Tokyo.

"There is going to be expectation now but with expectation comes opportunity and we're going to grab this opportunity now, because we want to qualify for Tokyo.



Picture: World_Sport_Pics, Rodrigo Jaramillo

"That's the next aim now. We set out two years ago to qualify for the World Cup and then represent ourselves as well as we possibly can in this World Cup.

"Obviously now we need to build on that. Our next objective when we come together in October will be the Olympic games."

They will do so with a vastly inflated supporter's club. Just 80 people took in one of their last warm-up games against Japan at the Mardyke.

This week, they played to five figure crowds three times, each one with the Irish voices by far the loudest. Cardboard signs of "Pinderella will go the ball", "Thank Heavens for Evans" and "Hockey ár lá" were slung over railings; it was unlike anything the Green Army had ever seen.

"The support has been overwhelming. I mean today felt like a home game. Just an incredible atmosphere and we're so grateful to the people who travelled over to support the team and we're so grateful for the support you guys give us.

"It has been an incredible journey and a real dream come true. I've kept away from social media in the last few weeks because you can get ahead of yourself, I've tried to stay a little bit grounded. I'm just looking forward to getting home and sharing our stories. What a remarkable achievement this has been!"

** This article originally appeared in the Irish Examiner on Monday morning

The Hook


---

Irish World Cup hockey success leaves Dad in a wedding sweat

By Ross McKee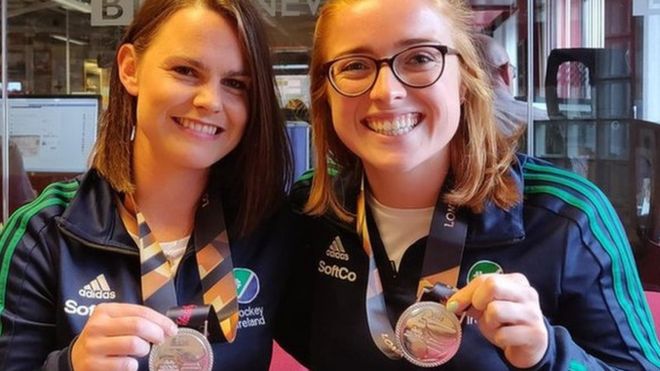 Lizzie Colvin (left) and Zoe Wilson display the silver medals they won at the World Cup in London

Tension dominated Ireland's World Cup hockey odyssey, but key player Lizzie Colvin believes her father is now perspiring after she said she would have to add 17 bridesmaids to her wedding party.

The lawyer made the comment after the final defeat to the Netherlands.

Lizzie hopes to get hitched to South African fiancé Matthew Holden in 2019.

"My poor dad's sweating now he is going to have to increase that wedding budget," she said.

The Belfast Harlequins midfielder joked that her Ireland teammates may also be nervous if she insists on a full guard of honour from the bridesmaids, including hockey sticks raised to the roof.

"I have always said that was naff, so they might have to do it in full kits as well," she told BBC News NI.

"I hate that as much as them, so I might make them do it."

Unexpected engagement

Lizzie met Matthew on a four-month visit to New Zealand after Ireland failed to qualify for the 2012 Olympics.

They got engaged in January, in Salzburg, Austria, on her birthday.

"It was unexpected, he took me by surprise," she said.

"In terms of the wedding, we are going to wait until after the buzz of the World Cup, we are looking at the end of 2019 hopefully."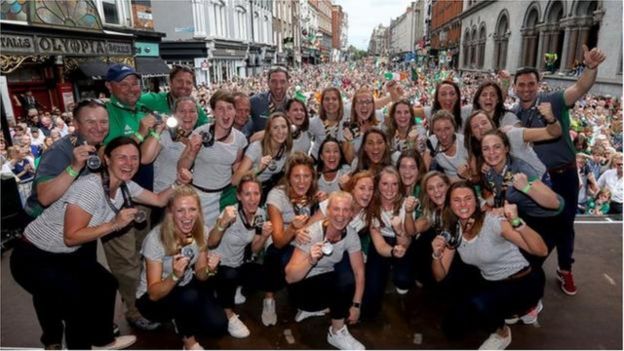 The Ireland women's hockey team were greeted by thousands in Dublin following the World Cup tournament

Like several members of the Ireland squad, Lizzie has had to juggle her hockey ambitions with the demands of full-time work.

She started playing adult hockey as a teenager and previously helped Armagh to six successive promotions, before playing for Dublin side Loreto for five years.

In the build-up to the World Cup in London, the Ireland players were training five times a week.

'Stress relief'

Despite this, Lizzie, who has more than 150 caps, and specialises in employment law with Belfast firm DWF, looks at hockey as stress relief.

"It is difficult juggling the two, when I told my boss Ken Rutherford I was going to the World Cup he was very supportive, he played hockey for Ulster and Ireland," she said.

"I am more appreciative when I am playing hockey.

"I see it as a release of stress, you forget all the things that are on your desk when you are playing."

Dramatic wins

Lizzie was among six members of the Ireland squad from Northern Ireland who collected silver medals at the World Cup after securing dramatic wins over Spain and India.

Another player, Zoe Wilson from Ballyclare, is studying nutrition at Ulster University, and described the whole experience as "outstanding".

"It was excellent that we made a dent on world hockey," she said.

The former student of Syracuse University in New York acknowledged that a number of the Ireland squad had played other sports as well as hockey and felt this had contributed to their success.

Megan Frazer from Londonderry is a former Northern Ireland youth international at soccer, while captain Katie Mullan from Coleraine helped Eoghan Rua GAA (Gaelic Athletic Association) club claim an All-Ireland Intermediate camogie title.

"I used to play badminton, it is all about hand-eye coordination, playing different sports is only going to help in your hockey career," Zoe said.

The team's singing skills have also been on display across social media and Zoe said team bonding has also been a vital ingredient.

"We spend a lot of time together off the pitch and are the best of friends, we are hoping to spend more time together at Lizzie's wedding," she added.

Northern Ireland's other hockey stars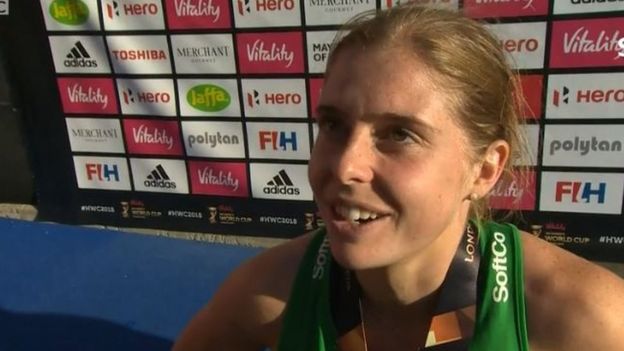 Katie Mullan is captain of the Ireland team

Katie Mullan

Ireland captain Katie Mullan, from Coleraine, previously played camogie for the Eoghan Rua GAA club, and was part of a squad that won an All-Ireland Intermediate camogie title.

She is a masters student in Biomedical Engineering at UCD, and was part of their team that claimed the Irish Senior Cup in hockey last year.

Katie, who has more than 150 caps for Ireland, is a keen surfer in her spare time. She says the focus now is on qualifying for the Olympics in 2020.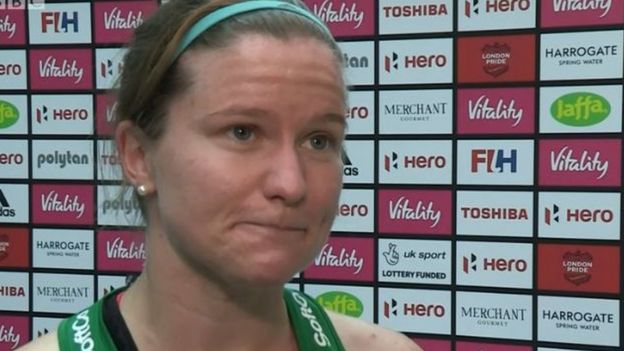 Shirley McCay may now be tempted to stay on to help Ireland qualify for the 2020 Olympic Games

Shirley McCay

Shirley McCay from Drumquin in County Tyrone is Ireland's most capped sportswoman, with more than 270 appearances for Team Ireland.

The Pegasus player had previously announced she would retire after the World Cup, but now says she does not want to make any "hasty decisions".

She is a talent coach with Ulster Hockey.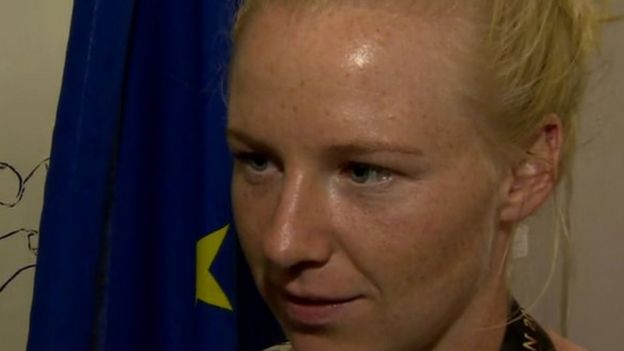 Ayeisha McFerran has said the secret of her quick feet is 11 years of Irish dancing

Ayeisha McFerran

Ayeisha McFerran from Larne was named goalkeeper of the tournament at the World Cup in London.

She has said the secret of her quick feet is 11 years of Irish dancing.

Ayeisha is entering the final year of a hockey scholarship at the University of Louisville in Kentucky.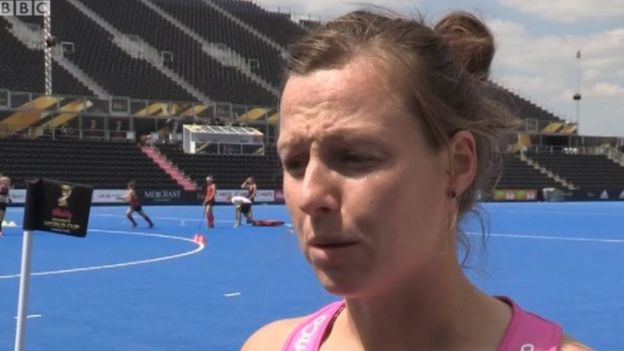 Megan Frazer played with Mannheimer HC in the German Bundesliga

Megan Frazer

Megan Frazer from Derry battled back from a serious knee injury to take her place in Ireland's World Cup squad, but missed out on the final due to a hamstring injury.

The former Ireland captain, who played with Mannheimer HC in the German Bundesliga, previously had three rounds of surgery to correct a knee ligament injury.

Megan, who has undertaken a masters in Biomedical Engineering at Ulster University, played women's football for Northern Ireland at youth level, before switching her attentions to hockey.

BBC Sport


---

Hockey players dues cleared, claims PHF president

Mohsin Ali

ISLAMABAD - Pakistan Hockey Federation President Brig (R) Khalid Sajjad Khokhar Tuesday said the federation has cleared all the dues of the players and team management. Khokhar revealed that he has arranged the funds through his own resources to fulfill his commitment as he had promised the players and management to clear their dues before the departure of the team to Jakarta, Indonesia for Asian Games.

"I had managed to arrange the funds through my own resources as I am a man of commitment and Allah has given me the strength to keep on my promises and words. The players will get each and every penny owe by the federation by Thursday morning a day earlier then departure."

He said Pakistan hockey team will depart in the wee hours of 11th morning from Jinnah International Airport, Karachi. However, the PHF president was not impressed by the players' behaviour.

"Let me made one thing very clear that by staging protest they had not sent a good message about the image of the country. In past too, I always managed to address their concerns. They should have registered their grievances with me. If I fail to address those grievances then they could have made statements anywhere they like to. To me, country comes first and I will never ever even think about inflicting damages to my beloved country."

Brig. (retd) Khokhar also revealed that Chinese Hockey Association had accepted his proposal of playing a series with Pakistan prior to green shirts departure to Jakarta, Indonesia for Asian Games.

"We are highly grateful to China Hockey Association for being so kind and accepting our request. But now time is very short and this series could not be materialised." The PHF said he held a highly wonderful and fruitful meeting with Chinese Hockey Association in Beijing and Chinese expressed their willingness to cooperate and further extend hockey relations between the two countries.

"They not only agree to my proposal but also sent a letter in which they agreed to play warm-up match in China before the start of 2018 Asian Game in Jakarta. However, due to short time and budgetary issues, as the expenses of transportation and accommodation has to be be paid by Pakistan hockey team itself, we have to decline this offer."

He said 25-member strong Pakistan delegation including players and officials will depart to Jakarta and the federation was highly optimistic about the favourable results. "We have given every possible help, facility and conducted long-term training camp in Karachi. Despite the fact, the federation is financially in dire straits even then for me Pakistan comes first. I once again want to make it very clear to my players that never ever for a moment even think about damaging country's image and just concentrate on playing and winning for Pakistan. Until and unless I am here, they would never ever face any financial issues and I will utilise all my abilities to ensure green shirts achieve all the past glory days heights," Khokhar concluded.

The Nation


---

Pakistan to host first major hockey event in 14 years

By Yousaf Anjum



PHOTO: AFP

LAHORE: The International Hockey Federation (FIH) has approved Lahore as the venue to host the Six-Nation Hockey Junior Series Open to be held from September 22 to 30.

Pakistan will be hosting an FIH for the first time in 14 years, with the 2004 Champions Trophy being the last major event to be played in the country.

The FIH has planned to hold a number of tournaments for emerging countries to provide them with a chance to groom their teams for higher grade hockey. As many as 10 centres will host the series and Pakistan is one of them.

Pakistan Hockey Federation (PHF) Domestic and Development Director Naveed Alam said that the event was scheduled to take place in Rawalpindi but the FIH has approved a shift from Rawalpindi to Lahore.

Private group to pay hockey players

"Hockey teams of Oman, Sri Lanka, Kazakhstan, Bangladesh, Afghanistan and Qatar will be seen in action here at Lahore's National Hockey Stadium from September 22 to 30," said Naveed. "We are trying to schedule some matches for the foreign teams with the Pakistan junior team so that they could have some competitive experience."

Naveed added that the PHF, with the help of the Asian Hockey Federation, has already started preparations to host the international event.

The director added that the PHF has formed a Local Organising Committee, which is headed by the PHF secretary and comprises of hockey Olympians as well as members of the Punjab Sports Board, the Punjab provincial government and security agencies.

"The PHF president and secretary are very keen to avail this opportunity to hold the event successfully and prove to the world that Pakistan can now host international events without any concerns," he said. "This event will help Pakistan bring back international hockey to the country."

Naveed added that hockey is the country's national game so everyone has to play their role in order to make this international event a successful one. "We plan to invite the Punjab Chief Minister at the inaugural ceremony while the Prime Minister will be invited as the chief guest on the concluding day of the event," he added.

The Express Tribune


---

Junior USMNT Falls in High Scoring Match to Chile in First Series Game



Photo by Thomas Tarala

GREENWICH, Conn. - Yesterday evening, the Junior U.S. Men's National Team played their first match of a four-game test series against Chile at Sacred Heart Greenwich in Connecticut. The high scoring match saw both sides take advantage of scoring opportunities, but it was Chile who matched and extended USA's tempo as the red, white and blue fell 5-7.

"We scored five goals today and we're obviously very content with that," said Rutger Wiese, Junior USMNT Head Coach. "Our defensive structure was not there but, as with the senior team, that will be a major point of attention as we're restructuring that part of our game."

Both teams were aggressive from the start, with USA controlling possession for the majority of the first quarter. With three minutes remaining in the period, Liam Hawley (Ventura, Calif.) sent the ball into the circle from the left and a deflection from Cameron Spach (Thousand Oaks, Calif.) gave USA the first score of the contest, 1-0.

Chile scored two goals in rapid succession early in the second quarter to take the lead, 1-2. The remainder of the second quarter was a back and forth game with USA's defensive unit shutting down two penalty corner attempts by Chile and creating multiple scoring attempts through the last minute of the frame.

USA did not let up on the pressure and just after the open of the third quarter, Alberto Montilla (Allen, Texas) received the ball near the 25. With a forehand turn, he passed to Graeme Jackson (Moorpark, Calif.) at the right side who tracked to the top of the circle and made a clean shot into the left back corner to bring USA even with Chile, 2-2. Chile responded shortly thereafter with a pull-ahead goal and a penalty corner conversion to extend their lead, 2-4. USA continued working hard to keep the pressure up and with five minutes left in the third quarter, Montilla passed directly to Spencer Walshaw (Thousand Oaks, Calif.) who got the shot off quickly, not giving Chile's goalkeeper time to make the save. The intensity of the action continued in the remaining minutes as USA goalkeeper David Kristof (Darien, Conn.) had a terrific save off the glove only to have Chile's quick reflexes score on the rebound. With only 15 seconds remaining on the clock, USA's Wander Hommes (Westlake Village, Calif.) set up Montilla for a penalty corner stroke mark deflection goal to bring the score at the end of the quarter to 4-5.      

In the fourth quarter, another quick score pushed the game further out of reach as Chile pulled to a 4-6 lead off a field goal. As the clock ticked down, a shot was saved by Chile's goalkeeper, but rebounded toward the center of the circle where Montilla was ready with a quick follow-up shot to make it 5-6. Chile responded quickly and scored in the same minute as despite their efforts, USA was defeated by Chile 5-7.

The Junior U.S. Men's National Team will play against, this evening at 6:00 p.m. ET in the second game of the series. Prior to the start of the game is a Free Learn to Play Field Hockey Clinic. Boys and girls, ages 5+, are invited to attend this opportunity to try the sport and learn from the USMNT coaching staff. Click here for more information or to register.

For more information regarding the Junior USMNT vs. Chile series, including full schedule, results and roster, check out the official event program by clicking here.

USFHA media release


---

Beautiful Barcelona provides perfect backdrop as EHL ROUND1 tickets go on sale



©: Frank Uijlenbroek

Tickets have gone on sale for Euro Hockey League ROUND1 where you can see some of the best club hockey up close and personal with friends and family in the beautiful city of Barcelona.

The Pau Negre Stadium in the Olympic quarter provides a beautiful backdrop for an October weekend with 12 top club sides around Europe battling for the four KO16 tickets on offer.

It features teams from 12 different nations in four groups of three with 12 matches to enjoy while embracing the atmosphere of one of Europe's most beautiful and historic cities with the potential for some autumnal sun.

Tickets for what promises to be another spectacular event are on sale now via the following link: http://ehlhockey.tv/tickets/ Day tickets are available for €15 while children's day tickets are €8.

EHL ROUND1 match schedule (Pau Negre Stadium, Barcelona, October 5-7, 2018)
Pool A: HC Oranje-Rood, Grange, SV Arminen
Pool B: Mannheimer HC, Wimbledon, Dinamo Elektrostal
Pool C: Royal Leopold, HC Minsk, WKS Grunwald Poznan
Pool D: Junior FC, Racing Club de France, Three Rock Rovers

Friday 5 October 2018 (all times CET)
M1        11.15h Pool C HC Minsk (BLR) WKS vs WKS Grunwald Poznan (POL)
M2        13.30h Pool A SV Arminen (AUT) vs Grange HC (SCO)
M3        15.45h Pool D Racing Club de France (FRA) vs Three Rock Rovers (IRL)
M4        18.00h Pool B Wimbledon HC (ENG) vs Dinamo Elektrostal (RUS)

Saturday 6 October 2018 (all times CET)
M5        10.15h Pool C Royal Leopold (BEL) vs WKS Grunwald Poznan (POL)
M6        12.30h Pool A HC Oranje-Rood (NED) vs Grange HC (SCO)
M7        14.45h Pool D Junior FC (ESP) vs Three Rock Rovers (IRL)
M8        17.00h Pool B Mannheimer HC (GER) vs Dinamo Elektrostal (RUS)

Sunday 7 October 2018 (all times CET)
M9       09.30h Pool C Royal Leopold (BEL) vs HC Minsk (BLR)
M10      11.45h Pool A HC Oranje-Rood (NED) vs SV Arminen (AUT)
M11      14.00h Pool B Mannheimer HC (GER) vs Wimbledon HC (ENG)
M12      16.15h Pool D Junior FC (ESP) vs Racing Club de France (FRA)

Note: Match times and schedule subject to change due to the requirements of television or other factors as determined by EHL.

Byes to KO16 (subject to confirmation via entry forms due by August 1, 2018):
Netherlands: SV Kampong, AH&BC Amsterdam
Germany: Uhlenhorst Mülheim, Rot-Weiss Köln
Belgium: KHC Dragons, Waterloo Ducks
Spain: Real Club de Polo, Club Egara
France: Saint Germain
England: Surbiton
Russia: Dinamo Kazan
Scotland: Grove Menzieshill

Euro Hockey League media release


---

Hockey Challenge set for exciting finale



Five Eastern Cape teams, including Hudson Park (left) and York (right), will battle it out in the provincial finals of the SPAR Eastern Cape Schoolgirls Hockey Challenge at Woodridge on Saturday. Picture: Full Stop Communications

Another thrilling year of competition will culminate in what should be an intriguing finale when the SPAR Eastern Cape Schoolgirls Hockey Challenge takes place at Woodridge, just outside Port Elizabeth, South Africa on Saturday.

A total of five teams will contest the provincial finals, meeting each other in a condensed version of the game to decide the Eastern Cape champions for 2018.

With a number of established schools such as defending champions Clarendon and EP teams Collegiate, Woodridge and Pearson not having qualified this year, the race is on to see who can seize the moment.

National tournament director Les Galloway said the fact that a team such as Alexander Road had reached the provincial finals was indicative of the opportunities the tournament provided.

"It is brilliant to have a team like Alex in the finals for the first time because it provides exposure for another set of players," she said.

"And then there is also a school like Hudson Park, who are back after missing out last year. It shows that this tournament gives so many opportunities to different players."

Galloway said there would be plenty of pressure in the finals when matches will be played over 30 minutes (15 minutes in each half).

"There are some quality sides in attendance and it will all come down on the day to who wants it the most."

She referenced the recent women's World Cup in Britain, which saw the lightly regarded Ireland reaching the final against all the odds.

"That was a platform for them to succeed and although this is obviously on a smaller scale this tournament is a chance for the players and the coaches to show what they can do," said Galloway.

"You just never know who will lift the trophy in the end."

In its third year in the Eastern Cape, she said the Challenge had proved to be extremely successful, thanks to the involvement of SPAR Eastern Cape.

"We have seen about 700 to 750 girls exposed to a level of hockey they might not normally face and this is all due to the support we have from SPAR.

"This year PE Inland winners Kingswood are unable to attend the finals and have been replaced by Victoria Girls of Grahamstown.

"They are over the moon at having received this opportunity and it just shows the importance of creating these chances for our young hockey players."

SPAR EC sponsorship and events manager Alan Stapleton said the nature of the format made for a day full of surprises.

"We are really excited about the unpredictability of the Hockey Challenge finals where there are absolutely 'no favourites'," he said.

"We are looking forward to a great day of competitive fun and renewing friendships."

The teams competing are Alexander Road (PE Coastal), VG (PE Inland), Hudson Park (Border Coastal), Kingsridge (Border Inland) and York (South Western Districts).

Play will start at 8am, with the final scheduled for 2.15pm.

Fullstop Communications media release for the SPAR Eastern Cape Schoolgirls Hockey Challenge