All the news for Friday 10 August 2018

Marijne looking ahead with fresh hope

World Cup result has raised self-confidence, says the coach

Uthra Ganesan



Ready to rumble: Sjoerd Marijne, seen with captain Rani Rampal, is happy with the way the team has adapted to challenges. Photo Credit: HANDOUT_E_MAIL

The Indian women's hockey team finished eighth at the recent World Cup and its performance has given fresh hope to the team ahead of the Asian Games.

Top-ranked Asian team

The fact that the result pushed India ahead as the highest-ranked Asian side in the world has added to the team's confidence, said coach Sjoerd Marijne.

"We have a lot of self-confidence because we did better than the other teams. It is important to take that to the Asian Games and that's what the girls also feel," Marijne told The Hindu.

With just a week's stopover before flying out again, there will be little time for any serious training, but the team will play Japan in practice games after reaching Jakarta next week.

"The defending was really good but we must not lose it now.

"We need to intercept more balls and need to do more with them, then we will score more," he said.

The pitch at the London venue was not ideal, but Marijne insisted there were no excuses. "All teams have to play on the same surface. It is not an excuse but a fact. The slow pitch was one of the reasons it was difficult to pass the ball fast and there were so many turnovers. Only Holland managed to do it, everyone else struggled.

"Same was the case during penalty corners. Not too many were converted by any team and the ones that were scored were variations because the pitch was a bit bumpy. In the last match also, the injection wasn't good and the ball was not in a good position to score," he explained.

The coach, however, was happy with the way the team adapted to the challenges.

"We started playing short passes more than long ones because it was more difficult to intercept short ones. Now, if we can combine short and long passes, it would be ideal. But we maintained the discipline and the structure, which was very important ahead of the Asian Games," he said.

As for shoot-outs, which let India down in the quarterfinals, Marijne was practical.

"We do it a lot in training, but it's not the same as doing it with 10,000 people watching. If you experience things, you learn from it.

"We have experienced this moment and will learn from this. I am confident we will win if we have to do it again," Marijne declared.

The Hindu


---

Kirandeep the youngest member in Asiad-bound hockey squad

By Aftar Singh

KUALA LUMPUR: Fifteen-year-old Kirandeep Kaur is the youngest women hockey player to be named for the Indonesian Asian Games.

The Malaysian Hockey Confede­ration (MHF) technical director Terry Walsh who was impressed with Kirandeep's performance, said she deserved a place as she showed her maturity of the game in the World Series in Singapore.

"Kirandeep also played well in the five match playing tour to Brisbane recently," he said.

The Australian was also happy with the progress shown by the national women's team in tournaments.

"They have players of calibre, who have the ability to rise to the occasion to play well in the Games.

"I believe that the national women's players have the ability to qualify for the semi-finals," said Walsh.

Kirandeep, a Form Three student of SMK Bukit Bandaraya in Bangsar, was overjoyed to be in the Asian Games.

"I never expected to be in the Asian Games squad as I only joined the national team in training in June.

"I also lack match exposure as I only played in one tournament in Singapore," said Kirandeep, who scored a goal in the World Series in Singapore, which Malaysia won.

"I thank coach K. Dharmaraj for having faith in me and I vow to give my best in the Games.

"I will not get intimidated playing against older players in the Games as I have proven this in the playing tour to Brisbane where I scored two goals in five matches.

"My mission in the Games is to score goals and help Malaysia qualify for the semi-finals," said Kirandeep, who is playing in the National Schools Sports Council (MSSM) Under-16 tournament in Ipoh.

Another veteran Noor Hasliza Mohd Ali, who only joined the national team in training in June after giving birth in April, was also included in the squad of 18 players for the Asiad.

Ten teams will feature in the women's event and Malaysia are drawn in Group A with China, Japan, Hong Kong and Taiwan while Group B comprises South Korea, India, Thailand, Kazakhstan and Indonesia.

THE SQUAD

Farah Ayuni Yahya, Mas Huzaimah Mohd Aziz, Siti Noor Amarina Ruhani, Juliani Mohamad Din, Raja Norsharina Raja Shabuddin, Nuraini Abdul Rashid, Fatin Shafika Mohd Sukri, Fazilla Sylvester Silin, Wan Norfaiezah Mohd Saiuti, Surizan Awang Noh, Noaazlin Sumantri, Hanis Nadia Onn, Nuraslinda Said, Nur Syafiqah Mohd Zain, Nur Amirah Shakirah Zulkifli, Nur Zafirah Aziz, Kirandeep Kaur, Noor Hasliza Mohd Ali.

The Star of Malaysia


---

Terry Walsh: Kirandeep a good find

By Jugjet Singh

KUALA LUMPUR: The Malaysian Hockey Confederation (MHC) Thursday released men's and women's team lists for the Jakarta Asian Games, with Kirandeep Kaur stealing the limelight.

The 15-year-old was the only 'new face' in both the men's and women's teams who will be gunning for gold and bronze in Jakarta respectively.

MHC Technical Director Terry Walsh was all praise for the Form Three student.

"The rest of the players, men's and women's, are familiar faces with Kirandeep Kaur being the exciting new inclusion. I have watched her in training as well as matches, and I believe she has tremendous potential at such a young age," said the International Hockey Federation (FIH) Master Coach.

TimeSport had reported on Wednesday that Kirandeep Kaur will become the youngest hockey player in Malaysia to play in the Asian Games, thanks to visionary coach K. Dharmaraj.

And when asked his projection on what the men and women are capable of at the Asian Games?

"I expect both our teams to break new ground in the Games. The women should put up a good fight to qualify for the semi-finals and then chase for a medal, while the men should play in the finals," said the two-time Olympian Australian.

The men are in Group B with Pakistan, Bangladesh, Oman, Kazakhstan and Thailand while the women are in Group A with China, Japan, Hong Kong and Taiwan.

Yesterday, players from both teams received shoes sponsorship from Vik Network.

MEN -- S. Kumar (gk), Hairi Rahman (gk), Sukri Mutalib, Razie Rahim,
Syed Syafiq Syed Cholan, Azri Hassan, Faiz Helmi Jali, Nabil Fiqri,
Marhan Jalil, Meor Azuan Hassan, Fitri Saari, Joel Samuel van Huizen,
Amirol Aideed Arshad, Tengku Ahmad Tajuddin, Faizal Saari, Nik Aiman Nik Rozemi, Firhan Ashari, Shahril Saabah.

WOMEN -- Farah Ayuni Yahya, Mas Huzaimah Aziz, Siti Noor Amarina,
Juliani Din, Raja Norsharina, Nuraini Rashid, Fatin Shafika,
Fazilla Sylvester Silin, Wan Norfaiezah Saiuti, Surizan Awang Noh, Norazlin Sumantri, Hanis Nadia Onn, Nuraslinda Said, Nur Syafiqah Zain, Nur Amirah Shakirah, Nur Zafirah Aziz, Kirandeep Kaur, Noor Hasliza Al

Jugjet's World of Field Hockey


---

Dharmaraj hospitalised



New shoes: Malaysian Hockey Confederation ( MHC) president Datuk Seri Subahan Kamal (centre) and the Asian Games-bound hockey players posing with the astroturf shoes presented to them by Vik-Network in Bukit Jalil. —RAJA FAISAL HISHAN / The Star

KUALA LUMPUR: National women's hockey coach K. Dharmaraj has been hospitalised due to indigestion.

Malaysian Hockey Confederation (MHC) president Datuk Seri Subahan Kamal said Dharmaraj underwent scanning to check the extent of hisproblem.

"He is still waiting for the results and I don't think that it is anything serious.

"We have also asked ISN (National Sports Science) doctor Arshad Puji to check on Dharmaraj's condition.

"Lailin (Abu Hassan) will temporarily be in charge of the Asian Games-bound team. I am confident that Dharmaraj will be back to lead the team for the Asian Games," said Subahan.

Meanwhile, the 18 men's and 18 women's hockey players received a boost ahead for the Asian Games.

Vik-Network presented each player with a pair of Adidas astroturf shoes for the Asian Games.

Vik-Network was represented by former international I. Vicknes­waran and 1975 World Cupper K. Balasingam.

Subahan said MHC have signed a partnership with Adidas Hockey to provide players with equipment.

"I thank Adidas Hockey for providing the shoes for the Asian Games-bound players.

"We (MHC) support the players as much as we can by proving equipment and take care of their welfare," said Subahan.

The Star of Malaysia


---

Defensive Strides Made as Junior USMNT Drops Close Game 2 to Chile



Images Taken by Christa DeAngelis & Maryse Govaert

GREENWICH, Conn. - After being postponed due to weather Tuesday evening, the Junior U.S. Men's National Team took to the pitch at Sacred Heart Greenwich in Connecticut early on Wednesday for their second game against Chile. Tied 1-1 at the half, USA continued to make strides on their defensive structure but couldn't capitalize on offensive opportunities as they fell in a close 1-2 battle to Chile.

"We showed improvement in our defensive organization for most of the game, and we're content with that," said Rutger Wiese, Junior USMNT Head Coach. "However, we still have big strides to make both offensively as well as defensively. We're looking forward to match number three."

USA opened the game quickly with a well-executed penalty corner shot by Finlay Quaile (Tauton, United Kingdom) in the fourth minute to give USA a 1-0 lead. Chile responded quickly with a field goal of their own two minutes later to tied the game, 1-1.
 
Play went back and forth for the remainder of the first quarter and throughout the second quarter with neither team able to break through the other's defensive units. Score at halftime remained in a deadlock, 1-1.

After the half, the struggle for control continued but Chile earned a penalty corner in the 36th minute. Denied on that chance, they kept up penetration efforts and was awarded another penalty corner in the 39th minute. On Chile's second attempt, the initial shot was blocked but a swift rebound attempt put the ball in the goal to make it 1-2.




For the remainder of the game, USA limited further opportunities for Chile and rallied in the attacking end in the final minutes but ultimately conceded the game to Chile 1-2.
 
The Junior U.S. Men's National Team will play again, this evening at 6:00 p.m. ET in the third game of the series.

USFHA media release


---

Junior Development Squad with a gutsy four-game performance against U19 Chilean National Team

Contingent of Canadian juniors push to a 1-2-1 record against Chile's U19 National Team

by: Chelcie Mendonça



Feature photo provided by Yan Huckendubler

It's been a busy second half of the summer for athletes in the Men's Junior Development Squad. Most, if not all, competed at Nationals in Toronto. They followed that up immediately with a five-day training camp in Toronto. Last week, a small contingent of athletes wrapped up the summer with a four-game series against the Chilean U19 squad in Burlington, Vermont. The coaches for the event were Mark Dekker, Roel van Maastrigt and Chelcie Mendonça.

The Canadian squad, comprised of primarily Ontario and Quebec athletes, were up against an experienced Chilean side and the first game proved they were in for a tough test. In game one, Chile attacked quickly and precisely and won the game 5-1. Jackson Syyros notched the lone goal for Canada. Dekker said, "the first game was a wake-up call not only in terms of game play, but especially in terms of playing style."

Canada came back in the second game with an added sense of urgency, knowing what to expect out of Chile. Canada struck first in the second game and eventually played the game out to a tie. By game three, fatigue was catching up to both squads and despite two quick Canadian goals to start the third game, Chile stormed back to win 3-2.

The final game was a tremendous show of heart and hard defense. Canada took the lead and held onto a 3-2 victory in the final game. Given the short bench and youth of the Canadian athletes, the coaching staff are very proud of the results and performances. They finished the series with a 1-2-1 record against a quality Chile team. According to coach van Maastrigt, "sport does not build character, it reveals it," and added that the young men showed their character and hard work especially in the final few days of the series.

With the summer of competition and training wrapping up, a lucky few of the Junior Development athletes will be selected to represent Canada at the Youth Olympic Games in Beunos Aries, Argentina. Keep tabs on the Field Hockey Canada website and social media for a roster announcement later in August. Click here for full photo gallery.
Canadian junior squad takes on Chile in a four-game test series in Burlington, Vermont. Photos: Yan Huckendubler


Field Hockey Canada media release


---

Irish stars set to attend Under-21 tie at Stormont



Abbie Russell will captain the Irish Under-21 side. Pic: Adrian Boehm

Ulster hockey fans will get a chance to meet and greet 13 of the World Cup stars at Stormont with a number of the silver medal winners set to be in attendance at the Under-21 international between Ireland and England at Stormont this evening.

It is part of their long-term preparations for next year's Junior Euro Nations Championship next July with a three match series in against a Paul Revington coached England team.

Coach David Passmore has selected 27 players including a number who played for the Under-18 team in their Europeans in Santander last month.

The squad sees the return of Queen's Erin Getty after a long lay-off due to injury but Passmore has chosen to rest a few key players who were involved in the senior squad during their build-up to London – Emma Buckley, Ellen Curran and Sarah Torrans.

Passmore said of the series: "These are ideal selection and development matches for our squad for the forthcoming year. We played England twice back in June and only lost the second match narrowly by the odd goal so I hope that we can find those performance levels despite the group being larger."

Ireland Under-21 for England series (August 9-12): Michelle Barry (Cork Harlequins), Nadia Benallal (Banbridge), Michelle Carey (Railway Union), Niamh Carey (Railway Union), Jenny Clein (UCC), Alanah Doyle (Ards), Katherine Egan (UCD), Amy Elliott (Railway Union), Laura Foley (Catholic Institute), Erin Getty (Queens), Niamh Gowing (Muckross), Nina Heisterkamp (Railway Union), Hannah Humphries (GK, UCC), Mia Jennings (Loreto), Suzie Kelly (Monkstown), Jane Kilpatrick (Loughborough University), Jade Lamont (GK, Belfast Harlequins), Erica Markey (Trinity College), Hannah McLoughlin (Loreto), Grace McLoughlin (Railway Union), Lizzie Murphy (GK, Monkstown), Siofra O'Brien (Loreto), Caoimhe Perdue (Cork Harlequins), Abigail Russell (UCD), Caitlin Sherin (Loreto), Holly Taggart (Ballymena), Emma Young (UCD)

Fixture schedule (all at Stormont):
Thursday, August 9: Ireland v England, 7pm
Saturday, August 11: Ireland v England, 3pm
Sunday, August 12: Ireland v England, 12pm

The Hook


---

Hockey nerd Meeke says World Cup start of something special



Ali Meeke celebrates her shoot-out goal. Pic: Frank Uijlenbroek/World Sport Pics

For the Green Army's most ardent and self-professed "hockey nerd", Sunday's final was like all of Ali Meeke's Christmases rolled into one.

In the wake of the decider, she said it was a dream come true to face the Dutch in front of 10,600 fans in spite of the final result.

"I've always said Holland are one team I would absolutely love to play. To do it is phenomenal, thoroughly amazing experience. It may as well have been in Ireland!"

It was something she always dreamed of having been inspired a dozen years earlier to pursue playing at the very highest level.

"Four years ago, I was sitting in Amsterdam watching the World Cup. Last time the Europeans were in Ireland [in 2005], when I was really young, I was running around getting autographs and I was chatting to Caitriona Carey and she asked 'are you going to play for Ireland?' Straight off the bat, I said 'yes I am' – I always wanted to be here!"

The Loreto player will be welcomed back to her club on Sunday at 4pm along with Hannah Matthews, Nicci Daly and Sarah Torrans and Meeke hopes the heroics in London will be the start of something even bigger.

"We are like a family. I know I could call these girls up in the middle of the night and they would be there if I needed something and vice versa. That connection has carried us through the tournament.

"It is without a doubt the start of something special and the talent coming up behind us is unbelievable. This is the start of great, great things. If we look at who we played tonight and the sheer intensity of the game.

"We have to try and attain those standards and it is in our locker. It's being able to mentally push ourselves to that place and then doing it week-in, week-out. That has to start at underage levels and we can see even more special things."

The Hook


---

2018 EXIN Masters World Cup concludes with stellar performances from three Canadian teams

Canada sees substantial improvement since last World Cup and remains hopeful for 2020




A month after the sun set on the Grand Masters Hockey World Cup, where Canada saw its first-ever National Men's 60+ team take the pitch, three Canadian Masters teams marched out during the EXIN Masters World Cup Opening Ceremonies with new goals in mind and new hopes in tow.

Held in Terrassa, Spain from July 27–August 5, 2018, the Masters World Cup was a chance for two teams to improve on their performances from two years ago in Canberra, Australia, and for the Women's 55+ team to emerge back onto the World Cup stage. With the tournament going down in history as the largest field hockey competition ever, it was nothing short of spectacular.
[WOMEN'S 50+]

The first Friday saw a day full of exciting action from the Women's 50+ team who started their campaign under a stellar lunar eclipse against New Zealand, a team ranked sixth in the tournament. Though they were dominant off the second half, they dropped the match 1-2 and were looking to build on their performance.

The team would go on to drop their group stage matches against Scotland and Netherlands, finding itself in an extremely competitive pool, but remained in high spirits going into their placement round. Their hard work and dedication paid off with a convincing 4-0 win against France, marking the first ever win for any Canadian Women's team at a Masters World Cup.

With the historic victory and a superb 8-1 win over Italy, the Women's 50+ team finished 14th overall out of 16 teams and set an example for fans and players alike. Coach Cara Jay remarked how incredible the entire experience was, stating that it was an exciting opportunity to be a part of.

"It is an honour to represent Canada," she said. "Although I [wanted to] be playing, it was a rewarding experience as all my players wanted to be there and improved so much."

[WOMEN'S 55+]

The Women's 55+ team kicked off the tournament just hours before the Opening Ceremonies with a matchup against the experienced no. 3 ranked England side. England opened up the scoring early on in the game, which the Canadians responded to with their first ever goal in international play after regrouping during the halftime break.

As returning team member Fran Sloan Sainas described it, the women showed "great perseverance and determination" throughout a game that ended 7-1 in England's favour.

"We played hard but were outperformed by the more experienced opposition," she said. "However, not only have our numbers increased but our performance and results have improved. This year, with dedicated coaches, all teams were able to practice and build a sense of community before the tournament."

The next few days were challenging for the Women's 55+ side as they dropped matches against Ireland and Netherlands despite showing strong defensive efforts. The women concluded the tournament with close placement matches, featuring superb goaltending and two more goals in matches against USA and Wales to secure a ninth-place finish.

[MEN'S 50+]

The Men's 50+ team started Canada's World Cup campaign an hour before the Women's 50+ side with a match against Netherlands that was dropped 5-1 after quick offensive attacks from the Dutch. A 3-2 loss against USA meant that the men would have to play for placement later in the tournament, but not without a fight.

The Canadian men walked out beside New Zealand on a hot Monday afternoon for their final group stage match. New Zealand was quick to strike, opening with a goal in the 4th minute off a penalty corner. It wasn't until the fourth quarter and final minute of the game when Canada's efforts were rewarded after a shot on goal from Juggy Mahal.

[WATCH: CANADA VS NEW ZEALAND]

The Canadians found themselves in a tough pool as the Aussies went on to win gold, with the Dutch following closely behind with silver. Nevertheless, redemption was sought following a definitive 9-0 win over Argentina and 3-2 win over Zimbabwe that led them to finish in 14th place.

THE ROAD AHEAD

As another Masters World Cup concludes, the future of Masters Hockey in Canada remains bright. Compared to two years ago, Canada has produced an additional team for contention — certainly providing a sense of growth within the masters program.

Alison McGillivray, who played with the Women's 55+ team, said, "We are one of the few nations to have the word 'field' in front of the word 'hockey' on our kit bags.  There is a feeling that we are ambassadors for the sport…[and] I am confident that the World Cup will inspire many Canadian[s]…to continue playing at a high level."

For McGillivray and Sloan Sainas, the thought of the next World Cup is no stranger to the teams. After closing out a positive experience in Spain, talk about their plans in 2020 has started even before the Closing Ceremonies this Monday.

"Although Canada is relatively new to international Masters Hockey, with the enthusiasm and higher profile of the program we would like to double that number for 2020," McGillivray added.

And so the journey for our athletes resets and begins again. Be sure to follow Field Hockey Canada's social media and website for more information on how to be a part of the action in two years' time.

Field Hockey Canada media release


---

CTM Premier League opening weekend offers tantalising start



Phumelela Mbande in action in PHL 2017 for the Blyde River Bunters - (Photo - Marcel Sigg / PHL)

The third edition of the South African CTM Premier Hockey League gets underway on Saturday at the Randburg Astro with a few tantalising match ups, new look teams and of course some new coaches guiding the various teams. With world class coverage from SuperSport, the CTM PHL promises to raise the game once again.

Two coaches that will take charges of their teams for the first time are Olympian Lungile Tsolekile and current African U18 champion coach Lenise Marais. Lungile, who played over 100 times for South Africa, will lead the Mapungubwe Mambas for the first time. They get to start with the opening game of the tournament against the Golden Gate Gladiators, the SA U21 side. The game promises to be a baptism of fire as the Gladiators have just spent the week together at IPT training for PHL and will be raring to go.

"I'm looking forward to the surprise element of how the players we have drafted gel together. It's an exciting challenge of building combinations from what we have and responding quickly to the opportunities. I am incredibly grateful for the opportunity!" shared Tsolekile

Lenise Marais is another Olympian, who played a remarkable 232 games for South Africa, making waves in the coaching world she superbly led the South African Schools U18 to a white wash series victory against Australia in the iWyze test series in July. This was the first time South Africa had won a match against Australia at this level, they did it three times in a row! Many of these players continued on, to win gold at the African Youth Games! Lenise, who coached in PHL 2016 before assisting in 2017, will take over as the head coach of the Wineland Wings. The Wings had a tough 2017 where they finished bottom of the women's section and continued a very unlucky tradition in the shootouts. They will open their campaign against the 2017 champions the Orange River Rafters, so there will be no time to find their feet.

Another tasty offering on the opening day sees the 2016 silver medallists the Addo Elephants take on the 2017 runners-up the Drakensberg Dragons. The Elephants will be buoyed by new marquee players Miguel da Graca and Dan Bell, while the draft of Tim Guise-Brown was a coupe for Cheslyn Gie's side. The Dragons will offer a superb opponent led by IPT winning coach Sihle Ntuli, while Peter Jarvis looks like one of the most exciting young talents in the country.

The other game to watch on the weekend will be the 14:00 hit off between the Blyde River Bunters and the Madikwe Rangers. The Bunters, led by Marcelle Keet, will look towards the shot stopping ability of Phumelela Mbande, South Africa's star player at the FIH Vitality Hockey Women's World Cup. The Rangers will again seek inspiration from Lisa-Marie Deetlefs who played her 250th game for South Africa at the World Cup.

CTM PHL Weekend 1 – Fixtures

Saturday 11 August
08:00 – Men – Old Mutual iWyze Golden Gate Gladiators vs. Elf Laminates Mapungubwe Mambas
10:00 – Women – Ceramic Industries Wineland Wings vs. Italtile Orange River Rafters
12:00 – Men – Kilamanjaro Addo Elephants vs. Pro Grip Drakensberg Dragons
14:00 – Women – Tivoli Taps Blyde River Bunters vs. Top T Madikwe Rangers
16:00 – Men – Origins Maropeng Cavemen vs. Garden Route Gazelles

Sunday 12 August
08:00 – Women – Private Property St. Lucia Lakers vs. Old Mutual iWyze Namaqualand Daisies
10:00 – Men – Old Mutual iWyze Golden Gate Gladiators vs. Kilamanjaro Addo Elephants
12:00 – Women – Top T Madikwe Rangers vs. Italtile Orange River Rafters
14:00 – Men – Elf Laminates Mapungubwe Mambas vs. Origins Maropeng Cavemen
16:00 – Women – Tivoli Taps Blyde River Bunters vs. Ceramic Industries Wineland Wings

You can follow all the action on the PHL website and social media channels as well as catch the games live on SuperSport 11

SA Hockey Association media release


---

Vanuatu to host FIH World series one




PORT VILA, 09 AUGUST 2018 (LOOP VANUATU) – The Vanuatu Hockey Federation will be hosting the 'World Series Round One' of Hockey in Port Vila, at Wan Smol Bag Sports Field on August 15-18.

The Vanuatu Hockey Federation says participating countries are Fiji, Tonga, Solomon Islands and Vanuatu and the event will feature seniors and Vanuatu's Under 18 national team.

Hockey Development Officer, Todd Kitto says this is an opportunity for Vanuatu players to show their hockey talent in the home crowd.

"Since Vanuatu is hosting the event, we see it as an opportunity for our Under 18 to take part as preparation towards their participation in the Youth Olympic in October in Argentina, though it's a seniors competition," Kitto stated.

Kitto said there will be 10 teams of both men and women taking part in the event.

He said "Points in the tournament will be taken to match up with the world ranking points for each of the teams and we are looking forward and inviting everyone to come down to Wan Smol Bag to watch the tournament.

"In the lunch break, each day we will run U15 boys and girls matches open to public to play," he concluded.

Other than that, all entrance fees to the game venue which is located inside the Wan Smol Bag Sports field located at Tagabe in Port Vila, it is free to the public.

Vanuatu is one of the younger members of Oceania Hockey Federation but has had significant growth in participation numbers and programmes as a result of the partnership with Oceania Hockey Federation, FIH, Australian Hockey Federation and the Australian Government through their Pacific Sport Partnership programme

The Fiji Times


---

Indian junior hockey teams qualify for Youth Olympic Games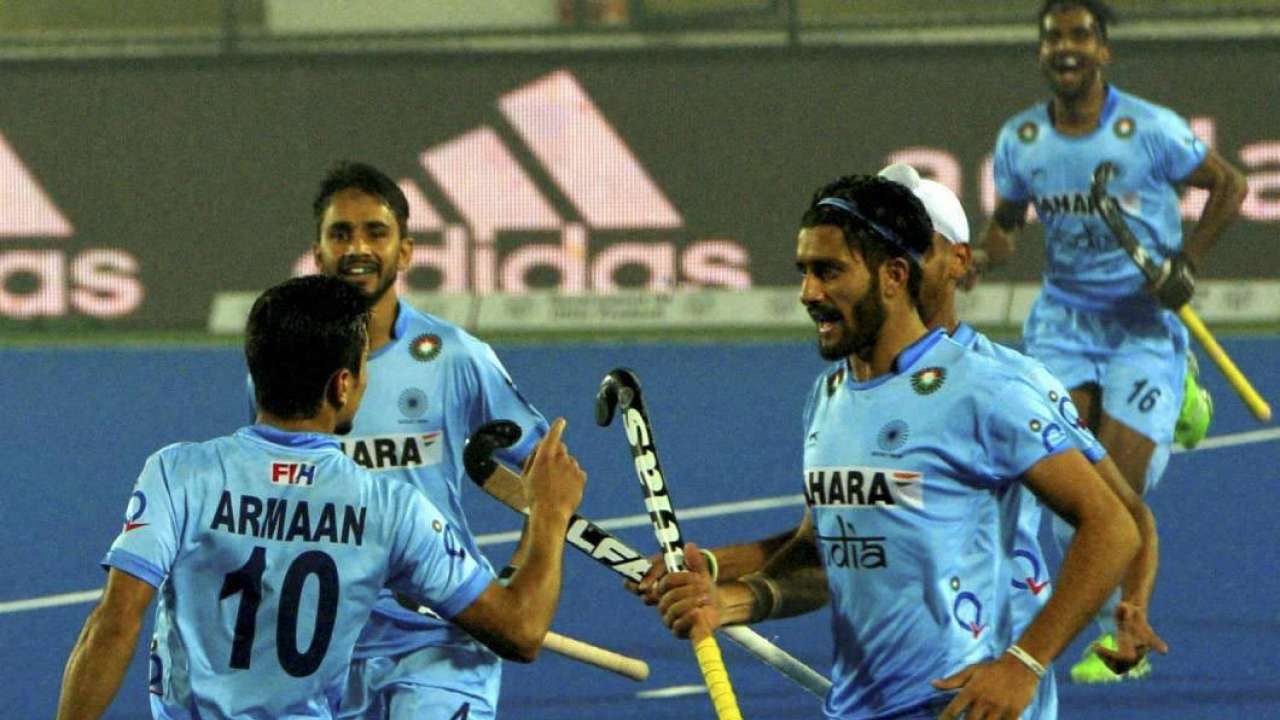 Indian Hockey , PTI

The Indian junior men's and women's teams have qualified for the Hockey 5's competition at the Buenos Aires Youth Olympic Games to be held from October 6 to 18, International Hockey Federation (FIH) announced on Thursday.

In the men's category, India will face stiff competition from defending champion Australia and silver medallists Canada along with hosts Argentina, Austria, Bangladesh, Poland, Mexico, Malaysia, Kenya, Zambia and Vanuatu.

The women's team will also have their task cut-out as 2014 gold medallists China, hosts Argentina, Austria, Poland, Uruguay, Mexico, Australia, Namibia, South Africa, Zimbabwe and Vanuatu will be the other 11 teams giving them competition.

The hockey tournament at the Games will follow the Hockey 5s format where a total of 12 teams in both men's and women's category will compete between October 7 to 14 at Youth Olympic Park.

This is the first time, both the junior teams will participate in the Youth Olympic Games after having missed the first two editions in 2010 and 2014.

Hockey India (HI) secretary general Md Mushtaque Ahmad congratulated the teams for attaining qualification.

"Both the Junior Men's and Women's teams have worked really hard to qualify for the Buenos Aires 2018 Youth Olympic Games. I would like to congratulate the teams for showing great determination and securing their place in the quadrennial event for the first time," he said.

"The Hockey 5s format is very fast-paced and I feel that both our teams are very well equipped to be able to perform exceptionally at the Games in Argentina come October." The teams had qualified for the event after participating in the Asian Youth Olympic Games Qualifiers in Bangkok, Thailand in April where the men's team defeated Malaysia 2-1 in the finals in shootout, while the women's team finished runners-up after losing 1-4 to China in their summit clash.

The Indian men's team had attained qualification by remaining undefeated throughout their campaign in the Qualifiers.

The team played a total of four Pool matches which saw them win 25-0 against Thailand, 6-2 against Japan, 21-0 against Hong Kong and 12-5 against South Korea.

In the semi-finals, they overcame Bangladesh 9-2, before coming up on top against a strong Malaysian team, which had held India 4-4 in regulation time.

The Indian junior women's team also had a successful outing in Thailand as they finished second behind China.

The young team won all three of their Pool matches, beating Singapore 14-0, South Korea 10-0 and hosts Thailand 9-0 to progress to the semi-final where they defeated Malaysia 4-2.

However, in the Final match, the Indian team could not overcome China's challenge as they lost 1-4.

Daily News & Analysis


---

Kampong celebrates their four retiring heroes



©: Frank Uijlenbroek/world Sport Pics

On Saturday, SV Kampong will celebrate the careers of their retiring quartet Sjoerd De Wert, Philip Meulenbroek, Constantijn Jonker and Quirijn Caspers.

At 3pm, the current Kampong first team will line out against a Kampong All Stars and world XI team. The All Star line-up will feature players like club icon Arnaud Naeff, legendary Kampong legends Roderick Weusthof, Erik Bouwens, and the older brothers of Jonker and Caspers.

In the world team, top international stars like Valentin Verga, Billy Bakker, Klass Vermeulen, Rogier Hofman and Teun Rohof.

For the kids, there will be a bouncy castle and all are welcome to the Klapperboom for a special celebration for four heroes who helped bring EHL and Hoofdklasse glory to Utrecht in the last few seasons.

Euro Hockey League media release


---

Straight shootouts need a rethink

Errol D'Cruz

Remember extra-time?

This protracted struggle in a knockout hockey match is a thing of the past. Seven years ago the new shootout came into being. It caused the demise of extra-time. Partly because it takes longer for the "penalty shuffle" to take place (given eight seconds given to each striker) as opposed to the hitherto penalty stroke contest. And partly because TV broadcasting slots are always under pressure what with a plethora of sporting events all over the globe.

Had the Netherlands failed against Australia in a semifinal shootout, the team, head and shoulders above the rest of the world, wouldn't have lifted the Women's Hockey World Cup in London which they eventually did with a clinical and electrifying 6-0 win over shock finalists Ireland.

It took a late equaliser by Australia to bring on the shootout. And it gave the Dutch no chance to get their act together in extended play on a day when they failed to live up to their own lofty standards.

In, what's still a cast of the dice, the Dutch won to keep them on course to winning their eighth World Cup title in style while registering a 35-3 goal record in six matches.

One cross-over match, two quarterfinals and both semifinals led to the shootout with the Irish, Australians and Spanish involved in two each.

This is not to detract from an epic performance by the Irish ladies who defied history and belied their ranking of 16 -- the second lowest in the competition.

Nor does it discredit Spain who eventually finished with a bronze medal after beating Australia 3-1.

Argentina, second favourites and twice champions, saw their campaign come to an unceremonious end in a shootout defeat to Australia who played second fiddle for most of their quarterfinal.

It's common knowledge that lesser teams often play for a shootout where nerves and the rub of the green often influence results, the greater need for one-on-one skills in the new tiebreaker format notwithstanding.

With matches now reduced to 60 minutes over four quarters, extra-time of five minutes each way would be well warranted to prevent too many matches going to the shootout

The drama and excitement of the shootout does much to add value to the sport. But wouldn't it be satisfying to have a team carve out victory in extended play before going on to hockey's version of Russian Roulette?

Shootouts in the World Cup/ Olympics 2012 onwards (excluding minor placing matches):

2012 London Olympics: Semifinals: Netherlands beat New Zealand
2016 Rio Olympics: Semifinals: Netherlands beat Germany. Final: Great Britain beat Netherlands.
2014 World Cup: Semifinals: Australia beat New Zealand .
2018 World Cup: Cross-over: Spain beat Belgium. Quarterfinals: Ireland beat India ; Australia beat Argentina;
Semifinals: Ireland beat Spain; Netherlands beat Australia.

Stick2Hockey.com