All the news for Friday 15 February 2019

2019 FIH Pro League (Men) - 15 Vebruary

15 Feb 2019 11:00 (GMT +1)     ESP v NED (RR)     -     Estadio Betero, Valencia
15 Feb 2019 19:00 (GMT +13)    NZL v GER (RR)     1 - 2    Nga Puna Wai Hockey Stadium, Christchurch    
16 Feb 2019 15:30 (GMT +8)     AUS v GBR (RR)     -     Perth Hockey Stadium, Perth

Live streaming on https://fih.live (Geo blocked if there is TV coverage)

Unofficial Pool standings
| Rank | Team | Played | Wins | Win Draws | Loss Draws | Losses | Goals For | Goals Against | Goal Difference | Points | Percent |
| --- | --- | --- | --- | --- | --- | --- | --- | --- | --- | --- | --- |
| 1 | Belgium | 4 | 2 | 1 | 1 | 0 | 14 | 9 | 5 | 9 | 75.0 |
| 2 | Great Britain | 2 | 2 | 0 | 0 | 0 | 12 | 7 | 5 | 6 | 100.0 |
| 3 | Netherlands | 2 | 1 | 1 | 0 | 0 | 9 | 8 | 1 | 5 | 83.3 |
| 4 | Australia | 3 | 1 | 0 | 1 | 1 | 10 | 11 | -1 | 4 | 44.4 |
| 5 | Spain | 2 | 0 | 1 | 0 | 1 | 7 | 8 | -1 | 2 | 33.3 |
| 6 | New Zealand | 3 | 0 | 0 | 1 | 2 | 9 | 14 | -5 | 1 | 11.1 |
| 7 | Germany | 1 | 0 | 0 | 0 | 1 | 2 | 4 | -2 | 0 | 0.0 |
| 7 | Argentina | 1 | 0 | 0 | 0 | 1 | 2 | 4 | -2 | 0 | 0.0 |
The FIH inexplicably and confusingly use a system not used in any other sports League in the World, of making the Percentage more important than Points until the end of the League when they will revert to Points only. Fieldhockey.com prefers to use the conventional Points and so the Unofficial Pool Standings on this site are reflected in this manner.

FIH Match Centre


---
2019 FIH Pro League (Women) - 15 February

15 Feb 2019 17:00 (GMT +13)     NZL v GER (RR)    1 - 3     Nga Puna Wai Hockey Stadium, Christchurch    
16 Feb 2019 17:30 (GMT +8)     AUS v GBR (RR)     -     Perth Hockey Stadium, Perth
16 Feb 2019 19:00 (GMT -5)    USA v NED (RR)     -     Wake Forest University, Winston-Salem
17 Feb 2019 17:30 (GMT +13)     NZL v CHN (RR)     -     Nga Puna Wai Hockey Stadium, Christchurch    

Live streaming on https://fih.live (Geo blocked if there is TV coverage)

Unofficial Pool standings
The FIH inexplicably and confusingly use a system not used in any other sports League in the World, of making the Percentage more important than Points until the end of the League when they will revert to Points only. Fieldhockey.com prefers to use the conventional Points and so the Unofficial Pool Standings on this site are reflected in this manner.

FIH Match Centre
---

Germany uses third quarter push to beat the Vantage Black Sticks




The Vantage Black Sticks Men have fallen to a clinical German side in an entertaining match played at an incredibly high  speed and skill level. In the end the difference between the two sides was the clinical nature of the German side from penalty corners.

The Black Sticks Men took on the highly ranked German Men's side in the second match of the double header on Friday evening. The game started off at a frenetic pace with both sides pushing hard and playing some positive hockey. Despite the positive nature that the game was played in after one quarter we were still goalless.

The second quarter started in a similar fashion with both sides looking to change the point of attack to open up space on the other side of the field. Neither side looked willing to give the other any clear shots at goal and continued to stop any of the small chances that were being constructed. The Black Sticks as the quarter wore on began to promote their right half and look for an overlap to put the opposition under pressure. With three minutes to go in the half Germany earned the first penalty corner of the match. Richard Joyce made a low save to keep the ball out of the goal and keep the scored locked at 0-0. The Black Sticks late in the first half had an opportunity when they managed to take the ball off the Germany defender. Neither Dominic Newman or Nic Woods was able to get a clear shot off on the play. We ended the first half with the score 0-0 and set up what is looking likely to be a incredibly entertaining second half.

Germany started the second half strongly and earned a penalty corner in the first 30 seconds. They went for a post deflection which was shut down by the Black Sticks Men. The Black Sticks then failed to clear out of defence and the German side found an open Marco Miltkau who pushed the ball over the line to put Germany up 1-0. The Black Sticks then looked to control the game and were swinging the ball around the back of the field at a great speed as they tried to open up the side channels and put the Germany defence under pressure. Germany late in the third quarter got themselves another penalty corner when the Black Sticks stick infringed. Germany went for a layoff to the other side this time and the ball was put past the Goal Keeper to put Germany up 2-0.

The Black Sticks started the fourth quarter off in a positive fashion putting the German side under a lot of pressure as they searched for their first goal. After four minutes captain Blair Tarrant found himself open in the circle and slotted home a well set up goal leaving us with a tense finish to the match. Germany then restored their lead when was left open on the post and touched home a cross ball to put Germany up and what looked like the match sealing goal. That was the way the match finished as Germany sealed the 3-point win.

Vantage Black Sticks1 (Blair Tarrant 49')
Germany2 (Marco Miltkau 32', 56', Niklas Wellen 40')

Hockey New Zealand Media release


---

Germany take their chances as they beat the Black Sticks Women




Germany has come away with a closely fought 3-1 win over the Vantage Black Sticks Women. The match was close and could have gone either way, the German side made the most of their opportunities and secured the win.

Germany started the match with the ball and put the Black Sticks deep in their half with an overhead. The Black Sticks transferred the play around the back and managed to cross the ball to an open Amy Robinson who opened the scoring for the Black Sticks Women in the first minute of the game. After the shock of the opening goal the German side looked to build into the game and continued to push down the right side of the field. The Black Sticks defence was looking solid and continued to shut the Germans out of the middle of the field. Germany however earned the first penalty corner of the match when they found a Black Sticks defenders' foot in the circle. The Vantage Black Sticks ran down the shot to nullify the initial German threat. Germany continued to push hard as the match progressed having some strong shots against the Black Sticks, Sally Rutherford covered well to keep the German side off the score board and leave the Vantage Black Sticks in the lead 1-0 after one quarter.

Germany started the second quarter where they finished the first, pushing hard looking to put the Black Sticks Women's defence under pressure to find the equalising goal. Germany with 5 minutes gone in the second quarter found an equaliser after they disposed the Black Sticks and then flicked the ball past Sally Rutherford. After absorbing a weight of possession against them the Black Sticks found some gaps on the Germany right side defence and created several opportunities to gain the lead back. Germany got their second goal late in the second half after the initial penalty corner shot was saved, Pia Maertens found herself unmarked on the post and touched the ball into the goal to put Germany in the lead 2-1 at the end of the half.

The Black Sticks looked focused and determined at the start of the second half as they continued to push to get the goal to level the scores. After 3 minutes gone in the second half Olivia Shannon had a great opportunity to score her first international goal but the Germany Goalkeeper was up to the challenge. Germany earned the first penalty corner of the second half when they found the Black Sticks defenders' foot in the circle. The German side converted their second penalty corner of the afternoon when they slapped the ball past Grace O'Hanlon to make the score 3-1. After three quarters the score was 3-1 with the Black Sticks Women needing a big final quarter to get themselves back into match.

The Black Sticks continued to play fast attacking hockey in the fourth quarter as they looked determined to get a goal back. Despite a number of circle entries the German side was defending strongly and shutting down the offensive chances the Black Sticks were creating. Unfortunately the Vantage Black Sticks weren't able to score the needed goal and as a result the team from Germany came away with the win 3-1.

Vantage Black Sticks Women1 (Amy Robinson 1')
Germany3 (Charlotte Stapenhorst 21', Pia Maertens 29', Hannah Gablac 40')

Hockey New Zealand Media release


---

Women's Black Sticks taught lesson by tenacious Germany



Amy Robinson scored the Black Sticks' only goal during their 3-1 loss to Germany in Christchurch. GETTY IMAGES

The women's Black Sticks team knew all about Germany's grit and tenacity on attack following this 3-1 loss in Christchurch on Friday night.

A week ago the Black Sticks were delighted to trounce Great Britain 5-1 in their first game at the new Nga Puna Wai Sports Hub, displaying no shortage of determination and skill to clobber the visitors in the FIH Pro League fixture.

So this was a reality check, and a sad way to mark Ella Gunson's 200th appearance for her country. It leaves New Zealand seventh on the competition table, just two places ahead of bottom-placed Great Britain.

Germany, ranked one place ahead of the sixth-placed Kiwis in the world rankings, were just too good for their opponents on a sunny evening in the Garden City.

The Black Sticks should be frustrated, and annoyed, they couldn't match the intensity of last week.

After all, they made a terrific start with Amy Robinson getting on the score sheet in the first minute; fans hardly had time to study the programme or discuss possible tactics before the Black Sticks were in celebration mode.

After that, unfortunately for those loyal fans who coughed up their coin in the hope of witnessing another memorable win, it was Germany who made much of the play.

Goals to Charlotte Stapenhorst, Pia Maertens and Hannah Gablac - two of those efforts bounced off the goal keeper - snuffed out any hope of a win for the Black Sticks.

At halftime it was the tourists who led 2-1, with nine attempts at goal and having converted one of their two corners. Not that it was enough to keep German coach Xavier Reckinger happy. He suggested in an interview at the break that he wasn't that thrilled with the performance.

But come fulltime he should have been whistling a much happier tune.

Germany 3 (Charlotte Stapenhorst, Pia Maertens, Hannah Gablac goals) New Zealand 1 (Amy Robinson). HT: 2-1

Stuff


---

Seven Changes For Kookaburras' Britain Clash

Ben Somerford




Hockey Australia today announces the 18-member Kookaburras team to take on Great Britain in Perth in the FIH Pro League on Saturday.

The world number two Kookaburras will face seventh-ranked Great Britain, who've started the FIH Pro League with two wins from two matches, from 3:30pm AWST at Perth Hockey Stadium.

The Kookaburras have made seven changes from the team which defeated Germany 4-2 in Hobart, with Daniel Beale, Tom Craig, Aaron Kleinschmidt, Trent Mitton, Josh Simmonds, Matthew Swann and Corey Weyer included.

Josh Beltz, Blake Govers, Jack Hayes, Tim Howard, Lachlan Sharp, Jack Welch and Dylan Wotherspoon make way, with the Kookaburras selectors rotating the line-up.

Kookaburras coach Colin Batch said: "We always viewed the start of the FIH Pro League was about finding out about our players and their form.

"We're still going with that. We had six changes from the team for Melbourne to Hobart. We had a group back here training who had a good training week and a lot of them come back."

Batch confirmed Margaret River's Aran Zalewski would be the sole captain in his home state for the first time since officially joining Eddie Ockenden as the team's co-captains.

"Aran will lead us in Perth," Batch said. "It makes sense for him to lead us in his home city as Eddie did in Hobart last weekend.

"He's joined by Tom Wickham, Jake Harvie and Trent Mitton as the four local boys."

Saturday's match against Great Britain will be live on kayosports.com.au but delayed on FOX SPORTS 560 from 10:30pm AEDT.

Tickets are still available for the Perth matches by ticketbooth.com.au. Gates open at 2:30pm AWST.

Saturday 16 February 2019 – Perth Hockey Stadium, Perth
Kookaburras v Great Britain – 3:30pm, Hockeyroos v Great Britain – 5:30pm
*All times AWST

Kookaburras 18-member team:
Athlete (Hometown, State)
Jacob Anderson (Mackay, QLD)
Daniel Beale (Brisbane, QLD)
Andrew Charter (Canberra, ACT)
Tom Craig (Lane Cove, NSW)
Matthew Dawson (Killarney Vale, NSW)
Johan Durst (Melbourne, VIC)
Jake Harvie (Dardanup, WA)
Jeremy Hayward (Darwin, NT)
Aaron Kleinschmidt (Melbourne, VIC)
Trent Mitton (Perth, WA)
Eddie Ockenden (Hobart, TAS)
Flynn Ogilvie (Wollongong, NSW)
Josh Simmonds (Melbourne, VIC)
Matthew Swann (Mackay, QLD)
Corey Weyer (Biggera Waters, QLD)
Jake Whetton (Brisbane, QLD)
Tom Wickham (Morgan, SA) *Plays for WA
Aran Zalewski (Margaret River, WA)

Hockey Australia media release


---

Hockeyroos Forced Into Changes For Britain Encounter

Ben Somerford




Hockey Australia today announces the 18-member Hockeyroos team to take on Great Britain in Perth in the FIH Pro League on Saturday.

The world number three Hockeyroos will take on 2016 Rio Olympics gold medallists Great Britain (ranked second) from 5:30pm AWST.

The Hockeyroos have been forced into two changes with Jodie Kenny and Madison Fitzpatrick unavailable due to injury.

Georgina Morgan returns for the first time since being appointed co-captain. She's joined in the 18-member team by Jocelyn Bartram, Kalindi Commerford and WA's Penny Squibb.

Along with Kenny and Fitzpatrick, Kristina Bates, Hayley Padget and Ashlee Wells make way.

Hockeyroos coach Paul Gaudoin said: "It's pleasing to see Georgina Morgan back in after injury as one of our co-captains. We're looking forward to seeing her perform this weekend.

"With the injuries to Jodie and Madison in defence, Penny Squibb has also warranted selection which is pleasing for her as a local player."

Gaudoin said the selectors had been cautious on Kenny who missed both of last weekend's matches in Hobart after picking up the quad injury in training.

"Jodie was close with her quad injury but we wanted to be cautious," Gaudoin said.

"Madison rolled her ankle and we're hoping she'll be on the mend for the coming weeks."

Saturday's match against Great Britain will be live on both FOX SPORTS 506 and kayosports.com.au.

Tickets are still available for the Perth matches by ticketbooth.com.au. Gates open at 2:30pm AWST.

Saturday 16 February 2019 – Perth Hockey Stadium, Perth
Kookaburras v Great Britain – 3:30pm, Hockeyroos v Great Britain – 5:30pm
*All times AWST

Hockeyroos 18-member team:
Athlete (Hometown, State)
Jocelyn Bartram (Albury, NSW)
Edwina Bone (Orange, NSW) *Plays for ACT
Lily Brazel (Sydney, NSW) *Plays for VIC
Emily Chalker (Crookwell, NSW)
Jane Claxton (Adelaide, SA)
Kalindi Commerford (Ulladulla, NSW) *Plays for ACT
Savannah Fitzpatrick (Cabarita Beach, NSW) *Plays for QLD
Rebecca Greiner (Bundaberg, QLD)
Rachael Lynch (Warrandyte, VIC)
Ambrosia Malone (Burleigh, QLD)
Georgina Morgan (Armidale, NSW)
Kaitlin Nobbs (Newington, NSW)
Brooke Peris (Darwin, NT)
Penny Squibb (Tambellup, WA)
Grace Stewart (Gerringong, NSW)
Sophie Taylor (Melbourne, VIC)
Mariah Williams (Parkes, NSW)
Georgia Wilson (Mahogany Creek, WA)

Hockey Australia media release


---

FIH Pro League Preview: Australia v Great Britain



Sam Ward

Great Britain return to FIH Pro League action this weekend with the second double header in as many weeks as our men and women take on Australia.

The men will be hoping to keep up their fantastic start to the league as they face the Kookaburras live on BT Sport at 7:30am GMT, with the women following on immediately after hoping to claim their first points.

Ahead of these matches, we've taken a closer look at the sides.

GB men aiming to maintain unbeaten run

It's two wins from two in the FIH Pro League for Great Britain's men thanks to impressive victories over Spain and New Zealand.

Sam Ward made history by becoming the first player to score an FIH Pro League hat-trick as his team put hosts New Zealand to the sword with a 6-2 win last weekend.

That was also Adam Dixon's first success since being announced as the new captain earlier in the week, while he and Phil Roper (2) also found the target in a clinical performance.

Great Britain are currently the only side yet to have dropped points and will be looking to repeat the result the last time the sides met, a 4-3 victory in the final of the 2017 Sultan Azlan Shah Cup.

20-year-old Josh Pavis could also make his senior international debut against Australia.

GB women hoping to bounce back

Having been defeated by New Zealand in their opening FIH Pro League match, Great Britain's women will be hungry to get their first win on the board.

It was a tough opening fixture against the 2018 Commonwealth champions, whose ruthlessness in front of goal saw them come away with a 5-1 victory that didn't perhaps reflect the full nature of the game.

Lizzie Neal made her senior international debut that day and made good of her chance as GB fielded an exciting side full of youth and promise.

Lily Owsley will be hoping to repeat her performance from Rio 2016 as she scored in a 2-1 victory over the Hockeyroos, although the world number three outfit got their revenge with a 2-0 win the last time the two sides met at the 2018 Champions Trophy last November.

Hockeyroos looking to climb the table

Australia's women started their FIH Pro League campaign in perfect fashion, inflicting a first defeat on The Netherlands since the Rio 2016 final with 'keeper Rachael Lynch providing plenty of heroics. However they then surprisingly lost 2-1 to Belgium the next day.

An exciting 4-3 win over a stubborn China followed last weekend before they took two points from Germany, beating them on a shootout after the match finished 2-2 in regulation time.

As a result the Hockeyroos currently lie second in the table, having accumulated eight points, while they are also proving to be deadly from open play as they have scored twice as many field goals as any other team (6).

Captain Emily Chalker – who is also their most experienced player with 216 caps - is just one of a number of high profile players to watch out for in a squad that also boasts an abundance of young talent.

This includes Grace Stewart – her side's top scorer in the league – as well as Kaitlin Nobbs and Rosie Malone, who have so far achieved 140 international caps between them despite all three being just 21.

Kookaburras targeting consistency

As with their women's team, it's been an inconsistent start to the FIH Pro League for Australia's men who have recorded one win, one draw and one loss so far.

They were stunned by The Netherlands in their opening game - the World Cup runners-up came from 5-2 down to draw the game 5-5 before beating the Kookaburras on a shootout - before they lost 4-1 to world champions Belgium the next day.

However they hit back in style last Sunday, defeating Germany 4-2 to lift themselves to fourth in the table.

The world number two side are also proving to be deadly from open play, with only Belgium (12) scoring more field goals than their nine, but have also conceded the second most goals so far in the FIH Pro League (11).

They will be looking to the experience of captain Eddie Ockenden – who has amassed 340 international appearances - when they face GB, while 22-year-old Jacob Anderson also showed signs of quality by scoring twice in their win over Germany.

Great Britain Hockey media release


---

Mark Hager defends coaching abilities after GB hockey appointment



Mark Hager enjoyed rankings rise with New Zealand PIC: Hockey NZ

Great Britain women's coach Mark Hager has spoken for the first time since taking charge of his opening game in his new role with the Olympic champions.

In an interview with The Telegraph, Hager defended his coaching methods and said there had been "no issues" from a GB Hockey perspective of him taking charge while an independent review was still ongoing.

He spoke candidly of the negative media headlines which had engulfed him and his family since reports came to light of a toxic environment within the Kiwi squad.

"I've never experienced the media scrutinisng me as an individual or even the programme," he told The Telegraph in an interview.

"I now know what it's like for someone like [rugby coaches] Steve Hansen or Eddie Jones or professional football coaches who get scrutinised every day. It was a learning experience, especially for my family.

"You will get criticism in professional sport but I'm confident of my coaching abilities and how I talked to players and staff. Now it's a matter of getting GB prepared."

Hager, the 54-year-old Australian, said he could take GB to new heights – both physically and in a change of tactics (with defending still at the heart) – as they aim to defend their Olympic title at Tokyo 2020.



New Zealand won Commonwealth hockey gold in 2018 PIC: Hockey NZ

He said: "If you look back at Rio, their stats success was way ahead of every other team. That is a real plus."

Hager, who will move full-time to the UK in early March, also admitted that England and GB had stilted on the world scene after Rio gold and aimed to instill some new life in the coming months.

He said: "Sometimes you go through a plateau that doesn't work for you. I'm hoping to bring that back and adapt differently."

Hager and Great Britain are currently in Perth preparing for their second FIH Pro League match, a crunch encounter against Australia on Saturday.

The men are also in action against the Kookaburras in what is set to be a lively double header.

The Hockey Paper


---

Masters Indoor World Cup - Day 1

The Masters Indoor World Cup got under way in Hong Kong yesterday. Find all the results by clicking here


---

Masters Indoor World Cup Australian Match Results - Day 1

By Ren Thompson

Australia Men's Over 40 - 2 def. England Men's Over 40 - 1

In the opening match up of the tournament, the Australian Men's Over 40 side has defeated the England side 2-1 in a spirited contest against the old enemy. A tight battle throughout has given the Australian side a great tune-up for the rest of the Masters Indoor World Cup tournament.

Australia Men's Over 40 - 0 def. by Germany Men's Over 40 - 7

In their second contest, the Australian side were overpowered by a classy German side going down 7-0. Struggling with the Germans attacking dominance, the Australian side played valiantly in the heavy defeat.

Australia Men's Over 40 - 5 def. Hong Kong Dragons Men's Over 40 - 0

The Over 40s side returned for their night fixture dominating the home side Hong Kong Dragons in a 7-0 victory. Despite playing in front of a raucous home crowd at the Shek Kip Mei Park Sports Centre, the Australians were able to impose themselves early in the contest and never were challenged.

Finishing the day with two victories and six points, good for third place on the ladder after day one.

Australia Men's Over 50 - 5 def. England Men's Over 55 - 0

The Over 50s side has began its tournament with a bang defeating the England side 5-0 at the Hong Kong Football Club. From the beginning the Australian side looked in command of the match, and ran away with a decisive victory.

Australia Men's Over 50 - 6 def. United States Men's Over 50 - 0

A second game and a second dominant victory for the Over 50s side, this time defeating the US side 6-0. Again the Australian sides excellent team play proved too strong in the victory and sees them announce themselves as a team here for the title.

Australia Men's Over 50 - 2 def. by Germany Men's Over 50 - 8

In the final game of the day, the Australia side has suffered a heavy defeat by the German Over 50s side, 8-2. Coming up against one the pre-tournament favourites, the Australian side were overpowered by the German side who ended day one undefeated.

Finishing with two wins and three points leaves the Over 50s side currently third on the ladder after day one.

Australia Ladies' Over 40 - 1 def. by Germany Ladies' Over 40 - 6

The Australian Ladies Over 40s campaign has started with a 6-1 defeat at the hands of a strong German side. In what was a closer game than what the scoreboard result indicates, the Aussie ladies battled throughout the match. But the German side was too mighty and came away with the victory.

Australia Ladies' Over 40 - 5 def. Hong Kong Ladies' Over 40 - 1

In the second match of the day, the Australian side showcased its prowess with a resounding 5-1 victory against the home side Hong Kong. Playing a complete team game saw the Aussie side record a needed win to end day one of action.

After two matches, the Australian side has three points, and currently sits in third place on the ladder.

Australia Ladies' Over 45 - 1 def. by Germany Ladies' Over 45 - 3

Opening their campaign against the German side, the Over 45s knew they would be in for a tough contest and that's what was in store falling in the opening match 3-1. The Australian side showed glimpses of brilliance but couldn't convert the build up into goals. But having a great time on the court together.

Australia Ladies' Over 45 - 1 def. by Hong Kong Dragons Ladies' Over 45 - 3

The second match of the day was up against the Hong Kong Dragons, but the home side proved too strong, as Australia suffered a 3-1 defeat.

After an action packed day one, the Over 45s side sits fifth on the ladder.

Australia Ladies' Over 50 - 2 def. by Canada Ladies' Over 45 - 5

In a blazing contest the Australian side went down 5-2 to the Canadian side, as the seven-goal extravaganza was one of the early matches of the tournament.

Australia Ladies' Over 50 - 1 def. by Germany Ladies' Over 50 - 9

The end of day one was a tough result for the Australian side falling to the German side, 9-1, in a one-sided contest. Being overwhelmed by the German side, the Aussie side continued to fight throughout the match, but couldn't convert in front of the net.

After two matches, the Over 50s side sits sixth on the ladder.

Hockey Australia media release


---

Four players from First FIH Indoor World Cup reunite to play for USA at Masters Indoor World Cup




Ryan Langford, Peter Jones, Shawn Hindy and Pat Cota are all excited to be representing the USA at the @nd Masters Indoor World Cup being held February 14-17 in Hong Kong.  Ryan, Shawn and Pat are part of the over 40 squad, while Peter is on the over 50 team.  In 2003 they were all part of the USA team that competed in the First FIH Indoor World Cup in Leipzig, having qualified in 2002 by placing second out of seven at the Pan Am Indoor held in Rockville, Maryland.  Shawn and Pat were also on the 2011 team for the Indoor World Cup in Poznan, Poland, while Peter was the coach. 

All four remain very active in the sport.  Ryan is part of the coaching team at the University of Michigan, while Pat coaches at Stamford University.  Shawn coached at the University of Michigan, ran successful high school programs in Pennsylvania and Texas and was even President of USA Field Hockey.  After playing in the First FIH Indoor World Cup in 2003, Peter went on to represent the USA in the first FIH Masters World Cup (outdoor) in Canterbury, England in 2012 and the First FIH Masters Indoor World Cup in Krefeld, Germany, in 2017.  He is one of only two people to have played in these three inaugural World Cups.  The other was his roommate in Leipzig, Olaf Maack.  Peter is also the first American to have an official FIH tournament trophy named after him.  As an unexpected surprise, his colleagues on the board of the International Masters Hockey Association got approval from FIH to name the over 50 men's indoor trophy "The Peter Jones Trophy" in recognition of his contribution to getting the tournament started.  While Peter appreciated the honor, he insists that it was really a team award, given all the efforts of Dirk Wellen and the organizing committee and all the other IMHA board members.

Ryan, Peter, Shawn and Pat are delighted to be playing in Hong Kong and are hoping that their teams, as well as the USA women's over 40 team will put in good showings over the next four days.  Results should be available on mastershockeyiwc.com

Fieldhockey.com


---

De Goede & Van Doren named Players of the Year in 2018 FIH Hockey Stars Awards




Lausanne, Switzerland: The Netherlands' Eva de Goede and Arthur Van Doren of Belgium have been revealed as the FIH Players of the Year in the 2018 Hockey Stars Awards, the International Hockey Federation (FIH) has announced.

Female Player of the Year Eva de Goede, 29, was one of the superstars of the all-conquering Netherlands team that dominated the Vitality Hockey Women's World Cup London 2018 in July and August last year, having been a consistently brilliant midfield performer as the Oranje stormed to the title. It was a second successive World Cup title for the 200-capped De Goede, who also captained the Netherlands team that stormed to victory at the Wanglibao Champions Trophy 2018 in Changzhou, China. De Goede received almost 29 percent of a closely contested vote, taking the crown ahead of compatriots Lidewij Welten and Xan de Waard as well as Spain's Georgina Oliva and Stacey Michelsen of New Zealand. With Netherlands Head Coach Alyson Annan being named Female Coach of the Year for a second year in succession, it was very much a double celebration for the Dutch contingent.

Red Lions defender Arthur Van Doren, 24, was named Male Player of the Year for a second successive year, being one of four Belgian winners in the FIH Hockey Stars Awards for 2018. Last year Van Doren claimed both the Player and Rising Star of the Year Awards, and another exceptional year for this wonderfully gifted athlete has brought further thoroughly deserved accolades his way. Van Doren was a stand-out performer as Belgium claimed a first ever World Cup title, being named as the competition's Best Player in Bhubaneswar. Long recognised as a truly world class defender, Van Doren's athleticism, skill and the ability to instantly turn defence into attack has seen him evolve into one of the true superstars of the game. With 28 percent of the vote, Van Doren took the Male Player of the Year title ahead of fellow Red Lion Simon Gougnard as well as Billy Bakker (NED), Barry Middleton (ENG) and Jake Whetton (AUS). 

Van Doren was not the only member of the Belgian set-up to win an award, with 31-year-old Red Lions shot-stopper Vincent Vanasch – a star performer in Belgium's shoot-out triumph over the Netherlands in the World Cup final –claiming 46 percent of the vote to win his second successive Men's Goalkeeper of the Year title ahead of Pirmin Blaak (NED), Tyler Lovell (AUS), George Pinner (ENG) and Tobias Walter (GER). Arthur De Sloover's stunning, composed performances in the Belgium defence saw him named as Male Rising Star of the Year, the prize available to players born on or after 1 January 1996. De Sloover, 21, took 34 percent of the vote, edging ahead of fellow nominees Tim Brand (AUS), Thijs van Dam (NED), Jake Harvie (AUS) and Timm Herzbruch (GER). Belgium's World Cup-winning Head Coach Shane McLeod was named Male Coach of the Year, with the New Zealander adding a second title to the one he shared with Netherlands coach Max Caldas at the 2017 Awards.

England's Maddie Hinch, 30, was named Female Goalkeeper of the Year for a third year in a row, adding another title to those claimed in 2016 and 2017. In a category also featuring Rachael Lynch (AUS), Ayeisha McFerran (IRL), Maria Ruiz (ESP) and Ye Jiao (CHN), it was Hinch who took the crown with almost 40 percent of the vote. The Female Rising Star Award went to 22-year-old Argentina midfielder Lucina von der Heyde, who finished ahead of Nike Lorenz (GER), Ambrosia Malone (AUS), Lena Tice (IRL) and Marijn Veen (NED) with over 26 percent of the vote. It was the fourth time in five years that the Rising Star prize has been won by a player from Argentina, with Florencia Habif winning the award in 2014 before Maria Granatto claimed back to back titles in 2016 and 2017.

The world's top officials were also given deserved recognition. Germany's Michelle Meister was chosen by the FIH Officials Committee as Female Umpire of the Year and Poland's Marcin Grochal won Male Umpire of the Year. Michelle Meister umpired at the Indoor World Cup in Berlin at the start of 2018 before being involved in ten matches at the Vitality Hockey Women's World Cup London 2018 as either an umpire, reserve umpire or video umpire. Grochal took charge of various matches at the Odisha Hockey Men's World Cup Bhubaneswar 2018, including the quarter-final and semi-final stage before being given the privilege of officiating the gold medal game between Belgium and Netherlands.

Whilst the Coaches of the Year were chosen by an FIH panel and the Umpires by the FIH Officials Committee, the Player, Rising Star and Goalkeeper awards consisted of both a peer vote consisting of fellow players and coaches as well as a fan vote on www.fih.ch, which saw over 110,000 votes being cast. The votes were calculated as a weighted percentage (75% for the peer votes and 25% for the fan votes).

Speaking about this year's awards, FIH President Dr Narinder Dhruv Batra said: "I wish to offer my sincere congratulations to all FIH Hockey Stars Award winners for their outstanding contributions to 2018, a special and hugely memorable year for our sport. To be named as the very best in the world in a chosen field, whether as a player, coach or an umpire, is an honour that recognises relentless dedication, hard work and sacrifice in order to attain such a high level. Whilst the winners will undoubtedly point to their team-mates, coaching staff or fellow officials as being instrumental to their respective successes, there can be no doubt that their exceptional performances as individuals are worthy of special recognition. Congratulations to each and every one of you, on behalf of the FIH and the entire hockey family."

FIH Hockey Stars Awards 2018

Female Player of the Year 2018

Winner: Eva de Goede (NED - 28.7%)
Fellow nominees: Lidewij Welten (NED - 23.5%), Stacey Michelsen (NZL - 17.1%), Xan de Waard (NED - 16.5%), Georgina Oliva (ESP - 14.2%)

Male Player of the Year 2018

Winner: Arthur van Doren (BEL - 28.1%)
Fellow nominees: Simon Gougnard (BEL - 27.3%), Barry Middleton (ENG - 24.7%), Billy Bakker (NED - 13.9%), Jake Whetton (AUS - 6%)

Female Rising Star of the Year 2018

Winner: Lucina von der Heyde (ARG - 26.4%)
Fellow nominees: Lena Tice (IRL - 22%), Marijn Veen (NED - 22%), Nike Lorenz (GER - 16.6%), Ambrosia Malone (AUS - 13%)

Male Rising Star of the Year 2018

Winner: Arthur de Sloover (BEL - 34.2%)
Fellow nominees: Thijs van Dam (NED - 33.1%), Timm Herzbruch (GER - 15.6%), Tim Brand (AUS - 11.2%), Jake Harvie (AUS - 5.9%)

Female Goalkeeper of the Year 2018

Winner: Maddie Hinch (ENG - 39.9%)
Fellow nominees: Ayeisha McFerran (IRL - 37.7%), Rachael Lynch (AUS - 8.1%), Maria Ruiz (ESP - 7.9%), Ye Jiao (CHN - 6.4%)

Male Goalkeeper of the Year 2018

Winner: Vincent Vanasch (BEL - 46%)
Fellow nominees: Pirmin Blaak (NED - 18.7%), George Pinner (ENG - 14.9%), Tobias Walter (GER - 12.4%), Tyler Lovell (AUS - 8%)

Female Umpire of the Year 2018

Michelle Meister (GER)

Male Umpire of the Year 2018

Marcin Grochal (POL)

Female Coach of the Year 2018

Alyson Annan (AUS) – Head Coach, Netherlands Women

Male Coach of the Year 2018

Shane McLeod (NZL) – Head Coach, Belgium Men

FIH site


---

King Arthur the FIH male player of the year again



©: Frank Uijlenbroek / World Sport Pics

Arthur van Doren was named the 2018 FIH Male Player of the Year for a second successive season following his role in the Red Lions run to World Cup gold.

In 2017, the 24-year-old claimed both the Player and Rising Star of the Year Awards, and another exceptional year for this wonderfully gifted athlete has brought further thoroughly deserved accolades his way.

He was a stand-out performer as Belgium claimed a first ever World Cup title, being named as the competition's Best Player in Bhubaneswar. With 28 percent of the vote, Van Doren took the Male Player of the Year title ahead of fellow Red Lion Simon Gougnard as well as Billy Bakker (NED), Barry Middleton (ENG) and Jake Whetton (AUS).

It was part of a clean sweep for the Belgians of the male awards. Waterloo Ducks' Vincent Vanasch – a star performer in Belgium's shoot-out triumph over the Netherlands in the World Cup final – claimed 46 percent of the vote to win his second successive Men's Goalkeeper of the Year title ahead of Pirmin Blaak (NED), Tyler Lovell (AUS), George Pinner (ENG) and Tobias Walter (GER).

Arthur De Sloover was named the Male Rising Star and World Cup-winning Head Coach Shane McLeod was named Male Coach of the Year, with the New Zealander adding a second title to the one he shared with Netherlands coach Max Caldas at the 2017 awards.

Two EHL umpires were also honoured at the event. Germany's Michelle Meister was chosen by the FIH Officials Committee as Female Umpire of the Year and Poland's Marcin Grochal won Male Umpire of the Year.

Meister umpired at the Indoor World Cup in Berlin at the start of 2018 before being involved in ten matches at the Vitality Hockey Women's World Cup London 2018 as either an umpire, reserve umpire or video umpire. She also umpired at the EHL ROUND1 in Barcelona in October.

Grochal took charge of various matches at the Odisha Hockey Men's World Cup Bhubaneswar 2018, including the quarter-final and semi-final stage before being given the privilege of officiating the gold medal game between Belgium and Netherlands.

For the women's awards, Eva de Goede was the Female Player of the Year. The 29-year-old was one of the superstars of the all-conquering Netherlands team that dominated the Vitality Hockey Women's World Cup London 2018 in July and August last year.

The Amsterdam woman received almost 29 percent of a closely contested vote, taking the crown ahead of compatriots Lidewij Welten and Xan de Waard as well as Spain's Georgina Oliva and Stacey Michelsen of New Zealand. With Netherlands Head Coach Alyson Annan being named Female Coach of the Year for a second year in succession, it was very much a double celebration for the Dutch contingent.

England's Maddie Hinch, 30, was named Female Goalkeeper of the Year for a third year in a row, adding another title to those claimed in 2016 and 2017.
The Female Rising Star Award went to 22-year-old Argentina midfielder Lucina von der Heyde, who finished ahead of Nike Lorenz (GER), Ambrosia Malone (AUS), Lena Tice (IRL) and Marijn Veen (NED) with over 26 percent of the vote.

Euro Hockey League media release


---

Hinch Named FIH Goalkeeper Of The Year For Third Time




Great Britain and England goalkeeper Maddie Hinch has been named the 2018 FIH Goalkeeper of the Year, picking up the award for the third year in a row.

Hinch's dominance of the prestigious accolade continues after she came out top in a public vote, fending off stern competition from Ayeisha McFerran, one of the stars of Ireland's exceptional run to the final of the 2018 Vitality Hockey Women's World Cup.

She also beat Australia's Rachael Lynch, Maria Ruiz of Spain and China's Ye Jiao to the prize.

Speaking about Hinch, Great Britain's Performance Director Ed Barney said: "Congratulations to Maddie on an absolutely fantastic achievement.

"Over the past 10+ years Maddie has been a real presence, a dynamic goal keeper and a hugely respected international player by her teammates and the opposition.

"Maddie has made a phenomenal contribution to the achievements of England and Great Britain Hockey, not only in the women's programme, but also across the sport in Great Britain.

"Her passion and commitment for the sport and goal keeping is something very special and valued by all. The award is thoroughly deserved and a mark of a very special contribution to the sport."

It was certainly a busy 2018 for Hinch as she helped England to a Commonwealth Games bronze medal before also featuring in every game at the World Cup in front of thousands of adoring fans in London.

England Hockey Board Media release


---

Maddie Hinch claims FIH world hockey prize as Belgium dominate awards

By The Hockey Paper



Maddie Hinch gets in the mix once again for England PICS: WORLDSPORTPICS

Maddie Hinch was hailed as a "real presence" on Thursday after being named world goalkeeper of the year for a third year in succession – with the annual awards dominated by Belgium.

Hinch, 30, is currently taking an international break from the sport but can be proud of picking up the award she has made her own in recent years, since first being recognised on the shortlist in 2014.

However, the public voting was a close run affair as she just pipped Ayeisha McFerran, Ireland's rising goalkeeper who stood out during Ireland's World Cup to remember.

This year's awards predictably saw Belgium, as the world men's champions, pick up four awards, led by Arthur van Doren, who won the male player of the year award for a second year running, while Kiwi Shane McLeod won coach of the year.

Meanwhile, eight of the 10 awards were won by European-born players.

Great Britain's Performance Director Ed Barney said: "Over the past 10+ years Maddie has been a real presence, a dynamic goal keeper and a hugely respected international player by her teammates and the opposition.

"Maddie has made a phenomenal contribution to the achievements of England and Great Britain Hockey, not only in the women's programme, but also across the sport in Great Britain."




Hinch only recently returned to the Netherlands after a hockey hiatus where she will resume Hoofdklasse duties, while she has yet to reveal when she will return on the international scene.

Barney added: "Her passion and commitment for the sport and goal keeping is something very special and valued by all. The award is thoroughly deserved and a mark of a very special contribution to the sport."

The Dutch were the other award winners following the successful defence of their women's world title last summer. Eva de Goede won women's player of the year, while Alyson Annan was voted female coach of the year.Art

FIH Hockey Stars Awards 2018

Female Player of the Year 2018

Winner: Eva de Goede (NED – 28.7%)
Fellow nominees: Lidewij Welten (NED – 23.5%), Stacey Michelsen (NZL – 17.1%), Xan de Waard (NED – 16.5%), Georgina Oliva (ESP – 14.2%)

Male Player of the Year 2018

Winner: Arthur van Doren (BEL – 28.1%)
Fellow nominees: Simon Gougnard (BEL – 27.3%), Barry Middleton (ENG – 24.7%), Billy Bakker (NED – 13.9%), Jake Whetton (AUS – 6%)

Female Rising Star of the Year 2018

Winner: Lucina von der Heyde (ARG – 26.4%)
Fellow nominees: Lena Tice (IRL – 22%), Marijn Veen (NED – 22%), Nike Lorenz (GER – 16.6%), Ambrosia Malone (AUS – 13%)

Male Rising Star of the Year 2018

Winner: Arthur de Sloover (BEL – 34.2%)
Fellow nominees: Thijs van Dam (NED – 33.1%), Timm Herzbruch (GER – 15.6%), Tim Brand (AUS – 11.2%), Jake Harvie (AUS – 5.9%)



Maddie Hinch, pictured during the 2018 World Cup  PICs: WORLDSPORTPICS

Female Goalkeeper of the Year 2018

Winner: Maddie Hinch (ENG – 39.9%)
Fellow nominees: Ayeisha McFerran (IRL – 37.7%), Rachael Lynch (AUS – 8.1%), Maria Ruiz (ESP – 7.9%), Ye Jiao (CHN – 6.4%)

Male Goalkeeper of the Year 2018

Winner: Vincent Vanasch (BEL – 46%)
Fellow nominees: Pirmin Blaak (NED – 18.7%), George Pinner (ENG – 14.9%), Tobias Walter (GER – 12.4%), Tyler Lovell (AUS – 8%)

Female Umpire of the Year 2018

Michelle Meister (GER)

Male Umpire of the Year 2018

Marcin Grochal (POL)

Female Coach of the Year 2018

Alyson Annan (AUS) – Head Coach, Netherlands Women

Male Coach of the Year 2018

Shane McLeod (NZL) – Head Coach, Belgium Men

The Hockey Paper


---

Maddie Hinch: England and GB goalkeeper wins prestigious award for third successive year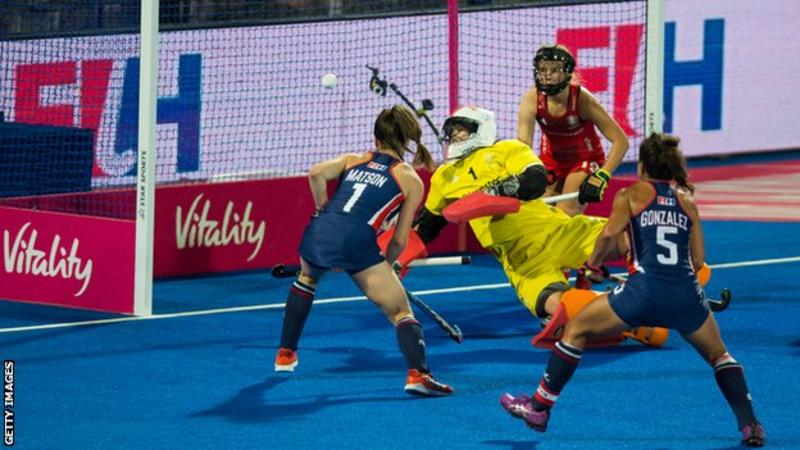 Maddie Hinch has played 133 times for England and Great Britain since making her international debut in 2008, aged 19

Great Britain and England goalkeeper Maddie Hinch has been named FIH Female Goalkeeper of the Year for the third successive year.

Olympic champion Hinch, 30, was one of five international goalkeepers shortlisted for the global prize.

In 2018, she helped England to Commonwealth bronze as well as featuring in every one of the home nation's World Cup games.

She announced in September she would take a break from international hockey.

"Over the past 10 years Maddie has been a real presence, a dynamic goal keeper and a hugely respected international player by her team-mates and the opposition," said performance director Ed Barney.

"Maddie has made a phenomenal contribution to the achievements of England and Great Britain Hockey, not only in the women's programme, but also across the sport in Great Britain.

"Her passion and commitment for the sport and goal keeping is something very special and valued by all. The award is thoroughly deserved and a mark of a very special contribution to the sport."

Ireland goalkeeper Ayeisha McFerran, Australia's Rachael Lynch, Maria Ruiz of Spain and China's Ye Jiao were also up for the award.

BBC Sport


---

Australian Sextet Miss Out On FIH Hockey Stars Awards

Ben Somerford




Australia's sextet of candidates for the 2018 FIH Hockey Stars awards have missed out on claiming the final individual awards.

Kookaburras Jake Whetton, Tyler Lovell, Tim Brand and Jake Harvie and Hockeyroos pair Rachael Lynch and Rosie Malone were shortlisted for major awards in December.

The Player, Rising Star and Goalkeeper awards consisted of both a peer vote consisting of fellow players and coaches as well as a fan vote on www.fih.ch, which saw over 110,000 votes being cast. The votes were calculated as a weighted percentage (75% for the peer votes and 25% for the fan votes).

Former Hockeyroo Alyson Annan was Australia's only winner, as FIH Coach of the Year for leading the Dutch women.

Whetton missed out on the Men's FIH Player of the Year which was won by Belgium's Arthur van Doren.

Lovell lost out on the Men's FIH Goalkeeper of the Year to Belgium's Vincent Vanasch, while Lynch was beaten to the Women's FIH Goalkeeper of the Year award by England's Maddie Hinch.

Brand and Harvie were both up for Men's FIH Rising Star which was won by Belgium's Arthur De Sloover.

Malone was shortlisted for the Women's FIH Rising Star but was beaten by Argentina's Lucina von der Heyde.

FIH Hockey Stars Awards 2018
Female Player of the Year 2018
Winner: Eva de Goede (NED - 28.7%)
Fellow nominees: Lidewij Welten (NED - 23.5%), Stacey Michelsen (NZL - 17.1%), Xan de Waard (NED - 16.5%), Georgina Oliva (ESP - 14.2%)

Male Player of the Year 2018
Winner: Arthur van Doren (BEL - 28.1%)
Fellow nominees: Simon Gougnard (BEL - 27.3%), Barry Middleton (ENG - 24.7%), Billy Bakker (NED - 13.9%), Jake Whetton (AUS - 6%)

Female Rising Star of the Year 2018
Winner: Lucina von der Heyde (ARG - 26.4%)
Fellow nominees: Lena Tice (IRL - 22%), Marijn Veen (NED - 22%), Nike Lorenz (GER - 16.6%), Ambrosia Malone (AUS - 13%)

Male Rising Star of the Year 2018
Winner: Arthur de Sloover (BEL - 34.2%)
Fellow nominees: Thijs van Dam (NED - 33.1%), Timm Herzbruch (GER - 15.6%), Tim Brand (AUS - 11.2%), Jake Harvie (AUS - 5.9%)

Female Goalkeeper of the Year 2018
Winner: Maddie Hinch (ENG - 39.9%)
Fellow nominees: Ayeisha McFerran (IRL - 37.7%), Rachael Lynch (AUS - 8.1%), Maria Ruiz (ESP - 7.9%), Ye Jiao (CHN - 6.4%)

Male Goalkeeper of the Year 2018
Winner: Vincent Vanasch (BEL - 46%)
Fellow nominees: Pirmin Blaak (NED - 18.7%), George Pinner (ENG - 14.9%), Tobias Walter (GER - 12.4%), Tyler Lovell (AUS - 8%)

Female Umpire of the Year 2018
Michelle Meister (GER)
Male Umpire of the Year 2018
Marcin Grochal (POL)
Female Coach of the Year 2018
Alyson Annan (AUS) – Head Coach, Netherlands Women
Male Coach of the Year 2018
Shane McLeod (NZL) – Head Coach, Belgium Men

Hockey Australia media release


---

China's Liaoning to take on Terengganu Ladies in final

By Jugjet Singh

KUALA LUMPUR: Terengganu Ladies will play Liaoning Infinite Space Hockey Club from China for the Vivian May Soars Trophy on Saturday at the Tun Razak Stadium.

Police Blue Warriors had beaten Liaoning 2-1 in the semi-final second leg, but it only tied both teams on aggregate at 3-3.

And in the ensuing shoot-out, Liaoning were the more determined side as they edeged the Blue Warriors 3-2.

In the other semi-final second leg, Terengganu, who had beaten PKT Uniten 4-2 in the first leg, played to a 0-0 draw and advanced on 4-2 aggregate.

Nuramirah Shakirah Zulkifli scored a brace for the Police Blue Warriors in the 31st and 50th minutes thanks to off field attempts, while Chen Yang scored off a penalty stroke in the 39th minute for Liaoning.

Terengganu, who are league champions, already have RM50,000 in their purse, and will be gunning for the title which comes with RM25,000 prize money.

Liaoning team manager, Eric Zacharias said: "It was a heart-stopper of a match, as my charges looked like they were ready to give away the match to the Blue Warriors, but somehow they still managed to persevere and take the game to a shoot-out."

And just like before the semi-finals, Eric once again played down his team's chances by claiming that they are the underdogs in the final.

"Terengganu are the favourites, and we will once again turn up as the underdogs and try our best to match them," said Eric.

In the League, Terengaanu won 4-2 and lost 1-0 to Liaoning.

Police coach Zulkhairi Ariffin said he was still happy as they came back and won the second semi-finals.

"I'm happy with the players as they fought gallantly and won the second leg semis. And as everybody knows, the shoot-out is a 50-50 gamble which can go anyway.

"We did train for the shoot-out, but my players looked like they gave their all in 60 minutes of play and limped into the shoot-out," said Zulkhairi.

RESULTS: Vivian May Soars Trophy semi-finals:

Liaoning HC 1 Police 2 (aggregate 3-3, Liaoning HC win shoot-out 3-2).

PKS-UniTen 0 Terengganu Ladies 0 (Terengganu win on 4-2 aggregate).

TODAY: Men – NurInsafi v UiTM (USM Stadium, 5pm), Terengganu HT v Maybank (Batu Buruk Stadium, 5pm), Tenaga Nasional v TNB Thunderbolts (Tun Razak Stadium, 5pm).

New Straits Times


---

Liaoning survive penalty shootout to make a date with Terengganu in the final

By Aftar Singh

KUALA LUMPUR: Terengganu will face Liaoning Club in the Vivian May Soars (overall cup) final of the National Women's Hockey League.

The east coast team, who won the league title last week, qualified for the final with an aggregate of 4-2 after they held PKS-Universiti Tenaga Nasional (Uniten) to a 0-0 draw in the return leg semi-final match at Tengku Abdullah Hockey Stadium in Bangi on Thursday (Feb 14).

Making their debut in the league, the Liaoning Club of China defeated last year's overall champions Police 3-2 in a penalty shootout after both teams tied with an aggregate of 3-3 at Tun Razak Cup Hockey Stadium in Jalan Duta.

The Chinese club won the first leg semi-final 2-1 on Tuesday (Feb 12) but lost 2-1 in the return semi-final leg Thursday.

In the penalty shootout, Liaoning scored through skipper Yu Qian, Chen Yang and Chen Yiming while Police netted via Nadia Abdul Rahman and Nuraini Shakirah Zulkifli.

Liaoning club team manager Eric Zacharias was delighted with his team's performance in the penalty shootout.

"My players did not train for the shootout but we did well to win it to reach the final. It feels really great to be in the final after finishing third in the league," said Zacharias.

Asked about the chances against Terengganu in the final, he said they would start as the underdogs against the east coast team, who won the overall cup in 2017.

"We played twice with them in the league and we won one and lost one. But I hope my players can rise to the occasion in the final to get the better of Terengganu," he said.

NATIONAL WOMEN'S HOCKEY LEAGUE

RESULTS

TERENGGANU 0 PKS UNITEN 0

(Terengganu won 4-2 on aggregate)

LIAONING 1 POLICE BLUE WARRIORS 2

(Liaoning won 3-2 on penalty shootout)

The Star of Malaysia


---

High-scoring Hafifihafiz shows he's no half-fit veteran

By Aftar Singh

KUALA LUMPUR: Seasoned campaigner Hafifihafiz Hanafi is putting national forwards to shame in the Malaysia Hockey League (MHL).

The Maybank forward, who turns 33 on March 2, still has the killer instinct in him as he has scored 10 goals – five from penalty corners and five field goals – in nine Premier Division matches.

The former international, who played for Malaysia in the 2014 World Cup, is the second highest scorer in the MHL. National and Tenaga Nasional forward Muhd Firhan Ashari is the third highest scorer with nine goals.

Terengganu's Jang Jong-hyun, who was the top scorer in the MHL in 2017, is the top scorer with 14 goals in nine matches.

Hafifihafiz said he is still having a good run in the league despite being in his 30s.

"I'm more than pleased with my scoring ability in the league. I believe I can score more goals with four league matches remaining," he said.

"I'm also surprised that I've scored more goals than the national forwards. And this augurs well for me as the forward and captain of Maybank," said Hafifihafiz, who has been playing in the MHL for the last 15 years.

He made his MHL debut in 2004 and played for Maybank before he joined Bank Simpanan Nasional (BSN) for a year.

But he came back to play for Maybank in 2006 and has stayed with the Tigers. Maybank are fourth in the table with 15 points from five wins and three defeats.

They have a tough weekend as they face last year's league champions Terengganu at the Batu Buruk Hockey Stadium in Kuala Terengganu today.

On Sunday, they take on Tan Sri P. Alagendra Cup champions Tenaga Nasional at the Tengku Abdullah Hockey Stadium in Bangi. Hafifihafiz said that the challenge would be for them to get the better of Terengganu and Tenaga this weekend.

"We narrowly lost to Terengganu (4-3) at home in the first round but it's not easy to beat them in their own backyard. We'll have our back against the wall against Tenaga, who trounced us (7-1) in the first round. I hope my teammates can rise to the occasion and give their best in both the matches this week," said Hafifihafiz.

The Star of Malaysia


---

Bowdon Hightown in EuroHockey Club Indoor action this weekend




Bowdon Hightown will feature in the EuroHockey Indoor Club Trophy tournament this weekend in Vienna, Austria, having qualified as Jaffa Super 6s winners in 2018.

All of the games will be streamed live on the EuroHockey website, starting with Bowdon's opening game at 9:10am GMT on Friday morning against Austrian side SV Arminen.

They then follow this up with a match against Partille SC of Sweden at 2pm that afternoon, before concluding their pool campaign against Lithuania's Gintra Stretke Uni HC at 8am on Saturday.

The leading two teams from each group will then qualify for Pool D and contest two more matches on Saturday evening and Sunday to determine which two sides will be promoted into the top tier for 2020.

If Bowdon do successfully qualify for the highest division, it will be East Grinstead who will then represent England next season by virtue of the fact they won this year's Jaffa Super 6s title.

You can follow all the action as it unfolds by clicking here.

England Hockey Board Media release


---

The outdoor Scottish National League 1 season gets back underway; Clydesdale Western in Europe




The outdoor National League 1 competition comes out of winter hibernation to enter its second phase with each side to play seven more games in the league programme before the European play-offs between the clubs finishing in the top four.

The women`s competition could not be closer at the top, Clydesdale Western and Edinburgh University share the same points and goal difference, the Glaswegians have their noses in front by the narrow margin of four goals.

With the former on European indoor duty, the Edinburgh students have the chance to take over at the top, but only if they can get the better of third placed Wildcats at Peffermill. The champions won the Auchenhowie encounter, which will be a source of encouragement to coach Sam Judge, but only by an Ella Watt goal in the end.

However, it is clear that Wildcats will be stiff opposition for the champions. Asked if they could take something from this encounter, Wildcats` player/coach Kaz Cuthbert said: "Absolutely! We approach any game in this league with the same attitude – play our game and the result will take care of itself."

At the moment the race for the coveted fourth place is between Dundee Wanderers and Watsonians, and ironically they meet head-to-head on Tayside. Wanderers have the advantage of four points as it stands, a Watsonians` victory would close the gap to just one. On the other hand a Wanderers` victory and defeat for Wildcats could propel the Taysiders into third spot.

The earlier league encounter perhaps revealed that there is little to choose between the sides with a 1-1 draw; Nikki Stobie opened for the Edinburgh side in the first half, but Charlotte Watson levelled for the Taysiders with six minutes left.

Elsewhere, the sides in the lower reaches of the table battle it out for points; Hillhead entertain GHK in a Glasgow derby while Glasgow University will hope to improve their position with a home win over a Grange side with only a single point in the bag.

Meanwhile, Clydesdale Western are still in indoor mode – they travel to Vienna for the European Trophy competition after winning last season`s domestic title.

The Glasgow side face a tough initial pool competition against HAHK Mladost (Croatia) and SK Slavia Prague (Czech Republic) on Friday and then HF Lorenzoni Bra (Italy) the following day.

A top two finish in the pool competition would see Western enter the promotion pool for the final part of the tournament, otherwise they will have to strive to avoid relegation.

The omens look fairly promising, while they lost the domestic crown to Dundee Wanderers, Western had a good season finishing in the runners-up spot.

Three sides seem to be dominating men`s National League 1, Grange lead by four points from Western Wildcats who are in turn a point ahead of Grove Menzieshill, Hillhead sit fourth but nine points adrift.

On paper Grange`s visit to seventh placed Uddingston might be a confident one, but recently the Lanarkshire side has acquired the reputation of scuppering the aspirations of title challengers with high-scoring draws.

That is exactly what happened when the sides met at Fettes in October, the unbeaten champions were held to a 3-3 draw when Uddingston`s Jacky Tran equalised from a penalty corner in the second half.

If Grange are to take the three points this time they will have to put the shackles on Bothwell Policies striker Brad Hughes, the Aussie has scored no fewer than 20 goals in the eleven games so far this season.

But the champions have lethal strikers of their own, principally Dylan Bean and Frank Ryan ably supported by Duncan Riddell, Jacob Tweedie and Todd Mills.

Western Wildcats have a tough assignment away to Edinburgh University, and coach Harry Dunlop will remember that it was the same students who inflicted a 2-1 defeat at Auchenhowie earlier this season. David Mawhinney and Ian Moodie scored the second half winners for Edinburgh that day. However, since that reversal the Cats have purred their way to five consecutive victories which has taken them to second place in the table.

Grove Menzieshill are the only one of the leaders at home, they entertain a Clydesdale side that have acquired an unpredictable reputation. At Titwood in October the visiting Taysiders left with a more than comfortable 4-0 win, Cameron Golden scoring a hat-trick with Albert Rowling getting the other.

The mid-table is close – Hillhead, Clydesdale, Uddingston and Edinburgh University are within a single point of each other.

Hillhead, who are currently fourth, entertain second bottom Kelburne.

The Paisley side has had a challenging season, but with players like Iain Scholefield and Johnny Christie still in the ranks, they can never be discounted. And that was certainly the case when the sides had their first meeting, Kelburne won 4-2 with Christie scoring twice, Jack McKenzie and Peter Baldwin were also on target.

Watsonians will seek to join this midfield logjam with an away win against a Gordonians side that have yet to acquire a point in the top flight.

Scottish Hockey Union media release


---

Despite sour exit, Terry Walsh open about return to Indian hockey

By Rutvick Mehta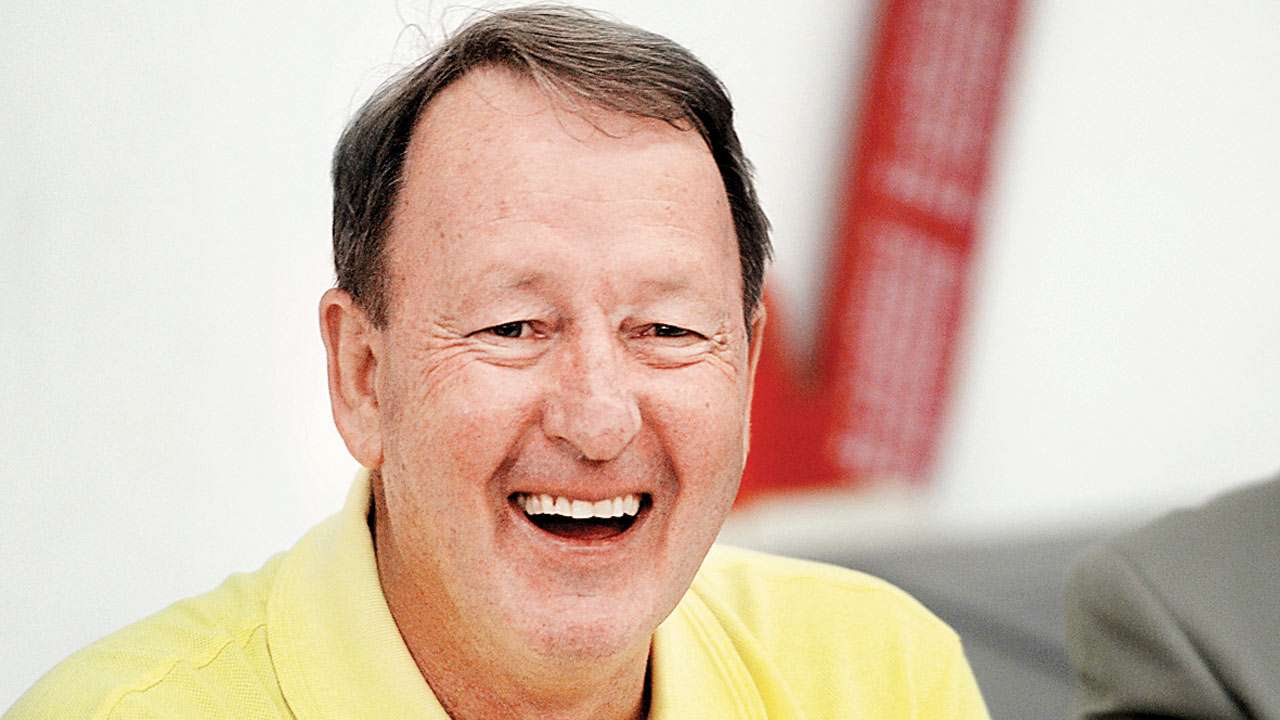 Former India coach Terry Walsh

Former India senior men's hockey coach Terry Walsh and Hockey India (HI) might have had a bitter ending to their association in 2014, but the Australian doesn't seem averse to the thought of a second stint in the country.

On Tuesday, the 65-year-old Walsh stepped down as the technical director of the Malaysian Hockey Confederation (MHC) after taking up the role in August 2015 and overseeing the nation's steady rise in Asian hockey during the period.

HI, meanwhile, is on the lookout for a coach to replace Harendra Singh who was sacked last month after India's below-par performances in the 2018 Asian Games and FIH World Cup.

The last day to apply for the post is Friday.

With Walsh — the 1976 Montreal Olympic Games silver medallist and regarded as one of the current top coaches in world hockey — available and India desperate to find a commander for the team in its build-up to the 2020 Tokyo Olympics, the timing and the match could have been ideal.

The catch, however, is that Walsh's first stint with Indian hockey from 2013 that lasted a little over a year had an unsavoury final chapter, despite him leading India to a silver at the 2014 Commonwealth Games and gold at the 2014 Asian Games.

The then HI president Narinder Batra had accused Walsh of committing financial fraud during his stint with USA Hockey after the Aussie had demanded certain changes in his contract, if he was to continue in India. The stalemate resulted in Walsh flying back home, only to never return.

A source close to Walsh said he is willing to consider coming back despite Batra still having a considerable influence in Indian hockey.

It is learnt that Walsh will not formally send an application to HI by the deadline time due to his contractual obligations with MHC till next month. "After that, if HI is interested in hiring his services, Walsh is open to the possibility of returning to Indian hockey. The past is past," the source said.

A HI official said no decision had been made on the choice of the coach yet.

Daily News & Analysis