All the news for Tuesday 4 August 2020

Oltmans quits as Malaysia's national hockey coach

By Jugjet Singh



Dutchman Roelant Oltmans has sent in his resignation letter to the Malaysian Hockey Confederation (MHC), dated July 31. - NSTP file pic

KUALA LUMPUR: Dutchman Roelant Oltmans has sent in his resignation letter to the Malaysian Hockey Confederation (MHC), dated July 31.

In a letter sent to the press, Oltmans cited Covid-19, as well as being away from his family during this pandemic period, as the main reasons.

He was hired in September 2018 after Malaysia failed to qualify for the Tokyo Olympics, when they lost the Jakarta Asian Games gold medal to Japan by 17 seconds.

The letter read: "Dear Journalists, since the outbreak of the Coronavirus, I have been struggling with myself.

"I didn't feel good at all to be 12,000 km away from home in a dramatically changing world of MCOs, lockdowns, quarantine and many cancelled events all over the world.

"While it looked like about two months ago that the virus was more and more under control, in many places we've seen that the numbers are increasing again and travelling will become more difficult and could even be not permitted in many areas of the world.

"After a number of discussions with the MHC president (Datuk Seri Subahan Kamal) I've decided to resign and it was accepted in the end. To be honest we had a discussion about the notice period, and I am very grateful that the president gave me the option to leave on July 31.

"I would have loved to inform you (journalists) in person, but I had my reasons not to do so.

"I have been out of the country for about nine years (with Pakistan and India as well), and without the Covid-19 virus, I would have stayed until the end of my contract but in this uncertain situation, I had to choose my family and myself," he wrote.

Oltmans's contract was until the end of the year, and he is expected to be replaced by the coaching team of South African Paul Revington and Arul Selvaraj.

New Straits Times


---

Oltmans quits Malaysia with Revington in line as coach

By Richard Bright




Paul Revington, who recently quit as GB women's elite development programme coach, is in line to replace Rolant Oltmans as Malaysia national coach after the Dutchman's decision to return home.

Last month, Revington accepted an opportunity overseas and reports from Malaysia indicate that he will join forces with Arul Selvaraj, who was recently appointed as Malaysian assistant coach.

Meanwhile Oltmans, 66, will coach Hoofdklasse side Kampong next season.

South African Revington, a former Irish coach, and Selvaraj had helped Malaysia qualify for the 2014 World Cup.

"I didn't feel good at all to be 12,000 km away from home in a dramatically changing world of MCOs, lockdowns, quarantine and many cancelled events all over the world," Oltmans said in a statement.

"I have been out of the country for about nine years (with Pakistan and India as well), and without the Covid-19 virus, I would have stayed until the end of my contract but in this uncertain situation, I had to choose my family and myself."

Malaysia haven't qualified for the Olympic Games since Sydney 2000 and Oltmans ultimately failed to guide the team to Tokyo following defeat to Great Britain last November.



The Hockey Paper


---

Former international Arul Selvaraj made head coach of national hockey team

By K. RAJAN



Arul Selvaraj

BUKIT JALIL: Former international A. Arul Selvaraj has been named the Malaysian hockey team's head coach.

He will be replacing Dutchman Roelant Oltman who quit the team on Monday (Aug 3).

Arul is expected to join the team in a fortnight from Dublin, with assistant Mohd Amin Rahim having been made caretaker coach until then.

Arul was initially appointed the national team assistant coach, but the sudden resignation of Oltman, who wanted to be with his family in Holland, put him in the hot seat.

The Star of Malaysia


---

Oltmans gets the top job at SV Kampong




Roelant Oltmans is the new head coach of the SV Kampong men's team, taking over from Alexander Cox on a multi-year contract.

Oltmans brings with him one of the most extensive CVs in world hockey having previously won Olympic gold as Dutch coach in 1996 and the women's World Cup in 1990 while he has also been charge of the Pakistan, India and – most recently – the Malaysian international men's teams.

On the club front, he has also coached the Laren, HCKZ and Bloemendaal coaching roles in addition to being general manager with football club NAC.

Speaking about the new job, Oltmans: "I am happy that, in these uncertain times, I got the opportunity to work at the largest club in the Netherlands with a huge tradition, one which has produced many top players and also has a very strong squad. 

"We share the ambition to not only achieve results in the short term but, also, to look further into how Kampong can remain successful in the longer term. I look forward to working with Alex Verga and Pieter Bos and everyone else involved in top hockey at Kampong."

Paul van den Putten, top hockey board member at Kampong, added: "With Roelant, we have the right man in the right place. We were looking for an experienced trainer/coach to succeed Alexander, someone who is used to working with internationals and to give the youth a chance.

"Especially in this difficult period with the coronavirus, Roelant's many years of international experience is an advantage, so we are very satisfied and we wish Roelant and the team every success!"

Under Cox, Kampong earned promotion to the Hoofdklasse and subsequently won the 2016-17 and 2017-18 national championships along with the 2016 EHL crown in Barcelona.

Euro Hockey League media release


---

The Hockeyroos' glory years



Credit: Hockey Australia

Between 1993 and 2000, the Australian women's hockey team were leading the way when it came to women's hockey. Two Olympic titles – in Atlanta in 1996 and in front of a home crowd at Sydney 2000 – were the icing on the cake but they were not this team's only achievements during this golden period.

Other notable titles included two World Cup titles in 1994 and 1998; the Champions Trophy in 1993, '95, '97 and '99 and the Commonwealth Games in 1998. Only the Netherlands team of 2008-2012 comes close to matching them in terms of achievements.

A fascinating piece of writing by founding sports editor for the Wall Street Journal, Sam Walker has put that Hockeyroos team as one of the top sports teams of all time, sitting among other legendary sides such as the New York Yankees of 1949-1953, the New Zealand All Blacks team of 1986-1990, the all-conquering Cuba women's volleyball team of 1991-2000 and the Ice Hockey champions the Montreal Canadiens who ruled the ice-rink from 1955-60.

This is hallowed company and one that easily accommodates the team that included players such as Alyson Annan, Rechelle Hawkes, Nikki Hudson and Katrina Powell.

"I wanted to study teams that had sustained excellence, that had won for a long period of time," explained Walker. "So I wound up setting the bar at a minimum of four years of dominance. [To be in the mix] a team [also] had to have done something unique, whether it was the number of titles they won or their winning percentage over time."

The double Olympic gold medallists certainly did something unique: in their new look bodysuits and with their high intensity and ruthless approach on the pitch, their emergence was thought by many to be a watershed moment in women's hockey.

In his book, 'The Captain Class: A New Theory of Leadership', Walker suggests that the teams that made his list were not necessarily, on paper at least, the very best, most talented players. By the same token, the teams were not always the best when it came to tactics or strategy. Money and resources were ruled out – the fact hockey and volleyball are on the list alongside football and baseball teams is proof that it is not all about money.

What emerged from the research was the importance of characters in the team and the style of leadership adopted. Most important was the leadership qualities of the captain – at the 2000 Sydney Olympics this was Alyson Annan.

"I thought that a leader had to be a superstar, someone who could put the team on their back and then win the game single-handedly when they needed to," says Walker.

"[But] they were really not superstars for the most part and they really didn't like attention. Many of them were not charismatic at all, they preferred to avoid attention, to labour in the shadows."

Walker adds that a lot of people think that leadership is about your output, but it's really about your input, and what you do for that team behind the scenes.

"These captains were willing to do whatever it took to help the team win, whether they got credit for it or not," he says. "You have to really be willing to sacrifice of yourself and then do all those little acts of service and labour behind the scenes to help the team."

Whether Walker was right in his assessment of the importance of Annan's leadership qualities is up for debate. Most people would agree that a combination of talented and committed players, an extraordinary coach who constantly strove for perfection in the shape of Ric Charlesworth, and Annan's brilliance and instinct for goalscoring were the three cornerstones on which the team's success was built.

Whatever the reasons, the Hockeyroos of 1993-2000 were dominant, successful, mesmerising to watch and groundbreaking as a women's sports team.

The New York Times described the 3-1 victory over Argentina: "The Hockeyroos may sound like a name from Disney or a cuddly mascot, but they are neither: they are a team that is as tough as a hammer's head and very much real. This is the Australian women's field hockey team, a group of unflinching, unrelenting players who have become their nation's most dominant international team. With a following that goes well beyond just a cult niche, they have left their country dizzy with their success over the last decade."

--------------------------------------------

Olympic hockey through the ages

A look back at over 100 years of hockey at the Olympic Games

Sydney 2000: A second successive (and a third in total) gold medal came the way of Australia women on home soil, with the Hockeyroos in simply electrifying form. Their most notable result on-route to the final was a devastating performance against the Netherlands, destroying their illustrious opponents 5-0. They then took gold by defeating Argentina – featuring rising superstar Luciana Aymar – 3-1 in the competition final. Australia men came agonisingly close to reaching the final themselves, losing on penalty strokes to the Netherlands in the semis. The Dutch men went on to defend the Olympic title they won at Atlanta 1996 by defeating Korea, also on penalty strokes. 

Tomorrow: Athens 2004

-------------------------------------------

On this day – 3 August 2012: It was an interesting day in Pool B of the men's competition at London 2012, with the two teams who would meet in the gold medal match both recording fine wins. Eventual silver medallists the Netherlands proved too strong for New Zealand, with Billy Bakker scoring twice in a 5-1 victory before Florian Fuchs hit a hat-trick in Germany's 5-2 thrashing of India, a significant step in what was a successful defence of the Olympic crown won at Beijing 2008. 

To find out more about purchasing tickets for next year's Tokyo Olympics, please click here.

#Tokyo2020
#HockeyInvites

FIH site


---

AHF to organise second set of workshops for Hockey India coaches and technical officials

A group of over 15 coaches and technical officials will be attending a total of five workshops.

The Asian Hockey Federation will organise a second set of online education workshops for Hockey India coaches and technical officials later this month.

A group of over 15 coaches and technical officials will be attending a total of five workshops.

Aimed at providing technical expertise and knowledge on various aspects of officiating and managing international matches and tournaments, the workshops will be conducted free of cost for participating candidates online through Microsoft Teams application.

Each workshop will consist of a three to four hours' session including a break.

For technical officials these workshops will mainly focus on code of conduct: protest and fearing and for the coaches, emphasis will be on coaching in five-a-side hockey, physical fitness demands, match strategies and the role of goalkeepers.

Hockey India has requested each of its eight member units, which take part in five-a-side tournaments in India, to nominate two coaches (one female and one male) for the workshop.

They will attend the workshop along with the group of nominated Hockey India coaches.

HI's officiating president Gyanendro Ningombam said, "I am confident that the workshops will definitely help our officials and coaches improve tremendously and in the process, we will have an opportunity to grow the game of hockey even further in our country.

"The AHF has always taken steps to ensure that the officials are growing and evolving every day and I would like to thank them for their efforts."

Dato Tayyab Ikram, chief executive officer of AHF and chairman of FIH's development and education Committee, also commented on the workshops.

"They have attended the (first) online workshops with great interest and enthusiasm and I have no doubt that they will become much better through another set of online workshops. Hockey India has always ensured that hockey is moving forward in whichever situation and their dedication is admirable."

The AHF will also organise online education workshops for all Asian hockey-playing nations this month.

Hockey India has nominated a maximum of six candidates for each of these educational workshops.

Firstpost


---

Rising Sons

Ashley Morrison

Over time there have been many sons and daughters follow their father or mother into a sport. This should come as no surprise as the children grow up around their parents playing that chosen sport. Often there will come a time when the parents are on the decline and nearing retirement that they may play with their child in the same team. Rarely however is it that parents and their children will play in the top team together at the highest level.


---

English hockey has an 'endemic race issue' from top to bottom, clubs claim

Charge made in letter sent to England Hockey chief executive; BAME players 'scared' to report racism, fearing repercussions

By Sean Ingle

English hockey has an "endemic race issue" from the national team down to the club game and junior levels, and is not doing enough to attract players from more deprived areas, the sport's governing body has been told in a hard-hitting letter signed by nine clubs.

The letter, which is addressed to England Hockey's chief executive, Nick Pink, urges the organisation to tackle a culture where talented black, Asian and minority ethnic players are "scared" to report racism for fear it might affect their chances of progressing up the ladder.

It also warns that BAME players are often stereotyped as fouling more and being less fit than their white counterparts. And it says that hockey "has now become an elitist sport and is dominated at the top level in particular by those lucky enough to come through the private school system".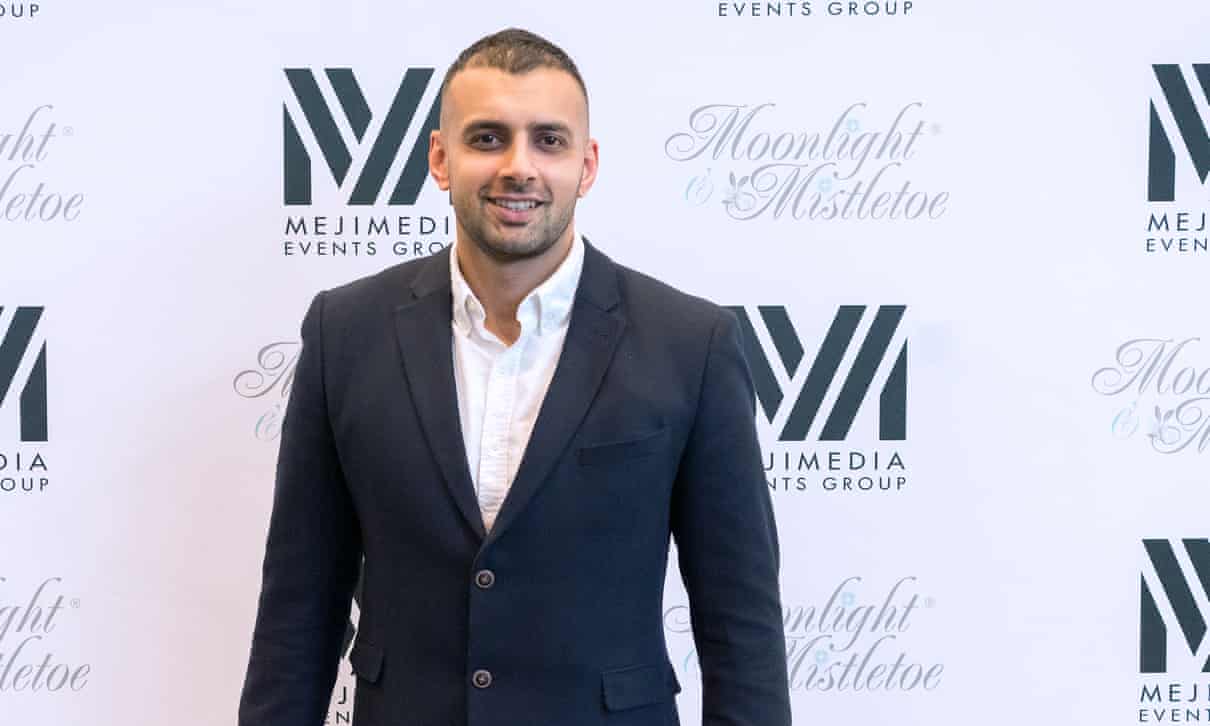 Gurmej Singh Pawar, the chairman of Barford Tigers hockey club, is keen to 'improve and rectify the outdated system and culture'. Photograph: Paul Tak/Barford Tigers

Gurmej Singh Pawar, the chairman of Barford Tigers, an inner-city Birmingham-based club who play in the third tier of the English game, told the Guardian the letter was an attempt to "improve and rectify a system and culture that is both outdated and unrepresentative of modern-day Britain".

England Hockey's board and senior management team is all white – while there was only one non-white player in the combined Team GB men's and women's squads at the Rio Olympics.

"There doesn't seem to be any overt structured attempt by England Hockey to tackle racism and discrimination in the sport," said Pawar. "They seem to be light years behind other sports on this. I don't know whether that is because they think it doesn't exist, or they simply believe that it's not their duty to do something about it. Either way, enough is enough and things need to change.

"Young people who have dreams of playing for their country at the Olympics are potentially missing out because of racial stereotypes and biases. Further to that, if you are not white, middle class and/or come through the private or grammar school system, your chances of playing for GB Hockey in a major tournament are greatly diminished.

"It makes you wonder what talent England Hockey have missed out on or are currently missing out on because they are not doing enough to include a wider cross-section of society."

The letter, which is co-signed by eight other clubs from London, Leicester, Derby, Nottingham and Leeds, also says:
Players from BAME backgrounds participating via the player pathway system that leads to England and Team GB level have suffered overt and casual racism from other players, coaches and management. "Players are too scared to come forward to report it in case of their selection chances being hindered or getting an unwanted reputation as being a "troublemaker".
Black and Asian players from the lowest junior levels upwards are stereotyped as being more likely to engage in foul play and less fit than their white counterparts.
Coaches in the England Hockey set-up have told players they should not play for more ethnically diverse clubs as it could be a "detriment to their game".
Young people from inner cities no longer see hockey as a "sport for all" and, in particular, not for them.
Pink, who took over at England Hockey last year, needs to do more to make the sport more inclusive, tackle racism and given more support for clubs to attract players from socially deprived and BAME backgrounds.
Navraj Degun, a former England junior player, told the Guardian of his experiences after being selected for an England Under-18s tour of Belgium in 2010. "It sounds positive, but the journey there and staying there was horrible," he said. "People joking around with me that I have a 'bomb on my head', referring to my turban, or to be careful of 'what is in my backpack' is never really nice. You laugh at the time, but deep down you feel like shit.

"At the time you don't really think much of it as a kid, but subconsciously this demotivates you a lot. I didn't feel like being there."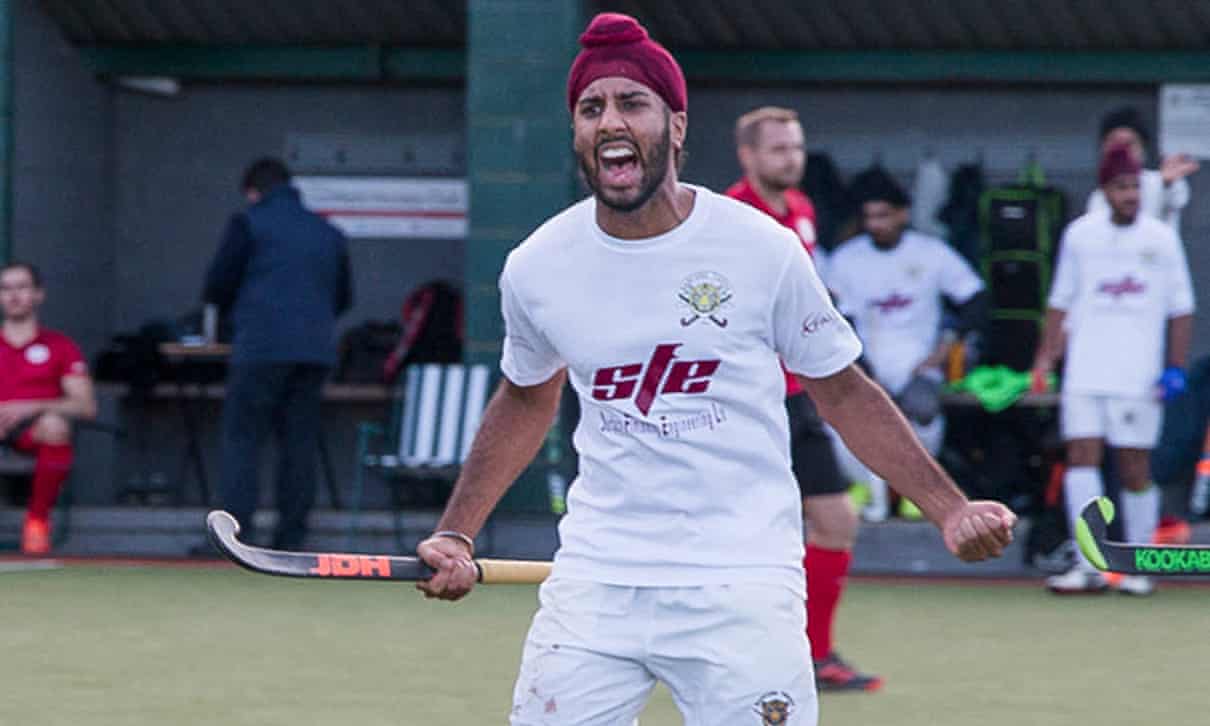 Navraj Degun, a former England junior player, has spoken the 'demotivating' talk during an under-18 tour of Belgium. Photograph: Harsimran Singh/Barford Tigers

Sporting Equals, meanwhile, the UK's leading charity for racial equality and diversity in sport, said its 2020 racism in sport survey had found several instances of abuse at grassroots and club level. One white respondent said he had heard "monkey chants being shouted at my teammate and the abuse of people from the opposition and the umpires".

He added: "Nothing got done with it. We got told we had no evidence and nothing happened to sort the issues out."

England Hockey was asked a series of questions about Pawar's letter but instead released a statement to the Guardian in which it said that its chief executive had reached out to Pawar personally since receiving the letter.

"We are grateful to the clubs who have taken the time and energy to get in touch," it said. "Our aspiration is for hockey to remain at the forefront of British team sports as a force for good in diversity and inclusion, with regards to race, gender, sexuality, disability and age. To that end, we as the governing body set up a diversity & inclusion working group last year, with the aim of creating a long-term strategy.

"The most recent step has been to create an external advisory group, utilising the skills and experience of people from a range of backgrounds within the sport, including the former chairman of Mr Pawar's club Barford Tigers."

It added: "With regards to specific incidents, we strongly urge anybody with concerns to contact us directly at This email address is being protected from spambots. You need JavaScript enabled to view it.. We have a robust process to deal with any concerns. The most complex/serious of those are dealt with by an independent panel."

Last week Sally Munday, who led England Hockey until 2019 when she became UK Sport's chief executive, admitted that she was proud of the team's many successes and should have done more to increase ethnic diversity on the field and in the boardroom.

"When I look back at my time at England Hockey there are lots of things that I am incredibly proud of … but I believe I could have done more to increase diversity of black, Asian and ethnic backgrounds."

UK Sport said its ambition is to see the country's high-performance athletes reflecting the diversity of British society. "That means challenging ourselves to ensure the sport we all know and love is truly inclusive and we are doing everything we can to stamp out racism," a spokesperson said. "Together with our partners across the sports family, we must set out to drive the change we want to see.

"With regards to specific allegations, we strongly urge anybody with concerns to contact England Hockey or the British Athletes Commission where appropriate."

The Guardian