All the news for Tuesday 29 December 2020

SA U21 Men squad trimmed to 24 for African Cup




The South African Hockey Association has today announced the 24-man South African U21 Men's squad. It is from this 24 that the final 18 will be selected to contest at the African Junior World Cup Qualifiers in Ghana in March. The squad initially assembled was 45 players.

With the global pandemic wreaking havoc and sports events, the U21 side have not been able to avoid it. With no U21 IPT this year and no opportunity to play in the Premier Hockey League or in the now cancelled series against India, the management team have been forced to change approaches. This has come in the form of secure environment training and selection camps.

The squad recently completed one such camp at the University of Pretoria and was the basis on which the current selection has been made. The 24-man squad has a few players already having experienced International Senior Hockey. Samkelo Mvimibi has featured for Garreth Ewing's outdoor side, while Aiden Tun and Marvin Simons have both featured for David Joshua's national indoor hockey men. Mustapha Cassiem has featured in both sides and his ability to produce magic out of nowhere will be a major draw card for the team.

The team is also filled with a litany of players that have been in the system for a while now including the likes of Brad Sherwood, Peter Jarvis, Tumi Ramphele and Clayton Saker. While Guy Morgan will be an integral asset for the penalty corners.

Coach Sihle Ntuli was glowing in his praise of the team and their commitment through the trying times:

"I am very excited with the squad as it stands. We have a superb balance in the squad, and it is a great batch of players. The boys have been very committed through the difficult period and the lack of hockey. They have worked incredibly hard and the discipline they have shown is far beyond their years. I think it bodes incredibly well for us as a country."

The 24-man squad will gather for a final camp at the end of February from which the final 18-man squad will be selected and announced.

SA Hockey Association media release


---

World No. 4 India hope to turn back to clock to 1964

s2h Team




India's men's team put on heartening performances at the start of the year but in came the Covid-19 pandemic to halt their steady but remarkable progress en route to the postponed 2020 Tokyo Olympics which will now be held from July 23 to August 8, 2021. The team made a creditable start to their FIH Pro League campaign but it all came to a screeching halt as the threat from the corona virus that has claimed 1.75 million lives worldwide stifled every human pursuit. In a year ravaged by Covid-19, the men's team, however, can still look back with a degree of satisfaction. Going into 2021, India are ranked No. 4, behind Belgium, Australia and Netherlands in that order.



Face mask is the unofficial mascot of 2020. Indian hockey was no different. (Above) Rani Rampal at airport

The women finished the year at No. 9 with the top three nations being Netherlands, Argentina and Germany. Our women were in high form in the beginning of the year, riding on the backdrop of defeating the mighty States in the Olympic Qualifying Series.  But there's even more serious business ahead, that of wresting a medal at Tokyo.

Participating at Moscow 1980, where women's hockey made its debut, India finished fourth in a six-team field. After 36 years in the wilderness, the Indian women qualified for the Games but finished 12th and last at Rio 2016.

Rio 2016 saw the men finish a disappointing eighth but that was an improvement on 12th and last at London four years earlier. The men's team have the burden of eight Olympic gold medals won in the past to live up to. Participating at all Olympics Games since 1928 except the 2008 edition when they failed to qualify, Tokyo held promise for the team pining for achievement and a promising start in the Pro League saw them shape as likely medal contenders.



India entered the Pro-League, an important event in 2020. Manpreet's India also produced some scintillating show

Victory over formidable Netherlands 5-2 and 3-3 (3-1 in a shootout) was nothing short of stupendous. Gurjant Singh scored after just 13 seconds in India's Pro League debut. The goal was voted second best in the competition so far. The next encounter against World Cup champions Belgium ended in a remarkable 2-1 win. A 2-3 defeat in the next match, however, provided a reality check. The team showed it could hold its own against any of the top guns and, after a fighting 3-4 defeat to Australia, Manpreet Singh's boys put it across the formidable Kookaburras 2-2 (3-1) before the pandemic ground everything to a screeching halt in March.

There was something more to celebrate for India. Captain Manpreet Singh became the first Indian to win the Best Player award since the awards were incepted in 1999. The midfielder won the honour ahead of Belgium's Arthur van Doren and Lucas Vila of Argentina, who finished second and third respectively.



Vivek Prasad

More joy for India. Vivek Prasad and Lalremsiami won the FIH Rising Stars of the Year awards for men and women respectively.

The women are not yet part of the FIH Pro League but acquitted themselves creditably on a tour of New Zealand. Led by the ever-reliable Rani Rampal, the team breezed past a New Zealand Development Squad 4-0 in their opener but narrow losses (1-2 and 0-1 to New Zealand's national team followed.  A solitary-goal victory over Olympic champions Great Britain followed and a comprehensive 3-0 win meant the team ended the tour on a high.

Both the men's and women's teams were then confined to the bio-bubble at the SAI Complex in Bengaluru. There, the teams began outdoor training on June 1 after a two-month lockdown hiatus.



Women hockey emerged stronger with enhanced image in 2020

Precautionary measures against the virus were strictly adhered to. Players maintained safe distance while training besides using own bottles for hydration and changing stick grips. The teams adhered to the Standard Operating Procedures (SOP) issued by the Sports Authority of India.

But the players' mental health began to wilt as they worried about their families during the lockdown. Hockey India then decided to send the players on a home break in June, restarting the camp in August.

Training resumed amid a crisis. Six members of the men's team tested positive for Covid-19. The players included captain Manpreet Singh, Mandeep Singh, Surender Kumar, Jaskaran Singh, Varun Kumar and Krishan Pathak. Mandeep was rushed to hospital after his oxygen level dropped below normal but subsequently recovered as did the other five thanks to timely action, treatment and quarantine.

But the Indian camp was hit by resignations by members of the coaching staff. High Performance director David John quit, so did physiotherapist David MacDonald.

Then came the resignation of analytical coach Chris Ciriello who contracted a virus which aggravated an existing skin condition. The scorer of a hat-trick in the 2014 World Cup final in which Australia beat Netherlands 6-1 put in his papers and returned home. The India junior team also suffered a reverse with chief coach, US-based Baljit Singh Saini, requesting a salary hike which was not granted.

Replacements are uncertain what with Hockey India being derecognized by the Sports Ministry along with 53 other National Sports Federations owing to a host of issues, especially those pertaining to governance.




International hockey resumed briefly in September with Pro League matches but as the pandemic showed no signs of relenting the FIH enforced another suspension of fixtures. After their last match against Australia on February 22 in the Pro League, India are set to play in the Asian Champions Trophy starting on March 21 in Dhaka, Bangladesh. After that, India resume their Pro League campaign on April 10 and 11 next year in Argentina. Great Britain come next, on May 8 and 9. India then travel to Spain to play on May 12 and 13.

They then take on Germany on May 18 and 19 before entertaining New Zealand at home on May 29 and 30. It would be a grueling schedule by any reckoning but one wagers it would hold the team in good stead for making an impact at the all-important Olympic campaign in the Japanese capital from July 23 to August 8.

India, coached by Australian Graham Reid, open against New Zealand in the men's section, a team ranked four places below.

Other teams in India's pool are Australia, defending champions Argentina, Spain and Japan. The top four qualify for the quarterfinals from the pool and it will be a tricky proposition. Germany, Netherlands, Great Britain, South Africa, Belgium and Canada are in the other pool.

The women, coached by Dutchman Sjoerd Marinje, face an ordeal by fire as they take on top ranked and defending World Cup champions Netherlands in their opener. Other teams in the pool are Germany, defending gold medalists Great Britain, Ireland and South Africa. Argentina, Japan, China, Spain, Australia and New Zealand form the other pool.

Tokyo holds pleasant memories for Indian hockey. The last "genuine" gold medal victory took place there and given the team's sparkle in recent times, turning back the clock to 1964 may not exactly be a just a pure flight of fantasy.



India won the Olympic gold at Tokyo in 1964

Stick2Hockey.com


---

Schopman saw players in India become role models during lockdown




Janneke Schopman (43) had just started as an assistant national coach in India when the corona broke out and the Asian country was locked up. The lockdown was fierce, but it also brought something good. The women's team was named Women of the Year for a charity and stepped out of the shadow of the men's team.

The players were already on their way home that day in March, when the bus turned around. Instead of going back to their families for a few weeks, they suddenly had to stay on campus in Bangalore, a sort of Papendal of India. The lockdown was declared.

'We were not allowed to train, we were not allowed to come together in large groups, we were not even allowed to leave the field,' says Schopman. For several months the campus was like a prison. Guards did not let anyone in or out. Players stayed in their room most of the time. Schopman killed time by analyzing images of opponents in her small apartment on campus.

No meat was available during the lockdown

Before the former defender of Orange and Den Bosch, among others, was appointed as assistant to national coach Sjoerd Marijne in January, Schopman worked in the United States for five years. First as an assistant and from 2017 as the person with final responsibility. In America, and in the Netherlands, the 212-fold international luxury was used. In India it suddenly happened that sometimes brown water came out of her shower.

Locked up on campus, Schopman became acquainted with the country, where she was not yet long after a training internship to New Zealand. While in Dutch supermarkets, toilet rolls in particular were thrown into the grocery cart en masse, in India the supply of food got stuck. 'Many products were not available. I haven't eaten meat for a month or two. Or yogurt. Fortunately we did have eggs. And boiled vegetables. But at some point you get tired of that too. The chef did his very best, but what he presented to us was a fairly monotonous menu. '

Former assistant Chris Ciriello, former Australian international, came up with an idea. He knew exactly how to stack bricks so that it became a pizza oven. 'It still stands. Yes, haha, baking pizza has become an art for us. '



Schopman in the Netherlands as a coach of SCHC. Photo: Koen Suyk

Violent period

Normally, Schopman had flown back to her home in the United States at the time before the next block of preparation for the Olympic Games in Tokyo would begin. Now the main task of the coaching staff was suddenly no longer hockey-related, but creating the safest possible environment for the team.

'Of all the periods in this corona crisis, that first phase has been the most complicated for us as the team. For those girls it was very intense. They had not seen their family in a long time and were going back home, but then corona broke out. But they got through it. I think it's fantastic what they have done with their time.

Collect money through social media

The group of players soon came up with the idea to collect money through a crowdfunding campaign for the poorest victims of the lockdown. 'There were people who were out of work from one day to the next. That was heartbreaking to watch. Many of the girls on the team come from poor families themselves. They sympathized very much with them and felt that they should take action. '

For seventeen days, the players posted a new challenge every day on social media. Schopman himself also participated. One day she tried to hold on to plank for as long as possible. The other day she had to jump rope five hundred times.

Participants were asked to donate 100 rupees, slightly more than one euro. For poor families in India, this is quite a considerable amount, but not too high to avoid coughing it up. 'The idea was that everyone could participate. So not only the rich, but also the poor. Some donated enormous amounts, others exactly 100 rupees. They didn't have more money. I think it's special that the team has also reached them.

'They have become role models'

Under the hashtags # Give100ForCOVID and # TakeChallengeGive100, the campaign became known nationwide. The players of India, much less popular than their male colleagues, eventually collected tens of thousands of euros, but achieved much more than that. They finally got a face for the general public. The lockdown disappeared, but the reputation remained. The team was named Women of the Year in India by Vogue magazine and featured on the cover.

Schopman: 'They have become role models. Not only for young girls who want to play hockey, but also for women in India in general. In that respect, Covid has produced something good after all. '

Hockey World News


---

Indian women's hockey star Namita Toppo Honoured With Eklabya Puraskar

Toppo was honoured with the 28th Eklabya Puraskar for her outstanding contribution to women's hockey at the international and national level

By Samrat Chakraborty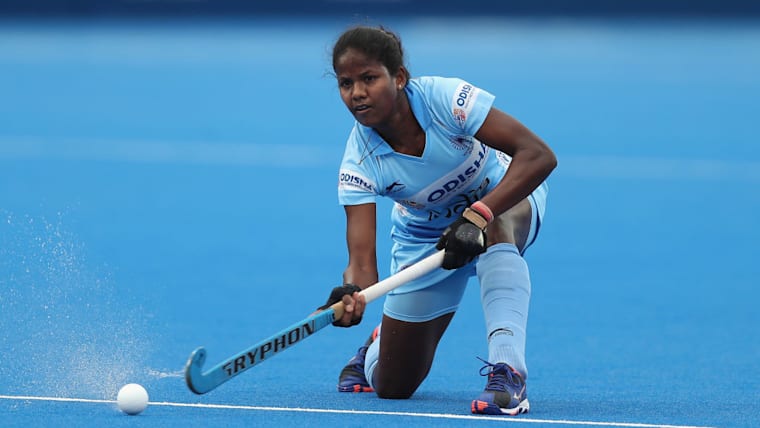 Indian women's hockey star Namita Toppo Honoured With Eklabya Puraskar

Odisha-based Namita Toppo, a member of the Indian women's hockey team which clinched the silver medal at 2018 Asian Games, was honoured with the Eklabya Puraskar.

Toppo was honoured with the 28th Eklabya Puraskar on Sunday for her outstanding contribution to women's hockey at the international and national level.

As a part of the award, Toppo also received a cash award of Rs. 5 lakh along with a citation, at a low-key ceremony in Bhubaneswar organized under strict Covid-19 guidelines.

The 25-year-old was unanimously selected for the award, based on her performance between April 1, 2018 and March 31, 2020, by the Ekalabya Award committee comprising jury members from different sectors.

Toppo is a midfielder in the Indian women's team. She broke into the national team in 2012 at the FIH Champions Challenge in Dublin and was also felicitated with Asuntra Lakra Award for the upcoming player of the year Award in 2014 by Hockey India.

Toppo, memorably, played a crucial role in India's win over USA in an FIH Hockey Olympic qualifiers at the Kalinga stadium in Bhubaneswar in 2019. A 6-5 aggregate triumph meant that the Indian eves qualified for the Tokyo Olympics.

"It is the biggest honour for me to have won the Ekalabya Puraskar 2020. As a member of the Indian Women's Hockey team, it gives me great joy, and makes me proud of the whole team, because it is due to them that I have been able to perform well in the past year, especially after returning from a big injury," she said in a Hockey India release.

Weightlifter Sneha Soren and rising Indian badminton player Rutaparna Panda were also felicitated with a cash cheque of Rs 50,000 each for their exceptional contribution to their respective fields.

Soren bagged a gold medal in weightlifting at the Commonwealth Games in 2017. The weightlifter from Mayurbhanj district also bagged bronze and gold medals at the Asian Commonwealth Games and South Asian Games in 2019 and 2020 respectively. She also stood fifth in the Youth Olympics in 2017.

Panda, on the other hand, was a part of the 2018 Asian Games. She has two runners-up and as many winner's titles in the women's doubles category of the BWF International Challenge/Series.

Baijayant Panda, former MP (Lok Sabha) and Trustee of IMPaCT, the foundation that has instituted the award, greeted the awardees and wished them great success in their respective fields, through a virtual conference.

Ekalabya Award was instituted in 1993 and has emerged as one of the most prestigious sports honors in the country.

Olympic Channel


---

Hockey demonstrates great adaptability in 2020

Sarah Juggins



Season's Greetings from PAHF   

Since the early part of 2020 hockey, like every other sporting activity, has been hit hard by the global pandemic. Matches, tournaments, leagues, international fixtures – every form of the game has suffered disruption at best, complete closure at worst.

For everyone involved in the sport, this has been a time of varying degrees of frustration, disappointment and sadness. For organisers and administrators from school, club, regional and national level, events which have been in the planning stages for many months have been cancelled; work on projects have slowed or halted; any development work has been in a hiatus of uncertainty.

For athletes, the chance to train, improve, perform and impress has all passed by and, for many players, the past few months have halted their progression from junior to senior or B team to A team.

The temporary stoppage caused by the virus has reminded everyone that an athlete's international career is short lived. Eight to ten months is a long time to take out of the game and for many athletes, this may well be the end of a hockey playing career.

With the 2020 Olympic Games in Tokyo cancelled, spending another eight months training at such a high intensity in the twilight of a career is just a demand too far. One such athlete is the genius forward of Argentina, Carla Rebecchi.

Rebecchi, who has been a shining beacon for Las Leonas throughout her 16-year international career, has announced her retirement and will not be taking to the field in Tokyo next year. While Rebecchi, who has played for Argentina 317 times, did retire once before in 2017, this time, she says it is for good.

"I really wanted July 2020 to come and then retire after the Games. The idea of waiting another year was very uncomfortable. I don't want to miss my daughter for long. The issue of quarantine is very complicated, it is difficult to concentrate when I am away from my daughter."

Rebecchi's influence on both the Argentina team and the wider international hockey scene has been huge. She is renowned for her skills, flair and scoring ability and, since her return after the 2017 'retirement' had lit up the stage in FIH Pro League appearances. There is no doubt that she will be missed at the next Olympic Games by both the Argentina fans and international fans of the game alike.

For the hockey community, there is now light at the end of the tunnel, with vaccines becoming available and nations getting the virus under control, but there is little doubt that life in general and hockey in particular, will not be returning to 'normal' for a long while yet.

However, as with any situation, there have been positives and in 2020, the positives have been provided by the widespread adoption of digital communications.

From supportive groups chatting to each other on WhatsApp, through to online training videos offered by elite athletes, the digital world has expanded exponentially. USA athlete Erin Matson was notably busy offering advice to other young hockey players on staying motivated and continuing to train hard. Argentina's Delfina Merino shared her training sessions at home with her thousands of fans on social media. Canada's Hannah Haughn used her social media platforms to share advice on mental health issues as people struggled with isolation. This became a time when the stars of the game became far more approachable to their fans.

While the athletes tended to use their social media platforms in an informal setting, national organisations, continental federations and the international federation suddenly spotted the opportunity to use this time to increase levels of knowledge within the hockey workforce.

In February and March, coaches, umpires, technical officials and administrators were all suffering from a lack of hockey as much as the athletes were. Coaches were not able to work with their squads to improve their own coaching skills and knowledge. For umpires, a lack of game-play would lead to an inevitable deterioration in game readiness. Technical officials and administrators were not able to be involved in the very activities that gave them so much satisfaction.

"This time last year, I had umpired over a 100 games, this year I can count the games I have umpired on one hand," said Ayanna McClean of Trinidad and Tobago on the recent hockey podcast interview for the FIH. For McClean, this is particularly tough as she will be officiating at the Tokyo Olympics and needs high level match play experience to prepare for the challenge.

And so, the hockey organising bodies started to explore other ways of maintaining momentum within the sport. A proliferation of online courses, webinars and conferences offered the hockey community a new way to come together.

PAHF adopted the new technology with relish. A series of webinars and courses were organised to take place throughout the year. These were run by PAHF and tailored to the specific need of the national associations. The courses ranged from umpiring level one and two courses, coaching courses, training for facilitators, courses for technical officials and workshops concentrating on specific hockey topics. Some courses were invitational only, offering the chance for people working within national associations a chance to update and enhance the skills and knowledge they already had. Other courses were offered out to anyone interested in increasing their hockey knowledge.

The course facilitators were people at the top of their own game. Goalkeeping legend and top class educator Laura del Colle ran online goalkeeping training courses for aspiring goalkeepers and goalkeeper coaches. Internationally renowned umpire Soledad Iparraguirre facilitated courses for level one and level two umpires. Among the host of highly qualified providers who turned out in their droves and gave up their time to facilitate the courses were Willard Harris, Roger St Rose, Diego Barbas, Soledad Iparraguirre, Gus Soteriades, Rene Zelkin, Lorena Rinaldini, Maureen Craig-Rosseau, Chiche Mendoza, Pablo Mendoza, Veronica Planella, Ernesto Lucero, Virginia Casabo, Nico Tixe and Juan Casas.

Just as the athletes were making themselves available to the fans, some of the most qualified people in the areas of coaching, umpiring and officiating world were now in regular dialogue with people who wanted to progress their knowledge in these areas.

While some courses were one-off sessions, others paved the way for more development work in the future. The FIH webinar on Gender Equality offered PAHF a way to start dialogue between national associations within the Pan American region. Trinidad and Tobago's Maureen Craig-Rosseau was one of the guest speakers who emphasised the need for national associations to start to plan a strategy for ensuring equality within the sport.

But, of course, the online courses will never replace the physical, interactive courses that existed pre-pandemic. As Laura del Colle was quick to point out, the courses "cannot ever replace the important work that is done on the field."

The natural development now is for organising bodies to use both means of knowledge sharing. While the majority of training will take place via physical courses, with all candidates physically together at a central point, there will also be times when the most cost- and time-efficient means of delivering information is online. When the information can be delivered online, then that leads to a huge saving in terms of travel and time for participants.

As we move into this brave new world of hybrid hockey development, it is worth reminding ourselves just what reach PAHF achieved in a year when the sport could have been forgiven for retreating into it's shell.

There were 41 courses, comprising a mix of Spanish and English. More than 2,400 people took part in PAHF courses, with a further 75 people taking part in the new Open Space courses. Coaching and umpiring courses were by far the best attended – 573 people took at least one Spanish-speaking umpiring course, a further 778 people attended the Spanish-speaking coaching course and 345 took the English speaking version.

The geographic reach was enormous, with people logging into the courses from across the continent. The most popular course was the Spanish-speaking coaching course which saw representatives from 27 different national associations sign in.

Talking about the success of the online program, PAHF President Alberto 'Coco' Budeisky says: "The willingness of the facilitators to provide such a breadth and wealth of information has been astonishing. No less astonishing has been the enthusiasm with which the hockey community has taken up these courses.

"By adding an element of online education into our coaching and training in the future, we are opening up opportunities to a far greater audience. This is the sort of inclusivity and accessibility that will help us move hockey forwards across the entire PAHF region. It is also a measure of the hockey family's ability to adapt and innovate at times of real challenge and uncertainty.

"On behalf of PAHF, I would like to thank everyone who has given their time to either deliver or attend our courses."

Pan American Hockey Federation media release


---

Shams-uz-Zaman team wins Al Saghir Super Hockey League in Pakistan

KARACHI: Shams-uz-Zaman team won the Al-Saghir Super Hockey League, defeating Jahangir Khan team by 4-3 goals at Siddique Memon Sports Complex the other day.

One goal each was scored by winning team captain Zahid Ghaffar, Babar Sadat, Rehan uz Zaman and Shaheer Qasim. For the losing team, Hasnain Solangi scored two goals and Mohammad Sameer scored one.

In the third position match, Matloob Baig team defeated Arif Ashraf team by 5-1. For the winning team, forward Samiullah scored a hat-trick, while Salman Khurshid and Dr Nasir scored one goal each. Noman Khan was declared the best player of the league, Aun Agha the best goalkeeper, Shaheer Qasim the emerging player and Saad Zaheer the top scorer.

The News International


---

Dar Hockey Academy to Get AHF Affiliation: Tayyab Ikram

By Ijaz Chaudhry

Dar Hockey Academy is easily the best hockey nursery of Pakistan.

The Academy, established in 2006, began with just seven players. But it wasn't long before it began recruiting talented boys from outside Lahore, who are also provided boarding, lodging and schooling.

Training at the Academy takes place at the National Hockey Stadium in Lahore by a team of coaches, always led by a distinguished coach. Currently, the head coach is the World Cup winner Danish Kaleem. Competition is a vital part of the training. The academy's trainees, especially those residing at its hostel, are all enrolled in the same school and play for their school team in inter-school tournaments. The Nobel Hockey Club Lahore, consisting entirely of the academy's boys, figures in local and outstation tournaments, and has won a number of laurels. Its boys are then picked up by departmental, city and provincial sides for the national senior and age-group championships.

The Academy's players have been regularly picked up by Pakistan's age-group sides since 2009 and have been winning selection in the national (senior) sides since 2012.

For international exposure, the Academy has gone on six tours of leading European hockey nations, Holland, Belgium and Germany, besides visiting Asian hockey powers India and Malaysia.

In recognition of its immense services to Pakistan hockey in grooming the young talent, CEO of the Asian Hockey Federation, Mr Tayyab Ikram has announced that the Dar HA would be granted affiliation to the AHF.

The affiliation entails Dar Academy to various benefits. AHF would facilitate the academy in arranging its training tours to the member countries. The continental federation may also send qualified coaches/trainers to the academy for a certain period. Likewise, Dar Academy's coaches could attend the AHF's courses.

Tayyab Ikram also donated Rs 500,000/ to the Dar Academy from his own pocket, apart from two  goalkeeper kits.

Dar Academy's President Olympic gold medallist Tauqeer Dar expressed his gratitude to Tayyab Ikram, "Recognition of academy's role by the CEO of the AHF is a great honor for the Dar Academy. The affiliation will go a long way towards further enhancing academy's efforts to nurture the young talent in Pakistan".

Ijaz Chaudhry writes on hockey & other sports. For more about him and his work, visit: www.sportscorrespondent.info

Fieldhockey.com


---

Jeffrey E. Grosvenor funeral service live stream this morning

Jawwad Qamar




Jeffrey Egbert Grosvenor's funeral service will take place this morning (December 29) at 10 am (US Eastern Standard Time) at the Aikens Funeral Home in Tampa, Florida and live streamed on www.aikensfuneralhome.net.

Jeff passed away on Saturday, December 12, at a long-term acute care facility in Tampa, after a valiant battle for multiple ailments. He was born on November 18, 1945 in St. Anne, Trinidad & Tobago and moved to America in 1966.

Jeff leaves a legacy of service to the sport of field hockey as a player, coach, umpire, founder, administrator and an official at hockey tournaments in North America. This included being a Judge at the 1996 Olympic Games in Atlanta. He was the President of the North East Field Hockey Association in New York during a time hockey saw a rise in popularity in the region.

Considered a father figure and a mentor by many emigrating from the Caribbean to the United States, Jeff, along with the late Michael Grannum, founded the Tri-State Falcons FHC in 1991 and later formed Malvern USA FHC, a women's team.

Jeff was a constant and iconic presence as the Tournament Director at Big Apple Hockey Festival during the summer in New York and at the indoor version during winter in New York and later in Pennsylvania. After moving to Tampa with his job in IT for a major financial institute, Jeff founded the Tampa Bay Grasshoppers FHC and yet still found time for Big Apple Hockey events.

"Uncle Jeff, as most people called him, did his part by showing his support by giving of his time, energy, voicing his opinion and suggestions that helped to shape the Big Apple Hockey events and making them the success they are today," said Nigel Traverso, Director, Big Apple Hockey. "He was a strong, soft spoken and calming presence in his role as Tournament Director of our Indoor and outdoor events. He will be missed by all who crossed his path in our Field Hockey community, here and abroad. May he Rest In Peace!"

Jeff is survived by; daughter Janae; sons Stefon, Jamal and Christopher; grandchildren Bria, Elijah, Adelina and Jamision; sister Junette, niece Cherrie and nephew Sean.

The family would like to express their thanks to everyone, near and far, for all of their prayers, emails, calls, text messages, during Jeff's challenging healthcare battle. They ask for everyone's continued prayers during this difficult time and hope that friends and relatives would honour Jeff by joining the funeral service live stream (www.aikensfuneralhome.net) today at 10 am (US Eastern Standard Time).

Fieldhockey.com