All the news for Tuesday 5 July 2011

Top-3 placing brings rewards for Black Sticks

KEVIN TUTTY



JOYFUL: Charlotte Harrison (left) and sister Samantha celebrate a goal against South Korea in Amsterdam. Reuters

The hooter had barely sounded yesterday when the Black Sticks became everyone's friend in the world of women's hockey.

Team representatives were beating a path to their door and the Kiwis had three invitations before they left the ground at Amsterdam.

Winning the bronze medal at the Champions Trophy tournament suddenly made the team a popular opponent for next year as the higher-ranked countries in the world plan their Olympic Games buildup.

First to offer an invitation was Argentina who want the Black Sticks to play in a Four Nations tournament there next year before the Champions Trophy from January 28 to February 5.

Argentina then want to return the compliment by visiting New Zealand in March.

China are also interested in a series with New Zealand, said Black Sticks coach Mark Hager.

The team also hope to tour Europe before the Olympics and Hager says the team's performance in Amsterdam should ensure they have no trouble organising games with European heavyweights the Netherlands and Germany.

Black Sticks captain Kayla Sharland was happy to hear they would be meeting some of the top-ranked teams again.

"It's not every day we get the top teams coming and asking us to go to a tournament.

"It's normally us chasing tournaments," she said.

"Those teams have now become aware of us and it will be great to play them, but we can't afford to get complacent.

"We have to keep moving forward."

Hockey New Zealand chief executive Hilary Poole said from Amsterdam last night that the team surpassed the placing it told funders Sparc it wanted to achieve.

"We were looking for a top-six place but to finish third was fantastic," she said.

It was pleasing that the top nations were now seeking out the Black Sticks as an opponent.

The Black Sticks have a programme partly planned for next year and Hager said he expects the team will play 20 to 25 internationals from January through to the start of the Olympics on July 27.

They still have several tests left this year.

The players will return to New Zealand for the national hockey league between July 30 to August 14.

Soon after the league the Olympic squad of 25 will be named and their first appointment will be a tour of the United States in September.

They will be back only a few weeks before they head off to Hobart for the Oceania Cup where both the Black Sticks and Australia should qualify for the Olympics.

The squad will get their only opportunity for a break in November-December beforethey are back together again in early January to prepare for the Champions Trophy and the Four Nations tournament beforehand.

Stuff


---

Harrison hammers it home for late win

By Terry Maddaford



Charlotte Harrison (left) celebrates her winning goal with Samantha Harrison. Photo / AP

New Zealand 3
South Korea 2

A breakthrough bronze for the Black Sticks at the Champions Trophy in Amsterdam yesterday has catapulted Mark Hager's team into medal contention at next year's Olympics but, as ever, the cagey coach was not getting ahead of himself.

After joining his young team - average age just 23 - in celebrating their last-gasp 3-2 win over South Korea to claim the greatest international result for New Zealand women's hockey, Hager was realistic enough to acknowledge the gap between the top two - the Netherlands and Argentina - and the rest.

"Teams ranked between three and 10 or 12 in the world are always good chances to win medals," said Hager after watching the dramatic final in which Argentina scored in the opening 15 seconds and raced to 3-0 before the hosts, with three clinical penalty corner strikes, got back to 3-3, then went on to win a tense shootout 3-2 to claim gold.

That game was a step up from what the Koreans and Black Sticks had shown in the bronze scrap and backed Hager's claim that there is still work to do if they are to close that gap.

But that should in no way detract from the Black Sticks' showing.

They were the only team to take a point from the Dutch - holding them to a scoreless draw in the last round of pool play to book their place in the top four.

In that game and in the second half against Argentina in post-section when they fought back from 0-3 to finish 2-3, the Black Sticks produced some of their best hockey under Hager.

There were glimpses of that again yesterday, particularly in the first half when they struck twice within a minute to take a decisive 2-0 lead. After failing to convert one penalty corner, they made no mistakes seconds later when Katie Glynn hammered home.

A minute later, they swept back on to attack with Krystal Forgesson creating space for herself and providing the clinical finish for 2-0 after 15 minutes.

The Koreans, miffed at having their place in the final stolen from them when the Argentines successfully contested the formula used to ascertain the finalists, took up the attack.

They had a good chance in the 28th minute only to be denied again at a penalty corner when Sally Rutherford, who won the nod ahead of Bianca Russell for goalkeeper, saved brilliantly. Still ahead by those two goals at the break, New Zealand were forced to defend for much of the second half.

That Korean pressure was rewarded in the 42nd minute, when Kim Jong Eun fired the ball through Rutherford's legs for 2-1.

With the Black Sticks a player short as Stacey Michelsen did time in the sin bin, the Koreans finally scored - after 20 misses - from a penalty corner for 2-2.

With extra time looming New Zealand mounted one last attack. In a scramble, the ball ran free and Charlotte Harrison, unmarked a metre or so from the goal-line, had a simple tap home for 3-2 and a historic result.

It was their second win in six games at the tournament - the other by the same score over Australia in pool play - and left them ahead of England, who beat Australia 2-0 in the fifth/sixth play-off, as the top Commonwealth country.

It was New Zealand's eighth win in 53 matches at a Champions Trophy since their debut in 1987. In previous tournaments - restricted in the past to six teams - New Zealand never played for a medal - nine times consigned to the fifth/sixth play-offs.

"It was probably a match we were lucky to come away with in the end," said Hager. "I'm so pleased for players like Kayla Sharland and Emily Naylor. They are stalwarts of New Zealand hockey. They deserve this."

The New Zealand Herald


---

Kelvinder gets it right as striker in Spain

PETALING JAYA: Kelvinder Singh is set to play a new role in the national hockey team.

The midfielder, who returned to national squad in May after a long lay off due to injury, for the Sultan Azlan Shah Cup but he failed to impress. His fitness was a problem and worse he had lost the form that he used to display before the injury hit him in 2009.

But he was still selected for the team currently on a European tour. And he has proven himself by scoring against Spanish teams in all four matches which Malaysia won.

The reason for his chance in form is due to a switch from the midfield to the forward line.

National coach Tai Beng Hai said that they had to use him as a forward as he was losing the ball as a midfielder during the Sultan Azlan Shah Cup.

"It is good to see him scoring goals but to be honest he is still far from his best. But he has improved and his vast experience is a plus factor," said Beng Hai.

"Kelvinder needs more time and I believe that with greater effort he can get himself back to form. He will then be an asset to us.

"For the moment we are giving him more time on the field and it is paying off. We may use him as a striker if he continues improving," he added.

Kelvinder is one of the players from the 2005 National Junior squad when Beng Hai was the assistant coach. Since then he had graduated to the senior team and his big tournament before the injury hit him was the World Cup qualifiers in Invercargill, New Zealand, in 2009.

He spent the whole of 2010 recovering from the injury and did not make the team for the Commonwealth Games and Asian Games that year.

In the ongoing tour of Spain, Malaysia beat Real Polo Club 4-2, Athletic Terassa HC 6-2, Egara HC 2-0 and the Spain Under-21 team 3-0.

They will play their Under-21 team again before the final two matches with the Spain national side. The team will return home on July 9.

The Star of Malaysia


---

Only one goalkeeper in Malaysian Project 2013 team's Euro tour

By S. RAMAGURU



The best: Goalkeeper Mohd Hazrul Faiz Ahmad Sobri will be playing in all the European tour games as he is only keeper in the squad.

KUALA LUMPUR: Goalkeeper Mohamed Hazrul Faiz Ahmad Sobri is the only player who is assured of playing in all the matches during the European Tour by the Project 2013 hockey squad – because he is the only goalkeeper selected for the trip.

The squad leaves for Germany tonight and they have nine matches lined up during the tour. They will play three matches against the German juniors followed by two against the Dutch juniors. And then four matches against their British counterparts before returning home.

Project 2013 coach K. Dharmaraj said yesterday that they picked only one goalkeeper as they wanted to give Hazrul as many games as possible.

"We had two other keepers for our tours to Australia and New Zealand earlier this year and also for the recent four-nation meet in Moscow. And they have not impressed us so we had to go back to Hazrul as he has proven himself in the recent Under-18 Asia Cup tournament in Singapore," said Dharmaraj.

The two goalkeepers left behind are Mohamed Hafizuddin and Shahrul Azaddin.

Besides Hazrul the other two Under-18 players making the debut for the project team are Mohamed Haziq Shamsul and Mohamed Asrul Hasbullah.

"These two players from the Under-18 squad were impressive in the Singapore meet and the coaches felt we should give them the chance to play with the project team.

"We have a big squad and we will trim the team when we get back depending on the performance of the new players," he added.

The Project squad are being prepared for the 2013 Junior World Cup and their immediate target is the Junior Asia Cup next year which also doubles as the world cup qualifiers.

Dharmaraj said that they are assured of quality matches during the tour and more importantly they have a chance to gauge their standard against the top European sides.

"We have arranged matches against the respective junior sides of the respective countries. It will allow us to see how we stack up against them. Our focus is to have a strong team ready for the qualifiers next year. We also have four other players who are in the senior team. They will rejoin us when they can and we hopefully will get them for some matches together with the current batch of players," he added.

The four with the national team are Faisal Saari, Firhan Azhaari, Asri Hassan and Faiz Helmy. Faisal just returned from playing in the Australian national league while the other three are with the senior team in Europe.

Project team for Europe

Players: Mohamad Hazrul Faiz Ahmad Sobri, Shazrul Imran Nazli, Mohamed Sabri Mohamed, Mohamed Noor Faeez Ibrahim, Mohamed Aslam Mohamed Hanafiah, Arief Iskandar Khamdan, Mohd Fitri Saari, Mohamed Rashid Baharom, Mohamed Taufik Abd Hamid, Mohamed Azrul Hasbullah, Amir Farid Ahmad Fuzi, Mohamad Syamim Mohd Yusof, Mohamad Izad Hakimi Jamaluddin, Mohd Zulhairi Hashim, Mohamed Ramadan Rosli, Mohamed Haziq Samsul, Nor Hizzat Sumantri, Mohamed Fariq Saadon, Dedy Aryadi Jumaidi.

Coaches: K. Dharmaraj, K. Gobinathan, Nor Azlan Bakar.

Manager: Mirnawan Nawawi.

The Star of Malaysia


---

Tickets are on sale for the International Super Series




Tickets are now on sale for the newest and most exciting hockey tournament in the world – the International Super Series!

Unlike any other hockey tournament, Hockey Australia has created an innovative tournament called the International Super Series which introduces all new and exciting rules to make the game even faster and more exciting than ever before.

Click on me if you want to watch the International Super Series launch video

The tournament will be held in conjunction with the 2011 Commonwealth Heads of Government Meeting event in Perth. The International Super Series will be played from October 20-23 at the Perth Hockey Stadium.

The tournament sees Australia's Men's and Women's teams, the Kookaburras and the Hockeyroos, take on some of the world's best including the likes of India, Pakistan, Malaysia and New Zealand.

Tickets are on sale now through Ticketmaster!
Ph: 136100
Website: http://www.ticketmaster.com.au

Fans can expect to experience hockey like they have never seen it before!

International Super Series

Hockey Australia media release


---

England looking for home comforts

By Mike Haymonds



For men's coach Jason Lee, the next two months will see a spell of intense competitive activity

A WEEK after finishing second at the Four Nations Cup in Amsterdam, England's men will play in their only home tournament this season at the inaugural London Cup at Chiswick, starting next Tuesday.

Although their opponents will not be of the same calibre, New Zealand, South Korea and Belgium should still offer a tough challenge.

For England's men and women, last week's tournaments in Amsterdam were the first stage on the road to the London Olympics for Great Britain. Both made a good start against top opposition and both coaches pronounced themselves satisfied with the outcome.

The women came fifth in the Champions Trophy to clinch the final qualifying place at next year's event, although the criteria were not announced until partway through the week.

After an initial defeat by world champions Argentina, England did not lose another game, drawing with South Korea and China before beating Germany and Australia twice. Coach Danny Kerry's main concern is his attack. "The defence and midfield are OK, but the forward line is a headache," he said.

"Too often we give the ball away cheaply. We need to be more bloody-minded, though that is not the natural English way."

For men's coach Jason Lee, the next two months will see a spell of intense competitive activity, with trips to Germany and Spain before the European Championship next month, when England defend the title they won in 2009.

England were second at the Four Nations Cup in Amsterdam after drawing 2-2 with Pakistan and the Netherlands and beating Germany 3-2 and Lee said: "All the games were high quality and to be unbeaten shows how much we have progressed.

"We used to come to these tournaments and lose but in future we will look to win. The result against Germany is the right start. It's all about acquiring the winning mentality."

Daily Express


---

Scotland U18s prepare for European Championship challenge

Scotland's U18 squads are preparing themselves for their most important summer competitions as they look forward to competing in the EuroHockey U18 Championships from 11-17 July.

Scotland U18 Women find themselves up against Europe's top youth international teams at the Volvo EuroHockey U18 Championship in Utrecht, Netherlands. They will commence their campaign with an opening Pool A encounter with Belgium, before playing Ireland and the Netherlands.

Looking ahead to the competition, Colin Clarke, Head Coach, commented:

"The girls have worked extremely hard in training since November on preparing themselves physically, tactically and mentally for this tournament. The hard work has paid off with encouraging results recently against France, Germany, England and Wales but we know that it will be a step up in intensity to compete at this level."

Clarke names eighteen players in his squad, including CALA Edinburgh quartet Mairi Drummond, Fiona Plain, Hazel Hall and Kirsty Hill. Glasgow Western is also well represented with Kirsten McIntosh, Jennifer Hendry, Heather Howie and Bethan Mann making the trip.

With England, France, Germany and Spain making up Pool B, the team may consider themselves fortunate to have avoided the big hitters in the draw, but as Clarke acknowledges, the calibre of opposition at this level of competition means that there will no easy games for the Scots:

"We are ranked eighth going into the competition, so to achieve a place in the top six to retain our status in the Championship is our foremost target. It will be a learning curve for the players, but also a great positive experience for the players, particularly when they will have ambitions that target inclusion in the senior squad over the next few years.

"As a team, we need to focus on our process goals and following the tactics as discussed and practised in our training sessions. Hopefully the results will then take care of themselves."

Meanwhile, Scotland U18 Men will be targeting promotion to the top tier of the European youth competition in 2012 when they travel to Milan for the EuroHockey U18 Championship II.

They will participate in Pool A and take on hosts Italy, Austria and Ukraine. Czech Republic, Poland, Switzerland and Wales are the other four teams competing in Pool B.

Clydesdale Hockey Club's Aidan Black, Gregor Hirst, Peter Baldwin, Scott Lindsay and Stewart Coghlan are included in Graham Dunlop's twenty man squad, as well as Kelburne duo Craig Morton and Ross McIntyre.

The Scots go into the tournament with encouraging results against Ulster under their belt and will hope to take this form into contention for a place in the top tier of European competition.

Unlike the recent FIH Champions Trophy and Challenge tournaments, both EuroHockey U18 Championships will take on a more familiar format for the competing teams. The teams finishing in top two pool places will advance to the semi-finals and final to determine the teams promoted, whilst teams finishing in the bottom two pool places will play-off to decide the 5th-8th rankings.

You can follow the progress of both teams in the following ways:

Volvo EuroHockey U18 Championship (W)

Visit the Volvo EuroHockey U18 Championship (W) website
Follow the Twitter feed of the Volvo EuroHockey U18 Championship

EuroHockey U18 Championship II (M)

Visit the EuroHockey U18 Championship II (M) website

Scotland U18 Women: Anna Gourlay (Perthshire), Nicki Cochrane (GMHC & Strathallan School), Louise Campbell (Grove Menzieshill), Heather Lang (Giffnock & Hutchesons' Grammar), Mairi Drummond (CALA Edinburgh & George Watson's College), Kirsten McIntosh (Glasgow Western & Hutchesons' Grammar), Laura Page (Inverleith & Currie High School), Emma Barlow (Kelburne & Bearsden Academy), Jenny Morris (GHK & Kelvinside Academy), Lucy Lanigan (Giffnock & Hutchesons' Grammar), Sarah Robertson (Borders Fjordhus & Kelso High School), Kike Lawal (Grange & St. George's School), Jennifer Hendry (Glasgow Western & St.Aloysius), Fiona Plain (CALA Edinburgh & George Heriot's), Hazel Hall (CALA Edinburgh & George Watson's College), Heather Howie (Glasgow Western & Craigolme High School), Bethan Mann (Glasgow Western & Craigolme High School), Kirsty Hill (CALA Edinburgh & Kelso High School).

View Match Schedule

Scotland U18 Men: Sean Hadfield (CALA Edinburgh & Boroughmuir High School), Blair Fotheringham (Durham HC), Johnathon Roy (Greenock HC & Greenock Academy), Craig Falconer (Grove Menzieshill & Grove Academy), Aidan Black (Clydesdale HC), Craig Morton (Kelburne), Tom Kelmsley (Hillhead & Hyndland Secondary), Ross McIntyre (Kelburne & Greenock Academy), Corey Hastings (CALA Edinburgh & Stewart's Melville College), Duncan Riddell (Grange & George Watson's College), Scott Lindsay (Clydesdale HC & Gleniffer High), David Patterson (CALA Edinburgh & Boroughmuir High School), Grant Veith (AAM Gordonians & Robert Gordon's College), Michael McKenzie (Dundee Wanderers & Strathallan School), Ben Paterson (Clydesdale HC), Gregor Hirst (Clydesdale HC & Gryffe High School), Peter Baldwin (Clydesdale HC & Gourock Academy), Stewart Coghlan (Clydesdale HC).

View Match Schedule

Scottish Hockey Union media release


---

Olympic berth my first goal: Newly-appointed hockey coach Michael Nobbs

By Vivek Phadnis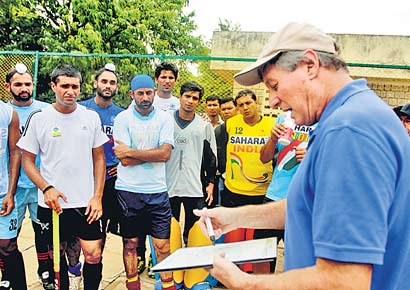 India's hockey coach Michael Nobbs at the national hockey camp at SAI Centre in Bangalore on Monday. A Veeramani

Newly-appointed hockey coach Michael Nobbs says India's chances of qualifying for the Olympics are 50-50.

What are your first goals and how difficult or easy is it going to be to qualify for the Olympics?
The first goal will be the pre-Olympics and I think we have a 50-50 chance of qualifying. It is going to be tough considering that the other top-10 hockey playing nations have spent a lot of money preparing for five to six years. We hope to do our best. It is a bumpy road at the moment. You may have many ups and downs in the next 12 months. But hopefully, given the time, we can be on the podium in the Brazil Olympics in 2016.

What is going to be the focus in this month-long camp?
There are 90 players in the camp now, including the juniors who are doing well. We want to prune it down to 29 players for the national squad but that will not happen this month. We will, maybe, bring it down to 48 this month. This keeps competition going between the players who are already there. I want them to give more than what they think they have. I want their heart and soul, and more. I think they will do it as they are pretty focused.

One things is for sure, India hasincredible talent and we need to groom it. There are many tournaments coming up and we want to experiment. We want to have two full teams.

Any specific reason for going back to the 5-3-2-1 formation?
As youngsters we were taught the 5-3-2-1 combination in Australian hockey. We still teach that back home but we don't use the European style. And this 5-3-2-1 has its roots in Indian hockey.

You are planning to introduce the leadership group concept rather than just one captain...
There are a lot of good fundamentals behind the concept. Players take ownership of the team and help others. They do it in major sports like football and it works. It is a great thing to do. Other players can walk up to these players and discuss things they are not comfortable discussing with me. We need a bunch of leaders. Sometimes, we spot the people who have potential and we gradually develop them. They will be the next generation of leaders.

There is a plan to have a proper website, isn't there?
We are going to have a website where players can come up with ideas. We will have space for the media too because the hockey world is watching India. We want India to do well and will be transparent about what we are doing here. The players can correspond with me. There will be a players' area and they will be monitored. They can log on and tell me what they are doing. Through this, players' needs will also be assessed by the coaches.

Will you have the final say in team selection?
It will be a collective decision. At this stage, I have to rely on people who know the players. It won't be a problem when we have a structure in place and talent shows. I will have the final say, but not just yet.

Are you looking to have any specific training equipment?
We should have it in a day or two. Among the things I will need is a radar gun for example. It will be used for monitoring speed during drag flicks, etc.

DNA


---

India's London Olympics chances are 50-50, says Nobbs

V Narayan Swamy

BANGALORE: Chief hockey coach Michael Jack Nobbs has said that India has a 50-50 chance of making it to the London Olympics 2012. The Australian was realistic in his views, keeping in mind the fact that India had only seven months to prepare a good team for the Olympic qualifiers in New Delhi.

"It is a tough task," Nobbs said on Monday. "The top 10 nations have spent a lot of money and been preparing for the Olympics for many years now. I pray and hope we do our best."

Nobbs admitted the game was faced with difficult times in the near future. "It is a bumpy road, plenty of ups and downs, particularly in the next 12 months. Hopefully, given the time, I am confident India will be on the podium at the Brazil Olympics in 2016. But there is a lot of work to be done."

The Australian said he would be redeveloping what India has been practising for decades. "As youngsters, we were taught the 5-3-2-1 formation. We still teach that back home, we don't teach Euro hockey. My work is to make it modern and contemporary. The Indians are good, their strategies just needs a bit of tweaking."

The coach also plans to make the hockey website a lot more interactive than it is now. "We will have a website with player profiles, their likes, dislikes, their pastimes and other information. I'm going to introduce innovation time, players can come up with ideas in this website. We will have space for the media too. Hockey world is watching India. We want India to do well. We will be transparent about what we are doing here."

"The players can correspond with me, tell me what they are doing. There will be a players' area where they will be monitored. Through this the players' needs will be addressed by the coaches. We will also encourage blogging where players, the other support staff and the media can interact with the coach or post their ideas. There will be a marketing package too," he said.

The coach needed around four weeks to come to a conclusion how good the present lot is. "You are only as good as your players. We need to find out what is good in the team and make it better. We have a huge number now and we aim to bring it down to around 48 by the end of this month. We are looking at a core group of 29. That keeps competition going between the players who are already there. I want them to give more than what they think they have. I want their heart and soul and more."

On his stint as a grassroots coach, Nobbs said: "I never had the ambition to be a top-level international coach. I instead wanted to train youngsters. I have trained various teams in Western Australia. Even as a player I have coached teams. I spent two years learning about coaching in the University of Western Australia. You actually learn to be a coach when you are coaching in the grassroots. You learn to handle difficult players, learn compassion, humility and get the best out of your players."

On selection, Nobbs said: "It will be a collective decision. At this stage I have to rely on people who know the players. We all agree, it won't be a problem when we have a structure in place and the talent shows. I will have the final say but not just yet."

About Nobbs:

Age: 57

Played for Australia between 1978-1986 as centre-half, right-half and fullback.

Took to hockey after having watched Indian legend Balkishan Singh's magical skills with the ball in Adelaide. Also was bowled over by Dennis Glencross' skills. Coached Australian internationals such as Greg Corbett and Paul Gaudoin.

Believes in action:

Nobbs gets down to brass tacks: The national hockey camp began at Sports Authority of India, South Centre, with speed and strength tests as well as matches which chief coach Michael Nobbs was insistent on to get the feel of the talent he had at hand. Quick to notice errors in their ways, he called the players for an analysis, explaining to them the mistakes they committed and the way they could avoid them.

The coach didn't seem too perturbed by the Polytan turf, saying it only needed a clean-up. "It is slippery but it should be okay if it is cleaned," he said.
---

Hockey coach Michael Jack Nobbs gets down to business

He is here and all set to get down to business. India's new national coach of the men's hockey team, Michael Jack Nobbs, landed here on Sunday evening. He went straight to the Sports Authority of India Southern Centre, where he is said to have had discussions with the other coaches and Hockey India officials. HI director of coaching SS Grewal has also arrived and so has Walter Joseph.

Joseph, who flew in from Australia on Sunday, will detail out the training programme for the team and fly back after a fortnight or so.

Nobbs will get down to the job on Monday morning and address them. He is also expected to speak to the players individually later. As of now, the plan is to divide the players into three groups and subject them to speed and strength tests.

"We will see a lot of hockey in the next few days," said Grewal, who is the camp coordinator and in-charge. "The coach wants the players to get down to action so that they can be assessed and given roles. We are waiting for exercise physiologist David John to come. When he comes, there will be more tests. We are looking at an eight-month plan to tell us how well the boys can peak during the Olympic qualifiers next year.

"After that, we will see about the formation etc and it should all be done in the next two weeks," Grewal added. Meanwhile, Dhananjay Mahadik will probably go back from the camp for rehabilitation as he is also injured. Shivendra Singh and Bharat Chikkara will not attend the camp as they too are injured. It is reliably learnt that Shivendra had a shoulder surgery a few days back and will be out of action for a few months.

DNA


---

Nobbs dumps captain; plumps for leaders

V Narayan Swamy

BANGALORE: Arjun Halappa will be India's last hockey captain. At least for the next few years as the team management decided to implement the concept of leadership group which will take responsibility for what happens, make decisions and solve problems.

The concept of multiple leaders, pioneered by hockey legend Ric Charlesworth when he was coached the Australian women's hockey team to Olympic gold in 1996 and 2000, has been progressively adopted by Australian men's team and briefly experimented by cricket guru John Buchanan when he was with IPL team Kolkata Knight Riders.

"There will no be single captain. The idea is to have a group of 4-5 taking equal responsibility. The players take the ownership of the team and they help others. It helps in team building," India's chief coach Michael Jack Nobbs said at SAI, South Centre on Monday.

"Sometimes a captain or coach might not be accessible. The player might be scared to approach either one of them. However, if there is a leadership group, other players can walk up to these players and discuss things they are not comfortable discussing with me," Nobbs, an Olympian and former Australian centre-half, said.

Nobbs has already spoken to a few players about this concept and said they were "okay with it." He also pointed to the way Australian football teams have been successful in implementing it.

The leadership group will be named in a few days in an exercise that includes assessing the qualities of willing leaders and Nobbs own observation. "Every player will be asked to fill out forms comprising personal details. There will be questions as to what his goals are, what would he expect his role to be and the like. We will assess all the data before making announcing the names of the leaders."

Nobbs' predecessor Jose Brasa too had attempted something similar before the hockey World Cup, anointing Prabhjot Singh as captain and appointing four vice-captains -- Arjun Halappa, Deepak Thakur, Rajpal Singh and Adrian D'Souza. But the plan fell through when Hockey India brought back Rajpal Singh as the skipper.

"I believe hierarchical leadership is an anachronism in this time. I do not think it gets the best results," Charlesworth had told TOI. "In my opinion, the best teams have a critical mass of leaders who take responsibility for what happens, make decisions and solve problems. The more the better."

The gist of the theory, which goes by the moniker of 'flat leadership' in management psychology, is that all athletes have to be part of the leadership process.

"Flat leadership helps and requires all athletes to be engaged in the process and so challenges them to help the team do well. Otherwise they become 'social loafers' waiting for others to do things," said Charlesworth.

The Aussie veteran hasn't merely expounded this theory in hockey alone. Having served as the high performance manager of New Zealand Cricket until 2007, Charlesworth tried to introduce the concept among the Stephen Fleming-led Kiwis but "for various reasons it did not go forward."

Delegating responsibility leads to efficiency. Ric Charlesworth's concept, which engages all the athletes in the process, was embraced by his country's sportdom because it was pragmatic and created players who were responsible for their own actions and proactive. It also thrived on the doubt that sometimes one leader may not generate followers.

These factors apply to India very well. The bitter rivalry among skippers in the national hockey team, from the 1968 Olympics when India had two captains, to the 2010 incident when Rajpal Singh and Prabhjot Singh were locked in a power struggle, makes the leadership group concept an ideal alternative.

With these leaders turning into effective conduit between the coach and players, team spirit will follow naturally.

The Times of India


---

'We will have multiple captains'

New Indian hockey coach Michael Nobbs got down down to business on Monday to formally kick-start his five-year tenure and the Australian straightaway made his intentions clear, stating among many things that there will no single captain for the squad but instead will have a leadership group.

"There will no single captain," said Nobbs on the first day of the two-month long national camp here at the Sports Authority of India, South Centre.

"Sometimes a captain or coach might not be accessible. The player might be scared to approach either one of them. Although I am a friendly person, few players would dare to come and share their concerns or ideas. They would just restrain themselves since I am a coach.

"The same thing could happen to a captain. However, if there is a leadership group, then a player has options to express his ideas. He could go and talk to anybody in the group he feels comfortable. Super coach Ric Charlesworth, the pioneer of the idea, has been highly successful with this formula and I don't see anything wrong with it."

The 'leadership group' idea or to simply put it the multiple captain theory could be fraught with danger in a nation where emotions play a big role, primary example being former Kolkata Knight Riders coach John Buchanan who courted disaster in IPL 2.

"There is no need to worry," said an optimistic Nobbs. "I have already spoken about this to a few players and they are okay with it.

"The idea is to have the group of 4-5 take equal responsibility. Training and team building will improve. (Australian) football teams have done it and have been successful. At the end of the day, we need the team to do the job. Hockey, as you'll know, is a team sport and we all need to work together to achieve success."

Nobbs has taken over as the coach at a crucial time when Indian hockey is at the crossroads. Two federations -- Hockey India and Indian Hockey Federation -- are still fighting for control while results on the pitch have been far from satisfactory. "I am what I am today mainly because of Indian hockey. Agreed, we are on a bumpy road at this moment and the track could be the same for the next 12 months," said Nobbs, who was inspired to take up the sport after watching the late Balkishan Singh, former Indian coach, dribble the ball during a coaching stint in Adelaide.

"Frankly, I would give ourselves only 50-50 chance in qualifying for the 2012 London Olympics. It is a really tough task because all the top nations have spent a lot of money in grooming their squad. We are just starting now.

However, I am completely confident we would finish on the podium in 2016 (at Brazil). There is a lot of work to be done. The whole world is watching India at the moment and if we do the right things, we definitely can see daylight. We all, at the end of the day, want to be successful," added the Australian.

Nobbs also said he would set up an interactive website that would contain the complete database of the players. The website will have an innovation zone wherein players express their ideas, a blog zone and a medical zone that will contain information on their injuries and rehabilitation work.

On the playing style, Nobbs stressed that he would stick with the Indian ways. "I will continue with the Indian style of 5-3-2-1. All that it needs is modernisation.

"The problem is we get caught on counter-attacks and fitness. In Australia when a player loses possession he is quick to grab the ball back. Also, when a player wants to pass the ball he has at least three options. The Indians are good, their strategies just needs a bit of tweaking."

Deccan Herald


---

Tanvir Dar Hockey Academy boy Bilal Qadir tops the scoring charts at the Under 18 Asia Cup

By Ijaz Chaudhry




During the recently concluded, Asian Junior under 18 cup, Pakistan's Bilal Qadir, with 14 goals, finished as tournament's top scorer. The outstanding forward who attended Pakistan senior team's camp for the ongoing European tour before proceeding to Singapore with the junior string is widely hailed as the next star of Pakistan hockey.

Bilal's has been a meteoric rise. Picked up by the talent scouts of Tanvir Dar Hockey Academy from a small village near Pir Mahal a few years back, the lad has been cut into a real gem by the Dar academy. He first came into national limelight when in the highly publicized inaugural junior super hockey league, in 2009, his two superb goals in the final especially the one scored through an astonishing t reverse hander from the top of the circle made him the popular winner of the man of the match award. That was just the beginning, and awards and recognition are coming thick and fast. He was the captain of Tanvir Dar Hockey Academy's team during its tour of Europe last year. Bilal led his team to victory in the MOP International tournament in Holland where he was also named the Player of the Tournament. He was to win the same award a few months later at the last edition of the junior super hockey league in Lahore. Then came the call for the national senior camp and now the distinction at the U-18 Asia Cup.

Bilal's mesmerizing stick work, speed, scoring prowess and positional sense belie his tender age.

Already the management of Pakistan's senior team has indicated the officials of Dar academy that Bilal is no longer academy's possession as he is part of the future plans of Pakistan's national squad.

Ijaz Chaudhry writes on hockey and other sports. For more about him and his work, visit: www.sportscorrespondent.info
Fieldhockey.com exclusive