All the news for Wednesday 3 May 2017

Aussies overcome India

Australia  brought India down with a 3-1 victory and moved comfortably towards Saturday final.

The last time the two nations met was at the 14th FIH Champions Trophy in London last year.

The Kookaburras capped a fine start in preparation towards the August Rio Olympics with a 3-1 win in penalty shootout over the Indians after a scoreless draw in regulation time.

However, the 2016 edition of the Sultan Azlan Shah Cup has been a painful experience for World No 6 India against Australia. They lost 5-1 in the group stage and 4-0 in the final.

Nine-time champions Australia, and India who last won the Cup in 2010, got off to a rousing start today and it was the Kookaburras who set the match alight with a penalty corner in the first minute with nothing coming out of it.

However, in a sudden burst of counter attack by the Australians, India's No 1 goalkeeper P. Sreejesh came off the line to stop Eddie Ockenden from taking a shot and in the process suffered a right knee injury.  He was replaced Akash Chikte.

But it was India who grabbed the lead in the 26th minute through Harmanpreet Singh whose shot was deflected in by defender Andrew Philpott before a lurking Mandeep Singh could even have a go at it.

The World No 2 Australians equalised four minutes later when Jeremy Hayward makes a powerful shot that spills off the pads of Akash and into the way of Ockenden who had no trouble plugging the ball into goal. Tom Craig doubles the score in the 34th minute with a reverse stick shot past Akash.

India made great efforts making inroads for the equaliser towards the end of the fourth quarter but it was Australia who went ahead 3-1 thanks to a brilliant individual rate from Tom Wickham who manoeuvred his way past three amused Indian defenders and blasted the ball with a reverse stick shot past the hapless Akash.

The Indians tried everything to get back into the game with six minutes remaining on the clock but could not break down a fortified Australian defence for their first defeat in the tournament.

Unofficial tournament site


---

Kiwis net all 3 points

New Zealand got all three points after edging Japan 3-2 in an entertaining match.

New Zealand, the 2012 and 2015 Sultan Azlan Shah Cup champions, faced mounting pressure from a fast-improving Japan in the first quarter.

Looking forward to a 'winning plan' after playing a 1-1 draw against Australia on Saturday and a 3-0 defeat against India last Sunday, the Black Sticks were instead pegged down deep in defence by the Japanese who forced a penalty corner in the fourth minute but Hirotaka Zendena's push was cleared by goalkeeper Devon Manchester.

And it took Japan, the lowest ranked team here placed at 16 in the FIH World Rankings, just nine minutes into the game to stay on top of the Black Sticks with clinical performance. Shota Yamada blasted the ball past Manchester from a field goal and surprised the World No 8 with clinical performance.

The Kiwis were least perturbed with the deficit and bounced back nine minutes later via a penalty corner as Kane Russell placed the ball past goalkeeper Suguru Shimmoto with little problem to level score 1-1.

The Japanese went on to claim two more penalty corners which went astray.

Needing a win more than a draw, the Black Sticks continued their foray at blistering pace and won a penalty stroke two minutes into the third quarter when Wilcox McKenzie was brought down as he attempted to drive the ball through. Kane stepped up and doubled the lead 2-1.

New Zealand shot 3-1 in the 35th minute and this time it was Sam Lane, left to roam freely by the defence inside the D, picked up the ball from a melee and packed it past replacement goalkeeper Takashi Yoshikawa.

A shift in momentum in the last quarter saw the Japanese upped the ante and clawed back to reduce the deficit 3-2 from their seventh penalty corner through Shota - his third goal in three matches.

It was a great comeback from the Japanese but as luck has it, New Zealand held on to win their first full points and moved up the point standings.

Unofficial tournament site


---

Britain struggle to beat Malaysia

Great Britain moved a step closer to the final of the 26th Sultan Azlan Shah Cup with a 1-0 victory over Malaysia .

Allan Forsyth, the man responsible in stopping India and Japan with late goals, fired Great Britain to the front with a 26th minute penalty stroke after Christopher Griffiths was deemed to have been pushed by a defender inside the penalty box.

Stephen van Huizen's Team now rests at the bottom of the six-team table with just one point to show from three matches.

Malaysia will now need to beat New Zealand tomorrow and World No 6 India on Friday which is almost a tall order to qualify for the final.

The last time Malaysia played Great Britain was at the 2015 World League Semi-finals in Antwerp, Belgium. The Britons won 2-1.

However, in the Sultan Azlan Shah Cup, Great Britain which is making its third appearance in Ipoh, won 3-1 in 2011 and played to a 3-3 draw in the 2012 edition.

After two days of action which drew an estimated 4,000 fans daily, the numbers dropped to almost half today possibly due to the Malaysian"/ 6-1 humiliating defeat at the hands of defending champions Australia on Sunday.

Britain got the first penalty corner in the eight minute after goalkeeper S. Kumar had deliberately pushed the ball out with no positive result.

The Britons, however, earned two more penalty corners by the 14th minutes with nothing to show.

Malaysia regrouped and went on the offensive to win a penalty corner in the 19th minute.

Razie Rahim's drag flick was denied by goalkeeper Harry Gibson.

A second penalty corner minutes later saw the top notch Malaysian drag flick specialist unable to make any break through.

But Forsyth once again made all the difference for Great Britain with a penalty stroke strike in the 26th minute that had doomed the host into greater trouble in this 26th edition of the tournament.

Great Britain scored a second goal in the 33rd minute but the umpire requested for a review.

The goal was subsequently disallowed by the video referral umpire.

However, Malaysia's best chance to equalise came in the 37th minute but Firhan Ashrari failed to pass the ball to a waiting Muhammad Aiman Nik Rosemi with just Gibson in his way.

Firhan's slow push allowed Gibson to move fast to clear the ball.

After this blunder there were no clear signs of the Malaysians making any comeback as Great Britain ensured they walked tall with a solitary goal victory over the host and moved second in the table standings behind Australia , both on seven points but the Aussies ahead in goal difference.

Unofficial tournament site


---

Stats Speak:  India has an edge over Japan

By B.G.Joshi (Sehore-Bhopal, India)

Eyes on Tokyo-2020 Olympics Japanese are improving their skills to catch the top teams. Australia and Great Britain are on top after day-3 matches. India has to play cautiously for victory over Japanese, as they are no more cake walk in international hockey. However records favour India. 75 matches had played between India and Japan, India won-67, Japan won-4 and remaining 4 were drawn. Here are the statistical highlights of day-3:
Team

Penalty Corners

Goal Shots

Scores

Results

Total

Points

Rank

Obtained

Converted

Obtained

Converted

Australia

5

0

12

3

3-1

Won

7

1

Great Britain

7

0

6

1

1-0

Won

7

2

India

3

0

7

1

1-3

Lost

4

3

New Zealand

2

1

5

2

3-2

Won

4

4

Japan

8

2

9

0

2-3

Lost

1

5

Malaysia

3

0

8

0

0-1

Lost

1

6
Fieldhockey.com


---

Kookaburras come back to defeat India 3 - 1

Holly MacNeil




The Kookaburras took on India in their third game at the Azlan Shah Cup in Ipoh, Malaysia tonight with Australia coming away victorious, the final score AUS 3 – 1 IND.

With both teams missing early chances to score on penalty corners it took until the 26th minute of play for India to get the first goal of the game, with Harmanpreet Singh scoring a field goal with a quick run across the face of the net.

In final minute of the half it was Eddie Ockenden who levelled the playing field between the two sides, with Jeremy Hayward flicking from a distance into the pads of goal keeper Akash Chikte before Ockenden scored from the deflection.

With more missed penalty corner opportunities minutes into the second half, it was Tom Craig who gave the Kookaburras the lead for the first time in the match; trapping a pass from Matt Swann before reverse flicking the ball into the net to score a field goal.

Trailing the Kookaburras with just 15 minutes to go in the game, India pressed hard to create penalty corner opportunities which they struggled to convert. In the 51st minute of play, the Kookaburras further extended their lead thanks to a field goal from Tom Wickham.

With just over five minutes to go, India replaced their goalkeeper with Rupinder Pal Singh as the kicking back in a last bid to reclaim the match, but Australia held on to the lead to take out their second win of the tournament.

Kookaburras head coach Colin Batch said: "We coped with the hot conditions tonight very well and I was pleased with the result. We came from behind and were able to improve our performance during the game.

"We started off well in the first few minutes, but after that India had a long period on top. Just before half time Eddie Ockenden scored which significantly turned the game around for us. Eddie had a stand out game and is playing very well up in the forward line."

The Kookaburras next play Great Britain on Wednesday, May 2 at 6.05pm AWST / 8.05pm AEST.

KOOKABURRAS 3 (1)
Eddie Ockenden 30 (FG)
Tom Craig 34 (FG)
Tom Wickham 51 (FG)

INDIA 1 (1)
Harmanpreet Singh 26 (FG) 

Kookaburras squad v India
Athlete (Hometown/State)
Tom Craig (Lane Cove, NSW) 31/14
Matthew Dawson (Killarney Vale, NSW) 69/9
Jeremy Edwards (Hobart, TAS) 15/1
Jeremy Hayward (Darwin, NT) 76/26
Tyler Lovell (Perth, WA) 82/9
Trent Mitton (Perth, WA) 109/47
Edward Ockenden (Hobart, TAS) 287/66
Flynn Ogilvie (Wollongong, NSW) 50/13
Matthew Swann (Mackay, QLD) 149/6
Jake Whetton (Brisbane, QLD) 121/48
Dylan Wotherspoon (Murwillumbah, NSW) *plays for QLD 33/7

Used Substitutes
Andrew Charter (Canberra, ACT) 125/0
Ben Craig (Lane Cove, NSW) 15/2
Aaron Kleinschmidt (Melbourne, VIC) 16/5
Andrew Philpott (Melbourne, VIC) 32/1
Joshua Pollard (Melbourne, VIC) 16/0
Matthew Willis (Tamworth, NSW) 23/2
Tom Wickham (Morgan, SA) *plays for WA 9/3

Kookaburras Azlan Shah Match Schedule
3 May: AUS v GBR 6.05pm AWST / 8.05pm AEST
5 May: AUS v JPN 6.05pm AWST / 8.05pm AEST
6 May: Finals

Hockey Australia media release


---

Russell double lifts Black Sticks over Japan



Photo: Megat Firdaus

A Kane Russell double has helped the Vantage Black Sticks Men secure a 3-2 win over Japan at the Sultan Azlan Shah Cup in Malaysia.

After surrendering an early goal, New Zealand powered back with three unanswered strikes either side of halftime to take control of the match.

Japan mounted relentless pressure in the fourth quarter and despite allowing another goal, the Black Sticks defence held firm to ensure their first win so far at the tournament.

Head coach Darren Smith said it was pleasing to come away with three crucial points from the result.

"I thought we played well for most of the game, especially in the second half when we were under immense pressure our defence really stood up," he said.

"We tackled well and protected the centre of the field which saw us get the upper hand. To see such a young group of players putting in a performance like that is excellent.

"We'll go away now and focus on putting in another big effort against Malaysia who we know are a tough team, and they will be playing in front of a packed and noisy home crowd so we need to be on our game."

Japan gained the early upper hand creating several penalty corner opportunities, with Shota Yamada converting through a drag flick in the ninth minute.

The Kiwis lifted following the goal and began to generate some genuine chances through quick hands and feet in the circle.

New Zealand drew level in the 18th minute after defender Kane Russell ripped a hard flick low and inside the left post from a penalty corner.

The Black Sticks grabbed their first lead of the game when a stroke was awarded for a push in the back on Mac Wilcox, Russell making no mistake of the flick.

The score then pushed out to 3-1 in favour of the Black Sticks in the 35th minute thanks to a skilful finish from Sam Lane who received a pass in the circle and flicked past the keeper on his reverse stick.

Japan pulled a goal back 10 minutes from fulltime with Yamada's second drag flick of the match, but weren't able to find an equaliser in the face on strong Kiwi defence.

The Vantage Black Sticks go up against hosts Malaysia in their next match at 12:30am Thursday morning (NZT), with live coverage on SKY Sport 4.

VANTAGE BLACK STICKS 3: (Kane Russell 2, Sam Lane)
JAPAN 2: (Shota Yamada 2)
Halftime: 1-1

Hockey New Zealand Media release


---

Great Britain's men defeat Malaysia



Alan Forsyth converts a penalty stroke against Malaysia

Great Britain overcame Azlan Shah Cup holders Malaysia to remain unbeaten in the tournament and move joint top of the table.

Alan Forsyth's penalty stroke just before half-time was the difference between the sides as GB notched up their second win in three games at the campaign.

Despite the 1-0 scoreline GB were largely dominant throughout racking up eight penalty corners in the match.

Head coach Bobby Crutchley said: "We controlled the game for long periods and created plenty of chances.

"Much of the late pressure was self-inflicted as our fast passing game seemed to desert us in the final stages. However, some resilient deep defending and good goalkeeping thwarted the Malaysian attacking threat."

The opening exchanges were evenly contested and after ten minutes the game sprang into life. Great Britain had a penalty corner scrambled away before Firhan of Malaysia fired his effort over the bar following a rapid counter-attack.

GB soon began to take control of the contest forcing two further penalty corners, however they couldn't make the breakthrough. Harry Gibson produced a fine save to keep the score at 0-0 at the end of the first quarter.

After the break GB were frustrated not to convert another penalty corner but these frustrations were short lived. After calling for a video review GB were awarded a penalty stroke and Alan Forsyth made no mistake sending the goalkeeper the wrong way.

Into the third quarter and GB pressed to extend their lead and thought they had done just that just minutes after the restart. From their sixth penalty corner the ball eventually hit the backboard at the third attempt but it was disallowed after an umpire's review.

Malaysia pushed for an equaliser in the final quarter and with a minute left on the clock won a penalty corner. However the GB defence held firm to secure all three points.

GB's next match in the tournament is tomorrow (Wednesday 3rd May) against Australia at 11.05am UK time.

Great Britain 1 (Alan Forsyth 26')
Malaysia 0

Great Britain: Harry Gibson (GK), Brendan Creed, Phil Roper (C) Ian Sloan, Barry Middleton, Chris Griffiths, Liam Sandford, Daniel Kyriakides, Sam Ward, David Goodfield, Mark Gleghorne

Subs (used): Ollie Willars, Henry Weir, Alan Forsyth, Tom Carson, James Gall, Jonathan Griffiths

Subs (Unused) Chris Wyver (GK)

England Hockey Board Media release


---

Britain use all nine lives to beat Malaysia

By Jugjet Singh

THE NATIONAL players displayed their best game in Ipoh to date but still went down 1-0 to Great Britain in the Azlan Shah Cup yesterday.

Malaysia started more convincingly than the previous two matches, as there was more commitment and desire in their game.

But Britain had the lions share in the first quarter, and experienced goalkeeper S. Kumar had to use every trick in his book to keep a clean record in the first quarter.

The only excitement for the Malaysian fans was when Razie Rahim's penalty corner attempt in the 14th minute was padded away by goalkeeper Harry Gibson.

Britain defended and only relied on counters in the second quarter and it worked as they won a penalty stroke in the 26th and Alan Forsyth sent Kumar in the wrong direction for the lead.

And Britain held on to the slim lead going into half-time, even though they were placed under tremendous pressure by a rejuvenated Malaysia.

Malaysia missed many sitters for the next 30 minutes, and Britain stole the three points on nine lives.

National coach Stephen van Huizen felt it was a drawn game, as the penalty stroke awarded to Britain was dubious.

"For those who watches the replays (on TV) would know what I am talking about, but then there was video referral and they felt it was a stroke and that's the end of it.

"However, we could have done better in attack when we had the numbers on counter, but failed. Overall its a good show from my players against a team which is in the same group with us in the World League (Semi-finals) in London."

Britain coach Zak Jones counted his blessings.

"We blew hot and cold while Malaysia really pressed us hard but my players could keep pace with them and now we only have 'a few hours of rest' before playing Australia."

World No 2 Australia edged closer to a 10th Azlan Shah title when they beat India 3-1.

India took the lead, but Australia kept the pressure to win comfortably and will play Britain today where a win should see them playing in the final.

Australia coach Colin Batch said: "We started off slow but regrouped in the second quarter and I think we had a good game overall against India.

"In this kind of heat it's always difficult to give a 100 per cent on the field and the same goes to India."

RESULTS: India 1 Australia 3, New Zealand 3 Japan 2, Malaysia 0 Britain 1.

WEDNESDAY: Japan v India (4pm), Britain v Australia (6pm), Malaysia v New Zealand (8.30pm).

THURSDAY: REST DAY

STANDINGS

           P  W  D  L  F  A  Pts
AUSTRALIA  3  2  1  0  10 3  7
BRITAIN    3  2  1  0  8  5  7
INDIA      3  1  1  1  6  5  4
N ZEALAND  3  1  1  1  4  6  4
JAPAN      3  0  1  2  6  9  1
MALAYSIA   3  0  1  2  2  8  1

Jugjet's World of Field Hockey


---

Just not good enough

by S. Ramaguru



No you don't: Malaysia's Mohamed Razie Rahim foils an attempt on goal by Britain's Jonathan Griffiths (fourth from left) in the Sultan Azlan Shah Cup match in Ipoh yesterday. — SAIFUL BAHRI / The Star

IPOH: Malaysia continued to prop up the table in the Sultan Azlan Shah Cup hockey tournament after they slumped to a 1-0 loss to Britain.

Malaysia, who played a good game and had numerous chances, were undone by Alan Forsyth's solitary strike in the 26th minute at the Azlan Shah Stadium yesterday.

It was Malaysia's second defeat after the 6-1 drubbing at the hands of Australia on Sunday.

Malaysia have only one point after three matches – the same as Japan – but are rooted to the bottom because of their inferior goal difference.

National coach Stephen van Huizen (pic) was pleased with his team's efforts and felt that a draw would have been a fair result.



National hockey coach Stephen van Huizen giving comments during the press conference of the Sultan Azlan Shah Cup.RONNIE CHIN/The Star

"Our finishing was a letdown. There were good chances to score, but we did not take them," said Stephen.

"It was evenly contested in the early stages, with both sides having loads of chances.

"We now have two more matches to salvage a respectable position.

"We will see how the next match (against New Zealand) goes before making any drastic changes."

Yesterday's game got off to a furious start, with both sides going on the attack, but Britain were the more threatening side with their speedy counter attacks.

Britain had four penalty corners in the first half compared to just two for Malaysia. Both teams' defences did well to thwart the penalty corner attempts.

But, in the 26th minute, Britain finally broke the duck when a quick counter attack saw them earning a penalty stroke after a referral.

And Forsyth stepped up to give Britain the lead.

Motivated, Britain then piled on the pressure and Malaysia were lucky to hold them off on until half time.

The third quarter was the same, with Britain hitting on the counter as Malaysia went in search of the equaliser which never came.

The Star of Malaysia


---

Australia edge closer to 10th title after thrashing India



Beat you to it: Australia's Benjamin Graig (right) goes for the ball against India's Sunil Sowmarpet in the Sultan Azlan Shah Cup match in Ipoh yesterday. — SAIFUL BAHRI / The Star

IPOH: Defending champions Australia have taken a big step towards their 10th Sultan Azlan Shah Cup title after beating India 3-1 in the preliminary round at the Azlan Shah Stadium.

Australia top the five-team tournament with seven points – and already have a leg in Saturday's final.

India stayed second with four points from a win, a draw and a loss. With two matches to go, India are still favourites to join Australia in the final.

Yesterday's match was a thrilling affair, with both teams setting out to attack.

India lost skipper and goalkeeper P.R. Sreejesh when he injured his foot after colliding with Australia's Eddie Ockenden in the 14th minute. He was replaced by substitute Akash Chite.

Undeterred, India grabbed the lead in the 26th minute through Harmanpreet Singh, whose shot was deflected in by defender Andrew Philpott.

Australia needed just four minutes to level the score. Jeremy Hayward's powerful shot hit the pads of Akash and fell to Ockenden, who had no trouble plugging the ball into goal.

Tom Craig then doubled the score in the 34th minute with a reverse stick shot.

The Aussies were not done yet.

A brilliant solo run by Tom Wickham in the 51st minute saw him side step three Indian defenders before slotting past Akash for the third goal.

Australian coach Colin Batch was pleased with his team's second-half effort.

"We started off slow, but regrouped in the second quarter. I think we had a good game overall against India," said Batch.

"In this kind of heat, it's always difficult to give 100% on the field.

"India's Harmanpreet and Rupinder Pal are brilliant players ... it was difficult to read their game.

"We made some changes after our match against New Zealand and that made a difference today ... we still need to improve on our penalty corners."

In another match, former champions New Zealand chalked up their first win after beating Japan 3-2.

Although Japan went ahead through a Shota Yamada goal in the ninth minute, the Kiwis ended the first half with a 3-1 lead courtesy of goals by Kane Russel (18th and 32nd) and Sam Lane (35th).

Shota reduced the deficit in the 50th minute, but the Kiwis held on to walk off with full points.

The Star of Malaysia


---

Australian class in Indian defeat

s2h team




Australia showed both class and patience to establish scoreboard supremacy so as to set aside strong Indian challenge nonchalantly 3-1 on day three of 26th Azlan Shah Cup. Though its India that took the lead through otherwise misfiring Mandeep Singh, Australia came back strongly and with stylish stunners to pump in three goals, to garner full three points to retain top position in the points table.

India with just four points in three matches was pushed to third in the pool table.

India tried everything possible in the last ten minutes or so including deploying an additional player for goalkeeper, but the Australian defence stood to ground yielding nothing, even a token penalty corner.

After even first half, Australia accelerated pace and rendered Indian defence ineffective with serious of onslaughts. Getting three quick penalty corners, it gained upper hand on the scoreboard when Tom Craig punctured the Indian citadel off the third.

Though the ball was not stopped properly, Mathew Swann was quick to collect and pass to Tom Craig to do the rest (2-1).

Later, getting a freehit, Tom Wickham just did an amazing 3D run into the D, and when reached opposite substitute goalie Akash Tikte, hit hard from centre to centre to enhance the lead to 3-1.

This is a classic, modern hockey goal, to say the least. India that lost its prime goalie Sreejesh when he collided with Eddie Ockenden to stop a deflection, Indian coach did everything in his disposal in the last seven minutes, pulling the goalie off with the introduction of Rupinder Pal as additional player. At this juncture, Australia was already down to ten-men due to yellow card to one of its players.

Yet, despite having two-men advantage, India could not stretch, instead, almost survived conceding another goal.




The second half was in contrast to the first where both teams appeared equal, even India etching out an edge.

Mandeep Singh, who missed a couple of sitters twice, made amends when he tapped in a Harmanpreet's feed to put India ahead in the 25th minute, but less than 40 sec left for the half time, Eddie Ockenden dived to his right to deflect a short rebound from substitute goalie Akash Chikte to even out the score 1-1.

After a barren half in which India missed two penalty corners, and Australia once, both sides used referral cleverly to cancel out each other's PC through neutral umpire ruling, but goals were hard to come by till 25th minute.

In the first half, its India that created more scoring opportunities but could not make the scoreboard move. Once Mandeep Singh gave a necessary touch to a Sumit's penetrative parting of ball from right backline, only to see the ball hit the far post and ricochets back into play.

Two teams that occupies the top two position of points table lock horns to establish their supremacy in the 26th Sultan Azlan Shah Cup in Ipoh,Malaysia.

India played twice Australia in the last Azlan Shah, losing 1-5 first and then 0-4 in the final.

India will take on Japan tomorrow same time (13.45 IST), which fourth and penultimate match for both teams.

Stick2Hockey.com


---

Indian hockey team's uncharacteristic defensive blips result in Australia loss

Sundeep Misra



India in action against Australia at the Sultan Azlan Shah Cup. Image courtesy: Twitter/@HockeyIndia

Echoes of the past reverberated in Australia's 3-1 victory over India at the 26th Sultan Azlan Shah Hockey Tournament in Ipoh.

There were signs that the distance between the World Champions and Asian Games Champions had been bridged; to some extent. The earlier league win against New Zealand (3-0) was a precursor that India had the resilience to close down teams building a fortress like defence. Australia was not at their best, yet they had enough fire-power to raise levels when required and in the end win comfortably.

Australia move to seven points from three matches within striking distance of yet another Azlan Shah final. India sit on four points with two matches in hand, a draw or defeat in any could take away the satisfaction of playing the season's first big final.

After the match, Indian coach Roelant Oltmans, said, "It's not about playing a close game with Australia. It's about winning against them." India played Australia seven times in 2016 winning only once, that too in the first Test of the two-Test series in Victoria. India won that match 3-2 with goals from Affan Yousuf. In that period across tournaments, Australia scored 25 goals against us, the worst defeat (5-1) coming at the league stage of the 2016 Azlan Shah. India scored 12 goals; six of those goals were scored in the Test series showing a mindset that in tournaments we do crack.

There is no doubt that Australia is our bogey team. In the Olympics, we have played 10 times, winning only thrice with two draws and five losses. In the World Cup, we have played eight times, won once, drawn once and lost six times. In the Champions Trophy, we have played 15 times, winning twice, drawing thrice and losing 10 times. In the Commonwealth Games, we have played five times and lost all matches. And now here at the Azlan Shah, we have played 15 times with India winning thrice, one draw and Australia victorious 11 times.

There is a psychological burden that the India team carries against Australia. Somewhere at the back of the mind, embedded in the soul, it ticks away like a clock reminding us of our frailties against a team that may be passing through a transition after the Rio Olympics, yet has enough skill and power to beat us.

Australia's coach Colin Batch, a member of the '86 Australian World Cup winning team, said he was happy with the way Australia played and that he was confident that Australia would improve with time. "There were periods that India played well," said Batch. "But we were able to change the momentum."

It was Australia who set the pace in the beginning before India took control in the midfield, gave Harmanpreet Singh a chance to move on the right flank and overlap with Pardeep Mor forcing their defence back thus creating space in the middle which was exploited by Sardar Singh and Manpreet Singh, the captain of the match. There were periods where India would have scored.

Akashdeep Singh had two deflections hurrying past the post. And once Akashdeep played in tandem with Mandeep, who just wasn't allowed space to either take a reverse hit or even pass. SV Sunil again had an off day. It's worrying that a forward with that kind of speed and skill is not able to leave a mark. The blow came when PR Sreejesh lunged forward and twisted his knee. He hobbled off and Akash Chikte took his place.

Oltmans later felt that it wasn't exactly a body blow to India's chances in the match. "It's too simplistic a reasoning. It has to do more with execution of the game plan. After we were leading, we did not continue playing the way we were doing before." The Indian coach didn't offer an explanation for that.

However, Australia showed patience and took their chances on the right flank and also by playing in from the middle. The man-of-the-match may have gone to Eddie Ockenden but the player who drove the Aussie attacks and broke the Indian midfield was Tom Craig. The Australian, who plays for Kalinga Lancers in the Hockey India League, showed his ability to cover a lot of ground, was defensively strong, had some great mid-range shots combined with some terrific intensity.

In the third quarter, Craig defended almost at the edge of the Australian striking circle, moved into midfield finally ending up in the Indian striking circle to almost score off a deflection. India missed a similar player. They have one in Manpreet but surprisingly the captain of the day decided to leave his mojo back at the hotel.

Oltmans was right when he said, "I think you will agree that until we scored our goal, we played fantastic. After the first two minutes, we controlled the game. We had good attacks. But after we led, it started going down. You know that Australia is always looking to turn the momentum around and they did."

It was a lovely turn of pace that gave India the lead in the 26th minute. Harmanpreet found yards of free space and he sped in, turned and found himself in the Australian striking circle. His shot hit Andrew Philpott's stick with the deflection headed towards the goal. It seemed that Mandeep had the last touch. But officially, the goal was awarded to Harmanpreet; the reasoning being that it had entered the Australian goal.

India at this stage had territorial advantage. Sardar was playing well and his skills had the Australians worried. Maybe, at this stage, a midfield trio of Sardar, Harjeet and Manpreet could have pushed harder and tightened the screws around Australia. But the substitutions hardly brought the three together. The rhythm and momentum of keeping the World Champions in a defensive frame of mind was lost.

Two minutes before the second quarter finished, Chikte made a good save of Australia's second penalty corner. But a field play saw him take a shot on the pads. The rebound rolled away to his right and before Mor or any other defender could react, Ockenden had tapped it in. It was a brilliant piece of opportunism. It was still anybody's game. At the end of two quarters, the scores were tied 1-1.

Four minutes into the third quarter, 34th minute, Australia took the lead. Matthew Swann couldn't stop the fifth penalty corner cleanly but reacted swiftly to retrieve the ball and send it to Craig standing right in the middle of the circle. Craig squeezed it between Chikte's pads. Yet again, Australia had created a goal from nothing.

India, as a team, is very structured and defensively sound so these blips during crucial moments came as a surprise. Instead of raising their levels and fighting back, the intensity slipped and suddenly Australia had a grip on the match.

The slip-shod defending in the 51st minute, fourth quarter, showed that spirits were flagging and probably there were tired limbs around. Tom Wickham made his move from the right flank and ran through the middle of the Indian striking circle with the goal on his right. He slipped past not just one but five defenders before crunching a reverse hit that beat Chikte. It was a wonderful goal, conjured out of thin air. Oltmans felt India were unlucky with the third goal. "From our point of view it was a clear foot from one of the Australian players before the goal was scored," he said.

India pulled off Chikte with around six minutes left in the fourth quarter and Rupinder Pal Singh took the field with a bib. But Australia were not be denied and won the year's first encounter with India quite comfortably.

"Australia is quite a good team as we all know so to lose against a very good team is part of the game," said Oltmans. "We have seen also that in quite a number of games (in the past), we did match Australia. But in the end it is not about matching. It is about winning." Or maybe, what Oltmans left unsaid was the need to demonstrate some steel in losing situations and haul yourself back into contention.

Firstpost


---

India squander lead to lose 1-3 to Australia

India are on four points after three matches



India took the initial lead in the 25th minute. FILE PHOTO   | Photo Credit: PTI

A spirited India squandered a goal lead to lose 1-3 against defending champions Australia in a preliminary league match of the Sultan Azlan Shah Cup hockey tournament in Ipoh, Malaysia, today.

After managing to hold the world champions in the first quarter, India took the initial lead in the 25th minute through a field goal from Harmanpreet Singh, but Australia later pumped in three field goals to maintain their position atop the round-robin league standings.

Eddie Ockenden (30th minute), Tom Craig (34th) and Tom Wickham (51st) showed why Australia are one of the most feared teams in the world through their outstanding field goals as the Indian challenge faded in the last quarter.

Nine-time winners of the Sultan Azlan Shah Cup, Australia now have seven points from three outings, while last year's runner-up India are on four points after three matches.

Australia went into attacking mode from the start, forcing the first penalty corner in the opening minute, but the Indian defenders rushed out to close the angle.

Craig's deflection on Dylan Wotherspoon's cross in the third minute went wide of the mark before India earned a penalty corner two minutes later. The push was neatly stopped, but Harmanpreet could not gather the ball as he stepped into the drag-flick motion.

Goalkeeper P R Sreejesh blocked a deflection by Craig in the seventh minute before the Indians came into the attacking frame. Akashdeep Singh fed a short pass to Mandeep Singh in the circle in the eighth minute, but he was tightly marked and failed to create any space.

India forced their second penalty corner a minute later but Rupinderpal Singh's rising flick was palmed back into play by Australian custodian Tyler Lovell. Akashdeep then tried a deflection on Pradeep Mor's diagonal cross from right, only to direct it wide in the 11th minute.

Soon after, Sreejesh limped off the pitch as he got injured while diving for a long diagonal ball into the circle. He was replaced by Akash Chikte in goal in the 13th minute.

Both Australia and India had a penalty corner reversed on video referral three minutes into the second quarter.

Sardar Singh then created an opening for India in the 23rd minute through a fine run down the centre, beating two defenders to move into the scoring circle and then beating the third with his square pass to Akashdeep. But Akashdeep could not control his reverse shot and the ball went high and wide.

Two minutes later, India came close to opening the account when Sumit worked his way up from the right and crossed into the centre for Talwinder Singh, whose deflection rebounded off the left post.

India broke the deadlock to take the initial lead in the 26th minute when Harmanpreet scored a field goal. Working his way into the circle from the right, Harmanpreet crossed the ball for Mandeep in the goalmouth, but it went into the goal off a defender's stick.

Goalkeeper Chikte palmed away an Australian penalty corner shot before Ockenden deflected in a long diagonal cross from Jeremy Hayward for the equaliser just before half-time. Craig then beat the Indian goalkeeper with his reverse shot after being fed by captain Matthew Swann.

The Australian goalkeeper denied India on a counter-attack in the 41st minute that saw Sardar move into the rival territory and send a pass to Akashdeep on top of the circle. But Akashdeep's reverse shot did not cause any problem for the Australian keeper.

Aaron Kleinschmidt missed a sitter after getting the ball in the Indian goalmouth, before India earned the last of their third penalty corners but Harmanpreet's rising flick was cleared by the goalkpeeper.

The third Australian goal, from Tom Wickham came after he ran square into the circle as three Indian defenders hesitated to tackle him. Wickham slammed in a firm shot that gave no chance to the custodian.

India took off their goalkeeper to add another player in the field in a desperate attempt to stay in the contest, but the Australian defenders did not allow them a shy at their goal.

The Hindu


---

India lose 1-3 to Australia

NEW DELHI: The Indian men's hockey team, ranked No 6 in the world, have suffered their first loss at the 2017 Sultan Azlan Shah Hockey tournament, losing 1-3 to world champions Australia in Ipoh, Malaysia on Tuesday.

Losing the experienced goalkeeper PR Sreejesh in the 13th minute proved a major setback for India, as his replacement Akash Chikte allowed the Kookaburras to go up 2-1 shortly into the second half when a goal went through his legs. This despite India being put ahead in the second quarter thanks to Harmanpreet Singh's third goal of the tournament.

The marquee clash of the tournament, featuring the top highest-ranked teams, threw up some engaging moments overall but it was a tale of missed opportunities for India.

Nine-time winners of the Sultan Azlan Shah Cup Australia were provided a chance in the opening minute of the game, only for Trent Mitten to fail to convert the penalty corner. A keen tussle ensued between the teams, with plenty of chances missed. Australian goalkeeper Tyler Lovell saved a goal with his left mit and Sreejesh was briefly in action before he limped off in the 13th minute after a painful blow to the knee while diving across the goal.

Harmanpreet broke the deadlock in the 25th minute with a lovely shovel past Lovell, but with 40 seconds left on the clock Eddie Ockenden drew the equalizer to send the teams into half-time at 1-1. Here is where India really missed Sreejesh, for a fine piece of work from Tom Craig during the second half then put Australia ahead, the in-form striker slotting a goal between Chikte's legs.

Moments later, SV Sunil - in his 201st game - was carded and sent off, leaving India further depleted.

Australia attacked more during the second half, while Sardar Singh and Akashdeep Singh each came close to scoring goals only for India to each time be denied. In the 51st minute, Tom Wickham fired in Australia's third goal and from there on the world No 1 staved off any challenge India could throw up.

India's defeat follows a 2-2 draw with Great Britain and a 3-0 win over New Zealand. They next play Japan on Wednesday at 13:55 IST. Australia's campaign before today's match featured a 1-1 draw with New Zealand and a 6-1 hammering of hosts Malaysia.

The Times of India


---

India's game faltered after taking lead, says Oltmans

IPOH (Malaysia): India hockey coach Roelant Oltmans feels his team faltered in executing its game-plan after taking the lead against defending champions Australia in the lost Sultan Azlan Shah Cup game on Tuesday.

India opened the scoring in the 25th minute through Harmanpreet Singh, but then conceded three field goals to suffer a defeat in the preliminary league fixture.

"The way the match turned had something to do with our non-execution of the game-plan. After we gained the lead, we stopped playing the way we were doing earlier," said Oltmans.

"Until we scored our goal, we played fantastic hockey. After the first two minutes, we controlled the game and had a lot of good attacks. But it started going down after we took the lead," the coach added.

Australia are current world champions, having won the last two World Cups in 2010 and 2014. They are also nine-time winners of the Sultan Azlan Shah Cup, which India have won five times.

"Losing to a very good team is part of the game. We all know that Australia are a very good side," said Oltmans.

"We have matched them in several matches. But in the end, it is not about matching the rivals. It is about winning. Winning is something we still need to learn," Oltmans asserted.

Oltmans said it is too early to assess the extent of the injury suffered by goalkeeper P R Sreejesh, who had to leave the field in the 13th minute of play today.

"It's a right knee injury. We're yet to see what exactly it is. We have not gone for X-ray yet," the coach said.

"Of course, nobody likes to be injured. There's no doubt that he's a fantastic goal-keeper, but his going off the pitch was not the turning point," he said. "We got back into the game and we got opportunities."

Oltmans feels his team's performance was below par in the third quarter when Australia claimed the lead.

"We were a bit unlucky with the last goal. From our point of view, one of the Australian player clearly touched the ball with his foot," he said.

"But that was not the reason for the defenders to stop doing their job."

Three Indian defenders saw Australian striker Tom Wickham move sideways in front of them, without being tackled. After moving to the goalmouth, Wickham slammed the ball into the goal.

India last defeated Australia in the Sultan Azlan Shah Cup in 2015. Last year, Australia beat India 5-1 in the league encounter and 4-0 when the team met again in the final.

As the second highest ranked team in the competition, India were expected to qualify for the final along with Australia. But that could get complex after India were held to a 2-2 draw by Great Britain in the opening fixture.

Oltmans said it was too early to talk about the final and another game against Australia.

"We have four points, that's it. No more, no less," said Oltmans. "Other results are not in our hands."

The Times of India


---

Black Sticks get first win over Japan

By David Leggat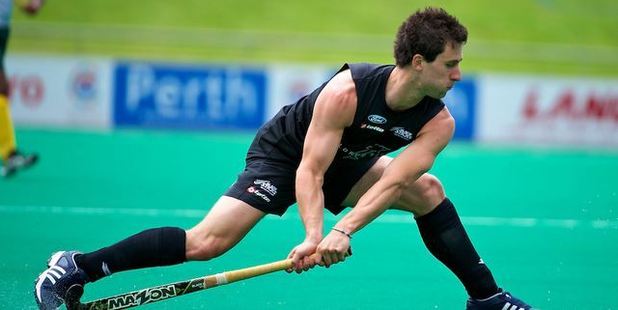 Kane Russell of Black Sticks. Photo / Photosport

New Zealand have pulled off their first win at the Azlan Shah men's hockey tournament in Malaysia tonight.

Having drawn 1-1 with Australia, then lost 3-0 to India, New Zealand, ranked No 8 in the world, needed a win and got it with a 3-2 victory over Japan in Ipoh, surviving a strong late surge by the Japanese.

New Zealand's goals came from Kane Russell, who scored from a firm penalty corner drive, and then a penalty stroke after midfielder Mac Wilcox was bundled over in the attacking circle.

Sam Lane increased New Zealand's lead to 3-1 two minutes later, early in the third quarter.

He capitalised on both a Japanese error and a good cross from the right by Jonty Keaney, to calmly slide the ball into the net.

Both world No 16 Japan's goals came from impressive penalty corner shots from Shota Yamada.

Japan pleas for a penalty corner late on were denied after the ball struck Russell too high on a leg and a referral by an umpire after a Japanese shot struck a New Zealand player was ruled in the Black Sticks' favour as it was travelling wide of the goal.

The win lifts New Zealand to fourth spot on the table. Australia's 3-1 win over India kept them on top.

New Zealand will play hosts Malaysia late on Wednesday night.

The New Zealand Herald


---

Great Britain overtake India after beating Malaysia

IPOH: Great Britain posted a facile 1-0 victory over hosts Malaysia to move into the second spot in the standing ladder of the 26th Sultan Azlan Shah Cup hockey tournament on Tuesday.

Boosting their points tally to seven from three outings, the British team drew level on points with defending champions Australia, who prevailed 3-1 over India in another round-robin league fixture.

Australia retained the top spot in the standings on basis of their superior goal difference, while the Britons displaced India, who slipped to the third spot.

New Zealand's 3-2 victory over Japan brought them at par with India on four points, but India have a slight edge in goal difference.

Great Britain's match-winner came from a penalty stroke conversion by Alan Forsyth in the 26th minute.

Japan and Malaysia are at one point each, but Japan have a better goal difference.

For Japan, Shota Yamada converted two penalty corners today. It was Yamada's penalty corner flick that gave Japan an early lead in the ninth minute.

New Zealand drew parity in the 18th minute through a penalty corner conversion by Kane Russell, who later converted a penalty stroke two minutes into the second session to put the Black Sticks ahead.

Sam Lane's strike in open play rounded off the New Zealand scoring in the 35th minute, but Japan reduced the margin with Yamada's second penalty corner conversion in the 50th minute.

The Times of India


---

Judge-ment day for Oranje-Rood and Kampong in the Hoofdklasse




HC Oranje-Rood and SV Kampong face a direct playoff on the final day of the regular Hoofdklasse season to see who will win the fourth and final playoff place.

It follows a lively weekend in the Netherlands in which Oranje-Rood drew 3-3 with AH&BC Amsterdam with Mink van der Weerden scoring a brilliant backhand goal to earn the point.

Earlier, a pair of goals from Justin Reid-Ross had helped Amsterdam fight back from 2-0 down to level the game before Boris Burkhardt put the capital side in front. With 13 minutes to go, van der Weerden cut in from the right before shooting home the equaliser.

Kampong, meanwhile, produced a strong performance to beat HGC 3-1 and move into the top four ahead of Oranje-Rood. Tristan Algera's corner had given HGC the lead only for Jip Janssen to tie the game and a brilliant first time shot from Salva Piera put Kampong in front.

Sander de Wijn sealed the win from close range in the 58th minute which means that Kampong need a draw against Oranje-Rood next Sunday while Oranje-Rood need a win.

Speaking about the game ahead, Oranje-Rood coach Lucas Judge is looking forward to the challenhe.

"Everyone says that if we had won [against Amsterdam], then next weekend, a draw with Kampong would be enough," he told hockey.nl.

"That's nonsense. If you enter the contest with the idea, we want it to be 0-0 or 1-1, Kampong would naturally work to make sure that doesn't happen. The idea that a draw is enough disrupts your focus. We just want to win every game.

"I think it's wonderful that next week we get to play such a game. Of course, it would be more comfortable to have already qualified for the playoffs but I have great confidence in my team. We have lots of experience with this kind of competition."

Elsewhere, Bloemendaal returned to the outright lead with a 7-0 win over Qui Vive and a final day win over Rotterdam will assure them of top spot and a return to the EHL.

Rotterdam's 2-1 win over Hurley puts them into the playoffs, too, with Amsterdam.

Euro Hockey League media release


---

Sailors survive Scorpions' sting

By Elizabeth Mburugu



Chase Amira Pauline Naise(l) protecting the ball as Orange Lilian Aura blocks her when they played Ladies National League at City Park yesterday. Orange won 3-0. ON 11/03/2017 PHOTO: JENIPHER WACHIE

Pauline Naise netted a last-minute equaliser to salvage a point for Amira Sailors against Strathmore University Scorpions.

Amira, who are making their second appearance in the Kenya Hockey Union women's Premier League, put up a spirited fight to hold Scorpions 1-1 in a tightly contested match yesterday at City Park.

National team defender Elizabeth Ngombo put the students ahead in the second quarter following a successful penalty corner conversion.

However, Amira were not ready to suffer a second defeat of the season after they lost to champions Telkom Orange in their opener, and relentlessly fought on.

Amira captain Lorraine Nondi said it was unfortunate that they were blunt with their finishing, otherwise, they had a good game.

"We want to improve on last season's performance which means we are targeting a top two finish. We need to work on that with urgency," Nondi said

The early morning rains slowed down the pace for both sides, making it difficult for them to make long and sure passes. The students settled faster and created the game's first chance seven minutes into play, but Yvonne Karanja's shot, from a short corner, was blocked by the Amira defence.

The students took the lead in the 23rd minute with their second short corner when Ngombo shot past Kerubo. Strathmore were almost punished minutes later when a lapse in defence allowed Naise to surge into the Scorpions circle, but Oketch was again unable to complete the job.

Amira intensified their hunt for an equaliser in the third quarter with Strathmore guarding their lead. The university students survived three penalty corners from their opponents to the relief of their supporters.

However, a Jane Murage foul on Oketch, with with seconds remaining, made the difference as Amira were awarded a penalty stroke. Naise made it count to force a draw.

Strathmore struggled in the absence of coach Meshack Senge. They are also missing the services of their prolific strikers Gilly Okumu (knee injury) and Winnnie Odongo (broken hand). Nonetheless, all was not gloomy for the Scorpions, who welcomed back their influential player, Caroline Njoki.

Strathmore stand-in coach Fred Oracha was impressed with the result.

The Standard Online


---

Glasgow to host Pakistan matches



PHOTO COURTESY: clickinfocus.com.au

The Pakistan Hockey Federation (PHF) has finalised Glasgow as the venue for the FIH Home and Away League which is expected to start in 2019, and has informed the FIH, the world governing body for the sport, about it as well.

Argentina, Australia, Belgium, England, Germany, India, Ireland, Japan, Korea, Netherlands, New Zealand, South Africa, Spain, China, Italy, USA and Malaysia are interested in becoming part of the FIH Home and Away League alongside Pakistan.

The new revolutionary format is a step taken by the FIH to promote the sport and the PHF wants Pakistan to be a part of it as per their drive to improve the sport in the country.

The league would provide opportunities for Pakistan players to compete with international players and be at par with them and also to acclimatise to European conditions.

"We are trying to avail this opportunity to get a place in the Home and Away League. This will be a massive step in our pursuit to revive hockey in Pakistan. We won't improve a lot without competing with European teams and this league will give us that opportunity," said PHF Secretary Shahbaz Ahmed Sr when the league was announced.

Apart from cities in England, the PHF also considered Dubai and Muscat as venues for hosting the matches but players and coaches alike wanted to play in English conditions, hence, Glasgow was finalised as the venue. The other English location in consideration was Birmingham.

The Express Tribune


---

AHP-MSP gain ground with win over Anderson

by Aftar Singh

KUALA LUMPUR: The Pahang Hockey Academy (AHP-MSP) Thunderbolt moved up two spots to fourth after a convincing 3-1 win over Anderson Thunderbolt in Division One of the Malaysian Junior Hockey League.

The Pahang team are tied with SMK Datuk Bentara Luar of Johor on 14 points.

But the east coast side, who punished Anderson for their lax defending, moved into fourth spot with a superior goal difference.

Pahang, who finished fourth in the league last year, attacked from the start but they had to wait until the 33rd minute to take a lead off a penalty corner drag flick converted by Muhd Hafiz Zauri at the Kuala Lumpur Hockey Stadium yesterday.

Inspired, the Pahang side then netted two goals in two minutes.

Muhd Idris Samad (37th) and Mohd Noor Firdaus Rosdi (39th) completed the rout.

Muhd Aiman Shahmi Marzuki replied for Anderson in the 44th minute off a penalty corner.

The Pahang side coach Mohd Sufian Mohamad was full of praise for his players.

"We dominated and scored three goals in six minutes to kill them off.

"The win has put us on course for a top-four finish. We have two more matches left – against Petaling Jaya City Council (MBPJ) on Friday and BJSS (Bukit Jalil Sports School) Juniors on Sunday," said Sufian.

Anderson coach Mohd Nizam Mohd Hashim blasted his team for their defensive slip-ups.

"Conceding three quick goals in the third quarter led to our downfall.

"We hope to win our last two league matches and finish in the top six for a place in the knockout stage," said Nizam.

Anderson will face Politeknik Malaysia on Friday and Universiti Kuala Lumpur (UniKL) on Sunday.

The Star of Malaysia


---

Hockey Rajasthan in semifinals

Will take on Mumbai School Sports Association

Mumbai School Sports Association (MSSA) will take on Hockey Rajasthan and Namdhari XI will clash with Bengal Hockey Association in the semifinals of the seventh HI men's sub-junior National championship ('B' division).

The results:

Pool A: Assam Hockey 21 (Mrinal Roy 1, 14, 49, Madhujya Boruah 3, Chris G.Alphred 4, 7, 18, 19, 54, 63, 69, Manish Sahani 9, 11, 27, 36, 64, Ankit Kumar 22, 39, 48, Pranjit Chetia 47, Mojammil Hoque 66) bt Hockey Gujarat 1 (Kashyap Sawant 60). Hockey Mizoram 8 (Lalruatdika 12, 31, Lalruatsanga 16, Hmangaisanga 17, 46, 52, 67, Zothanpuia 49) bt Hockey Uttarakhand 3 (Keshav 5, Prakhar Gunwant 37, Pradeep Singh Bisht 54).

Pool D: Hockey Madhya Pradesh 9 (Shwetank James 4, 11, 38, Aditya Chhatri 13, 54, Gaurav Tripathi 33, 60, Abdul Rahman 67, Shadan Khan 70) bt Hockey Jammu & Kashmir 1 (Gagandeep Singh Sr. 2).

Hockey HIM 3 (Dhananjay Prajapati 34, Neeraj Thakur 58, Jagjot Singh 60) bt Hockey Bengaluru 2 (Prem 11, Ganesh Majji 18).

Hockey Rajasthan 10 (Vijendra Singh Rathore 3, 28, 42, Danish 17, Aniket Rawat 24, Sachin 46, 61, 67, Pankaj Godara 48) bt Hockey Kerala 10-1 (Ajeesh Reji 13).

The Hindu


---

Asian federation trying to resolve India-Pakistan hockey rift

IPOH: The Asian Hockey Federation (AHF) is confident of resolving the rift between the national bodies governing the game in India and Pakistan.

Trying to play peace-broker, AHF's chief executive Tayyab Ikram said that the hockey fraternity was making some constructive efforts to resolve the rift between the sub- continental neighbours.

"We're trying some constructive efforts to bring them together and try to eliminate those disputes. But then, it is more political than anything," Ikram told reporters during the ongoing 26th Sultan Azlan Shah Cup on Tuesday.

India and Pakistan occasionally meet on the hockey pitch during events conducted directly by the International Hockey Federation (FIH) and the Asian Hockey Federation, but India's national federation has taken a stand that it would not send the team to any other invitational tournament where Pakistan are invited.

Hockey India has demanded an apology from Pakistan for the behavior of their players, whose celebrations went over the top after a semifinal victory over India in the 2014 FIH Champions Trophy in Bhubaneswar.

India last month announced withdrawal of their junior team from the Sultan of Johor Cup tournament, to be played in November in Johor Bahru (Malaysia), because an invitation had gone out to Pakistan.

"The rift is not good for Asia, and it is not good for international hockey," said Ikram. "For hockey, these two Asian nations are still very important.

"We, in hockey, have the best opportunity to bring the two nations together. No other platform can help as much," he said.

Hopeful of finding a positive result soon, Ikram said, "It's on my daily agenda, we're working on it."

Ikram said the AHF was considering a different event menu to get the two nations to play together.

"If the two nations cannot play each other in isolated tournaments, perhaps we in the AHF could present them something other than the Asia Cup and the Asian Champions Trophy," he said.

The Times of India