All the news for Saturday 9 July 2011

England held in final minute

England's men were held to a 3-3 draw on Friday in the last of two matches against Egypt ahead of next week's London Cup in Chiswick.  In the ninth meeting of the sides it was the first time that England has failed to beat Egypt, although the hosts were unfortunate not to win having enjoyed the better of the chances throughout.

Jason Lee's side had to recover from a two goal first half deficit after Ahmed Gamal and Ahmed Abd El Hakim had put the Egyptians 2-0 up shortly before the break.  But a goal from Wimbledon's Ben Hawes, the 25th of his England career, and two from Reading's Jonty Clarke put England in a winning position with six minutes remaining.  Houssam Ghabran's equaliser in the final minute though ended England's winning run as he lashed a shot into the net sparking delighted celebrations among his teammate.

Sporting a number of changes from the side that beat Egypt 3-1 on Thursday, England were 1-0 down in the 12th minute.  With Egypt content to defend deep and counter attack, England struggled to break them down and the visitors made it 2-0 four minutes from half time through Ahmed Abd El Hakim.

Intent on hauling back the goals, captain Barry Middleton flashed over early in the second half after turning smartly at the top of the circle.  Minutes later, England were handed an opportunity when Houssam Ghabran cynically fouled James Tindall outside the 23 metre line and received a yellow card for the offence.  England won two penalty corners in quick succession and were unlucky not to pull a goal back as Ahmed Abd El Maksoud cleared the first off the goal line.

Since the start of the second half England had not allowed Egypt out of their half and Ben Hawes made it 2-1 in the 51st minute with a goal that owed much to the determination of the 30 year old Olympian.  Having won the ball at the top of a crowded circle Hawes rode three challenges and wrong footed the goalkeeper before forcing the ball across the line as he fell onto his stomach.

Egypt survived a scare when the ball came back off the post having been deflected by a defender's stick and James Tindall had a chipped effort palmed away by Osama Hassenein.

On the hour mark Reading forward Jonty Clarke levelled things and he put England into the lead for the first time four minutes later.  Receiving a pass on the left at a penalty corner Clarke made no mistake from ten metres out with a powerful flick into the net just above the backboard.

There was a sting in the tail though as Egypt levelled in the final minute of the match as Houssam Ghabran lashed a shot across Beeston's George Pinner and into the net to make it 3-3.

Afterwards, Team Manager Andy Halliday said, "We struggled to break them down today.  They sat men behind the ball and we didn't quite have enough about us to get through."

England's players now prepare for next week's London Cup in Chiswick with hundreds of school children set to cheer them on against Belgium on Tuesday as part of Schools Day.  Tickets for all four days are still available and will available on the gate.  For daily ticket prices and more information about The London Cup visit www.englandhockey.co.uk/thelondoncup.

ENGLAND 3 (0)

Ben Hawes 51 (F)                    
Jonty Clarke 60,64 (F,PC)                    

EGYPT 3 (2)

Ahmed Gamal 12 (F)    
Ahmed Abd El Hakim 31 (F)                 
Houssam Ghabran 69 (F)                     

England Squad v Egypt

Name (Club) Position

Started

Nick Brothers (Reading) Goalkeeper
Richard Alexander (Surbiton) Defender/Midfielder/Forward
Iain Lewers (Loughborough Students) Defender
Richard Mantell (Reading) Defender
Richard Springham (Reading) Defender
Nick Catlin (Loughborough Students) Midfielder
Glenn Kirkham (East Grinstead) Midfielder
Iain Mackay (Reading) Midfielder
Barry Middleton (Der Club an der Alster) Midfielder/Forward
Rob Moore (Wimbledon) Midfielder/Forward
James Tindall (Surbiton) Forward

Substitutes Used

George Pinner (Beeston) Goalkeeper
Alastair Wilson (Beeston) Defender
Ben Hawes (Wimbledon) Defender
Alastair Brogdon (Bowdon) Forward
Jonty Clarke (Reading) Forward

England Hockey Board Media release


---

England 3 Egypt 3: match report

By Emily Benammar

A last-minute equaliser from Houssam Ghabran ended England's hopes of back-to-back victories over Egypt in the second of a two-match Test series which finished 3-3 at Bisham Abbey.

Head coach Jason Lee made a number of changes to the lineup that had beaten the world No 26 side 3-1 on Thursday, but the opening period did no go well for England and they found themselves a goal down after Ahmed Gamal's 12th minute strike found the back of the net.

Things got worse for four minutes before the break when Ahmed Abd El Hakim doubled Egypt's lead and set his side up for their first ever victory over England.

Whatever was said during the interval breathed life into England and captain Barry Middleton came agonisingly close to pulling one back within minutes of the second half restarting. His effort crept just high of the cross bar before Ahmed Abd El Maksoud cleared two set pieces off the line.

Biding their time England knew the goals would come and twenty minutes before the end their fortunes changed. Wimbledon defender Ben Hawes scored the homeside's first in an outstanding solo effort that saw him come through three challenges and wrong foot the goalkeeper before forcing the ball across the line.

Nine minutes later Jonty Clarke levelled things out before his effort off a penalty corner flew into the net just above the backboard. Despite their efforts, England lost their lead when Ghabran's last minute effort flew past George Kinnear and confirmed the draw.

Reflecting on the match, England's last before they contest the London Cup in Chiswick next week, penalty corner specialist Richard Mantell said: "It was scrappy to be honest. If we had managed to score early I think it would have been a very different result.

"They really challenged us and played very deep but we got ourselves back into the game and with a busy few months ahead games like that are good for us."

The Telegraph


---

Malaysia's hockey team end European tour on a winning note

By S. RAMAGURU

PETALING JAYA: The national hockey team ended their nine-match tour to Europe on a winning note – coming back from a goal down to beat the Spain national team 3-2 at the Terrassa Hockey Stadium in Barcelona on Thursday.

The Malaysians had lost to the same team 0-2 a day earlier.

On Thursday, Spain went ahead in the fourth minute off a penalty corner with a direct flick taken by Roc Oliva.

Malaysia hit back in the 12th minute when Mohd Marhan Abdul Jalil scored off a penalty corner rebound after Mohd Amin Rahim's initial shot was saved by Spain goalkeeper Quico Cortes.

Malaysia then took the lead in the 42nd minute with another set piece move. Azreen Rizal earned the corner when he intercepted a through ball and was body-checked in the D. Amin took the flick, relaying it to Tengku Ahmad Tajuddin to deflect in at the near post.

Spain then equalised seven minutes later and again Oliva was the scorer.

The hosts pushed hard for the winner but it was Malaysia who nicked it, thanks to Izwan Firdaus' 54th minute field goal.

Having had problems beating Spain in recent years, the latest result augurs well for Malaysia and it looks like their aim in exposing young players to high level matches is beginning to bear fruit.

It is their fifth win in the seven matches played in Spain.

Malaysia had earlier beaten Real Polo HC 4-2, Athletic Terassa HC 6-2, Egara HC 2-0 and the Spain National Juniors 3-0.

The Malaysians, who also drew 1-1 with the Juniors, had also played two matches in Amsterdam prior to their Spanish trip – losing 1-5 and 1-9 to the Dutch team.

National coach Tai Beng Hai described Thursday's game against Spain "as fast but I feel that we got better as the match progressed".

"The game was played at a fast pace, with the Spaniards using both flanks effectively. However, our midfielders and forwards managed to keep the centre channel tight and were able to stop them," he said.

The national team will fly home tomorrow and will resume training after a short break.

The players will be released to their state sides for the Razak Cup competition five days before the event.

The Razak Cup will be held in Malacca from July 22-28.

The Star of Malaysia


---

Scotland set their sights on France in semi-final match

Successful tournament management is all about winning the crucial games, and that is precisely what the senior men and coach Russell Garcia achieved by beating China 2-1 in the quarter-finals of the Champions Challenge in Lille on Thursday.

Tomorrow the Scots lock horns again with hosts France in the semi-final while the other is contested by Russia and Ireland - ironically all the teams emanating from Pool B.

Despite China topping Pool A unbeaten, and Scotland having a disappointing Pool B campaign, the nature of the competition means that the quarter final win has propelled Garcia`s charges to compete in the medal games this weekend, while the Asians are consigned to playing for places five to eight.

But Scotland manager Eugene Connolly is not complaining:

"This was an absolutely splendid result, it opens up the whole tournament and playing for a medal takes the pressure off as we`ve already achieved our objective of finishing in the top four."

The victory over China, ranked 14th in the world and nine places above the Scots, has a wider implication for Scotland according to Connolly.  "Playing for medals in the top group will give us crucial world ranking points, also this will be excellent preparation for the European Nations Championship in Ukraine next month. It shows that Scottish hockey is on the up.

"In addition, we want to do as well as the Scotland Women, who grabbed the bronze medal in their Champions Challenge tournament last month - or perhaps even do better".

Like Scotland Women, whose ranking recently went up from 21st to 17th, the men`s status of 23rd has been shown to be artificially low.  The United States, Austria and China are all above the Scots on the international ladder and they will be fighting it out for the lower placings in Lille.  Also, this has been achieved with six squad players short, especially Olympians Niall Stott and Stephen Dick who are committed to Great Britain in the elite Champions Trophy in Delhi next December.

Getting to Sunday`s final will mean seeing off France on their own soil.  The hosts are unbeaten so far in the competition, but they only beat Austria in a penalty shoot-out in their semi-final on Thursday after the teams were tied at 2-2 in normal time.

The Scots lost 3-2 to France in their pool encounter. Fergus Dunn provided a first half lead but three consecutive goals after the interval knocked the stuffing out of the Scots, although Dan Coultas provided a late consolation from a penalty corner.

So how does Connolly propose to turn defeat into victory:

"Simply we need to score more goals and concede less.  After taking the lead against France, we let them back into the game with some slack defending.  This time we must keep control if we get ahead and not give them opportunities to get back at us," said Connolly.

Restricting the high-flying Chinese to a single early goal is perhaps a sign that the defence department is now demonstrating greater composure.  The rearguard of Willie Marshall, Graham Moodie and Dan Coultas easily contained a Chinese attack that desperately sought to get back into the contest, and a sign of their success was that Scottish goalkeeper Mark Fulton was rarely called into action in the closing 25 minutes.

Connolly remarked:

"There is a very happy mood in the squad, we have no injury issues, now we must refocus our endeavours to get a win against France in today`s semi-final."

Scottish Hockey Union media release


---

France and Ireland on similar paths

French star Arnaud Becuwe a key link between the two teams

BY Stephen Findlater

France and Ireland's destinies are very much intertwined this summer, possibly facing each other potentially six times should they both advance to Sunday's Champions Challenge II final.

The pair have already met in the Celtic Cup and the UCD 4 Nations with Ireland notching six goal wins. But, last Sunday, the French turned the tables to continued their major ranking event hoodoo over the Irish as they battled their way to a 2-2.

In the coming months, the two nations will meet again at the INSEP Five Nations in Paris before the big one on August 22, paired together in the group stages of the European championships.

It was the French who virtually relegated the Irish four years ago, a solo Freddie Soyez goal earning the win from a mad-cap match in Manchester. They also bumped Ireland down to fourth in the 2008 Olympic qualifiers in New Zealand, showing their ability to rise to the big occason

For French star Arnaud Becuwe – who marked his 100th cap on Thursday with a vital equalising goal three minutes from time against Austria – it is a trend the French aim to continue despite heavy defeats in 'unimportant' fixtures.

He said of the rivalry: "I hope that will be the same this summer. Ireland has won most of the games against France but the most important ones, we win. I remember four years ago in Manchester we won the one we had to win.

"It was a crazy match, we finished the game with eight players and they were not able to win although they had done very well in the competition, drawing with Spain and England and losing only 1-0 against Holland. It was very cruel for them. But I think they never gave up because now they are playing in the A division and it's deserved because they play at a good level."

Becuwe has been getting an even greater insight into the Irish mindset in the past season, living and playing with Mikey Watt and Geoff McCabe, the latter of whom, he jokes, is becoming much more proficient in Spanish.

It has given him some empathy toward the Irish but he realises that, due to the intertwined fixtures of the two, France's success will most likely have to come at Ireland's expense.

Grouped together in Europe, their result will have a major impact on any potential Olympic hopes and, conversely, staying up in the top tier of continental competition.

"This summer, Ireland and France play five or six games and it's not easy for the two teams because we are struggling for the same goal. I hope both teams will have some success but we know it will very difficult for both to achieve their dreams.

"I think Ireland has a strong team, most of them playing in the best leagues in the world and think they can reach their objective but I hope us French will deny them!"

The pair compete to potentially meet each other in the final of the Champions Challenge II on Saturday afternoon with Ireland facing Russia while hosts France play Scotland.

FIH site


---

SA Under 18 hockey boys draw with brilliant Aussies

JONATHAN COOK at St Albans in Pretoria



South Africa Under 18 striker Cerezo Comerasamy of Border and Australian Schoolboys counterpart Shayne Smith at close quarters (BIG PIC PHOTOGRAPHY)

An on-fire South Africa Under-18 boys hockey team drew 2-2 with the brilliant Australia Schoolboys side in the third and final Test at St Alban's in Pretoria Friday night.

The Aussie juniors, widely recognised as the best schoolboy team to grace South Africa's shores, were kept under constant pressure by the dynamic SA forwards in the first half and amongst a hatful of opportunities, Western Province's James Drummond and Grant Glutz of KZN Inland scored for the home country while the dangerous James Knee got on the scoresheet for the Antipodeans.

Drummond roofed an absolute beauty of a penalty corner drag flick while Glutz tapped in from close after fine SA combination play.

Trailing 2-1 at the break, the second half was end to end stuff played with an incredibly high energy that had the sizeable crowd on the edge of their seats, but it was only the Australians who managed to breach the goalline, when brilliant individual skills led to Harry Page's equaliser.

SA goalkeeper Hendrik Kroukamp of Free State made some superb saves while Aussie number one James Olsen made fewer direct saves but was the recipient of a slew of shots at his goals, yet a number of SA's opportunities slammed into the side-netting on the wrong side of the posts.

On another day, pacy striker Ignatius Malgraff might have hit a hat-trick, but for once the talented Amathole-Border boy did not have the hockey gods on his side.

Australia won the series 2-0 after 3-2 and 4-3 wins in the thrilling first and second Tests.

SA Hockey Association media release


---

Full line-up known for EHL 2011-2012

Euro Hockey League announce 24 participating teams



2009 EHL champions HC Bloemendaal. (Photo: Euro Hockey League / Frank Uijlenbroek)

The European Hockey Federation and the Euro Hockey League are pleased to announce the teams that will participate in the 2011-2012 edition of the EHL.

24 teams from 12 countries have made the cut, with 15 sides from last season's event re-qualifying for the 2011-2012 competition. There are three first time participants joining the tournament next season, with Germany's Uhlenhorst Mülheim and Irish duo Banbridge and Cookstown making their debut appearances when the tournament gets underway in October.

Six other teams return for another crack at the EHL following a period of absence: Amsterdam H&BC (NED), H.C. Rotterdam (NED), Der Club an der Alster (GER), Dinamo Elektrostal (RUS), AHTC Wien (AUT), Olimpia Kolos Sekvoia (UKR) and Rotweiss Wettingen (SUI).

The top four ranked nations will each have three teams competing in the tournament. The Netherlands is top of the ranking pile, with Taeke Taekema's Hoofdklasse champions Amsterdam H&BC being joined by 2009 winners HC Bloemendaal and H.C. Rotterdam, the 2010 runner's up. Amsterdam and Rotterdam re-join the EHL following a one season absence, earning the right to play in the competition with strong performances in the 2010-11 Edition of the Dutch National League. They replace Oranje Zwart and HGC, the reigning Euro Hockey League champions who failed to qualify due to a ninth place finish in their domestic league.

Spain is second in the rankings and will be represented by the same teams as last year: Atlétic Terrassa (1), EHL 2010-11 finalists Club de Campo (2) and Real Club de Polo de Barcelona (3). England is third in the rankings, and like Spain will also see the same representation with Beeston (1), East Grinstead (2) and EHL 2010-11 Bronze Medallists Reading HC (3). 

Fourth-ranked Germany will be represented by two new teams, with league champions Der Club an der Alster and second placed Uhlenhorst Mülheim joining ever-present two times champions UHC Hamburg. Alster and Mülheim replace Mannheimer HC and Rot-Weiss Köln in next season's Euro Hockey League.

For the second successive season, Belgium will be represented by KHC Dragons and Racing Club de Bruxelles, although the EHL will be blessed by two new teams from Ireland with Banbridge and Cookstown making their first appearances. WKS Grunwald Poznan and Pomorzanin Torun have qualified to represent Poland, while Russia's Dinamo Kazan and Dinamo Elektrostal will also feature.

The line up for the 2011-2012 tournament will be completed by CA Montrouge (France), AHTC Wien (Austria), Olimpia Kolos Sekvoia (Ukraine) and Rotweiss Wettigen (Switzerland).
| | | | | |
| --- | --- | --- | --- | --- |
| Rank | Nation | Club 1 | Club 2 | Club 3 |
| 1 | NED | Amsterdam H&BC | HC Bloemendaal | HC Rotterdam |
| 2 | ESP | Atletic Terrassa | Club de Campo | Real Club de Polo |
| 3 | ENG | Beeston HC | East Grinstead HC | Reading HC |
| 4 | GER | Der Club an der Alster | Uhlenhorst Mülheim | UHC Hamburg |
| 5 | BEL | KHC Dragons | Racing Club de Bruxelles | |
| 6 | IRL | Banbridge | Cookstown | |
| 7 | POL | WKS Grunwald | Pomorzanin Torun | |
| 8 | RUS | Dinamo Kazan | Dinamo Elektrostal | |
| 9 | FRA | CA Montrouge | | |
| 10 | AUT | AHTC Wien | | |
| 11 | UKR | Olimpia Kolos Sekvoia | | |
| 12 | SUI | Rotweiss Wettingen | | |
Euro Hockey League media release


---

Hockey Plans to build on bronze success

By Terry Maddaford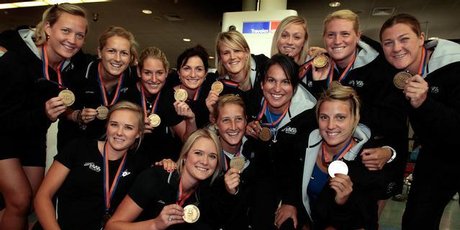 Hockey New Zealand are looking to host an Azlan Shah-type tournament for women here. Photo / Brett Phibbs

Keen to cash-in on their ever-improving standing on the international stage, Hockey New Zealand are looking to host an Azlan Shah-type tournament for women here.

HNZ chief executive Hilary Poole, just back from the Champions Trophy where she watched the Black Sticks women achieve their best-ever result in beating Korea 3-2 to claim bronze, stresses any planning is "in the very early stages" but sees the chance to replicate the annual men's tournament in Malaysia as promoting the women's game in particular.

"We don't want to do it once. We want to attract people to our game - on and off the field - and become part of hockey internationally on a regular basis," said Poole. "We want to grow hockey just as the on-going transtasman competition has boosted netball."

Even before that tournament becomes a possibility, HNZ are looking to host a four or six-nation tournament in Auckland early next year with world No 1, and beaten Champions Trophy finalists, Argentina and Australia already expressing their desire to come.

Poole said with the new blue artificial turf - the same as to be used at next year's London Olympics - at Westlake Girls' High School about to come on stream, countries are keen to play here as it is one of only two such pitches worldwide.

"We are exploring the possibility of playing a tournament here in February-March next year but there is plenty to be done before it will become a reality," said Poole. "We haven't talked to Westlake yet and we have to get commercial partners on side before we can confirm it. I would hope that can be done in the next two or three months."

Poole said FIH bosses were very positive in lauding the progress of hockey in New Zealand.

"They acknowledge our ability to compete with the best and the FIH president is keen to attend the next Oceania Federation annual meeting as they have plans to expand Oceania with financial input from the international federation in tandem with Oceania."

With momentum towards to upcoming World Series - which will replace tournaments like the Champions Challenge - gaining pace ahead of the inaugural tournament in the Netherlands in 2013, Poole said by mid-2012, bids for the 2015 and 2016 tournament will be called for.

"The FIH would very much like us to be involved but I have been very clear with our board that I am not prepared to put the association at financial risk and that we could only contemplate being part of something like this if we had commercial and broadcasting partners in place."

"We would dearly love to host a tier one tournament - a World Cup or Champions Trophy - but until we have worked through the numbers we will not be committing to anything. In 2009 we hosted what was a pretty low key Olympic qualifying tournament in Invercargill and that cost around $500,000."

Poole said there was a move towards prizemoney tournaments which would have to be factored in.

"The New Zealand men have been invited to play in one such tournament - the Punjab Cup in India later this year - but before we can accept that, we have to come up with the $100,000-$130,000 needed to make it happen."

The New Zealand Herald


---

Indians initiated in new format

Sports Reporter

Members of the Indian hockey team at the National camp here were on Friday introduced to the newly-created nine-on-nine format of the sport in their training sessions.

The format, conceived by Australian coach Ric Charlesworth, will be showcased before a global audience at its first tournament later this year. Dubbed the International Super Series, it will be held in the backdrop of the Commonwealth Heads of Government Meeting (CHOGM) at Perth in October.

Among the innovations, apart from nine-member teams, are halves of 15 minutes, requirements for a fixed number of players to remain in the attacking half at all times, and altered penalty corner rules.

Exercise phsiologist David John has received his visa, Nobbs informed, and is expected to join the camp on Sunday.

The Hindu


---

Hockey trials next week

BANGALORE: The number of probables at the national hockey camp will be brought down to around 48 by the end of next week, a figure finalised for preparations for the London Olympics next year.

Chief coach Michael Nobbs told TOI that trials had been planned next week to identify the cream. "The selectors are arriving next week and we will have trials. We will reduce the number to around 48-50 by the end of next week. Sometime later, we reduce them even more," Nobbs said.

As for the camp schedule, the Australian said he was still using a combination of drills and games to analyse the players.

"I am still studying the players and analysing their test results. I am hoping exercise physiologist David John will join us soon. Once he is here, we will get started on the programme," he said.

The team will train at Madras Engineers Group on Saturday and Sunday. This is to give SAI some more time to clean up the turf. Apparently, only one batch of players will be taken to MEG for practice.

The Times of India


---

Nobbs seeks NADA's help in educating hockey players

V Narayan Swamy

BANGALORE: A dollop of wisdom from the National Anti-Doping Agency (NADA) will do the hockey players a world of good, feels chief coach Michael Jack Nobbs.

The Australian felt that with the focus on doping being intense these days, this was the probably the right time for NADA to organise lectures on drug abuse and distribute information kits to players.

"With the media focusing on the drugs problem, now is the opportune time. Traditionally, hockey has not had a problem in this area but we need to be proactive," Nobbs told TOI at the Sports Authority of India, South Centre, on Friday.

"We want the anti-doping agency (NADA) to have lectures on drugs for the athletes and distribute information kits so that the players have first-hand knowledge. We have around 90 athletes in the camp and it is a great opportunity to get more information to them so that they can disseminate that to coaches and players they know."

Nobbs felt it was important for the hockey players to know and understand the gravity of the problem and opined that they too should be subjected to random tests. "The players should also realise that it is their responsibility eventually as to what they put in their mouths," he said.

Nobbs suggestion was received positively by NADA director general Rahul Bhatnagar who said he would be happy to help. "We will organise lecture sessions in Bangalore and distribute literature on drugs and their abuse," Bhatnagar told TOI. NADA's website already has the list of banned drugs with their product / brand names listed alongside.

Doctors at the south centre too have promised to assist in educating the players, it is learnt.

The Times of India


---

'HI creators are behind bars'

Vaibhav Sharma

The pain of missing out on the 2008 Olympics still lingers in the mind of all hockey fans. The hurt went deep and scarred even the loyalists who took pride and found hope in the eight Olympic golds that India had won. The man at the helm of the Indian squad during those days was Joaquim Carvalho, one of the top players of his time and a former Olympian too.

If anyone understood the true impact of a nation with such pedigree in hockey missing out on even qualification, it was Carvalho.

He trained many players into world-class talents as well, including the likes of Dhanraj Pillay and Prabhjot Singh. Carvalho speaks to The Tribune about various issues like the IHF-HI merger, Mike Nobbs and issues plaguing our national sport.

The IHF-HI merger has been in the news for some time now. What are your views on it?

I think the merger is absolutely necessary for the game to run smoothly. This rift between IHF and Hockey India has confused everyone involved with the game. There have been times when HI is threatened players with a ban for playing in any tournament outside their own purview.

But do you see the merger materialising?

I don't really know, but the point is that there are people in HI who have no inclination towards developing the sport. There are people like Narinder Batra, who have created havoc in their home state — Jammu — and we expect them to understand and manage a bigger picture. These people have damaged the game and they continue to do so without being accountable.

But what really has been the issue with Hockey India running the sport in the country?

The main issue is there out in the open now. Most of the people who were behind the formation of Hockey India, are now behind bars. How do we trust an organisation that was founded by such people?

What do you make of the appointment of Michael Nobbs as the new coach? Do you see sound reason behind his appointment?

I have nothing against Nobbs, but with all due respect to him, he is not the remedy for Indian hockey's woes. He was not the strongest contender, and it looks like his hiring was down to some compromise made by the authorities.

But what about the reasoning that he is an Australian, and they play a similar style of hockey to India?

That is not true. Anyone who has seen the game closely will tell you so. It is not about the formations, but about the players out there.

What do you think of the current state of affairs of domestic hockey?

It is in a shambles, frankly. We need to concentrate on the sub-junior and junior levels as well. But there is nothing on that level at all. The one hope is that with the World Series Hockey coming this year, the Indian players will get a chance to play with the best in the world. That might do the job of the tonic Indian hockey so desperately needs.

The Tribune


---

A look back and a look ahead

Ashley Meunier

COLORADO SPRINGS, CO. - Championship matches can come down to just one critical moment that draws the line between victory and defeat; champions and the runner-up. In the final match of Champions Challenge I, USA built an early 2-0 lead against Japan, however, sixty second before halftime, an unexpected goal changed the momentum of the match and USA was unable to break Japan's rhythm. The consequence is clear. USA fell short of reaching their goal of a first place finish and advancing to Champions Trophy. However, the positive outcome has been recognition of key areas to focus on as the Pan American Games rapidly approach.

"Champions Challenge was a clear indicator of the development of the midfield elimination skills of the USA Team," said Terry Walsh, Technical Director, USA Field Hockey. "The ability to control important matches with quality control, precise passing and receiving execution, changeable outletting options and incisive midfield eliminations was evident throughout the tournament."

USA remains ranked thirteenth in the world and continues to develop their reputation as a team that can have a presence at the highest level heading into the 2012 Olympic year. In the upcoming two months, USA will play in twelve international matches, further providing the opportunity to assess strategies and areas of development prior to the Pan Am Games. USA will challenge Germany and Belgium on a European Tour in August and meet New Zealand on home turf in early September.

"The world's best teams, Holland and Argentina, have had significant trouble with New Zealand at the recent Champions Trophy in Amsterdam," said Walsh. "New Zealand possesses speed and elimination skills through their midfield and deep into attack. The five game test series against New Zealand in Chula Vista will be a key period in the development of the team."

While defeat is often times heartbreaking, it can provide valuable learning lessons that lead to success down the road. For USA, the final match at Champions Challenge offered vital information that will, in time, produce the desired result.

"Playing our way into the final and our performance against Japan has provided some critical and vital lessons to our squad," said Bodimeade. "As disappointing as losing was, I know that it has provided us with the information needed that is relevant to our group and can be taken forward onto the Pan Am Games. Each day is another step, a challenge to approach excellence and an opportunity to raise the level."

Looking ahead to the Pan American Games, Canada, Chile and the world's number one ranked team Argentina will be key opponents for USA. The Pan Am Games is an event held every four years, one year prior to the Olympics, with eight teams fighting for one sought-after spot and the chance at an Olympic dream. The direct route to the London Olympics will be success in Guadalajara, October 19-28. While this is a challenging task, it is achievable for the talented USA Team who is hungry for gold. USA has finished second to Argentina in the last five out of six Pan Am Games and is expecting a different result this year.

In February, USA traveled to Argentina for two, four nation tournaments. USA advanced to the finals of the second tournament in Rosario against Argentina and fell just shy of defeating the number one world ranked team. Most recently, Argentina was knocked from the podium by the Netherlands at Champions Trophy in Amsterdam. The Netherlands successfully denied Argentina of what would have been their fourth consecutive title at Champions Trophy.

USA's full-time athlete residency program will reconvene next week at the Olympic Training Center in Chula Vista, CA and the preparation will continue for the Pan American Games. The training will be tiring, difficult and strenuous, but the end result will be worth the sacrifice. The blood, sweat and tears shed over the next two and half months will be a total team effort in pursuit of claiming gold at the Pan Ams and gaining an automatic entry into the Olympic Games. Not to mention ending a lingering Argentinian winning streak that dates back as far as 1987.

USFHA media release


---

Selangor out to develop young hockey talent



The toast: Izwan Firdaus scored the winning goal for Malaysia during their friendly against Spain in Barcelona on Thursday.

KUALA LUMPUR: The Selangor Hockey Association (SHA) will organise a special clinic for 150 youngsters on July 16 as part of their programme for the Razak Cup tournament (July 22-28 in Malacca).

Several current national hockey players and former Razak Cuppers will combine to conduct a coaching clinic for these youngsters at the Ministry of Education Hockey Stadium in Jalan Pantai from 8.30am to 3.00pm.

The 100Plus-SHA Tun Abdul Razak Awareness Clinic is an effort by the SHA, with support from the Malaysian Hockey Federation (MHF), the Education Ministry, the Selangor Education Department, the Selangor Sports Council and 100Plus.

There will also be a mini-exhibition on the history of the Razak Cup at the stadium. The Razak Cup trophy will also be displayed.

Among the current national players who will be there are S. Kumar, Mohd Amin, Mohd Madzli Ikmar, Kelvinder Singh while the former national players and Razak Cup greats include S. Kuhan, James Murthy, Soon Mustapa and C. Paramalingam.

Schools and players from Selangor keen to take part in the clinic can contact the SHA.

The closing date for registration is July 14.

The Star of Malaysia