All the news for Tuesday 9 May 2017

Hectic time for Black Sticks men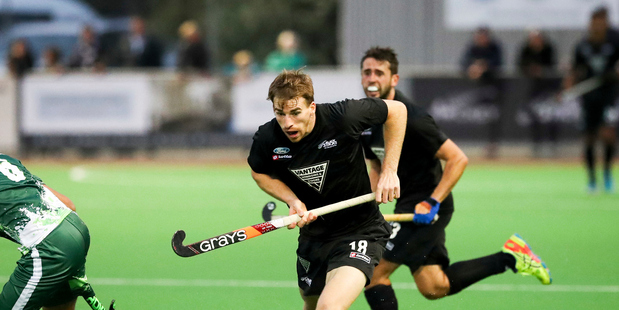 New Zealand Cameron Hayde during a test against Pakistan. Photo / Photosport

The men's Black Sticks are approaching their busiest period of the year with intrigue.

New Zealand's returned from Malaysia, having finished fourth at the Sultan Azlan Shah Cup.

The team will get together for a two-day planning camp in Auckland, before flying to the Gold Coast for eight days for a Commonwealth Games reconnaissance trip.

Coach Darren Smith says they'll then turn their attention to a three match series against Belgium in Antwerp before the World League semi-finals in South Africa.

He says it's pretty hectic and will be interesting to see how the team bonds on the road.

Radio Sport


---

Watch Black Sticks Women LIVE on Facebook



Amy Robinson signs autographs Photo: Planet Hockey

Hockey New Zealand is excited to announce that all five tests between the Vantage Black Sticks Women and India this month will be broadcast through Facebook Live.

The first three matches will be played on Sunday 14th, Tuesday 16th and Wednesday 17th May at Rosa Birch Park in Pukekohe before tests on Friday 19th and Saturday 20th May at the Gallagher Hockey Centre in Hamilton.

All games will be broadcast live along with full commentary on the Vantage Black Sticks Facebook page (www.facebook.com/nzblacksticks), and will be available to be watched on demand afterwards.

Hockey New Zealand has been providing live streaming to fans since 2013 but this is the first time it will be delivered direct to a Facebook fan base of close to 300,000.

Everyone who likes the Vantage Black Sticks Facebook page will be notified through the mobile app or desktop website as soon as the broadcast goes live.

For fans who can support the team in person, presale tickets for all five games are still available through www.blacksticks.co.nz

CLICK HERE to like the Vantage Black Sticks on Facebook now!

MATCH SCHEDULE (in New Zealand time)

All games LIVE on Facebook

Rosa Birch Park, Pukekohe
Sunday 14th May, 3pm
Tuesday 16th May, 7pm
Wednesday 17th May, 7pm

Gallagher Hockey Centre, Hamilton
Friday 19th May, 2pm
Saturday 20th May, 2pm

Hockey New Zealand Media release


---

Shaw Announces Green Army Squad To Face USA




The Green Army's preparation for World League in Johannesburg is continuing at break-neck speed as the team are set for a 3-match series against the USA at the end of May and Head Coach Graham Shaw has today announced his squad for the series.

Sitting at 6th in the world, the USA are a team that demand respect and frequently play to a standard well above their ranking.  Last year's Champions Trophy in London offers a clear example of the squad's ability as they claimed an impressive bronze medal, despite being the lowest ranked team in the tournament, while also beating eventual Olympic champions Great Britain along the way.

But the task won't faze the Green Army as they continue to relish the experience that comes with playing against the different styles of the best nations in the world. "Germany posed and threw up more questions of us as a team that were invaluable. German players play with a lot of technical; and tactical ability, while the USA have a reputation of being incredibly fit and strong, and this will provide a different type of test" said Shaw.

Shaw continued "We are looking forward to spending 9 days together in Spooky Nook, Lancaster. It is an incredible high performance facility and it provides the perfect camp in preparation for World League Semi Finals in South Africa".

World League isn't the only major tournament facing the Green Army this summer as the European Championships sit on the horizon, a welcome return to the top flight for the side following promotion.

"The squad are very excited about this summer where are No 1 goal is to qualify for the World Cup in London 2018. Not until then will we focus on the Europeans in Holland.

We feel we have a strong squad and we will provide a good test to most Nations in the World. This gives us a lot of confidence going into the summer" Shaw concluded.

Schedule (all matches take place in Spooky Nook, times are local):

22 May 18.30 v U21 Team
24 May 18.30 v USA
26 May 18.30 v USA
27 May 18.30 v USA

Squad:

Ayeisha McFerran (University of Louisville)
Grace OFlanagan (Railway Union)
Hannah Matthews (Loreto)
Alison Meeke (Loreto)
Shirley McCay (Elks)
Yvonne O'Byrne (Cork Harlequins)
Elena Tice (UCD)
Zoe Wilson (Harvesthuder)
Nicola Daly (Muckross)
Roisin Upton (Cork Harlequins)
Gillian Pinder (UCD)
Chloe Watkins (Hermes/Monkstown)
Katie Mullan (UCD)
Emma Russell (UCD)
Anna O'Flanagan (Hermes/Monkstown)
Naomi Carroll (Cork Harlequins)
Nicola Evans (Hermes/Monkstown)
Chloe Brown (Ards)
Emily Beatty (KHC Dragons)
Ellen Curran (Hermes/Monkstown)
Deirdre Duke (UCD)
Sinead Loughran (Hermes/Monkstown)

Irish Hockey Association media release


---

Rot-Weiss assured of playoff place with three games to go




EHL semi-finalists Rot-Weiss Köln confirmed their place in the German playoff places with three games to spare as they recorded a six-point weekend.

On Saturday, they beat struggling Lichterfelde – albeit by a 67th minute goal from Mats Grambusch in a 2-1 win – before going on to defeat Berlin 3-1 on the road.

Goals from Martin Chorus, Jonas Gomoll and 17-year-old Emil Schaefer – in his third league game – had them 3-0 in front by the 44th minute but they had to survive a spate of corners from Berlin that threatened to undo their good work.

Co-coach Wolfgang Kluth was happy with the side's weekend's work: "The initial phase [against Berlin] was really good. After 3-0, we had to grind it out. Ten corners against us, of course, is too many.

"But, ultimately, we took the six points from Berlin which we wanted. Now, we still have Mülheim in the run-in when it comes to the first place in the Bundesliga season which means direct EHL qualification."

The results keep them five-points clear of the chasing pack with Uhlenhorst Mülheim in second place after they beat bottom side Klipper 4-2 and UHC Hamburg 5-1 with Timm Herzbruch scoring four times.

In an incredible tie, the game was level at 1-1 with six minutes to go before Thilo Stralkowski scored a stroke. UHC removed their keeper, knowing their playoff hopes were on the line. Moritz Fürste, however, was shown a yellow card that stymied their chances.

They were caught three times by Herzbruch in the 68th, 69th and 70th minutes to all but assure them a playoff place.

Third place Harvestehuder had a mixed weekend, losing 3-0 on Friday in their derby against UHC before winning 3-2 away at Nuremburg.

That win came courtesy of a Michael Körper hat trick in the last 13 minutes. Harvestehuder trailed 2-0 before he made his intervention to bring his seasonal total to 41 goals.

Mannheimer moved back into the playoff places with a 2-0 win over Krefeld on Friday evening and a 7-2 win at Lichterfelde. It means they have two points to spare over Krefeld with three games to go each with the rest of the sides falling away from contention.

Gonzalo Peillat scored twice in the first game of the weekend and then three times in the second tie, lifting him to joint second on the goalscorers charts.

Euro Hockey League media release


---

Big four through to Spanish semis once again




The top four finishers in the regular season will contest the Spanish final four at the Can Salas as last weekend's playoff went ahead without any major shock.

Polo, the regular season champions, saw off CD Terrassa in a surprisingly tight battle against the eighth place finishers. The Barcelona side won the first leg 3-1 as early goals from Álex Casasayas and Javi Cabot put them in good shape until Jaume Ventayol got one back in the 17th minute.

It remained tight all the until the last minute when Sander Baart put the game to bed. It gave them the advantage going into Sunday's second leg where Baart gave Polo a 1-0 lead. Marc Miralles equalised in the closing quarter for a 1-1 draw but the Barcelona men were too far ahead.

Reigning champions Club Egara were all but done and dusted after game one when they beat SPV Complutense when they won out 6-0 with Pau Quemada scoring a hat trick. Sunday's second leg was more competitive but Egara won again 4-3.

Club de Campo were pushed all the way in both of their games against RS Tenis. Indeed, they trailed to Gonzalo Quijano's early goal before Belgian player Jerome Saeys equalised 11 minutes into the second half.

Quique González de Castejón and Matthew Cobbaert snatched a 3-1 lead before Diego Arana scored a last minute corner for Tenis in a 3-2 result.

Sunday saw the same result as the Madrid side led twice only for two goals from Welsh international Rufus McNaught to have the tie very much alive with 13 minutes to go at 2-2. Had Tenis added another goal, they would have been in shoot-out territory but González de Castejón snatched the win for Campo.

Atlètic won twice by a single goal against FC Junior in two exciting battles. Santi Ibáñez got the only goal in a 1-0 win in the first game. Gabriel Dabanch put Junior 1-0 up in game two but efforts from Joan Tarrés and later by Albert Beltrán nabbed a final four place for Atleti with a 2-1 win.

Euro Hockey League media release

---

Dragons and Herakles hold big advantage after Belgian first legs




It's advantage Dragons and Herakles in the Belgian playoffs as they ran up strong wins over the Waterloo Ducks and Racing Club de Bruxelles, respectively, in the first legs of the semi-finals.

The WatDucks welcomed back captain John-John Dohmen after a lengthy injury but they fell behind early on when Henri Raes found the net for the only goal of the first half for Dragons.

After the break, Waterloo stepped forward with a more aggressive style but, within five minutes, fell two goals behind when Robbert Rubens managed to deceive goalkeeper Vincent Vanasch for 2-0.

After that, Dragons had to fend off a number of attacks but Loïc Van Doren was not able to be beaten, keeping out several penalty corners, allowing Dragons to take a 2-0 advantage into the second leg next weekend in Brasschaat.

For Herakles, they brought a 5-3 lead with them back from Brussels. Amaury Keusters slid in a backhand shot to get the ball rolling before Tom Boon equalised from a corner.

Xavier Reckinger put Herakles back in front with a stroke before Nicolas de Kerpel's drag-flick made it 3-1. De Kerpel added a brilliant solo goal to extend the lead further at half-time.

Boon got another back in the second half and he completed his hat-trick at the back post to reduce the gap to 4-3 but Cedric Struyf's corner rebound put Herakles on the brink of a final spot.

"We can only be satisfied with this beautiful victory on the road," said de Kerpel. "It was a reflection of our season so far. We have developed a lot in recent weeks.

"Fast counter-attacks and exciting games have become a bit of our trademark and it's good for our fans to have fun during our games. It is true that we play defensively but this does not prevent us from scoring many goals!"

If Herakles can retain the advantage after the second leg next weekend, it means they will qualify for the EHL for the first time. Dragons already have an EHL ticket in the bank having topped the regular season.

Euro Hockey League media release


---

Wits go big against UKZN

By Reginald Hufkie



Sissy Pieterse of Wits runs with the ball while Nolwazi Mkize of UKZN chases during the South African 2017 VARSITY HOCKEY, Monday 8 May 2017 Danie Craven Stadium, Stellenbosch, Western Cape. Photo by: HALDEN KROG/SASPA

Despite comeback attempts by UKZN, Wits put the nail in the coffin by beating them 15-4.

A change in weather conditions saw a change in strategy for Pietie Coetzee's Witsies who came out guns blazing by scoring five goals in the first chukka against debutants UKZN.

Looking to step up their game, UKZN's Tiffany Jones provided the Stellenbosch spectators with a moment of brilliance by scoring a world-class goal to get the Durban side on the scoreboard. Jones added two more points on the board, but Wits vice-captain Nicole Smith had a different plan in mind when she scored her second goal of the game, making it 7-4 heading into the break.

The determined UKZN side fought back by setting up a defensive structure that saw the third chukka end goalless, possibly setting up one of the biggest comebacks of the weekend against the revived Witsies.

Wits' in-form players Nicky Veto, Nicole Smith and Vicky Jonker, though, turned the game on its head when they scored three impressive goals in the final stages of the game. It ended 15-4 for Wits.

Mugg & Bean Star Saver: Noxolo Manele (UKZN)
FNB Player of the Match: Nicole Smith (Wits)

Scores

Wits: Lezaan Janse van Vuuren, Nicole Smith (3 Field goals), Vicky Jonker (1 Field, 1 Penalty Corner), Ash Redhead

UKZN: Tiffany Jones (2 Field Goals)

Teams
Wits: 2 Jureya Dildar, 5 Gillian Robertson, 7 Nicky Veto, 8 Ash Redhead, 9 Londeka Dlamini, 10 Nompilo Thenjwayo, 12 Nicole Smith, 13 Amber Dry, 14 Kelly Wrensch, 17 Lezaan Janse van Vuuren, 19 Tamsin Copeland
Subs: 1 Petro Stofberg, 3 Nolwazi Ngubane, 4 Lelethu Ndakisa, 6 Sissy Pieterse, 15 Robyn Fyrie, 16 Mandisa Sigudla, 18 Vicky Jonker

UKZN: 1 Robin Ashton, 4 Jamie Chisholm, 5 Sinethemba Zungu, 6 Chardinay Penniston, 7 Chiree Coetzee, 8 Nolwazi Mkize, 10 Tiffany Jones, 11 Nqobile Shange, 13 Vanessa Atkinson, 14 Anessa Patel, 16 Tanner van den Bergh
Subs: 2 Nonqaba Bengu, 3 Janine Ndlovu, 9 Noxolo Manele, 12 Nomzamo Zulu, 17 Megan Hargeaves, 21 Nonthando Mlabo, 22 Thandazile Mngumi

Varsity Sports media release


---

Tuks concede niks, hammering Madibaz 14-0

By Reginald Hufkie



Chane Hill of TUKKIES takes a shot at the NMMU goal during the final days play in the 2017 VARSITY HOCKEY, Monday 8 May 2017 Danie Craven Stadium, Stellenbosch, Western Cape. Photo by: HALDEN KROG/SASPA

Coming off the back of a defeat against Pukke, Tuks solidified their top four position by beating the Madibaz team 14-0 in Stellenbosch on Monday afternoon.

Looking to get back to winning ways, Tuks struggled to outmanoeuvre coach William Reubens' Madibaz side in the first chukka, but coming back from the two-minute strategic break, they managed to bag three goals in five minutes.

Captain Natalie Esteves led the Pretoria side by scoring two penalty corner goals not long after Chane Hill opened the scoring from open play.

In the hopes of getting points on the board, the Madibaz side came from the half-time break looking livelier and geared for top-notch hockey. Tuks, alternatively, looked ever so composed by approaching the second half the same way they ended the first.

The third chukka remained goalless, but taking advantage of the Powerplay, Tuks added two more points from a penalty corner at the start of the final chukka, leaving the score at 9-0 in favour of Tuks. Anel Luus and Chane Hill, in retrospect, clearly wanted more when they scored three goals between themselves when the Port Elizabeth outfit showed early signs fatigue before the final whistle.

It ended 14-0 as Tuks fly back to Pretoria with nine points and a top four finish looking promising.

Mugg & Bean Star Saver: Kerryn Frost (Madibaz)
FNB Player of the Match: Izelle Verster (Tuks)

Scores

Madibaz: 0

Tuks: 14
Goals: Chane Hill (2), Natalie Esteves (2 Penlty Corners), Catherine Morris, Anel Luus (2 Field Goals)

Teams
Madibaz: 1 Kerryn Frost, 3 Hannah Knott-Craig, 4 Nina Lauren, 6 Sequeira Van Niekerk, 7 Caitlin Gouws, 12 Aimee Pohlmann, 14 Simone Dolley, 15 Kirsty Tonks, 17 Carly Redcliffe, 21 Luzaan Potgieter, 24 Cassandra Lister
Subs: 8 Kanyisa Gwata, 10 Jenna-Lee Meyer, 13 Jamie-Leigh Banks, 16 Malikah Potgieter, 18 Meri Janse van Rensburg, 20 Robyn Thomson, 22 Lindre Van den Berg

Tuks: 1 Marlise Van Tonder, 4 Marissa Poolman, 6 Chane Hill, 10 Anel Luus, 11 Catherine Morris, 14 Izelle Verster, 15 Natalie Esteves, 19 Claire Gibbins, 21 Amy Etherington, 27 Thandokazi Chithi, 32 Mabongi Nyalungu
Subs: 2 Melicia Van Tonder, 8 Jenica Da Encarnacao, 12 Meeghan Scheffer, 18 Levolwethu Nkole, 22 Amone Mouton, 23 Ayanga Balni, 28 Kelsey Langley

Varsity Sports media release


---

Kovsies edge UJ in seven-goal thriller

By Andre Huisamen



2017 VARSITY HOCKEY, Monday 8 May 2017 Danie Craven Stadium, Stellenbosch, Western Cape. Photo by: HALDEN KROG/SASPA

Kovsies got their first win of the Varsity Hockey weekend when they defeated UJ 4-3 in a nail-biting encounter, played under a beautiful Stellenbosch backdrop on Monday evening.

UJ were first out of the blocks when Carmen Smith opened the scoring for the Johannesburg team in the second minute from a penalty corner. The goal sparked Kovsies into the life as they piled on the pressure in the opening chukka.

After failing to score from five penalty corners in the first eight minutes, Nisa van Zyl finally opened Kovsies' account through a well-worked field goal to put her side in the lead.

Kovsies controlled the game with ease and were rewarded again when Jessica Charles scored a field goal, despite UJ going for the review, claiming that Charles took the shot from outside the circle. The television match official thought differently and Kovsies took a 4-1 lead into the break.

The second half and third chukka in particular were very tight. Both sides found it tough to break through the defence as no goal was scored in the third chukka.

Lisa Hawker gave UJ some hope when she finished off a brilliant field goal at the start of the final chukka, during their Powerplay.

UJ threw everything at Kovsies in the final minutes but couldn't break through as the hooter sounded to give Kovsies the much-needed win.

Mugg & Bean Star Saver: Robyn Ormand (UJ)
FNB Player of the Match: Jessica Charles (Kovsies)

Scores
UJ: 3
Goals: Carmen Smith (Penalty Corner), Lisa Hawker (Field Goal)

Kovsies: 4
Goals: Nisa van Zyl (Field Goal), Jessica Charles (Field Goal)

Teams

UJ: 1 Robyn Ormond (GK), 3 Isabella Da Rocha ©, 6 Lanne Rossouw, 7 Ashleigh Datnow, 8 Kristen Paton, 12 Zeena Martin, 14 Alex Kavanagh, 15 Kerry Trebble, 16 Carmen Smith, 17 Demi Harmse, 18 Cheneal Raubenheimer
Subs: 2 Yonela Dishi, 4 Jenevieve Taljaard, 5 Phia Gerber, 9 Lisa Hawker, 10 Jivanka Kruger, 13 Bernice Brink, 24 Nadia Mattana (GK)

Kovsies: 1 Alri Vorster (GK), 2 Chane Hartel, 4 Jessica Charles, 5 Antonet Louw, 7 Shindre-Lee Simmons, 10 Pricilla Esterhuyze, 11 Candice Calder, 12 Heraldine Olin, 13 Casey-Jean Botha, 15 Este van Schalkwyk, 21 Janke Kotze ©
Subs: 3 Lisa Alberts (GK), 8 Nisa van Zyl, 9 Nadia van Staden, 15 Refilwe Ralikontsane, 17 Shanay Solomon, 20 S'Thabile Motsa, 22 Nicole Kruger

Varsity Sports media release


---

Maties beat Pukke in penalty shootout to finish unbeaten

By Andre Huisamen



Natasha Rootenberg of Maties and Lerato Mahlangu of PUKKE fight for the ball during the final game in the 2017 VARSITY HOCKEY, Monday 8 May 2017 Danie Craven Stadium, Stellenbosch, Western Cape. Photo by: HALDEN KROG/SASPA

It was set out to be the match of the weekend as Maties and Pukke went head to head in the final match of the first weekend of Varsity Hockey, played on Monday night at the Maties Astro in Stellenbosch.

Both sides were unbeaten heading into the game and it was evident why they were the two best sides over the past four days, as the match ended 0-0 after the 60 minutes. Tight defence by both sides meant the game had to be decided in penalty shootouts as fans watched on anxiously.

Maties won the toss and decided to go first. Tarryn Glasby started strong for Maties as she tucked away her chance, before Miecke Flemming missed her opportunity for Pukke.

Captain, Heather McEwan made it two for Maties as she calmly slotted home her goal. Pukke put themselves under immense pressure when Dunelle van Taak spilled her chance to make it 2-0 to Maties after two rounds.

The tides started to change when first Stephanie Botha and second Paige Phillips failed to score for Maties, while Charne Maddocks and Anneke Beukman converted for Pukke to put them right back in the contest with one round to go.

Georgia Grobler proved why she was one of the star performers of the weekend when she scored excellently for Maties, which meant Pukke vice-captain, Jocelle Deysel, had to score to keep Pukke in the match. Maties goalkeeper, Nicole Le Fleur became a heroine in the following moments as she superbly saved Deysel's shot to win the match for Maties 3-2 on shootouts.

Maties ended the weekend off undefeated before heading to Potchefstroom for this coming weekend's round of Varsity Hockey.

Mugg & Bean Star Saver: Nicole Le Fleur (Maties)
FNB Player of the Match: Jessica de Bruyn-Smith (Pukke)

Teams

Maties: 1 Nicole Le Fleur (GK), 2 Lenta Cullinan, 4 Stephanie Botha, 6 Heather McEwan ©, 8 Paige Phillips, 9 Sandiswe Tabata, 10 Tarryn Glasby, 12 Natahsa Rootenberg, 14 Georgia Grobler, 17 Page Alcock, 20 Minke van Heerden
Subs: 5 Simone Strydom, 7 Lida Kotze, 11 Danielle Kirsten, 16 Aimee Pote, 19 Alegra Dijkstra, 21 Polly Mashau, 24 Kirsten Block (GK)

Pukke: 1 Marine Kock (GK), 2 Jocelle Deysel ©, 5 Jessica de Bruyn-Smith ©, 8 Lindi Anker, 10 Lerato Mahlangu, 11 Lori Hyde, 12 Carli Rheeder, 13 Courtney du Preez, 15 Dunelle van Taak, 17 Elmien Marais, 19 Charne Maddocks
Subs: 3 Hope Nkosi, 7 Miecke Flemming, 9 Carli Pretorius, 16 Jamie Flowers, 18 Kerrin Klaaste (GK), 20 Meeghan Klomp, 21 Anneke Beukman

Varsity Sports media release


---

Naise behind Amira Sailors' surge

By BRIAN YONGA



Chase Amira's Pauline Naise dribbles the ball during their Kenya Hockey Union women's Premier League match against Telkom Orange at City Park Stadium on March 11, 2017. PHOTO | MARTIN MUKANGU |  NATION MEDIA GROUP

Multi-talented Pauline Naise moved top of the Kenya Hockey Union women's Premier League scoring charts after the weekend round of matches.

The footballer-cum-hockey player hit four goals in Amira Sailors' 6-0 rout of University of Nairobi on Saturday to take her tally to eight goals in as many matches this season.

The result saw Amira move into second place with 11 points after chalking up their third win from six matches. Their rise in the table has largely been to Naise's goals with her performances drawing praise from her coach Linnet Onyango.

"There is no doubting her talent, we knew what we were getting when we signed her. She has a lot to give to the team and the rest of the players will learn a lot from playing with her," Onyango said.

The 21 year old joined Amira this season after a two-year absence from the sport. The former USIU Spartans player is not only banging the goals, but also creating them. Out of the 23 goals scored by Amira, Naise has created a dozen of those.

"Our target this season is a top two finish and if Naise can keep scoring the goals, we will achieve the result," the tactician added.

Last season's top scorer Jackline Mwangi of Telkom Orange is also on eight goals with teammate Audrey Omaido a goal back. Champions Orange lead the table with 18 points after winning all their six matches played so far.

Strathmore, who were 3-0 winners over Kenyatta University Titans on Sunday, are up to third on 10 points with JKUAT and Sliders rounding up the top five.

At the wrong end of the table, UON and Mombasa Sports Club lie in 10th and 11th place respectively. In the men's Premier League, Kenya Police, who were not in action this weekend, stay top with 21 points from seven matches.

Greensharks are in second place, four points behind having played a game more than law enforcers. Wazalendo, who went down 2-1 to Butali, remain in third with 10 points. KU Vultures and Butali are in fourth and fifth places respectively after winning their matches this weekend.

Butali needed a Brian Musasia strike to edge out a stubborn Wazalendo. Butali coach Godfrey Wakachunga is eyeing more consistency from his side.

"I think the more matches we play the better we become and it well help us catch the teams at the top if we maintain this consistency," he said.

The only blot in Butali's win was striker Emmanuel Simyu's actions after he was sin-binned. Simiyu broke a seat while protesting the card and could face disciplinary action.

Daily Nation


---

Police extend lead as Butali move to fifth place in Premier League rankings

By Elizabeth Mburugu



Kenya Police player Amos Barkibir in the air when they played Green Sharks in the Men Premier League at City Park. Police scored 1-0. ON 09/04/2017 PHOTO; JENIPHER WACHIE

Former champions keen on reclaiming lost glory in hockey contest.

Former champions Kenya Police extended their lead in the Kenya Hockey Union men's Premier League title chase to 21 points.

The law enforcers thrashed Kenyatta University (KU) Vultures 5-1 in a midweek encounter to hold firm the top spot.

Greensharks are second with 17 points from eight rounds of matches. They have won five, drawn two and lost one (to Police).

Wazalendo are third despite suffering their first defeat of the season to Butali. They are tied on 10 points with fourth-placed KU, thanks to their superior goal difference.

However, the battle for the coveted trophy slowly began taking shape at the weekend. Favourites Butali Sugar Warriors moved four places up to fifth, with nine points from three rounds of matches.

Butali coach Godfrey Wakachungwa said with more matches coming up, they will surely reduce the point difference.

"We always compete at the top and after more matches, I believe we shall  regain our place," Wakachungwa said.

Butali and Police have always turned the premier league into a two-horse race, with Butali winning 2014 and 2015 titles. Police finished second in both seasons.

Last year, Butali finished second behind winners Strathmore University Gladiators, while Police were third.

They both lost to Strathmore in penalty shootouts at the play-offs.

Defending champions Strathmore are struggling and are currently 10th with five points.

Newcomers Technical University of Kenya (TUK) are yet to win a match.

They have one point from a 3-3 draw against 2012 winners Nairobi Sikh Union.

The Standard Online


---

Tight defence and new tactics biggest takeaways from Azlan Shah bronze

Debayan Sen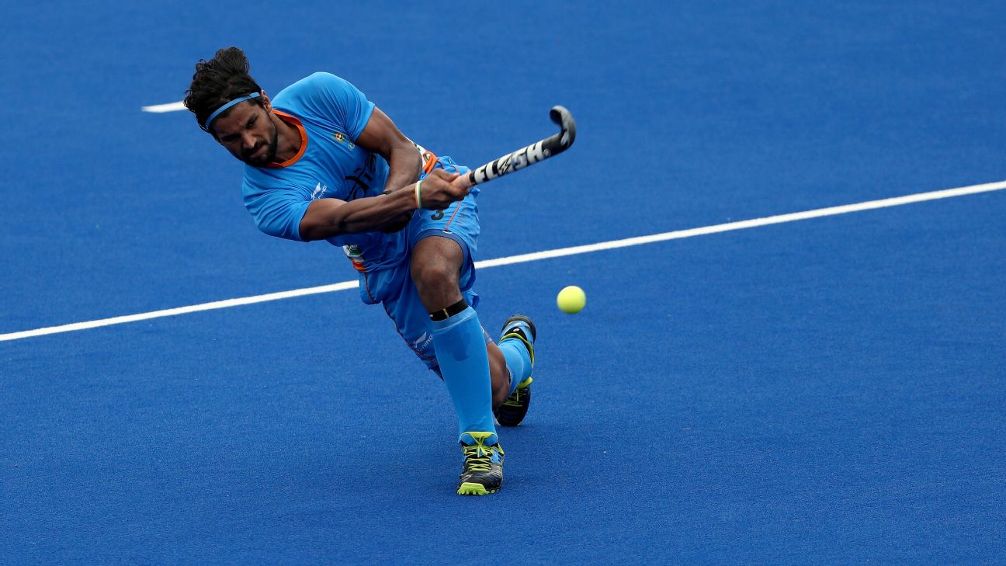 Rupinder Pal Singh is the lynchpin of the Delhi Waveriders team. Sean M. Haffey/Getty Images

India may have finished third in the six-team Sultan Azlan Shah Cup in Ipoh, Malaysia, but defender Rupinder Pal Singh and forward SV Sunil believe that India will take a lot of lessons from a tournament where they fielded six players from the junior World Cup winning team.

"We had a team for the final, and everybody knew it - the players, the support staff, "said Sunil. "We couldn't utilise our chances, especially in the match against Malaysia, where we need to win by two goals." India led twice in their tournament opener against Great Britain before settling for a 2-2 draw, then beat New Zealand 3-0, before suffering their first defeat to top-ranked Australia. They then had to rally to beat Japan 4-3, and needed to win their last game against hosts Malaysia by two goals clear, but lost 1-0. They rounded their campaign off with a 4-0 win over New Zealand in the bronze medal match.

"Our overall performance was good, but inconsistency in some of the matches cost us dearly," penalty-corner specialist Rupinder Pal, who could contribute only three goals, told ESPN. "Harmanpreet [Singh] and I were disappointed because we couldn't live up to the expectations. But this tournament was something we were looking at as a preparation for bigger events ahead, and our aim has been to improve with each game. In this group, the juniors were playing together with us for the first time."

Sunil, who himself was returning for a major tournament for the first time since a wrist injury sustained during the 2016 Olympics campaign, felt that debutants like Manpreet Junior, Sumit and Gurinder Singh performed well. "When a young player is playing his first tournament at the top level, he automatically comes under a lot of pressure. The jump from junior level to playing with the seniors is always a big one. Obviously, we had to expect less than 100 percent of what we know they can deliver, but they all performed their tasks well," said Sunil.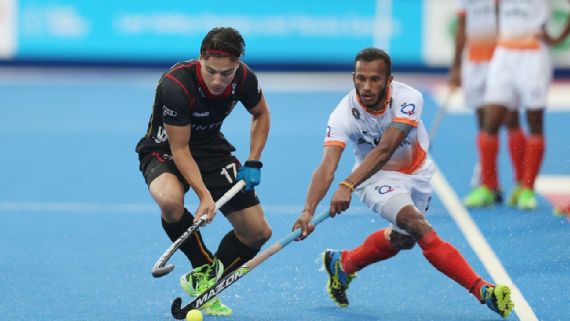 SV Sunil (right) played a vital role in India's successful outing at the Champions Trophy last year. Alex Morton/Getty Images

India missed out on playing in the final, but their numbers stacked up with the best of the other teams. Their 14 goals scored was bettered by only the finalists Britain and Australia, and their nine goals conceded was fewest among all the teams - India were the only team with two clean sheets through the tournament - commendable especially after first-choice goalkeeper PR Sreejesh picked up an injury early in the match against Australia and had to be replaced by Akash Chikte for the rest of the tournament.

Sunil revealed a conscious attempt by the team to control the pace of every game they played, saying, "The more a team keeps possession, the lesser you waste energy in chasing the ball. What we aimed to do this time was to attack selectively, and it worked well for us in the first two matches in particular. This time, a lot of the nations had a lot of new players, and we had no idea about them. Now that the tournament is over, we will analyse on video how these guys play and come up with plans for them."

Each team picked up at least one win, and every team lost at least once, and the nation that came in for effusive praise from both Rupinder Pal and Sunil was Japan, who will be one of the lowest-ranked teams in the World League Semi-finals that take place in Johannesburg in July. "We played Japan in the Asian Champions Trophy just last year and we beat them 10-2," said Rupinder Pal of a game in Kuantan in October 2016 where he scored six of India's goals. "This time they were very good. They only lost by one or two-goal margins, and then they beat Australia. Japan played very good defensive hockey and played on the counter. We were rushing a bit too much, and it will be a good learning for us on how to bide our team when a team plays mostly from within their 23m line."

"If the Indian team is improving, so is every other team. Japan showed that in beating Australia, and similarly Korea or Bangladesh cannot be taken lightly. What four-quarter hockey has done is improved the speed of the game radically. You saw a lot of close matches, and you didn't know till the last minute which team was going to win," added Sunil.

There was a happy post-script for Sunil, whose birthday fell on May 6, as India wound their campaign up with 4-0 win over New Zealand in which he scored his only goal of the tournament.

"I couldn't have asked for a better birthday gift," said the 28-year-old. "The boys won a medal for me, and we cut a cake later in the evening."

ESPN India


---

More Valleys than Peaks for India

Jaspreet Sahni



Getty Images

Ipoh: Had someone told the Indian hockey team at the departure lounge of the Delhi airport that the team will return with a bronze, the players wouldn't have been really disappointed. But from that day to now, a lot has happened that would have left the Indians disappointed with their third-place finish at the Sultan Azlan Shah Cup, which concluded on Saturday.

A squad comprising young legs, including three debutants, and old guards playing for their places would have happily taken a podium finish. But then, had the Indians played to the potential they showed in some of the earlier games, it could well have been India and not Great Britain playing the final against Australia.

But the five-time champions went off the boil whenever the situation demanded them to go for broke. It happened against Great Britain, Australia and in the worst possible way against Malaysia. The Britishers were allowed to come back and snatch a 2-2 draw. The 1-0 lead against the Aussie turned into a 1-3 defeat, thanks to a defensive mindset. And Malaysia slammed the door on their Asian neighbours with a 1-0 upset win.

Only New Zealand proved easy meal for the Indians, which they showed in the 3-0 win during league stage and 4-0 drubbing in the playoffs on Saturday, which secured India's bronze. Japan too had almost pulled off an India heist, before India managed a 4-3 win.

The tournament ended with Great Britain's 4-3 win over Australia in the final. The Indian team sat in the stands watching the climax of that game, and their gloomy faces suggested it could have been much better than a bronze.

JUST COULDN'T SCORE IN CRUNCH MOMENTS

Barring Mandeep Singh's hat-trick in the face-saving win over Japan, India failed to lift themselves when the moment arrived. Australia almost snatched the momentum from them to win from behind. Malaysia, who should have been thrashed, managed to check India's scratchy forwards and block every scoring attempt on penalty corners.

Creating chances is fine but to repeatedly not score off them is criminal. "If we look at all the statistics, then almost in every match we have had by far more circle penetrations than our opponents," Oltmans said on Saturday. "We created a lot of goal-scoring opportunities, but the way we finished is not good enough yet. That is something we have to work hard on, (moving) towards major tournaments later this year (Asia Cup and Hockey World League Finals)."

Rupinder Pal Singh's penalty-corner conversions finally saw light of the day against the Black Sticks on Saturday. Out of India's four strikes, he was on the mark twice to take his tournament tally to three goals. But that doesn't curtain out his inefficacy throughout the event.

LONG WAY TO THE TOP

India have travelled a long way to get out of double digits and be No. 6 in FIH rankings. But as they say, the final ascent to summit is the steepest and the hardest.

That India couldn't deliver when it mattered the most is a cause of concern and worry — highlighting the gap that still exists between them and teams like Germany, Holland and Australia.

"I feel you have to be able to cope with that kind of pressure. If you really want to become a team that can compete with the best in the world, then you know you have to score," Oltmans had said after the match against Malaysia, in which India needed to win by a two-goal margin to qualify for the final.

"I am sure Germany would have scored two or maybe three goals, and India doesn't do that. That is still the difference (between us and) top sides in the world. That's where we have to work. We can play fantastic hockey. We have seen it, for instance, in the first half against Australia and in the last quarter against Japan.

"I think we played well against New Zealand and Great Britain. But the moment real pressure is there, then you have to show it," Oltmans said in a no-holds-barred comment.

DEFENCE PUT UP GOOD SHOW

One should give credit where it's due. If Rupinder's dragflicks didn't work, he had his defensive skills well in place. In the absence of VR Raghunath and then later PR Sreejesh, who was ruled out midway due to injury, India needed their senior-most defender to stand up, and he did.

India fortified their defence in a well-planned way as Rupinder guided youngsters Surender Kumar, Gurinder Singh, Pardeep Mor and Harmanpreet Singh.

"If we keep our defensive structure like this and create some more opportunities, then I think the future is bright," Oltmans said.

JITTERY SENIORS, TWO PLAYERS UNDER THE SCANNER

Not long ago SV Sunil was named the Asian Player of the Year, but his performance at the Sultan Azlan Shah Cup was way below what you expect of a senior. He celebrated his birthday with a goal on Saturday, which was the only bright spot for him over the past week and a half.

Sardar Singh began the tournament like he has reinvented himself, but the former captain couldn't rise to the occasion in the pressure games against Australia and Malaysia. Manpreet Singh captained in Sreejesh's absence but couldn't leave an impact in the midfield. Akashdeep began well but his form too drifted away deeper into the tournament.

"A couple of players are not able to perform up to our expectations when these tense games are there. But luckily we have some time to improve that," Oltmans said, setting off alarm bells in the dugout.

MANDEEP STOOD OUT

From India, Mandeep scored the most goals (5) and was also the joint top-scorer of the tournament along with Australia's Tom Craig. His best moment under the sun came when he scored a hat-trick against Japan to keep India alive in the tournament.

However, the 22-year-old striker will know that he couldn't produce the goods when his team needed the most. And that's where he will want to improve in run-up to the World Cup next year.

NOTHING NEGATIVE FOR OLTMANS

Oltmans maintained from the start that this tournament is about testing new strategies and combinations, which is what he did until the last game against New Zealand when Harjeet Singh played more in the centre and captain Manpreet in the wings.

The coach said he has all notes from these experiments safely secured in his backpack.

"There is always room for improvement. That is different from negatives. I don't take anything negative out of a tournament, never. I look at what we can improve as a team. That is by far more important. I don't care about negative things. You look at individual players, you look at how you are defensively organised, how you are creating chances, how you are able to execute your gameplans. That is what's important," Oltmans explained.

India's next assignment is the FIH Hockey World League semifinals in London next month, where they will also meet Pakistan. The players will take a one-week break upon return to India on Sunday and then huddle up in the national camp.

News18


---

PJCC Tigers snatch JHL League title

By Jugjet Singh

PETALING Jaya City Council (PJCC Tigers) won their maiden Division One Junior Hockey League (JHL) League title when they held Bukit Jalil Sports School (BJSS) Thunderbolts 2-2 Sunday.

The one point was enough to hand them the title, even though they went on to win the shoot-out 7-6 for two points.

To compound matters, runners-up last year SSTMI Thunderbolts were held 1-1 by Johor Juniors and even though they won the shoot-out 4-2 to collect two points -- it was not enough to challenge the Tigers.

Last season's champions BJSS Thunderbolts finished third on 18 points.

"This is unbelievable," said an ecstatic PJCC Tigers coach Harfizi Baharom.

"I told the players before the start that this is our best chance to win the league title and don't let this chance go to waste.

"They played hard to win the title and we are excited. We led 2-0 and I think the boys got carried away which allowed BJSS to comeback for the equaliser.
This is something we must not allow to happen in the quarter-finals of the TNB Cup for the overall title," he added.

A dejected BJSS Thunderbolt coach BJSS coach Lokman Yahya commended PJCC for their fighting spirit and mental strength.

"We created a lot of chances and so we can only blame ourselves for letting this opportunity slip away after SSTMI were held to a 1-1 draw by Johor Tigers," he said.

RESULTS -- Division One: Olak-Nurinsafi 4 Politeknik 2, Anderson Thunderbolts 5 UniKL Young Guns 3, Johor Junors 1 SSTMI Thunderbolts 1 SSTMI won shoot-out 4-2), PJCC Tigers 2 BJSS Thunderbolts 2 (Tigers win shoot-out 7-6), BJSS Juniors 3 MS Pahang-Thunderbolts 5.

Division Two: Final: SSTMI Juniors x SSMS Resilient x; Third-Fourth: Young Lions 1 MBMB Warriors 2.

FINAL STANDINGS

DIVISION ONE

               P  W  D  SO L  F  A  Pts
PJCC TIGERS    9  7  1  1  1  31 14  23
SSTMI          9  6  2  1  1  41 10  21
BJSS           9  5  3  1  1  37  9  19
MSP-PAHANG     9  5  1  1  3  23 13  17
ANDERSON       9  5  1  1  3  22 20  17
JOHOR JUNIORS  9  4  2  1  3  16 15  15
UNIKL          9  3  0  0  6  12 29  9
OLAK           9  2  2  0  5  15 32  8
POLITEKNIK     9  1  1  1  7  12 34  5
BJSS JNRS      9  0  1  0  8  7  39  1

Jugjet's World of Field Hockey


---

Tough for SSTMI Juniors and SSMS Resilient

By Jugjet Singh



Sabah Sports School Malaysia (in yellow) and Kuala Lumpur Sports School players in action in the quarterfinals of the TNB Malaysian Junior Hockey Women League at the KLHA Stadium today. KL Sports School won 4-2.

THE two Division Two teams playing in the TNB Cup knock-out are expected to face a torrid time in the quarter-finals on Friday.

For, Division Two finalists SSTMI Juniors and SSMS Resilient from Sabah have been playing against weaker sides and will be thrown into the deep side of the pool in the quarter-finals.

In an open draw for the last eight, SSTMI Juniors were paired with Division one fourth placed team MSP-Thunderbolts from Pahang.

As for SSMS Resilient, who are Sabah Sports School boys, they will face third placed finishers in Division One BJSS Thunderbolts.

League champions PJCC Thunderbolts will play Anderson Thunderbolts -- whom they beat 3-1 in the League.

The other quarters will be between SSTMI Thunderbolts and Johor Juniors. The Johor side are the surprise package this season, as they held SSTMI to a 1-1 draw, before losing 4-2 on shoot-out to qualify for the knock-out.

In the women's JHL, Kuala Lumpur Sports School (KLSS Wipers) beat Sabah Sports School Malaysia 4-2 to book a semi-final seat, while defending champions Tunku Mahkota Ismail Sports School (SSTMI) also advanced to the semis after beating MSN-MSSPK-SMK Gunung Rapat 3-1.

The semi-finals will see MSSPP-PSHA-USM face KL Wipers and SSTMI go head to head against MSN Kedah on May 14.

KLSS Wipers, who were finalist last season, will need to walk a fine line when they meet MSSPP-PSHA-USM as several players are carrying cards and another infringement could see them miss the final should they qualify.

"We will speak to the players on what needs to be done. From there we will also have to change our structure for the next game depending on our opponent's strengths," said KLSS Wipers coach A. Kannagi.

FRIDAY -- Division One Quarter-finals: PJCC Tigers v Anderson Thunderbolts (PJCC Stadium, 5pm), MSP-Thunderbolts v SSTMI Juniors (Kuantan, 5pm), SSTMI Thunderbolts v Johor Juniors (SSTMI, 5pm), BJSS Thunderbolts v SSMS Resilient (KLHA, 5pm).

SUNDAY -- Women's semi-finals: SSTMI v MSN Kedah (KLHA, 4pm), PSHA-USM v KLSS-Wipers (KLHA, 6pm).

Jugjet's World of Field Hockey


---

Hockey mourns loss of pioneer who helped introduce hockey to China



Gerald represented England for many years at over 40s, 60s, 65s, 70s and 75s.

The hockey community is mourning the loss of one of the game's stalwarts as Gerald Wilkinson passed away at the age of 82.

Gerald really was a hockey globe trotter: his son Phil – who was Communications Manager for the Rio 2016 Olympic Games Organising Committee – said that over the course of a long hockey career, Gerald played hockey in more than 50 countries over five continents. During this time he was acknowledged for helping introduce the sport to China, which will host next year's Hockey Champions Trophy (full article here).

Gerald represented England for many years at over 40s, 60s, 65s, 70s and 75s. His biggest achievement came in 1998 when he captained England to a 4-1 win over the Netherlands in the inaugural Over 60s World Cup in Utrecht.

He also enjoyed a long club career representing Deeside Ramblers, Salisbury, Wimbledon, Guildford, Southgate, Witham and Chelmsford as well as a host of invitational clubs. In 1995 he was a founder of the LX club for Over 60s, the forerunner of the England Masters and Grand Masters teams.

Gerald was a founder member of the Angels touring club, which played on their inaugural tour of the USA and Bermuda in 1963 and subsequently played matches all over the world.

Life long friend Peter Child, paid this tribute to Gerald: "Gerald, during his time playing for Guildford H.C. in the early 60s, assisted Jim Pollock in founding the Angels and organising the famous Angels tours commencing with trips to New York and Bermuda, followed closely by the tour of Jamaica and Bermuda in 1967 and of Rhodesia and South Africa in 1968. Many incredible tours followed in the 70s and 80s,visiting such exotic countries as China, Japan, Malaysia, and South America. He also played on many trips to the famous Lahr Black Forest tournament over Whitsun, starting in the mid-60s. He will be remembered for his darting runs over the right wing, and his unerring accuracy in shooting his many goals for the Angels in almost all known hockey-playing countries of the world.

"From the late 90s, Gerald started his second hockey 'career', helping to form the England LX club for players of 60 and over. Till the very end, he was famous all over the world of senior hockey for his hockey prowess, scoring many goals for England LX and winning many medals and awards.

"He was still playing regularly as an 81-year-old until his illness took toll last year. Gerald was also respected for his great sporting spirit and friendliness on and off the field, and our thoughts go out to his partner in life, Birgit, who gave him loyal support over the many years, and their sons Philip and Benjamin."

And son Philip added: "Gerald dedicated his time to hockey with great devotion, determination and aptitude. It has been heart warming to receive so many letters of appreciation from the hockey community around the globe over the past fortnight, full of gratitude and respect for his achievements, both on and off the pitch.

"Gerald lived for hockey and in return hockey gave him the greatest experiences, friendships and love of his life. The Angels Hockey Club tours from the 1960s and '70s in particular sounded incredibly exciting and left him with many stories to tell of their pioneering adventures.

"Gerald was described by his peers as a player with effortless speed, skill and vision. He was the epitome of eternal youth on the pitch, and a real leader and an inspiration off it. He saw no reason why the passion and joy of playing hockey at a high level should stop when players passed the age of 60 so in the mid-90's he set up the LX Club which then blossomed into Grand Masters Hockey around the world over the past two decades.

"As his illness was developing in 2016, Gerald was really touched to receive a personal video message from the Team GB Olympic gold medallists in Rio on the occasion of his 82nd (and final) birthday and for the first time in my lifetime, he shed a tear. He was always at his happiest when playing or talking hockey."

FIH site