All the news for Friday 19 May 2017

Black Sticks dominate India in Hamilton



Photo: www.photosport.nz

The Vantage Black Sticks Women have continued their dominance over India with a 3-0 win in the fourth test at the Gallagher Hockey Centre in Hamilton.

New Zealand looked untroubled from start to finish with striker Rachel McCann scoring a double while Tessa Jopp added her side's third goal.

The result give the Black Sticks a 4-0 series lead with the fifth and final test to be played at the same location tomorrow.

Head coach for the series Sean Dancer said while there were some areas to tidy up, it was pleasing to come away with another win.

"I thought our structure was a lot better today, I was pleased with how we moved and held the ball," he said.

"India played well in defence and certainly improved in the second half, but we were still able to score some really good goals.

"Going into the final test we aren't about to take our foot off the gas. Our style is to be aggressive and we will keep pushing to get better."

The Kiwis made their early pressure count in the 14th minute with Amy Robinson making a cutting baseline run before linking up with Rachel McCann to slot into goal.

Just three minutes later the Black Sticks were on the board again when Tess Jopp got the final touch on Ella Gunson's hard shot at goal from a penalty corner.

McCann scored her second goal of the match close to halftime following a fantastic length of the turf team counter attack.

Despite chances at both ends of the field, neither side troubled the scorers in the second half.

New Zealand umpire Kelly Hudson celebrated officiating her 100th international test during the match.

The Vantage Black Sticks face India in the fifth and final test tomorrow, with live and free coverage on the Vantage Black Sticks Facebook page from 2:00pm (NZT).

Presale tickets for Saturday's game are still available through the Vantage Black Sticks website (www.blacksticks.co.nz)

CLICK HERE for more on the Vantage Black Sticks vs India series

VANTAGE BLACK STICKS 3: (Rachel McCann 2, Tessa Jopp)
INDIA 0
Halftime: New Zealand 3-0

Hockey New Zealand Media release


---

Black Sticks beat India in fourth test of women's hockey test series in Hamilton

IAN ANDERSON



Rachel McCann scored twice against India in the fourth test of their women's international hockey series in Hamilton. PHOTOSPORT

A scoreless second half has left the Black Sticks with plenty to work on for their final match of the series against India.

The New Zealand women's hockey side scored a 3-0 victory over the tourists in Hamilton on Friday - their fourth consecutive win from as many matches.

But there's still distinct room for improvement when the two teams play the final game of the five-test series at the same Gallagher Hockey Centre venue on Saturday.

The home side dictated terms throughout the 60 minutes, with the first-half in particular being one-way traffic.

But some tactical changes from India at halftime made them a tougher proposition in the latter stages as the Black Sticks lost a lot of fluency to their attacking moves.

New Zealand pinned India deep in their own territory from the opening whistle on Friday - it took four minutes before the tourists got possession of the ball in their attacking half.

Yet with a stacked defence, they still proved hard for New Zealand to convert their near-total dominance of possession into shots on goal.

Amy Robinson's penetrative dribbling did cause India problems however and she created NZ's opening goal in the 15th minute when Rachel McCann deflected her cross from close range.

After an attacking penalty corner broke down, NZ netted their second when Tessa Jopp got a faint touch to an Ella Gunson shot, and the hosts' third came from McCann following a rapid counter-attack after India had their first penalty corner in the 20th minute.

"I thought our structure was a lot better today - I was pleased with how we moved and held the ball," NZ coach Sean Dancer said.

"India played well in defence and certainly improved in the second half, but we were still able to score some really good goals.

"Going into the final test, we aren't about to take our foot off the gas. Our style is to be aggressive and we will keep pushing to get better."

Stuff


---

Black Sticks Women in sight of a clean sweep as Rachel McCann bags two goals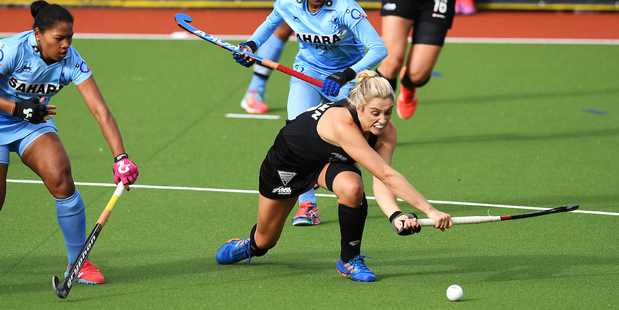 Rachel McCann takes a shot on goal. Photo / Photosport

The women's Black Sticks are within sight of a clean sweep against the touring Indian hockey team.

The venue changed for game four of the five-match series today. But switching from Papakura to Hamilton made no difference for the visitors, as New Zealand worked their way to a 3-0 victory.

The goals all came in the first half.

Rachel McCann bagged two goals and midfielder Tessa Jopp got the other.

Both teams had chances in the second half but the match rather drifted along with neither side able to take a grip on proceedings.

World No 5 New Zealand are using the series partly as preparation for next month's World League semifinals in Brussels. The squad is being switched about from game to game to try and give a large group of players a chance to impress coach Mark Hager.

The final game will be in Hamilton on Saturday afternoon.

The New Zealand Herald


---

Fourth defeat in row for Indian women hockey team



Following three successive 4-1, 8-2 and 3-2 wins in the first three matches, New Zealand dominated Friday's game too.

Failing to arrest its slide yet again, the Indian women hockey team on Friday suffered its fourth straight defeat of the tour, losing 0-3 to hosts New Zealand in the penultimate contest of the five-match series, in Hamilton.

India made a strong start with an improvised attack, attempting shots on goal but the Black Sticks Women defence proved too strong to break for the visitors.

The hosts found an opportunity in the 14th minute with a quick-thinking Rachael McCann who pumped the ball into the goal clinching an early 1-0 lead in the first quarter.

Following three successive 4-1, 8-2 and 3-2 wins in the first three matches, New Zealand dominated Friday's game too.

Tessa Jopp fetched the hosts their second goal in the 17th minute. New Zealand earned a penalty corner which was successfully converted by Jopp.

Down by two goals, the Indian strikers made strong amends and tried different variations to find a goal but they failed to break the opposition defence.

In-form Rachael McCann struck her second goal of the match in the 26th minute to take New Zealand to a comfortable 3-0 lead at the end of half—time.

The final two quarters saw Indian goalkeeper Rajani Etimarpu stay busy at the post, defending several attempts on goal by New Zealand. She made some impressive saves to keep the Black Sticks from taking further lead.

The Indian defence too stitched together a well-structured strategy to ensure a goalless third and fourth quarters.

While India had dominated with the ball possession (57 per cent as opposed to New Zealand's 43 per cent) in their previous game, New Zealand came up with new tactics to deny the visitors any such advantage today.

The final quarter too saw the Indians make strong attempts on goal in their bid to make a comeback into the game but New Zealand stayed in control to win the match.

The Hindu


---

Navjot Kaur gets to milestone of 100 outings for India

HAMILTON: Midfielder Navjot Kaur on Friday completed the for India during the fourth match of the five- match hockey series against New Zealand.

Navjot made her international debut in 2012 in a series against New Zealand in Napier after showcasing talent in tournaments such as the Junior Asia Cup and International U-21 tournament in the Netherlands where India had finished third.

Born in Kurukshetra, Navjot climbed the ranks in the national team with significant performances. She was part of the team that excelled at the Hockey World League Semi-Finals 2015 taking India to the doorsteps of the Olympics.

She also featured in the 17th Asian Games, 2016 Rio Olympics, 4th Women's Asian Champions Trophy and was also part of India's successful campaign at the Women's Hockey World League Round 2 in Canada.

"Navjot is a talented young player. She has proved her place in the team with several important performances and I congratulate her on completing her 100th international cap today. She has been an inspiration for young, budding players who are aspiring to take up hockey professionally. I wish her the very best for future matches," Mushtaque Ahmad, Secretary General, Hockey India, said in a release.

Defender Sunita Lakra had completed her century of matches for India in the third match, which India lost 2-3.

The Times of India


---

Manpreet Sr to lead India for London number

s2h team




Manpreet Singh Sr has been promoted from deputy to wear the leadership mantle for the forthcoming Hockey World League Semfinals to be held in London in a month's time while talented all rounder Chinglensana Singh Kangujam has also been promoted as deputy captain for the all important June Europe tour.

Manpreet Singh Sr, who was designated deputy to PR Sreejesh for the recent Azlan Shah Cup, led India there after the latter got injured midway through the tournament. Now, he got his legitimate slot for the Germany-England tour. Manipur's marvel Chinglen will be Vice-Captain for the first time.

Hockey India today named the Indian Senior Men's team for both Dusseldorf 3-Nation Invitational Tournament Hockey World League SF, London, starting June 15. The 18-member team will play two matches each against hosts Germany and Belgium before arriving in London for the HWL SF, where India is grouped with Canada, Netherlands, Pakistan and Scotland in Pool B.

The team will see Pardeep Mor and Kothajit Singh join the defence along with Surender Kumar, Rupinder Pal Singh and Harmanpreet Singh.

Akash Chikte and Vikas Dahiya will carry the onus of goalkeepers in the absence of PR Sreejesh, who sustained an injury while playing against Australia in the league stage at the 26th Sultan Azlan Shah Cup Tournament 2017.

The midfield will feature S.K Uthappa, Satbir Singh, Harjeet Singh, Chinglensana Singh and the experienced Manpreet Singh and Sardar Singh. Both Uthappa and Satbir were rested for the Azlan number.

Forward-line will see Ramandeep Singh joining SV Sunil, Akashdeep Singh, Talwinder Singh and Mandeep Singh.

"The idea was to bring in a couple of changes in positions after Sultan Azlan Shah Cup. Like I had said before, there are three tours this year including Azlan Shah Cup where we would like to give opportunities to younger players. Though we are taking a few players who are not that experienced, we still want to do well and the aim is to finish in Top 2 at the Men's Hockey World League Semi Final and I look forward to see how the boys will perform against big teams," stated Chief Coach Roelant Oltmans about the team composition.

According to the Dutchman, the biggest takeaway from the season opener in Malaysia was the team's improvised style of play and ball possession.

"Our style of play was good, we were fast and also when we compared statistics, we had better ball possession (about 62 per cent on an average) which is a big improvement from previous years. But I would like to see our conversion rate in field goals and PC to improve from a 20 per cent and 24 per cent respectively. We will be working on bringing in small variations in those aspects during the two-week camp in Bengaluru," Oltmans said.

The team resumed the national camp on May 14 and will continue till May 28 before they leave for Dusseldorf, Germany on May 29.

Squad:
Goalkeepers
1. Akash Chikte
2. Vikas Dahiya

Defenders
3. Pardeep Mor
4. Kothajit Singh
5. Surender Kumar
6. Rupinderpal Singh
7. Harmanpreet Singh

Midfielders
8. Chinglensana Singh Kangujam (VC)
9. S.K. Uthappa
10. Satbir Singh
11. Sardar Singh
12. Manpreet Singh Sr.(Capt.)
13. Harjeet Singh

Forwards
14. Ramandeep Singh
15. SV Sunil
16. Talwinder Singh
17. Mandeep Singh
18. Akashdeep Singh

Stick2Hockey.com


---

India have a PR Sreejesh-size void to fill in World League semis

Manpreet to lead side while Vikas Dahiya named goalkeeper in veteran's absence for World League semis.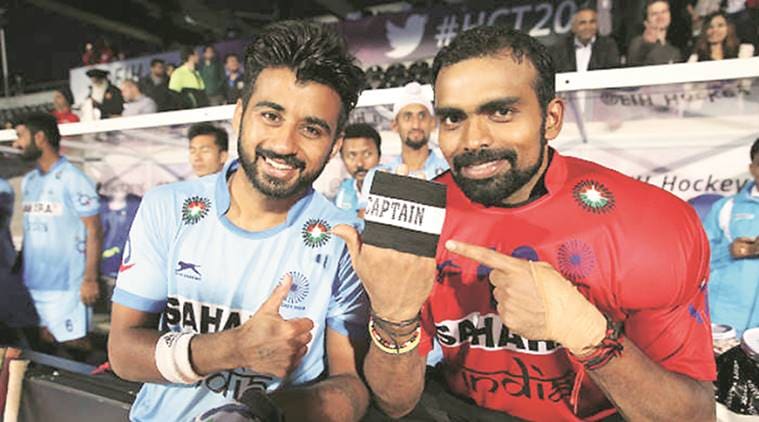 Manpreet Singh (L) will be the captain in the absence of Sreejesh, who is out with a knee injury.

PR Sreejesh was only joking when, during a World Cup practice session last December, he said: 'These kids need to be ready if oldies like me get injured some day.'

Little would he have known his words would sound prophetic five months later.

On Thursday, Vikas Dahiya — the young goalkeeper he was training on that foggy Lucknow afternoon — was named as Sreejesh's replacement. An injury to his knee has ruled out Sreejesh.

The junior World Cup winner was named as one of the two goalkeepers for next month's World League semifinals and a three-nation tournament before that. Akash Chikte is the other goalkeeper in the 18-member squad.

Since the 1990s, goalkeeping has been one area which India never had to bother about. But, of late, India's options have been thinning and have relied — at times too much — on Sreejesh.

However, he twisted his knee during the Azlan Shah Cup match against Australia earlier this month, which will keep him out for at least three months. In absence of a back-up, the Indian team had been dreading this scenario for quite some time.

Hockey scouts across the country have been desperately hunting for reliable No.2 for the last couple of years while Hockey India flew in for+eign experts to conduct goalkeeping clinics.

Eventually, a goalkeeper mentored by Sreejesh has emerged as the best bet to replace him.

The India captain had put in extra hours with the junior goalkeepers for a month prior to the World Cup last year. And his influence on Dahiya was visible throughout the tournament, especially in the semifinals where he made two saves in the penalty shootouts against Australia.

Dahiya was a reserve goalkeeper for last year's Champions Trophy and the Rio Olympics but was often overlooked after being criticised for conceding too many soft goals, especially from corners because of his positioning and reflexes.

His first instinct was to push the ball towards the centre than sideways.

"That wasn't the right technique and Sreejesh bhai corrected it. The one month with him changed me as a goalkeeper," Dahiya had said back then.

The impact of Sreejesh's absence was apparent at the Azlan Shah Cup, where an inexperienced Chikte looked out of his depth when called upon the step-in.

The World League semifinals is the year's first major tournament and will also act as a World Cup qualifier for the other countries. India are assured of a place by the virtue of being the hosts, which allows chief coach Roelant Oltmans the luxury of trying both the goalkeepers.

Oltmans, in fact, has made five changes to the team that competed at Azlan Shah. "The idea was to bring in a couple of changes in positions after Sultan Azlan Shah Cup. Like I had said before, there are three tours this year including Azlan Shah Cup where we would like to give opportunities to younger players," Oltmans said.

With Sreejesh out, Manpreet Singh will lead the squad and Chinglensana Singh replaces SV Sunil as the vice-captain.

Striker Ramandeep Singh has been included in place of Affan Yousuf while SK Uthappa, Satbir Singh and Kothajit Singh too return to the squad.

Although the focus will be on the performance of the goalkeepers, Oltmans said he was more concerned about India's goal-conversion rate. The Dutchman claimed India had ball possession of around 62 per cent on an average in almost all matches at the Azlan Shah.

However, they could not convert it into goals, which cost them a place in the final.

"We were fast and also when we compared statistics, we had better ball possession, which is a big improvement from previous years. But I would like to see our conversion rate in field goals and PC to improve from a 20 per cent and 24 per cent respectively," Oltmans said.

Squad: Goalkeepers: Akash Chikte, Vikas Dahiya; Defenders: Pardeep Mor, Kothajit Singh, Surender Kumar, Rupinderpal Singh, Harmanpreet Singh; Midfielders: Chinglensana Singh (Vice Captain), SK Uthappa, Satbir Singh, Sardar Singh, Manpreet Singh (Captain), Harjeet Singh; Forwards: Ramandeep Singh, SV Sunil, Talwinder Singh, Mandeep Singh, Akashdeep Singh

Indian Express


---

Last chance to cement my place in team: Chikte

By Paritosh Pramanik,




WITH the World League Final just a few months away, goalkeeper Akash Chikte wants to cement his place in the Indian team by performing well in the forthcoming 3 Nations Invitational Tournament as well as in Men's Hockey World League Semi Final.

Hockey India announced Indian men's team for the 3 Nations Invitational Tournament to be held in Dusseldorf, Germany from June 1 and Men's Hockey World League Semi Final starting June 15 at London.

The Manpreet Singh-led 18-member team will play two matches each against hosts Germany and Belgium. India are grouped with Canada, Netherlands, Pakistan and Scotland in Pool B in the World League Semi-Finals.

With No 1 goalkeeper PR Sreejesh out of the squad with knee injury, the Indian goalpost will be manned by Akash Chikte and Vikash Dahiya.

Akash, in all probability, will be the first choice goalkeeper in both the tournaments.

"This will be make or break tour for me. If I perform well during this Europe tour, I will gain a lot of confidence and cement my place in the side for the World League Finals," 24-year-old Chikte said while talking to 'The Hitavada' from Bengaluru where the team is undergoing conditioning camp.

The World League Final will be held in Bhubaneswar from December 1-10.

Chikte, who played the Sultan Azlan Shah meet, said the tournament was a turning point of his career. The Yavatmal-born goalkeeper had made his debut at Malaysia in 2015 where India won the bronze medal. Though he could not better his performance this time, again winning the bronze, Chikte said he has learnt a lot from the Azlan Shah meet.

"Azlan Shah meet has been the turning point in my career. I have learned a lot through this tournament and it will remain very close to my heart. But I want to win gold in such tournaments and am working hard in improving myself," said the former Vidarbha goalkeeper.

The lanky lad from BEG, Pune said the Indian team is working hard to iron out its flaws. "The coach and support staff are working hard on us and so are all the players. We have to increase our conversion rate (field goals as well as PC conversions). The drag flickers are trying out several variations and we goalkeepers are also working hard on saving penalty corners," informed Chikte.

"We are also watching videos of other teams and planning accordingly," he added.

In the World League Semi-Finals India are grouped with Pakistan, Netherlands and Poland in Group B and the Indian custodian said they are preparing well to face these teams.

"Yes, it will be tough (against these top teams) but we are working hard in training sessions. We are concentrating on scoring quick goals and improving our ball possession," he concluded.

The Squad
Goalkeepers: Akash Chikte, Vikas Dahiya. Defenders Pardeep Mor, Kothajit Singh, Surender Kumar, Rupinderpal Singh, Harmanpreet Singh. Midfielders: Chinglensana Singh Kangujam (Vice Captain), S K Uthappa, Satbir Singh, Sardar Singh, Manpreet Singh (Captain), Harjeet Singh. Forwards: Ramandeep Singh, SV Sunil, Talwinder Singh, Mandeep Singh, Akashdeep Singh.

The Hitavada


---

Scotland's Heather Howie and Lee Morton look ahead to World League semi finals



Heather Howie and Lee Morton

Scotland hockey stars Heather Howie and Lee Morton are raring to go as Scotland's international teams prepare to compete at the Hockey World League Semi-Finals for the first time ever next month.

Scotland men will play in London at the Olympic 2012 legacy venue Lee Valley, while Scotland women are off to Brussels where they will open against world number 1 ranked The Netherlands - the same side who lost to GB women in the dramatic Olympic final in Rio.

Scotland's Heather Howie can't wait for her side to face the world's best women's team. She said, "I am extremely excited for the next few weeks of training leading up to the World League semis and for the opportunity to have a chance of playing against the best team in the world.

"World League 2 in Valencia was such a fantastic and enjoyable experience and having the chance to do it all again, against some of the best teams in the world, is a tremendous opportunity."

It's been a successful few years for Scotland women, who are ranked amongst the top teams in Europe. There are three GB players in their ranks; Sarah Robertson, Amy Costello and Nikki Cochrane. Howie, a rising star who plays for Clydesdale Western, is also hoping for big performances when the Scots play China in their second match before taking on Italy and Korea for places in the later stages of the tournament.

Scotland's men's squad defied all the odds to reach the World League Semi-Finals, eventually qualifying as the best ranked third-place finisher at World League 2 with a 4-0 win over Wales. Their first outing will be against India on June 15, before taking on The Netherlands, Pakistan and Canada.

The Scots are now up against some of the top nations in hockey, but Lee Morton is confident Scotland's fighting spirit will see them compete with some of the best players on the planet. He said, "Getting to the World League Semi-Finals is such an amazing achievement and now we're up against some of the best players in hockey, and against teams who have been training full-time for months. But we never give up, we'll leave everything on the pitch in London.

"The support we've had on the run up to this tournament has been amazing and we'll do our best for everyone – it's going to be a challenge, and we can't wait to play."

As one of Scotland's most promising young players, Morton will be hoping to carry on his great domestic form into selection for the tournament – he's just won a domestic treble with Paisley side Bromac Kelburne.

Scotland's men may be the underdogs in London but with the likes of Alan Forsyth - fresh from winning the Sultan Azlan Shah Cup 2017 with GB where he scored four goals and was voted Man of the Match in the final, the Scots have enough firepower to upset any odds.

Scottish Hockey Union media release


---

Lifetime Dragon Van Doren hoping to create best memory yet at FINAL4




For Arthur van Doren, hosting the EHL FINAL4 in Brasschaat will be his best moment yet in a lifetime of memories with KHC Dragons for the hugely talented sweeper.

He joined the club aged just five, rising through the club's youth system along with his younger brother Loic to become part of one of the Euro Hockey League's most famous teams.

Indeed, despite being aged just 22, van Doren has played some part in every one of Dragons seven seasons in the EHL, debuting in 2011 and winning two bronze medals and a silver in 2013.

With his immense ability to read the game and perfectly timed tackles, he stood out from an early age. He says Dragons has been a massive part of his personal success, helping to make him the player he is, a star that was named the FIH's Rising Star for 2016.

"I love this beautiful hockey club!" he says. "It is a club with great ambition and pride with an amazing atmosphere around the pitch during games which makes playing so much more fun. I am very proud to have contributed to the club's rich history."

The next phase in adding to that history comes this weekend when Dragons meet Herakles, hoping to make it three Belgian titles in a row.

After that, the focus goes singularly on the FINAL4 when they will play Rot-Weiss Köln on June 3 in the semi-final. Knowing his club would be hosting the FINAL4, van Doren says, gave Dragons a "big stimulus" to succeed at the KO16 in Eindhoven.

"We played an EHL ROUND1 at home a few years back in front of an amazing home crowd so we know what an advantage it can bring. We knew it could be something special playing the FINAL4 in front of our D-side and obviously did not want to miss out on that opportunity!"

In Eindhoven, Dragons beat the Racing Clubs of Bruxelles and France to earn their FINAL4 place. The battle of Belgium was tough one, edging out their rivals 2-1, before easing by the French champions 5-1.

"We played Racing Club de Bruxelles two weeks before the EHL in the Belgian league so it was a weird feeling playing them shortly after that again in the EHL.

"We always play close games and hard fought battles against. We didn't display our best and most fluent hockey but controlled the game fairly well and got away with the victory in the end.

"Against Racing club de France we played a solid game, did not give a lot of chances away. We were very focussed on reaching that FINAL4 and obviously very happy we did."

It puts van Doren and Dragons in line to add yet more honours to what has already been an incredible year with two more potential trophies on the line in the next few weeks.

"2016 has been a very successful year in my career. The Olympic silver medal in Rio clearly was a highlight. I've been fortunate to win some individual trophies as well, winning the golden stick in Belgium and the FIH Rising star of the year.

"A big part of that individual success goes to my teammates of course. We still have four games left. We will try everything to make it four victories!

"In the EHL, Rot-Weiss Köln is a very talented team with some world class players. It will be a tough battle, one we are very much looking forward to.

"We are expecting a big D-side crowd to scream us to victory and can't wait to play. It would be awesome to take the EHL title in front of the home crowd. It won't be easy but you have to set goals high!"

And, after a lifetime of memories and highlights with Dragons, van Doren says that winning in front of a home crowd could be the biggest of the lot!

"It's difficult to choose one favourite memory with the club. We have played some special games in the EHL over the years. We love playing in EHL and hopefully, on June 4, I can say the FINAL4 at Dragons is my best memory!"

Euro Hockey League media release


---

Clash of the giants as Tuks host Maties in Varsity Hockey final

By Lyndon Julius



Tarryn Glasby hits a ball,while Natalie Esteves,try to stop her. Photo Mario van de Wall/SASPA

Excitement mounts in Pretoria as the University of Pretoria (UP-Tuks) hosts the 2017 Varsity Hockey final, for the second time since its inception in 2013. They'll be up against University of Stellenbosch (Maties), on Monday 22 May.

Varsity Hockey alternates between the men's and women's tournaments every year, and this year it is the turn of the women. Maties won the first title in 2013, incidentally at the same venue as Monday's final, after beating an in-form North West University (NWU-Pukke) side 1-0.

UP-Tuks and Maties finished in first and second place respectively and have been firm favourites ever since the first round of matches, which were played in Stellenbosch between 5 and 8 May. Both sides have been in exceptional form and have been playing an exciting brand of hockey, with UP-Tuks topping the log solely based on goal difference after both teams ended on 18 log points. UP-Tuks mostly impressed in the opening round when they scored 35 goals and conceded just one, in their only loss against NWU-Pukke, while Maties went into the second leg as the only unbeaten side.

The hosts for Monday's final have some key players to thank for their impressive resolve both on offence and defence. For Tuks, captain Natalie Esteves, Catherine Morris, Chané Hill and Izelle Verster have been the lynchpins of the squad.

Maties' unbeaten run in the first leg included wins over 2015 champions University of Johannesburg (UJ) in the opening game, 2015 finalists Kovsies, Madibaz, and a penalty shooutout victory against NWU-Pukke. The 2013 champions got their second round of matches off to a poor start following a 3-1 loss to Monday's opposition, UP-Tuks, but bounced back with three straight wins which included the 3-2 semi-final victory over NWU-Pukke in front of packed crowd in Potchefstroom.

Maties and UP-Tuks have met each other three times since 2013, but this will be the first time they face each other in a knockout match. UP-Tuks recorded the only win after the first two meetings, in 2013 and 2015 respectively, resulted in draws. It was Morris who ended Maties' first leg unbeaten run, in Potchefstroom last week, after a brilliant backstick field goal found the back of the net, handing the Maroon Platoon their first and only defeat this season. This win helped UP-Tuks top the log as a loss for them against Maties would have most likely resulted in a second or third place log finish.

The visitors will be hoping Tarryn Glasby continues her fine form. Not only has the South Africa national player netted seven goals but more impressively, has been awarded the FNB Player of the Match prize no less than five times. It was Glasby's stunner of a goal that dumped NWU-Pukke out of the competition in the 3-2 semi-final victory. Fellow South Africa national player, Nicole le Fleur has been masterful in the goal for Maties. The Post Grad student has been the difference between a few top strikers scoring goals and some of them not getting any. The Maties goalkeeper has received three Mugg & Bean Star Saver awards for her magnificent efforts throughout the competition.



Nicole LE Fleur of Maties wins the Save of the Match against PUKKE. Photo by: HALDEN KROG/SASPA

Interestingly enough, this will be the second time this year that Maties and UP-Tuks face-off in a major sports final after FNB Maties and FNB UP-Tuks met in the final of the FNB Varsity Cup presented by Steinhoff International just over a month ago. It was the hosts who triumphed over the visitors in front of a packed stadium then; can the hockey team emulate their rugby colleagues or will it be the Maroon Platoon who succeed in outsmarting the hosts?

The Varsity Hockey final will be played at 18:45 at Tuks Astro and will be live on SuperSport 7 and SuperSport Select.

Teams
Tuks squad: Marlise van Tonder, Melicia van Loggerenberg, Marissa Poolman, Chané Hill, Jénica De Encarnaçăo, Anél Luüs, Catherine Morris, Meeghan Scheffer, Izelle Verster (v/c), Natalie Esteves (c), Danielle Kerdachi, Luvolwethu Nkole, Claire Gibbings, Amy Etherington, Amoné Mouton, Thandokazi Chithi, Mabongi Nyalungu

Maties squad: Nicole Le Fleur, Lenta Cullinan, Stephanie Botha, Simone Strydom, Heather Mc Ewan (c), Lida Kotze, Paige Phillips, Sandiswe Tabata, Tarryn Glasby, Danielle Cairns, Natasha Rootenberg, Georgia Grobler, Aimee Pote, Page Alcock, Minke van Heerden, Alegra Dijkstra, Polly Mashau, Kirsten Block

Varsity Sports media release


---

Punjab Teams and KPK winners in CM Cup Hockey

On the second day of the 5th Punjab Chief Minister Women Gold Cup Hockey Tournament  at the National Hockey Stadium, Lahore, Punjab Whites, KPK and Punjab Colours won their respective matches.

KPK downed Sindh 3-0.

Haseena scored two for the winners.

Punjab Whites taught a hockey lesson to the hapless Baluchistan; scoring 13 goals without a reply.

Hamra Latif found the target no less than five times. Ishrat Abbas had three goals.

In what was the most exciting encounter of the tournament so far, Punjab Colours edged past Islamabad1-0.

Sumaira's goal earned the Punjab team full three points

Three more matches are scheduled on Friday

PHF Media release


---

Hockey Odisha in last four

Hockey Odisha entered the semifinals of the Hockey India sub-junior National championship with penalty shootout-win over Uttar Pradesh Hockey at the KSHA Stadium here on Thursday. After being tied 2-2 at full-time, Odisha triumphed 3-1 in the shootout.

Elsewhere there were narrow victories for SAI and Madhya Pradesh Hockey, 3-2 and 4-3 over Hockey Haryana and Hockey Punjab, respectively.

Hockey Chandigarh, though, had no trouble as it thrashed Hockey Karnataka 7-0.

Semifinal line-up: SAI vs. MPHA; Hockey Chandigarh vs Hockey Odisha.

The results (quarterfinals):

Hockey Chandigarh 7 (Jaspreet Singh 1, 13, Sanjay 6, Arshdeep Singh 34, Maninder Singh 59, Amandeep 60, Sahibjeet Singh 70) bt Hockey Karnataka 0.

Sports Authority of India 3 (Ankush 5, 30, Rimanshu 59) bt Hockey Haryana 2 (Aryan Kadian 29, Sunny Malik 33).

Madhya Pradesh Hockey Academy 4 (Sourabh Pashine 30, 59, 60, 65) bt Hockey Punjab 3 (Parteek Sharma 3, Navpreet Singh 33, Surdarshan Singh 48).

Hockey Odisha 2 (Ajay Kumar Ekka 10, Sushil Dhanwar 31) bt Uttar Pradesh Hockey 2 (Akhtar Ali 48, Saurabh Anand 58) [3-1 after shootout].

The Hindu