All the news for Thursday 20 July 2017

Australia, Spain, Germany & Belgium seal tickets for Odisha Hockey Men's World Cup Bhubaneswar 2018



Spain were one of the four winners on Day 12 in Johannesburg. Copyright: FIH / Getty Images

Johannesburg, South Africa: Australia, Spain, Germany and Belgium all booked their tickets to the Odisha Hockey Men's World Cup Bhubaneswar 2018, winning their respective matches on men's quarter-final day at the Hockey World League Semi-Final.

Reigning world champions Australia cruised to a 4-0 victory over Egypt to ensure that they will be heading to India to defend the title they won three years ago in The Hague (NED). Spain overcame Ireland to maintain their remarkable record of having qualified for every men's World Cup to date, with 2006 world champions Germany proving too strong for France to seal their berth. Belgium's Red Lions were the fourth team to guarantee their World Cup ticket, taking a 2-0 triumph over New Zealand's Black Sticks.

The competition semi-finals in Johannesburg will take place on Friday 21st July, with Spain playing Germany at 16:45 South Africa Standard Time (UTC +2) before a mouthwatering meeting between Belgium and Australia gets underway at 19:00. In the all-important 5-8 play-off matches, Egypt will take on New Zealand at 12:15 while Ireland play France at 14:30 as the race for fifth place and the subsequent World Cup ticket that comes with it continues.

As well as qualifying for the World Cup, the four winning teams from today's matches are now also guaranteed to play in the Odisha Hockey World League Final, which also takes place in Bhubaneswar, India at the end of the year. Australia, Spain, Germany and Belgium join Netherlands, Argentina and England - who took the first three positions at the Hero Hockey World League Semi-Final in London - as well as host nation India. Malaysia, who finished fourth in London, miss out on taking the highest ranked fourth placed finisher spot on the grounds that all of the semi-finalists in Johannesburg are placed above them in the FIH Hero World Rankings.

Australia (FIH Hero World Ranking: 2) were the first team to claim their tickets to the World Cup and World League Final, scoring four times without reply against an Egypt (WR: 19) side that has come a long way in a short space of time following their 10-0 defeat against Belgium at the start of the competition. Jeremy Hayward put the Kookaburras on the road to victory with a tenth minute penalty corner, with Jake Whetton scoring a double either side of a rare goal from the influential Matthew Swann.

"Egypt are a little bit unpredictable so it was a tough opposition, but we stuck to our strategy and it paid off", said Australia's Kiran Arunasalam. "I think we are in a building phase, I've only played eight or nine games and I'm still pretty star-struck around some of the guys I'm playing with, but hopefully we can do well at the World Cup next year."

The Spain (WR: 10) versus Ireland (WR: 9) quarter-final was the closest of the day, with the Green Machine having numerous scoring opportunities but only managing to make one mark on the scoreboard. Spain took the lead just after half time thanks to a penalty corner from Ricardo Sanchez, with Alan Sothern restoring parity with a perfectly executed drag-flick a minute before the end of the third quarter. However, Irish hearts were broken just a minute later when an unmarked Alvaro Iglesias smashed home what proved to be the winner, putting the Red Sticks into the World Cup and World League Final.

"I feel happy to have qualified for the World Cup and also for the World League Final, as we have not done that before", said Spain goalkeeper Quico Cortes, who had a magnificent game to deny numerous excellent Irish scoring chances. "I'm happy because we defended really well today."

The third team to seal their double ticket to India was Germany (WR: 3), with Tom Grambusch putting Die Honamas in the driving seat against France (WR: 17) by converting a penalty corner effort in the final minute of the first quarter. Rising star Timm Herzbruch scored a superb double either side of half time to effectively seal the win, with Marco Miltkau adding a fourth seven minutes from the end. A penalty corner from Nicolas Dumont deservedly put France on the scoreboard, but it was Germany's day.

"It was a really important win for us, not just for the World Cup but also the World League Final", said Herzbruch after the match. "I played in the Junior World Cup last year in India and I am looking forward to hopefully playing in the senior one."

In the final match of the day, Belgium's Red Lions (WR: 5) produced an explosive first quarter performance against New Zealand (WR: 8). Sebastien Dockier opened the scoring after three minutes with a slap-shot before Tom Boon doubled the advantage thanks to a fierce backhand shot just two minutes later. To their great credit, the Black Sticks firmed up their defence and gave a strong showing after half time, but could not deny Belgium a 2-0 win.

Thursday 20th July is women's semi-final day at the University of the Witwatersrand, although it is not only the final four matches that are of interest. The first match of the day is the 9-10 classification contest between Poland and Chile, which gets underway at 10:00 South Africa Standard Time (UTC +2).

That meeting is followed by the two 5-8 play-off matches, with India playing Japan at 12:15 before South Africa meet Ireland at 14:30. The two winning teams will not only meet in the 5-6 classification match, they will also be assured of places at the Hockey Women's World Cup London 2018. This is because the highest ranked sixth place finisher from the two Hockey World League Semi-Final events in Belgium and Johannesburg is now certain to come from the competition in South Africa, with Italy - who finished sixth in Brussels - being lower ranked than all four teams that are competing in the 5-8 play-off matches.

In the competition semi-finals, Germany play Argentina at 16:45 with England and USA going head-to-head at 1900.

Hockey World League Semi-Finals - Johannesburg, South Africa

Men's Quarter-Final Results
Australia 4, Egypt 0
Spain 2, Ireland 1
Germany 4, France 1
Belgium 2, New Zealand 0


Men's 9-10, 5-8 & Semi-Final line-up
Matches to be played Friday 21 July 2017. All times South Africa Standard Time (UTC +2)

10:00: Japan v South Africa (9-10)
12:15: Egypt v New Zealand (5-8)
14:30: Ireland v France (5-8)
16:45: Spain v Germany (SF) 

19:00: Australia v Belgium (SF)

FIH site


---

No trouble for top teams in quarters

by Karien Jonckheere



Spain celebrate © Gallo Images

Germany will face Spain and Belgium will take on Australia in the semifinals of the Hockey World League at the Wits Astro in Johannesburg on Friday.

That's after the men's tournament favourites all safely negotiated their way through the quarterfinals on Wednesday.

Not only have they earned themselves semifinal places, but along with that comes the chance for automatic qualification for the Hockey World League finals – to be played in India in December (for the top-three teams in Johannesburg).

Jake Whetton scored twice as Australia cruised through their quarterfinal clash against Egypt.

With a ranking of 19th in the world compared to Australia's second spot, this was always likely to be one of the biggest mismatches of the day.

It was in the 10th minute that the Australians scored their first goal off a penalty corner and they never looked troubled as they slotted in three more.

That brought an abrupt end to the Egyptians' revival – having come back from losing their match 10-0 to Belgium and going on to beat continental rivals South Africa to claim that quarterfinal spot.

In the next quarterfinal of the day, Ireland squandered numerous scoring opportunities they had created and eventually went down 2-1 to Spain.

The Irish, coached by former South African international Craig Fulton, earned 10 penalty corners and only managed to capitalise on one of those – Alan Sothern scoring that.

Credit must go to the highly experienced Spanish keeper Quico Cortes who did exceptionally well to keep the ball out of the net for the rest of those, including one off the last move of the game.

And it was Ricardo Sanchez and Alvaro Iglesias who scored the goals for Spain.

"I think today was really a tough match," said Spanish captain Miguel Delas afterwards. "At the end they really put us under pressure but I think the difference was that we had control – which is what we didn't have in some of our other matches at the end. So I'm really happy for our team because we've been working hard and we're very proud to be in the semifinals."

Delas also gave credit to his outstanding keeper. "Quico is a superstar. It's really easy to play with him behind us because he helps a lot. Sometimes when the defenders make a few mistakes it's really good to have him behind us."

As for the challenge that lies ahead, Delas added: "We know that now every opponent we have ahead of us is really good. Our game plan going forward is to be really tight in defence and let the guys up front do their magic."

Next up on Wednesday night were the slick German side who had no trouble in dispatching France to book their spot in the semifinals.

Timm Herzbruch scored a brace and Tom Grambusch and Nicolas Dumont scored one each as the Germans wrapped up a clinical 4-1 win.

Supersport


---

Black Sticks miss semi-finals in Jo'burg



Photo: FIH/Getty Images

The Vantage Black Sticks Men have missed out on making the semi-finals after being beaten 2-0 by Belgium at the Hockey World League in Johannesburg.

Rio Olympic silver medalists Belgium made a fast start to the match and set the tone with two field goals in the first five minutes.

Sebastien Dockier opened the scoring in the third minute before Tom Boon doubled the lead just two minutes later after slipping a shot through goalkeeper Richard Joyce's legs.

The Black Sticks lifted after the goals and played with much more structure but struggled to find holes in Belgium's defence.

The result now sees Belgium go through to the semi-finals while New Zealand face Egypt in a 5th/8th classification playoff at 10:15pm on Friday night (NZT).

While the Kiwis have failed to qualify for the Hockey World League Final in India, they can still book a spot at the 2018 Hockey World Cup by winning their next two games and finishing fifth at the tournament.

Head coach Darren Smith said it was a tough challenge against the world number five ranked side.

"We had a tough start conceding two early goals but I thought we responded pretty well, especially on defence," he said.

"Belgium are a great side full of skill and ability but we still manged to create chances and had we been able to put some of those into the net it might have been a different story.

"We're disappointed not to make the semi-finals but will focus now on our next game against Egypt and coming away with a result."

The semi-finals fixtures see Belgium go up against Australia and Spain take on Germany for a chance to play in the gold medal match.

VANTAGE BLACK STICKS 0
BELGIUM 2: (Sebastien Dockier, Tom Boon)
Halftime: Belgium 2-0

Hockey New Zealand Media release


---

Black Sticks men miss World League Final qualification after loss to Belgium at semifinal tournament

Clay Wilson



New Zealand's Kane Russell (left) received a yellow card in the 60th minute of the Black Sticks' loss to Belgium. JAN KRUGER/GETTY IMAGES

The New Zealand men's hockey team was left ruing a couple of slip-ups in pool play at the World League Semifinal in Johannesburg after it was confirmed they had not qualified for the competition finale later this year.

With only the top four at the tournament booking their spot at the World League Final in India in December, the Black Sticks fell into the playoffs for fifth to eighth in South Africa following a 2-0 loss to Belgium at the quarterfinal stage on Wednesday (Thursday NZ time).

The eighth-ranked Kiwi side will go in as healthy favourites against world No 19 Egypt on Friday and must finish fifth to lock in their berth at next year's World Cup, although a sixth-place finish will also likely be enough after the completion of the five continental championships.

New Zealand faced a stiff task against a slick Belgium outfit, the world's fifth-ranked side, but it was a match they could have avoided.

The Black Sticks were held to a 3-3 result in an opening match they were expected to win against 17th-ranked France and, after victory over Japan and a narrow loss to Australia, that left them needing a win against Spain to set-up a potentially more winnable quarterfinal with ninth-ranked Ireland.

That victory over the world No 10 Spanish looked on the cards as the Kiwi team came from 2-0 down to take a 3-2 lead with five minutes to play. But it was an advantage they did not hold for long as Spain quickly levelled scores again before finding a winner in the final minute

The result meant a tough quarterfinal against the silver medallists from last year's Rio Olympics, a match where New Zealand were immediately on the back foot as an ill-advised overhead pass across the defensive circle allowed Sebastien Dockier to open the scoring in the third minute.

Just two minutes later it was 2-0 to Belgium, another loose pass out of defence giving Tom Boon the freedom to carry into the circle and slam a powerful reverse stick shot between the legs of goalkeeper Richard Joyce.

Although they settled and did not concede for the remaining 55 minutes, the statistics showed the match was largely dominated by the European side.
Ad Feedback

Belgium won 59 per cent of possession, had 39 circle penetrations to the Black Sticks' 17 and had a 9-1 buffer in shots on target.

"We had a tough start conceding two early goals, but I thought we responded pretty well, especially on defence," Kiwi coach Darren Smith said.

"Belgium are a great side full of skill and ability but we still managed to create chances and had we been able to put some of those into the net it might have been a different story.

"We're disappointed not to make the semifinals but will focus now on our next game against Egypt and coming away with a result."

New Zealand's final match at the tournament will be against Ireland or France.

The semifinals pit Belgium against Australia, with Spain squaring off against Germany.

Belgium 2 (Sebastien Dockier 3, Tom Boon 5) New Zealand 0. HT: 2-0.

Stuff


---

Kookaburras reach semi-final at World League

Defeat Egypt 4 - 0

Holly MacNeil




Australia played Egypt tonight in the quarter final of the World League Semi-Final, with Kookaburras captain Mark Knowles reaching an incredible 300 international games for Australia. The Kookaburras were triumphant winning the game 4 – 0 to make the semi-final of the World League Semi-Final, along with qualifying for the 2018 World Cup in the process.

Three minutes into the game and Australia were up for a chance on a penalty corner after a dangerous ball from Egypt in the Australian D. The shot was well defended by Egypt, and the goal attempt by the Kookaburras on the deflection went wide of the net.

Minutes later and Australia were up for another opportunity to get on the score board with a second penalty corner chance, however the flick from Jeremy Hayward went slightly wide and to the right of the net. Finally, on their third penalty corner attempt Jeremy Hayward converted giving the Kookaburras their first goal and the lead in the game.

Jake Whetton was next to score for Australia, with a pass from captain Mark Knowles reaching Whetton at the top right of the D before Whetton used a powerful flick to knock the ball into goal.

A scramble in front of the net in the twentieth minute of play saw Kiran Arunasalam take a shot on goal which was saved by Egyptian goalkeeper Ahmed Adel, before Daniel Beale took another shot at the net with the ball going into goal courtesy of a tap on by Matt Swann.

Coming back from the half time break and Mark Knowles sent an aerial pass down to Jake Whetton who trapped the ball inside the Australian circle before slamming it into the left of the net, increasing Australia's lead to 4 – nil.

There were more chances for both teams going into the final quarter, with Egypt making a couple of breakaway attempts however the Australian defence quickly turned the ball over, and the game finished up with the score line AUS 4 – 0 EGY.

Kookaburras head coach Colin Batch said: "I think we did what was required tonight and we won the game, so I'm very pleased to have the win and to have reached the semi-final which will take place on Friday.

"We've had a good performance so far in this tournament and we need to reach our best level for the next match which is the semi-final.

"It's also important that we acknowledge Mark Knowles who has reached a milestone 300 caps tonight and whose career continues to flourish, along with Daniel Beale who has reached 100 international caps at this tournament."

The Kookaburras next play in the semi-final on Friday, 21 July against the winner of the Belgium v New Zealand quarter final which will take place later this evening. The semi-final will be broadcast Live on Fox Sports Australia.

Kookaburras Match Schedule
Friday, 21 July: semi-final. Australia v Belgium

KOOKABURRAS 4 (3)
Jeremy Hayward 10 (PC)
Jake Whetton 13, 35 (FG, FG)
Matt Swann 20 (FG)

EGYPT 0 (0)

Kookaburras squad v Egypt
Athlete (Hometown/State)
Daniel Beale (Brisbane, QLD) 101/16
Andrew Charter (Canberra, ACT) 133/0
Matt Dawson (Killarney Vale, NSW) 77/10
Aaron Kleinschmidt (Melbourne, VIC) 24/6
Mark Knowles (Rockhampton, QLD) 300/27
Trent Mitton (Perth, WA) 117/50
Matt Swann (Mackay, QLD) 156/7
Jake Whetton (Brisbane, QLD) 129/53
Tristan White (Wollongong, NSW) 90/6
Dylan Wotherspoon (Murwillumbah, NSW) *plays for QLD 41/10
Aran Zalewski (Margaret River, WA) 111/16

Used Substitutes
Kiran Arunasalam (Doncaster East, VIC) 9/1
Tom Craig (Lane Cove, NSW) 39/14
Jeremy Edwards (Hobart, TAS) 23/2
Jeremy Hayward (Darwin, NT) 84/29
Tom Wickham (Morgan, SA) *plays for WA 17/4

Unused Substitutes
Tyler Lovell (Perth, WA) 89/0
Josh Pollard (Melbourne, VIC) 22/2

Hockey Australia media release


---

Green Machine Into 5-8 Place Playoffs




Spain edged out the Green Machine in a close encounter that saw some great chances for the men in green. Their World Cup dream is still well within reach as they now move into the 5-8 place playoffs.

The first of Ireland's 10 penalty corners came in the 3rd minute as the men in green caught Spain off guard with their pace. A mis-trap and two follow up saves from Quico Cortes saw the Spanish keep the Irish at bay in the opening exchanges. Spain notched up 3 green cards in the first quarter and Ireland looked to take the game to them with their player advantage but Cortes came to the rescue again from two further Irish PC's. Eugene Magee, a constant threat throughout, manufactured a superb chance for himself with a blistering solo run down the wing and into the circle but his final reverse shot skimmed past the post. Ireland edged the tie going into the half with David Harte hardly called upon in the opening 30 minutes.

But the Spanish appeared to come out with a bit more fire in the second half and Harte had to make a smart save following a crash ball into the circle. Spain won their first PC in the 37th minute and brave first running by Johnny McKee saw him block the shot but land hard on his shoulder, resulting in a stretcher being called for the young Banbridge player. Despite two great saves by Harte from the following PC, Ricardo Sanchez managed to flick the rebound into the net to give his side the lead. The game settled once again and the Green Machine returned to piling the pressure on Spain. Just-rewards arrived in the 44th minute from a powerful drag flick by Alan Sothern to bring the game level. But just a minute later Spain had retaken the lead with a mistrapped PC sent crashing back into the circle for the free Alvaro Iglesias to sweep in at the back post. Ireland were relentless in creating chances and fine efforts from Magee and Jeremy Duncan called Cortes into action once more. A 10th PC for Ireland in the final minute looked like the game was destined for a shoot-out but Cortes, superb throughout, was down low to parry away.

The Green Machine will take confidence from the chances they created with 25 circle penetrations and 10 short corners. Speaking after the match, head coach Craig Fulton said "We're happy with our performance, but they took their chances on the day and we didn't. It was a good game and it could have gone either way, we know the chances we created and on another day we'll definitely finish those". 

The Green Machine now move into the 5th-8th place playoffs and will be in action on Friday (July 21st). 5th place will still guarantee the Green Machine a spot at the 2018 World Cup. Fixture to be shown live on BT Sport.

Ireland women's hockey team compete against South Africa in the 5th-8th playoffs tomorrow (1:30pm Irish time), shown live on BT Sport.

Hockey World League Semi Finals Johannesburg

Ireland 1 (Sothern)
Spain 2 (Sanchez, Iglesias)

Ireland: D Harte, J Jackson, C Cargo, A Sothern, E Magee, S O'Donoghue, J McKee, P Gleghorne, C Harte, S Loughrey, S Cole

Subs: J Carr, J Bell (Captain), M Bell, M Nelson, N Glassey, S Murray, J Duncan

Spain: Q Cortes, S Enrique, M Delas (Captain), P Quemada, V Ruiz, A Iglesias, R Santana, M Salles, J Romeu, M Serrahima, E Gonzalez

Subs: R Sanchez, D Arana, A de Frutos, A Beltran, M Fernandez, M Perrellon, I Torras

Irish Hockey Association media release


---

Ireland left frustrated as Cortes holds out Green barrage



Ireland and Spain pre-match. Pic: FIH/Getty

Ireland's first chance at nailing a World Cup place were denied in horribly frustrating manner as they came up against an inspired Spanish goalkeeper in Johannesburg in their Hockey World League quarter-final.

Quico Cortes kept out nine out of 10 penalty corners, including a clutch effort in the final minute, which – in combination with Spain taking two of their few chances – nicked a 2-1 win.

Reflecting on the tie, Irish coach Craig Fulton admitted as much: "It's a tough loss in terms of the chances and the performance we had. We needed to score in that first half. The corners and the chances we are creating is good but they took their chances which we didn't."

It means they go into the fifth to eight place playoff to determine their World Cup hopes. Three penalty corners in the first half went converted as their tournament travails continued on that front while good moves from Alan Sothern and Eugene Magee also slipped by, the latter after a virtuoso run down the right wing.

Spain looked flustered, picking up three green cards in the first 12 minutes and they struggled to get much going against Ireland's counter-attacking game, ending the half without a shot on goal.

But they got their heads together to improve markedly in the third quarter where all the scoring happened. A pair of brilliant David Harte saves put Ireland on notice, one which was not heeded as Spain went on to take the lead in the 39th minute from their first penalty corner, a Ricardo Sanchez rebound. The pain was compounded with John McKee taken off on a stretcher with a broken collarbone.



Matthew Bell on the final whistle as Spain celebrate in the background. Pic: FIH/Getty

Sothern levelled with a direct low drag-flick from Ireland's fourth corner to make it 1-1 but, within moments, the Spanish were back in front when Alvaro Iglesias was left unmarked at the back post to guide in Sergi Enrique's power slap after an unstopped corner.

For the remainder, Ireland pressed and pressed with their corner count rising all the time. It included a very strong shout for a penalty stroke when a back-stick blocked a rebound – the video review only yielded a further corner.

But Cortes made save after save – keeping out six shots in five minutes – to leave Craig Fulton's side completely frustrated. The goalkeeper's tenth block was the pick of the bunch, coming low down to his right with just a minute to go.

Their bid for a World Cup hopes are not completely out of the question, though, as they now move on to the fifth to eighth place playoffs with fifth assured of a World Cup place and sixth pretty much likely as well.

To put themselves in that frame, France – who lost 4-1 to Germany – stand in their way; they impressed in their early games against New Zealand (3-3) and Australia (3-2 loss) and beat Japan before their weaker performances against Spain and the Germans.



Jonny McKee and Sergi Enrique battle for possession. Pic: FIH/Getty

Ireland's women, meanwhile, get back into action on Thursday at 1.30pm against hosts South Africa in the fifth to eighth place playoffs. While officially just fifth place comes with a direct ticket to the 2018 World Cup, sixth will also be confirmed due to England – the finals hosts – finishing in the top four in Johannesburg. That means a win for Graham Shaw's side will stamp their ticket for the first time since 2002.

Hockey World League Semi-Final, quarter-final
Ireland 1 (A Sothern)
Spain 2 (R Sanchez, A Iglesias)

Ireland: D Harte, J Jackson, C Cargo, A Sothern, E Magee, S O'Donoghue, J McKee, P Gleghorne, C Harte, S Loughrey, S Cole
Subs: J Bell, M Bell, M Nelson, N Glassey, S Murray, J Duncan, J Carr

Spain: Q Cortes, S Enrique, M Delas, P Quemada, V Ruiz, A Iglesias, R Santana, M Salles, J Romeu, M Serrahima, E Gonzalez
Subs: R Sanchez, D Arana, A de Frutos, A Beltran, M Fernandez, M Perrellon, I Torras

Umpires: G Greenfield (NZL), R van Eert (NED)

The Hook


---

Spain 'superstar' Cortes foils Ireland

JOHANNESBURG: Veteran Spain goalkeeper Quico Cortes was hailed as a "superstar" Wednesday after a thrilling 2-1 win over Ireland in the Men's Hockey World League tournament quarter-finals.

Victory at the University of the Witwatersrand in Johannesburg booked a last-four showdown with Germany on Friday, the same day Australia face Belgium in the other half of the draw.

Australia brushed aside Egypt 4-0, Germany were equally dominant in a 4-1 win over France and a couple of early goals saw Belgium triumph 2-0 against New Zealand.

The semi-finals feature three of the top five ranked men's hockey nations in the world with ninth-place Spain the outsiders.

Ireland could have been three goals ahead by half-time but for the brilliance of Cortes, who made a string of superb saves.

Having luckily weathered the storm, Spain went ahead, Ireland levelled and the winners regained the lead, all within seven third-quarter minutes.

"Cortes is a superstar who helps us a lot," admitted Spain skipper Miguel Delas. "It was a really tough match and I am proud to have led my country into the semi-finals."

South Africa-born Ireland coach Craig Fulton said Cortes was the difference between teams separated by only one place in the rankings.

"It is tough accepting defeat as we should have scored goals in the first half, but Cortes pulled off many fantastic saves," he said.

Ricardo Sanchez and Alvaro Iglesias scored for Spain and Alan Sothern for Ireland in the most exciting match of the four-fixture schedule.

Belgium against New Zealand promised to be competitive with three ranking places dividing them, but a suicidal start by the Black Sticks triggered their downfall.

A crazy lofted pass across his D from a Kiwi was intercepted by Sebastien Dockier, who had time and space to fire past Richard Joyce for a third-minute lead.

Joyce, starting for the first time in Johannesburg, was beaten again two minutes later as a shot from six-goal leading tournament scorer Tom Boon flew between his legs.

New Zealand-born Belgium coach Shane McLeod will be concerned at failing to score from seven penalty corners.

Clinical Germany made light of the French challenge, methodically building a four-goal advantage before conceding a late goal off a penalty corner.

The teams met in Hamburg recently and Germany put the information they gathered to good tactical use in the quarter-final, toying with their opponents at times.

Young skipper Tom Grambusch opened the scoring, Timm Herzbruch bagged a brace and Marco Miltkau increased the lead to four goals before Nicolas Dumont pulled one back.

With 17 places between world number two side Australia and Egypt, pre-match discussions among spectators centred on how many goals the Kookaburras would score.

Egypt, thrashed 10-0 by Belgium in their opening pool match, survived for 10 minutes before Jeremy Hayward scored from a penalty corner.

Mark Knowles, the 300-cap veteran in a young, transitional team, set up the second goal for Jake Whetton, who scored again after Matthew Swann gave Australia a 3-0 half-time advantage.

The Times of India


---

FIH Officials Celebrate Mandela Day during Hockey World League Semifinals




Every year on July 18 - the day Nelson Mandela was born - the United Nations (UN) asks individuals around the world to mark Nelson Mandela International Day by making a difference in their communities. Everyone has the ability and the responsibility to change the world for the better, and Mandela Day is an occasion for everyone to take action and inspire change, just as Madiba did every day.

This year, the hockey world joined in on the worldwide celebrations which are coinciding with the Men's and Women's Hockey World League Semi-Finals 2017, currently being held in Johannesburg, South Africa.

Today, a number of competition officials gave up part of their rest day to make a contribution towards the cause. The hockey officials represented nations from all over the world, including The Netherlands, India, England, Belgium, USA and Pakistan.

A charity organization called Network of Caring invited the people of Johannesburg to spend 67 minutes of their time assisting them with assembly of 150 wheelchairs for distribution in the Eastern Cape, Kwa-Zulu Natal and Namibia as part of the Free Wheelchair Mission. Network of Caring has delivered over 2,500 wheelchairs around the world to those in need. The figure of 67 minutes is a direct reference to the 67 years that Nelson Mandela campaigned for social justice.

It is no secret that Nelson Mandela was a huge sports fan. As a young man, he was a driven athlete, an amateur boxer who ran two hours every morning. It is written that he kept himself in excellent shape during his 27 years in prison. 

After having won South Africa's first multiracial elections in 1994, he used sport as a tool to unite people and to redefine the country's international image. Nowhere was that more striking than during the Rugby World Cup held in South Africa in 1995.

Nelson Mandela once said: "Sport has the power to change the world. It has the power to inspire, it has the power to unite people in a way that little else does. It speaks to youth in a language they understand. Sport can create hope, where once there was only despair. It is more powerful than governments in breaking down racial barriers. It laughs in the face of all types of discrimination."

The hockey world is committed to use our sport for positive change. Hockey is a truly inclusive sport, being played from juniors to masters, by families and people from all walks of life. It offers a para-version, small-sized formats and is proud to be completely gender balanced.

Speaking about hockey's links to such themes, Australia men's captain and Athens 2004 Olympic gold medallist Mark Knowles said: "I've been playing since I was four years old, my kids are now playing and my parents are still playing in their late 60s and early 70s. We play a beautiful game outdoors. We get to play all around the world and, no matter how fierce things get out on the field, the one thing that I love about hockey is that we can go back to the hotel and say g'day to all the other teams and players. We are a sport that mixes genders and pushes for equality."

Germany captain Mats Grambusch also spoke positively of hockey's positive impact on the world. He said: "Hockey is a sport that makes the world a better place because we don't have barriers like racism or sexism and anyone can play - from when you are very young until you are very old."

He continued: "It is really important for the world to have team sports like hockey because it brings people together. Team sports make you a better person because you learn how to interact with people. When we come here to play for the national squad, which is a huge honour for all of us, we get to experience other cultures which help us grow as people. It is inspiring to see the culture in places like South Africa and India, and interacting with those cultures makes you a better person."

South African athlete Owen Mvimbi is proud to see hockey supporting this celebration. He said: "It is great to play matches home and away, meeting people in different countries and cultures. Sport brings people together in that way, and makes us realise how similar we all are because people from all over the world have had hard times and good times, and you can relate to that. Everyone on the field, whether winning or losing, we all feel the same. We know what it is like to win and what it is like to lose, which is why you often see the winning team trying to pick up the losing side at the end of a game because they know what it is like to lose. We all want the same thing but we know we cannot all have it at the same time. We all go through tough experiences, but we will all try our best to help each other get through it."

Speaking specifically about Nelson Mandela he said: "I'm just grateful - grateful for the sacrifice that he made for all of us to unite the country. If we could, we should have Mandela Day every day to try to help each other even in small ways. Mandela day is a big deal here, and a lot of people and companies dedicate the whole day in an effort to support each other. We love our country and want to make it a better place as much as possible."

Content Courtesy of FIH

USFHA media release


---

Breakdown of Pan American Cups Teams by World Ranking




COLORADO SPRINGS, Colo. – In a little more than two weeks, USA Field Hockey and Spooky Nook Sports will welcome fifteen international squads as they hit the turf to display top global talent competing at the 2017 Pan American Cups (PAC) from August 4-13.




The first event of its kind to be hosted at the Home of Hockey and first major international tournament on American soil since the Atlanta 1996 Olympic Games, PAC will promise to draw thousands of hockey enthusiasts as they watch top caliber teams seek a direct qualification to the 2018 FIH Hockey World Cup and 2021 Pan American Cup.

Of the eight men's teams competing includes the top ranked men's team in the world with Argentina. The Rio 2016 Olympic goal medalists recently booked their tickets to the 2018 Odisha Hockey Men's World Cup in Bhubaneswar, India after advancing to the championship match at the FIH Men's Hero Hockey World League Semifinals in London, England. Although they fell to No. 4 The Netherlands in the final match, Argentina will look to defend their 2013 PAC title.

Another team that already solidified their ticket to the FIH Hockey World Cup is American neighbor and No. 11 Canada. At the FIH Men's Hero Hockey World League Semifinals, the surprising outcome in the 5th/6th classification match when Canada upset higher ranked No. 6 India, guaranteeing their place. Canada has made it to every championship game of the PAC final, winning in 2009.

There is a gap in the rankings, but that doesn't mean the level of competition will drop. The third highest ranked team is No. 26 USA, who is coming off a strong performance at the FIH Hockey World League Round 2 in Tacarigua, Trinidad and Tobago. The team finished with a bronze medal, narrowly missing advancement, after three spectacular shoot out victories.

Gaining respect and performing well against higher ranked teams, No. 27 Chile's most recent event was also Round 2 in Tacarigua, Trinidad and Tobago. Although they only finished 7th after defeating Barbados in a shootout, they were the bronze medal winners at the past three Pan American Games.




No. 29 Brazil gained entry to PAC after winning gold at the 2015 Pan American Challenge in Chiclayo, Peru. At the 2015 Pan American Games, Brazil went on to earn fourth losing to Chile, 4-1, and while their performance at the recent Rio 2016 Olympic Games was not up to par, Brazil shouldn't be under minded.

Hosting a Round 2 event in April, No. 33 Trinidad and Tobago faced USA in the quarterfinal. The exciting match, which went down to the final 15 minutes, saw USA pull their goalkeeper and even the score line to send the game into to shootouts. Although they fell 3-2 in the shootout round, watch out as Trinidad and Tobago will be a hidden threat having placed third at the previous PAC.

No. 41 Mexico finished sixth at the last PAC, automatically qualifying for the 2017 edition. Mexico recently hosted and participated in the FIH Hockey World League Round 1 in Salamanca, Mexico in September 2016. Of the four-team event, Mexico showed impressive goal scoring abilities en route to claim third. No. 48 Venezuela qualified from the Pan American Challenge and also competed in Round 1. They also participated in the South American Championship in Chiclayo, Peru in 2016, where they came second to Chile.

Men's World Rankings

No. 1 Argentina
No. 11 Canada
No. 26 USA
No. 27 Chile
No. 29 Brazil
No. 33 Trinidad & Tobago
No. 41 Mexico­
No. 48 Venezuela




Like the men's side, the No. 3 Argentina women's team is a force to be reckoned with and considered one of the top teams in the world right now. Having claimed every women's Pan American Cup title since the event's establishment, Los Leones punched their tickets to the FIH women's Hockey World Cup in London, England yesterday after defeating Ireland, 2-1, at the FIH Hockey World League Semifinals in Johannesburg, South Africa.

Following a mediocre performance at the London 2012 Olympic Games, the U.S. Women's National Team changed staff, relocated the team to the east coast and turned the program around. The No. 6 USWNT had a remarkable Rio 2016 Olympic Games performance, beating highly ranked teams such as Argentina and Australia as well as competitive matches against Japan and India on their journey to a fifth-place finish. Team USA is currently competing in the same event in South Africa, and they too qualified for both the World Cup and FIH Hockey World League Final.

FIH Hero World Ranked No. 19 Canada will finish up a three-game intra-squad Super Series today as they prepare for PAC. In April, Canada met up with a few other Pan American teams at the FIH Hockey World League Round 2 in West Vancouver, Canada. Recording three victories and two losses, Canada secured the fifth-place finish.

No. 20 Chile comes to PAC after earning a silver at Round 2 in Vancouver, Canada in April. Cumulating 15 goals throughout the event, Chile lost in the final to India in a shootout, 3-1. This placement advanced them to the Semifinals in South Africa where they were in the same pool as Argentina and USA. Chile finished pool play with one win over the host nation and will play in the 9th/10th game tomorrow against Poland.

Also competing at the FIH Hockey World Leaguer Round 2 in West Vancouver, Canada were No. 23 Uruguay and No. 30 Mexico. Facing off against each other in the quarterfinal round, Uruguay came out victorious before falling to Chile in the semifinals to earn fourth. Mexico went on to claim sixth-place.




No. 41 Brazil advanced to PAC after winning the 2015 Pan American Challenge against Barbados. They haven't competed in many international events recently but finished third at the South American Championship in 2016. 

Women's World Rankings

No. 3 Argentina
No. 6 USA
No. 19 Canada
No. 20 Chile
No. 23 Uruguay
No. 30 Mexico
No. 41 Brazil

Don't miss out on the action! Purchase tickets for the 2017 Pan American Cups by clicking the image below.




USFHA media release


---

Scene set for EHL ROUND1 in Barcelona in October




The draw for EHL ROUND1 has produced a series of fascinating match-ups as the eleventh edition of the Euro Hockey League – the world's premier club hockey competition – comes into focus from October 6-8.

Barcelona will be the host city for ROUND1 and was also the venue for the draw, conducted by EHF President Marijke Fleuren and EHF board member Jorge Alcover.

Pool A will be headed up by former champions HC Bloemendaal who return to the competition for their eighth season in the EHL. They will be joined SV Arminen who enjoyed their last trip to Barcelona in 2014, becoming the first Austrian side to win a game in the competition. They will have their work cut out for them, however, in a group completed by England's Wimbledon who reached the FINAL4 last term.

Uhlenhorst Mülheim, from Germany, are the number one seeds in Pool B. The will meet Dinamo Elektrostal who produced an excellent performance at the EuroHockey Trophy in June to earn Russia an extra EHL ticket. Welsh champions Cardiff&Met will look to go one better than last year when they picked up a win and a loss.

Pool C features Racing Club de Bruxelles as the top seeds following their third place finish in the Belgian competition. Banbridge stunned Racing's compatriots Royal Leopold a year ago and they will hope to repeat the feat. Poland's WKS Grunwald Poznan will make their 11th successive EHL appearance.

Finally, Pool D looks a very open one with Club Egara – the local side taking part – taking on the Scottish champions Kelburne along with French runners-up Saint Germain.

The confirmed EHL ROUND1 schedule will be confirmed by Monday when tickets will also go on sale. The venue in Barcelona will also be confirmed in due course.

EHL ROUND1 draw (Barcelona, October 6-8, 2017)
Pool A: HC Bloemendaal, SV Arminen, Wimbledon HC
Pool B: Uhlenhorst Mulheim, Dinamo Elektrostal, Cardiff & Met
Pool C: Racing Club de Bruxelles, Banbridge, WKS Grunwald Poznan
Pool D: Club Egara, Saint Germain, Kelburne

Euro Hockey League media release


---

Scotland U21 Men beat Russia to reach Euro semi-finals in St Petersburg



McQuade for Scotland

Scotland U21 Men won their final Pool match of EuroHockey Junior Championship II with an impressive 4-2 victory over hosts Russia in St Petersburg. The victory secured a top-two finish in the Pool stages and progression to the Semi-Finals of the tournament.

It was a rip-roaring start to the match as Scotland took an early lead in the opening quarter, Aidan McQuade finished off a penalty corner to make it 1-0 and give the Scots a dream start.

They say you're at you're most vulnerable when you've just scored and this seemed to be the case for Scotland. Russia bagged an equaliser a minute after McQuade's goal when Georgii Arusiia was clinical from a penalty corner to make it 1-1.

Scotland soon had an opportunity to regain the lead through another penalty corner but the attempt was well blocked with McQuade looking dangerous again.

It was a very even contest but there was a determination about Scotland in the early stages of the match - the team looked up for the challenge of competing against their strong hosts.

Then some lovely hockey by the Russians opened Scotland up and they took the lead with a fine goal. The build-up saw a pass through a player's legs as the hosts tore forward before an unmarked Oleg Kotkov sunk the ball into the bottom left corner.

Russia started to play some really slick stuff towards the end of the quarter and only a good block by goalkeeper James Carrie kept them at bay as they searched for a third goal.

The heavens opened as Scotland went piling the pressure against a red Russian wall around their D in the second quarter. Russia however nearly bagged a third goal on the break - a stealthy attack brought the concession of a penalty corner, but this time it was well defended by the Scots' charge.

Another fast Russian break into the D from the right saw Carrie spring across his goal to save as Russia looked to score a third.

Then a slip by a Russian defender allowed Kyle Gladwin the chance to break into the D, eventually winning a penalty corner. McQuade was at it again but his drag flick was padded to safety by the goalkeeper.

It would be a Scottish name next on the score sheet when Luke Cranney finished superbly to Equalise for Scotland. Cranney turned a defender and buried the ball into the bottom right corner to make it 2-2.

Russia enjoyed the majority of possession as the quarter progressed but Scotland held strong at the back, leaving no space to penetrate the D.

Then Russia won a penalty corner and again it was Carrie in goal who was on hand to save superbly at his left post.

As the game reached a conclusion Scotland stepped up a gear and took complete control. Before long the Scots had a 3-2 lead when James Nairn arrived in the D to slam the ball home.

There was a great chance to go 4-2 ahead when Patrick Lonergan rounded the Russian goalkeeper but couldn't slot home from a tight angle.

The Russian keeper made another top save to deny Scotland as they went pressing for a fourth, but the fourth goal would eventually come.

Callum MacKenzie struck home to put the game to bed and secure a great victory for Scotland in St Petersburg.

Scotland U21 Men Head Coach Graham Moodie said, "I'm delighted with today's performance and we're really coming onto our game now. We started so well and could have had a couple of goals in the first few minutes. We do have to manage periods of the game a little better but we can improve on that.

"There is a great team spirit and the guys are really enjoying their hockey. We showed tremendous character in quarter three – the Russians were all over us when we were a man down, but we held on and it was us who scored the next goal.

"We're looking forward to the semi-finals. We'll have no fear, prepare well, and give it all we have in the match against France."

Scottish Hockey Union media release


---

Scotland U21 Women win 3-0 but finish third on goal difference



Emily Newlands Scotland u21

Scotland U21 Women won their final Pool match of EuroHockey Junior Championship II against Turkey in Hradec Kralove, Czech Republic. A 3-0 victory was not enough however to overturn the goal-difference deficit in the Pool and Scotland ended up in third spot behind Czech Republic.

The Scots were the better team from the outset and controlled the play. Although the Scots had good spells of keeping the ball well and playing good hockey, they were unable to find the back of the net.

Scotland had four opportunities to take the lead in the early stages but were unable to take advantage.

The opening goal arrived at the end of the first quarter and it came from the penalty spot. Laura Swanson dispatched the penalty expertly to give Scotland a 1-0 lead.

Into the second quarter and the Scots enjoyed long spells of dominance, but with goals required a lack of patience undermined the Scottish ability to create any clear goal scoring opportunities. Patience would have to be the key in this encounter against the stubborn Turks.

Scotland would eventually double their lead in the third quarter. Emily Newlands scored a reverse stick shot after some nice Scottish play to go 2-0 up.

Turkey picked up cards in the fourth quarter and Scotland could have scored five or six goals in the match.

In the end, despite heavy pressure, Scotland would have to settle with just one more goal and it came through an Ellie Hutcheson reverse edge hit to make it 3-0. Hutcheson's finish was well executed with composure into the net.

Hutcheson had another great chance towards the final hooter but mishit her shot and Turkey survived a fourth strike.

There were some excellent Scotland performances. Fran Longeran was outstanding again - solid at the back and distributed the ball very well. Kerry-Anne Hastings put in another strong performance and Emily Dark was once again a standout in attack.

Laura Swanson also had a very good game for Scotland; she was involved in everything Scotland did well, and is getting back to form after a long time out injured.

Scotland Head Coach Neil Menzies said, "We were happy with 1-0 at half time, Turkey tired and conceded late goals in other matches so we felt we could wear them down and add some goals late in the match. A lack of patience prevented us from scoring more. Had we been more composed and efficient in our play we could have scored five or six."

Scottish Hockey Union media release


---

England U16 Girls beat hosts Spain

England Under-16 Girls beat hosts Spain 4-3 in the Six Nations Tournament in Terrassa on Wednesday evening, kick-starting their campaign after a goalless draw in their first match.

Despite a noisy home crowd cheering Spain on, England were not fazed and took the lead after just six minutes with Anna-Rose Gabbitass the scorer.

Spain hit back five minutes later as Mar Maranjo Sanchez scored from a penalty corner, but three minutes later England were back in front with Millie Attwell scoring from a penalty corner.

Berta Sarrahima Castelia scored for Spain at a 37th minute penalty corner to level things up once again, but once again England re-took the lead three minutes later through Sophie Hamilton from a penalty corner on 40 minutes.

Spain draw level for a third time through Maria Gesti Soler on 44 minutes, but England had the final word, scoring three minutes into the final quarter through Vicki McCabe.

Head Coach John Bell said afterwards: "The girls played some exciting and fast hockey in the first half, flowing passing moves result in numerous goal scoring opportunities. The second half was more open with some sustained Spanish pressure."

The Netherlands provide the opposition for England Under-16 Girls on Thursday evening as their Six Nations Tournament campaign in Terrassa continues.

England Under-16 Girls (2) 4
Anna-Rose Gabbitass 6 (FG)
Millie Attwell 14 (PC)
Sophie Hamilton 40 (PC)
Vicki McCabe 48 (PC)

Spain Under-16 Girls (1) 3
Mar Naranjo Sanchez 11 (PC)
Berta Sarrahima Castelia 37 (PC)
Maria Gesti Soler 44 (FG)

England Hockey Board Media release


---

18th player announced to Women's Pan American Cup Team

Kori Sidaway




Field Hockey Canada Women's National program has announced Jordyn Faiczak will be the final 18th player that will join the roster of athletes heading to Lancaster, USA for the Pan American Cup from August 5-13.

Faiczak (18 years), just out of high school, was part of the Women's World League Two team which played together in West Vancouver in April. Now with Faiczak added, the roster consists of 17 out of 18 players from that same World League 2 team that will go ahead to play together in the Pan American Cup.

On July 6th, 2017 the first 17 athletes were named to the touring roster ahead of the Women's National Team Super Series being held at UBC. Additional younger players and those coming back from injury were further evaluated throughout the first two games of the Super Series, and now the full Pan American Cup team will play together as a unit in the final Super Series game tonight at 7:00PM at UBC's Wright Field, before heading off to the Pan Am Cup.

Canada's Women open the 2017 Pan American Cup against Brazil August 5th at 9am PT/12pm ET.


WOMEN'S NATIONAL TEAM – 2017 PAN AMERICAN CUP
Name
Position
Hometown
Current/Last Club
Caps
 
 
Alison Lee
Defender
Mississauga, ON
University of Toronto
9
 
 
Alex Thicke
Forward
North Vancouver, BC
West Vancouver FHC
36
 
 
Amanda Woodcroft
Midfielder
Waterloo, ON
University of Toronto
63
 
 
Brienne Stairs
Midfielder
Kitchener, ON
Vancouver Hawks
113
 
 
Danielle Hennig*
Defender
Kelowna, BC
Vancouver Meralomas
132
 
 
Hannah Eborall
Defender
Beamsville, ON
A&C Field Hockey Academy
0
 
 
Hannah Haughn
Midfielder
North Vancouver, BC
University of British Columbia
127
 
 
Kaitlyn Williams
Goalkeeper
White Rock, BC
Vancouver Meralomas
91
 
 
Karli Johansen
Defender
North Vancouver, BC
India Club
81
 
 
Kate Wright (Gillis)*
Forward
Kingston, ON
West Vancouver FHC
168
 
 
Maddie Secco
Midfielder
Victoria, BC
Vancouver Hawks
88
 
 
Nikki Woodcroft
Forward
Waterloo, ON
University of Toronto
17
 
 
Rachel Donohoe
Forward
North Vancouver, BC
West Vancouver FHC
30
 
 
Rowan Harris
Goalkeeper
Ottawa, ON
Outaouais FHC
16
 
 
Sara McManus
Defender
Tsawwassen, BC
Vancouver Meralomas
120
 
 
Shanlee Johnston
Defender
Vancouver, BC
Vancouver Hawks
60
 
 
Stephanie Norlander
Forward
North Vancouver, BC
University of British Columbia
60
 
 
Jordyn Faiczak
Forward
Waterloo, Ontario
A&C Field Hockey Academy
0
 
 
 
 
 
 
 
 
 
*Team Captain
Field Hockey Canada media release


---

2017 National Championships: Day 1

The U15 Boys B.C. Rams and B.C. Lions battling it out on Day 1 of pool play in the 2017 Nationals.

Kori Sidaway



PHOTO: Blair Shier

The 2017 Nationals kicked off at Tamanawis Fields in Surrey, British Columbia today with the U15 Boys and Girls opening up the tournament to start inter-pool play. All U15 teams played at least one game today (if not more), so each provincial team had the opportunity to get some turf time in and feel their opponents out.

This years Nationals is situated at the world class facility of Tamanawis Fields, which features two pitches, which meant simultaneous games on each field made for a day packed with hockey and sun!

Ontario Central and Alberta of the Boys U15 tournament opened up play in the 8:30AM slot. Randhawa Randeep of Ontario Central splashed the scored board early in the game at the 8 minute mark, and went on score a total of four goals throughout the game, making a mighty push for Ontario to take the win 7-2.

The B.C. White Lions and Alberta Girls U15 teams were up next and delivered a tightly matched game. Ella Blanke of Alberta opening up scoring early in the first, to which the Lions answered with a goal of their own ten minutes later. The Lions broke through the 1-1 stalemate in the second half, only to have Alberta tie it up again before the end of game, which saw the outcome of a 2-2 tie.

In another closely matched game, the U15 Boys Quebec team took on the B.C. Rams in a relatively clean match with only one green card handed out late in the second, that closed tightly at 1-1.

The tight games continued as the U15 Girls Ontario East and B.C. Stags faced off. The match was incredibly back-and-fourth as both teams were looking to create offensive chances. Ontario East took two green cards and a yellow in the second half, but the B.C. Stags were unable to capitalize and the game ended scoreless 0-0.

The fifth game of the day saw the U15 Boys Ontario East team take on the B.C. Lions in an exciting match that saw the young Lions team take the early lead four minutes in by a goal from Gill Harshdeep. Ontario East answered with both Singh Rajan and Brendan Goddard hitting the back of the net two times each for their team, leading the East ultimately to a 5-1 win.

Game six featured a British Columbia face off – the U15 Girls B.C. Rams and the B.C. Royal Lions battled each other for the first time in the competition. The first half was tightly matched with only a single goal scored by B.C. Rams captain Jenna Buglioni. After half time, the Rams continued their push and Buglioni went on to scored a second goal before handing it off to her teammates who banked an addition three back-to-back goals for the Rams in the 45th, 47th, and 49th minute of play leaving the scoreboard 5-0 for the B.C. Rams.

Heading into the afternoon, the U15 Girls Ontario West and Quebec squared off in a tight game that saw Ontario take the 2-0 win with Elly Peters and Ava Murphy lighting up the scoreboard.

Continuing what seemed to be the theme of the day, Ontario Central and Alberta U15 Girls faced off in what was another tightly matched game with tons of  back and forth play. The first half was a stalemate in their war of attrition with no goals to speak for. Coming out of halftime Ontario Central captain Harnoor Malhi ensured an early lead in the second, but with 5 minutes to go, Alberta tied it up with a goal from Jasdeep Sivia to leave the final score sitting at 1-1.

In their second games of the day, the U15 Girls Ontario East challenged the BC White Lions. The Lions took an early lead with a goal from team captain Kaiden Stanley in the fifth minute. Taylor Katsube added to the lead to make it 2-0 late in the second half. Ontario East responded with ten minutes to go as Sanika Rewankar hit the back of the net, but amidst a series of yellow cards from Ontario East ultimately saw B.C. take the win when the final whistle was blown, 2-1.

When the U15 Boys Alberta and Quebec teams faced off late in the afternoon, the keynote was come out early, and strong. Quebec pushed right off the first whistle for 3 early goals in the first half from Nicolas Syrros, Noah Bennett and Callan McCulloch which were left unanswered, with the final score 3-0 for Quebec.

In one of the last games of the evening the U15 Ontario Boys team squared off against Ontario Central in a battle for bragging rights for back home. Ontario Central splashed the scoreboard early in the first with a goal from Luka Mahrt-Smith. The East responded with goals from Ravi Bhindi and Navdeep Baring to leave it sitting at 2-1. But Central had time to answer before heading into half time with a goal from Randeep Randhawa which tied the game at two. Central came back into the second half carrying some momentum and scored early with a goal from Julius D'Souza leaving the final scoreboard sitting at 3-2 for Ontario Central.

The last game of the evening was a high scoring inter-provincial rivalry that saw the U15 Boys B.C Rams take a win over the B.C. Lions, 8-1 with Gaurav Agnihotari settling into his groove, scoring a hat trick. 

Tomorrow we'll see the U15 pool play continue for another jam packed day of hockey! For tomorrow's lineup and the full tournament schedule, click here.

For the full album of photographs head over to our Facebook page!

The Women's National Team play their final game in their Super Series that will see the Pan Am Cup team play together – Wednesday night at 7PM on Wright Field at UBC – come check out your National Women's team!

Field Hockey Canada media release


---

Keepers given helping hand in Whangarei




Alongside the recent Vantage National Under 18 Tournament, players and coaches from all regions were given the opportunity to get some specialist goalkeeper training.

Napier based Steffan Fastier, founder of LEAP Goalkeeping Academy, provided his services during event week and had a fantastic turnout.

Fastier said his goal is to increase the depth and quality of goalkeepers around the country through specialist clinics and trainings.

"It was great to see the turnout to the sessions held during the tournament in Whangarei. Goalkeeping is a position which is extremely technical and tends to get overlooked a bit especially in the younger grades," he said.

"We work with keepers, clubs, schools and coaches with specialist drills focussed on improving performance between the posts."

CLICK HERE to find out more about the LEAP Goalkeeping Academy

Hockey New Zealand Media release


---

The Olympian who swapped Team GB hockey for ice hockey in Basingstoke

Great Britain's all-time top goalscorer, Ashley Jackson, has given up a pro career and a place in the Tokyo 2020 squad to pursue his first love: ice hockey

By Jonathan Drennan for Behind the Lines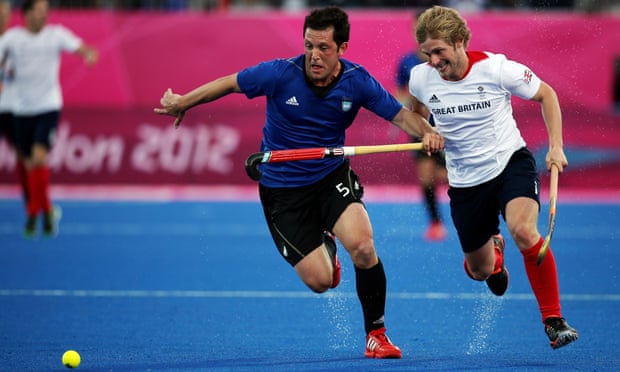 Ashley Jackson playing for Team GB at the London Olympics in 2012. Photograph: Graeme Robertson/Guardian

Three-time Olympian Ashley Jackson is about to begin another gruelling pre-season, but for the first time in many years he is excited about a fresh, different challenge. Jackson is Great Britain's all-time top goalscorer in field hockey, but he has not joined the Olympic squad as they prepare for Tokyo 2020. He has left field hockey behind, for now, to focus on his first love: ice hockey.

Jackson is considered one of the finest hockey players in the world. He made his international debut aged 17 and two years later became the first Englishman to win the FIH young player of the year award. A relative rarity in his chosen sport, the 29-year-old was able to compete as a professional in leagues across the world while building a storied international career. So his decision to play semi-pro ice hockey for Basingstoke Bison has surprised many.

"I feel a bit sorry for the people who have been around me during the four years before the Olympics," Jackson explains. "I know I wasn't a good person to be around. After Rio, I had to look at myself and make a big decision. Was I going to enjoy putting myself through all this training again? If you are even questioning what you're doing in any elite sport, you're not going to last or even get selected. I wanted to play with a smile on my face and ice hockey has given me that."

Jackson has always been a multi-talented athlete but ice hockey was his first and abiding love. "I started ice skating at a very young age. My granddad had played ice hockey and I used to watch my uncle play regularly. I loved playing the game but had to stop at 13 due to school commitments. But it always remained in my mind, despite hockey taking over."

In his late teens, Jackson was able to make a living from hockey and he progressed to his first Olympics in Beijing at the age of 20. He has watched the sport transform in physicality and speed every year he has played. "When I started in the sport, as a young boy at 14, starting to play in men's teams it was a different world – seeing adults smoking out the window in the changing room – to the world we are in now, where the level of intensity of training is mind-blowing."

The elite level of international hockey is based on a tournament format, meaning players have to be ready to play eight games over two weeks. The training must match the intensity of the matches and the players spend much of the year locked in monastic conditioning camps.

Did he start to resent the relative financial paucity of his chosen sport? "I was never in a position to complain. I feel so lucky that I was able to make any kind of living out of hockey. But I do sometimes wonder: how good would it be to be a footballer? To have the luxury of building up to one match throughout the week without being physically broken, that would be heaven."

Three Olympics had exhausted Jackson physically and mentally. A young man who had grown up with a love of sport could not contemplate going through the motions any more. He knew his decision to switch to ice hockey would come at a cost but it has given him something much more valuable: the joy of playing the game again.

"I knew this decision was going to cost me financially. Sponsors and my funding as an international hockey player would all go, but I have never made any sporting decision based on money. I have always done it thinking about the sport. I wanted to give ice hockey a shot and put myself totally out of my comfort zone. I certainly have succeeded."

He dipped his toes into ice hockey last season, playing with his local team, the Invicta Dynamos, and scoring 26 times. This season, he has upgraded and signed with Basingstoke Bison, a semi-professional outfit who play in the English Premiership. Despite being one of the world's finest hockey players on turf, the transition on to the ice hasn't been completely smooth.

"I never want to mention about my past career in hockey. That was the past and to be honest it's not really that relevant in this sport. I have so many things to work on, most of all my skating, which can always improve. My role here is to work as hard I can and ultimately be the best player I can possibly be in ice hockey. If I don't get selected and I have to fill up the water bottles, that's what I'll do. But I'm just loving playing this sport."

The adjustments in Jackson's life are not only on the rink. He also has to negotiate the life of a part-time athlete. He currently coaches hockey at local schools, before strapping on his skates in the evening to join his new team-mates for training. He has not fully closed the door on a return to hockey but at the moment he is happy to commit to time on the ice.

"At times we forget what playing sport was like when we were children, just playing for the sheer love of it. My only ambition with ice hockey is to be the best player I can be, whatever that may be. The most important th

The Guardian