All the news for Tuesday 27 September 2011

Grinstead bring out big guns

By Graham Wilson



Great Britain captain Barry Middleton netted a brace on his debut

EAST GRINSTEAD are bringing out the big guns in their bid to conquer England and – they hope – Europe.

Great Britain captain Barry Middleton netted a brace on his debut in a 7-1 beating of Loughborough Students, as international partner in crime Ashley Jackson hit a hat-trick of penalty corners.

Champions Beeston fell to a 2-1 defeat against Reading, who visit East Grinstead under floodlights on Saturday at 6pm. East Grinstead now boast a 28-man squad and eight of 14 internationals are out to represent GB in the London Olympics.

Their latest acquisition is Mark Gleghorne, back from a year out with injury, following last week's signing of Iain Lewers. Manager Matt Jones said: "It is good to start the season with back-to-back wins going in against Reading.

"It is crucial we get the points early. The squad is going to take some handling, but we need the depth when we go in to Europe, with the Polish and Russians coming up first next month."

Daily Express


---

Baxter retires from the International scene



Louise Baxter

Grove Menzieshill's Louise Baxter has announced her retirement from International hockey following Scotland's successful Gold Medal performance in the EuroHockey Nations Championship in Poznan, Poland last month.

Baxter, known affectionately in domestic hockey circles as Munn (maiden name), has thought long and hard about this emotional decision reflecting "I found it increasingly difficult to balance the demands of a new job with International  training and travel commitments." Baxter recently  joined the staff at Kilgraston School in Perthshire as Head of Physical Education  where the Director of Sport is Pauline Stott who has also represented her country at hockey (123caps) and indeed captained Great Britain at the 2000 Olympic Games in Sydney.

Baxter is quick to acknowledge the support of the school and also that of previous employers Edinburgh's St George's. However she feels  it is time for her to devote her full attention not only  to her career but also to family with Mum, Christine, and husband, Mark, being of great support over the years.

The 27 year old Grove midfielder made her International debut in 2003 at a Four Nations tournament in Vancouver under coach Mike Gilbert  whist at that time representing  the Grange Edinburgh Ladies club.

The last eight years have brought a total of 114 caps (also five Great Britain appearances) under coaches Gilbert, Lesley Hobley, Keith Joss and the present incumbent Gordon Shepherd, all of whom have recognised her commitment, passion and pride in representing Scotland.

"Munn" went on to say "It was definitely more difficult to walk away from a team that are performing so well and consistently winning against higher ranked nations but then again it's nice to finish on a high."

A long International career has seen her compete at four Europeans, two Wold Cup Qualifiers ,Champions Challenge and the last two Commonwealth Games. Medal highlights being two European Gold, one World  Silver and a Bronze at the recent Challenge in Dublin.

Baxter continued "I'll without doubt miss the banter and friendship. I have grown up through the age groups with in particular Catriona Ralph and Vikki Bunce and have played for a number of years with a group of others."

"Munn" will continue to play her club hockey with Grove where she has also enjoyed considerable success and finished by saying "I'll be following the team's progress and I have no doubt that this team will continue to be even more successful in the coming seasons. I wish all the players and management all the best for the future."
Scottish Hockey Union media release


---

KLHC a class above

By Jugjet Singh

KUALA Lumpur Hockey Club (KLHC) broke away from the pack early in the League and now look set to claim their second title in the TNB-Malaysia Hockey League.

KLHC, who won the Charity Shield by beating Tenaga National 2-1, are poised to lift the League title and then make a dash for the Overall title.

And it looks like their only challenger left standing are Sapura, who they play in their last league fixture on Oct 9.

And while KLHC -- who have nine national players in their fold -- are enjoying a super run which included an 8-0 hammering of Yayasan Negri Sembilan (YNS), teams who have hired foreign players are still struggling.

YNS have six Pakistan players, and it is believed that even though their MHL budget is about RM450,000, they still failed to produce the desired result. They have only beaten Nur Insafi 2-1 while their other defeats were against UniKL (4-3) and Tenaga (3-0).

Nur Insafi, who also have six foreign players in their stable, have only won two matches -- against UiTM (2-1) and Armed Forces (4-3).

UniKL, made up of Project 2013 players, are the revelation of the league as their persistence to use only locals, even though young, has paid off handsomely.

They started off shakily by holding UiTM 1-1 even though UiTM had five players from Oman,

UniKL then beat YNS 4-3, lost to Sapura 2-1 before holding Tenaga 3-3 which effectively ended Tenaga's League title dream even though they have nine national players to rely on.

UniKL play Maybank on Friday, and it looks like the bankers are in for a tough time.

New Straits Times


---

Unbeaten KLHC and Sapura set the pace in the first half of season

By S. RAMAGURU



Moving in: UITM's Muhammad Rizwan (front) shields the ball from Nur Insafi's Kashif Ali during their Malaysia Hockey League match at the National Hockey Stadium on Sunday. – AZMAN GHANI/The Star

KUALA LUMPUR: Kuala Lumpur Hockey Club (KLHC) and Sapura have made it a two horse race for the Premier Division title at the halfway mark of the Malaysia Hockey League.

After two weeks of action, KLHC and Sapura are the only two unbeaten teams with the former leading the standings on 12 points from four matches and the latter in second spot with nine points from three matches.

The two teams meet on the final day of the preliminary round on Oct 9 and if both keep up their unbeaten run, the match could very well end up as the title decider.

Double champions KLHC are slowly getting into the stride and scoring big wins but they had a scare on Friday when Maybank gave them a tough fight before losing 2-3.

KLHC edged past Tenaga Nasional 2-1 in their opening match and then went on a rampage by whipping UiTM 7-2 and Yayasan Negri Sembilan 8-0.

KLHC coach R. Vivekanandan said that all they needed to do was to win their matches.

"There are eight matches to play in the Premier Division and we have already won four. So we have to went the next four to clinch the title.

"The players just have to play their normal game. I am sure the other teams will be out to beat us so let them come at us," he said.

Sapura also had a tough weekend. They had to stage a fightback for their 2-1 win over UniKL on Friday. A defeat would have handed KLHC a clear run to the title.

Sapura coach I. Vicknesweran said they made it difficult for themselves in the match against UniKL.

"We know that there are no easy matches this year. At the top end, teams want to win the title while at the bottom end the teams need the points to make the top-seven cut. So we must collect full points from every match," he said.

Only the top seven teams in the nine-team Premier Division will make the cut for the knock-out stage.

Currently Armed Forces and UiTM seemed doomed to finish in the last two positions.

The Forces side have not won a single point while UiTM have a point after their opening day draw with UniKL.

This weekend will be crucial for Sapura as they play Nur Insafi and Tenaga Nasional. They have to collect full points to stay in the hunt for the title.

Nur Insafi have won their last two matches and will be motivated to keep up their good run but Sapura should win.

The challenge should come from Tenaga who have a more balance side.

Only the champions from the five-team Division One league will join the seven from the Premier Division for the knock-out stage and the front runner for the berth is SSTMI, the former Bandar Penawar Sports School team.

The Star of Malaysia


---

Decision time

While a new era will dawn on Malaysian Hockey on Wednesday with the launch of the Sultan of Johor Cup in Johor Baru, it is in Klang Valley where three important decisions are set to be made.

Firstly the JKP, or known as the Joint Committee between NSC and MHF will sit down Tuesday morning and decide on matters pertaining to the national team.

And what is interesting is the fact that USM has requested that two of their staff, who are national trainees, be released on three occasions to play in the Penang league, yes you read it right, Penang League.

Now while I abhor decisions made by national coach Tai Beng Hai with regards to his selection criteria ( obviously inclined to please a particular party) as well as his constant change of mind on the MHL, I am awaiting what he decides on this matter.

For I am told that he has indicated that the decision was a " policy matter " hence the JKP or MHF Management Committee must decide, thus washing his hands off.

But for heavens sake, you are the national coach and if you cannot make a stand then best step down now lest you use whatever decision made as an excuse in an event of failure in any international competition.

It is so simple - if USM are the employers, and the request is for days the national team trains, then just weigh what is decided for the MHL.

The players are released for their MHL clubs a day before the matches, so if there are matches on Wednesday, players can go off on Tuesday, simple right so why complicate matters.

But the question that begs to be asked is if the MHL clubs that these two players represent risk then traveling to Penang and play in the league a day before crucial MHL matches and quarterfinals?

Now one has to be supportive of employers and just because USM may not be as forceful as other employers, one cannot hide behind red tape to avoid making sensible decisions. What if the employers were TNB or banks that have their own event where the players were required?

The second decision pending this week is about an umpire who has threw mud on the face if the MHC Umpires Board by writing directly to the FIH Umpires Board.

Now mind you this was the same umpire who was involved in the infamous kicking incident which the MHC Umpires Board opted to back him.

And now six months later he has bit the hands that feed him.

The third decision pending is the conduct of an ATM players after their match against Maybank where the umpires submitted a written complaint.

Interesting week it looks so let's wait and see what direction MHF heads.

Malaysian Hockey blogspot


---

Champions Challenge I website goes live

With exactly 2 months to go until the start of the FIH Champions Challenge 1 in Johannesburg the official website is now live at http://www.champschallenge.co.za. The participating nations are hosts South Africa, Argentina, Belgium, Canada, India (to be confirmed), Japan, Malaysia and Poland.

With the FIH having taken the prestigious Champions Trophy event away from India and given it to New Zealand, New Zealand, who were initially supposed to be part of the line up, have been promoted to the Champions Trophy as hosts and the FIH has extended an invitation to India to attend the Champions Challenge 1 tournament in Johannesburg. We are still awaiting confirmation that India have accepted this invitation.

So what so we know about the participating teams?

The hosts South Africa have recently been crowned as the African Champions at the African Games competition held in Bulawayo, Zimbabwe. Although this should secure them an automatic place at the Olympic Games in London, the South African Olympic Committee, SASCOC, has placed an additional condition on them to reach the final of the Champions Challenge 1 if they are to go to the Olympics, so they have everything to play for.

Argentina and Canada will be taking part in the 2011 Pan American Games in Guadalajara, Mexico from October 14 with one of the two teams expected to come away as the Pan American Champions and their place at London secured. Argentina and South Africa had a two match test series last week that was drawn with each team winning a game, though the South Africans lost 14 players to injury or overseas commitments for the second test.

Belgium secured their place at the Olympics by coming 4th at the EuroHockey Nations Championships losing out on the Bronze medal to Olympic hosts England, but knocking 2008 Olympic Silver medalists Spain out of automatic qualification for the 2012 Olympics on the way. Germany and Netherlands took the Gold and Silver medals respectively. Poland took the Silver medal in the second tier EuroHockey Nations Championships II having been beaten by Czech Republic and in doing so securing a place in one of the 3 Olympic Qualifier events to be held next year.

India, Malaysia and Japan have recently been in action in the Asian Champions Trophy that was held in Ordos, China. India beat traditionl arch rival and Asian Games Champions, Pakistan in the finals to take the Gold medal, their first success under new coach Australian Michael Nobbs. Japan and Malaysia played out for the Bronze medal in the tournament with Malaysia coming out on top in that encounter to take the Bronze. Korea, who are taking part in the Champions Trophy in New Zealand came 5th in that competition.

Apart from South Africa, Belgium and either Canada or Argentina all the other nations will be taking part in the Olympic Qualifier tournaments next year to try and secure a place at the Olympics and so this tournament will be giving them invaluable experience for those "winner takes all" competitions.

Champions Challenge I media release


---

Oceania Cup to be broadcast LIVE online!

We are very excited to announce that the Oceania Cup will be broadcast LIVE online at the Hockey Australia website!

The Oceania Cup will see the Kookaburras and Hockeyroos take on New Zealand in best of 3 series in Hobart from October 6-9.

Click HERE to see the match schedule.

All matches will be available to watch HERE

Fans will be able to join in on the conversation by tweeting about the game on Twitter. If you use the #oceaniacup hashtag you comment could be placed on the conversation box next to the screen.

Hockey Australia media release


---

Pakistan announce 30 probables for Champions Trophy

KARACHI: Pakistan has recalled Sohail Abbas and goalkeeper Salman Akbar but again ignored former captain Rehan Butt while naming 30 probables for the Champions Trophy hockey tournament in Auckland from December 3-11.

Pakistan Hockey Federation ( PHF) chief selector Hanif Khan, also a former captain and Olympian, announced names for the senior and junior camps which will start simultaneously from October 1, at different venues to train and select teams for upcoming foreign tours.

Khan admitted that he was disappointed at the team's failure to convert short corners into goals in the recently held Asian Champions Trophy in China, were Pakistan lost the final to India.

Pakistan got 30 short corners in the Asian Champions Trophy but could only convert only five.

Abbas, who holds the world record of scoring goals on short-corners' was totally ignored for this prestigious event that cost Pakistan the tournament.

Rehan Butt, who was dropped for the Asian Champions Trophy, has been ignored again while ace goalkeeper Akbar, hero of 2010 Asian Games, has been recalled.

The Times of India


---

'Olympics a distant dream'

Painting a dismal picture of the current status of the Indian hockey team, Australian coach, Michael Nobbs, on Monday said the team had a long way to go to qualify for the 2012 London Olympics. He put the chances at "only 30 to 40 per cent". However, he did not want to be too gloomy indicating, ''we have to win all the matches before the qualifiers. That includes nine-a-side tournament in Australia next month. Then the chances may turn bright," he added.

It would be the second time since 1998 if India fail to book a berth in the Olympics after the 1970s when the team ruled the hockey field. The country could not make it to the Beijing Olympics. Replying to a question, he said, "Just started to build the team...long, long way to go for the Olympics. I had told you immediately after taking over that the chances of the team qualifying for the London Olympics are very remote. Let us see how we perform in the coming tournaments."

The Olympian is keen that the team plays more matches against archrivals Pakistan. "Yes, I want the Indian team to play against Pakistan in India in January. But invitation is yet to be extended to Pakistan and I hope it would come through and my wards would get chance to improve their skills."

About the strategy he would adopt in the ongoing camp for next month's tour of Australia, he said, "We are concentrating on fitness, motivating young players to continue to play well."

Hindustan Times


---

22-strong team for Oz tour

Hockey India on Monday conducted a one-day selection trial for the tour of Australia at the Sports Authority of India campus here.

HI selectors BP Govinda, AB Subbaiah, Thoiba Singh and Syed Ali besides government observer Dilip Tirkey watched the probables play a series of the newly-devised nine-a-side games in the morning before judging them in the traditional 11-a-side match later in the evening.

In all, 22 players will be selected for the tour of Down Under beginning on October 12 which will see India play two nine-a-side tournaments at Perth and a series of international friendlies against hosts Australia, Australia 'A', arch-rivals Pakistan and Korea.

"The trials went really well and we are happy with the form of some of the players," said HI executive director Anupam Gulati. "Since the tour is a long one, we've decided to pick 22 players. The objective is to have a blend of youth and experience."

Coach Michael Nobbs on Sunday had hinted that India may host Pakistan in a 'Test' series as a preparatory exercise ahead of the Olympic qualifiers in February, but Gulati failed to dwell too much on it. "Pakistan has approached us wanting to play a 'Test' rubber. We need clearance from the Central Government, and we are yet to approach them on this issue."

Gulati, however, confirmed that Bangalore would become the training centre for the hockey team. "Bangalore has all the necessary facilities. SAI director general Desh Deepak Verma confirmed that Bangalore would be the training centre. The team will switch training to the Dhyan Chand stadium (in New Delhi)?ahead of the Olympic qualifiers only to get a feel of the turf as the qualifiers are scheduled to be held there."

Of course, unless HI and the Indian Hockey Federation improve on their 'working arrangement', the tournament might be taken away from New Delhi, just as the Champions Trophy was earlier this month.

Deccan Herald


---

Oz rules football 'dictates' Indian hockey

BANGALORE: The Indian hockey team's training session will be linked to the Australian Rules football final between Collingwood and Geelong this Saturday. There is no earthly reason why these two games have to be associated with one another but for the hockey team's exercise physiologist David John, the final at the Melbourne Cricket Ground is crucial to the Indians' fitness workout the following day.

Confused? Well, this happens to be John's plan: "Each team in the footy final has 22 players. So that makes it 44 players. We allocate one of our squad members to each ARF player," says John. "Whenever the footballer gets possession, the corresponding Indian hockey player will be asked to do a 30m sprint the next day. This is to inject Australian flavour to the game."

Explaining the logic, John says: "A possession or kick is equivalent to doing a 30m sprint. That's the distance they generally run in ARF to get a possession."

John has assigned a sprint each to possession, mark and handpass and six sprints for each goal scored in the final. "At the end of the game the statistics for each player would be compiled and translated to the number of sprints his hockey counterpart in Bangalore would end up doing," he said.

John wondered whether the final would be telecast live in India but said it didn't really matter as he would download all details from the internet.

Interestingly, the hockey players haven't been told yet about the new exercise. "I will tell them on Friday night as the ARF teams would be finalised by that afternoon. We can also allocate players at the end of the match."

The hockey team members cannot pray for an allocation to the reserve players in the ARF teams as even that game is governed by the rolling substitution rule. "There are as many as 120 rotations during a game and all get to play. In any case, our hockey players wouldn't know who the good footy players are." John has tweaked what actually is a beer-guzzling contest during these games Down Under.

The Times of India


---

HI downplays Harendra's return to fold
Just months after being removed from the post of coach with the senior men's hockey team, Harendra Singh has been quietly brought back in to the system as the coach of the junior team.

Harendra was shown the door after just one tournament in charge when India, without several senior players, finished sixth among seven teams at the Sultan Azlan Shah Cup in Malaysia in May.

Interestingly, Hockey India has downplayed the development claiming that the appointment is part of a plan that was already in place.

There is already a development team in the books of the federation with Olympian Mukesh Kumar as its designated coach.

Hockey India says both squads have different personnel and have been put together for different reasons.

"The chain of command has been there for some time. There is no scope for any confusion.

Mukesh is the coach of the development team while Harendra will be in charge of the juniors," Hockey India secretary general Narinder Batra told MAIL TODAY on Monday.

He said the two teams are in place for different purposes.

"The juniors are players under 21 years of age. However, there are several good players above that age who may not be ready to be in the reckoning for the senior side. We want to keep them in the system and that's why we have formed the development side," Batra said.

"In the coming months, while the senior team will be taking on top teams like Australia, Germany and the Netherlands, the development squad will face secondstring sides like Japan, China and Malaysia."

The development has not gone down well with Mukesh, who was earlier marked as the coach of the junior team. He was at the recent trials in Jalandhar, where 48 players were shortlisted for the camp in Bangalore.

The Olympian was miffed when he learnt that Harendra had been made coach of the junior side and left the camp in a huff.

Batra admitted that Mukesh needs to be placated. "He is an experienced player and we value his expertise. We will talk to him soon and sort out the confusion," he said.

However, Batra stressed that there was no way Harendra could come back into the coaching staff for the senior side.

"Michael Nobbs is the chief coach of the senior side with Mohammad Riaz as his assistant. The Australian is happy with his inputs and we don't envisage any change," Batra added.

The next assignment for the under- 18 squad is an international tournament early next month in Johor Bahru, Malaysia.

No venue for nationals

The men's and women's junior nationals are scheduled to be held next month, but there is no decision yet about the venue of the event.

Jharkhand was to host both the tournaments, but later expressed its inability to do so.

"Now we are looking for some other venue that can hold the event in October or early November," Batra said.

"We are talking to three or four state units but no final decision has been reached yet." The under- 18 nationals are significant as stepping stones to the squad for the men's and women's Junior World Cups to be held in India in 2013.

The 48 players shortlisted for the tournament in Johor Bahru will be further pruned on the basis of performance at the nationals.

"We have already given our longterm programme to the government for approval," Batra said.

Core of junior girls' squad in place

The team that won the bronze medal at the Girls' Under-18 Asia Cup in Bangkok will form the core of the Indian squad at the 2013 Junior World Cup.

"We still need to have a look at the junior nationals. We will have open trials and will see a few more players there," Batra said.

Apart from age verification, the players' overall fitness and performance will be assessed, he added.

What the Papers Say Today - Stick2Hockey.com


---

Firefighting on way to placate Pargat?

s2h team

Even as a powerful selector and an assistant coach, loyal to Development Committee Chairman Pargat Singh give a miss for yesterday's selection trials, tongues wag as to what transpire in the corridors of Hockey India. Rumours are thick in the air since three days, especially ever since Junior India coach Mukesh Kumar unceremoniously exited paving way for the veteran Harendra to make another of his comebacks, that the former player Pargat Singh has put in his papers.

Though Pargat Singh does not hold any constitutional post in the HI set up, he is Chairman of Development Committee, which according to the remarks of HI Secretary Narinder Batra, is entrusted with taking all technical decisions. Further, doubling up as Chairman of Disciplinary Committee, Pargat was in the news recently with his instant outbursts on Sardar Singh and Sandeep Singh, who happily missed out the Ordos tournament. Subsequently, Pargat's anger had no takers as the duo re-entered with the 2-year ban evoked within a month from it was imposed.

However, even as one tries to confirm the veracity of the news that Pargat Singh resigned, we are flooded with moves that aim at placating indignant Pargat Singh. One move is to term Harendra Singh as the Junior India coach while Mukesh Kumar will be taken in as the chief coach of the Development team. However, it is certain India did not have single tournament ear-marked for this genre this year. People in Hockey India seem confident they will get Mukesh change his mind, will soon be back on coaching . However, its a good news that HI is aware of an entity called Development team. Till recent past, we had that wild animal in our hockey jungle, with Rajinder Singh Sr, Harendra, CR Kumar and other being the handlers. However, the vital aspect of the team structure has been missing in the last four years.

The one-day selection trails where both 9-a-side and traditional form of matches were held, Col. Balbir Singh, Chief Selector, did not turn up. It seems he has fallen out with HI after someone who attended a party he organized last fortnight at Jalandhar, leaked his casual comments on HI Secreatry General Narinder Batra, as a castigation of his style of functioning. Significantly, Sukbir Singh Grewal, who was in the camp even before Michael Nobbs reached Bangalore, and also toured Ordos, too was not there yesterday at Bangalore where the trials were held. He is eyes and ears of Pargat Singh and his unexplained absence poinot to the fact that things are not moving smoothly inside the HI cauldron.

A vital cog in the Pargat Singh camp, meanwhile, sends a warning. "Hockey India behaves as if everything is fine. The victory at Ordos seemed to have gone to their head. It is surprising they started ignoring the fact that it is we who brought the foreign coach, and suggested all other technical matters, including 5-year tenure for the new coach".

Stick2Hockey.com


---

Corporates ready to back sports: SAI

BANGALORE: India's triumph at the Asian Champions Trophy hockey tournament may finally help the sport bag some big corporate sponsorships.

According to Sports Authority of India (SAI) director general Desh Deepak Verma, no time frame has been fixed but in all likelihood, hockey will be a major beneficiary of corporate munificence if the team continues to perform well. Basketball and tennis are the other two sports which have also attracted the attention of corporate houses.

"A few corporate houses have expressed their willingness to adopt hockey, basketball and tennis. There are others who want to help but do not know where to go," Verma said after giving cash awards of Rs 1.5 lakh each to the hockey players at SAI, South Centre, here on Sunday. "We will urge the corporate houses to take up games which have the potential. Archery is a good example where these firms can make a difference. Players in these games are generally from a poor background and they need support."

Verma said they would involve corporate houses in sports which already have sponsors. "Hockey may have sponsors but there is nothing that stops others from rewarding the players."

Another major policy decision mandates better use of foreign coaches. "Till now foreign coaches were tied down to one team. From now on, they will share their expertise with the age group and women's teams too," Verma said.

The Times of India


---

Navy, IAF post wins

Tribune News Service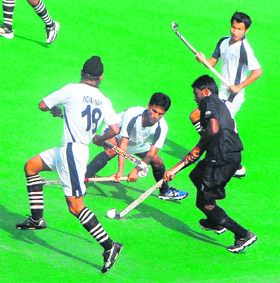 A match in progress between Indian Navy and RCF at the hockey stadium in Chandigarh on Monday. Tribune photo: Vinay Malik

Chandigarh - Indian Navy defeated RCF Kaputhala and Indian Air Force beat Jalandhar Signals in their respective matches of ongoing 41st S.N. Vohra All-India Gurmit Singh Memorial Hockey Tournament at Hockey Stadium of the Sector 42 Sports Complex here today.

In the first match of the day, Indian Navy defeated Kaputhala 4-1. Sikander starred in the team's victory with his two goals. Heer Singh drew the first blood after scoring the first goal for Navy team in the 15th minute. Ace half-back Sikander doubled the lead in the 29th minute followed by another goal in the 31st minute to take the score to 3-0.

Ved Prakash scored the fourth goal in the 57th minute to ensure his team's victory. Ranjodh scored a consolation goal for RCF in the 60th minute of the game.

In the second match, Indian Air Force defeated Jalandhar Signals 2-0. Centre-half Harwant scored both the goalsas he struck the board off a penalty corner in the 43rd minute of the game. In the second half, he scored again to book the berth in the next round of the tournament.

The Tribune


---

PHA's Prader-Willi Syndrome event a great success

2000 people attend PWS awareness event organized by Polish Hockey Association



The participants of the Prada-Willi Syndrome exhibition match. (Photo: FIH / Polish Hockey Association)

The Polish Hockey Association's recent Prader-Willi Syndrome Awareness event has been hailed as a fantastic success by its organisers and sponsors.

Prader-Willi Syndrome (PWS) is rare and complex genetic disorder that affects the experience of feeling hunger, with sufferers often feeling constantly hungry no matter how much they consume. Many children with the syndrome suffer from obesity, high blood pressure and heart problems.

PHA's special event took place on Saturday 17th September 2011, with almost 2000 people visiting the stadium at the University of Physical Education, Poznan. It was a day for the entire family to enjoy, all of whom could entertain themselves with the numerous attractions staged by the organizers. Children had the opportunity to play in inflatable castles, water balls and even get their faces painted as well as enjoying the many sporting attractions on show.

Players from the Poland men's and women's national teams played central role of the event, and were on hand to show off their skills. People had the opportunity to pick up a hockey stick and take part in eight different competitions, including "Beat the Goalkeeper" and "Master of Juggling". The rewards for children who participated included everything from photos of the national teams, hockey sticks from local sponsor AMO Sports and even apples, which were aimed to promote a healthy diet.

One of the most entertaining elements of the day was the exhibition hockey match between local journalists and representatives against a collection of Polish sport stars from other disciplines. These included Olympians as well as medallists from both European and World championships. The match also featured many of current stars of Polish hockey. This match was commented by popular Radio Merkury presenter Krzysztof Ratajczak.

One well known political figure who played in the match was Bozena Szydlowska, a current Member of Parliament in Poland. Ms Szydlowska was only supposed to play the first five minutes of the match, but found herself enjoying the game so much that she refused to be substituted. In the end, she played over forty minutes of the contest!

Away from the recreational side of the event, a scientific conference and symposium of Polish Prader-Willi Syndrome Association also took place. This was attended by many families whose children are suffering from PWS.

Everyone at the Polish Hockey Association understands that this is only the beginning of the long effort to help sick children. The fight against lack of understanding will be continued, and the main organizers are aware that this is a long-term project. However, there can be little doubt that this fantastic event has served its purpose in raising awareness of the existence of this rare disease. It is hoped that there will be an even bigger impact in the future, with a second event being planned for May 2012 which it is hoped will be even bigger than the first one.

One of the main organizers of this event was a company SylwiaStyle, owned by Krzysztof Witczak, whose son suffers from PWS. Both Krzysztof and co-worker Agnieszka Witczak wanted to thank all the people who took part in this very important festival of hockey:

"We would like to say thank you to all the people who attended the event'", said Mr Witczak. "Every person who took part in this event automatically became an ambassador of PWS. It was the first event of its type in Europe, and we are really proud of that. We would also like to thank all the organizers of this event. The truth is that many people worked very hard for this success, and it couldn't have been done without them. Special thanks to our main partners PZU Bank and Chata Polska. Without your support we wouldn't have been able to help the many children who suffer from PWS".

For more information about Prader-Willi Syndrome, please click here.

Source Material: Polish Hockey Association

FIH site


---

Kathy Broderick inducted into York University Sport Hall of Fame




Kathy Broderick, former Assistant Coach of the Canadian Women's National Team, was inducted into the York University Sport Hall of Fame on Friday, September 23.  Many Team Canada Alumni were there to celebrate, including Tammy Holt, Sandra Levy, former Coach Marina van der Merwe, Gillian McCullough, Sheila Forshaw, Deb Fullerton, Sharon Creelman and FHC President Mary Cicinelli. 



Front Row from left to right: Maggie Gibb (former umpire), Tammy Holt (York U and WNT Alumnus), Kathy Broderick
Back Row from left to right: Sandra Levy (York U and WNT Alumnus), Dale Peltola (York U), Gail Stewart (York U), Marina van der Merwe (York U and former WNT Coach), Sharon Creelman (York U and WNT Alumnus), Gillian McCullough (York U and WNT Alumnus), Sheila Forshaw (York U and WNT Alumnus), Cathy Croucher (York U), Deb Fullerton (York U and Coach), Mary Cicinelli (York U and President of FHC)



From Left to Right: Marina van der Merwe, Kathy Broderick, Mary Cicinelli

Kathy Broderick was the assistant coach of the field hockey and indoor hockey programs at York from 1978 to 1999. During that time, she helped guide the team to six CIAU silver medals, two CIAU bronze medals and seven OWIAA titles each in field hockey and indoor hockey.

Broderick was the assistant coach with the Canadian national team at three Pan American Games (1987, 1991, 1995), winning one silver medal and two bronze medals, five World Championships  winning silver (1983) and bronze(1986) medals and three Olympic Games (1984, 1988, 1992). Kathy was known as one of the top goalkeeping coaches in the world during her tenure with the national program. Broderick stayed at York after retiring from coaching the field hockey team and now serves as a faculty member with the School of Kinesiology & Health Science.

Source: York University

Field Hockey Canada media release