All the news for Wednesday 4 July 2012

UCD 3 Nations: Belgium 2-3 South Africa

UCD Dublin, Men's Three Nations - IRELAND; BELGIUM; SOUTH AFRICA

Olympians South Africa and Belgium went head to head this evening in a warm but damp UCD for the first match in the UCD 3 Nations taking place in Dublin.

Despite taking the early lead and dominating the majority of attacking play Belgium were 2-1 down when the half time hooter sounded. Belgium opened the scoring in the 5th minute when they were awarded a penalty stroke which and impressive Dekeyser converted with ease. A minute later McDade levelled the sides getting on the end of a goal mouth melee. Minutes later South Africa took the lead this time Norris Jones getting on the end to push his side 2-1 ahead.

Belgium pressed hard to equalise and had numerous chances including three consecutive penalty corners but to no avail.

Belgium 2 (1) Jerome Dekeyser 5m ps; Thomas Briels 61m op
South Africa 3 (2) Thornton McDade 6m; Lloyd Norris-Jones op 10m; Julian Hykes 59m op

Half Time: South Africa 2-1 Belgiums

The second half was played at a steadier pace between midfield with chances a lot more sparse than in the first 35. With ten left though the game opened up first with South Africa pushing the lead ahead to 3-1 thanks to Julian Hykes before Thomas Briels drew one back just minutes later to make it 3-2. Belgium threw it all in with five to go taking off their keeper and their risk almost paid off as they created numerous goal scoring chances but South Africa held on to ensure they kept their lead in tact closing out 3-2.

Match Schedule:
Wednesday 4th July  Ireland v South Africa  19.15
Thursday 5th July  Ireland v Belgium  19.15

Irish Hockey Association media release


---

SA Win in action packed Belgium clash

PJ VAN ROOYEN in Dublin

Thanks to a solid effort from the defence, South Africa managed to defeat Belgium 3-2 in a once-off Test match at the University College Dublin (UCD) on Tuesday evening.

Coach Gregg Clark rested captain Austin Smith and Jonty Robinson enabling them to recover from flu, which has kept them out of the last three Tests.

The South Africans built from the back and have their defensive unit to thank for keeping SA ahead, in their first match against Olympic opposition on their European tour thus far.

Belgium drew first blood when they were awarded a penalty stroke five minutes into the game with Jerome Dekeyser putting the ball past goalkeeper Rassie Pieterse.

However, the Belgians' celebrations were cut short by South Africa, a solid build-up from deep in the SA half resulted in Thornton McDade slotting a goal past the Belgian keeper, taking a deflection off a Belgian defender on the way.

SA seemed to be spurred on by the equaliser and four minutes later, the visitors' attack were again called into action, with Lloyd Norris-Jones deflecting an excellent Tim Drummond pass into the Belgium area, leaving the keeper stranded.

Belgium responded with a period of sustained pressure, which South Africa dealt with expertly, defenders Andrew Cronje, Lloyd Madsen and Justin Reid-Ross particularly impressive in releasing the pressure and clearing any Belgian attempts at goal.

An extraordinary effort from Pieterse in the middle of the half saw him save three penalty corners in as many minutes as SA were forced to weather the Belgian storm.

Five minutes from the interval SA turned up the pressure and Lloyd Norris-Jones narrowly missed an effort in finding Ian Haley.

SA regrouped, and attacked with determination as they went searching for a third.

The South Africans came out into the second half and picked up where they left off at the end of the first, building their forward movement on solid defensive work.

The opening exchanges of the second stanza belonged to the tourists, making sure the Belgians too had a turn to soak up the pressure as SA stuck to their structures and kept Belgium firmly in their own half.

Julian Hykes provided the first real action of the second half when he unleashed a pinpoint shot at goal, beating the Belgium goalkeeper and allowing South Africa some breathing space at 3-1.

But as with the first half, the goal was followed up from the restart with a goal for Belgium, which once again kept the margin to a single goal with a nervy final quarter of the match still to play.

In a match that lived up to its exciting build-up, the last few minutes were relentless in end-to-end action with the South African defence putting in a fantastic effort, thanks to largely to Pieterse who made several goal-saving stops as Belgium came close, but not close enough.

Courtesy the South African Press Association (SAPA)

SA Hockey Association media release


---

Cerfontyne looking for composure ahead of Irish clash

PJ VAN ROOYEN in Dublin

South African assistant coach Kurt Cerfontyne believes his side will have to be more composed in front of goal when they take on Ireland for a second time on their European tour, in a once-off Test in Dublin on Wednesday evening.

Having lost 4-2 to Ireland in their first meeting during the Celtic Cup in Lisburn on Thursday, where SA dominated all facets but lost to the hosts, the visitors will have another opportunity at the University College Dublin (UCD).

"We looked at the stats after the game and saw that we had about 30 circle-entries," Cerfontyne said.

"The biggest problem we had against Ireland was that we created scoring opportunities but we didn't capitalise."

Ireland went on to win the Celtic Cup following their win over the South Africans, beating Scotland and drawing with Wales on Sunday, while SA finished a point behind, having also beaten Scotland and thrashing Wales 5-0.

Cerfontyne said after analysis of the game in Lisburn, his players understood where they went wrong and had been working on taking their chances.

"These players have been around the block for a long time. The good thing is that we have a bunch of good individuals who stick their hands up and will take accountability," the assistant to Gregg Clark said.

"That's the beauty of video analysis where guys can actually see that they probably should have made a better decision.

"My philosophy is that you can't necessarily coach composure and decision making because it happens in a second, so yes the guys know where they have to improve."

Cerfontyne admitted that at the level of competition SA will be up against, not only on this tour but also at the Olympics, the team would have to be more clinical with their chances and putting away goals, with Ireland being no exception.

"Ireland are a well-drilled team, they play good structured hockey and I think they do a couple of things really well," he said.

"We are not expecting another 30 circle-entries against Ireland again, it could come down to 20 but then at least we have got to be converting a lot more than we did on Thursday.

"Our first three games were the perfect platform for us moving ahead towards the Olympics, and it is up to us to move up another level."

The South African outfit have improved steadily through their first handful of matches on tour, after being away from competitive hockey for seven weeks, in which they worked on their strength and conditioning at a training camp in Bloemfontein, shortly after qualifying for the London Olympics in Japan in May.

"What we've seen in terms of progression from when we started against Ireland to even the most recent training session, there has been a major improvement in intensity," Cerfontyne said.

"Whatever rust we had, has been dusted off."

Courtesy of the South African Press Association (SAPA)

SA Hockey Association media release


---

India in semifinals of Junior Women's Asia Cup hockey

BANGKOK: India rallied from a goal deficit to beat Malaysia 2-1 in their final league match on Tuesday to make the semifinal of the sixth Junior Women's Asia Cup hockey championship.

India finished second in group A behind China. In a must-win match for India, the teams played out a goalless first half.

Norazlin Sumantri scored for Malaysia within a minute of the resumption of second half but Anupa Barla (52nd minute) and skipper Ritu Rani, who converted a penalty corner in the 65th minute, ensured that India reach the next stage.

India will face the winner of Group B - either Korea or Japan - in the semifinal to be played on July 5.

Ten minutes after Malaysia took the lead, India started to dominate the proceedings and in the last 25 minutes hardly spared an inch.

Anupa's strike capped a good pass by vice-captain and fellow forward Poonam Rani, while Ritu Rani successfully converted a penalty corner.

The Indian team's defenders toiled hard to keep Malaysia at bay. India scored their third win in four matches. They had beaten Sri Lanka and Singapore in earlier games before losing to China.

The Times of India


---

Hockey squad get into Olympic mode

Harpreet Kaur Lamba, Paris




The Indian hockey team were a relaxed lot as they leave Paris on Monday afternoon en route to their next destination, Spain.

Heading into their last leg of preparations before the London Olympics -- the team take on the hosts and South Africa in Santander, followed by a tri-nation involving Great Britain  -- the players knew they had done their job well against hosts France, but will require "an extra effort" from here on.

India beat France 8-2 and 4-0 in the two-match test series held in the neighbouring towns of Lille and Le Touquet near Paris, but chief coach Michael Nobbs does not want any let up in the intensity.

The Australian asserted that the real test lay ahead. "The series against France was aimed at acclimatisation to European conditions, besides giving a chance to the youngsters," Nobbs said before the team's departure for Santander.

"The focus will now be only on the 16 for the Olympics, and it will be crucial to do well ahead."

The French did not pose the stiffest of challenges for India, but there were times when Nobbs had to use "some harsh words" to get his wards going.

"That is a tendency and something that we need to correct soon. The boys play erratic hockey sometimes. For example, we were awful during the first half of the opening game against France, and absolutely professional in the next.

"The French played a very defensive game in the next match, but we should have done better (4-0)," Nobbs said.

"Inconsistent play" and "lack of mental toughness" were two factors the Australian identified from this tour as areas to work on before the Olympics.

"I think the players need to mentally tougher, and that is why I organised this series (Spain) before the Olympics as I thought just getting to the Olympics would not be tough enough for them," he said.

Talking about India's attacking style of play, Nobbs said: "The boys play different patterns against different teams, for example if we play all attack against Australia we are hammered as they are better at attack than us, so we play a hybrid press and counter system.

"Against the Germans we play a 65 yard defence press system. Against France for example we can play a full press as they don't have the skill to counter a lot against us.

"The Olympics will be an entire different scenario, but we have to get to that level soon."

The Asian Age


---

In the Spotlight.... New Zealand Men

A closer look at the 24 teams in the London Olympics



It's not a stretch to say New Zealand could finish in the top hap of the Olympic pack. (Photo: FIH / Frank Uijlenbroek)

'In the Spotlight' is a series that will profile each of the 24 participating teams at the London Olympic Games. It will provide a glimpse of what to expect as each squad begins its London quest. Between now and the Olympic opening ceremony a new team will be featured every 2-3 days. Today we feature the men's national team of New Zealand.

The Basics:
The New Zealand men are ranked seventh in the world with 1395 points. Their only Olympic medal was gold in 1976 in Montreal. Beyond the Olympic gold, the Black Sticks have never won a medal in an FIH World Cup or FIH Champions Trophy. At 2011's Champions Trophy in Auckland they equalled their best CT result finishing fourth on home turf in North Harbour. At the inaugural CT in 1978 New Zealand also finished fourth (out of five).

The Road to London:
New Zealand qualified as runner-up of the 2011 Oceania Cup held in Hobart, Australia. The Blacks Sticks played three matches against Australia, winning the first match 3-0 and drawing 3-3 in the second. The Kookaburras had to win the third match by at least four goals to still claim the series. This was what Australia did, defeating New Zealand 6-1 in the last match to take the Oceania Cup.

Players to Watch:
Team-captain Dean Couzins, Ryan Archibald and Phil Burrows are the most experienced players with more than 250 caps each. Defender Blair Hopping is just one off that mark with 249 international matches. Captain and 31-year-old Couzins leads the defence. Midfielder Archibald has spent much of his hockey career playing for HC Rotterdam in the Dutch Hoofdklasse. World-class striker and former team-captain Burrows is able to score from the most unlikely spots and he has a deadly reverse strike. He is now showing his attacking versatility by filling a midfield role.

Coach:
Shane McLeod has led the Black Sticks since January 2007. During his tenure, the team won the 2009 Champions Challenge in Salta and placed fourth at the 2011 Champions Trophy in Auckland. The 2011 Oceania Cup win against Australia was the first  win against their rivals since 1999. The 42-year-old was head coach of the Belgian women from 2002-2006. MacLeod was a New Zealand international himself, playing for the Black Sticks from 1995-1997.

Strengths:
New Zealand sends an experienced team to London including four, three-time Olympians and nine players at their second Olympics. The Black Sticks most recently surprised by winning the Azlan Shah Cup title in Malaysia. McLeod said: "It became a luxury problem with so many players performing at the top of their game in Malaysia. In the end it came down to getting the balance right in the midfield and the flexibility of players to slot into a number of positions."

Weaknesses:
Although New Zealand is stronger each year, they still struggle crack the podium. At the recent Champions Trophy, they lost to all of the top three nations, Australia, Germany and the Netherlands. A logistical problem for the team is the fact that the Black Stick players are spread between Europe and Oceania making it tough to train and play together.

Crystal Ball:
Reaching the Semi Finals would be a big success for the Black Sticks who have to finish in the top two in Pool B with Germany, The Netherlands, Korea, Belgium and India. Three New Zealanders (Child, Edwards, Wilson) should know the Dutch opponents very well as they play club hockey for HC Rotterdam in the Dutch Hoofdklasse. The team in London is probably the most experienced squad New Zealand has ever sent to the Olympics, and it is likely the last chance for several Black Sticks to win an Olympic medal.

FIH site


---

The travails of a Pakistani hockey player — Salman Akbar

Salman Akbar



Draped in the Pakistan flag, Akbar celebrates Pakistan's triumph at the 2010 Asian Games in China. -File photo by AFP

Salman Akbar is a veteran goal-keeper who made his debut for Pakistan in 2001. Termed by Olympian Shahid Ali Khan as one of the most hard-working players in the game, Akbar has won the 2005 Rabo Trophy and the 2010 Asian Games gold medal with Pakistan. He was adjudged the 'best keeper' in both events. Here, he reveals the pressures surrounding Pakistani hockey players, who according to him have very uncertain and insecure futures.

Hockey is our national game but financially it has little to offer – I believe that is one of the major reasons for its present failures. It is no doubt very disappointing considering our proud tradition.

No one is quite aware of the inner worries of a hockey player who expects to have a secure future while and after representing their national team. There is a saying, "money is not everything" but when you are representing your country on the biggest stage you should not be worried about how you are going to feed your family.

As the Pakistani team prepares for one of the biggest events in hockey, it is important to look at the aspects that plague our national game and steps that can be taken to improve the situation.

Hockey is also India's national game, but the players there have secure jobs with handsome salaries. Few years ago India started the Indian Premier League which has completely changed the landscape of cricket in the country and has been a very successful model up until its most recent edition this year. In hockey, nowadays there are two bodies functioning in India, the Indian Hockey Federation (IHF) and Hockey India (HI). Both claim that they are running Indian hockey but as per law and according to Federation International Hockey (FIH) HI is the recognised body and IHF stands no where. FIH is still working to fix this issue.

This year, the IHF launched a hockey league named World Series Hockey (WSH) amid much fanfare; offering handsome salaries to players from around the world. The world of hockey has not seen such a lucrative venture. Nimbus Sports sponsored the mega event. The WSH attracted a lot of players from across the world, including Pakistanis, Dutch, Australian, Spanish and even Argentineans.

All the Indian players who were occupied with the Olympic qualifiers and were contracted to HI refused to be the part of it. They were a part of the WSH promotional events and even signed and collected the advance money for it. However, they later returned the money and pulled out of the league to concentrate on India's 2012 Olympic qualifiers after negotiations with their federation.

India then qualified for the Olympics in style.

But its a totally different scenario when it comes to Pakistani hockey players, Shakeel Abbasi, Waseem Ahmed, Zeeshan Ashraf (captain of 2010 Asian Games gold-medal-winning team, a medal that came after 20 years), Rehan Butt, Imran warsi (the shared top scorer in WSH with Indian drag flicker Gujinger Singh) , Tariq Aziz, Adnan Maqsood and Mudassar Ali Khan. PHF had announced repeatedly that if a player were to compete in the WSH, he will face a ban and or heavy fines. Sure enough, the above mentioned players took part in it and were eventually fined, heavily.

The PHF then reduced their fines and even recalled some of the 'rebel' players back in the team, a measure taken after Pakistan's disastrous Azlan Shah Cup campaign. The move was much needed considering the Olympics are just a month away.

Blaming players and accusing them of not being loyal and going for money over country is totally wrong. The question that needs to be asked is simple. Why would these current Pakistani players choose to be part of the WSH, fully aware of the consequences and risk losing a chance to play at the Olympics?

It is high time the government realise that the national game is heading in the wrong direction and it needs to take very serious steps, very quickly. The players should focus only on their training and performance on the pitch, the rest should not even be an afterthought.

There are players in Pakistan who have decent, permanent jobs. But they were employed a long time ago when the economic situation was not as bad with abundant openings in the workforce.

Look at Zeeshan Ashraf, he was captain of the winning team at the 2010 Asian Games but still does not have a secure job in NBP. A player like Shakeel Abbasi is on contract in SSGC. I, myself have been jobless for a year. After winning the Asian Games, I tried to get a job but was unsuccessful. Only this year, SSGC has given me a contract of Rs 25,000 only.

Is this what Zeeshan, Abbasi and I deserve after serving the country for 12 years? What parent in their right mind would encourage their child to pursue hockey?

It's not just about me or Abbasi or Zeeshan. It is worse for the junior players, our future.

Take a look at PIA. They have a good system in place; provide job security to their players and the results show – their boys wins trophies.

A young boy gives his prime time to hockey, an age when they should be in school or college. They choose to be on the ground and play for their country and are rightly justified in hoping that their future will be secure.

Instead, they are left with nothing if they get injured or are dropped from the team. The pressure of performing constantly while at the same time worrying about so many other things gets to players. A lot of players who are dropped are forced to use 'back end' channels to make their way back into the team.

In the past, things were simple; the economy still better. Players had white-collar jobs in PIA, NBP, Customs and other departments. There was a lot of school and college hockey being played, which resulted in the perfect nurseries that provided players to our national team. No one really bothered about setting up the infrastructure, instead we were caught up in celebrating our glory days.

Only Waseem, Rehan and Mudassar have permanent jobs in WAPDA, all other players are on a contract or jobless.

Hockey is our bread and butter that is why I chose to play the league in Holland.

Even after playing for my country for 12 years I really shouldn't be running around looking for opportunities that will improve my financial situation.

It is no wonder then that the players make the decisions that they make. Nevertheless, there's the hope that a good performance in London will turn things around.

Dawn


---

u18 Celtic Cup Comes to Edinburgh

Scotland's U18 men and women take to the pitch in Edinburgh this weekend to compete in the u18 Celtic Cup. The inaugural event in this age group, sees teams from Wales, Ireland and Switzerland travel to the capital with games getting underway on Friday night.

The Celtic Cup will provide both genders good competition and will allow for the coaches to measure the squads' development looking forward to next summer's Europeans.

Elanor Cormack, the Scotland u18 men's manager sees the Celtic Cup as a prime opportunity to build upon recent games, as well as develop younger members of the squad. "For some, it will be the first opportunity to play in a competitive international tournament and experience the intensity and focus required to win at this level. With preparation games against Wales and Ulster under our belt and our first win against British Colleges last weekend, the squad are building in self-belief and are now looking to make winning in a Scotland shirt a regular occurrence."

The u18 women are also positive going into the weekend despite being up against tough opposition in the form of Ireland, who are likely favourites to lift the cup. Having just returned from Belfast where the team played a three game series against Ireland, manager Louise McIntyre is keen to take lessons learnt while away and put them into practise this weekend. "Last weekend saw us play at a high intensity against a strong Irish team. We proved that despite the first game loss the girls were able to focus and step up a level allowing us to bounce back to win the second game. The final game of the series was a true reflection of the quality of hockey we can expect to see at the Celtic Cup and although Ireland are favourites we look forward to playing them, as well as the Swiss and Welsh.

The tournament offers a great opportunity for our young players to develop on the international stage and it is hoped both teams will benefit hugely from the home advantage. Come on down to Peffermill and give support to your country, entry is free and the full schedule can be downloaded here.

Scottish Hockey Union media release


---

Terengganu fancied for men's Sukma hockey gold

By AFTAR SINGH

KUALA LUMPUR: Terengganu, powered by three national players, will start as the favourites to win the gold medal in the men's hockey competition in Sukma, which begins in Kuantan tomorrow.

The trio – Mohd Firhan Ashaari and the Saari brothers of Faizal and Fitri – featured in the 21st edition of the Sultan Azlan Shah Cup in Ipoh, which ended on June 3.

The 21-year-old Faizal was the top scorer for the national team in Ipoh, netting five goals in seven matches. He was also the joint top scorer with six goals in the Junior Asia Cup in Malacca last month.

Midfielder Fitri, who played in the Olympic qualifier in Dublin in March, scored a goal in the Sultan Azlan shah Cup.

Terengganu will also have the services of goalkeeper Mohd Hazrul Faiz Ahmad Sobri, who featured in the Junior Asia Cup, where he was named the best goalkeeper.

Malaysia defeated three-time champions Pakistan 2-0 in the final to win the Junior Asia Cup for the first time since its inception in Karachi in 1987.

Thirteen teams, except for Sabah, will feature in the men's competition of Sukma.

Terengganu are in Group A with defending champions Kuala Lumpur, Perak, Kelantan, Selangor, Kedah and Negri Sembilan while Group B comprises runners-up Malacca, Penang, Perlis, Sarawak, Johor and Pahang.

Nineteen-year-old midfielder Firhan, who has 29 international caps to his credit, believes that Terengganu have a solid team capable of making it all the way to the final.

He expects Kuala Lumpur, powered by eight members of the Junior Asia Cup team, to be the team to beat in Sukma.

"We will go all out to avenge our 3-2 loss to KL in the quarter-finals of the last Sukma in Malacca two years ago," said Firhan, who will feature in the Junior World Cup in New Delhi next year.

Meanwhile, 12 teams will compete in the women's section. Johor, Penang, Sarawak, Perak, Selangor and Malacca are in Group A.

Group B comprises Pahang, Terengganu, Kedah, Negri Sembilan, Kuala Lumpur and Kelantan.

The Star of Malaysia


---

Tough group will not deter Selangor

By Ajitpal Singh

SELANGOR will be aiming for a podium finish at the Malaysia Games hockey competition which starts tomorrow in Kuantan.

The team had a tough time preparing for the tournament due to the unavailability of training pitches in the state.

The two hockey pitches -- the Pandamaran and MBPJ stadiums -- are presently unplayable.

Selangor HA (SHA) president Datuk Seri Subahan Kamal said the team have been training outside the state since April.

"Our training camps were conducted at the National Stadium (Bukit Jalil) and the Education Ministry Stadium (Kuala Lumpur)," said Subahan yesterday.

"I hope the adversity will make them stronger and more confident for the Malaysia Games.

"I want them to give their best as a good result will correspond with our efforts to revive Selangor hockey."

Selangor have been drawn in Group A with defending champions Federal Territories, Perak, Terengganu, Kelantan, Kedah and Negri Sembilan while Group B comprises Malacca, Penang, Perlis, Sarawak, Johor and Pahang.

Selangor open their campaign against Kelantan at Indera Mahkota Stadium tomorrow.

Coach Mohd Azlan Abdul Aziz said his team are good enough to qualify for the semi-finals.

"We are in a tough group but it does not mean we can't make the semi-finals. Everyone in the team is eager to make an impression," said Mohd Azlan.

Captain Faridzul Afiq Mohd, former national junior trainee Harmesh Singh and national Under-16 midfielders Ahmad Iqwan Shah Harun and Mohd Afif Elkan Nordin are the core players.

New Straits Times


---

We're being fixed

Tournament director promises to review fixtures

by Vijhay Vick



NOOR FAEEZ: KL's stalwart

KUALA LUMPUR are crying foul over the Malaysian Games (Sukma) fixtures as they're the only team who will play five matches in as many days.

Their opponents on the third and fourth days, Terengganu and Perak, will have rested the day before.

"Somebody's trying to sabotage us. I don't know who or why there is such an intention," said KLHA secretary V. Rajamanickam.

"This is not in accordance to rules stipulated by FIH, which states that teams must have a day's rest after two back-to-back matches. Even the opening day fixtures don't follow FIH scheduling regulation."

Rajamanickam stressed that since KL's group has seven team, the FIH regulations demand the first team is pitted against the seventh, with the second going against the sixth while the third-placed team will play the fifth team. The fourth team in the group will not play on the opening day.

Tournament director Hashim Mohamed denied any malice was intended and promised to review the fixures.

"This was something we overlooked but rest assured that there will be changes to the fixtures. I have contacted KLHA and informed them that it was an honest mistake," said Hashim.

"It's not something that cannot be changed. We'll work this out, no worries."

KL, the defending champions, have always been the team to watch since winning their first Sukma gold some 24 years ago. After winning back-to-back titles in 1988 and 1990, they suffered a barren run until 1998.

KL have some of Asia's best youngsters in the likes of National Juniors skipper Noor Faeez Ibrahim, Amir Farid Fuzi, Mohamad Syamim Yusof, Norhizzat Sumantri, Aslam Hanafiah and second-choice keeper Shahrul Azaddin. They helped Malaysia win their first-ever Junior Asia Cup in Malacca in May.




Malay Mail


---

BC Blue men and women look to defend titles against Canada's Junior National Teams

2012 Senior National Championship finals underway




After three full days of pool play at Tamanawis Park, the finals of the 2012 Senior National Championships are underway!  BC Blue's Men and Women will be looking to defend their titles against the formidable Junior National Teams this afternoon.  On the men's side - Ontario and BC White are competing for bronze after Alberta finished 5th yesterday.  BC U18 Blue and Alberta Women will vie for bronze at 10:30am as the BC U18 Blue and BC U18 Yellow will face off for 5th place at 11:15am.
Final pool standings:
MEN
1. BC Blue
2. Men's Junior National Team
3. BC White
4. Ontario
5. Alberta

WOMEN
1. Women's Junior National Team
2. BC Blue
3. BC U18 Blue
4. Alberta
5. BC U18 Yellow
6. BC U18 White
Field Hockey Canada media release


---

Gold for BC Blue Men and Women's Jr. National Team at National Championships



Senior National Championships - July 3 - GOLD - WJNT vs BC Blue

The BC Blue Men have defended their title as reigning National Champions.  After a hard-fought match against the Men's Junior National Team, BC came out with a 2 - 0 victory.  BC White Men finished with Bronze following a solid 7 - 2 win over Ontario Men.

The Women's Junior National Team claimed Gold after an exciting match against a strong BC Blue side, winning 2 - 0.  BC U18 Blue had a strong performance against Alberta Women, earning them a Bronze finish.  BC U18 White made an incredible comeback in the second half, coming back from a 0 - 2 deficit to defeat BC U18 Yellow 3 - 2.

FINAL STANDINGS

MEN
GOLD:  BC Blue
SILVER: Men's Junior National Team
BRONZE: BC White
4th: Ontario
5th: Alberta

WOMEN
GOLD: Women's Junior National Team
SILVER: BC Blue
BRONZE: BC U18 Blue
4th: Alberta
5th: BC U18 White
6th: BC U18 Yellow

Field Hockey Canada media release


---

50 stunning Olympic moments No46: GB win hockey gold at Seoul 1988

How an eight-year dream turned into glorious reality

Sachin Nakrani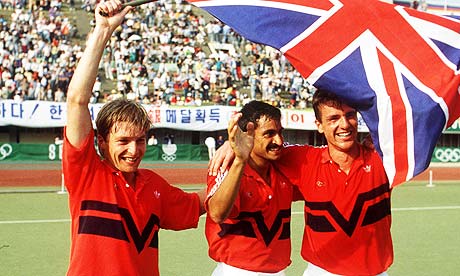 Great Britain's Richard Leman, left, Imran Sherwani and Martyn Grimley celebrate their gold medal win over Australia at the 1988 Seoul Olympics. Photo: BTS

Late July 2008 and ahead of competing at the Beijing Games, the forwards from Great Britain's men's Olympic hockey team are gathered around a breakfast table at their Bisham Abbey training base. The press are in town and it is not long before the question James Tindall, Simon Mantell, Matt Daly, Jonty Clarke and Stephen Dick were expecting to crop up is fired their way.

"Can you name the players who won hockey gold for Britain 20 years ago?" asks one of the reporters. "Sean Kerly …" comes the tentative response, followed by complete, collective silence.

The reporters close in and one suggests British hockey has hardly made the most of that victory in Seoul in terms of keeping the sport in the public consciousness and that it is a real shame the heroes of 1988 have become so easily forgotten.

Then, in what seems like a blink of an eye, one of the men in the blue and red Team GB tracksuits hits back: "David Faulkner, Imran Sherwani, Stephen Batchelor, Ian Taylor, Richard Leman, Stephen Martin, Kulbir Bhaura, Paul Barber. And Kerly. Obviously."

Raucous laughter suddenly fills the room and it is later pointed out that Tindall, Mantell and co are aware that others, such as the captain Richard Dodds, Jon Potter, and Martyn Grimley, also won gold two decades ago. Of course they had not been forgotten. How could they be?

Seoul '88 is to British hockey what Wembley '66 is to English football, and then some. The triumph was the nation's first in the sport at that level – gold had been won by a purely English side at the 1908 and 1920 Games, in London and Antwerp respectively – and created instant heroes of amateurs who prior to the Olympics were barely recognisable faces in their own streets.

Well perhaps Sherwani was – the scorer of two goals in the 3-1 final victory over West Germany had in 1988 also been a newsagent in Cobridge, Staffordshire.

Unlike that of 1966, this success was also secured on foreign soil and in the particularly alien conditions of South-east Asia. Kerly and co not only beat Australia and West Germany en route to the high-point of their careers, they also overcame searing heat and exhausting altitude. Little wonder, then, that every generation since has been reminded of the heroes of Seoul.

What took place in South Korea was, above all, a triumph for long-term planning and the art of using a slump as motivation to strive for greatness, twin processes which had their roots in the formation of the British Hockey Board in 1948. The organisation was put together in response to the individual successes of England, Scotland and Wales in the pre-war era and, initially, appeared a step in the right direction as Britain took silver at the 1948 Games in London, losing 4-0 in the Wembley final to an impressive India side.

But from there a decline set in motion, beginning at the 1952 Helsinki Olympics when Britain finished up with a bronze medal on the back of a farcical period of preparation during which the BHB voted to withdraw the team from the competition only for officials from England and Wales to veto the move. There were no medals at all in Melbourne four years later, or in Rome in 1960, before things got really bad.

Britain finished eighth at the Tokyo Olympics and then 12th in Mexico in 1968 before salvaging some pride with a sixth-place finish in Munich four years later. But humiliation was back in 1976, when the team were not even present for the Montreal Games despite the withdrawal of 25 African countries protesting at New Zealand's sporting links with South Africa. The team were also denied the chance to compete at the 1980 Moscow Games following the BHB's decision to adhere to the British Government's boycotting of the event.

1980 was, however, to prove a decisive year. Fed up with their decline, the BHB appointed the single-minded Roger Self as manager of the British team and gave him the time and authority to put together a gold medal-winning campaign. He, in turn, made what would prove to be the shrewd decision of hiring David Whitaker as the coach. The former Great Britain international had more than 100 caps to his name but very little coaching experience and, as such, was deemed a risky appointment. But Whitaker had a plan, one based on focusing on the mental preparation of his players to ensure they went into every match believing victory was in their grasp.

The fruits of Whitaker's work was evident at the 1984 Olympics, when Britain won bronze after stepping in at the last minute following the USSR's withdrawal. They came through their five pool games in Los Angeles unbeaten before losing by a single goal to West Germany in the semi-final and then beating Australia, who had started the Games as favourites, 3-2 in the third-place match. It was a stunning performance from a side short on preparation but clearly not lacking in belief.

More success followed at the 1986 World Cup when Britain, as hosts, finished with a silver medal, losing to Australia in the final at Willesden. By that stage the bulk of the side had been together for six years and, under Self and Whitaker, formed a collective sense of purpose based on improved performances. It was no surprise, then, that they headed to Seoul in buoyant mood.

"We were seeded second for the Olympics but the only thing we wanted to achieve was the gold medal," said Sherwani. "Two years before, Britain had reached the World Cup final. We were so happy just to be there we neglected the fact that we were there to win it. The guys adopted a different frame of mind before Seoul. Our thoughts were firmly fixed on winning gold."

The sense of destiny only grew after the goalkeeper Ian Taylor was chosen to be Britain's flag-bearer for the opening ceremony, but there then came a quick and sudden crash as the team were held to a 2-2 draw with South Korea in their opening pool game. A victory over Canada followed but then came a 2-1 defeat to West Germany, with the winning goal originating from the decision of the umpire, Don Prior, to award a rather dubious penalty to the 1984 silver medallists.

A second defeat to West Germany at consecutive Olympics could have been taken as a sign that the gold medal was not going to be after all, but under the captaincy of Dodds, a full-time surgeon and part-time midfielder who had been leading the side since 1983, Britain rallied immediately with victories over the USSR and India to secure a semi-final place against the top-seed and favourites, Australia.

It was in this match that Kerly's status as the star turn of British hockey was firmly established. Then aged 28, the striker was already highly regarded having scored seven goals during the 1984 Games, but a hat-trick against the Australians turned him into an overnight, national sensation, nudging Gary Lineker out of the spotlight following the England football striker's failure with the national team at Euro '88.

Kerly had a bit of bite about him, too: the grammar schoolboy from Whitstable who swore occasionally was not afraid to raise his stick at an opponent. "I was a bit rough around the edges and a bit feisty," he said. "I was up for a fight with anybody. Oh, and my name was heaven for the headline writers."

Britain, after all, were about to grab Germany by the "Sean and Kerlys", with their 3-2 win over Australia – they had led 2-0 before being pegged back to 2-2 – setting up a final showdown with the team of Heiner Dopp, Carsten Fischer and the towering forward Stefan Blöcher. In front of a crowd of 12,000 at the Seongnam Stadium on a humid, early October day, history was in the offing.

Self and Whitaker had instilled a level of confidence within the British squad which made them believe victory was possible over a team who had beaten them in their last two Olympic clashes, and their spirits were raised further after discovering Blöcher had been ruled out of the match due to a blow to the head suffered in West Germany's 2-1 semi-final win over Holland.

Along with belief there was also a tactical plan. The Germans were expected to play with a blanket defence in which 11 players would be placed behind the ball in a narrow, compact formation. It was decided, then, that Britain would attack from the flanks.

The strategy quickly proved successful as Britain took a first-half lead with Sherwani's first goal of the game, which resulted from the player cutting in from the left wing, moving past two German defenders and striking the ball into an open net.

The lead gave Britain motivation to attack with even more numbers, which pinned West Germany back but also left them vulnerable to the counterattack, and there were spells in the first-half when the opposition created chances to equalise. Fortunately, Taylor was having the game of his life while the defence in front of him was in commanding form, no one more so than Barber, who was earning his 99th and final international cap.

Britain doubled their advantage in the second half thanks to Kerly's eighth goal of the tournament. The men in red, black and white were on top now and it came as little surprise when Sherwani made it 3-0, again coming in from the left-wing to slide in Batchelor's excellent cross from the right.

That goal not only sealed a golden moment for Britain but also led to one of the most famous lines in TV sporting commentary: "Where were the Germans?" said a delirious Barry Davies as Batchelor fell to his knees in celebration. "And frankly, who cares."

Dopp did score for Germany but it was no more than a consolation. Britain were Olympic hockey champions.

"I remember standing on the podium, looking down at the Germans on one side and the Australians on the other knowing we had won a gold medal – it was a big day for us," said Kerly, who like the rest of the squad returned to Britain as heroes. Television appearances followed and a brief but generally enjoyable moment in the national spotlight.

"It was great fun," added Kerly, not surprisingly, perhaps, given his perks of celebrity included being paid £2,000 for reading out a few words at a dry-cleaners' conference shortly after the Games.

Seoul was the culmination of an eight-year dream that turned into a glorious reality and, as such, it was no surprise that the team broke up soon after. Dobbs and Barber were among the bulk of players who retired while those who continued to play did so at a less vaulted level. Sherwani helped Leek hockey club reach domestic league status while Kerly, now a 52-year-old grandfather, still turns out for Canterbury's sixth team.

Others continued to play a role in the national game, with Self becoming president of Great Britain's Olympic Hockey Board in 2005 and holding the position for two years, while Whitaker wrote three books on hockey coaching.

Faulkner, meanwhile, is the performance director for GB hockey and has stated his belief that at London 2012 the men and women's teams can match the achievements of 24 years ago. "They both have the talent to do so," he says.

Watching on will be Kerly in his role as a BBC pundit. And the man he will be speaking alongside? Barry Davies. As ever with British hockey, it always comes back to 1988.

The Guardian


---

Popularise hockey like cricket: Pillay

COIMBATORE: "Politics has put Hockey in a tight spot," said R Dhanraj Pillay, former captain of the Indian Hockey Team on the sidelines of a function conducted at a city school. "India might be the only country in the world where there are two federations for the same game," he added.

Referring to the two hockey federations, the Indian Hockey Federation (IHF) and Hockey India, Dhanraj said that the centre had tried to merge them, but failed. The government has also tried bringing former sportsmen in the administration. There are some good administrators who need to be given a free hand, he said.

Talking about the selection of the present national team for London Olympics, he said "Talented players like Prabhjot Singh, Vikram Pillay, Adrian D'Souza and many others have been left out of the Olympic contingent." Though there have been measures taken to support the game, he said that more needs to be done. "The measures taken by the Board of Control for Cricket In India (BCCI) to popularise cricket must be studied by people in all the games and sports. From infrastructure to remuneration, there are a lot of things that can be learnt from them," he said.

The Times of India