All the news for Tuesday 24 July 2012

Shahnaz urges seniors to deliver

By Mohsin Ali

RAWALPINDI – Pakistan former Olympian Shahnaz Sheikh has said that though the selection of the most ageing players for London Olympics hockey event not only created imbalance in the side but also reduced the chances of Pakistan to maintain present world ranking of eight yet he urged the seniors to show their class by playing each match as do-or-die clash to prove their presence and win gold for the country.

Talking exclusively to The Nation on Monday, Shahnaz said: "The accumulated age of team reaches 340 years by dividing 11 players equal to 32 averages, which is very high comparing to other participating teams in the tournament.

The selection of the team is a carbon copy, which Pakistan have been experiencing for the last two years with four to five changes of the players in each tournament for accommodating ageing players in the squad."

He said that Waseem and Sohail were not included in 2008 Olympics are called back along with Rehan Butt, Shakeel Abbasi, who were banned by Pakistan Hockey Federation (PHF) over their alleged participation in the illegal WHS in India that contradicts chief selector statement as he claimed that the team was selected on the six months performance of the players.

All these things have exposed the tall claims of the PHF by establishing academy culture and as per the PHF U-19 hockey academies having 600 players are being trained by 55 paid coaches for the last four years but without producing a single player for the national team that is why senior or ageing players are still indispensable, otherwise they should have been retired after the Asian Games 2010 as the former Olympian had suggested many times through media to the PHF.

Shahnaz was disappointed over exclusion of Salman Akbar, who was the hero of 2010 Asian Games and played prime role in helping Pakistan to qualify for Olympic Games.

Moreover, the composition of team, which comprise most ageing and few junior players, will have to perform double duty by providing defensive coverage and shielding to the ageing players means the attack would be affected and reduced, subsequently the team would come under pressure and likely to concede goals, he said.

Pakistan team chances looked bleak in the Olympic Games and he feels that if Pakistan reached the podium then it will be a good thing for the federation.

Pakistan team is placed in pool A along with Spain, Australia, England, Argentina and South Africa which is an easier pool than Pool B.

The schedule matches of the pool is also in favour of Pakistan as green shirts had to play first match on July 30 against Spain followed by Argentina, England, South Africa and Australia.

If Pakistan win two and draw one in early games and by getting three more point out of two matches means getting 10 points out of five matches then there will be a possibility that Pakistan could be in top four.  But going back to the past Olympic results against the pool teams from 2000 Olympic Games, Pakistan has good record against minnows like Argentina and South Africa but against Australia, England and Spain, Pakistan did not perform well in past two years.

"The PHF should not make any discouraging statement because Pakistan hockey has very rich record in Olympics. Pakistan won three gold, two silver and two bronze medals but he urged seniors to show their class by playing each match as do-or-die clash to prove their presence and win gold for the country," Shahnaz concluded.

The Nation


---

Cotswolds Retreat

The U.S. Team escapes Olympic hype in the Cotswolds

LONDON, UNITED KINGDOM – The U.S. Olympic Women's Field Hockey Team arrived in London and stepped on the blue and pink Olympic pitch for the first time yesterday evening. The venue, Riverbank Arena, is located in Olympic Park, right next to the Olympic Village and where much of the action will take place beginning July 27.

The team will get three training sessions in before departing the Olympic Village for the Cotwolds, a quintessentially English town known for its outstanding natural beauty, sunsets and birdsongs.

The purpose of the rendezvous is to unwind, hang out and bond. The team made a similar trip to Breckenridge, Colorado prior to the Pan American Games. The victory in the finals against world ranked No. 1 Argentina that earned the U.S. their ticket to London was partially attributed to the weekend trip to the mountains. Rachel Dawson (Berlin, NJ) reminisced on the teams excursion last August in her blog, The Athlete Way.

"Not a single hockey stick was packed. Not a single word of the sport that had brought us together was spoken. And yet we were in great harmony. We laughed. We cooked. We carved (pumpkins that is). We learned. Ultimately, we sat. We sat together, talking, in the morning, day, and night. We enjoyed. Each others company. In the silence of the starry night, and the chaos of a crowded kitchen. We felt. Happy. Inspired. Comforted. Excited. Connected. More connected than we ever could feel through technology. We felt a real connection in nature and with each other."

And that is exactly what the team will do in the Cotswolds. Take their mind off of field hockey and enjoy each others company. When the team returns to the Olympic Village on July 26 it is all attention on the task at hand. The U.S. expects to return to the States with a medal.

"We are not going for the experience, we are going to win," says Head Coach Lee Bodimeade.

USFHA media release


---

SA men's hockey team touch down

NICK GORDON

The men's hockey team touched down at Heathrow yesterday as they joined up with the rest of Team South Africa ahead of the start of the Olympic Games this week.

Captain Austin Smith and his side have the luxury of a few days to settle in and get used to life in the Olympic Village before their first game against World No 1 Australia on July 30.

"It's incredible to be in an environment like this. The build-up to Beijing wasn't anything like this.  We're really feeling ready," said the skipper of the side who are slowly becoming affectionately known as the Amastokke-stokke.

A major plus for the side is the fact that they have had the luxury of having played plenty of hockey in the past few months, a factor that has not only exposed them to other sides, but has also had a positive effect on team dynamics, something Smith feels will have a role in keeping the side focused.

"Especially being in an environment like the Olympic Village. There's a lot of distractions and it's easy to drift so the fact that we are a close-knit team will really be in our favour.

"From a hockey side, we're feeling prepared. I think our prep has gone exceptionally well and I'm really happy.  We've got two practice games in London and then we'll be ready for our first game against Australia (next Monday)," added Smith.

While the team will only become acquainted with the new blue and pink astro  at the Riverbank Arena in the coming days, the surface is nothing new to the team who played on a similar pitch in Spain recently.

"We played on a pitch which is identical in Spain," said Smith when quizzed on the surface which has created a buzz in hockey circles since it was first laid.

"I think it's good that we've played on a lot of different turfs recently because no two are ever the same. We'll be used to varying bounce and speed and I'm happy that we'll be able to adjust within the  days before the first game."

Reflecting on their recent trip to  the Iberian region and to Ireland, Smith feels that things are coming together at the right time, a view that will hopefully equate to a strong showing in London.

"I think in Ireland it wasn't as smooth as we would have liked. We got results but the performance wasn't quite there," said Smith.

"When we went to Spain it was a lot more polished. If we look at the performance it was really good and the errors that are costing us are ones that we are  making and they're resulting in goals, so I think if we can control that a little more we will be far more effective.

"It's in our control at the moment," added Smith.

The Citizen


---

Hockey innovators have no need to pad out their numbers

By Christopher Adams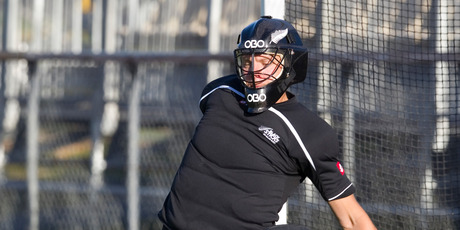 Black Sticks goalkeeper Kyle Pontifex is employed part-time by OBO to provide player feedback. Photo / Paul Estcourt

When hockey teams from around the world go head-to-head at the London Olympics the vast majority of their goalkeepers will be wearing protective gear designed and made in New Zealand.

Over the past 18 years Palmerston North-based OBO has grown rapidly and now exports around $4 million of its products annually, says Simon Barnett, who founded the company in 1994.

He said close to 70 per cent of the goalkeepers at this year's Olympics would be kitted out in protective gear such as leg guards and helmets made by the New Zealand company, whose products cater solely for goalies.

OBO occupied a niche thanks to its focus on just one part of the field hockey market, which allowed it to develop the perfect product, said Barnett, who is also a part-time marketing lecturer at Massey University.

"There's probably only 100,000 people we can sell to globally, but we export to 62 countries and have 65 to 70 per cent market share."

He said New Zealand's two hockey goalkeepers - Kyle Pontifex and Bianca Russell - would be sporting OBO equipment in London.

Pontifex also works part-time for the company, which employs 14 staff, providing player feedback.

Research and design takes place in OBO's laboratory, which features technology that takes video footage at 22,000 frames a second to capture the impact of a hockey ball hitting a dummy's head.

Barnett said the fact that most teams did not have back-up goalies these days was a good sign that the equipment worked. "In the old days, [teams] would definitely have taken two goalkeepers, but goalies just don't get injured as much as they used to because the protective gear has improved so much."

Barnett said that when he established OBO protective pads were commonly made out of cumbersome materials such as leather and bamboo.

The New Zealand firm began experimenting with much lighter closed-cell foam, he said.

"We didn't invent [the use of] closed-cell foam but what we did do was take what was already being done by one or two companies and do it a lot better."

Barnett said OBO's core products, including leg guards and hand protectors, were manufactured in Palmerston North, while other products such as helmets were made overseas.

The New Zealand Herald


---

Sandeep aims to score in every game



Sandeep Singh. File photo

India's star drag-flicker Sandeep Singh has set a personal target of scoring in every game at the London Olympics and hopes to make up for the disappointment of missing out on the Beijing Games.

"My target is to score in every match here at the 2012 Olympics. I am hoping to land on target with my penalty corner shots at crucial moments," said Sandeep ahead of India's tournament opener against the Netherlands on July 30.

Sandeep's drag-flicking prowess is one of the key components of India's game plan and he is hopeful of living up to the promise.

"I never think that I'm the best flicker, but I practice to learn new things every day," said Sandeep, who said he wants to improve his overall field play.

"I don't just want to be a drag-flicker. I want to become a complete hockey player. If you are just a drag-flicker, you may some time be out of the team because you're not performing well," added the strapping defender from Haryana.

Indian hockey's downslide after Athens saw it finish 11th in the 2006 World Cup and then for the first time in the history of the game the eight-time Olympic champion failed to qualify for the 2008 Beijing Games.

The inability to qualify for the Beijing Olympics was a big setback to the country's national game, and Sandeep said Indian hockey would have suffered a serious blow had the team not qualified for the London Games.

The Hindu


---

SV Sunil, the faith anchor of the team




New Delhi: For many the superstition is tangible and for a few their faith is an emotional call of love and affection from their dear ones.

Indian hockey's star striker S.V. Sunil's baggage is a tad heavier than that of his teammates, thanks to his 'lucky' charms.

Throwing light on the must haves in his bag, the 24-year-old from Kodagu said, "I carry nine Ganesha idols in my stick bag and also have three Shirdi Sai Baba statues. Before I go onto the field I always tuck a Ganesha idol in my pocket."

Revealing his pre-match ritual Sunil who will have his own little worship corner in his room at the Games Village said, "Before a match I keep my stick and jersey in front of an idol and do puja for it."

Sunil's teammate V.R. Raghunath said, "I'm an ardent believer of Goddess Bhadra Kali.

"There is a temple in my hometown in Gonikoppa where my family prays on my behalf before tournaments. At the Olympics I will have Kali as the wallpaper on my mobile because I feel that infuses some strength in me."

He was the star of the famous India's win against Pakistan in the Azlan Shah Hockey tournament in 2012. He scored the decisive goal in the last minutes of the game.

Sunil was the cynosure of all eyes at Randburg Champions Challenge I with his sprints and solos. Fittingly he scored two goals in India routing the hosts South Africa 7-4.

He was also in form in the Australian tour 2011 recently. In a one-two-one situation with NZ goalkeeper, SV Sunil scored the tournament's beautiful goal in Western Australia. Sunil's return to mainstream is good sign, as he was nurturing an injury for long time.

Talented forward Sunil's hockey career came to a halt when he injured in the run up to the 2010 World Cup.

Hardly does one find such a brave heart in sports as is the case with SV Sunil. Despite his father's death, he did not miss the Azlan Shah Cup duty in 2010, returned with gold.

The talented player hailing from Coorg would be crucial in the front as they take on some of the heavyweights of hockey in their pool games.

He played his first senior international at Chennai in the 2007 Asia Cup, which India won in 2007. He also won Silver at the 2008 Sultan Azlan Shah Cup in Ipoh, Malaysia.

SV Sunil plays for Service and Karnataka in the domestic circuit and for Bangalore Hi-Fliers in the Premier Hockey League.

"We have done our best, but before we go to London we will play a few matches and a lot can happen in those matches. We hope to work on our mistakes. We cannot afford to make mistakes once the Olympics start."

Playing in the Olympics, says Sunil, will be a dream come true, not only for him, but also his entire Acharya community in Coorg.

The lanky forward says capitalising on half-chances will be vital for the team's progress.

"In a match we will get 2-3 chances and need to convert those in order to win. I have set a goal for me -- which I need to score at least once in a match."

That, maybe, is because he wants to show off his new style of celebration.

"I have worked upon a new style to celebrate a goal. I am looking forward to score a goal at the Olympics so that I can celebrate in a new fashion," he adds candidly.

Daily Bhaskar


---

Play Indian-style attacking hockey: Vasudevan Baskaran

KOLKATA: Vasudevan Baskaran, who led India to its last Olympic hockey gold 32 years ago, feels the team needs to adopt the aggressive "Indian style of play" for a podium finish at the the London Games.

"Indian hockey has traditionally been characterised by individual flair, brilliant stick work and attacking mode of play. Instead of trying to borrow others' style we must focus on playing to our strength which is attacking from the onset till the last minute of the game," Baskaran said in an interview.

Though wishing for a medal for the team, the 61-year-old Baskaran said a top five finish for the Indian team at the Games will be an honorable performance.

"The team has some very good players, is experienced, so I am sure they will perform well. Winning a medal surely will be a dream come true. But a top five finish for our team currently ranked at 10 will also be honorable," said Baskaran who captained his side to a gold at the Moscow Games in 1980, ending a 16 year drought.

The Indians led by goalie Bharat Chhetri and coached by Michael Nobbs, have qualified for the London Games 2012 after a gap of 8 years trouncing France 8-1 in the finals of the qualifiers.

India begin their campaign against the Netherlands July 30, followed by matches against New Zealand August 1, Germany August 3, Korea August 5 and Belgium August 7.

Baskaran, who coached the national team several times, the last occasion being at the 2006 Men's Hockey World Cup in Monchengladbach, singled out medio Sardara Singh and ace drag-flicker Sandeep Singh as the two players to watch out for.

"I am banking on both the Singhs and hoping for a superlative performance from them. The success of a team largely depends on the mid fielders and I am glad that we have Sardara orchestrating the game from the midfield."

"With Sandeep, we have a peculiar problem. He is a defender and a penalty corner specialist. We cannot afford him to be too much engrossed in defending while if he doesn't, the defence becomes weak," said Baskaran.

Though refusing to comment on the team selection, Baskaran said there were "four-five exciting talent" who played at the World Series Hockey (WSH) and could have made it to the senior team.

"I do not want to comment, now that the team has been selected and already in London. But there are at least four-five exciting players who played in the WSH and by their sheer talent merited a place in the senior team."

He also lambasted the simultaneous presence of the Indian Hockey Federation (IHF) and the Hockey India (HI), which is the official custodian of the game in the country.

"I cannot understand how the government can allow two associations to function simultaneously, that too at their will. The existence of both the bodies is hurting the prospect of the game in the country. It is high time the differences are sorted out and we have only one body governing the game," he said.

Reminiscing, the 1980 gold winning performance where India overcame a spirited Spanish challenge piping them to the post 4-3, Baskaran said his efforts to save two goals in the second half was most satisfying and he still cherishes those moments.

"Seeing the tri-colour go up as the national anthem played in the background made us all swell in pride. The fact that I contributed in saving two second half goals helping the side to maintain the lead makes it that much more memorable for me," he said.

He lamented the lack of popularity of the game and called for the return of hockey in school and colleges for the revival of the national sport of the country.

"For the revival of hockey it is essential that the game is played at school and college level because it is there where you find potential talent and nurture them to make match winners for the senior team.

The WSH is also playing a big role in nurturing new talent and I hope we have more tournaments like it where players from around the world compete, giving Indian players much needed exposure," said Baskaran.

The Times of India


---

Not optimistic about India's chances: Kindo

ROURKELA: With the nation expecting a good show by the Indian hockey team in the London Olympics, former international Michael Kindo, is not very optimistic about its performance.

"I am at pains to say that I do not expect much from the team. Though it is undergone rigorous preparation, we have miles to go," said Kindo, who was a member of the 1975 World Cup winning team as well as the team that won bronze at the 1972 Munich Olympics.

"I was very happy the day we qualified for the Olympics, but from there the real test started for us," he said.

Kindo added that India would face tough competitions from Germany, Holland, New Zealand and South Korea pitted in the same group as India.

"In Azlan Shah, we lost to New Zealand, though we have good outings against the Koreans. But this is a big platform and every team would give its best out of best," said Kindo, said the former Indian defender.

On preparation and performance of the team, he said that a silver lining in recent performances is that India is holding very well and the goal margins are very thin, which on a given day might turn out in India's favour.

"Take the example of the recent three nation tournament in Europe as a preparation, where we failed in the last moment and we hold it against powerful Spain, that is what gives me confidence," Kindo added.

When asked assess coach Michael Nobbs' performance, he said, "He (Nobbs) is doing a good job. He should be given more time with long-term planning and should not be disturbed unnecessarily."

Regarding the blue turf controversy, the Arjun award winner said, "I do not have much idea about the turf, even in our times the artificial one was a rarity. But, going by media reports I feel there is some problem in it. Other than our coach Nobbs, the great Ric Charlseworth has expressed his reservation against it complaining it to be slow and bouncy. Let's us wait and watch once the tournament progresses."

What the Papers Say Today - Stick2Hockey.com


---

Sustainability of defence will be crucial for India

Pargat Singh

The Indian hockey team is riding on the wings of hope once again. Back in the Olympic line-up after missing out of the Beijing Games in 2008, India are again where they ought to be and the entire country's best wishes are with our players as they look ahead to the stiff test that the Olympic Games will provide.

India's performance has shown signs of promise, but a realistic assessment is essential for the boys to look at the challenge ahead. India's hopes of producing a fine show will depend upon how well the defenders cope with rival strikers and penalty corner specialists.

The Indian strikers always fancy themselves in creating chances upfront, but it is the defenders whose performance will be the key to what the team manages to achieve in the end.

As always, it will be sustainability of the Indian defence coming into focus from the moment the team enters the hockey arena at London's Olympic Park.

Let us not get overawed by slogans or boastful claims that may tend to convey that the Indian team is in the hunt for a gold medal. Where we stand at the moment, every small success is welcome.

There is a tough road ahead for the Indian team as it strives to regain some of the lost prestige of Indian hockey. Success never comes easily. Having played in three Olympic Games, I consider myself competent to talk about the challenge ahead.

When the Indian team's defence comes under pressure, its sustainability becomes critical to the end result. The situation is going to be no different. The pressure will be acute and it will be a test of the team's mettle.

Looking back at the draw, the pattern indicates that India tends to get a stiff opening match at the Olympics. The situation will be no different this time as one of the strongest European teams, The Netherlands will open the Olympic campaign against India on July 30.

The Netherlands may not be the same force they once were, but the Dutch are always a formidable opposition. One must also not forget that India's international ranking is not something we can boast of in the hockey circles.

The Netherlands have, in recent years, not been able to reproduce their best, which was evident in the 1996 and 2000 Olympics and yet their strikers tend to produce dazzling stickwork.

The opening outings tend to provide an indication of where teams are headed. During my Olympic days, it was the opening match against Germany that delivered a big blow to us in 1992, while four years later we missed qualifying for the semifinals essentially due to the shock defeat we suffered in the opening outing against Argentina.

After that, it was a tough climb and we just fell short of securing entry into the semifinal. A spot in the semifinal has continued to remain elusive for India.

India has not just failed to win a medal since clinching men's hockey gold at the 1980 Olympic Games, but it has not secured passage to the semifinals in seven Olympics thereafter. That, of course, included the 2008 Olympic Games where India was not even in the starting lineup of nations.

Everyone connected to sport in India is hoping for a good show from our hockey team. For that to materalise, the Indian team needs to produce its finest display against the Dutch team, which can set us up nicely in the Olympic hockey competition.

There are no easy opponents these days. Look at who we have in our group. Defending Olympic champions Germany and The Netherlands are both multiple time Olympic gold medallists, while New Zealand and South Korea are equally strong.

Belgium is the only team India could trouble, but the way they rallied from a two-goal deficit to draw parity in the dying minutes underscored their newly found confidence.

A medal of course will be wonderful, but we must be realistic.

DNA


---

Hockey hero brings whiff of glory

Balbir Singh is part of London's Royal Opera House exhibition featuring Olympic icons

Amit Roy



For Posterity: Balbir Singh in London

Balbir Singh has arrived in London for the 2012 Olympics. He is immaculately dressed. Now a sprightly great grandfather of 87, he stands outside the magnificent Royal Opera House in Covent Garden, recalling his memories of the momentous hockey final in the 1948 London Olympics.

Along with 1908, London has the distinction of being the only city to have staged the Olympic Games three times. Obviously this time, the affair is on an altogether grander scale. But for India and for Balbir Singh in particular, 1948 - the Second World War was over just three years ago, marked a coming of age.

Tricolour memories

This is because at Wembley on August 12, 1948, India beat Great Britain 4-0 to take gold, with Balbir, then 24, scoring the first two goals. The gold was very special for India, emphasised Balbir. India had won hockey gold in the 1928, 1932 and 1936 Olympics but as a British colony, he pointed out.

In 1948, however, "India won as a sovereign nation for the first time and the Indian tricolour went high up in the sky and our national anthem, Jana Gana Mana, sounded sweet", Balbir remembered.



For the Album: 2005 rally of Sikh Olympians in Trafalgar Square, London (Balbir in blue turban)

Olympic icons

Indians tend to refer to him as 'Balbir Singh Senior' to distinguish him from the, at least, three other Balbir Singhs who have played for India. Anyway, this Balbir's story, along with those of 15 other iconic Olympians - they include Steve Redgrave, Cathy Freeman, Kelly Holmes, Olga Korbut, Jesse Owens and Aleksandr Karelin is highlighted in an exhibition being held at the Royal Opera House.

It traces the history of the Olympic Games from its creation in 776 BC in ancient Greece through to the London 2012 Olympics.

This exhibition, "The Olympic Journey: The Story of the Games", said to be "a collaboration between the Olympic Museum in Lausanne, the Royal Opera House and BP, celebrates human strength and endeavour, passion, determination, hard work and achievement".



Smash hit: The 1948 final at Wembley with Balbir scoring one of his two goals in India's 4-0 victory against Great Britain

Games history

Ruth Mackenzie, London 2012 Festival Director, said that the exhibition "will offer a once-in-a-lifetime free opportunity to see extraordinary artefacts telling inspirational stories throughout the history of the Olympic Games right in the heart of London".

Today's Indian corporates, buoyed by India's economic growth, tend to be an arrogant lot (they talk very loudly on London Underground trains, for example). But for an Indian of Balbir's generation, meeting the British in London a year after independence, was almost a shock. "We had seen them as our rulers, strict and sometimes treacherous. We had seen them in the police and in the army. We hated them at that time. Then we came here - (they were) altogether different, very, very hospitable, very friendly, gracious, so polite and humble. We never had expected that."



Watch him: Balbir Singh (in white patka) in action at the Spanish goalmouth during a hockey match in Chiswick, west London, on August 6, 1948. India went on to win gold by beating Great Britain 4-0 at Wembley on August 12, 1948, with Balbir scoring two of the goals. It was independent India's first Olympic gold

Hockey heritage

Fast forward to 2005 when Balbir joined other Sikh Olympians at Trafalgar Square in London during the festival of Vaisakhi and strongly backed Britain's bid to stage the games in 2012. Balbir was told by the then mayor Ken Livingstone's team, "We appreciate your support and in return if London wins, we will invite you as a guest to the Games." His close friend, Dil Bahra, 62, revealed."London did get the Olympics but the promised invitation to Balbir was forgotten."

Dil, who served in the British army and then retired from the Metropolitan Police after 32 years with the rank of inspector, is a remarkable hockey historian who runs a website for Sikh Olympians and also helps run the recently established National Hockey Museum.

Dil said: "Balbir will receive tickets to a few matches from the International Hockey Federation but the world's most famous living hockey player was used and then dumped by Livingstone's officials".

Balbir is a little hurt but too polite to complain. He prefers to take a positive view of his own and India's hockey heritage.



Powerhouse past: The 1948 Indian hockey team in all its glory

European style

"Whatever I am today, it's because of hockey," acknowledged a proud Balbir, who will watch some of the hockey matches in the next few days. "Hockey is India's national game and I feel honoured to have played that game and won three gold medals."

Balbir was also a member of the Indian team that took hockey gold in 1952 in Helsinki beating Holland 6-1 (Balbir's five goals, scored using a "made in Sialkot" hockey stick, remains enshrined in the Guinness World Records). And he was captain in 1956 in Melbourne when Pakistan was defeated 1-0. That year he was the Indian flag bearer. The following year he became the first recipient of the Padma Shri award in the sports category. "I played European style of hockey," he said. "I never wasted time in dribbling midfield - my idea was to send the ball to the other end."



Metal and mettle: Balbir's three gold medals

Upbeat opinion

He is remarkably upbeat about the direction of sport in India. "Off late things have improved a lot. This time our boys and girls will do much better than in previous years in different sports: archery, boxing, tennis, badminton - that Saina Nehwal has been doing an excellent job, she is a wonderful girl. Shooting is good but we are better in archery, I think. Abhinav Bindra will be there. In hockey, I will be very happy if we finish in the first five."

Balbir now divides his time between his three sons in Vancouver in Canada and his daughter in Chandigarh. Twice a year when he is in transit, he stays with his sister in Hounslow, as he is doing now.

He misses his supportive wife, Sushil, whom he married in November 1946 and who died in 1983. "I couldn't have done it without her.""

He attributes his good health to twice-daily walks of an hour, deep breathing exercise during yoga and a fondness for "fresh vegetables".



Dard-E-Dil: Balbir Singh (left) with his friend, Dil Bahra

Ancient origins

Tourists in London visiting the Royal Opera House will appreciate that Balbir's personal story is set against the long history of the Olympics. Walk into the foyer of the Royal Opera House, experience the heat and dust of Athens and discover the origins of the Ancient Olympic Games which featured athletics, combat and chariot races," visitors are urged.

They are told, "Hear the cheers, get caught up in the thrill of the contest, and enjoy multimedia material and artefacts telling the story of the Olympics through the creation of the modern Olympic Games in 1896 by Pierre de Coubertin (Frenchman considered the father of the modern Olympic Games) to the vast Olympic movement we see today. See all the Summer Olympic torches since 1936 and all the Summer Olympic medals from 1896, and imagine yourself in Pierre de Coubertin's office with a backdrop of the lake in Lausanne as inspiration."

Balbir is not done yet. He hopes to attend the Olympic Games in 2016, 2020 and especially 2024. Balbir, who was born in Punjab in the village of Haripur, district Jullundur on October 10, 1924, expressed a love of living: "May I complete the century in 2024 and see the Indian team doing better and better in the coming Olympics."

He feels the force is with him: "My son's house number where I stay in Canada is 2024."

Mid-Day


---

2004 Olympics: Deja vu hits Indian hockey

By Anand Philar




It was dejà vu for Indian hockey team that went into the 2004 Olympics riddled with factional fights and controversy over the appointment of German Gerhard Rach as the coach, superseding Rajinder Singh, just before the Athens Games.

Rach, hitherto unknown in hockey circles and with a police record, was the Indian Hockey Federation`s surprise choice as was the selection of veteran Dhanraj Pillay, who was originally not included in the list of probables.

At 35, Pillay, playing in his fourth Olympics, did not have a good tournament and there were also whispers of dissension and rebellion against Rach by some of the players who were unhappy with the tactics and strategies adopted by the German. Consequently, the team never got into its stride as reflected in the results.

Adding to India`s misery was the growing list of injuries, including that of key forward Deepak Thakur who was hospitalised due to breathing problems. As Pillay was to write in his column after the competition, India at times could barely get 11 fit players for a match.

Three defeats in their opening four group matches effectively put India out of contention for the medal rounds as they drew with Argentina and the only win was against South Africa. Worse was to follow as India went down to arch rivals Pakistan in the classification playoff before scrambling to victory against Korea to finish seventh.

It brought to an end a dismal run that was a reflection of warped selection and administrative goof-ups that were a harbinger of more bad times, culminating in India`s failure to qualify for the Olympics four years hence and for the first time in eight decades.

It was a massive climb-down for the once kings of hockey.

Indian team: Dilip Tirkey (captain), Devesh Singh Chauhan, Baljeet Singh Dhillon, Adrian D`Souza, Arjun Halappa, Dhanraj Pillay, Vikram Pillay, Viren Rasquinha, Adam Sinclair, Gagan Ajit Singh, Harpal Singh, Prabhjot Singh, Sandeep Singh, Deepak Thakur Sonkhia, Ignace Tirkey, William Xalco.

League - India lost to Netherlands 1-3 (Gagan Ajit Singh 1).

India beat South Africa 4-2 (Dhanraj Pillay 1; Baljeet Dhillon 1; Dilip Tirkey 1; Gagan Ajit Singh 1).

India lost to Australia 3-4 (Deepak Thakur 1; Gagan Ajit Singh 1; Arjun Halappa 1).

India lost to New Zealand 1-2 (Dhanraj Pillay 1).

India drew with Argentina 2-2 (Gagan Ajit Singh 2).

Classification play-off (5-8 positions): India lost to Pakistan 0-3. For 7-8 positions: India beat Korea 5-2 (Gagan Ajit Singh 2; Vikram Pillay 1; Prabhjot Singh 1; Adam Sinclair 1).

Positions: 1. Australia; 2. Holland; 3. Germany; 4. Spain; 5. Pakistan; 6. New Zealand; 7. India; 8. South Korea; 9. Great Britain; 10.South Africa; 11.Argentina; 12. Egypt.

Zee News


---

Neil Hawgood to coach women's team

Principal Correspondent



HOPING TO DELIVER: The newly appointed Indian women's team chief coach, Neil Hawgood (right), with exercise physiologist Dr. Ben Dascombe in New Delhi on Monday. Photo: Sushil Kumar Verma, The Hindu

Australian Olympian Neil Hawgood has taken over as the head coach of the Indian women's hockey team. According to Hockey India (HI) Secretary-General Narinder Batra, even though Hawgood, who played for Australia as a left-winger from 1985 to 1991, would coach the senior team, he would also oversee the progress of the junior players.

The primary target of Hawgood, a member of the Australian side that finished fourth in the 1988 Seoul Olympics and bagged the bronze in the 1990 World Cup in Lahore, would be to help the Indian team qualify for the 2014 women's World Cup. He will be in charge of the side till the next Olympics.

The 50-year-old Aussie, who consulted his former teammate and present Indian men's coach Michael Nobbs before taking up the job, said the aim should not be just to qualify for the World Cup but also to "win and be successful."

Talking to reporters here on Monday, Hawgood, who would join the National camp at Bhopal on Tuesday, said he had to find out "where the players are physically and mentally."

The immediate goal for the Aussie would be prepare the team for the Champions Challenge I in Dublin from September 29.

Hawgood, who had been associated with various coaching assignments in Australia and the United Kingdom for the last 15 years, said it would be a big challenge to improve from the 13th slot to be within the top six in the World.

Hawgood, who recently watched the Indian team in action in the junior women's Asia Cup in Bangkok, looked ahead at combining the senior and junior players as a good number of juniors were in the senior side. "In the final against China in Bangkok, the junior team dropped in fitness and decision making in the second-half. They made some bad decisions as they got tired."

Hawgood, who would be helped by exercise physiologist Dr. Ben Dascombe, said the Indian players had to improve their fitness level to perform better. Dr. Dascombe stressed the importance of preparing a training structure for the players in order to put them in a level playing field at the international stage.

Hawgood, who had watched the senior members of the Indian side in a few matches in Australia, liked their attacking approach, but wanted them to enhance their defensive skills. "When you attack, you should also get ready to defend. That means to improve your defence than being reactive."

The Hindu


---

Australian coach for Indian hockey girls

NEW DELHI: The wait for a foreign coach for the Indian women's team is finally over. Neil Hawgood, a former Australian striker and a member of the 1986 World Cup winning team, was named by Hockey India (HI) as the first foreign coach of the women's team on Monday. Hawgood, who was a teammate of men's coach Michael Nobbs in the 1988 Olympics, will take charge of the national team in Bhopal on Tuesday.

Minutes after being named as the coach, the 50-year-old said that he had identified the areas he wanted to work with the team in a bid to help it qualify for the 2014 World Cup. "I saw this team play in a tournament in Perth last year and I must say that I was impressed the way they were attacking. Attack is the team's strength, so we need to work on other aspects of their game like defence. Fitness is another aspect where we need to work on," he said here.

"If you are fit, you can make correct decisions and these two factors play big roles in deciding your fate in a match. I want to make these players believe that when they play top teams in the world, they can beat them," said the former player who was the coach of the West Australian Institute of Sports (WAIS) for the last eight years.

To help Hawgood achieve this objective, HI secretary general Narinder Batra also named Ben Dascombe as exercise physiologist. The duo had worked together for two years at WAIS.

Asked about his goal as the new coach, Hawgood said : "For you success may mean winning a gold or a silver or a bronze. For me, it will mean ensuring that these players improve as a team. We will be striving to become the best team in Asia, which means we will be getting closer to being a threat on the world stage."

Hawgood said he had spoken to Nobbs before taking over the responsibility. "I spoke to him about it last year and he asked if I was interested in it."

Commenting on the appointment, Batra said that it was a step towards raising the bar of the women's team. He also said that the current coach CR Kumar would continue to be with the team and report to the Australian. Batra said Hawgood has been appointed by Hockey India and he will come under the Sports Authority of India (SAI) after the Olympics. "SAI usually hires from Olympics to Olympics. We would like to have him till the 2016 Olympics."

The Times of India


---

HI ropes in foreign coach for senior women's team

NEW DELHI: With an eye on the 2014 World Cup, Hockey India has roped in Australian Olympian Neil Hawgood as the chief coach of the senior national women's team.

HI also appointed another Australian in Dr Ben Dascombe as the exercise physiologist with the primary objective of improving the fitness levels of the Indian women's team.

Hawgood represented Australia at the 1988 Seoul Olympics, where he played in seven games, scoring five goals.

After retiring from the game, Hawgood has been a full time coach since 1997. He was the assistant coach of the Australian women's team at the 2006 and 2010 World Cups and the 2008 Olympic Games in Beijing.

Hawgood, who has been associated with the Western Australia Institute of Sports for the last 12 years, was also involved with Australian men's team and was Barry Dancer's assistant at 2001, 2002 and 2003 Champions Trophy.

Hawgood and Dascombe will leave for Bhopal on Tuesday where the senior women's team is based.

Announcing the appointments, HI secretary general Narinder Batra said apart from looking after the senior women's team, Hawgood will also be in charge of the development team (junior side).

"Hawgood will look after both the senior as well as junior team. Right now he is employed with HI because Sports Authority of India's programme usually is from Olympics to Olympics. After the London Olympics, he will come under SAI," Batra said on Monday.

Asked about Hawgood's tenure, Batra said, "We are planning to have him till 2016 Rio de Janeiro Olympics."

Batra also said that the present coach of the women's team CR Kumar will continue to work with the side under Hawgood.

Soon after he was introduced to the media, Hawgood said his main target would be the 2014 World Cup in the Netherlands but the present focus is the Champions Challenge I tournament in Dublin from September 29 to October 7.

"2014 World Cup is my main aim but the Champions Challenge is my short-term goal. I have little over two months for my first assignment. I want to see how the girls perform in the Champions Challenge I," he said.

"I don't want to make big changes. I would like to tinker a few things, mainly structural changes. I want to put this team in world level. I want to make the girls believe they can be there at the top level," Hawgood said.

Hawgood said Indian men's team chief coach Michael Nobbs played a big role for him to get this job.

"I had a conversation with Michael last October and he asked me if I was interested in the role. Thereafter, I spoke to him several times," he said.

The 50-year-old Australian said soon after taking over charge of the team next week his primary objective would be to improve the fitness of the girls.

"Fitness would be my prime focus. Once I can change the fitness levels, I can have an idea about the girls as hockey players.

"But I must admit I was there in Bangkok during the junior Asia Cup and some of the talent I saw are very impressive," Hawgood said.

Hawgood also said that he has high regards for present coach CR Kumar and wants the latter's cooperation to take the Indian women's team forward.

"I don't want to see CR Kumar leave the programme. He is one of the best in the business."

The Times of India


---

Sahara pick up Lucknow franchise of HI League

LUCKNOW: Indian hockey's chief sponsor Sahara India Pariwar announced on Monday that they have bought the Lucknow franchise of the proposed Hockey India League (HIL).

Speaking on the occasion Subrata Roy, chairman of Sahara India Pariwar, said: "We are proud to associate ourselves with this great game, which has created legends in the past. By taking up this franchise we are sure that fresh talent will be identified at city and regional level, who in turn will bring laurels to our beloved nation.

We are also hopeful, that following our efforts to encourage Hockey, other corporate entities will also come forward to support this league which will eventually benefit the game and its exponents."

Narendra Batra, secretary general of Hockey India, said: "I am grateful to Sahara India Pariwar for again coming forward in support of Hockey. The Group has always come forward and supported the sport at all times."

HI's ambitious professional league will hit-in during January-February next year with six city-based teams.

The Times of India


---

BC Blue claims GOLD - Ontario takes SILVER at 2012 U18 National Championships in Calgary




British Columbia's U18 Blue defeated Ontario 4 - 1 yesterday to claim GOLD at the 2012 Field Hockey Canada U18 National Championships!  Ontario took home SILVER while BC White finished with BRONZE.

Based on pool play and cross-over games, the final match was set to be a competitive match between Ontario and BC Blue.  BC Blue came out strong, with Samantha McComb scoring two early goals putting BC up 2 – 0.  Emma Stairs put Ontario on the scoreboard in the second half, but BC responded immediately.  BC's Priya Randhawa scored 20 seconds later to regain a solid 2 point lead.  Samantha McILwrick sealed the deal with a field goal for BC Blue, putting BC up 4 – 1.  Ontario played a hard fought match, but was unable to recover from an early deficit.  BC Blue gave a solid performance, playing with confidence throughout the match, earning them a well-deserved 1st place finish.

BC White defeated BC Yellow 4 - 1 to take BRONZE.
GOLD - BC Blue
| | | |
| --- | --- | --- |
| 1 | Sheridan Goodmanson(GK) | Victoria, BC |
| 2 | Krista Jensen | Delta, BC |
| 3 | Gillian Kirkpatrick | Victoria, BC |
| 4 | Emily Bennett | Knutsford, BC |
| 5 | Emma Mackie | Delta, BC |
| 6 | Priya Randhawa | Surrey, BC |
| 7 | Kristina Walters-Shumka | Victoria, BC |
| 8 | Jenna Dhillon | Victoria, BC |
| 9 | Stefanie Langkammer | Duncan, BC |
| 10 | Samantha McILwrick | Coquitlam, BC |
| 11 | Sydney Veljacic | West Vancouver, BC |
| 12 | Ashley Donaldson | Coquitlam, BC |
| 13 | Samanthan McComb | Delta, BC |
| 14 | Stephanie Norlander | North Vancouver, BC |
| 15 | Sophie Plasteras | North Vancouver, BC |
| 16 | Annie Walters-Shumka | Victoria, BC |
STAFF TEAM
| | |
| --- | --- |
| Head Coach | Krista Thompson |
| Team Manager | Theresa Dhillon |
---
SILVER - Ontario
| | | |
| --- | --- | --- |
| 4 | Halley Chopra | Ottawa, ON |
| 5 | Alison Lee | Mississauga, ON |
| 6 | Emma Stairs | Kitchener, ON |
| 7 | Daniela Jelec | Mississauga, ON |
| 8 | Leah Burke | Oakville, ON |
| 9 | Madison Thompson | Waterloo, ON |
| 10 | Ravneet Kalkat | Mississauga, ON |
| 11 | Emma Whitehall | Cambridge, ON |
| 14 | Nicole Paola | Waterloo, ON |
| 16 | Holly Scherer | Belmont, ON |
| 17 | Ciara Condon | London, ON |
| 18 | Alyssa Bull | Oakville, ON |
| 19 | Shannon Eby | Waterloo, ON |
| 20 | Hailey Karroum | Scarborough, ON |
| 21 | Shanella Fernando | Markham, ON |
| 32 | Emily Corbett (GK) | Listowel, ON |
STAFF TEAM
| | |
| --- | --- |
| Head Coach | Louis Mendonca |
| Team Manager | Azelia Liu |
| Assistant Coach | Jamie McAuley |
---
BRONZE - BC White
| | | |
| --- | --- | --- |
| 1 | Shinai Sorensen (GK) | Victoria, BC |
| 2 | Larissa Piva (GK) | Kamloops, BC |
| 4 | Cassidy Bremner | Tsawwassen, BC |
| 5 | Ellen Colbourne | New Westminster |
| 6 | Stephanie Eggertson | North Vancouver, BC |
| 7 | Leah Frome | West Vancouver, BC |
| 8 | Mercedes Hamilton | Coquitlam, BC |
| 9 | Paige Hamilton | Coquitlam, BC |
| 10 | Sophie Jones | New Westminster, BC |
| 11 | Taryn Mark | West Vancouver, BC |
| 12 | Kylie Nabata | North Vancouver, BC |
| 13 | Hailey Reeves | West Vancouver, BC |
| 14 | Claire Seeliger | Duncan, BC |
| 15 | Nicola Small | North Vancouver, BC |
| 16 | Bronwyn Walton | North Vancouver, BC |
| 18 | Alex Breukels | Vancouver, BC |
STAFF TEAM
| | |
| --- | --- |
| Head Coach | Bubli Chohan |
| Team Manager | Rebecca Sorensen |
| Assistant Coach | Shiv Jagday |
Field Hockey Canada media release


---

Strathmore in convincing win over KU

By   Oscar Pilipili

Strathmore University beat Kenyatta University 6-0 in a campus derby to exert pressure on leaders Telkom Orange in Kenya Hockey Union National women's league.

The victory handed Strathmore three valuable points that saw the students cut Orange's lead in table standings to a point.

Orange, who have two matches in hand, top the standing with 21 points, while Strathmore are second on 20 points.

During the match played at City Park Stadium, Lilian Aura and Racheal Ausa scored a brace each for Strathmore, while Eva Nkatha and Lucy Wanjiku contributed one goal apiece for the winners.

Kenyatta occupies position four with 11 points from  nine matches in the nine-team league.United States International University Africa (USIU-A) breezed past Vikings 3-1 in the other women's league encounter at City Park Stadium.

Pauline Naise scored twice for USIU-A, while Agripina Mutambo added one for the students. Jacinta Masila scored for Vikings.

USIU-A currently occupy position five on 10 points, while Vikings are seventh on eight. In the other women's matches played, Sliders humbled Multimedia 9-0 in a one-sided fixture.

Beryl Atieno notched a hattrick, Dorsillah Agunda and Linet Onyango scored a double each while Sarah Rangangi and Anita Agunda managed one goal apiece.Sliders are placed third in the league with 11 points while Multimedia are stunted at the bottom of the table without a points after honoring seven matches.

Premier league leaders Kisumu Simba beat Karate Axiom 3-1 to open a one-point lead at the top.Kisumu Simba are perched at the top of the league on 15 points, a point more than second-placed Wazalendo.

Wazalendo lost 2-1 against KCA University and the results frustrated their bid to remain at the top of the league. Western Jaguars failed to utilize well home ground advantage after they were held to a barren draw by visiting Karate Axiom in the other Premier League match.

Defending champions Kenya Police, who are  fifth in the premiership, edged USIU-A 3-2 to keep live hopes of retaining the title.

Men's National league matches saw National Youth Service beat Nairobi Gymkhana 3-1; Mombasa Institute overcame Kenya

Polytechnic 3-1; Parklands pipped Wazalendo Youth 1-0 and Jomo Kenyatta University of Agriculture and Technology managed to overcome hard-fighting Mt Kenya University 1-0.

The Standard Online


---

FIH introduces innovative newsletter

Get all the FIH.ch news delivered to your inbox

The FIH is pleased to present an innovative newsletter feature on its official website. Now hockey fans can have all of the latest news, scores, standings and features delivered directly to their inbox.


By clicking here or on the icon on the right hand side of the FIH.ch, fans can choose how often they would like to receive updates from the FIH website. There is also the ability to sign up to follow events. For example, individuals interested in the upcoming Olympic Games can sign up to receive a daily or hourly recap of all the action in London.

The daily newsletters will be sent out at 00:00 GMT and the hourly newsletters will be sent whenever there is an update to the FIH website.

There is no username or password required, simply enter your email address and you will receive the newsletter. Individuals may change their preferences or opt out at any time by simply returning to the subscribe page on the FIH website. The FIH will not share any information with third parties.

FIH site