All the news for Friday 27 July 2012 start of the London 2012 Olympics

Olympics 2012: Facts about the opening ceremony

Here's a snapshot of how the London Olympics are going to open.

1. The opening ceremony's main theme will be called 'Isle of Wonder'

2. The theme, inspired by William Shakespeare's The Tempest, will be about a land recovering from its industrial legacy

3. The ceremony will start with the ringing of the world's largest harmonically tuned bell weighing 27 tons

4. The stadium will be packed with at least 62,000 spectators, 16,000 athletes and 10,000 performers

5. Daniel Craig is set to make an appearance as James Bond. Craig or a look-alike will either parachute down or ride a rope ladder attached to a helicopter into the stadium to bring in the Olympic torch

6. The opening scene is called 'Green and Pleasant' where traditional countryside cottages will stand together with a mining wheel, harking back to the country's proud industrial heritage, all drenched in faked pouring rain to reflect Britain's typical weather

7. The scene will also include pastoral set of meadows, peasants and real animals comprising horses, cows, and sheep grazing next to picnickers

8. A cricket pitch has even been laid with a game planned for during the ceremony

9. There are rumours of Paul McCartney closing off the show with a three-song performance. Fifty dancers will perform alongside in Sgt Pepper style costumes

10. The latest rumour is that David Beckham will light the Olympic cauldron with a flaming football

11. Around 250 British former Olympic medallists are expected to be a part of the ceremony

12. A secret device will be used to control the 205 teams marching at the ceremony to ensure they do not delay the parade. Every country will parade in alphabetical order with the exception of Greece, who will go first, and hosts Great Britain, who will be the last

13. There will be speeches by Sebastian Coe and Jacques Rogge

14. Finally, the Queen will declare the Olympics open

DNA


---

An Olympics fit for a Queen

Keeping sight of what the Games are all about

By Steve Jaspan




The Olympic Games showcases the very best in sport where athletes, in the spirit of the Games and mindful of the ethos of the Games, strive to go faster, higher and stronger than their fellow competitors.

One thing that appears to escape many is that just to qualify for the Olympics puts an athlete amongst the "crème de la crème" of sport.  Being an Olympian is something special that only a tiny percentage of the world's population have savoured .... and in each and every country the Olympians become role models for young sportsmen and sportswomen.

That's why it is so sad when some – a very small minority – are caught cheating by taking performance enhancers or even the old stories of marathon runners who sneaked a lift along the road or took a short cut!

But I am more interested in the wonderful role models and these include the top officials and umpires or referees.  It is these people who have also reached the pinnacle of their endeavours - who provide inspiration for the youth of today to follow in their paths and improve records or standards.  These beacons can light the path for sports federations and attract youngsters to the respective sports - vital in sustaining sports development and inculcating the right values amongst our youth.

One thing that really bothers me is when I hear people focus purely on medal contenders and forget that just qualifying for the Olympic Games is a massive achievement, the culmination of thousands of hours of training, sacrifices and enormous discipline.  Competing fairly and squarely on this ultimate world stage is the dream of so many young athletes and participating as a top technical official or umpire is also crucial for the perpetuation of the Olympic Sports.  We expect the very highest standards of officiating from the technical officials and the vast majority are volunteers who have also made enormous sacrifices and worked exceptionally hard to reach their "Everest".  We should salute these incredible people.

The Olympic 4 year cycle is sometimes regarded as a watershed and we often see the changing of personnel, rules and regulations for the next cycle.  It is almost a natural sporting evolution as we set goals for the next Games.

At the same time we need to refine the best features of the wonderful game of hockey and constantly enhance them whilst being willing to discard unnecessary elements of our game that detract from it as a spectacle.

Hockey is a fantastic Olympic Sport – a game of speed, incredible skill, excitement and true sportsmanship and which has been in the Olympics since 1908.

I am very hopeful that the London Olympics will see hockey strengthen its position in the Olympic family as packed, appreciative crowds watch the finest players of this generation do battle on the royal blue and pink Olympic Hockey Stadium  - it will be a spectacle fit for The Queen!

Steve Jaspan is a former FIH Executive Board Member and contributes a monthly column, Viewpoint

FIH site


---

Hockeyroos Olympic Campaign Hits off on Sunday!



Madonna Blyth. Photo: Getty Images

It's showtime! Make sure you don't miss a minute of the action as the Olympic hockey program begins......GET EXCITED!

Hockeyroos v Blacksticks

Game Time: LIVE Foxtel July 29, 5.20pm(AEST)

Pool B: Australia, New Zealand, Germany, South Africa, USA, Argentina

Players to watch:

Australia: Madonna Blyth, Casey Eastham, Georgia Nanscawen

New Zealand: Kayla Sharland, Stacey Michelsen, Anita Punt

If the Australian women's hockey team are to medal in London, their first game against New Zealand is a must win and it is by no means a 'give me', especially with former Australian hockey champion Mark Hager at the Blacksticks helm.

Hager is a two-time Olympian who captained Australia to bronze at the 1996 Games in Atlanta and used to be an assistant coach in the Australian hockey program.

The 48 year old was inducted into Hockey Australia's Hall of Fame in 2008 and took over the New Zealand women's high performance program in 2009.

Under Hager the Blacksticks defeated Australia in a three test series, for the first time in history, to win the Oceania Cup last year and have arrived at the Games in top form after winning the bronze medal at the 2011 Champions Trophy.

So Australia's head coach Adam Commens, who is also a former Olympian, winning a bronze medal at the Sydney 2000 Games, has his work cut out from the sidelines.

The once dynamic midfielder won't be intimidated however, with a decorated playing and coaching career of his own.

From 2007-2010 Commens played an instrumental role at the helm of the Belgium men's program leading the team to their first Olympic preparation in 32 years.

After that success he returned home to re-build an inexperienced Australian women's team that dreams of returning to their former glory, when coached by Ric Charlesworth.

This team still remains the most successful women's hockey outfit in the world with three gold medals and the only group that can boast back to back wins at the 1996 and 2000 Olympics.

Since that time however, when Australian greats like Alyson Annan, Rechelle Hawkes and host of other champions retired, a new breed of athletes was born.

In London they will be the youngest team competing but only time will tell whether youth will play a factor in their performance.

Experts say Australia are inexperienced and London is a stepping stone to the Rio games in 2016, where they are tipped to once again dominant the women's game but the players disagree.

Australia's most recognisable player, midfielder Casey Eastham this week said London was their time to shine.

It won't be easy though with their side of the draw tagged the 'pool of death,' with Germany and Argentina giant walls they will need to tumble.

The Blacksticks and Hockeyroos are evenly matched all over the park. Both are versatile, quick and have a high work rate with fitness a key strength and both have weapons on penalty corners.

For Australia its drag flicker Jodie Schulz and for the opposition it's their captain and short corner striker Kayla Sharland.

Despite being a young side, Australia actually has more Olympic experience in their ranks with goal keeper Toni Cronk at her third Games and at their second; captain Madonna Blyth, Hope Munro, Megan Rivers, Casey Eastham, Kobie McGurk and Teneal Attard.

Blackstick's Sharland and Emily Nayler are at their third Olympics, while Krystal Forgesson and Gemma Flynn are at their second.

For Australia players to watch include Blyth, Eastham and McGurk, while youngsters Georgia Nanscawen and Emily Smith are tipped to make an impact in the attacking circle.

For the Kiwis, keep your eye on 2011 World Young Player of the year Stacey Michelsen and lightening quick forward Anita Punt, who rates in the top eight of the men's New Zealand Hockey Program for pace over 10 metres! Now that's quick and the likes of McGurk, Attard, Anna Flanagan, Kate Jenner and Jayde Taylor will need to hold strong on the back-line and deny Punt the ball.

Overall if the Australians, who have had their fair share of injury woes heading into the Games, are fit, they should battle across the line to win in a very tight tussle.

Tip: Australia win 3-2 with Jodie Schulz sealing the win off a penalty corner!

Hockey Australia media release


---

Kate's Corner

Kate West

Less than 24 hours to kick off and organisers say they couldn't be better prepared, 7 million Londoners beg to differ.

Take it from me, there's as much anti-Olympic sentiment as there is Union Jacks.

Transport is an issue.  The cabbies are annoyed, Joe Public is too scared to drive for fear of using an Olympic lane and being fined and the Tube is as hot, stuffy and cramped as it is frequent.

Time will tell whether the iconic Tube makes a fool of some but for now best to do as i'm told and mind the gap.

What do you get when you ask Aussies in London to congregate in a common with the promise of a free t-shirt, shorts, socks, sausage sizzle and lamingtons for the first 1000?

A spike in alcohol sales at the surrounding off Licences, that's what.

It was a hot summers day and one local "offie" struggled in the heat. Naturally the fridges broke but through sheer ingenuity they off loaded a freezer full of ice cream to try and keep the beer cold to keep up with the demand.

The Commonwealth Bank sponsored event thrown in the name of breaking the World Record of the most people wearing the same full team kit in one pose/photo drew a crowd of mighty characters.

There were southern cross tattoos in many varieties and a postcode forming the centre piece of a sleeve.  If I didn't know better I could have been excused for thinking I was stuck in the middle of a casting call for The Shire.

Channel 9 resident Karl Stefanovic would have been proud of the 935 record breakers.

There were 1000 kits given away so that's 65 people who either took their kit and ran or were left behind spewing in the toilets while at least 200 people missed out and hung out drinking in the Common waiting for an opportunity to say "Hi Mum" on The Today Show.

Tomorrow I set off for an early morning adventure to get our tickets, watch this space, I've heard it's a mission worth writing about.

The wait is almost over.

While in London....freelance journalist Kate West is going to share her journey with Hockey Australia. Watch this space as she gives us an inside look at what's really going down in London town!

Hockey Australia media release


---

British men target gold with high-risk hockey

By William James

LONDON (Reuters) - Britain's men's hockey team will deploy a high-octane, attacking gameplan to drive them past tournament favourites Australia and on to Olympic gold, but they are well aware it could all end in tears.

"We're running to save someone from a bus. Saving someone from a bus is us winning the game, and you know, if we don't quite get there in time, something goes squash," said coach Jason Lee, who played through two medal-less Olympics for Britain.

By ditching a rigid formation for a free-flowing structure where 'everyone plays everywhere' Team GB are hoping their attacking intensity will overwhelm the opposition, setting them on the way to a first men's Olympic hockey medal in 24 years.

To achieve that ambition the squad sees victory against Australia's world number one 'Kookaburras' as crucial to claiming gold.

One of the team's most experienced players, Ashley Jackson, said the Aug. 5 group stage game against Australia would probably be the game of the tournament - unless both qualify and end up meeting again later on in the competition.

"Because of the two styles of game we have it's going to be very high-paced, end-to-end with lots of chances," Jackson said.

An action-packed game between the two at the Olympic test event in May ended in a 3-3 draw, played out on the unique pink and blue pitch of the Riverbank Arena.

The world number four GB team come into the tournament on the back of competitive wins against Spain and India - ranked fifth and 10th in the world respectively. Their first group game is against Argentina on July 30.

Men's hockey has a special place in British Olympic history after the 1988 Seoul Olympics final produced a surprise gold medal, snatched from under the noses of red-hot favourite West Germany in a game that generated widespread attention for the sport.

But, that past success is not a burden the British team feel, says captain Barry Middleton.

"That isn't something that comes into our heads when we walk out onto the pitch - that we want to get '88 out of the way," he said.

"Even if we win, then they still won in '88."

Reuters


---

We want to be queens of the smurf turf, says Danson as hockey women reap rewards for turning pro

By Alex Kay



Pitch battle: GB are chasing glory on the Smurf Turf

It has been a while but British hockey is about to become exciting again. For the men's heroes of Seoul 1988, read Alex Danson and the women of London 2012.

It is time to win gold again and this woman will no doubt be at the heart of it.

Danson is one of the star strikers of the Great Britain team tipped by many to win gold on the pink and blue pitch in the Olympic Park on August 10.

It would be some achievement for a team who finished sixth in Beijing four years ago and didn't even qualify for Athens in 2004; an achievement and a reward for a gamble taken four years ago by Danson and her team-mates.



Dressed to impress: GB's Alex Danson claims her team are 'amazing'

'We were ranked ninth just before Beijing and finished sixth,' explains Danson, a 27-year-old who, aged 17, became the youngest debutant in British history.

'We all had full-time jobs. I was working at a school as a hockey coach and we had little funding because we hadn't qualified for Athens.

'After Bejing we came together and had a debrief, all sat round in a massive circle. We had exceeded our targets and world ranking but we were all dreaming of being on that podium the next time round.

'The five teams who finished ahead of us were full-time. We knew the only chance of us being on the podium in London was to do the same.

'We were all training in different parts of the country so we asked about having a centralised programme where we lived close to each other, came in and trained every day at Bisham.

'We were asking each other to change our lives for four years. We gained many great players and unfortunately lost a few.'



Life-changing: Danson and Great Britain opted to go full-time prompting spectacular progress

Those who remained took control, with incredible results. The squad wanted a say on every last aspect of their training and it soon started working.

Bronze medals in the Champions Trophy and World Cup were secured in 2010 and this year saw the team reach the final of the Champions Trophy in Argentina — a feat that had never been achieved by a British team before.

'We help to decide our training programme, our diet, everything,' adds Danson.

'We said we'd live for the next four years with a gold mentality — everything we'll do is about being the best.'

The Champions Trophy final was lost to Argentina but that result was made up for by a 2-0 win over the South Americans in the Test event on the Smurf Turf, the nickname given to the pink and blue pitch.

'I scored a goal in the Test event against Korea. We used to be quite reserved when we scored but we know how hard we've worked. We even trained on the day one of the girls got married!

'Home support is like nothing else. The pitch is quite bouncy, which helps you play in the air.

'We had the same pitch laid at Bisham a year ago and we've also been training at Stratford twice a week. All this has turned us into an amazing team.'

Sunday night against Japan is their first chance to prove that.

Who are Britain's stars?

Alex Danson (striker)

The 27-year-old has dazzling close control and her finishing means she is known as the Wayne Rooney of the team.

Crista Cullen (defender)

Cullen, 26, is a set-piece specialist. Look for her scoring crucial goals from short corners.

Kate Walsh (defender)

The captain is one of the oldest in the squad at 32. Like Cullen, she is deadly from set-pieces.

Beth Storry (goalkeeper)

Cool and calm in goal, the 34-year-old has a knack of guessing the right way to save short corners.

Daily Mail


---

Olympic hockey campaign starts against Japan on Sunday

By David Wright




Skipper Kate Walsh leads Great Britain women into Olympic action on Sunday (7pm) against Japan – one of the few teams in the world she and her team-mates know little about.

But the Reading star still believes they can win the match and go on to claim the gold medal.

The homework and preparation the GB staff do before all games is extremely detailed, with coaches frequently travelling abroad to watch games, while also building up an extensive library of match videos.

But the Japanese have been keeping their future rivals in the dark.

"I don't think they have played a match since qualifying," said GB head coach Danny Kerry.

"But we have managed to get a video of one of their past games and we will be looking very closely at that this week."

Helen Richardson, another of Reading's players in Kerry's 16-strong squad, added: "They (Japan) are bound to be good opposition. We will need to play well to beat them. It is important to put three points on the board in the first game.

"The first game is always tough as we will get a chance to see the rest of our group rivals before we play them."

After Japan on Monday, GB play Korea next Tuesday (4pm), followed by Belgium on August 2 (7pm), China on August 4 (4pm) and Holland on August 6 (7pm).

Richardson added: "Japan, China and Korea are all quite similar in the way they play.

"They like to play to the right-hand side, play down the channel and don't transfer it (the ball) too much."

With an original squad of 28, GB have been playing games between themselves, with those not selected for the Olympics playing the same shape as teams like China.

"It's the next best thing to actually playing them. So when we come to the matches we know how they are going to play and will be ready for it," said Richardson.

Having trained for more than three years at Bisham, Great Britain have never gone into a tournament better prepared.

Reading's Laura Bartlett said: "We are in the best possible shape we could be in and believe we can win the gold medal.

"We know our game inside out and all the work we need to be doing.

"We will be taking one game at a time and we know there isn't going to be any easy games.

"We are excited and can't wait to get out there against Japan and get started."

Walsh added: "There will probably be nerves on Sunday when we walk out in front of a 16,000 crowd knowing most of them will be supporting us.

"But a huge thing is knowing that the crowd will be behind us and I think that will be a massive advantage for us."

While there will be six Reading players in the women's squad, there are also three in the GB men's squad, Jonty Clarke, Nick Catlin and Iain Mackay.

Their first group game is against Argentina on Monday (7pm), followed by South Africa on Wednesday (4pm), Pakistan the following Friday (4pm), Australia on August 5 (7pm) and Spain on August 7 (7pm).

Get Reading


---

The U.S. Team will look to make history




The U.S. Team will look to make history in London with a podium finish for the first time since 1984. In 2008, the U.S. finished eighth and prior to that, the team had not competed at an Olympic Games since 1996, when the Americans were automatically entered as a host.

After defeating No. 1 world ranked Argentina in the finals of the 2011 Pan American Games for the first time in history, the U.S. is confident that a podium finish in London is achievable. The U.S. is currently ranked No. 10 in the world.

Head coach Lee Bodimeade announced the 16-player roster for the 2012 Olympic Games on June 11. A total of 13 players were part of the U.S. Squad that booked the team's ticket to London last October by defeating Argentina in the finals of the XVI Pan American Games in Guadalajara, Mexico. Seven players make a return to the Olympic Games, including U.S. captain Lauren Crandall.

The U.S. has been drawn into a challenging pool made up of No. 2 Argentina, No. 3 Germany, No. 6 New Zealand, No. 7 Australia and No. 12 South Africa. The U.S. will open Pool B play at the Olympic Games with a face-off against Germany on Sunday, July 29. From there, the U.S. will advance to their next opponents in the tournament – Argentina, then Australia, New Zealand and close the preliminary rounds with South Africa on Monday, August 6. The women's first semi-final will take place on Wednesday, August 8. The gold-medal round commences on Friday, August 10.

USFHA Olympics page


---

U.S. field hockey team eyes medal in London

By Jonathan Bombulie

The U.S. field hockey team has a motto heading into the Olympic Games, which begin with opening ceremonies tonight in London.

Give us a chance.

It's a fitting summary of the team's odds of coming home with a medal. They're nobody's favorites, but they have a chance, perhaps the best chance for an American team since the U.S. claimed bronze in Los Angeles in 1984.

"The underdog can go in and play with reckless abandon because they don't have anything to lose," University of Virginia field hockey coach Michele Madison said. "Pretty much every opponent they play is going to be ranked higher than they are, but that's where champions are made, right?"

Twelve teams are in the Olympic field hockey tournament, broken up into two groups for pool play.

The U.S. is in Pool B with Argentina, Germany, New Zealand, Australia and South Africa and will face each of those teams once in round-robin style. The top two teams in each pool move on to the semifinals.

Using history as a guide, the U.S. will probably have to go 3-1-1 in pool play to move on. How difficult a challenge is that?

The U.S. is ranked 10th in the world in the most recent FIH rankings. Only one of their first five opponents - South Africa at No. 12 - is ranked below them. Argentina (second), Germany (third), New Zealand (sixth) and Australia (seventh) are all among the world's top seven teams.

The Americans have a couple of reasons to believe they might outplay their seed, however.

The biggest reason is Oct. 28, 2011.

That was the date of the goal medal match of the Pan American Games. Shavertown's Paige Selenski scored the first goal and the U.S. went on to beat Argentina 4-2 to earn an automatic berth in the Olympics. It was Argentina's first loss in the history of the tournament.

The U.S. played a series of four exhibition games against Argentina last month in Virginia and performed fairly well, going 1-1-2. Argentina was without Luciana Aymar for that series, however, and she's widely considered the best player in the world.

The other reason the Americans have for optimism is experience. Seven of their players were also members of the 2008 Olympic team in Beijing.

They went 1-1-3 in pool play and missed out on the semifinals by five points in China, then lost 3-2 to Spain in the seventh-place match.

A look inside those results reveals a series of close games - ties with Argentina, Japan and Great Britain and a decisive 4-1 win over New Zealand to go with a 4-2 loss to Germany.

If the added experience is good for just a goal or two here or there, a medal is a possibility.

Citizens Voice


---

Black Sticks men target semifinals in London

JONATHAN MILLMOW IN LONDON



HIGH HOPES: Black Sticks coach Shane McLeod has 'high hopes' of making the semifinals. Photosport

The Black Sticks believe they can punch above their world ranking and make the semifinals of the Olympic men's hockey tournament in London.

Ranked seventh in the world and fourth in their Olympic pool, the Blacks Sticks will need to claim a major scalp to finish in the top two of Pool B.

Coach Shane McLeod believes it is within his side's reach based on some significant "markers" over the past year. The three "markers" are the first win over Australia in 12 years, a fourth placing in the Champions Trophy and victory in the Azlan Sultan tournament.

"We sit at No 7 in the world and we would be hugely disappointed if we fell below that here," McLeod said.

"The key to our success is starting well. We have to put away [South] Korea and India first and if we don't, we have to work harder against Holland and Germany.

"If we get a good start, I have high hopes for the semifinals, then we reassess where we are at."

The other team in New Zealand's pool is Belgium, a prickly opponent but one that should be beaten.

Veteran Phil Burrows is at his third Games, being part of a team that was sixth in Athens and seventh in Beijing.

He was captain for three years between Beijing and London only to lose the role to defender Dean Couzins.

The setback is behind him and the former striker hopes to make an impression in his attacking midfield role.

"I fit in better in the midfield these days," Burrows said.

"I'm quite fit so I can cause a bit of trouble up and back.

"Childsey [Simon Child] and the other strikers are doing a great job up front, so it's been a good move."

New Zealand are playing down three heavy defeats to Australia last month.

It seems a fair bit of cat and mouse has gone on across the world in the leadup to the Olympics and some results could be turned on their head.

The Black Sticks have two early starts and are taking measures to cope with 6am wakeups for 8.30am games.

Couzins said it was expected all players would have their curtains closed and computers and phone switched off by 9pm.

The campaign starts on Monday night (NZ time) against South Korea, who are ranked No 6 in the world.

Stuff


---

Hockey is Child's play for Simon

By Michael Brown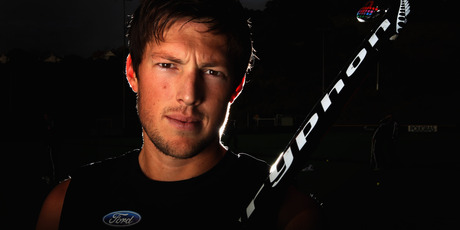 Simon Child of the New Zealand Black Sticks. Photo / Getty Images

Simon Child once scored 11 goals in a hockey international.

That's the same Simon Child who made his debut for New Zealand at 16, who has since played 167 tests and scored 93 goals and who was playing in the world's best professional league at 18.

At 24, Child is still one of the youngest in the Black Sticks but also one of the most experienced. London, could be his time.

"I think he could potentially be one of the stars of the Olympic Games for New Zealand, not just hockey," coach Shane McLeod said. "He has the potential to set London alight if he has one of those tournaments that he can do."

If he does, it's possible New Zealand could medal. Ranked seventh in the world, they sit below some of the powerhouses of world hockey like Australia, the Netherlands and Germany but this New Zealand side seem to be peaking at the right time.

They finished fourth at last year's Champions Trophy played in Auckland and this month won the Azlan Shah Trophy in Malaysia. The top three nations weren't there, but the Black Sticks dispatched everyone else to win the tournament for the first time in its 21-year history.

They have depth right across the park from goalkeeper Kyle Pontifex to defender Phil Burrows and skipper Dean Couzins but Ryan Archibald and Child stand out.

For Archibald, who has been New Zealand's best player for more than a decade, this will be his last Olympics. For Child, it should announce his arrival.

He played in Beijing but was hampered by a broken finger and, like a lot of competitors at their first Olympics, was a little overawed.

"It's always important to have that kind of experience," he says. "You never totally get a grasp of how amazing a thing like the Olympics is until you get into the village or walk into the stadium. Having been there in Beijing, it was fantastic. I was playing with a broken finger so I wasn't anywhere near my best. I feel like I have a bit of redemption this time around.

"We are quietly confident. I think we are always the dark horses in a competition like this. We are always ranked about sixth or seventh with the ability to knock off the teams above us.

"The Champions Trophy was a good opportunity for us to show the New Zealand public we can do it and we are good enough to get in the top four. But the Olympics are an incredibly tough competition and you have to be on top of your game every game and get some luck on top of that."

New Zealand open their Olympic campaign against Korea, before taking on India, the Netherlands, Belgium and Germany and need to finish in the top two in their pool to progress to the semifinals.

It's a tall order but not impossible and they will need to start well and build momentum. They will also need to take their chances. That's where the likes of Nick Wilson and Hugo Inglis come in, but particularly Child.

"There's quite a lot of pressure on Simon," McLeod said. "He's quite unorthodox in the way he plays. He's also quite charismatic as a person. He gets quite a following in Holland and even within New Zealand. When you have a package like that, you get watched a lot. He will get critiqued a lot. When he plays well, he stands out. If he doesn't, it also stands out.

"I feel a little for Simon. He needs to be managed well, has to come to grips with the expectation and, to be fair, his expectation on himself is as high as anyone else. He has certainly targeted London as an event he's very keen to play well at."

The New Zealand Herald


---

Time for the spirit to shine

Alok Sinha

The blue turf hits the eye as soon as you enter the makeshift hockey stadium at the Riverbank Arena here. The pink around it makes it look like an oversize children's clothesline store.

But the Indians have got used to it in the past three months. In fact, coach Michael Nobbs said the turf has settled down now. "Since we last played on it more than a month ago, it has flattened out. It is smoother, yes," he said.

Nobbs said that there were no more injury problems. "Sardar has recovered and is 100 per cent. Even Ignace Tirkey is doing well. That is not a problem area."

Then what is worrying him? "Lack of experience. Holland has a team which has played together for the last five years. You can say the same about Germany. But these boys are fighters. They have qualified with spirit and will give it all here." Steve Waugh has been motivating the Australian team. What is motivating India? "That sure makes a lot of difference. I would have been happy if our boys got a similar role model, maybe someone like Sachin (Tendulkar). They are under expected pressure."

The star of the Indian team - Sardar Singh - looked in very good spirits. He patted his right knee when asked about his recent injury. "It is good now... no worries."

Sardar too is happy with the turf now. "It has settled down after so many matches. It is playing heavier now and the bounce is better."

But isn't the blue distracting? "We have got used to it having played on it the past few months. It used to be odd earlier. If I complain about it, it would be an excuse."

On the team's motivation, Nobbs said the boys were watching Chak De India once in while, while Sardar said it was music that kept the boys happy. When asked about his choice, he said: "I love the music of Chamkila Saheb and Babboo Mann. I have all their songs."

Nobbs said the idea was not to get distracted. "Focus is the word."

During training, the team seemed a bit conscious amidst a strong media presence but they settled down once the eight-a-team matches began. They went at it swinging from one end to another. There was a bit of goofing around too, but Nobbs kept them on their toes. After an hour's play, they practised penalty corner conversions, with Sandeep Singh and Raghunath flicking it hard from all angles.

The team has had two sessions on the main turf and two on the practice turf. They look ready. Now time will tell.

The Times of India


---

Captain Chetri promises free-flowing hockey from India

India captain Bharat Chetri promises to play free flowing hockey when the eight-time champions step on to the blue turf at the Riverbank arena against The Netherlands in their opening match of the London Olympics on July 30.

Former champions The Netherlands are tough opponents to start a tournament, but Chetri says to India's liking, the Dutch prefer free flowing hockey.

"We've had some close contests with The Netherlands. We enjoy playing them as they play free-flowing style," said Chetri, adding that India had not got an opportunity to play against the Dutch for the past one-and-half years.

"We've not played against the Dutch for a long time, but that's not going to be a big factor," said Chetri, who has got an opportunity to play in the Olympics more than a decade after he first represented India.

"I first played international hockey 12 years ago and now I've got this honour of leading India in the Olympic Games in what is also my first chance to play in the Olympics," he added.

Chetri was in the Indian squad that disappointed the nation by losing the 2008 Olympic qualifier to Great Britain in Santiago, Chile, leading to the former champions absence from the Olympic Games for the first time since 1928.

Chetri is leading a team with just two players who have previous experience of the Olympics. Seasoned defender Ignace Tirkey and ace drag-flicker Sandeep Singh are the only ones who were part of the Indian squad at the 2004 Athens Games.

"Playing for the first time in the Olympics is going to spur the players into producing their best. We have some very good players, you just watch us play," said Chetri

"We're happy that Indian hockey fans have expectations of a good show from us. I promise that we'll strive our best to produce a good show."

India has failed to make the semifinals at the Olympics since winning their last gold medal in the boycott-hit 1980 Moscow Olympics.

Chetri said life in the Olympic Village was a unique experience, and all players were enjoying the time as they prepare for the competition to begin.

"So many illustrious athletes from different sports disciplines are checking into the village and the atmosphere is wonderful," said the Indian goal-keeper.

"We're all soaking it in even as we keep our focus on the upcoming matches."

India has been drawn in Group B of the men's hockey competition which features reigning Olympic champions Germany, The Netherlands, New Zealand, South Korea and Belgium.

The Times of India


---

Nobbs yearns for Sachin presence

London: Hockey coach Michael Nobbs feels that Sachin Tendulkar's presence with the Indian contingent at the London Olympics could have boosted the morale of the athletes just like Steve Waugh's involvement has lifted the spirits of the Australian contingent.

"It would have been good if Sachin Tendulkar had come to motivate the players. The hockey team as well as all other Indian athletes would have benefited," Nobbs stated.

The presence of former Australian captain Waugh with his country's contingent has prompted the Indians to wish that the iconic batsman was also around.

Waugh is accompanying the Australian archery team to prepare them for the mental challenges of participating in the Olympics. For the record, the archery events of the London Games will be held at the Lord's, a venue with which Waugh is well aquatinted with.

Waugh was known for being mentally strong as a cricketer and the Australians under him were notorious for their verbal volleys aimed to soften up the opposition. Waugh termed that as something aimed at trying to "mentally disintegrate" the opposition.

The Indian hockey players are desperately trying to make a mark following their return to quadrennial extravaganza after a gap of eight years. The team had failed to qualify for the Beijing Games to bring about a new low in Indian hockey.

The hockey team had a few injury worries, in the form of key midfielders Sardara Singh and Ignace Tirkey, in the build-up to the Games. But both are back in peak fitness and coach Nobbs, a couple of days back, had exuded confidence ahead of their opening match against The Netherlands.

Both the players were forced to sit out of some games during the recent tour of Europe after Sardara got smacked on his shin from close range during a match, while Ignace sprained his ankle when he rolled over the ball.

"The entire team is fit now... Don't get worried on this count. Come July 30 and we hope to put up a good show in our first outing against the Netherlands," Nobbs had said.

Sardara, the central midfielder, plays the critical role of a game-maker as well as falling back to bolster the defence, while the seasoned Ignace has always taken enormous amount of workload in the past year.

Ignace is one of the only two players in the team who has the experience of playing in the Olympic Games. He and ace penalty corner striker Sandeep Singh were a part of the Indian squad that went to the Athens Olympics in 2004.

DNA


---

Hockey physio John set to join India's Olympics team bench

London: Pressure from hockey officials eyeing the Olympic squad manager's position notwithstanding, physiologist David John is all set to be a part of the team bench during the Games here.

John's initial nomination as team manager had caused controversy in India as several hockey officials criticised the appointment of a foreigner to that position, prompting Hockey India to amend his status to "stand-in manager."

Hockey team officials Friday said placing exercise physiologist John on the team bench in place of a "decorative" manager is a professional decision in the largest interest of the squad.

They felt the controversy about a foreigner's appointment as manager was just a petty effort by some sports officials, who were angling for the manager's position that would place them in the spotlight.

Team officials, not wanting to be identified, said those opposing John's nomination as team official did not understand the practical aspect of the appointment as it allowed an extra professional on the team bench during the Olympic Games.

The protest within Hockey India's power structure forced the HI to appoint Clarence Lobo, one of the team's coaching staff, as the manager and downgraded John to his assistant's position. But that was just to silence the critics and spike protests.

Come Monday and John would be on the bench in India's opening Olympic match against former champions The Netherlands. He would take that slot as the team manager, but in fact would be assisting chief coach Michael Nobbs, who like John, is an Australian.

IBNLIVe


---

Make the most of now!

ADAM SINCLAIR



Indian hockey player and Chennai Cheethas striker Adam Sinclair. Photo: Akhilesh Kumar

Now's the best time for other sports, as cricket takes a back seat during the Olympics, feels hockey player Adam Sinclair

With Olympics having kick-started it is but inevitable to not think about it. It's the biggest sporting event and, for a sportsperson like me, the biggest dream would always be to represent my country at the Olympics. It has been my childhood dream.

Want of attention

The Olympic season is a wonderful time because other sports, besides cricket, are in the spotlight for a change. Other sportspeople too work as hard as the cricketers but the rewards and recognition other sports get is less than even 10 per cent of what cricket gets.

It is difficult to compete with cricket for attention mainly because it has a privatised board. Their administration has promoted and improved the players and the game to make it what it is today and other sports associations should learn the same from the way cricket is administered.

As far as hockey in India is concerned, the youth are becoming more aware of the game especially at the school and college level. More youngsters are coming forward to play hockey these days and the government is supporting the trend by introducing more youth programmes to develop the game. Though it seems like a positive response from youth, it's not enough.

But if you ask me how conducive the city of Chennai is for a hockey player in terms of opportunities and amenities, I would have to say that we Tamil Nadu players do not get enough opportunities to get back on the main stage due to the problems plaguing the federations at the moment.

But the World Series Hockey was a bit hit this year and gave the city's hockey players a wonderful opportunity to showcase their skills and talent to India and the rest of the world. On the other hand, there is a lot of scope for hockey players since youngsters get admission in top colleges and employment in government sectors but when it comes to facilities it's still below average.

In my case, my entire family is into hockey so I always wanted to become a professional hockey player and worked towards it, so it did not come as a big surprise that I took it up professionally. Besides, I always knew there would be scope for myself and a lot of other players out there.

Up side

Looking at the bright side, I think the best thing to happen to hockey in India recently is the team qualifying for the London Olympics 2012 and the recent World Series Hockey came as a big boost for the team.

My analysis of the Indian hockey team that's at the Olympics is that it's one that can throw up a lot of surprises and upsets in this tournament. I think we have a good possibility to reach the semi-finals because Coach Michael Nobbs definitely seems to have a trick or two up his sleeve to get the team there.

Adam Sinclair is a professional hockey player and was a member of the Indian hockey team that participated in the 2004 Athens Olympics.

The Hindu


---

Nobbs team as good as ours in '80s, says Somaya

Vinay Nayadu

MUMBAI: The present Indian hockey team, striving to excel at the London Olympics, is close to the 1984 Los Angeles squad, according to M M Somaya, member of the 1980-Moscow Olympics gold-winning team and ex-India Olympics captain.

"This young Indian team comes very close to the one we had at 1984 Los Angeles Games, which was better than 1980 I felt. The present side reminds me of that team," said Somaya while speaking at the re-launch function of sports weekly magazine Sportstar at the Cricket Club of India here on Tuesday afternoon.

Somaya credited coach Michael Nobbs for the Indian team's outlook and approach. "Nobbs has instilled a lot of confidence in the players. The boys are tactically also quite aware and have done well in the build up to the Games. There are quite a few first-timers in the team, the key for them would be to adapt quickly to the conditions.

"I hope just the like the team of the 80s, this Indian team will also do well. They are in a tough pool but I'm sure that they will surprise a few tough opponents," he said.

The who's who of Mumbai's sporting galaxy and former Olympians were present on the occasion.

The Times of India


---

Sydney remains my biggest regret : Mohammed Riaz

London: Coach Mohammed Riaz says twelve years down the line, Sydney Olympics remains his only regret in life.

'It was a case of so near yet so far, If only we had beaten Poland,-we were leading till few minutes before the final whistle-in match which ended in a draw and we would have made it to the Semi Final .That would have been a Game changer scenario for Indian Hockey' Riaz said in an interaction in the Games Village' that was saddest day of my life'

About state of the game in the country Riaz believes that Hockey is part of the Indian folklore and that is why it evokes such a strong passion and sentiment.

'I don't accept this view that Hockey is on the decline in India' said Chennai based two time Olympian, who is here with the Indian team as one of the coaches adding' Yes we have not lived up to the expectations which millions of hockey lovers expect from us because we were eight time Olympic champion'

'Well there are several reasons for the slide from the top. First it is very difficult to stay at the top for very long. Take the case of Brazil, Argentina or Even England in football, or any other sport, no team or Individual has been undisputed leader for long, it is against the law of nature. '

'Second other countries have also come up, Earlier when we were dominating ,some critics used to say that there is hardly any opposition, other countries are not interested in the Game, but when others started winning, they now say Indian hockey is on decline'

A fine utility player, Riaz, represented India for a decade (1990-2000),played in two World Cups (1994,1998)Olympics (1996,2000), Asian Games (1994,1998). said ' Hockey is in my blood, I never thought of playing any other Game, My father Mohammed Abdul Nabi played for the Railways and was International referee, my younger brother Mohd.Nawaz played for Junior india' Riaz explained reason for his love for the game adding 'I played at various positions- insides left,midfielder etc- so i became a utility player

'I always played hockey and was not interested in other game, because I wanted to excel in only one sport and people who watched me playing in school encouraged me to concentrate on hockey only. They said it is no use playing four or five Games- you will be jack of all trades but master of none, So I stuck to Hockey with all my love ,devotion and passion'

Riaz said 'Mohd.Shahid was his hero.'At my home, hockey was the main topic of discussion. We used to hear about big players and my father wanted me to emulate Shahid and I became his fan'

'I first went abroad with Junior team to play in the World Cup qualifier in Malaysia in 1992,in 1994 I went to Australia with the national team and was declared man of the series against Australia. That was huge. It boosted my morale and gave me confidence that i can take on any player of the World. Till now i have sustained that confidence'

'My father also ran a ' Universal Recreation Hockey Club in Chennai, which was great grooming place for the youngsters'

'I some time get irked when people say that hockey in India is confined to certain areas or regions.No sir they are wrong. It is played in every state. Tamilnadu has produced several champion players. Even my school- Madarasa Azam in Chennai- itself has produced several Internationals like Munir Sait, Ataullah Khan and Abdul Subhan.I forget few other names'

Riaz who is also a Arjuna Award winner said he is thankful to Hockey for what he is today 'I am a terminal manager Air India at Chennai airport. I have played for my country now I am coach with the national team, I was also coach of the Junior Belgium team , I have earned enough, God has been very kind to me'

Asked about highs and lows in his life, Riaz said ' 1998 Bangkok Asiad was my high. We won the Gold in Asian Games after 32 years . Sydney Olympic in 2000 was my low and I explained to you the reason'

About this team, the Coach said 'it is the fittest squad from India in the recent times. There has been a tremendous improvement . I am confident that this time, team will give a much better performance'

He concluded' My life's ambition is to give back to my country, whatever I have got it from it. I don't want to keep any thing for me. India is everything to me'

Courtesy: IOA Media

Stick2Hockey.com


---

Poor planning cost us medal in 1980 Olympics: Eliza Nelson

MUMBAI: Former Indian women's hockey captain and Olympian, Eliza Nelson, on Wednesday said that the team missed a medal at the Moscow Games due to poor planning.

"We were there a week earlier but all we did was practice. I think we practiced too hard before the start of the Olympics and by the time the matches did come we were a bit tired," Nelson informed.

"We were up at five in the morning and we used to wait till midnight because practice sessions were not booked. We wasted a lot of time and energy. If we had planned it better, we could have come back with a medal," Nelson said on the sidelines of an event organised by Sportstar magazine.

Nelson, who led the team that won gold medal in the 1982 Asian Games, added, "We were being trained by one coach and later another coach was nominated with the team. If we had taken a proper coach, may be we could have won a medal then."

The athlete also rued the lack of proper training facilities at that point of time in the country.

"While we had a camp in India, we did not train on artificial turf. We went to Moscow and we saw the artificial turf for the first time. We were a team to reckon with. I only feel sad that 32 years down the line, the women's hockey team has not qualified again for Olympics," Nelson pointed.

Three-time Olympian MM Somaya, who was part of the hockey team that won gold medal at the Moscow Games, said the feeling of winning sunk in much later.

"I was too young (20) to get that feeling sink in. I really felt the impact of winning the gold medal back home. We had an excellent coach in Balkishan Singh," Somaya said.

Meanwhile, former shuttler and two-time Olympian Aparna Popat said it was heartening to see a 23-member Indian women contingent at the London games.

Popat said she expected Mary Kom, Saina Nehwal and Deepika Kumari to climb the medal rostrum.

The 1990 Commonwealth Games gold medallist shooter, Ashok Pandit said that Indian marksmen had a great chance of finishing on the podium.

"This time we have the largest contingent. We have 11 shooters and as far as our chances are concerned, I can say we will win three medals, I don't know which colour. It will depend on that day. We have Abhinav Bindra and Gagan Narang, but we should not forget about the girls. They also have a fair chance. Maybe one of the girls can win a medal," Pandit said.

Karan Rastogi said he is expecting at least one medal from the Indian tennis players.

"As far as tennis is concerned we have three or four options this year. This is the largest contingent we have had. Leander (Paes) and Sania (Mirza) would be the best bet to get a medal. Mahesh (Bhupathi) and Rohan (Bopanna) again, if they play well, then hopefully, we will have at least one medal this time," Rastogi said.

Former shuttlers Sanjay Sharma and Uday Pawar said Jwala Gutta will be the key, if she is fit and performs well in both ladies doubles and mixed doubles there could be a medal, but insisted India's best bet would be in the singles with Sania Nehwal leading the charge.

The Times of India


---

'Unity has become our main weapon'



"I can say I have not seen this harmony among the players in the past," says Pakistan coach. PHOTO: INP

KARACHI: Pakistan hockey players are not fasting for obvious reasons but the essence of the holy month has helped the Greenshirts.

"The players have delayed fasting," Pakistan coach Khwaja Junaid told The Express Tribune. "We have to see the ground realities as players cannot give their best during training while fasting for 18 hours."

However, the coach said the holy month has helped create a strong bond within the team.

"I can say I have not seen this harmony among the players in the past. We have trained very hard and we have the experience and talent but I feel unity has become our main weapon before the Olympics."

It may be recalled that this will be the first summer Olympics campaign for Pakistan in Ramazan. The last time the holy month clashed with the event was in the 1980 Moscow Games when Pakistan did not participate after being part of the US-led boycott against the Soviet invasion in Afghanistan.

The Express Tribune


---

Hockey is Pakistan's only Olympic medal hope

by Shubham Ghosh

Bangalore, July 27: Hockey is Pakistan's main hope for an Olympic medal in London. Three-time gold winners and four-time world champions have slumped in international hockey and finished eighth at the 2008 Beijing Games, their worst position ever since the 1948 Games.

In the 2010 World Cup held in India too, the Pakistanis finished at the bottom of the table. The Asian Games gold medal at Guangzhou later that year, however, boosted the team's morale and gave them a direct entry into the Olympics.

The team fared poorly at this year's Azlan Shah hockey where they ended last, forcing the national selectors to recall veteran players like Rehan Butt, Mohammad Waseem and Shakil Abbasi who featured in a rebel hockey league in India, putting their places in the Olympic squad under threat. The highest scorer in the history of the game, Sohail Abbas, 35, was appointed the skipper of the team for the Olympics.

Saying captaining his country in the Olympics has been a dream come true, Abbas said the real test lies ahead now. He said if the Pakistanis can play as a team and fully utilise their skills, they can beat any team in the world. Abbas, who scored 19 goals in the 2000 and 2004 Games, missed the 2008 edition.

Pakistan, like India, have a rich hockey history and the Asian powerhouse has performed at all international tournaments. But currently it has been going through a difficult phase owing to problems related to management of the sports in general in the country and hockey talents in particular. London will be a big opportunity for the team to reclaim its glory at the mega showdown.

Pakistan Hockey Federation president Qasim Zia, who was a member of the team that bagged gold at the 1984 Los Angeles Games said they were optimistic about the team doing well this time. Finishing on the vistory podium will be equal to winning the gold medal while finishing in the middle of the pack will make it worth the hard work that the team has put in, he said.

Pakistan won Olympic gold at the 1960 Rome Games (they ended India's dominance that year), 1968 Mexico City Games and the 1984 Los Angeles Games but their last medal came at the 1992 Barcelona Games. Their last WC title came in 1994.

Pakistan are clubbed with Australia, Great Britain, Spain, Argentina and South Africa in Pool A at the London Games. It will be a tough ask for the men in green to finish among the top two of the group to make advancements for a medal.

Besides hockey, the 39-member Pakistani contingent also features contenders in disciplines like athletics, swimming and shooting who got wild-card entries but do not have much serious medal hopes.

OneIndia News


---

Scots youngsters defeated in Spain

SPAIN 5 SCOTLAND 0  (UNDER 21 MEN)

Scotland`s under 21 side lost all three test matches against Spain in Barcelona, part of the build-up for the European Junior Nations Championships in Den Bosch next month.

Today the young Scots went down 5-0 after being three behind at the interval.

"The players worked hard and it was great to be exposed to this level of hockey that they will experience in the Europeans.   We learned a lot about the players and their work rate with three tough games in three games in very hot conditions," said Neil Allan, Scotland manager.

Scottish Hockey Union media release


---

HI-FIH high performance coaching programme from September 4

NEW DELHI: In an attempt to enhance the skill set of coaches in the country, Hockey India will organise a high performance coaching programme from September 4 (HI) in association with International Hockey Federation (FIH).

"HI has decided to commence the FIH-HI High Performance Coaching Programme in collaboration with FIH, a three-year programme where Indian coaches can obtain up to a Level 3 Certification in coaching," a HI release stated.

"FIH master coach and FIH coaching and high performance manager, Tayyab Ikram, and FIH Grade 1 coach, Siegfried Aikman, will conduct the first course to commence from September 4 to 10 to coincide with the 2nd Hockey India Junior Men National Championship in Lucknow," the release added.

HI secretary general, Narinder Batra, said that the programme will help the country's coaches to gain knowledge and will be beneficial for the overall development of the sport.

"Coaches from all over India will gain knowledge and experience in an international exchange. It will be a learning experience as well as an opportunity to gain Level 3 Certification in this three-year course," Batra said.

"The participants will be able to transfer their new know how to other coaches in their states so that coaching standards are improved," he said.

The programme includes two high performance courses a year and will target the experienced and qualified coaches from all over India.

The programme also includes inputs from top experts and practical coaching sessions, discussions on high performance development, special presentations and contributions from participants.

"We are delighted to assist the Coach Education Programme which intends to develop the coaches with updated and scientific know how of high performance coaching, an area which needs attention and resources in a country full of talent," FIH CEO, Kelly Fairweather said.

The Times of India


---

Six coming for Sultan of Johor Cup

By Jugjet Singh

THE second edition of the Sultan of Johor Cup on Nov 8-18 will see Malaysia battle six strong teams in an effort to retain the title.

To date, India, Pakistan, Australia and New Zealand have confirmed their participation.

However, the change of dates by the Malaysian Hockey Confederation (MHC) has forced the withdrawal of Netherlands as they have domestic league commitments.

"We have also invited Great Britain as well as Germany for the second edition and they will reply in a week's time.

"The two standby teams are South Korea and Spain," said Johor HA deputy president Manjit Abdullah.

Early bookings have also been made for next year as teams look for warm-up matches before the Junior World Cup in New Delhi.

"Argentina and Netherlands have asked to be included in the third edition (2013), to be held in September, as the Junior World Cup will be held in November and it would be the perfect avenue for teams to fine-tune their game," said Manjit.

Malaysia beat Australia 3-2 to win the inaugural Sultan of Johor Cup gold medal.

New Straits Times


---

Charlie Hutton

It is with great sadness that the England Hockey Board (EHB) learnt over the weekend of the death of promising young hockey player Charlie Hutton.

The EHB extends its deepest sympathies to the family and friends of 14 year old Charlie, who was tragically killed in a boating accident off the Isle of Wight on Friday.  Charlie, from Oxted in Surrey, took part in the England U15 camp earlier this year.

Sally Munday, Chief Executive of the EHB, said: "We were very saddened to learn of the death of Charlie Hutton at the weekend.  Charlie was a talented hockey player who had a very promising future in our sport. Our thoughts are with his family and friends."

Andy Rogers, Centre Director for the Tonbridge Junior Regional Performance Centre where Charlie attended training, said:  "I was shocked and saddened at the news of Charlie's death. He was a sensational player with immense ability and potential, destined to achieve great things in the game at the very highest level."

The EHB sends its condolences to Charlie's family, friends and teammates at this difficult time.

England Hockey Board Media release


---

Hockey star killed in boating horror



Gifted hockey player: Charlie Hutton, 14, who died after falling from a boat while on a trip with his father

THE "most outstanding player ever seen" at an elite hockey training centre in Tonbridge has been killed in a tragic boating accident.

England under-15s squad member Charlie Hutton, 14, suffered serious injuries when he fell from a motor boat being driven by his father off the Isle of Wight on Friday.

Another 14-year-old boy who fell with him also suffered injuries, but it is believed Charlie's head struck the boat's spinning propeller.

He was flown to hospital but doctors were unable to save him.

The youngest of three brothers, Charlie, from Oxted, was tipped to be a future Olympic medal-winner.

He was among a talented group of South East players being groomed for an international career at the England Hockey Board's junior regional performance centre at Tonbridge School.

Charlie's parents Simon and Gill Hutton paid tribute to their son as a "beautiful and very talented boy".

His elder brother Sam added on Twitter: "RIP, little brother.

"You were an amazing person and the best brother anyone could have asked for."

Coach Andy Rogers, the centre's director for five years, said he was a "sensational player with immense ability and potential".

Mr Rogers, 46, told the Courier: "Charlie first came to us last summer in the under-15 age group and he progressed all the way through to the England training camp. We have a lot of very good players but all of them will tell you Charlie was the best.

"He was comfortably head and shoulders above everybody.

"Talent-wise, he has been the most outstanding we have seen since the centre has been running."

Tonbridge School's hockey academy manager Kevin Johnson, 36, shared Mr Rogers' opinion, having coached Charlie at the performance centre and watched him in matches against Croydon's Whitgift School, whom Charlie captained.

He said: "I had the pleasure of seeing Charlie close up against my boys and he was a complete gentleman.

"He used his talent in the right way and used his skills to bring others into play. That shows a maturity beyond his years on the pitch."

It is the second tragedy to hit the programme in a year.

Mr Johnson said: "I was under-16 assistant coach with England girls last year when we had a death among our players very suddenly.

"A girl named Emma Broad died in her sleep and she was again out of the Tonbridge performance centre.

"It's pretty desperate that we've now lost two international talents in the space of a year.

"It's a really tragic loss and so sad in a time that is so exciting for hockey with the Olympics just around the corner."

Mr Rogers said the sport's close-knit community was "in a state of devastation and shock".

This is Kent